(a

10

minute read)
---
Design your own Arizona road trip with Backroad Planet's suggested destinations, activities, scenic drives & heritage railways, plus our exclusive planning resources.
---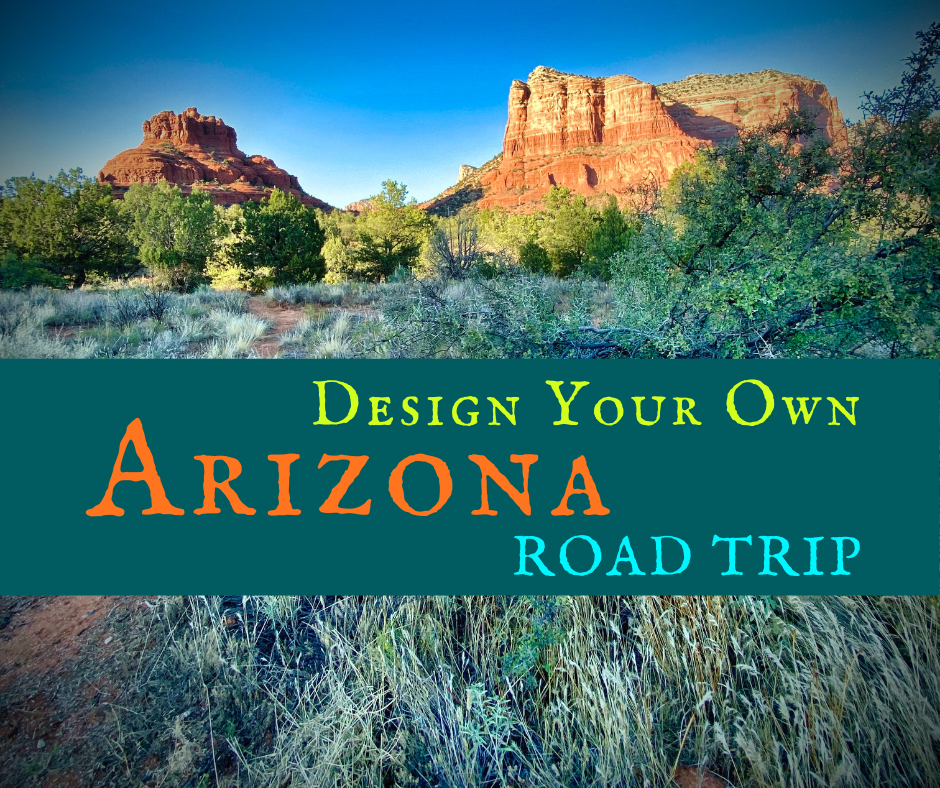 I was a guest of Visit Arizona, but all thoughts and opinions are my own. This post may contain affiliate links. Please refer to our our Disclosure/Disclaimer page for more information.
---
Design Your Own Arizona Road Trip Itinerary
---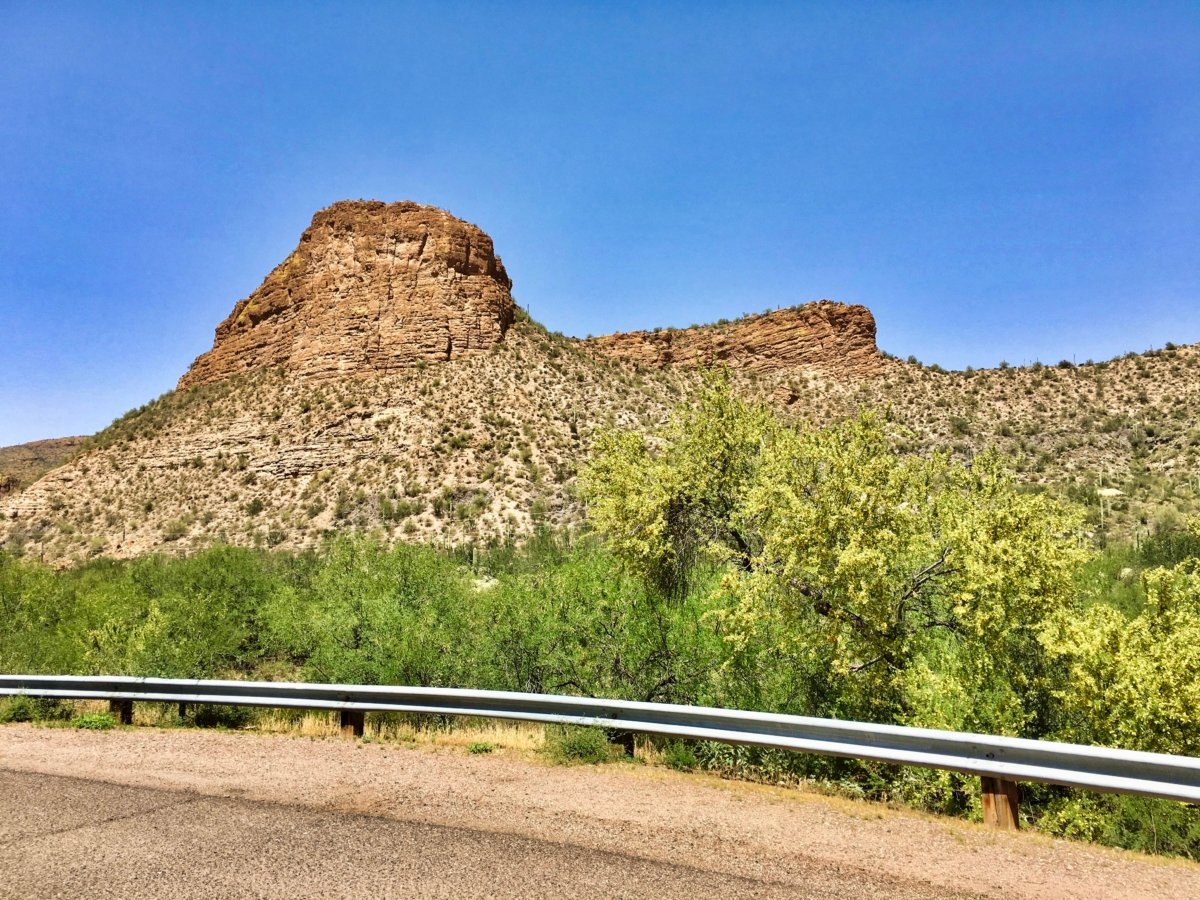 If you appreciate destinations with stunning natural beauty and rich history like we do, then Arizona is a state you must explore.
Backroad Planet's "Design Your Own Road Trip" series is a way of showcasing our extensive archive of state and regional posts. We believe linking all of our Arizona destination content and road trip planning resources from this post will help readers easily locate the information they need to create road trip itineraries of their own.
The guides, stories, and articles published on Backroad Planet are authentically-based on our visits to those locations or the first-hand travels of our guest contributors. All photos and videos included in our posts were captured during our travels, unless otherwise credited.
As you read, click on the featured images or blue-links to access resources for destinations and activities in the state of Arizona that match your interests.
Whether you are planning a day trip, weekend getaway, or extended journey, the resources in this post will help you design an Arizona road trip tailored to your personal interests and thirst for adventure.
---
Arizona Time Zones
---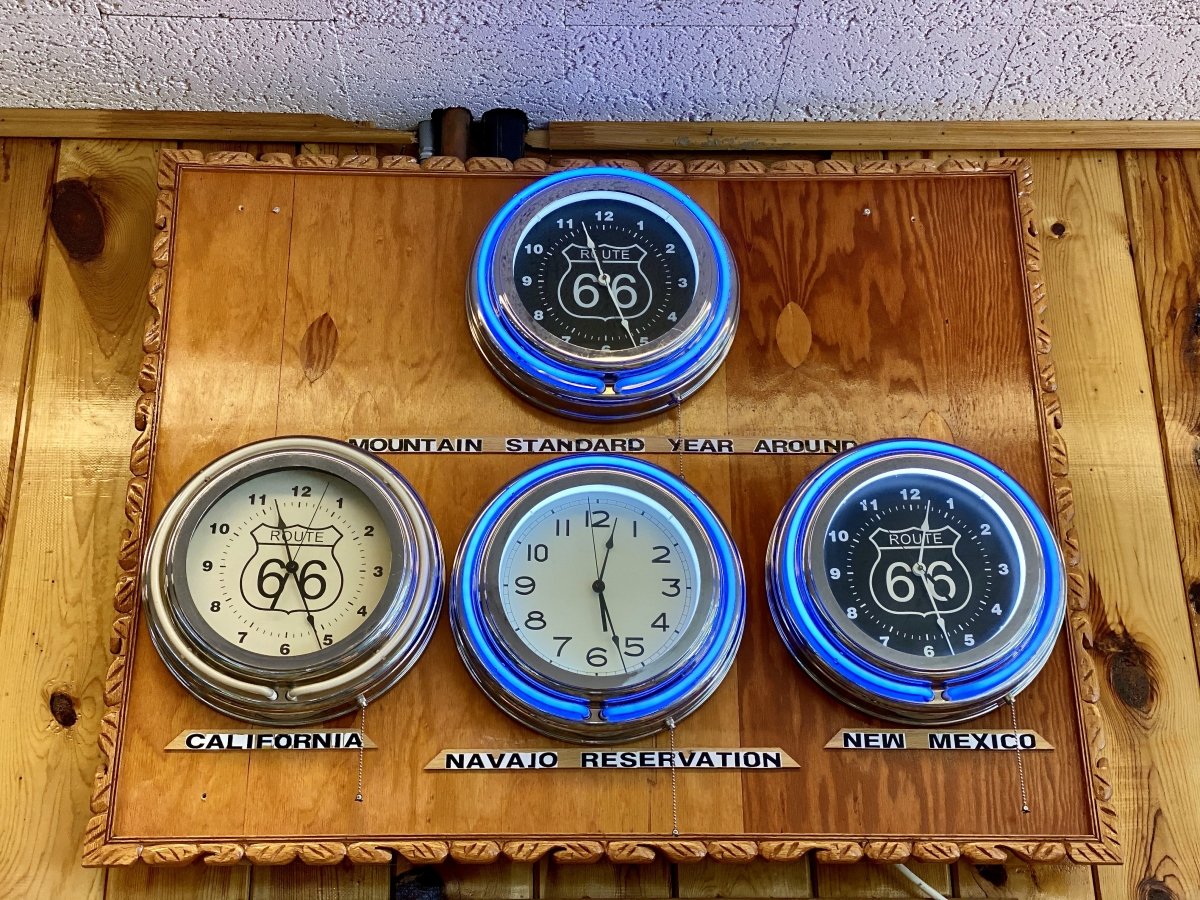 Arizona time zones can be tricky, but even though we thought we understood them, there was one caveat no one warned us about.
So here's what you need to know: The state of Arizona does not recognize Daylight Saving Time, but the Navajo Nation does.
If you use an analog watch, you should have no problem. However, if you rely on your mobile device or vehicle dashboard clocks, you will want to exercise caution.
Here is what happened to us while touring Sunset Volcano and Wupatki National Monuments.
The main road through the monuments does not cross tribal lands, but apparently we came close enough to the adjacent Navajo reservation that the GPS in our rental pinged it and moved the dashboard clock ahead one hour.
When we saw the time, we rushed out of the park so we would not be late for the next stop on our itinerary. Only later, when our clock reverted to the correct time, did we realize what had happened.
---
Things to Do on a Drive from Phoenix to Flagstaff
---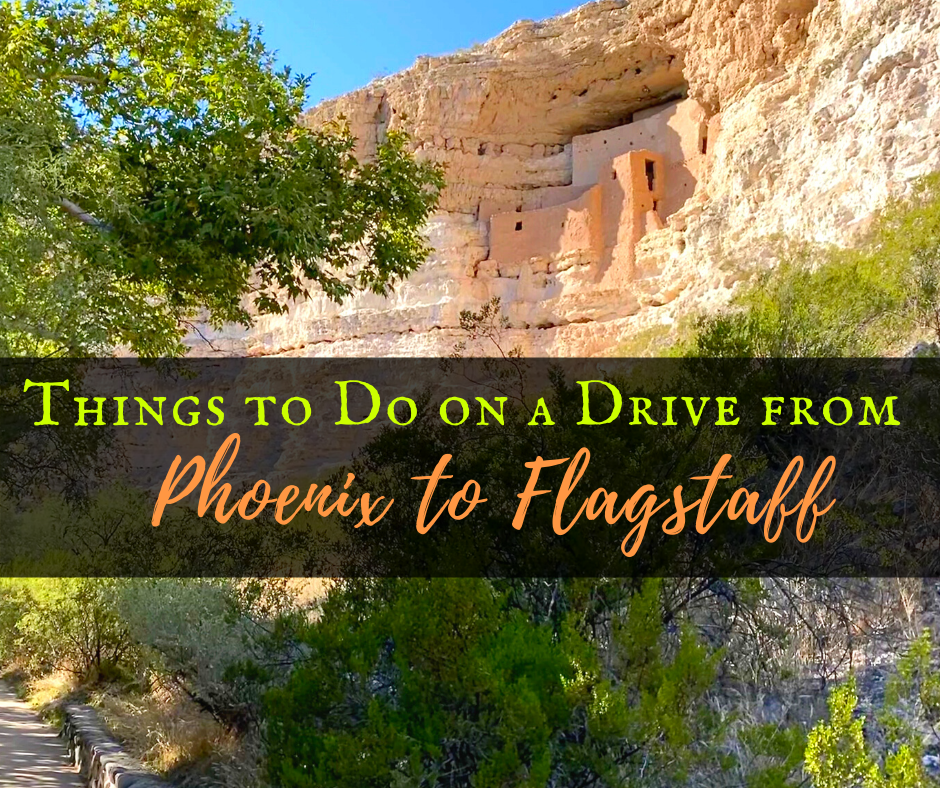 Whether you live in Arizona, drive from a neighboring state, or do a fly-drive, it's pretty safe to say the 2.5-hour drive between Phoenix and Flagstaff will be a part of your road trip itinerary. It's a given. Greater Phoenix is the largest metro area and Flagstaff is the gateway to virtually every attraction in northern Arizona.
If you make a day of it, you can turn your interstate drive into an adventure by stopping at a legendary pie place, touring an experimental town, and exploring two national monuments.
You also have the option of taking a detour through Sedona along two scenic byways and still reach your destination on time.
Navigate to the links below to learn more about things to do on a drive from Phoenix to Flagstaff
---
Take the Train to Grand Canyon National Park
---
If you are a fan of heritage rail travel, you may want to book a round-trip ticket from the town of Williams, Arizona, to the Grand Canyon's South Rim on the Grand Canyon Railway.
Backroad Planet's guide to the Grand Canyon Railway details the adventure from start to finish so you can tailor your experience to your schedule and budget.
The town of Williams is also home to Route 66 and the wildlife park Bearizona.
---
Tour Flagstaff Attractions on Your Own
---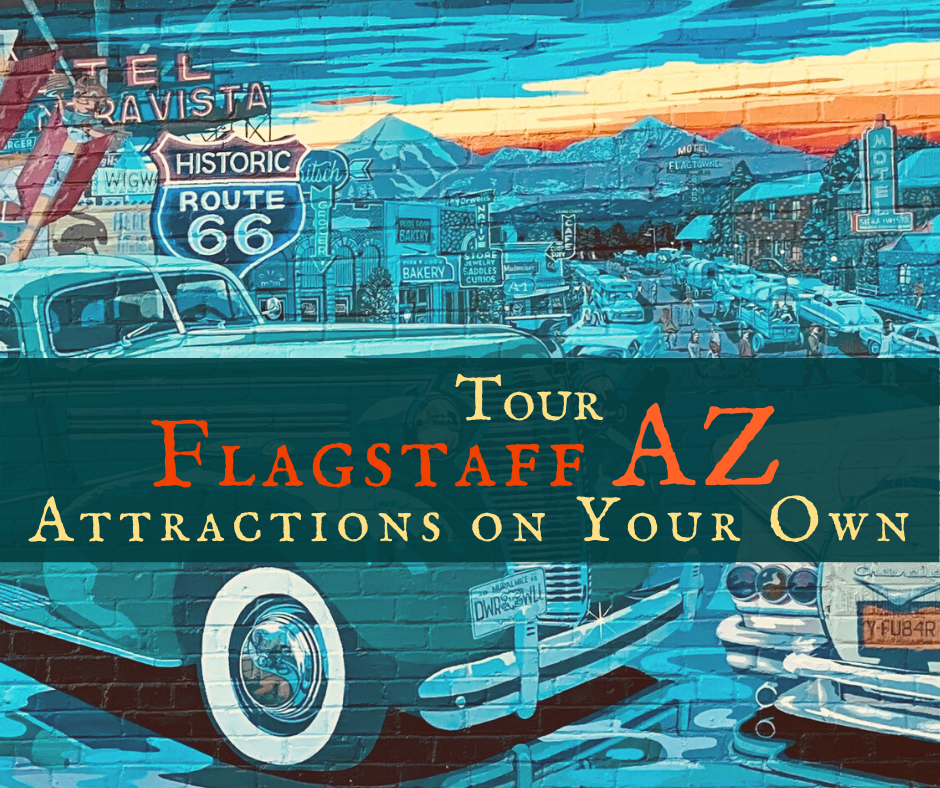 In addition to its strategic location as gateway to destinations across northern Arizona, the city of Flagstaff is a destination in its own right, with dozens of attractions to enjoy.
While in Flagstaff, visit the Museum of Northern Arizona, explore the cosmos at the world-renowned Lowell Observatory, and embark on a variety of themed self-guided walking and driving tours around town.
---
Three Magnificent Flagstaff National Monuments
---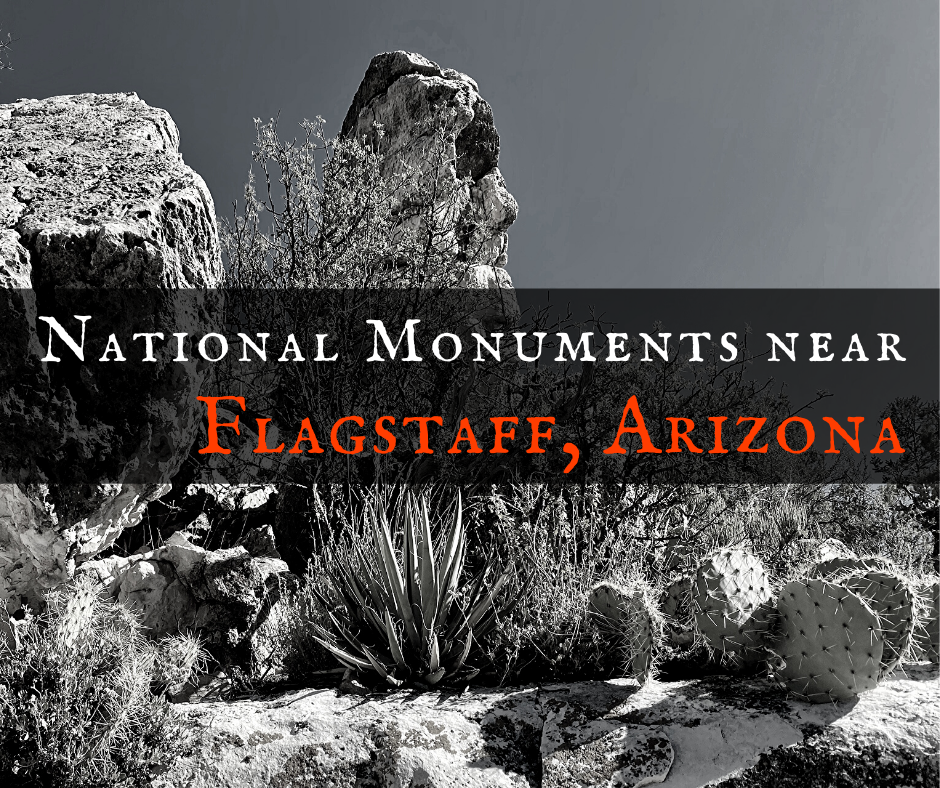 You can't honestly tour Flagstaff without also exploring the outskirts of town. That is where you will discover three of Flagstaff's most scenic, cultural, and historical attractions.
Navigate to our post Three Magnificent Flagstaff National Monuments and plan your visit to Sunset Crater Volcano NM, Wupatki NM, and Walnut Canyon NM.
---
Tons of Fun Things to Do in Winslow, Arizona
---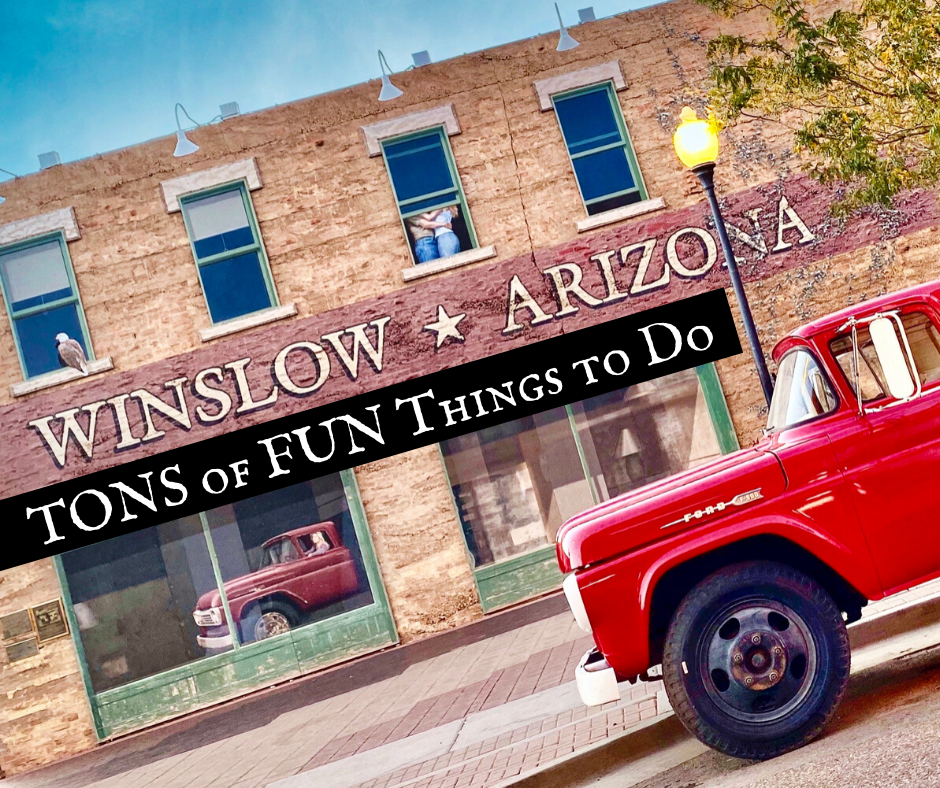 Winslow, Arizona, is more than just a lyric from an Eagles Top 40 radio single . . . although that connection is pretty cool, too.
Winslow has become my new favorite hometown destination, and I long to return to more fully explore its many attractions.
I guarantee that you will want to add Winslow to your Arizona road trip itinerary for the many reasons linked and listed below:
---
Drive the Painted Desert & Petrified Forest National Park
---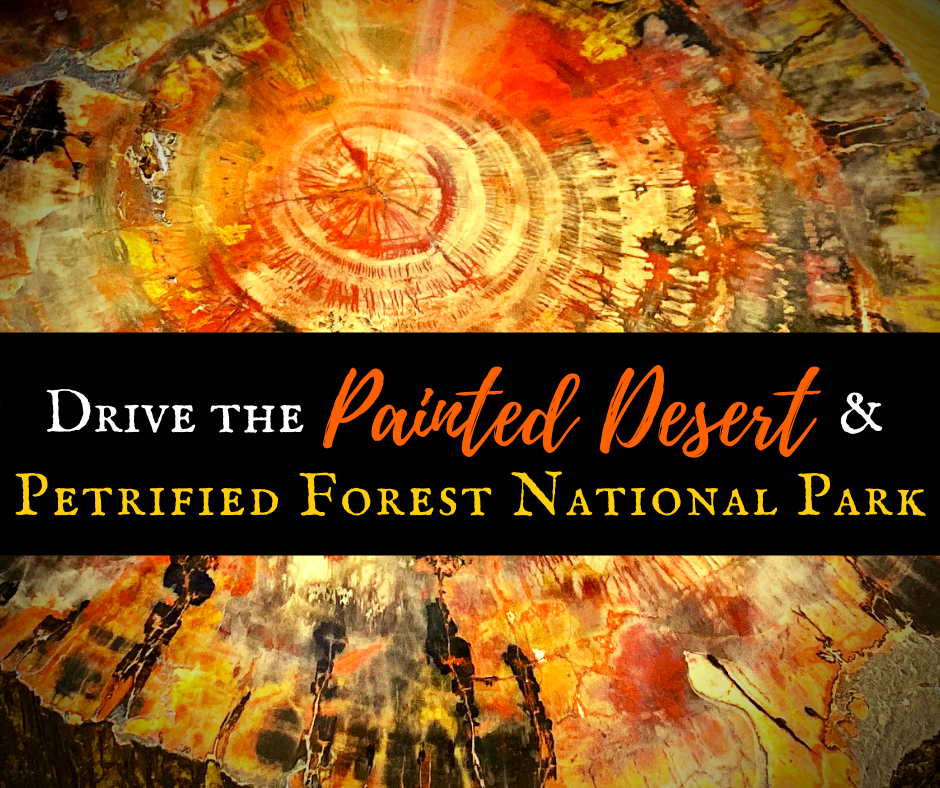 Petrified Forest National Park and the Painted Desert are less than an hour's drive east of Winslow, Arizona.
These otherworldly landscapes defy description, and you will want to dedicate most of one day to exploring the park.
Be sure to read the travel tips near the end of our post to optimize your Painted Desert and Petrified Forest experience.
---
Three Stunning Sedona Scenic Drives
---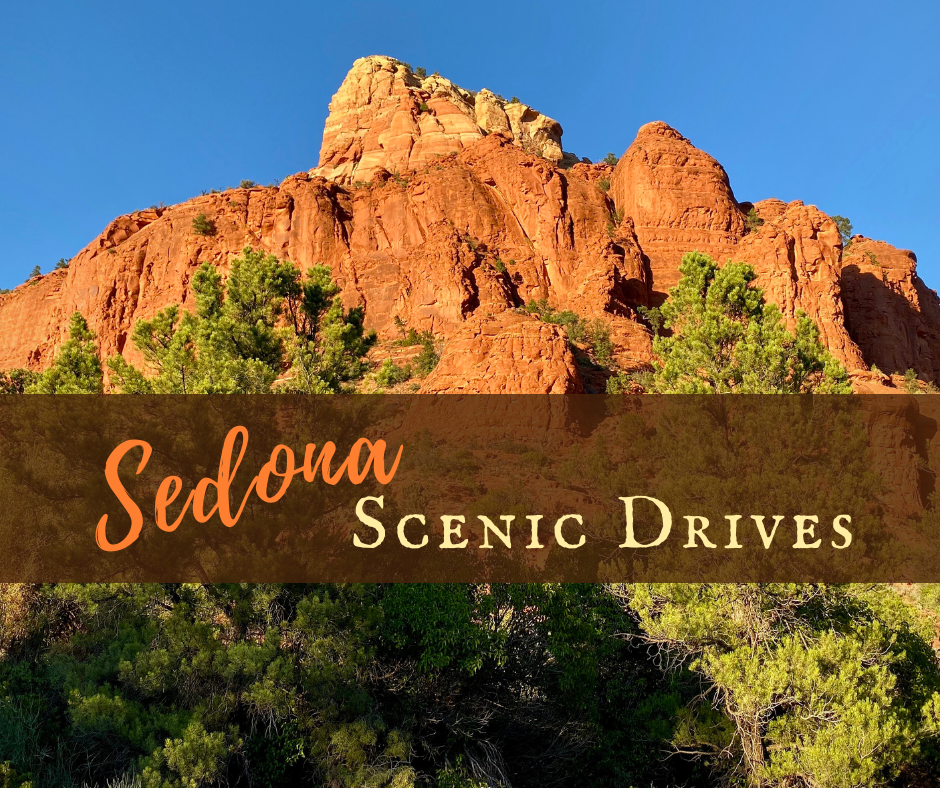 Sedona is undoubtedly the most popular tourist destination in Arizona's Verde Valley, but it can get overcrowded during peak times of the year.
If you want to enjoy Sedona without the crowds, check out these options for scenic drives along the Red Rock Scenic Byway and Oak Creek Canyon Scenic Road. You may also want to consider taking a guided jeep adventure tour while in the area.
Although not covered in this post, the 19-mile Dry Creek Scenic Road between Cottonwood and Sedona is another lovely route.
---
Amazing Attractions in Arizona's Verde Valley
---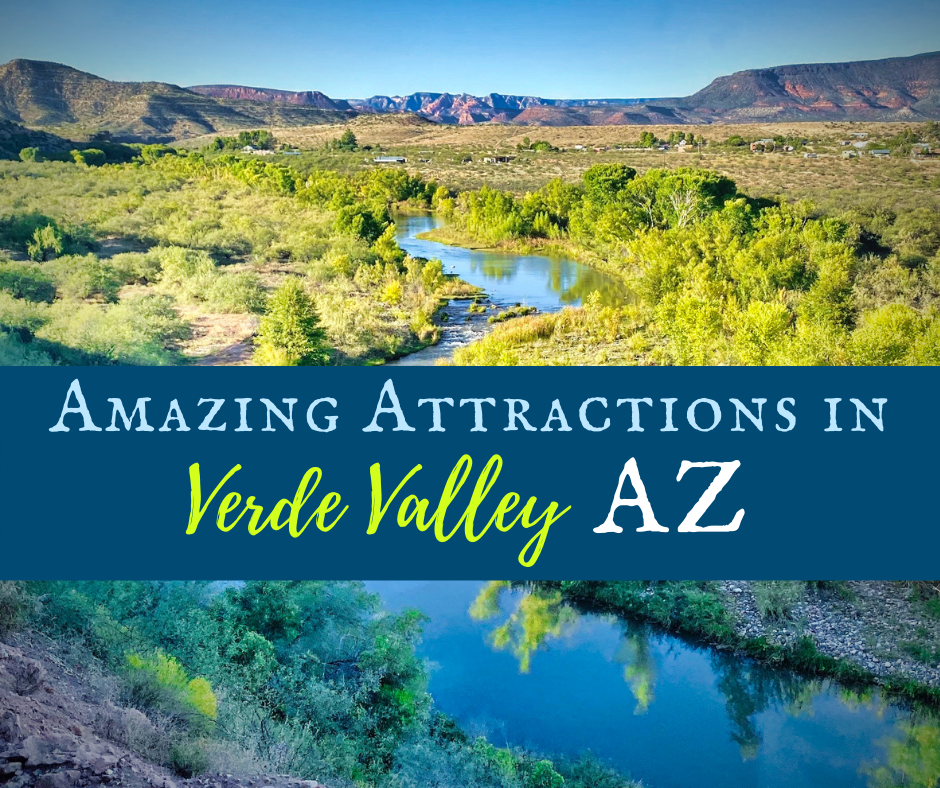 The Verde Valley is a lush corridor that stretches across central Arizona.
It is a region that boasts Native American archaeological sites, national forests, national monuments, state parks, scenic byways, and historic towns, making it an ideal destination for travelers of every persuasion.
To learn more about this amazing region, check out the Verde Valley attractions listed below:
---
Ride the Verde Canyon Railroad
---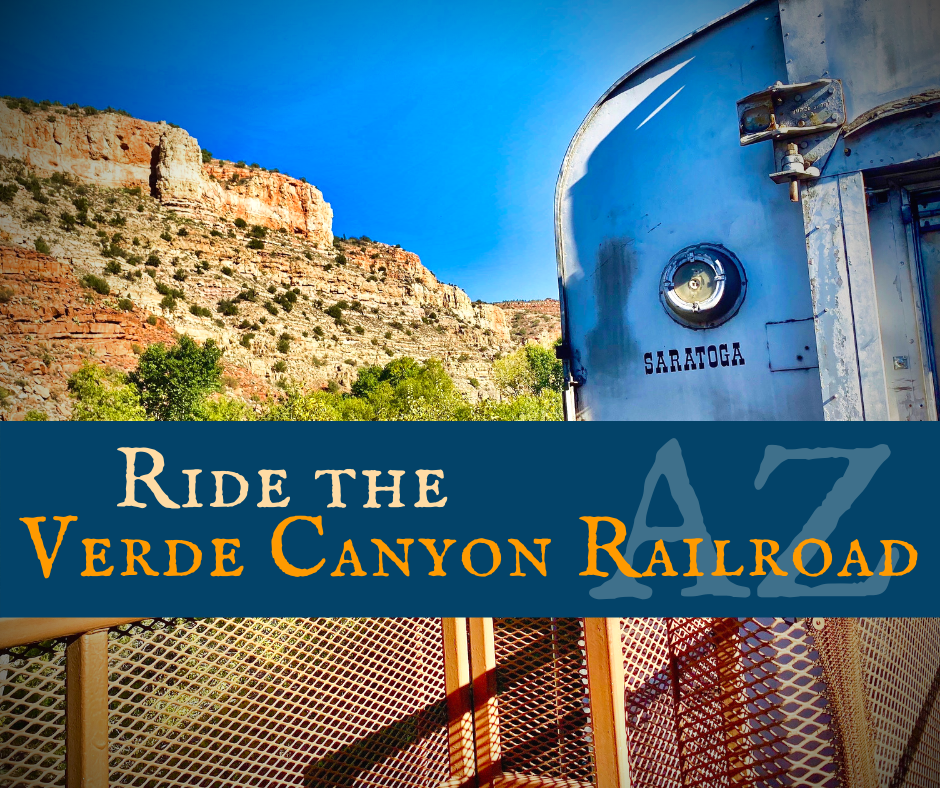 One of the most exciting activities in Arizona's Verde Valley is a scenic journey on a heritage railway.
It was such an incredible experience that we dedicated an entire post to the Verde Canyon Railroad.
This is one Verde Valley attraction you don't want to miss!
---
Geological & Cultural Diversity of Southeast Arizona
---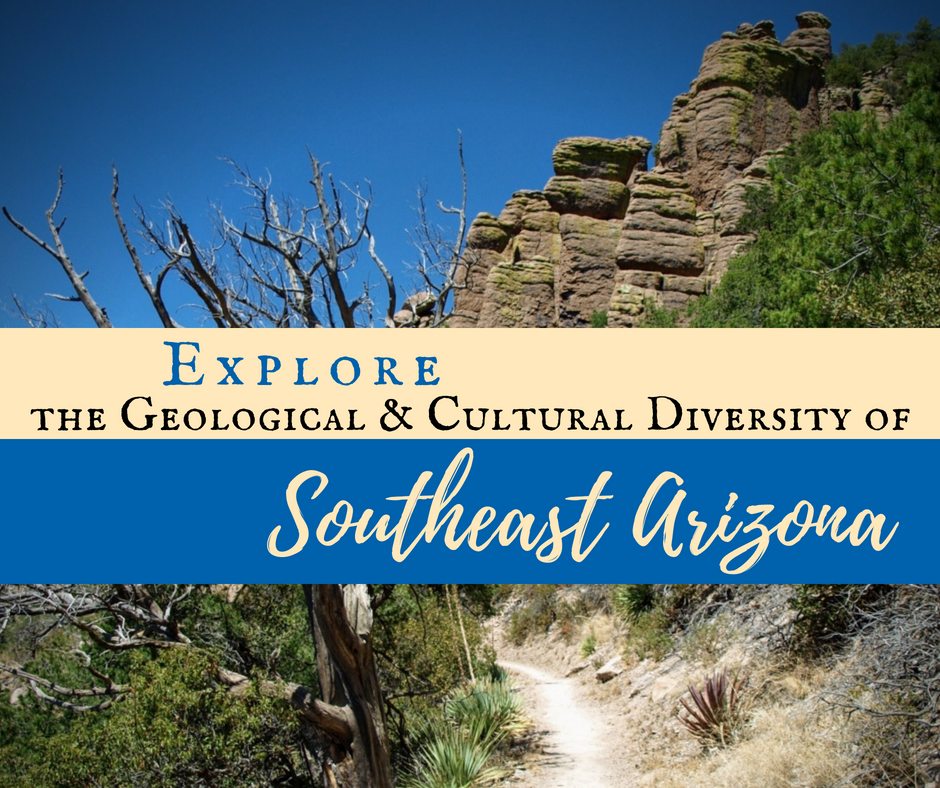 Many of the lesser-known regions of Arizona are equally as enjoyable as the state's heavily touristed destinations. In this guide, guest travel writer Adam Sawyer explores the geology and culture of Southeast Arizona.
If you like your road trips to take you off the beaten path, you may want to consider these obscure natural and cultural destinations for your Arizona road trip itinerary:
---
Happy Trails! An Arizona Road Trip 
---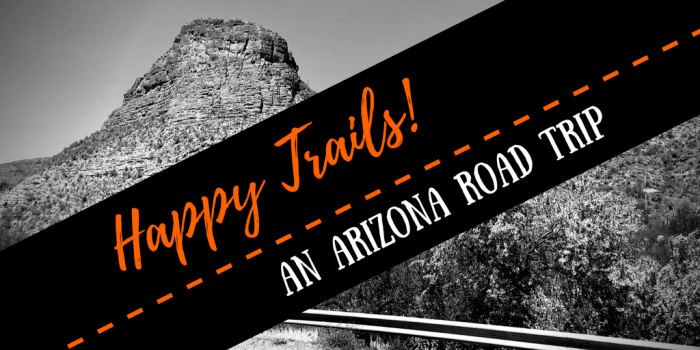 Happy Trails! An Arizona Road Trip is a loop road trip itinerary through central and eastern regions of the state. To access specific segments of the route, navigate directly with the links below:
---
Arizona Highways and Scenic Roads
---
Many years ago, a dear friend sent me a gift subscription to Arizona Highways magazine. The publication was filled with stunning photography, and I enjoyed it until the subscription expired.
Today, Arizona Highways—a subsidiary of the Arizona Department of Transportation—can also be found online. The publication's website still features the state's lovely landscapes and other resources for travelers.
A dedicated section of the website shares a searchable database and detailed information about scenic drives across the state.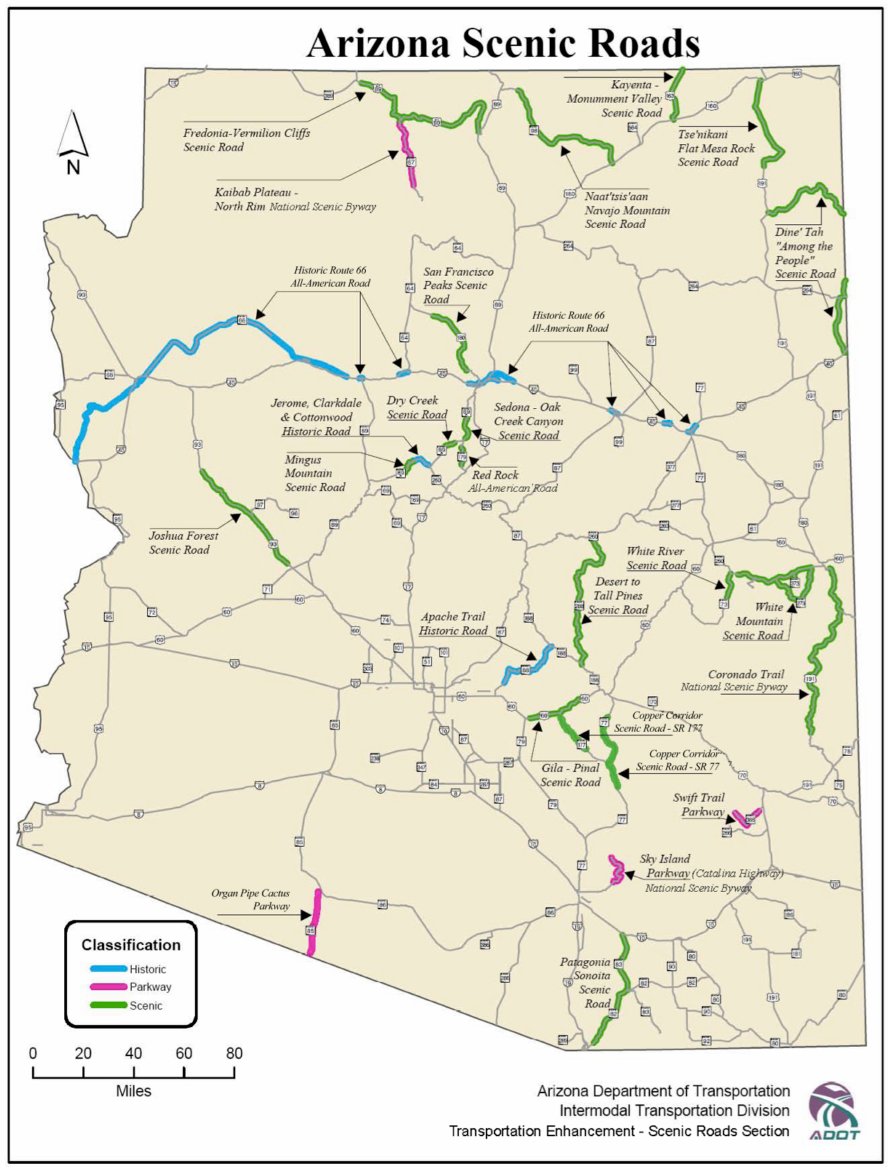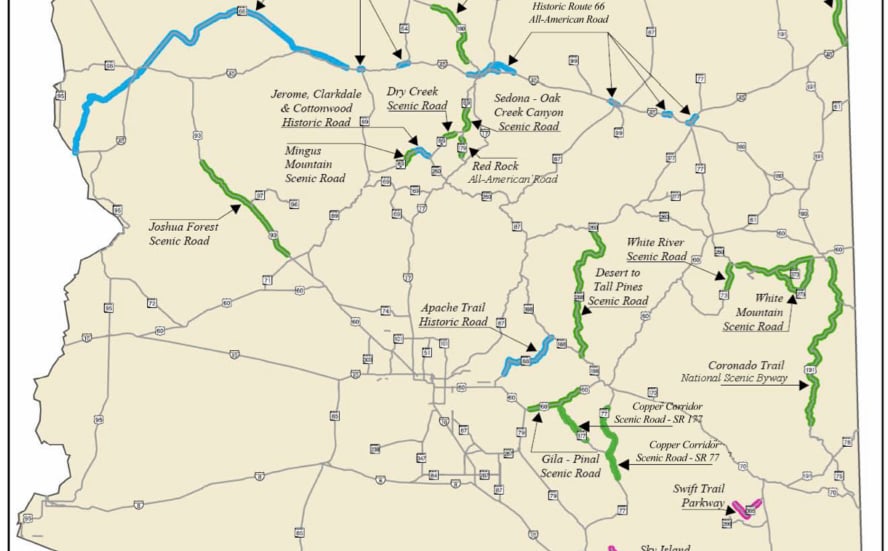 The downloadable PDF map above displays historic routes, parkways, and scenic roads, making it a perfect resource for Arizona road trip planners.
Click here to find lodging for your Arizona road trip on TripAdvisor!
---
Backroad Planet Road Trip Planning Resources
---
If this is your first time planning a road trip, or if you are curious to learn my personal road trip planning workflow, you may be interested in our 3-part series. Each post includes handy downloadable PDF forms to facilitate the planning process.
The Ultimate Road Trip Planner: Part 1 Pre-planning helps road trip designers answer six key questions that will guide them through the task.
The Ultimate Road Trip Planner: Part 2 Research suggests six general resources for finding destinations and routes.
The Ultimate Road Trip Planner: Part 3 Itinerary details my method for designing an itinerary with activities, dining, and lodging, and also includes a hack for organizing travel documents.
A newer post tells How to Find Unique Sites for Your USA Road Trip Itinerary, such as hidden scenic views, secret swimming holes, abandoned historical sites, and the best off-the-beaten-path locations.
---
Other Backroad Planet State and Regional Roundups
---
When you navigate to any of the following links you will find a wealth of content to help you choose destinations you want to visit and design an itinerary tailor-made to your interests.
---
We Would Love to Hear From You
---
We enjoy dialogue with our readers, especially when they share off-the-beaten-path destinations and useful travel tips. Have you ever taken an Arizona road trip? If so, we would love to hear about your experience. We invite you to leave your comments and questions below, and we always respond!
---
Pin this Post!
---