(a

12

minute read)
---
Tour Flagstaff attractions on your own with six themed self-guided walking & driving tours, plus stops at the Museum of Northern Arizona and Lowell Observatory.
---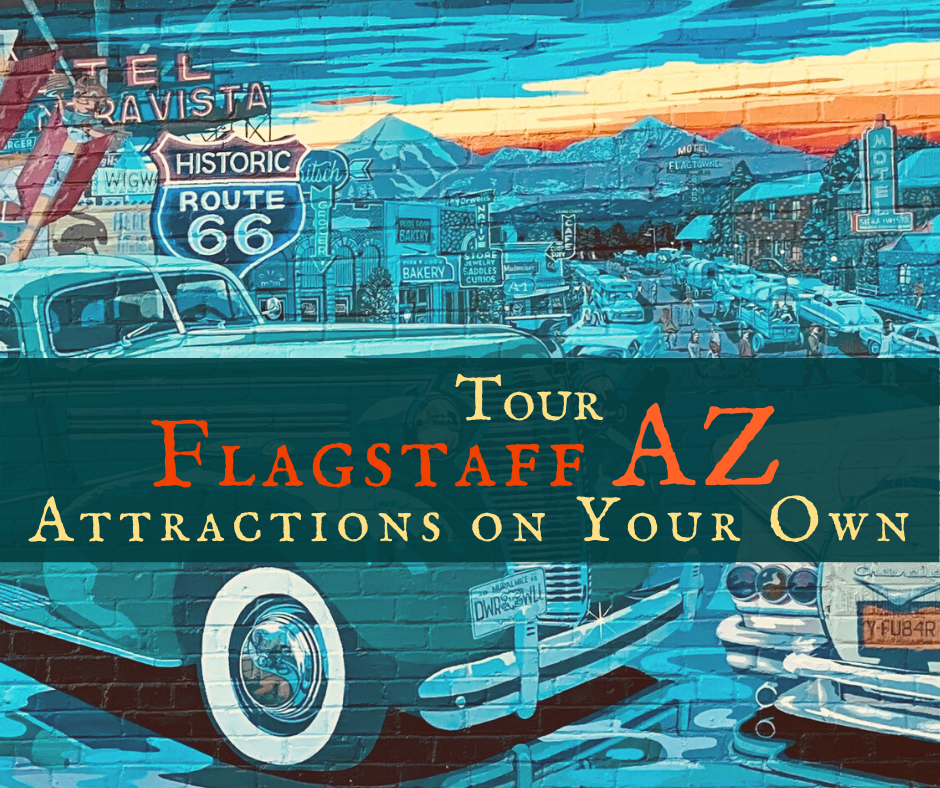 I was a guest of Visit Arizona and Discover Flagstaff, but all thoughts and opinions are my own. This post may contain affiliate links. Please refer to our our Disclosure/Disclaimer page for more information.
---
Tour Flagstaff Attractions
---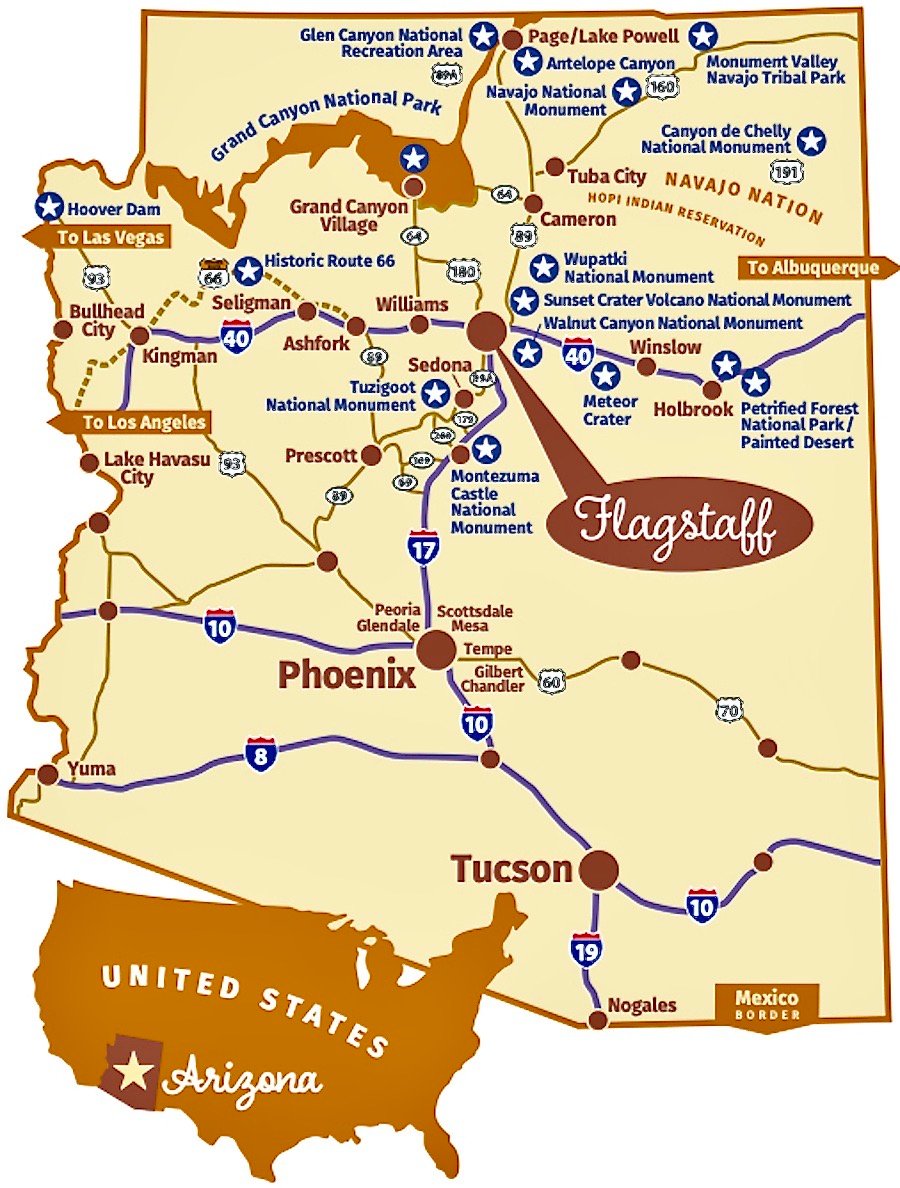 Map Credit: Discover Flagstaff
Flagstaff views itself as the gateway city of Northern Arizona, and it pretty much is.
Due to its central location, Flagstaff makes a great home base for regional hub-and-spoke travelers. You literally have to pass through Flagstaff to get anywhere.
On our last Arizona road trip, we had to drive from Phoenix to Flagstaff to reach the town of Williams, so we could take the train to the Grand Canyon. We had to drive back through Flagstaff to reach Winslow. And we drove through Flagstaff once again on our way to Sedona and Cottonwood.
Situated within in the Coconino National Forest, and surrounded by the San Francisco Peaks, Wupatki National Monument, Sunset Crater Volcano National Monument, Walnut Canyon National Monument, Oak Creek Canyon, and of course Grand Canyon National Park, Flagstaff deserves its title as the "City of Seven Wonders."
But Flagstaff is not just a hub city.
Flagstaff is a destination in its own right, with countless attractions to explore.
---
Flagstaff Visitor Center
---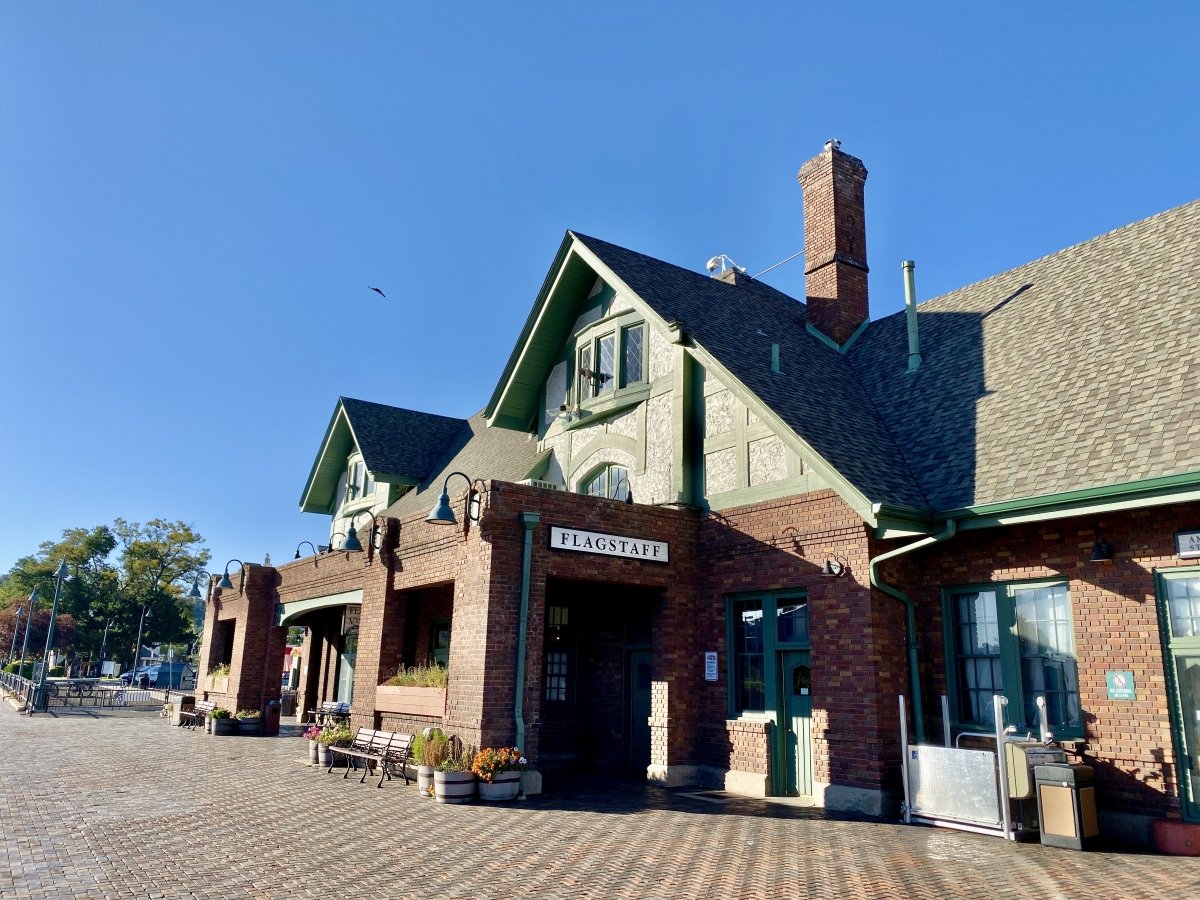 I have never been one to stop by visitor centers during my travels. By the time I arrive at a destination, I have researched my options, decided what I want to do, and designed a plan to make it happen.
But things have changed in recent years.
Since becoming a travel writer in my second chapter, I work closely with tourism boards, and many of my itineraries include stops at their visitor centers.
Visitor centers are typically run by locals who know the area and can give you the information you need faster than a Google search, and they have racks upon racks stocked with maps, brochures, guides, and other print media not found online.
Located downtown at the former train depot, the Flagstaff Visitor Center is a treasure chest overflowing with information and publications to help guests fine-tune their itineraries or design a new one quickly from scratch.
With resources like these, you will be able to tour Flagstaff attractions like a boss!
Note: Free parking spots in downtown Flagstaff are at a premium, but a handy downloadable one-pager from Park Flag will help you learn Flagstaff parking protocol before you get there.
---
Flagstaff Self-Guided Tours
---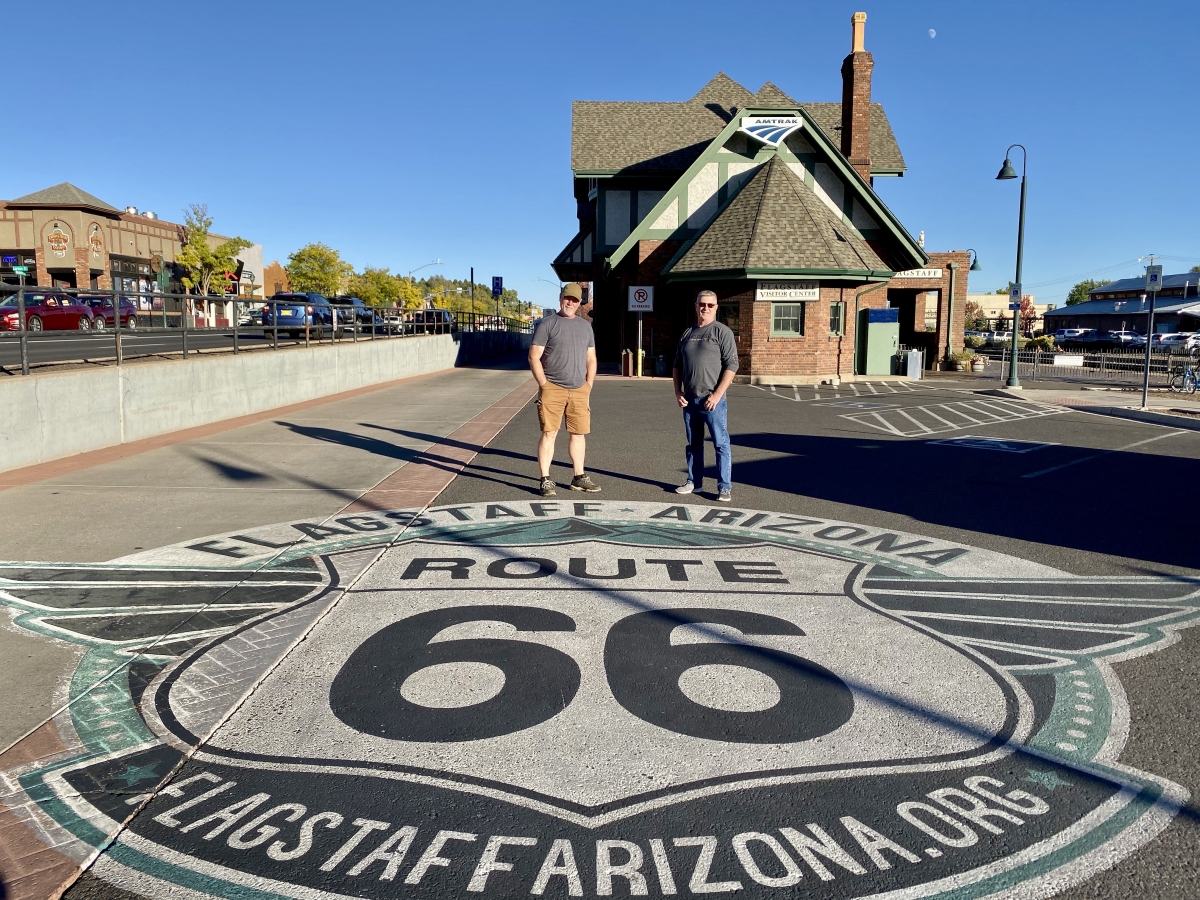 I am a huge fan of self-guided tours, and I encourage every destination, no matter how small, to make them available to out-of-towners.
Flagstaff has lots of options for self-guided walking and driving tours. These free themed tours offer something for everyone, and using the links in the descriptions below you can preview the tours while designing your Flagstaff itinerary.
Flagstaff Selfie Trail
---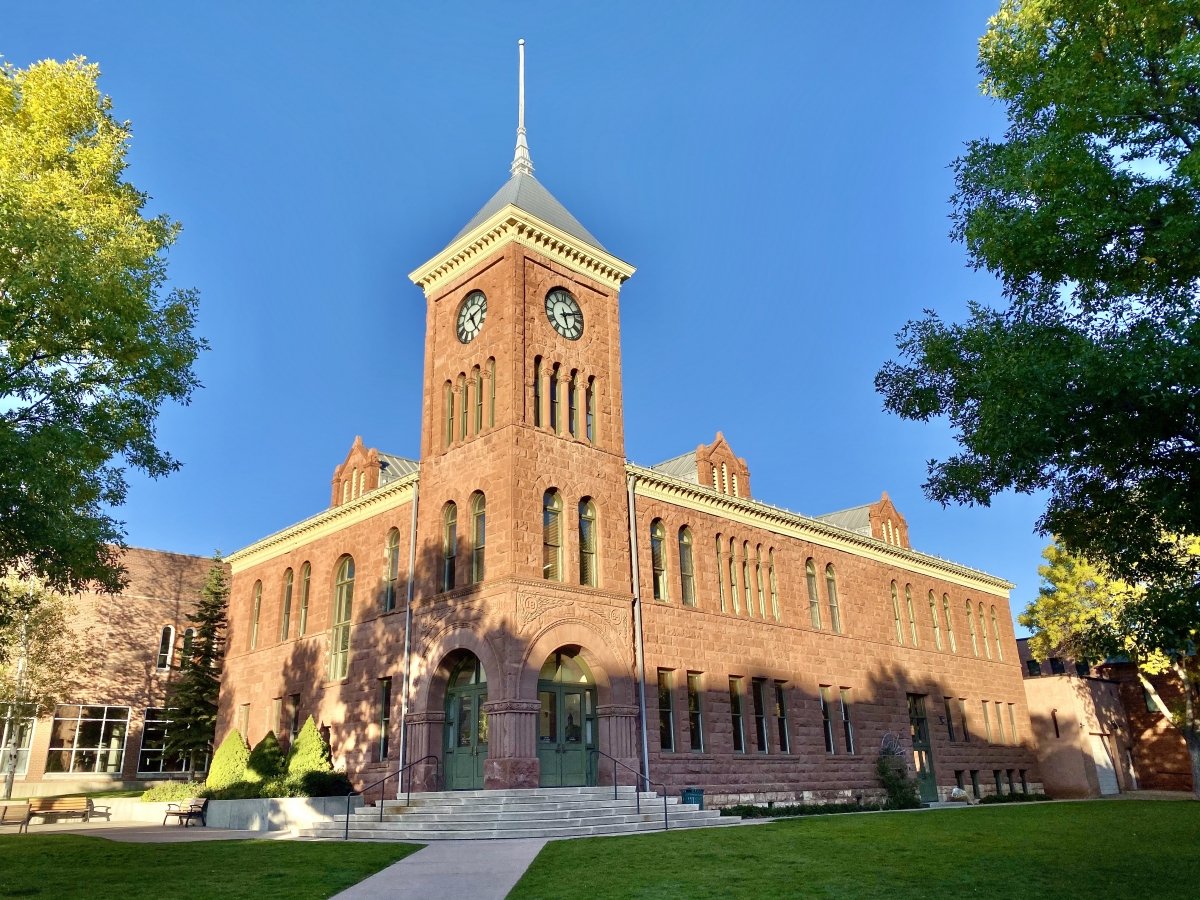 The Flagstaff Selfie Trail identifies 15 locations around town, such as the Coconino County Courthouse, that provide great backgrounds for for social media enthusiasts to take selfies.
Be sure to use the hashtag #FlagstaffSelfie when sharing your photos.
Flagstaff Public Art Tour
---
Art is everywhere in Flagstaff. Sculptures, mosaics, photography, bas-relief, and murals literally paint the town.
The massive Flagstaff Public Art Map and Self-Guided Art Tour will keep you busy for hours.
This combination walking and driving tour will lead you as far as the San Francisco Peaks to scout arborglyphs, aspen bark carvings by Basque shepherds that date to the 1920s.
Be sure not to miss the Mother Myth Mural on Phoenix Avenue. This illustrated timeline traces Flagstaff's Route 66 history from the 1920s through the 1980s.
Tip: The link to the public art tour above is an online app, not a PDF. I recommend stopping by the Flagstaff Visitor Center to pick up a free print copy of the map and tour.
Flagstaff's Route 66 Walking Tour
---
I am a sucker for retro relics like Flagstaff's towering neon signs that date to the golden age of road travel .
The Route 66 Self-Guided Walking Tour follows a loop route to 8 key locations connected to the historic Mother Road.
A new project called Walk This Talk – Route 66 is a pedestrian audio tour with 10 designated stops along the historic road and through Flagstaff's Southside. At each location, pedestrians dial the associated toll-free number to hear an audio interpretation of the site. The audio tour begins at the Visitor Center with an introduction by Flagstaff's native son Ted Danson.
Some of Flagstaff's historic motor courts are still in operation today. Motel Sierra Vista is a long-term apartment complex, but you can still book overnight accommodations at Motel Du Beau.
I have driven segments of Route 66 in Williams and Winslow, Arizona, Petrified Forest National Park, and Amarillo, Texas. But a full-length drive along the Mother Road from Chicago to Santa Monica is still on my bucket list.
Flagstaff's Lunar Landmarks Trail & Passport
---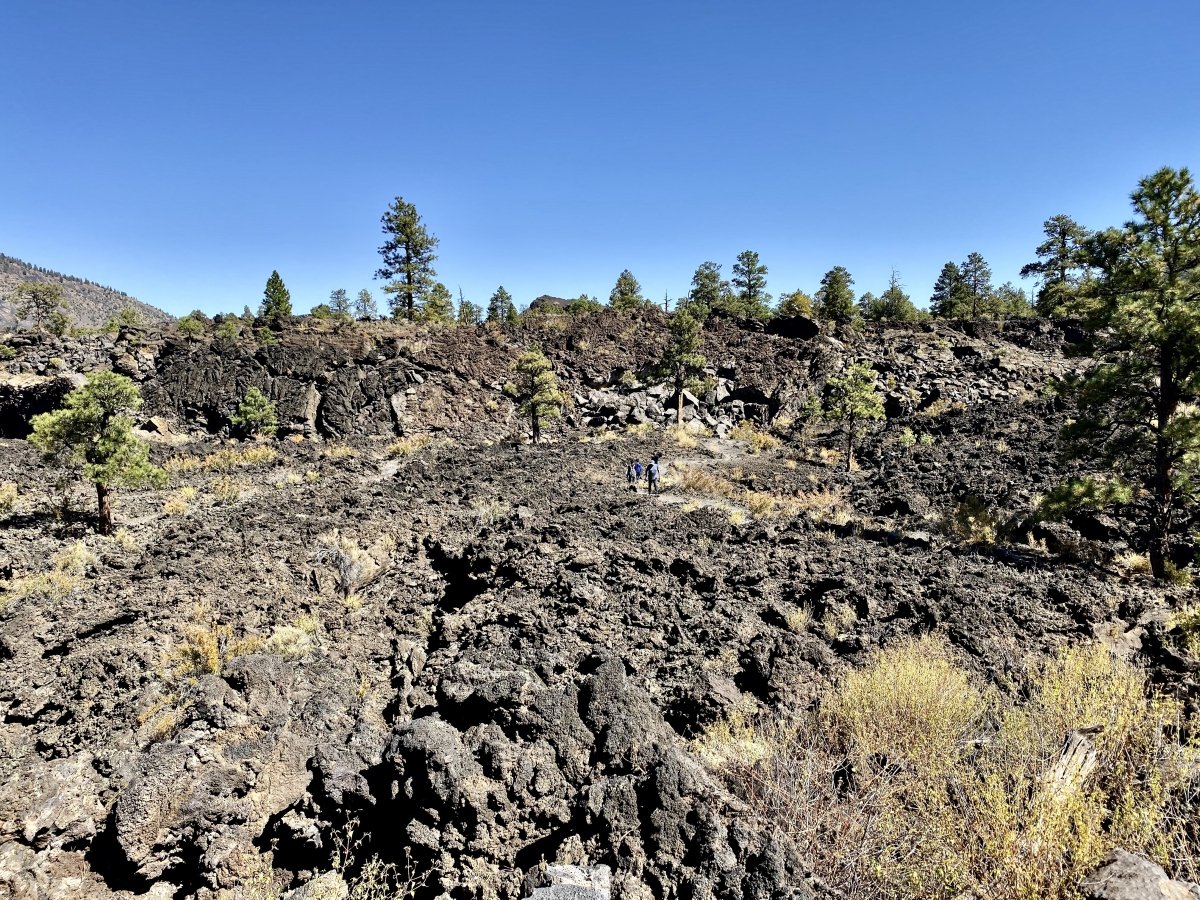 Many readers may not realize that locations in and around Flagstaff played a huge role in preparing NASA astronauts for Apollo missions.
In the 1960s, the Bonito Lava Field at Sunset Crater Volcano National Monument and other regional locations mimicked the rugged terrain of the moon's surface for astronauts learning to pilot the lunar rover and manage tasks in their bulky space suits
In recognition of the 50th anniversary of the Apollo 11 moon landing, Flagstaff launched its Lunar Landmarks Trail Map and Passport. For a limited time, guests who collect at least three passport stamps can receive a free commemorative souvenir at the Flagstaff Visitor Center.
Flagstaff's Haunted Places Walking Tour
---
If you are intrigued by the paranormal, Flagstaff's Haunted Places Walking Tour may interest you. I always jump on ghost tours, not because they are spooky, but because they involve history and architecture.
Flagstaff's historic Weatherford Hotel and Orpheum Theatre pictured above are both stops on the route.
Flagstaff Urban Trails and Bikeways
---
Perhaps the best way to get to know Flagstaff is to hike or bike its 30+ urban trails.
You can view or download the Flagstaff Urban Trails and Bikeways Map front and back for planning purposes, but it is another large publication. You may want to download the mobile app or pick up a print copy at the visitor center.
---
Museum of Northern Arizona
---
Flagstaff is situated on the Colorado Plateau, a physiographic region of the southwest centered around the Four Corners of Utah, Colorado, Arizona, and New Mexico.
This region has the greatest concentration of National Park Service units outside of metro Washington, DC, including nine national parks and eighteen national monuments.
To learn the ancient history of greater Flagstaff and the Colorado Plateau, a visit to the world-renowned Museum of Northern Arizona is in order. Its collections provide a fitting introduction to exploring Flagstaff's three national monuments—Sunset Crater Volcano NM, Wupatki NM, and Walnut Canyon NM—and beyond.
The museum was established in 1928 to "preserve the natural and cultural heritage of northern Arizona through research, collections, conservation and education."
Permanent collection artifacts are displayed in multiple themed galleries designed to interpret the geological, paleontological, archaeological, and cultural history of the Colorado Plateau.
Visitors to Flagstaff will recognize the San Francisco Peaks, a volcanic mountain range that dominates the landscape north of town.
Jerry and I had admired the beautiful mountains earlier in the day after driving the Loop Road through Sunset Crater Volcano and Wupatki National Monuments.
Imagine our surprise to learn from an overlay diagram in the geology gallery that the San Francisco Peaks were once a single towering volcano called San Francisco Mountain. The cone of the volcano eventually crumbled, losing 2,500 feet of elevation and creating the mountain range of today.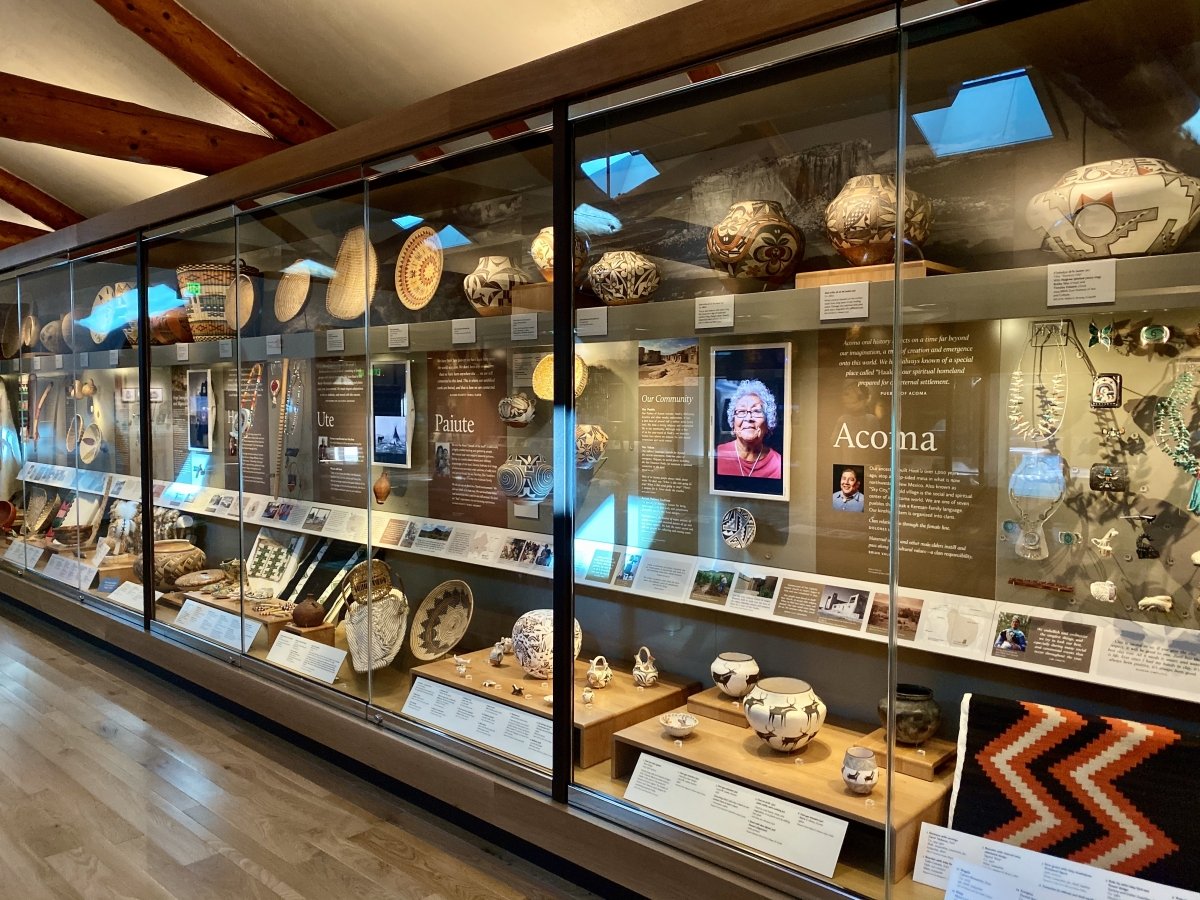 The Native Peoples Gallery is perhaps the loveliest display at the museum. Exhibits visually interpret the histories, values, and cultures of the Zuni, Acoma, Ute, Paiute, Hopi, Havasupai, Hualapai, Yavapai, Apache, and Navajo tribes that have inhabited the Colorado Plateau for centuries.
The Babbitt Gallery highlights both ancient and contemporary art with fine collections of ceramics and jewelry.
A recreation of a Hopi kiva with a rooftop entrance gives guests the illusion of being in a subterranean space.
The museum also features revolving special exhibitions throughout the year. During our visit we experienced "The Force is With Our People" exhibition, featuring the works of more than twenty Native artists whose efforts have been influenced by Star Wars.
Notable works include a pen-on-plastic Stormtrooper by Rob Velarde, a fine art print of Maiden Leia by Mike Toya, and a remote-controlled acrylic on metal HOPI R2 droid created by Duane Koyawena and Joe Mastroianni.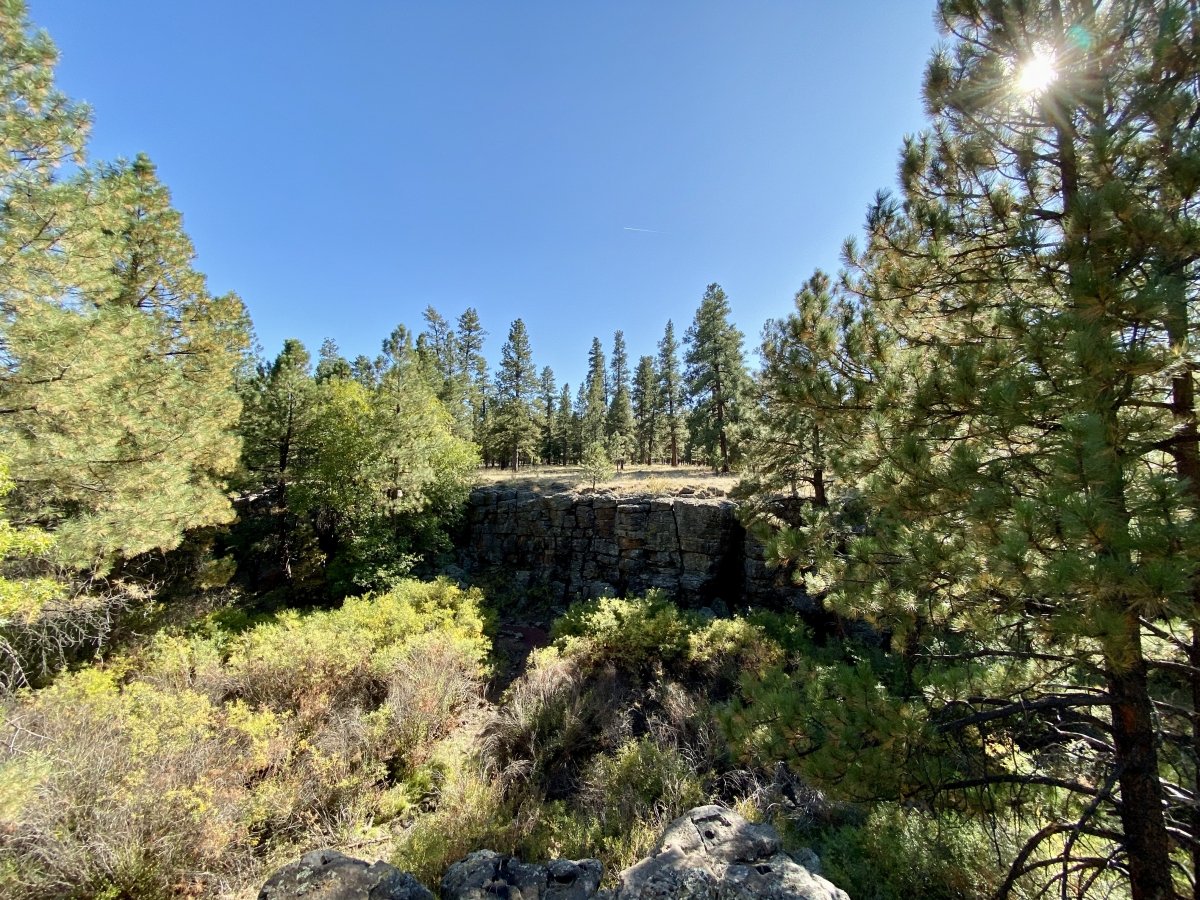 The museum experience extends outdoors along the Rio de Flag nature trail. The half-mile path winds through a small canyon, a forest of ponderosa pines, and past a small spring.
Guests can access the Flagstaff Urban Trail System from the west end of the museum parking area.
The Museum of Northern Arizona is open daily at varying times, and admission fees apply.
---
Lowell Observatory
---
Flagstaff's Lowell Observatory was founded in 1894 by wealthy Bostonian and Harvard graduate Percival Lowell to further study the planet Mars.
Through the years the observatory has been credited with many claims to fame, including the discovery of Pluto, the rings of Uranus, and moon-mapping for the Apollo missions. For its significant scientific contributions and historical influence, the observatory was designated a National Historic Landmark in 1965.
The evening of our visit happened to be the grand opening of Lowell Observatory's newest addition, the Giovale Open Deck Observatory. The place was packed, lines were long, and we were lucky to have found a parking space.
The campus was also pitch black, and navigating in the dark was a challenge. This statement is not a complaint. It is actually a compliment. In 2001, the City of Flagstaff was designated the world's first International Dark Sky City for its innovative lighting codes to minimize light pollution and promote stargazing.
As one would expect, Lowell Observatory is a stop on Flagstaff's Lunar Landmarks Trail. I recommend visiting the observatory during the day to become acquainted with the campus and then returning at night to experience the telescopes.
Lowell Observatory is open daily at varying times, and admission fees apply.
---
Three Flagstaff National Monuments
---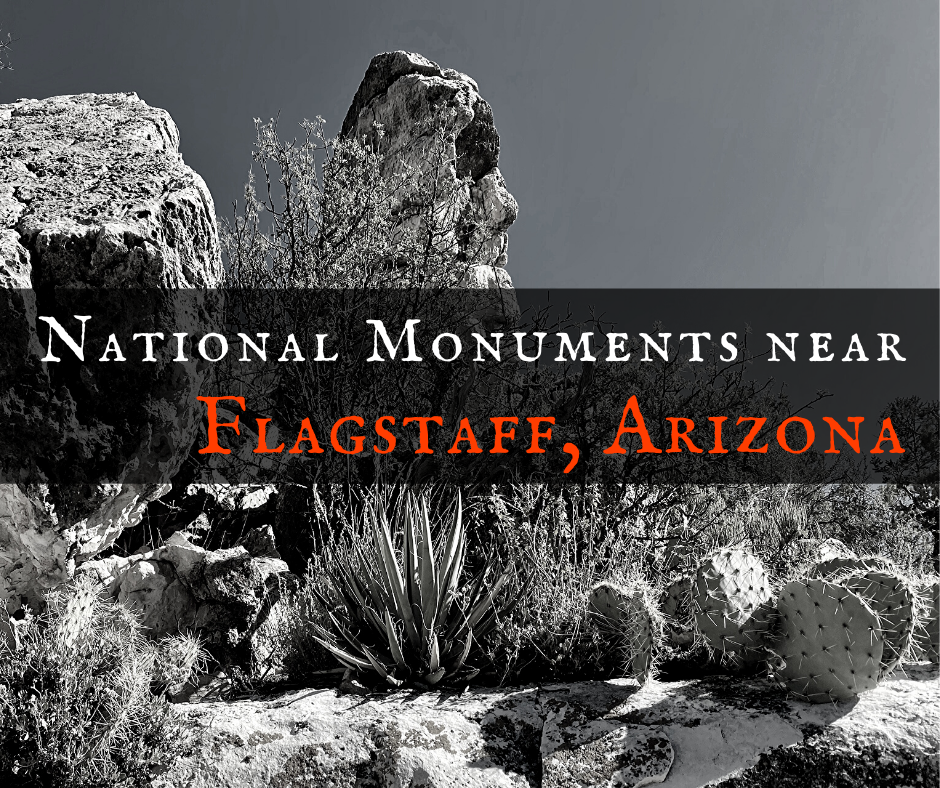 You can't honestly tour Flagstaff without exploring the outskirts of town. That is where you will discover some of Flagstaff's most scenic, cultural, and historical attractions.
Navigate to our post Three Magnificent Flagstaff National Monuments to learn about Sunset Crater Volcano, Wupatki, and Walnut Canyon National Monuments.
---
Lodging
---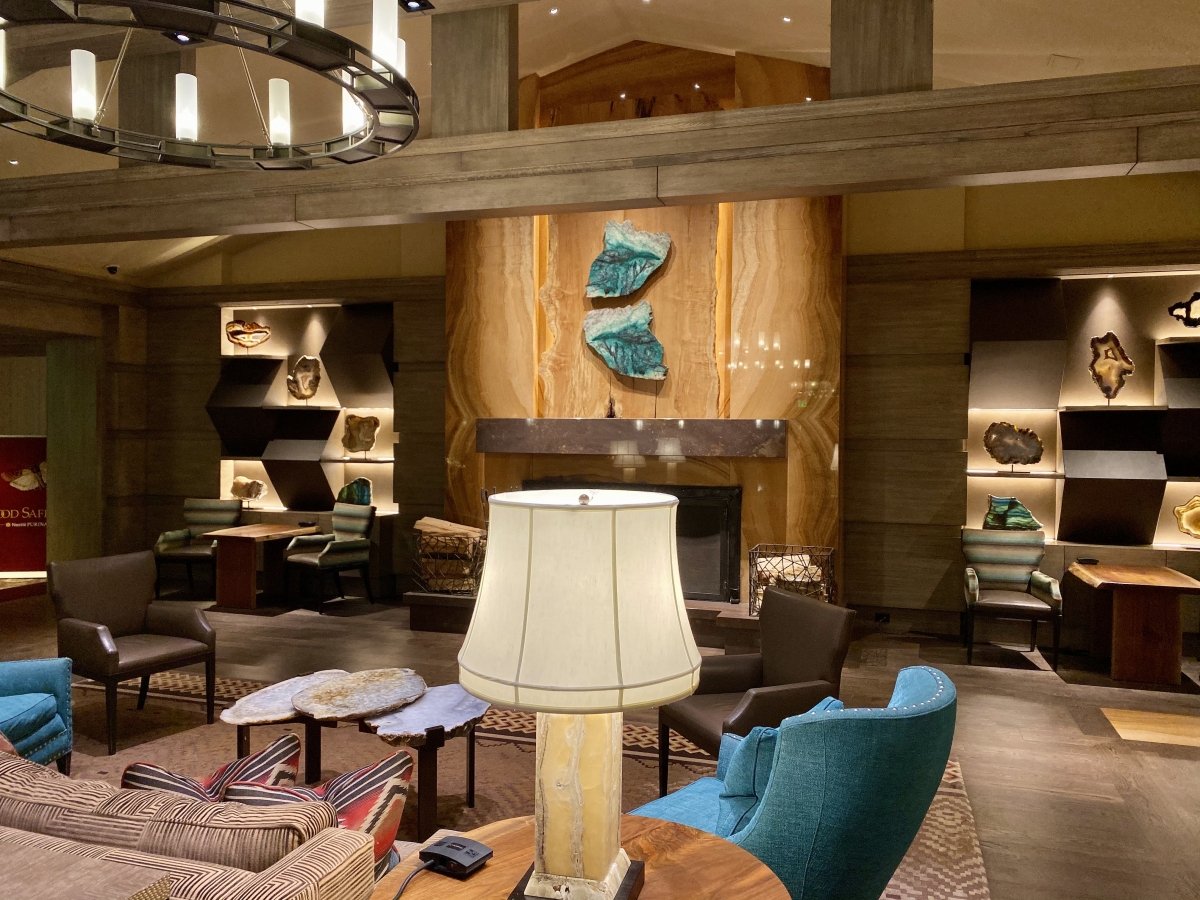 Little America Flagstaff is such a great property, and you will find it a welcomed respite after an adventurous day exploring Flagstaff attractions.
Spacious rooms and suites at Little America Flagstaff are newly renovated with a contemporary Southwest motif, and I would have welcomed the opportunity to stay for a few more days.
Click here for more Flagstaff lodging options on TripAdvisor!
---
Dining
---
Flagstaff has an active dining scene, with more than 200 restaurants, breweries, bars, and pet-friendly patios to choose from.
Tourist Home Cafe + Market
---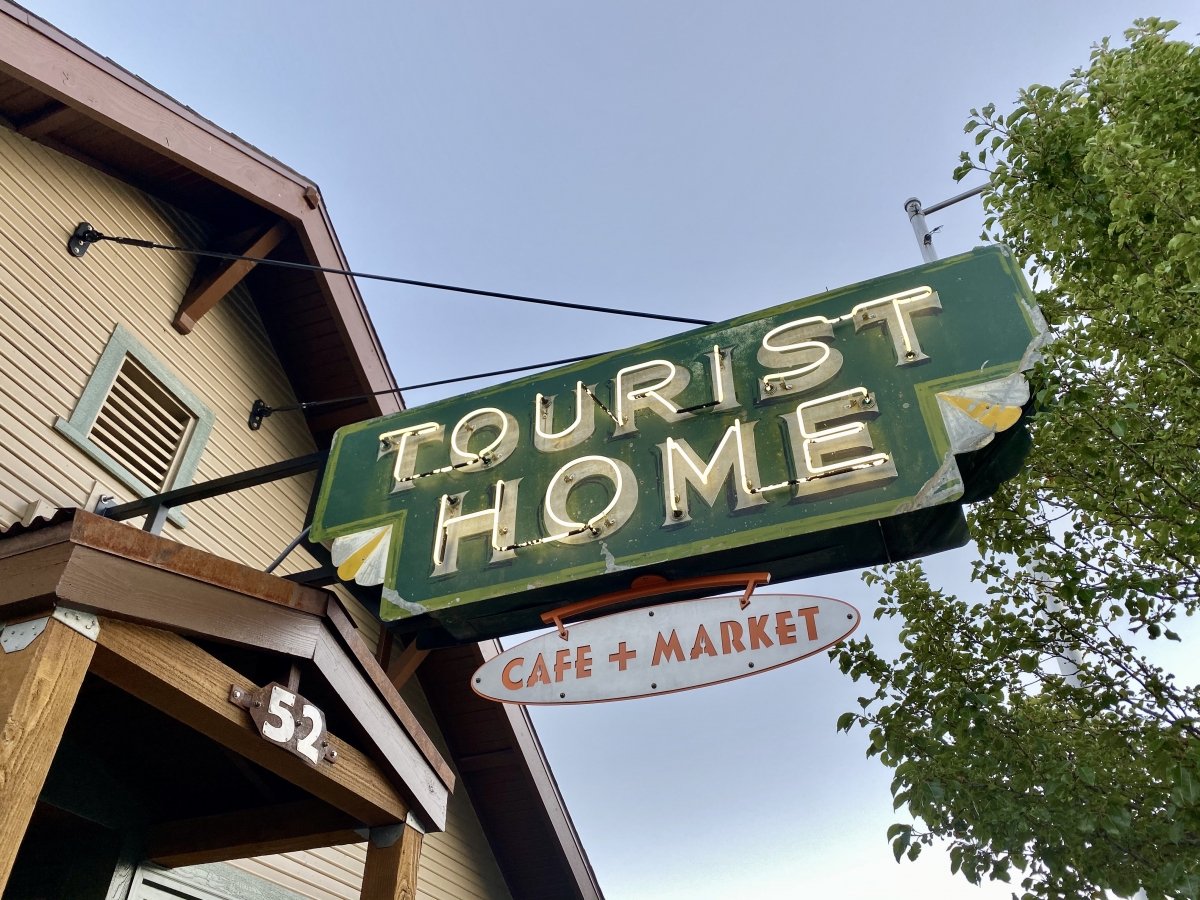 The Tourist Home Cafe + Market is not just an all-day, made-from-scratch bakery and restaurant. It also has a redemptive backstory.
The original Tourist Home was a boarding house built in 1926 to house Basque sheepherders. When the sheepherding industry disappeared, the property fell into disrepair and sat vacant for nearly forty years.
Enter restaurateur Kevin Heinonen, who in 2014 purchased, renovated, and reopened the property as an eatery, while simultaneously making a worthy contribution to the restoration of Flagstaff's Southside.
You know I love that vintage sign!
Historic Brewing Co. Barrel + Bottle House
---
The Historic Brewing Co. is a local craft brewery that features a taproom with 16 rotating taps of beers. Offering something for everyone, the property also houses the Historic Barrel + Bottle House with a full liquor bar and pub grub menu.
I enjoyed a Historic Margarita, Pub Mac-n-Cheese, and Southwest Salad on the patio with a gathering of dog-friendly locals and out-of-towners.
---
Map It!
---
---
Design Your Own Arizona Road Trip
---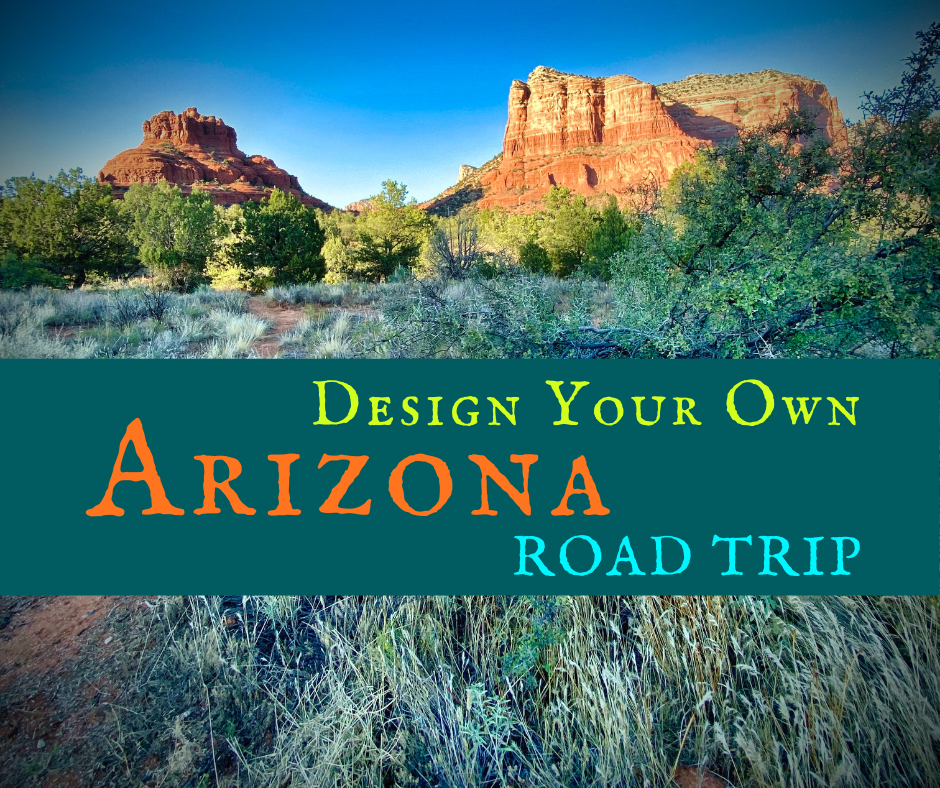 For more Arizona destination information and road trip planning resources, navigate to our Design Your Own Arizona Road Trip round-up post, or use the links below for direct access to additional stories and guides:
Things to Do on a Drive from Phoenix to Flagstaff, Arizona
Take the Train to Grand Canyon National Park: An Insider's Guide
3 Magnificent Flagstaff National Monuments
Drive the Painted Desert & Petrified Forest National Park
Tons of Fun Things to Do in Winslow, Arizona
3 Stunning Sedona Scenic Drives
Ride Arizona's Verde Canyon Railroad
7+ Amazing Attractions in Verde Valley AZ
Explore the Geological and Cultural Diversity of Southeast Arizona
---
Happy Trails! An Arizona Road Trip 
---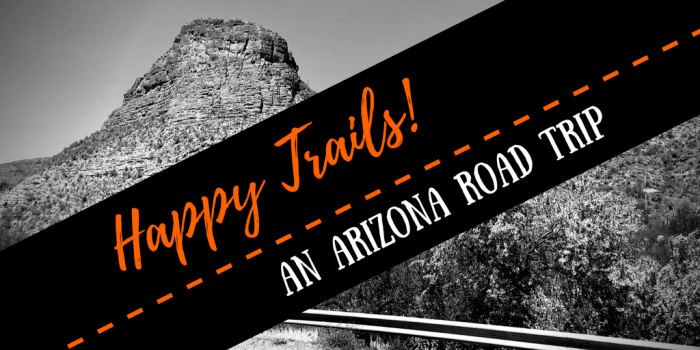 Be sure to check out Happy Trails! An Arizona Road Trip for a loop itinerary through central and eastern regions of the state. To access specific segments of the route, navigate directly using the links below:
---
We Would Love to Hear From You
---
We enjoy dialogue with our readers, especially when they share off-the-beaten-path destinations and useful travel tips. Have you ever had the opportunity to tour Flagstaff attractions? If so, we would love to hear about your experience. We invite you to leave your comments and questions below, and we always respond!
---
Pin this Post!
---