(a

11

minute read)
---
Revisit retro road travel in Amarillo, Texas, on Historic Route 66, at Cadillac Ranch, the Big Texan, Sisemore's RV Museum, and Palo Duro Canyon State Park.
---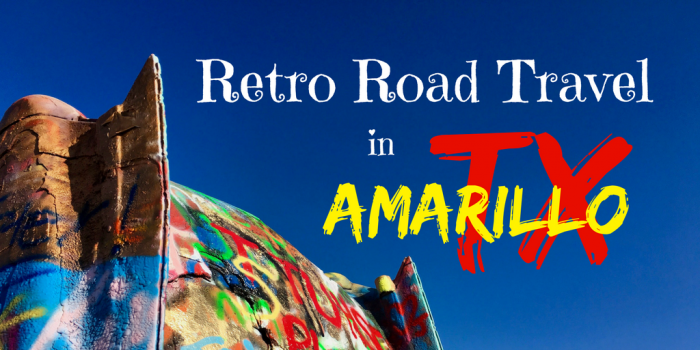 I was a guest of Visit Amarillo, but all thoughts and opinions are my own.
Until I visited for the first time, the only thing I knew about the largest city in the Texas Panhandle was the song "Amarillo By Morning" as recorded by George Strait. That left me little to go on, but I was about to be immersed head-first into the wonders of the Lone Star State as part of an erratic road trip that would also take me to Lubbock, Grapevine, Waco, and Granbury.
But up first, Amarillo . . . .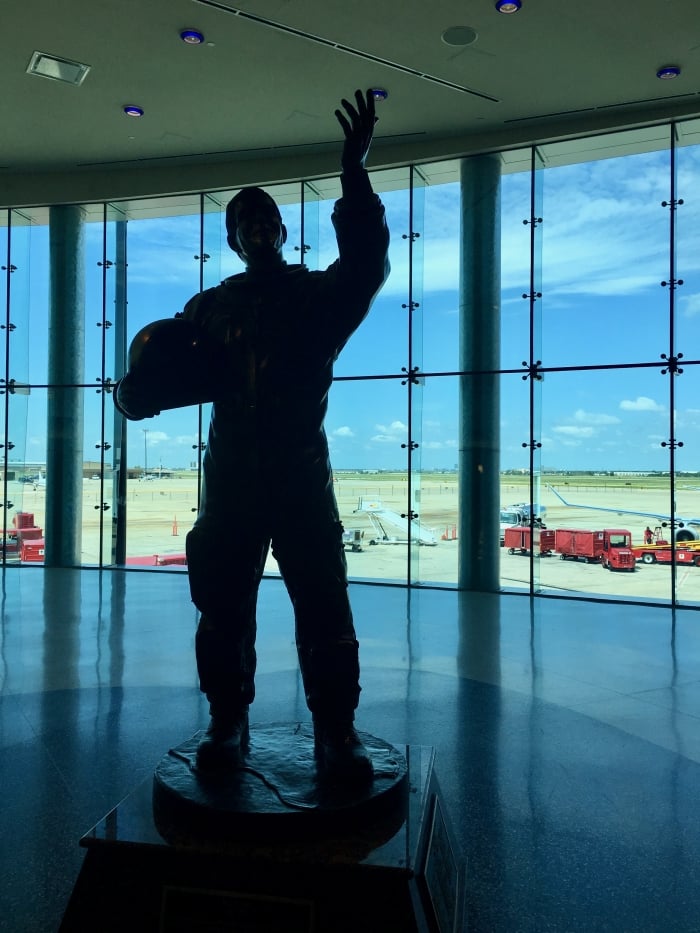 I landed at the Rick Husband Amarillo International Airport, named for the Amarillo native and Commander of the Space Shuttle Columbia who perished in the skies over his home state when the spacecraft disintegrated upon re-entry on February 1, 2003. A bronze statue dedicated to his memory stands in the airport waiting area.
---
Retro Road Travel in Amarillo
---
No matter how much you research a destination before your travel, your perceptions are almost always different from the reality when you ultimately arrive. Such was the case with Amarillo.
Amarillo began as a cow town in the late 1800s, and its continued growth is attributed primarily to the service of three major railroads, including the Atchison, Topeka and Santa Fe Railway. Surprisingly, its northern location in the Texas Panhandle places Amarillo closer to three neighboring state capitols (Santa Fe, NM, Oklahoma City, OK, and Denver, CO) than to its own state capitol in Austin.
I don't recall exactly what I thought I would find in Amarillo, but I'm thinking something along the line of horses, boots, and Stetson hats. Don't get me wrong. I did see evidence of cowboy culture. But even more so, I found Amarillo, with its historic road, offbeat art installation, kitschy steakhouse, and vintage museum, to be a repository for all things retro road travel.
Amarillo was turning out to be my kind of town!
Cadillac Ranch
---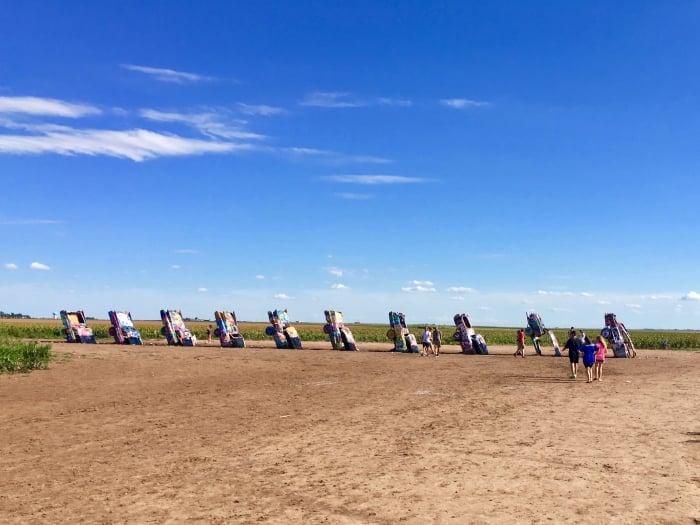 No visit to Amarillo would be complete without a visit to Cadillac Ranch, which would probably explain why it was the first stop on our itinerary.
Cadillac Ranch is a roadside attraction that almost defies description. Situated in a sorghum field adjacent to I-40—the highway that replaced Route 66—you will find this angled installation of ten Cadillacs half buried nose-down in Texas topsoil.
A children's book detailing the 1949—1963 evolution of the Cadillac tailfin was the inspiration for Ant Farm art collective members Chip Lord, Hudson Marquez, and Doug Michels, who with funding from Amarillo millionaire Stanley Marsh 3, designed and chronologically interred the selected Cadillacs at their initial location in 1974.
In 1997, the classic Caddies were relocated to their current location along I-40's frontage road, to make them more accessible for visitors farther away from urban sprawl.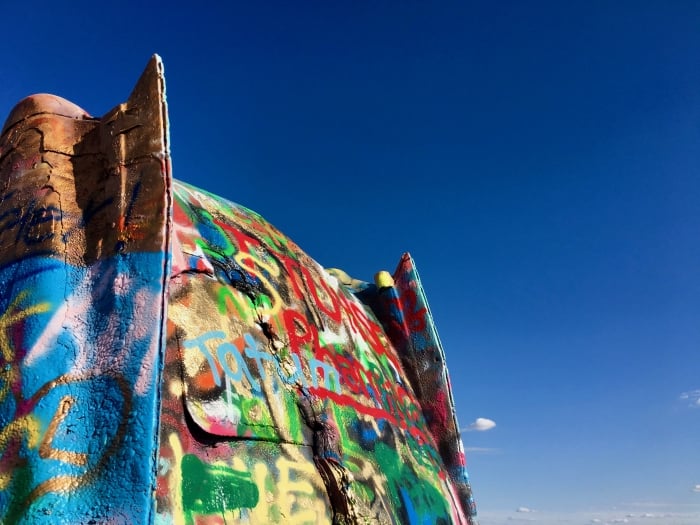 Tagging the Cadillacs with graffiti or creating spray-painted designs has become the encouraged custom for visitors to the site. On occasion, the cars are professionally painted for special events or photo shoots, but they never last for long.
Cadillac Ranch has inspired several knock-offs, including Carhenge in Nebraska, Spindle in Illinois, and Airstream Ranch, located near my home in Central Florida.
So whether you call it architecture, art, or a monument to man's ingenuity, don't resist the urge to grab a can of spray paint and leave your temporary tag when you visit this Amarillo landmark!
Route 66 – Historic Sixth Street District
---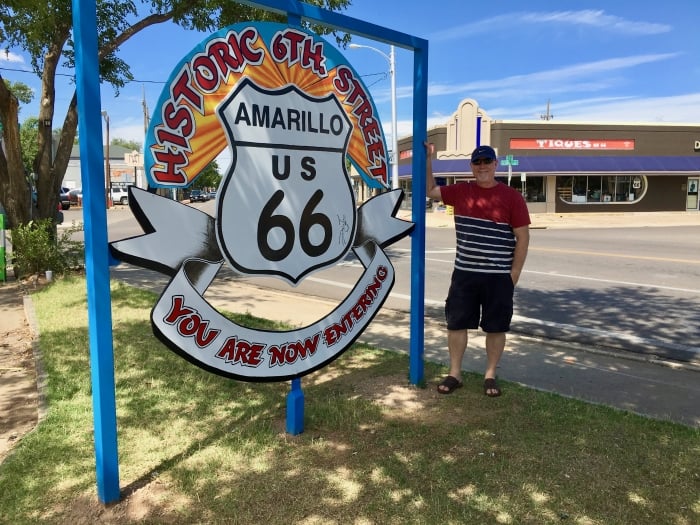 As an avid roadtripper, I am enamored with America's Scenic Byways and historic highways. I have driven many of these roads, if not in their entirety, at least in part. The Lincoln Highway and the Natchez Trace Parkway are two roads positioned high on my retro road travel bucket list, but they rank somewhere below Historic Route 66, America's Mother Road that occupies the number one spot.
That said, you can imagine why my first encounter with Route 66 in Amarillo was such a huge deal!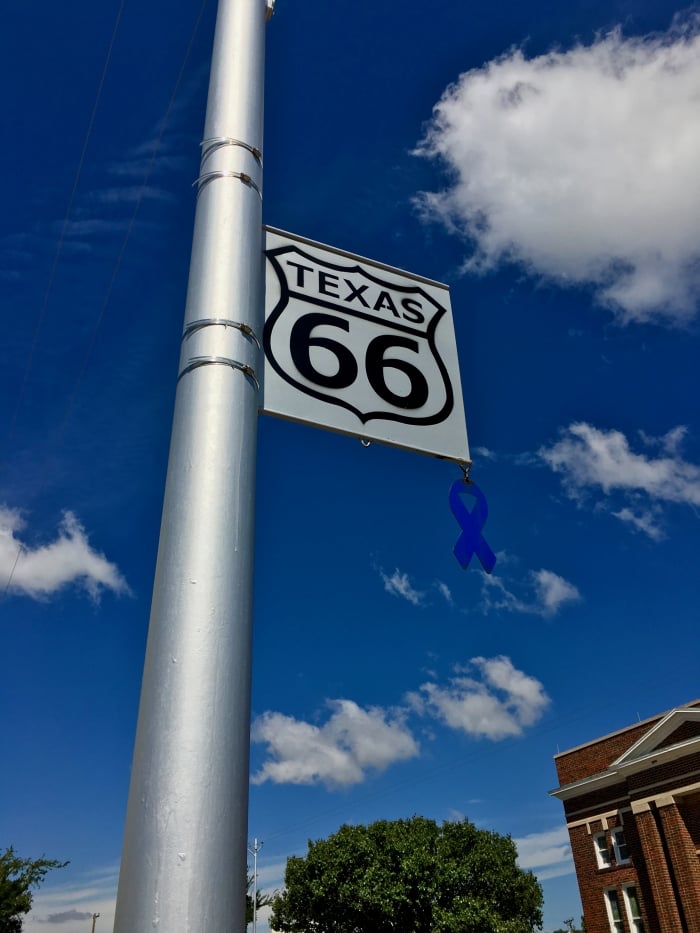 Amarillo is the only major Texas city situated on Historic Route 66, as it cuts a 178-mile swath through the Texas Panhandle, and the midpoint between Chicago and Los Angeles is the town of Adrian, located just 40 miles to the west.
Entering Amarillo, Route 66 passes through the San Jacinto Heights District along Sixth Avenue between Georgia and Western Streets. Listed on the National Register of Historic Places, this district is home to over 100 locally-owned specialty shops, galleries, and restaurants.
I could have explored the Sixth Street District for hours, a luxury our tight schedule did not allow. Still, we strolled past mid-century structures such as the Sinclair gas station with its iconic green dinosaur, and we popped in the Lile Art Gallery where owner Crocodile Lile creates art and jewelry out of salvaged paint chips from Cadillac Ranch. By cutting, shaping, and polishing these otherwise discarded byproducts, Lile transforms them into stunning tokens of marbleized treasures.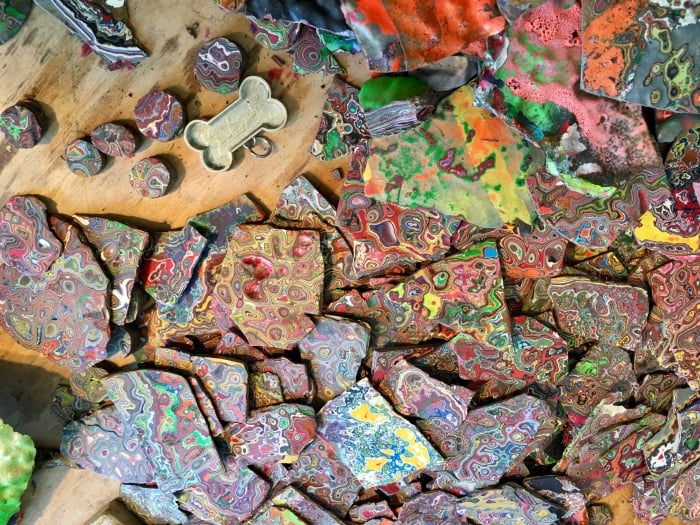 We paused for lunch at Amarillo's GoldenLight Café, believed to be the longest continually-operating restaurant along Route 66. This vintage burger joint opened in 1946 and serves more than 62,000 hamburgers and 46,000 pounds of French fries each year. My juicy burger and fries hit the spot and were at least a minor consolation for our limited time on the Route.
Leaving the Historic Sixth Street District, I longed to hop behind the wheel of a blue '61 Corvette convertible and speed off into the horizon, but that would be a dream deferred, at least until my next visit.
The Big Texan Steak Ranch
---
Part restaurant, motel, brewery, ice cream parlor, and roadside attraction, the Big Texan Steak Ranch is an event all its own! This Amarillo institution has been owned and operated by the Lee family since its 1960 opening on Route 66. The family moved the business to its present location in 1970 after I-40 bypassed the Mother Road.
At the Big Texan Steak Ranch everything is big, from the Texas-shaped pool, to the Longhorn limos, to the unique door handles that welcome you inside. Any guess what those are made from?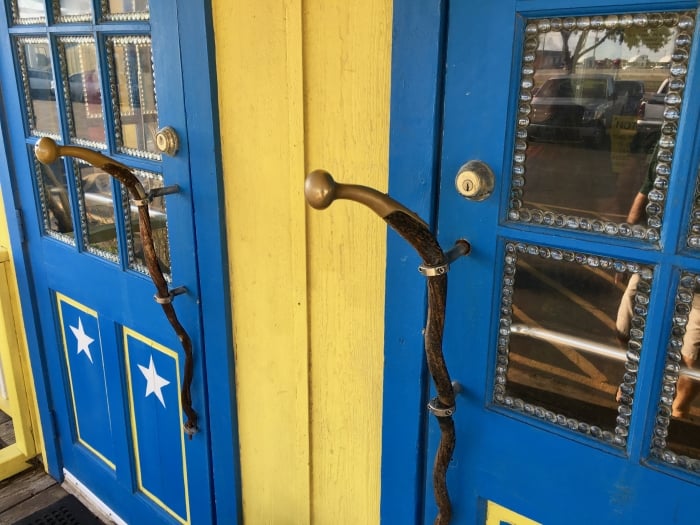 The Big Texan Steak Ranch is probably best known for its 72 oz. Steak Challenge. Basically, the way it works is, if you can eat a 72 oz steak with all the fixings in an hour or less at a table on a raised platform in the center of the dining room, the Big Texan will refund your $72 purchase price.
So is it possible? You bet it is! As I write, more than 140,000 people have attempted the 72 oz. Steak Challenge and almost 10,000 have succeeded. Surprisingly, women are more successful in the challenge than men. In fact, the World Record-holder Molly Schuyler consumed three 72 oz. steak dinners back to back in just 20 minutes on April 19, 2015.
I knew the challenge would not work for me, but I did consume a whole heck of a lot including Margaritas, appetizers, a Big Texan filet dinner, and dessert. I also sampled mountain oysters for the first time, and I have to say they would definitely be an acquired taste even if they are deep fried and dipped in special sauce. I did not, however, eat the fresh whole jalapeños that are served as a garnish with everything but dessert!
When you visit the Big Texan Steak Ranch, be sure you investigate every nook and cranny. In fact, I recommend getting out of your seat in between courses and taking a mini-tour. There is no telling what you might find!
Jack Sisemore Traveland RV Museum
---

Retro road travel totally intrigues me, and I have read, researched, and studied the topic intermittently over the years. But entering the Jack Sisemore Traveland RV Museum was like taking a step into vintage Vacationland. If the truth be told, I honestly felt like I was in a playground tailor-made just for me. Even though a few pieces in the collection are behind glass, the overwhelming majority of the RVs, travel trailers, and other vehicles in the collection are fully accessible to visitors inside and out.
The RV Museum is a labor of love for Jack Sisemore and his son Trent who began collecting and restoring antique RVs thirty years ago. Housed in a 7,000 square foot structure located on the backlot of the property you will find some of the rarest and most exquisitely restored road travel vehicles in existence, ranging from the 1930s through the 1970s.
The Sisemore collection includes:
a 1935 Torpedo built from plans (not a kit), making it the oldest existing Airstream trailer in the world

a 1936 Alma trailer found in a barn and never restored, yet looks like new

the 1948 Flxible bus from the Robin Williams movie RV

a 1953 Fleetwood from the first year the company made travel trailers

a 1970 Avion pick-up camper believed to be the last one made by the company
The Jack Sisemore Traveland RV Museum is a hidden treasure, meaning there is no billboard nor street sign announcing its location. I had to chuckle when reading a TripAdvisor reviewer's statement that she had been to the RV Center many times and never seen a museum. But it IS there, and it is open to the public with free admission Mondays through Saturdays during normal business hours. You just might need to ask a Traveland employee to point you in the right direction!
Without question, the Jack Sisemore Traveland RV Museum is retro road travel defined.
Palo Duro Canyon State Park
---
What good would RVs be if you had nowhere to park them? Fortunately, Greater Amarillo offers an incredible scenic destination located less than an hour's drive southeast of town at Palo Duro Canyon State Park.
Palo Duro Canyon takes it name from the Spanish words for "hard stick," which probably refer to the junipers trees that populated the canyon when Spanish conquistadors first visited the area in the 1540s. As the nation's second-largest canyon, Palo Duro closely resembles the Grand Canyon with its colorful layered mesa walls and rock formations. Although most of the Palo Duro Canyon is privately owned, the state park occupies almost 30,000 acres, making it one of the largest parks in the state.
For RV and camping enthusiasts, the state park features 79 campsites with utilities, 10 equestrian campsites, 25 tent only campsites, and unlimited primitive campsites beyond the parking area. For recreation, the park also features 30 miles of hiking, biking, and equestrian trails.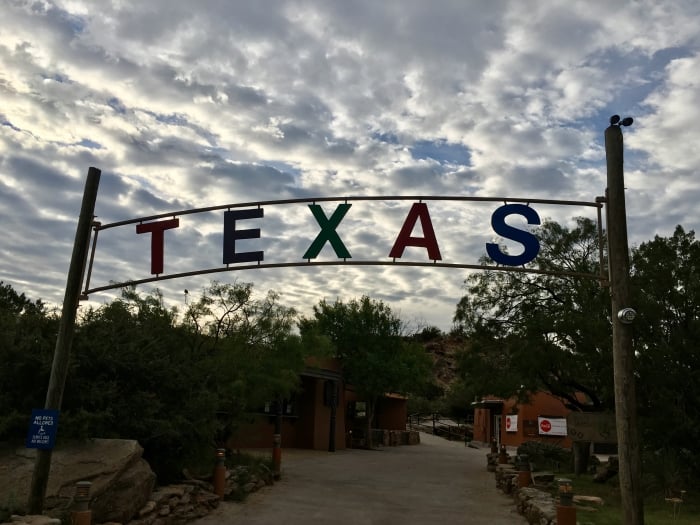 Palo Duro Canyon State Park is also home to TEXAS, an outdoor musical drama portraying the stories of early settlers at the Pioneer Amphitheater. The show runs Tuesdays through Sundays during the summer months.
Our schedule did not allow for camping or a performance of TEXAS, but we did get up early and drive to the park before sunrise. As the sun slowly rose over the horizon, we were witnesses to a stunning ever-changing visual display of light, shadow, and color.
Palo Duro Canyon State Park is the perfect location to park your Airstream, fifth-wheel, pop-up, or teardrop. If I were you, I would put the coffee on before settling in for the night, set your alarm to wake before sunrise, and then hit the trails in search of the Lighthouse, Rock Gardens, and the replica of legendary rancher Charles Goodnight's dugout cabin.
BONUS: American Quarter Horse Hall of Fame & Museum
---
If you are a horse-lover like me you might want to take in one of Amarillo's most prestigious institutions. The world's largest equine registry, the American Quarter Horse Association, makes its home in the Yellow City. The many successes of its honorees, including 149 humans and 94 horses at this writing, are showcased at the adjacent American Quarter Horse Hall of Fame & Museum. Inductees are recognized for outstanding performances in racing, ranching, breeding, and other contributions to the visibility of the horse that settled the West..
---
Map It!
---
---
We Would Love to Hear From You
---
We enjoy dialogue with our readers, especially when they share off-the-beaten-path destinations and useful travel tips. Have you ever visited Amarillo, Texas? Are you intrigued with retro road travel? If so, we would love to hear about your experience. We invite you to leave your comments and questions below, and we always respond!
---
Pin this Post!
---