(a

11

minute read)
---
Visit 8 first-rate cultural sites in Lubbock, Texas, including Lubbock Lake NHL, the Buddy Holly Center, the National Ranching Heritage Center, the American Wind Power Center, the Silent Wings Museum, Texas Tech's Public Art Collection, the Llano Estacado Winery, and Robert Bruno's Steel House.
---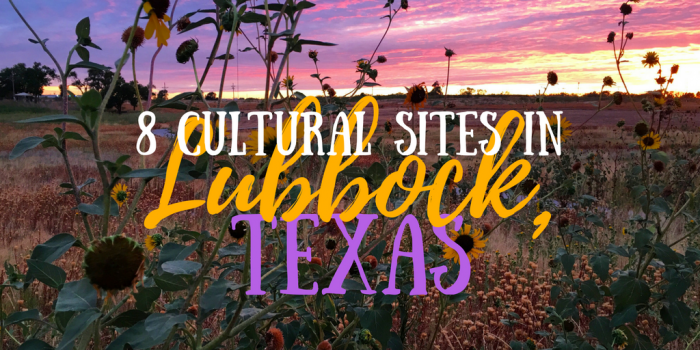 I was a guest of Visit Lubbock, but all thoughts and opinions are my own.
The first stop on my Texas road trip was Amarillo, where I explored various aspects of retro road travel on Historic Route 66, Cadillac Ranch, the Big Texan Steak Ranch, Sisemore's Traveland RV Museum, and Palo Duro Canyon State Park.
Then it was time to head south on I-27 toward the "Hub City" where we would explore regional history, music, art, technology, architecture, and wine-making.
Who knew there were so many first-rate cultural sites in Lubbock, Texas?
---
Cultural Sites in Lubbock, Texas
---
Our day would end in a way not unlike the way it had begun.
The day started with sunrise at Palo Duro Canyon State Park near Amarillo.
It would end with sunset at Lubbock Lake National Historic Landmark.
Lubbock Lake National Historic Landmark
---
Lubbock Lake National Historic Landmark is a natural history preserve and archaeological site run by the Museum of Texas Tech University.
Human life in North America is generally divided into five paleolithic cultural periods beginning with the Paleo-Indian period 12,000 years ago. Artifacts of human life from all five periods, as well as remains of seven extinct animals, have been found on site at Lubbock Lake NHL. Perhaps that is why Smithsonian Magazine has named this landmark as one of the top five locations to witness evidence of first Americans.
Visitors to Lubbock Lake have the opportunity to take part in two unique activities. The first is the Archaeology in Action program during summer months when visitors have the rare opportunity to observe active excavations and interact with archaeologists as they work. The second activity is a 3-mile Landmark After Dark night hike through Yellow House Canyon.
Our group was not able to witness the former, but we did experience a shortened version of the latter. Our guided tour took us along the ADA accessible Llano Estacado Wildflower trail through the canyon as the sun began its descent in the west. The American basketflower had already gone to seed, so we did not experience the "sea of purple" from a few weeks earlier. But the tenacious tendrils of the buffalo gourd vine and wild sunflowers against the Texas sky showed us the diversity of beauty that can be found any time of year.
Click here for information on hours, admission, special events, and to schedule a guided tour at Lubbock Lake NHL.
The Buddy Holly Center & Related Sites
---
The Buddy Holly Center is the City of Lubbock's tribute to their most famous native son.
Singer-songwriter Buddy Holly, best known for his hit singles "That'll Be the Day," and "Peggy Sue," had a profound influence on the development of rock-n-roll music, recording 60 songs during his 18-month career. At age 22, Buddy Holly died in plane crash in Clear Lake, Iowa, along with fellow rockers Ritchie Valens and the Big Bopper. The tragic incident was dubbed "The Day the Music Died," and is memorialized in Don McLean's 1971 song "American Pie."
Photo Credit: The Buddy Holly Center, City of Lubbock
The Buddy Holly Center houses a permanent exhibition of memorabilia from Holly's life, including his Fender Stratocaster electric guitar, his 1958 Ariel Cyclone motorcycle, and his signature horn-rimmed glasses recovered from the plane crash site.
The most recent addition to the complex is the boyhood home of J.I. Allison, drummer for Holly's group The Crickets.
The home is furnished with many original pieces from the Allison family, and includes the bedroom where Holly and Allison co-wrote "That'll Be the Day."
The West Texas Walk of Fame is situated in the plaza adjacent to the center. Plaques on the display wall honor regional artists and entertainers such as the Gatlin Brothers and Natalie Maines of the Dixie Chicks.
A statue of Buddy Holly by sculptor Grant Speed is the centerpiece of the site, and the McCartney Oak planted nearby commemorates the former Beatles lead singer's visit to Lubbock and his admiration for Holly.
Buddy Holly is buried at the City of Lubbock Cemetery. The site is clearly marked and easy for visitors to find. The headstone bears the correct spelling of his last name, that differs slightly from the spelling of his stage name.
The Buddy Holly Center provides a fact sheet that lists 16 places of interest for visitors who wish to scout additional Buddy Holly sites around town. Click here for hours, admission, special events, and a wealth of information on Lubbock's favorite son.
National Ranching Heritage Center (NRHC)
---
I love traveling to locations that literally take me back in time, settings that authentically help me experience what life must have been like during specific historical periods. Such is the case with the National Ranching Heritage Center in Lubbock.
The NRHC is a 27-acre outdoor historical park and museum on the Texas Tech campus dedicated to the preservation and interpretation of ranching history in North America. The centerpiece of the NRHC is the outdoor Proctor Historical Park, composed of 48 authentic structures arranged chronologically from the late 1700s to the mid-1900s. These historical buildings, including a dugout, homesteads, cabins, a bunkhouse, barns, corrals, a depot, and train, portray the evolution of ranch life over the years.
Our visit included a chuck wagon lunch of chicken-fried steak and gravy, and entertainment by cowboy poet and singer John Levacy in the Pitchfork Pavilion. Various spaces and facilities on the NRHC property are available for rental for meetings, receptions, and dinners.
The NRHC is open daily with free admission. Visitors can tour the historical park on foot with a printed map or GPS smartphone app, and on Thursdays, 30-minute guided trolley tours are offered for a $5 donation on a first-come, first-served basis.
American Wind Power Center
---
There is nothing that quite compares to the sight of a windmill against a western sky.
When you visit the American Wind Power Center in Lubbock, you will witness more windmills against the sky than you can imagine, because after all, it is the largest windmill museum in the world. With more than 170 rare and restored windmills either displayed inside or erected outside on the 28-acre property, visitors can experience first-hand the history and technology of water-pumping windmills and their importance to development of the American West.
There are two eye-catching windmills on the property. One is a working replica of the 1621 Flowerdew Hundred grain-grinding postmill, the first windmill built in North America. The other is a Vestas V47 wind turbine atop a 164-foot tower that generates all of the power required to run the museum, and a surplus of energy that is sold to the local power grid.
Recently opened, the Wind Energy Experience features power-generating windmills, and houses a G-scale train exhibit, the Alta Reeds miniature house collection, and the Garrison collection of grist mill stones from the mid-19th and early 20th centuries.
A 172-foot wide mural entitled "Legacy of the Wind" by artist La Gina Fairbetter depicts the history of windmills in Texas.
Click here for information on hours, admission, and by-appointment guided tours.
Silent Wings Museum
---
The Silent Wings Museum is located at the site of the former South Plains Army Air Field, where American glider pilots trained between 1942 and 1944. Its mission is to preserve and interpret the history of the World War II military glider program through collecting, documenting, and exhibiting artifacts from this period. The museum features a research library, a multimedia theater, three exhibit galleries, and a glider-towing Douglas C-47 Skytrain (DC-3).
The centerpiece of the museum, however, is a fully restored WACO CG-4A glider, rescued from atop a Fresno, California, tire store.
As a former Holocaust educator, I have studied in Europe and Israel. I have read widely, and watched many documentaries, and visited countless WWII-related museums. Visiting the Silent Wings Museum was a reminder that there is still so much out there that I have not seen and done. I was familiar with gliders, but I had no understanding of their profound impact on the war effort, nor their connection to Lubbock, Texas.
In my estimation, the Silent Wings Museum is the perfect example of a small-scale museum dedicated to the preservation of a specific subject, yet presented beautifully with the precision and professionalism of high-profile institutions.
For information on hours, admission, and by-appointment group tours, click here.
Texas Tech University Public Art Collection
---
The Texas Tech University Public Art Program, with its mission to enrich the university system's cultural and intellectual environment, boasts a collection of over 100 works by some of today's leading artists installed at sites across TTU's campuses. As a result, Public Art Review has named it as one of the top 10 university public art collections in the nation.
Robert Bruno, the artist who created the untitled sculpture above, was also a professor in the College of Architecture. He finished this piece in 1974, and it sat in a cotton field for 35 years until it was moved to this location at the Architecture building on campus, serving both as a memorial to Bruno and as an educational site for students.
Visitors are invited to contact Public Art Manager Emily Wilkinson for information on tours, presentations, and brochures. Emily treated our group to a fabulous walking tour of select works around campus, and it left me longing for more.
The aforementioned Public Art Collection "brochure" is more like a 180-page full-color guidebook. I highly recommend doing at least one of the nine included walking tours while you are in town. If you happen to find yourself on campus without a paper copy of the brochure, you can access or download it at this link for free.
Robert Bruno Steel House
---
If the steel house pictured above seems vaguely familiar (and I'm not talking about something out of Star Wars), you might want to scroll back to the featured photo for the Texas Tech University Public Art Program.
Robert Bruno's untitled sculpture was the inspiration for his steel house, a fusion of art and architecture, that overlooks Buffalo Springs in Ransom Canyon about ten mile east of Lubbock.
Bruno used 110 tons of steel scrap metal as the primary material for his design, and although he worked on his house for 34 years, it remained unfinished at the time of his death in 2008.
Bruno's Steel House has intrigued visitors from around the world, and became the setting for a Vogue photo shoot in 2013.
The Stone House, located diagonally across the street from the Steel House, was a joint project between Bruno and other contemporaries. Bruno drew his design inspiration from Carlos Páez Vilaró's Casapueblo and the works of Catalan architect Antoni Gaudí, but visitors often see the stone house as a huge sombrero or a structure from the town of Bedrock.
I thought the house looked like something out of Dr. Seuss.
Visitors can view the outside of both houses at any time by driving to the address marked on the map below. For group tours of the interior, contact Bruno's appointed caretaker Henry Martinez (pictured above) at 806.632.6938 or henryfmartinez@aol.com.
.
Llano Estacado Winery
---
When you finish making the rounds of cultural sites in Lubbock, head on out to Llano Estacado, one of the oldest and most award-winning wineries in Texas. Tours and tastings are complimentary, and you are sure to find a wine from their world-class vineyards to suit your palate.
---
Map It!
---
---
We Would Love to Hear From You
---
We enjoy dialogue with our readers, especially when they share off-the-beaten-path destinations and useful travel tips. Have you ever visited any of these cultural sites in Lubbock? If so, we would love to hear about your experience. We invite you to leave your comments and questions below, and we always respond!
---
Pin this Post!
---