(a

13

minute read)
---
Homestead Heritage Craft Village, Waco Mammoth National Monument, the Texas Ranger Hall of Fame, Dr. Pepper Museum, and Magnolia Marketplace at the Silos are great reasons to be wild about Waco!
---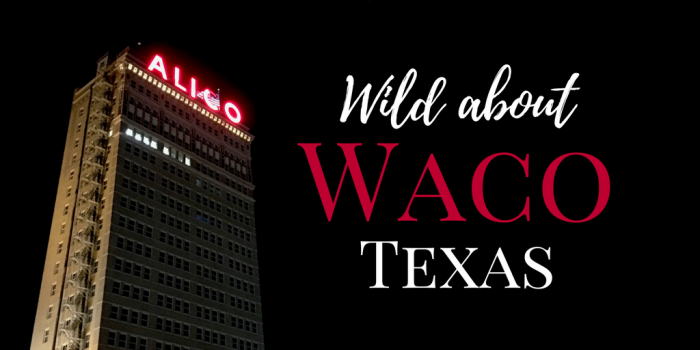 I was a guest of the Waco Convention & Visitors Bureau, but all thoughts and opinions are my own.
My Texas road trip started in Amarillo, then I traveled to Lubbock and Grapevine. Now it would be less than a 2-hour drive to Waco, the fourth destination on my journey, and Granbury would be my final destination.
Until recently, if someone had asked me what I knew about Waco, Texas, I would reply that it was a city printed on the backs of gospel albums from my childhood. If prodded further, I might recall the unfortunate 1993 Branch Davidian siege.
Not really enough to make me wild about Waco . . . .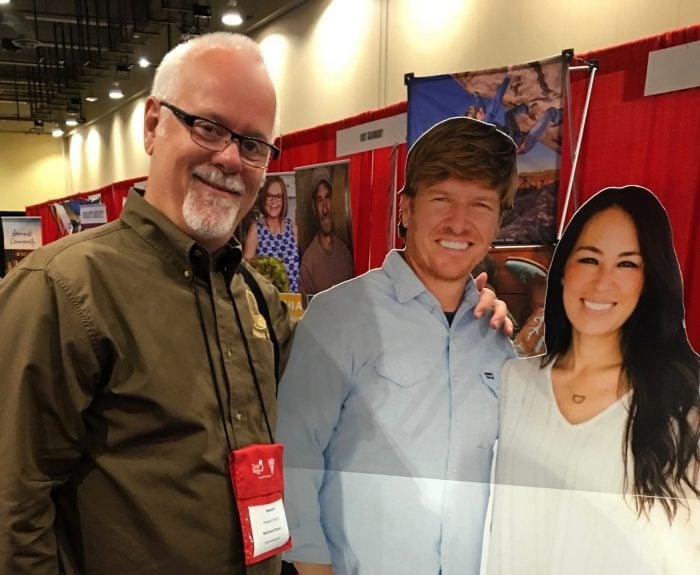 But that was before I became a fan of HGTV's Fixer Upper, a home renovation reality show featuring Waco residents Chip and Joanna Gaines. Having watched literally every episode, I had learned enough about the city of Waco and its environs to know I wanted to plan a visit.
Then the opportunity presented itself, and I jumped on it.
This is how I became wild about Waco.
---
Wild about Waco
---
Located at the confluence of the Bosque and Brazos Rivers, Waco takes its name from early Native American inhabitants, the Wichita, known to the Spaniards as the "Hueco," and anglicized as Waco.
In the mid-1800s, settlers formed the community of Waco Village and incorporated as the city of Waco in 1856. The town grew up around its first major project, the Waco Suspension Bridge across the Brazos River, completed in 1870. Baylor University moved to Waco in 1886, and would become a powerful presence in town, and rightly so as the city's eventual largest employer.
The iconic 22-story ALICO Building pictured in our featured photo was built in 1910. This insurance office building is the tallest structure in town and was once the tallest building in the Southwest. The building's sound construction helped it survive the deadly F5 tornado that struck Waco on May 11, 1953.
In time, the city affectionately dubbed the Heart of Texas would become home to a heritage craft village, a national monument, a major soft drink, and a home improvement empire—————more than enough reasons to make anyone wild about Waco!
---
Homestead Heritage
---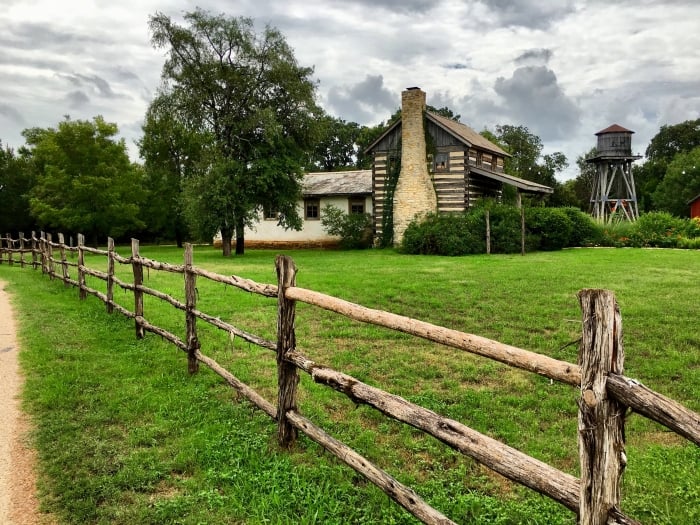 Just outside the Waco city limits we arrived at Homestead Heritage, "an agrarian- and craft-based intentional Christian community" founded on the core beliefs of "simplicity, sustainability, self-sufficiency, cooperation, service and quality craftsmanship" that "strives to live in peaceful coexistence with the land, other people and other faiths."
Although the religious community is fairly young, having organized in 1973, the beliefs of its members are deeply rooted in historical Christianity, reflecting a simple lifestyle of times past. Since their move to the 510-acre property near Waco in 1990, the community has flourished and now offers its expertise and products to the public through classes, events, and the Homestead Craft Village.
Our tour of the Craft Village began at The Barn, one of the homestead stores where every product for sale has been made in the community. Then we moved on to visit some of the key craft production sites on the property.
In the Woodworking Shop we observed carpenters of various levels at work. With a 6-day foundational course, students can learn hand tool joinery and finish with three completed projects: a dovetail box, a wall shelf, and a walnut end table.
The Fiber Arts building offers classes in spinning, weaving, and knitting, and the shop sells a wide variety of supplies for handmade textile crafts.
There is a fine line between craft and art, and the balance tipped toward art when we visited The Potter's House.
We watched as Hailey began the first step of her creation, using a foot-powered potter's wheel to skillfully transform a lump of clay.
The circa 1760 Gristmill was dismantled at its origin in New Jersey, moved to its current location, and restored in 2001.
The water-powered mill grinds a variety of wheat and corn products, all available for purchase in the gristmill store.
Heritage Forge is run by master blacksmith Caleb Nolan, who began studying metalwork at age 14 and has honed his craft under renowned blacksmiths from around the world.
Homestead Heritage offers lessons for most demonstrated crafts, and all are welcome to sign up for a class.
Our tour concluded with lunch at the Cafe Homestead, an onsite restaurant featuring local produce, grass-fed beef, as well as artisan breads baked from flours ground at the gristmill and cheese from the community's Brazos Valley Cheese company.
There is nothing better than fresh farm-to-table cuisine, and I ate my fill of a quesadilla burger with a jalapeño sweet potato soup side, and finished with a slice of peanut butter pie.
The Homestead Heritage Craft Village is open year-round, Monday through Saturday, 10:00 am to 6:00 pm.
---
Waco Mammoth National Monument
---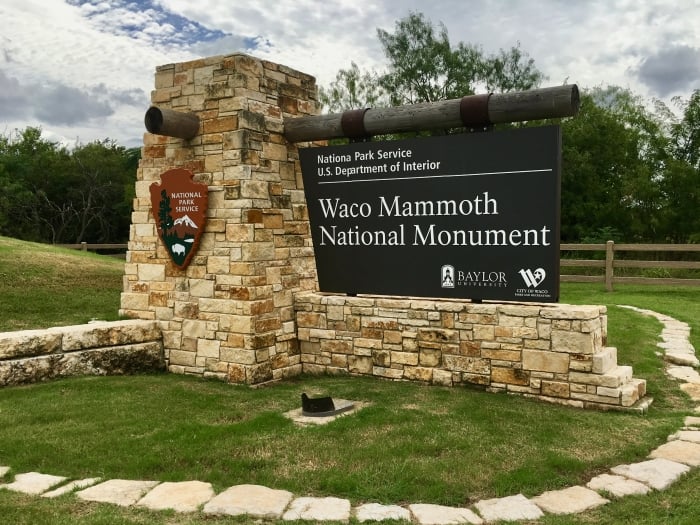 The Waco Mammoth National Monument is one of the newest designations of the National Park Service, signed under authority of the Antiquities Act by President Obama on July 10, 2015, after two House-approved bills failed to pass the Senate.
The first bone was discovered at the site by two arrowhead and fossil-hunters in 1978. Experts determined the bone belonged to a Columbian mammoth from the Pleistocene Epoch (Ice Age). Over the next twenty years teams conducted excavations at the site, uncovering a nursery herd of 16 mammoths believed to have perished in a flash flood between 65,000 and 72,000 years ago.
The excavations also uncovered remains from "other Ice Age animals, including a Western camel, saber-toothed cat, dwarf antelope, American alligator, and giant tortoise."
Most of the excavated bones from the site are now housed at the Mayborn Museum Complex at Baylor University, but following the construction of a climate-controlled dig shelter to protect the remaining exposed bones, the site opened to the public in 2009.
The Waco Mammoth National Monument is open Tuesday through Saturday year-round, and guided tours are available for a nominal fee.
---
Dr. Pepper Museum
---
The Dr. Pepper Museum is housed in the 1906 Artesian Manufacturing and Bottling Company building, the first facility built for bottling Dr. Pepper.
Dr. Pepper was formulated by Dr. Charles Alderton in Waco and first served at the Old Corner Drug Store in 1885. Many people may not realize that Dr. Pepper pre-dates Coca-Cola by one year, making it the oldest soft drink in the world.
The collections at the museum welcome memorabilia and artifacts from any bottler in the soft drink industry and feature large displays for brands such as 7up and Big Red, a cream soda soft drink also created in Waco in 1937.
Some of the museum's most rare and valuable pieces are displayed in a walk-in safe where workers took cover during the 1953 tornado.
As a vintage soda bottle collector, I enjoyed perusing the collectibles available for purchase in the gift shop, and a Dr. Pepper float at the soda fountain was the perfect end to our museum visit.
The Dr. Pepper Museum is open daily, and all admission fees are $10.00 or less.
(Note: You can see photos of my antique soda and medicine bottle collection in my Pinebox post.)
---
Texas Rangers Hall of Fame & Museum
---
The Texas Ranger Hall of Fame & Museum honors the life and work of rangers who have made significant contributions to the agency or lost their lives in the line of duty. It also serves as a repository of 14,000 artifacts and an archive of 300,000 items in the research center.
The Texas Rangers originated in an 1823 call to arms by Texas founder Stephen F. Austin and officially formed as a state law enforcement agency in 1835. Though the years, Texas Rangers have investigated crimes and corruption, prevented assassinations, chased fugitives, and played major roles in the apprehension of high-profile criminals such as Sam Bass, John Wesley Hardin, and Bonnie and Clyde. Today the Rangers serve as the Texas state bureau of investigation.
The museum gallery displays a wealth of Texas Ranger memorabilia including firearms, badges, gear, tack, and even fine art.
The Texas Rangers have been highly romanticized in American popular culture through books, movies, and television.
The Texas Ranger Hall of Fame and Museum is open daily, and all admission fees are $7.00 or less.
---
Magnolia Market at the Silos
---
Like most fans of Chip and Joanna Gaines and HGTV's Fixer Upper, I cannot deny I was excited to visit Magnolia Market at the Silos. The Magnolia Market has been a huge tourism boost for Waco, drawing on average more than 36,000 visitors per week. In fact, estimates report 660,000 visitors to Waco in 2015, surging to 1, 900,000 in 2016.
In keeping with their mission to improve the worst property in the best neighborhood, Chip and Joanna purchased the abandoned Brazos Valley Cotton Oil Company in downtown Waco. The couple renovated the 2.6-acre lot with its eye-catching 120-foot tall double silos, grain barn, and other outbuildings, and the space opened as the new home for the Magnolia Market in October of 2015.
On the day of our visit to Magnolia Market, I took a self-guided outdoor tour of the property's lawn and gardens, play area, outdoor stage, garden shop, and food trucks area.
Next, it was a visit to the market itself located inside the former grain barn.
The market is stocked with home furnishings and decor that reflect Joanna's signature style. She has also carved out a section called Chip's Corner that features items more suited to the interests of male customers.
In July of 2016 the Silos Baking Company opened its doors, serving cupcakes, cinnamon rolls, cookies, and biscuits from "Joanna's personal recipes and hand-picked favorites." The bakery is located on the property in the former scale house at the corner of Sixth Street and Webster Avenue.
Magnolia Market at the Silos is open daily except Sundays.
---
Waco Tours
---
They say, "necessity is the mother of invention," and that cliché is surely true regarding the birth of Waco Tours. Thousands of visitors had been flocking to Waco each week as as result of Fixer Upper's popularity, yet there was no tour company to show visitors everything Waco had to offer in addition to Magnolia Market.
How appropriate that three homeowners featured on Fixer Upper Season 3 would be the entrepreneurs to find a solution. One day over lunch, synchronicity struck, inspiring Luke and Rachel Whyte (Episode 7) and David Ridley (Episode 8) to begin planning their venture to offer visitors to the city a 2.5 hour tour of "Waco's history, homes and hidden gems."
Our group was enjoying dinner at Vitek's BBQ when David joined us at the table.
Vitek's is home of the Cooking Channel's #1 Best College Eats, the Gut Pack, a generous layered concoction of Fritos, shredded cheese, sausage, brisket, pickles, jalapeños, beans, and barbecue sauce.
I could tell David was a guide with Waco Tours because of his branded shirt. When I mentioned that he looked familiar, he just shook his head and gave away no clues. Finally, it struck me that I recognized him from Fixer Upper's "Most Eligible Bachelor" episode, and he confirmed my assertion with a smile. Later, I learned David had also been a model for Abercrombie, Ralph Lauren, and Calvin Klein while living in NYC during a former life.
After dinner, David and his sidekick Liz Taylor loaded us into the van for an after-hours custom tour of Waco. We drove around the Baylor University campus and McLane Stadium and then stopped for coffee and ice cream at Common Grounds coffee shop and Heritage Creamery ice cream parlor next door.
Back on the road, our tour took us through Cameron Park, a 416-acre urban park situated along the Bosque and Brazos Rivers.
Sunset was the perfect time to take in the scenic cliffs at Lovers Leap while David recounted the local legend.
Then, David surprised us with an unexpected treat on the tour—————a stop at his very own Fixer Upper. Although night was falling, I was able to grab a a couple shots of the house, as well as the sand volleyball and basketball courts out back.
Next, we headed downtown to the Suspension Bridge and Waco Riverwalk area. A prominent feature of Indian Spring Park on the southwest bank of the river is the "Branding the Brazos" series of bronze sculptures by Robert Summers. The scene depicts a Chisholm Trail boss driving a herd of Texas longhorns to the crossing of the Brazos River. Upon completion of the bridge in 1870, some outfits paid the toll to take their herds across the bridge to the northern bank, while others continued to swim them across the river.
We would return to the park and bridge the following morning to capture a few photos in the daylight, including the concrete structure where Baylor students toss tortillas.
The final stop on our custom itinerary gave us a nighttime view of Magnolia Market at the Silos.
Our whirlwind tour of Waco had come to an end, and David delivered us to our host accommodations at Hotel Indigo. We were exhausted, but happy, and most definitely quite wild about Waco!
Classic Waco Tours run Monday through Saturday and cost $79 per person.
---
Map It!
---
---
We Would Love to Hear From You
---
We enjoy dialogue with our readers, especially when they share off-the-beaten-path destinations and useful travel tips. Have you ever visited Waco, Texas? If so, we would love to hear about your experience. We invite you to leave your comments and questions below, and we always respond!
---
Pin this Post!
---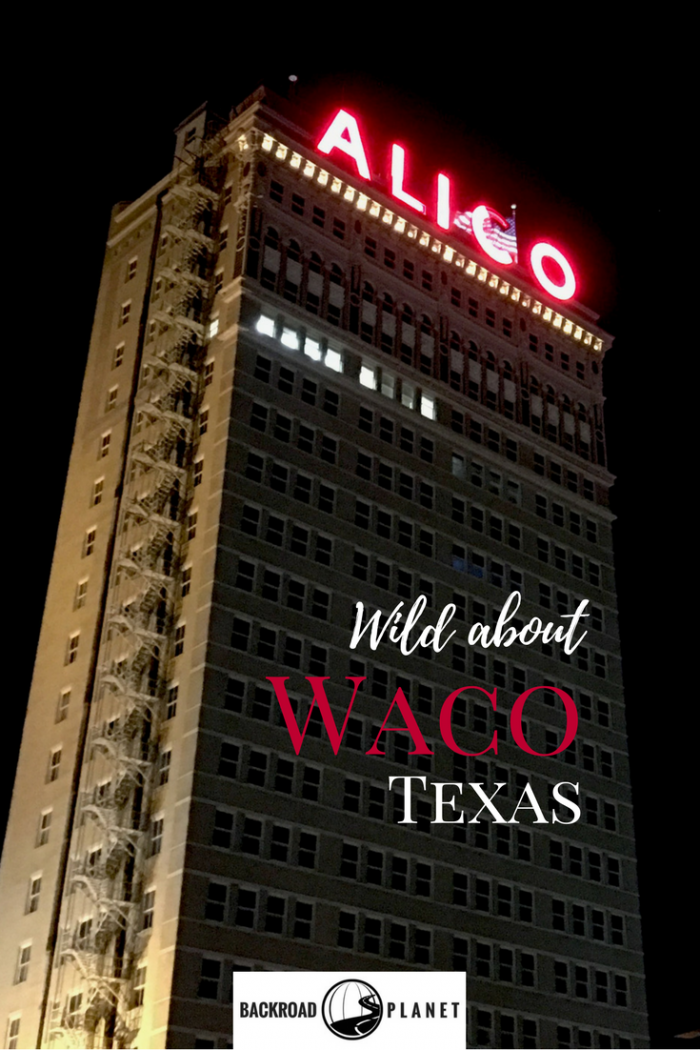 ---
Helpful Links
---
Waco Convention & Visitors Bureau
Waco Mammoth National Monument
Texas Ranger Hall of Fame & Museum
Suspension Bridge and Waco Riverwalk