(a

9

minute read)
---
Take a walk through history in Grapevine, Texas, with self-guided tours of the Main Street District, City to Settlement Museums, and historic Nash Farm.
---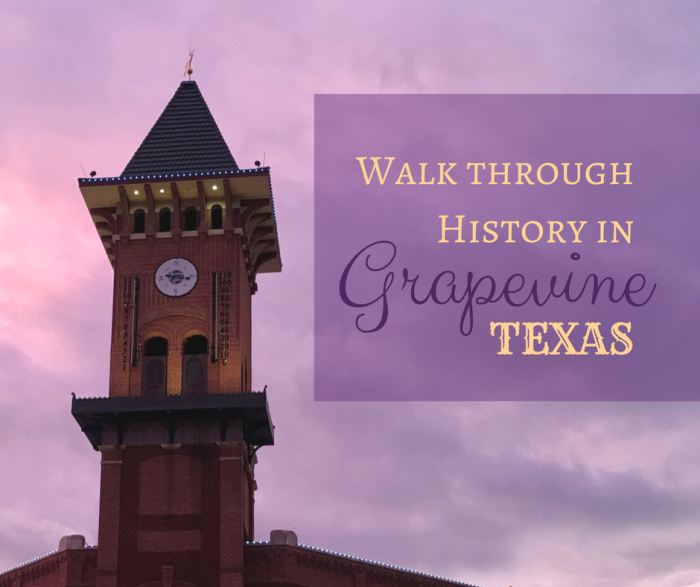 I was a guest of the Grapevine Convention & Visitor Bureau, but all thoughts and opinions are my own.
The 5-hour drive across the Texas countryside from Lubbock to Grapevine would be the longest stretch in my Texas road trip, but when you love getting lost on the backroads like I do, what's not to love?
Grapevine, Texas, is an American city that has deservedly earned a "little, big town" designation. And if you were to categorize Grapevine in settlement population hierarchy, it would rank as an average large town.
But Grapevine is no ordinary town.
Its location, history, attractions, and events have placed it at the forefront as a showpiece of urban renewal. And with the downtown area ideally located less than four miles from Dallas/Fort Worth International Airport, visitors from all over the world find Grapevine an easily-accessible destination.
As a tourist locale, Grapevine holds a treasure trove of tempting amenities and activities. But I did not visit Grapevine for its charming boutiques, world-class festivals, or award-winning wineries.
The opportunity to walk through history in Grapevine, was the town's strongest attraction for me.
NOTE: A year after publishing this article, I returned to Grapevine to Celebrate Christmas in the Christmas Capital of Texas. Featuring more than 1400 family-friendly activities and events, it is like nothing I have ever seen, and an experience not to be missed!
---
History in Grapevine
---
Grapevine, whose name is derived from the local wild mustang grapes, originated in 1844 as a settlement in the Republic of Texas. One year earlier, General Sam Houston had met with representatives of 10 Native American Nations at Grape Vine Springs where they signed the Treaty of Bird's Fort. This agreement opened the Grape Vine Prairie to homesteaders just one year before the territory was annexed by the United States of America.
And as they say, the rest was history . . . .
---
Grapevine's Historic Main Street
---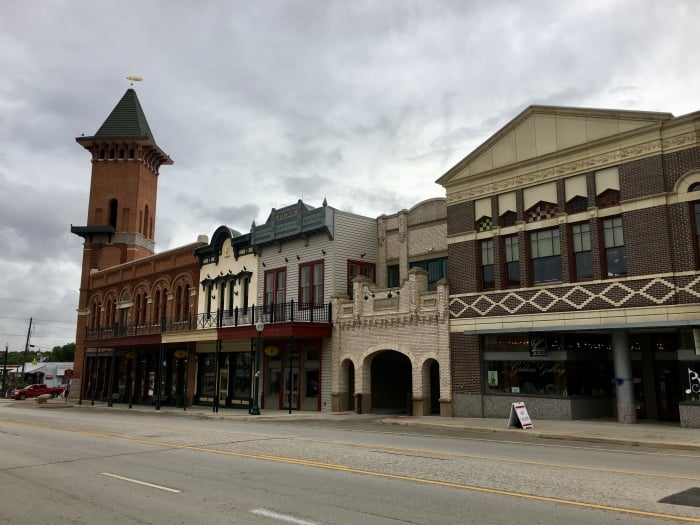 My walk through history in Grapevine began as a group guided tour through its Historic Main Street District.
Tolbert's Restaurant
---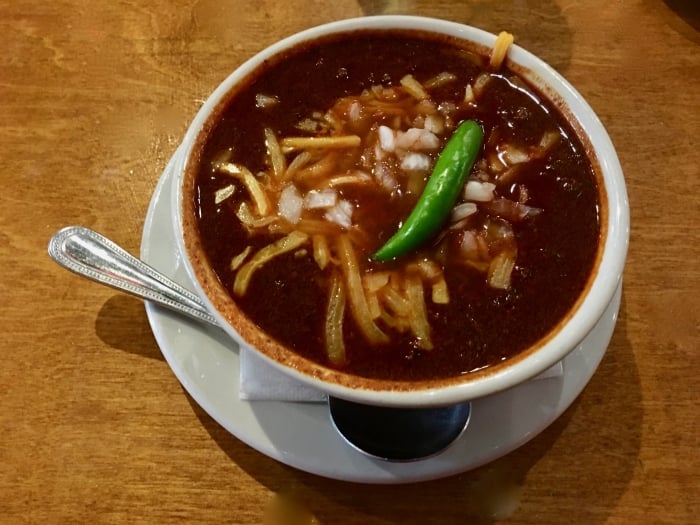 We stopped first for lunch at Tolbert's Restaurant and Chili Parlor. As an appetizer, we sampled the original Donkey Tails, actually two all-beef hot dogs stuffed with cheese, wrapped in tortillas, and lightly fried, which turned out to be a surprisingly delicious concoction. My main course was a bowl of Tolbert's Texas Red chili, topped with onions, cheese, and a fresh serrano pepper.
Then, with a taste of Texas still in our mouths, we resumed our tour, setting off to see more highlights of Grapevine's Historic Main Street District.
Grapevine Calaboose
---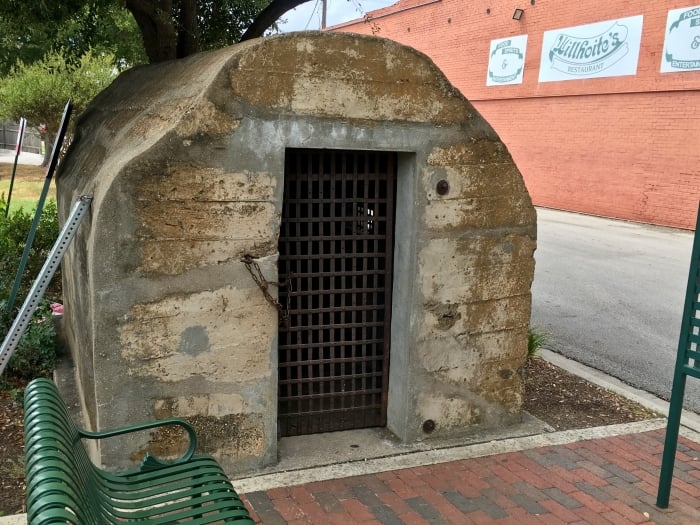 The term "calaboose" was a new one for me, but I learned it is derived from the Spanish word "calabozo," which literally translated means dungeon. The Grapevine Calaboose, constructed in 1914, served as a temporary holding cell for the town's petty criminals, and remained in use through the early 1950s.
I can honestly say I have never seen anything like it!
J. E. Foust & Son Funeral Home
---
Located diagonally across the street from the calaboose is the historical J.E. Foust & Son Funeral Home. But the home itself, dating to the 1870s, is not the feature that initially captures the attention of visitors to Main Street. A glass-enclosed outbuilding situated adjacent to the sidewalk holds an antique horse-drawn hearse bearing a Confederate flag-draped coffin. Vintage funerary items, including child-size coffins, are also on display.
Again, I have never seen anything like it!
Grapevine Glockenspiel Clock Tower
---
The centerpiece of Grapevine's redevelopment is the glockenspiel clock tower located at the northwest corner of Hudgins and Main. Each day when the clock strikes 12, 3, 6, and 9 p.m., two would-be train robbers come to life to plot the perfect heist 75 feet above the ground.
Grapevine Vintage Railroad
---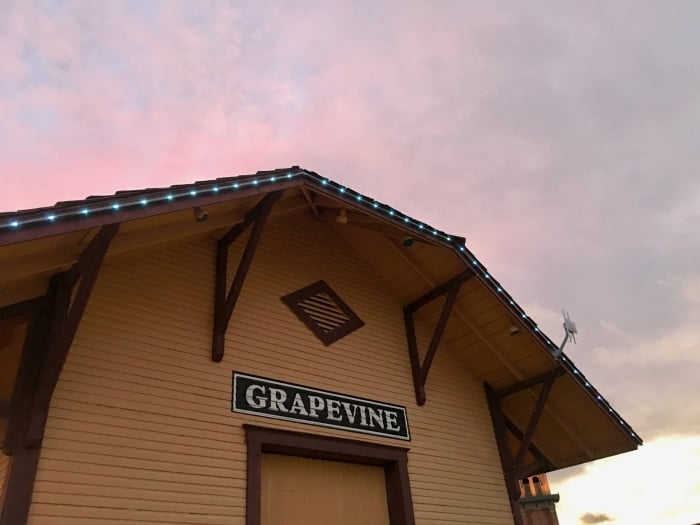 The 1888 Cotton Belt Railroad Depot, situated at the southeast corner of Hudgins and Main, is the ticketing location for the Grapevine Vintage Railroad. Visitors can take excursions in Victorian-style railcars to the Fort Worth Stockyards most weekends, as well as enjoy special events such as Jazz Wine Trains, A Day Out with Thomas, and the North Pole Express at designated times throughout the year.
Rumor has it that local wine may or may not have been flowing freely through the railcars during our evening ride on the vintage railroad.
Settlement to City Museums
---

The Settlement to City Museums are a suite of historical exhibitions housed in four historical buildings at Ted R. Ware Plaza, just around the corner from the Visitor Center.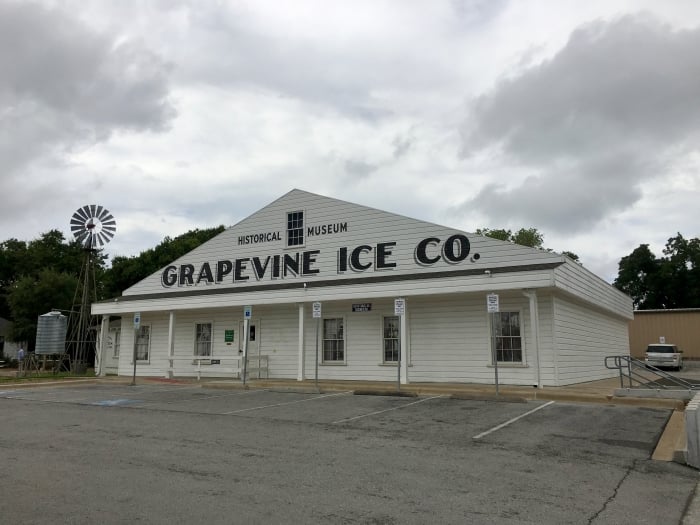 The Grapevine Historical Museum is located in a vintage reproduction of the original 1940s Grapevine Ice Company building. The museum is divided into six sections that display artifacts from Grapevine's history, including dinosaur footprint fossils, pioneer farming and living implements, and vintage clothing.
The 1888 Keeling House Museum, which focuses on Grapevine's development as a city, contains historical items from the fire and police departments, as well as an operational letter press like the one used to print "The Grapevine Sun" newspaper.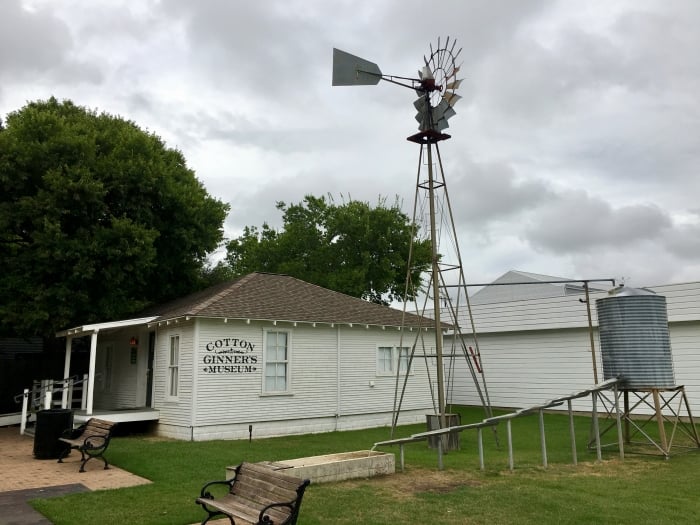 The Cotton Ginners Museum occupies a c.1910 frame house and tells the story of cotton production as it happened on the Grape Vine Prairie. This museum features hands-on activities and a small cotton gin.
Rounding out the City to Settlement museums, the 1900 Donald Schoolhouse Museum tells how public education evolved on the Grape Vine Prairie from a log schoolhouse to the Grapevine-Colleyville Independent School District of today.
The Settlement to City Museums are open daily except Mondays and holidays.
B & D Mills
---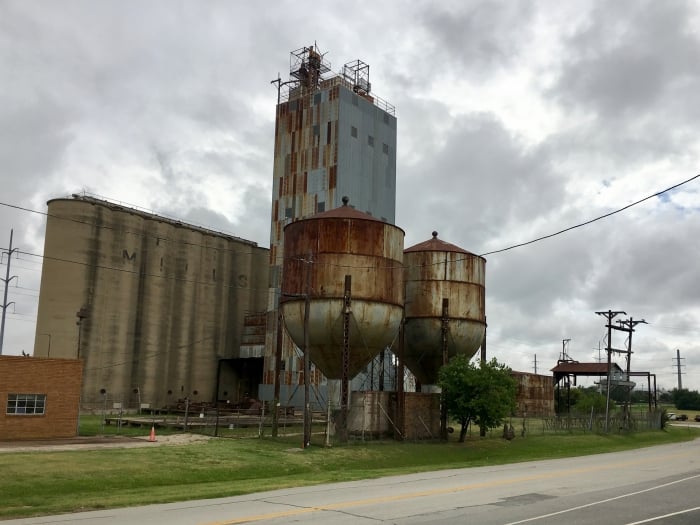 The site of B & D Mills is located directly across Hudgins Street from the Settlement to City Museums. Listed in the National Register of Historic Places, this former flour and poultry feed mill is unique due to its rare single-row warehouse and its status as the first electronic feed-mixing system in Texas.
There never seems to be enough time to see everything, and such was the case in downtown Grapevine.
One Main Street building I missed was the Bermuda Gold & Silver jewelry store (formerly Grapevine Home Bank) where in 1932 two associates of Bonnie & Clyde committed a holdup and left bank officials locked in the vault.
(Note: Just west of town a granite monument marks the site where the Barrow gang murdered two motorcycle patrolmen on Easter Sunday in 1934.)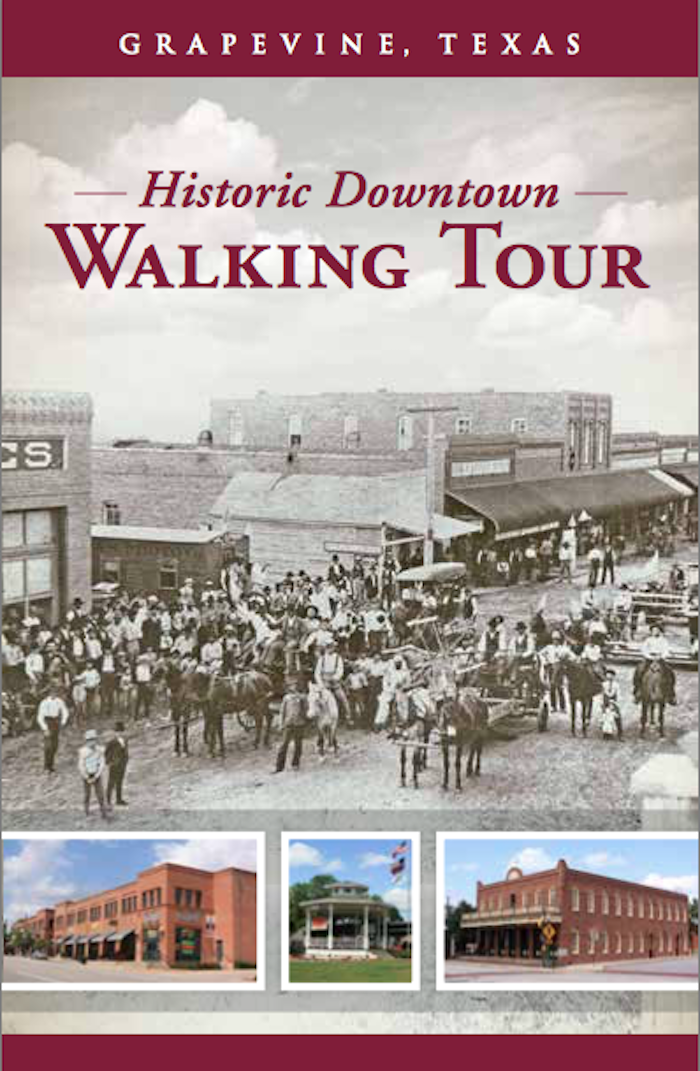 The best way to ensure that you don't miss any sites on your walk through history in Grapevine is to stop by the Visitors Bureau in the building directly beneath the clock tower and pick up a copy of the Historic Downtown Walking Tour. If you would like to plan ahead you can download a PDF of the brochure, as well.
---
Nash Farm
---
A half-mile walk west of the Visitors Bureau will bring you to Nash Farm, another Grapevine site listed in the National Register of Historic Places and one of the most authentic living history exhibits I have visited.
In 1859, Thomas Jefferson Nash, originally from Kentucky, settled his family at a 450-acre farmstead on the Grape Vine Prairie. Today, 5.2 acres of the original property, including the 1869 farmhouse, barn, and family cemetery, have been preserved as testament to these pioneers of long ago and as an interpretive center for visitors today.
Farm manager Cody Joliff and staff have lovingly staged the grounds and house with all of the added touches that truly bring history to life. I especially enjoyed feeding the barnyard animals and sampling fresh fruit and rustic baked goods from the farmhouse kitchen table.
Guided tours for groups may be booked in advance, but visitors can continue their walk through history in Grapevine with a self-guided tour of Nash Farm. Again, you can pick up the brochure at the Visitors Bureau or download a copy to plan your itinerary in advance.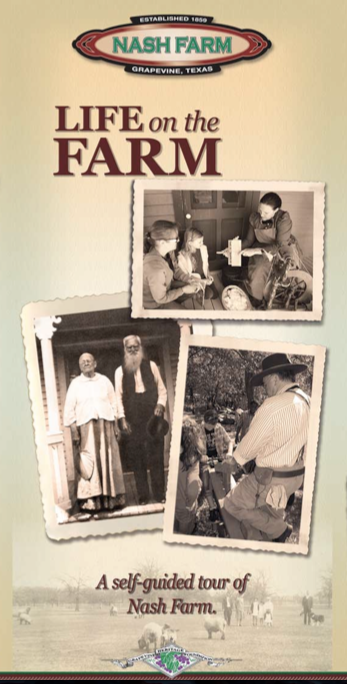 Nash Farm is open daily with free admission, except during holidays, annual maintenance, and special events.
---
Gaylord Texan Resort
---
The Gaylord Texan Resort and Convention Center was home base for my stay in Grapevine. The Gaylord Texan, like all Gaylord Resorts, celebrates the local history and culture of its location with Texas-themed decor throughout the property. The signature glass atriums and "everything in one place" concept make Gaylord Resorts ideal locations for conferences and family vacations alike.
---
A Grapevine Christmas in the Christmas Capital of Texas
---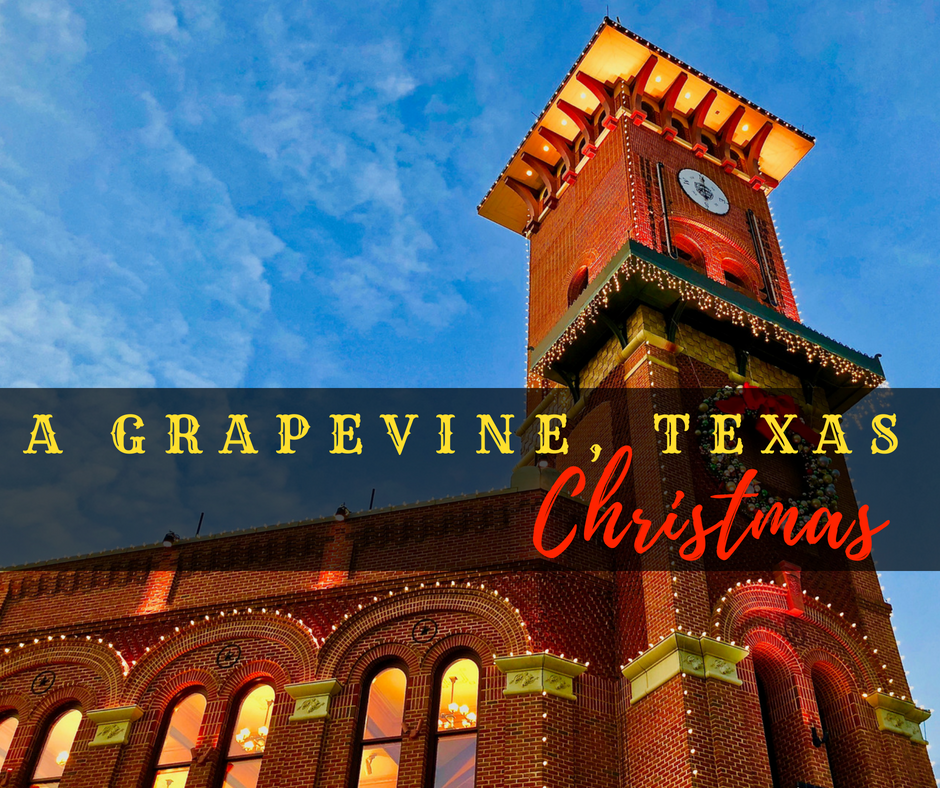 Read on, and learn how to Celebrate a Grapevine Christmas in the Christmas Capital of Texas!
---
Map It!
---
---
We Would Love to Hear From You
---
We enjoy dialogue with our readers, especially when they share off-the-beaten-path destinations and useful travel tips. Have you ever visited Grapevine, Texas? If so, we would love to hear about your experience. We invite you to leave your comments and questions below, and we always respond!
---
Pin this Post!
---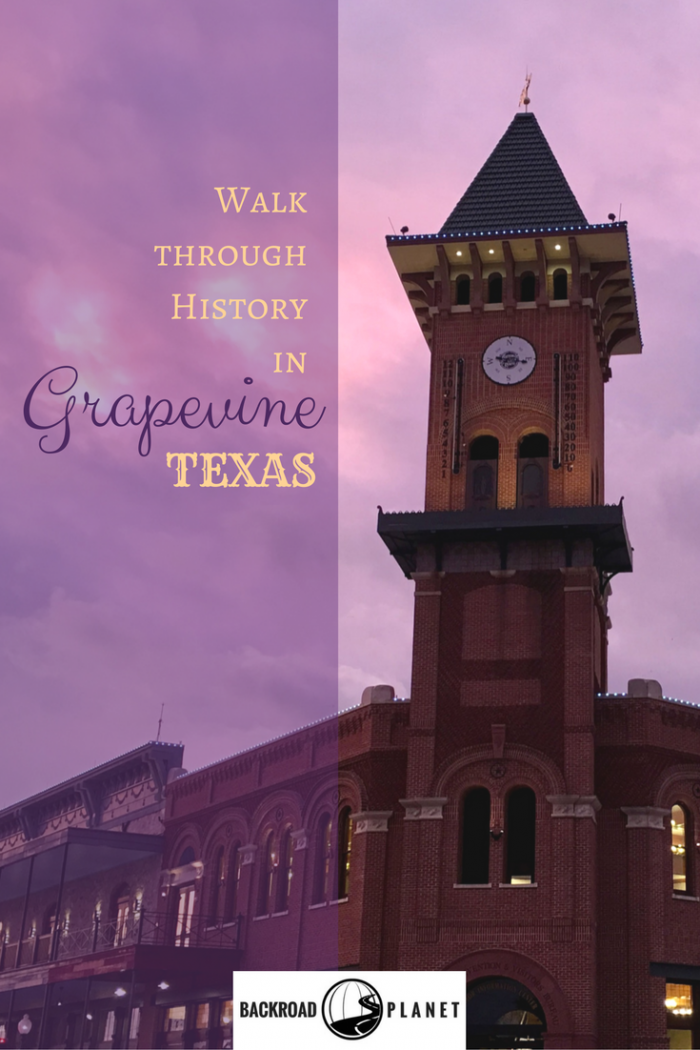 ---
Helpful Links
---
Celebrate a Grapevine Christmas in the Christmas Capital of Texas
Grapevine Convention & Visitor Bureau
Grapevine's Historic Main Street District
Tolbert's Restaurant and Chili Parlor
Grapevine Historic Downtown Walking Tour (PDF)
Nash Farm Self-Guided Tour (PDF)
Gaylord Texan Resort and Convention Center