(a

14

minute read)
---
Experience the magic of a Grapevine Christmas! Featuring more than 1400 family-friendly events, the Christmas Capital of Texas is like nothing you have ever seen.
---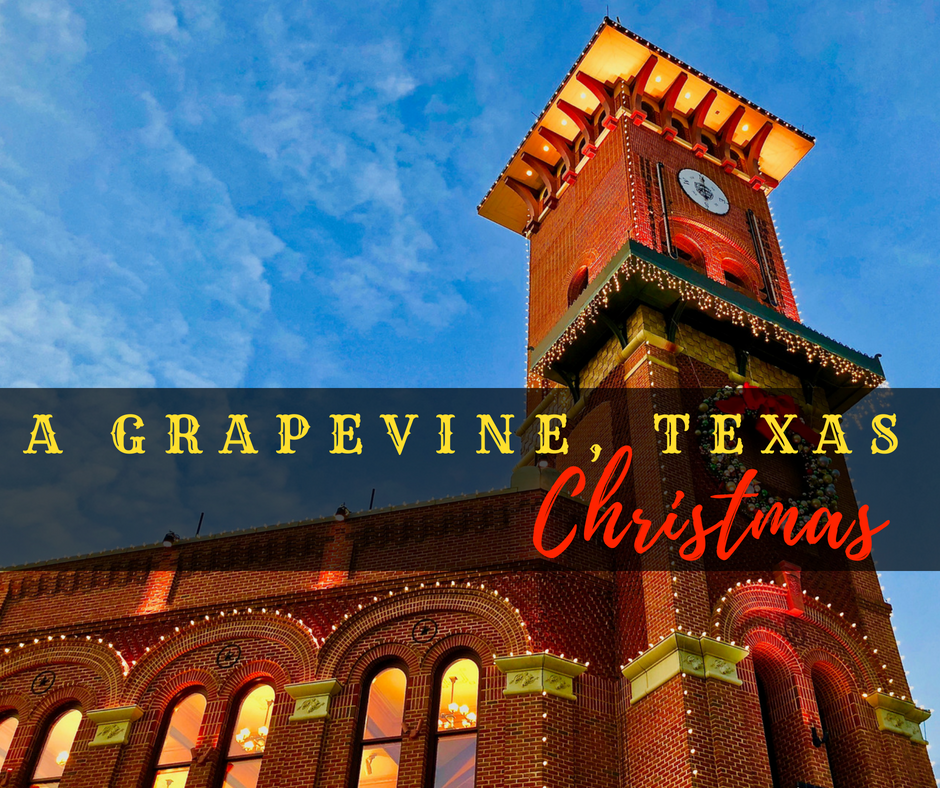 I was a guest of Grapevine CVB, but all thoughts and opinions are my own.
---
A Grapevine Christmas
---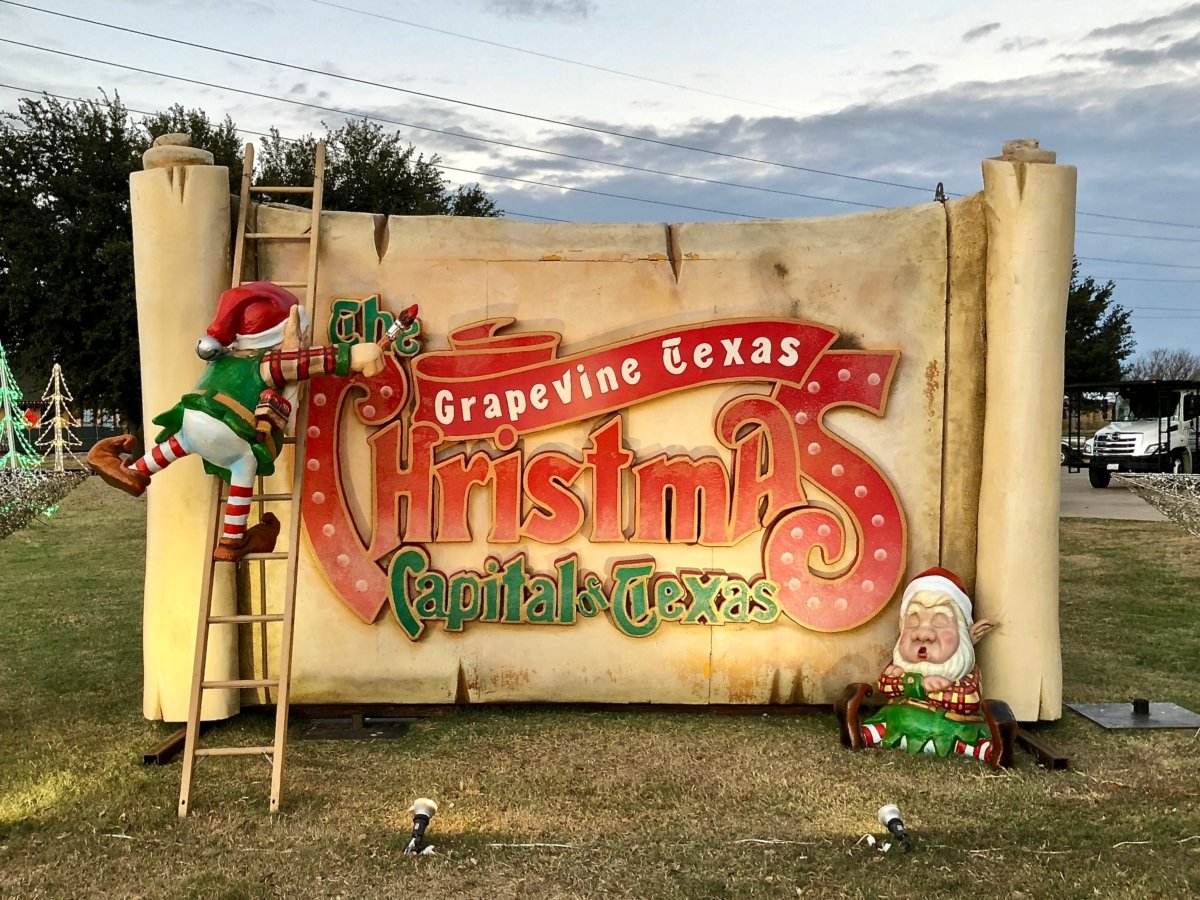 Grapevine, Texas, is centrally located just north of the Dallas——Fort Worth metroplex, and if you have ever flown into DFW International Airport, you landed in Grapevine, whether you knew it or not.
Such was the case with me, on more than one occasion, I am sure.
The first time I intentionally traveled to Grapevine, I attended a travel conference and explored the city's history with a walking tour down Main Street, a visit to the Settlement to City Museums, and an excursion to Nash Farm.
I would return to those locations on my second visit, but this time my intent would be to celebrate a Grapevine Christmas, because you see . . . Grapevine is the Christmas Capital of Texas!
My travels have taken me to other cities across the country where Christmas is a big deal, such as Natchitoches, Louisiana, and Santa Claus, Indiana. But never have I seen the holidays celebrated on a grander scale than in Grapevine.
For 40 days from mid-November through New Year's Day, the city hosts 1,400+ family-friendly events, and the city-wide celebration draws more than one million guests each year.
I spent four days in early December immersed in a flurry of non-stop holiday activities and events, and I barely scratched the surface of all the Christmas Capital of Texas has to offer. Even so, let's take a look at some of the highlights from my visit to give you a taste of what's possible when planning a visit of your own.
---
Historic Main Street
---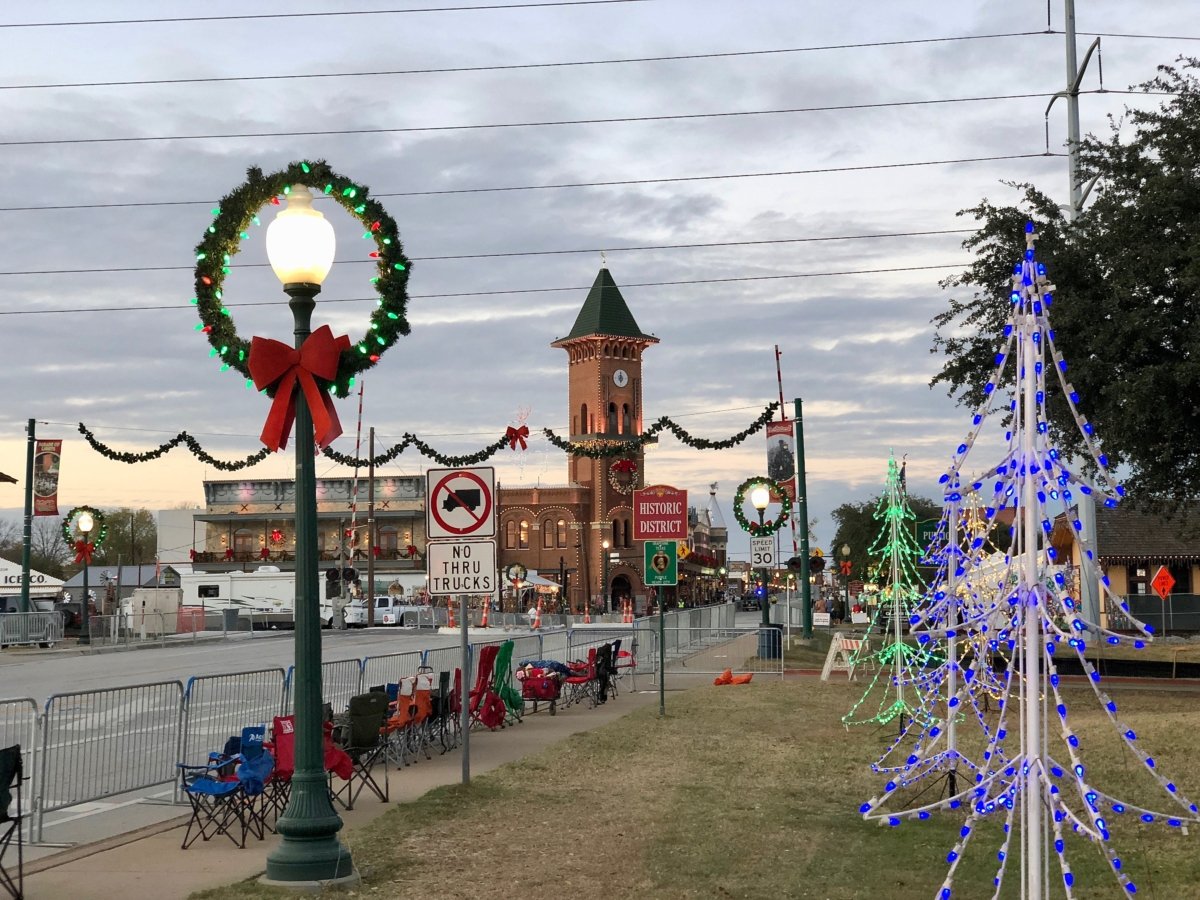 Grapevine's historic Main Street through downtown is the corridor where many shops and event venues are located. The Hudgins Street intersection is Ground Zero and a great place for guests to begin their Christmas Capital of Texas adventures. The iconic clock tower on the northwest corner marks the Grapevine Visitor Information Center. Be sure to stop by for free assistance with any of your destination needs.
Grapevine's Settlement to City Museums are housed in four historical structures situated adjacent to the Visitor Information Center. The Grapevine Historical Museum, Donald Schoolhouse Museum, Keeling House Museum, and Cotton Ginner's Museum provide the perfect introduction for first-time visitors to town.
Hometown Holiday activities at the museums include Victorian-era crafts, pioneer stories, and tree-trimming. For a nominal fee, guests can print their own vintage Christmas cards using an 1881 Chandler & Price printing press.
---
Parade of Lights
---
With more than one hundred lighted floats, marching bands, vintage cars, and horse-drawn wagons, the Grapevine Parade of Lights is the largest nighttime Christmas parade in North Texas.
The parade is held annually on the first Thursday in December. It is free to the public and begins at 7:00 PM. Visitors should plan to arrive early to claim their viewing spot along Main Street.
---
North Pole Neighborhood
---
The Grapevine Vintage Railroad neighborhood with its eye-catching water tower and historical train depot is located at the southeast corner of Hudgins and Main.
During the holidays it is transformed into the North Pole Neighborhood, and the North Pole Express begins seasonal operation. This magical train ride to the "North Pole" includes Christmas carols, frosty beverages, a walk through a Christmas tree forest, and the arrival of Santa. Advance tickets are recommended for this popular Grapevine Christmas attraction.
The North Pole Neighborhood is home to a blacksmith shop, general store, photo studio for pictures with Santa, food and beverages, and Santa's real live reindeer!
---
VETRO Glassblowing Studio
---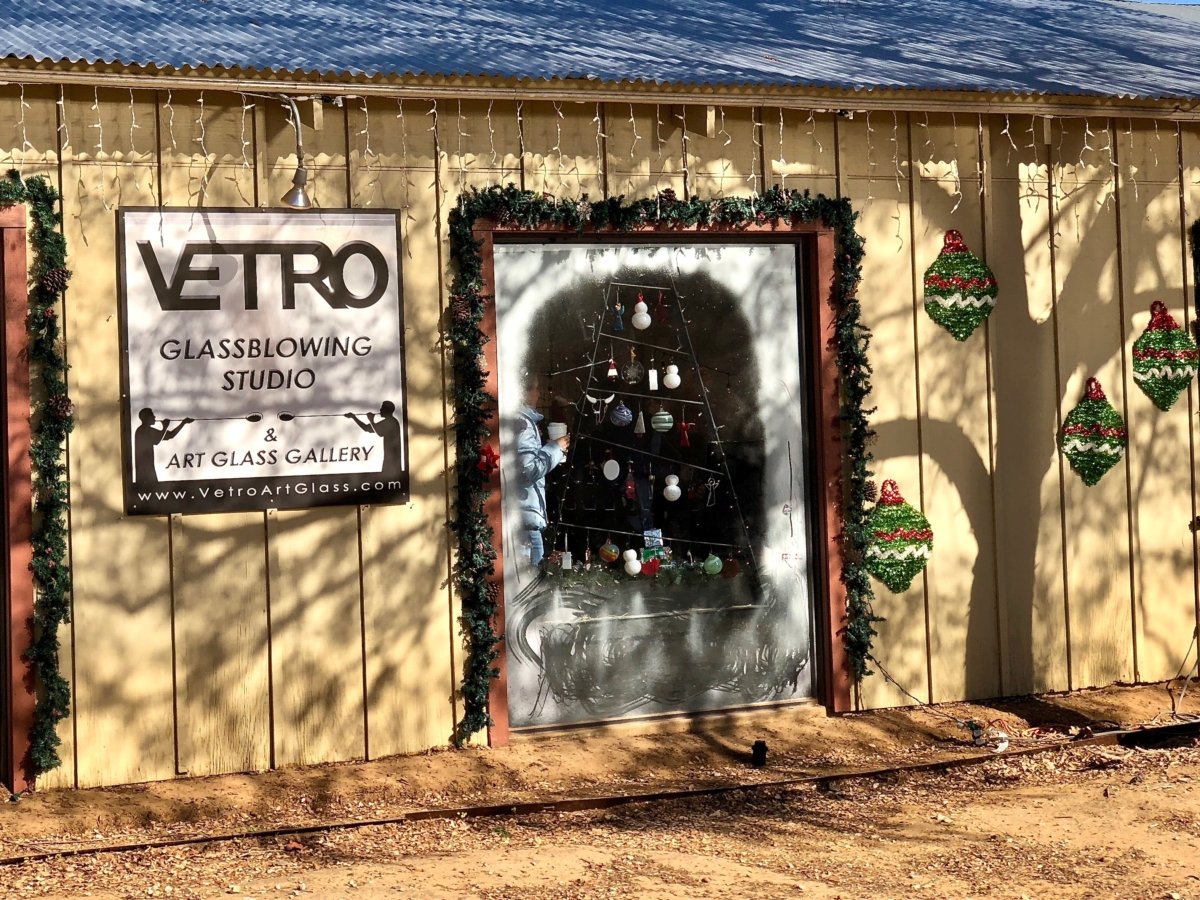 The VETRO Glassblowing Studio, also located within the North Pole Neighborhood, is a "nationally-recognized, full-scale working studio and art gallery" practicing the ancient Italian craft of glassblowing to create unique fine art pieces from molten glass.
When the Christmas season rolls around, VETRO Studio devotes its event calendar to creating blown glass ornament experiences for holiday guests.
To create my ornament, I selected colored glass bits from a broad palette, applied the colored bits to the molten glass gather, and following the artist's direction, heated the colors in a 2,000° furnace.
When the molten glass was ready, the artist took over, blowing out the ornament and adding a glass hook. The ornament was left to cool and collected the following day.
Ornament experiences range from $30 to $50, and reservations are required during peak days.
---
Grapevine's Wineries
---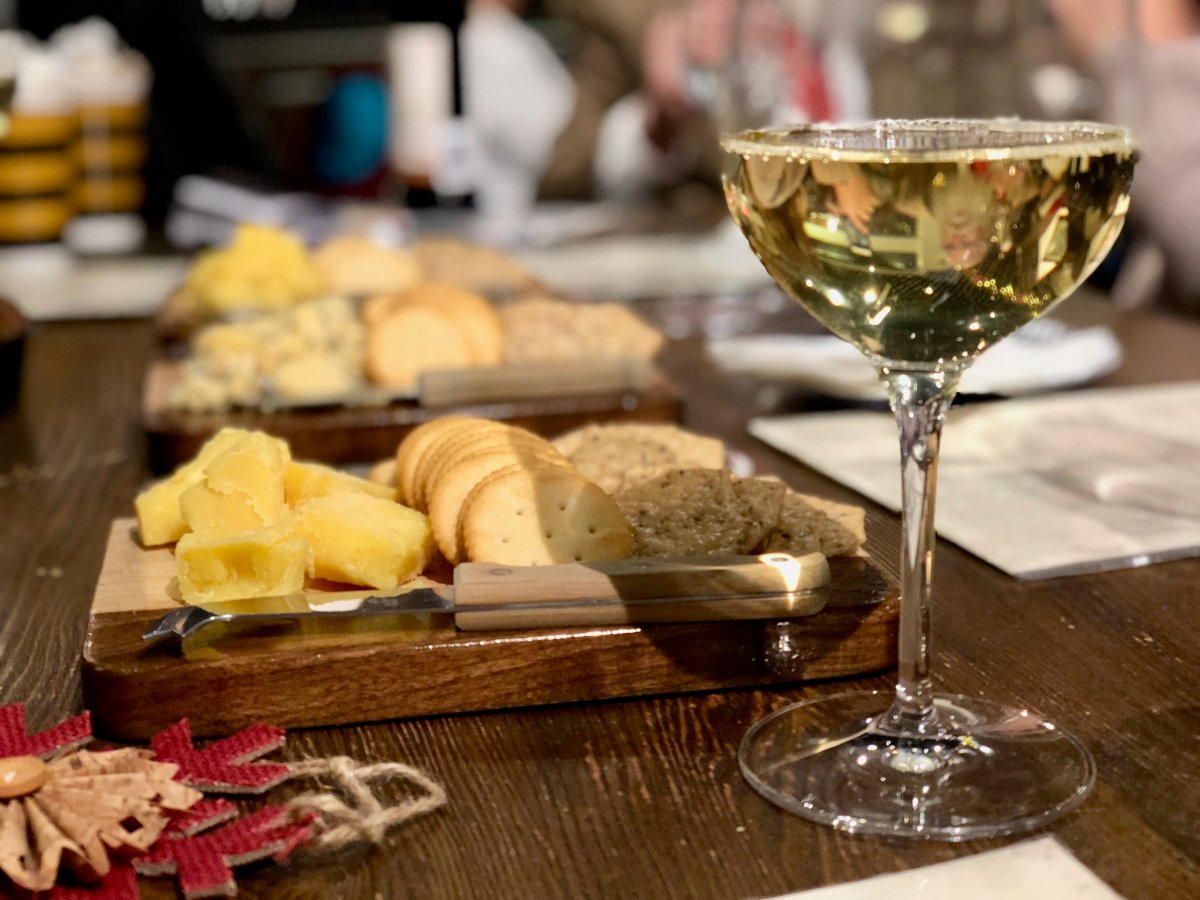 It would be wrong for a town named "Grapevine" to be without a winery, and once again it does not disappoint. Grapevine boasts no less than nine wineries, making it home to the Urban Wine Trail and GrapeFest, the largest wine festival in the Southwest, held for four days each September.
Local wineries, such as the Bingham Family Vineyards where we visited, embrace the Christmas spirit in their tasting rooms.
Word has it that the Grapevine Vintage Railroad also hosts Christmas Wine Trains in November and December.
---
Dr. Sue's Chocolate
---
I will go out on a limb and say that Dr. Sue's Chocolate may may be my favorite Main Street shop, after all, how can you compete with chocolate?
And believe it or not, Dr. Sue is a practicing physician who fights obesity-related disease through the medium of "all-natural, gluten free, non-GMO" dark chocolate.
Dr. Sue's chocolate truffles and barks are blended with fruit, nuts, spices, and other natural flavorings, making them flavorful, yet not too sweet. Free samples make it a cinch to choose the chocolate best suited to your taste.
During the holiday season, Dr. Sue features a hot chocolate bar and Happy Hour. Guests can add flavorings such as peppermint, cinnamon, and pumpkin spice to their steaming cups of liquid heaven. I was partial to the chile-flavored hot chocolate.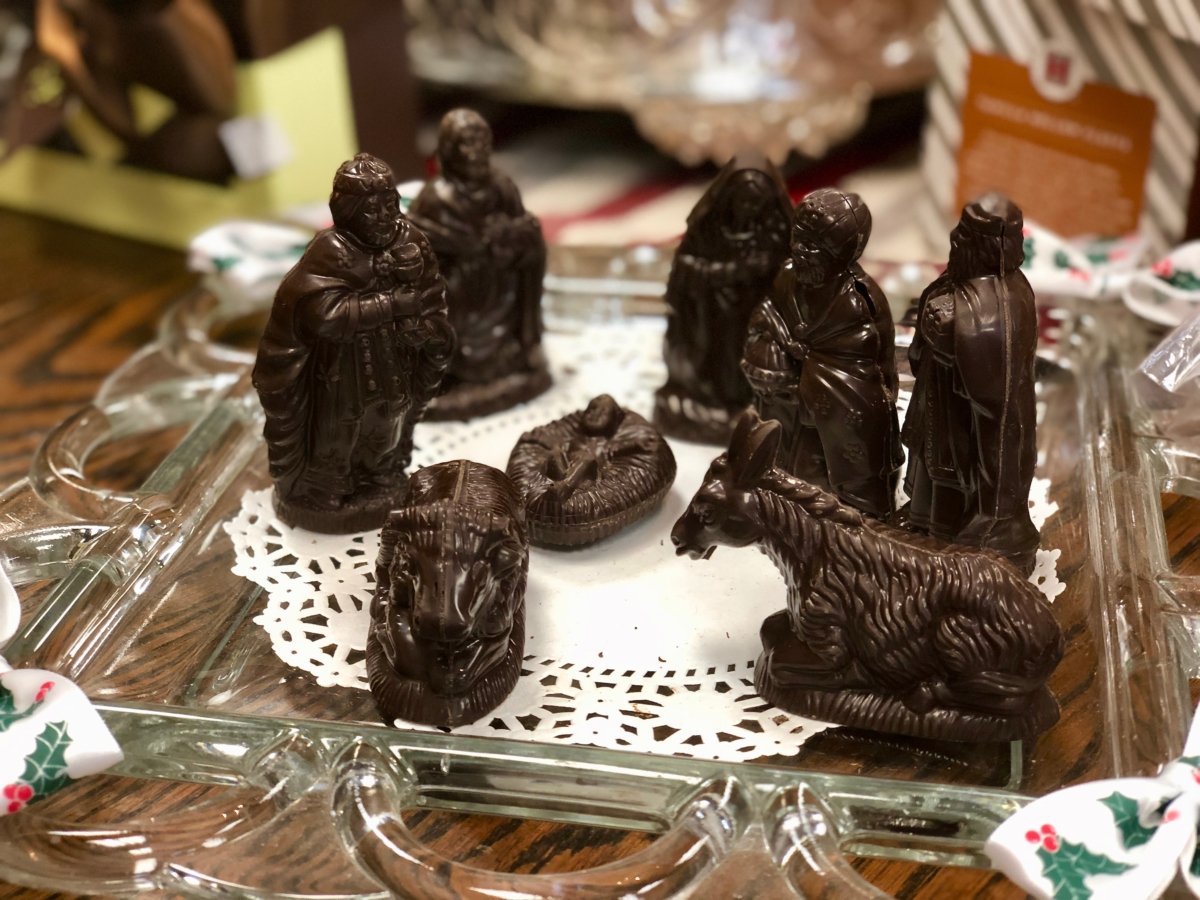 I was totally intrigued by the chocolate Nativity scene, wondering whether it would be appropriate to actually eat the Baby Jesus. Then I remembered that Christians around the world consume the elements of Holy Communion every Sunday.
Dr. Sue's handmade European-style artisan products are unlike any chocolate you have ever tasted, but they are definitely my kind of medicine, and just what the doctor ordered!
---
Grapevine Art Galleries
---
Grapevine has several fine art galleries in the downtown area, including two galleries located in the Visitor Center. The Grand and Tower Galleries host traveling exhibits, and many of the exhibitions are free to the public.
The Great American West Gallery specializes in western-themed paintings and bronzes dating from the 19th through the 21st centuries. These fine pieces depicting Native Americans, ranchers, cowboys, and western landscapes are on display for viewing and acquisition.
Giddens Gallery of Fine Art presents original one-of-a-kind works of art from a variety of styles and media. Two years after its 2012 opening, Giddens Gallery was ranked at #2 on the A List of 48 top fine art galleries in the greater Dallas——Fort Worth area.
Grapevine's Main Street art galleries embrace the Christmas spirit by incorporating works of art in their holiday decor.
---
Painting with a Twist
---
Grapevine's art scene makes room for rank amateurs, as well, at the local Painting with a Twist studio. Under the guidance of a patient instructor even no-talent painters like me are able to produce a work of "art."
The "art party" experience is all about breaking out of your comfort zone, enjoying small talk with fellow "painters," and most importantly, sipping wine! Christmas-themed parties are offered in the months leading up to the holidays so guests can incorporate their creations in their home decor.
Although each party focuses on a single template, participants are encouraged to make variations and produce a masterpiece uniquely their own. My Santa was not perfect, but I think he turned out okay. Don't you?
---
Christmas at Nash Farm
---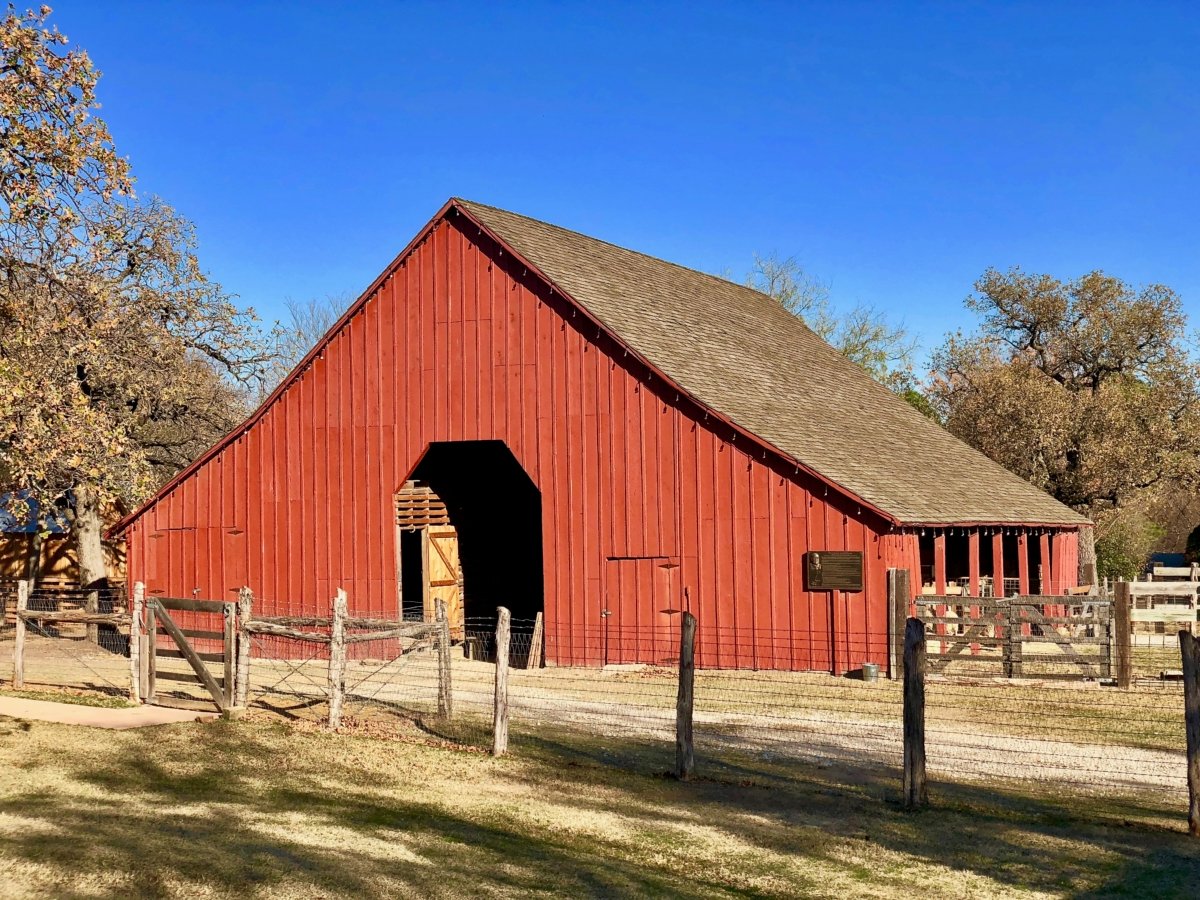 Nash Farm was the highlight of my first visit to Grapevine. Located one half-mile west of Main Street, this lovingly-restored and well-maintained farmstead provides visitors a realistic glimpse of 19th century life on the Grape Vine Prairie.
As a fan of feather and fur babies, I love the added layer of authenticity domestic farm animals bring to the Nash Farm experience.
Admission to the farm is free for self-guided tours, and living history staff and volunteers in period costume are always present to demonstrate a folk craft, share accounts of farm life, or teach guests to use a lariat or crack a whip.
The best part of my December visit to Nash Farm was a hearty farmhand breakfast, prepared by our hosts on a wood-burning stove. The meal included fried salt pork, boiled eggs from the farm henhouse, hot biscuits served with homemade butter and preserves, hot coffee, and "trappers fruit," a fruit salad made from dried apples, raisins, and nuts.
Nash Farm hosts a variety of monthly activities and signature events, including a Victorian Farmstead Christmas Celebration.
---
Texas Star Dinner Theater
---
On Friday and Saturday nights, Grapevine's Texas Star Dinner Theater is a popular Main Street venue for folks who enjoy western-themed entertainment while they eat.
With advance ticket purchases, guests select from four entree choices catered by Chill, a Main Street sports bar and grill located across the patio from the dinner theater.
The original comedic murder mystery show begins as dinner is served, and the story unfolds as the meal progresses. Life gets loud with this cast of colorful characters, in a rip-roaring performance that will leave diners laughing and guessing "whodunnit!"
During the month of December, holiday-themed shows run Thursday through Sunday, with double performances on Fridays and Saturdays.
---
Christmas at the Palace Theater
---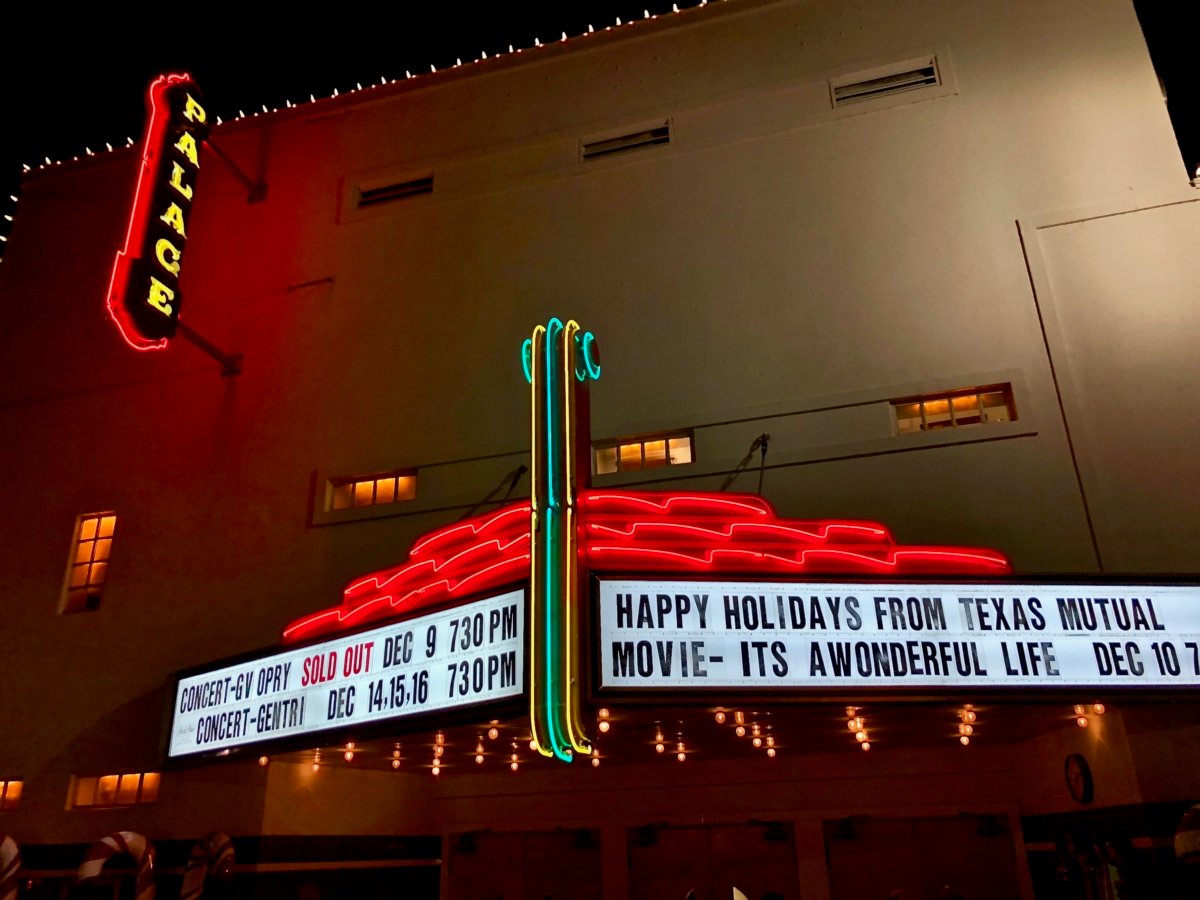 The Palace on Main Street is a restored 1940 art deco-style theater, that together with the Lancaster Theater makes up Grapevine's Palace Arts Center. The historic venue hosts a full slate of Christmas concerts and movies during the month of December.
While in town, I attended the annual performance of "A Grapevine Opry Christmas." I was pleasantly surprised with the quality of local talent, especially stringed instrument stylings of the show's producer Rocky Gribble, who has performed internationally with many major pop and country artists.
---
ICE! at Gaylord Texan
---
For 52 days during the months of November and December, Gaylord Resorts present ICE!, a "walk-through winter wonderland" of ice sculptures at all four of their properties. This immersive exhibition at the Gaylord Texan is a perfect addition for the Christmas Capital of Texas, and honestly, I have never seen anything like it!
Because the 15,000 sq. foot "cold room" is kept at a chilling 9°F, guests are provided complimentary parkas. It is recommended that visitors bring gloves to the attraction because the parkas are without pockets.
Every year, each Gaylord hotel produces a unique holiday-themed show, and the statistics for the chilling productions are staggering! A single show begins when 48 refrigerated tractor-trailers deliver two million pounds of ice in 14 colors.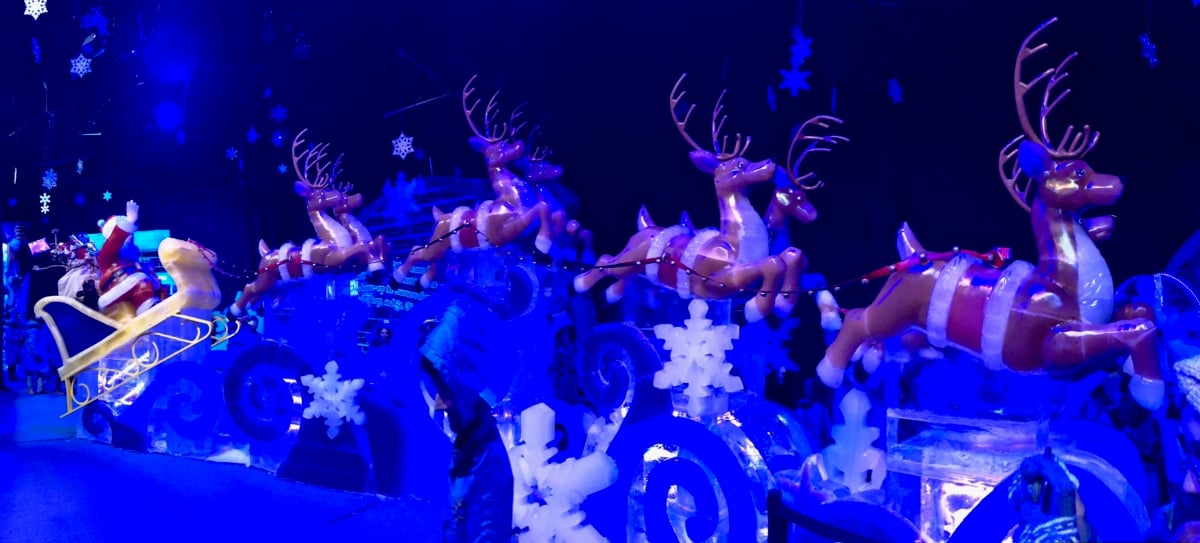 Then, 36 carvers from Harbin, China, get busy, working more than 11,000 hours getting their ice creations ready to present to the public. To date, the largest one-day ICE! attendance has been 15,000 guests!
The ICE! show includes an ice bar for adults and five 2-story ice slides for children of all ages.
In keeping with the true meaning of Christmas, the show concludes with a crystal-clear ice Nativity scene.
---
Christmas Capital of Texas Lodging & Dining
---
As the Christmas Capital of Texas, Grapevine is well-equipped to provide lodging and dining for every budget with more than 20 accommodation options and 200 restaurants.
The Gaylord Texan
---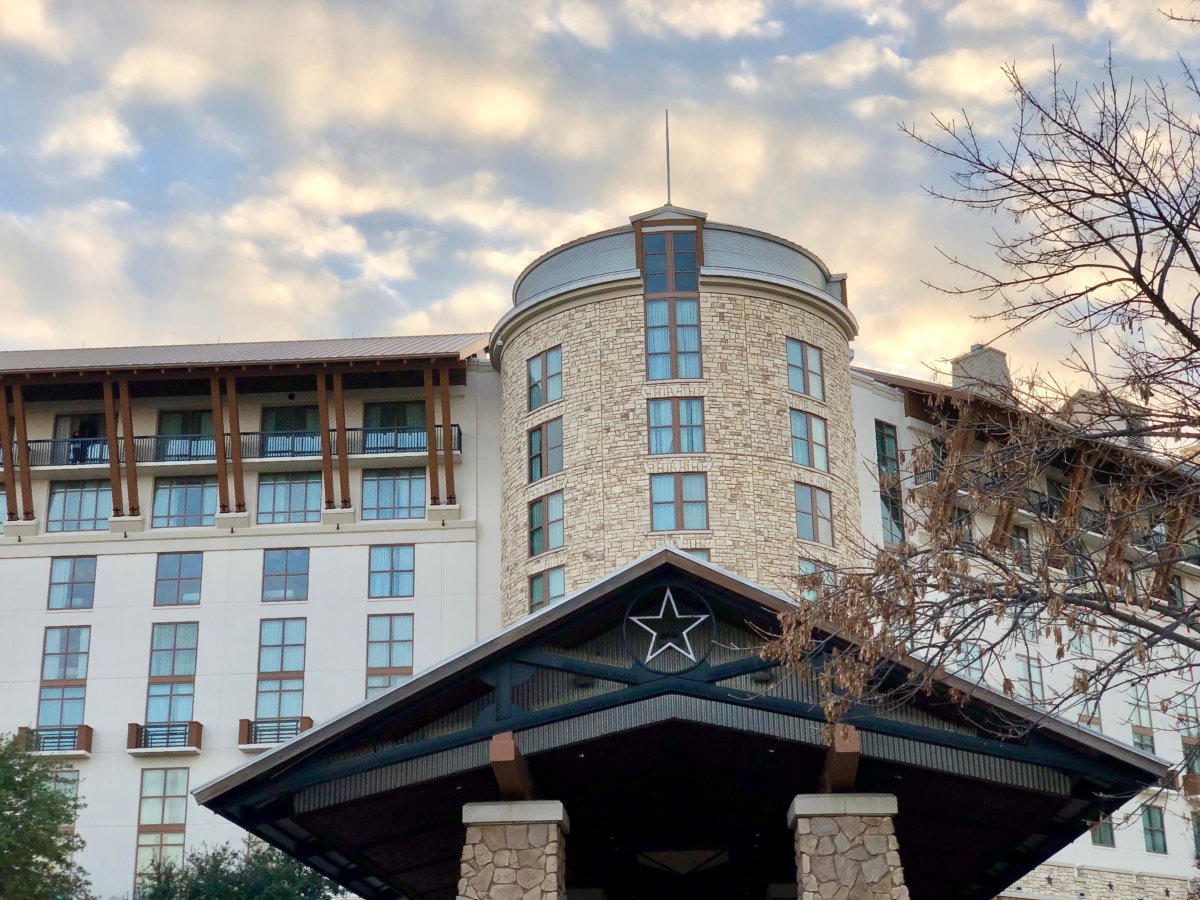 The Gaylord Texan Resort and Convention Center was home base during both of my visits to Grapevine.
In addition to luxury accommodations, this self-contained property on Lake Grapevine has more than ten restaurants, a seasonal water park, spa, and nearly one-half million sq. feet of meeting and event space. The centerpiece of the property is a 4.5-acre central atrium with lush indoor gardens, water features, and a riverwalk.
During winter months, the Gaylord also provides a 6,000 sq. foot outdoor ice skating rink and a 12-lane snow tubing hill.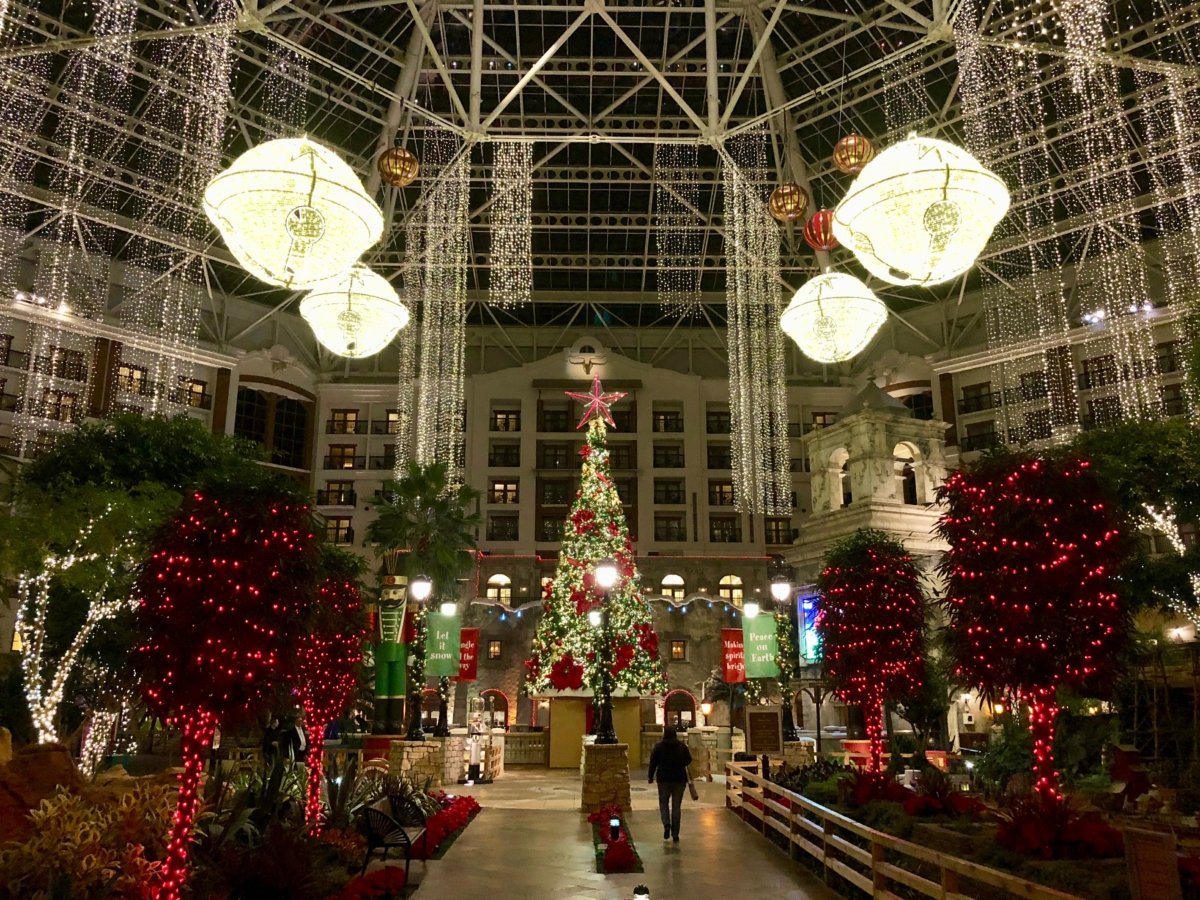 In keeping with the holiday season, the Gaylord Texan goes all out to celebrate a Lone Star Christmas, transforming the atrium and other parts of the resort with more than two million lights on one hundred miles of twinkling strands.
The lavish seasonal decor is further enhanced with 75 Christmas trees, 15,000 ornaments, 5,600 feet of garland, 19,500 gingerbread kits, and 2,000 poinsettias.
Click here to book your Gaylord Texan stay at TripAdvisor!
Great Wolf Lodge
---
The Grapevine Great Wolf Lodge with its signature indoor water park gets in on the holiday action with its Snowland theme, elevating the family holiday experience with a life-sized gingerbread house, visits with Santa, and nightly snowfall in the Grand Lobby. Guests may also book Snowland-themed suites.
My travels have carried me to two Great Wolf Lodge properties, and although family-themed destinations are not my cup of tea, I was thoroughly impressed with the quality, presentation, and flavor of food service at every level from a casual water park lunch to a gourmet dinner party.
Click here to book your Great Wolf Lodge Grapevine stay at TripAdvisor!
Click here for additional Grapevine lodging options at TripAdvisor!
Ferrari's Italian Villa
---
Ferrari's Italian Villa is family-owned restaurant that serves up wood-fired pizza, pasta, steaks, and other homemade dishes made with imported regional ingredients. I fell in love with the antipasto salad bar!
Jake's Burgers and Beer
---
Conveniently located on Main Street, Jakes Burgers and Beers is a small Texas sports bar chain specializing in 100% fresh ground beef burgers on homemade buns and hand-cut fries.
Esparza's Restaurante Mexicano
---
I may or may not have been under the influence of a Tex-Mex margarita, but the Best Dish of the Trip award goes to Esparza's Restaurante Mexicano. The deep-fried avocado stuffed with cheese and chicken (or beef) is the stuff dreams or made of!
The Grand Met at Grand Hyatt DFW
---
My Grapevine Christmas concluded with breakfast at the Grand Met restaurant located within the Grand Hyatt DFW in Terminal D. The Grand Met menu boasts dishes made with locally-sourced farm fresh ingredients, ordered up on uber-cool touch screen menus.
Click here to book your Grand Hyatt DFW stay at TripAdvisor!
---
Planning Your Grapevine Christmas
---
The Christmas Capital of Texas festivities are hugely popular and wiith so many available options, this is one holiday getaway you will want to plan at least a few months out.
Many Grapevine Christmas activities and events are free to the public, but if you plan to participate in any of the high-demand attractions, you will want to make your bookings in advance. Tickets for paid events typically go on sale in July, so be sure to check the Christmas Capital of Texas ticket portal for updates and purchases.
---
Map It!
---
---
We Would Love to Hear From You
---
We enjoy dialogue with our readers, especially when they share off-the-beaten-path destinations and useful travel tips. Have you ever celebrated a Grapevine Christmas? If so, we would love to hear about your experience. We invite you to leave your comments and questions below, and we always respond!
---
Pin this Post!
---