(a

20

minute read)
---
Fun things to do in Winslow Arizona, include Route 66, Standin' On the Corner Park, La Posada Hotel, a thriving arts scene, and amazing day trip destinations.
---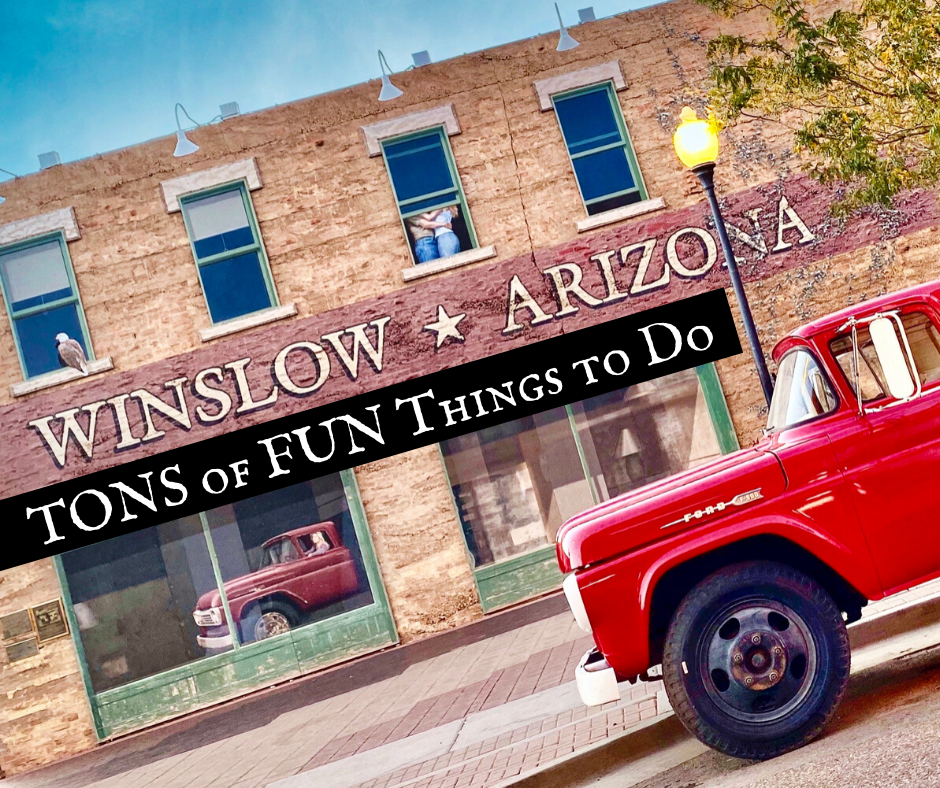 I was a guest of Visit Arizona and Winslow Chamber of Commerce, but all thoughts and opinions are my own. This post may contain affiliate links. Please refer to our our Disclosure/Disclaimer page for more information.
---
Things to Do in Winslow Arizona
---
Winslow, Arizona, has stolen my heart and become my favorite hometown destination.
In fact, when I was asked to contribute to a recent collaboration—Travel Experts Share 27 Top Under-The-Radar Destinations—it didn't take long to realize I had to tell the world about Winslow.
My entry in the post is #24, by the way.
It is no secret that I love exploring small towns. I love walking the streets, learning regional history, and studying vernacular architecture. I enjoy eating at local diners, taverns, and hamburger joints. And I appreciate indigenous art and culture.
Winslow has all of those things and much more . . . .
---
Route 66
---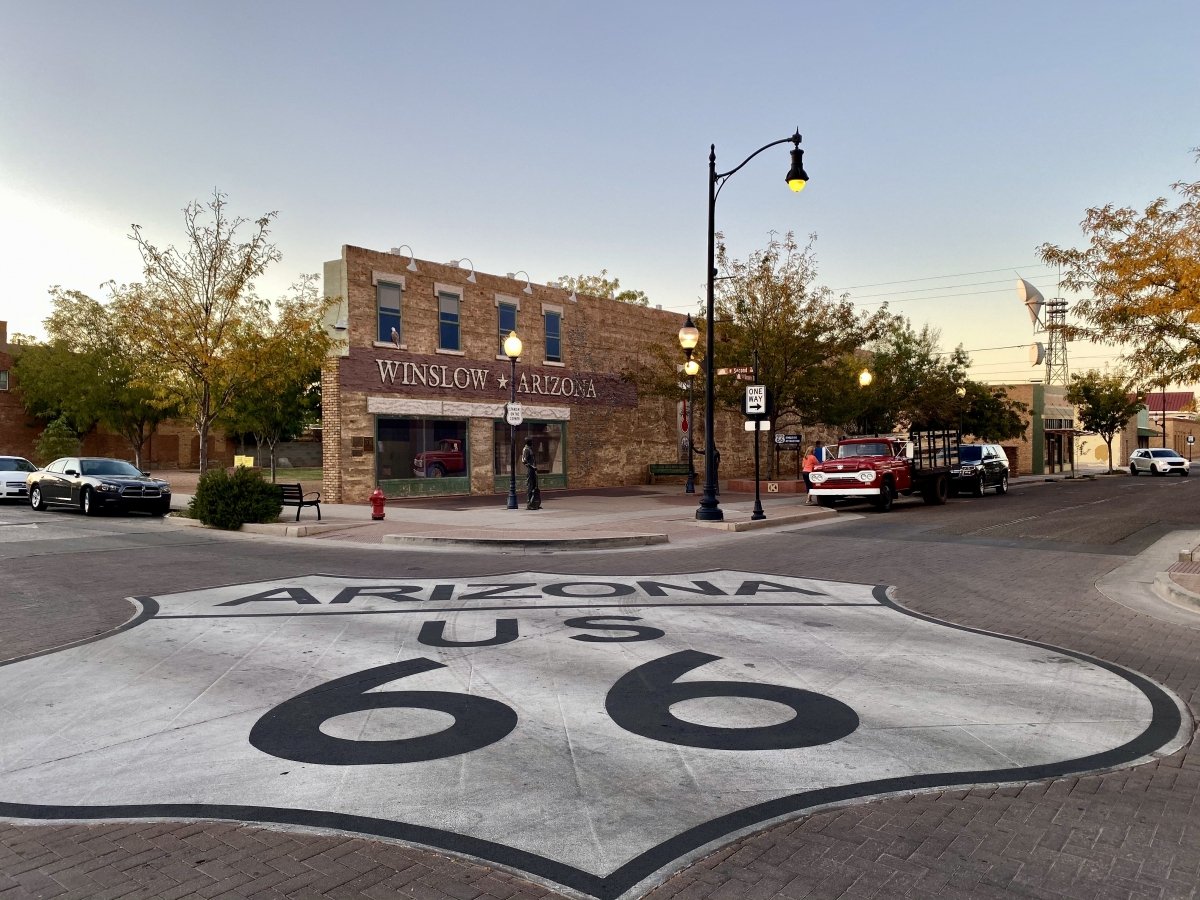 Winslow is one of more than 26 Arizona towns situated along historic Route 66 that were bypassed when Interstate 40 was constructed.
During our Arizona road trip, we toured segments of the Mother Road in Williams, Flagstaff, and Petrified Forest National Park. Although it was sad to see such a classic part of Americana decertified, it was encouraging to see how cities and towns along the route are keeping its memory alive.
A host of dedicated community leaders deserve the credit for Winslow's urban renewal, and you will meet some of them in this story.
In its many efforts to revitalize historic downtown, Winslow has taken advantage of other local claims to fame. The first is situated just beyond the Route 66 mural in the photo above.
Standin' On the Corner Park
---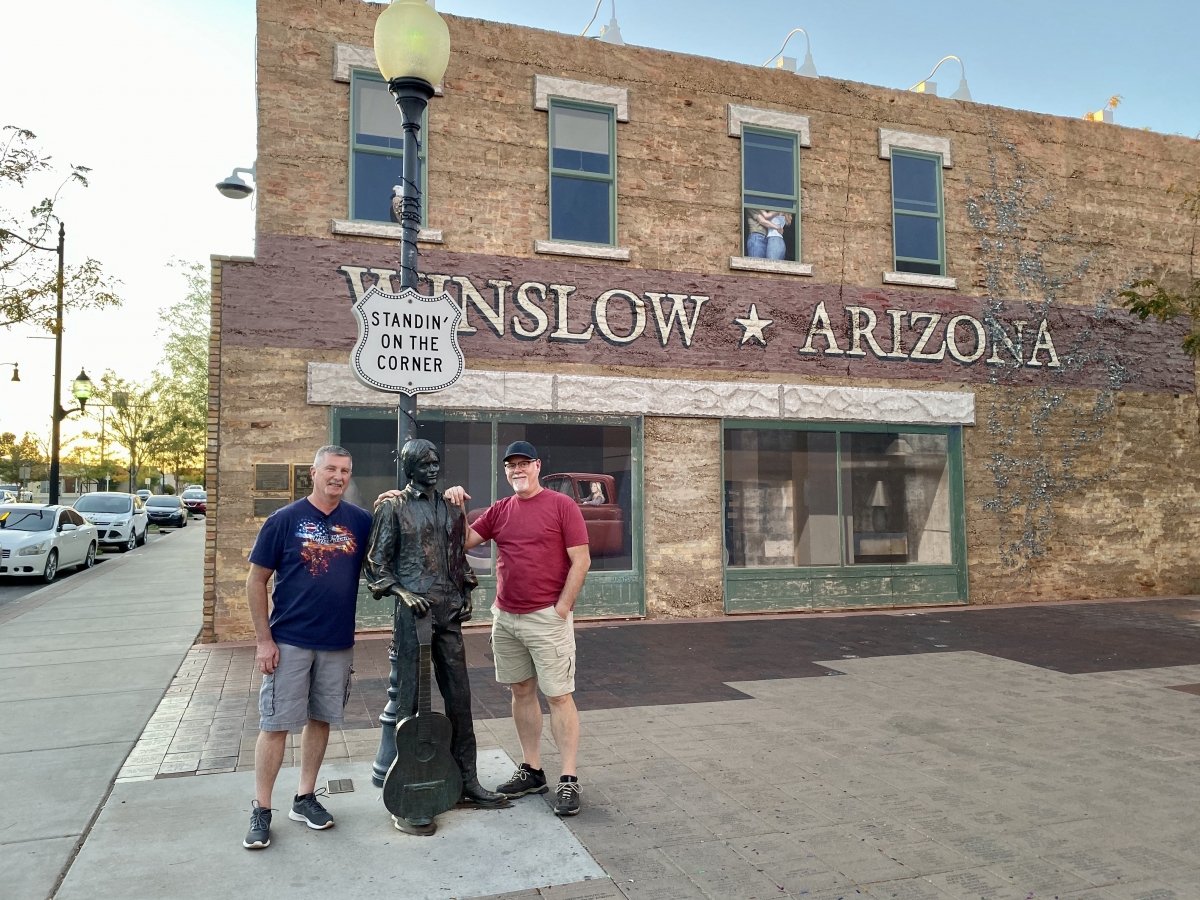 "Well, I'm standing on a corner in Winslow, Arizona, such a fine sight to see; It's a girl, my Lord, in a flatbed Ford slowin' down to take a look at me."
I cannot for the life of me explain why an obscure line from a 1972 rock radio single resonates with so many people.
But it does.
For more than twenty years, the greatest tourist attraction in Winslow has been the "Standin' On the Corner" Park. Eagles fans—including us—flock to this intersection and wait impatiently to take pictures with a statue of the singing protagonist (said to resemble song co-writer Jackson Browne) from the hit song "Take It Easy."
The park designed by architect Loren V. Sadler, sculptor Ron Adamson, muralist John Pugh, and a committee of hometown leaders was dedicated in 1999. Following the death of the song's co-writer and lead singer Glenn Frey, a statue in his likeness was added to the park in 2016.
It was difficult to get a shot of the corner park minus people because the place is busy from early morning until late at night. But I did it!
A couple of favorite elements from the park are a parked flatbed Ford reflected in the mural and an eagle perched on a second-level window sill.
World's Smallest Church
---
The Church of the Mother Road is a a 7 X 4.5 feet structure located inside the courtyard of a small business center one-half block east of Standin' on the Corner Park. Although its claim as the World's Smallest Church is debatable, it may very well be the smallest church on Route 66.
The two-seater house of worship built in 2012 with rescued architectural elements of the Skylark Bar may not have a pastor, congregation, or regularly scheduled services, but it is a memorial to a local businessman and a novelty for guests in town.
9/11 Remembrance Garden
---
There are hundreds of 9/11 memorials across the country, and I have visited some of them in such diverse places as Grapevine, Texas, and Lafayette, Louisiana.
Winslow's 9/11 Remembrance Garden is situated on Route 66 near the east end of town. Elements of the memorial include two steel beams from the World Trade Center and a flag that flew at the Pentagon. The monument symbolizes Northern Arizona's promise to never forget.
---
Old Trails Museum
---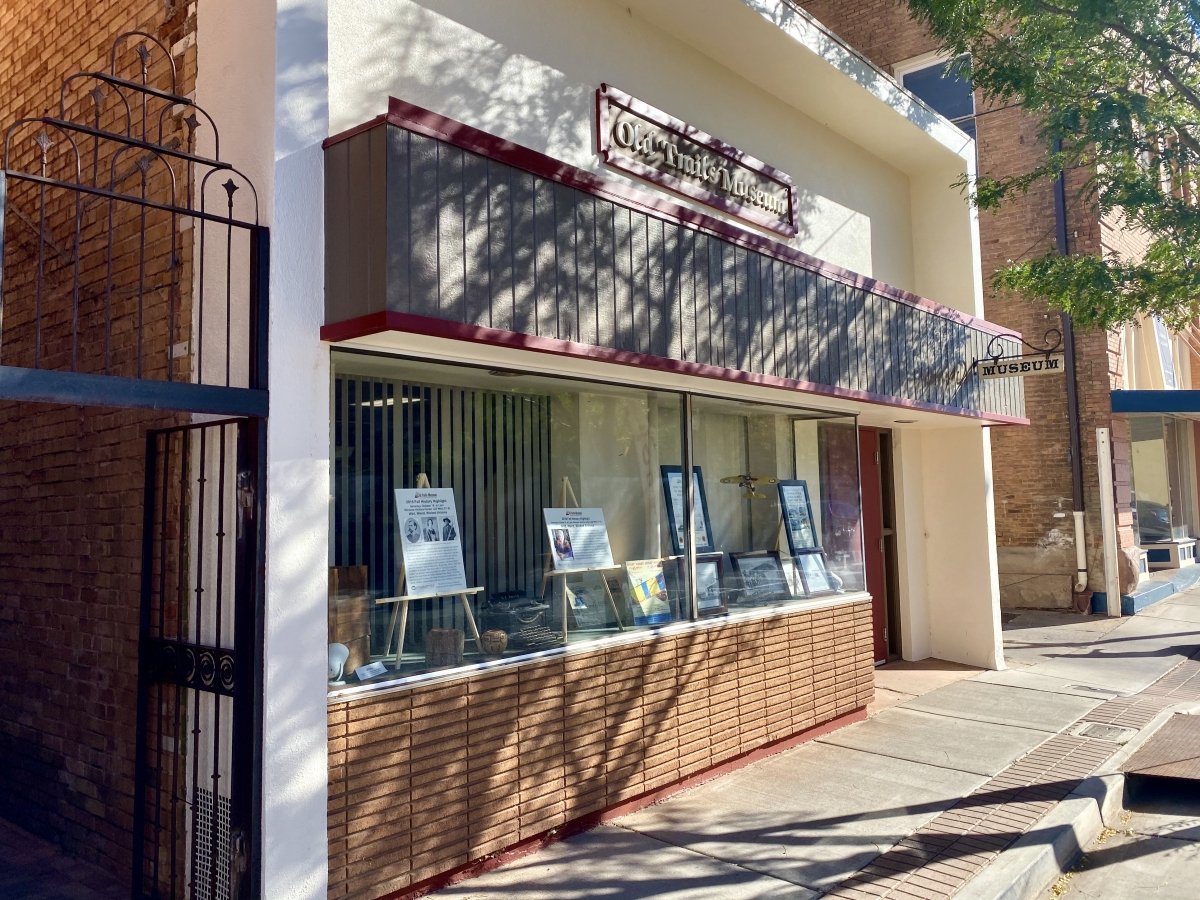 The best place to learn Winslow's history is the Old Trails Museum. The museum is aptly named for many historic trails, trading routes, rails, and roads that have passed through Winslow.
One of them, the National Old Trails Road, I first encountered on a Kansas-Missouri road trip, with stops in Council Grove, Kansas, and Independence, Missouri.
The hometown museum is an arm of the Winslow Historical Society, housing extensive archives and collections donated by locals.
The museum traces Winslow's frontier history through artifact exhibits and photo galleries.
Other collections highlight Winslow's historic role as a major stop for transcontinental air and rail travel.
Situated along the Santa Fe Railway and later Route 66 made Winslow an ideal location for three different Fred Harvey Houses, serving hungry and weary travelers from both the road and rail.
The Harvey Girls who worked the Harvey Houses became American icons for the class and refinement they brought to the frontier. They are celebrated in the 1946 musical motion picture The Harvey Girls starring Judy Garland and also the 2013 documentary The Harvey Girls: Opportunity Bound.
The Old Trails Museum has partnered with businesses and cultural institutions around town, displaying a series of interpretive panels to better communicate Winslow's history through text and image. The Journeys to Winslow panels, along with other panel exhibits, can be viewed online at the museum website.
Museum hours are Tuesdays through Saturdays from 10:00 AM to 3:00 PM. Admission is free, but donations are accepted.
---
La Posada Hotel
---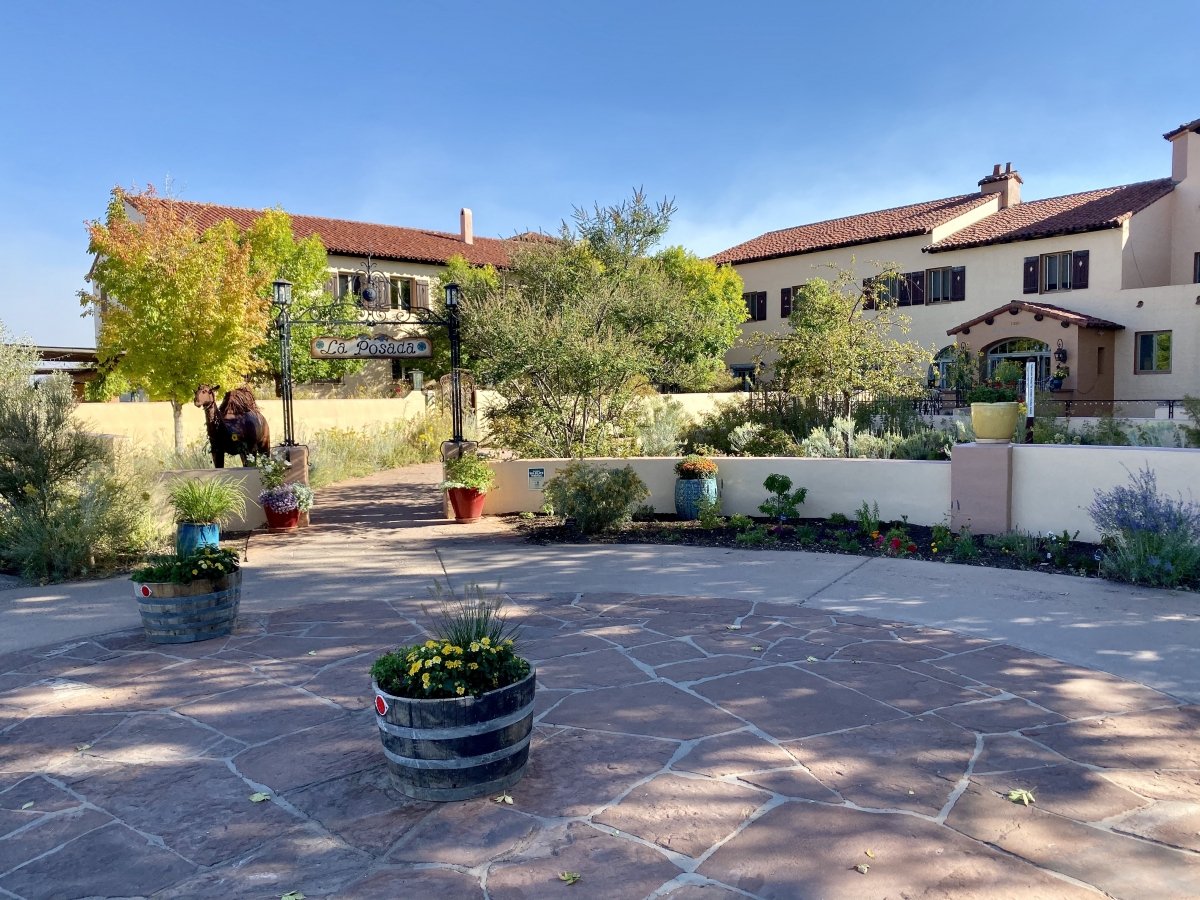 I heard about La Posada long before I had the opportunity to stay there. As it turned out, the historic hotel was far more than I imagined.
La Posada is not just a hotel. It is a sanctuary that embodies its meaning, "the resting place," part botanical gardens, part art gallery, and fully a historic structure and museum.
A plot of land between the Santa Fe Railway and Route 66 in Winslow was the ideal location for construction of Fred Harvey's final and finest trackside hotel, designed by famed Southwest architect Mary Colter in 1930.
In addition to a dozen daily trains and a steady stream of road travelers passing through town, there were eight daily TWA flights arriving at the Winslow-Lindbergh Airport.
During World War II the Fred Harvey restaurants at La Posada often served more than 3,000 meals per day.
To say La Posada was busy in those days is an understatement.
Sadly, La Posada Hotel and restaurants closed permanently in 1957. Through the following decades, the building served as railway offices and was eventually abandoned. By 1997, the historic structure was set to be demolished. That's when activist-entrepreneur Allan Affeldt and his wife artist Tina Mion purchased the property and began a $12 million restoration.
Today, the property retains its vintage charm and beauty as Colter's masterpiece while fulfilling Affeldt's vision and creating a showplace for select Mion works.
Although Winslow airport no longer has commercial flights, you can still reach La Posada by a stretch of historic Route 66 or by rail twice daily on Amtrak's Southwest Chief between Chicago and Los Angeles.
Upon arrival, try not be overwhelmed by the lovely handcrafted jewelry, pottery, rugs, and countless pieces of Southwest art in the Trading Post. The gift shop also houses the reception area and front desk.
You will receive a copy of La Posada's self-guided walking tour at check-in. The tour leads guests to 36 key locations throughout the hotel, to acquaint them with the history, art, and architecture of the historic property.
A 24-hour coffee bar is my favorite amenity at any hotel, and La Posada does not disappoint.
Each guestroom at La Posada is uniquely appointed with decor that reflects both vintage and contemporary Southwest motifs. I suspect many decorative elements in guestrooms were curated from the Trading Post.
Click here to book lodging at La Posada Hotel on TripAdvisor!
Click here for other Winslow lodging options on TripAdvisor!
The Turquoise Room
---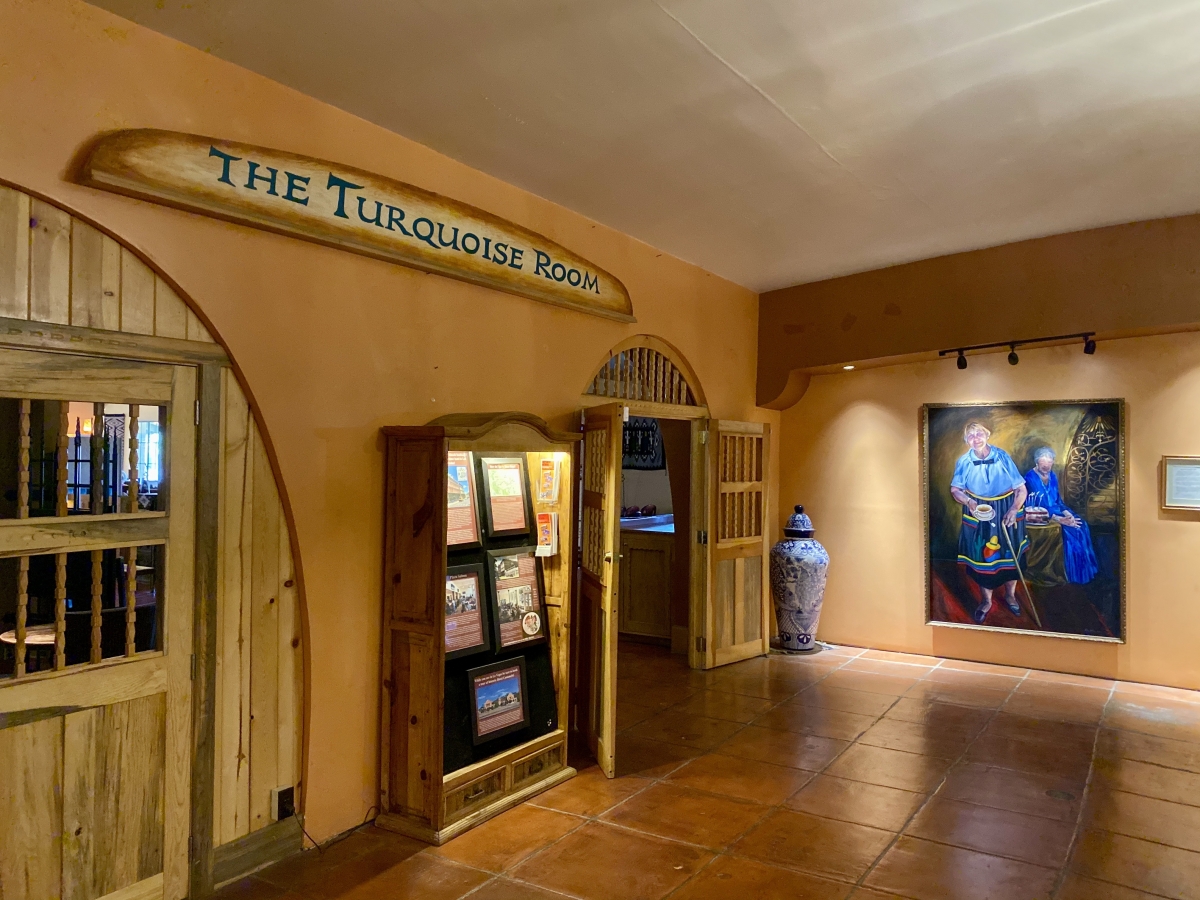 La Posada's Turquoise Room continues the tradition of the original Fred Harvey's restaurants that brought fine dining to the American frontier.
In the foyer, Tina Mion's painting "The Last Harvey Girl" pays tribute to the adventurous young women Will Rogers said "civilized the West."
Trademark interpretive panels of an Old Trail Museum's off-site exhibit offers guests deeper insight into Winslow's storied past.
Our first evening in Winslow, we dined at the Turquoise Room, sampling signature dishes from Chef John Sharpe's menu of locally-sourced, made from scratch, contemporary Southwestern cuisine.
Artistic dishes of note included a split sweet corn and black bean soup initialized with spicy chili cream, seasonal batter-fried squash blossoms, and a lovely crème brûlée.
The next morning, before departing on a day trip to the Painted Desert and Petrified Forest National Park, we enjoyed breakfast at the Turquoise Room.
Jerry ordered the basic Union Station, and I gravitated to the Corn Maiden's Delight, a comforting bowl of warm polenta, fire roasted tomatoes, fresh spinach, poached eggs, jalapeño jack cheese, and corn salsa. Perfect!
When planning day trips to regional attractions (described below), guests may choose to order gourmet box lunches from the Turquoise Room for the makings of a memorable Arizona picnic.
You can read more about Fred Harvey's historical Arizona operations in our posts, Take the Train to Grand Canyon National Park and Drive the Painted Desert and Petrified Forest National Park.
---
Winslow Arts Trust Museum
---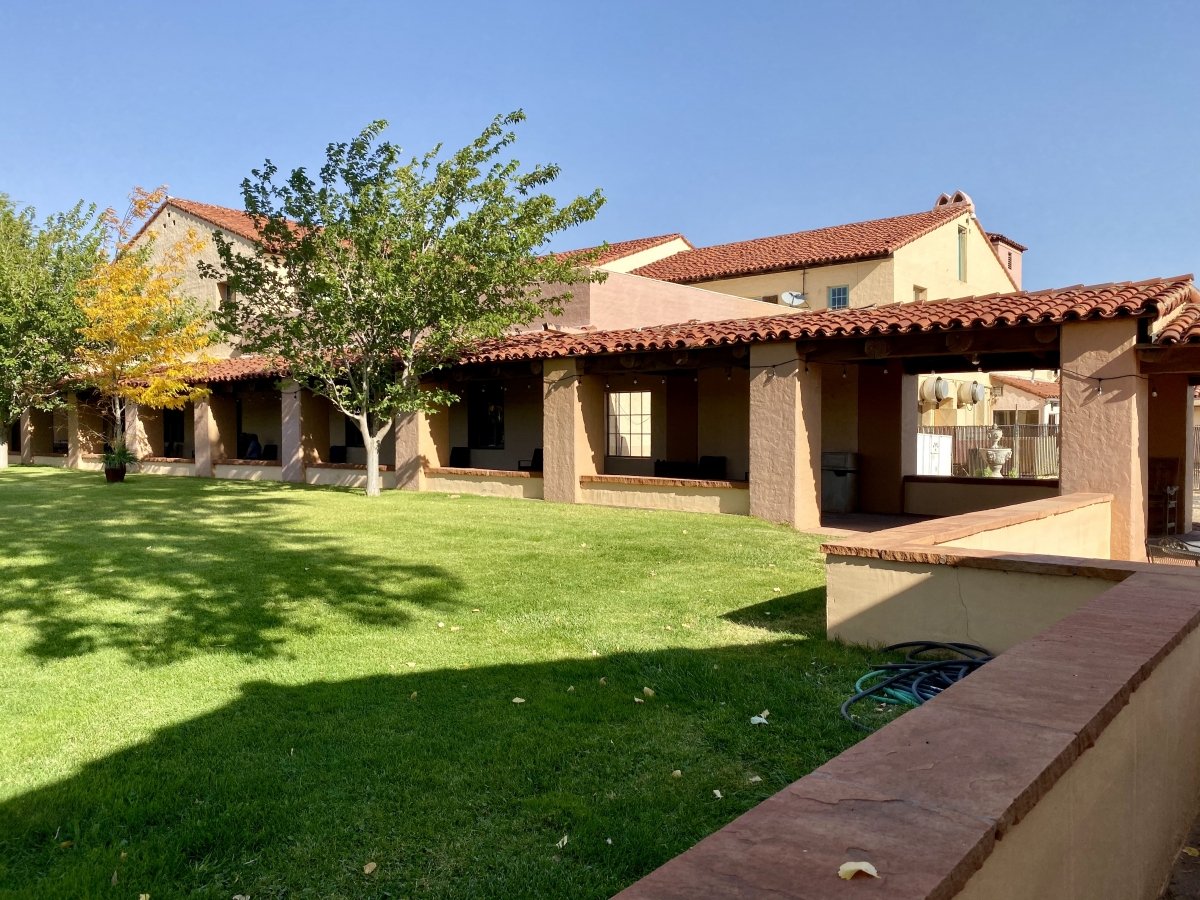 Before hitting the road, we followed a covered passageway that led from La Posada to the attached Winslow Arts Trust Museum.
Housed in Winslow's former railroad depot, this museum also celebrates the community's past with relics from La Posada, the Santa Fe Railway, and Route 66. Familiar interpretive panels from the Old Trail Museum have their place in this space as well.
Contemporary works by Tina Mion and other local artists bring current perspectives to gallery walls in the permanent collection, while depot scales recall Winslow's past.
We were fortunate to visit the museum while the Arizona ACLU's traveling art exhibition "In This Together: Sixty Years of Daring to Create a More Perfect Arizona" was on display at the WAT Museum.
I don't always draw attention to temporary exhibitions because they may not be at the museums by the time our readers have the chance to visit. However, I was so moved by powerful messages of equality, liberty, and justice radiating from the works in this collection that I had to include a few of them here.
Conquista: Cox, an oil on canvas by Darrin Armijo-Wardle; The Tree of Civil Liberties, a mixed media on birch panel by Ruben Urrea Moreno; and Migrant Memorial, fabric, ink paint, and embroidery by Jennifer Eschedor.
Won't Name No Buildings After Me, an oil on canvas by Carla Keaton; Green Book, Orange Balloon, an oil on linen by Tina Mion.
The Weight of Water, mixed media and textiles by Mary Vaneecke; Inherently, a wood sculpture by Matt Werner.
The Winslow Arts Trust Museum is open daily at varying hours and admission is free.
---
Snowdrift Art Space
---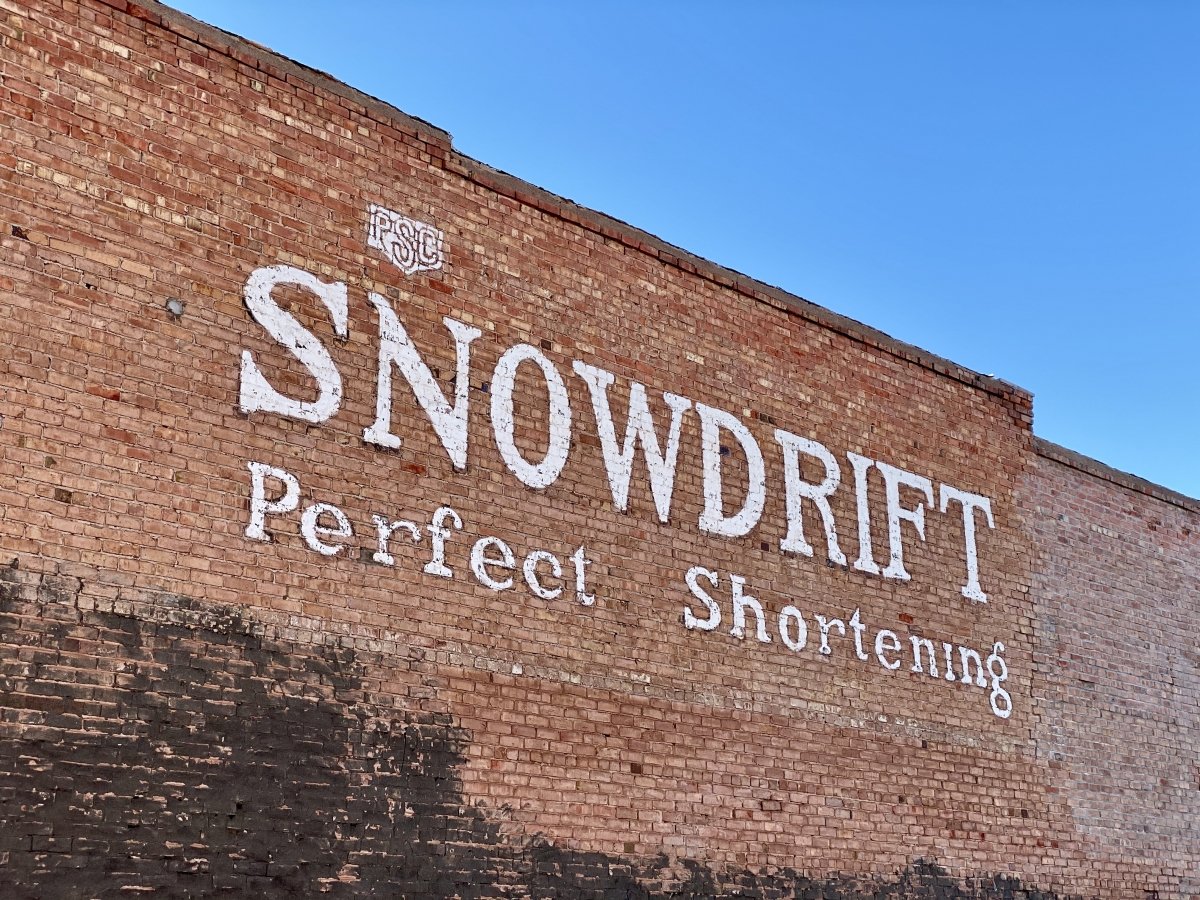 The Snowdrift Art Space, located at the former 1914 Babbitt Brothers department store on Route 66, is an affiliate of the Winslow Arts Trust.
It is also the home and studio of sculptor Dan Lutzick and his wife Ann-Mary. Dan is partner and general manager of La Posada, and Ann-Mary is director of the Old Trails Museum.
I can honestly say I have never seen anything like it. One space we toured within the 7,000 square-foot main gallery contained ornate shrines that reminded me of altars we had seen while attending a Day of the Dead festival in Mexico.
This was my first time seeing shrines to beloved pets, but they made perfect sense.
Upon entering the building, we had been greeted by Rafa, a standard longhaired dachshund. As a lifelong doxie-lover—and missing our boy Axle—I was immediately enamored with this adorable boy.
Later, we would meet Rafa's furry siblings, and puppy love would abound.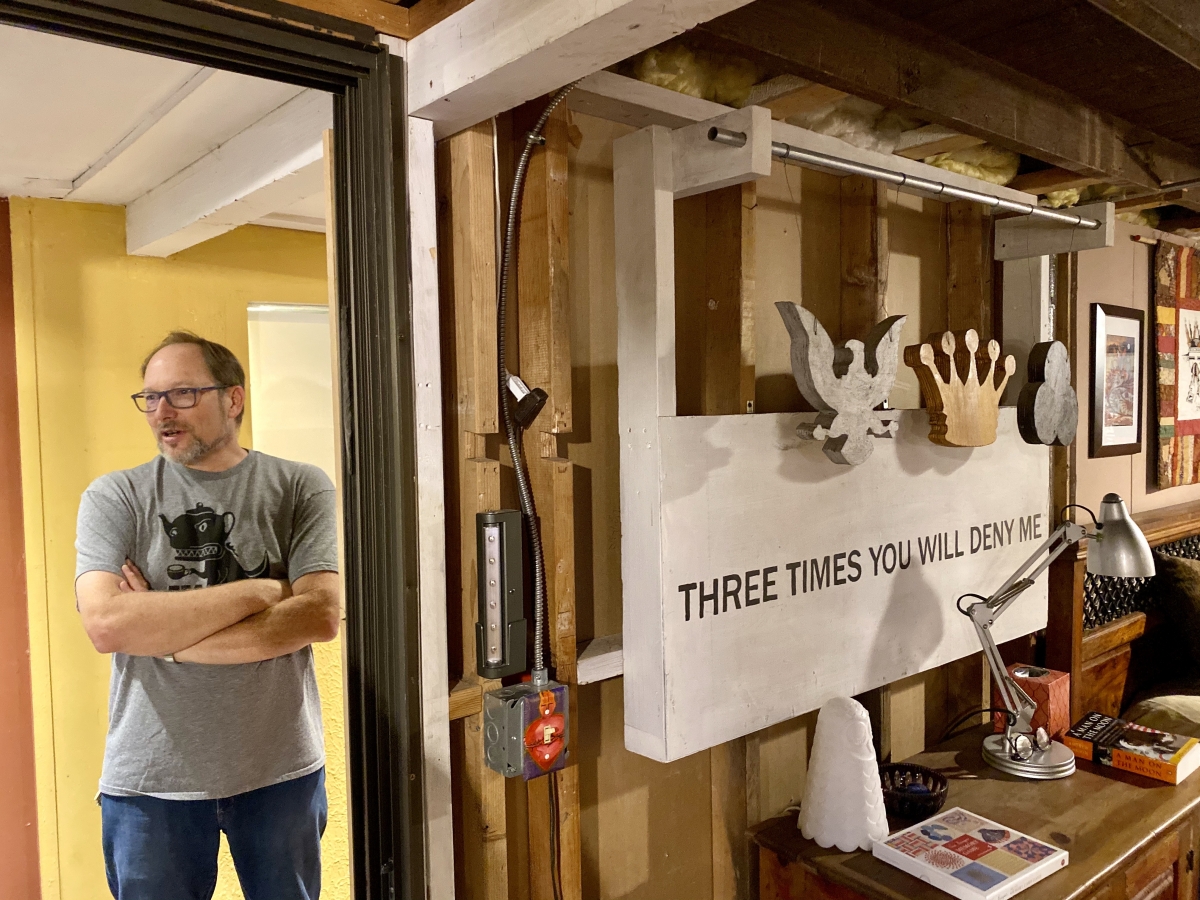 Dan Lutzick is a prolific artist, having created hundreds of sculptures in the past two decades.
Dan's medium of choice is plywood, but his designs incorporate other building supplies such as "roofing tar, corrugated tin, wall patch, baling wire, and rebar."
Most of Dan's displayed works at Snowdrift are not for sale.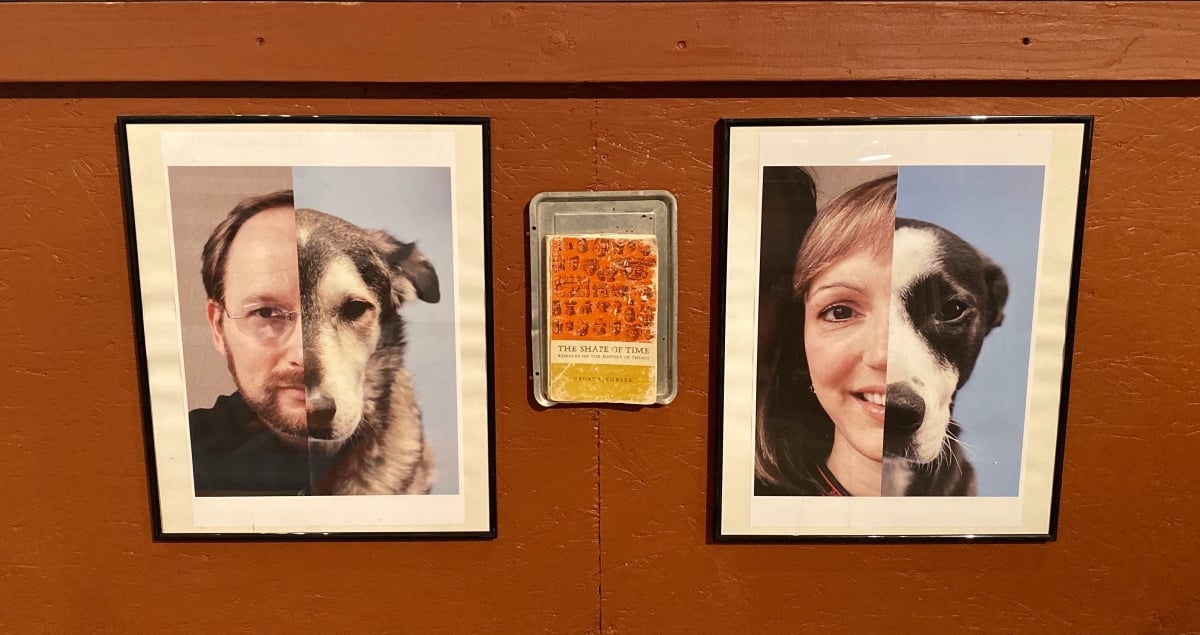 Dan gave us a tour of his studio and additional galleries in the 10,000 square-foot basement, as well as the family loft living area, that overlooks the main gallery, also filled with art.
Ann-Mary arrived during our visit, and we got to meet the rest of the family.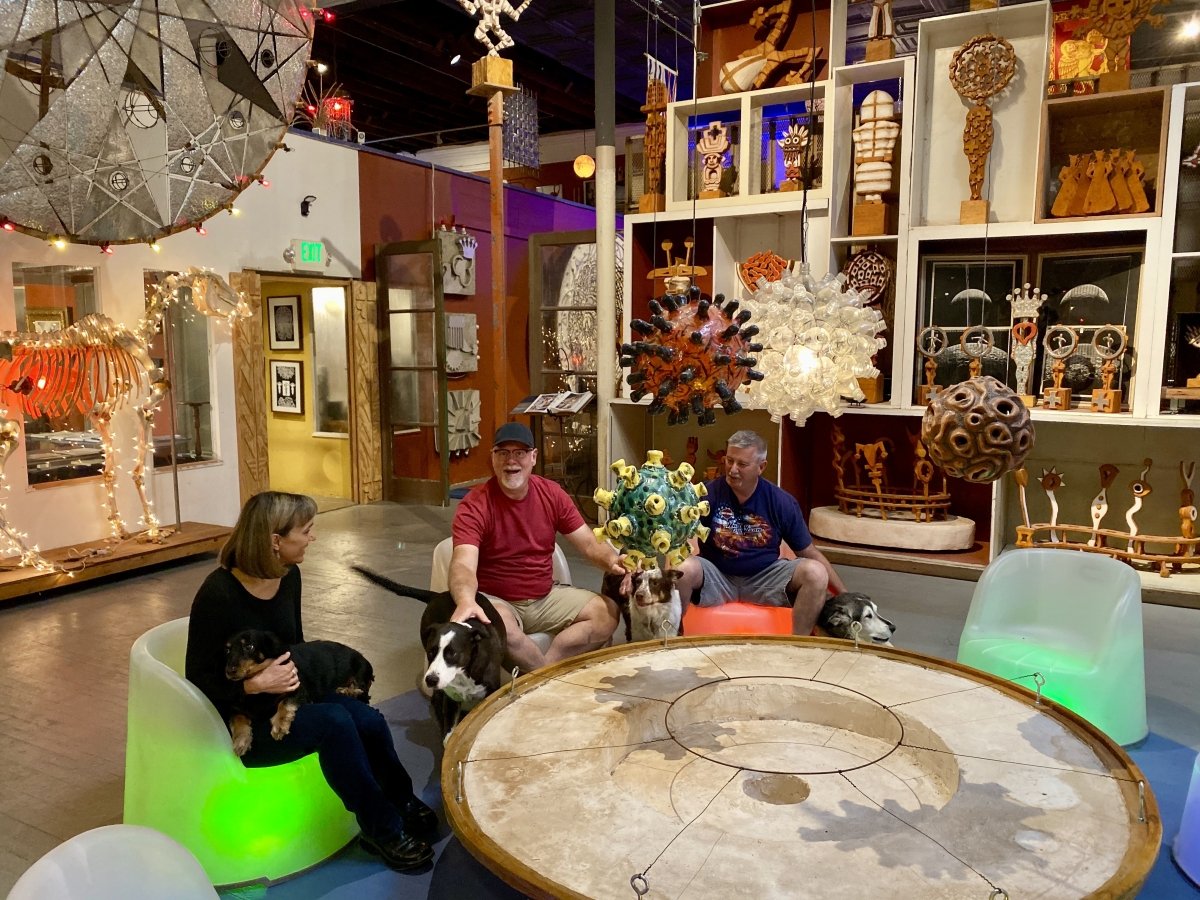 The energy in the room instantly elevated with the grand entrance of Sadie (AmStaff-Aussie mix), Rhett (Cattle dog mix), and Rufus (Malamute mix). We were overwhelmed with puppy love, making our Snowdrift experience complete. Felines Luther and Bella preferred observing the fun from distant perches.
The Lutzicks host community events in the art space and private screenings in the Paul Anthony Ruscha Theater throughout the year.
Snowdrift tours are free, but are by appointment only.
---
Day Trip Destinations
---
One of Winslow's best features is its central location. This makes it an ideal home base for hub-and-spoke day trips to national parks and other regional attractions.
Meteor Crater
---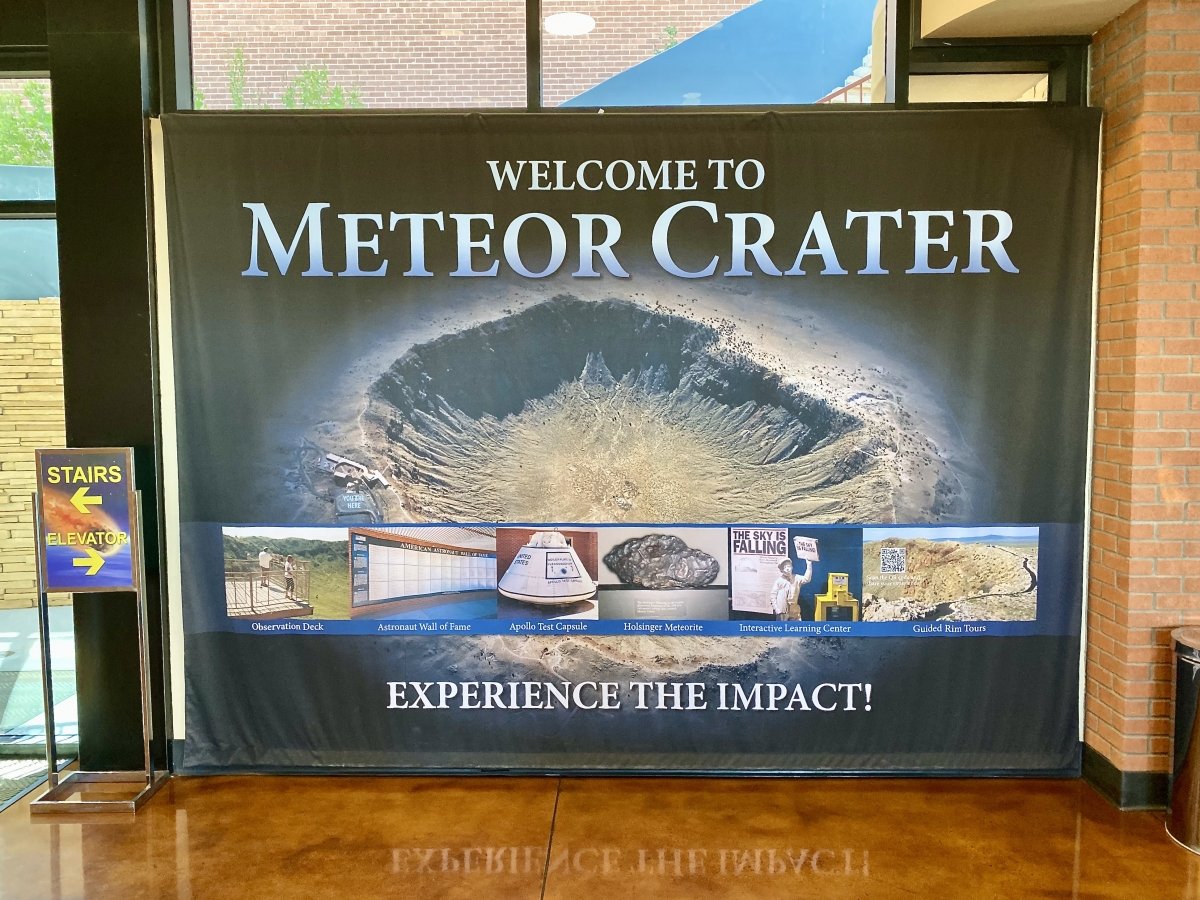 One of Arizona's most unusual natural features is located just 25 miles west of Winslow.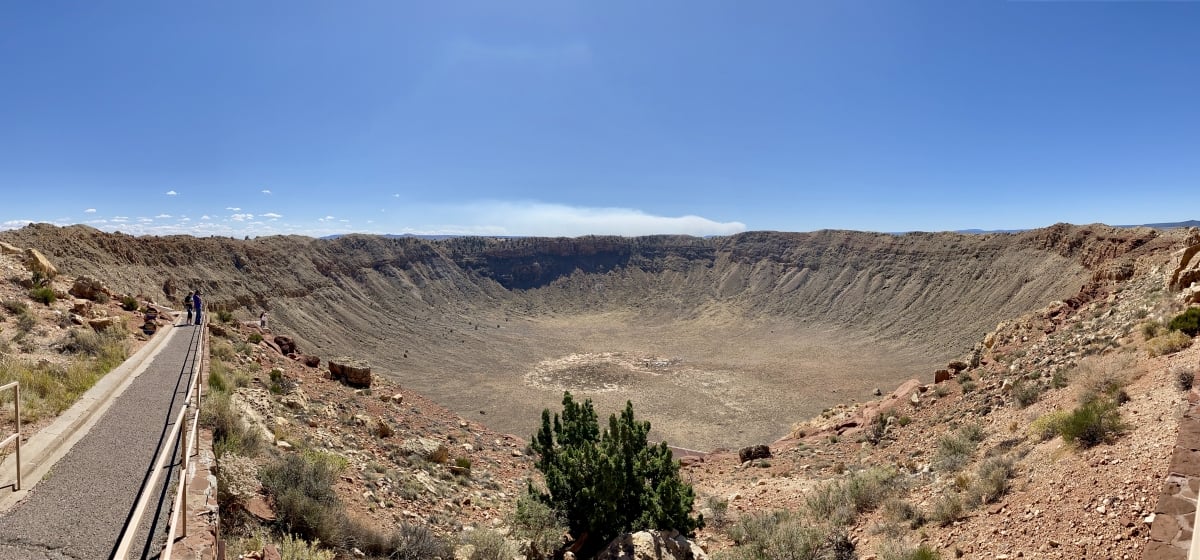 Meteor Crater is the perfectly preserved impact site of a meteorite that struck the earth about 50,000 years ago. The crater measures nearly one mile across and more than 550 feet deep. Although fragments of the nickel-iron meteorite have been found, most of the meteorite was vaporized upon impact.
Because the crater is privately owned, it cannot be protected as a national monument. It has however been designated a National Natural Landmark.
Visitors can view the crater at various levels and from multiple viewpoints on self-guided walks and guided tours along the rim.
A viewing platform outfitted with stationary spotting scopes allows guests to easily locate specific features within the crater. Visitors may want to bring along binoculars, as well.
The Meteor Crater Discovery Center houses interactive exhibits, a wide-screen theater, and a brand new 4D experience room.
I gravitated to some of the simpler aspects at the visitor center, such as a brick picture window framing the desert and distant San Francisco Peaks.
Weighing in at 1,409 pounds, the Holsinger Meteorite is the largest fragment of the original Canyon Diablo meteor discovered to date.
A NASA test capsule recognizes Apollo astronauts who trained at Meteor Crater from 1963 through 1970. See our post Tour Flagstaff Attractions On Your Own for information about other Northern Arizona sites where astronauts trained on the Lunar Landmarks Trail and Passport.
Movie buffs will be interested to learn that scenes from the romantic sci-fi motion picture Starman (1984) starring Jeff Bridges and Karen Allen were shot on location at Meteor Crater.
Perhaps the biggest surprise at Meteor Crater was lunch at the Blasted Bistro. I ordered the cheddar brisket sandwich, and Jerry had the french dip, both grilled panini style. Served with a pickle, potato salad, and chips . . . delicious!
Meteor Crater is open daily with varying hours and admission fees.
Homolovi State Park
---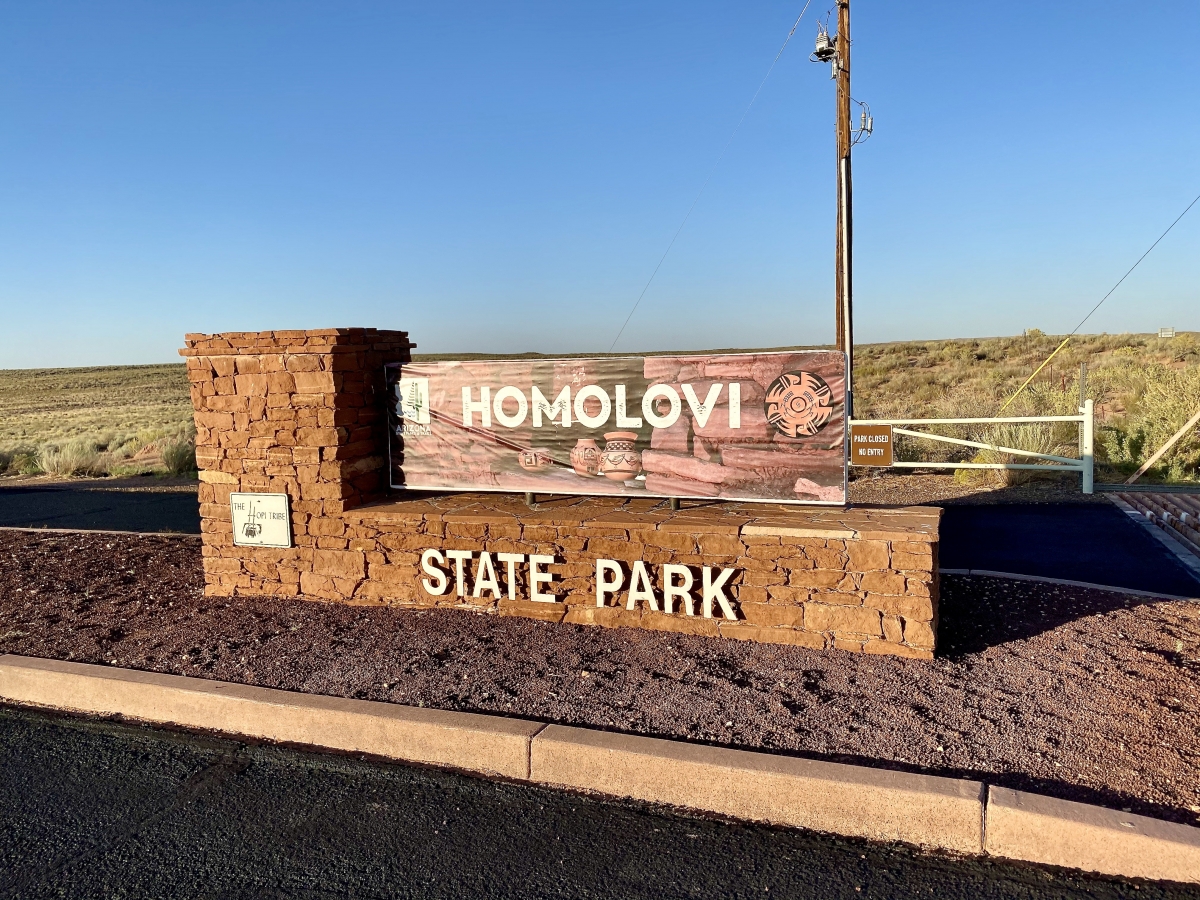 Homolovi State Park is located immediately north of Winslow. We arrived near the end of a day trip to the Painted Desert and Petrified Forest National Park, so we were not able to fully experience everything it has to offer.
An understanding ranger, however, pointed us in the direction we should go to make the most of the time we had at this ancient settlement on the Little Colorado River.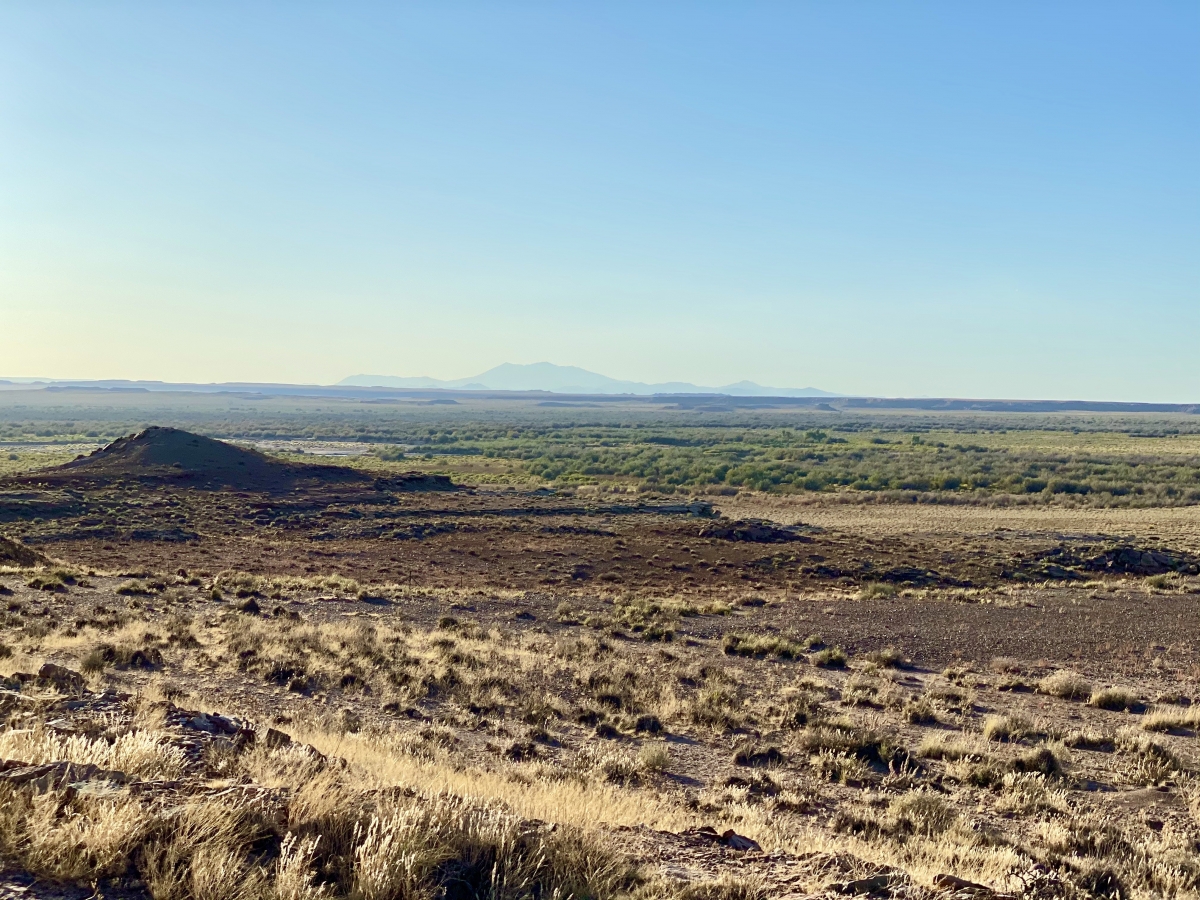 We drove north on a park road up to Homolovi II, the archaeological site of a 14th century ancestral pueblo. This location features a .4-mile ADA accessible trail with a panoramic view of the desert landscape and the San Francisco Peaks beyond.
Homolovi II is the largest of the park's archaeological sites. Archaeologists estimate that up to 2,000 rooms exist at this temporary home for the Anasazi, ancestors of modern day Hopi people.
Ancient pottery shards litter the sacred ground. The Hopi believe the Bahana—their Lost White Brother—will follow a trail of broken pottery and stones when he returns. The wicked will be destroyed, and peace will reign.
Homolovi State Park is a full facility park with a visitor center, campground, showers, picnic areas, and seven short hiking trails.
The park is open daily and a vehicle admission fee applies.
Little Painted Desert County Park
---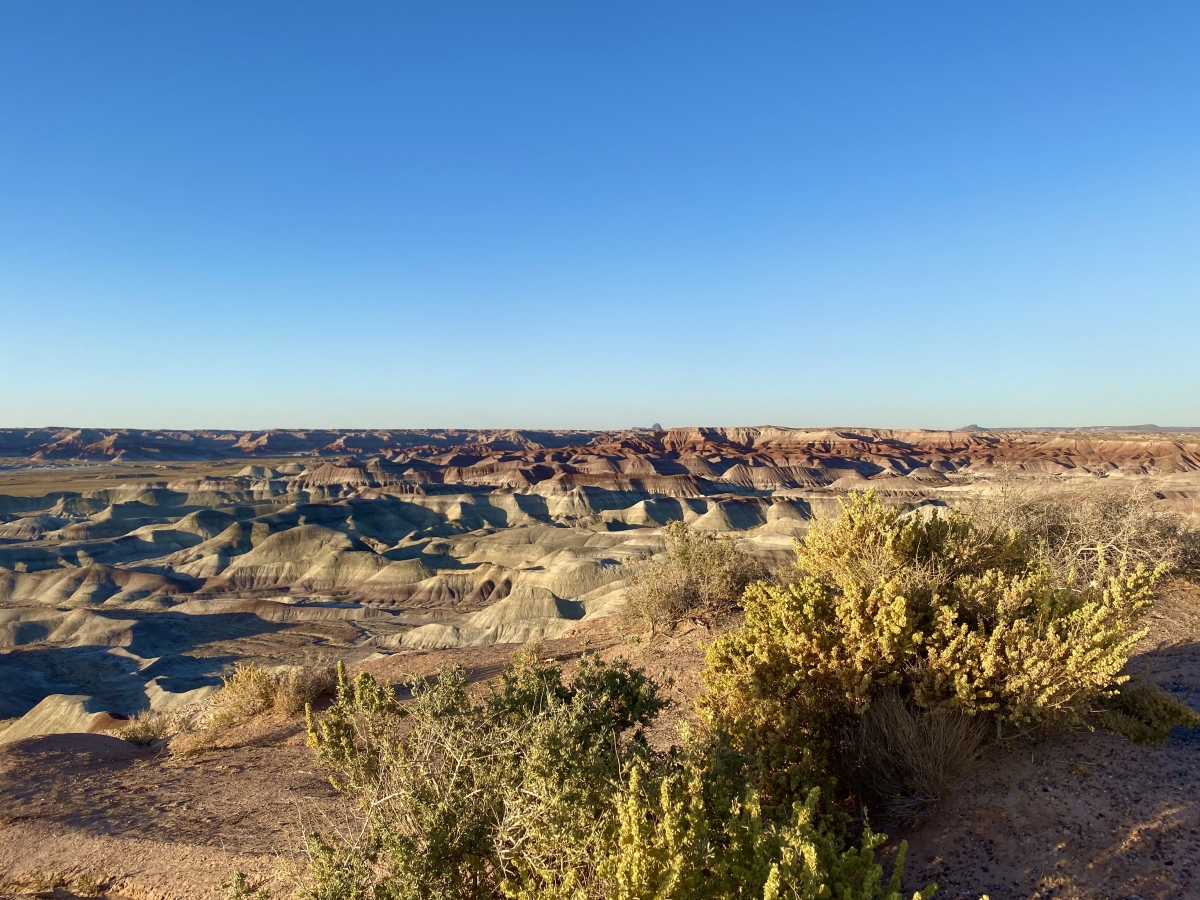 If you drive thirteen miles north of Homolovi SP along Arizona Route 87 you will come upon Little Painted Desert County Park.
The views at this location closely rival the multi-hued formations found at the much larger Painted Desert at Petrified Forest National Park. If for some reason you cannot make it to the national park, this Navajo County park will be a great substitute.
There are picnic pavilions at the park, but sadly the property is poorly maintained. I did not dare enter the graffiti-covered restrooms.
That said, the views here are killer, especially at sunset.
The Painted Desert & Petrified Forest National Park
---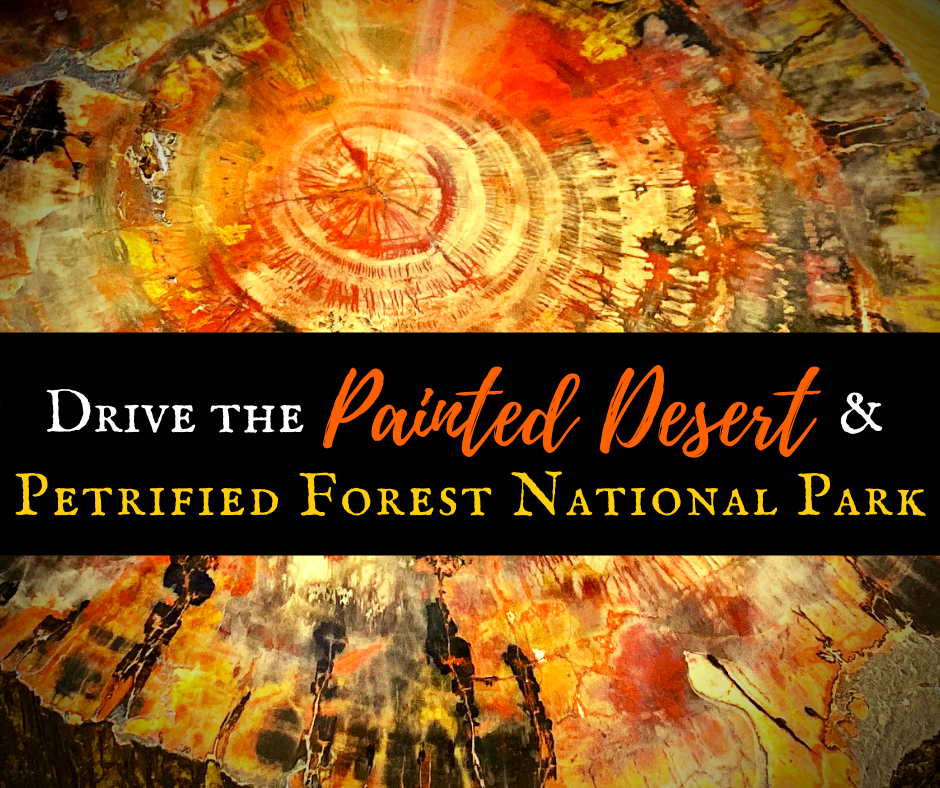 Perhaps the most popular Winslow day trip destination is the Painted Desert and Petrified Forest National Park.
This stunning natural wonder, less than an hour drive west of Winslow on I-40 deserves its own post. Navigate to the link above for a virtual drive through the park, with photos and tips to help plan your visit.
Flagstaff
---
Flagstaff is the crossroads of Northern Arizona and a great destination city. The "City of Seven Wonders" offers numerous day trip attractions, most located less than an hour west of Winslow.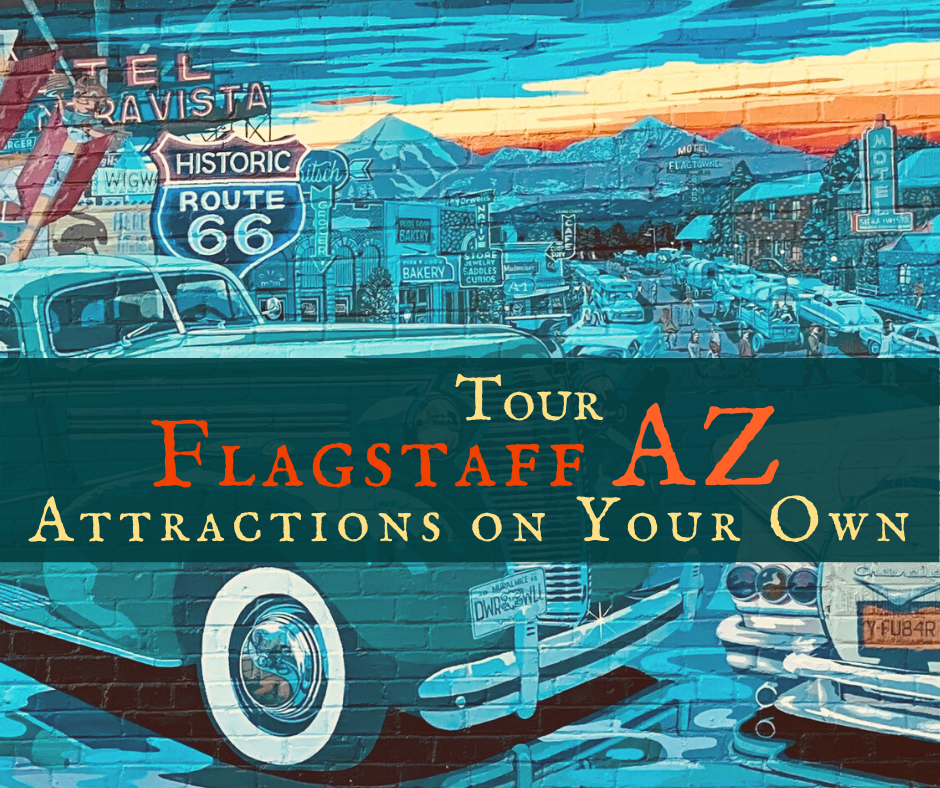 You can tour Flagstaff attractions on your own with a series of themed self-guided walking and driving tours. Also, while in town, be sure to visit the Museum of Northern Arizona and Lowell Observatory.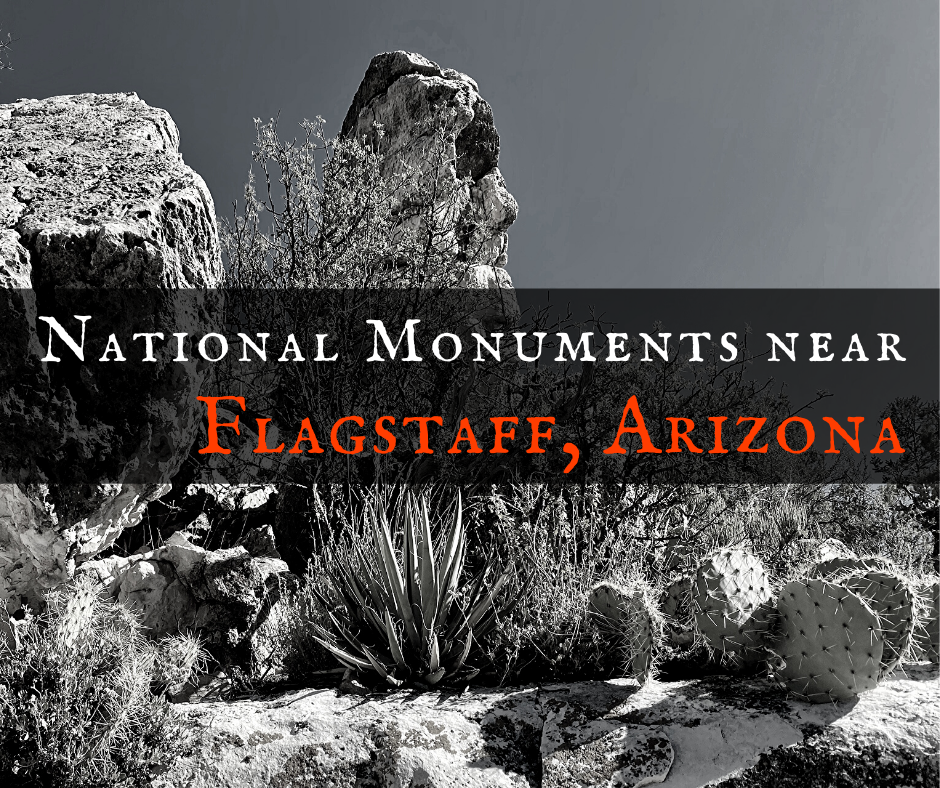 Flagstaff is also home to three magnificent national monuments: Sunset Crater Volcano NM, Wupatki NM, and Walnut Canyon NM, worthy day trip destinations in their own right.
---
Lodging & Dining
---
I believe every visitor to Winslow should spend at least one day and night at La Posada Hotel because it is a destination in and of itself. But there is also another great lodging location downtown.
Flatbed Ford Bed & Breakfast
---
In order to experience one of the newer lodging options in Winslow, we stayed our second night at Flatbed Ford B&B, located diagonally across the street from Standin' On the Corner Park and down a narrow passageway.
Flatbed Ford B&B is the love child of Winslow native Sonia Ybarra, and what beautiful offspring she has produced.
Within the space of five months the second floor of the vacant storefront at 214 N. Kinsley Avenue was converted into a cozy space with virtually every modern convenience.
The property features two themed bedrooms with private baths and an open kitchen/dining/living area. Guests may book rooms separately while sharing the common spaces, or book the entire space.
A continental breakfast is provided with the booking, but a full-service breakfast is available for an additional fee.
For more information or to book rooms, navigate to the Flatbed Ford B&B listing on AirBnB.
Pssst . . . rumor has it that a bakery may soon occupy the first floor of the property . . . .
Click here for additional Winslow lodging options on TripAdvisor!
Bojo's Grill & Sports Club
---
Back in town after a full day roaming Northern Arizona, we headed across the street from Standin' On the Corner Park to Bojo's Grill & Sports Club.
We pulled up to the bar and became instant friends with Mary, a retired teacher and young lady in her 80s who kept us entertained all evening with her wry humor and commentary.
Mary served up margaritas, chips and salsa, and Mexican fare. I highly recommend the Mexican Steak (Mitty) smothered in green chili and cheese, with sides of rice and beans.
---
Next Time . . . .
---
Photo Credit: Visit Winslow
Feel free to reach out to Visit Winslow for information when planning your trip. And after arriving in town, be sure to stop by the Winslow Visitor Center, located at the historic Hubbell Trading Post.
There are so many things to do in Winslow Arizona that I am chomping at the bit to return. Although we spent a couple of days there, I left with unfinished business, which only gives me reason to return
On my next trip I will complete the full walking tour at La Posada and stay a couple of days relaxing and watching the trains go boy.
I will tour the ancient petroglyphs at Rock Art Ranch.
For outdoor adventure, I will head down to McHood Park and Clear Creek for some kayaking and perhaps cliff-jumping.
And if I visit between March and May, I will take a day trip to Grand Falls, a 185-foot seasonal waterfall called "Chocolate Falls" for its muddy color.
I will return because there are "tons of fun things to do in Winslow Arizona!"
---
Map It!
---
---
Design Your Own Arizona Road Trip
---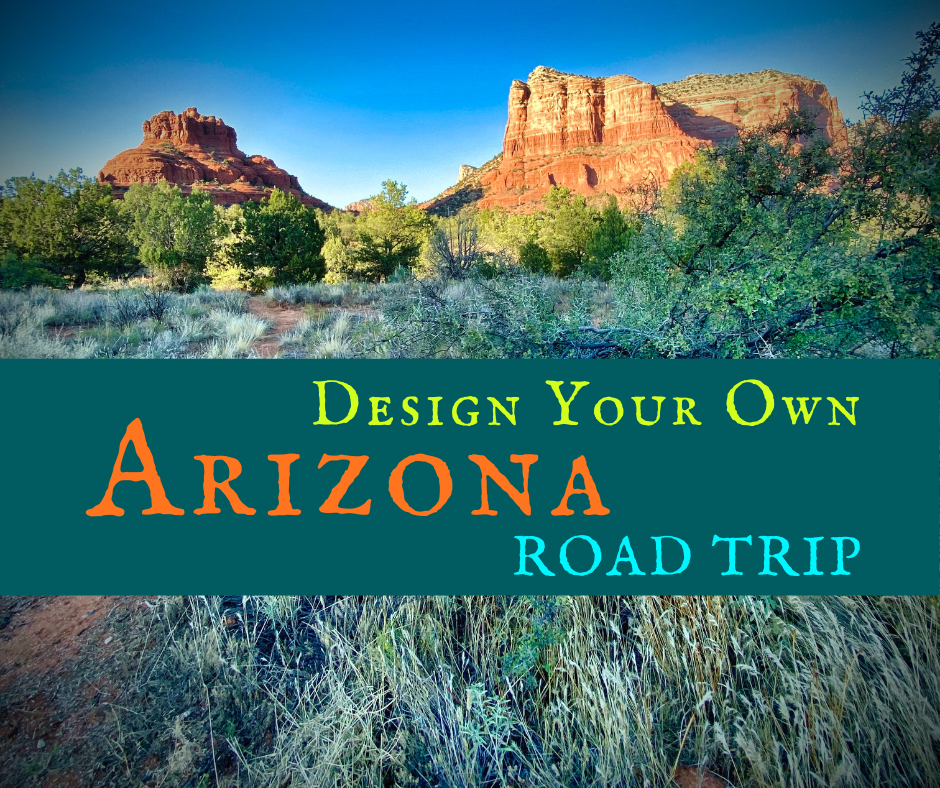 For more Arizona destination information and road trip planning resources, navigate to our Design Your Own Arizona Road Trip round-up post, or use the links below for direct access to additional stories and guides:
Things to Do on a Drive from Phoenix to Flagstaff, Arizona
Take the Train to Grand Canyon National Park: An Insider's Guide
3 Magnificent Flagstaff National Monuments
Tour Flagstaff Attractions On Your Own
Drive the Painted Desert & Petrified Forest National Park
3 Stunning Sedona Scenic Drives
Ride Arizona's Verde Canyon Railroad
7+ Amazing Attractions in Verde Valley AZ
Explore the Geological and Cultural Diversity of Southeast Arizona
---
Happy Trails! An Arizona Road Trip 
---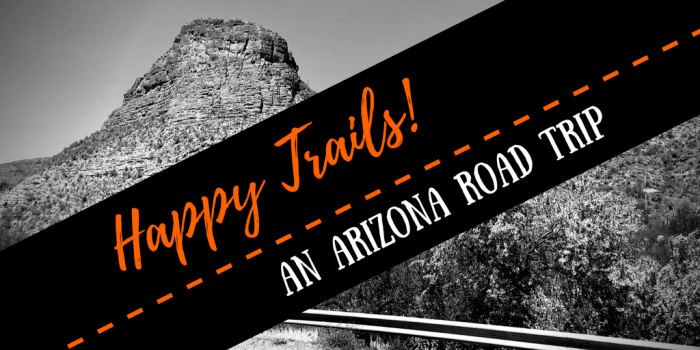 Be sure to check out Happy Trails! An Arizona Road Trip for a loop itinerary through central and eastern regions of the state. To access specific segments of the route, navigate directly using the links below:
---
We Would Love to Hear From You
---
We enjoy dialogue with our readers, especially when they share off-the-beaten-path destinations and useful travel tips. Do you have suggestions for fun things to do in Winslow Arizona? If so, we would love to hear them. We invite you to leave your comments and questions below, and we always respond!
---
Pin this Post!
---