(a

10

minute read)
---
From the limestone Kartchner Caverns and hoodoos of the Chiricahua National Monument to the art of Bisbee and the wine of Willcox, the geological and cultural diversity of Southeast Arizona remains unfettered, uncrowded, and ultimately explorable.
---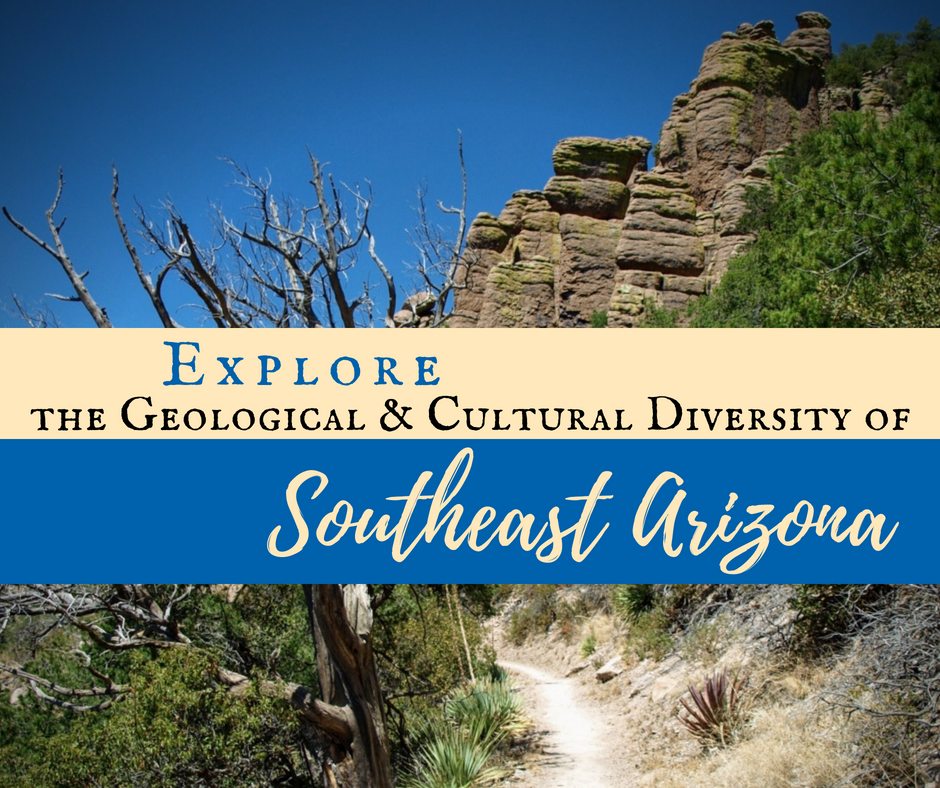 I was a guest of the cities of Sierra Vista and Bisbee, but all thoughts and opinions are my own.
---
Geological & Cultural Diversity of Southeast Arizona
---
Arizona has a well-earned reputation for dramatic scenery. You can start with the Grand Canyon and go from there.
But somehow, despite all of the justifiable trumpeting the state has received, there are still pockets that go relatively unexplored, such as those Howard encountered in Backroad Planet's 5-part series Happy Trails!: An Arizona Road Trip and more recent Arizona posts linked at the end of this post.
It is certainly not because these places lack in experiential pulchritude.
Perhaps due to its remoteness, the southeast corner of Arizona garners far fewer visitors than other regions of the state. So you get an equally dramatic and diverse landscape, minus the throngs of people.
---
The Geology
---
Photo Credit: Arizona State Parks.
From Tuscon, I didn't have to travel very far to get a world away. Just 50 miles from the airport, my first stop was Kartchner Caverns State Park.
Kartchner Caverns State Park
---
It's almost embarrassing to admit, but I had never heard of Kartchner Caverns before I visited. And I lived in Phoenix for two years.
Carlsbad, sure. DeSoto, you bet. But Kartchner?
I didn't know it at the time, but this stop set the tone for the rest of my Southeast Arizona explorations—remarkable destinations flying just below the recreational radar of the general populace.
Photos Credit: Arizona State Parks.
The state park, which also happens to be recognized by the International Dark Sky Association, offers camping, hiking trails, and wildlife viewing opportunities. But all of that takes a back seat to the caverns. Even when temps top 100° above ground, the caverns are always cool and damp.
Photos Credit: Arizona State Parks.
With just enough well-placed lighting to be pleasantly eerie, the cavern tours visit a number of rare subterranean formations: soda straw stalactites, massive columns, brushite moonmilk, cave bacon, and turnip shields, to name a few.
Tour reservations are recommended in advance, and there is no photography allowed, due to the delicate habitat of the caverns.
For more subterranean fun, check out our visits to Florida Caverns State Park, Pennsylvania's Lincoln Caverns, and Virginia's Grand Caverns.
Huachuca Mountains and the Coronado National Forest
---
Admittedly, the town of Sierra Vista might not quite be on the same level of Scottsdale when it comes to dining and shopping options. But what it does have, is the Huachuca Mountains as a backdrop. And if you love the outdoors, that little fact levels the playing field.
The Huachucas, part of the Coronado National Forest, are a strikingly diverse dream if you enjoy hiking or backpacking. Deep forested canyons, streams, ample wildlife, and skyscraping mountain peaks that afford panoramic views of Southeast Arizona and across the border into Mexico, can all be taken in with a day hike. Strap a few days worth of provisions to your back and things get even more inspiring.
The very first section of the Arizona National Scenic Trail ascends into the Huachucas, extending over 20 miles before continuing into the Canelo Hills and beyond.
If a day hike isn't enough, but the 800-mile long Arizona Trail is too much, consider testing your mettle with the Sky Islands Summit Challenge in May when you can attempt to summit one, two, or three Huachuca Mountain peaks in the same day.
Echo Canyon Grottos at Chiricahua National Monument
---
From the Huachuca Mountains, near the Mexican border, a 1.75-hour drive through the open Southeastern Arizona landscape gets you close to another border. Just east of New Mexico you'll find the hoodoos of the Chiricahua National Monument.
The otherworldly landscape is the handiwork of erosion. The entire area was once besieged by volcanic ash and pumice that hardened into rhyolitic tuff.
Let wind and rain do their thing for several million years and you get some pretty spectacular rock formations.
There are roughly 17 miles of hiking paths that visit the varying forms of rock, but the 3.3-mile Echo Canyon Loop was easily one of the best bang for the buck hikes I've ever taken. The path meanders above an expansive valley and through the grottos of Echo Canyon, where every step reveals a new eyeline and a previously unseen terrain.
It is almost too much to take in. There are some exposed areas on the trail, so bring plenty of water, and plan for ample time. You don't want to rush this one.
San Pedro Riparian National Conservation Area
---
Between the towns of Bisbee and Sierra Vista, Highway 90 traverses a fairly representative Southwest desert landscape. Or at least until you come upon the San Pedro Riparian National Conservation Area.
The San Pedro River runs through the Chihuahuan and Sonoran Desert transition zone, forming a true oasis and one of the most ecologically important riparian areas in the United States. A great number of mammal, fish, and amphibian species reside within the 57,000-acre conservation area, as well as hundreds of different year-round and migratory birds.
There also happens to be some intriguing human history in the area and of course, a hiking path. The San Pedro Trail leads through a fascinating interpretive area as well as wide open, Serengeti-like plains, hidden ponds, and verdant river banks.
---
The Culture
---
As eye-widening as the scenery is in Southeast Arizona, I was perhaps equally impressed with some of the cultural aspects of the area. Sure the human history was pretty much in keeping with what I've come to expect from my travels across the American West, but the food, drink, and art I encountered between hikes also left a lasting impression.
Starting with the wines of Willcox.
Willcox Wine
---
In 2016, a 526,000-acre  parcel of land split between Cochise and Graham Counties became officially designated as the Willcox American Viticultural Area (AVA). That's kind of a big deal. It turns out that the arid climate, elevation, and loamy soils found within the closed basin of the relatively new AVA produce some stellar Bourdeaux and Mediterranean varietals.
A growing number of wineries and tasting rooms proudly produce, bottle, and pour deliciously distinctive Tempranillo, Mourvedre, and Viognier, among others. In fact, about 75% of the wine produced in Arizona can be attributed to Willcox.
Bisbee
---
Imagine what would happen if a Mediterranean village tucked into the hills of some remote countryside had a weekend fling with an Old West mining town, resulting in a love child. Then that offspring became a magnet for artists, boutique shop owners, and free spirits that blended perfectly with sage elders, and young families. What you would get is Bisbee, Arizona, or something thereabouts.
From the highway, Bisbee appears out of nowhere. The former mining town still offers tours of the old Queen Mine, which are a blast in addition to being quite educational.
Once you've paid your respects to the town's past, spend some quality time indulging in its present. It doesn't seem possible that a town with a population hovering above 5,000 residents could possess the number of things to do, see, and experience that Bisbee does. Every store, eatery, and bar is unique, with its own palpable vibe.
For example, if you wander into the Silver King Hotel, you'll want to find the Room 4 Bar. At 100 square feet, the former guest room is the smallest bar in the state. One bartender, four stools, and all the charm in the world. It is a living, breathing, booze-slinging metaphor for the whole town.
The day I discovered the place, a local magician, Kenny Bang Bang, was tending bar, spinning yarns, and wielding sorcery. I probably stayed longer than I should have. But I was able to snag a stool, so I set up camp for a while.
No regrets.
For more idiosyncratic entertainment, get acquainted with sixteen intriguing characters from the town of Clifton, Arizona.
If getting day drunk isn't your thing, and you have more than a day in town, go upstairs. Not in any particular location—just walk around town, find a set of stairs, and up you go. The stairs of Bisbee are an interconnected network that delivers you to unseen parts of town; the architecturally eclectic neighborhoods and rocky outcrops provide sweeping vistas high above the main drag.
Maybe it was the perfect weather when I was there or perhaps the majestic landscape. Maybe it was the literal magic in and at the bar. Who knows?
What I do know is that after that trip, I could see myself calling Arizona home again.
Click here for Southeast Arizona lodging options on TripAdvisor!
---
Map It!
---
---
Happy Trails! An Arizona Road Trip 
---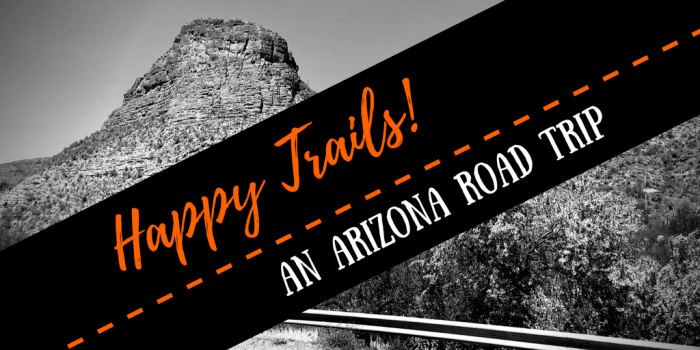 Be sure to check out Happy Trails! An Arizona Road Trip for a loop itinerary through central and eastern regions of the state. To access specific segments of the route, navigate directly using the links below:
---
Design Your Own Arizona Road Trip
---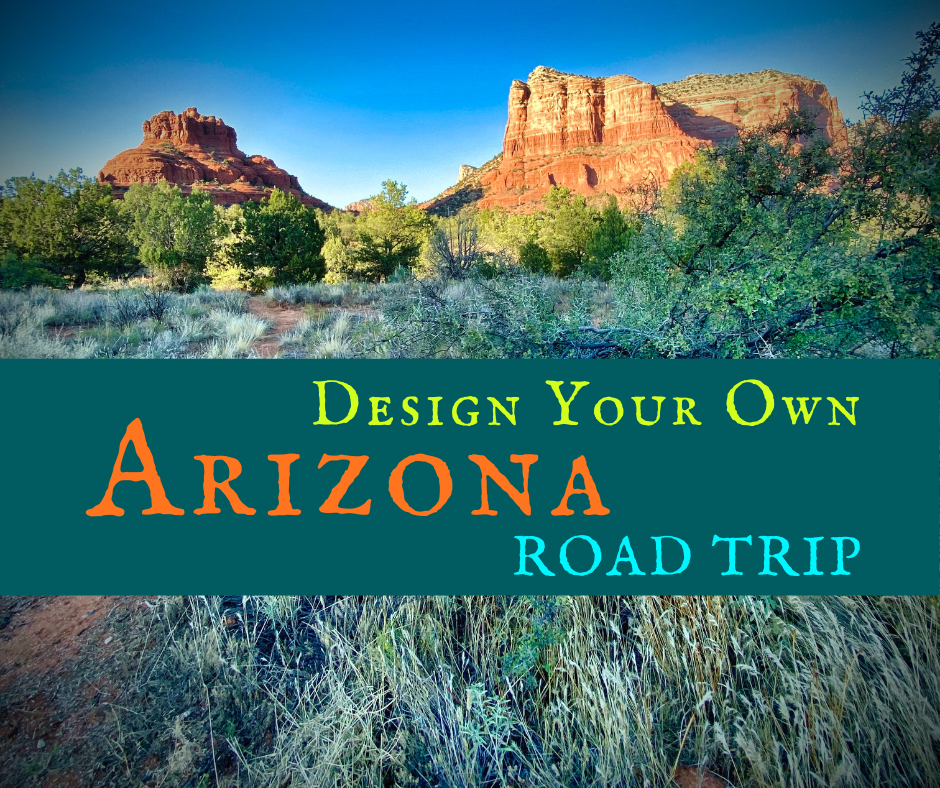 For more Arizona destination information and road trip planning resources, navigate to our Design Your Own Arizona Road Trip round-up post, or use the links below for direct access to additional stories and guides:
Things to Do on a Drive from Phoenix to Flagstaff, Arizona
Take the Train to Grand Canyon National Park: An Insider's Guide
3 Magnificent Flagstaff National Monuments
Tour Flagstaff Attractions On Your Own
Drive the Painted Desert & Petrified Forest National Park
Tons of Fun Things to Do in Winslow, Arizona
3 Stunning Sedona Scenic Drives
Ride Arizona's Verde Canyon Railroad
7+ Amazing Attractions in Verde Valley AZ
Explore the Geological and Cultural Diversity of Southeast Arizona
---
We Would Love to Hear From You
---
We enjoy dialogue with our readers, especially when they share off-the-beaten-path destinations and useful travel tips. Have you ever visited Southeast Arizona? If so, we would love to hear about your experience. We invite you to leave your comments and questions below, and we always respond!
---
Pin this Post!
---