(a

12

minute read)
---
Discover Arizona's Verde Valley, a region with incredible scenic, historical, and outdoor attractions that make it the perfect destination for travelers of every persuasion.
---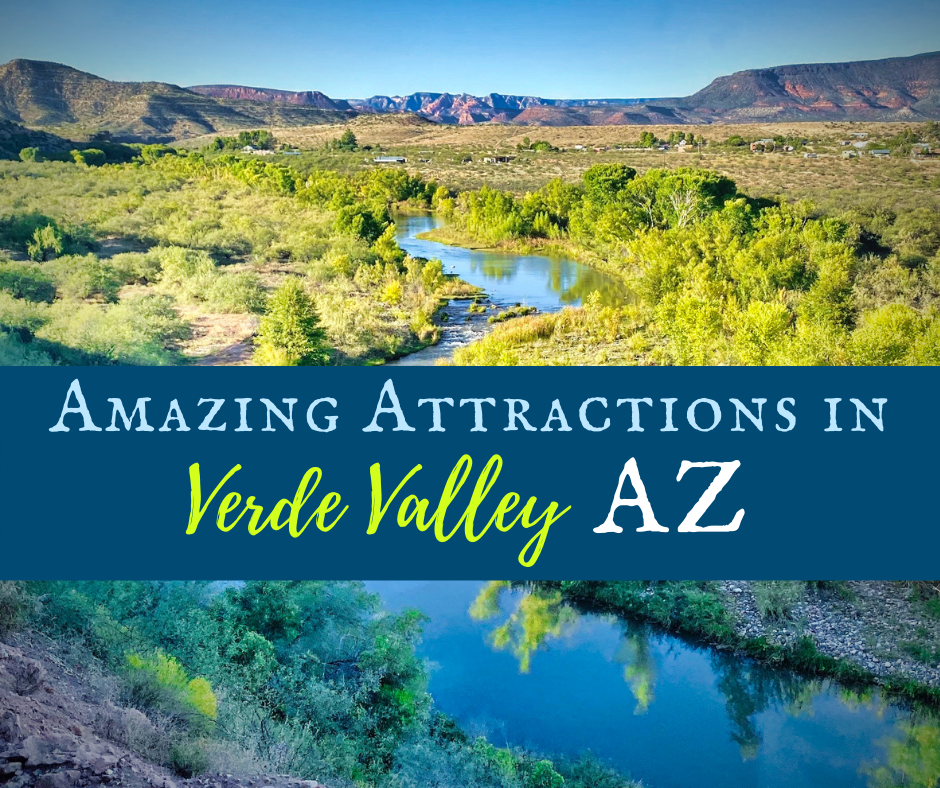 I was a guest of Visit Arizona, but all thoughts and opinions are my own. This post may contain affiliate links. Please refer to our our Disclosure/Disclaimer page for more information.
---
Verde Valley AZ
---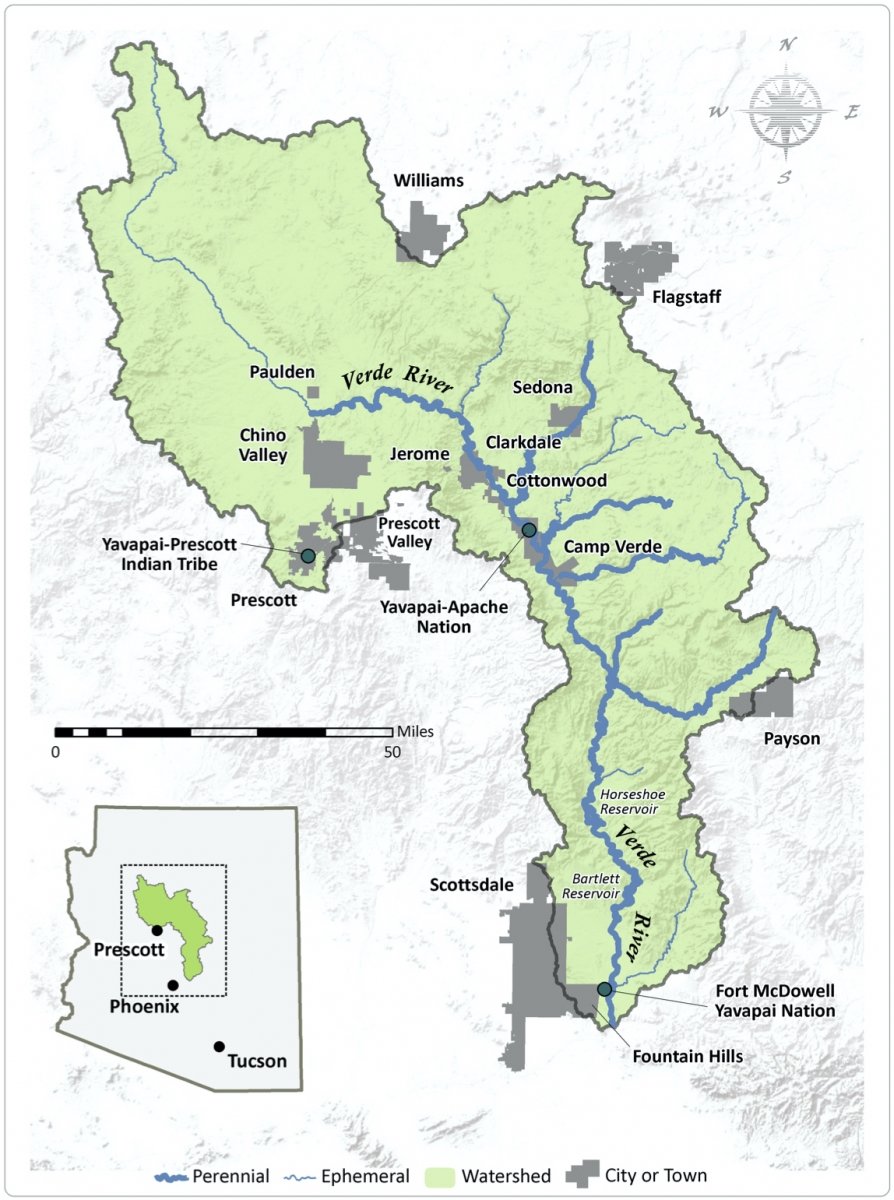 Map Credit: Friends of the Verde River
The Verde Valley is a lush corridor that stretches across central Arizona.
It is a region that boasts Native American archaeological sites, national forests, national monuments, state parks, scenic byways, and historic towns, making it an ideal destination for travelers of every kind.
The Verde River flows 170 miles through the valley and brings life to the region like it has for millennia. Not only is the river a habitat for fish, wildlife, and plant communities; it is also a source for drinking water, agricultural irrigation, and outdoor recreation.
The best way to explore Verde Valley AZ attractions is to choose a centralized small town or campground for your home base and then take day trips to sites that interest you.
We made the town of Cottonwood our home base, but Clarkdale, and Camp Verde are also excellent hub-and-spoke locations.
---
The Verde River Greenway
---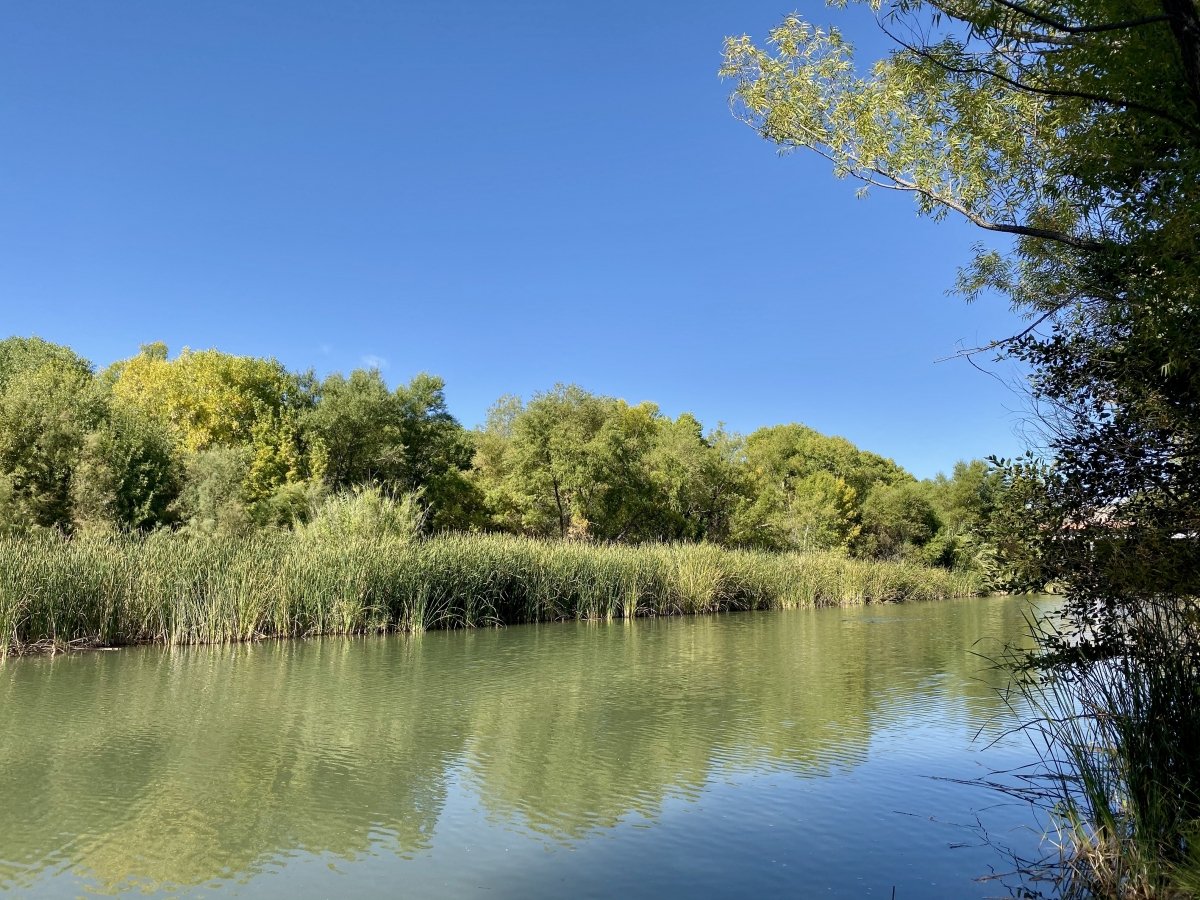 If paddling, boating, rafting, swimming, fishing, birding, hiking and other forms of outdoor recreation are your thing, you will want to learn more about the Verde River Greenway State Natural Area.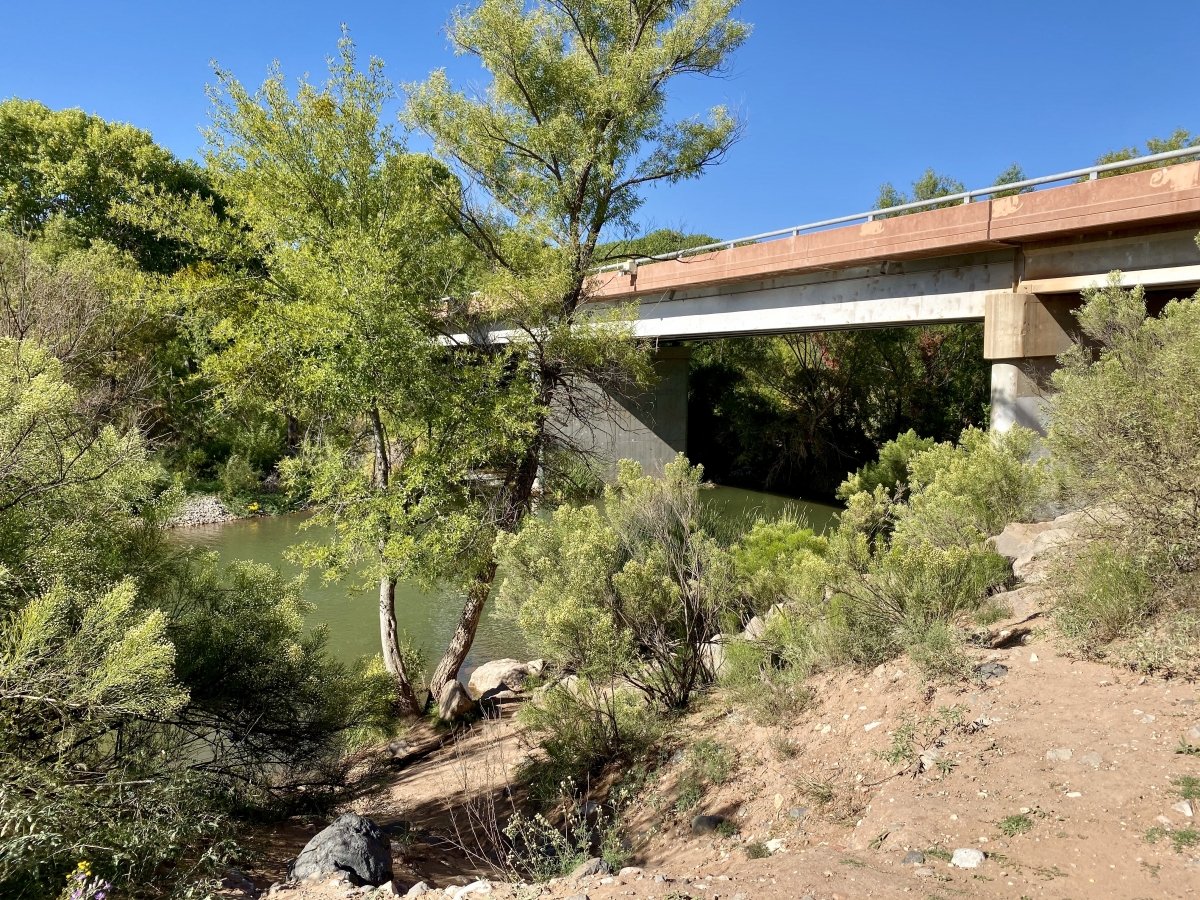 Although our itinerary did not allow time to get out on the river, we stopped by the Tuzigoot river access point for a closer look.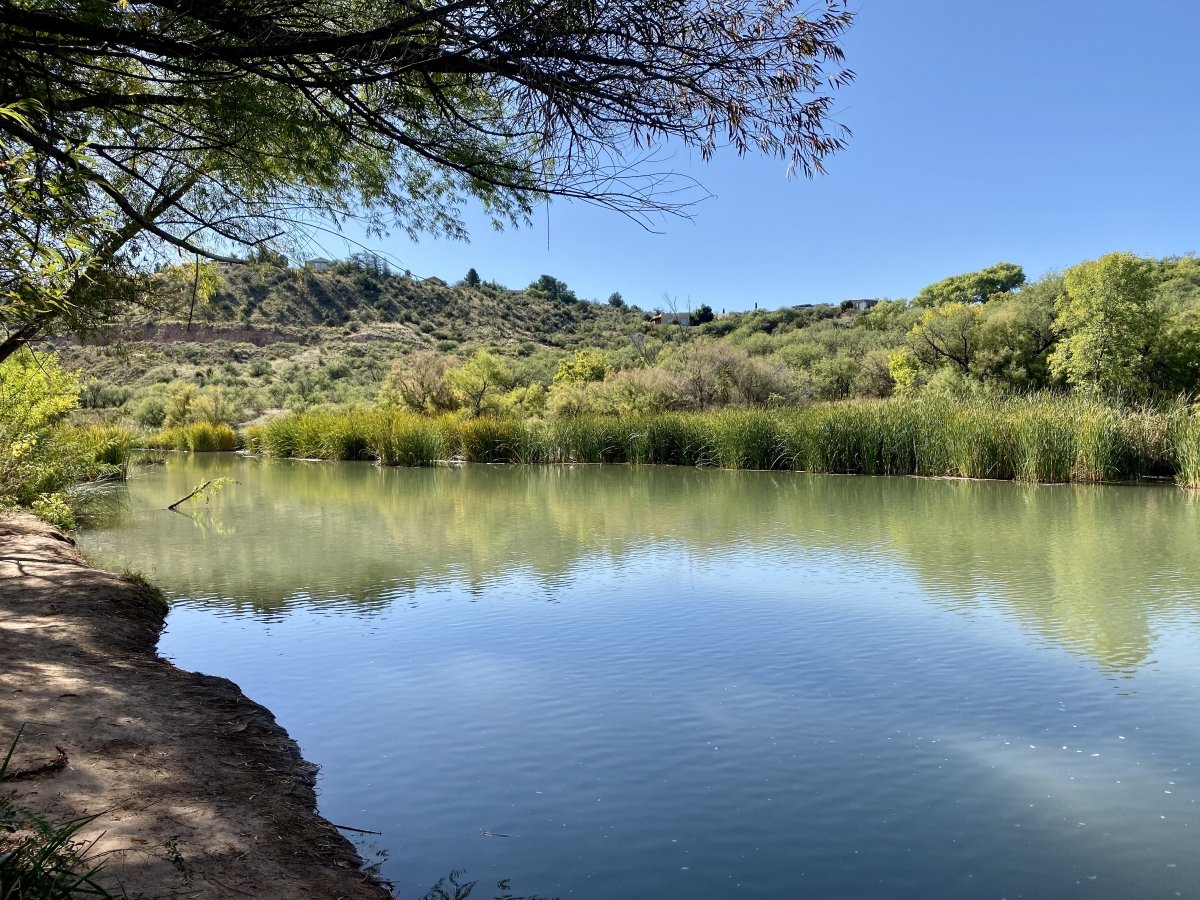 Not all sections of the Verde River are this peaceful. The 40-mile stretch between Beasley Flat and the Red Creek confluence has been designated a National Wild and Scenic River with Class III and IV rapids.
To plan a paddle trip on the Verde River, navigate to the Maps page of the Verde River Greenway website. There you can download PDF maps and guides to ensure you cover all your bases before hitting the water.
The Friends of the Verde River website offers the same maps and guides, plus a wealth of information on everything related to preserving and enjoying one of Arizona's treasured natural resources.
---
Dead Horse Ranch State Park
---
Situated on 423 acres, Dead Horse Ranch State Park in Cottonwood is a full-facility park, open for day use activities and extended stays.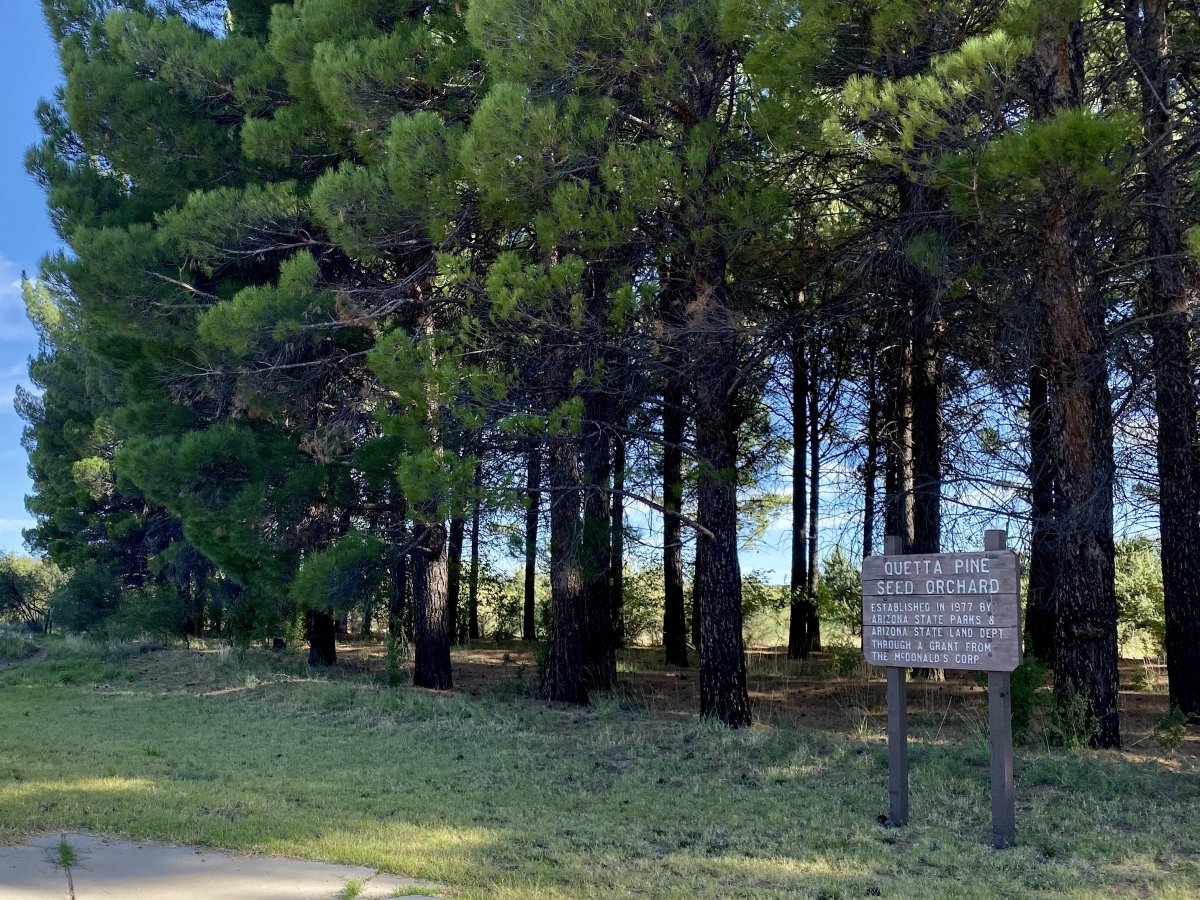 At the park entrance, a stand of drought-resistant Quetta pines planted in 1977 serves as a seed orchard.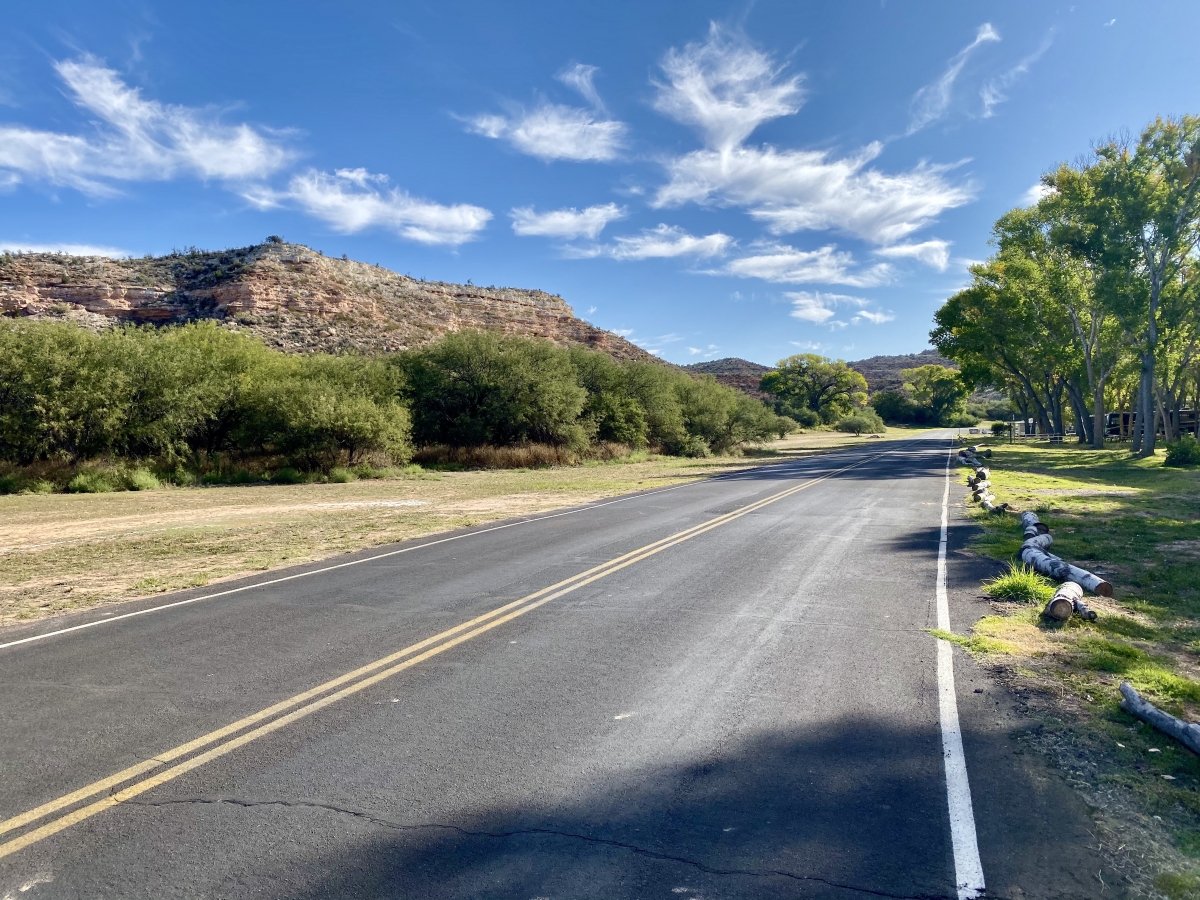 The state park takes its name from the privately-owned ranch that previously occupied the property.
In the late 1940s, as the story goes, the Irey family from Minnesota sought to purchase a ranch in Arizona. After a full day of scouting properties, Mr. Irey asked his kids which ranch they liked best.
They responded, "The one with the dead horse."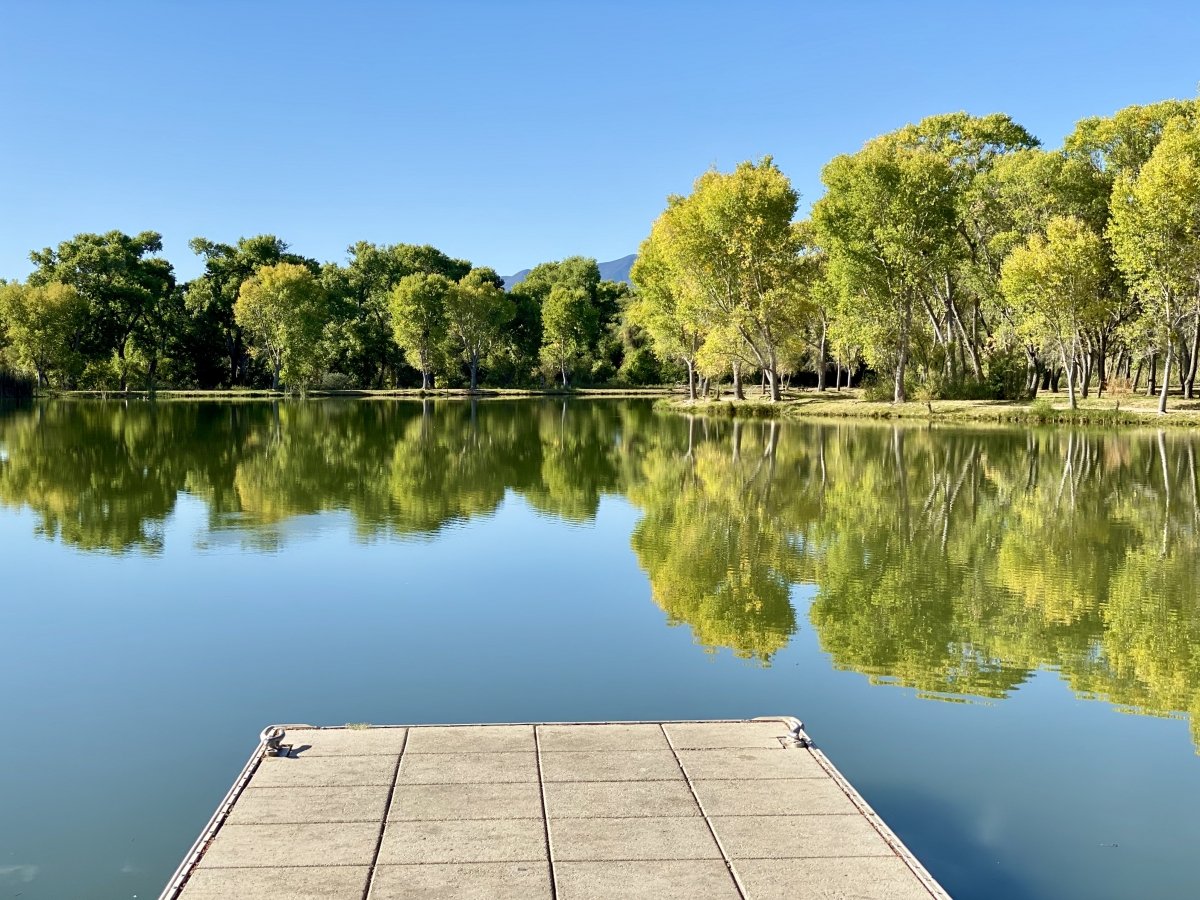 Dead Horse Ranch State Park is situated along the Verde River Greenway and has its own river access point.
The river supplies water to the park's three lagoons by way of an irrigation canal called Hickey's Ditch.
Kayaks, canoes, and rowboats are allowed in the lagoons, and guests can fish for bass, catfish, bluegill, crappie, and rainbow trout. Swimming and wading are allowed in the river, but not the lagoons.
We visited in the fall, and the Fremont cottonwoods were on the verge of blazing yellow.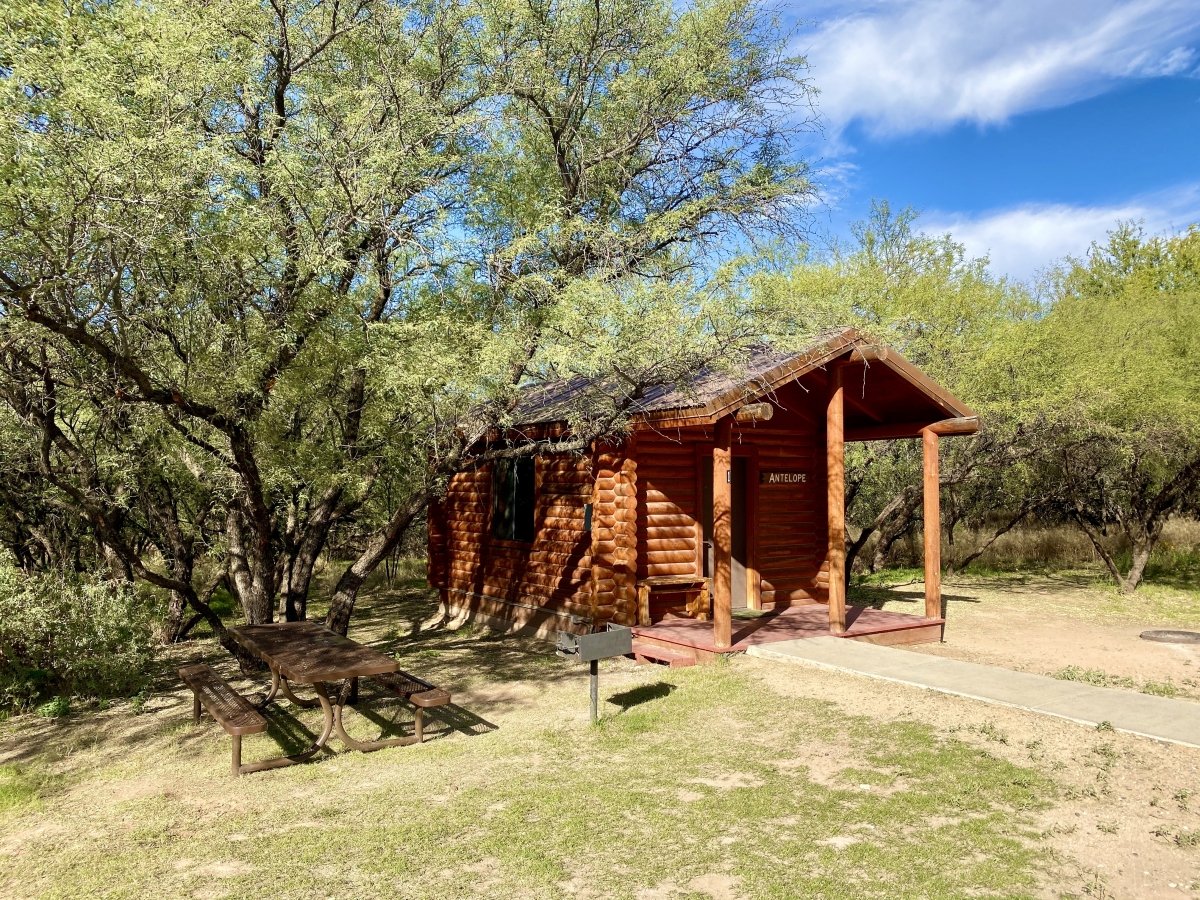 With more than 150 RV and tent campsites, plus eight camping cabins, Dead Horse Ranch State Park is a great centralized home base for campers doing day trips in the Verde Valley.
Park facilities also include restrooms, hot water showers, picnic shelters, and a dump station.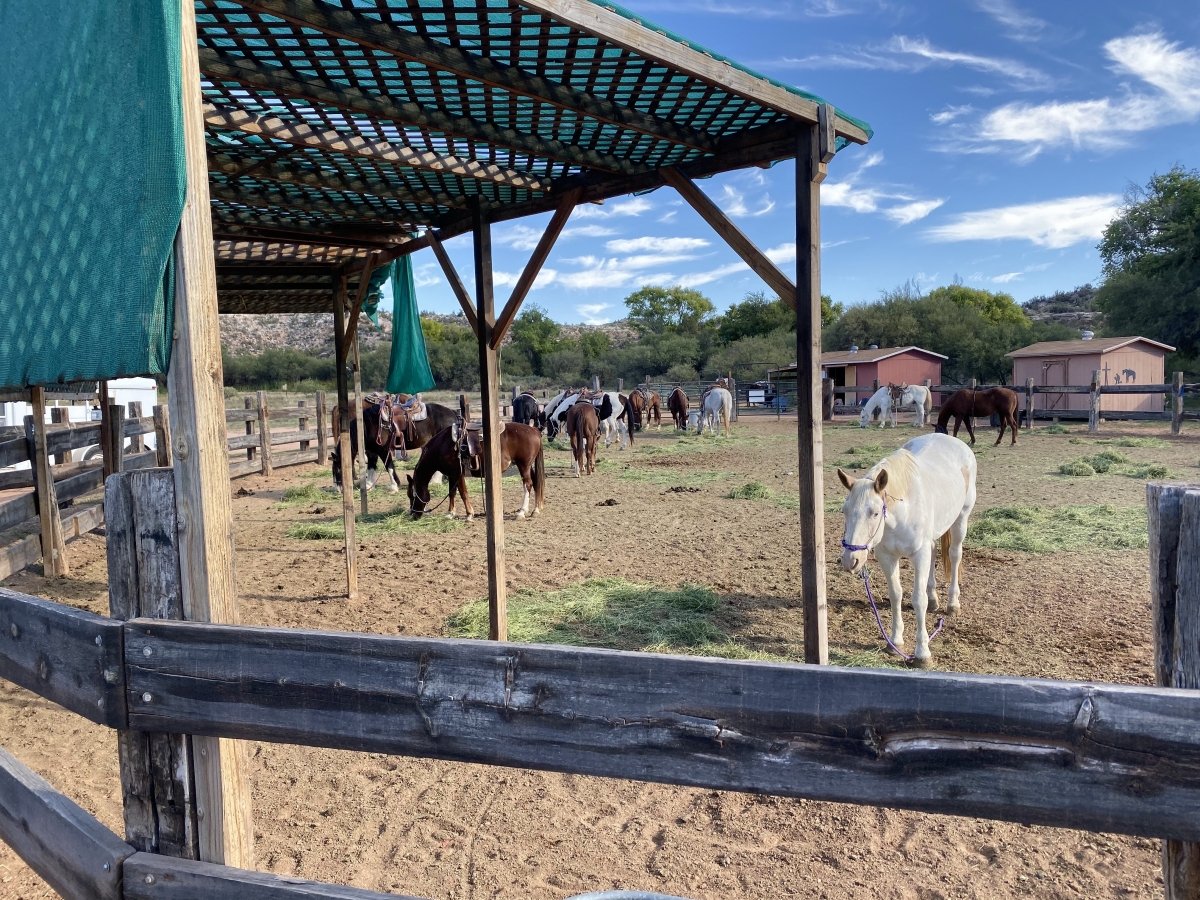 Ironically, there are live horses at Dead Horse Ranch State Park. A concessionaire, Trail Horse Adventures, offers a variety of guided horseback rides past ancient cliff dwellings, along the Verde River, and through a riparian forest.
Trail experiences range from a one-hour horseback ride to combination tours that include a BBQ lunch or a ride on the Verde Canyon Railroad.
Dead Horse Ranch State Park has more than ten miles of mixed-use trails that extend into the adjacent Coconino National Forest for hiking and mountain biking, as well.
The park is open year round, and admission fees apply.
---
Tuzigoot National Monument
---
Tuzigoot National Monument is one of two national monuments in the Verde Valley, located just 25 miles apart.
We toured the other Verde Valley monument— Montezuma Castle and Montezuma Well—a few days earlier while driving from Phoenix to Flagstaff.
Tuzigoot borders Dead Horse Ranch State Park to the north, making it possible to experience both attractions in the same day.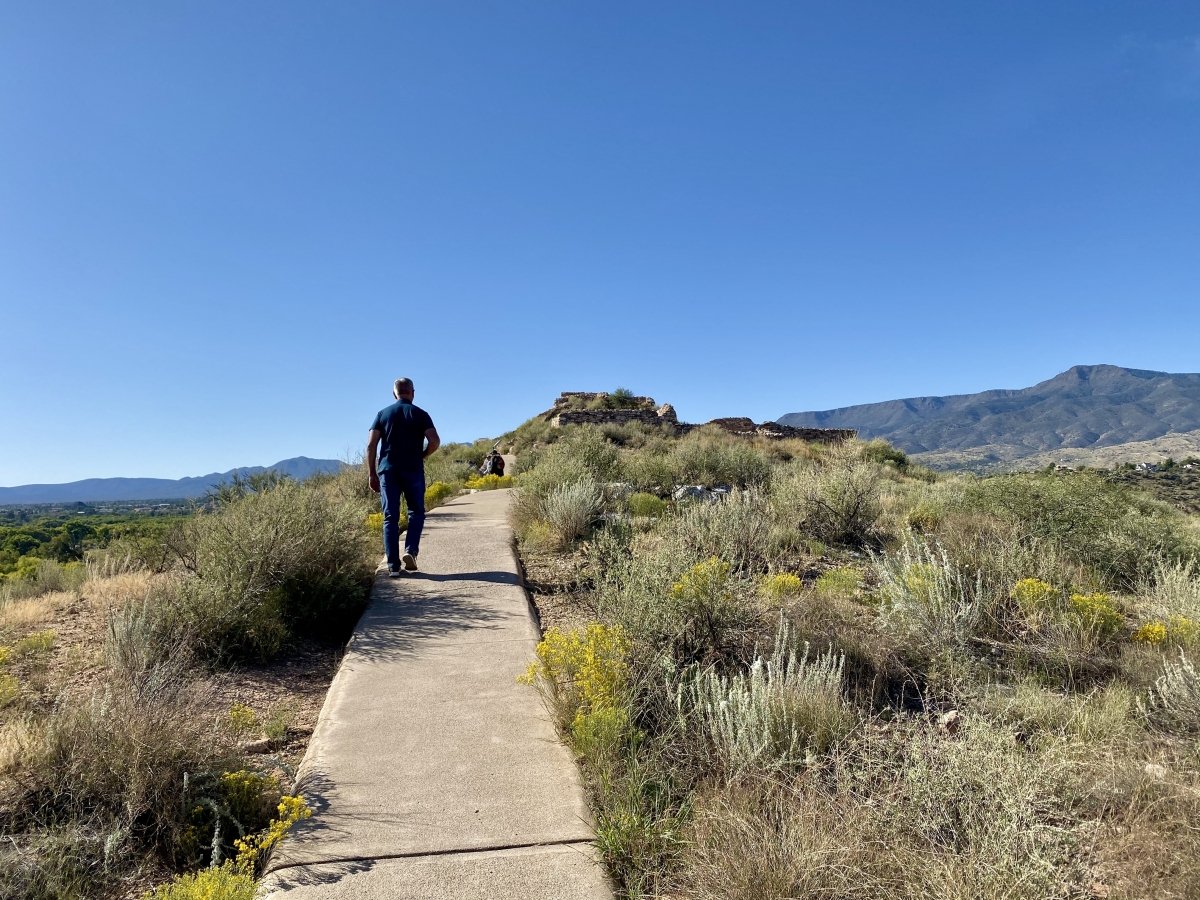 After collecting our National Parks Passport stamps in the visitor center, we set off on the 1/3-mile paved loop trail to explore the ancient grounds at Tuzigoot.
Having visited several archaeological sites across the state, we were beginning to learn how unique they all are.
The cliff dwellings at Montezuma Castle National Monument, inside Montezuma Well, along the winding walls at Walnut Canyon National Monument, and at Honanki Heritage Site all display diverse types of construction.
The ruins of above-ground pueblos and pit houses at Wupatki National Monument, Homolavi State Park, and Puerco Pueblo inside Petrified Forest National Park varied, as well.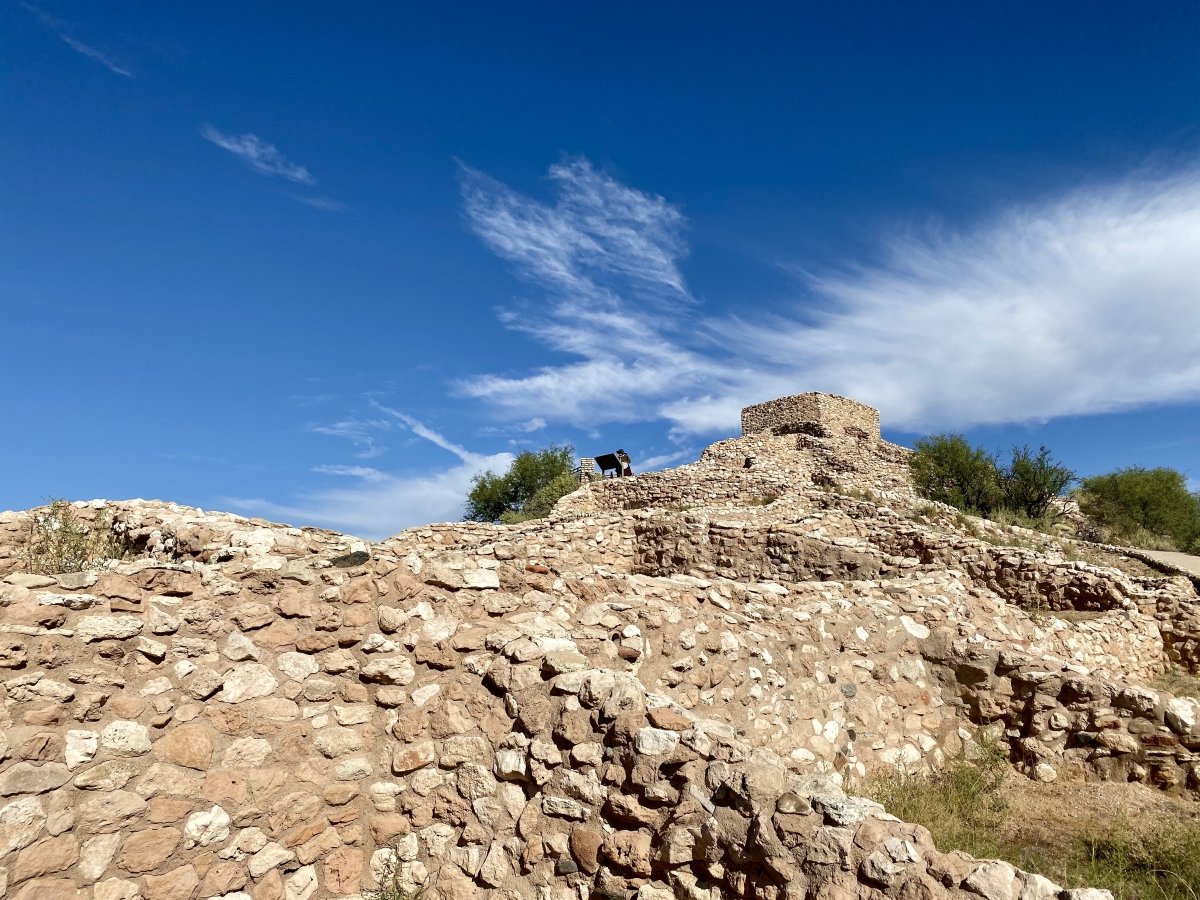 Built along the summit of a 120-foot high ridge overlooking the Verde Valley, the pueblo ruins at Tuzigoot were yet again—in design—unlike any of the other archaeological sites we had toured before.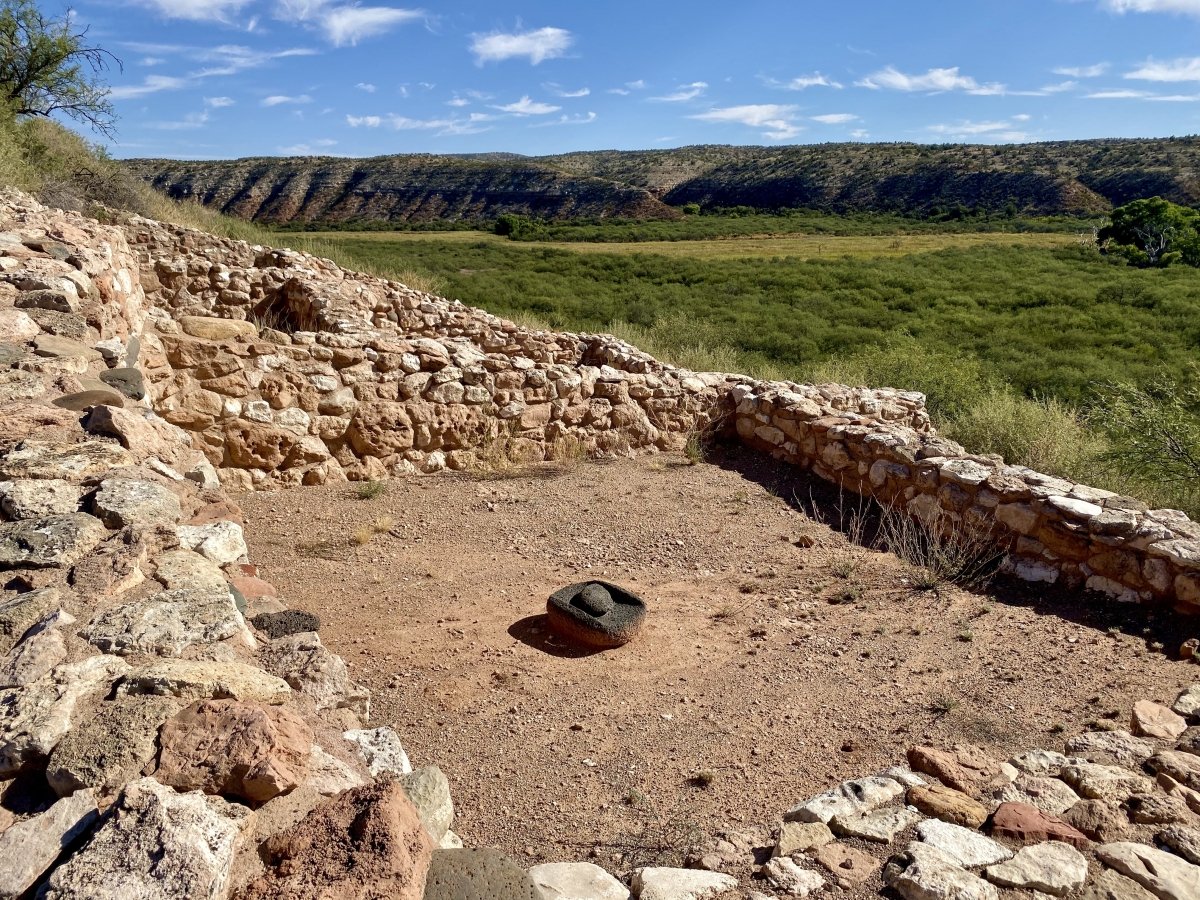 Southern Sinagua farmers built the village at Tuzigoot between 1000 and 1400 AD and grew their crops in the fertile bottomlands of the Verde River below. They supplemented their diet by hunting animals drawn to the perennial water source.
Skilled artisans wove cotton garments, designed pottery, and fashioned stone tools, such as the metate for grinding corn.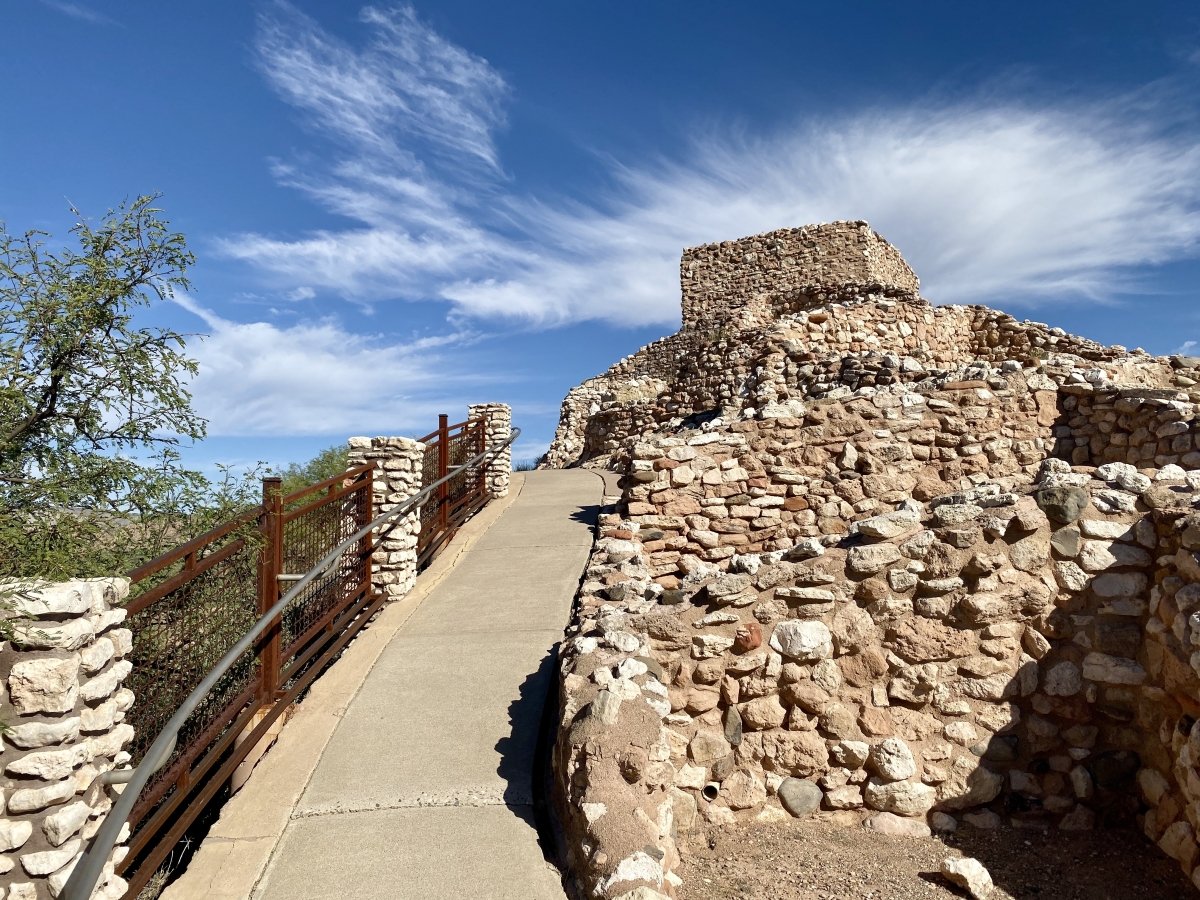 The well-preserved pueblo at Tuzigoot has more than one hundred rooms, most originally accessed by ladders and rooftop entrances.
The tower and citadel room at the peak of the pueblo, once open to the public, was closed indefinitely for repairs in 2019.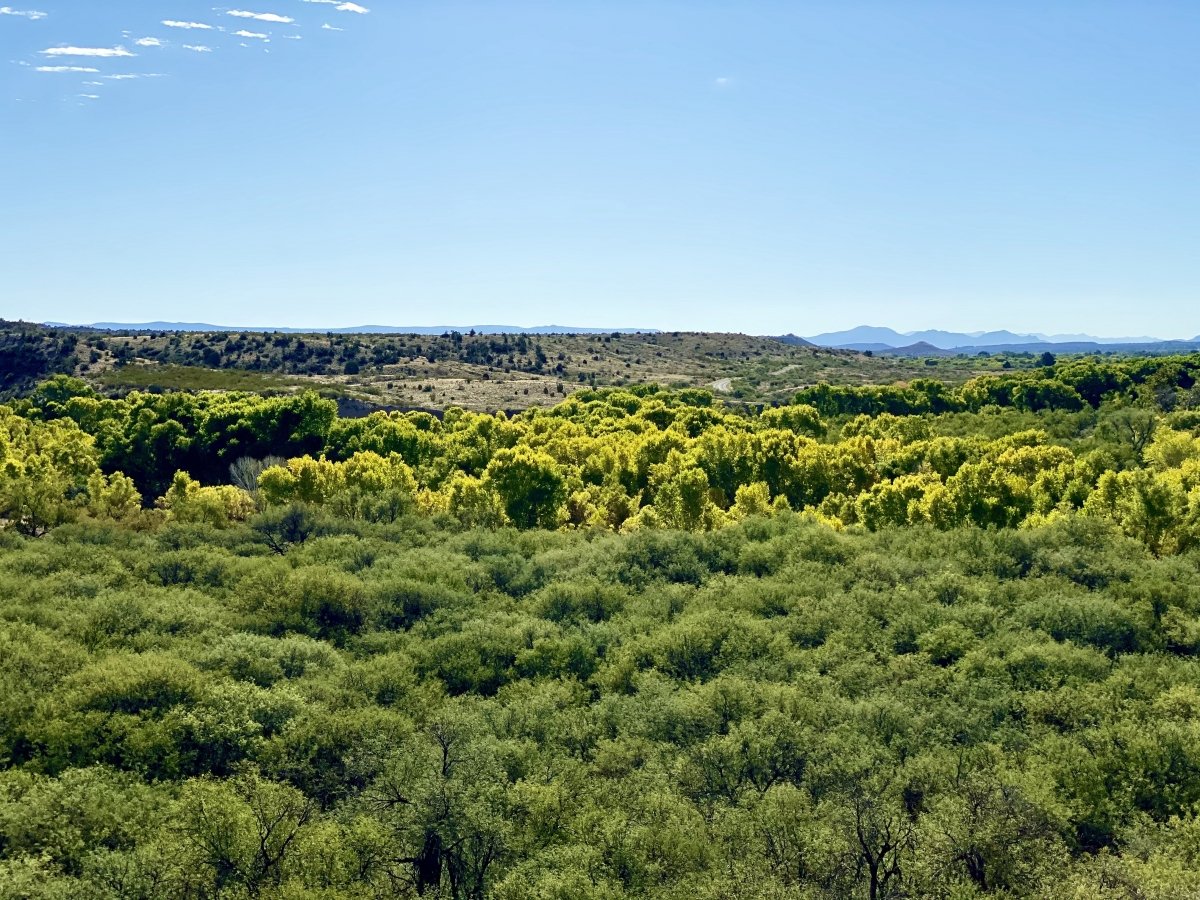 The pueblo summit offers a panoramic view of the Verde River's riparian forest, the Tavasci Marsh, and the greater Verde Valley beyond.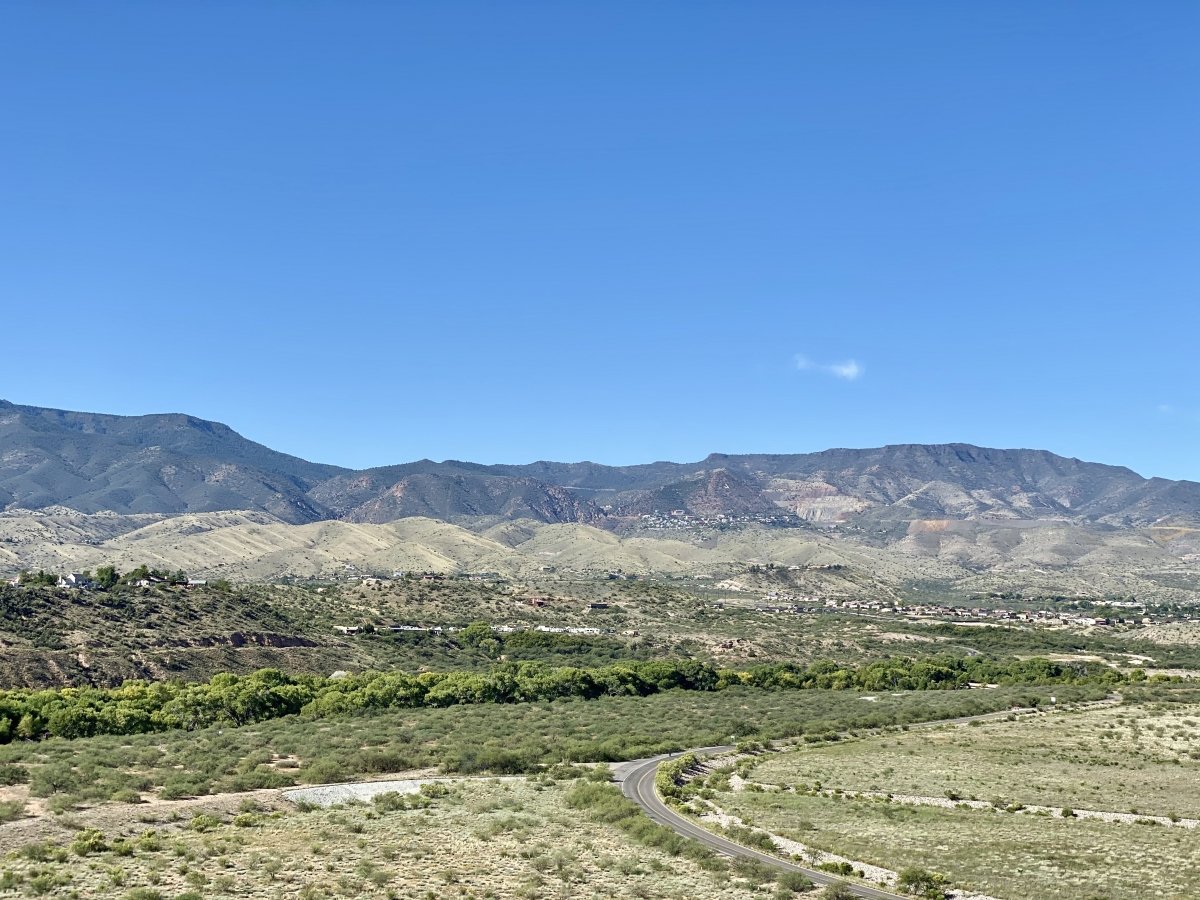 We spotted the historic hillside town of Jerome in the distance, the next destination on our day trip itinerary.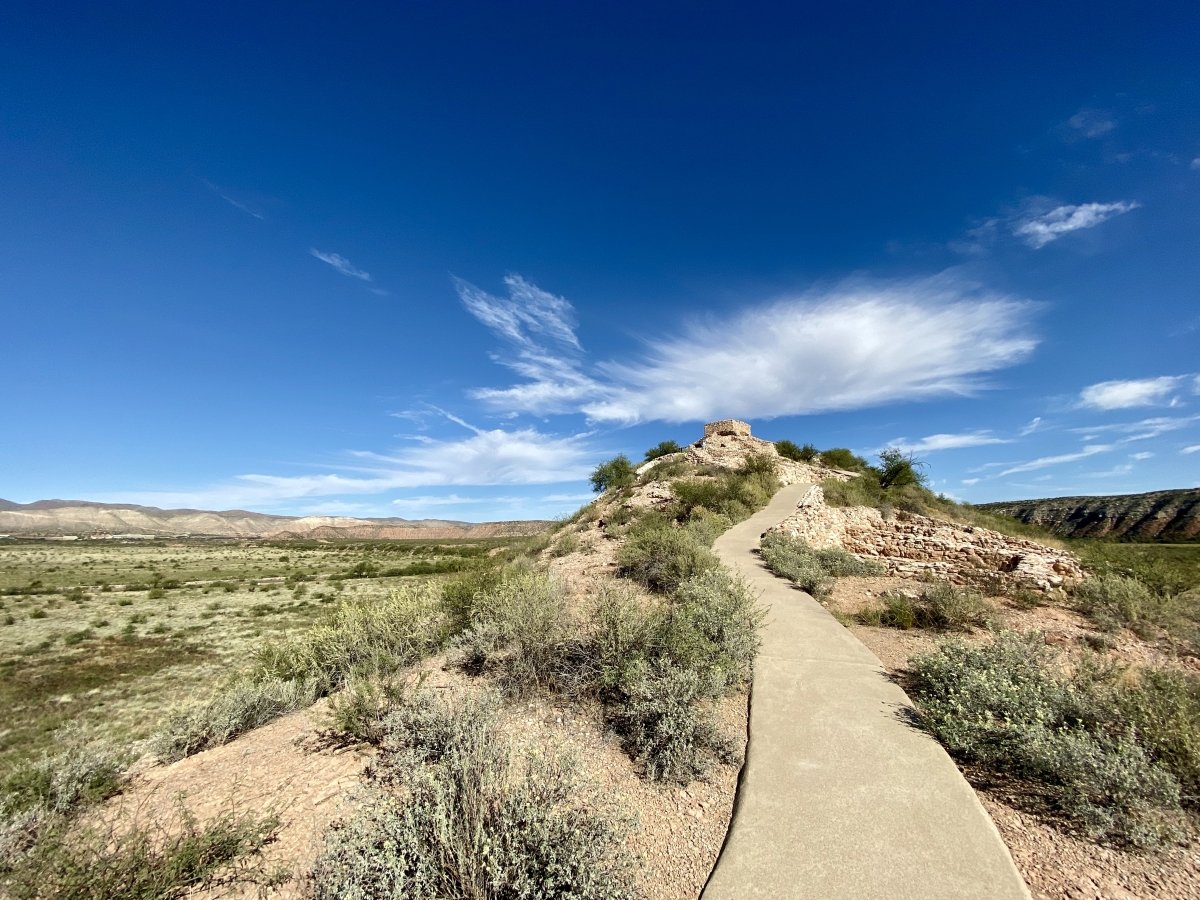 Tuzigoot National Monument is open daily, except Christmas and New Year's Day. Current admission to the monument is $10 per person, age 16 and above.
I always encourage readers to purchase an annual America the Beautiful Pass for $80. The interagency pass is valid at virtually all federal recreational lands. The annual pass covers everyone in your vehicle for sites with entrance stations, and up to four people at per-person fee sites like Tuzigoot.
If you do the math, you will see that the price of an annual pass is a cost-effective expense, and the investment benefits our wonderful National Parks System.
---
Jerome
---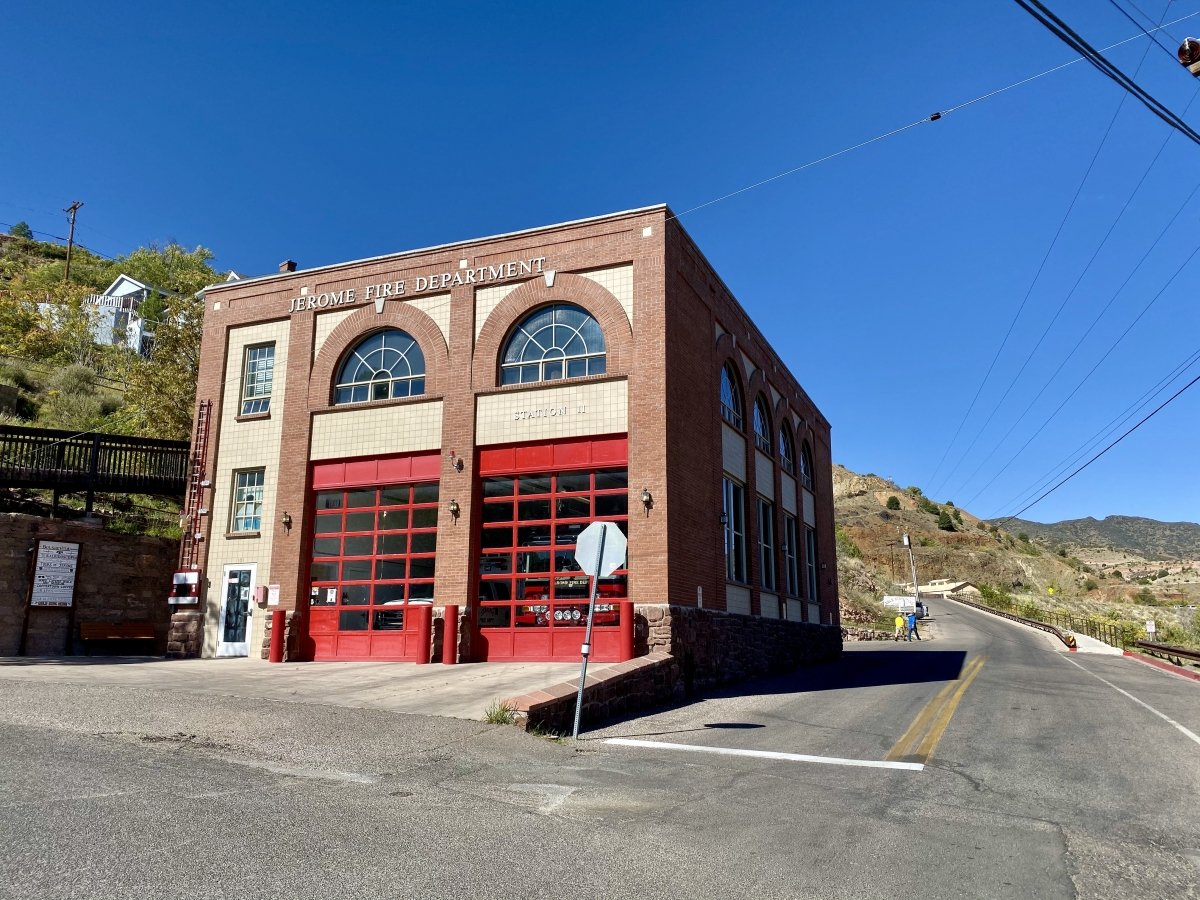 You have probably never visited any town quite like Jerome, Arizona.
Founded in 1876, this historic copper-mining town sits at an elevation of 5,000 feet on Cleopatra Hill and overlooks the Verde Valley.
By the turn of the 20th century, Jerome had a schoolhouse, post office, public library, fire department, churches, a bank, telephone service, and electricity.
Serving a 78% male population, Jerome also had its share of gambling, bootlegging, and prostitution. In 1903, the New York Sun named Jerome the "Wickedest Town in the West."
Jerome's population mirrored the mining and production of copper, swelling in the 1920s to nearly 15,000 residents.
Over the years, the demand for copper decreased and ore deposits were depleted.
The last mine closed in 1953, and the population fell to an all-time low. With fewer than 100 people left, Jerome essentially became a ghost town.
In 1967, Jerome was designated a National Historic Landmark District and began its reinvention as a tourist destination with shops, galleries, coffee shops, restaurants, and other attractions.
Although Jerome's survival is a result of commercialization, surviving structures and historical markers keep the past alive.
Two of the most unique shops in Jerome are Nellie Bly Kaleidescopes and Nellie Bly II, named after the famed American journalist, traveler, and inventor.
Featuring the works of more than 90 artists, Nellie Bly Kaleidoscopes is the largest brick and mortar kaleidoscope store in the world.
Next door, and sharing a doorway, Nellie Bly II specializes in "unusual gemstones, masterful craftsmanship, and handmade jewelry."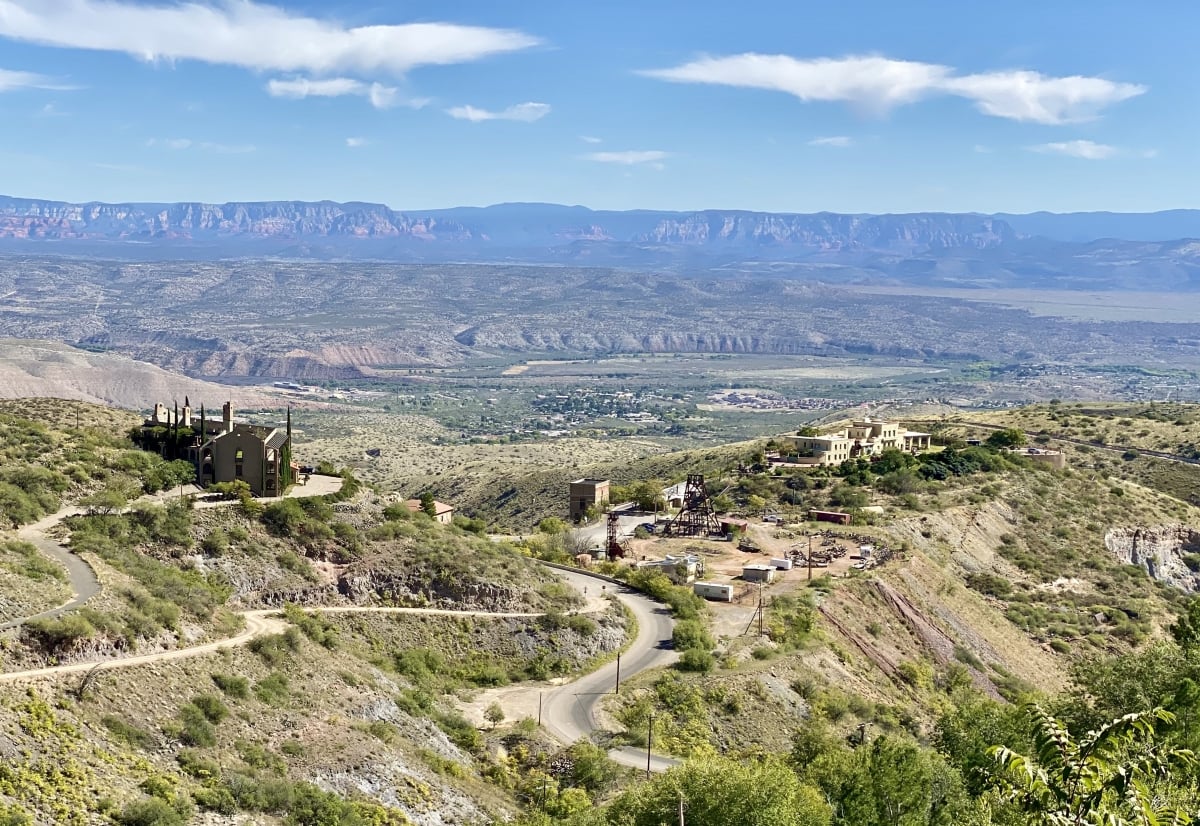 Jerome's lofty perch on the Black Hills offers a sweeping view of the Verde Valley. The Little Daisy Hotel and the Douglas Mansion—two grand structures built by mining executive "Rawhide Jimmy" Douglas—dominate the foreground.
The hotel that once housed miners is now a private residence, and the family mansion is the star attraction of Jerome State Historic Park.
In 1962, the Douglas family donated the mansion to the State of Arizona, and it opened as a state park in 1965. Today the former home and grounds are a museum filled with vintage mining equipment; mineral, artifact, and photographic exhibits; and antique vehicles.
The museum also interprets the history of the Douglas family, with the library and upstairs bathroom restored as period rooms.
The park is open daily, except Christmas, and admission fees apply.
Click here to view Jerome's lodging options on TripAdvisor!
---
Gold King Mine & Ghost Town
---
Before leaving town, take the Jerome-Perkinsville Road one mile north of Jerome to a roadside attraction called the Gold King Mine and Ghost Town.
In 1890, prospectors searching for copper at this location struck gold at the end of a 1,270 foot mine shaft.
By 1901, the mining camp called Haynes grew to 304 residents, and the community eventually earned its own post office.
But eventually the gold reserves ran out, and Haynes ceased to exist.
Nearly a century later, the Robertson family purchased the abandoned community, hoping to open an attraction to display many "unique and important icons of the industrial revolution."
Today the property is home to more than 180 vintage vehicles, mining equipment, historical buildings, a working sawmill, and other antique items. There is also a petting zoo and gold panning operation.
I confess that I am a sucker for rusty vehicles and rustic shacks, and I found it hard to stop taking pictures.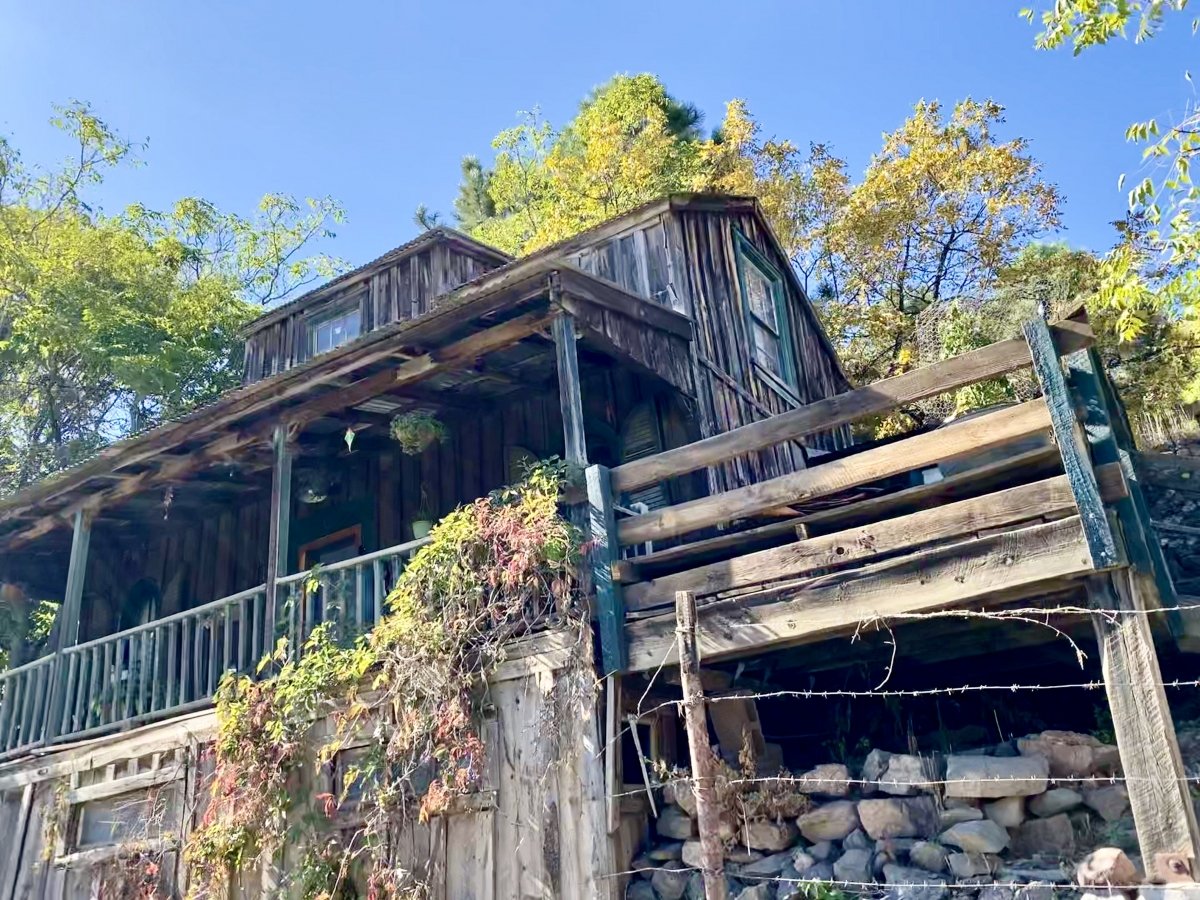 And even though I know the actual location is hundreds of miles away in the Appalachian Mountains, the view of this old structure reminded me of a scene from the motion picture Deliverance.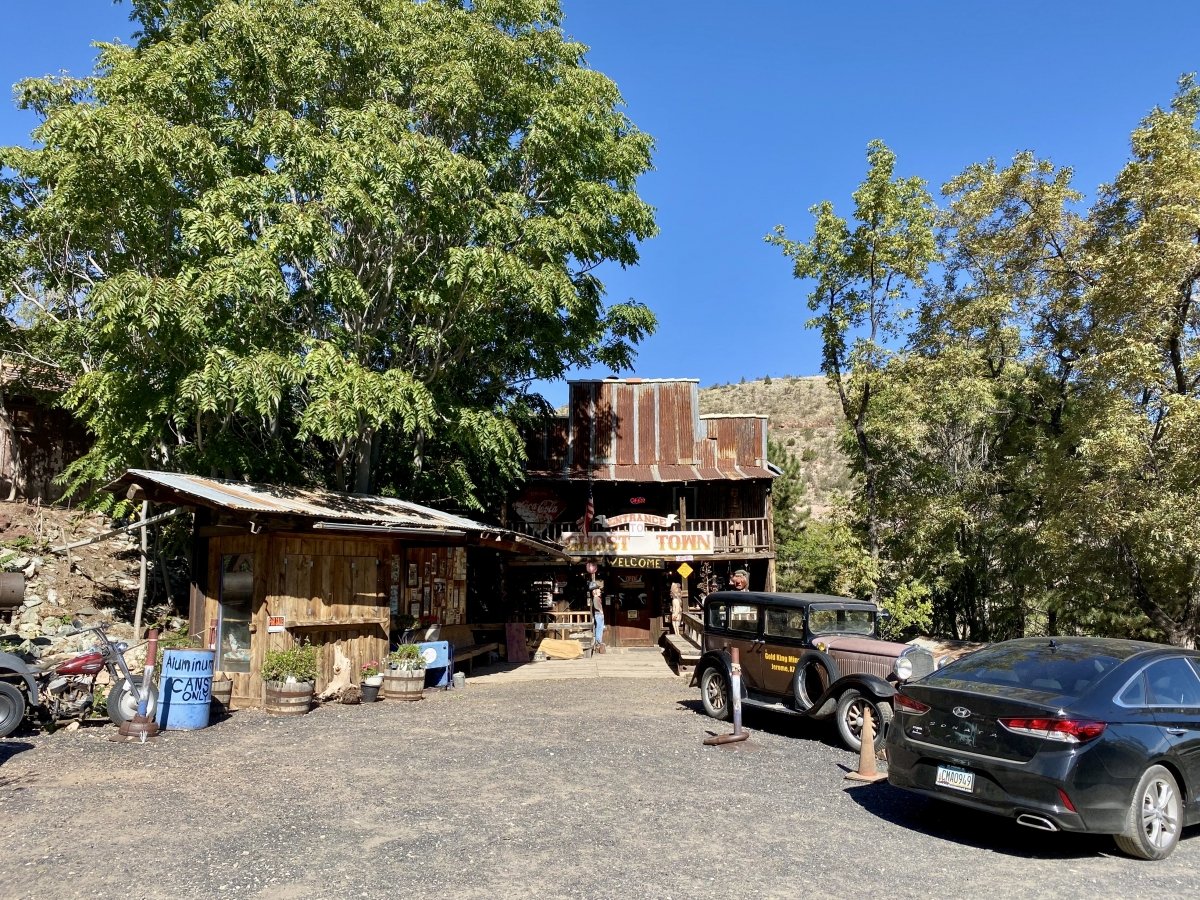 The Gold King Mine and Ghost Town is open daily, except Thanksgiving and Christmas, and admission fees apply.
---
The Verde Canyon Railroad
---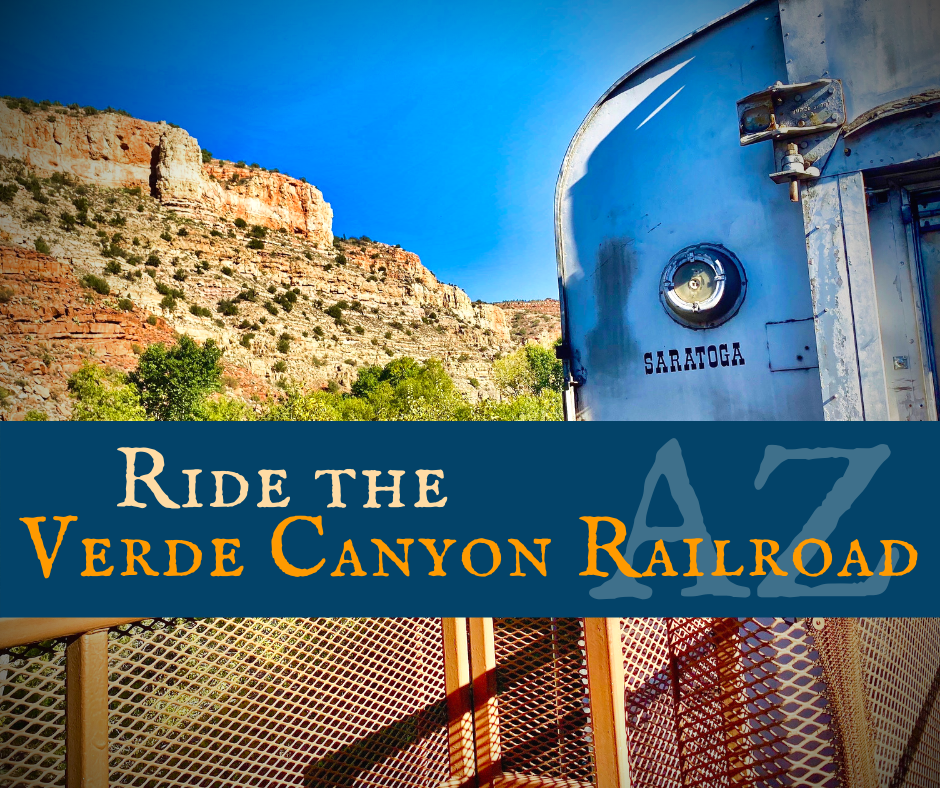 One of the most exciting activities in Verde Valley AZ is a scenic journey on a heritage railway.
It was such an amazing experience that we dedicated an entire post to the Verde Canyon Railroad. This is one Verde Valley attraction you don't want to miss!
---
Sedona Scenic Drives
---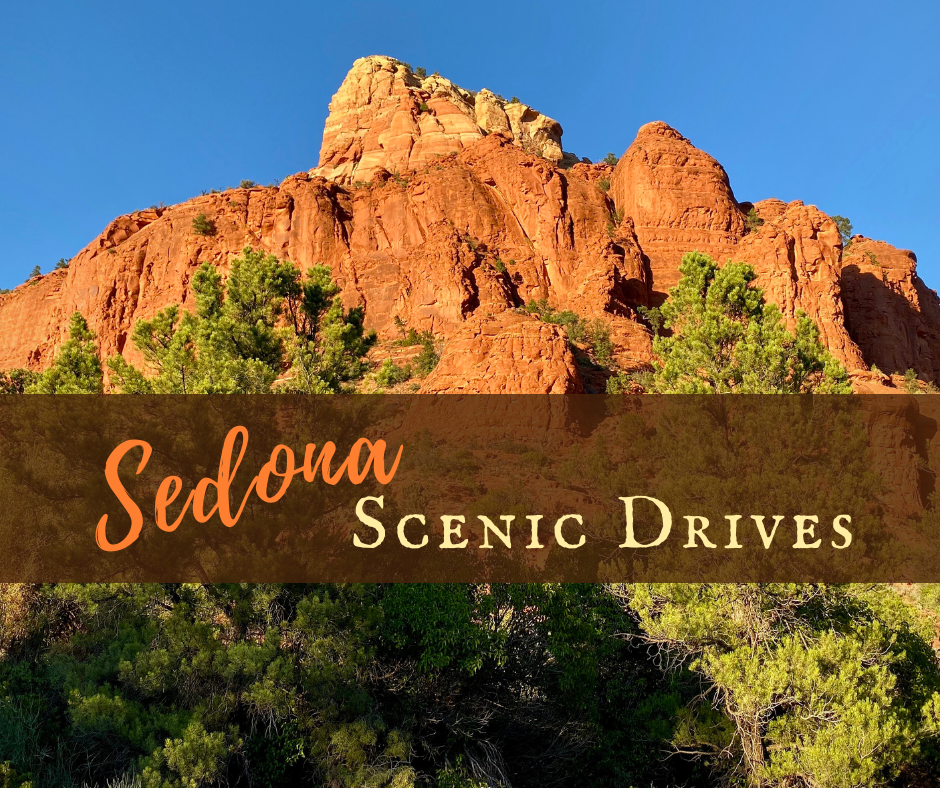 Sedona is undoubtedly the most popular tourist destination in the Verde Valley, but it can get overcrowded at certain times of the year.
If you want to enjoy Sedona without the crowds, check out these options for scenic drives along the Red Rock Scenic Byway, Oak Creek Canyon Scenic Road, and guided jeep adventure tours.
!f you happen to be driving the 19-mile route from Cottonwood to Sedona, be sure to take the Dry Creek Scenic Road.
---
Lodging
---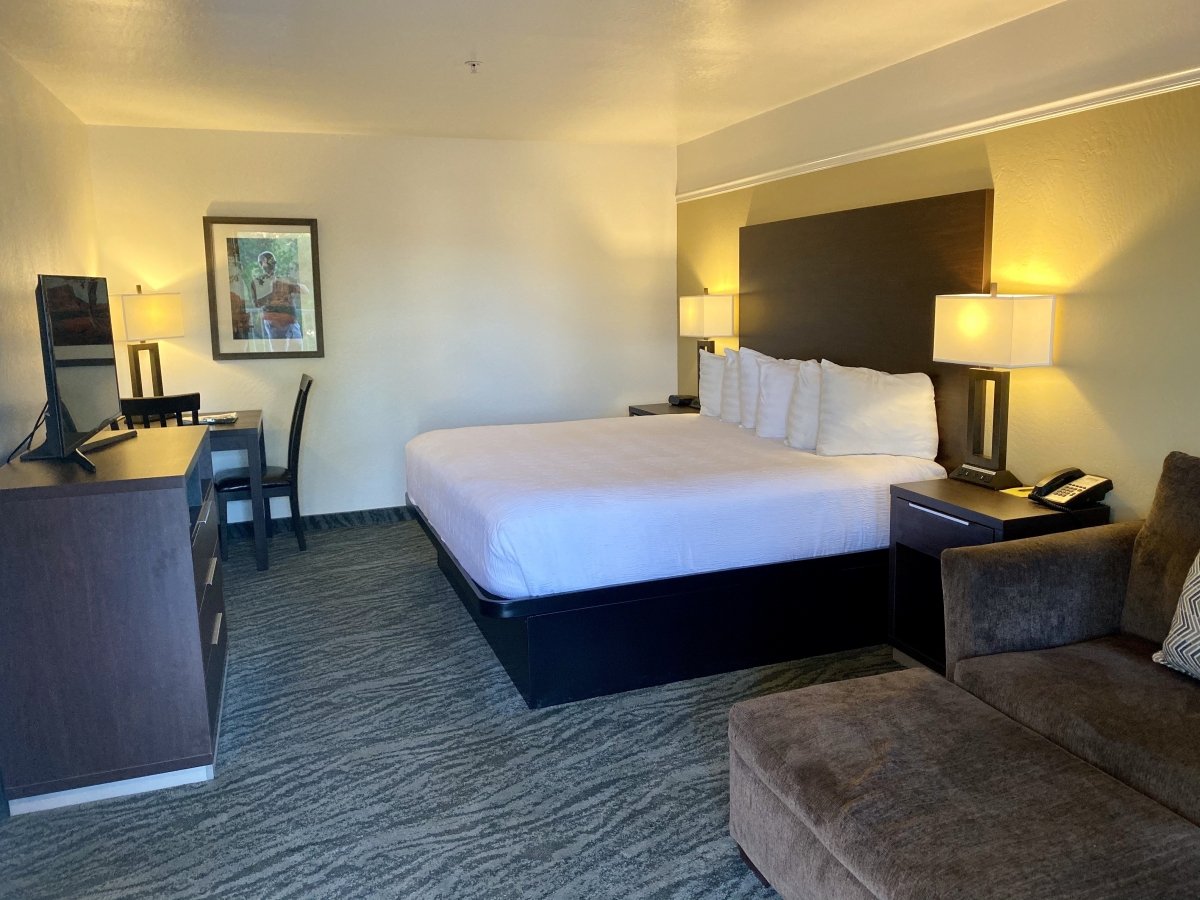 The Pines Inn & Suites in Cottonwood was our home base while exploring Verde Valley AZ.
Our mini-suite's large bathroom, fully-outfitted kitchenette, free WiFi, high-definition TV, and other amenities made for an uber-comfortable stay.
The Pines Motel is Certified Green with in-room recycle containers. Electric vehicle and Tesla charging stations are available.
Click here to book lodging at Pines Inn & Suites on TripAdvisor!
Click here for other Verde Valley AZ lodging options on TripAdvisor!
---
Map It!
---
---
Design Your Own Arizona Road Trip
---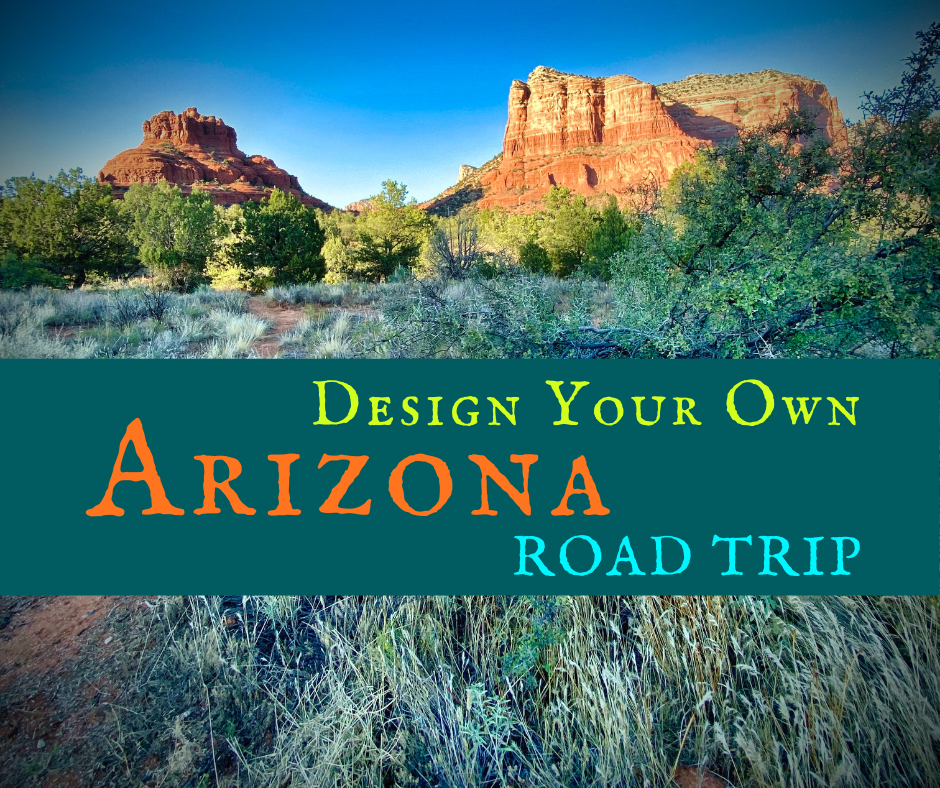 For more Arizona destination information and road trip planning resources, navigate to our Design Your Own Arizona Road Trip round-up post, or use the links below for direct access to additional stories and guides:
Things to Do on a Drive from Phoenix to Flagstaff, Arizona
Take the Train to Grand Canyon National Park: An Insider's Guide
3 Magnificent Flagstaff National Monuments
Tour Flagstaff Attractions On Your Own
Drive the Painted Desert & Petrified Forest National Park
Tons of Fun Things to Do in Winslow, Arizona
3 Stunning Sedona Scenic Drives
Ride Arizona's Verde Canyon Railroad
Explore the Geological and Cultural Diversity of Southeast Arizona
---
Happy Trails! An Arizona Road Trip 
---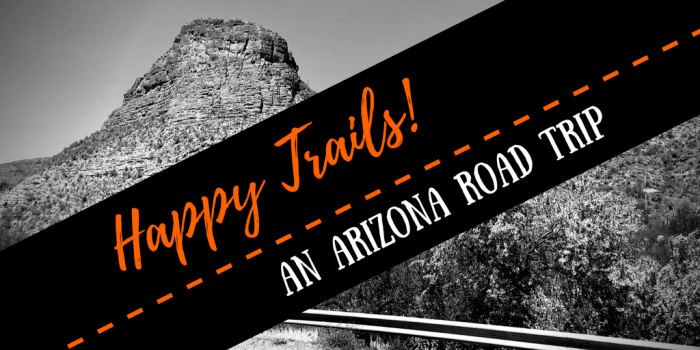 Be sure to check out Happy Trails! An Arizona Road Trip for a loop itinerary through central and eastern regions of the state. To access specific segments of the route, navigate directly using the links below:
---
We Would Love to Hear From You
---
We enjoy dialogue with our readers, especially when they share off-the-beaten-path destinations and useful travel tips. Have you visited any amazing attractions in Verde Valley AZ? If so, we would love to hear about your experience. We invite you to leave your comments and questions below, and we always respond!
---
Pin this Post!
---