(a

9

minute read)
---
Take a drive through the Superstition Mountains on the Arizona Apache Trail with stops at Goldfield Ghost Town, Tortilla Flat, and the Dolly Steamboat.
---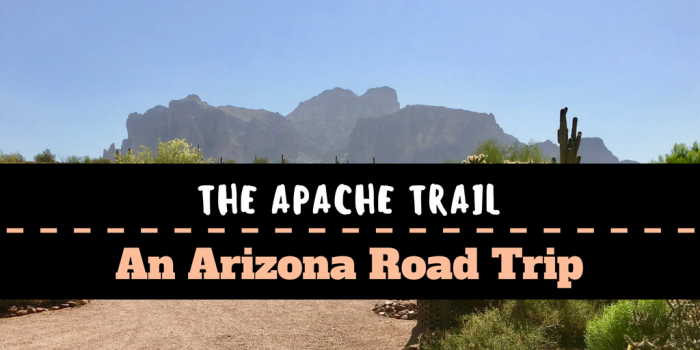 UPDATE January 2021 from my bud Mike Shubic at Mike's Road Trip: "Fantastic post! Such a great area to explore. Unfortunately, the Apache Trail has been washed out for a couple of years now and apparently, as of yet, there is no intention of fixing it. I learned this last year when I had planned to drive down it while filming this video: https://youtu.be/IlfD6lycr8k. My buddy used to be the Mayor of Apache Junction, he is now the County Supervisor . . . he is doing all he can to try and get it repaired. It's such a historic route, I hope he succeeds."
The Arizona Office of Tourism invited a group of international journalists for a 5-day road trip through some of the lesser-known regions of the state.
This journey would take us along several national and state trails, including the Salsa Trail, the Coronado Trail, a route through the Fort Apache Indian Reservation, and the Fresh Foodie Trail®. On the final day of our Happy Trails road trip, we drove a segment of the Arizona Apache Trail, a bonus extension to the loop itinerary of the four previous days.
Whether you are a resident or visitor to the Phoenix metro area, a day trip on the Arizona Apache Trail is the perfect way to immerse yourself in Arizona's rugged outdoors and experience several roadside attractions along the way. Although not officially designated a National Scenic Byway, the Apache Trail has been established as one of Arizona's Scenic Roads.
---
The Arizona Apache Trail
---
Map Credit: Apache Trail Enterprises
Today's Apache Trail (SR 88) has a layered history retracing a Native American path, a stagecoach route, and a wagon road. Claiming the title of "America's Oldest Highway," the Arizona Apache Trail begins in Apache Junction, on the outskirts of greater Phoenix, and winds for 41.5 miles through scenic vistas of mountains, deserts, and lakes to the Theodore Roosevelt Dam.
The paved section of the route also features several roadside attractions that give daytrippers plenty of options for stops along the trail. As our readers know, I am not a huge fan of theme parks and commercial tourist attractions, but these sites are authentic historical locations with a retro feel that somehow grab the attention of my inner child.
The day's itinerary took us over the first 17 miles of the Apache Trail, as far as Tortilla Flat. Just beyond that point the pavement ends, and the remaining section of the dirt route beckons more adventurous travelers along steep cliffs and around hairpin turns not well-suited for travel by large SUVs and RVS.
I would have enjoyed visiting some of the more significant Arizona Apache Trail waypoints, such as Tonto National Monument and Lost Dutchman State Park, but alas they did not figure on our itinerary due to time, distance, and road conditions unsuitable for our van.
A variation of the Apache Trail, as illustrated in the map above, takes in sections of Arizona SR 188 and US 60 for travelers who would rather drive a loop route than retrace a linear route.
---
Superstition Mountain Museum
---
Just four miles beyond Apache Junction along the Arizona Apache Trail you will encounter the Superstition Mountain Museum. The museum is set in a dramatic location with Superstition Mountain looming in the distance like a backdrop for a movie set.
Not a far stretch from reality, as you will see.
The museum's mission to "collect and preserve the history, legends and lore of Arizona's Superstition Mountains" is demonstrated through its diverse indoor and outdoor exhibits.
The indoor museum houses the Jacob Waltz "Lost Dutchman" exhibit, as well as Native American and geological collections. Hiking the nature trail through the museum's outdoor attractions, however, was the highlight of my visit. Looking back, there is no denying that the exquisite desert setting is the single element that added a high level of authenticity to each exhibit.
Two prominent outdoor structures, the Apacheland Barn and the Elvis Chapel, survived destruction by fire at the nearby Apacheland Movie Ranch, where dozens of television shows and motion pictures were shot on location between 1960 and 1994. Both buildings were completely dismantled and reassembled piece-by-piece on the museum property.
The chapel was a set feature for the 1969 Elvis Presley movie "Charro." The chapel and museum building both display memorabilia from Western movies filmed at Apacheland.
The Elvis Chapel and museum grounds may be reserved for weddings and other special events.
The Superstition Mountain Museum is open daily, except for major holidays, and all ticket prices are $5 or lower.
---
Goldfield Ghost Town
---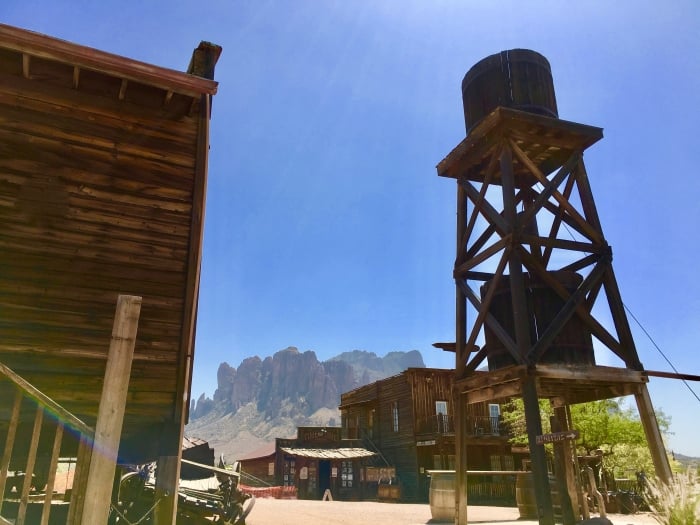 I love exploring abandoned sites and ghost towns such as the one I visited in my Mississippi Backroads article, as well as our most popular post, The Haunting Town of Rodney, Mississippi.
That said, I was excited to discover an Arizona ghost town would be a stop on our Apache Trail itinerary. But it didn't take long after turning of the highway for me to realize that Goldfield Ghost Town was not exactly an abandoned site.
Goldfield, Arizona, was a gold rush town first established in 1893. Five years later, the supply of gold diminished, and the inhabitants moved away, leaving a ghost town behind. A second settlement called Youngsberg emerged on the site several years later, but it too was eventually abandoned.
Today, an authentic-appearing town has been constructed near the site of the original ghost town as a tourist attraction.
There is no general admission fee for Goldfield Ghost Town. Visitors may freely visit the various food establishments and shops on the property. Individual attractions on site, such as the zipline, gold mine tour, museum, bordello tour, and narrow gauge railroad, each require separate tickets.
---
Tortilla Flat
---
Tortilla Flat, Arizona, is an unincorporated community named after a nearby tortilla-shaped butte. The location originated as a campground for gold prospectors and later served as a freight camp during construction of the Roosevelt Dam.
Today a saloon, restaurant, gift shop, country store, and ice cream shop have been constructed onsite, making it a great stopover before continuing on the rugged dirt road drive to Roosevelt Dam.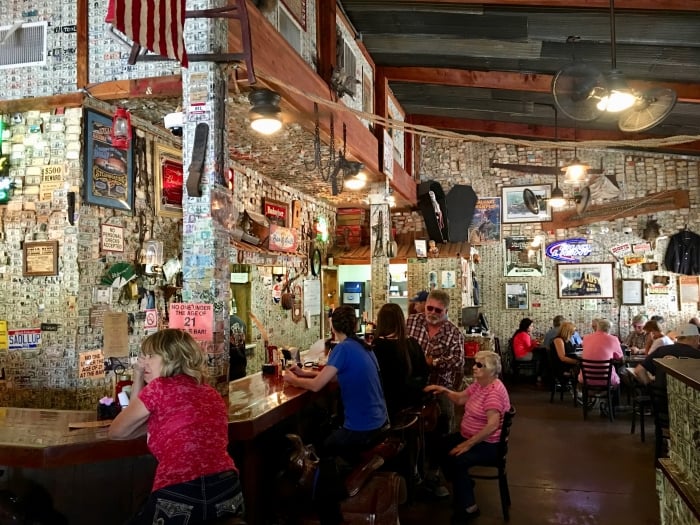 The saloon features saddle barstools, and the walls are papered with dollar bills and other currency left over the years by visitors from around the world.
Although Tortilla Flat has a current population of 6 (meaning the family that runs the businesses) the town has a post office and voter precinct, making it Arizona's smallest official community.
---
Dolly Steamboat on Canyon Lake
---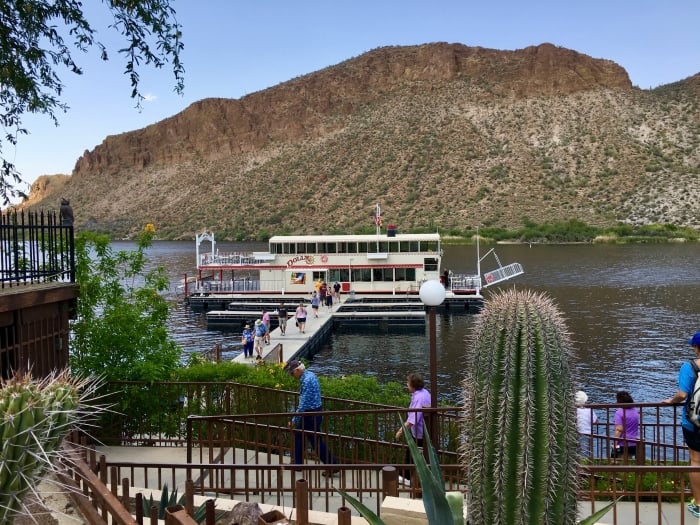 After lunch at Tortilla Flat, we backtracked a couple of miles to the marina on Canyon Lake for a 1.5-hour scenic nature cruise on the Dolly Steamboat.
Canyon Lake is a reservoir created by the Mormon Flat Dam on the Salt River. The narrated cruise on the Dolly Steamboat includes information about the lake's native plants and animals, as well as legend and lore from the Superstition Mountains. While cruising, we were told to keep an eye out for bighorn sheep and bald eagles.
The most fascinating aspect of the cruise for me was the ever-changing appearance of the canyon walls and rock cliffs due to the decreasing angle of the sun and our direction of travel. Our cruise narrator pointed out a unique elephant-shaped rock formation on one of the canyon walls. Can you see it in the photo above?
Refer to the Dolly Steamboat website for cruise rates, dates, and times.
---
Map It!
---
---
An Arizona Road Trip Series
---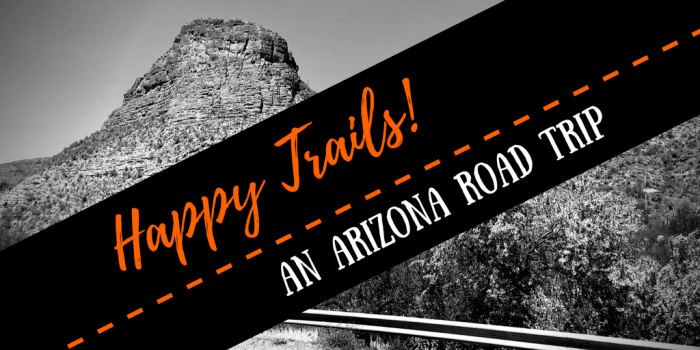 Read more posts from our Happy Trails road trip . . . .
Part 1: Phoenix to Tucson to Safford: An Arizona Road Trip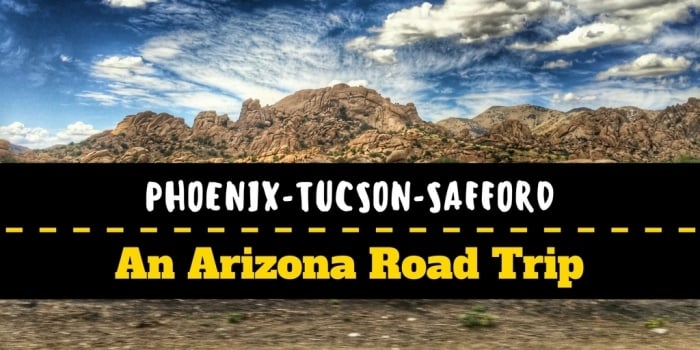 Tucson Bike Tours, Pizzeria Bianco, Coronado Vineyards, and the Salsa Trail
Part 2: Safford to Pinetop-Lakeside: An Arizona Road Trip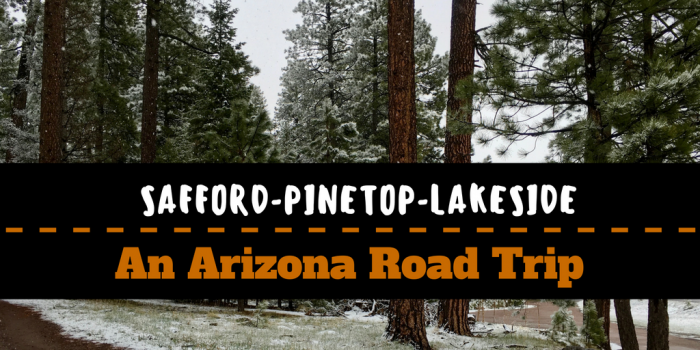 Discovery Park at Eastern Arizona College, the Coronado Trail, Morenci Copper Mine, Hannagan Meadow, and Casa Malpaís
Part 3: Pinetop to Whiteriver to Greer: An Arizona Road Trip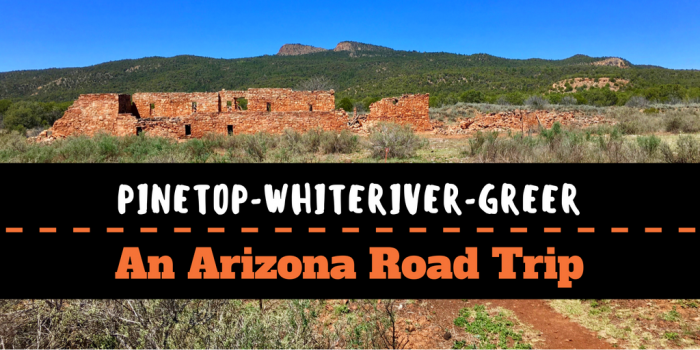 Fort Apache, the Kinishba Ruins, Sunrise Ski Park, and the White Mountain Nature Center
Part 4: Pinetop to Salt River Canyon to Mesa: An Arizona Road Trip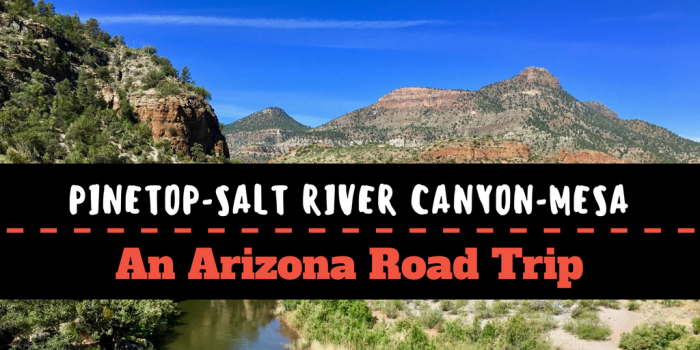 Salt River Canyon, the Fresh Foodie Trail®, Queen Creek Olive Mill, Schnepf Farms, and Agritopia®
---
Design Your Own Arizona Road Trip
---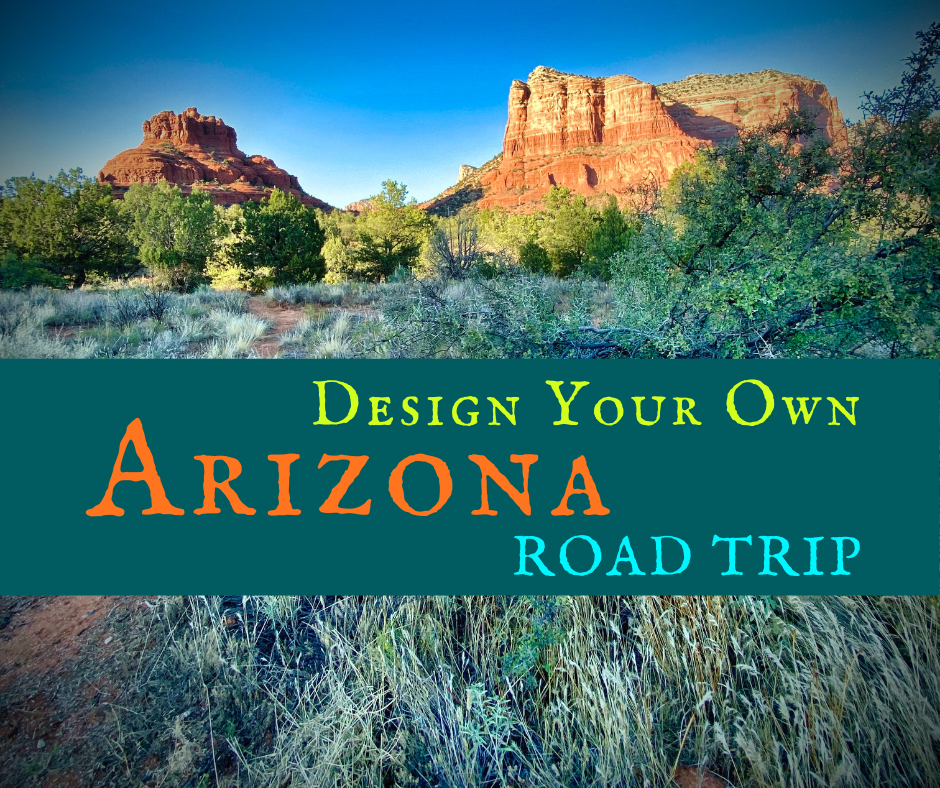 For more Arizona destination information and road trip planning resources, navigate to our Design Your Own Arizona Road Trip round-up post, or use the links below for direct access to additional stories and guides:
Things to Do on a Drive from Phoenix to Flagstaff, Arizona
Take the Train to Grand Canyon National Park: An Insider's Guide
3 Magnificent Flagstaff National Monuments
Tour Flagstaff Attractions On Your Own
Drive the Painted Desert & Petrified Forest National Park
Tons of Fun Things to Do in Winslow, Arizona
3 Stunning Sedona Scenic Drives
Ride Arizona's Verde Canyon Railroad
7+ Amazing Attractions in Verde Valley AZ
Explore the Geological and Cultural Diversity of Southeast Arizona
---
We Would Love to Hear From You
---
We enjoy dialogue with our readers, especially when they share off-the-beaten-path destinations and useful travel tips. Have you ever driven the Arizona Apache Trail? If so, we would love to hear about your experience. We invite you to leave your comments and questions below, and we always respond!
---
Pin this Post!
---