(a

9

minute read)
---
Driving from Safford to Pinetop-Lakeside on an Arizona road trip takes us over the Coronado Trail to Morenci Copper Mine, Hannagan Meadow, and Casa Malpaís.
---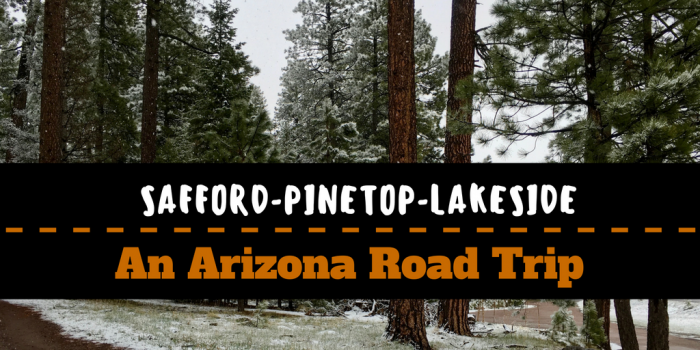 The Arizona Office of Tourism invited me to join a diverse group of international journalists on a 5-day road trip through the eastern part of the state. We did not even come close to visiting the Grand Canyon, the state's most iconic destination, but it mattered not in the least.
The first day of our Happy Trails road trip carried us from Phoenix to Tucson to Safford where we did a bike tour, visited a winery, and filled our bellies with some of Arizona's most celebrated cuisine.
On Day 2, our backroad adventure would take us from Safford to Pinetop-Lakeside along the Coronado Trail, through scenic landscapes and erratic weather inversions to ancient Native American sites and beyond.
---
Safford
---
 
Photo Credit: Ernie Lozano
With lots of ground to cover on our itinerary, the appointed load-up time on Day 2 was 7:35 AM. While we were waiting on stragglers, our van driver Ernie Lozano took this shot of German travel writer Christian Ruf and me. With his cargo pants, safari vest, camera gear, and scarf, Christian nailed the look of a classic photo-journalist.
As the first travel blogger ever hosted by the Arizona Office of Tourism, I was beginning to learn the differences between the roles of bloggers and traditional journalists from the five international travel writers who were my companions on this trip.
The most obvious difference, other than dress code, struck me while I was busily posting on my iPhone.
When on assignment, traditional journalists do little to no social media.
Discovery Park at Eastern Arizona College
---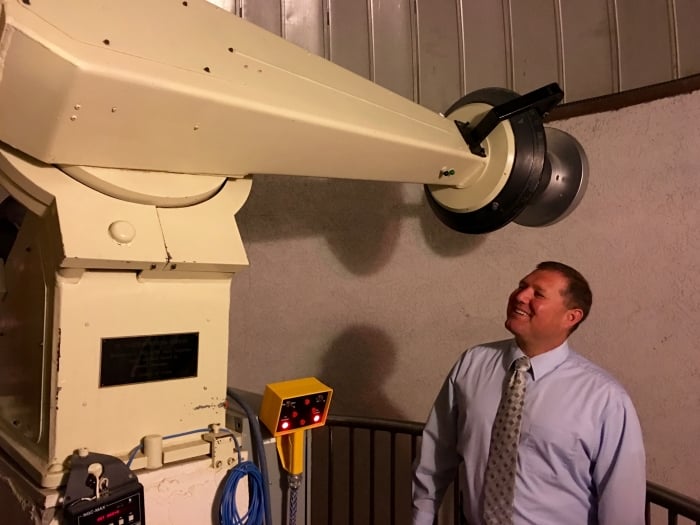 Before leaving Safford, we paid a visit to Discovery Park at Eastern Arizona College. Director Paul Anger gave us a whirlwind tour of the facility and grounds that defines itself as an "education and entertainment retreat."
Discovery Park is a free interactive museum that presents an eclectic mix of science combined with Gila Valley history and culture. Featured elements include an observatory telescope and dome, a full-motion space exploration simulator, and the Mills Collection of Native American artifacts.
The outdoor campus of Discovery Park is landscaped with desert vegetation, and it serves as an authentic habitat for native animals including gila monsters, coyotes, and roadrunners. A riparian wetland called Nature's Hideaway is an award-winning restoration connected to the observatory by a 5K walk/run course that winds through the campus.
There were light showers the morning of our visit, and I still recall the pungent fragrance of creosote in the rain as we got back on the road from Safford to Pinetop
---
The Coronado Trail
---
The Coronado Trail is a designated National Scenic Byway that roughly follows the route the Spanish conquistador took in his search for the fabled Seven Cities of Cíbola in the 1540s. The Coronado Trail was previously a segment of Route 666, commonly dubbed the Devil's Highway due to its many sharp curves, steep drop-offs, and 6,000 ft. change in elevation.
In 1992, Arizona requested that the route be renamed due to the frequency of stolen signs by souvenir hunters and religious detractors who believed the triple digit a symbolic mark of the devil.
As I write, I don't recall the winding route feeling unusually perilous. Not sure whether that was due to my experience driving the Appalachian mountains, Ernie's expertise behind the wheel, or a combination of both.
What I do recall are the dramatic weather inversions including sun, rain, hail, snow, and even simultaneous sun and hail at various elevations along the route.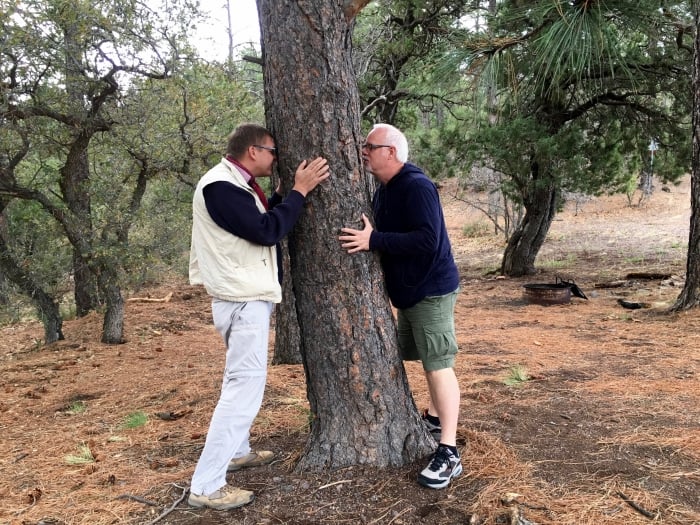 There is no question that figuratively I am a tree-hugger in terms of the environment. But at roadside stops from Safford to Pinetop along the Coronado Trail, I became a literal tree-hugger, too. Don't knock it! Once you have inhaled the heavenly butterscotch fragrance of Ponderosa pine bark, you will become a tree-sniffer, too.
Morenci Copper Mine
---
The Morenci Copper Mine, situated near the southern terminus of the Coronado Trail, is the largest and most productive mine in North America. Mining on the site began in 1872, leaving a giant scar on the surface of the earth, but the expansive view of the mine from the overlook is a site to behold. I would even go so far as to say the layered manmade cuts in the rust-colored soil remind me of that famous hole in the ground on the other side of the state.
(Ducking for cover.)
And one more thing . . . .
Too bad Coronado never realized the metallic wealth that lay deep beneath his feet while on his futile quest for gold.
Hannagan Meadow Lodge
---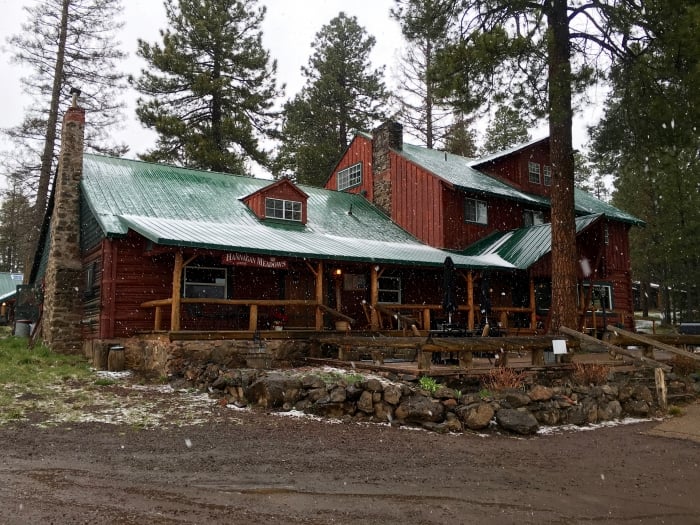 The snow began to fall in earnest as we continued our climb ever higher toward the Coronado Trail's highest point. Four miles beyond the peak we arrived at Hannagan Meadow Lodge, an alpine retreat in the Apache-Sitgreaves National Forest since 1926.
Anyone who knows my love for mountains and cabins will understand why our stop for lunch was all too short. The roaring fire and falling snow combined with the warmth of matzo ball soup and a stacked club sandwich enhanced the cozy ambience of the lodge to near perfection.
Photo Credits: Ernie Lozano and Daniele Guido Gessa
Our brief visit truly reached its summit after lunch when we met Alaskan Malamutes Lucy (red) and Max (black) on the front porch for some much-needed puppy love.
Photo Credit: Daniele Guido Gessa
Although we did not stay overnight, I will not hesitate to recommend Hannagan Meadow Lodge as the perfect mountain getaway on the road from Safford to Pinetop. And I know hosts Charlene and Charlie, along with Lucy and Max, will do everything to make your visit as warm as they made ours.
Click here to book your stay at Hannagan Meadow Lodge on TripAdvisor!
The drive north to Springerville took us through the community of Alpine, located a mere three miles from the New Mexico state line. But alas our tight schedule did not allow for a detour. The significance here is that I have visited every bordering state, but to date, not New Mexico itself.
So close, yet so far . . . .
---
Springerville
---
We pulled into Springerville, the northern terminus of the Coronado Trail, and headed to the Casa Malpaís Museum. We met director Lynette Cross who loaded us up for a guided tour of the Casa Malpaís Archaeological Park.
Casa Malpaís Archaeological Park
---
Situated on a terraced volcanic field, Casa Malpaís is a National Historic Landmark inhabited by the Pueblo Peoples between 1260 and 1350 CE. First explored by anthropologist Frank Hamilton Cushing in 1883, the archaeological site contains a Great Kiva, a 60-room pueblo, and a solar calendar.
After touring the lower levels, Lynette Cross led us up an ancient stairway through a crevice in the basalt cliffs to the top of the mesa with views that extend for days.
The road out of the archaeological site took us past an active eagle's nest, a fitting addition to the deer, ground squirrels, turkey, and javelina we had spotted along the drive from Safford to Pinetop earlier in the day.
---
Pinetop-Lakeside
---
The final segment of our itinerary took us to Pinetop-Lakeside, one of several hyphenated towns in the region.
Lake of the Woods Resort
---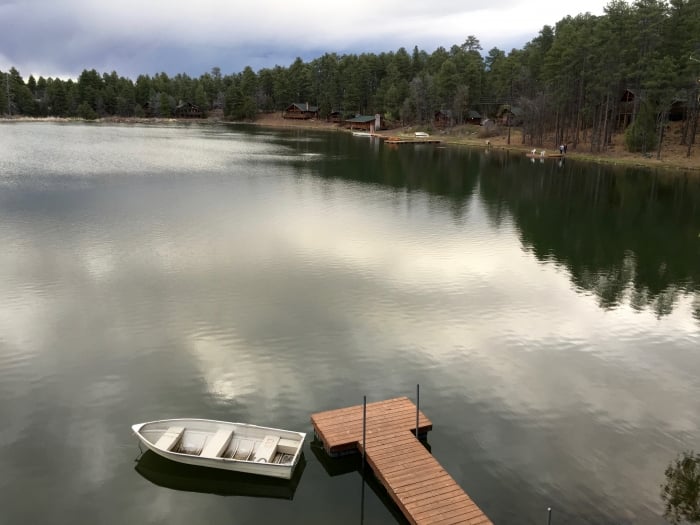 Our accommodations for the next two nights were hosted at the Lake of the Woods Resort. The rustic 25-acre property has a private lake with 26 cabins and 7 condo units.
The property was still closed for the low season during our visit, but they put us up in the condo units. Every journalist had a private bedroom with shared bathroom and kitchen facilities. Although dated, the condos were roomy and clean and would be ideal for extended family vacations and reunions. I especially enjoyed the gas fireplace in my unit.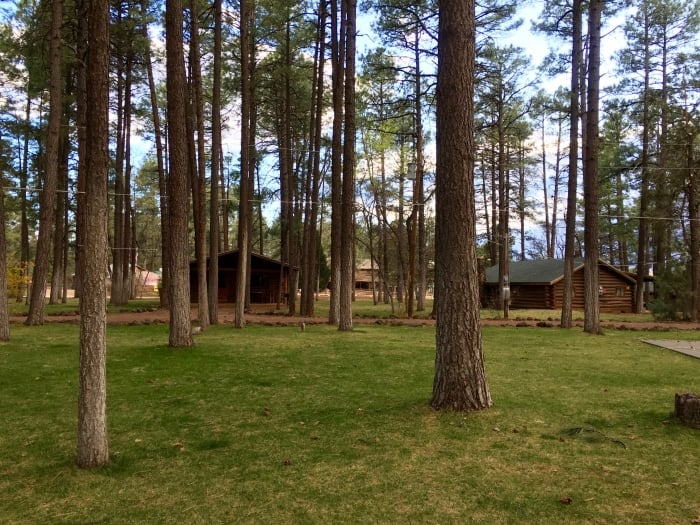 SALT Restaurant & Wine Bar
---
Our first evening in the White Mountains was spent enjoying some of the best in casual fine dining at the SALT Restaurant & Wine Bar (now permanently closed). Our multi-course dinner featured fresh local ingredients and a menu influenced by owner Rica Girardi's culinary background in French and Asian cuisine. The experience was heightened even more by the cozy, relaxing atmosphere and the friendly, attentive staff.
---
Map It!
---
---
An Arizona Road Trip Series
---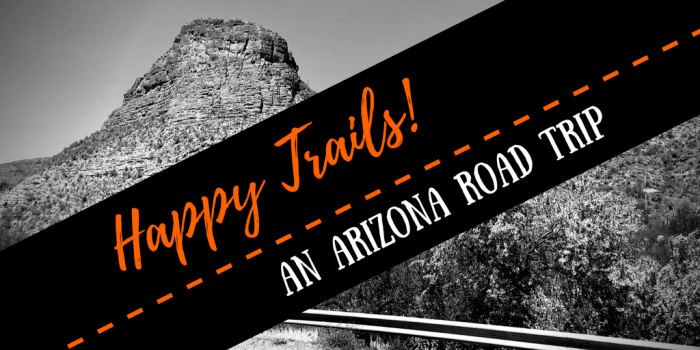 Read more posts from our Happy Trails road trip series . . . .
Part 1: Phoenix to Tucson to Safford: An Arizona Road Trip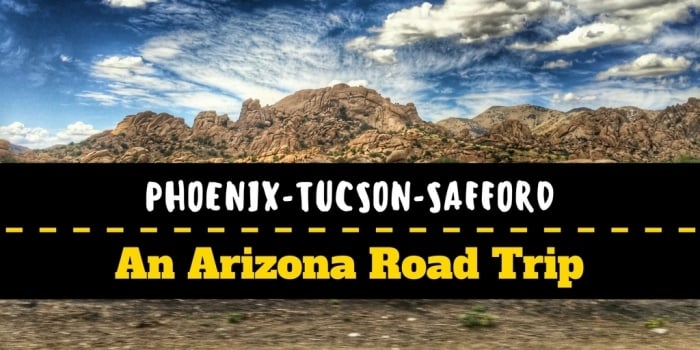 Tucson Bike Tours, Pizzeria Bianco, Coronado Vineyards, and the Salsa Trail
Part 3: Pinetop to Whiteriver to Greer: An Arizona Road Trip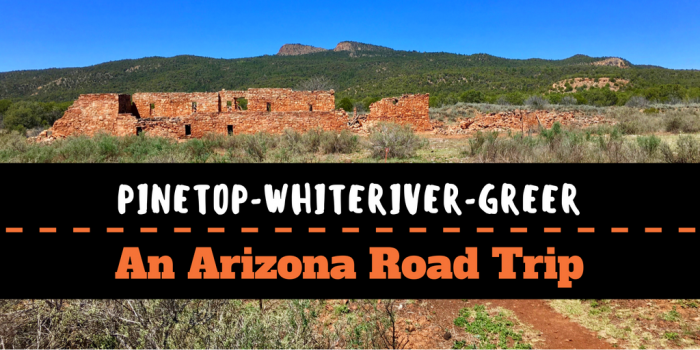 Fort Apache Indian Reservation, Fort Apache National Historic Landmark, the Kinishba Ruins, Sunrise Ski Park, and the White Mountain Nature Center
Part 4: Pinetop to Salt River Canyon to Mesa: An Arizona Road Trip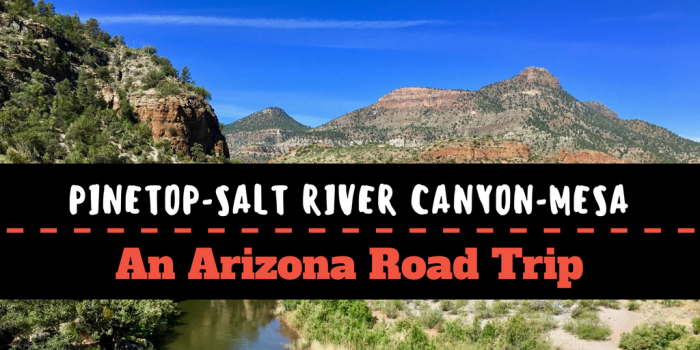 Salt River Canyon, the Fresh Foodie Trail®, Queen Creek Olive Mill, Schnepf Farms, and Agritopia®
Part 5: A Day Trip on the Apache Trail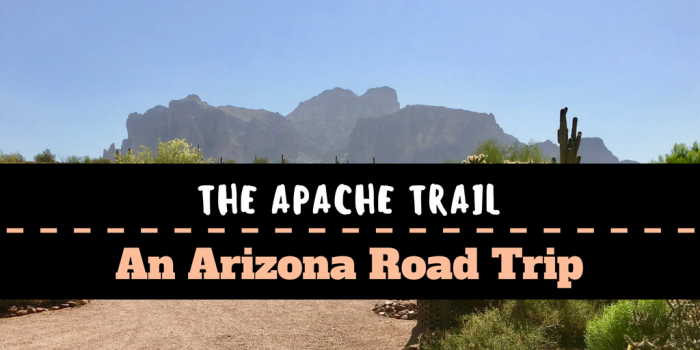 Superstition Mountains, Goldfield Ghost Town, Tortilla Flat, and the Dolly Steamboat.
---
Design Your Own Arizona Road Trip
---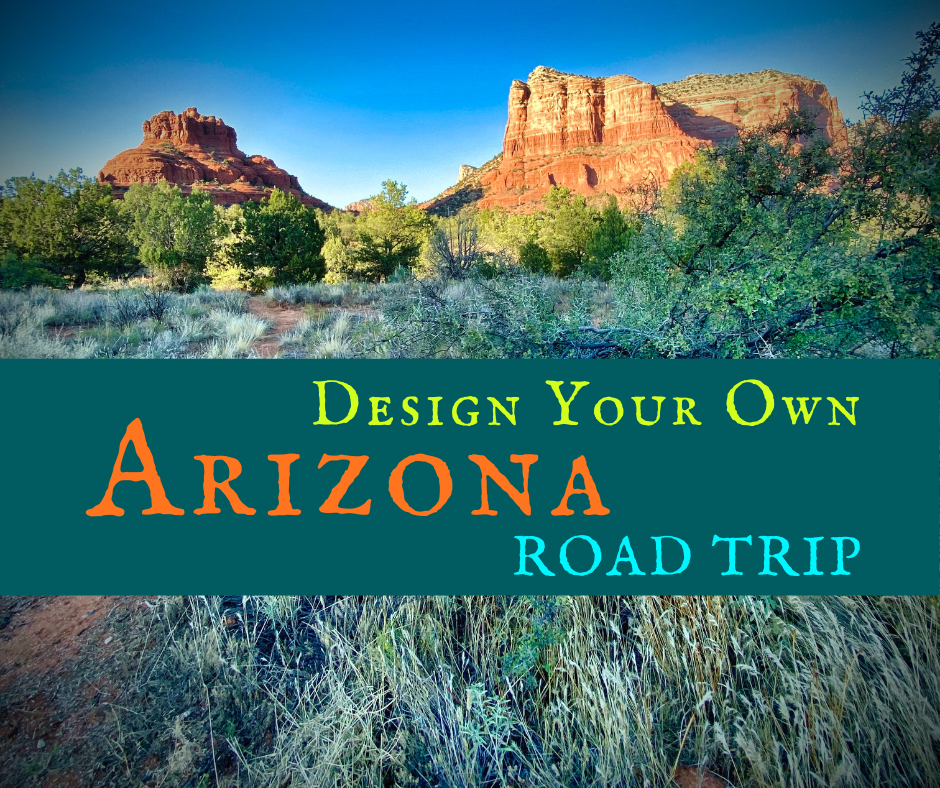 For more Arizona destination information and road trip planning resources, navigate to our Design Your Own Arizona Road Trip round-up post, or use the links below for direct access to additional stories and guides:
Things to Do on a Drive from Phoenix to Flagstaff, Arizona
Take the Train to Grand Canyon National Park: An Insider's Guide
3 Magnificent Flagstaff National Monuments
Tour Flagstaff Attractions On Your Own
Drive the Painted Desert & Petrified Forest National Park
Tons of Fun Things to Do in Winslow, Arizona
3 Stunning Sedona Scenic Drives
Ride Arizona's Verde Canyon Railroad
7+ Amazing Attractions in Verde Valley AZ
Explore the Geological and Cultural Diversity of Southeast Arizona
---
We Would Love to Hear From You
---
We enjoy dialogue with our readers, especially when they share off-the-beaten-path destinations and useful travel tips. Have you ever driven the route from Safford to Pinetop, Arizona? If so, we would love to hear about your experience. We invite you to leave your comments and questions below, and we always respond!
---
Pin this Post!
---