(a

13

minute read)
---
Experience the best Sedona scenic drives along the Red Rock Scenic Byway, the Oak Creek Canyon Scenic Road, and with Pink Adventure Tours.
---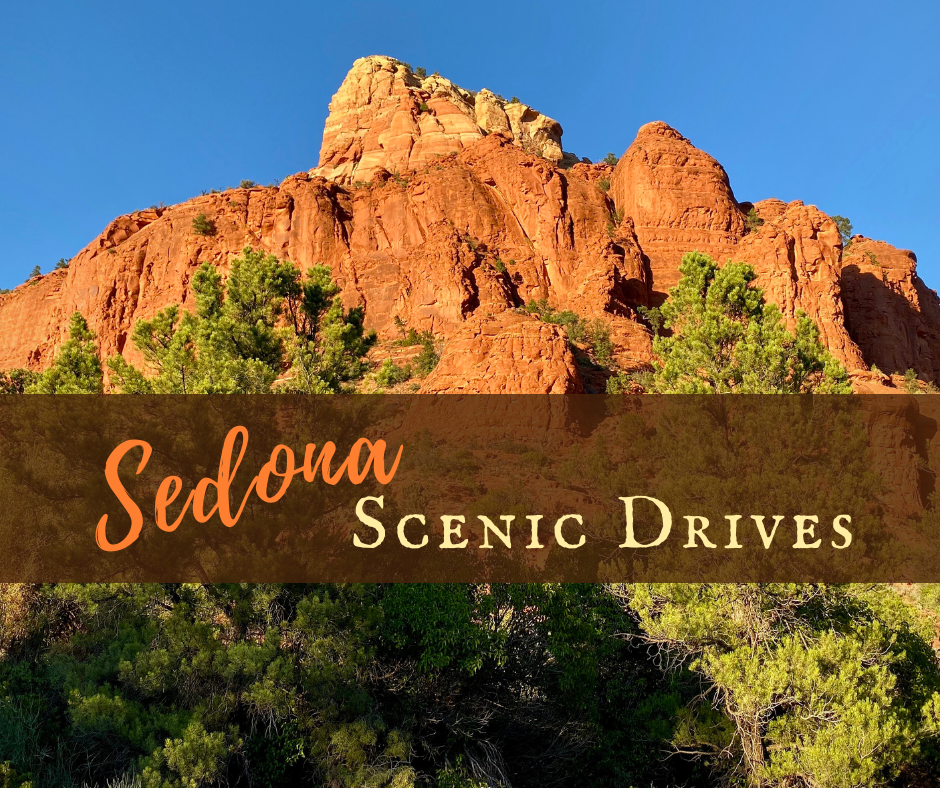 I was a guest of Visit Arizona, but all thoughts and opinions are my own. This post may contain affiliate links. Please refer to our our Disclosure/Disclaimer page for more information.
---
Sedona Scenic Drives
---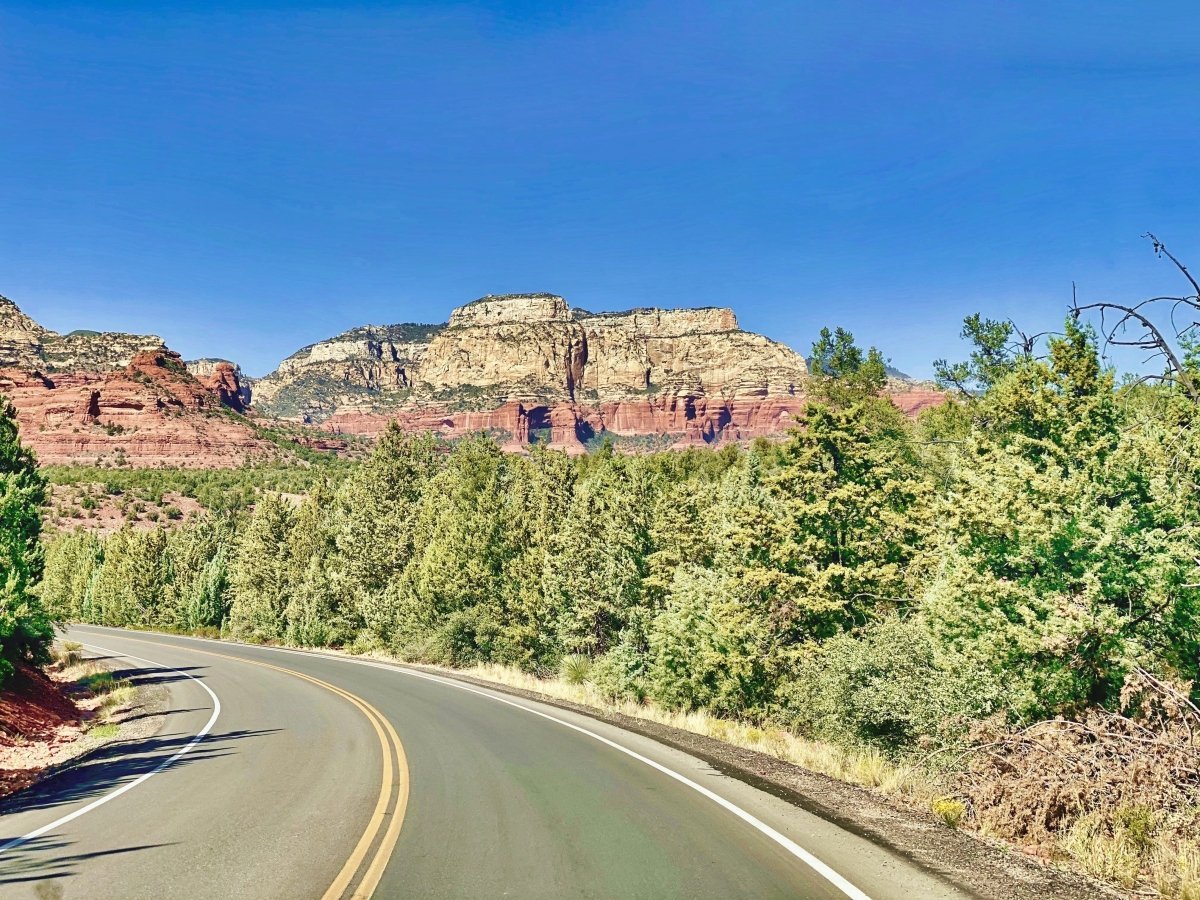 Sedona is undeniably one of the most beautiful locations in the state of Arizona.
The towering red sandstone rock formations that surround the town are especially lovely during the golden hours.
I first visited Sedona in 1983 when its population was around 5,000. Today, the number of residents has doubled, but that number is insignificant when compared to the three million tourists that flock to the area each year.
As a result, Uptown and West Sedona have become highly commercialized and parking is at a premium.
Fortunately, you can experience the region's beauty away from town on three Sedona scenic drives.
---
Red Rock Ranger District
---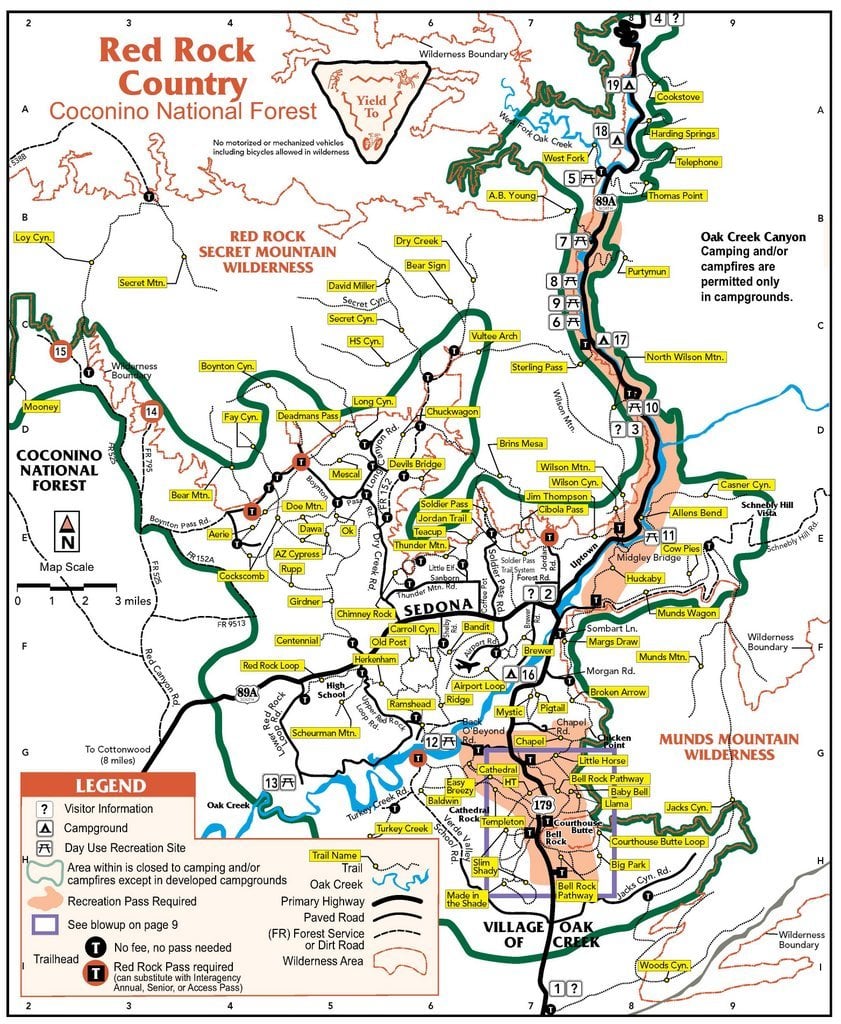 I am sure there are tourists who visit Sedona and spend the day shopping.
Why anyone would visit one of the most beautiful places on Earth and spend their time indoors is a mystery to me. But then, that's not my call.
Sedona and its outlying areas are all situated within the 550,000-acre Red Rock Ranger District of the Coconino National Forest.
Before planning a trip to Sedona that involves outdoor activities, every potential visitor should review the free resources available at the Red Rock Ranger District webpage.
The RRRD webpage has downloadable maps and information for people who plan to hike, backpack, camp, and take scenic drives, as well.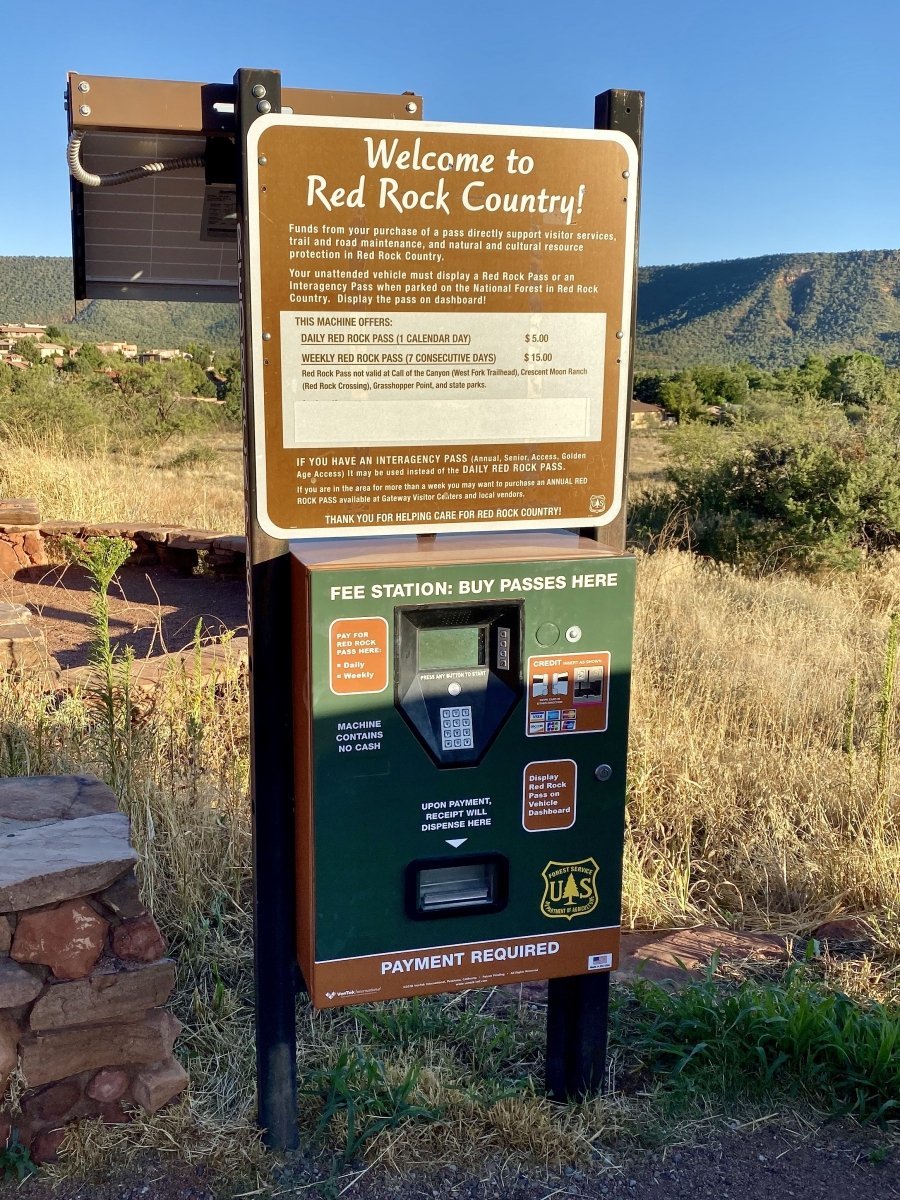 Visitors to the area should be advised that unattended vehicles parked at most of the recreational fee sites within the Red Rock Ranger District must have a pass displayed on the vehicle dashboard or rearview mirror.
There are more vehicle pass variations than I can detail in this post, so it is best to consult the website to review your options. I always encourage readers to purchase an America the Beautiful Annual Pass for $80. It is valid on all federal lands, covers every passenger in your vehicle, and helps fund preservation of our national treasures.
Perhaps the best resource at the Red Rock Ranger District webpage is the Red Rock Recreational Guide, a downloadable 12-page full color PDF publication. You can print out a hard copy, or even better, save it for reference to your mobile device.
---
Red Rock Scenic Byway
---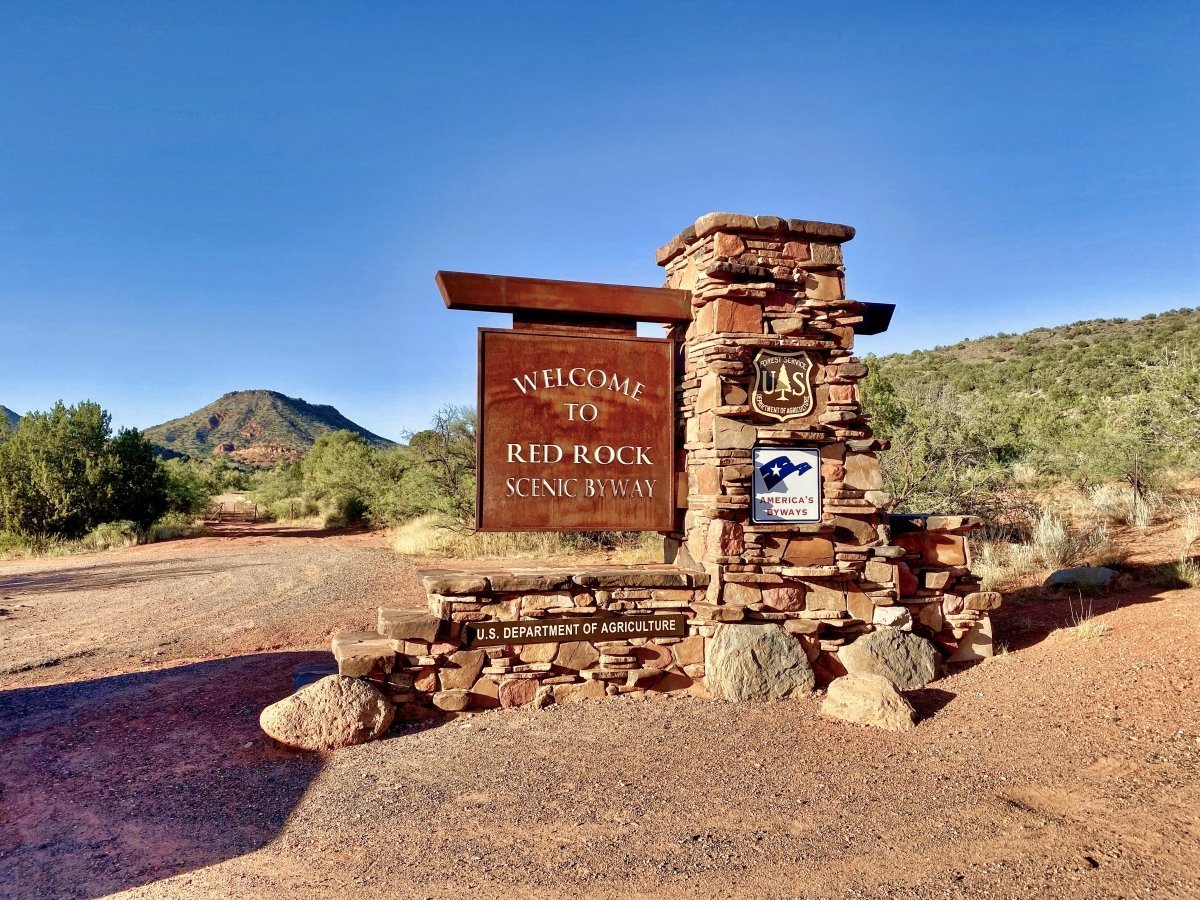 I am a huge fan of America's National Scenic Byways and welcome every opportunity to drive them.
Only 7.5 miles long, the Red Rock Scenic Byway has been designated both a National Scenic Byway and an All-American Road, meaning it is a national destination unto itself.
We were driving from Phoenix to Flagstaff on I-17 and decided to take Exit 298 and drive the Red Rock Scenic Byway (SR 179). We would continue through Sedona and drive the Oak Creek Canyon Scenic Road (SR 89A) north of town to rejoin I-17 at Exit 337 in Flagstaff.
This route between the two exits is about 40 miles long and will take you a bit more than an hour to drive straight through. Seasonal traffic and frequent stops at viewpoints will add considerably to the time.
Note: If you stay on I-17, the distance is also about 40 miles, but it will only take about 30 minutes to reach Flagstaff.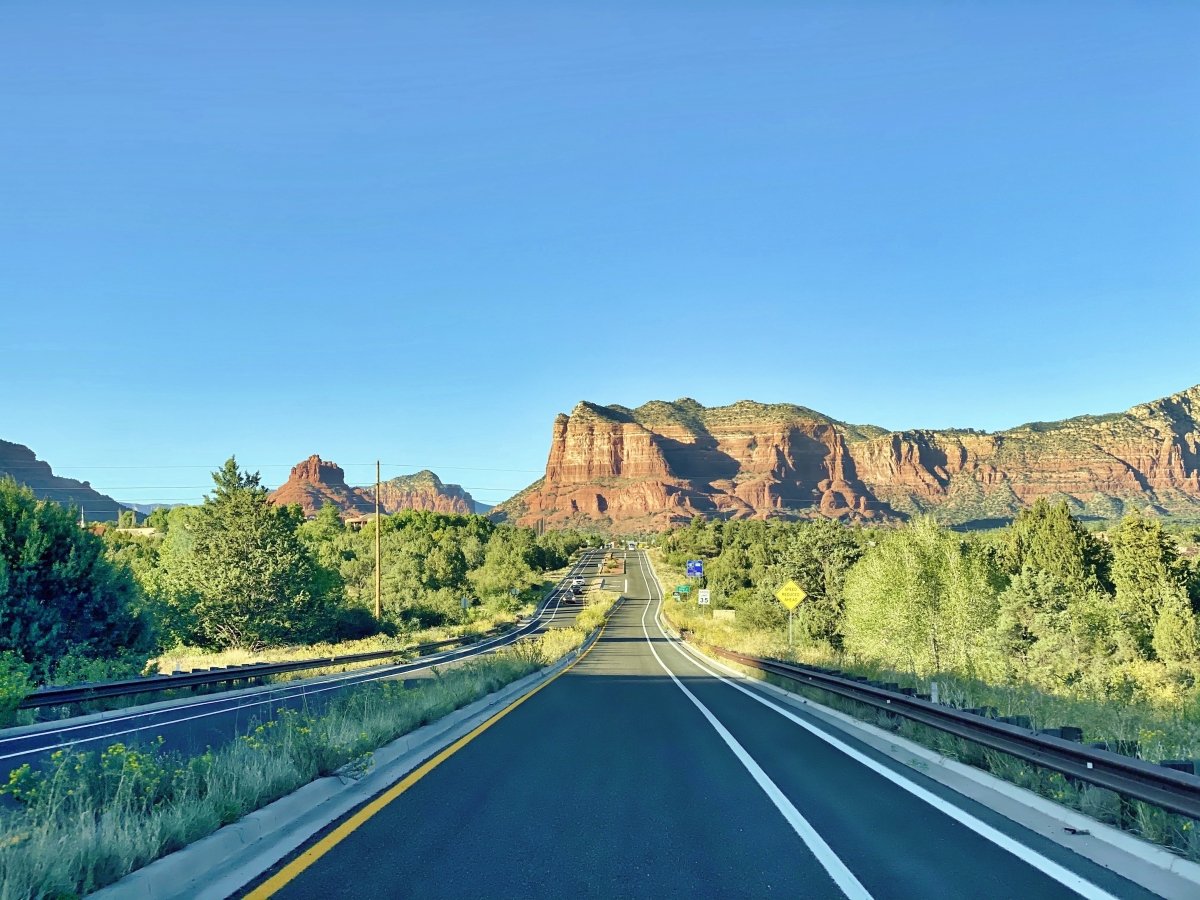 It was late afternoon, and the distant sandstone formations lit by the setting sun were on fire.
The clock was ticking, so we decided not to stop at the Red Rock Ranger District visitor center. If your schedule allows, a visitor center stop is well worth your time, offering expert trip planning assistance, print resources, and a variety of vehicle passes.
We passed through the Village of Oak Creek and pulled into the parking area for the Bell Rock Trailhead. This was the first recreational fee site we encountered that requires a displayed vehicle pass.
Bell Rock & Courthouse Butte
---

The Bell Rock Trailhead presents a panoramic view of Bell Rock and Courthouse Butte.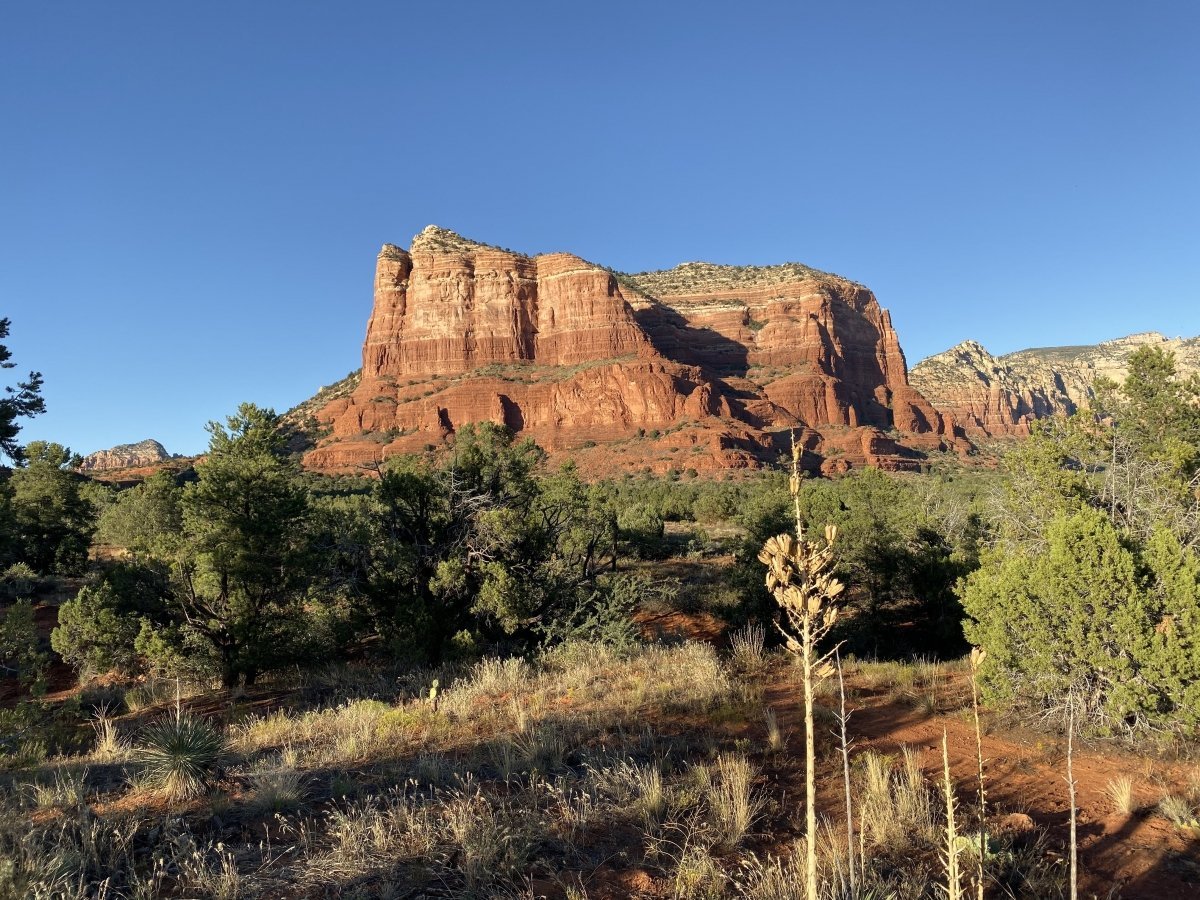 There are tons of hiking trails along the Red Rock Scenic Byway, including those that connect to this spot.
If you plan to do any hiking from pullovers during your scenic drive, you will find the downloadable Red Rock Country Recreation Maps extremely helpful for designing your itinerary and also while on the trail.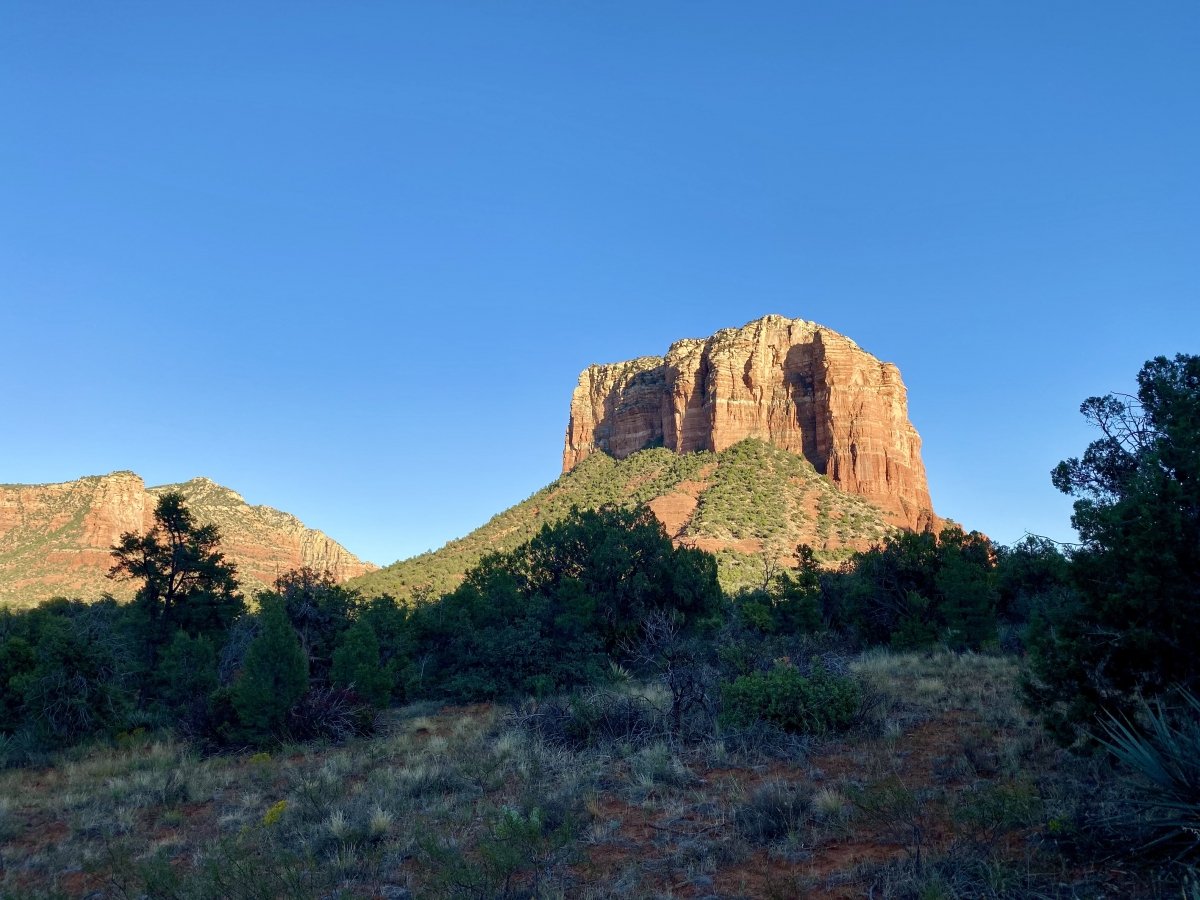 We continued north and pulled into the Courthouse Vista Trailhead parking area. The south-facing perspective also offers a stellar view of the iconic formations.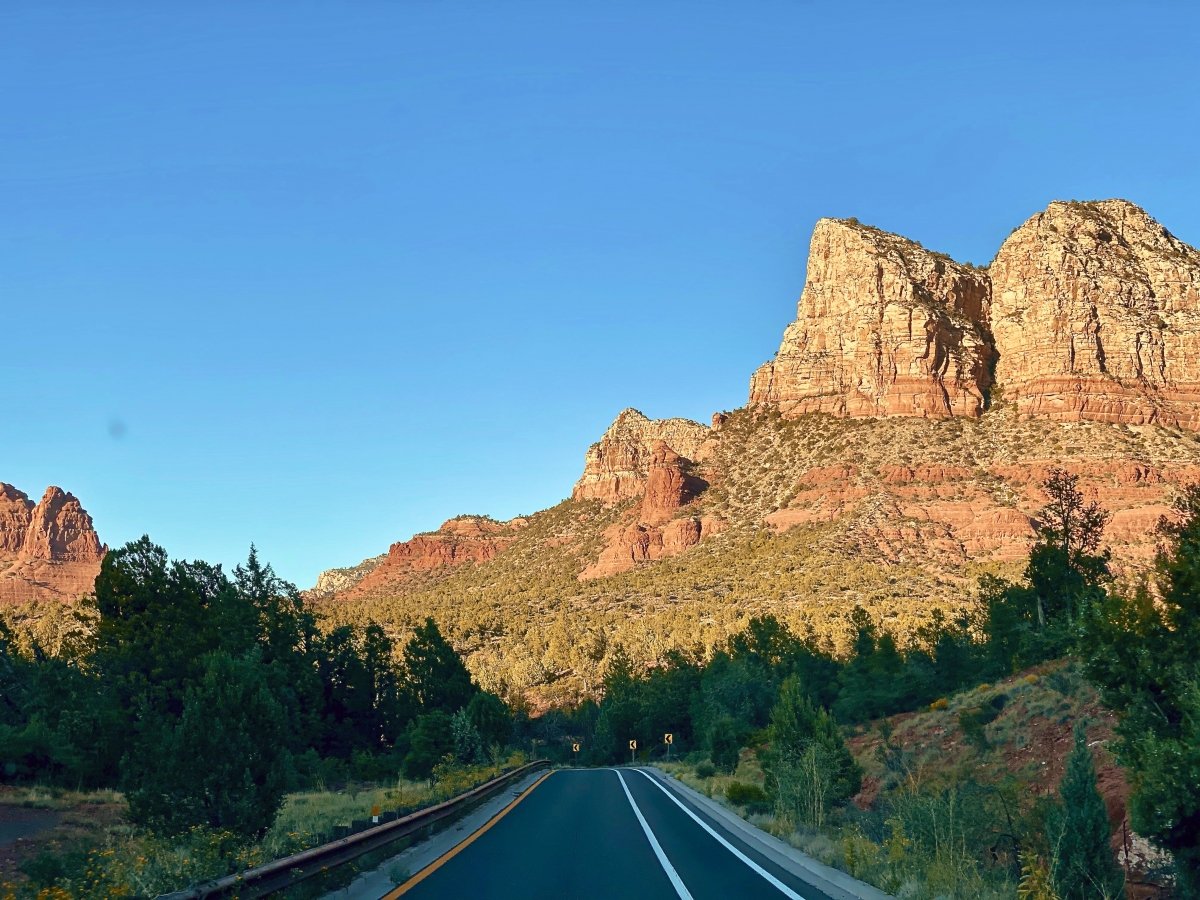 The segment of the byway between the Village of Oak Creek and Sedona is a divided highway. To fully experience the scenic route, you may want to drive it both directions.
Chapel of the Holy Cross
---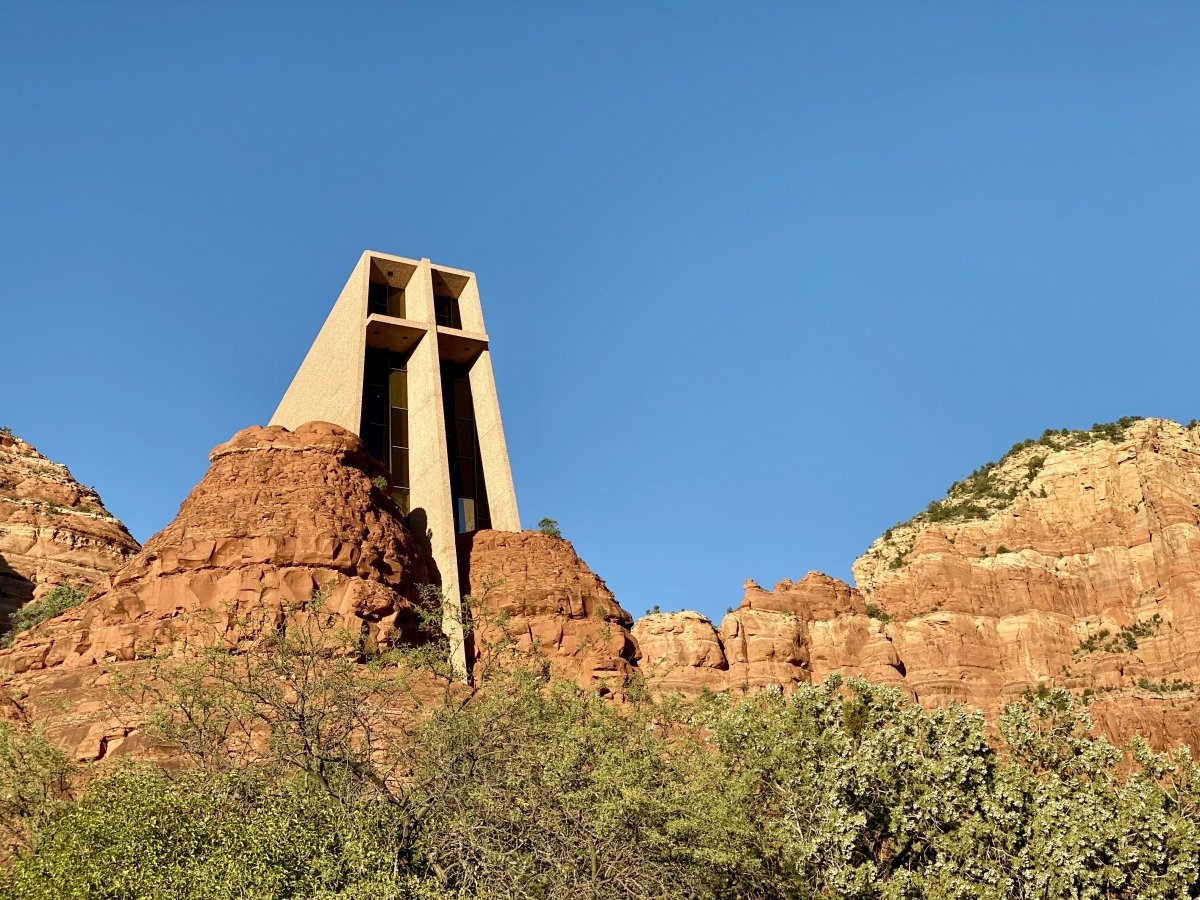 Just beyond the northern terminus of the Red Rock Scenic Byway, we turned right on Chapel Road to view the iconic Chapel of the Holy Cross.
The chapel is open daily between 9:00 AM and 5:00 PM, and welcomes visitors of every persuasion. We arrived after closing time, so we were not able to tour the interior.
Other scenic sites of interest along the Red Rock Scenic Byway include the trailheads for Little Horse, Cathedral Rock, and Yavapai Point. While in the area, you may want to scout Sedona's earth energy vortexes or drive out to Red Rock State Park.
---
Oak Creek Canyon Scenic Road
---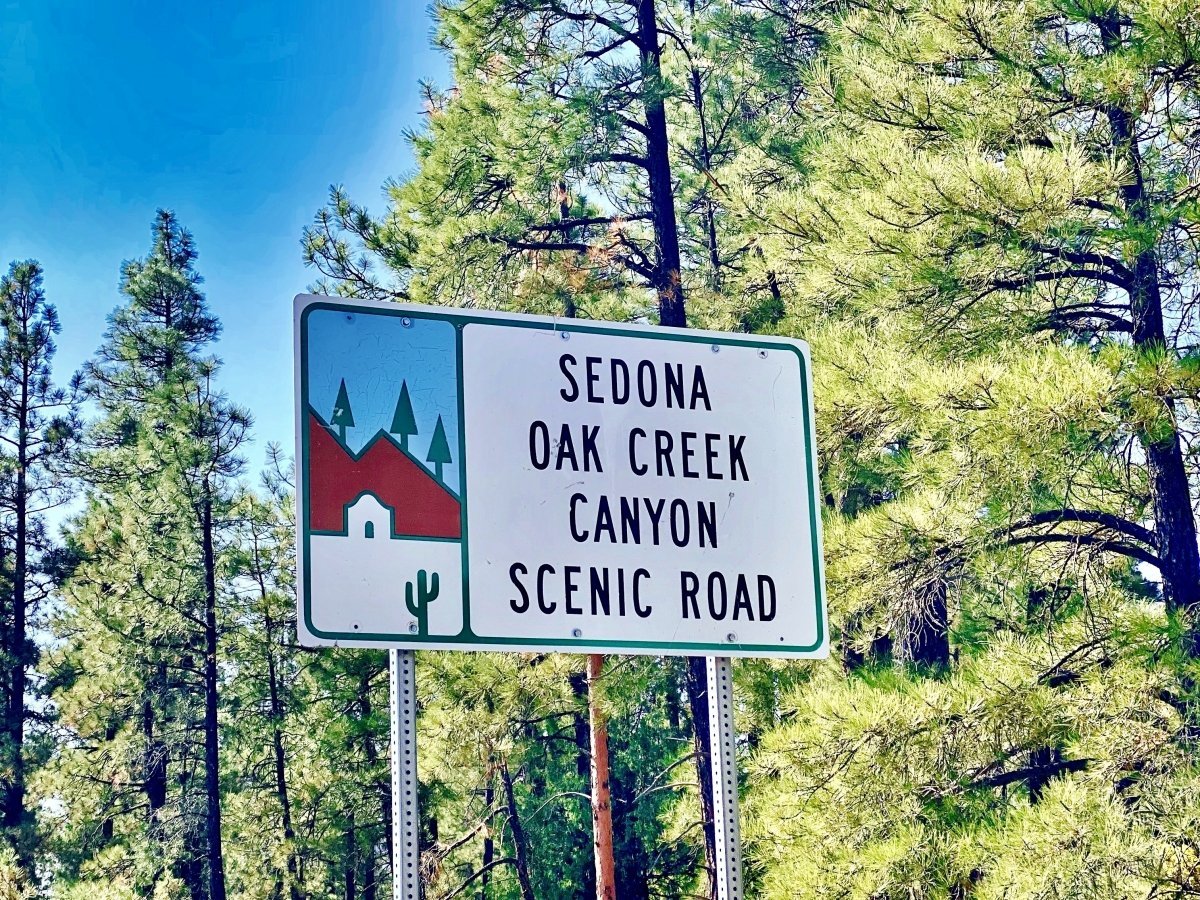 Although not a federally designated scenic byway, the Oak Creek Canyon Scenic Road (SR 89A) north of Sedona is one of the most uniquely beautiful drives you will ever take.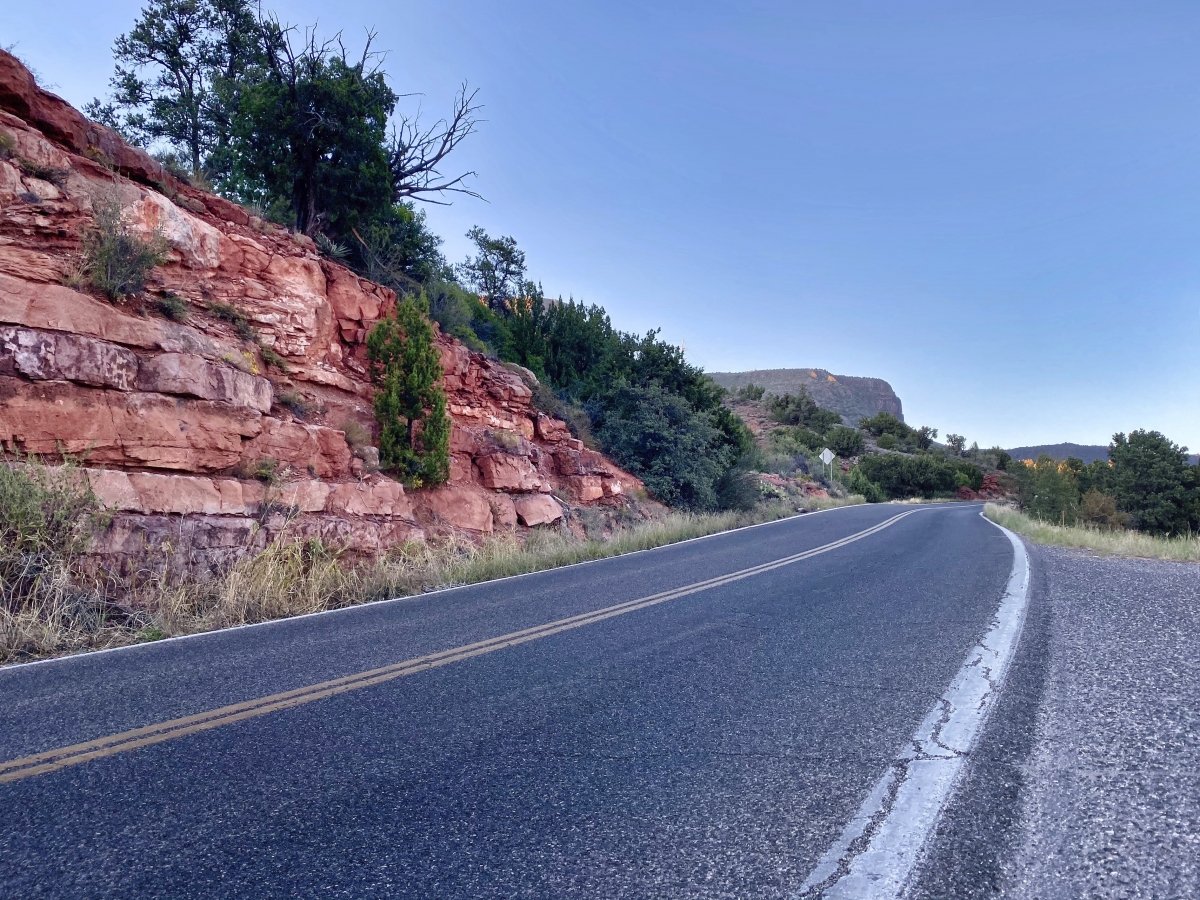 The 15-mile stretch of SR 89A between Sedona and Oak Creek Vista parallels Oak Creek and is the most scenic segment of the 24 mile drive to I-17 and Flagstaff.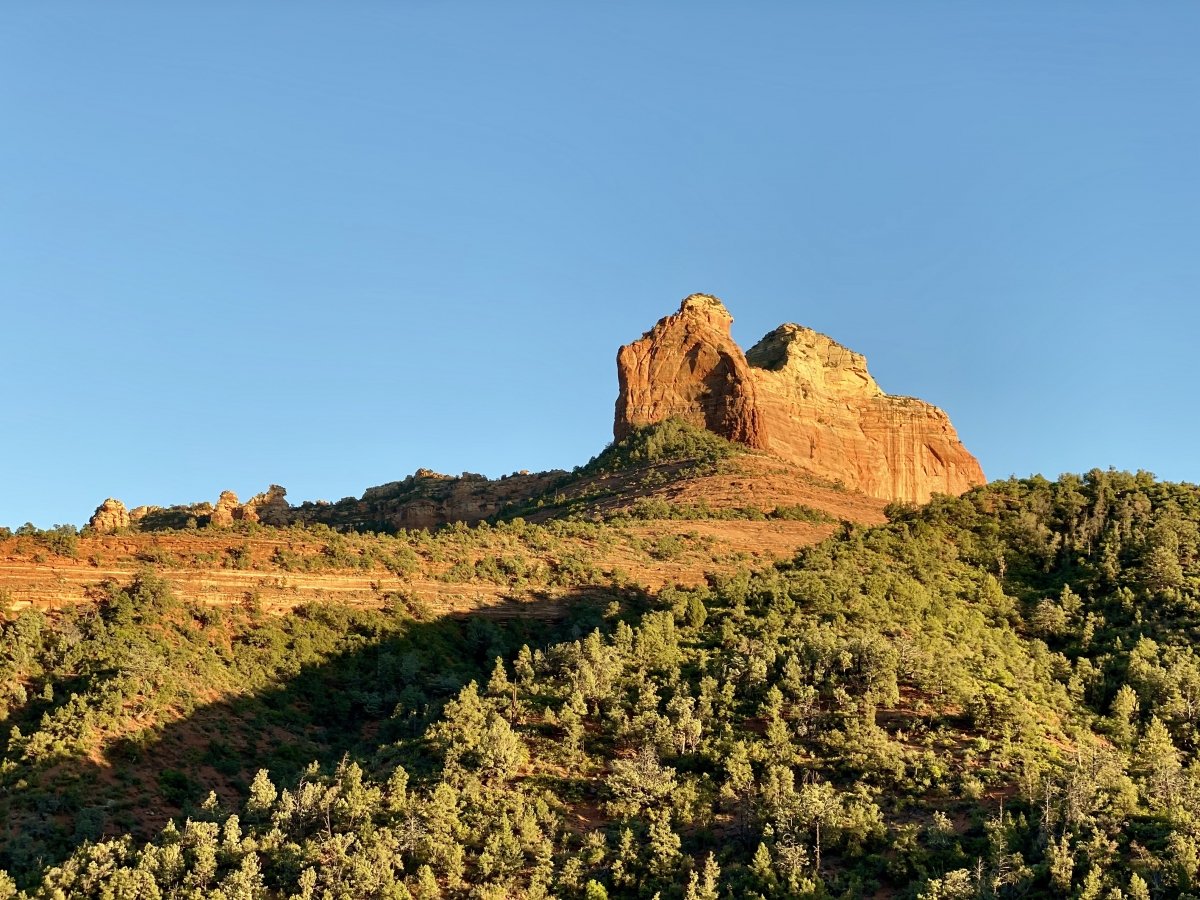 The best way to learn all the amazing stops along the Oak Creek Canyon Scenic Road is to download the appropriate Red Rock Country Recreation Maps.
Although the canyon attracts the attention, the creek is the force that makes it all happen. Perennial streams like Oak Creek are rare in the high desert of Northern Arizona. So if you have a day to spend along this route, find the pullovers and trails that lead to the creek, and you will find the most beautiful locations.
We drove this road twice, the first time continuing our northern trek toward Flagstaff, and again later in the week on a southbound route to Cottonwood. Even so, there was no way we could explore every pullover, vista, or trail.
But we did hit some of the highlights, and for the sake of continuity, we will order them here as on a northbound drive from Sedona to Flagstaff.
Midgley Bridge
---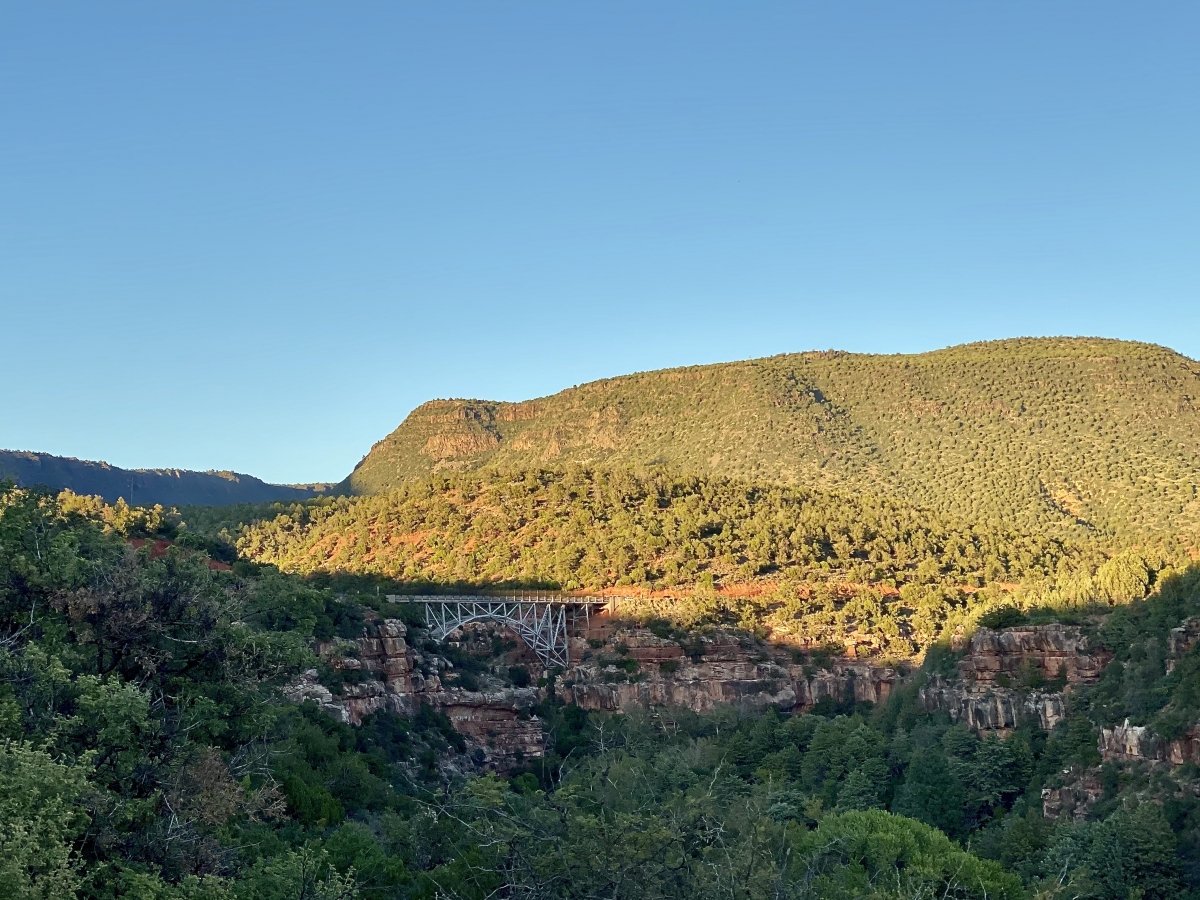 Red rocks dominate the 27-mile landscape along Oak Creek Canyon between Sedona and Flagstaff, but other formations and forests become increasingly more prominent.
Driving northbound you will glimpse Midgley Bridge before you cross it. Completed in 1938, the steel arch bridge is a marker for a picnic area, restrooms, parking, and several trailheads.
Pine Flat Campground
---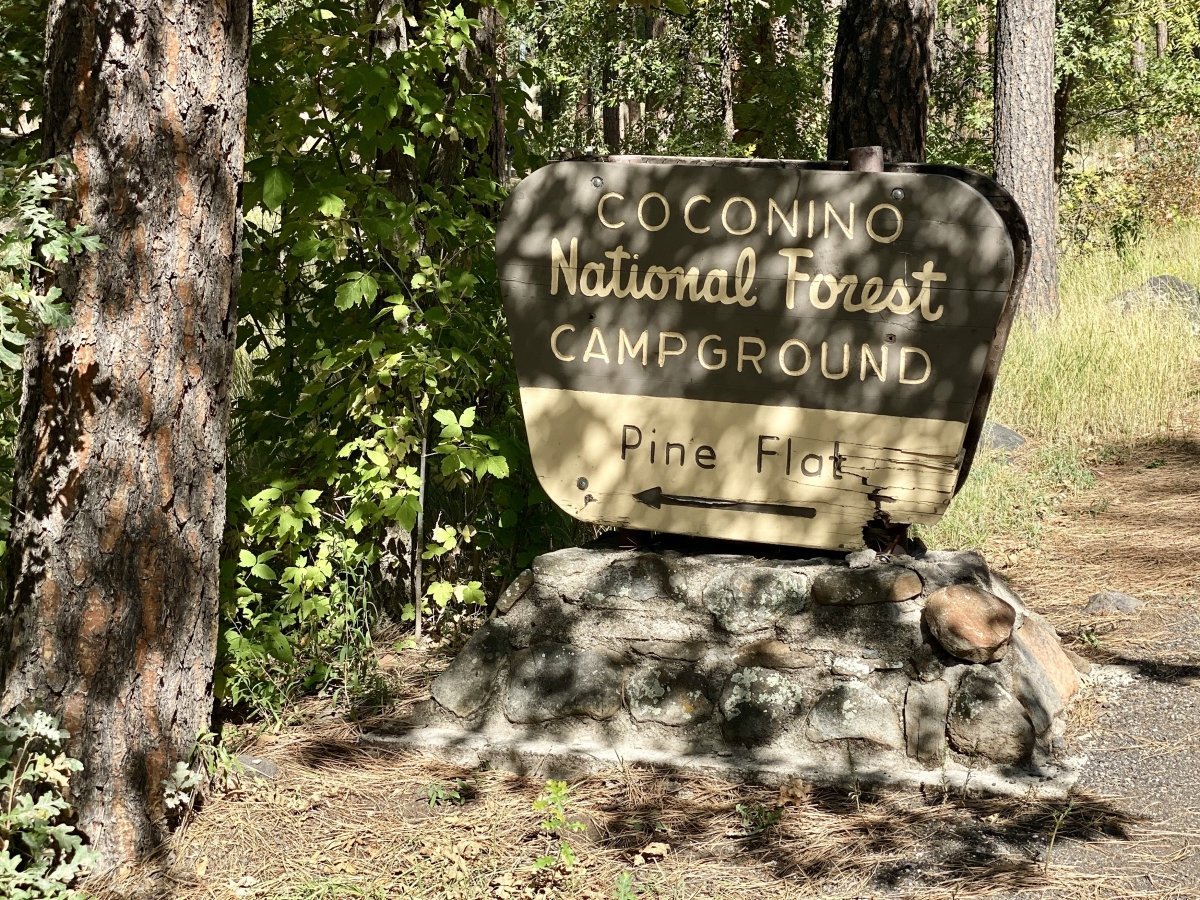 Pine Flat Campground is perhaps the most popular Forestry Service campground located along the Oak Creek Canyon scenic road.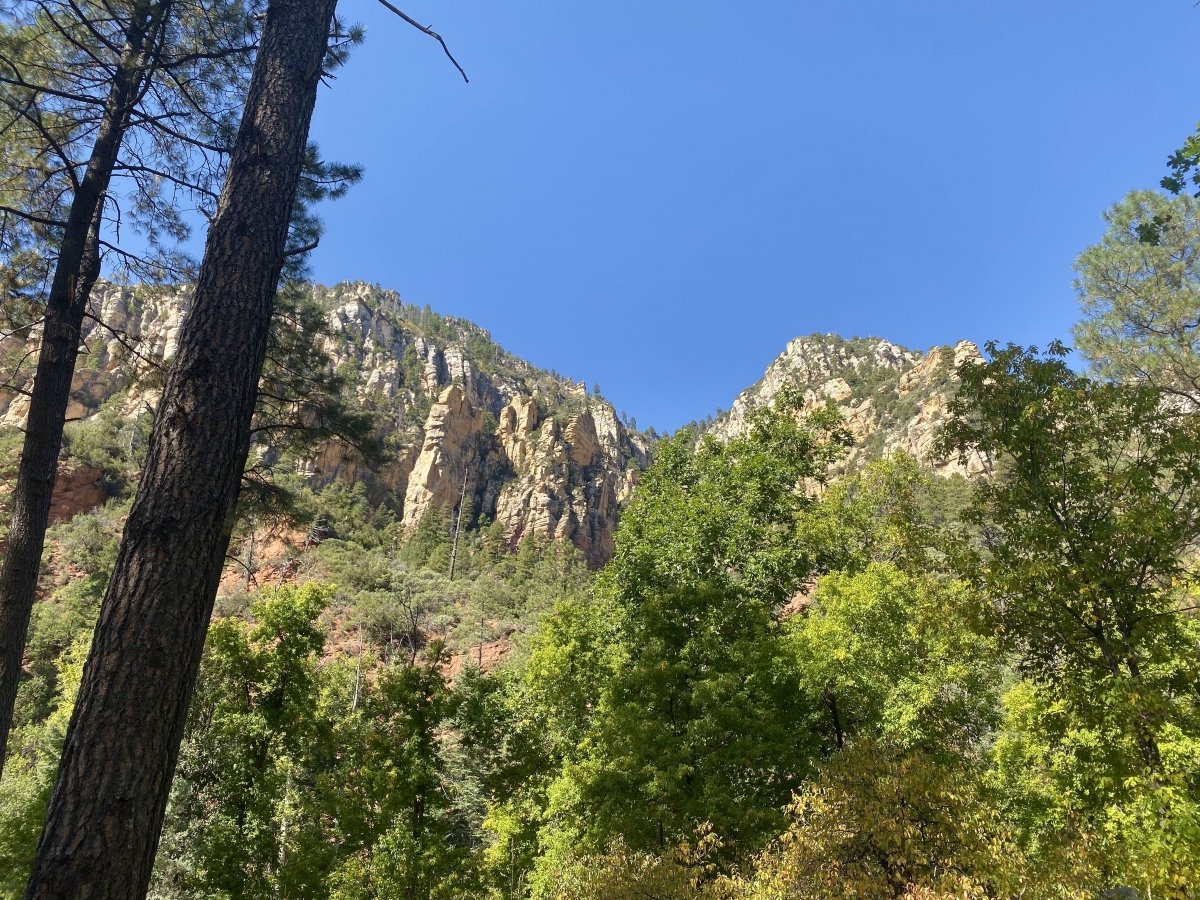 Situated on a strip of land between the road and Oak Creek, this developed campground features not only a stunning backdrop in a shady grove of ponderosa pines, but also creekside campsites, trout fishing, swimming, and hiking.
You can find links to campground information on the Forestry Service Oak Creek Canyon webpage. However, I found the map and cumulative listing of trails, visitor centers, day use sites, heritage sites, and campgrounds on pages 6 and 7 of the Red Rock Recreational Guide much easier to navigate.
Slide Rock State Park
---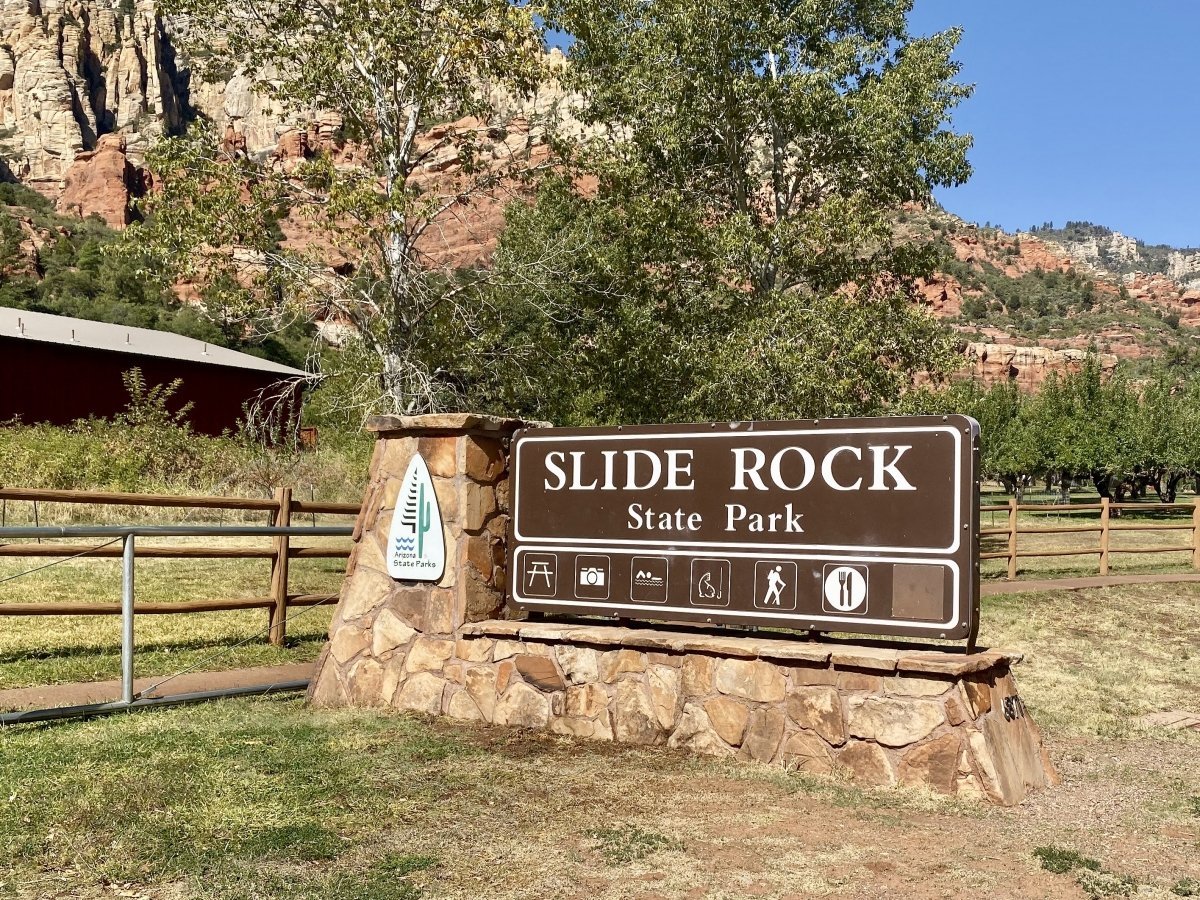 Offering recreational activities for virtually every persuasion, Slide Rock State Park is undoubtedly the star attraction along Oak Creek Canyon Scenic Road.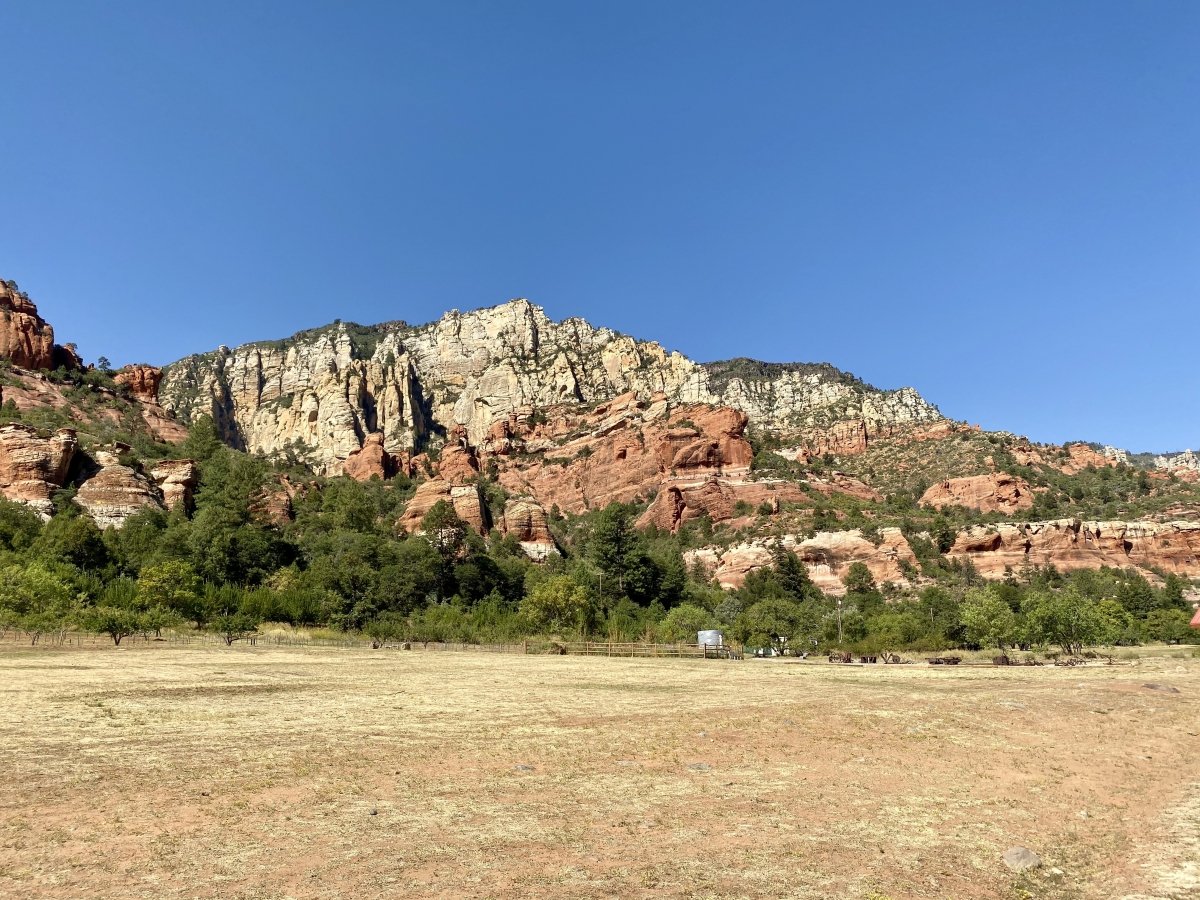 This 43-acre strip of paradise was privately owned until the mid-1980s when it was purchased by Arizona State Parks.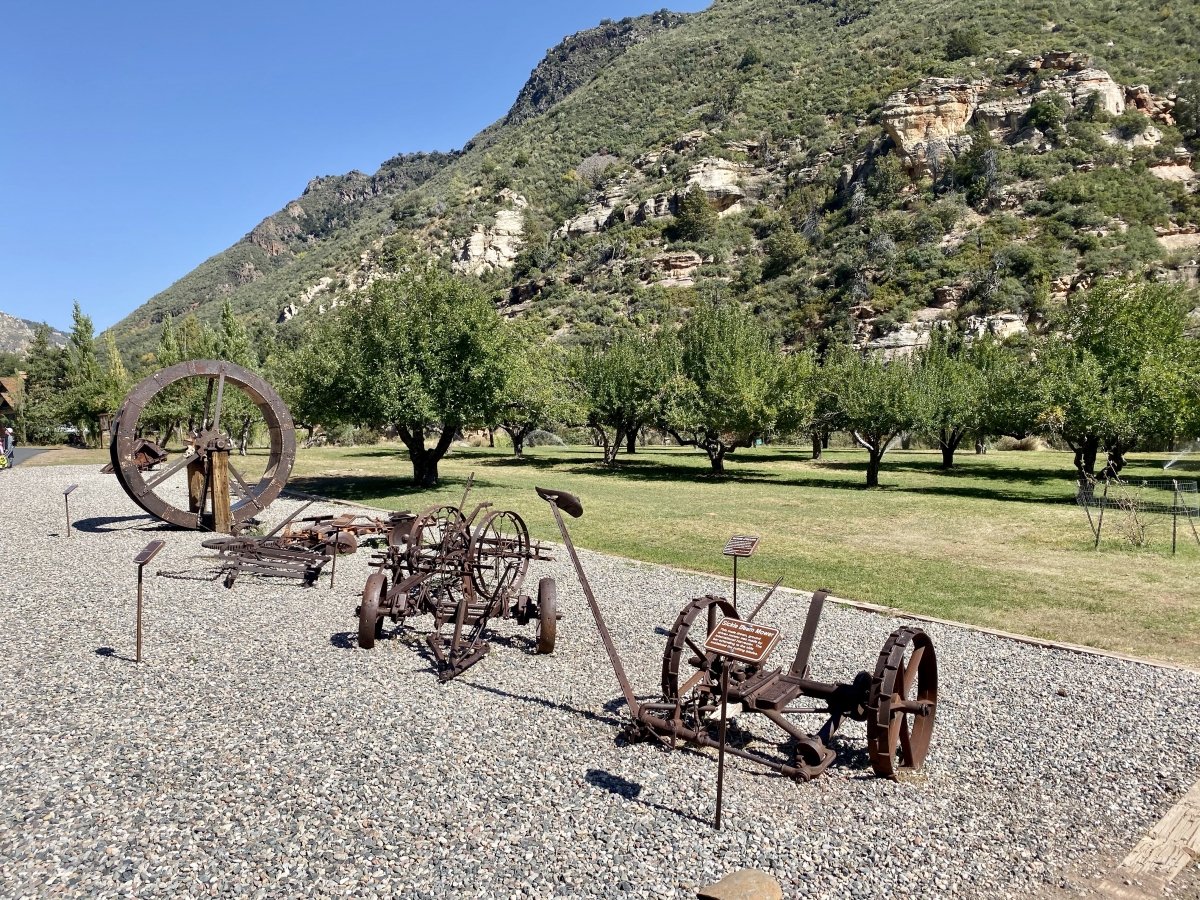 Frank L. Pendley discovered this undeveloped acreage in 1907, and acquired it in 1910 under the Homestead Act. To "prove up" his land within the required five-year window, Pendley developed a unique irrigation system and planted an apple orchard in 1912.
Who knew apples could grow in the high desert?
The Pendley family farmed the land for 70 years, and production from more than 300 apple trees continues to this day, thanks to the ongoing efforts of dedicated park rangers.
The Slide Rock Apple Festival rolls around each September.
The park's rich history is evident not only in the apple orchards and antique farming implements, but also in the Pendley homestead house (1927), the apple packing shed (1932), and two vintage tourist cabins (1933).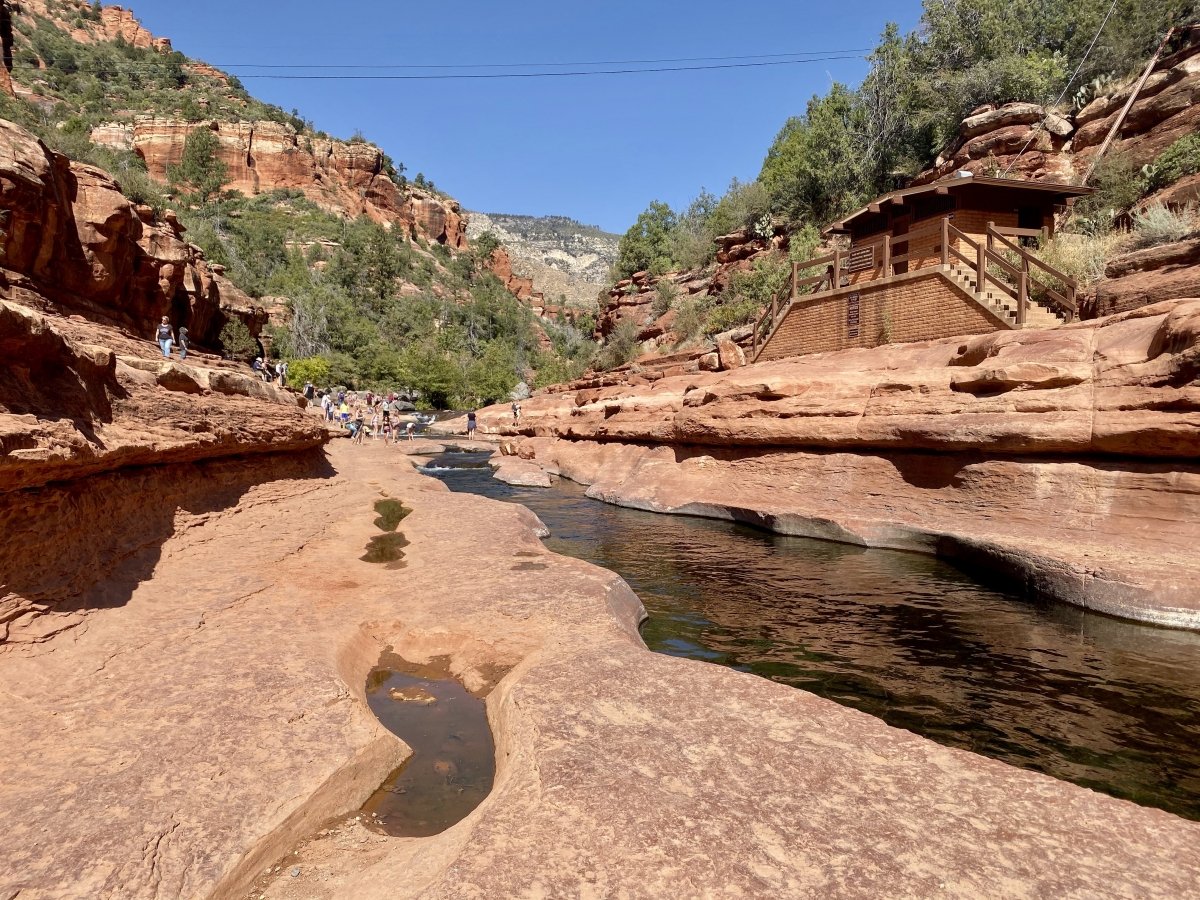 History is great, but the park's natural water feature is its greatest draw. Named to the Travel Channel's list of "10 Top Swimming Holes in the United States," a spectacular 80-foot long slippery sandstone chute gives the park its name.
We toured the park on a warm day in early October, and visiting water enthusiasts were completely undeterred by the chilly current.
Jerry and I are huge fans of natural water slides in North Georgia and North Carolina, and we were disappointed our schedule did not allow time to give it a go at Slide Rock.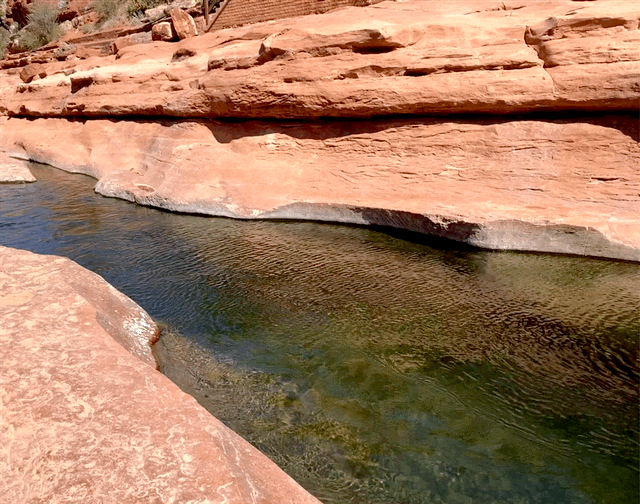 The crystal clear waters of Oak Creek also provide an ideal spot for cliff-jumping.
Oak Creek flows along the east side of SR 89A between Sedona and Slide Rock State Park. At that point the creek flows under a bridge and flows along the west side of the road between the Pumpwash Bridge and the canyon below Oak Creek Vista.
Slide Rock State Park is open year round with varying hours and fee schedules.
Oak Creek Vista
---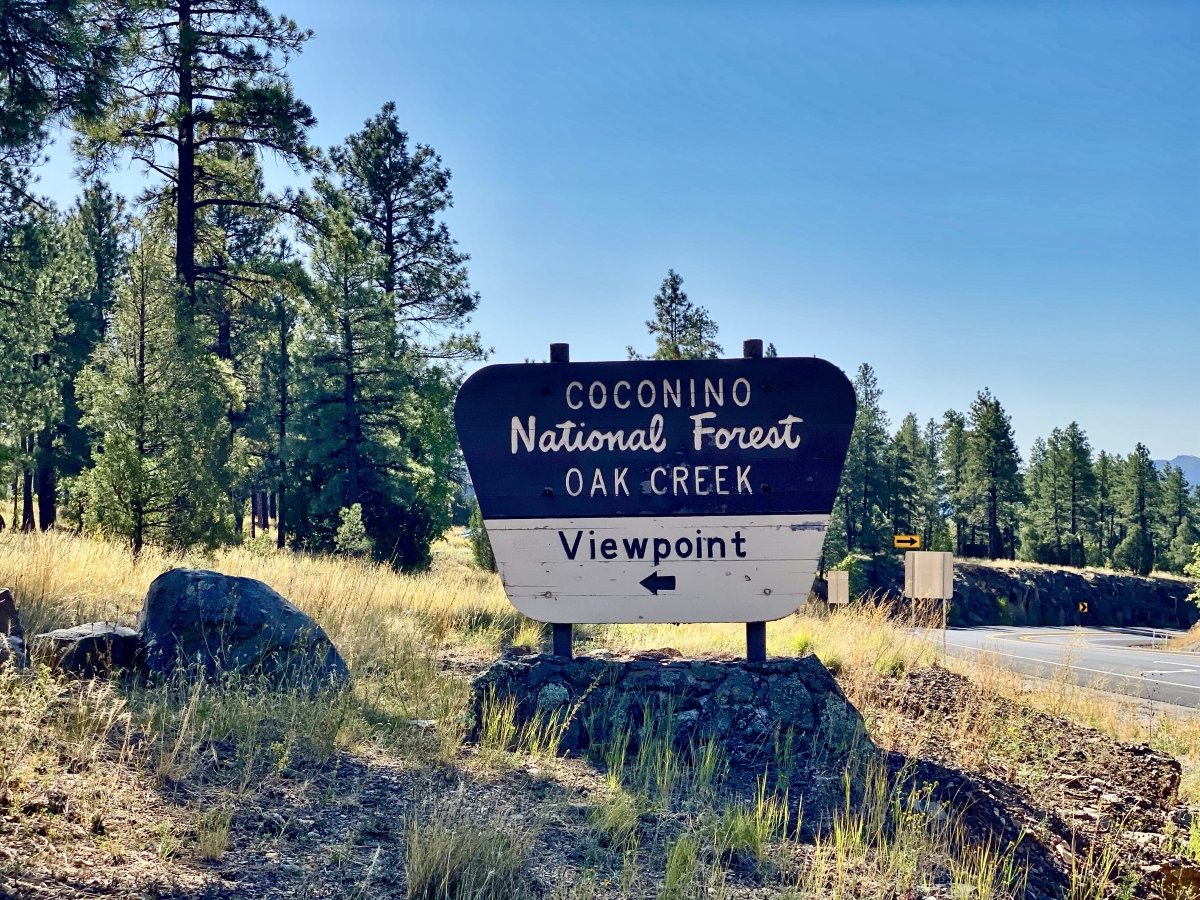 Oak Creek Vista, located near the midway point between Sedona and Flagstaff is the best developed and most popular Forestry Service overlook on the route.
At this location, the narrow gorge carved by Oak Creek and the highway diverge on a northbound route.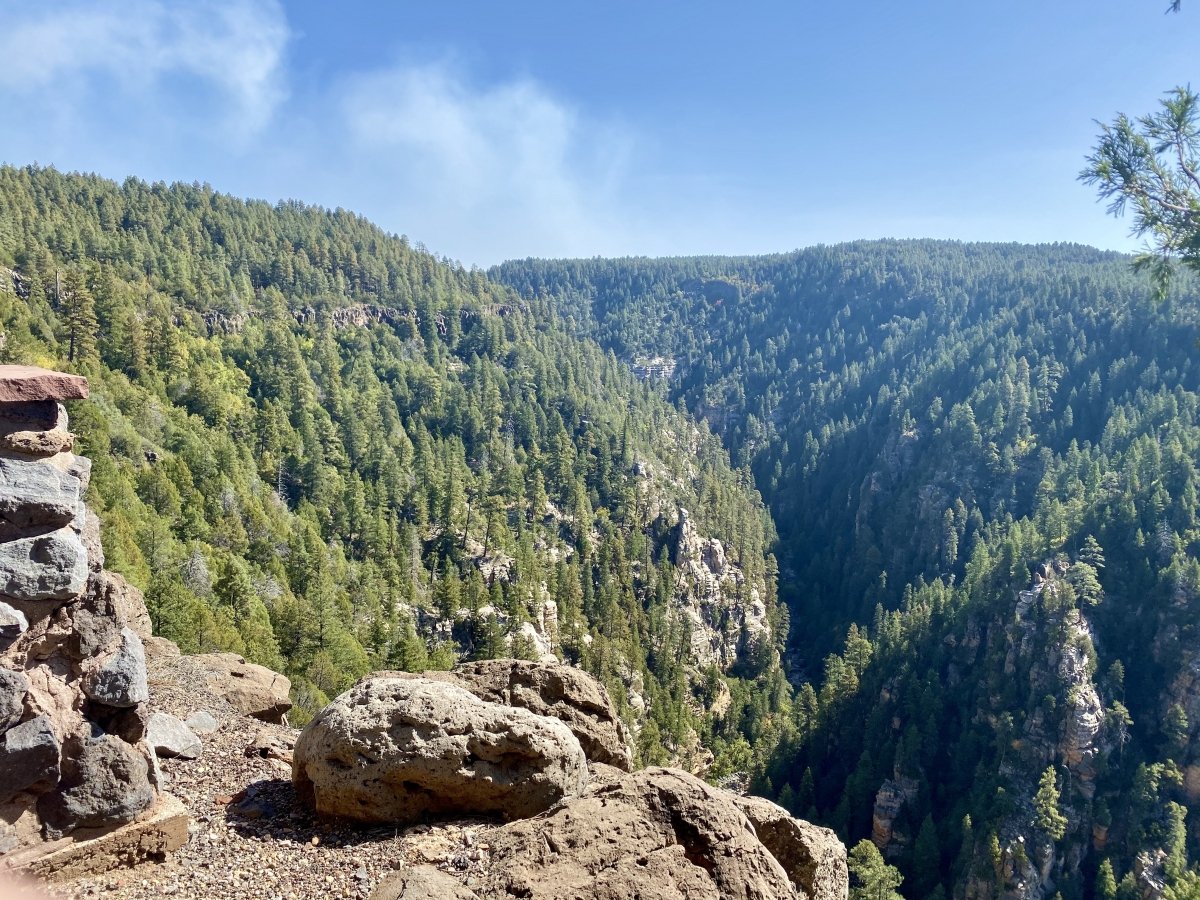 Oak Creek is invisible and inaccessible from this lofty perspective, but its power through the ages is evident in the canyon below.
One of the most breathtaking views at Oak Creek Vista is a series of switchbacks on SR 89A. Compare the map on the left to the real thing on the right.
Oak Creek Vista is also a great place to buy Native American jewelry and crafts from local vendors. The human services agency Native Americans for Community Action (NACA) partners with the Forestry Service to guarantee that only high-quality, authentic items are sold at the outdoor artisan market.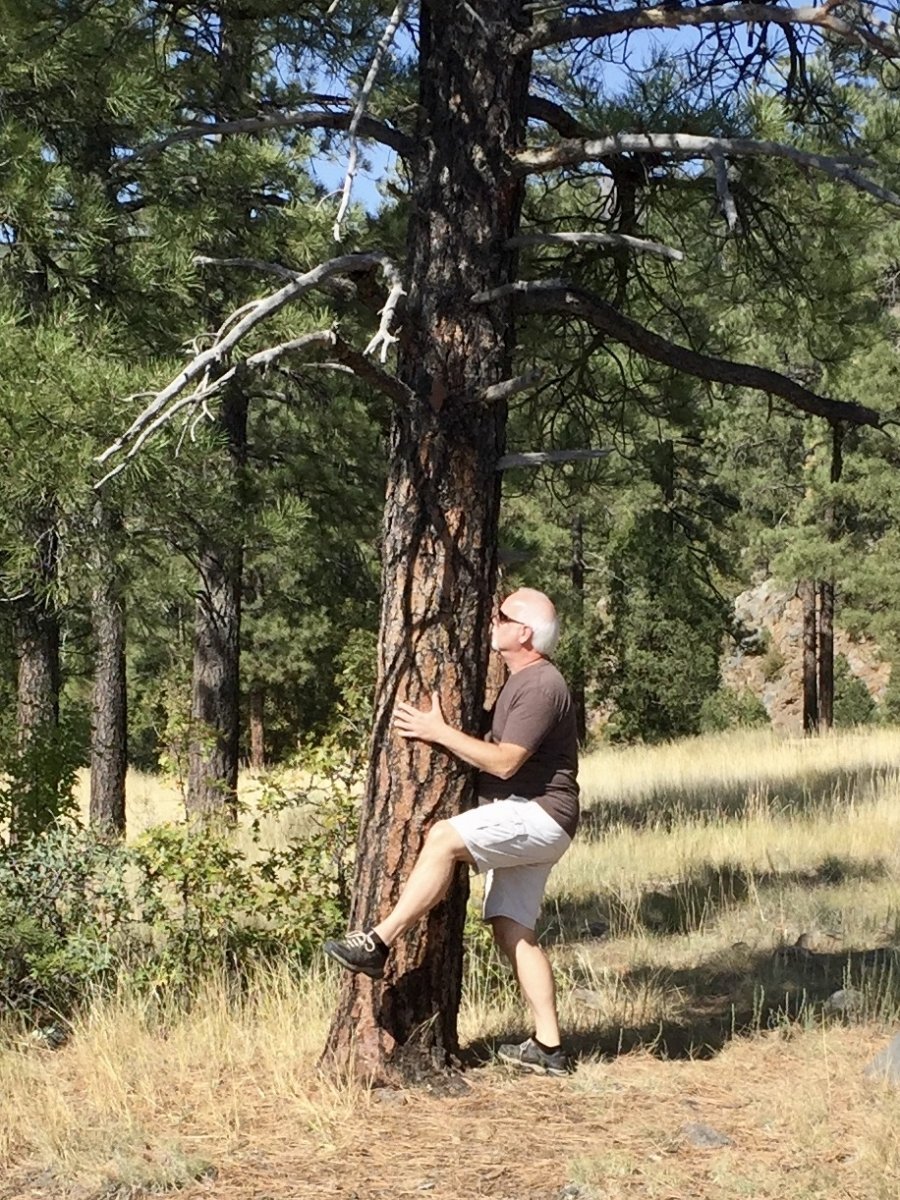 After exploring the views at Oak Creek Vista, this tree-hugger wandered off the trail to sniff the bark of a ponderosa pine.
If you have never inhaled the delicious butterscotch fragrance, I highly recommend it. You will not be the only tree-sniffer on the trail.
---
Pink Adventure Tours
---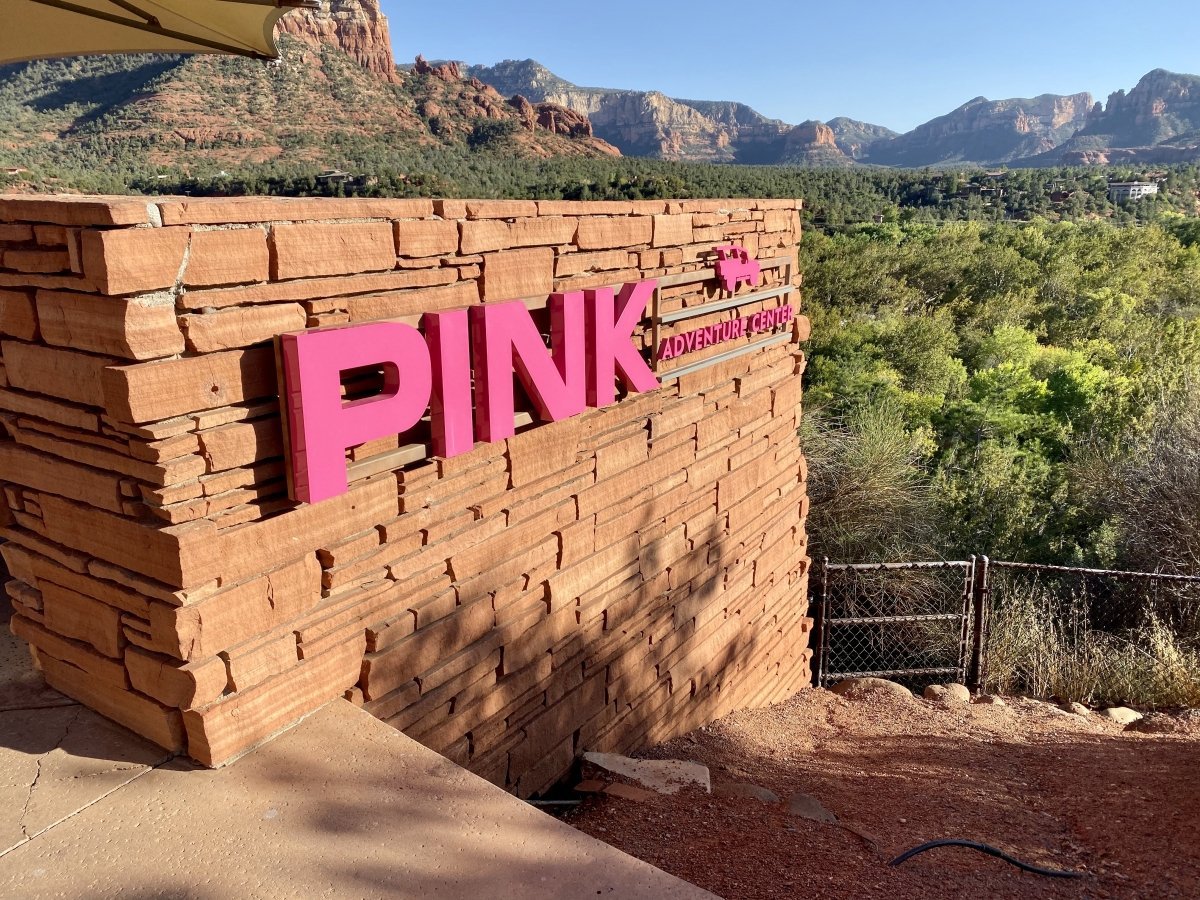 One of the best ways to enjoy Sedona scenic drives is to let someone else do the driving.
Pink Adventure Tours is a Sedona institution. In operation since 1960, the company has offered the best in daily excursions, off-road adventures, and guided scenic drives.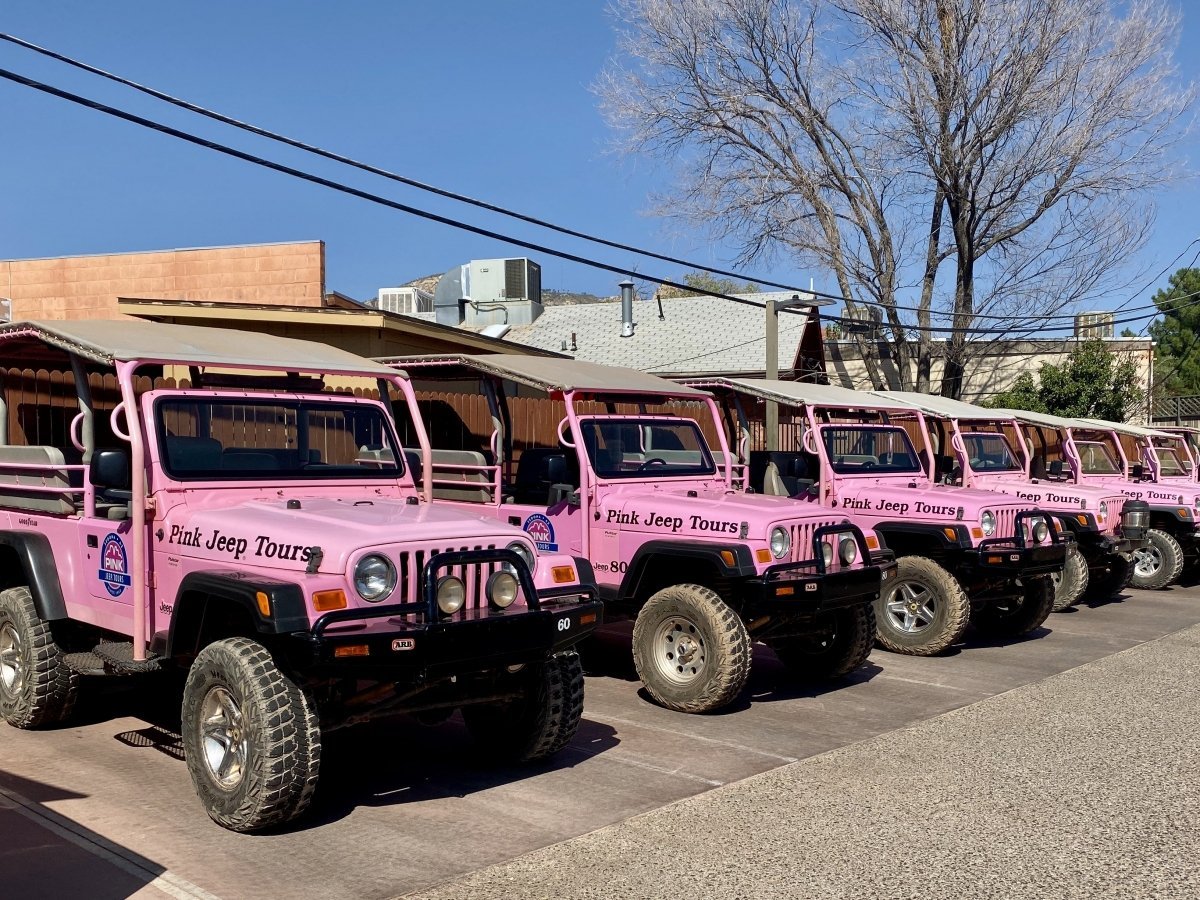 A fleet of signature pink Jeeps and other customized state-of-the-art vehicles are designed for guest comfort and safety.
Pink expert drivers are NAI-certified interpretive guides, storytellers, and trained in emergency medical response.
Our adventure guide, Laura, was a bundle of energy and personality who kept us well-engaged throughout our tour.
PInk Adventure Tours feature 15+ basic packages ranging from 1.5-hour tours to 11-hour day trips with varying terrain types on paved roads, dirt roads, and rugged off-road trails.
We took the 3-hour Ancient Ruins guided tour to the Honanki Heritage Site.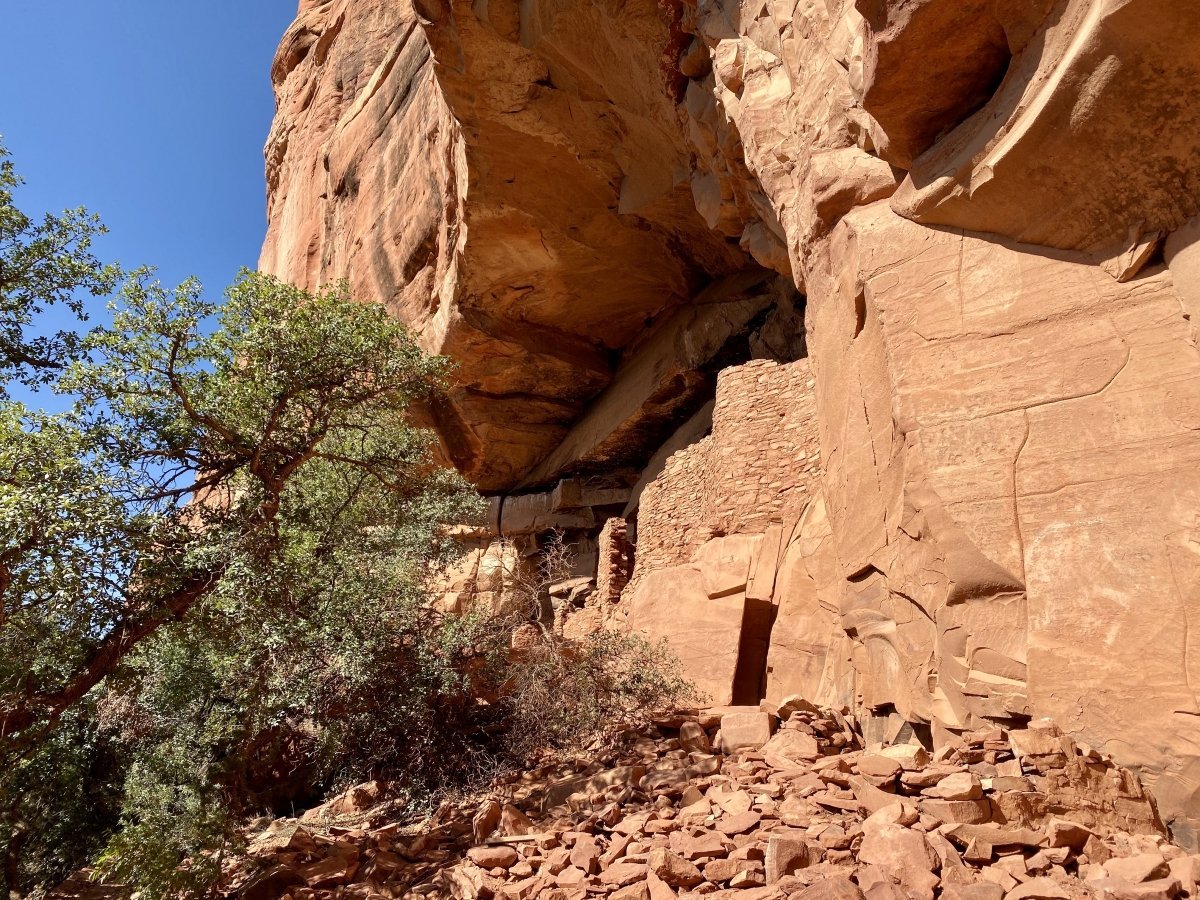 The 700-year old cliff dwellings at Honanki were home to the Sinagua people.
During our Northern Arizona road trip we also toured archaeological sites for other ancient civilizations at Montezuma Castle National Monument, Wupatki National Monument, Walnut Canyon National Monument, Homolavi State Park, and Tuzigoot National Monument.
Having survived for centuries, dozens of pictographs and petroglyphs adorn the red rock cliff walls at Honanki.
These prehistoric images, like those at Puerco Pueblo and Newspaper Rock in Petrified Forest National Park, open a window into the lives and work of Arizona's early inhabitants.
Lovers of history, scenic beauty, relaxing drives, and rocky off-road experiences will all find a guided excursion to love with Pink Adventure Tours.
---
Book Lodging for Your Sedona Scenic Drive
---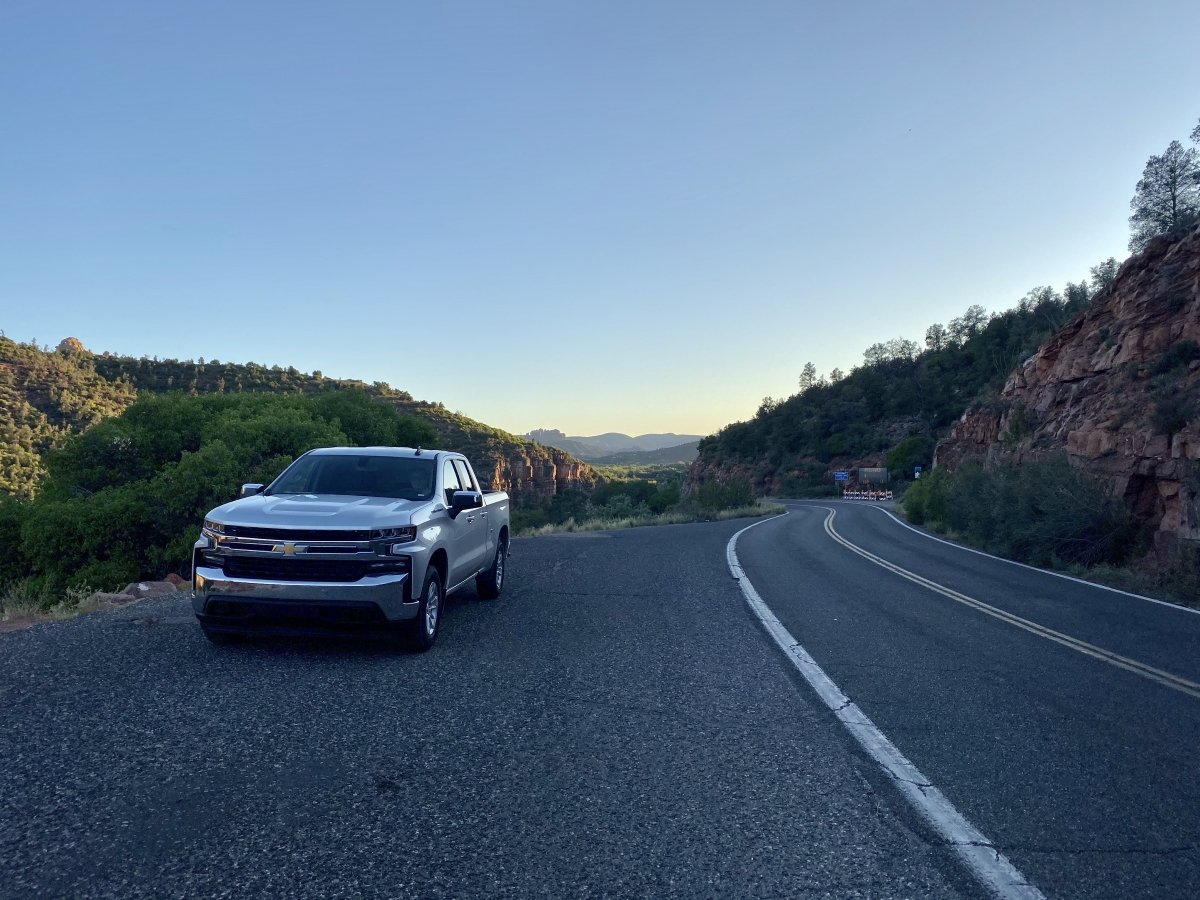 Arizona highways are legendary, and you do not want to miss Sedona scenic drives along the Red Rock Scenic Byway, Oak Creek Canyon Scenic Road, or the many itineraries available at Pink Adventure Tours.
You will need lodging while visiting Sedona, and TripAdvisor offers accommodations for every taste and budget.
Click here to view Sedona lodging options and book your stay with our partners at TripAdvisor! 
---
Movies Shot on Location in Sedona
---
I am always intrigued to learn about movie locations during my travels, and Sedona is no exception. From classic westerns to contemporary comedies, scenes from scores of movies have been shot on location in and around Sedona. Here are just a few . . . .
---
Map It!
---
---
Design Your Own Arizona Road Trip
---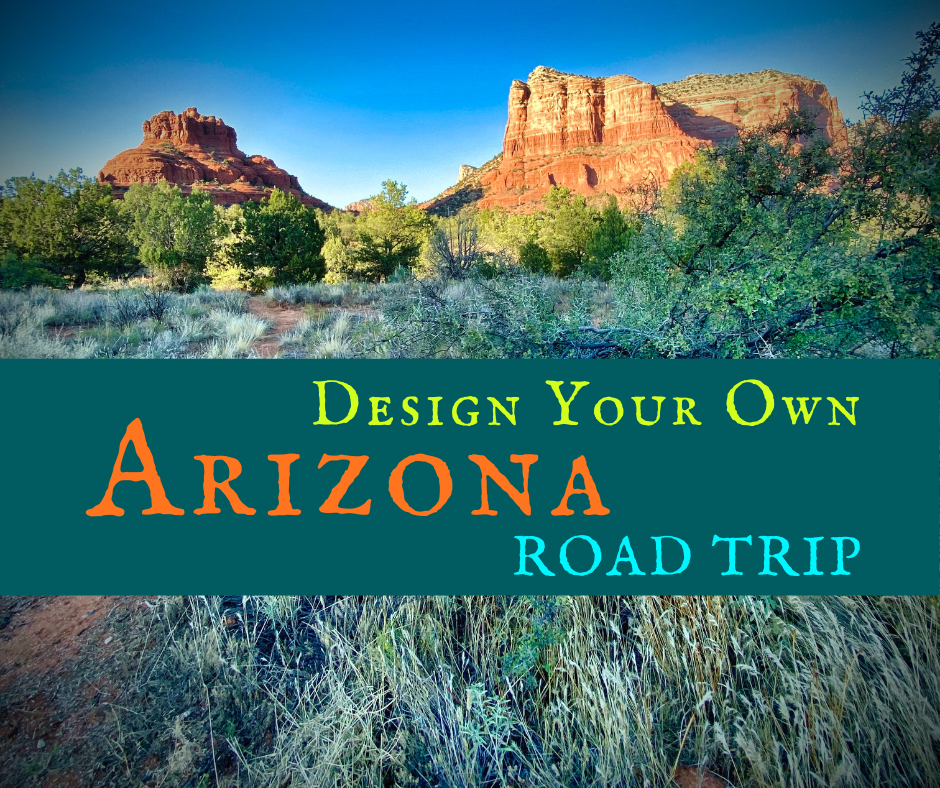 For more Arizona destination information and road trip planning resources, navigate to our Design Your Own Arizona Road Trip round-up post, or use the links below for direct access to additional stories and guides:
Things to Do on a Drive from Phoenix to Flagstaff, Arizona
Take the Train to Grand Canyon National Park: An Insider's Guide
3 Magnificent Flagstaff National Monuments
Tour Flagstaff Attractions On Your Own
Drive the Painted Desert & Petrified Forest National Park
Tons of Fun Things to Do in Winslow, Arizona
Ride Arizona's Verde Canyon Railroad
7+ Amazing Attractions in Verde Valley AZ
Explore the Geological and Cultural Diversity of Southeast Arizona
---
Happy Trails! An Arizona Road Trip 
---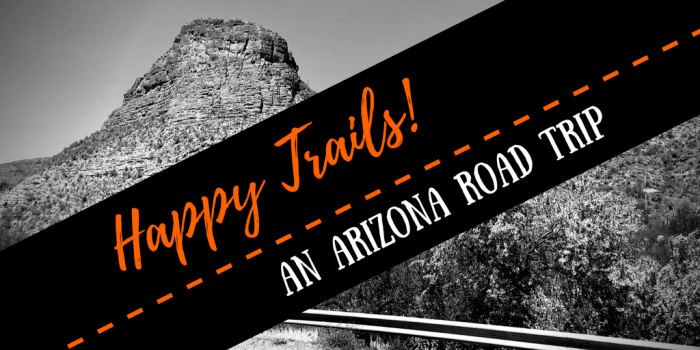 Be sure to check out Happy Trails! An Arizona Road Trip for a loop itinerary through central and eastern regions of the state. To access specific segments of the route, navigate directly using the links below:
---
We Would Love to Hear From You
---
We enjoy dialogue with our readers, especially when they share off-the-beaten-path destinations and useful travel tips. Have you ever experienced Sedona scenic drives? If so, we would love to hear about your experience. We invite you to leave your comments and questions below, and we always respond!
---
Pin this Post!
---