(a

17

minute read)
---
A Franklin North Carolina, Smoky Mountain adventure takes us over the Little Tennessee River Greenway, along the Mountain Waters Byway, and up Pickens Nose!
---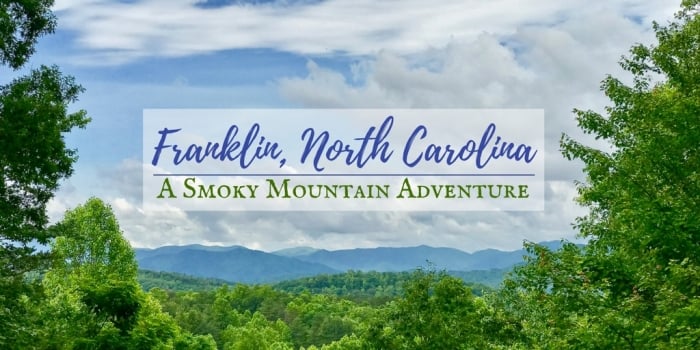 I was a guest of Visit North Carolina and Discover Franklin, but all thoughts and opinions are my own.
In a previous post, Mountain Memories: A Return to Franklin North Carolina, I reflected on boyhood summers spent at my grandfather's cabin, as captured through the lens of his Brownie box camera. I also planned a bulleted itinerary for a return to the Vacationland of my youth.
The weekend that article published, Jerry and I loaded up the Mountaineer and headed for the hills. True to our backroad philosophy, we skipped the interstates and drove U.S. 441 through Georgia all the way to Franklin city limits. We would spend two days and three nights exploring Franklin proper, with scenic drives into the Smoky Mountains to hike trails, climb mountains, and chase waterfalls to our hearts' content.
After all, Franklin was named the Top Small Adventure Town by Blue Ridge Outdoors Magazine two years in a row (2015 and 2016). This was going to be good!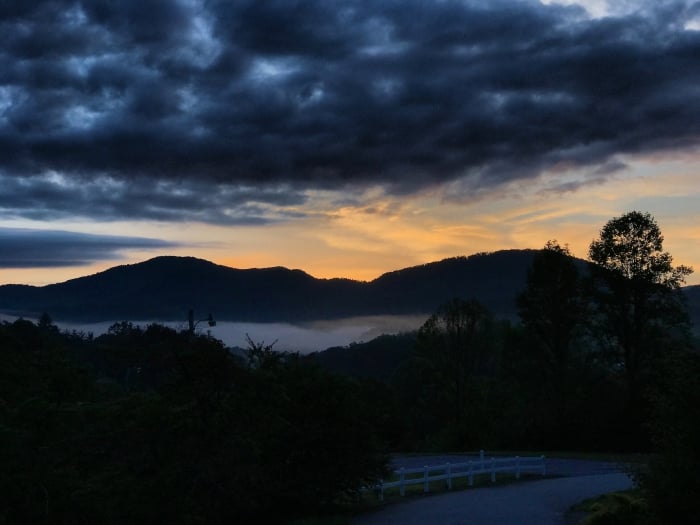 We awoke the first morning to a stunning mountain sunrise. It was the perfect beginning to our Franklin North Carolina, Smoky Mountain adventure.
---
Downtown Franklin
---
Franklin North Carolina, is a small town with a deep heritage. Long before Scottish immigrants moved into the area, it was an ancient center for the Cherokee nation. Downtown Franklin looks much like it did when I first visited there as a boy in the late 1960s, but major chain hotels, stores, and restaurants have come to the outskirts of town, allowing residents and visitors to enjoy the best of both worlds.
We decided to begin our return to Franklin by walking the downtown area. Later, we took a drive to other locations around town. Following are a few key sites from our self-guided tour.
Macon County Historical Museum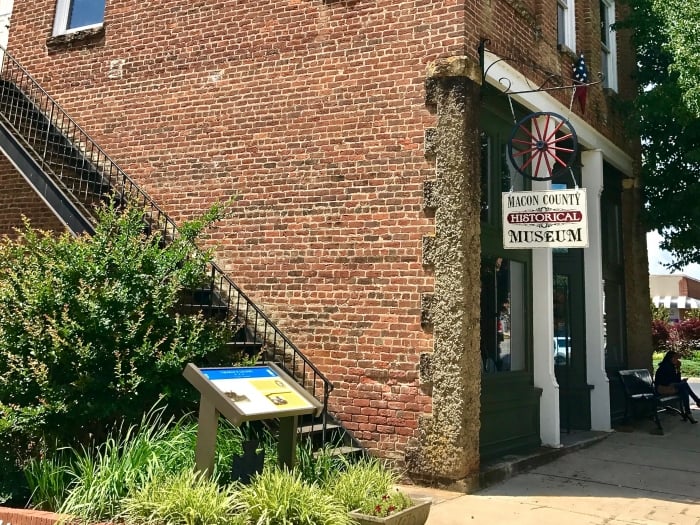 The Macon County Historical Museum is a great starting point for visitors who wish to learn about Franklin's origins before they explore the rest of the town.
The museum houses a collection of local Native American artifacts, including arrowheads, jewelry, and an 1860 Cherokee Bible. Other exhibits include memorabilia from Franklin's pioneer days and the Civil War.
Ruby City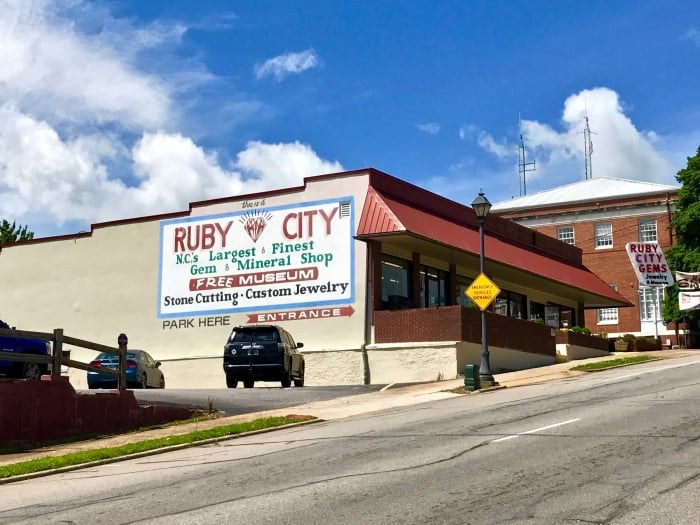 Franklin is the seat of Macon County, a region rich in gemstones including rubies, sapphires, and garnets.  This mineral wealth has earned Franklin the title "Gem Capital of the World." Ruby City, a Franklin fixture since 1958, has moved a few of blocks up the street from the location I remember as a child, but inside little has changed.
In addition to its fine jewelry and design services, Ruby City offers a wide range of gemstones and tools for collectors and hobbyists, as well as a free museum of unique semi-precious stones and ancient artifacts.
Gem & Mineral Museum and Old Jail
The Franklin Gem & Mineral Museum, located in the 1850 Macon County Jail building, houses one of the largest gem collections in the Southeast. Visitors can enjoy free admission to tour eight rooms filled with gemstones, fossils, and historical treasures.
Franklin has many gem mining locations on the outskirts of town for rockhounds who want to give it a try.
Scottish Tartans Museum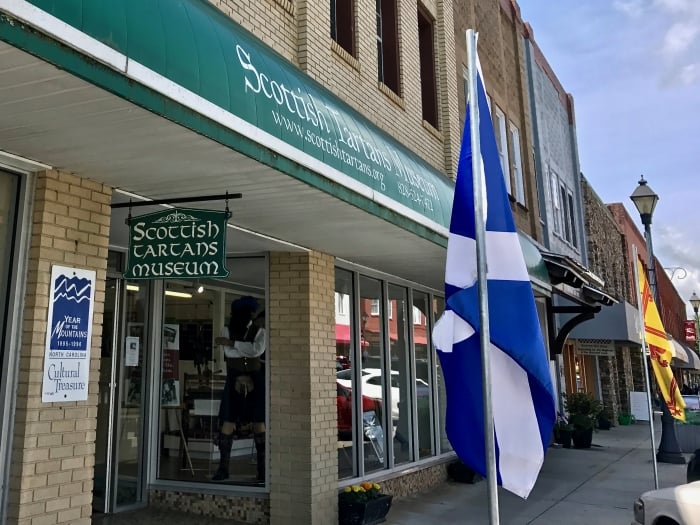 Franklin's Celtic heritage is celebrated at the Scottish Tartans Museum on Main Street. Museum exhibits tell the history of tartans and kilts, and cover the history of Scottish emigrants to North Carolina. Museum staff are available to assist individuals with discovering their Scottish surnames, clans, and other connections.
Pocket Parks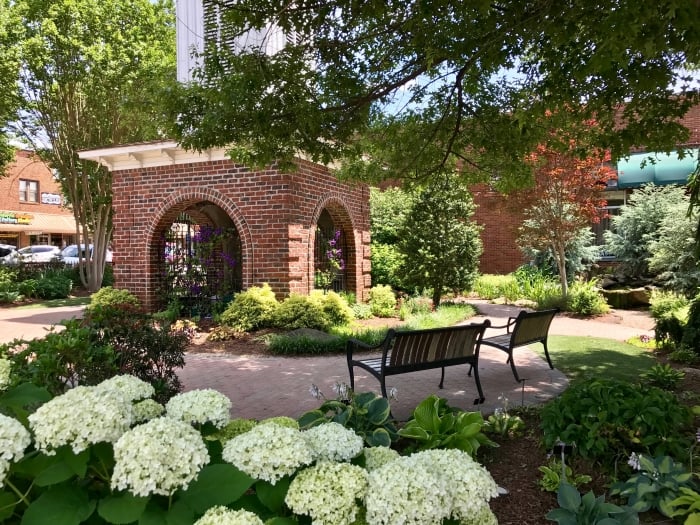 Franklin's beautification along Main Street includes three lovely landscaped pocket parks, one of which honors the town's war veterans.
Cherokee Nikwasi Mound
There is no disguising the Cherokee Nikwasi Mound located on East Main Street near the Little Tennessee River. A council house holding sacred fire originally sat atop the mound that was the center of the Cherokee town of Nikwasi. In 1946, Macon County schoolchildren saved pennies to purchase the land and spare it from development.
Smoky Mountain Center for the Performing Arts
One of Franklin's newest facilities is the 1,500-seat state of the art Smoky Mountain Center for the Performing Arts. The venue features concerts by national artists, Broadway plays, feature movies, and entertainment events by regional artists.
---
Little Tennessee River Greenway and Riverwalk
---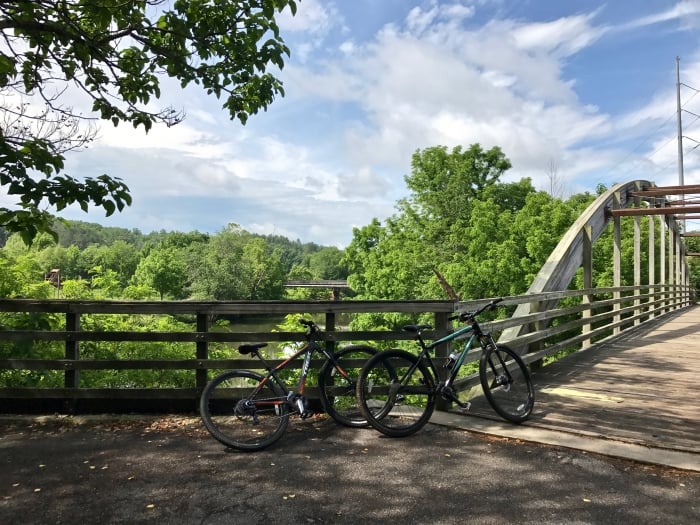 While in downtown, Jerry and I visited Smoky Mountain Bicycles to pick up a couple of rental bikes to ride Franklin's Little Tennessee River Greenway and Riverwalk. This five-mile series of themed trails through town owes its completion to a collaboration between several benevolent private and public agencies.
Bicyclists and walkers can join the trail at several key locations along the route for a peaceful ride or stroll through repurposed stretches, including a "rails to trails" section that formerly served the Tallulah Falls Railroad.
The greenway path is especially suited for lovers of wildlife and wildflowers, with three scenic bridge crossings, parks and picnic pavilions, a disc golf course, canoe and kayak landings, exercise stations, and even a gourmet coffee bar. The trail also connects to a 3-mile mountain bike trail.
If I lived in Franklin North Carolina, I think I would live on the Greenway!
---
Macon County Backroads
---
It has been said that location is everything. In Franklin's case that cliché holds true. Not only is Franklin a destination in its own right, but it is also a gateway to the Smoky Mountains of Western North Carolina.
Keeping that in mind, we planned a couple of day trips to extend our adventure beyond the city limits.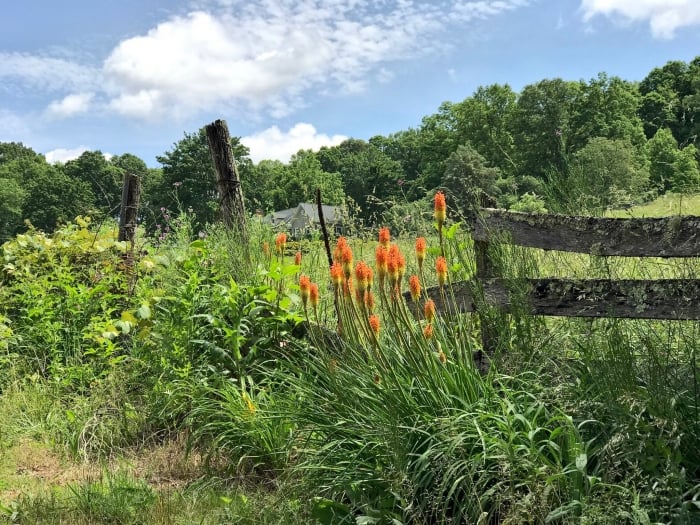 As evidenced in our photo galleries, these scenic drives through the Macon County countryside were destinations in themselves!
In late spring, rhododendron, mountain laurel, wild roses, dogwood, iris, hydrangea, red hot poker, and countless unknown species were all in bloom.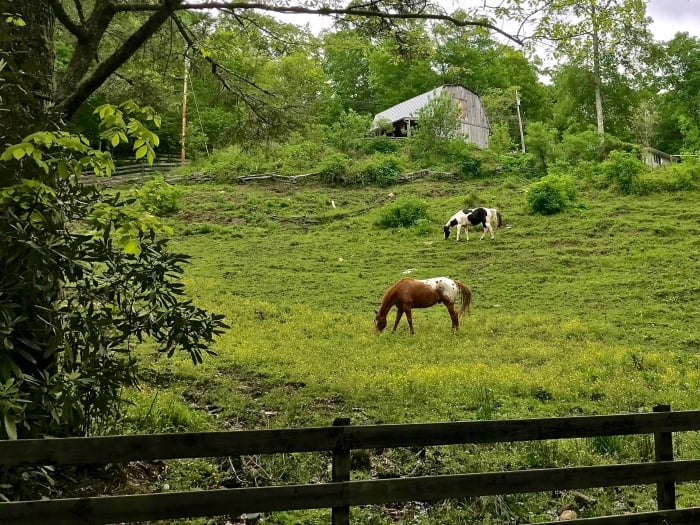 How could anyone tire of mountain landscapes arrayed with ramshackle barns, rustic fences, and horses grazing in pastures of green?
Centrally situated within the Nantahala National Forest, Macon County was made for backroad riders like us!
Day Trip Tip: The best way to prepare for drives through the countryside is to pack a cooler and enjoy spontaneous picnics wherever and whenever the time seems right. Picnic shelters or roadside setups work equally as well.
---
Mountain Waters Scenic Byway
---
The first segment of the Mountain Waters Scenic Byway between Franklin and Highlands is a not-to-be-missed backroad. We have driven this 18-mile stretch of U.S. 64 through the Cullasaja Gorge more times than we can count, and its beauty never fails to overwhelm in any season. But if I am completely honest, I must admit that on an autumn drive during the third week of October, the waterfalls against the fall foliage are absolutely breathtaking!
Cullasaja Falls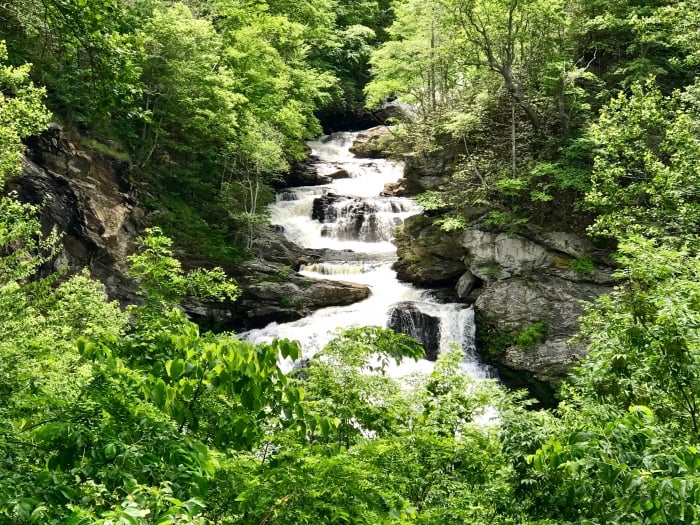 The first major waterfall you will encounter after leaving Franklin on U.S. 64 is Cullasaja Falls. I recommend that drivers clock the 8-mile drive and slowly approach the small pullover on the right-hand side. There is only room for five or six cars to park, and if you pass it, there is no way to turn around.
Because of the lush foliage you will not be able to see all of Cullasaja Falls from the roadside. The only way to see it all is to crawl over the guardrail and climb down the steep embankment. I have only done it once, but it was totally worth it to experience the falls in all of its glory. Note that you will be totally winded by the time you climb back up the mountain wall.
Bust Your Butt Falls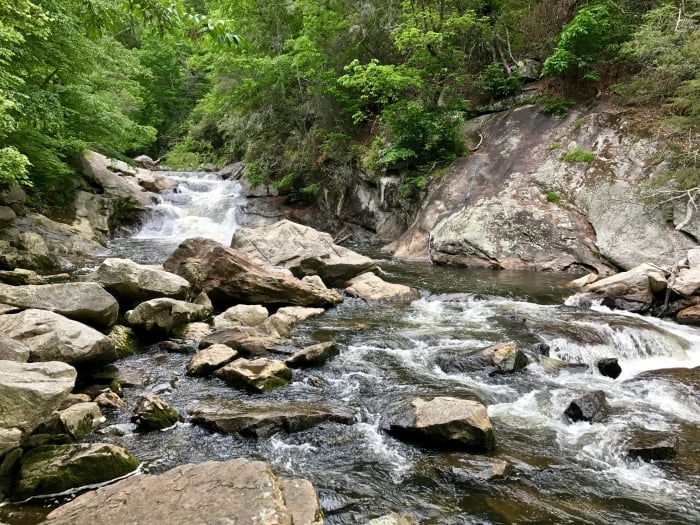 Two miles beyond Cullasaja Falls is the pullover for Bust Your Butt Falls (AKA Quarry Falls), also on the right side of the road. There is plenty of roadside parking on both shoulders at this point and easy access to the falls along the manmade footpath.
Bust Your Butt Falls is also a popular swimming hole with a natural slide and plunge pool. The day we visited the water flow was powerful due to recent rainfall, making the falls great for viewing, but not so safe for swimming.
Cliffside Lake Recreation Area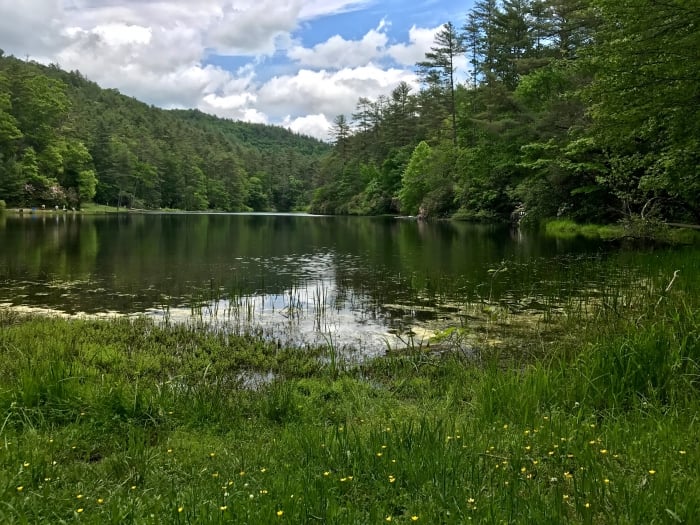 Three miles up the road you will come to the turnoff for Cliffside Lake Recreation Area on the left. This lovely spot is  another location I remember from my boyhood summers.
Cliffside is a picture-perfect place to break for a picnic lunch while driving the Mountain Waters Scenic Byway. For visitors looking to hike, swim, or fish (license required), it could be a day trip destination in its own right.
Dry Falls
Just 1.5 miles past the Cliffside turnoff, you will arrive at Dry Falls. This is the most developed location along the byway, complete with a large parking area, restrooms, overlooks, and steps down to the falls. When the parking lot is full, simply loop back around until a parking spot becomes available.
Dry Falls is named such because visitors can walk a pathway behind the waterfall and not get wet. This is not the case on days when the water flow is heavy. Either way, walking behind the falls is great fun!
Bridal Veil Falls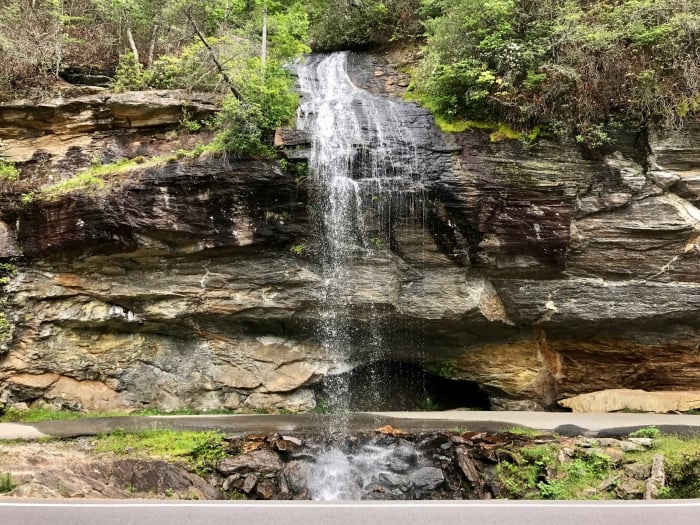 Bridal Veil Falls is less than a mile past Dry Falls on the left. The novelty of this roadside waterfall is that cars can drive behind the falling water along a curved pullover.
Unfortunately, the day we visited the drive-through roadway was closed. There is a parking area, however, and we were able to view the falls at a distance.
Sequoyah Falls
One-half mile past Bridal Veil Falls on the right, is a small pullover area for Sequoyah Falls. This manmade water feature was created when the dam was built to form Sequoyah Lake in 1927. Below Sequoyah Falls are a series of eleven smaller cascades called Kalakaleskies. The hike down the steep, dangerous riverbank to view them is only recommended for experienced hikers.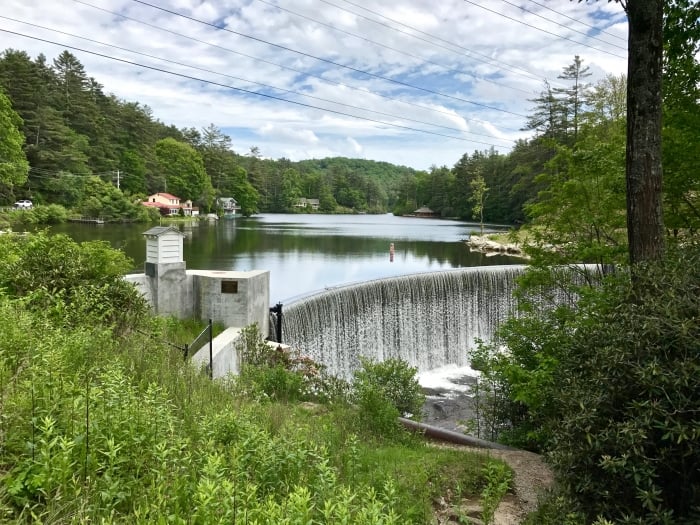 Because Franklin is a central waypoint on the 61-mile Mountain Water Scenic Byway, visitors can also opt to drive the westbound route up through the Nantahala Gorge to the northern terminus at Almond. We did not drive that route on this trip. Instead, we explored a few more backroads in the Highlands area.
Glen Falls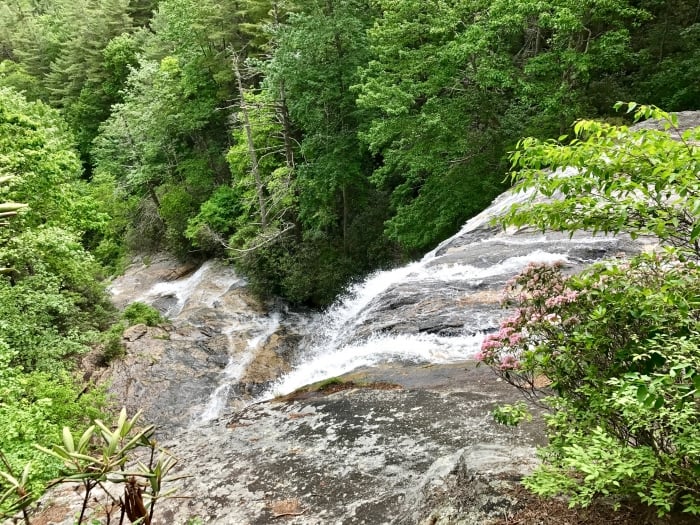 It is a 5-mile drive from Sequoyah Falls to Glen Falls. Just before entering downtown Highlands, take a right on Hwy. 106, and then a left on gravel S.R 1618, which dead-ends at the trailhead. Glen Falls is a series of three waterfalls, and the 2-mile roundtrip hike is downhill headed in and uphill headed out. Visitors may want to hike all the way down and then pause for rest breaks and viewing the falls on the hike back up.
Cashiers Sliding Rock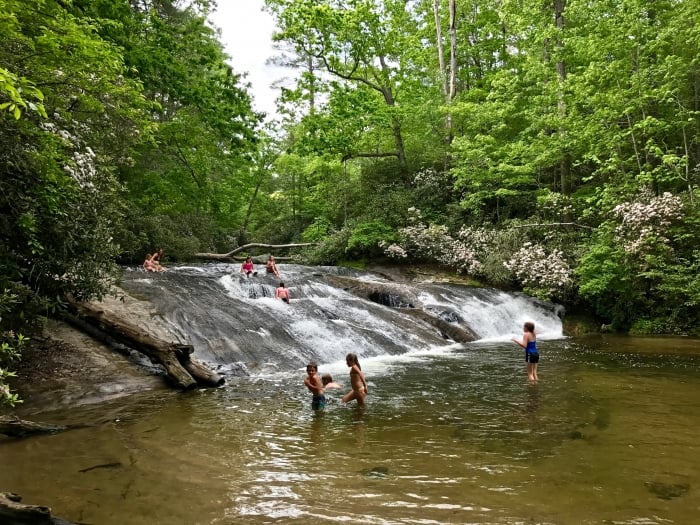 10 miles beyond Highlands on the very winding Whiteside Cove Road you will come upon the roadside parking area for a fun natural water slide and Smoky Mountain swimming hole.
The sliding rock has a couple of potholes to navigate around, unless you prefer to use them as plunge pools like the kids in the video.
This undeveloped recreational area is another great place to picnic and spend a few hours enjoying the refreshing headwaters of the Chattooga National Wild and Scenic River.
And yes, it is the same river system from the movie Deliverance, shot on location beyond the state line in North Georgia.
And no, we did not hear any banjo music.
Grimshawes Post Office
Roadside discoveries are alway fun, and this time it was the 1878 Grimshawes Post Office building, situated along Whiteside Cove Road about a mile before the sliding rock parking area.
This 5 ft. X 6 ft. historical log structure was for many years the smallest operating post office in the United States.
---
Where Shadows Walk Ghost Tour
---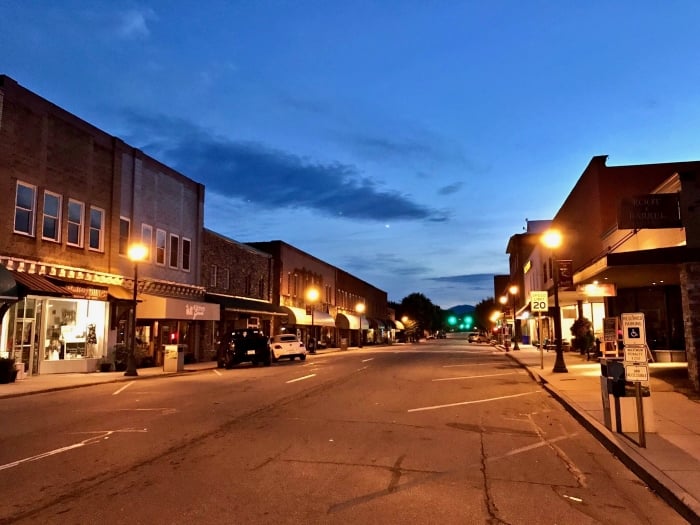 When evening falls in Franklin, it is time to gather at the Macon County Historical Museum for a Where Shadows Walk ghost tour.
Tours are led by local history teacher Gregg Clark, who is not only a great storyteller, but a Franklin historian, as well.  He verifies that the historical stories he shares, bizarre as they may be, are all true.
Our custom walking tour was a blending of the Franklin Ghost, Murder and Mayhem, and Woodlawn Cemetery tours. As much as I was entertained by the history of Franklin and spooky stories, the highlight of the tour was when Gregg taught us about the art of grave dowsing and then let us try it on our own. If I had not seen it and done it, I would not have believed it. But it worked every time!
All two-hour ghost tours begin at 8:00 PM and should be booked in advance online.
---
Pickens Nose
---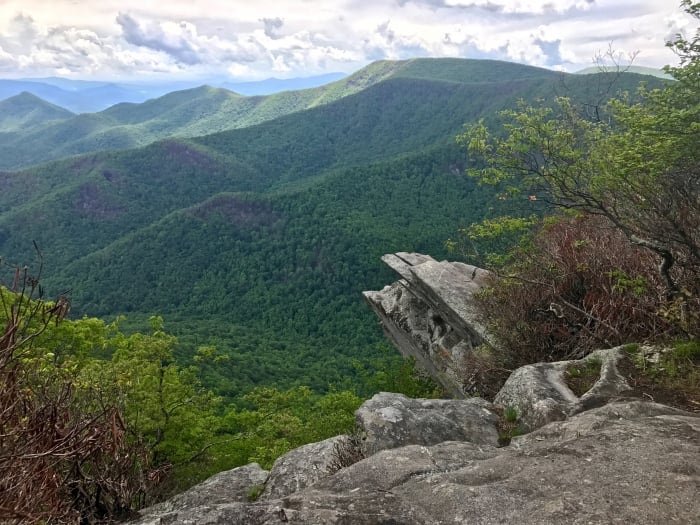 The destination for our second day trip was Pickens Nose, a rock outcropping with sweeping views of the Southern Nantahala Wilderness.
From Franklin, we drove ten miles south on U.S. 441 through the Macon County community of Otto. We took a right on Coweeta Lab Road which passes the hydrologic laboratory and becomes Ball Creek Road. The nine-mile drive to the trailhead took thirty minutes due to the many hairpin turns and washed-out gravel road. I recommend nothing smaller than an SUV to attempt this drive. We arrived still in one piece at the Pickens Nose trailhead and parking area, located approximately one half-mile from the Appalachian Trail crossing at Mooney Gap.
The humor of Pickens Nose was not lost on us (hence the tasteless selfie). Local legend maintains the Cherokees named the rock outcropping after Andrew Pickens, a Revolutionary War era militia leader who led several campaigns against the Cherokee nation. I have seen Pickens' portrait, and he did indeed have a long, angular beak.
Trail guides I have researched report that the hike from the trailhead to Pickens Nose is less than a mile. It seemed a lot farther to us. The rugged trail was more like a washed-out riverbed and mostly uphill.
No matter. The views were totally worth the climb, and we made friends with a young couple at the top who agreed to be mutual photographers.
Note: Pickens Nose, perhaps not as grand as Norway's Trolltunga, was equally precarious, and I for one did not flirt with disaster for the sake of a bragging rights selfie. Don't even think about it!
Shearl Produce
We couldn't resist a stop at Shearl Produce in Otto, near the turnoff to Pickens Nose. Summer is a great time to visit Macon County's many fruitstands and U-pick farms. We left Shearl's with two jars of pickles and boiled peanuts, our favorite road trip snack.
---
Cat Creek Lodge
---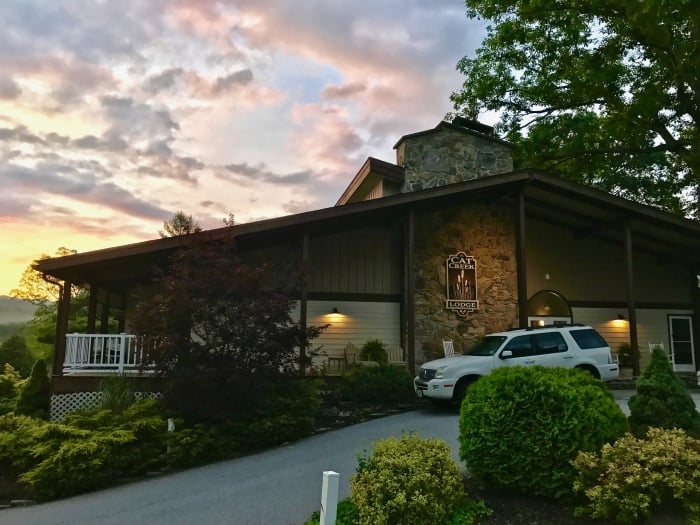 Cat Creek Lodge was home base during our stay in Franklin North Carolina. This full-service facility operates like a bed & breakfast, yet features many amenities of a resort.
This relaxing mountain retreat invites guests to walk the manicured grounds, sit a spell on the porch, and take in the scenic views. Other outdoor facilities include a swimming pool, gas grills, a horseshoe pit, and a stone fire pit to accommodate evening recreation.
The lodge interior is spacious and clean, featuring a stone fireplace and living space, kitchen and dining area, and nine fully-appointed suites. Cat Creek Lodge is ideal for road travelers like us, and is a perfect venue for small weddings, family reunions, and corporate events.
Suites at Cat Creek are roomy and comfortable with private baths, kitchenettes, living area, flat screen TVs, screened porches, and high-speed WiFi. All in all, Cat Creek is a destination in itself for guests who prefer to stay put, reading a book, relaxing by the pool, and catching up on porch time!
Click here for more Franklin lodging options on TripAdvisor!
---
Dining
---
Franklin has many fine restaurants, far more than we could sample during our stay.
Stamey's Cafe
The motto at Stamey's Cafe is "Peace, Love, and Biscuits!" We met a couple of my Franklin cousins there, and I can vouch for their biscuit breakfast sandwiches.
Boiler Room Steak House
The Boiler Room Steak House is a family-friendly restaurant with a large salad bar and casual American fare.
The Boiler Room is connected to The Factory, a massive arcade with video games, laser tag, indoor mini-golf, and the region's largest go-cart track.
Motor Company Grill
Motor Company Grill is a 1950s-themed diner located on Main Street. It is a convenient lunch and dinner location for visitors who are touring downtown Franklin or joining a ghost tour.
Seating is available in the diner, at the soda fountain, or on the pet-friendly patio.
---
Footnote
---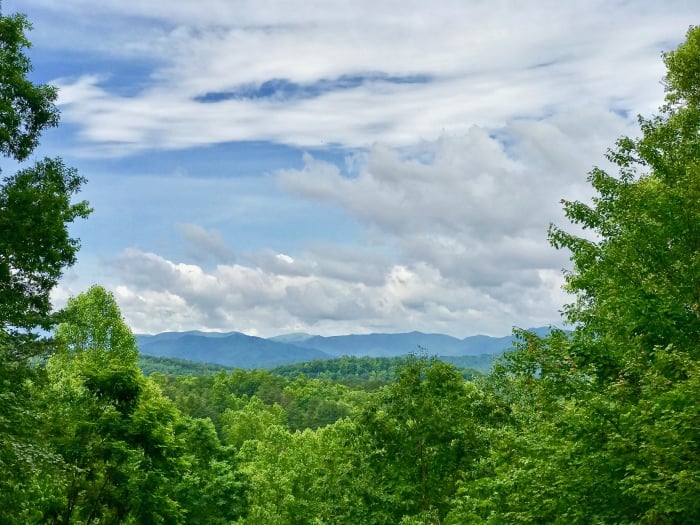 For readers who caught my pre-trip post, Mountain Memories: A Return to Franklin North Carolina, Jerry and I did take a drive into the hollow at the end of Mack Branch Road. Revisiting my summer stomping grounds was bittersweet. Bitter because those days and so many of my loved ones are gone. Sweet because the memories remain.
All but one of the five original handmade cabins on Blount Mountain and Porter Ridge have stood the test of time.
My cousin Nancy and her husband Mark have made their home in Great Aunt Lenora's cabin. As serendipity would have it, my cousins Kent and Jerri were also spending a few days at Great Uncle Buel's cabin on the ridge. Reconnecting with family was the best part of my return to Franklin North Carolina.
---
Map It!
---
---
We Would Love to Hear From You
---
We enjoy dialogue with our readers, especially when they share off-the-beaten-path destinations and useful travel tips. Have you ever experienced a Franklin North Carolina, Smoky Mountain adventure? If so, we would love to hear your story. We invite you to leave your comments and questions below, and we always respond!
---
Pin this Post!
---