(a

12

minute read)
---
An Arizona road trip from Pinetop to Salt River Canyon to Mesa leads us to the Fresh Foodie Trail®, an agritourism route of local farm-to-table experiences.
---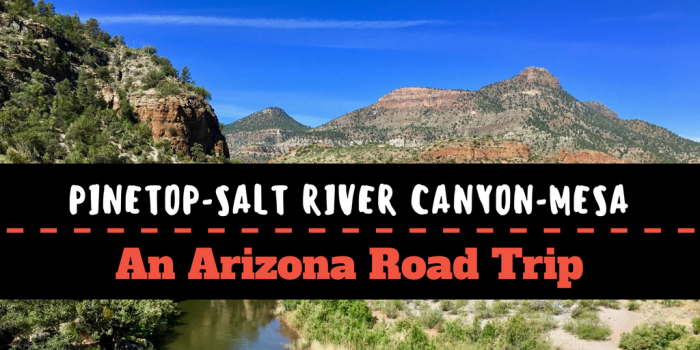 I joined a group of international journalists on a road trip sponsored by the Arizona Office of Tourism. Our journey led us over many trails through some of the less-familiar regions of the state.
The first leg of our journey took us from Phoenix to Tucson to Safford where we did a bike tour, visited a winery, and enjoyed local ethnic cuisine.
We drove the Coronado Trail from Safford to Pinetop-Lakeside on the second day, stopping at a copper mine, a lodge in an alpine meadow, and an ancient archaeological site.
On day three, we drove from Pinetop to Whiteriver to Greer into the White Mountain Apache Reservation and visited two National Historic Landmarks, toured a ski park, and hiked through an environmental reserve.
The fourth day of our Happy Trails road trip would take us from Pinetop through Salt River Canyon to Mesa where we would visit key locations on the Fresh Foodie Trail®. The drive would demand an inconvenient detour due to copper mining detonations in the area, but we would arrive in plenty of time to complete all of our scheduled activities.
---
Pinetop to Salt River Canyon to Mesa
---
Leaving Pinetop-Lakeside, we connected with U.S. Route 60 at Show Low and headed southwest toward Mesa. The stunning roadside views would demand more than one pullover for photo ops. As if these roadway vistas were not enough, our host casually announced that we were in for a surprise with a location she had intentionally left off our itinerary.
---
Becker Butte Lookout
---
Our next stop, Becker Butte Lookout, was not a roadside pullover, but rather an improved area with parking to accommodate several vehicles. For readers who may be unfamiliar with the term, "buttes" are solitary hills with flat tops and steep sides, common iconic landforms in Arizona.
According to a historical marker at the lookout, Becker Butte is dedicated to the memory of Gustav Becker (1856-1940), who was a "pioneer merchant, trail blazer, road builder," and "a father of U.S. Highway 60." An adjacent historical marker also memorializes Gustav's son Julius W. Becker (1886-1959).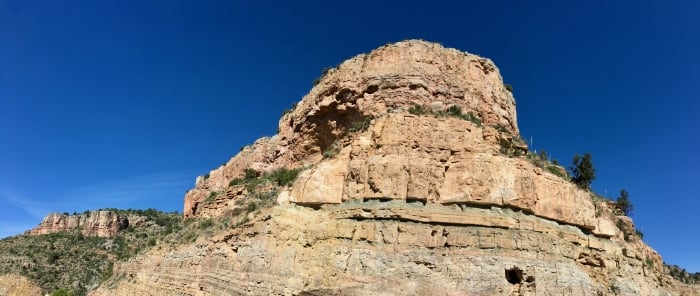 The 360° views at Becker Butte were incredible all the way around, including this rock formation directly behind the parking area. We did not know it at the time, but this pullover was a glimpse of our upcoming surprise.
---
Salt River Canyon
---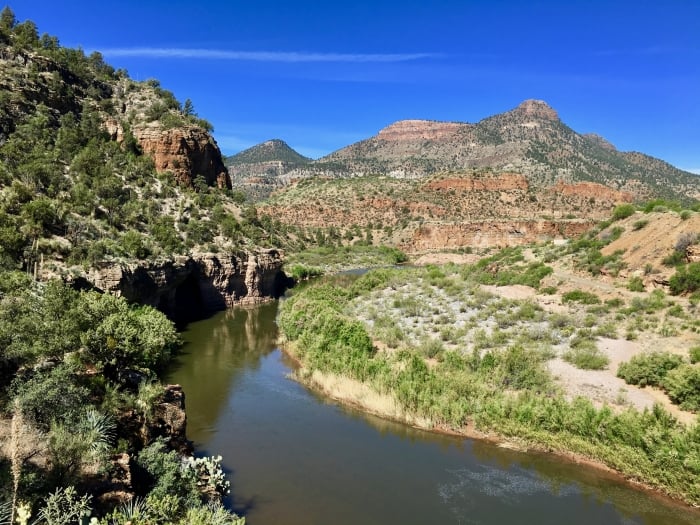 I did not realize that the view from Becker Butte Lookout was actually Salt River Canyon, but our experience was about to get even better as Highway 60 wound its way through hairpin curves 2,000 feet into the gorge.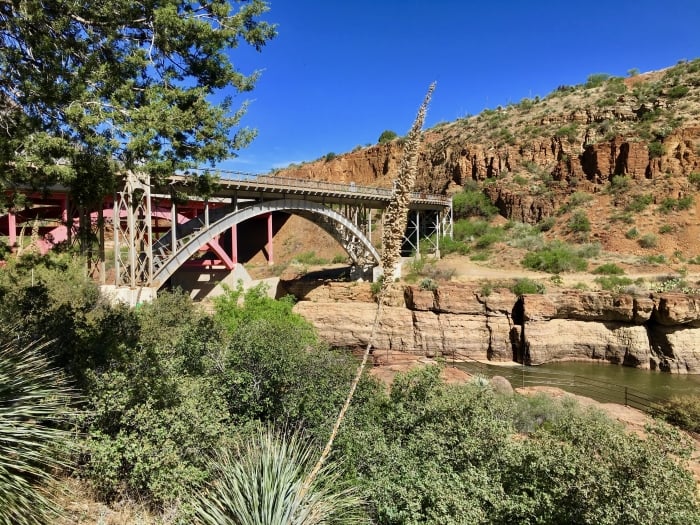 Approaching the deepest part of the canyon, we drove across a new red bridge and pulled into the Salt River Canyon Rest Area. The new bridge parallels the old bridge, now used for pedestrian traffic.
The rest area, managed by the Arizona Department of Transportation, has been recently renovated and developed with stairs leading down to railed overlook areas. The railing serves more as a suggestion because visitors climb over or go around these areas to access the rocky banks and river below.
Guilty.
The Salt River Canyon Wilderness Area encompasses 32,114 undeveloped acres in the Tonto National Forest. Although there are no maintained trails in the area, sections of the river are open seasonally to skilled whitewater rafters. The area is home to 200 animal species, plus a band of 100 wild horses.
Maybe it's not the Grand Canyon, but Salt River Canyon is still pretty spectacular, and it was definitely a welcome surprise on our route.
---
Mesa's Fresh Foodie Trail®
---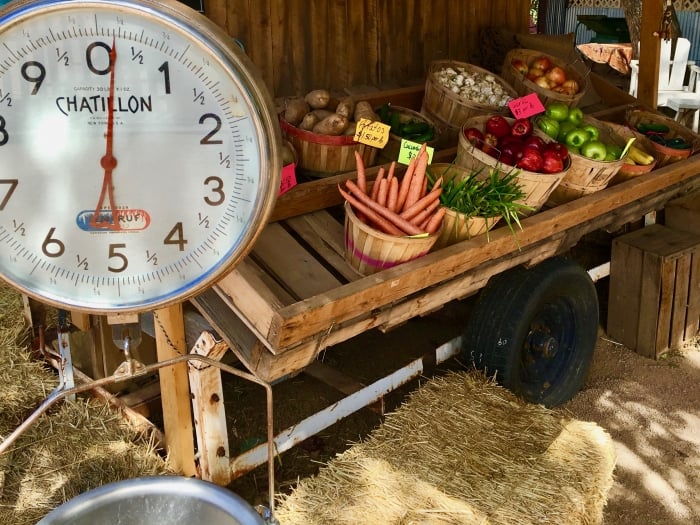 ---

 

". . . . and the desert shall rejoice, and blossom as the rose."

Isaiah 35: 1

---
Without a detour, Mesa is a two-hour drive from Salt River Canyon, and although Mesa is a suburb of Phoenix, it is the third most populous city in the state of Arizona.
Our hosts at Visit Mesa had planned a detailed itinerary featuring select locations on the Fresh Foodie Trail®. This agritourism circuit features eleven key locations such as family farms, urban gardens, and wineries where visitors can enjoy "foodie-driven experiences." This initiative covers the neighboring towns of Gilbert and Queen Creek, and also includes farmers markets, food trucks, farm-to-table dining, seasonal events, and craft brewing.
Photo Credit: Visit Mesa
The average person would not expect an arid Arizona climate to support so many agricultural variations, but irrigation literally does cause the "desert to blossom as the rose."
Irrigation in Mesa is not an innovative miracle of modern engineering. Ancestors of the Hohokam people who inhabited this region 4,000 years ago, carved out the most advanced network of canals in the New World, to bring water from the Salt and Gila Rivers to the area. Many of these canals are still in use today, essentially "transforming the Sonoran Desert into an agricultural oasis."
Download the Fresh Foodie Trail® (PDF) brochure for more detailed information.
---
Queen Creek Olive Mill
---
Our first stop on the Fresh Foodie Trail® was at Queen Creek Olive Mill, an agricultural complex boasting olive groves of 7,000 trees in 16 varieties, a cold-press mill, a gourmet marketplace, Italian-inspired eatery, event facilities, and offsite catering.
Our first activity was an outdoor olive oil tasting with owner, master blender, and olive oil sommelier Perry Rea. We sampled a balanced EVOO,  a selection of co-pressed and infused oils, and a balsamic reduction. I don't recall which was my favorite, but I know I loved them all!
But I wasn't surprised. At Queen Creek Olive Mill, they blend their oils every six weeks, bottle them every three weeks, and the marketplace shelf-life is typically no longer than two weeks.
After the olive oil tasting, we went inside for lunch at The Eatery where we enjoyed a spread of antipasti boards, salad, and paninis.
After lunch we had a bit of time to peruse the marketplace, where visitors can purchase fresh olive oil, tapenades, body spa products, and a host of specialty goods, many of which can be purchased online, as well.
---
Schnepf Farms
---
We headed next to Schnepf Farms, a fourth-generation family farm established in 1941, now owned and operated by Mark and Carrie Schnepf. Today the working farm has fully embraced agritourism and welcomes more than 250,000 visitors each year. The process of adding attractions and activities to the farm began in the 1990s. The farm's Country Store and Bakery, now housed in the original vintage roadside farmstand, is one example of the transition from old to new.
Photo Credit: Schnepf Farms
Having met Mark and Carrie, it was immediately obvious why Schnepf Farms has been a successful endeavor. Their passion and gregarious personalities perfectly align with their mission to educate the public, providing hands-on experiences and quality family entertainment.
To get a acquainted with the property and all it has to offer, we piled on a tractor-pulled trailer for a hayride tour of Schnepf Farms, the first farm in the country to use 100% renewable energy.
For me, highlights of the hayride were the deer in the petting zoo, a field of larkspur in bloom, and a vintage Chevy pickup. I also enjoyed touring the salvaged historical buildings, including the 100-year old Schnepf family farmhouse, now relocated on the property.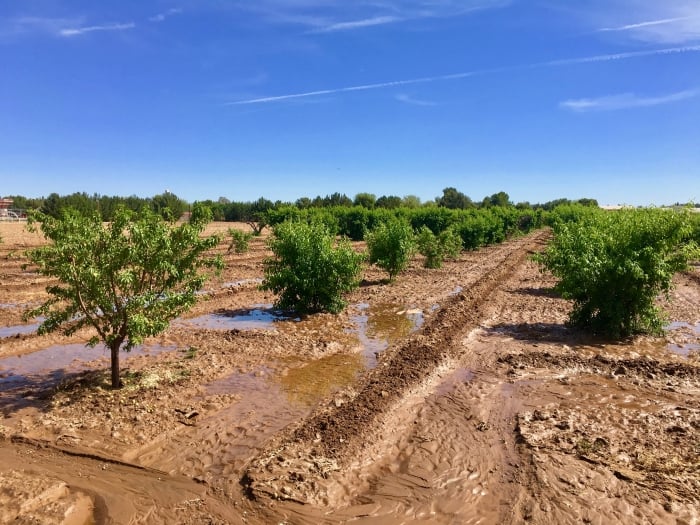 Backroad Planet readers know the state of Georgia has been my second home, since I acquired Pinebox in 2003. As a part-time resident of the Peach State, I was surprised to discover a peach orchard flourishing in the Sonoran Desert.
But there it was!
Photo Credit (R): Marjorie Magnusson
As the largest producer of peaches in the state of Arizona, one of the most popular activities at Schnepf Farms are the U-PICK organic peaches and garden vegetables. Just wondering why someone didn't tell me my sun-protection get-up made me look like a peach-picking Unabomber.
Schnepf Farms also offers a variety of event venues for birthdays, weddings, and family reunions.
---
Agritopia®
---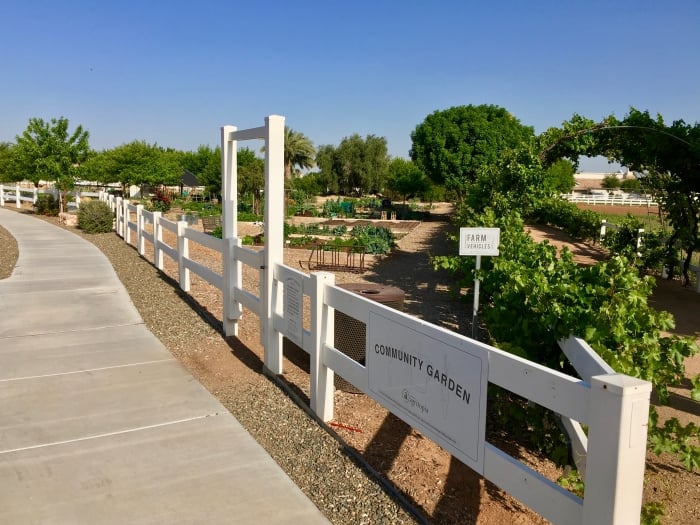 The next morning we headed out to Gilbert to learn about Agritopia®, an innovative urban farm and planned community. I can honestly say I have never seen anything like it, and I was intrigued on so many levels with the vision, design, and realization of this venture.
Agritopia@ is the brainchild of visionary Joe Johnston. During childhood and into adulthood, Joe watched as the family cotton and wheat farm was gradually swallowed by urban sprawl. His training as an engineer enabled him to plan and execute the ideal solution, a symbiosis of urban and rural strengths to repurpose his family farm.
The 450 residential lots at Agritopia® offer housing options for a wide range of income levels, a type of strategic planning intended to dissolve "traditional barriers between people" and to build "community among people of varied backgrounds." Agritopia's Generations housing initiative for seniors offers a full range of lifestyle options from independent to assisted to short-term respite care.
The Johnston family's farming legacy continues in the community with a a USDA Certified Organic commercial farm, as well as a farm stand, community garden, and two food service establishments.
One of those outlets is Joe's Farm Grill, located in the Johnston family's former ranch-style home, now redesigned in the style of a mid-century modern diner. For breakfast, I chowed down on a generous portion of breakfast tacos and farm beans.
The Agritopia® community garden is a charming retreat composed of forty 20′ X 20′ plots for vegetable and/or flower gardens. The individual plots are reserved for the gardeners, but guests are welcome to stroll the pathways and stop for a rest on the benches. Personalities of the individual plots are unique and the varieties diverse, but I especially enjoyed the hollyhocks and artichokes, two plant species you don't often find in my home state of Florida.
The Agritopia® Farm Stand, a 24-hour self-serve market based on the honor system, is an extension of the commercial farm. The farm also offers a CSA (Community Supported Agriculture) program that provides members weekly boxes of the freshest seasonal produce for a nominal fee.
---
Lodging & Food
---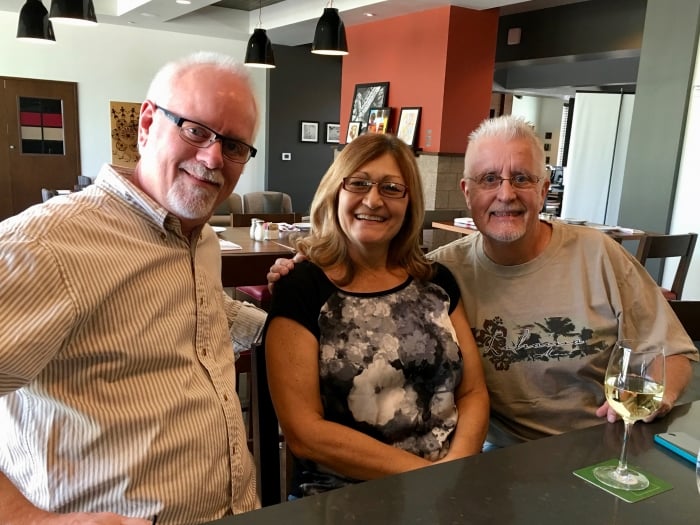 Our accommodations while in Mesa were at the new Four Points by Sheraton located just minutes away from the Phoenix-Mesa Gateway Airport. During a short break in our packed itinerary I was excited to meet up at the hotel bar with Deb and Gary Szarowicz, Mesa residents and friends from our Viking Grand European cruise a year earlier.
Click here to book your stay at Four Points by Sheraton Mesa Gateway Airport on TripAdvisor!
In Mesa, we had dinner at TQLA, an upscale southwest kitchen and agave bar featuring fresh ingredients and a selection of extra-aged tequilas, handpicked by a certified tequilier, and of course frosted tequila on tap.
While in Gilbert, we dined at the Joyride Taco House as well as the Liberty Market (co-owned by Joe and Cindy Johnston). Both restaurants have made their contribution to the new and vintage neon sign collection that lines Gilbert Road.
I also want to commend Liberty Market for offering by example the perfect solution to the currently debated restroom issues in several states and school districts. The solution is so simple, it makes one ask, "Why didn't I think of that?"
---
Map It!
---
---
An Arizona Road Trip Series
---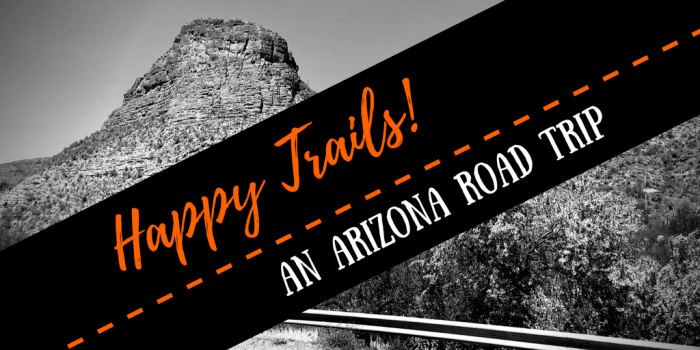 Read more posts from our Happy Trails road trip series . . . .
Part 1: Phoenix to Tucson to Safford: An Arizona Road Trip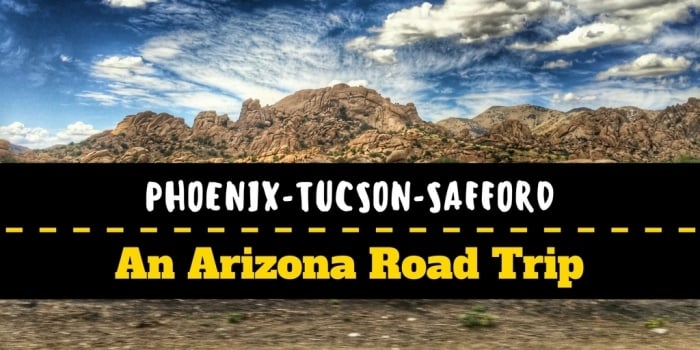 Tucson Bike Tours, Pizzeria Bianco, Coronado Vineyards, and the Salsa Trail
Part 2: Safford to Pinetop-Lakeside: An Arizona Road Trip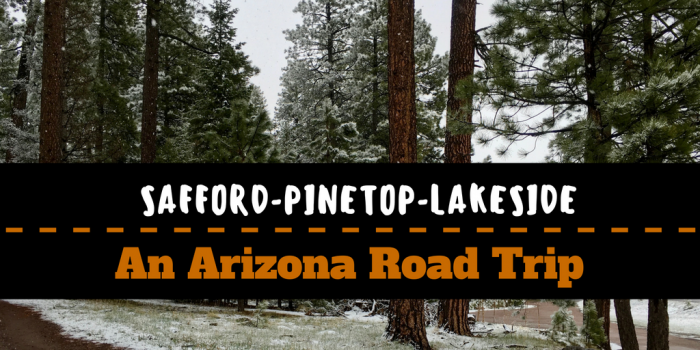 Discovery Park at Eastern Arizona College, the Coronado Trail, Morenci Copper Mine, Hannagan Meadow, and Casa Malpaís
Part 3: Pinetop to Whiteriver to Greer: An Arizona Road Trip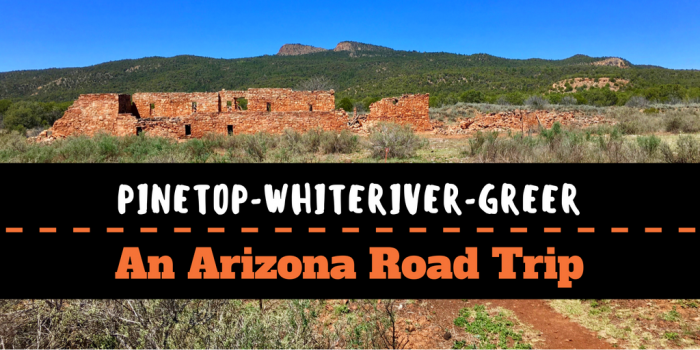 Fort Apache, the Kinishba Ruins, Sunrise Ski Park, & the White Mountain Nature Center
Part 5: A Day Trip on the Apache Trail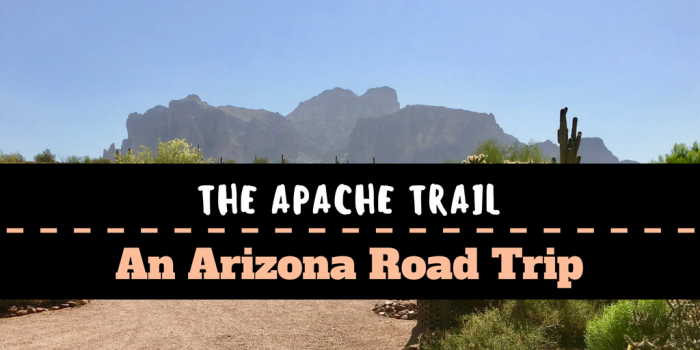 Superstition Mountains, Goldfield Ghost Town, Tortilla Flat, and the Dolly Steamboat.
---
Design Your Own Arizona Road Trip
---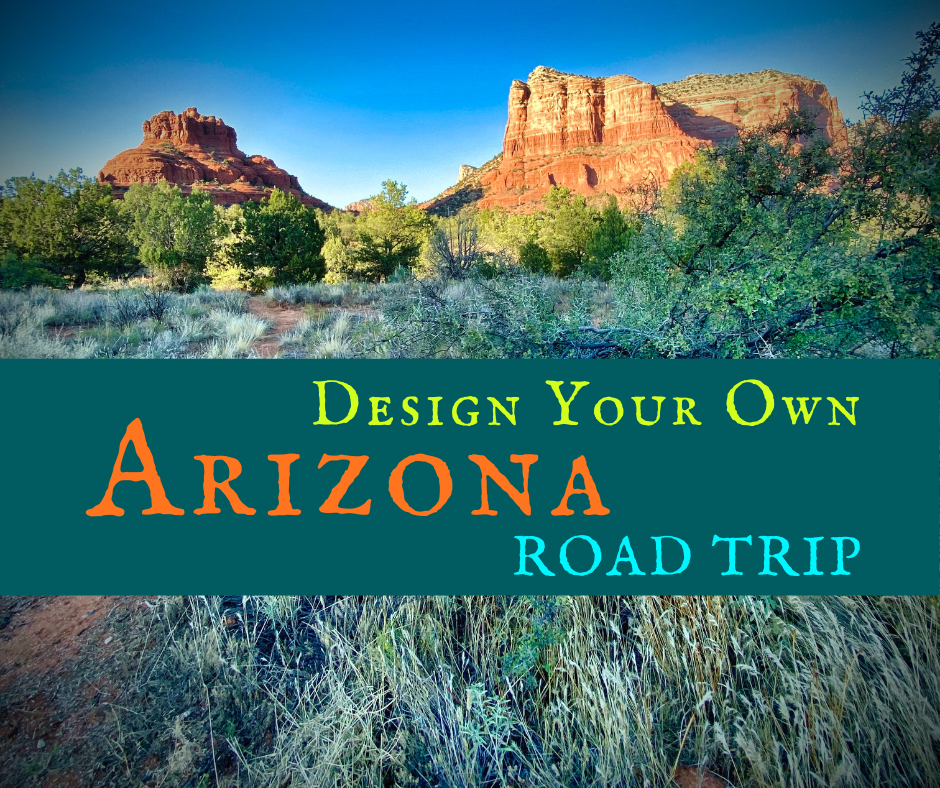 For more Arizona destination information and road trip planning resources, navigate to our Design Your Own Arizona Road Trip round-up post, or use the links below for direct access to additional stories and guides:
Things to Do on a Drive from Phoenix to Flagstaff, Arizona
Take the Train to Grand Canyon National Park: An Insider's Guide
3 Magnificent Flagstaff National Monuments
Tour Flagstaff Attractions On Your Own
Drive the Painted Desert & Petrified Forest National Park
Tons of Fun Things to Do in Winslow, Arizona
3 Stunning Sedona Scenic Drives
Ride Arizona's Verde Canyon Railroad
7+ Amazing Attractions in Verde Valley AZ
Explore the Geological and Cultural Diversity of Southeast Arizona
---
We Would Love to Hear From You
---
We enjoy dialogue with our readers, especially when they share off-the-beaten-path destinations and useful travel tips. Have you ever visited Salt River Canyon or Mesa, Arizona, or enjoyed an agritourism destination? If so, we would love to hear about your experience. We invite you to leave your comments and questions below, and we always respond!
---
Pin this Post!
---