(a

16

minute read)
---
24 exclusive Viking River Cruise insider tips tailored for first-time cruisers to help make your European journey the cruise of a lifetime!
---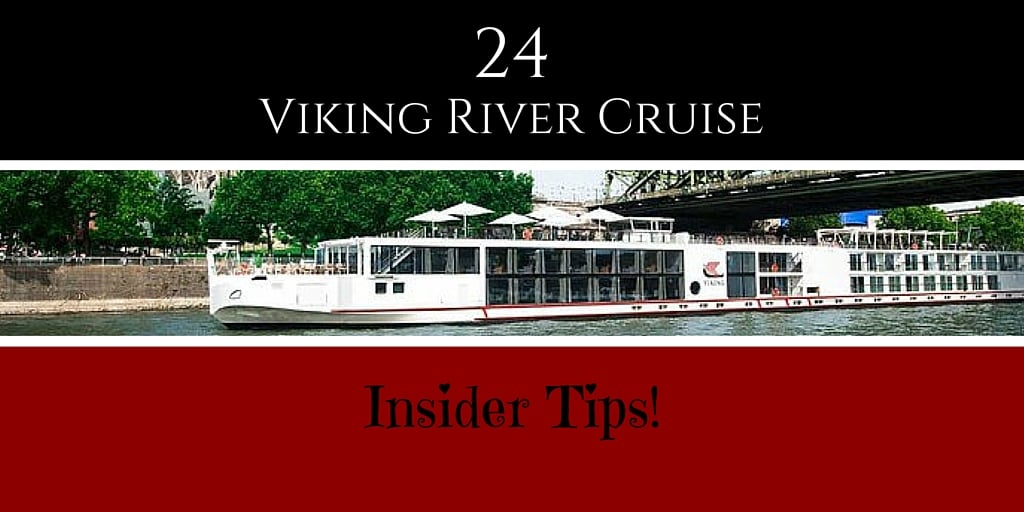 We were guests of Viking Cruises, but all thoughts and opinions are our own.
Note: These Viking River Cruise insider tips apply to European river cruises. They may or may not apply to other Viking cruises around the world.
We LOVE Viking River Cruises! And apparently we are not the only ones, due to the countless awards the line has accumulated in the past 25 years
We have taken four Viking River Cruises: the Grand European on the Viking Mimir, the Rhine Getaway on the Viking Var, the Rhine Getaway Christmas Markets on the Viking Eir, and the River of Gold on the Viking Torgil. Although we were not able to complete the first Rhine Getaway due to a medical emergency (more about that in a later post), the way the staff of the Viking Var handled this interruption only served to rank them even higher on our list than they already were.
When people ask me for river travel recommendations my standard response is, that Viking River Cruises are everything they claim to be, and a river cruise is everything you dream it will be . . . and more!
While on our last cruise, we decided to start compiling a list of tips for first-time river-cruisers. Although most of these tips are organically our own, some were shared by fellow travelers.
And here they are . . . .
---
Planning, Booking & Packing
---
1. Consider scheduling your river cruise in shoulder or off-peak seasons.
Without question, summer is peak travel season in Europe. We should know! Our most recent cruise was during the last week of June and first week of July. Amsterdam, Vienna, and London seemed to be especially overcrowded this year. Europe also set record-breaking temperatures in this summer's heatwave, approaching 100° F the day we visited Vienna. School was still in session while we were in Europe and many of the tour destinations were packed with students on field trips. You might want to verify European school holidays before booking your trip. This summer has also seen low water levels on the Elbe and Danube rivers, leading to the cancellation or adjusted itineraries of a few cruises. Unfortunately, there is no way to predict rainfall with any accuracy. Viking has created an Update on Current Sailings page to keep passengers informed of any required changes. As always, it is wise to research your travel before booking. Although shoulder season cruises may be slightly higher pricewise, off-peak season cruises definitely offer economical savings!
2. Choose your stateroom wisely.
I remember when we were booking our first cruise and trying to decide whether our cabin needed a veranda or French balcony or not. Ultimately, we decided on a standard water-level stateroom. On our second cruise we were booked in a veranda stateroom. So, here is our analysis: The Sun Deck is the best place for scenery because you have a 360° view. You can access the Sun Deck anytime, unless it has to be shut down for passing beneath low bridges. There are also great views on the Aquavit Terrace. Although verandas and balconies are nice for viewing one bank of the river, they are not requirements for an enjoyable cruise. Besides, viewing the river at eye-level from a standard stateroom window is cool!
3. Calculate your expected shipboard adult beverage consumption.
Wine and beer are always complimentary during lunch and dinner and during special shipboard events and tastings. From the bar, wine, beer, and cocktails are available and priced competitively with any mid-range Stateside restaurant. If you would prefer to have unlimited beverages during your cruise, Viking's Silver Spirits package is available, but I would be careful to read the fine print before placing the order. Based on my calculations this package could prove to be more economical only if you plan on having four or more shipboard drinks per day. Finally, if you have a preferred signature potion such as a Captain & Coke or Cape Cod, you might want to consider purchasing your liquor and mixers off-board and putting your stateroom fridge and deck ice machine to good use.
4. Secure ship contact information in advance.
We had difficulty locating our ship on our most recent cruise because it had been assigned by the Amsterdam Port Authority to dock in an alternate location, an issue totally out of Viking's hands. Passengers with scheduled Viking transfers had no problem getting to the ship, but those of us who had made our own arrangements were in a bit of a panic when we could not find our ship. Typically, the ship phone number and email address are printed on page 4 of your Itinerary & Departure Information booklet, but for some reason it had been omitted during this printing. Although we were ultimately able to find our ship by trial and error, we could have saved ourselves a lot of time and energy if we had secured the ship contact information in advance by calling 1-877-668-4546. It is also great to have the ship phone number handy during the cruise should you have an emergency while exploring port cities on your own.
5. Take a zoom lens for your camera.
One of the highlights of cruising the Rhine River is the opportunity to see firsthand the 40+ castles and fortresses that populate the banks of the Upper Middle Rhine Valley, a UNESCO World Heritage Site. The view is breathtaking in person, but the distant castles don't photograph so well, unless you have a zoom lens. My iPhone camera is not so equipped, but fortunately a fellow traveler whose camera was outfitted with a zoom lens offered to let me copy the images from her camera's SD card. Perhaps future iPhone incarnations will include a quality zoom . . . . Hint! Hint!
6. Even though it's Europe, bring a hat, sunscreen, and shades.
As I mentioned previously, Europe experienced a heatwave this summer. Although I brought along a cap and sunglasses, I found myself bouncing from shade to shade while on walking tours, and many times there was none to be found. I returned home with my neck redder than it already was . . . .
---
Stateroom
---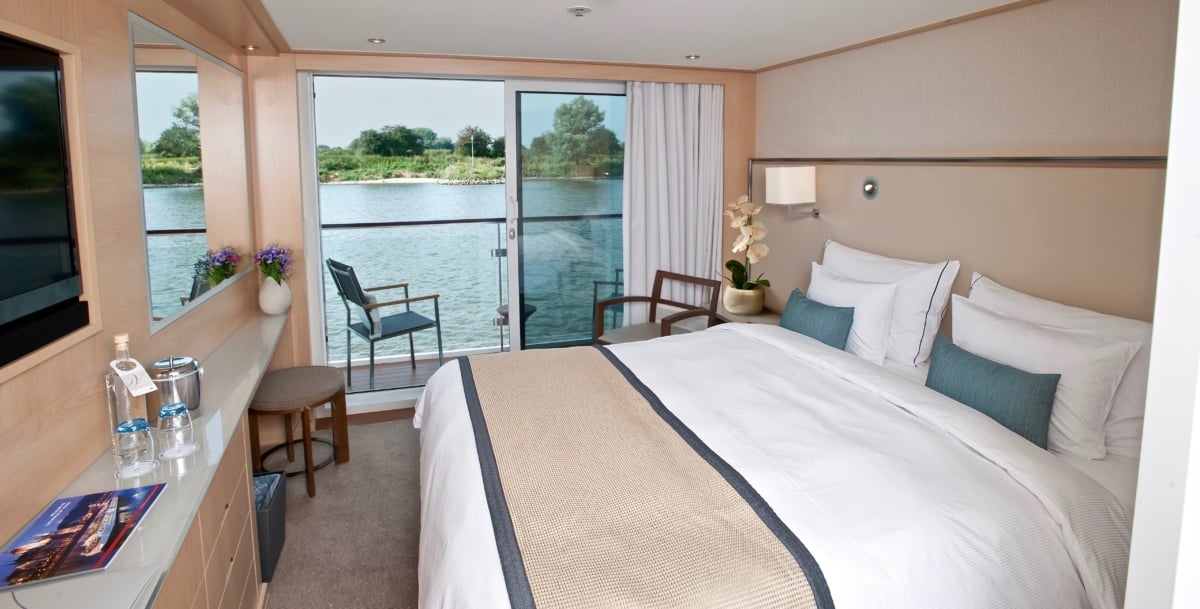 7. Use the stateroom safe.
Every Viking longship cabin is fitted with a closet safe. We used it from day one to secure our passports and for storing extra cash and other valuables.
8. Charge mobile devices at every opportunity.
It pays to keep your mobile devices charged while on a river cruise, especially if you do more than one offboard tour per day. There are so many photo ops on tours that you may find your battery needs to be charged during lunch for the afternoon tour. Factor in the additional social media and email usage during travel, and I think you will get the picture. Make it a habit to keep your devices plugged in when not in use.
9. Learn how to use the shower controls.
Jerry is always ripping on my relationship with bathtubs and showers! But he's right. Shower heads, faucets, valves, handles, and I do not get along. For some reason, they confuse me, and I rarely get the temperature or pressure right the first time in a new shower. That is why I love the shower controls on Viking longships! Simply put: The left handle controls the temperature. Set it and forget it. The right handle controls water pressure. Adjust as needed.
---
Dining
---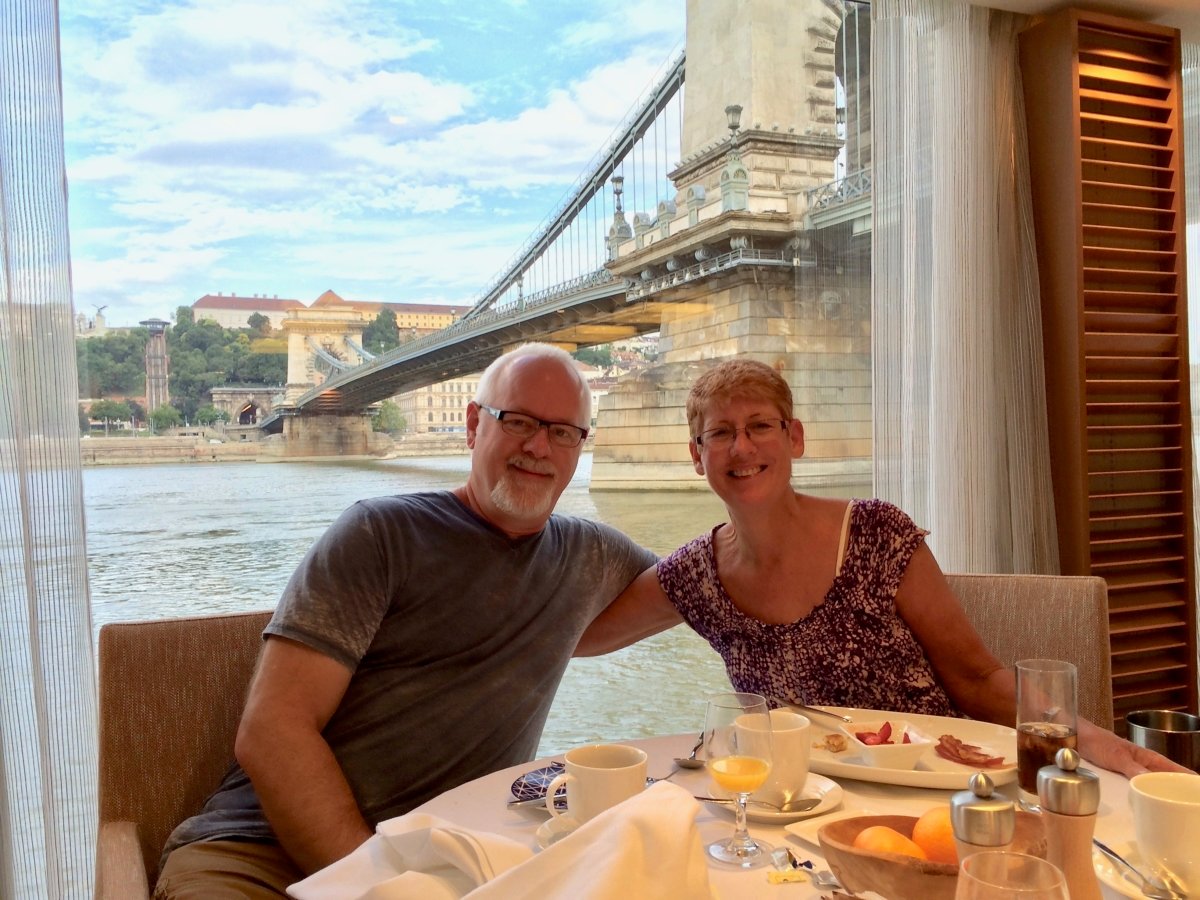 10. Do a dining walk-through.
Breakfast, lunch, and dinner are served daily at both the restaurant and on the Aquavit Terrace. If you are not sure whether you would rather eat a full meal inside or enjoy lighter fare al fresco, do a walk-through. When we were not sure where or what we wanted to eat, we would do a walk-through to spy out the Aquavit buffet and read the restaurant menu that was always posted outside the entrance.
11. Sit at different tables.
Cruise dining by default requires that you share mealtimes with other travelers. During our most recent cruise, we formed close connections with two other couples early on. We enjoyed getting acquainted with these people, and it would have been comfortable to have shared all of our meals with them. In fact, we did eat breakfast at their table most mornings. If we had not migrated to other tables for lunch and dinner, however, we would have missed out on meeting some incredible people. If you are shy about joining other tables, you are not alone. But if I can learn the protocol, so can you. Repeat after me: "May we join you?"
12. Order Eggs Benedict and Muesli for breakfast.
I gained over five pounds on our last Viking cruise due to Chef Axel's bountiful cuisine and my porcine appetite. On our first cruise I discovered Muesli on the breakfast buffet. This amazing cold cereal concoction of oats, granola, nuts, bananas, coconut, cream, and sugar was heaven in my mouth. I ate it almost every day. I discovered Eggs Benedict on the breakfast menu at the beginning of our second cruise and ordered this also quite heavenly dish most mornings.
I mentioned this tip on another Viking post, but it bears repeating here. The self-serve coffee bar is open 24/7, but the chocolate macadamia and oatmeal raisin cookies are only available for a few hours in the afternoon. If you are like me, meaning you enjoy cookies for a late-night snack, be sure to grab a stash when they are available so you can enjoy them later on.
The left side of the ship restaurant menus feature daily-prepared chef specialties, often regional seasonal cuisine. The right side of the menu contains standard options such as fish, chicken and steak. We learned first-hand that it typically takes the kitchen longer to prepare the standard options than the chef specialties because a steak will be cooked to order while the specialties need only be assembled. Be advised that if you order from the right side of the menu, your entire table will have to wait to be served until your special order is ready.
---
Daily Life
---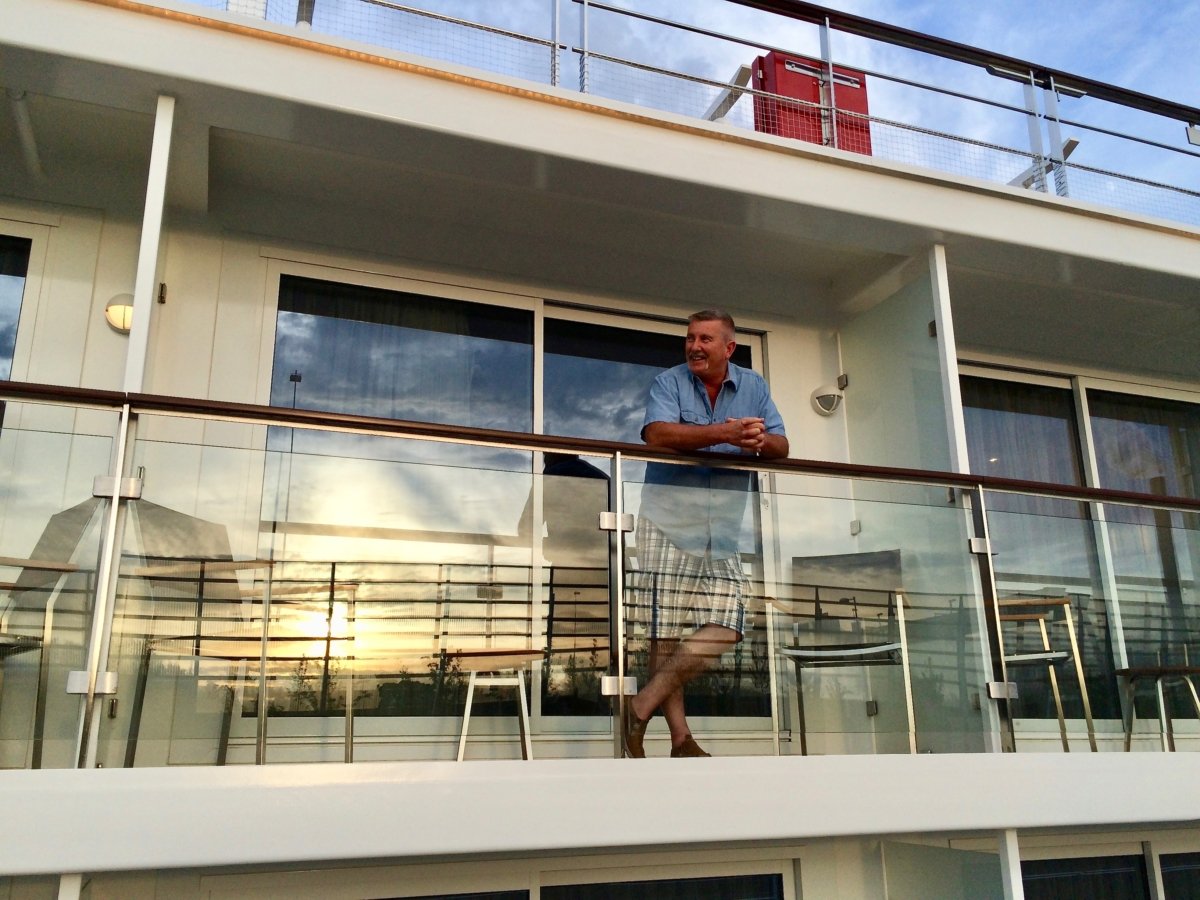 15. If you need something, ask.
When the Program Director or Hotel Manager make the announcement to let them know if you need anything, they are not kidding. Viking staff members will bend over backwards to meet your needs. When we had our medical emergency (again, more about that in a later post), the ship Concierge, scheduled our medical appointments and transportation, the Head Housekeeper accompanied us around town as a translator, and we witnessed them providing the same care for another far serious emergency.
While in Germany on our most recent trip, we asked the ship Hotel Manager for the location of a nearby supermarket to buy cranberry juice. Later, when we returned unsuccessfully to our cabin, a brand new container of cranberry juice was waiting for us, courtesy of the ship Maître D. Our cabin steward was also incredibly intuitive, always providing for needs without having to ask. Simply put, if you have a need, ask, and the ship staff will do their best to make it happen.
16. Consider taking optional excursions.
Yes, optional tours do cost more, and yes, you do have daily tours already included in the price of your cruise. All I'm saying is to read the information included in your Itinerary & Departure Information booklet or attend the shipboard presentation and consider whether an optional excursion will be worth your time and money. Jerry and I have different cruising styles. He prefers to take a tour in the morning and take a nap in the afternoon, while I like to cram in as many experiences as possible. One of my travel mantras is "We're here now," meaning that we may never be in this location again and we should take advantage of every opportunity. Don't miss a once-in-a-lifetime experience just because you're tired!
17. Grab photos when you can.
I took hundreds of pictures in port cities during our river cruise. Sometimes I would plan to capture a photo later on, hoping then the scene would be less populated with tourists. Sometimes this strategy worked, other times not so well.  I recall the morning we docked in Koblenz, Germany, about to board buses for a tour of Marksburg Castle. I only had five or ten minutes to spare, but I wanted to grab some photos at the confluence of the Rhine and Moselle Rivers. Glad I did it. I had forgotten that while we were on our tour our ship would be sailing to Braubach, where we would be meeting it later in the day. The confluence at Koblenz would be left far behind. I learned then to grab a shot when I was at a location because there may be no opportunity later on.
18. Claim your seat early for shipboard events.
As I mentioned earlier, one of the highlights of a Rhine River cruise is viewing the 40+ castles that line the Upper Middle Rhine Valley. We procrastinated in heading for the Sun Deck for the narrated tour that afternoon and only got a seat in the shaded section because some kind passengers let us squeeze in. Later in the cruise, when it came time to sail through Austria's Wachau Cultural Landscape, another UNESCO World Heritage Site, we did not make the same mistake and got great shaded seats.
19. Attend lectures, presentations, and events.
Most of the shipboard events are held in the Observation Lounge, a large piano bar outfitted with comfortable seating and plenty of projection screens. We loved gathering there each evening for the daily briefings prior to dinner. There were also educational lectures, visual presentations, cooking demonstrations, and floor shows scheduled nightly. Many of the presentations included complimentary beverages, tastings, or snacks, and I truly enjoyed all of the informative or entertaining events I attended. Although there is enough seating available for all passengers in the Observation Lounge, the previous tip applies here as well.
20. Find better Internet reception in the ship library.
It would be great to take a river cruise, turn off all mobile devices, and just relax. Unfortunately, when you are a travel blogger you need to update social media regularly and run your web site en route. Technically, Wi-Fi is available throughout the ship, but because the Internet is satellite-based, reception is often spotty. This is most noticeable when going through the innumerable river and canal locks. We discovered the best stateroom Wi-Fi reception was in the bathroom, probably because it was closest to the hallway. As for the entire ship, we found the strongest Wi-Fi signal in the library located on the Upper Deck.
---
Tipping
---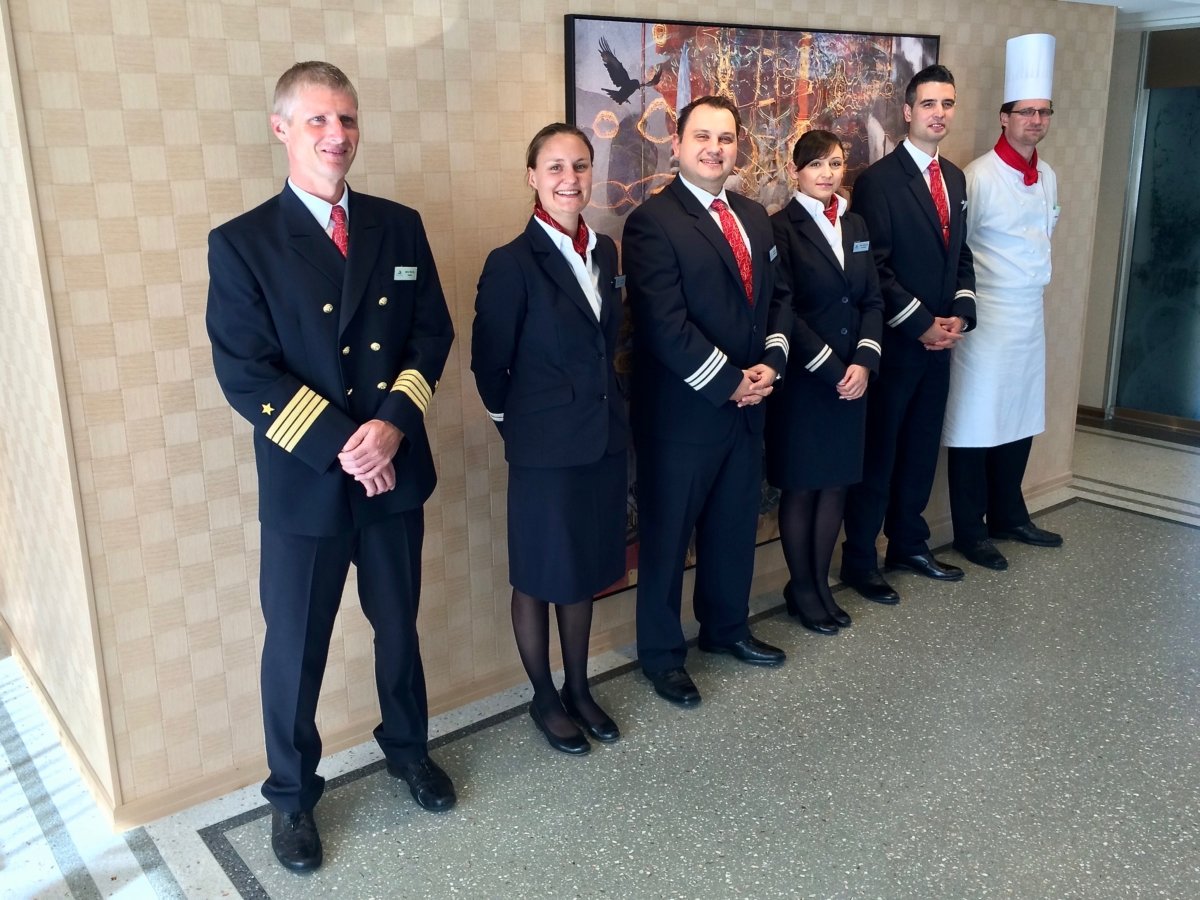 21. Plan in advance how you will pay gratuities.
Tips are not included with your cruise price, and although they are classified as voluntary contributions, one might also say they are expected. Not to worry. You will discover that shipboard staff members more than earn their tips, making them very well-deserved.
Viking now offers a pre-paid gratuities option, and you may purchase the standard recommended gratuity for your cruise through the My Viking Journey portal. The amount is distributed equitably among the entire onboard staff, including the Program Director.
If you choose not to pre-pay gratuities, the standard amount will automatically be added to your shipboard account, to be charged to your credit card. You may personalize the amount at your discretion by visiting the reception desk.
To avoid "sticker shock," we recommend that you calculate the total of your gratuities using the amounts listed below. Simply put, multiply the number of days in your cruise by €14 per guest, per day.
Recommended Tipping Amounts:
Program Director – €2 per guest, per day
Onboard Staff – €12 per guest, per day
23. Tip ship staff early in the cruise.
This "tip about tipping" came from one of our fellow passengers. She said they like to tip their cabin steward and select waiters and/or bartenders early in the cruise to ensure great service. I understand her point, but we found shipboard service exceptional in every way without tipping ahead of time. At the end of the cruise we slipped our amazing cabin steward some cash in the hallway, in addition to the collective tip for onboard staff.
22. Collect Euro coins for bus driver and tour guide tips.
Another way to plan ahead with tipping is to get change for larger denomination paper currency. Euro coins in €1 and €2 denominations are handy for tipping bus drivers and guides at the end of your city tours. For your convenience, you can get change from the ship reception desk before departing on tours.
Recommended Tipping Amounts:
Local City Guides – €2 per guest, per day
Coach Drivers – €1 per guest, per day
24. Use Euros for all offboard tips, even in countries that use other currency.
We knew Euros were the shipboard currency and that we could use Euros in the Netherlands, Germany, and Austria. We mistakenly believed Slovakia used the Koruna (they use the Euro, too), and we knew Hungary used the Forint. We thought we would have to acquire additional currency to tip bus drivers and tour guides. Not so! Bus drivers and tour guides in every country are happy to take Euros, and even dollars if that is all you have.
---
More Viking Content on Backroad Planet
---
Learn more from my first-hand experiences sailing with Viking Expeditions, Rivers, and Oceans at the links below.
Viking Expeditions
---
Viking Rivers
---
Viking Oceans
---
---
We Would Love to Hear From You
---
As always, Jerry and I love hearing from our readers. If you have taken a river cruise, what tips would you offer future travelers? We invite you to leave your comments and questions below, and we always respond!
---
Pin This Post!
---