(a

9

minute read)
---
The Viking Sun embarks on the inaugural World Cruise from Miami to London. This 141-day cruise will visit 5 continents, 35 countries, and 64 ports, cross the Equator twice, the International Date Line once, and pass through both the Panama and Suez Canals.
---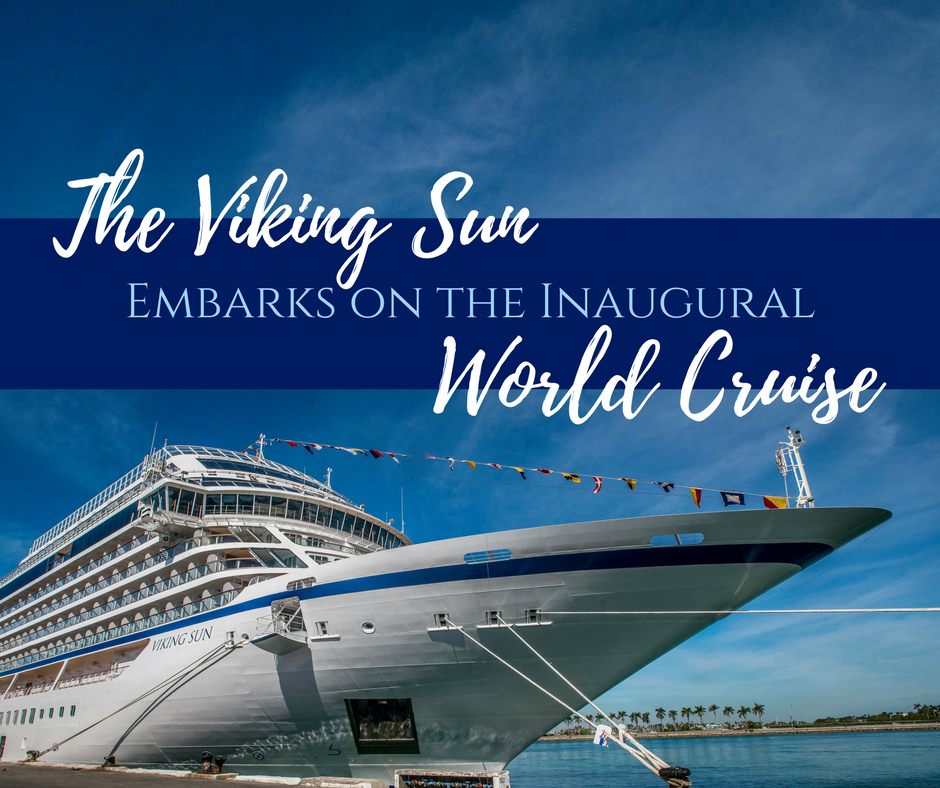 I was a guest of Viking Ocean Cruises, but all thoughts and opinions are my own.
UPDATE: This post was published to announce the first world cruise on the Viking Sun in 2018. Viking continues to sail both latitudinal world cruises with Viking Oceans and longitudinal world cruises with Viking Expeditions. Visit the Viking website for current itineraries.
Click here for more Viking River, Viking Ocean, and Viking Expeditions content on Backroad Planet.
---
2018 Inaugural Viking World Cruise
---
Image Credit: Viking Cruises
The sold-out 141-day Viking World Cruise from Miami to London is the stuff dreams are made of.
On this 5-month journey, the Viking Sun will visit 5 continents, 35 countries, and 64 ports, cross the Equator twice, the International Date Line once, and pass through both the Panama and Suez Canals. Passengers will witness the christening of the Viking Sun in Shanghai, China, on March 8, 2018.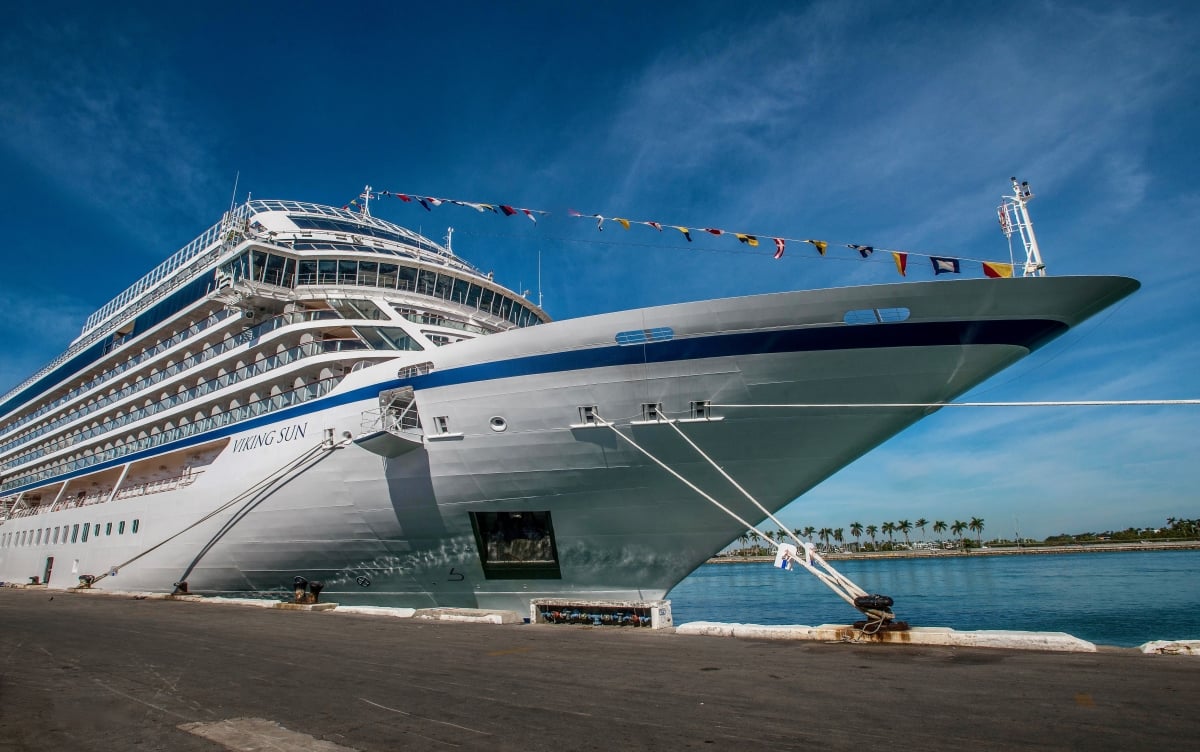 Photo Credit: Edelman
Jerry and I were invited to attend a media event aboard the Viking Sun in Miami prior to its departure on the inaugural World Cruise. During our visit, we took a guided tour of the newest vessel in Viking's ocean fleet, attended an informative press conference, and enjoyed a 3-course lunch at The Restaurant.
---
Viking: A Singular Cruise Line
---
Image Credit: Viking Cruises
In the past eight years, Viking has doubled its share of the North American river cruise market, and is projected to lead competitors with a 50% share in 2018.
In 2015, Viking entered the ocean cruise industry and currently operates a fleet of four seafaring ships. Viking ships now cruise the rivers and oceans of North America, South America, the Caribbean, Europe, the Mediterranean, Russia, Egypt, China, and Southeast Asia.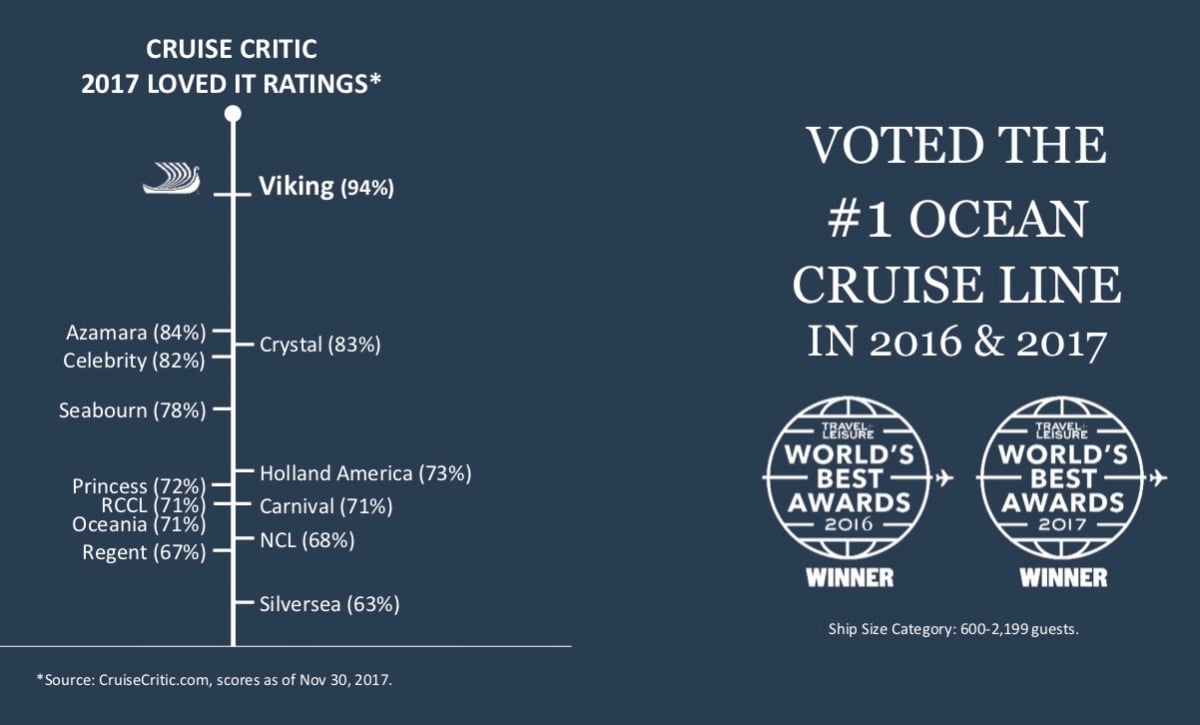 Image Credit: Viking Cruises
Viking's relatively recent entrance into the ocean cruise industry has not gone unnoticed. According to the latest Cruise Critic customer satisfaction scores, Viking dominates the field with a 10% lead.
Travel + Leisure magazine and website readers have voted Viking as the #1 Ocean Cruise Line for many years now.
---
The Viking Difference
---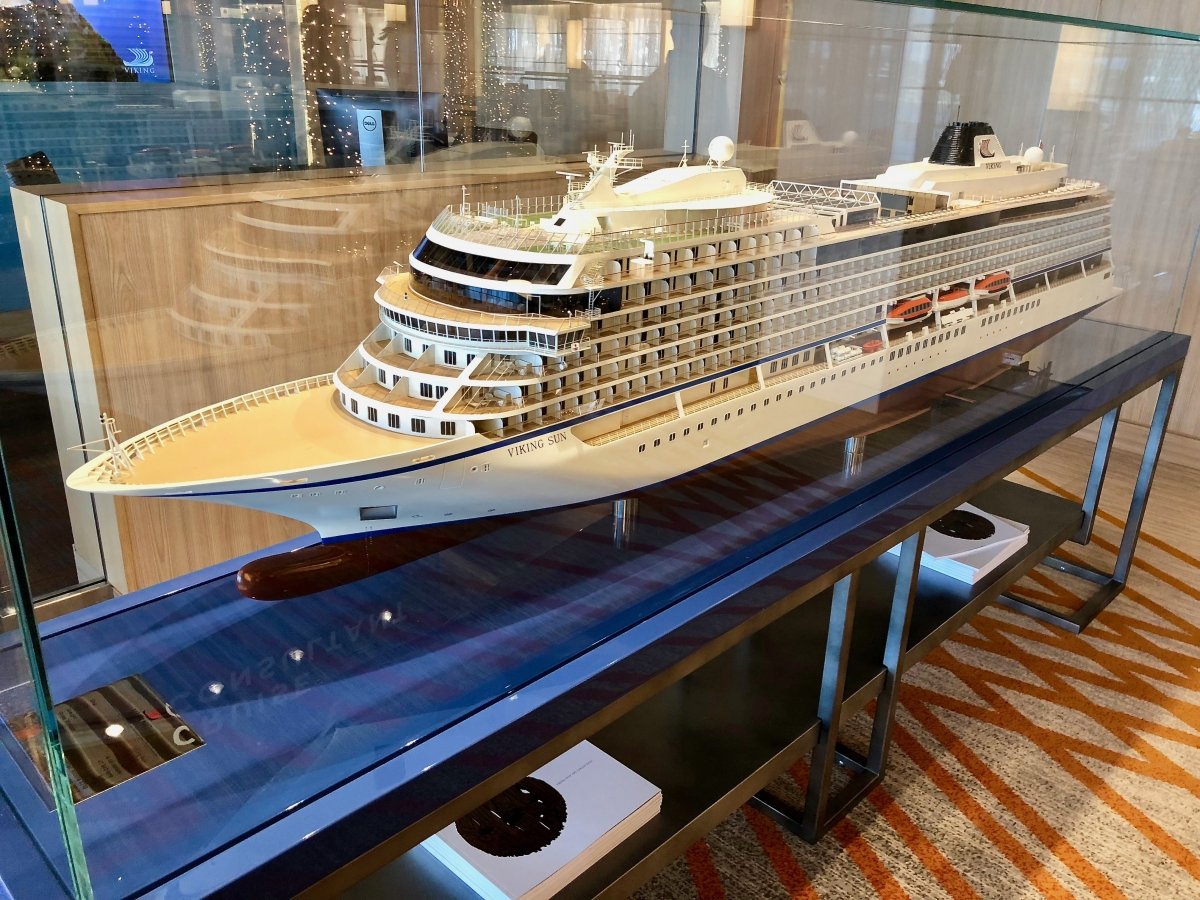 Viking has been dubbed "the thinking person's cruise," and with good reason. They have designed onboard experiences and excursions for discerning travelers who value history, culture, cuisine, as well as scenic destinations.
As a Baby Boomer, I fit the demographic of Viking's clientele. But then again, I was never a "party boat" fan, for all the reasons you can imagine.
You won't encounter umbrella drinks, casinos, ziplines, screaming children, and frequent nickel-and-diming aboard Viking vessels, but with Viking's Inclusive Value you will enjoy onboard amenities valued at more than $200 per person, per day:
---
A Tour of the Viking Sun
---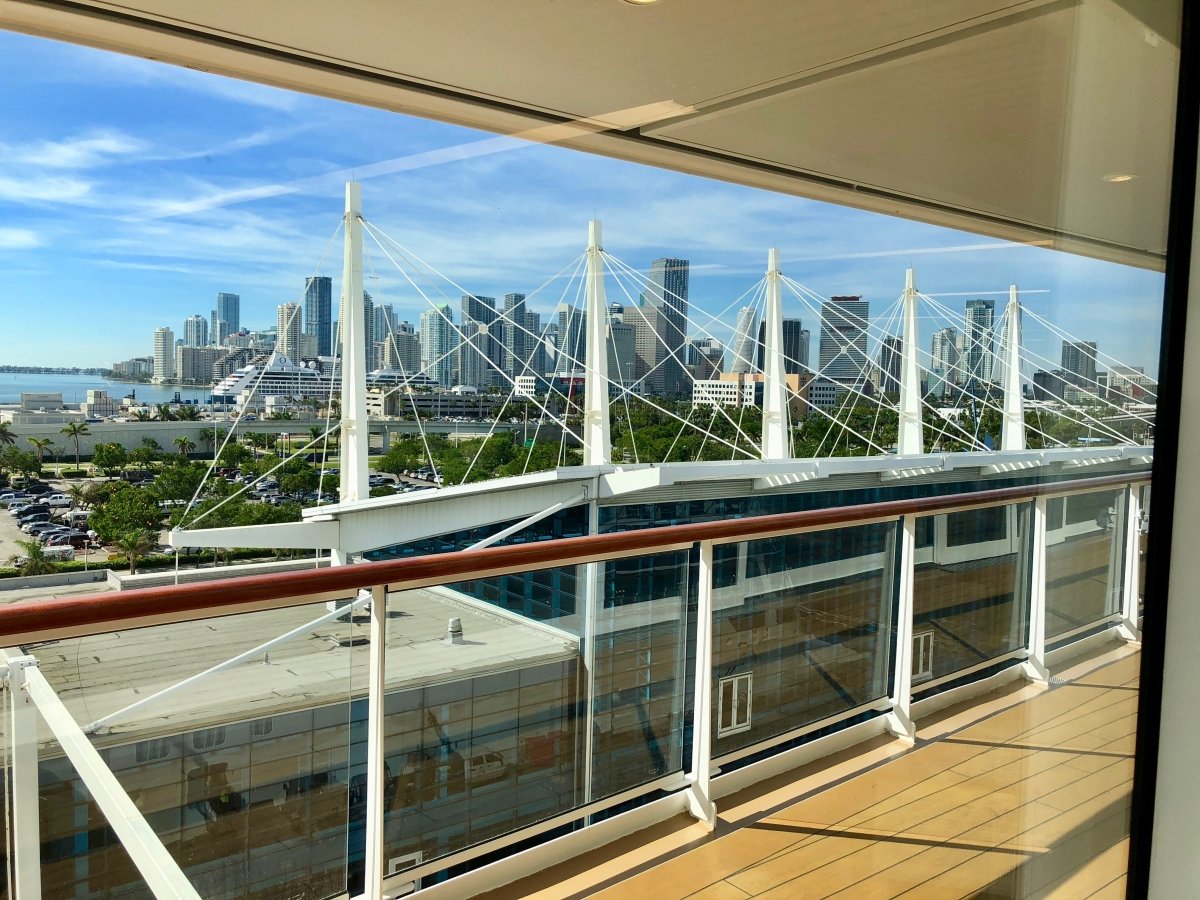 The Viking Sun is the fourth addition to Viking's ocean fleet, joining its sister ships the Viking Sky, Viking Sea, and my previous acquaintance, the Viking Star. Classified by Cruise Critic as "small ships," these all-veranda luxury liners have 465 staterooms with a capacity of 930 guests. Viking has plans to continue growing the fleet with the addition of the Viking Orion in 2018, and three additional ships by 2022.
Don't ask me how, but Viking has reinvented the uncrowded feel of its river line through the creative design of its onboard spaces. The Viking Sun's many pocket bars, private nooks, and quarter-mile promenade are great places to find solitude.
And passengers never need be misinformed. Updated cruise information is perpetually at their fingertips via touchscreen panels conveniently positioned throughout the ship.
---
Viking's motto of "Exploring the World in Comfort®" has been the driving force behind the shipboard experience. The understated elegance of Scandinavian design is calm, spacious, and minimalistic. Subtle geometric patterns are evident throughout the ship in carpet patterns and even the lichen garden beneath the atrium stairwell.
To me, comfort is luxury, and although Viking has never marketed itself as a "luxury" cruise line, in my opinion it clearly is.
The Norweigian and Danish term "hygge" denotes a cozy sense of comfort and well-being. For an in-depth look at the concept, consider Four Ways Viking Sun Embodies the Art of Hygge by my friend and cruise authority Aaron Saunders of From the Deck Chair.
Wintergarden
---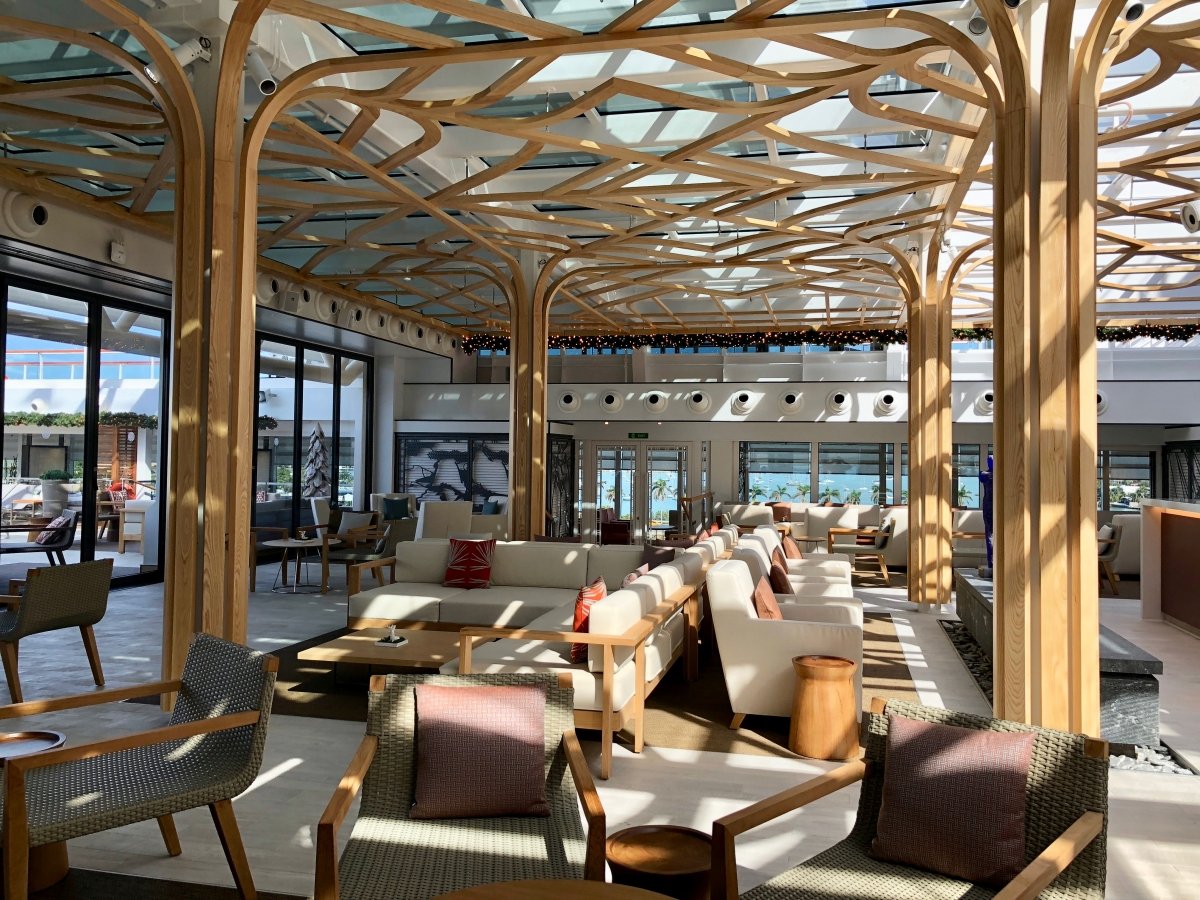 One of the onboard spaces that best defines the form and function of Scandinavian design is the Wintergarden with its clean lines, woven textures, muted color, and light streaming through a trellised, tree-like canopy.
The Wintergarden is best enjoyed during afternoon tea service with its selection of fine teas, finger sandwiches, and pastries.
Main Pool Area
---
The Main Pool Area, with its retractable roof, is a multipurpose space at any time and in any weather.
The heated main pool, hot tub, bar, grill, and dual lanais offer great options for relaxing poolside in sun or shade. At night, the pool area is the perfect location for movies, concerts, and stargazing at sea.
The Spa
---
Scandinavian wellness traditions are made available in the LivNordic Spa. Massages, facials, and other spa treatments are paid services, but use of the Thermal Suite is complimentary for all guests.
Passengers weary from a day excursion can relax tired muscles and increase circulation with a rotating bathing experience through the sauna, cold plunge, snow room, heated stone beds, and other thermal activities.
Star Theater
---
The Star Theater is the main venue for live performances, destination lectures, and also the meeting place for group excursions.
The Explorer's Lounge
---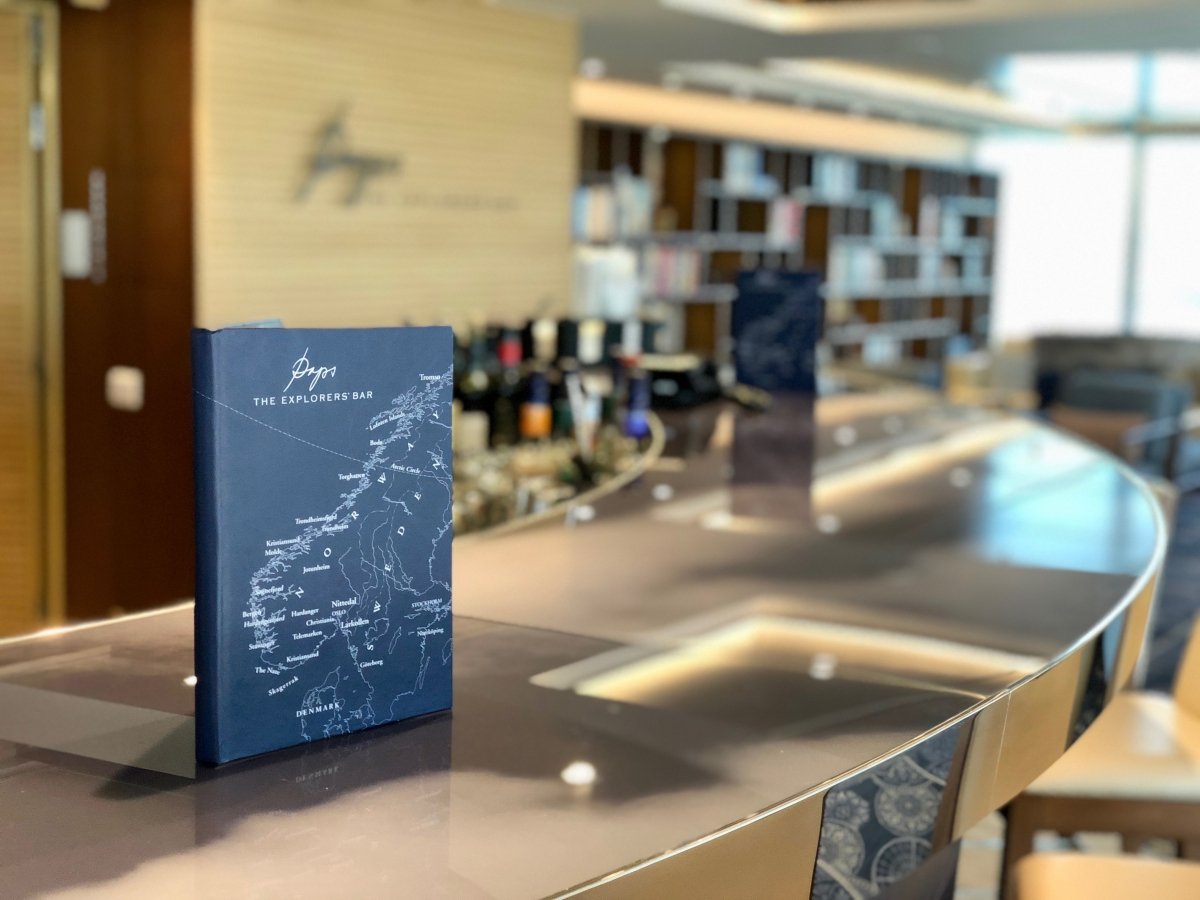 The double-decker Explorer's Lounge is a great place to spend a day at sea because it provides key creature comforts with a panoramic view from the bow of Decks 7 and 8. You can grab a bite at Mamsen's or have a drink at Pap's, named in honor of Viking Chairman Torstein Hagen's parents, while educating yourself in comfort.
Both levels of the lounge feature a carefully curated library of books related to the history and culture of Nordic lands, as well as each cruise's unique destinations.
Aquavit Terrace
---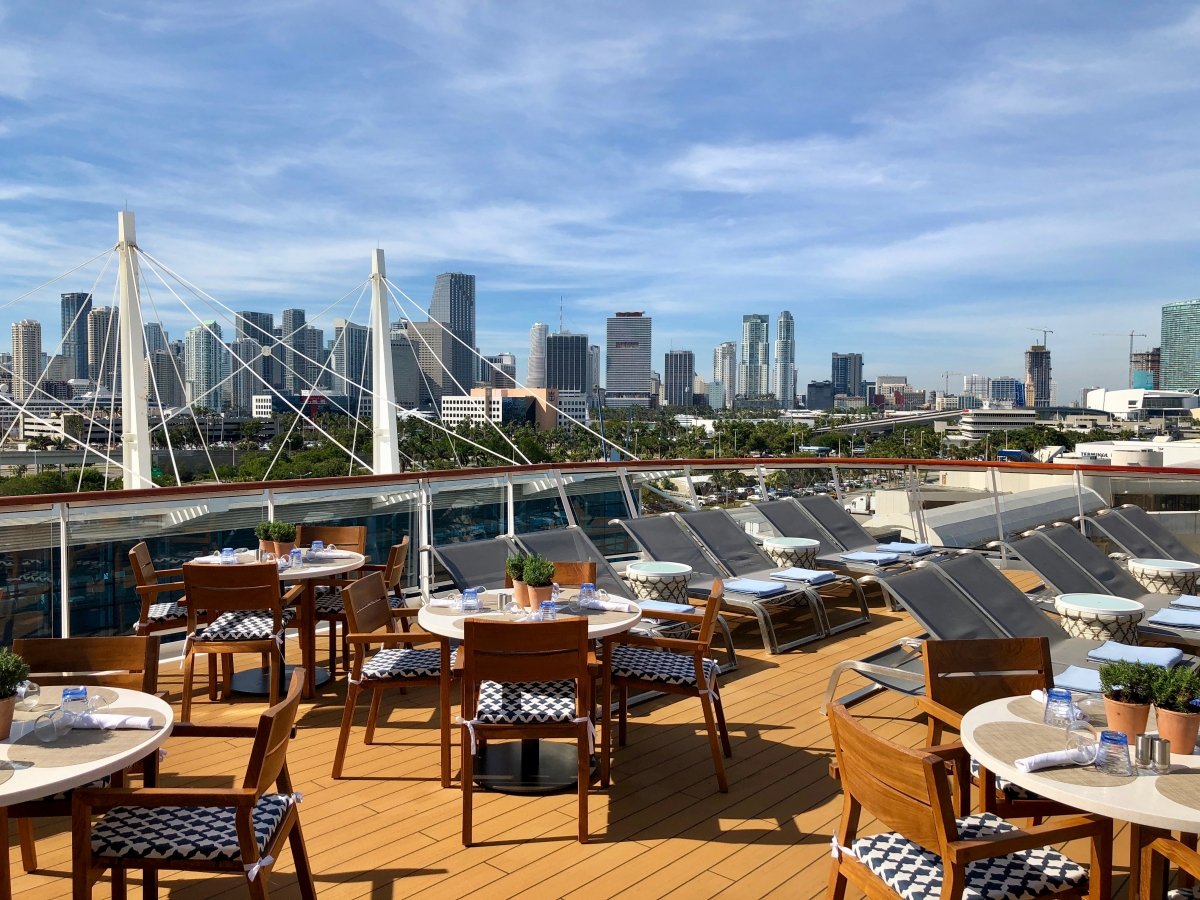 My favorite onboard space is the Aquavit Terrace, located at the stern of Deck 7. In addition to a hot tub and infinity pool, the terrace offers al fresco dining while at sea or in port.
The terrace bar adjoins the World Café, making the Aquavit Terrace the perfect gathering place for drinking and dining with a view.
---
Dining Venues
---
You will never go hungry aboard the Viking Sun with a variety of dining options, all of them exceptional.
The World Café
---
Casual and relaxed person that I am, it will come as no surprise that the World Café is my preferred shipboard dining venue. With its open kitchen, freshly-prepared selections, and made-to-order cooking stations, this smorgasbord is ideal for guests like me who enjoy serving themselves.
Manfredi's
---
Dinner reservations are required for Manfredi's, arguably the best Italian restaurant afloat. After booking a cruise, advance reservations can be made online at My Viking Journey.
The Chef's Table
---
The Chef's Table is another restaurant that accepts reservations. The menu features themed regional specialties paired with wines and served in five courses.
The Kitchen Table
---
The only dining event not included in the cruise fare is The Kitchen Table. For a fee of $199, guests can accompany the head chef on a shore excursion to shop for menu ingredients at a local market while in port. The experience culminates later that evening with guests assisting the chef as he prepares a multi-course meal in a state-of-the-art kitchen.
The Restaurant
---
The Restaurant is the largest dining venue on ship, with open seating at breakfast, lunch, and dinner. The menu features always-available selections, daily specials, and regional tasting samples.
Following our guided tour of the Viking Sun, we sat down to a three-course lunch that included a seafood appetizer, poached Norwegian salmon or herb-crusted rack of lamb, and an incredible mille-feuille (baked puff pastry with vanilla cream).
---
2019 Viking World Cruise
---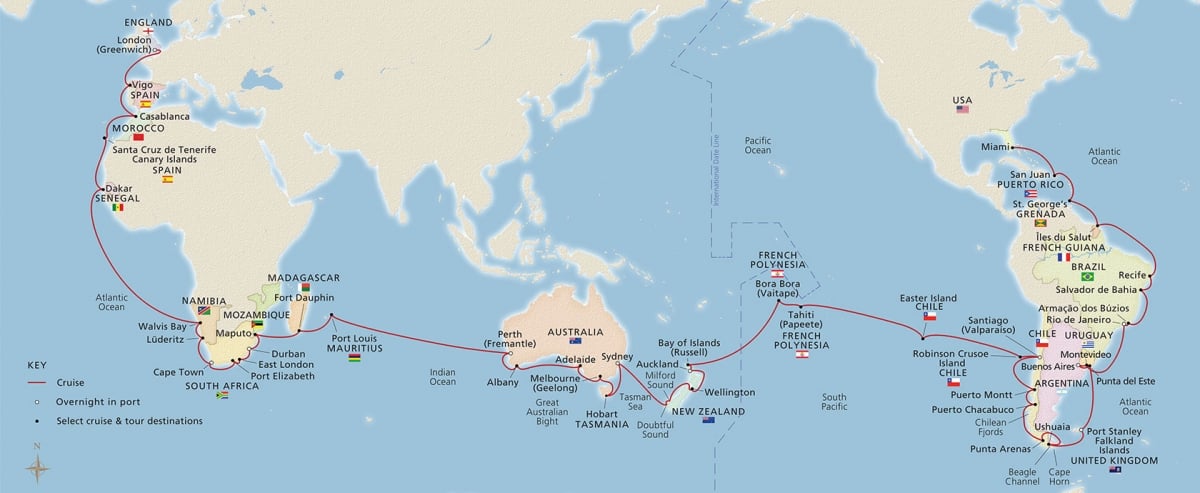 Image Credit: Viking Cruises
The Viking Sun will once again sail the globe during the 2019 Viking World Cruise. This 128-day itinerary from Miami to London will feature multiple ports in South America and Africa in exchange for the Southeast Asia ports of the inaugural cruise. Guests will visit 5 continents, 21 countries, and 64 ports in this all-inclusive experience.
---
More Viking Content on Backroad Planet
---
Learn more from our first-hand experiences sailing with Viking Expeditions, Rivers, and Oceans at the links below.
Viking Expeditions
---
Viking Rivers
---
Viking Oceans
---
---
We Would Love to Hear From You
---
We enjoy dialogue with our readers, especially when they share off-the-beaten-path destinations and useful travel tips. Have you ever taken a Viking Cruise? If so, we would love to hear about your experience. We invite you to leave your comments and questions below, and we always respond!
---
Pin this Post!
---