(a

34

minute read)
---
A guide for planning, booking, and embarking on a Viking Ocean Cruises voyage of a lifetime, featuring exclusive insider tips from Viking Explorer Society members.
---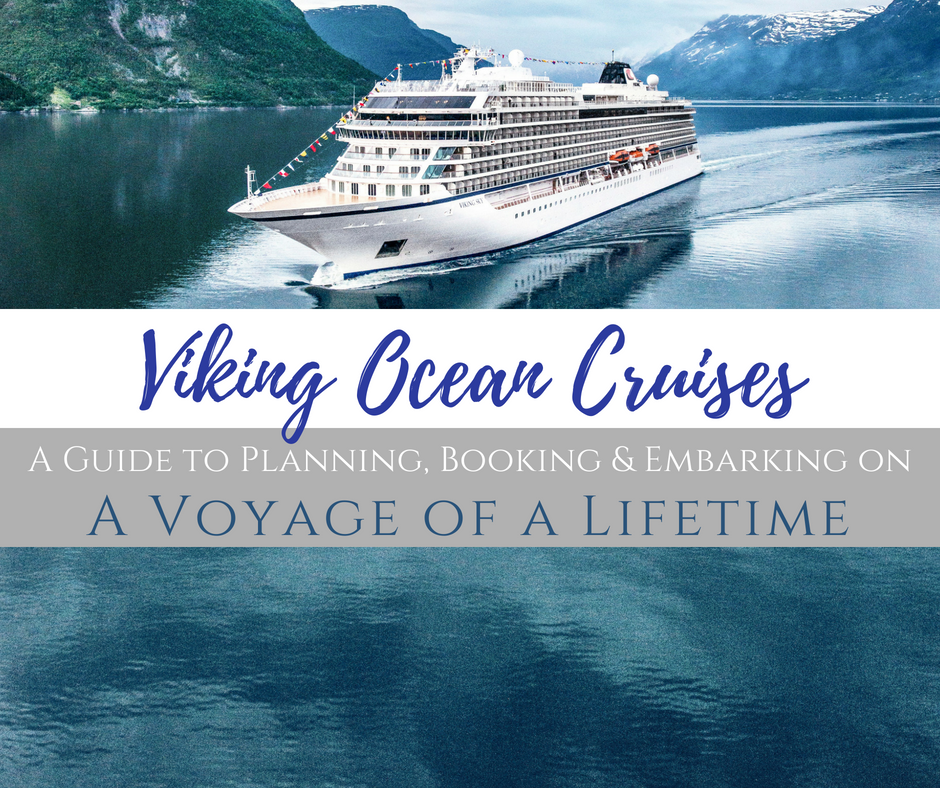 We were guests of Viking Ocean Cruises, but all thoughts and opinions are our own.
---
Note: Unlike most of our posts, this guide to planning, booking, and embarking on a Viking Ocean cruise may not be a post you will want to read from beginning to end. I invite you to consult the table of contents and navigate to the topics that interest you.
If you are actively planning a cruise, you may want to bookmark the link to this post and return to it as needed.
Also, please feel free to reach out to us with any questions you may have in the comments section below. We are eager to assist you, and we always respond!
---
---
A Viking Ocean Cruises Voyage of a Lifetime
---
We were on our Viking Ocean "Into the Midnight Sun" cruise, when we received an announcement from Viking Chairman Torstein Hagen that Viking had been named the #1 Ocean Cruise Line by Travel + Leisure readers in the World's Best Awards.
Travel + Leisure readers attribute this merit to Viking's "sophisticated design, stellar service, and cultural programming . . . ."
Since then, Viking Ocean Cruises has continued to sweep countless additional awards in categories that include: best overall cruise, value, cabins, service, dining, shore excursions, public spaces, entertainment, fitness & recreation, and first timers.
I sailed on the Viking Star, the first ship in the ocean fleet, for the "Romantic Mediterranean" cruise, shortly after it launched in 2015. Today, the world's newest fleet is the world's largest luxury fleet with sister ships the Viking Sea, Viking Sky, Viking Orion, Viking Jupiter, and Viking Venus, with the Viking Mars, Viking Neptune, and Viking Saturn on order.
Viking Ocean sister ships are identical. Carrying only 930 guests, they are classified by Cruise Critic as "small ships," a designation that allows them to cruise shallower waters, sail beneath lower bridges, and reach smaller ports that are inaccessible to larger ships.
"We have stretched ourselves creatively and technologically, evaluating every aspect of our guests' cruising experience and asking ourselves how we can surpass it."

——Torstein Hagen, Viking Cruises Chairman
---
The Viking Demographic
---
Viking Cruises are not for everyone.
If you seek a party boat, offshore gambling, or a family environment, Viking is not the cruise line for you. There are no discos, casinos, and no theme park characters on Viking ships. In fact, children under age 18 are not allowed.
Viking has been called the "thinking person's cruise" because its target audience includes mature adults with interest in geography, history, culture, cuisine, and the arts. That demographic has traditionally included the Greatest Generation and Baby Boomers, but now Gen Xers and even Millennials are finding Viking a perfect fit.
Viking does not take its class and luxury to the extreme, however. There are no formal nights, no butlers, and no white gloves to distract from the relaxed and serene shipboard ambience.
To date, we have embarked on four Viking River Cruises, two Viking Ocean Cruises, and we attended a media event for the inaugural World Cruise aboard the Viking Sun. It goes without saying that we are partial to Viking, not simply because it is an award-winning cruise line, but because we have experienced its many fine qualities in person.
That is why we do not hesitate to recommend Viking to our readers.
I say it often, those stunning TV commercials do not lie. A Viking cruise is everything you dream it will be, and much more.
So, prompted by the success of Backroad Planet's all-time most popular post, 24 Viking River Cruise Insider Tips, we have created a comprehensive guide to planning, booking, and embarking on a Viking Ocean cruise.
---
Planning, Booking and Packing
---
I am a traveler who enjoys dreaming, researching, and planning trips almost as much as taking them, and I promise you that a Viking Ocean cruise will be a singular travel event in your life, more than worth the time, effort, and money you invest.
So let's get started planning your voyage of a lifetime . . . .
Research and Planning
---
If you are in the research and planning stages for booking a Viking ocean cruise, you will want to have your ducks in a row from the start. Here are some tips to help you ensure that you select the perfect cruise for you and your travel companion, book it for the best price, and effectively prepare for departure.
• Subscribe to Viking emails.
A Viking email subscription will guarantee that you receive the latest product news, travel tips, and exclusive offers, such as 2-for-1 sales and free air travel promotions.
• Follow #MyVikingStory online and on social media.
The #MyVikingStory hashtag will lead you to current photos and experiences posted by Viking guests while on their cruises. If you access the #MyVikingStory portal online, you can filter results by ship, cruise, or country.
• Request printed materials.
Do you remember the old Sears Wish Books and JCPenney Christmas catalogs? Viking publications and brochures are full-color dreambooks filled with maps, itineraries, and sailing dates to help you discover cruises that fit you best.
• Download the Viking Explore More Magazine app.
Published four times per year, the Viking Explore More Magazine is a free digital publication featuring stunning photography, insightful destination articles, and expert advice on choosing, planning, and booking a Viking cruise of your own.
• Consult with a Viking agent.
Viking representatives are available daily for consultation, brochure requests, reservations, and other forms of customer service. Call 1-866-984-5464 to speak with an agent, or when online, look for the icon in the lower right corner to begin a live chat.
Selecting and Booking
---
Map Credit: Viking Cruises
The following tips will guide you during the research, planning, and cruise selection process.
• Choose destinations and sailings carefully.
Most cruises do not operate year round on the same itinerary. Ships are repositioned to different parts of the globe as determined by seasons and other factors. Viking Ocean Cruises now sail to countries and ports of call around the world, so choose cruise destinations and sailings that best fit your interests and schedule.
• Choose the Veranda stateroom.
If budget is a concern, you won't be disappointed by choosing the most cost-effective stateroom. Every Viking ocean stateroom has a veranda that opens to the outdoors, so the Veranda stateroom will suit you fine. Yes, there are additional perks with the larger staterooms and suites, but on Viking, no guests are relegated to the belly of the whale.
• Call Viking to make your booking or request a quote online.
When you have narrowed you choices or made your final selection, call Viking at 1-866-984-5464 to book your cruise or request a quote directly online.
• Book your flights through Viking.
Viking travel agents are experts at finding the best flights and fares for their clients, so if a free air promotion is not part of your booking, make it easy on yourself and let the professionals do the work for you.
• Pay by echeck.
When you make payments on your cruise by echeck (EFT or electronic funds transfer) from a US bank account, you can save an additional 3.3% on all of your cruise expenses. Ask for details at the time of your booking.
• Create a My Viking Journey account.
As soon as you have a booking number, you can create a My Viking Journey account. MVJ will become your online portal to help you tailor your cruise to your tastes and optimize your time on and off board. Through MVJ you can complete your Guest Information Form, make balance payments, view booking and flight details, peruse your cruise calendar, browse and book excursions, make restaurant reservations, print documents, and much more.
• Consult the Viking Filmography.
The Viking Filmography features curated lists of recommended motion pictures and documentaries filtered by country and itinerary. These films, along with the online cultural video library and reading list you will receive by email will give you the background knowledge you need to better understand your cruise destinations.
• Give your Cruise Documents a close read.
About three weeks prior to departure you will receive your Cruise Documents, a full-color personalized bound and published book containing virtually everything you need related to your journey, all in one place. Give it a close read-through and be sure to pack it along with your passport and other travel documents.
Packing
---
We are not packing experts, especially for the ladies. We only travel with carry-ons and never check any luggage unless required by the airline. We do, however, have a few packing tips for your consideration.
• Leave your tuxedos and evening gowns at home.
As Florida residents, we live in shorts, T-shirts, and slides, so the Viking casual dress code suits us fine. There are no formal nights, but "elegant casual" is required for evening dining and performances. For men, this means slacks and a collared shirt. Casual dress is always appropriate in the World Café, just one reason why it is our favorite dining venue.
• Wear or bring comfortable walking shoes.
Virtually all port excursions require walking, and comfortable closed-toe shoes are imperative. Sandals and high heels are not suitable for cobblestone streets and hiking trails.
• Pack for unpredictable weather.
We have learned that it is best to prepare for the unexpected, so pack articles of clothing you can layer. On our summer "Into the Midnight Sun" cruise to Norway and the UK, we did excursions above the Arctic Circle and also in London on one of the hottest days of the year. Some days start out cold and then warm up by noon. It is best to layer clothing that can be shed as the day progresses. If you are doing a winter cruise, you will need a warm coat, gloves, a toboggan, and scarf.
• Remember the little things.
Pack sunglasses, a hat or cap, lip balm, medications or supplements, and toiletries you can't live without. Viking staterooms are stocked with shampoo, conditioner, body wash, hand soap, and lotion.
• Don't forget your travel documents.
Be sure to pack your passport, cash, credit cards, travel insurance (recommended), and your Viking Cruise Documents. Viking will advise you if a visa is required for your destinations.
---
Arrival, Transfer, and Embarkation
---
I am no fan of long international flights, but I make the best of them, always keeping in mind that the fun is about to begin.
Arrival and Transfer
---
When you arrive at your destination airport, it is time to attach the luggage tags mailed with your Cruise Documents and slap the big red Viking sticker on your chest. You will be greeted by dozens of warm, smiling uniformed Viking representatives directing you every step of the way to your transfer coach. Agents will load your luggage on the bus for later delivery to your stateroom.
Once aboard your transfer coach, take a moment to relax with a complimentary water and enjoy the drive to your assigned port of embarkation.
Embarkation
---
Upon arrival in port, you will meet with a Viking agent, place a credit card on file, and receive your stateroom keycard. From this point forward your keycard should be in your possession at all times.
Passengers may board the ship beginning at 11:00 AM, and staterooms will be available for occupancy between 1:00 and 3:00 PM based on category.
While waiting for access to your stateroom, you may enjoy lunch at the World Café, enjoy a drink at the Aquavit Bar, or explore the common areas of the ship. You are also free to disembark to explore the port of call, but I recommend saving that until after you occupy your stateroom.
---
Occupy Your Stateroom
---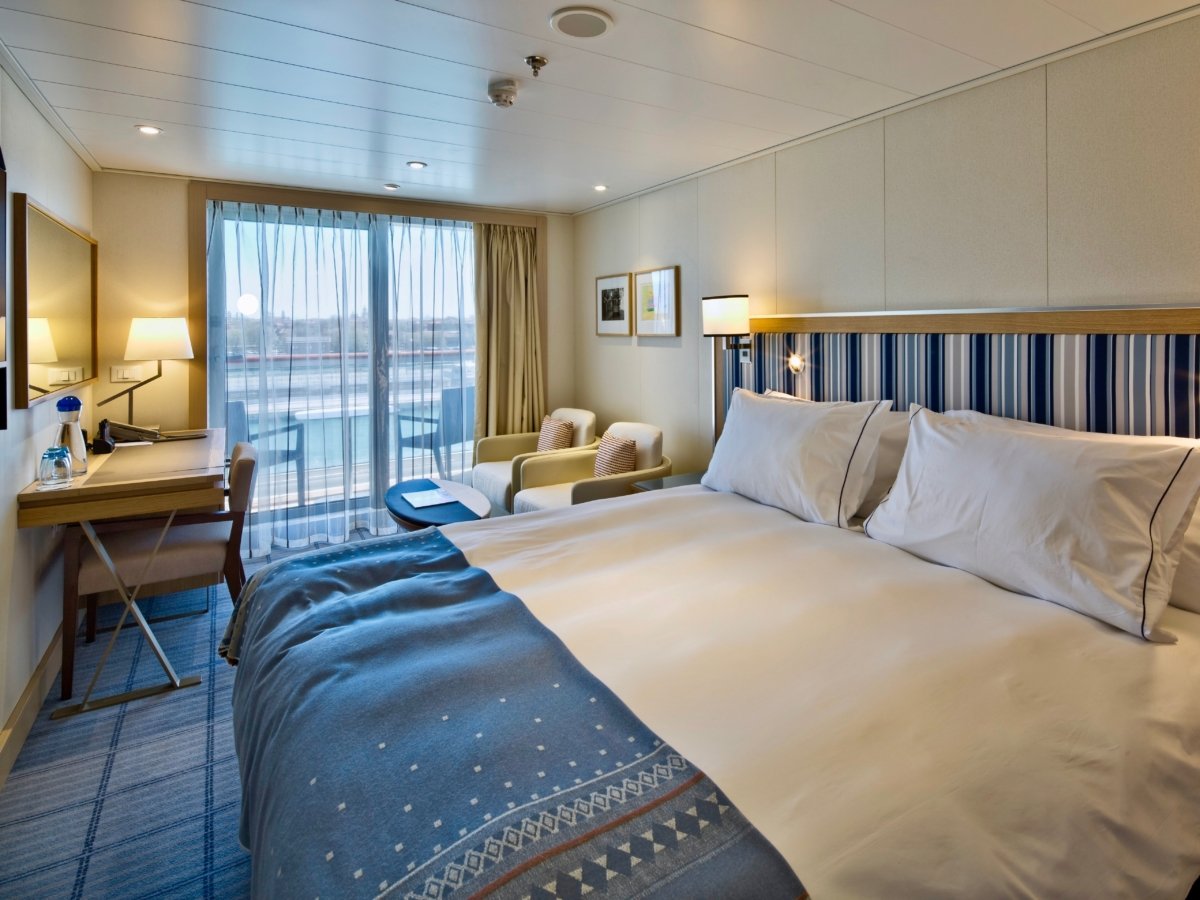 Photo Credit: Viking Cruises
Taking possession of your stateroom is such a satisfying process. You are essentially moving into a floating hotel, in a space that will become your sanctuary for the duration of your cruise.
• Unpack and make yourself at home.
I recommend completely unpacking as soon as luggage is delivered to your stateroom. Hang clothes in the closet, and fill the bureau drawers, shelves, and nightstands. Use the bathroom drawers for your toiletries. You can store your luggage under the bed or in the closet.
• Get acquainted with your bathroom. 
Your bathroom features a spacious glass-enclosed shower with a retractable clothesline. The hot/cold control has a hairline adjustment. I suggest leaving it set to dead center to avoid water temperature extremes.
Enjoy the complimentary Freyja® shampoo, conditioner, body wash, hand soap, and lotion. The light fragrance is refreshing!
Heated bathroom floors can be a blessing or a curse, depending on your nature. I tend to overheat.
The toilets operate like airplane toilets with a violent flush. Close the toilet lid before flushing.
Every stateroom has a blow dryer, but it cannot be used in the bathroom. For safety reasons, the plug will not fit the bathroom outlets. It operates fine with the bedside and desk outlets.
• Take a nap.
Although you may be pumped to explore the ship or port city, I believe it is best to recover from jet lag first. Take a shower, don't set an alarm, lie down, relax, and sleep until you wake up. Recovering from jet lag will leave you reinvigorated, and ready to enjoy your cruise to the fullest!
Cabin mates have the option of a king-sized bed or twin beds. The mattresses are a bit firm for my comfort, but the luxury linens and duvet are heaven!
• Use your stateroom safe.
The stateroom safe is perfect for storing your passport, credit cards, cash, jewelry, and other valuables during your cruise. Use it!
• Get to know your stateroom features.
Staterooms are equipped with 110 V and 220 V electrical outlets, as well as USB sockets for charging mobile devices.
Other stateroom amenities include an adjustable thermostat, binoculars, bathrobes and slippers, phones, bottled and purified water, a coffee brewer, a small stocked refrigerator, and an interactive HDTV.
Your personal steward will clean and restock your stateroom midmorning and also provide a nightly turndown service.
---
Stay Informed
---
Once your cruise begins, My Viking Journey will no longer be accessible online, but Viking has made it easy to stay informed by putting a variety of media at your disposal. Get acquainted with all of them so you are never left in the dark.
• Stateroom interactive HDTV
Your stateroom HDTV is more than just a medium for watching movies and live news television. Use it to view your cruise itinerary and calendar, access the ship livecam and GPS maps, review your onboard account, make dining reservations, schedule spa appointments, and book shore excursions.
• Viking Voyager app
Download the Viking Voyager app to your iOS or Android mobile device. It contains virtually all of the content and capabilities of your HDTV with the added convenience of mobility. Some features are only accessible when connected to the ship Wi-Fi, such as the Viking Art Guide, a feature also available as a separate app.
• Viking Daily
The Viking Daily is a full-color publication delivered to your stateroom each evening for the following day. It contains destination information, the daily schedule of shipboard activities, updated excursion information, restaurant and bar hours, and other pertinent details. You will find digital versions of the Viking Daily on your interactive HDTV and Viking Voyager app.
I save all of my printed Viking Dailies in the nightstand drawer, and take them with me at the end of the cruise as a written account of my trip. These information-packed publications just may be the best souvenir of your Viking journey!
• Touchscreen Kiosks
News, weather, maps, schedules, daily menus, and other cruise information are never far from your fingertips with touchscreen kiosks conveniently located in common areas around the ship.
---
Food and Beverage Options
---
Viking Ocean cruises offer a wealth of dining options to suit every taste, all with no additional charge. Consult your Viking Daily for opening and closing hours.
Restaurants
---
Photo Credit: Viking Cruises
• World Café
There are multiple onboard dining venues, but if the World Café were the only option, I would be totally satisfied. I enjoy the ambience of an open kitchen and buffet, especially when it features high-quality American, European, and international fare. And I love the freedom and comfort of casual dress, meaning I can wear shorts, a T-shirt, and slides to breakfast, lunch, and dinner.
The World Café design is brilliant, featuring port and starboard buffets that converge at the Aquavit Terrace, allowing guests to dine indoors with a view or alfresco in full sun or shade.
For breakfast, I enjoy fresh scrambled eggs, fried back bacon (ham), mushrooms, and sautéed onions and potatoes. Fresh, flaky croissants with butter and jam, and Viking's famous muesli are perfect additions on the side.
For lunch, I stick close to the salad bar and most days opt for the pasta of the day.
For dinner, I typically start with fresh-made sushi and crab legs, move on to salad, and then sample other featured dishes.
The World Café offers short order and made-to-order options, such as eggs any way, handmade Caesar salad, and grilled steak and shrimp.
Dessert offerings are off the chart, but my favorites were the fresh-made cookies and of course the famous ice-cream, sorbet, and gelato bar.
• The Restaurant
The Restaurant features many of the same dishes offered at the World Café, and some guests enjoy breakfast there as an alternative. Open seating is available, but appropriate dress is required.
• Manfredi's
Even if you are a casual diner like me, you must make reservations for at least one meal at Manfredi's. In the tradition of Italy's trattorias, Manfredi's offers exquisite Italian cuisine. Among the many fine pastas and house specials, the Bistecca Fiorentina, a melt-in-your-mouth thick cut ribeye, is to die for!
Photo Credit: Viking Cruises
• The Chef's Table
For an upscale dining experience, the Chef's Table offers a themed multi-course menu paired with wines selected by the master sommelier.
• The Pool Grill
If you are a sun-worshipper, the Pool Grill specializes in gourmet burgers, hotdogs, fries, and other short order delights. A small salad bar is the perfect complement for a relaxing poolside lunch.
• Mamsen's
Located in the Explorer's Lounge, Mamsen's is open from early morning until late at night, offering waffles, open-faced sandwiches, and other light Norwegian specialties.
• The Wintergarden
Don't miss the tradition of afternoon tea and live light classics in the Wintergarden, held daily from 4:00 to 5:00 PM.
This light-filled space designed with beech wood "tree" architecture just may be the most lovely venue onboard.
• Room Service
Room service is available 24/7, and you can place your order from the printed menu on your desk or the digital menu on your interactive HDTV. For next-day breakfast, it is best to complete the breakfast card and place it outside your door by 11:00 PM.
Breakfast typically closes at the World Café and The Restaurant by 9:30 AM. If you get up too late, Mamsen's and room service are your best alternatives.
Bars, Lounges, and Beverage Options
---
Unlimited coffee, tea, juice, soft drinks, and water are included with your cruise. Complimentary wine and beer are also served during lunch, dinner, and shipboard events.
The World Café beverage station is open 24/7 with coffee, tea and water. My only criticisms are that the beverage machine does not have a hot chocolate option like the river cruise machines, and cookies are not stocked at the station. If you are a cookie monster like me, I suggest that you grab cookies from the buffet and stash them in your stateroom for later.
Pap's bar in the Explorer's Lounge typically has a coffee and tea station set up, as well.
You will discover that all coffees served on board are not created equal. In my opinion the coffee made from fresh-ground beans at the beverage station is best, the Parisian variety from the stateroom coffee brewer is second, and the coffee served at tables is third.
• Is a Silver Spirits beverage package right for you?
The Viking Silver Spirits premium beverage package includes unlimited house-pouring wine, beer, liquor, cocktails, well drinks, and mixers. Prices currently begin at $139 for a 7-day cruise, and both parties ages 21 or older occupying a stateroom must purchase the package for the full length of the cruise. You may purchase the package in advance or after you board.
If you are content to enjoy house wine and beer with your meals, you will be fine. If you enjoy cocktails or wine and beer at other times throughout the day, you may want to consider purchasing the beverage package.
To calculate the cost and value, I can tell you individual drink prices are reasonable and not inflated like at theme parks, airports, and hotel bars. A beer will cost you about $3, a glass of wine $4, and cocktails average $5-$8.
Passengers are allowed to bring their own spirits for consumption on board, and ice is always available from room service. Guests may bring bottles of wine to restaurant dining rooms with no corkage fee applied.
• Viking Bar
The Viking Bar, located in the Living Room on Deck 1, is open from early morning to late evening, serving drinks and light snacks. The Living Room is a perfect place to enjoy cocktails and conversations with a background of live chamber music.
• Aquavit Bar
Conveniently located between the World Café and the Aquavit Terrace, the Aquavit Bar is my favorite hangout on board. Stellar views and killer Cosmos on the rocks!
• Explorers' Lounge
On my first Viking ocean cruise, the double-decker Explorer's Lounge, with it panoramic views and library was mostly vacant. On my most recent cruise, it was the hotspot of the ship, as well it should be. The Explorers' Lounge is home to Pap's bar and Mamsen's deli.
• Pool Bar
The midship Pool Bar is a great place to enjoy poolside drinks and classic cocktails.
• Theater Bar
The Theater Bar, located just outside the Star Theater, opens prior to evening showtime, so guests can enjoy a drink with the show.
• Torshavn
Viking's signature bar, Torshavn, opens at 9:00 PM, serving premium beverages and cocktails, with live entertainment and dancing in an intimate setting.
---
Shipboard Life
---
Even if you never visited a single port of call, a Viking Ocean cruise would be a destination all its own. Shipboard amenities, conveniences, and venues ensure that the needs of every guest are met.
Viking Resident Musicians
---
Viking Resident Musicians are an integral part of the shipboard ambience. The soothing strains of live instrumentals on piano, guitar, violin, cello, and flute echo throughout the Atrium, Living Room, and Explorer's Lounge.
Libraries
---
Viking ships have libraries at various locations on board. These curated collections relevant to cruise destinations and other relevant subjects are located in the Living Room, both decks of the Explorers' Lounge and in the lanais adjacent to the Wintergarden. Guests are free to browse and borrow books, but they must be returned by the end of the cruise.
Shops
---
A variety of shops on Decks 1 and 2 specialize in high-end fashion, watches and jewelry, fragrances and cosmetics, souvenirs, travel essentials, and toiletries. Hours are listed in the Viking Daily.
Guest Services
---
Located adjacent to the Living Room on Deck 1, guest services are available 24/7. They can assist with making custom arrangements should you want to visit a museum, attend a concert, or make reservations for a restaurant ashore. They can also assist with scheduling shipboard bridge and galley tours. Feel free to consult guest services for assistance with any question or concern.
Wi-Fi
---
Free Wi-Fi is available to all guests throughout the ship for use with personal computers and mobile devices. Ocean cruising requires VSAT satellite access, so weather and location may cause intermittent interruptions or slowing of signals.
• Move around the ship to find a stronger Wi-Fi signal.
The Wi-Fi on my most recent cruise was the strongest and best I have experienced on any cruise, even when we were positioned north of the Arctic Circle. Hopefully, this is a sign that technology is improving. If you are experiencing a weak Wi-Fi signal, try moving to various locations around the ship.
• Take advantage of the ship business center.
The ship business center is located under the main staircase in the Living Room. Multiple computers and a printer are available to all guests without charge.
Medical Center
---
The ship medical center is located on Deck A in the belly of the ship. Staffed by the ship doctor and two nurses, the center is open for fee-based consultations one hour in the morning and one hour in the afternoon, as published in the Viking Daily. Emergency services are available 24/7.
Note: Some passengers on my most recent cruise who used motion sickness patches experienced side effects such as enlarged pupils and pharyngitis. The ship doctor said he does not recommend them. Free motion sickness tablets are available from the medical center or guest services.
Launderettes
---
The four self-service launderettes located on Decks 3 through 6 are the reason guests like us can travel light on a 15-day cruise. We did laundry three times, and having fresh, clean clothes was a blessing.
Each launderette contains three washers and dryers, and two irons and ironing boards. Directions for using the machines are posted, but there is a bit of a learning curve when doing laundry the first time. Pre-measured laundry detergent is dispensed automatically to the machine based on user settings.
Guests do not need to bring coins nor detergent, but a laundry bag and dryer sheets would be helpful. One guest suggested bringing clothespins to use with the shower clothesline.
Pools
---
The main swimming pool and hot tub is located midship on Deck 7, and the retractable roof can be opened or closed as dictated by the weather. The pool deck also serves as a theater for movies under the stars.
An infinity pool and hot tub are located on the Aquavit Terrace for guests who want to swim with a view. The LivNordic Spa on Deck 1 also has a thermal pool, cold plunge pool, and hot tub.
LivNordic Spa
---
The LivNordic Spa on Deck 1 is free for the use of all guests. In addition to the various pools, the spa includes a common sauna, steam room, Snow Grotto, and relaxation area. The private dressing rooms for men and women have additional dry saunas and cold plunge pools, lockers, and showers.
The LivNordic Spa offers a full menu of well-being services, including massages, facials, manicures, pedicures, cuts, and other beauty treatments.
Fitness Center
---
The ship fitness center, also open to all guests, is located adjacent to the spa. It is outfitted with an aerobics room and gym with weights, treadmills, and other exercise equipment. Hours are published in the Viking Daily, and personal fitness training sessions can be arranged at the spa.
Sports Deck and Promenade
---
The Sports Deck on Deck 9 is outfitted with a range of permanent fitness stations, a putting green, shuffleboard, and other sports facilities.
The 360° promenade on Deck 2 is perfect for jogging and walking. Four laps around equals one mile, and you can't beat the views!
Note: Viking requests that guests reserve swimsuits, bathrobes, cover-ups, and exercise attire for the fitness center, pool areas, and Sports Deck.
The Star Theater
---
The Star Theater on Deck 2 is the primary auditorium venue for port talks, lectures, concerts, special productions, as well as first-run and classic HD movies with Dolby surround sound. The adjacent Cinemas 1 & 2 feature TED Talks and destination films.
The Kitchen Table
---
The Kitchen Table is a state-of-the-art cooking and dining venue. Guests who purchase the pricey Market Experience join the chef for a morning excursion to a local market while in port to purchase seasonal produce. In the evening guests rejoin the chef at the Kitchen Table to cook and enjoy a multi-course gourmet meal.
Cooking School at the Kitchen Table is occasionally offered on sea days. Participating guests will prepare dishes from scratch under the chef's instruction. Reservations are required for both experiences and fees apply.
Sanitizer Stations
---
Viking is committed to protecting your health and preventing shipboard outbreaks, and so hand sanitizer stations are posted at most venue entryways and exits throughout the ship.
Shipboard public restrooms are well-equipped so that guests are not required to touch door handles. Single-use cloth towels are available for drying hands and opening the doors to the anterooms, and anteroom paper towel dispensers assist guests with opening exit doors.
Designers of land-based public restrooms should take note.
Smoking Area
---
Smoking is strictly prohibited in all Viking ship interiors, staterooms, and verandas. A designated outdoor smoking area is located on the starboard side of Deck 8.
---
Excursions
---
The Viking shipboard experience is truly amazing, boasting every creature comfort you could imagine. But shore excursions are the means by which you are able to explore the cultures and histories of the cruise destinations you chose while still in the planning stages.
• Study excursion options carefully before booking them on My Viking Journey.
Viking offers one included excursion and a wide range of optional excursions for every port. I have major FOMO (fear of missing out), but I have accepted that it is impossible to see and do everything all at once. I recommend that you carefully consider each offering to design the best excursion lineup for your voyage of a lifetime.
Many of the included excursions are guided panoramic coach rides through the port cities and surrounding countryside, and they are not all created equal. Some included excursions stop frequently for scenic views, historical sites, and museums. Others are largely riding and viewing from a distance. Panoramic excursions are not typically for people who want to take quality photos.
Optional excursions are fee-based and typically explore a single facet of a destination such as local flavor, adventure, or privileged access to a location.
Depending on how long you are in port, you may be able to schedule both morning and afternoon excursions.
• Consider splurging on optional excursions.
Optional excursions are not free. You will incur additional expense. That said, you will probably not regret it. We booked three optional excursions on our last cruise, and they were totally worth it.
In fact, two of the three excursions, Geirangerfjord by Jet Boat and Honningsvåg & Surroundings by ATV, I would not trade for anything.
• You will be able to modify your excursions once onboard.
Your excursion selections are not locked in stone. Once aboard, you can add or remove excursions should you change your mind, as long as you don't wait until the last minute. You can modify excursions using your stateroom interactive HDTV or mobile Viking Voyager app, but I recommend consulting with the Shore Excursion Desk located next to Guest Services on Deck 1.
• Explore port cities on your own.
Excursions are great, but don't hesitate to explore port cities and environs on your own. You can pick up maps at Guest Services and they will assist you with directions to local attractions or making reservations.
If your ship is berthed more than a 15-minute walk to the center of town, a free shuttle service will be available and will run at regular intervals between the ship and town center. Uber is also an option in 60+ nations of the world.
If you explore on your own, don't be late boarding the ship. Passengers are required to be back on board two hours before departure. Passengers not on board by departure will be left behind, and will need to make their own arrangements to arrive at the next port of call.
• Be sure to carry the following items with you when leaving the ship:
Keycard: You will need your keycard to exit ship security when disembarking and when returning to ship. In many, if not most port cities, your keycard will also serve as your ID card, and your passport can be stored in your stateroom safe.
Viking Daily: The front page of the Viking Daily lists ship and US Embassy contact phone numbers, the ship pier location, the back on board time, and a message that reads, "Please take me back to the ship," in the local language. This information will come in handy should you lose your way.
Excursion Tickets: You will find an envelope containing all of your excursion tickets on your stateroom desk. Be sure to bring the appropriate ticket with you for boarding the appropriate coach.
QuietVox: The Viking Daily will let you know whether your next day's excursion will require QuietVox audio sets and earpieces for guided tours.
Tip Money: It is recommended that you tip your excursion guide the equivalent of €2 and your coach driver the equivalent of €1, per person. You are free to tip with dollars, pounds sterling, or local currency, however €1 and €2 euro coins are convenient for tipping.
The best way to obtain local currency is from local ATMs. Although there are no currency exchange services on board, Guest Services will make change for you in a variety of currencies.
• Download offline Google Maps to your mobile device.
Even if you leave your phone in airplane mode while out of the country, you can still use the Google Maps app while exploring on your own, if you download an offline map of the port city from ship Wi-Fi before offboarding.
---
Days at Sea
---
Before embarking on a Viking ocean cruise, I thought days at sea would be wasted time, because I like staying busy with daily port excursions. Boy was I wrong! Days at sea give you time to relax, recharge, and take advantage of shipboard activities.
Consider the following tips for making the most of your days at sea:
• Order room service breakfast on days at sea.
Days at sea are perfect for enjoying breakfast, or any meal for that matter, on your stateroom veranda. Room service is available 24/7 and free, so use it to your benefit.
• Get a headstart on laundry the evening before a day at sea.
You would think days at sea would be a great time to do laundry, but every passenger is thinking the same thing. I suggest getting a jump on the crowd by doing laundry the evening before a day at sea.
• Attend lectures, presentations, events, games, and trivia contests.
The Viking Daily is loaded with scheduled activities throughout the day. Give it a read-through and find something that suits your interests. If you want a good seat, plan to arrive early at the event venue.
• Visit the Viking Heritage Center.
The Viking Heritage Center is a small museum located near the Atrium on Deck 2. The exhibits display ancient Viking artifacts, weapons, ship models, timelines, and maps, all great resources for learning Norse culture and history.
• Do a self-guided tour of shipboard art.
Days at sea are optimal times to use the Viking Art Guide app to engage with your ship's art collection and Scandinavian-inspired public spaces. The interactive app provides information and insightful commentary from host Karine Hagen and other relevant curators.
• Do a Nordic bathing ritual.
A Nordic bathing ritual is a traditional experience focusing on alternating hot and cold baths. Visit the LivNordic desk for a self-guided instruction brochure, sign up for a group session, or schedule a private guided experience in the spa.
• Find a place to get away.
One of the things I love most about the design of Viking ships is that there so many open seating options in the common areas. Find yourself a sequestered nook and read a book, journal about your cruise experiences, work on a puzzle, or take a catnap. With no more than 930 passengers on board, you will have no problem finding a comfy place for private time.
Days at sea are a blessing, and I encourage you to take full advantage of them however you see fit.
---
Disembarkation
---
All good things must end, and that includes Viking Ocean cruises. If you follow the printed disembarkation procedures delivered to your stateroom and the Disembarkation Checklist in the Viking Daily, it should be a smooth process. Viking orchestrates the operation like a well-oiled machine.
• Onboard Account
If you have a balance, your credit card on file will be automatically charged on the morning of disembarkation. You can review your account on your stateroom interactive HDTV or Viking Voyager mobile app. Should you wish to pay in cash or have an inquiry, you will need to visit Guest Services the evening before disembarkation.
• Gratuities
A discretionary hotel and dining charge of $15 per guest per day is automatically added to your onboard account to be distributed equitably among onboard support staff. A 15% gratuity is also added to all bar tabs. Tipping is a personal matter and these charges are for your convenience. Should you wish to adjust gratuity amounts, you will need to stop by Guest Services.
• Additional Tipping
All Viking staff members are courteous and dedicated to providing guests the best possible cruise experience, however, there are certain bartenders, wait staff, or room stewards who go the extra mile and endear themselves to you. We make a point to tip these staff members a bit more in person on the last evening of the cruise.
• Questionnaire
Viking values feedback from their guests. Be sure to complete your guest questionnaire and leave it in your stateroom or deliver it to the designated dropbox near Guest Services.
• Luggage
When packing, don't forget to check the bathroom, nightstands, bureau drawers, closet, safe, and under the bed. Attach color-coded tags to your checked luggage and leave them outside your stateroom door no later than 10:00 PM the evening prior to departure.
• Meeting Time and Location
Plan to arrive at the meeting location by the designated time for disembarkation and airport transfers. The meeting time my seem a bit early, but it is carefully determined based on transfer, airport security, and airport navigation times to ensure no one misses their flight out.
Bon voyage, or as they say in Norway, God Tur!
---
More Viking Content on Backroad Planet
---
Learn more from our first-hand experiences sailing with Viking Expeditions, Rivers, and Oceans at the links below.
Viking Expeditions
---
Viking Rivers
---
Viking Oceans
---
---
We Would Love to Hear From You
---
We hope you have found the tips and suggestions in this guide to Viking Ocean cruises to be of help. If you need clarification on any topic, please let us know, and if you have completed an ocean cruise, we would love to hear about your experience. We enjoy dialogue with our readers, and we invite you to leave your comments and questions below, and we always respond!
---
Pin this Post!
---