(a

59

minute read)
---
Cruising with NCL just got easier with this Backroad Planet collection of tips, tricks, and opinions compiled by two avid Norwegian Cruise Line insiders.
---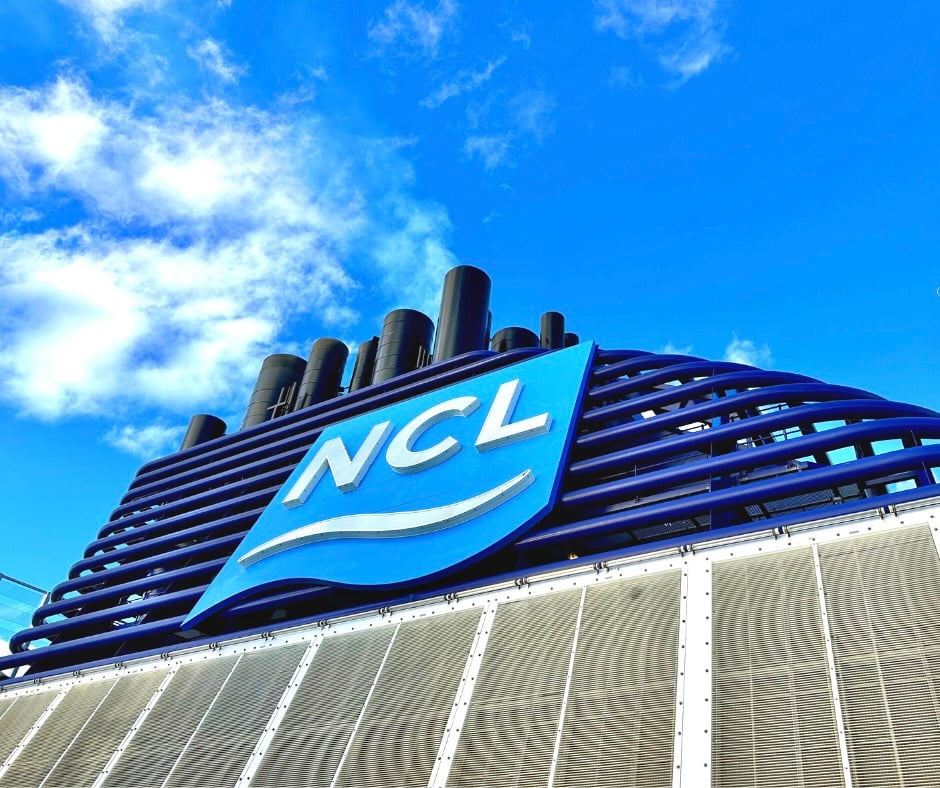 This post may contain affiliate links. Please refer to our our Disclosure/Disclaimer page for more information.
---
Note: This post is a comprehensive guide to cruising with NCL, addressing more than thirty different topics. The intention is not for visitors to read the post from beginning to end, but rather to offer easy access to helpful subjects within the guide.
Please use the Table of Contents to navigate to sections of interest. The arrow to the right of your screen will instantly bring you back to the top of the post to access other relevant sections.
---
---
An Insider Guide to Cruising with NCL
---
Howard and Lucy—the authors of this guide—are frequent travelers who enjoy cruising with NCL (Norwegian Cruise Line). At this writing, they have sailed on thirteen of eighteen ships in the NCL fleet, either separately or together. They believe their combined histories with the brand uniquely qualify them to offer readers a wealth of tips, tricks, and other NCL inside information.
In this post, Howard and Lucy present both positive and negative aspects of cruising with NCL and make no apologies for the authenticity of their experiences. If you are a seasoned cruiser or looking to book your first NCL cruise, you are sure to find something of value in this guide.
---
Our NCL Histories
---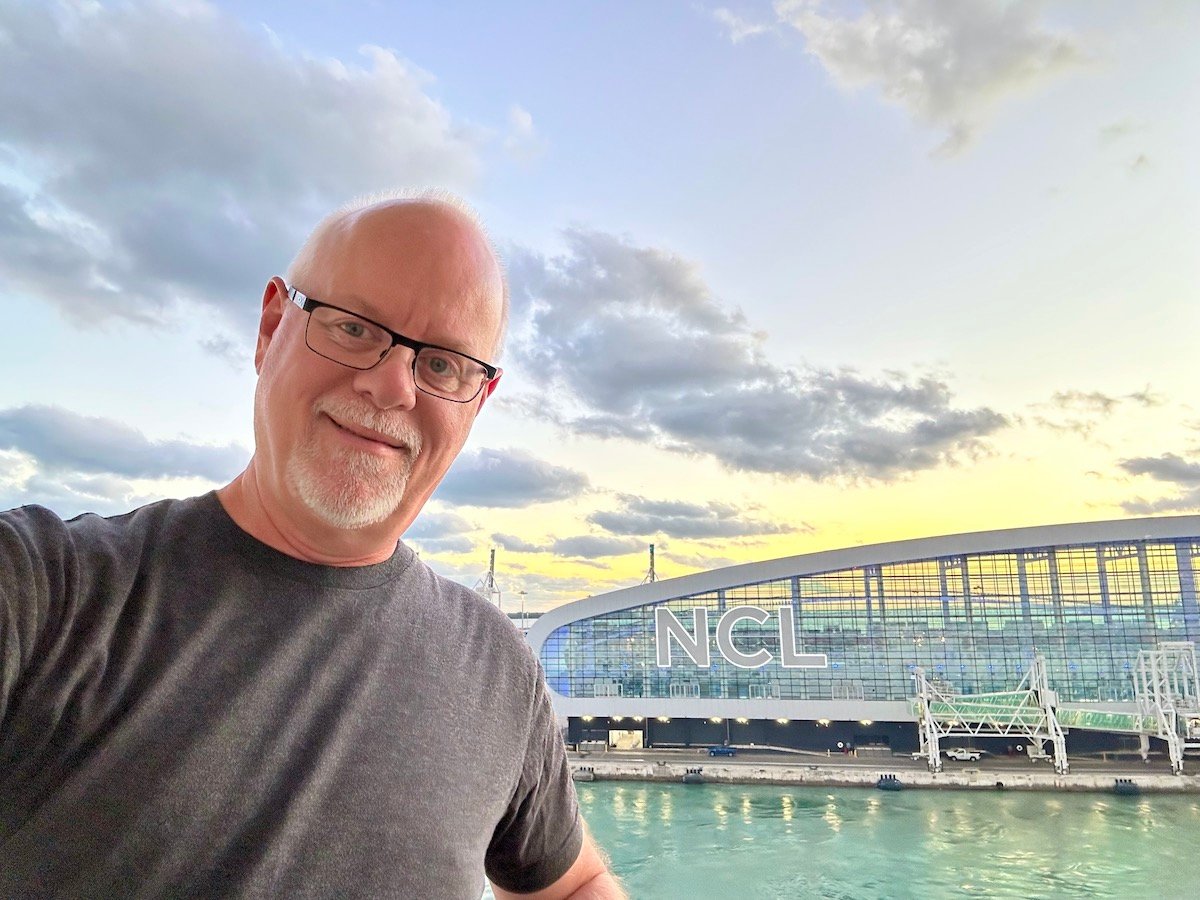 Howard: Prior to sailing with NCL, my cruise experience was almost exclusively with Viking. It is true that cruising with a luxury line spoiled me, but it also explains my frame of reference when reviewing NCL. My first NCL sailing was in October 2021 as the cruise industry was in post-Covid relaunch mode. Since then, I have sailed to Alaska, the Caribbean, the Mediterranean, the Middle East, including transits of both the Panama and Suez Canals aboard six NCL ships: the Encore, Escape, Jade, Prima, Dawn, and Bliss.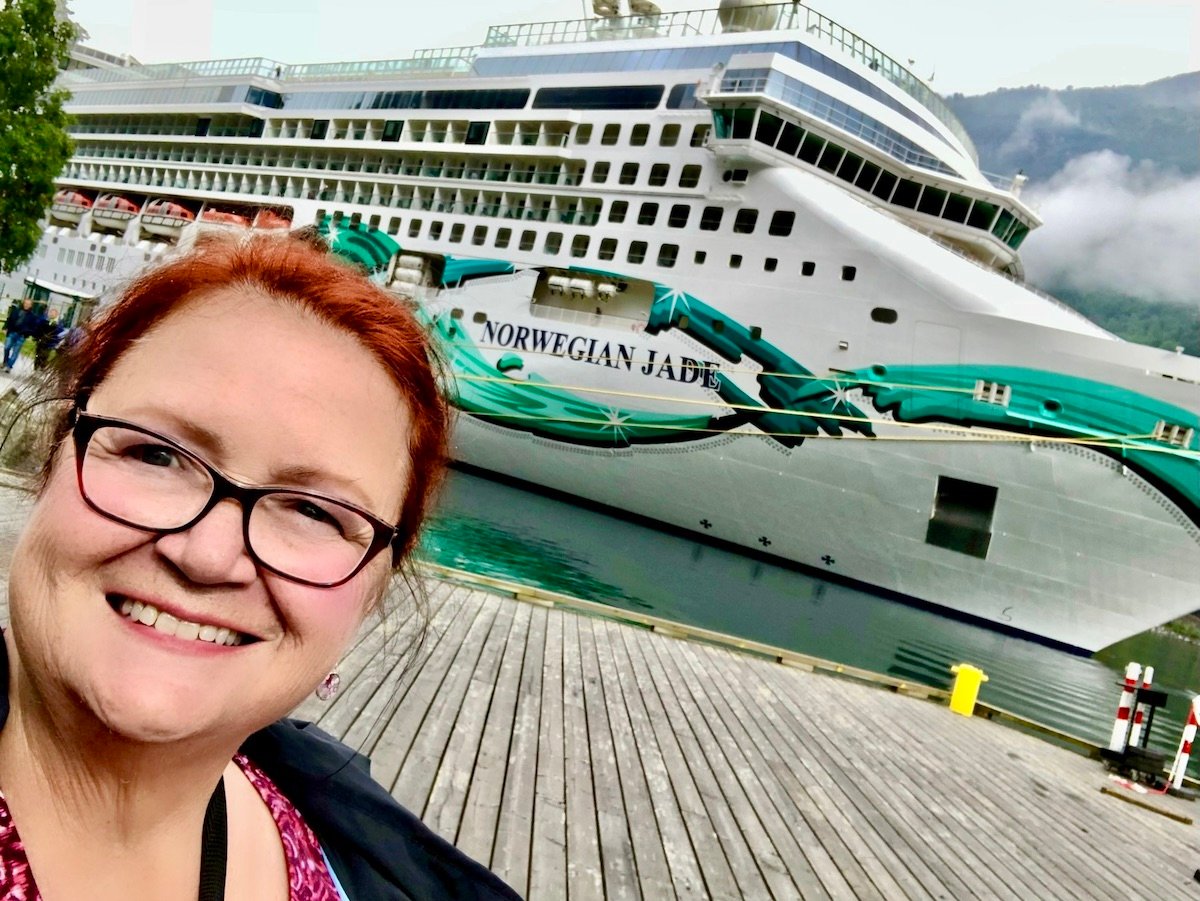 Lucy: I took my first-ever cruise in 1986 on the NCL Starward, which was the first ship exclusively built for NCL. It entered service in 1968, and was sold in 1995, before being scrapped in 2018. I also cruised on the NCL Seaward, which was operated by NCL from 1988 to 2005. Over the years, I have cruised on many lines, but always seem to come back to NCL as a favorite. I have cruised from the South Pacific to the Caribbean to the Indian Ocean, traversing both the Panama Canal and the Suez Canal on the NCL Jade, Jewel, Pearl, Epic, Sun, Star, Spirit, and Getaway.
Howard: Lucy and I are independent people, both as travelers and otherwise. Although we have a lot in common, we occasionally disagree on certain topics, and this collaboration is no different. Lucy is a seasoned travel authority, a great writer with a singular voice, and I respect her views even when I see things differently. That is why I asked her to become a regular contributor at Backroad Planet, whether publishing articles of her own or collaborating with me. Lucy's contributions help bring our readers more balanced, candid content, and for that I am grateful.
This guide to cruising with NCL extends across the brand. For more detailed information on specific ships and itineraries, you may want to navigate to other NCL posts and travelogues on Backroad Planet:
For your convenience, the above links are repeated at the end of this guide.
---
Cruising with NCL: Our Tips, Tricks & Opinions
---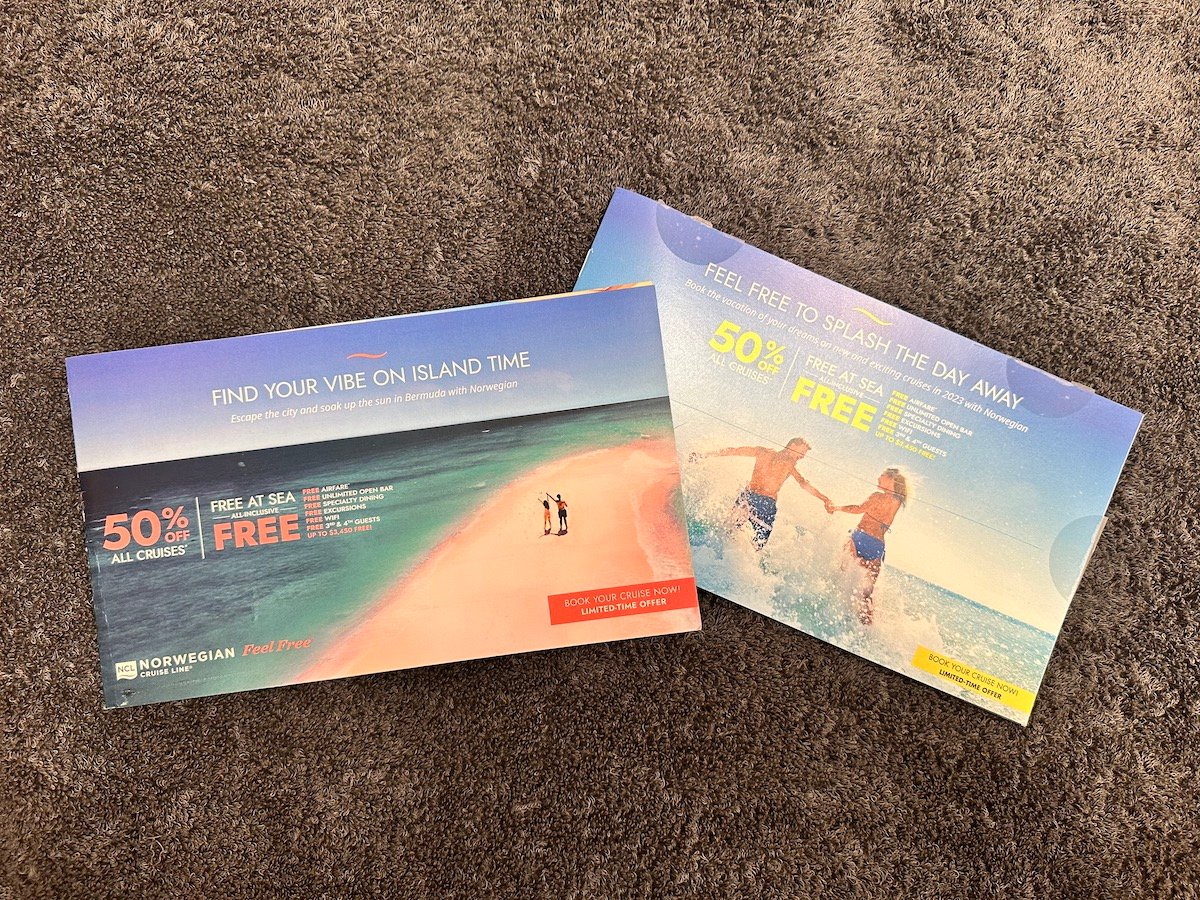 • Most NCL promotions are not what they seem.
---
Lucy: Like most travelers, I am always on the lookout for a special deal. When a cruise line offers a sale price on a cruise I like, I take a closer look. And since I am retired and fortunate to travel more often than most, I frequently check my favorite sites, including the NCL website.
Every week or so there seems to be new tempting promotions: 50% off! 3rd and 4th passenger only $99! Second guest sails free! The promotions frequently come with a countdown clock, urging you to book quickly before your preferred ship is sold out, or the price goes back up.
I am sorry to report that most of these promotions are not as great as they seem. If the truth be told, many of them are puffery at best. Most of the promotions that offer some large percentage off are taking that percentage off an illusory original price that no one should ever pay.
At this writing, NCL is proudly advertising its "2nd Guest Cruises Free" promotion. Read the fine print, and what NCL says is that "2nd guest free" means that both guests get charged 50% of the original fare (you know, the imaginary one that no one ever paid). So it is virtually the same price as it always is. For passengers who travel solo, like Howard and me, this is a worthless promotion. A solo traveler will never get a discount under this scheme.
Of course, these types of promotions are not unique to NCL, or even to the cruise industry. Savvy travelers will know to take promotional language with a grain of salt. Ignore the promotional hyperbole and check the bottom line price to see if there really is a reason to quickly book a "sale" price.
• NCL's Free at Sea promotion is a great value for many cruisers.
---
Howard: Free at Sea is an add-on promotion that includes an unlimited open bar package, specialty dining meals, WiFi, a $50 credit on shore excursions, and most recently a select amount of FLOW alkaline water. The price and limitations depend on the length of the itinerary. Service charges (20%) are also applied at the time of booking for the beverage package and specialty dining meals.
I almost alway purchase Free at Sea because I like the perks. Even though I don't overindulge in alcoholic beverages, I like being able to order a drink whenever it suits me without having to deal with signing receipts and gratuities. In addition to reducing the price, sometimes the $50 shore excursion credit means your excursion is free. Such was the case on an excursion I booked to the UNESCO World Heritage site of Antigua when we ported at Puerto Quetzal, Guatemala.
The Free at Sea WiFi component is not unlimited. There are a set amount of minutes. I use this as a basis for the unlimited upgrade I purchase on embarkation day (more about that below).
Free at Sea isn't for everyone, especially teetotalers, but it always seems to work for me.
• Bargain hunters should look for Sail Away fares.
---
Lucy: If you don't drink much and don't need some of the other perks included in the Free At Sea package, then Sail Away pricing may be a better match for you. If you book a Sail Away fare, you can choose either a balcony, an oceanview, or an inside cabin, but you don't get to choose the exact cabin. Instead, NCL will assign you a cabin within the category you have selected.
Sail Away fares typically include the $50 per port shore excursion credit, but they don't include alcoholic beverages or soft drinks, specialty dining, or WiFi. I frequently book using Sail Away prices because I don't find the Free At Sea packages worth the extra cost. Sail Away pricing varies by the itinerary, but if on a 7-day cruise, it is usually about $200 less per person. On longer cruises, the difference can be more. So if you are trying to stretch your vacation dollars, be sure to look into whether this option will work for you.
• Frequent cruisers should consider NCL's CruiseNext promotion.
---
Lucy: Passengers who enjoy cruising on NCL should consider purchasing CruiseNext certificates while they are on board the ship. CruiseNext certificates are only available for purchase while you are on an NCL ship. When you are onboard, you can purchase CruiseNext certificates at a cost of $125, and as long as you buy at least two of them at a time, they are worth $250 toward the cost of a future cruise. So you have a 100% return on your investment, as long as you use it within four years.
If you have a CruiseNext certificate you can use it to reserve a cabin on any cruise. You use the certificate, which costs you $125 each when you buy at least two, and you are credited with a deposit of $250. (Note that Haven staterooms have special higher-priced certificates.)
You don't need to select the cruise you want to sail on at the same time as you purchase the CruiseNext certificate, although your friendly CruiseNext loyalty consultants will urge you to book while you are on board. The CruiseNext certificate goes into your NCL account, and it is valid for a period of four years. When you are ready to book a future cruise, you will find it in your account, and it can be applied when you book online, or by your NCL cruise consultant or travel agent.
Be advised that NCL's marketing of these certificates can be confusing. NCL markets the certificates as a way to get "free spending money" on the same cruise you are on when you purchase them. You will see and hear repeated sales pitches telling you to buy CruiseNext certificates, so that you can then spend money in the spa, or for specialty dining, or whatever.
It is confusing because it makes it sound like you have to spend the extra money you get right away. That is NOT correct. Ignore the confusing marketing. Here is what happens to your onboard account when you purchase CruiseNext certificates: Assume you are purchasing two certificates. You will first see a charge of $500 on your onboard account. Then, within 24 hours, you will see a credit of $250. So your net cost for the two certificates is $125 each, for a total of $250.
There are also frequent opportunities to use more than one CruiseNext at a time. For example, you can always use two certificates at a time if you book a balcony cabin more than six months in advance. In that case, you would be saving $250 on the cabin. Sometimes NCL offers special promotions that let you use two certificates for ANY cabin. And I have even seen rarer times when NCL allows passengers to use three certificates per booking. For that reason, I try to always have three certificates in reserve.
A word of caution. Remember that NCL, like the entire cruise industry, is still in financial distress. I personally wouldn't stockpile CruiseNext certificates that you may not be able to use within a reasonable time.
• NCL's CruiseNext certificates are transferable.
---
Lucy: A CruiseNext certificate expires after four years, and if you don't use it within that time, you lose your money. But you can easily transfer certificates to anybody, and if you don't have any family or friends who can use a CruiseNext, there is a market for them online.
You can be a hero to your family and friends by getting CruiseNext certificates for them and transferring them so that they get a quick and easy $125 discount when they book a cruise. You can transfer your CruiseNext certificates by calling NCL or sending an email to cruisenext@ncl.com.
You provide NCL with your name and Latitudes number, your CruiseNext number (NCL will have it if you don't), and the name and Latitudes number of the person to whom you want to transfer the CruiseNext. If the transferee doesn't have a Latitudes Number, NCL will quickly set one up for that person. The CruiseNext certificate will transfer within 24 to 48 hours after the request. In my experience, it has taken between 4 and 24 hours.
• NCL's CruiseFirst promotion may benefit first-time or off-ship guests.
---
Lucy: NCL has recently added a way for cruise fans to take advantage of a cruise discount program similar to CruiseNext, even if they are not onboard an NCL ship, and even if they have never cruised with NCL. This is the CruiseFirst promotion. CruiseFirst certificates can be purchased anytime on the NCL website, and there are two options:
a $150 CruiseFirst certificate, which can be used for $300 toward the cost of a cruise that is at least six days long,
a $250 CruiseFirst, which can be used for $500 toward the cost of a cruise that is at least six days long.
Like CruiseNext certificates, CruiseFirst certificates represent a 100% return on your investment if you use them properly. They must be purchased at least 120 days before the date of the cruise where you intend to use them.
CruiseFirst certificates expire in three years, not four like CruiseNext. CruiseFirst certificates cannot be used at the same time as a CruiseNext. To date, we are not aware of any time that NCL has allowed passengers to use more than one CruiseFirst certificate on one sailing.
You can read the terms and conditions of all NCL promotions here.
---
Howard: I don't recall who first gave me the heads-up about becoming a Norwegian shareholder, but it was one of the best travel tips I ever received. Here's how it works.
When you purchase a minimum of 100 shares of NCL stock, you become eligible to receive shareholder benefits. As a shareholder your benefits include:
$50 onboard credit per stateroom on sailings of 6 days or less.
$100 onboard credit per stateroom on sailings of 7 to 14 days.
$250 onboard credit per stateroom on sailings of 15 days or more.
If you book back-to-back itineraries, you are eligible for benefits in each leg. These benefits continue in perpetuity for every booking as long as you remain a shareholder. If you cruise frequently, it doesn't take long for your initial investment to pay for itself. The rest is icing on the cake.
Onboard credit is not assigned automatically. You must apply for every booking by completing an NCL Shareholder Benefit Request Form and providing proof of active shareholder status. Shareholder benefits also apply to bookings with NCL's sister lines Oceania and Regent Seven Seas.
Bonus tip: Shareholder benefit amounts are the same for all cruise lines under the Carnival (think Princess) and Royal Caribbean umbrellas. Because I cruise frequently, I purchased 100 shares of Carnival and RCI, as well.
• NCL's Latitudes Rewards are a good thing.
---
Howard: These days, virtually every travel provider offers a loyalty program, and NCL is no different. The NCL loyalty program is called Latitudes Rewards and all guests are automatically enrolled at the time of their first booking. The tier benefits are many, varied, and ever-increasing, some better than others. Free laundry and specialty dinners, for example, are way better than discounts in duty-free shops to me. But then, I don't shop on ships.
Latitudes Rewards members earn one point per cruise night. In the past 15 months, I have cruised with NCL six times (one of those sailings was hosted, so it did not earn points). In a relatively short time, I have climbed the tier ladder from Bronze to Silver to Gold to Platinum, and after my next back-to-back sailing, I will be four points shy of Sapphire. It will probably take a while longer to reach Diamond and Ambassador, but bonus point sailings will definitely help.
• Look for Latitudes bonus point sailings.
---
Howard: Bonus point sailings are the quickest way to climb loyalty program tiers. From the time of my first NCL cruise until my most recent sailing, I had no idea that such a thing existed.
While booking an upcoming back-to-back cruise by phone with NCL, the cruise consultant mentioned that I would be getting double points on both legs. I thought that was cool until I was actually meeting with a CruiseNext agent aboard my last cruise, and he informed told that they were triple point sailings. He also informed me that the cruise I was currently on was also a triple point sailing. He did not lie. At the end of the cruise, my Latitude account was awarded 45 points for a 15-day sailing.
I do not know why these three itineraries were triple point bookings, and I don't know how to find other triple point sailing in the future. But I hope to find out, and when I do I will update this guide.
I do know a couple of ways to find double point itineraries. You can earn one additional point per night when booking a suite or in The Haven, which I never do. I am strictly a balcony man. Another way is by booking a Latitudes Insider Offer for past guests through the NCL website Latitude Rewards portal.
• NCL is cutting costs and raising prices.
---
Howard: Every cruise line suffered with the suspension of travel during the global pandemic, so cutting costs and raising prices come as no surprise.
Moving from 2022 into 2023 Princess and Royal Caribbean increased their daily service charges to $16 per day. NCL increased daily service charges to $20 per day, the highest of any mainstream cruise line to my knowledge.
NCL's room service is no longer complimentary. The convenience fee for breakfast is $4.95, plus a 20% gratuity, and any other time of day it is $9.95, plus a 20% gratuity. On the plus side, however, the $4.95 fee for breakfast is not limited to continental breakfast. It includes the hot options which used to only be available at a cost of $8.95. The hot options are: ham and cheese omelette, spinach and tomato omelette, or cinnamon raisin French toast. All of the hot options include country potatoes and a choice of bread.
Compared with competitors, Royal Caribbean now applies a $7.95 service charge, plus an 18% gratuity on all room service. Princess still offers complimentary room service round the clock.
Complimentary stateroom movies are now pay on-demand. I should know. While on my NCL Dawn Caribbean itinerary, stateroom movies were free. When I boarded the NCL Bliss two weeks later, there were yellow banners across the movie thumbnails that read "Buy Now."
NCL is also transitioning from twice-per-day to once-per-day housekeeping service across the fleet for Club Balcony Suites and lower level staterooms by the end of March 2023. Rather than attribute this change to cost-cutting measures, NCL claims a "commitment to environmental sustainability" and an alignment with "standard practices in the cruise and hotel industries by conservation of water, energy and reducing the use of chemicals."
Lucy: I understand that the change to once per day service is in line with service at most hotels, and I am not overly concerned about this change. However, passengers should be aware that there are some practical issues that arise from this change. The reason that this is cost-saving for NCL (and other lines that are moving to this standard) is because they can hire fewer cabin stewards, and each steward is responsible for more cabins per day. So it takes longer to get your room serviced. If you return to your cabin in the early afternoon, you may sometimes find the steward has not yet made up your room.
This is a mostly a minor issue, except on embarkation days. The first day is always chaotic and busy for housekeeping staff as they try to prepare cabins for new guests. In the past, cabins were usually ready for passengers by about 1:00 PM. Now, with fewer stewards, cabins are not ready until later. On my most recent cruise, the cabins on my deck were ready at 3:00 PM, but other guests had to wait until later. Sometimes so much later that passengers had not been able to get to their cabins when it was time for the muster drill. This is a concern, especially for the many passengers who have traveled long distances to reach the ship and are anxious to get some rest.
It also appears that NCL's Broadway productions are being negatively affected.
• NCL large ships feature Broadway shows. Maybe.
---
Lucy: Entertainment on NCL is always excellent. Even the older smaller ships have talented performers and feature an amazing variety of nightly entertainment. One of the delights of cruising with NCL is wandering the ship at night to listen to an engaging piano player in the piano bar, a jazz ensemble in the next lounge, a guitarist elsewhere, and several bands rocking or swinging the night away.
The production shows are more enjoyable to me because there is generally a theme, as opposed to a setlist of random songs. And of course on the bigger ships, passengers are treated to Broadway productions.
Howard: When it comes to entertainment, I don't really get into the live music and other acts in the small venues. There is nothing wrong with it. It's just not my thing. I enjoy cocktails and conversation, but I don't like having to talk over a loud band. NCL's "jukebox" production shows are good, but one of the features that sets Norwegian apart is its Broadway productions on large ships. The NCL Prima's production of Summer: The Donna Summer Musical literally blew me away.
 Lucy: Regrettably, NCL has announced plans to cut back on production shows as a cost-saving measure. On January 15, 2023, NCL shut down the production of Kinky Boots which had been playing on the Encore.
On my recent NCL Sky cruise, I could see some cutbacks in entertainment. Sky is one of NCL's oldest and smallest ships, so it does not offer Broadway shows. But this was the first NCL cruise I can remember when there were two nights with no headline entertainment offered. The music in the various bars was as good as always, but it was surprising to not have a show to see. Another night, the headline show offered was a repeat of the cast production show that had already been performed twice earlier in the cruise. To be fair, I must add that the headline vocalist and comedian were as good as any entertainers I have seen on a cruise. And I don't really care if NCL decides to cut back on magicians and jugglers. Just be aware that things are changing.
Howard: I read about the unfortunate Kinky Boots shutdown online. Kinky Boots was also suspended when I sailed the Encore in October of 2021. But they still had the amazing Choir of Man, one of the most enjoyable productions I have ever attended aboard a ship.
The NCL production cutbacks announcement seems at odds with my most recent experience, though. I completed an NCL Bliss itinerary on January 22, 2023, and there were two Broadway productions on that sailing: an outstanding production of Jersey Boys, and a quality production of Six: The Musical. I guess time will tell.
• Muster drills are back.
---
Lucy: One of the few good things for cruisers to come out of the pandemic was the change in the way initial safety briefings were handled. Since it was not safe to gather hundreds of people together for the briefing, cruise lines came up with inventive and convenient ways to make sure passengers were given important safety information. Generally, this meant that passengers had to watch a safety video in their cabins and then stop by their assigned muster stations to quickly check in.
Unfortunately, NCL has abandoned these convenient procedures and has gone back to old-school muster drills.
• Bring your own toiletries, including a bar of soap.
---
Howard: Stateroom bathrooms on NCL ships have body wash and shampoo dispensers installed in showers and soap dispensers by the sink. These installations are convenient, and I am fine with using their products, but I prefer using a bar of soap to wash my face. If you are picky about bathroom toiletries for whatever reason, I suggest you bring your own.
Lucy: I recognize this is not an issue for Howard, but note that NCL dispenses "conditioning shampoo" in its bathrooms. The product is fine for washing your hair, but I am not aware of any female friend who can make do without a separate conditioning product. So bring your own. In addition, NCL's oldest ships like Sky and Sun have installed hairdryers that are as old as the ships, and are mostly unacceptable. Bring your own.
• You can get a Princess Bed on a Norwegian ship.
---
Howard: I am a huge fan of Princess stateroom beds. The mattresses and linens are just heaven. NCL beds are not quite so celestial. When cabin stewards create a queen bed from two twin beds, they adjoin the twin mattress pads with a zipper that runs the full length of the bed from top to bottom or bottom to top. Not only is the mattress pad zipper uncomfortable, the slider can be downright painful if you happen to brush your hand or foot against it.
On my last two NCL cruises, I asked my stateroom steward for a mattress topper. On the earlier cruise, he just added another zippered mattress pad, which did not resolve the issue. On my most recent cruise, the steward used a plush duvet as a topper, and I was transported to second heaven.
• Request a coffee or tea setup for your balcony cabin.
---
Lucy: If you travel to the UK, you know that no matter how budget your accommodations may be, there will always be an electric kettle in your room along with tea bags and instant coffee, creamer, and sweetener.
Now that NCL is charging a fee for delivery of breakfast to your cabin, if you need coffee or tea to get going in the morning, you should request a coffee and/or tea setup in your cabin. That way you can brew your own warm beverage in the morning or anytime without the need to get dressed. NCL will give you such a setup upon request if you are in a balcony cabin. And from personal experience, I know that if you are nice to your cabin steward, it can sometimes be arranged in lower level cabins.
• NCL specializes in aggressive onboard marketing tactics.
---
Howard: Having cruised with NCL, Princess, Royal Caribbean, and Viking within the past year, I can say without hesitation that NCL has the most aggressive onboard marketing strategies among its competitors.
From the moment you step onboard, be prepared for perpetual sales pitches by way of public announcements, special table setups, and the Freestyle Daily for everything under the sun. Imagine pitches for painting classes, Deal or No Deal and bingo games, photo sales and portrait studios, the Mandara spa and salon, casino tournaments, onboard shops, laser tag and race track admission, wine tastings, shore excursions, laundry and ironing services, art auctions, and of course the NCL credit card.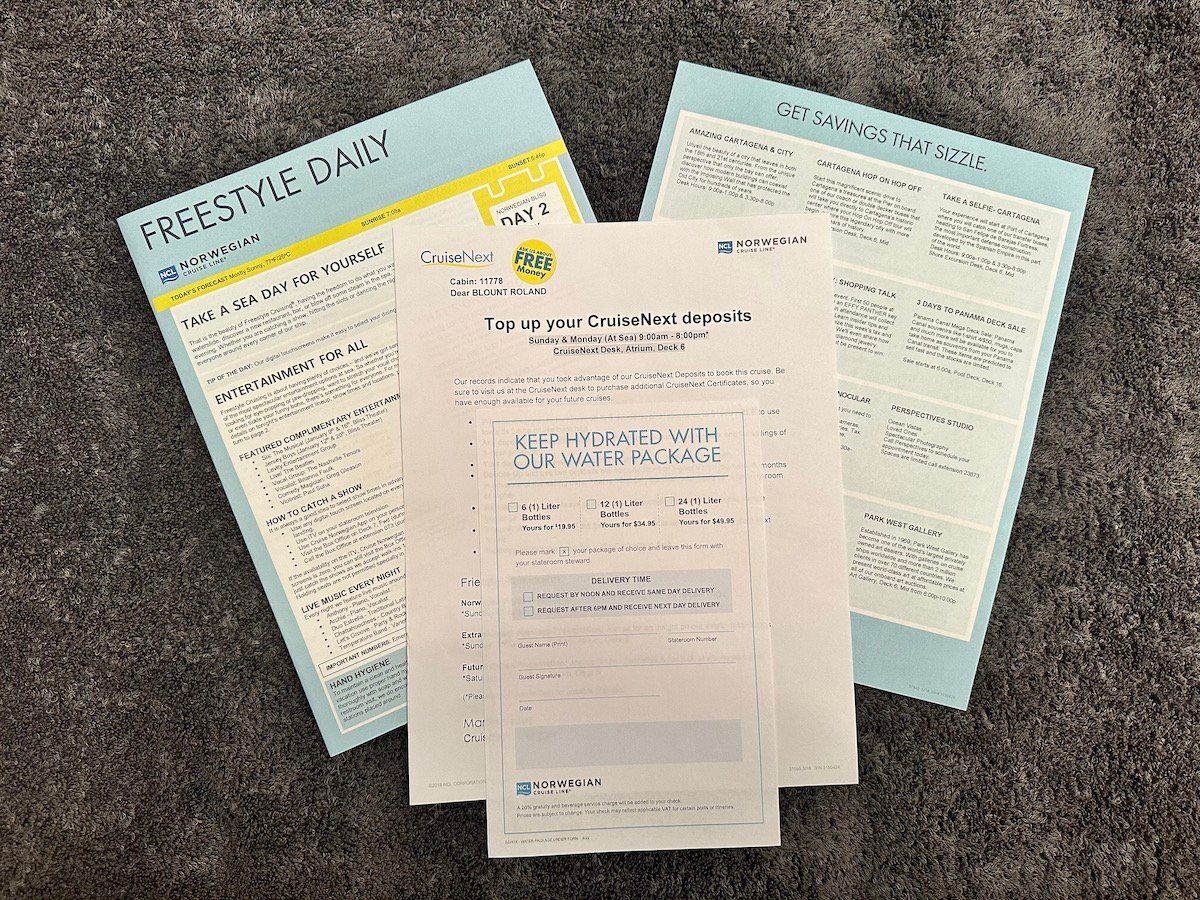 NCL is to be commended for implementing several green initiatives such as recyclable water cartons, sustainable cocktails, and biodegradable straws. But their concern for the environment does not include conservation of paper. Every night no less than three or four Freestyle Daily inserts, print advertisements, and special invitations are delivered to staterooms.
Tacked-on service fees for NCL app messaging, room service, and all onboard beverage and specialty restaurant purchases leave one feeling nickel-and-dimed to death.
I can't speak for everyone, but the perpetual sales pitches are off-putting to me.
• NCL will jerk you around with arbitrary changes.
---
Howard: When you book a cruise, you have to agree to NCL's terms and conditions. This limits your recourse when they decide to arbitrarily modify your booking.
Itineraries
NCL reserves the right to make itinerary changes at their discretion for whatever reason before or during your sailing without compensation. Port changes are occasionally for the better, depending on who you are. I was elated when I learned that Puerto Plata would be replaced with San Juan on my NCL Dawn Caribbean itinerary. Other guests did not share my sentiment. After we sailed, a $10 or $20 credit appeared on my onboard account. When I inquired at guest services, I was told it was due to the port change.
I don't think anyone was happy when we received word that ports in Romania and Bulgaria would be removed from our Black Sea itinerary on the NCL Jade, essentially making it a Mediterranean itinerary. The letter attributed the change to "increased activity" in the Black Sea due to the Russian invasion of Ukraine. I'm all for safety, but the war was ongoing when NCL booked our original itineraries.
Call me cynical, but I have no doubt that NCL knew they could market a Black Sea itinerary and then modify it later without offering refunds. Lucy and I both booked that cruise because we wanted to sail the Black Sea, and we both booked back-to-back itineraries, mine before, and Lucy's after. I don't believe either of us would have booked in the first place had the Black Sea nations not been on the itinerary.
Should you need to cancel any part of your booking for any reason within a 119-day window prior to your sailing, you will be charged a variable cancellation fee. On the other hand, should NCL cancel your cruise, you will be entitled to a future cruise credit or full refund, but you don't get to charge NCL a cancellation fee.
Port Fees and Taxes
Lucy: NCL, like all cruise lines, includes in its contract of passage the right to change the itinerary for any reason or for no reason. In my years of cruising, this most frequently happens when some weather event prevents docking or anchoring at a given port. Or more recently, ports have had to be omitted because of Covid restrictions.
In the past, when that happened, NCL automatically refunded the port fees and taxes it had collected for the omitted port. This has also always been my experience on other lines. Recently, NCL has stopped doing that. I was on a transatlantic cruise in November 2022 that was supposed to stop in Horta in the Azores. Because of bad weather, that stop turned into an extra day at sea. We never made it to Horta, and there was no alternate port substituted. Yet there was no refund of the port fees.
In many cases, the amount of fees refunded for a missed port in previous years was relatively low, rarely more than $15 or $20. But it is money that is added to the base cost of the cruise because the cruise line has decided it needs to pass this cost on to the passenger. If the cruise line does not incur that cost, then I believe it would be best for the money to be returned to the passenger.
Port Times
Howard: My most recent cruise, a Panama Canal itinerary on the NCL Bliss, was plagued with short times in port and more than one spur of the moment port time change. Disgruntled guests vented in the associated Facebook group. Some who had booked private tours lost their money when they had to cancel at the last minute due to the loss of an hour in Cabo San Lucas.
Lucy: A word of caution. Even in the best of circumstances, remember that the port times listed on your itinerary are only loosely correlated to the actual time you will have to enjoy each port. Port arrival times generally correspond to the time the ship is expected to be alongside the pier or anchored when you are at a tender port.
The actual time that passengers are permitted ashore will vary depending on the amount of time it takes the local authorities to clear the ship. In my experience this is usually accomplished within 20 to 30 minutes, but can sometimes take longer. And at the end of the day, your "all aboard time" is always going to be at least 30 minutes before the time the ship is scheduled to leave. In the case of tender ports, the last tender back is usually an hour before sailing time.
Shore Excursions
Howard: NCL will cancel excursions if not enough people sign up. On my NCL Dawn Caribbean sailing, they canceled my excursion from St. Thomas to St. John. They told me the ferry was out of service. When I booked the excursion, I thought the tour had a private boat. When NCL cancels shore excursions, refunds are issued to onboard accounts. Guests can also cancel excursions onboard and receive a refund.
Lucy: NCL fares frequently include a shore excursion credit of $50 per port as a perk. Remember that the credit is $50 per cabin, not per person. Since most people are traveling in pairs, this means that the first person in the cabin gets the $50 credit, and the second person (and any others) get no credit.
Passengers who have reached the Silver or higher tier in the NCL Latitudes loyalty program receive a discount of 10% on the cost of shore excursions (this discount goes up to 20% for higher-tier guests). However, if you are using the $50 shore excursion credit, NCL will first take the $50 off the cost of the excursion and then apply the discount to the balance owed. For example, if you book a shore excursion that starts out at a cost of $100, and you are entitled to the $50 credit, you will not be entitled to a discount of $10 (10% of 100). Your discount will be $5—that is, 10% of the amount due after the credit is applied.
The discounts offered to Latitudes members are automatically calculated and applied if you book your shore excursions online in advance of your cruise. But note that if you book your shore excursions onboard the ship, the discount is not applied automatically. You will need to go to the shore excursion desk and tell them to apply the discount, and then monitor your account to make sure it is charged correctly.
Airport Transfers
Howard: NCL will cancel booked airport transfers. I know because it happened to me. You can read the gory details in my NCL Bliss post. My payment was eventually credited to my onboard account.
Lucy: Howard's experience on the Bliss was a serious fail on the part of NCL. However, I have frequently, successfully, and happily used NCL's transfer services to get to and from airports in Miami, Southampton, Lisbon, Santiago, and Dubai. An advantage of taking the transfer from the airport to the ship is that once you put your bags on the bus, you don't need to handle them again. They are transferred directly from the bus to your cabin, which makes checking in a bit easier.
If you are traveling as a pair, it may be more economical to get a taxi or rideshare in places like Fort Lauderdale or Miami, where the port and airport are nearby. But where distances are longer, or in the case of solo travelers, the cost of an NCL transfer can make sense. Just remember that NCL has rules about how soon your flight can leave when you try to use one of their transfers from the ship to the airport at the end of the cruise.
Showtime Reservations
Howard: Reservations for the productions of Jersey Boys and Six: The Musical were essential on my NCL Bliss sailing due to a near-capacity booking. I made reservations for both shows, and both of them were rescheduled. I received letters in my stateroom letting me know that my reservations had been changed to different nights. It was not an issue for me, but if I had made conflicting dinner reservations, it could have been a problem.
Lucy: NCL has recently reinstated the ability to make showtime reservations online in advance of your sailing. If there is a particular show you are anxious to see, it would be a good idea to lock in your time in advance, and hope you don't get any later changes.
• Keep a close eye on your onboard account.
---
Howard: This piece of advice is not just for NCL, but every cruise line. Most cruise lines these days have mobile apps that put your onboard account at your fingertips. With NCL, you can also check your account on your stateroom TV. Some ships have kiosks where you can print a copy of your account. And if all else fails, guest services will print a copy at your request.
Unrecognizable charges have a way of appearing on onboard accounts. When I find one, I rack my brain for what it could be. Many times the charge is legitimate, but the wording is strange. If I can't figure it out myself, I head to guest services for an explanation. If guest services cannot explain the charge, they will remove it.
Should you be issued a credit for any reason, keep a watch on your account until it appears. If the credit doesn't show, head to guest services to inquire. On my most recent NCL cruise, I was issued a WiFi outage credit and a cancelled airport transfer credit. I ended up consulting guest services multiple times until the credits appeared on my account.
On the morning of the last day of the same cruise, an unexplained charge appeared on my account. The first agent gave me some BS explanation that did not satisfy me. She ended up going in the back room to speak with who I assumed to be a bookkeeper. She came back out and gave me further explanation which I did not understand. I asked if I could speak with this person, and she brought him out. I didn't understand much of his explanation either, but he assured me that I would not ultimately be charged that amount. I asked, "So what is it? A glitch?" And he replied, "Yes, a glitch." After returning home, I checked my credit card account, and fortunately I was not charged for the "glitch."
• Upgrade your WiFi package on embarkation day.
---
Howard: If you purchase or upgrade a WiFi package on the first day of your cruise, there is a significant discount. But this is only on Day 1. Because I typically have limited WiFi as part of the Free at Sea promotion, I purchase an upgrade that is typically covered by my shareholder benefits onboard credit.
• NCL will credit your account if the Internet goes down.
---
Howard: Cruise ship WiFi is generally not that great, especially on transoceanic voyages. But technology is ever evolving and there are reports that after preliminary tests on the Breakaway and Getaway, NCL has signed a deal with SpaceX for Starlink Maritime Internet.
If the Internet goes down for a significant period, NCL will make it right. If you have a package with limited minutes, they will reset your minutes to zero. If you have an unlimited package they will issue a credit to your onboard account. The caveat is that this is not automatic. You have to stand in line at the Internet Café and request it. When there was a two-day shipwide Internet outage on my NCL Bliss itinerary, I made a request, and my account was credited for $50.
• Using a VPN unblocks non-streaming WiFi packages.
---
Howard: I don't watch a lot of videos on my mobile devices, so I purchase the cheaper non-streaming Internet package. On my last sailing, I was able to watch short videos on Facebook without much of a problem, but YouTube was blocked. I occasionally use a VPN on my iPhone for security and because sometimes US-based websites are blocked when traveling abroad. I discovered quite by accident that when the VPN was activated on my phone, I was able to view YouTube videos. This tip is not a guarantee, but more of a heads-up. My apologies if it doesn't work for you.
• Access to potable drinking water is an ongoing conversation.
---
Lucy: Safe clean drinking water is free everywhere on NCL ships (and virtually all modern cruise ships). Just like in most of the rest of the world, you only have to pay if you want bottled water. Or in the case of NCL, cartons of water.
It is possible you won't like the taste of the free water. We have all been to places where the water just doesn't taste the way we like. Every once in a while ship water tastes too chlorinated, but usually it tastes fine to me. If you don't like the taste, then you will want to purchase bottled water. If you don't need bottled water, free water is available in the dining room, at the buffet, from any bar, and in your cabin. You can ask any bartender or server for a glass of ice water, and they will happily supply it.
And yes, you can even drink the water that comes out of your bathroom tap. Okay, there is one probable issue with the water from your bathroom tap. It's likely to be lukewarm. Remember that virtually all the water that flows through the taps on a cruise ship starts out as salt water. It has to be desalinated, which means it's heated and distilled. Which means it generally starts out warm (have you noticed that you have almost endless hot water in the shower?) In the dining room and at bars and buffets, the water is chilled with ice. You can request ice from your cabin steward, and of course you have a refrigerator.
I find the water that's freely available usually tastes fine, so I rarely purchase bottled water on a ship. I do bring an empty wide mouth plastic bottle that I can fill and keep in my room, and a smaller purse size bottle that I fill to take ashore. Yes, there are usually signs telling you not to refill water bottles. But you are allowed to fill a plastic glass and then pour that glass of water into a bottle. In fact, I have seen staff do that for passengers.
Having said all that, I fully support Howard's comments below about NCL's shameless bottled water policies. It's preposterous that unlimited bottled water is not part of the unlimited beverage package. It's ridiculous that passengers need to hide bottles of water in backpacks or handbags in order to bring them back to the ship after a day in port. These are the sorts of things that do not inspire loyalty to NCL.
Howard: I let Lucy address the ongoing water conversation first because her views probably align more with other NCL cruisers than mine. That said, there are cruisers who side with me, and I have the comments on previous posts to prove it.
Call me critical, entitled, or cranky. You won't be the first or last, and I am fine with that. I have my own perspective regarding the NCL water issues, and I believe my opinions are vaild. So here goes . . . .
In addition to my regular water intake, I drink soluble fiber (think Metamucil) daily for its wonderful benefits. At home, I use filtered city water, but when I travel I prefer using bottled water. Although in a pinch I have been forced to do it, drinking stateroom tapwater does not appeal to me. Flashback to water so heavily chlorinated that even orange-flavored fiber could not mask the bleach.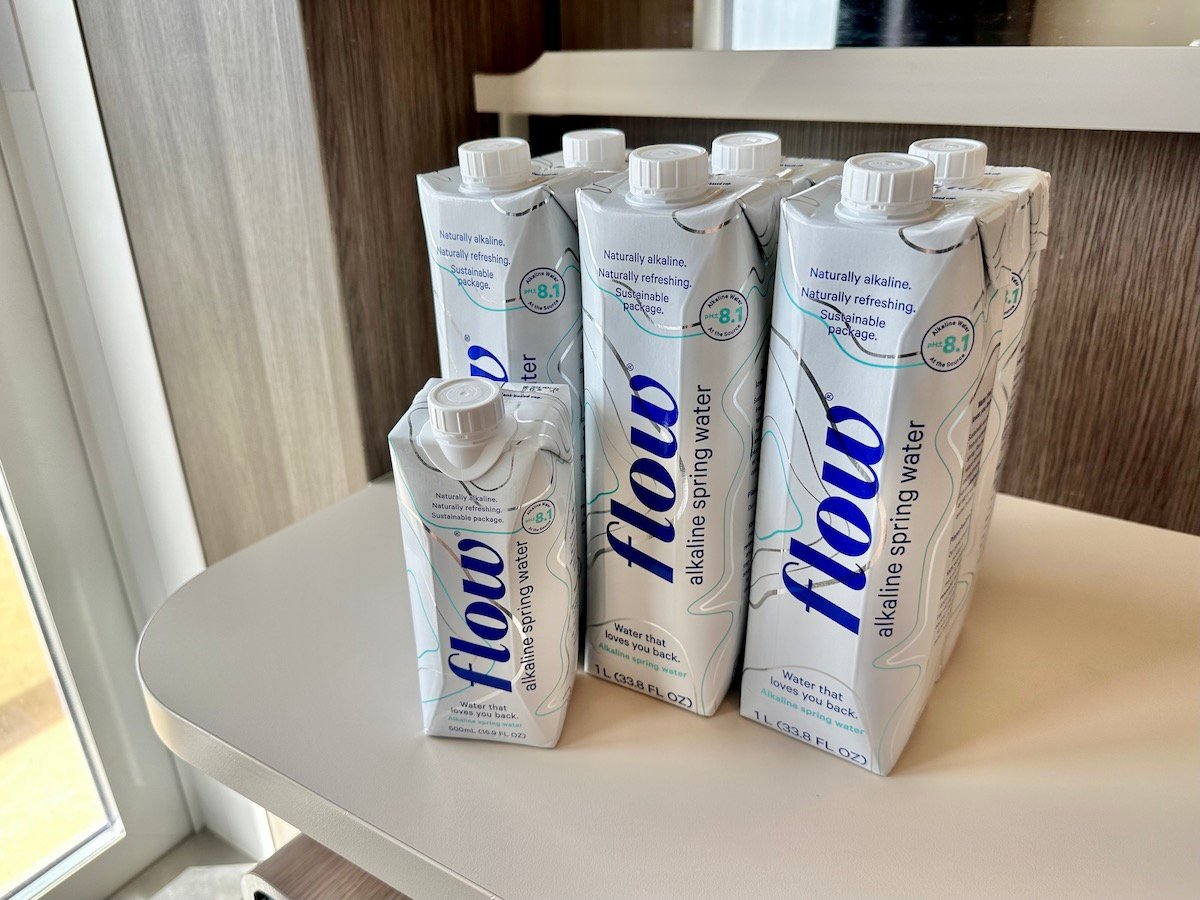 I take issue with NCL's water policies on multiple levels, and they stick in my craw every time I cruise. I understand that bottled water is not free, and I am fine with paying for it. In NCL's case, I appreciate that their Flow water is packaged in recyclable cartons. To further illustrate my point, a few years ago I partnered with the Carton Council and wrote a post about how to recycle cartons.
My first problem with NCL is their shameless marketing of water sales and the ways they attempt to manipulate guests into buying water. I have written about this issue multiple times before, but it bears repeating here.
First of all, NCL's policy prohibits guests from bringing bottled water and other beverages onboard, even if the water is sealed. They make repeated public announcements to this effect and publish it regularly in the Freestyle Daily. The only exception to this policy is for bottles of wine or champagne, in which case guests will be charged a volume-based corkage fee of either $15 or $30. Get the picture? And if it is so dangerous to allow guests to bring bottled water, why do other cruise lines allow it?
It is possible to "sneak" bottled water aboard NCL ships, however. Many times shore excursion providers distribute bottled water to guests. I always put the leftover bottle(s) in my daypack before sending it through the ship's security screening, and my bottles have never been confiscated.
Another way NCL attempts to "encourage" water sales is by posting signs that forbid bottle refills at Garden Café water stations and gym water fountains. I have always taken these statements at face value, although other cruisers have clarified what the signs fail to say, that to avoid a health hazard you can get a clean glass and pour dispensed water into your bottle. Okay, but if this is the case, then why doesn't the sign say so? I know why.
NCL also pushes water sales through public announcements, paper order forms distributed to staterooms, and sales tables set up near exits on port days.
My second problem is the way NCL intentionally designs unlimited beverage packages to exclude cartoned water. I almost always purchase Free at Sea promotions that includes the basic unlimited beverage package. Until recently, that did not include any Flow water. Now it does, but it is not unlimited like soda, beer, wine, and spirits. Maybe it's just me, but if cost is the issue, I would think water would be cheaper than all of the other unlimited beverages.
On my most recent NCL cruise (a 15-day Panama Canal itinerary), six 1 L cartons of Flow water were delivered to my stateroom as part of my Free at Sea unlimited beverage package. This was a first. On previous Free at Sea sailings I had received zero water.
I also received one 500 mL carton of Flow water as part of my Latitudes Gold tier ranking. At the end of that cruise I reached the Platinum tier, and on my next cruise the water benefit will be the same. Big whoop!
Hopefully, Lucy's eloquent description and my embittered critique of NCL's water policies will offer readers two unique perspectives to draw your own conclusions.
• NCL food quality is excellent, and dining options are outstanding.
---
Howard: Believe it or not, Lucy and I typically do not discuss what we are going to write in advance. When we collaborate on a post, the process is very organic. I work during the day, and she works in the evenings, and we read each other's content the next time we sign on. We did, however, end up having an ongoing conversation about how best to report on NCL dining.
For this post, we didn't want to do a critical review of NCL's many and varied restaurants, both complimentary and specialty. Perhaps another day. We ultimately decided that because the subject of cruise ship dining is subjective by default, we would each share our thoughts conversationally on the topic.
I will go out on a limb and state for the record that in my opinion NCL currently offers the best overall dining of the mainstream lines. To me, the menu offerings are consistently fresh, flavorful, and generous.
Lucy: I also find NCL's dining options to be varied and consistently excellent, with a few minor areas where there is room for improvement. The quality and variety offered in the main dining room is very, very good. I would be happy just selecting from the items that are on the "always available" portion of the menu. These include a New York strip steak, a tasty roast pork dish that is one of my favorites, rotisserie chicken, breaded flounder, or shrimp fettuccine. And that does not even include all of the delicious daily menu options offered during a cruise.
Howard: The main dining room experience to me is almost always pleasant, especially when you are in no mood to battle crowds at the buffet. I almost always find dishes I really enjoy. I have written about this before, but for breakfast, I enjoy the huevos rancheros and eggs Benedict, always with a side of bacon. At lunch and dinner, I love the varied soups and salads. A tuna melt for lunch always hits the spot, and at lunch or dinner you can't go wrong with the chicken parmigiana and spaghetti, chicken Milanese, and risotto of any variation.
Lucy: The 24-hour casual restaurant that is available on most of the ships is fun and delicious. On some ships it's called The Local, and on others it is O'Sheehan's. This place serves a delicious breakfast until 11:00 AM, and it is my favorite place to get French toast served with a smile long after the main dining room breakfast is over. It's the go-to place for pub favorites like burgers or chicken wings. And the carrot cake they serve there is one of the best desserts on the ship.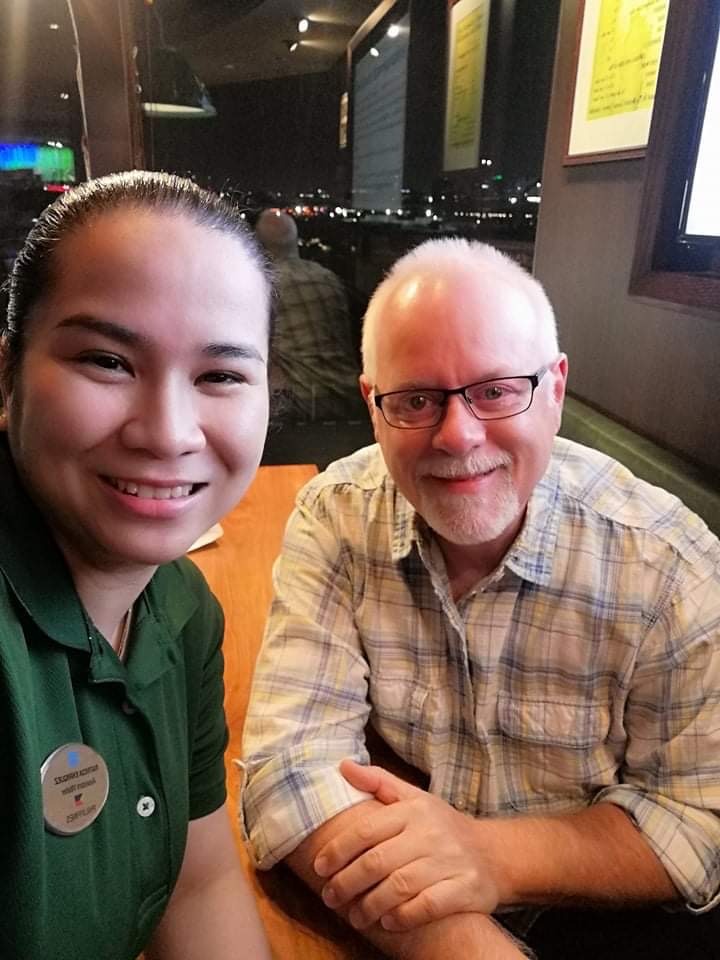 Howard: On our NCL Jade Middle East cruise, O'Sheehan's was my favorite hangout. It was located just down the hall from my stateroom, and I became instant friends with a server named Patricia. At first, she called me Sir Howard, but later I became her Cupcake. As a southern boy, you can always worm your way into my heart by calling me honey, baby, sugar, darling, or any other term of endearment. I eat that stuff up! Patricia has moved to another ship, but we are Facebook friends and message each other periodically to this day.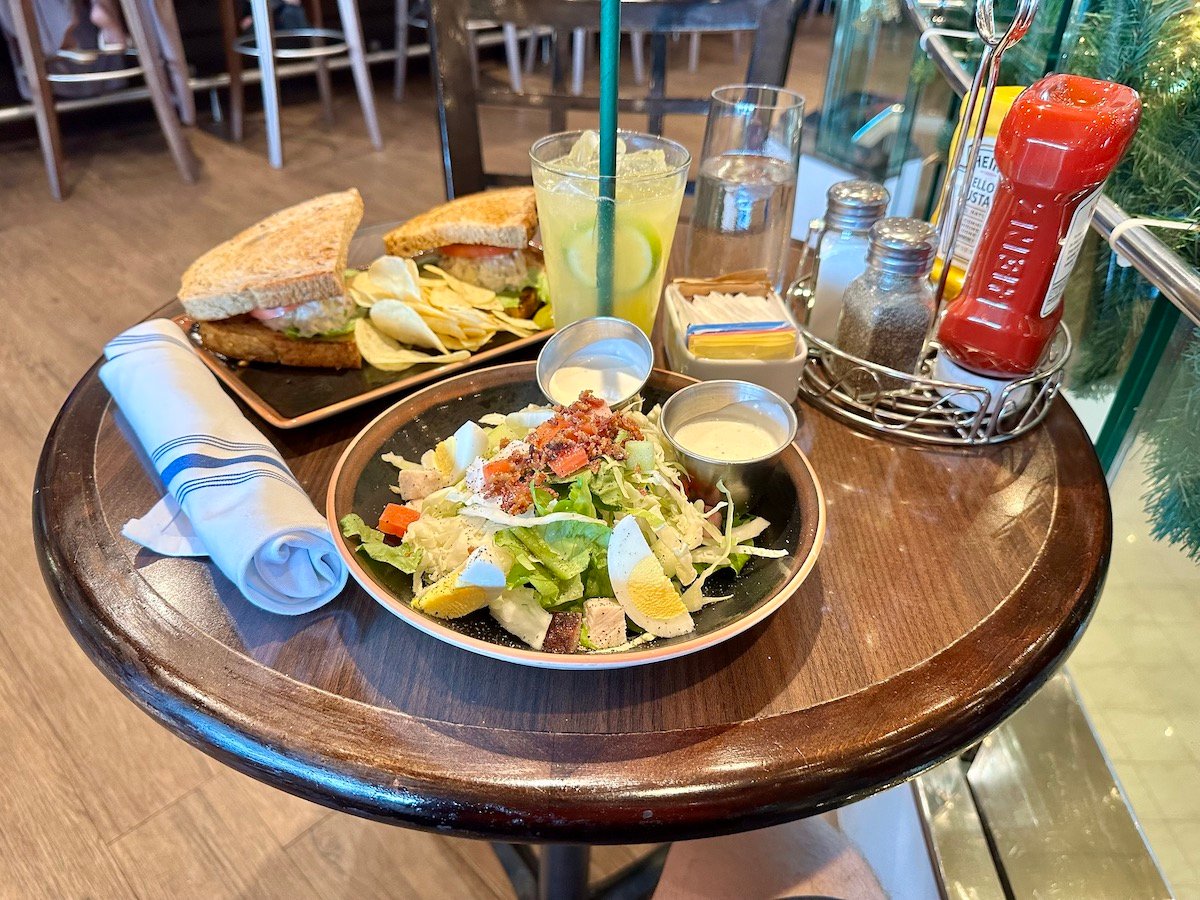 I know every NCL pub won't have a Patricia, but they do have some great grub. My current favorites are the loaded nachos, reuben sandwich, and lechón asado, always served with a margarita or two. I used to love the chicken wings, but on my last three NCL sailings I have been disappointed. On the Prima, they had no drumettes, and on the Dawn and Bliss the wings were roasted, not fried. I like my wings extra crispy because jiggly chicken skin just doesn't cut it. I love carrot cake, but the last time I ordered it on the NCL Bliss, it was not good.
Lucy: The buffet always has an amazing variety of food. And at night, don't miss the crepe station. Throughout the day until late at night, creamy soft-serve ice cream is available, including toppings.
Update (March 2023): NCL has now cut back on the times when food is available at the Garden Café buffet, as evidenced on my most recent cruise on the NCL Sky.
Traditionally, the morning buffet was open continuously from about 6:00 AM to noon, serving breakfast until around 11:30 AM and switching to lunch after that. There is now a break in service from 11:00 AM to noon where no food is available. If you are on a ship that has a 24/7 O'Sheehan's or The Local, that will be the only place to get food during this break in service.
In the evenings, NCL previously shut down the dinner buffet around 9:30 PM, but then made late night snacks like sandwiches, desserts, pizza, and other nibbles available until 11:30 PM. I am very familiar with this because my habit was to stop by after the show to pick up a roll or cookie or something to eat in the morning. Now the buffet shuts down at 9:30 PM.
Howard: I have a love-hate relationship with NCL buffets, and it has little to do with the food quality and selections. On the NCL Dawn the passageways between the food stations, beverage stations, and tables were so narrow that two people could barely pass without bumping into each other. On the Bliss, the buffet design is open and roomy, but the ship was booked almost to capacity making mealtimes feel like Times Square.
My NCL buffet favorites are bacon, the noodle bar, and soft-serve ice cream. They have cookies, but they don't put them out. You have to ask for them.
Lucy: I think I must spend more time at the buffet than Howard, because my experience is that they always put cookies out at "tea time" (4:00 to 5:00 PM), and then again at late night snack time (after 9:30 PM). Never mind that late night cookie availability now. As noted above, there is no more late night snack time at the buffet. The only thing available in the buffet area after 9:30 PM are complimentary beverages (coffee, tea, juices, and water).
Howard: I know am not the only guest who has had difficulty finding cookies. While sailing, I spoke with other guests who had the same issue, and someone also commented about it after reading my last NCL post. The hidden cookies thing happened on both the Dawn and Bliss. Every time I got cookies, the servers either went in the back or retrieved them from rolling carts behind the serving station. Now, with reduced buffet hours, it seems cookies will be even more scarce than before.
Lucy: There is a complimentary restaurant (names vary) on most ships that serves Asian specialties every night. It is so good that I often have a tough time deciding whether to go there instead of the main dining room. This could be the reason I am notorious for checking the main dining room menu every day, so I can make the difficult decision of where to eat.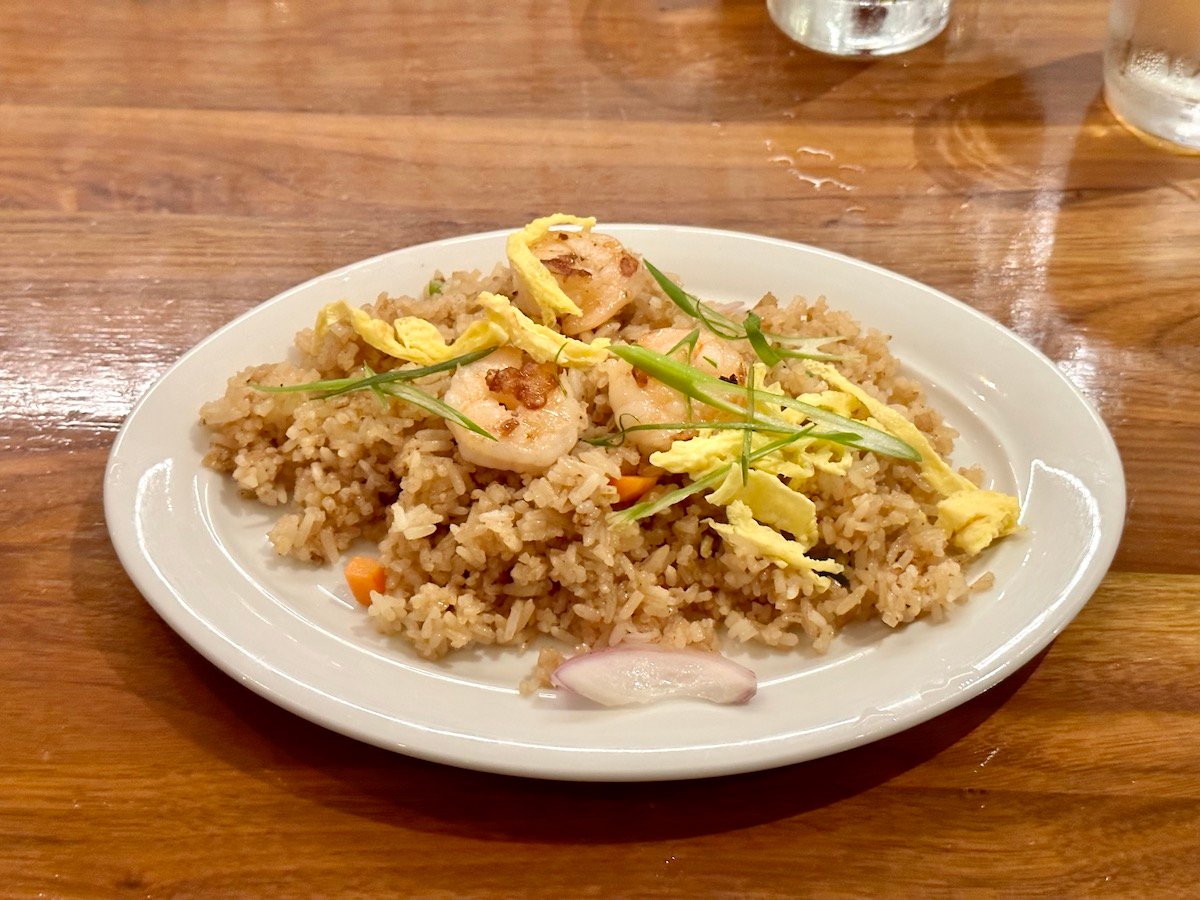 Howard: I totally agree with Lucy about the complimentary Asian restaurants. Virtually everything on the menu is delicious.
Lucy: NCL also has many awesome specialty dining opportunities. Actually, the complimentary dining is so good (and I am something of a penny-pincher) that I probably wouldn't even go to a specialty restaurant except for the fact that as an upper-tier Latitudes member I get free access to a couple of specialty dinners per cruise. What a treat when that happens!
Howard: Over the course of all my cruises, I have dined at virtually all of NCL's specialty restaurants, and I have to say my favorite hands-down is Cagney's steakhouse. The crab cake appetizer, wedge salad, 8 oz filet, creamed spinach, sautéed mushrooms, and cheesecake are pretty close to perfection in my book.
Lucy: Cagney's is an excellent steakhouse, but I'd pick La Cucina as my favorite specialty restaurant, mostly because I love Italian food. And I'd even say that the filet offered at La Cucina is as good or better than the one offered at Cagney's. Teppanyaki, the Japanese steakhouse, is a flavor and entertainment treat. I enjoy the fried rice they prepare so much that I have taken notes and prepared it the same way at home.
Howard: For some reason, La Cucina was not memorable to me, but I am open to giving it another chance, if only to try their filet. Teppanyaki's fried rice, steak, and shrimp are excellent, but I just don't like all the noise from the clattering metal spatulas, chef tricks, and other rowdy guests. Call me an old fogey, but I don't need a show with my dinner. I prefer to dine in peace.
Lucy: Le Bistro, the French restaurant is an elegant experience. On my last cruise I was able to try the Mexican specialty restaurant, Los Lobos. I had previously skipped it because I had an admittedly snobby attitude, thinking that its not worth spending extra for Mexican food (which I love, but I always think of as a moderately-priced option). I was so wrong. Los Lobos was amazing. The wonderful flavors were matched by the warm service, and I look forward to a future visit.
Howard: I am not positive that I have dined at Le Bistro. All I know is that I can't wear shorts there, so it doesn't call my name. I did enjoy an al fresco dinner at Los Lobos on the NCL Prima Waterfront, but in my opinion the Manhattan skyline, the Verrazzano-Narrows Bridge, and the waxing gibbous moon eclipsed the mediocre meal.
Lucy: NCL dining also has room for improvement. There is a steady supply of pizza at lunch and dinner on the buffet. Sadly, it's not all that great. Norway is not known for pizza, so I guess it's not surprising that Norwegian Cruise Line (wink, wink) is not going to do pizza as well as Princess or MSC. NCL does offer pizza at a price in La Cucina, and I should try it there.
Howard: Can't say I recall eating NCL pizza, but I do love Princess pizza, and I can't wait to try MSC pizza.
Lucy: If you are looking for an old-school cruise dining experience that includes a "lobster night," NCL is not going to be your first choice. I have mixed feelings about this. Because I have cruised for so long, I still think of lobster as the quintessential cruise experience. Because I have so many other choices, I rarely miss it, and guests do have the option to pay an upcharge for lobster at Cagney's.
Howard: I agree that lobster night would be a great addition for NCL dining. When sailing with Princess, it is always something to look forward to.
Lucy: Another classic cruise experience that NCL does not offer is a sit-down afternoon tea. There are scones and cream and cakes and cookies at the buffet between 4:00 and 5:00 PM, so it is possible to get your tea fix. But it's not the same as the full experience that some cruise lines offer in the dining room. It would be nice if NCL offered this option once or twice on their cruises.
Howard: I like the idea of sit-down afternoon tea, and I love a good scone. But even when sailing Princess, I don't often attend because it falls during my nap time.
Lucy: Princess is running circles around NCL when it comes to room service. When I sail on Princess, I can use the MedallionClass app on my phone to order a wide variety of items any time day or night, and have them delivered to my cabin or anywhere on the ship, for that matter. And at no extra cost. To be fair, Princess does not have the 24-hour restaurant (O'Sheehans/The Local) like NCL. But I hold out hope that NCL will eventually take another look at its room service options and cost.
Howard: I appreciate the convenience of room service, especially when it is complimentary, but I rarely need it. I would rather be served in a dining room than eat in my cabin. In the mornings I hop up, wash my face, throw on shorts and a t-shirt, slip into my slides, and I am good to go. And I have never ordered anything with the MedallionNet app. It's just easier for me to beckon a server or sidle up to the bar. But I totally understand why other guests appreciate the amenity.
Lucy: Moderno is the Brazilian steakhouse specialty restaurant. The thought is nice, but in my opinion, this is a concept that is past its prime. I know the thought of endless skewers of meat is appealing to some people. I myself am a fan of beef.
The problem is that some people like their meat rare, some medium, and some burnt (okay, well done). The whole skewer system breaks down because it is difficult to get the meats prepared the way you prefer. The staff will help you by putting in a special order, but that takes time and defeats the whole concept. I know the salad bar at Moderno is popular, but couldn't that just be incorporated as part of Cagneys? Anyway, I think it is past time to phase out Moderno to make room for something new and interesting.
Howard: My one-time dining experience at Moderno was memorable to say the least. It was shortly after cruising resumed coming out of Covid, so servers were assigned to guests when approaching the salad bar. The girl assigned to me had an attitude (this almost never happens). She wanted to make my salad her way, not my way. This was further compounded when the person who had invited me to dinner got angry and walked out during the meal. He was trashing teachers, and as a 35-year retired public school teacher I begged to differ. It was like something out of a soap opera.
As far as the food, I wasn't that impressed. My first churrascaria experience was in Brazil when I was fourteen years old, so when it came to authenticity, I knew what to expect. I don't recall that any of the dishes were bad, but people sawing meat on my plate is not my idea of fine dining. But for people who enjoy that type of thing, more power to them!
On a final note, guests should be aware that a 20% gratuity service charge is automatically added to specialty restaurant dining reservations. If you are using one of your Latitude Rewards coupons, or are having a prepaid dinner that is part of your Free at Sea promotion, the gratuity has already been paid or is included as part of the reward.
Remember that when you book a Free at Sea fare, your invoice will include an extra line item for the gratuities on your specialty dining. So you don't need to pay the gratuity again. At the end of dinner, you will usually be presented with a check to sign, even if the meal is part of a prepaid dining package (though sometimes the wait staff will just tell you that everything is covered and you don't need to sign anything). There is room to add an additional tip, if you so desire, but I typically circle the included 20% service charge when signing.
• NCL has no formal nights, and shorts are allowed in dining rooms.
---
Howard: One of the things I love most about NCL is that I can dress casually for dinner. I am a "Florida Man," and I live in shorts and t-shirts. It is all about comfort for me. When sailing with Princess, I have to wear collared shirts and slacks to dinner.
Unlike Princess, there are no formal nights on NCL. But there is some fine print (literally). Lucy can attest that I do not habitually read the Freestyle Daily, but because the topic of dress code is so near and dear to my heart, I went back through my archives and found some conflicting information.
On Day 2 of my NCL Bliss sailing, the Freestyle Daily published the following on the front page:
"What do you feel like wearing tonight? Feeling a little glamorous? Maybe just some comfy khakis and polo? With Freestyle Cruising, there is no formal policy, so you're free to wear whatever you wish."
However, in fine print at the bottom of the back page the following was printed:
"Resort casual and shorts are allowed in all dining venues except Ocean Blue and Le Bistro after 5:00 PM.
Then, I checked the archive of my NCL Dawn Freestyle Dailys and read the following:
"Resort casual and shorts are allowed in all dining venues except Le Bistro and Venetian Restaurant."
The Venetian is the main dining room on the NCL Dawn, and the Manhattan Room is the main dining room on the NCL Bliss. While sailing the Dawn I saw other men wearing shorts to dinner at the Venetian, and an assistant cruise director told me I could wear shorts to Venetian, so I did. On the NCL Bliss, a dress code for the Manhattan Room was never mentioned, so I wore shorts there, too.
Mixed messages much?
Lucy: Oh how times have changed, and mostly for the better. I'm showing my age here, but for much of my cruising life, formal nights and dress codes were a very big thing. No gentleman was ever allowed in the main dining rooms in the evening without long pants, and the ladies were expected to be dressy, too. Two nights on every 7-night cruise were designated as formal, and gentleman were required to wear jackets and ties. I remember always packing two fancy dresses, because I would never wear the same dress on both formal nights. My understanding is that only Cunard maintains a strict dress code these days. (Hint: Howard, do not book a cruise with Cunard.)
Thankfully, things are more relaxed now, though long pants for gentlemen are still required a few places. In my experience, the question of whether the long pants rule is enforced depends on who is in charge of the dining room. Some maître d's take their policing responsibilities seriously. Others have a more laissez faire attitude.
• Do not expect a prompt reply when contacting NCL Guest Relations.
---
Howard: As an NCL guest, if and when you have an issue, you can complete an online Guest Relations form to submit a case. The form is fairly easy to complete, but you will need all of the specifics of your itinerary such as reservation number, ship name, and sail date. After you press "Submit Form," go on about your life because it will take a minute for someone to get back with you.
I contacted NCL Guest Relations regarding a major itinerary change. It was one day shy of two weeks before I received a response, and it was not favorable to me.
"Please note that under the terms and conditions of our Guest Ticket Contract, Norwegian Cruise Line in its sole discretion may cancel, postpone or delay any port of call without prior notification . . . . Respectfully, and in light of the above, we are not extending any form of compensation and appreciate your understanding in this regard."
I don't typically "appreciate" when someone "appreciates my understanding," especially when I would "appreciate" theirs. But there is no further recourse for me.
• NCL makes solo travelers feel welcome.
---
Lucy: If you travel alone, you will find that NCL does an excellent job of making solo travelers feel welcome. Newer NCL ships have specially-designed solo cabins with mostly reasonable pricing for one person. An extra advantage of the designated solo cabins is that they have access to solo lounges, where passengers can meet other solo travelers and enjoy coffee and snacks.
All ships have organized solo meetups. On each cruise, a member of the cruise director's staff is designated to be the solo coordinator who will host the meetups and arrange group dinners and group seating at shows. Check the Freestyle Daily for solo meetup schedules, usually in one of the bars around 5:30 or 6:00 PM.
Howard: For the record, NCL's solo meetups are geared toward the straight population, although no one of any persuasion is ever excluded. Meetups are great places to connect with other travers. In fact, Lucy and I first met at a solo meetup on the NCL Jade.
There is also a daily self-hosted LGBTQIA+ meetup for solos and couples, and times are posted in the Freestyle Daily. I have attended both meetups on occasion, and typically the scheduled times are before dinner and do not overlap so guests can attend both meetups if they so desire. For some reason, on my NCL Dawn sailing the LGBTQIA+ meetups were often scheduled as late as 11:00 PM, which is way past my bedtime.
Of course, the best way NCL, or any other cruise line for that matter, can make solo cruisers feel welcome is to not charge single supplements. I know they want to double-book cabins and increase revenue, but penalizing solo travelers by making them pay double fares is blatant discrimination. Thankfully, NCL does frequently discount the single supplement, which is a huge factor in determining whether this NCL fan books a cruise.
---
Other NCL Content on Backroad Planet
---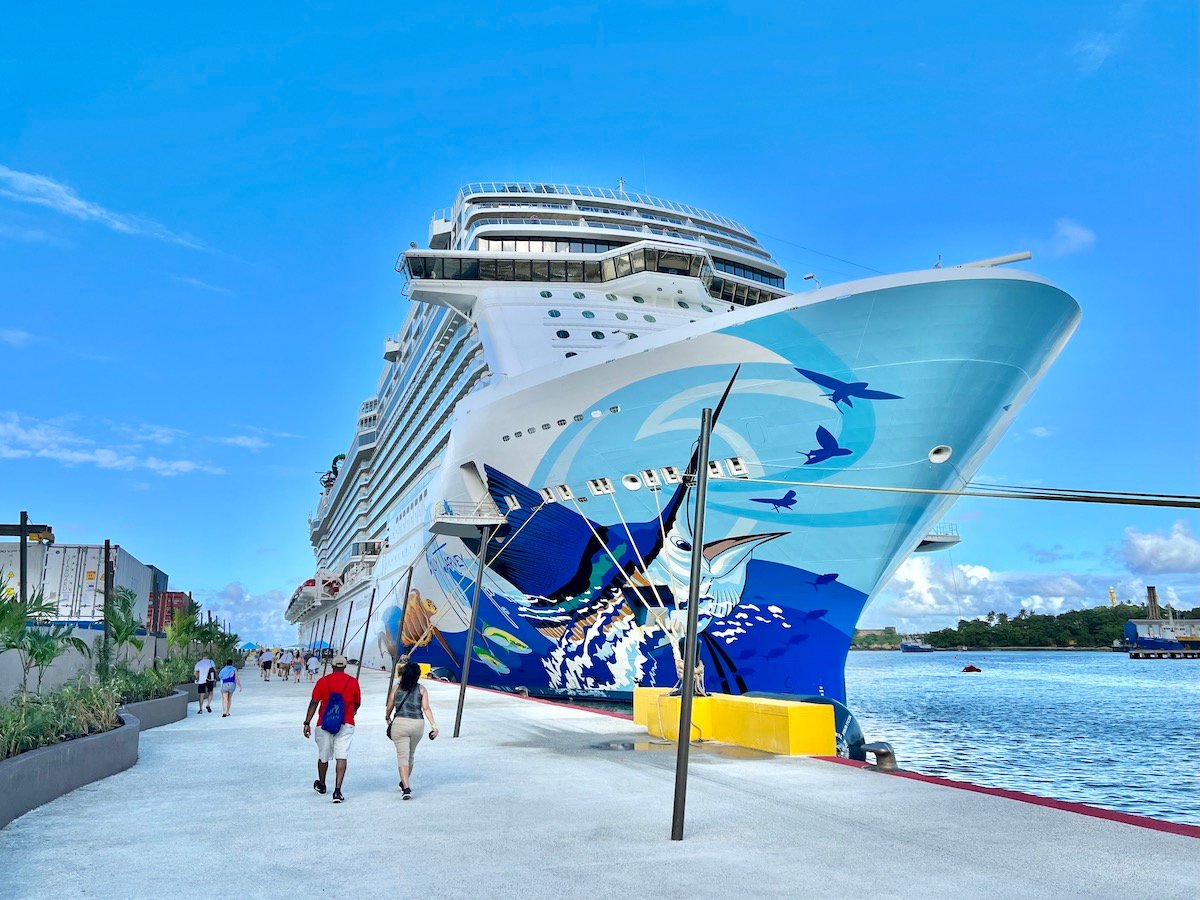 Be sure to check out the following NCL reviews and travelogues on Backroad Planet. Or click here to access all of our ocean cruise content.
Click here for hotel booking options on TripAdvisor!
---
We Would Love to Hear From You
---
We enjoy dialogue with Backroad Planet readers, especially when they share off-the-beaten-path destinations and useful travel tips. Have you ever cruised or considered cruising with NCL? If so, we would love to hear your thoughts and experience. We invite you to leave your comments and questions below, and we always respond!
---
Pin this Post!
---