(a

20

minute read)
---
A Backroad Planet baker's dozen of candid observations and random reflections from repeat sailings aboard the Norwegian Jade cruise ship.
---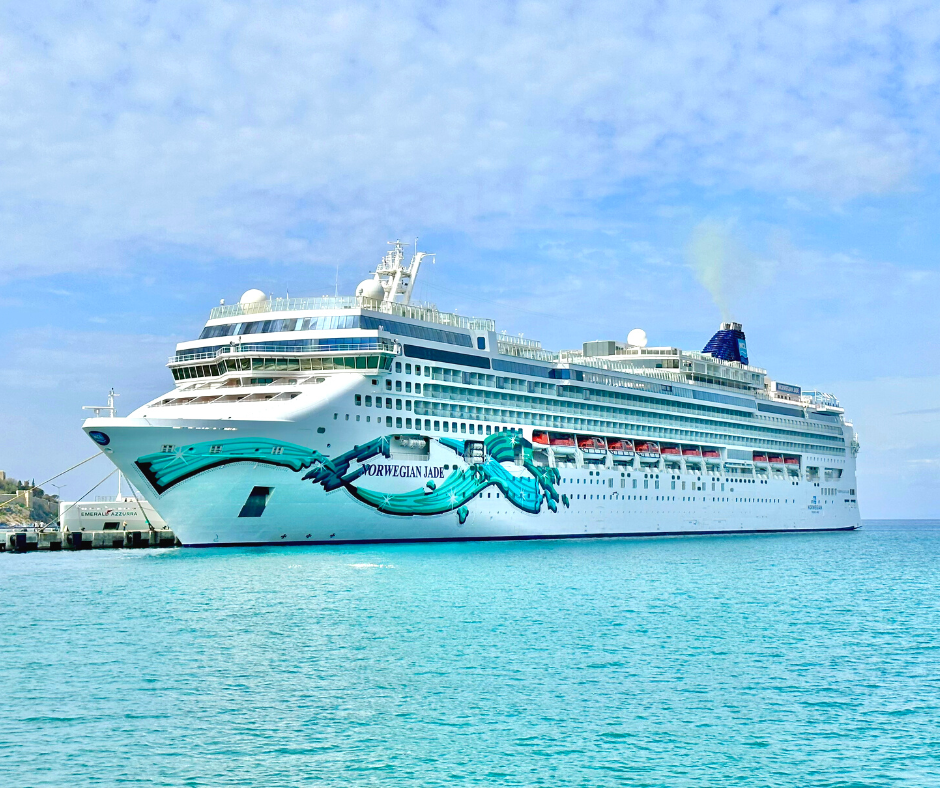 This post may contain affiliate links. Please refer to our our Disclosure/Disclaimer page for more information.
---
Our NCL Jade Itineraries
---
Howard: Considering the fleets of mainstream cruise lines (meaning Norwegian, Princess, and Royal Caribbean), I would go out on a limb and say that the NCL Jade is my favorite ship afloat.
The Jade can't compete with Viking Ocean ships, but unless and until another ship changes my mind, the Jade holds a special place in my heart.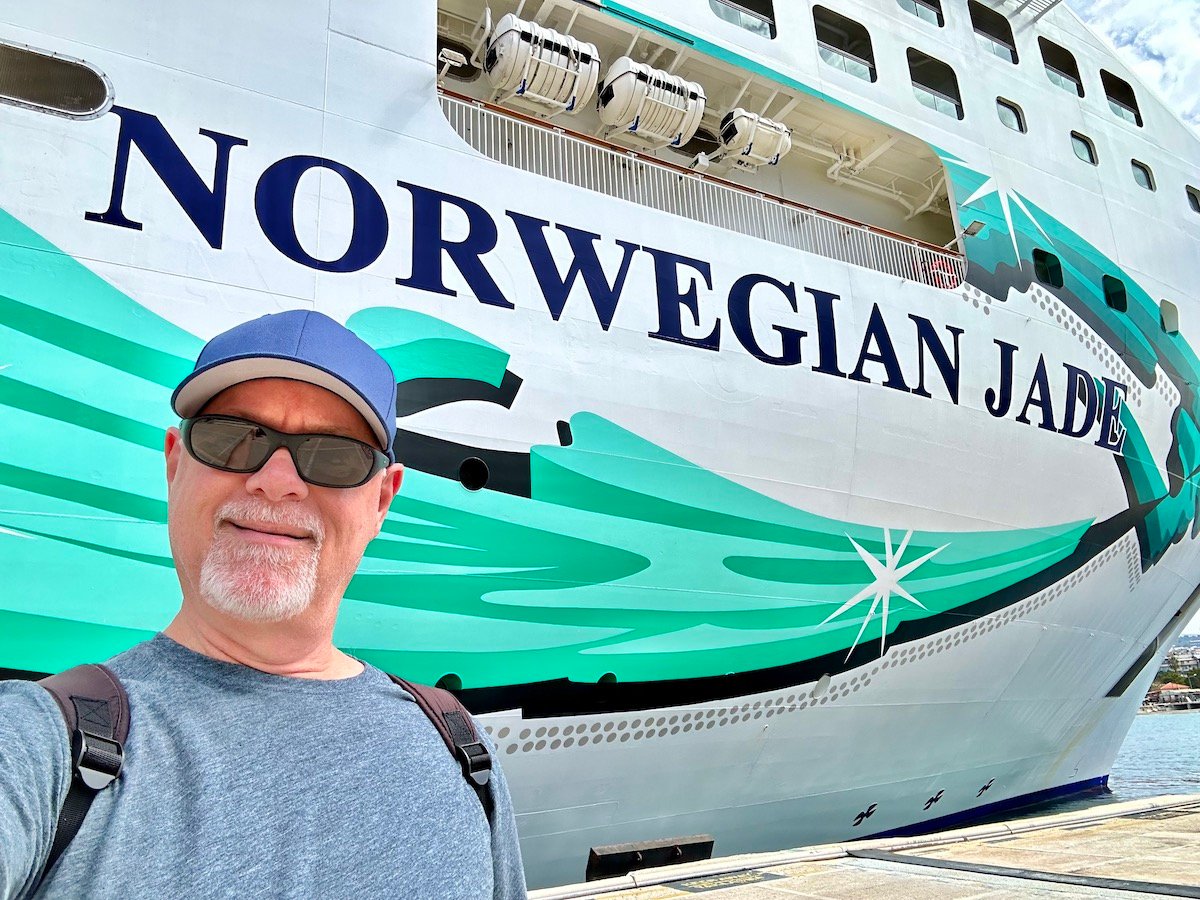 My first sailing on the NCL Jade was an 18-day Middle East voyage from Athens to Dubai. The cruise industry was attempting to resume service following the global pandemic shutdown, so it was a great time to be at sea.
Sure, there were pandemic protocols to follow, but fares were low and so were bookings. In fact, on that first itinerary there were only 895 guests aboard.
You can read all about that adventure at the following link: My NCL Middle East Cruise: A Norwegian Jade Travelogue.
My second sailing on the NCL Jade ended up not being the cruise I booked.
Several months ago, my friend and frequent Backroad Planet contributor Lucy Turner (who I also met on our first Jade sailing) discovered a 9-day Black Sea itinerary on the NCL Jade that included ports in Constanta, Romania, as well as Varna and Nessebar, Bulgaria.
As it turned out, we both booked the cruise and also back-to-back legs to make our airfare worth the investment. I booked the 9-day leg prior to the Black Sea itinerary, and Lucy booked the following 9-day leg.
But our booked itineraries were not to be.
Weeks later, we received email notifications from Norwegian that due to increased activity in the region following Russia's invasion of Ukraine, they would be excluding the Romanian and Bulgarian ports and replacing them with ports in Volos, Rhodes, and Heraklion, Greece.
Cruise lines are well within their rights contractually to modify itineraries, but when major changes occur, they typically offer refunds or future cruise credits. My first NCL Jade itinerary originally included stops in Israel, but when Israeli ports and borders were closed due to the pandemic, Norwegian had allowed guests to cancel.
I could be wrong in my assessment, but in my opinion the Black Sea itinerary change was a classic bait and switch. Even though the Ukraine invasion had been well underway for months, Norwegian had no qualms about marketing a Black Sea cruise. And why should they? They knew they could easily and capriciously modify the itinerary later, even though their valued guests and high-tiered Latitude members had booked the Black Sea itinerary, plus back-to-back legs.
With this major itinerary revision, no concessions were offered, even though the advertised Black Sea cruise was no longer a Black Sea cruise.
Had I known that the Romanian and Bulgarian ports would be eliminated, I would not have booked my back-to-back itineraries,
Although we were extremely disappointed, we basically had no choice but to keep our bookings, and we chose to make the best of it.
Lucy: I also have a special affinity for the Norwegian Jade. I have sailed her more than any other ship, and have wonderful memories from transatlantic crossings, Norwegian fjords, Greek Islands, and the Suez Canal.
The NCL Jade is a ship I would be happy to go back to again and again, given the right itinerary. But I do not need to sail her again and again on the same itinerary, which is what happened to me this year. I was booked on the same "Black Sea Cruise" that Howard booked. I elected to do the trip to Israel that sailed after the planned Black Sea itinerary.
As it turned out, I did not get to either of the places I wanted to go, and I was very disappointed with the way NCL handled both situations.
Howard already noted the reasons given by NCL for their decision not to go to the Black Sea (AKA the "Not Black Sea Cruise"). By the end of my trip, I also found myself on the "Not Israel Cruise." That drastic change was announced by the captain at the time we were supposed to depart from Athens on the first day of the cruise.
There had been some demonstrations in Jerusalem the preceding week, so I considered that there might be some modifications to shore excursions to avoid potential trouble spots. NCL decided to avoid the entire country. And to make matters worse, the only compensation offered for this significant change was a $100 non-refundable onboard credit per person.
After many years of happy sailing with Norwegian, I left these trips disappointed with the line. I spent a significant amount of money to go to the Black Sea and to Israel. I got two trips to Turkey and the Greek Isles. These are lovely places, but I've already been to them several times.
I recognize that cruise lines sometimes need to make changes to plans when unusual situations arise. The question is, what does the cruise line do to assure that its passengers are treated fairly in such situations? In my opinion, NCL failed miserably.
As you will read in other sections of this post, I found that the NCL experience is in decline. I recognize that all cruise lines have been through a very difficult time during and after the pandemic, and that some money-saving measures are needed. But in my opinion, NCL is making decisions that negatively impact the guest experience. I hope now that bookings are up again, and NCL has new management, the line can get back to delivering the enjoyable experience of days past.
Howard: I fared slightly better than Lucy, only because the revised itinerary offered new opportunities for me. Due to the port substitutions, I was able to visit the monasteries at Meteora, explore medieval Rhodes, and tour the Minoan ruins at Knossos. Even though it was not a Black Sea cruise as advertised and booked, it turned out to be a pretty badass itinerary.
---
About this Post
---
This post is not an exhaustive manual, like our insider guides to Norwegian and Viking ocean cruises. Nor is it a critical assessment like our Island Princess or MSC Cruises reviews. As a matter of fact, many aspects of sailing the NCL Jade are not addressed here at all.
This post is also not an itinerary guide or shore excursion review.
Instead, this post is a listicle of first-hand observations compiled from our experiences relating to the NCL Jade cruise ship and also the Norwegian brand. It is no secret that we like older ships.
---
The NCL Jade Cruise Experience
---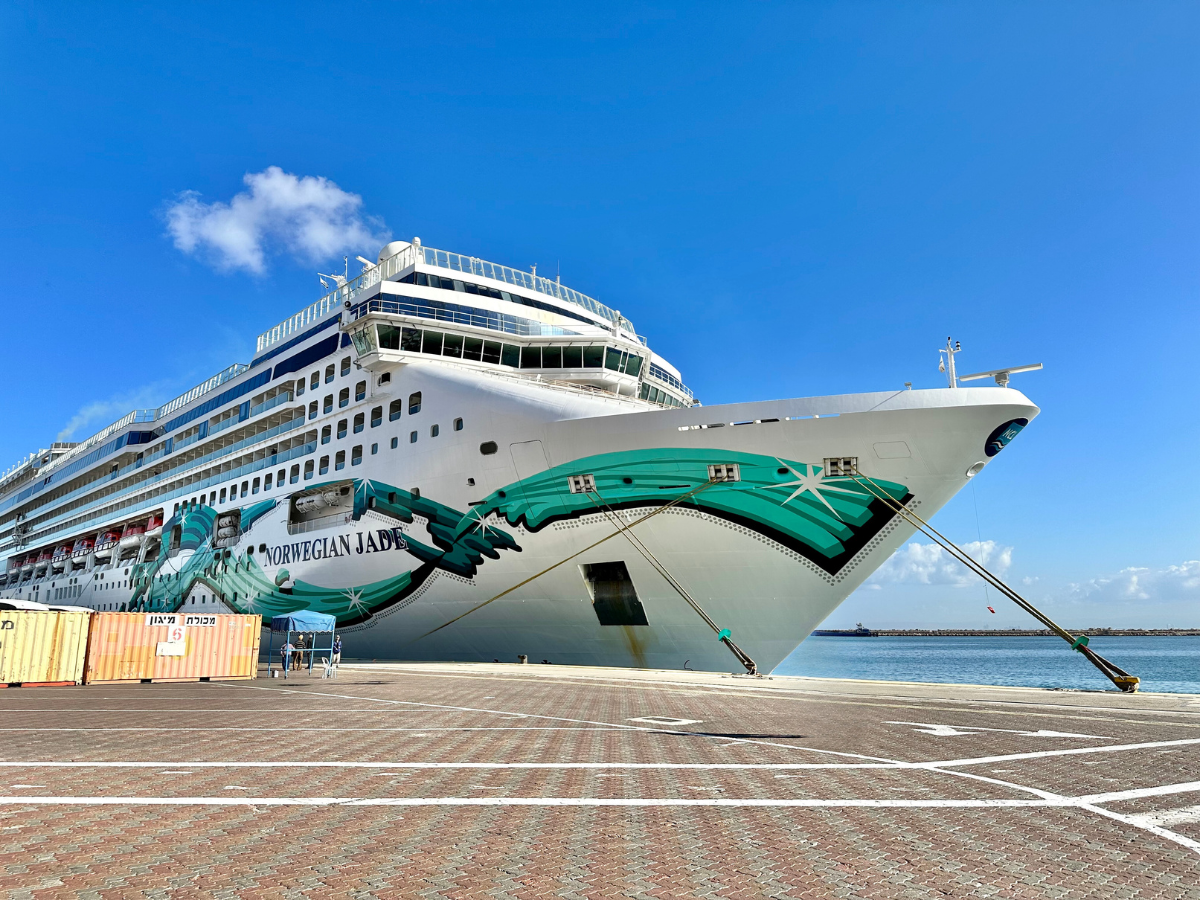 Like all cruise ships, the NCL Jade has its pros and cons. But all things considered, we had a wonderful time cruising the Mediterranean and exploring ports on our overlapping itineraries.
• The current Jade is not the former Jade.
---
Howard: Today's NCL Jade is a reincarnation. Launching in 2006, she was originally built as the Pride of Hawaii for Norwegian's Pride of America fleet. Two years later, when that venture failed, the vessel was retrofitted, repositioned, and renamed as a member of Norwegian's Jewel Class, joining sister ships the Jewel, Pearl, and Gem.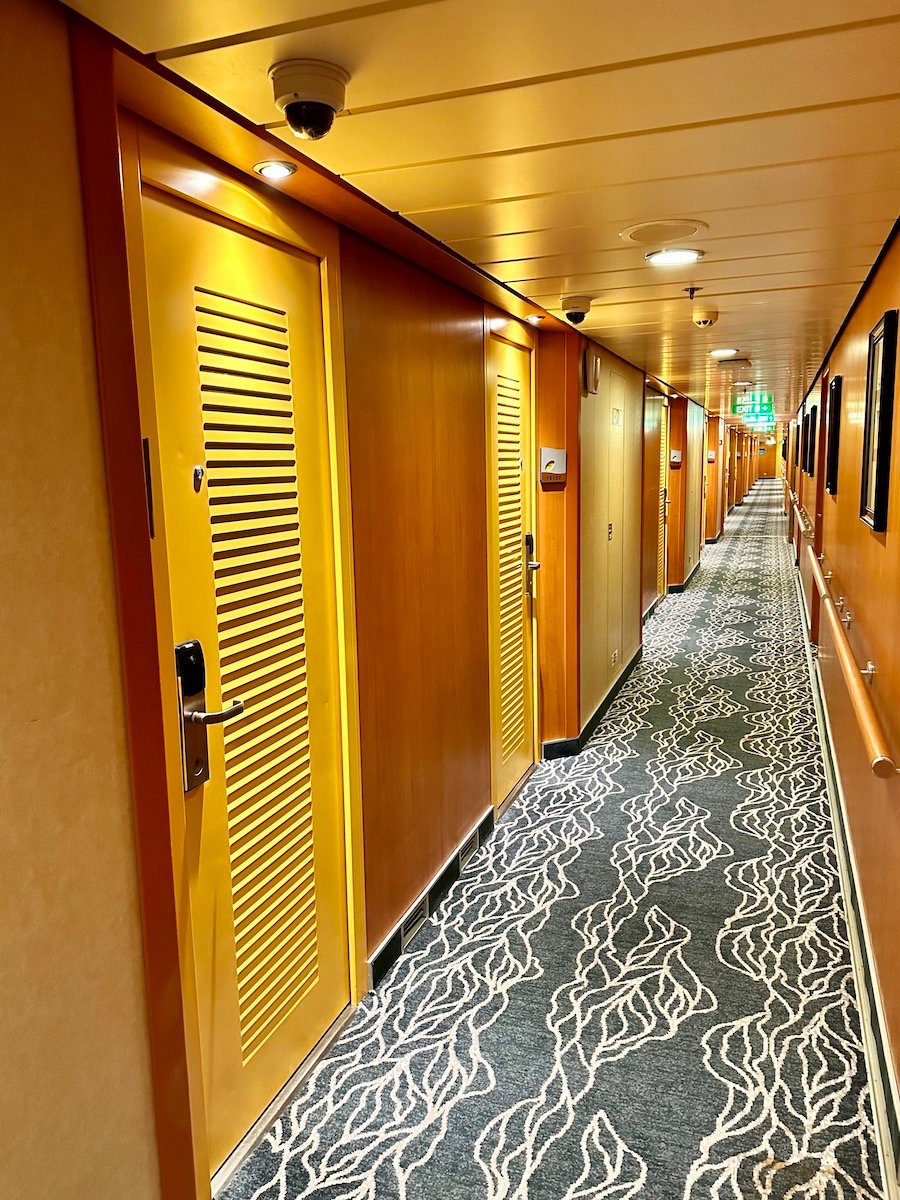 The Jade has undergone two brief dry-dock renovations in 2011 and 2017, but she retains a dated ambience that is part of her charm.
• NCL Jade itineraries are exotically spectacular.
---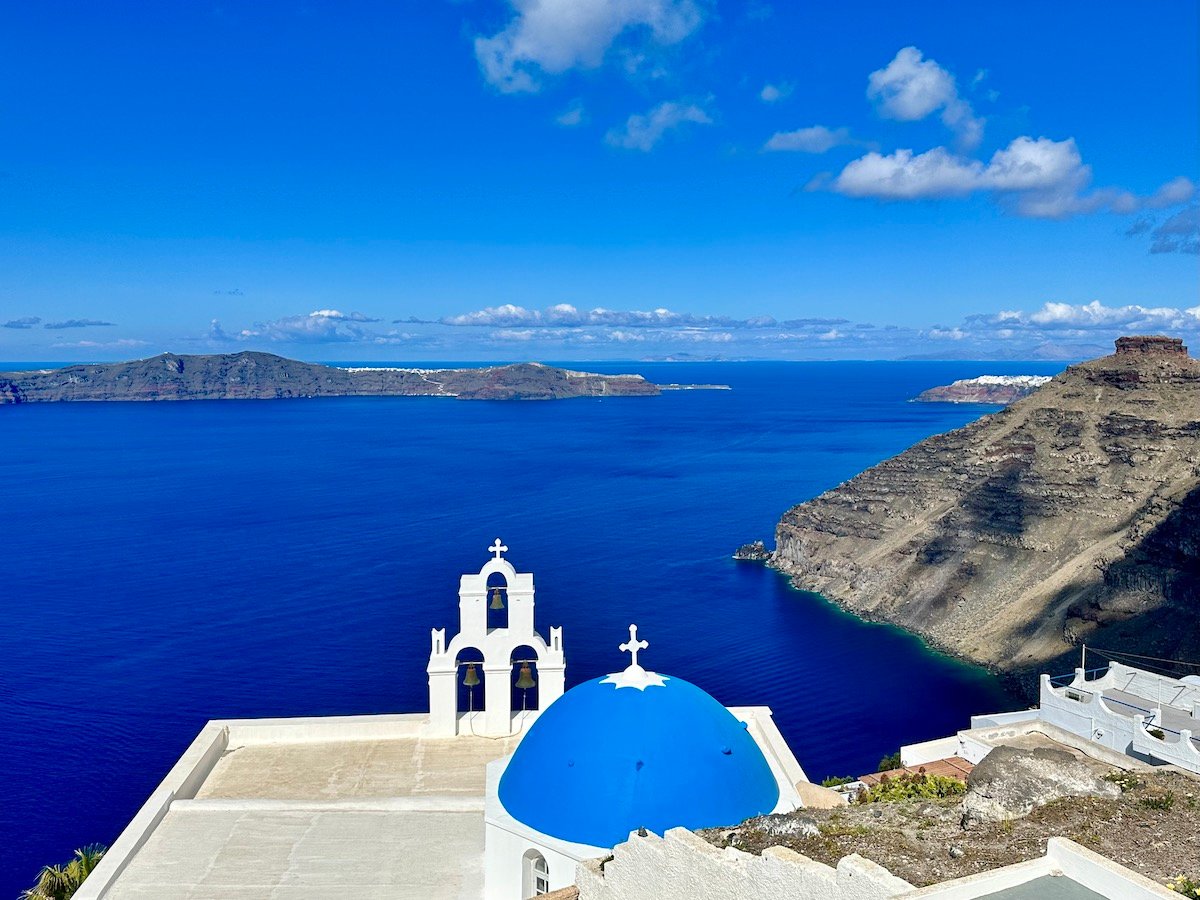 Howard: I am a destination cruiser, and everything else is secondary. For the past few years, the NCL Jade has been cruising to Europe, the Mediterranean, and the Middle East, and itinerary port offerings have been beyond belief.
As I write, the Jade is scheduled to be redeployed to my neck of the woods, sailing Caribbean itineraries out of Tampa and Port Canaveral. Following that stint, she is headed to Alaska, which includes a Panama Canal transit. As a Panamax ship, through the old locks, no doubt.
• The 360° promenade is classic cruise liner perfection.
---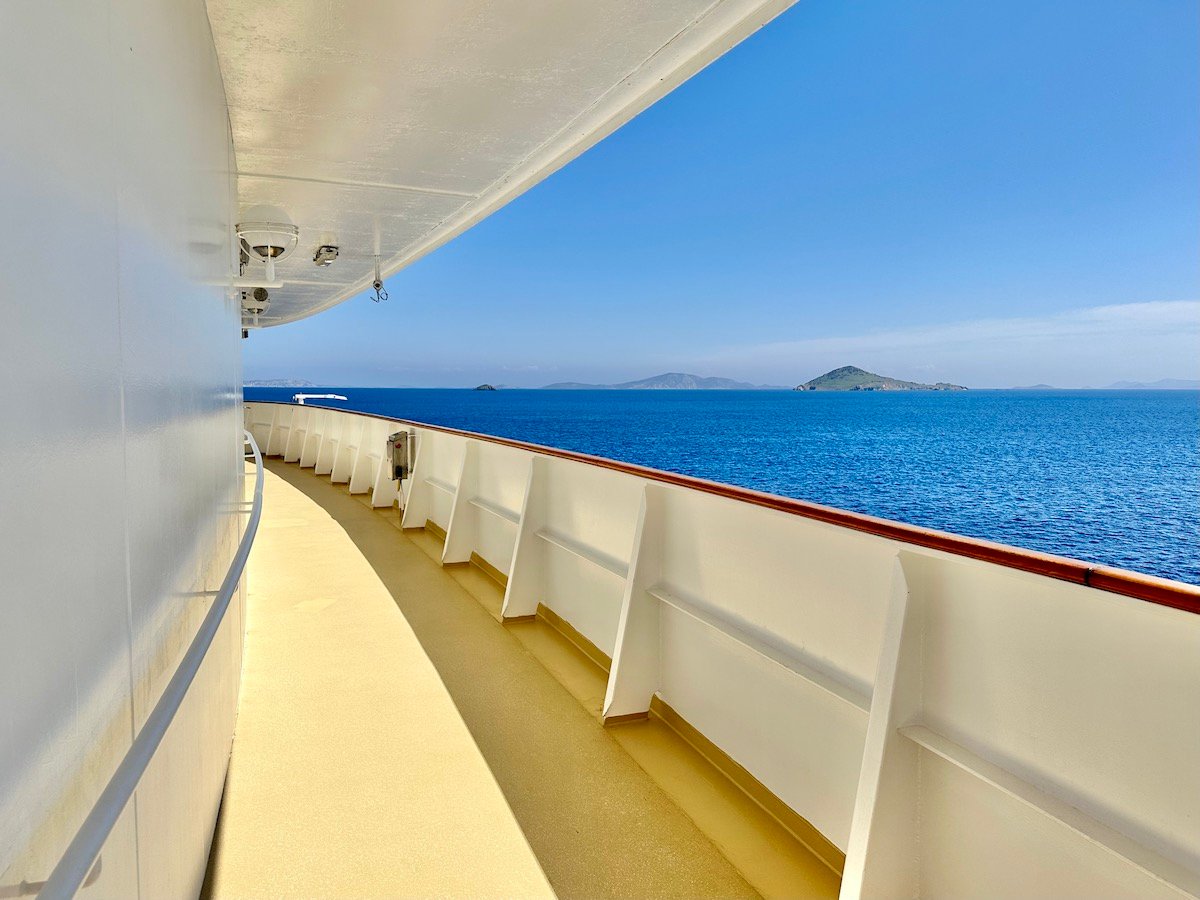 Howard: Backroad Planet readers know my affinity for promenades, those classic covered outdoor decks that are sadly going the way of the dinosaur.
In my opinion, promenades are the best real estate on any ship, and the NCL Jade has one of the best, a fully-functional 360° promenade on Deck 7. That means you can circumnavigate the entire ship on foot, fully protected from the sun and rain. On days at sea, you will find me walking the promenade, getting in my 10K+ steps, music playing through my earbuds, fresh air filling my lungs, lost in stellar seascape views.
The Jade also features another classic cruise liner holdover, a well-stocked library.
• Spa facilities have both gender-specific and coed suites.
---
Howard: I am not one to hang out in thermal spas. After five or ten minutes, I get bored. But I typically do a walk-through of the facilities on day one so that I can give a report to readers.
The NCL Jade's Mandara Spa is a beautifully-designed space with primarily gender-specific facilities, meaning that the saunas, steam rooms, and hot tubs are in separate male and female suites.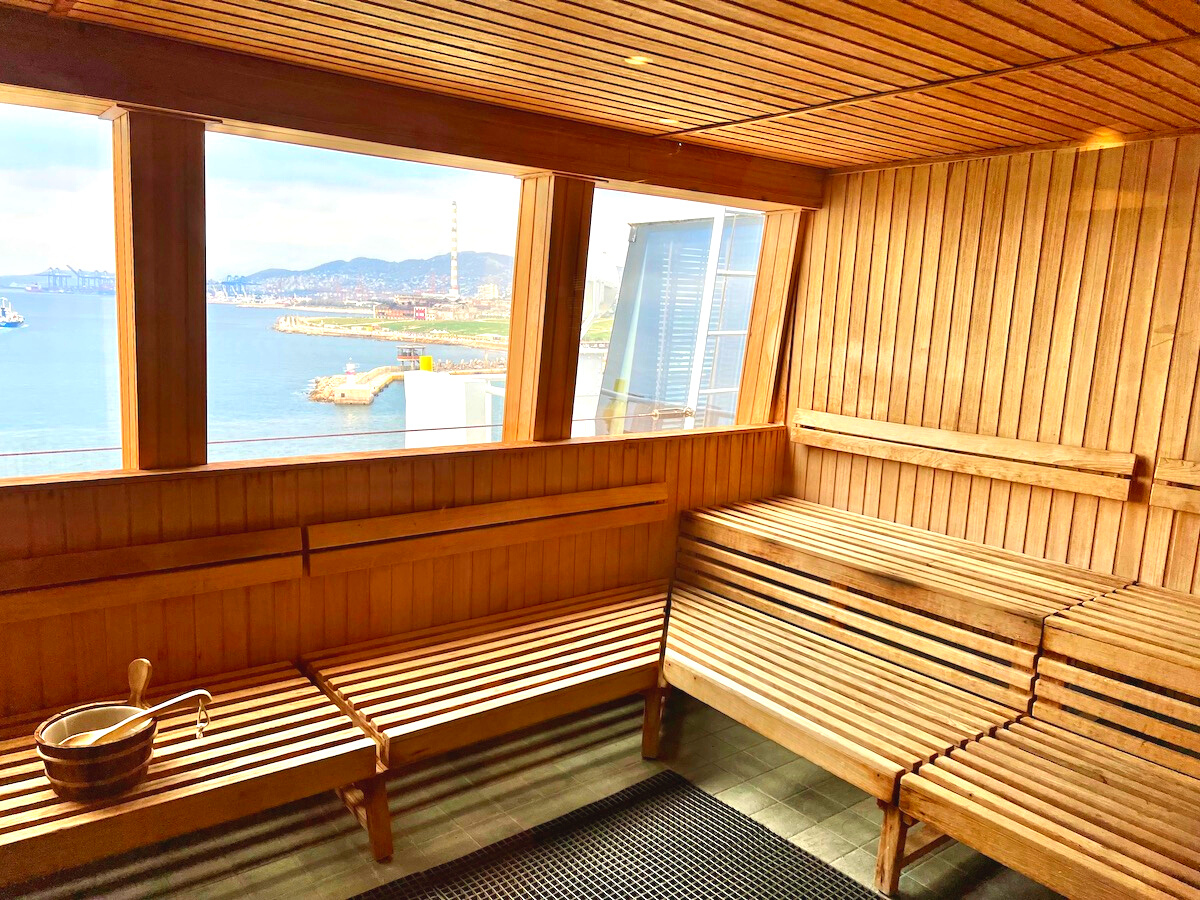 The Jade may be the only ship I have seen with picture windows in the sauna. During my walkthrough, I was taken with the abundance of light and sense of openness in the men's section.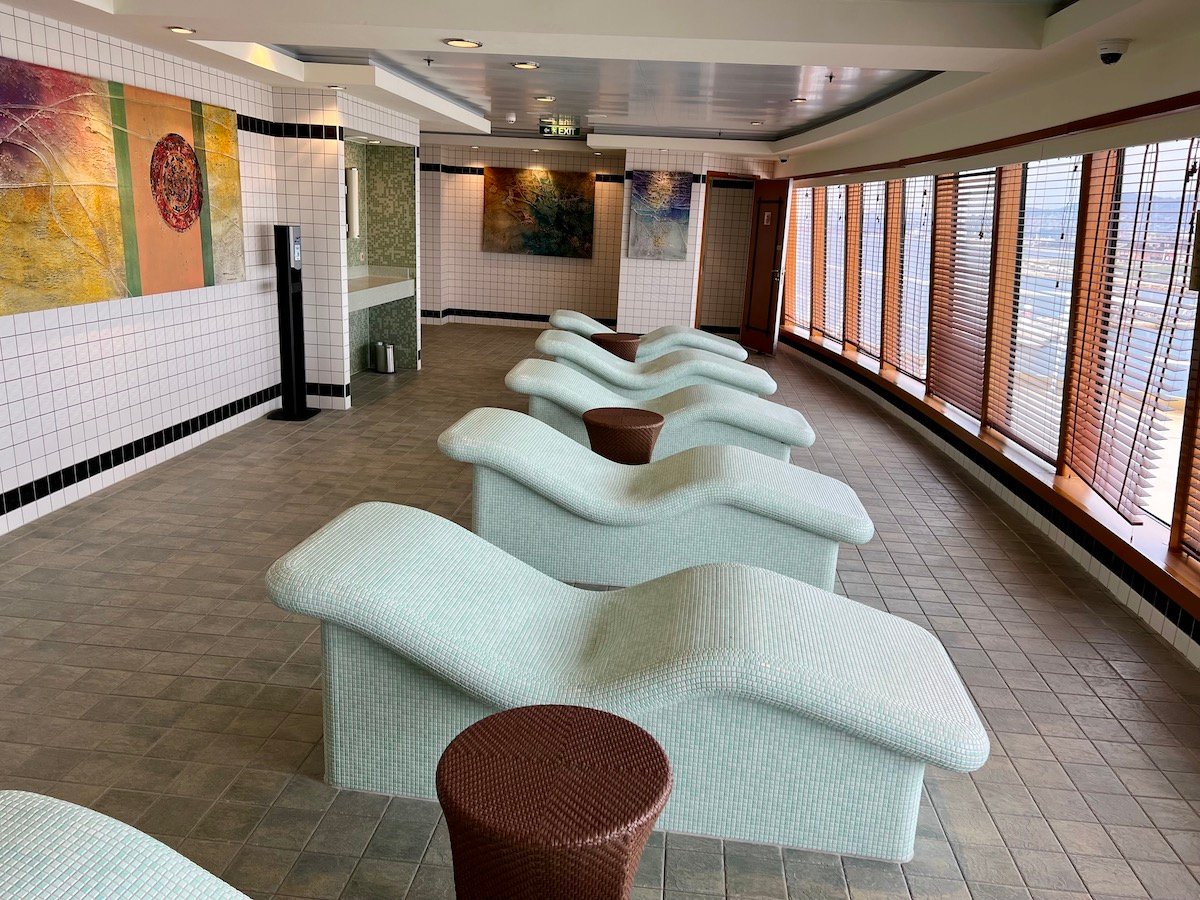 The spa also features a centralized co-ed wet area with thermal loungers and a pool.
• Stateroom showers really are all that.
---
Howard: If you have endured coffin-sized cruise ship showers with curtains that cling to your body, then you will understand why I love the Jade's showers so much. The spacious rectangular shower stalls feature faux wood paneling, sliding glass doors, and instant hot water with a high-pressure flow.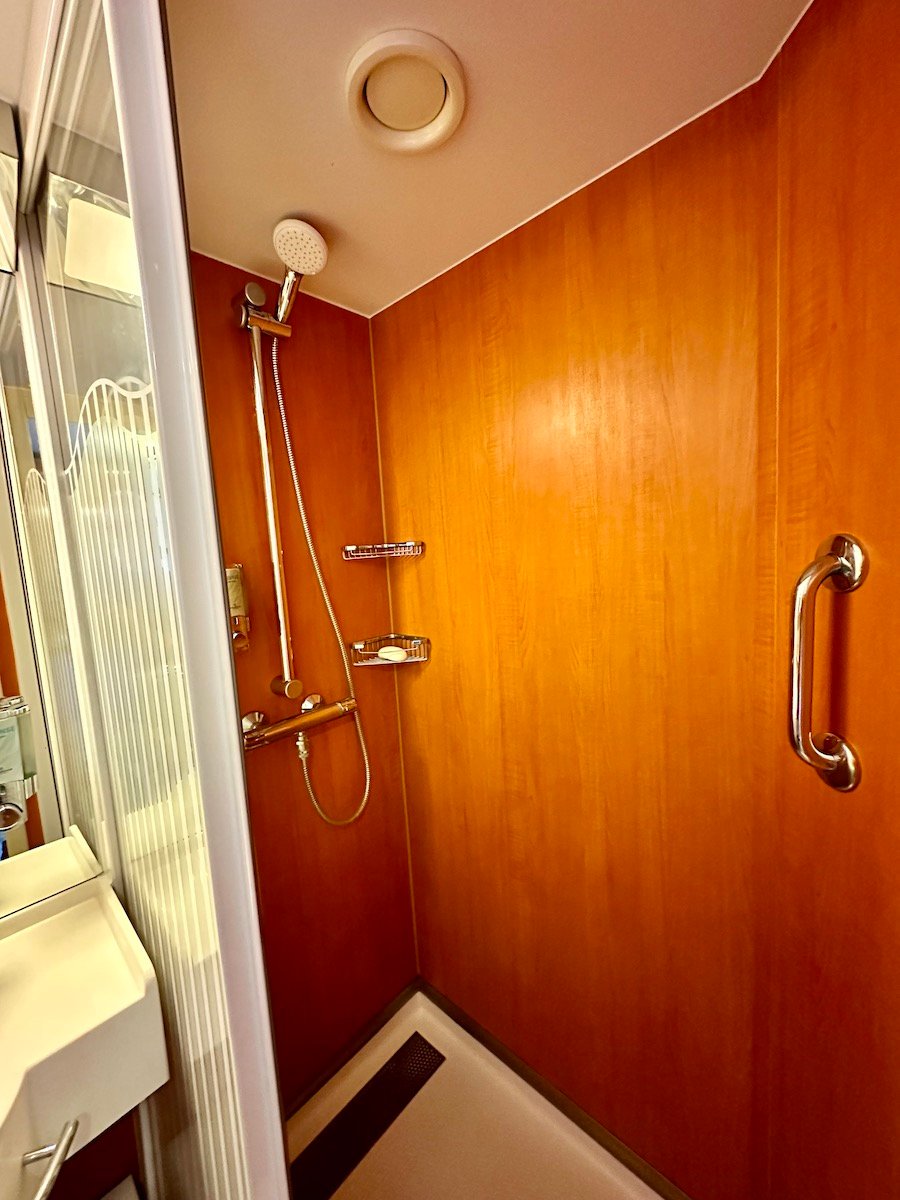 Returning to ship after a full-day excursion, there is nothing better than a Jade stateroom shower to get you feeling refreshed and ready for dinner and evening activities.
• Stateroom service suffers as a result of NCL cutbacks.
---
Howard: One of Norwegian's recent cost-cutting measures was reducing stateroom service from twice daily to once per day. Although this service downgrade was attributed to environmental and conservation concerns, you don't have to be a rocket scientist to see through that smokescreen.
If you cut the work in half, you can cut the crew in half.
As a frequent cruiser, I have always thought once per day service would be enough for me. Unfortunately, the plan may have looked better on paper than in reality.
The change was noticeable from day one. In the past, staterooms have typically been ready for occupancy by 1:00 PM. Now, rooms are not ready until 3:00 PM.
Sadly, that is not the only issue. Fewer stateroom stewards tasked with additional cabins means that your stateroom may not be serviced until late in the day.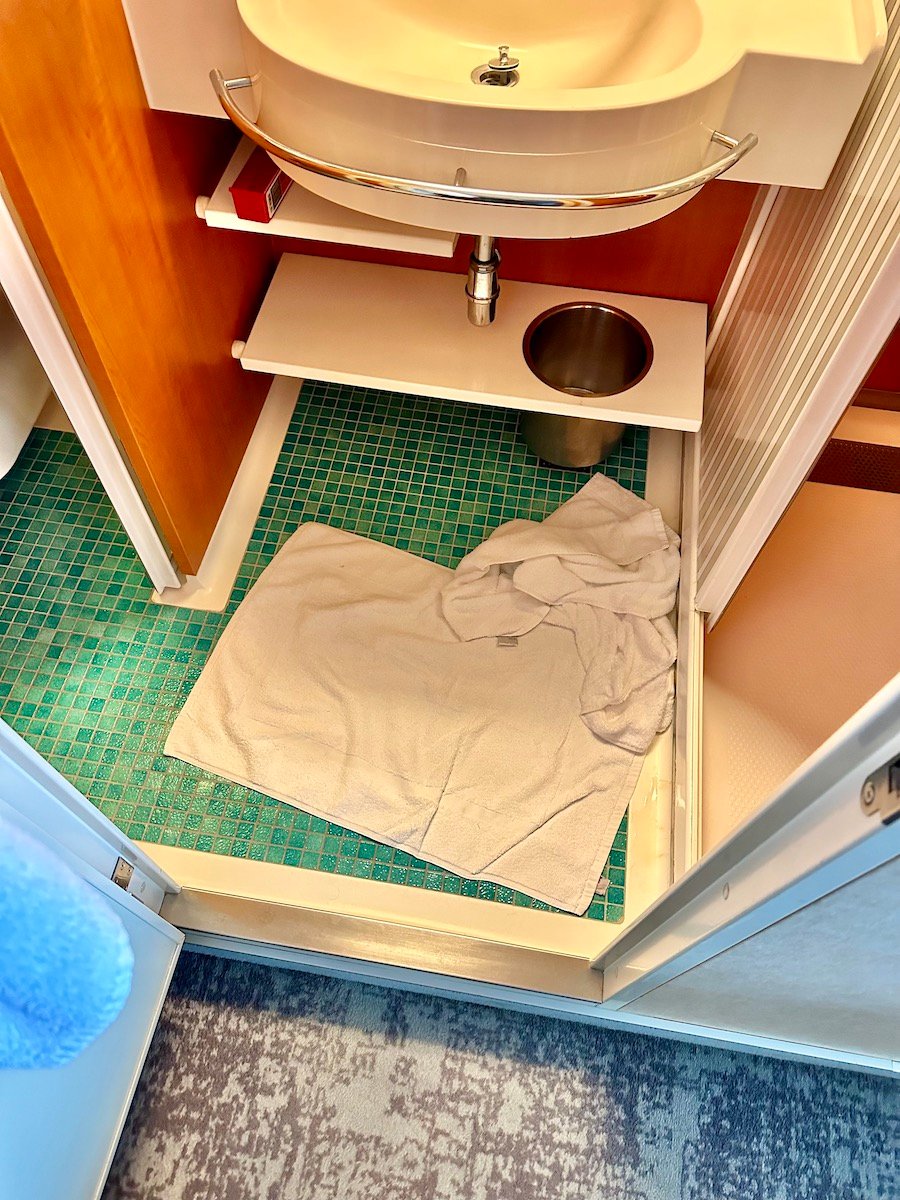 On the second day of the cruise, my stateroom was not serviced at all. By the time I returned from my excursion and lunch, my steward had not yet serviced my room. It was time for a nap, so I told him to skip it.
On the third day when I returned to my cabin, only the bed had been made. The bathroom had not been cleaned, as evidenced by towels on the floor. I had to request fresh towels for my room.
Simply put, stateroom stewards are currently overtasked, and they cannot keep up.
Lucy: I agree that this is an area where cost-cutting is hurting both passengers and crew. I do not have a problem with eliminating the turndown service in the evening, but that doesn't mean that a cruise line can cut half of its housekeeping staff.
The long waits to access staterooms on embarkation day are annoying and significantly impact a guest's ability to enjoy the day. And when I am out exploring a port for most of the day, I want to return and relax in a clean, fresh cabin. Instead, there were days when the overtasked cabin attendant was still working when it was time for dinner.
Now that bookings are up, and ships are crowded on many sailings, I hope that NCL is able to increase its staffing.
• The Great Outdoors is truly a great outdoor space.
---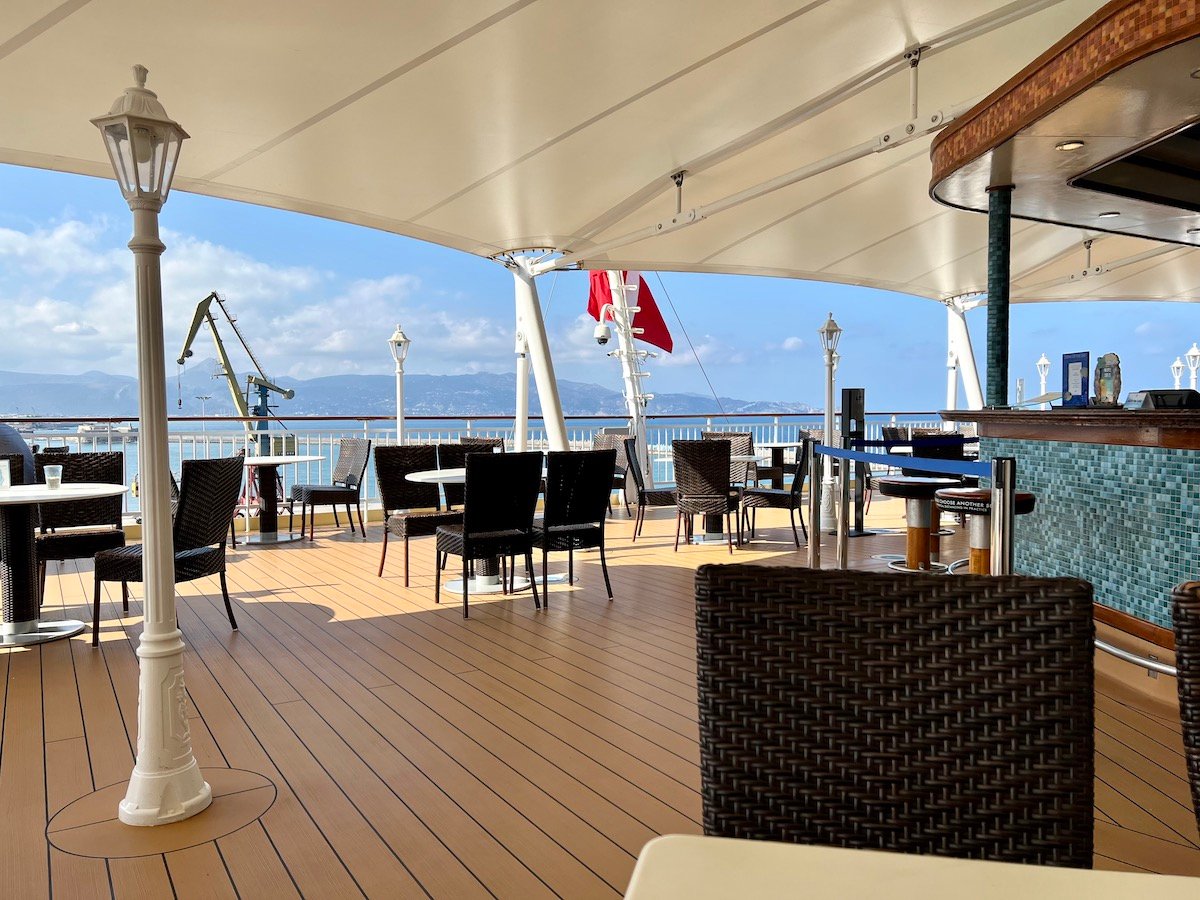 Howard: The Great Outdoors is an al fresco bar and buffet situated on Deck 12 aft that reminds me a lot of the Aquavit Terrace on Viking Ocean ships.
The seating area wraps around the stern with an assortment of tables in both open and covered sections, and stools surround the bar. The buffet is open only during select hours, but the Garden Café connects directly to the Great Outdoors, making it convenient to carry plates outside.
The Great Outdoors is a perfect alternative for folks who enjoy relaxing outside minus the poolside madness.
• When dining at O'Sheehan's, order as you go.
---
Howard: O'Sheehan's is a 24/7 complimentary bar and grill that serves up consistently good breakfast, lunch, and pub grub.
My favorite menu items are the loaded nachos, Reuben sandwich, and the lechon asado pork. I used to love their Buffalo wings, but alas the current "roasted" method does not get them crispy enough for my taste.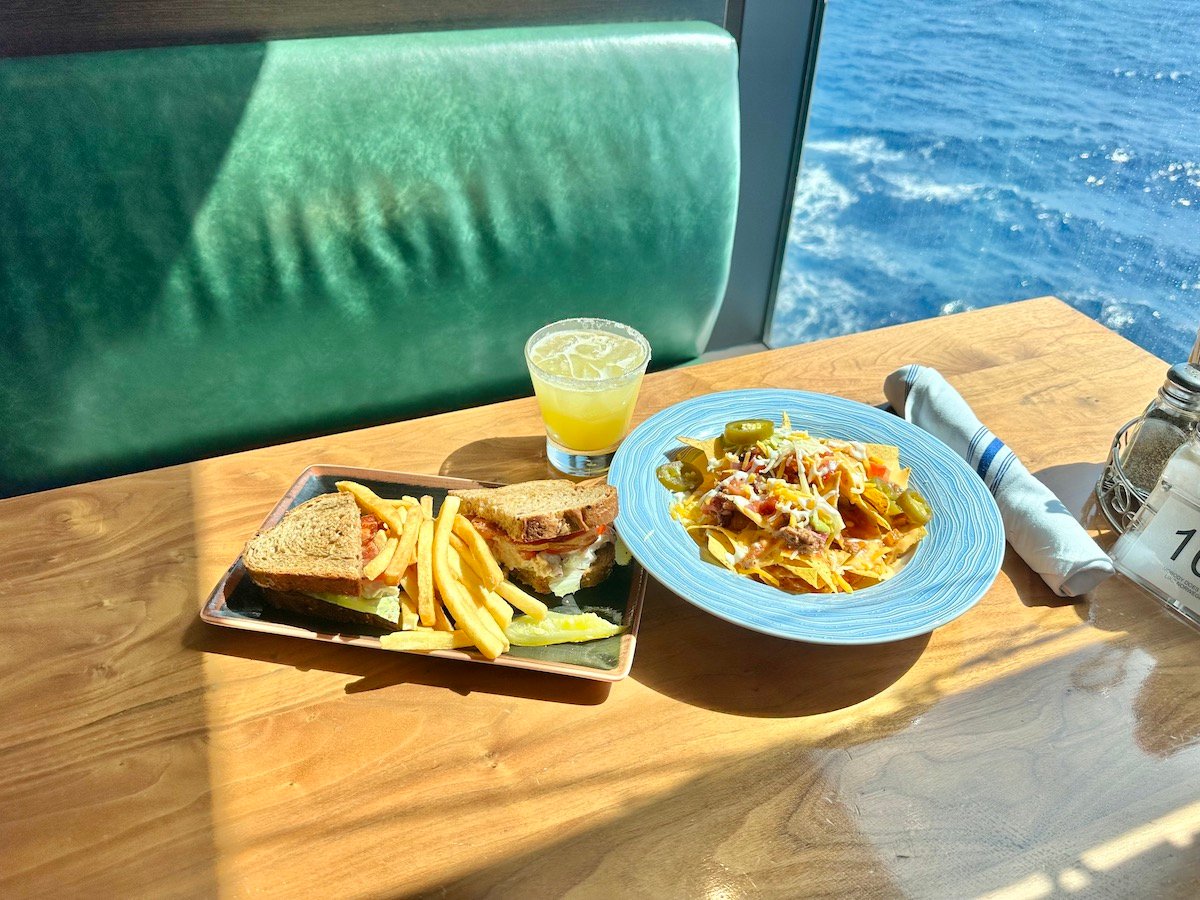 When you order your meals at the Grand Pacific and Alizar main dining rooms, your food items come out in courses. But when you order at O'Sheehan's, they all come out at once.
To resolve this issue, I suggest hanging on to the menu and ordering one item at a time. This means, order your appetizer and wait for it to be served. Then order your entree, and so on.
---
Howard: I have written repeatedly about how I believe Norwegian dining is the best of the mainstream lines. I need to modify that claim. Overall, the dining on our recent itinerary was excellent, with one caveat being desserts in the Garden Café.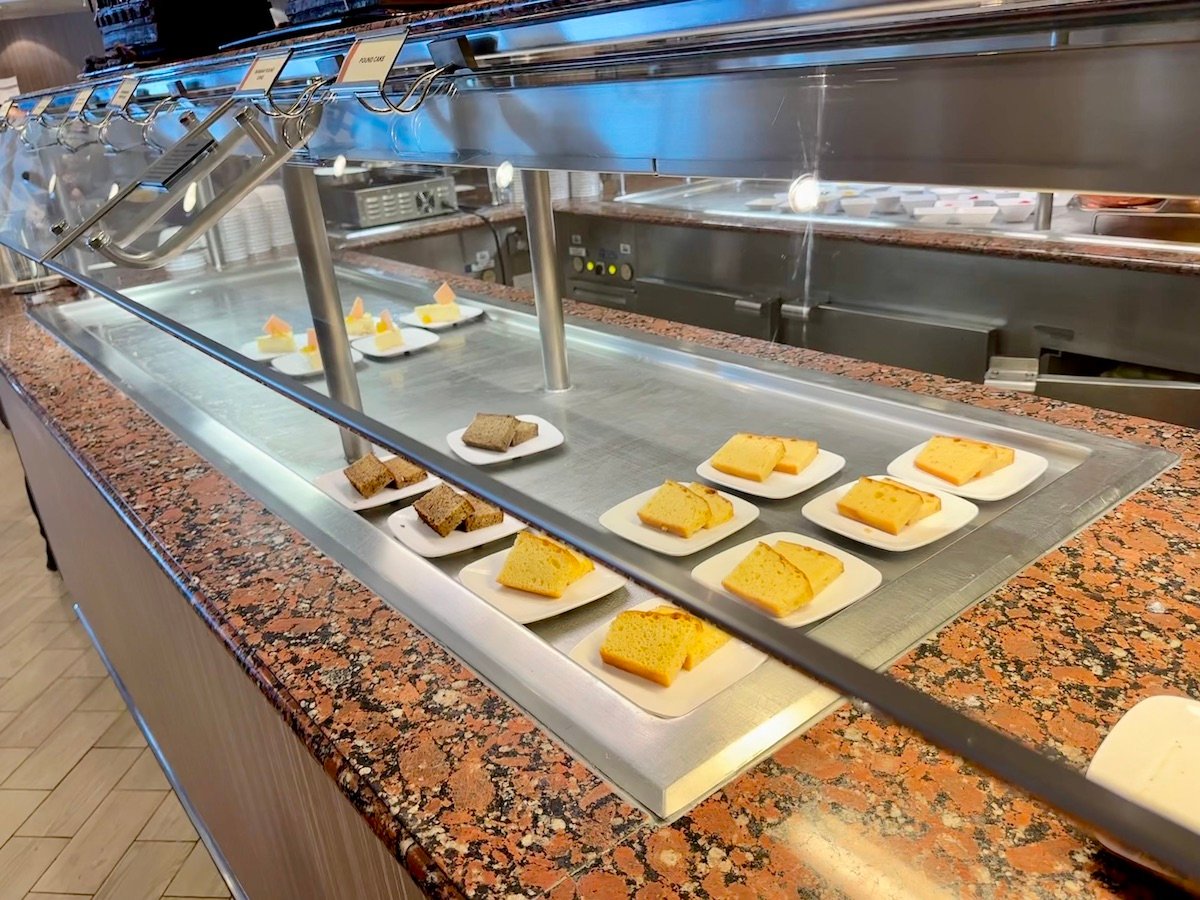 Simply put, buffet desserts were slim pickings, far from the bounty of bakery delights on Princess and Royal Caribbean.
Upon closer look, the uniformity of the pies, tarts, and cakes was uncanny. I did not walk into the kitchens to see for myself, but I would risk saying that I am pretty sure the bulk of Garden Café desserts were pre-made institutional fare. Loaf cake slices looked like something you would find at a Walmart bakery.
And aboard the NCL Jade, the missing cookie saga continued. Cookies were never available at the Garden Café dessert station. The only place you could find cookies was at the Great Outdoors when the afternoon snack line opened at 3:00 PM.
Lucy: I also found the dessert selections at the buffet mostly resistible, which is to say they were in a serious state of decline compared with previous voyages on the Jade. I suppose I'm not actually complaining because the available offerings made it quite easy to avoid piling on the calories.
I am now accustomed to the cookie shortage at NCL. However, I was disappointed to find fewer chocolate chip cookies available. Are raisins less costly than chocolate chips? Perhaps they are more cost-effective.
• NCL's soft-serve ice cream is delicious, if only it were consistent.
---
Lucy: Howard and I both enjoy soft-serve ice cream that is available on Norwegian ships. The ice cream is dispensed at self-serve locations in the buffet throughout the day and until about 9:30 pm in the evening.
The soft-serve is generally creamy and delicious. However, our experience on this cruise was inconsistent. There is nothing magic to soft-serve ice cream. There is a dairy mix you put into the machine, and it spins and freezes until the frozen dessert is ready. The main variable is the quality of the mix.
On this voyage, NCL was using at least two different qualities. The first few days on the ship, the soft-serve was a disappointment. There was some discussion about whether it was ice milk instead of ice cream.
In my opinion, it was was worse than ice milk (though to be fair, it was still better than what Princess offers). I guess Howard and I are optimists, because each of us tested the soft-serve every day to find out if it was any better. And our faith was rewarded, because suddenly after a few days, real ice cream returned.
• Crew courtesy is not what it used to be.
---
Howard: I felt conflicted whether to write about this topic, but ultimately decided that it needed to be addressed. Until now, crew courtesy has never been an issue. I have always felt that ship staff members have been over-the-top friendly and helpful. Although most servers, stewards, and executives are cordial, there has definitely been a decline in positivity.
I understand that crew members are as human as passengers and that anyone can have a bad day, but there seems to be an overall decline in crew morale.
When I started noticing this change, it caused me to second-guess myself. But then, I decided it wasn't just me.
Case in point, a waiter at O'Sheehan's walked up to my table, apparently ready to take my order, and just stood there. No smile, no friendly chatter. He didn't even ask to take my order. I asked him if he was okay. What else was I supposed to do?
The body language of a server at the Jasmine restaurant was all displeasure to the point that I asked her if I had done something to offend her. It was all so bizarre, and such a departure from my initial experience.
On my first Jade itinerary, one of the O'Sheehan servers named Patricia had a great personality, endearing herself to me. We connected almost immediately, and she treated me like royalty throughout the itinerary. Before saying our goodbyes, we became Facebook friends, and although she has been promoted to another ship, we stay in touch to this day.
I can't say that Norwegian's recent cutbacks are the culprit for the recent decline in crew cordiality, but the effects are clearly evident.
• Production shows are good, but repetitive.
---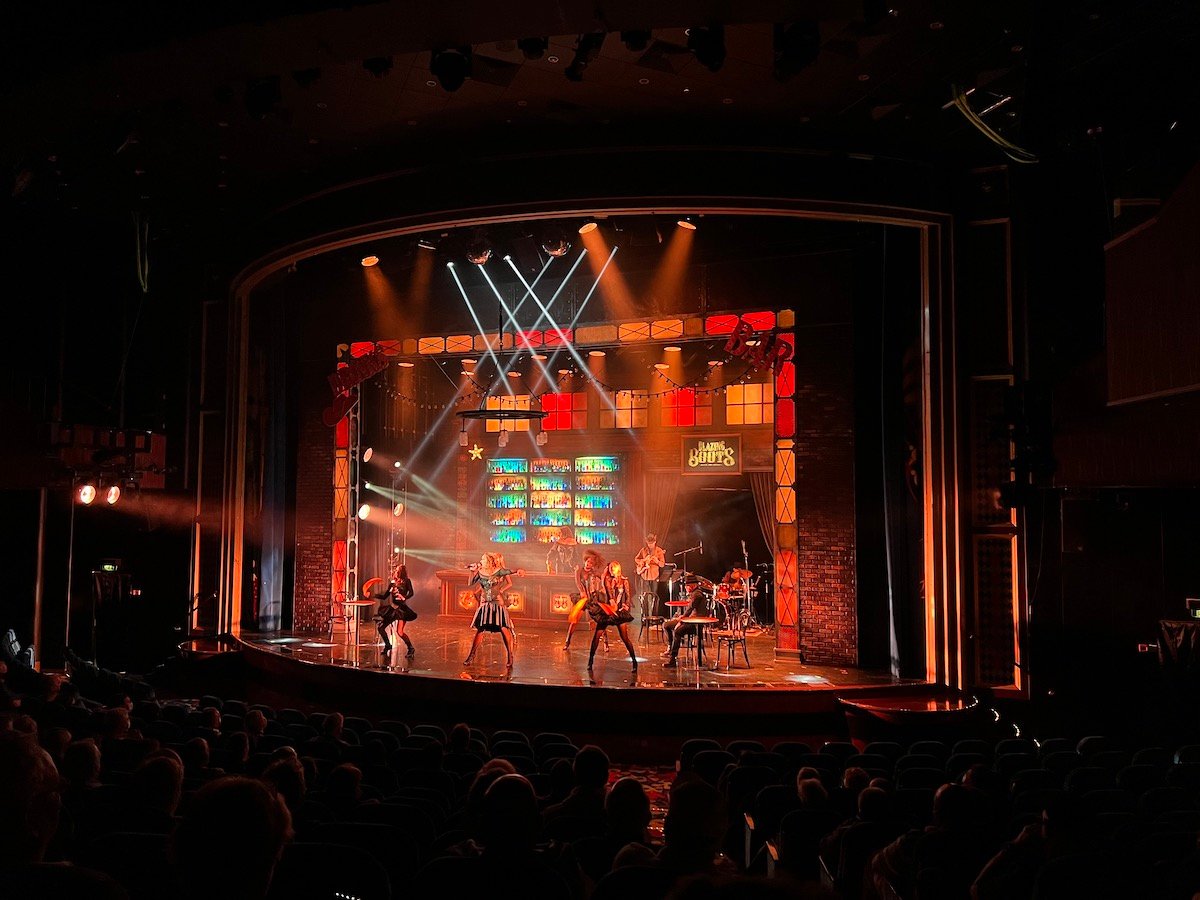 Howard: I think I'm jaded. No pun intended.
I love NCL Broadway shows, such as The Donna Summer Musical on the Prima and Jersey Boys on the Bliss, but I have pretty much had my fill of jukebox production shows on the smaller ships. In fact, on my most recent NCL Jade cruise I did not even darken the doorway of the Stardust Theater in the evenings.
I can't honestly review shows I did not attend, but I do know that the Blazing Boots production show I saw on my first Jade outing was still playing on my most recent cruise.
Lucy: One of the disadvantages of finding a ship that you love, and going back again, is that the entertainment may be the same each time. I am a fan of the production shows, even on smaller ships where the production is often just a line-up of song and dance numbers with no plot or theme. But the shows on the Jade have been around a long time, and they were not Broadway quality to begin with.
So, I also passed on the production shows this trip. The good news is that NCL announced this week that it is revamping many of the shows on its ships and it promises to bring updated and enhanced offerings. Yes, I recognize that is frequently corporate speak for cost-cutting measures. I guess we will have to wait and see.
• Credits and refunds are promptly issued. Well, almost.
---
Howard: I can't say this is always the case with Norwegian, but during the course of my most recent cruise, credits and refunds were promptly applied to my onboard account.
On the first leg of my back-to-back itinerary, we were not able to port in Rhodes due to high winds. Within a day or two, a refund was issued for my booked excursion, and port fees were credited to my account.
My excursion to Bethlehem was a less-than-stellar experience. We spent hours at a souvenir shop and restaurant (think kickbacks) instead of touring historical sites. When I filed a complaint at the shore excursion desk, they issued a 20% credit.
Near the end of the cruise a substantial credit appeared on my account. When I inquired, I was told it was for the missed port fees in Romania and Bulgaria.
There was one exception to the rule, but because I am still hoping for a resolution, I won't go into great detail at this point.
The gist is this. After booking, there was a significant price drop on both legs of my itinerary. I called NCL and requested a future cruise credit for the difference. A month or so later, an NCL phone agent told me that both credits had been approved, and I would receive them upon completion of my cruise. When I requested written confirmation, I received an email from NCL stating that my request had been denied.
Say what?
At an even later date, an NCL agent called me attempting to sell me a cruise. When I mentioned how I had been jerked around, the agent said he could see on his computer screen that my request had definitely been approved the day after I called. I am unsure what my next step should be, but if my FCC is not issued by my next cruise, I will use the only recourse I have left. I may or may not write more about this in the future.
---
Other Norwegian Content on Backroad Planet
---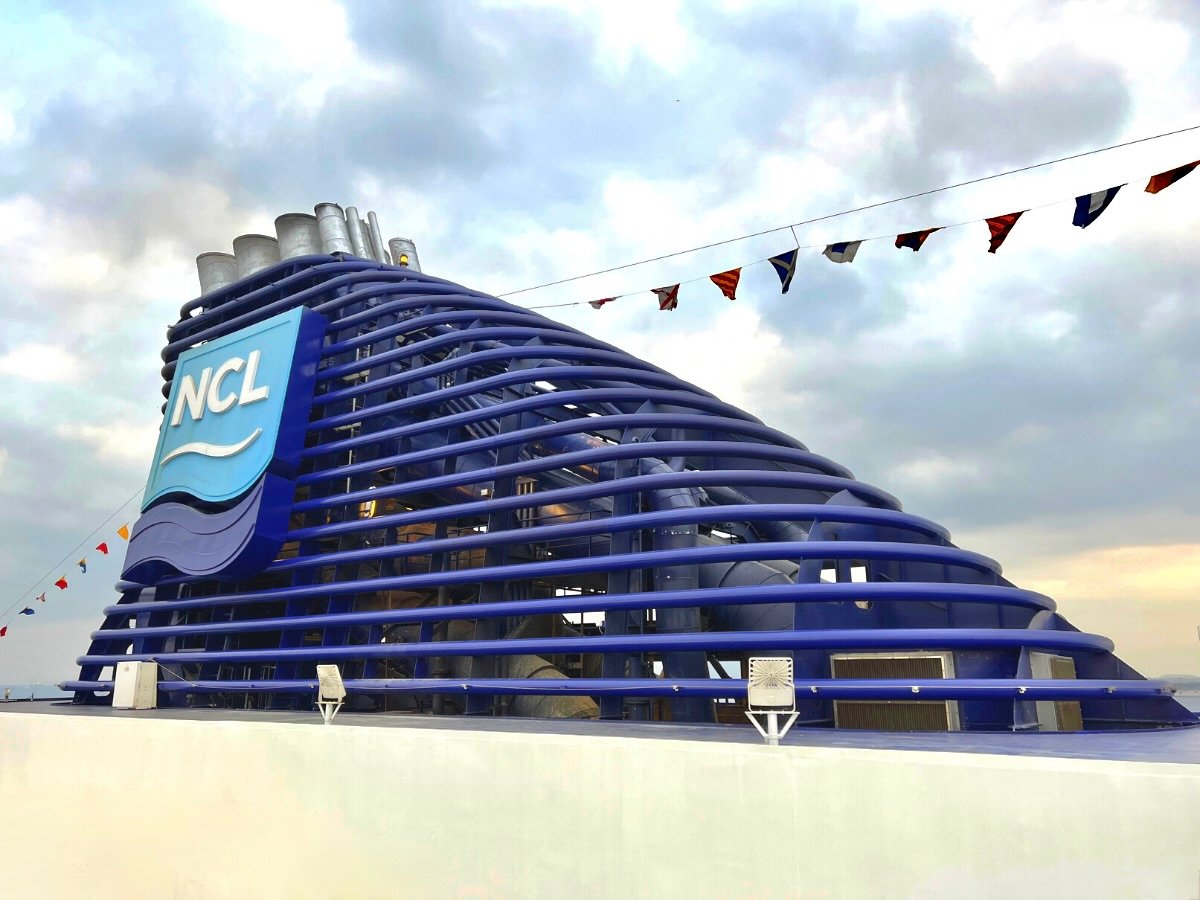 Be sure to check out the following NCL reviews and travelogues on Backroad Planet. Or click here to access all of our ocean cruise content.
Click here for hotel booking options on TripAdvisor!
---
We Would Love to Hear From You
---
We enjoy dialogue with Backroad Planet readers, especially when they share off-the-beaten-path destinations and useful travel tips. Have you ever sailed aboard the NCL Jade? If so, we would love to hear about your experience. We invite you to leave your comments and questions below, and we always respond!
---
Pin this Post!
---