(a

33

minute read)
---
Board the Norwegian Escape for an 11-day Eastern Caribbean cruise. Go island-hopping, tour World Heritage sites, and immerse yourself in scenic tropical vistas.
---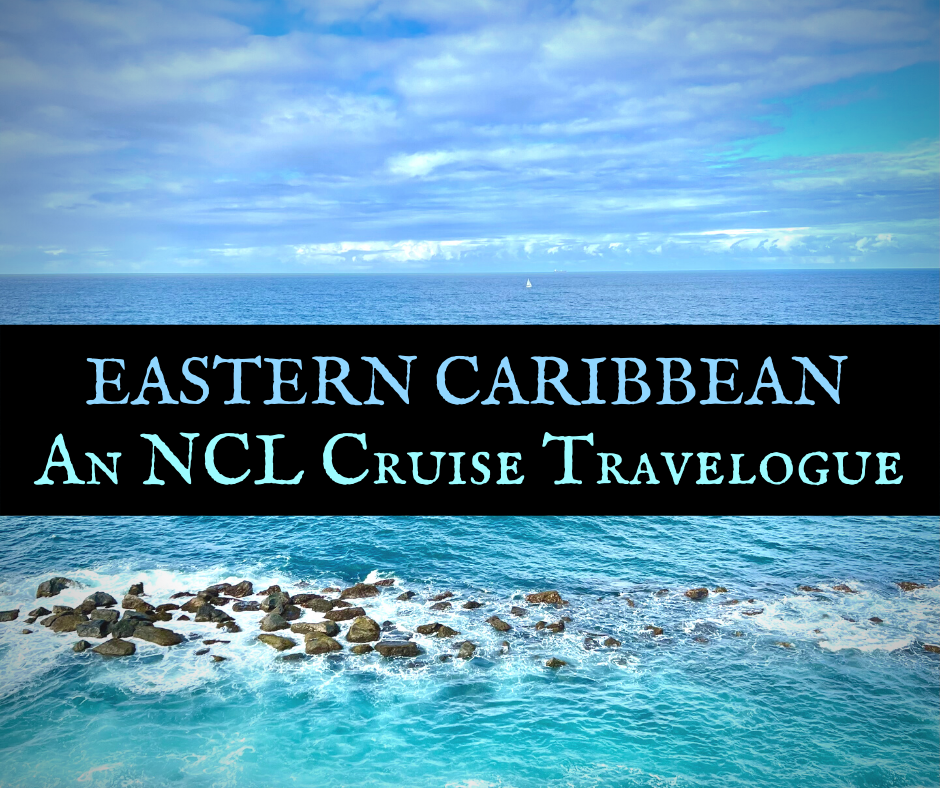 This post may contain affiliate links. Please refer to our our Disclosure/Disclaimer page for more information.
---
NOTE: This travelogue is a long-form, photo-intensive account for readers who want to cruise virtually, as well as travelers seeking detailed information before booking an NCL Eastern Caribbean cruise of their own. Please use the Table of Contents below to navigate to sections of interest.
---
---
My NCL Eastern Caribbean Cruise Travelogue
---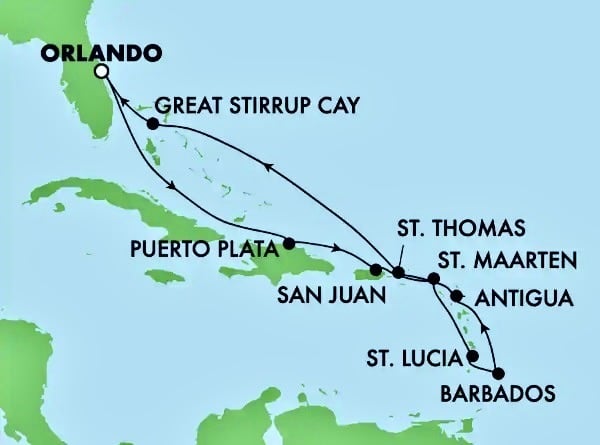 It is not difficult to spot the irony of cruisers who are better acquainted with distant rivers, seas, and oceans than the bodies of water in their own back yards.
I am one of those cruisers. I am a fifth-generation native Floridian, but most of my previous cruises have been on European waters, not the Caribbean.
Prior to this itinerary, the only Caribbean islands I had cruised were Cuba and the Dominican Republic. And although not on a cruise, I had also visited Jamaica a couple of times.
That meant there remained 30 Caribbean island nations and territories—plus or minus—yet to be added to my country count.
Typically, zero single-supplement cruises become available at the last minute, as it was with my Middle East cruise. But for some strange reason this one popped up in search engines shortly after booking my Alaska cruise months earlier, and so I jumped on it.
Tip: CruisePlum and Vacations to Go are great search engines for finding zero-to-low single-supplement cruises for solo travelers.
On this 11-day itinerary I would be visiting Puerto Rico, St. Maarten, St. Lucia, Barbados, Antigua, the U.S. Virgin Islands, and the Bahamas for the first time ever. People cruise for fine dining, thermal spas, casinos, or parties, but for me it is all about destinations.
Even though we sail on the same ships, I am sure my fellow cruisers who party, gamble, enjoy spa treatments, or lounge on the sun deck have entirely different experiences from mine. So for the record, this daily travelogue focuses on port destinations, shore excursions, and life on board the NCL Escape.
Hopefully, you will find my daily entries both honest and refreshing. Cruise life is not always luxurious perfection. Things happen. And as much as I love cruising, I owe to readers to keep it real.
---
---
The NCL Escape launched in 2015, and the hull is beautifully adorned from stem to stern with the designs of marine wildlife artist and conservationist Guy Harvey.
For my last two cruises, I had to fly out to ports of departure: Seattle for my NCL Encore Alaska cruise and Athens for my NCL Jade Middle East cruise.
For this cruise, I drove from my home in Central Florida to Port Canaveral. It was a fairly direct eastbound route across the state, and in the early morning took only about an hour and a half.
With an hour to kill before the remote parking lot opened, I went for breakfast at a local café.
The transfer from the remote parking lot to the port, Covid testing, and check-in protocols progressed like clockwork as a result of NCL's fine logistics and planning.
I met up with my dear friends Peg and Steve Aldridge, and we boarded the Escape together. After checking in at our emergency stations, we headed to lunch at Taste or Savor (I can't remember which because they are identical restaurants located directly across from each other with the same menus.).
It was great to catch up with my friends on everything that had happened since we met on the Alaska cruise a couple of months earlier and discovered we were also booked on the same Eastern Caribbean sailing.
After lunch, I went in search of my stateroom. It was nice, and I could see Kennedy Space Center in the distance from my balcony.
Soon after occupying my cabin, I realized we were going to have a problem. Someone in the adjacent room started playing loud rap music, and that was not going to work for me. I didn't bother to get unpacked, because I knew I would only have to repack before moving to alternate accommodations. I requested a room change from guest services, and after dinner that evening they offered me a new room with a layout I liked even better than my original room.
---
Days 1 & 2 | At Sea
---
During my first day at sea, sailing the Atlantic toward the Dominican Republic, I set out to get acquainted with the NCL Escape.
Every time I sail on a new ship, I have to erase the previous ship's layout and deck plans from my brain.
Although I don't purchase spa packages, I typically do a tour to grab photos for readers who do.
I enjoyed breakfast at O'Sheehan's Pub & Grill and had an amazing lunch at Food Republic with Peg and Steve. I may or may not have indulged in a frozen mango meltdown during my day of onboard exploration.
A fruit basket, chocolate-covered strawberries, and a bottle of wine appeared in my stateroom. This would be the first of several such deliveries that would continue throughout the course of the cruise. There was also prosecco, petit fours, and one amazing cheese tray. These perks had almost nothing to do with my status in the NCL Latitudes frequent cruiser program, and everything to do with onboard crew connections.
You know . . . when you know people who know people.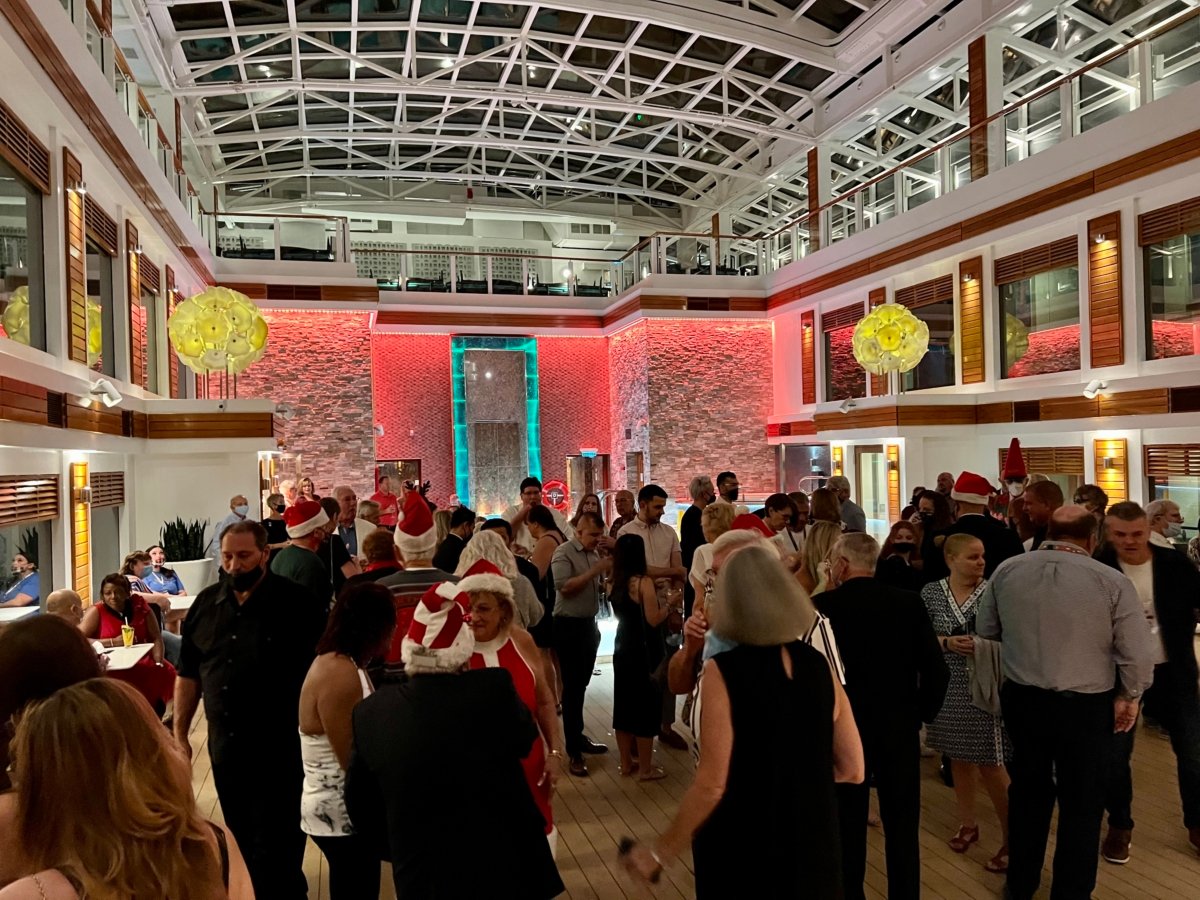 My friends and I attended a variety of shipboard meet & greet events, but we didn't stay for long. None of us are fans of loud, standing-room-only crowds, even though all of the attendees were fully vaccinated and had tested negative prior to boarding.
We closed out the evening with desserts and chocolate martinis at the Manhattan Room. We didn't realize it at the time, but it would become a nightly tradition. No matter where we had dinner, we would finish the evening with something sweet at the ship's main dining room.
---
Day 3 | Dominican Republic
---
Contrary to public opinion, not all balcony views in cruise ports are scenic and exotic. That said, I was surprised to see a container ship docked at Puerto Plata's new Taino Bay tourist terminal. I later learned the port is also used for military movements. When I cruised to the DR in 2016, we had ported at Puerto Plata's Amber Cove cruise terminal, with only cruise ships in sight.
Earlier that morning, the captain had come on the intercom and announced that we would be arriving in port one hour late due to rough seas the previous evening. He said that all shore excursions would go as planned, and no one would miss anything.
After the port authorities issued clearance, an announcement was made that guests could exit the ship. Everyone was released at once, creating a bottleneck on the stairs down to Deck 4, as I had expected. We did not meet in the theater to be dismissed by groups as was the procedure on my previous cruise.
The Dominican tour coach interior was probably the nicest I have ever experienced. The seats were large and cushioned, the A/C was cold, and the design resembled an airliner more than a bus.
My sensory comfort, however, was short-lived.
Suddenly, the tour guide grabbed the microphone and began shouting at us. This would continue for the duration of the tour, so I ended up holding my ears for most of the time we were on the bus. I guess the tour guide academy had failed to teach him that when using a microphone you can speak normally.
The first stop of the tour was at the Ron Macorix rum distillery. There was an extended wait for our group to enter the building. Inside it was dark and hot and almost impossible to understand the guide's narration. We crowded into a small theater with no seats. Everyone had to stand, and I was sweating without even moving. The documentary about the history of the company and rum production was well-produced, but I would have enjoyed it more with a seat and A/C.
When the film ended, we moved into the tasting room. I kept thinking eventually we would move into a cooler room, but it never happened. Our only consolation was that we got to sample eight varieties of rum. So, there's that.
Our second stop was at the Amber Museum. Dominican amber is derived from the hardened resin of the extinct Hymenaea protera tree. Samples are almost always transparent and contain plant and animal fossils that date back more than 25 million years.
There was also a tobacco production exhibit near the end of the tour narrated by a delightful guide.
Next up, a guided tour of the General Gregorio Luperón House Museum. Having grown up in Latin America, I understand how each country honors its heroes of independence.
General Luperón was instrumental in restoring independence to the Dominican Republic after the Spanish annexation in 1863. The historical home, artifacts, and exhibits were well-preserved and cared for. Our young tour guide's love and pride for his country was evident, as well.
At this point, the tour went awry as far as I was concerned. We were dropped off at a coffee and chocolate shop on the Calle San Felipe umbrella street, and the bus parked in front of a gift shop around the corner. I did not set a timer for how long we were there, but I would guess about 30 minutes.
So here's my gripe. I don't buy souvenirs. My pictures are my memories. I spent most of 2020 downsizing while not traveling, and so I am not in the accumulation stage of life. I have a feeling that tour guides get kickbacks from local shops for delivering tour groups to their front doors. I understand that some people want to shop, so why not offer separate shopping tours for them? I had booked this tour to see scenic and historical sights, and I didn't like paying to go shopping. That's all!
Back on the bus, the tour guide implied that we were headed back to the ship, and I knew there were at least two more locations mentioned in the tour description, one being the Spanish fort. Most of the guests on the bus were tired at this point, so when he inquired did we want to see anything else, they shouted no. We pulled over by the side of the street while the tour guide shouted about how tourism was the primary local economy and such.
Then he said, "If you want to see Central Park, you have five minutes to go take a picture." There were three of us who got off the bus, feeling like we were imposing on the time of the other guests, even though we had paid for the tour. I quickly ran and took a picture of the cathedral and historical statues and got back on the bus.
We did make it to the fort which was situated immediately adjacent to the Taino Bay terminal where the Escape was docked.
The Fortress of San Felipe was commissioned by the king of Spain in 1564 to protect Puerto Plata from pirates. I would love to have toured the grounds and walked down to the water's edge, but our guide said we had seven minutes to hop off the bus and take some pictures.
On this excursion there was little time to explore the many scenic and historical sections of Puerto Plata, but hey, at least I got to sit on the bus in front of a gift shop.
Leaving the fort, I was ready to head for the ship with the rest of the bus. It was nice to have some peace and quiet after having been yelled at for four hours.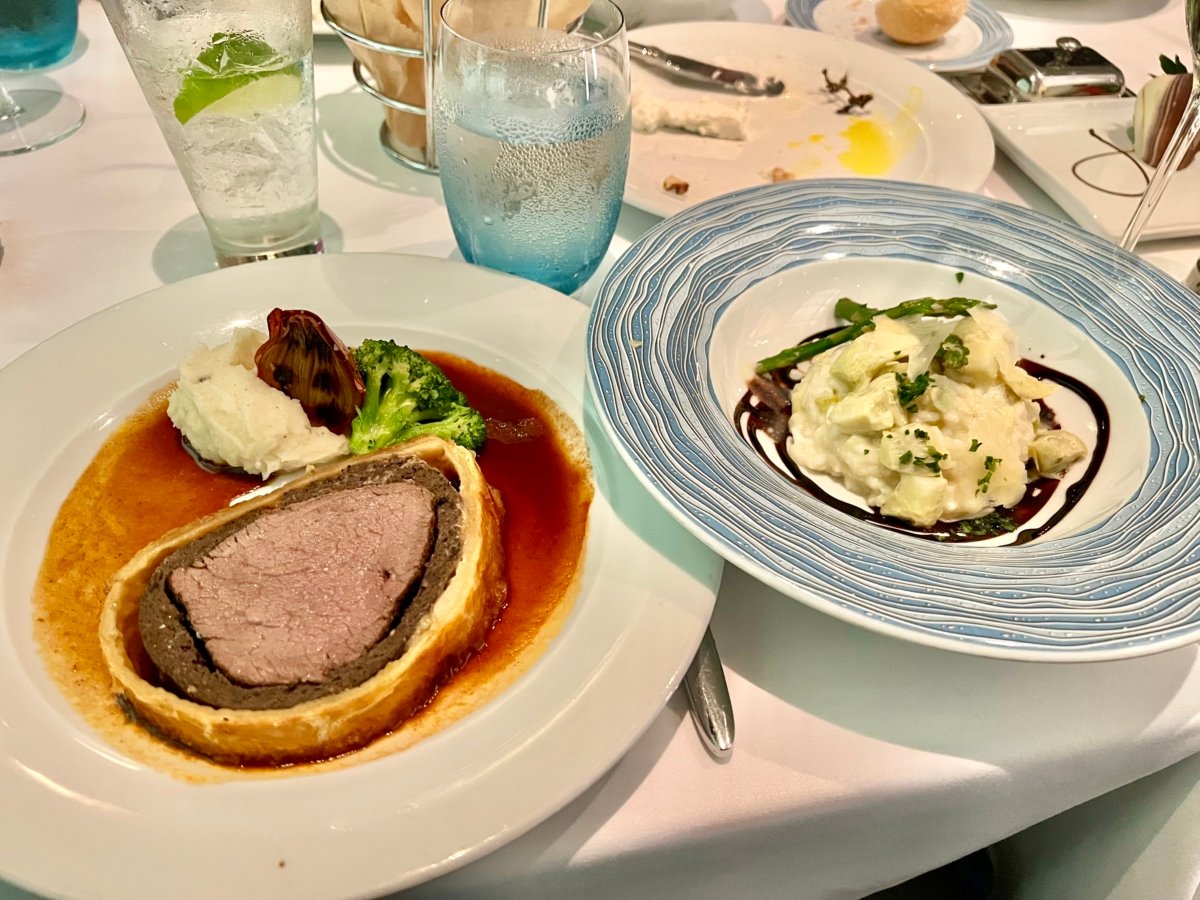 I had an hour to get cleaned up, and then I joined my friends Peg and Steve for a lovely dinner in the Manhattan Room.
---
Day 4 | Puerto Rico
---
All I can say is that Old San Juan is freaking beautiful. The blend of well-maintained historical sites and tropical vistas make it a rewarding destination. The only downside is the heat and humidity, even in December, but in the Caribbean, it is what it is.
2021 marked the 500th anniversary of San Juan as the second-oldest continuously occupied city in the western hemisphere, behind Santo Domingo. In spite of natural disasters and other hardships the island of Puerto Rico has endured, it has emerged triumphant. And even though this was my first visit to San Juan, I felt a supernatural attachment.
The guide for our walking tour through the old city was an excellent historian with a great sense of humor. These types of tours provide great overviews of what all there is to see and do should you decide to explore further, which is exactly what I did.
At the end of the 3.5-hour tour, I set off on my own to collect National Parks passport stamps from the San Juan National Historic Site, also a UNESCO World Heritage site.
The national historic site encompasses more than 75 acres of colonial antiquities, and I was able to experience three key locations within the park.
Castillo San Felipe del Morro, known as "El Morro," was constructed between the 16th and 18th centuries. It was the site of many land and sea battles between Spanish, British, Dutch, and American forces.
Castillo San Cristóbal is situated about one mile to the east. This Spanish fort was constructed between 1766 and 1783. I could see the Norwegian Escape and other cruise ships from the second level of the fort.
The Old City Wall was also completed by 1783. Sections of the wall were destroyed in the 1890s to allow for city expansion. Although I did not get to walk the entire Paseo Del Morro, I did get to see several remaining sections of the wall.
By the time I returned to the ship, I had clocked more than 17,000 steps along those narrow blue cobblestone streets, and I counted each one a blessing.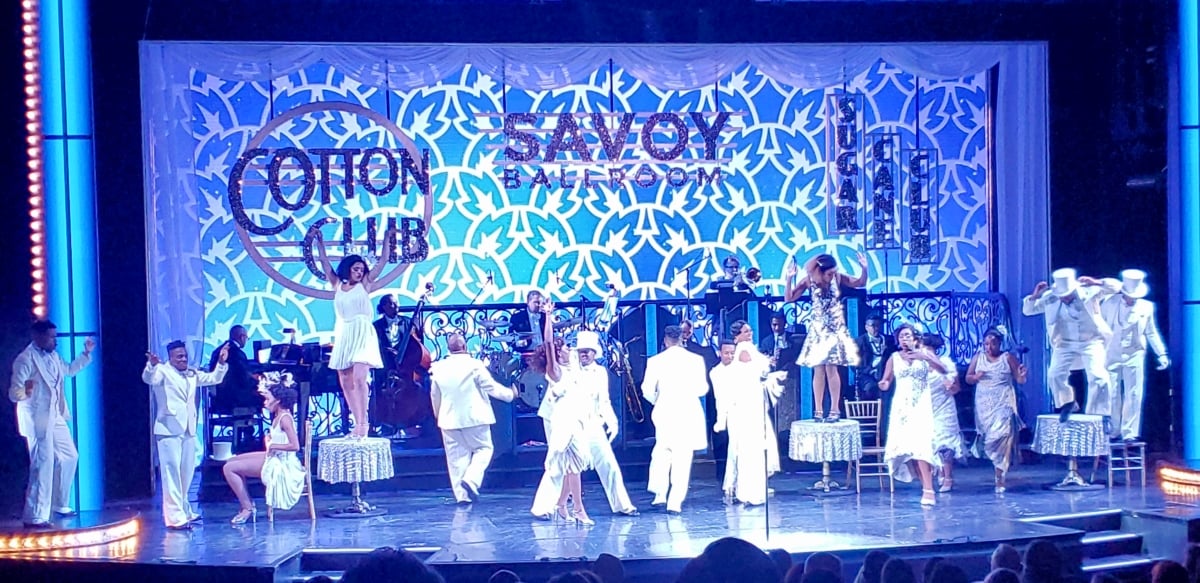 Back on board, I joined my friends Peg and Steve for a delicious seafood dinner at Bayamo by Onda. We attended the "After Midnight" show in the theater followed by a dessert throwdown in the Manhattan Room.
---
Day 5 | St. Maarten
---
The island of Saint Martin is divided between two separate countries, which is why there are so many spelling variations. Comprising 37 square miles, its northern French side is called Saint-Martin, and its southern Dutch side, Sint Maarten. Saint Martin is the playground of the rich and famous. I have never seen so many yachts and private jets in one place.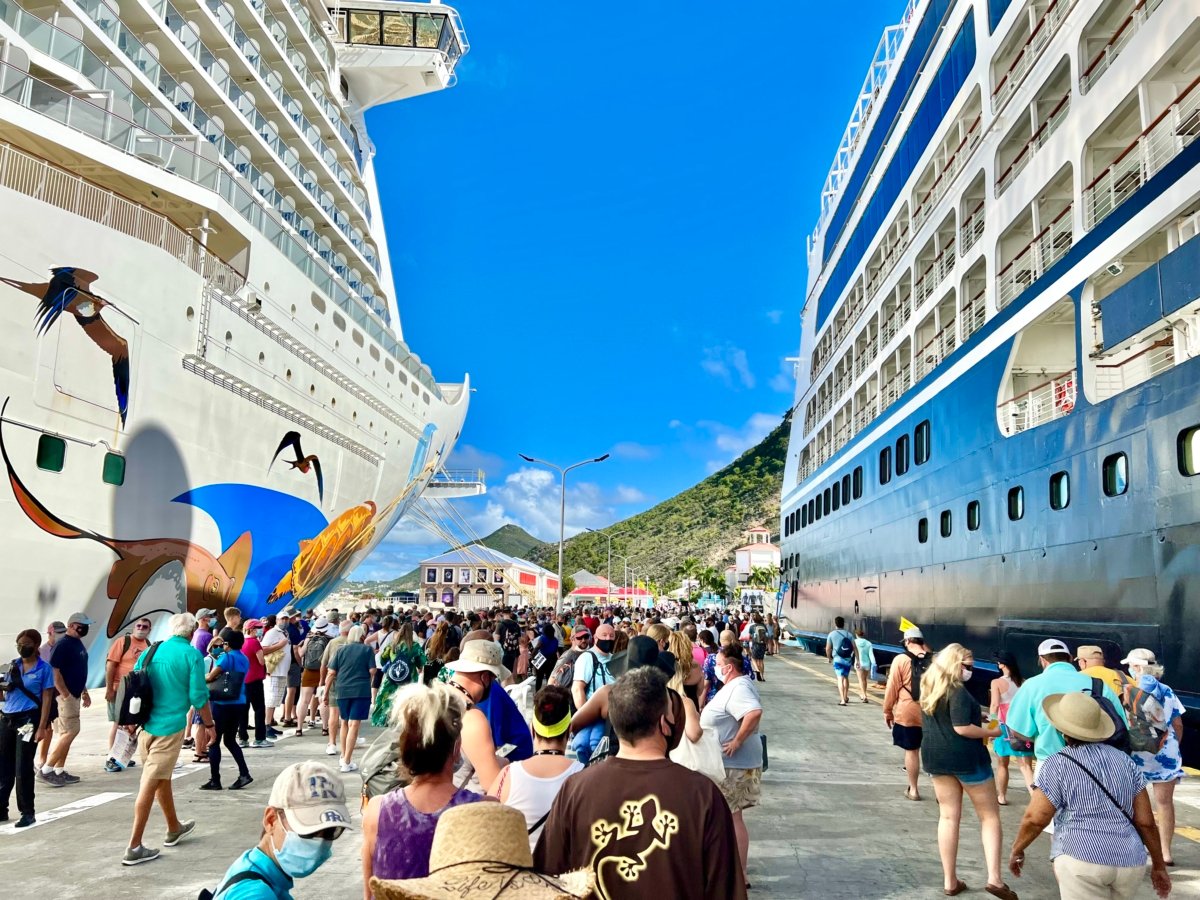 We sailed into the port of Philipsburg on the Dutch side, and there were tons of cruise ships in port, including the Escape's sister ship, the Norwegian Epic.
For my shore excursion, I boarded a transfer to Maho Beach, a destination I did not want to miss. If you have seen YouTube videos of jumbo jets making low-level landings over a beach, this is the place.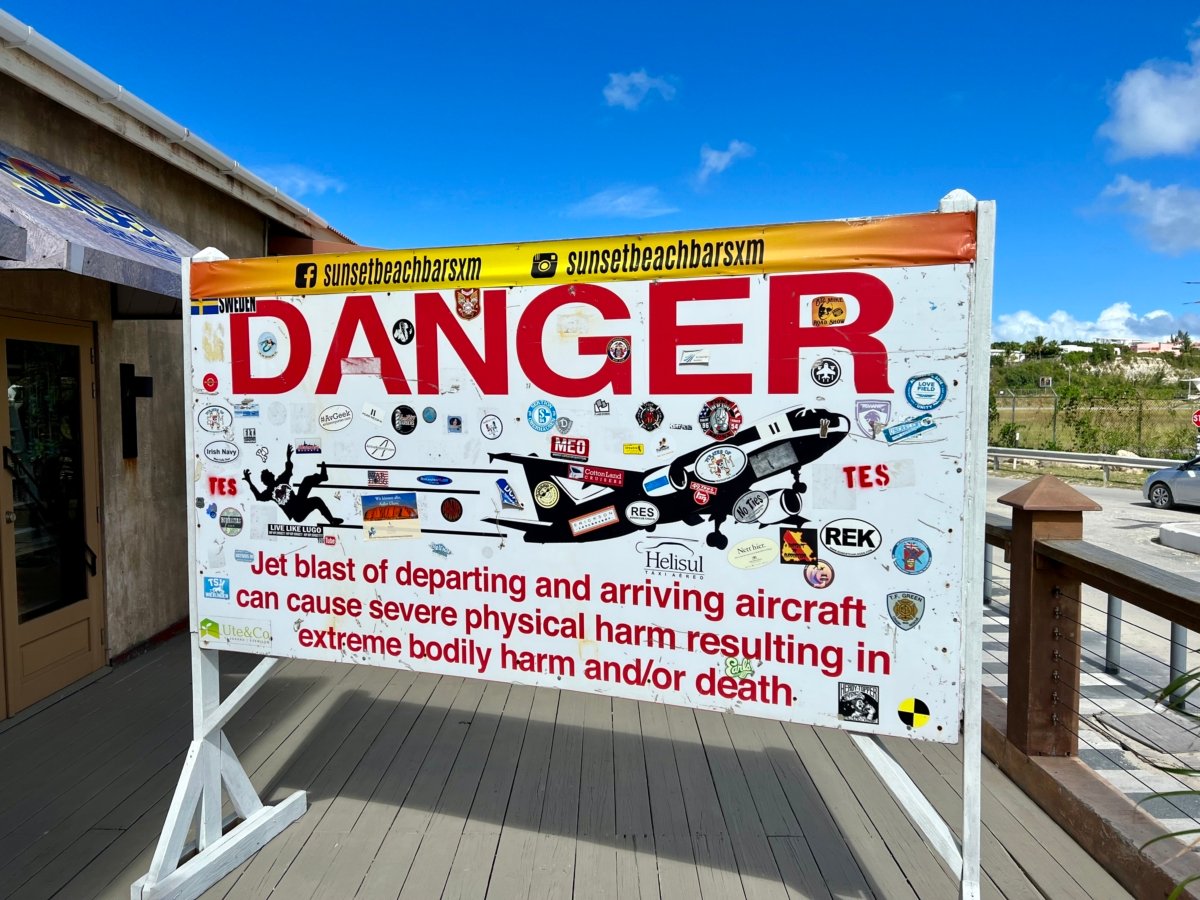 You may have also seen videos of people clinging to the chain-link fence in the direct path of the jet blast from planes taking off. In 2017, a woman from New Zealand was killed when the jet blast smashed her head into concrete.
As soon as our tour bus arrived, I headed to the Sunset Bar. I parked my behind at an umbrella table overlooking Maho Beach with an incredible 180° view. There are few, if any, passenger 747s arriving at Princess Juliana International Airport these days, but every plane that came in above my head was a breathtaking experience.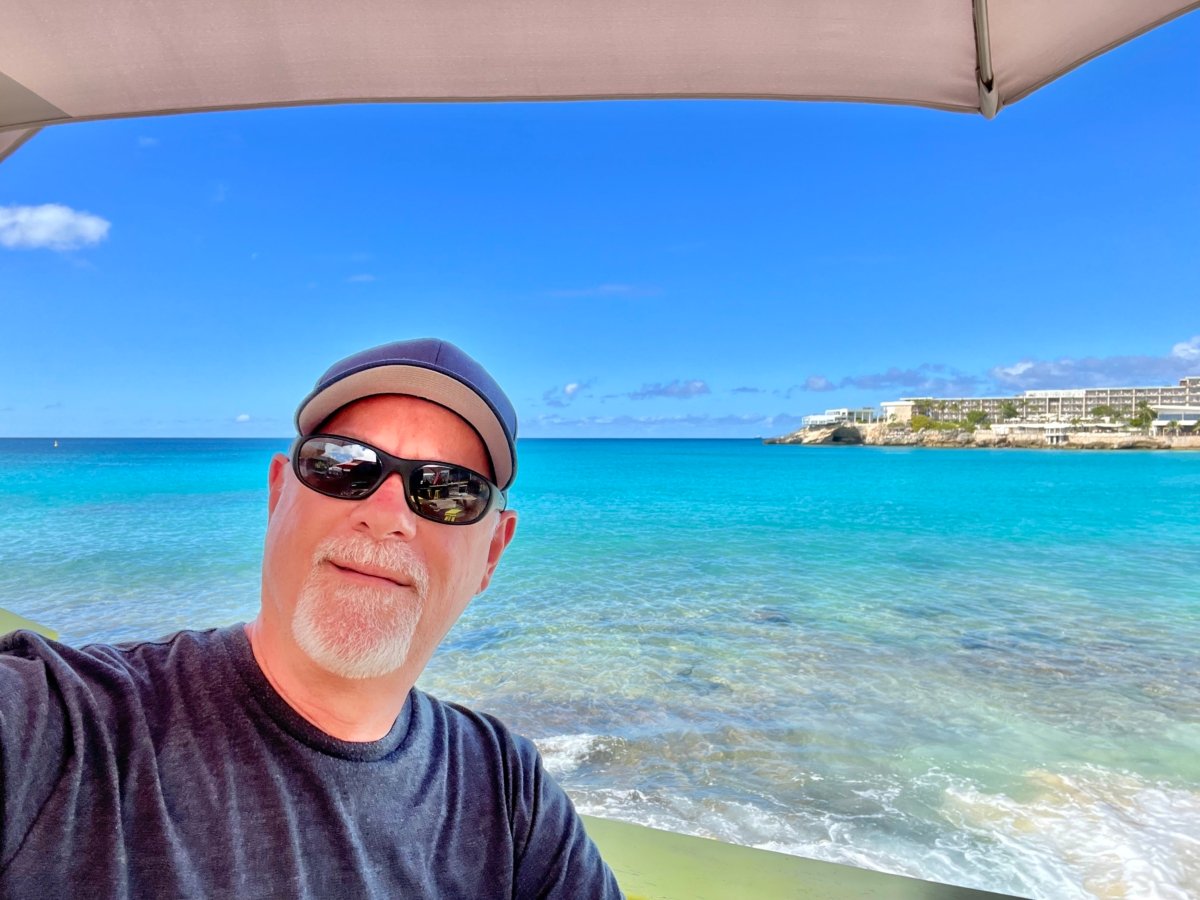 I am not a beach bum, but I believe I could have sat there snacking, enjoying beverages, and watching airplanes all day. The Norwegian Freestyle daily bulletin had warned us that this was a European-style beach, and there may be topless sunbathers. I did not spot any boobs, but I did see some butt crack.
---
Day 6 | St. Lucia
---
The next morning, opening the drapes to my stateroom balcony, revealed perhaps the most beautiful tropical view ever from a cruise ship balcony. But it was just a foretaste of the stunning beauty I would encounter while touring this jewel of the West Indies.
Encompassing 238 square miles, the island nation of St. Lucia gained independence from Britain in 1979 and is a member of the British Commonwealth.
I read in the Freestyle Daily that wearing any type of camouflage or camo pattern is prohibited on the island. I am sure the fashion police wish they would pass the same law in the United States.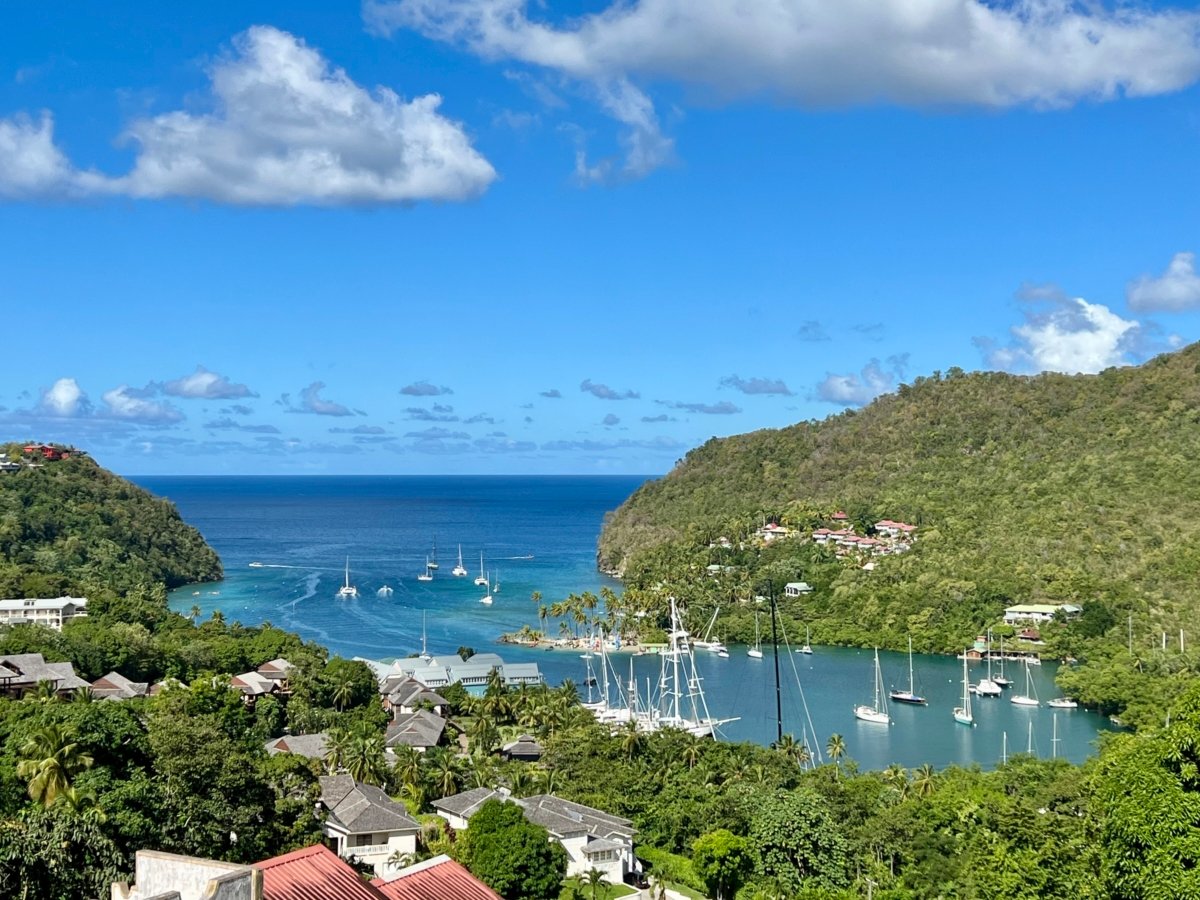 The excursion for the day carried our tour group from the port in Castries to the Diamond Botanical Gardens, Mineral Baths, and Waterfall near the village of Soufriere. The 2.5-hour drive followed narrow winding roads up into the mountains, riding on the left side of the road.
Our 23-passenger bus was cool and comfy with a delightful, knowledgeable guide named Noella and an expert driver named Gary, who stopped and let us off for scenic photo ops.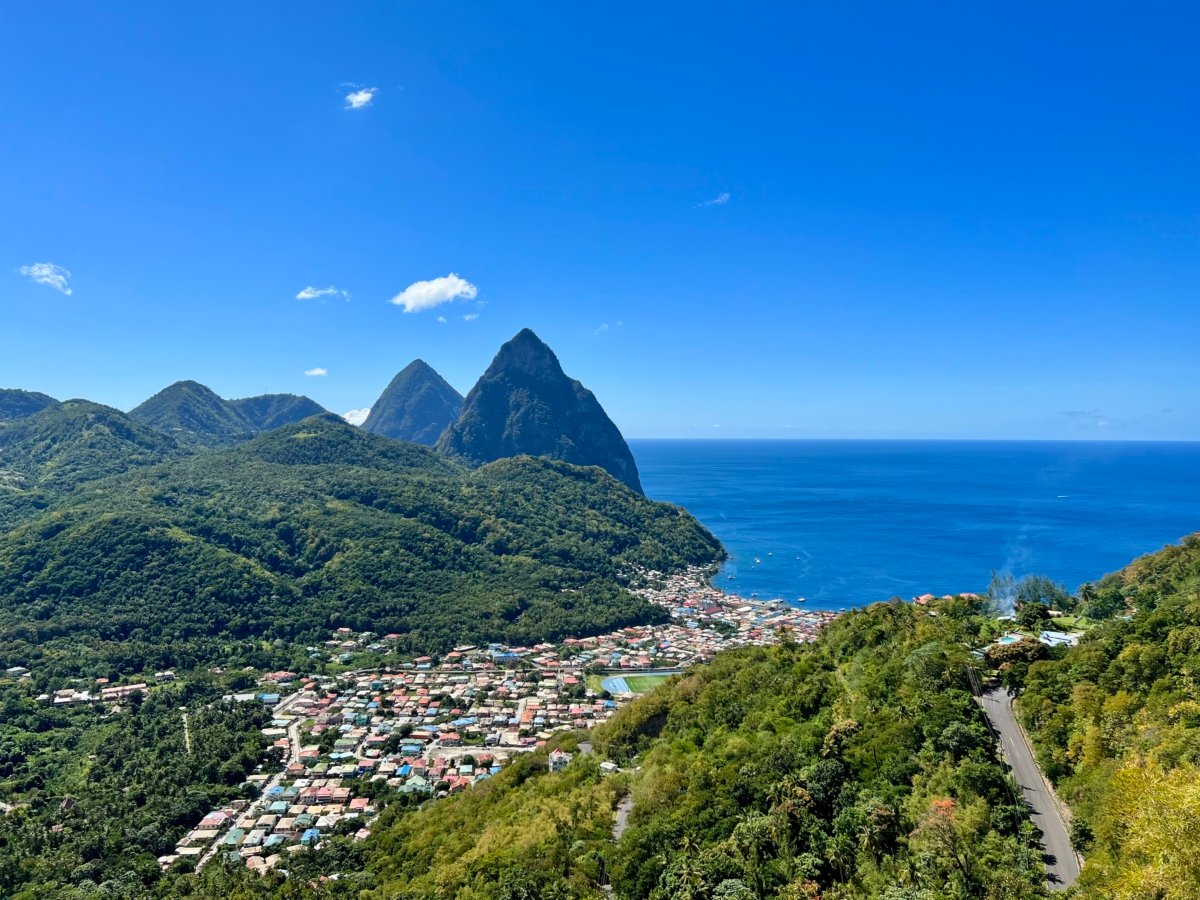 There were spectacular views of fishing villages, Soufriere, and the two Pitons. Gros Piton and Petit Piton are two mountainous volcanic spires designated as a UNESCO World Heritage site in 2004.
Upon arrival at the park, we did a walking tour of the botanical gardens leading up to Diamond Falls.
Some guests took a dip in the volcanic mineral baths before we made the return trip to our ship.
---
Day 7 | Barbados
---
Barbados is a former British colony with a rich and checkered past like most Caribbean nations. However, as of September 2021, Barbados now has a female elected president rather than a queen. The island country remains a member of the British Commonwealth.
Calypso music and rum originated in Barbados, and the pop star Rihanna is the island's most famous export. As in St. Lucia, no camouflage or camo-patterned clothing is allowed in Barbados.
Offboarding for shore excursions at the Bridgetown terminal was a logistical failure. After the all-clear was given, an announcement was made that NCL crew members were doing crowd control. I waited, trapped in the stairwell and on Deck 4 for nearly 45 minutes to join my tour group. So much for social distancing. As I approached the exit I learned why it was taking so long. Groups of ten guests at a time were being released to await shuttle buses on the narrow pier. When I finally made it off the ship, I realized that my shuttle only carried six passengers, so not sure why ten was the magic number.
My group meet-up time was 8:45, but I did not make it to the designated location until 9:45. There was more waiting at the terminal for other members of the group to arrive. I finally boarded the tour bus after 10:15 and waited until we started moving at 10:37. I do not know whether the issue was with NCL or the Barbadian authorities or both, but I find it hard to believe that this is the first time a cruise ship has ported in Bridgetown, Barbados. You would think fluid people-moving logistics would have been in place by now.
My excursion was a "Let's Take a Selfie" tour, which for me is not so much about taking selfies, but about seeing the most scenic and historical sites at port destinations. Our small tour group had a cool and comfy bus with a delightful guide named Deborah, her assistant Alayna, and an expert driver named Shakira. With regard to politics and tourism, I was learning that Barbados is an island of strong, talented, educated women.
Whether by default or design, this tour carried us all over the island to four stops. We were given 10 to 15 minutes at each of the four locations, and there was approximately 45 minutes of driving time between each one. Tour descriptions typically do not tell you in advance when the lion's share of your excursion will be riding on the bus.
Historic Bridgetown along with its 17th-century garrison—which we did not visit—was designated as a UNESCO World Heritage site in 2011. Our first and only tour stop in the capital city was at the waterfront boardwalk across from the gothic Parliament Building.
Bathsheba Beach with its huge rock formations broken away from an ancient coral reef was our second stop. The bus parked in front of a small bar and café so guests could purchase snacks, drinks, and take a bathroom break.
On this Caribbean cruise, there were no official lunch breaks during mid-day tours. This differed from my previous cruise through the Middle East where there were hotel buffet lunches on most excursions. I am sure the additional cost was built into the excursion purchase prices.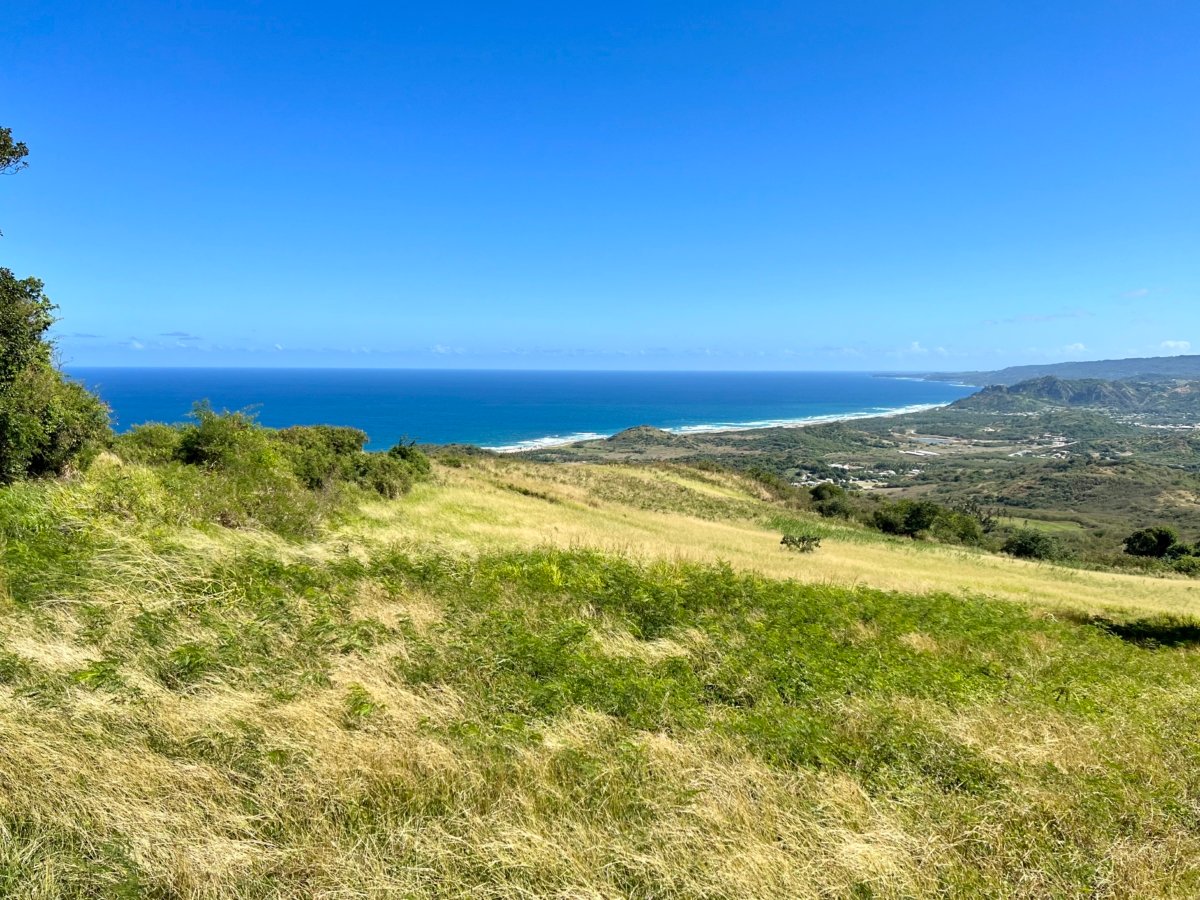 We stopped next at Cherry Tree Hill, a spot locals call the Scotland District for its rolling hillside and stellar view of the sea. We drove past the historic St. Nicholas Abbey with its plantation house, museum, rum distillery, and heritage railway, but alas no time to stop.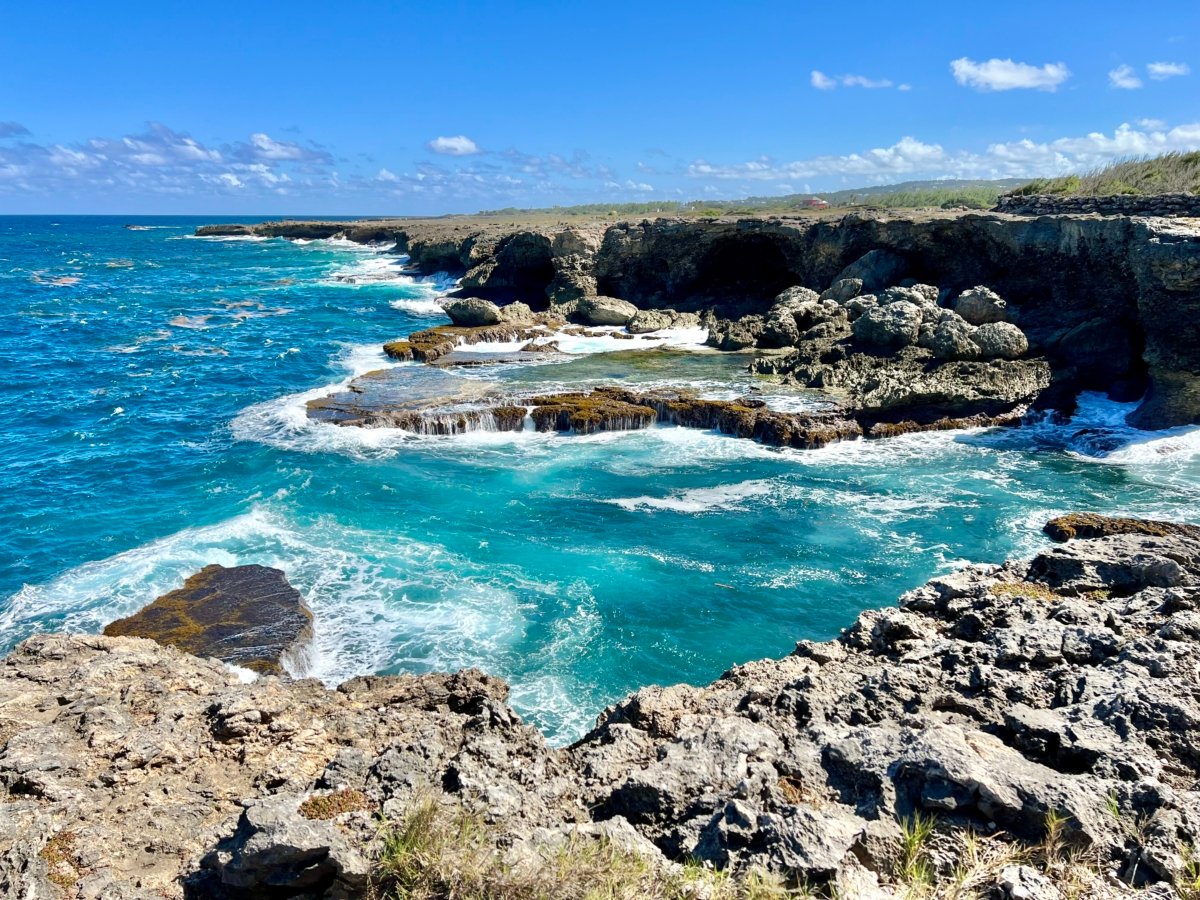 The northernmost tip of the island was our final stop. There were breathtaking views of waves crashing against the rugged coastline. The featured attraction at this location was Animal Flower Cave, with its coral floor that opens directly onto the Atlantic Ocean. I have to chuckle because, once again due to time constraints, we were not allowed to enter the cave.
Barbados is not a lush tropical paradise like St. Lucia. But situated totally within the Atlantic Ocean, it boasts a scenic rocky shoreline on the eastern side of the island and scores of placid sandy beaches on its western side.
As our tour bus was leaving the final location, we witnessed a herd of Barbados Blackbelly sheep crossing the highway.
We arrived back at the port at 3:00. There was a long line of guests waiting to return to the ship, but the transfer did not take nearly as long as it had in the morning.
---
Day 8 | Antigua
---
Antigua and Barbuda is an independent island nation in the British Commonwealth. Unlike the previous day's mishap, off-boarding the ship in St. John's, Antigua, was immediate.
As I walked the gangplank, I could hardly believe my eyes. There, filling my field of vision, was the Viking Sea docked on the opposite side of the pier. The Viking Sea is the ship that carried me to Norway in 2018, and I had spotted her only a few weeks earlier in Athens and Santorini during my Middle East cruise. It was three strokes of synchronicity, and I was beginning to think she was stalking me.
The take-a-selfie tour I was joining in Antigua was run by the same company as the tour in Barbados a day earlier. As our group walked toward the tour bus, discussion arose about the length of the tour.
While checking the tour description on my NCL app the previous evening I noticed that it said it would be a one-hour tour, which I thought strange. One of the tour assistants mentioned that it would be a five-hour tour, and that we would be hanging out at beaches. I didn't mind visiting beaches for pictures, but I did not want to hang out at a beach for an extended time. Members of the group said that when they had booked the tour several weeks before, the description had stated that it was a five-hour tour. Other members said they had stopped by the excursion desk the night before and the agent had assured them that the tour would be a one-hour excursion.
The confusion was not resolved, but we got on the road with our driver and narrator Randy and his assistants Kaylyn and Mariah. It became immediately evident as we arrived at our first stop that Kaylyn would be running the show. I learned later that she was only 19 years old, but she was gifted with leadership and diplomacy skills. As the tour continued, I would become even more impressed with how she handled the unfortunate situation and a few disgruntled tour group members.
Consecrated in 1683, the Cathedral of Saint John the Divine was our first stop. Two previous buildings were destroyed by earthquakes, and the current building was constructed in 1845. The Anglican church was built in the baroque style with dark pitch pine paneling and furnishings. The church exterior and grounds is in dire need of clean-up and renovation.
As we drove to our next stop, our driver and narrator threw out some interesting facts about Antigua and Barbuda. In the capital city of Saint John's, most of the streets are one-way. I was thinking this would be a great location for a beginner learning to drive on the left side of the road. Maybe not.
As we passed an abandoned sugar manufacturing plant, our guide said, "Let it rust in peace. Tourism is sweeter than sugar." There are still rum distilleries on the island, but the molasses is imported.
You could tell the driver was proud of Antigua's state-of-the-art cricket stadium. It is situated adjacent to a slaughterhouse, which is where he said they take the British when local teams play them.
Our next stop was at the site of Betty's Hope, a former British sugarcane plantation that dates to 1650. The windmills and ruins were intriguing, like something out of Middle Earth. I could have spent more time there learning the history.
Driving through the parish villages around the island I noticed something about the houses that I had also noticed a day earlier in Barbados. Even the most humble dwellings had strong solid core doors, many of them architecturally decorative.
Like Barbados, Antigua is situated completely within the Atlantic Ocean. We stopped at Devils Bridge National Park on the eastern side of the island and at Long Bay Beach on the western side of the island.
As with Barbados, the east coast was rough and rocky while the west coast was serene and sandy.
The island of Antigua has 365 white sand beaches, one for each day of the year. The island of Barbuda has pink sand beaches, but it was a two-hour ferry ride away.
In 2017, Hurricane Irma destroyed 95% of the buildings on Barbuda. The island's 1500 inhabitants were evacuated to Antigua, but by 2019 most of them had returned.
We arrived back at port shortly after 1:00. The tour had lasted about three hours. I think our guides may have removed one beach from the itinerary to accommodate everyone, but all of the guests seemed to be pleased with the way the excursion turned out, as evidenced by the applause and gratuities given to our tour leaders.
I credit Kaylyn for taking a difficult situation and finding a resolution. On the tour evaluation, I recommended that her superiors give her a promotion and a raise for her demonstrated diplomacy and leadership.
---
Day 9 | U.S. Virgin Islands
---
On the ninth day of my Eastern Caribbean cruise, the NCL Escape ported in the community of Havensight on the island of St. Thomas, home to the busiest cruise ship port in the world.
A week or so prior to this cruise, I received an email from NCL letting me know that the excursion I booked had been canceled. So on board I rebooked, choosing a ticket for the Skyride to Paradise Point. Because we would only be in port until 1:30 PM, I planned to just walk around town with the remainder of my time.
Later in the week, a fellow cruiser in the NCL Escape Facebook group invited me to join a walking tour with the St. Thomas Historical Trust. I was not able to book the tour online, so I emailed the executive director. By the morning of the tour, I had not received a response, so after disembarking at 8:30 AM, I made a call to confirm the tour.
According to Google maps, it would be about a 30-minute walk to the tour meeting point at Emancipation Park in the territorial capital of Charlotte Amalie. When I arrived, there were only five members in our group, plus our tour guide, which was great. Our guide was good-natured and knowledgeable, and he informed us that military history was his forté.
During our group introductions, I made sure he understood that we had to report back to the ship by 1:30 PM. He said the tour would end around 11:30 AM. It is difficult to cover 400 years of history in 2.5 hours, but our guide gave it his best shot. It was clear he loved his subject and sharing it with others. He was an entertaining storyteller, and if we had not been pressed for time, I would have been more relaxed during the excursion. Even so, I was taking notes and learned a lot.
The island's native Taino Indians were a warring tribe that practiced ritualized cannibalism. Christopher Columbus was the first European to set foot in the Virgin Islands when he returned to the Caribbean in 1493 with 17 ships. Spain, France, Britain, and the Netherlands disputed claims to the islands, and in succeeding years, St. Thomas became a pirate hangout.
In the mid-1600s, Denmark gained interest and began colonizing the region, and in 1754 the islands became the Danish West Indies.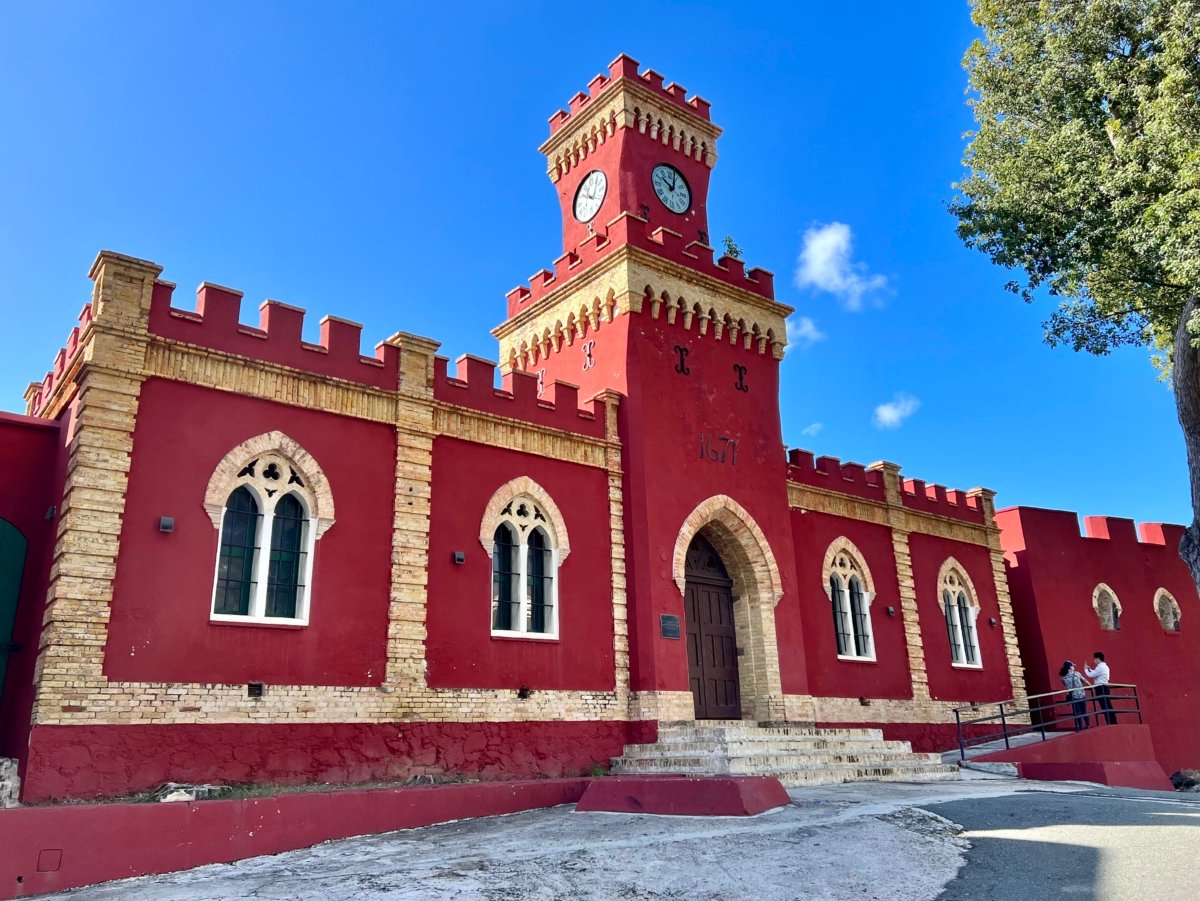 Fort Christian was the center of life in St. Thomas. The current structure is not the original 1671 fort. Its appearance was Victorianized in 1874.
The Frederick Evangelical Lutheran Church was established in 1666. The current structure dates to 1789, and the yellow brick used in construction was formerly ballast from Danish slave ships.
Our walking tour carried us through the First Lady's Garden, past the 1865 Government House built by Danes, and past the 1844 Danish bank building.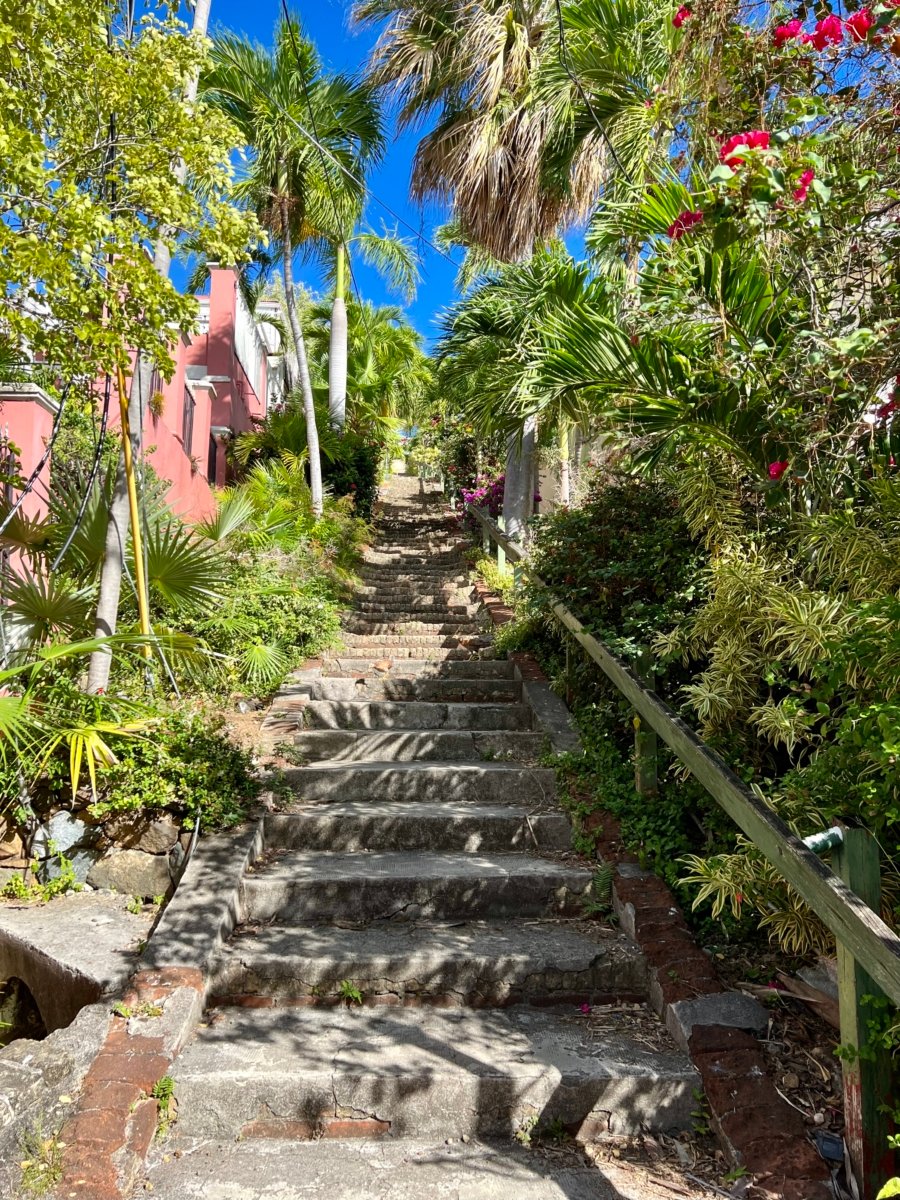 There are 45 step-streets on the island of St. Thomas. We paused for pictures at the famous 99 Steps, currently 103 due to street repairs.
In 1858, Mexican dictator and villain of the Alamo, General Santa Anna arrived in St. Thomas with $5 million in silver belonging to the Mexican treasury. We spotted the red roof of Villa Santa Anna in the distance.
The United States purchased the islands for $25 million in 1917, and today there are three main U.S. Virgin islands: St. Thomas, St. Croix, and St. John.
John Grisham wrote The Pelican Brief at a corner table on the upper porch of Bumpa's Café in Charlotte Amalie.
There is no sales tax in the U.S. Virgin Islands, and the property taxes are low. Vehicles drive on the left side of the roadway, and although residents are U.S. citizens, they do not have a vote in general elections.
Our final stop was the Charlotte Amalie post office, and we walked inside to take a look at the WPA murals painted during the Roosevelt administration.
Earlier in the tour I and the couple who had invited me decided we would eat lunch before returning to the ship. It was past 11:30, and so exiting the post office, we told our guide we would need to excuse ourselves from the tour at this point. He was not happy about this because he wanted us to visit the historical trust museum. Had there been more time, I would have loved to see the museum. I got the impression he felt like his agenda was more important than our tight schedule.
In payment, I handed him $40 cash. The Historical Trust website advertised that the tour was $35, and I was giving him a $5 tip. He told me he needed ten more dollars. When I mentioned the price published on the website, he informed me the website was wrong. Although I had enjoyed the tour, it ended for me on a sour note.
Cruiser friends of mine had recommended Gladys' Café as a great place to eat. We had passed the location earlier, so my new friends and I returned there for lunch. The interior ambience and presentation was lacking, but my jerk chicken and Bushwhacker rum cocktail were delicious! Our server was working on island time and not in a big hurry to get us our check. Eventually we had to stand to get her attention.
With only 45 minutes to report back to the ship, we hailed a van taxi instead of trying to make it on foot. The fare was only $4 per person, which I thought reasonable for a tourist destination. Alas, I never made the Skyride to Paradise Point.
As the Escape sailed out of the harbor, the horn of our neighboring ship, the Sky Princess, played the Love Boat theme as a boastful farewell.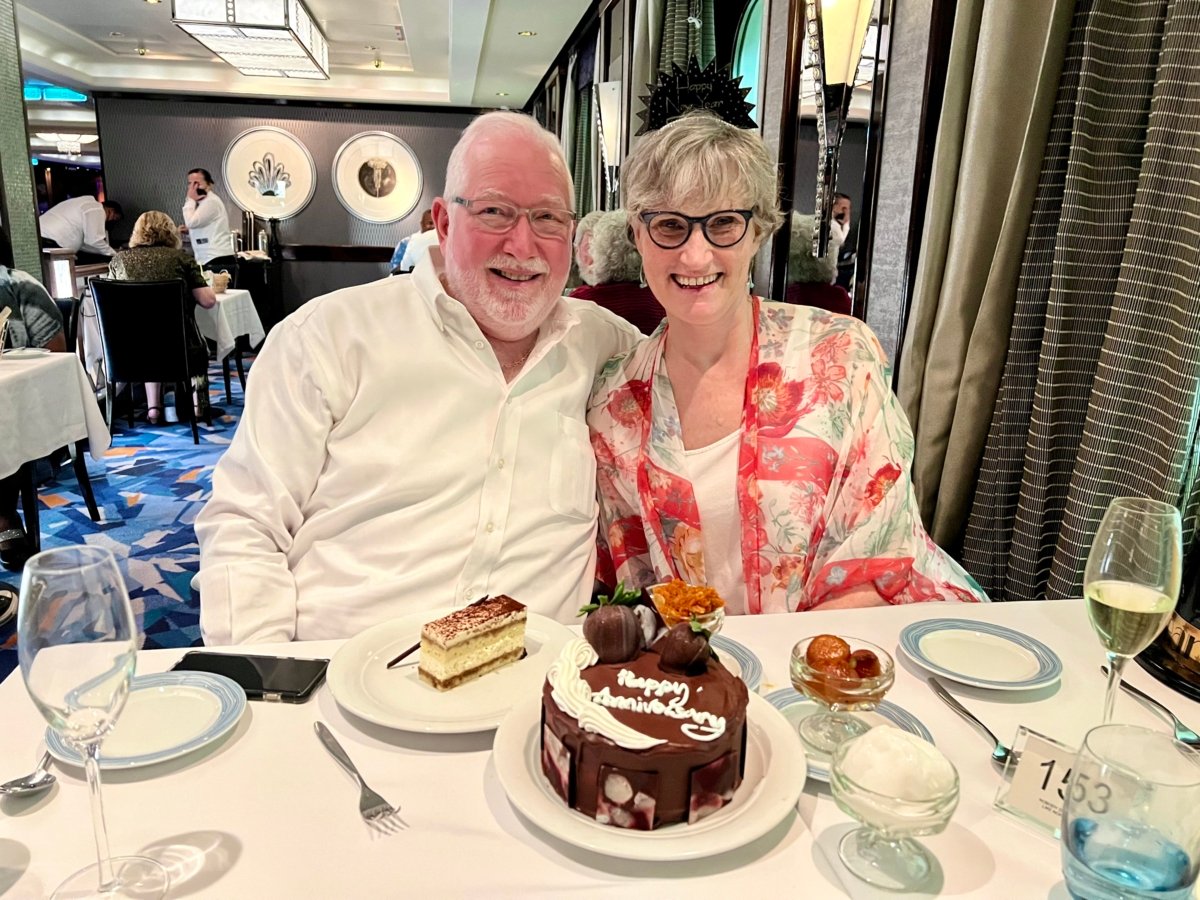 I joined my friends Peg and Steve in the Manhattan Room for New Year's Eve dinner. The wait staff surprised them with a cake for their anniversary cruise and serenaded them with "Let Me Call You Sweetheart."
I was in bed shortly after 8:00 PM and fast asleep by the time the new year rolled around.
---
Day 10 | At Sea
---
I used to think I would get bored on days at sea, but I have grown to love them. It is great to have downtime between shore excursions to decompress and recharge for the next activity.
On my final day at sea, I decided to put my balcony to good use. I not only finished my book in progress, but completed a second book, as well.
I met Peg and Steve for another delicious lunch at Food Republic. The Asian fusion menu items can be shared with the table or enjoyed alone. I am not a raw sushi fan, but the California roll is divine.
For dinner, we returned to La Cucina, and dined outdoors to enjoy the ocean breeze. One cool feature of the NCL Escape is that most of the bars and restaurants on Deck 8 have al fresco dining sections along the promenade.
---
Day 11 | Bahamas
---
The final excursion of my Eastern Caribbean cruise on the NCL Escape was to Norwegian's private island, Great Stirrup Cay in the Bahamas.
The first view from my stateroom balcony, however, was of Royal Caribbean's private island, CocoCay, situated just west of the NCL island.
Whereas CocoCay (AKA Little Stirrup Cay) has a deepwater harbor and pier for cruise ships to dock directly on the island, NCL guests must tender from ship to shore.
My friends (now family) Steve and Peg Aldridge who typically do not do cruise excursions decided to join me on an exploratory mission to the island. None of us are sun worshipers, but we thought we would go see what Great Stirrup Cay was all about, and it was pretty special!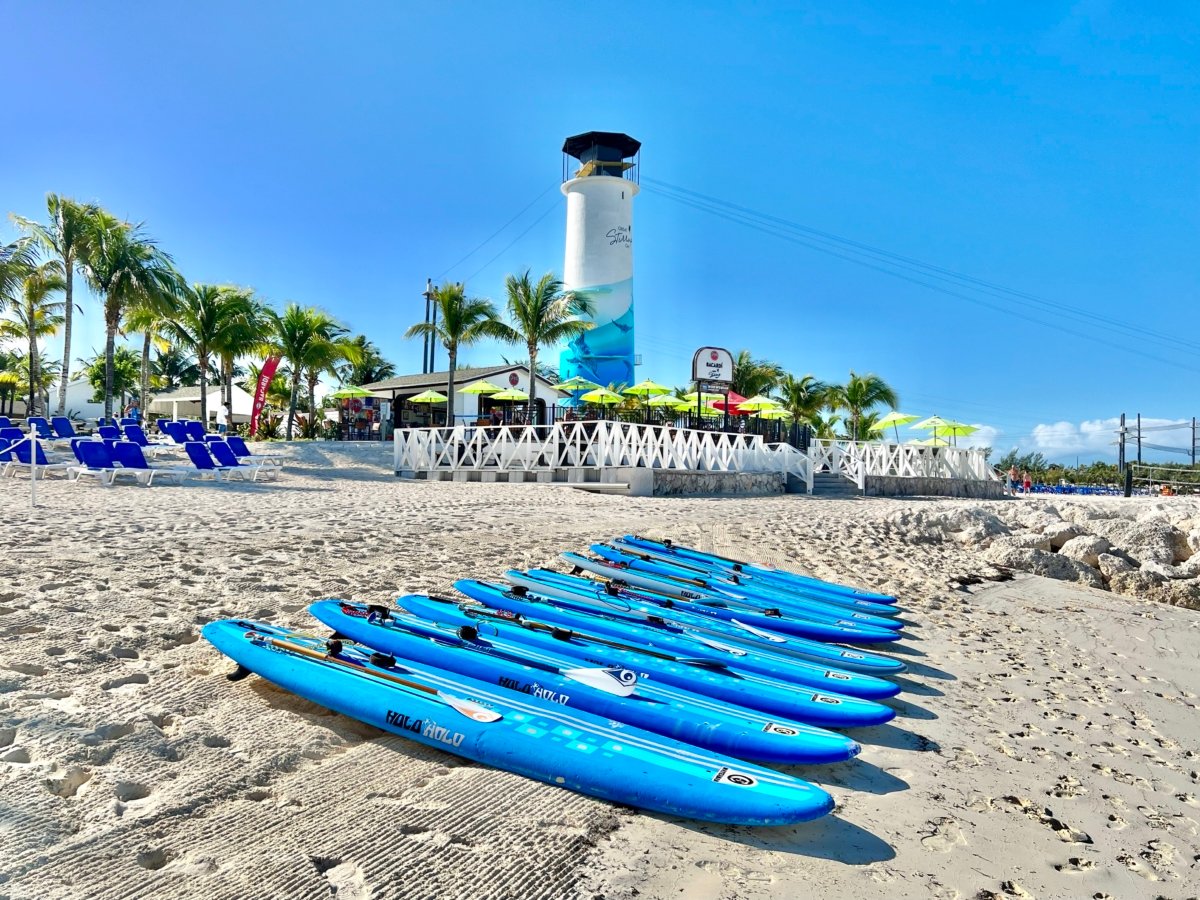 Norwegian Cruise Lines purchased the 268-acre private island in 1977. I learned that it actually has a rich history as a pirate hideout, a Confederate provisioning stronghold, a U.S. military installation during WWII, and as a site for a satellite tracking station. The island's lighthouse (not the pictured Guy Harvey ziplining tower) was constructed in 1863.
There are several dining venues on the island, and beverages flow freely at the Patrón and Bacardí drink stands. I didn't make it to the Abaco Taco stand, but the BBQ beef ribs from the Beach Buffet were fall-off-the-bone tender and perfectly savory-sweet.
I may or may not have enjoyed a margarita and two of the best frozen piña coladas with dark rum floaters I have ever had.
Although I am not a beach bum, I can totally understand why Great Stirrup Cay would make for a superb day in the sun, sand, and surf. The waters of the beach lagoons are stunning shades of blue and green, lounge chairs and recreational rentals abound, and private cabanas and bungalows can be reserved for the day.
Although we tendered back to ship for (more) lunch and to escape the January heat, the critical non-critic that I am gives Great Stirrup Cay my highest praise as a private cruise line day resort.
---
---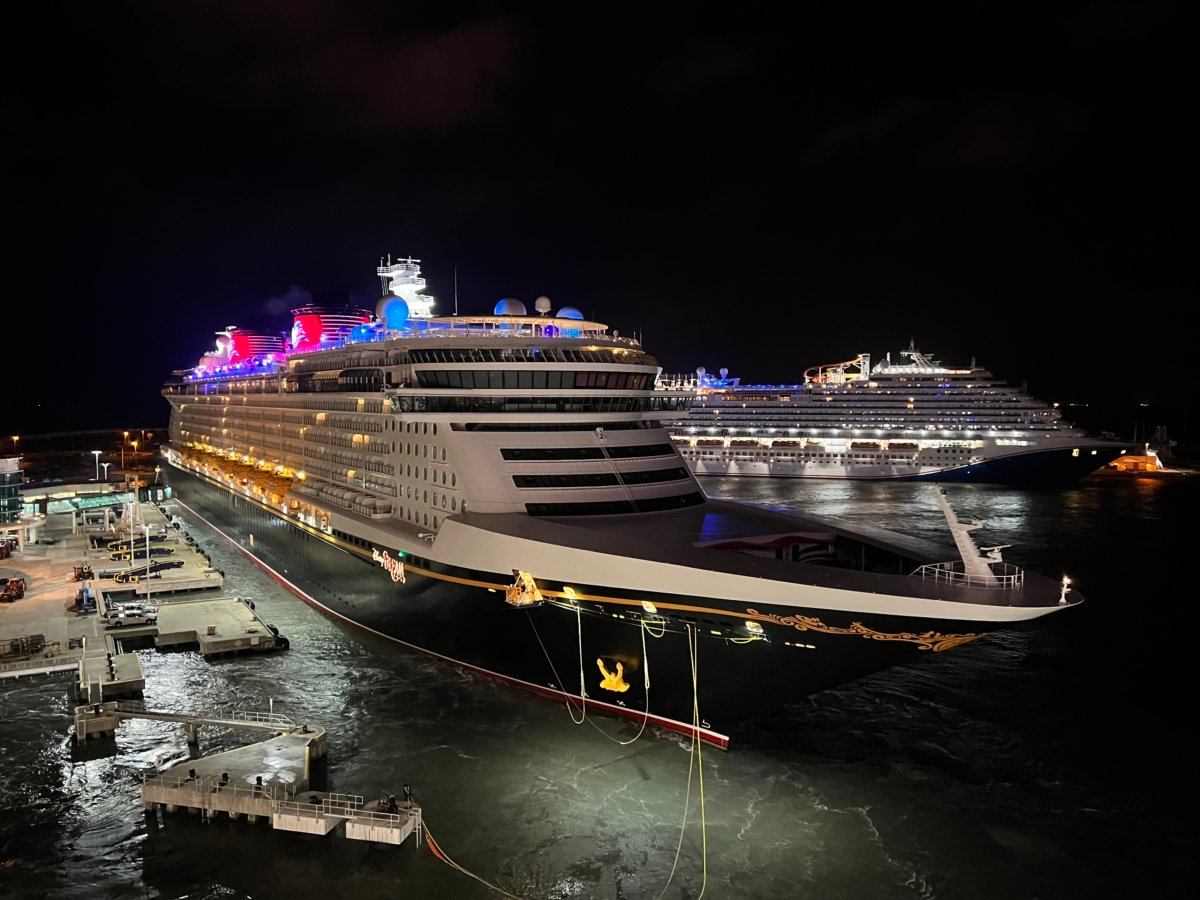 The Escape sailed through the night, and I awoke the next morning in Port Canaveral.
When I pulled back the drapes, it was still dark and we were docked beside the Disney Dream. It seemed as if I could almost reach out and touch the massive ocean liner.
The previous evening I enjoyed a final dinner with Peg and Steve in the Manhattan Room. Then, I returned to my stateroom to pack my bags. I also prepared gratuities for my room steward and crew members who had helped make my cruise extra special.
There would be no breakfast. Wanting to get an early start on my drive home and hoping to beat Orlando rush hour, I met up with my friends at a designated location for priority disembarkation. There was a bit of a delay with port clearance, but once the announcement was made, we rolled our bags off the ship, said our goodbyes, and went our separate ways.
In the space of three months Norwegian Cruise Lines had carried me to Alaska, the Middle East, and the Eastern Caribbean. And I couldn't wait to cruise again.
Be sure to check out the following NCL reviews and travelogues on Backroad Planet. Or click here to access all of our ocean cruise content.
Click here for hotel booking options on TripAdvisor!
---
I Would Love to Hear From You
---
I enjoy dialogue with Backroad Planet readers, especially when they share off-the-beaten-path destinations and useful travel tips. Have you ever don an Eastern Caribbean cruise? If so, I would love to hear about your experience. I invite you to leave your comments and questions below, and I always respond!
---
Pin this Post!
---