(a

22

minute read)
---
A collection of random reflections and candid observations from an 11-day Caribbean sailing aboard the Norwegian Dawn cruise ship.
---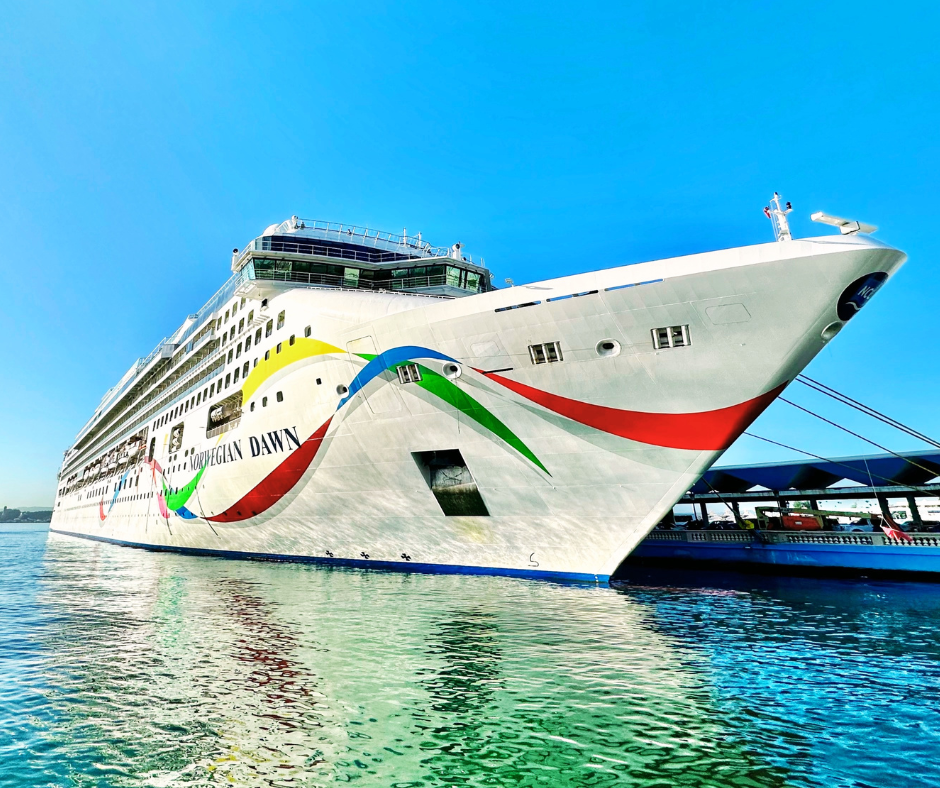 This post may contain affiliate links. Please refer to our our Disclosure/Disclaimer page for more information.
---
My NCL Dawn Itinerary
---
The NCL Dawn is one of two vessels in Norwegian's Dawn Class that carries a maximum of 2,340 passengers and 1,032 crew. The ship entered service in 2002 and was refurbished in 2016. Operating out of Tampa as its winter home port, the NCL Dawn is just small enough to sail beneath the Sunshine Skyway Bridge at the mouth of Tampa Bay.
Although Tampa Bay is my home base, it had been 20 years since I had sailed from the port of Tampa. That 2002 sailing also happened to be my first cruise ever, a 4-night sailing to Key West and Cozumel on the Carnival Jubilee. A few weeks before my NCL Dawn cruise, however, I had sailed into Tampa Bay at the end of an 18-day back-to-back Mediterranean and transatlantic itinerary from Venice (Ravenna) on the RCI Brilliance of the Seas.
My 11-day itinerary on the NCL Dawn was perfect for me because it made stops in San Juan and St. Thomas, two of my favorite Caribbean ports. This sailing also gave me the opportunity to visit Aruba, Curaçao, and the Cayman Islands, bringing my country count to 55.
For me, one of the greatest benefits of a Tampa round-trip itinerary was being able to hop Ubers between home and the cruise port, avoiding flights altogether.
---
About this Post
---
This post is not an in-depth handbook, like our guide to Viking ocean cruises, or a critical assessment, like our Island Princess review. In fact, there are many aspects of the NCL Dawn that are not covered here at all.
This post is also not a Caribbean port guide or shore excursion review.
Rather, this post is an account of experiences and observations relating to the NCL Dawn cruise ship and the Norwegian brand.
While aboard the NCL Dawn I took notes in the moment and elaborated them for publication upon my return home. This post is the result.
---
The NCL Dawn Cruise Experience
---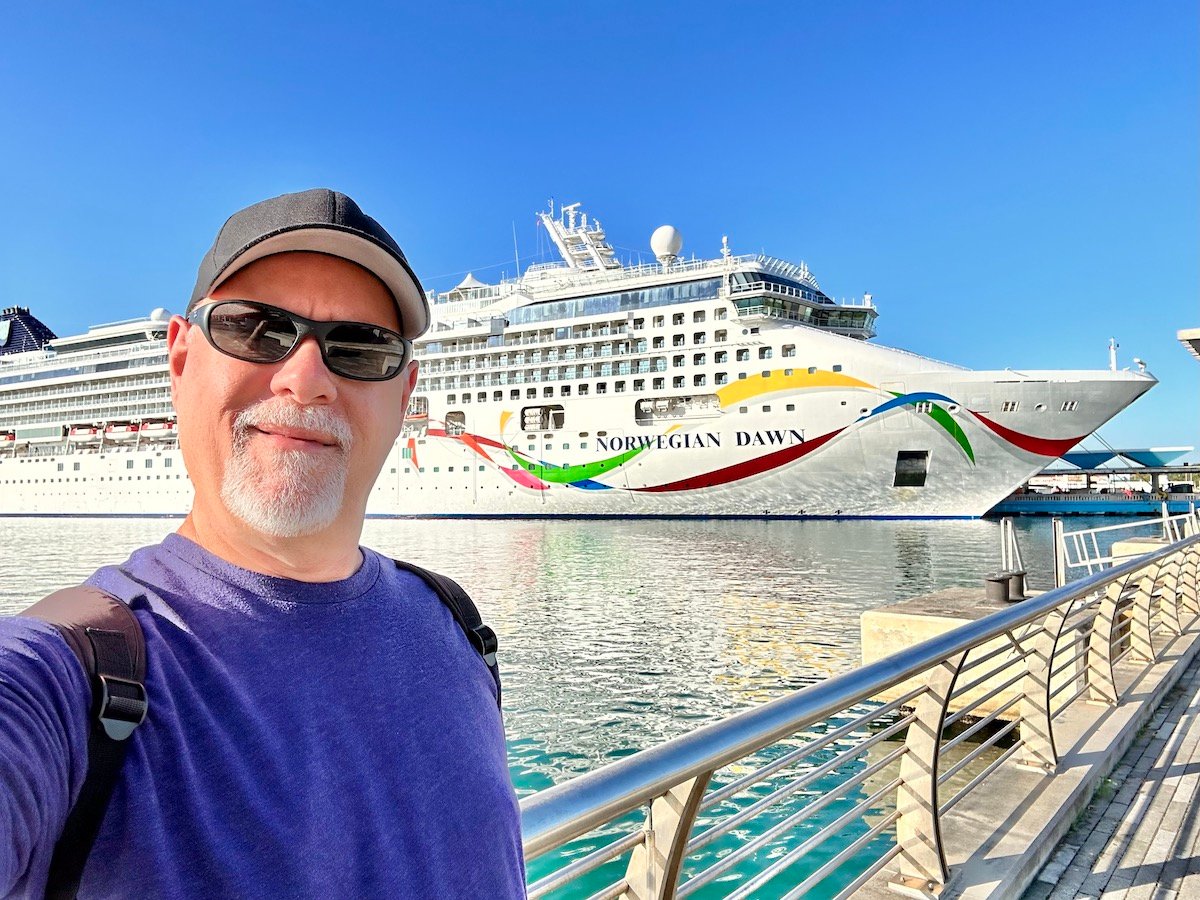 Like all ships, the NCL Dawn has its pros and cons. And even though there were a few negatives, I thoroughly enjoyed my cruise experience. So here goes . . . .
• Balcony staterooms are a mixed blessing.
---
It is no secret that I require a balcony stateroom when cruising. I know I could budget better, but inside and oceanview cabins just don't work for me. Even though I don't hang out on balconies, I get claustrophobic. I need to be able to access fresh air, check the temps, and take in the views.
My balcony stateroom on the NCL Dawn was not the most comfortable I have ever had, but it served its purpose. Some features were better than others. The decor was dated, but I am more about function than form. As long as I have a clean, private space and a soft place to fall at the end of the day, I am good.
My stateroom's best feature was a large shower with a sliding plexiglass door. After the coffin-sized stalls and clinging shower curtains on the Brilliance of the Seas and Island Princess, the Dawn's counterpart was a welcomed amenity.
The bathroom's toilet area, however, was tight, due to a surplus wall between the toilet and the sink. I am not a small person, but I often wonder how plus-sized guests navigate these spaces.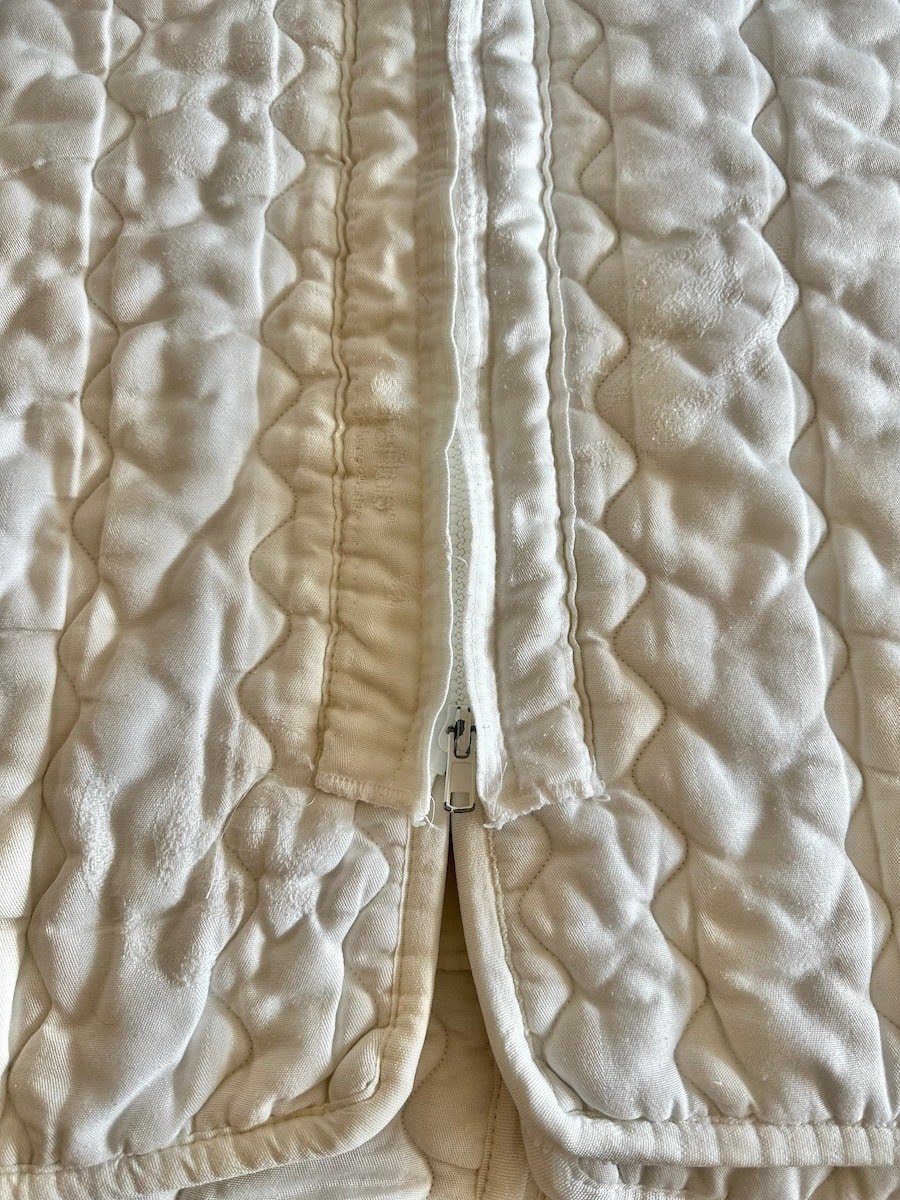 The bed linens were comfy enough, but the mattress toppers were impossible. Frequent cruisers understand that part of the versatility of staterooms is that a queen bed is really two twins put together. On this bed, the mattress cover had a zipper right down the middle, and I could feel it through the sheets.
The zipper had a hard metal slider, and I had a choice of having it near the head of my bed or near the foot. My room steward tried it both ways. Either way, when I would slide my hand or leg around and make contact with that thing, it was painful. And lying in the middle of the bed was not an option!
When it comes to beds, I wish all cruise lines would take notes from Princess. Their linens and mattresses are heavenly and make me feel like royalty.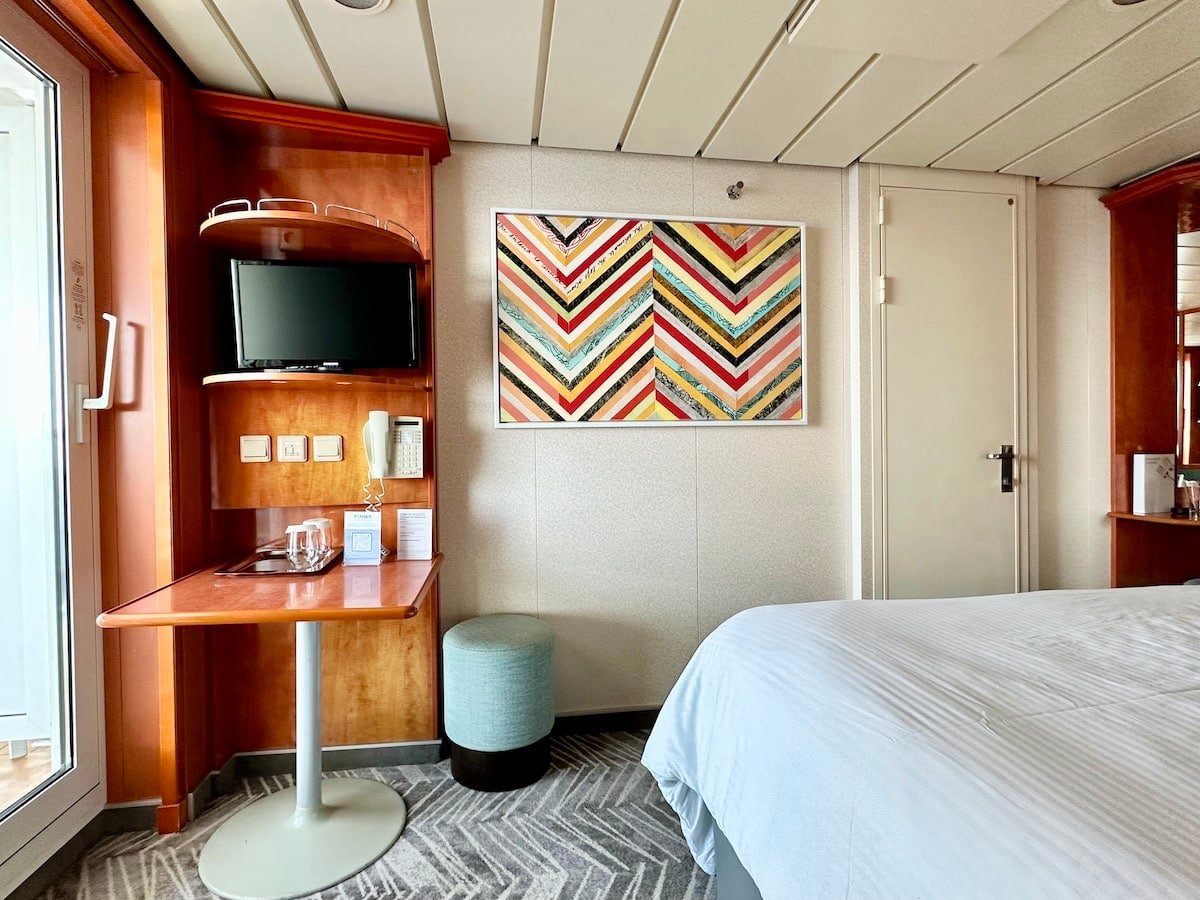 I never watch much TV while cruising, except maybe on days at sea. If I had wanted to watch a movie on the TV in this stateroom, I would have needed binoculars.
The TV was literally the size of a desktop computer monitor and tucked into a corner shelf by the balcony. But hey, at least I had a huge piece of modern art on the wall where a decent-sized TV should have been.
Fortunately, I had plenty of good books to keep me entertained. More about that later.
And then there was that imposing door. Although it was locked, I would have preferred a stateroom where an adjoining room is not an option.
• Microclimates and micro-spaces can be an issue.
---
Climate-control in public spaces is something I have never paid much attention to while cruising, probably because it has never been an issue. However, there were certain locations on the Norwegian Dawn where I was uncomfortable due to warm micro-climates, or hot spots, if you will.
I enjoyed having dinner at the Aqua dining room, but I soon discovered that the venue had warm sections and cool sections. Two-top tables were aligned along three walls of the complimentary restaurant, which are perfect for seating solo travelers. Along the two opposing walls, there were bright overhead lights, while the lights above the connecting wall were dimmed to the point that it was difficult to read the menu. The hostess soon learned that I preferred to be seated in the dark than to dine while perspiring.
Earlier this year I embarked on a Great Lakes Explorer itinerary with Viking Expeditions. I remember being struck by how the Viking Octantis expedition ship had a great traffic flow even though it was significantly smaller than Viking Ocean ships.
I have never measured hallway width, but it seemed to me that the NCL Dawn corridors were considerably more narrow than those on other ships, making it difficult for guests to pass each other. It became my practice to either turn sideways when passing or seek out a nook to allow the other guest to pass unhindered.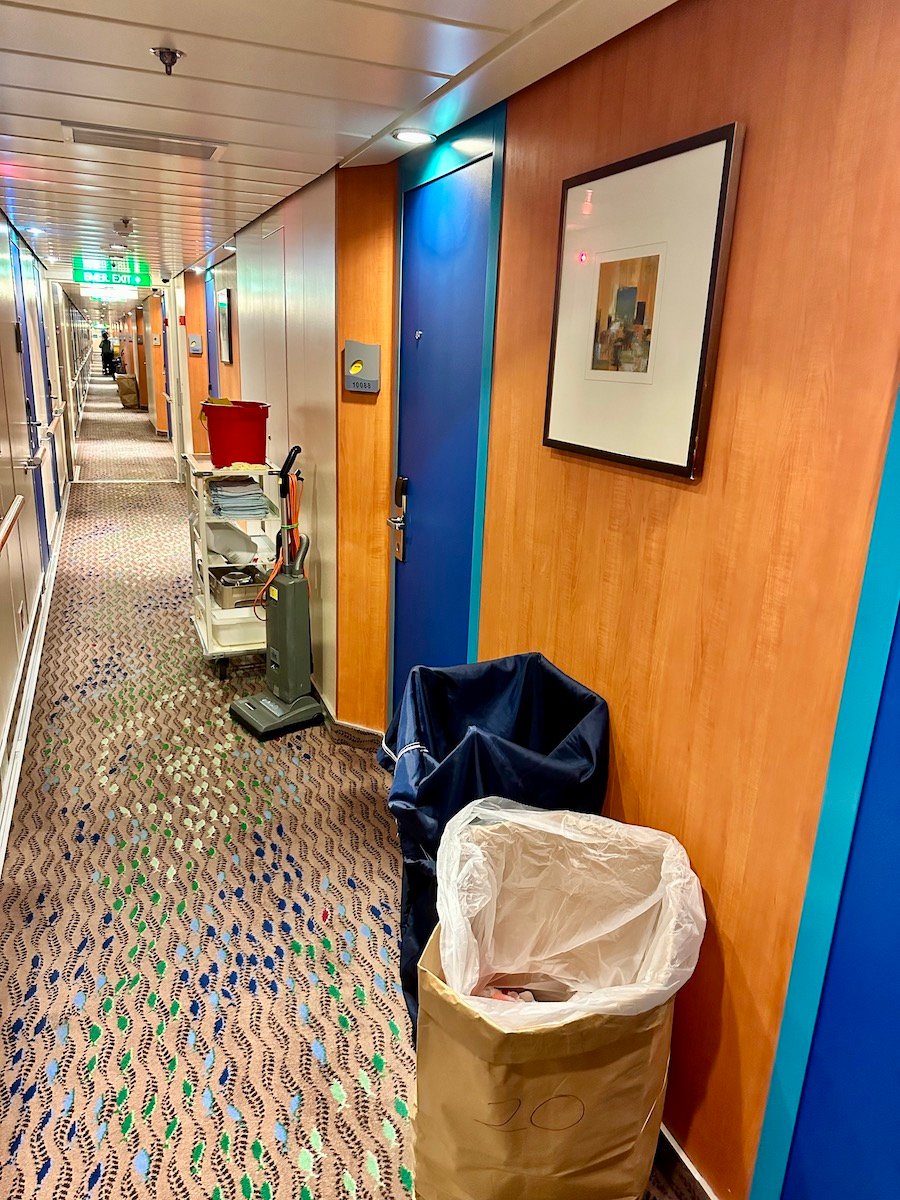 The problem was daily exacerbated by the presence of cleaning carts, appliances, laundry hampers, garbage bags, and room service trays. Add guest luggage to the accumulation on embarkation day and the evening prior to disembarkation, and I think you get the picture. I understand that the clutter is a necessary evil, but a wider hallway design would have minimized the tight spaces.
Tight walkways and warm spaces were also of concern in the Garden Café and Stardust Theater respectively, but more about that later.
Before moving on, I should mention that one of the most helpful features of sailing with Norwegian is the hallway carpet. The fish are always swimming toward the bow, making it easier for guests to navigate the ship directionally.
• The library and promenade are first-rate amenities.
---
If you follow my cruise posts, you know that I address the library and promenade situation on every ship I review. This is a concern because most new ship designs across the industry are eliminating both.
I am an avid reader, and I always pack a book or two. But carryon space is at a premium and although I have tried, I just don't enjoy using an e-reader. Which brings me back to the library.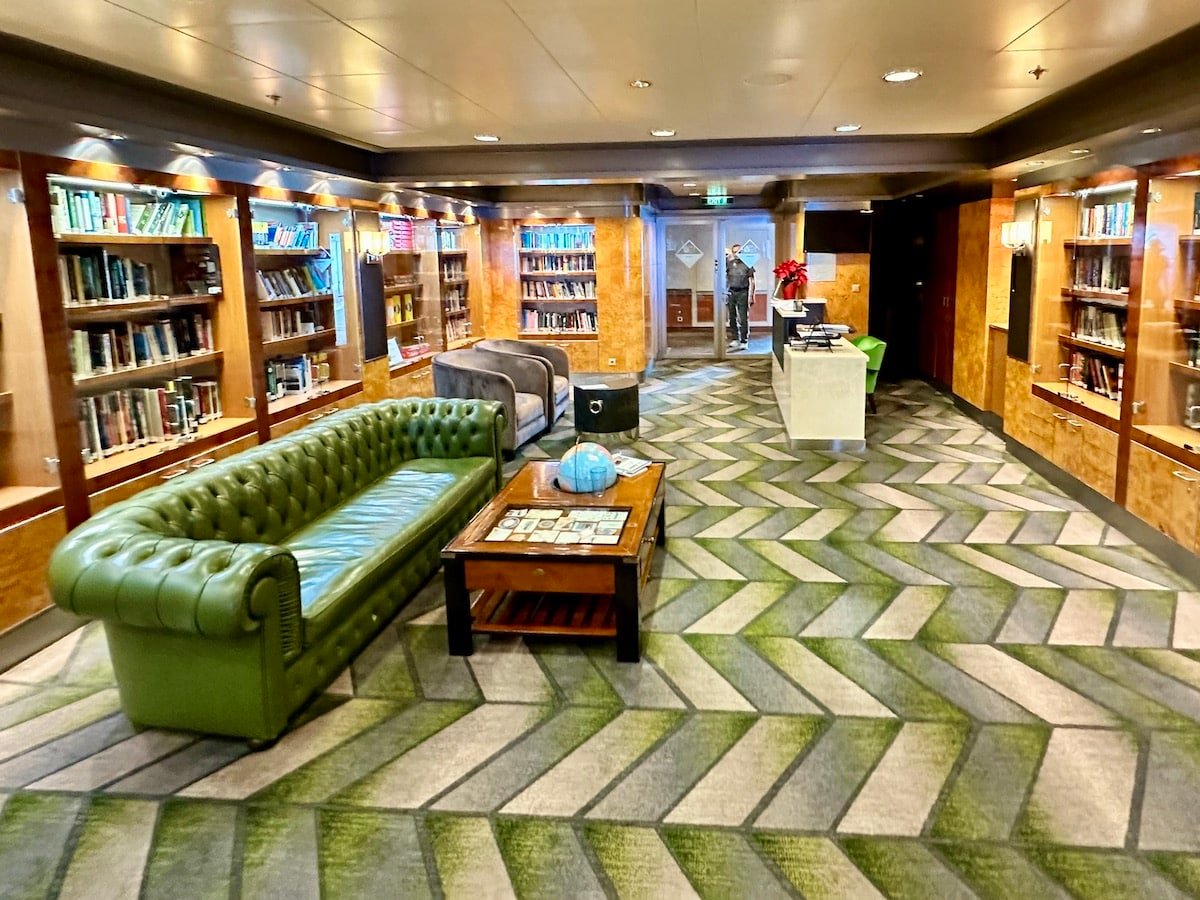 It's not a Viking vessel, where entire ships are libraries with books tucked into every nook and cranny, but I must say that the NCL Dawn has one of the best libraries afloat.
But alas, there is no honor system. The glass bookcases are all locked, and checkout is only available one hour in the morning and one hour in the afternoon. I had to set an alarm on my phone to remind me when the shelves were open during days at sea.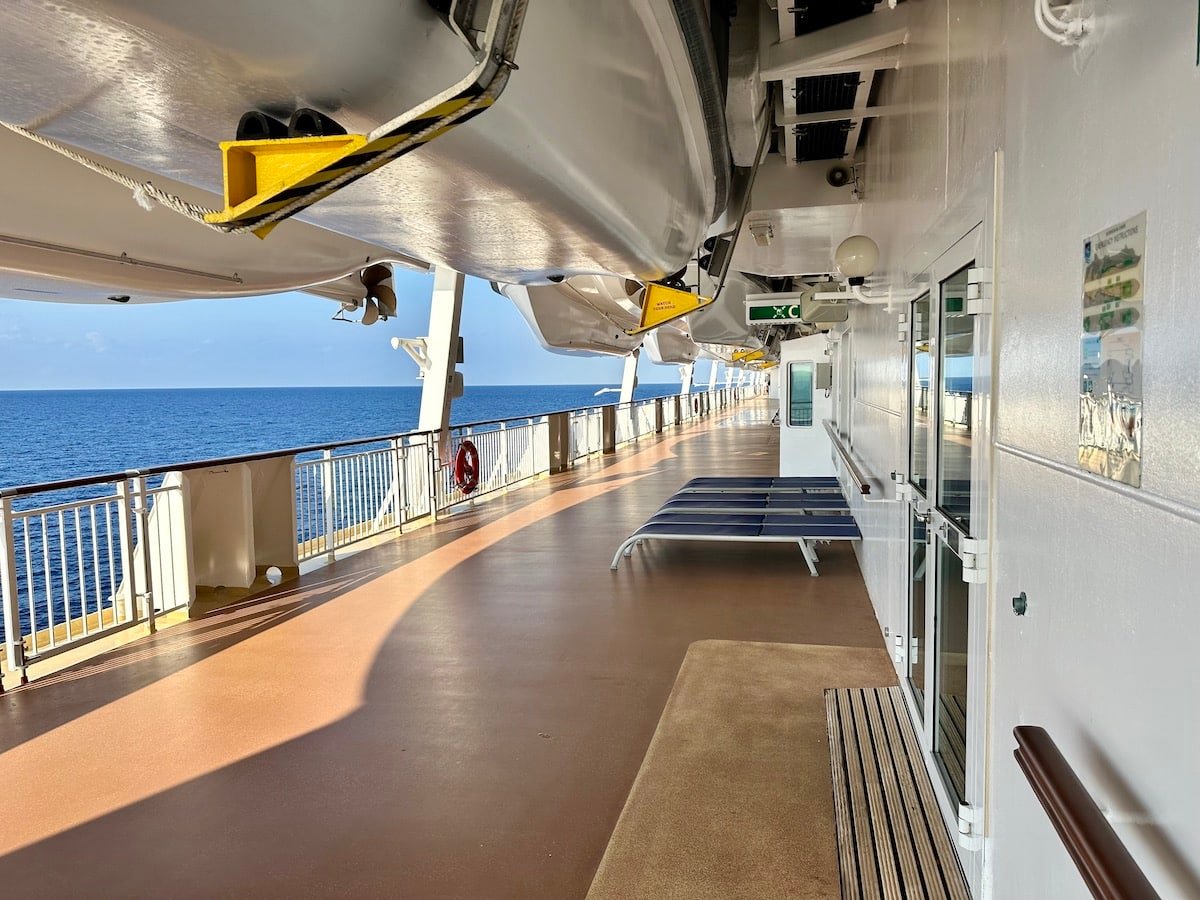 I walk laps on days at sea to get in my 10K+ steps, and I prefer walking a covered promenade than an upper-deck track exposed to the elements.
The NCL Dawn's broad 360° promenade on Deck 7 is pretty much perfection. There is no smoking section to navigate, and surprisingly no sewer odors that often permeate other ship promenades. Although there was a bit of deck-painting in progress, as always, I never witnessed any closed-off sections to impede walkers from completing full laps.
• Bamboo is the ship's best kept secret.
---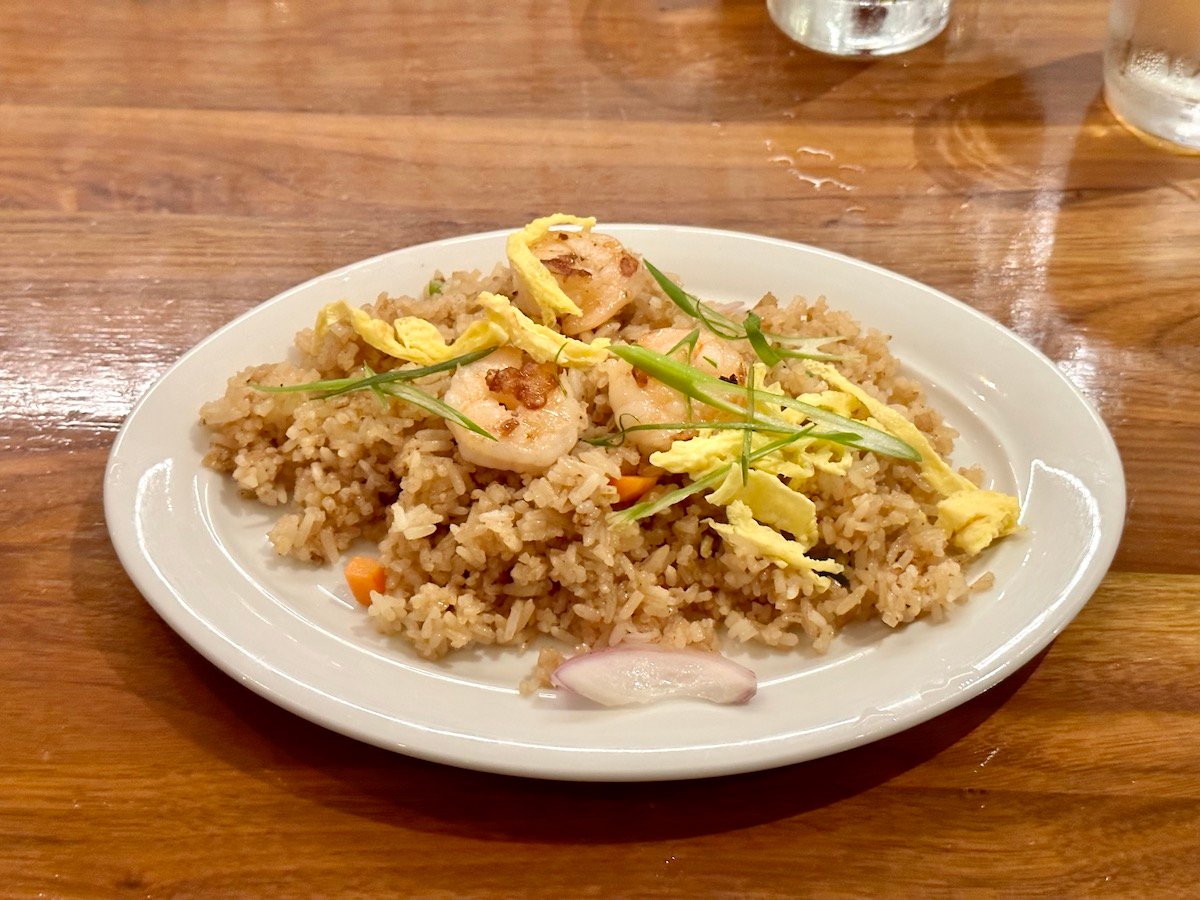 Bamboo is a complimentary Asian restaurant unique to the NCL Dawn. Fellow cruiser and Backroad Planet contributor Lucy Turner tells me that other ships in the Dawn and Jewel classes have similar restaurants with varied names. For instance, on the NCL Jade the restaurant is called Jasmine Garden.
I suggest that you head to Bamboo on night one, because when guests catch on, you won't be able to get a table. On my first and second visits, I shared a table with other guests. So if you are sociable, you may have a better chance of getting in.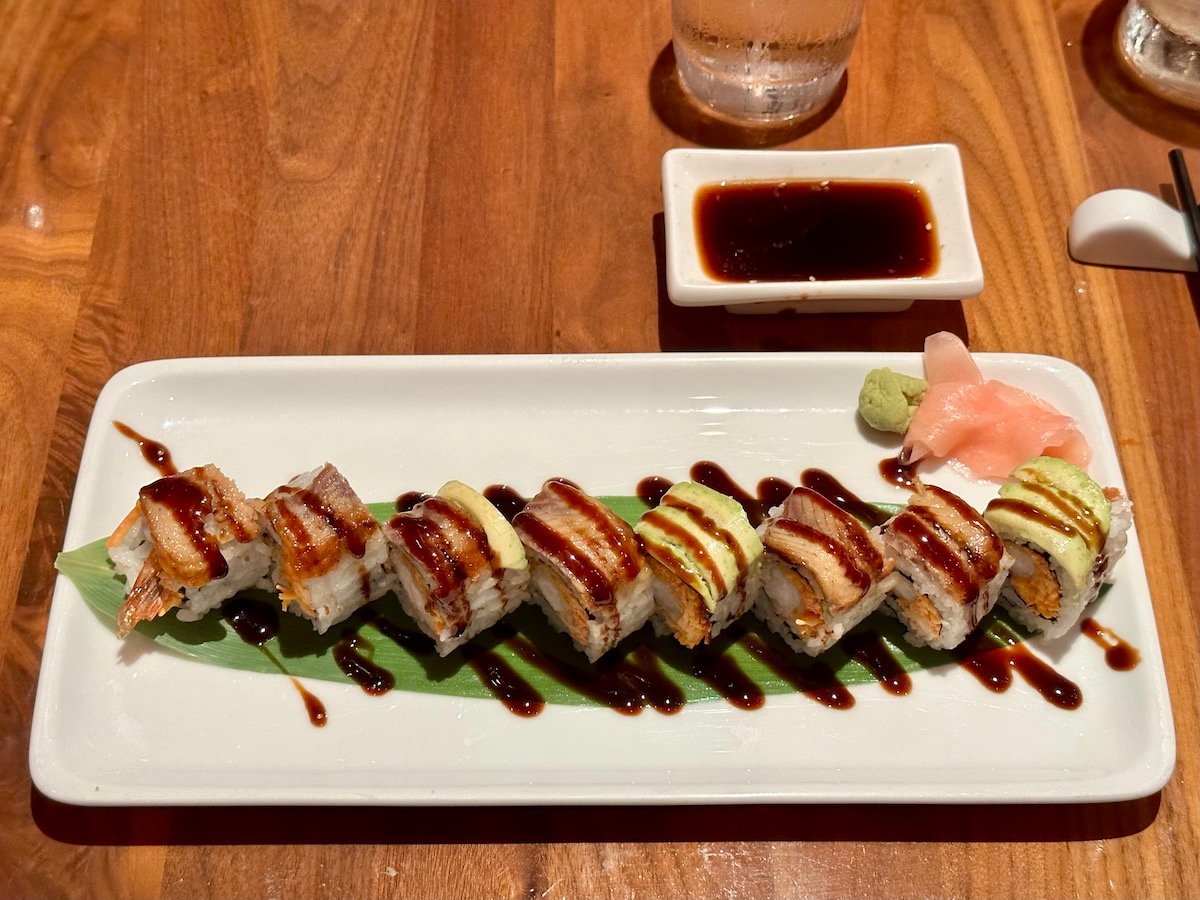 Everything I sampled on the menu was delicious, and Bamboo shares a space with Sushi, the ship's specialty bar, so guests have the option to order sushi and sashimi a la carte.
On my first visit, I enjoyed a couple of Watermelon Twist sustainable cocktails from the Bamboo bar. The recipe is a "twist" on a watermelon margarita. I thought it would become my beverage of the cruise, but alas it is a cocktail-of-the-day, and you can only order it on days when it is offered.
• NCL dining easily eclipses its competitors.
---
Bamboo is just one of the NCL Dawn's many fine complimentary restaurants.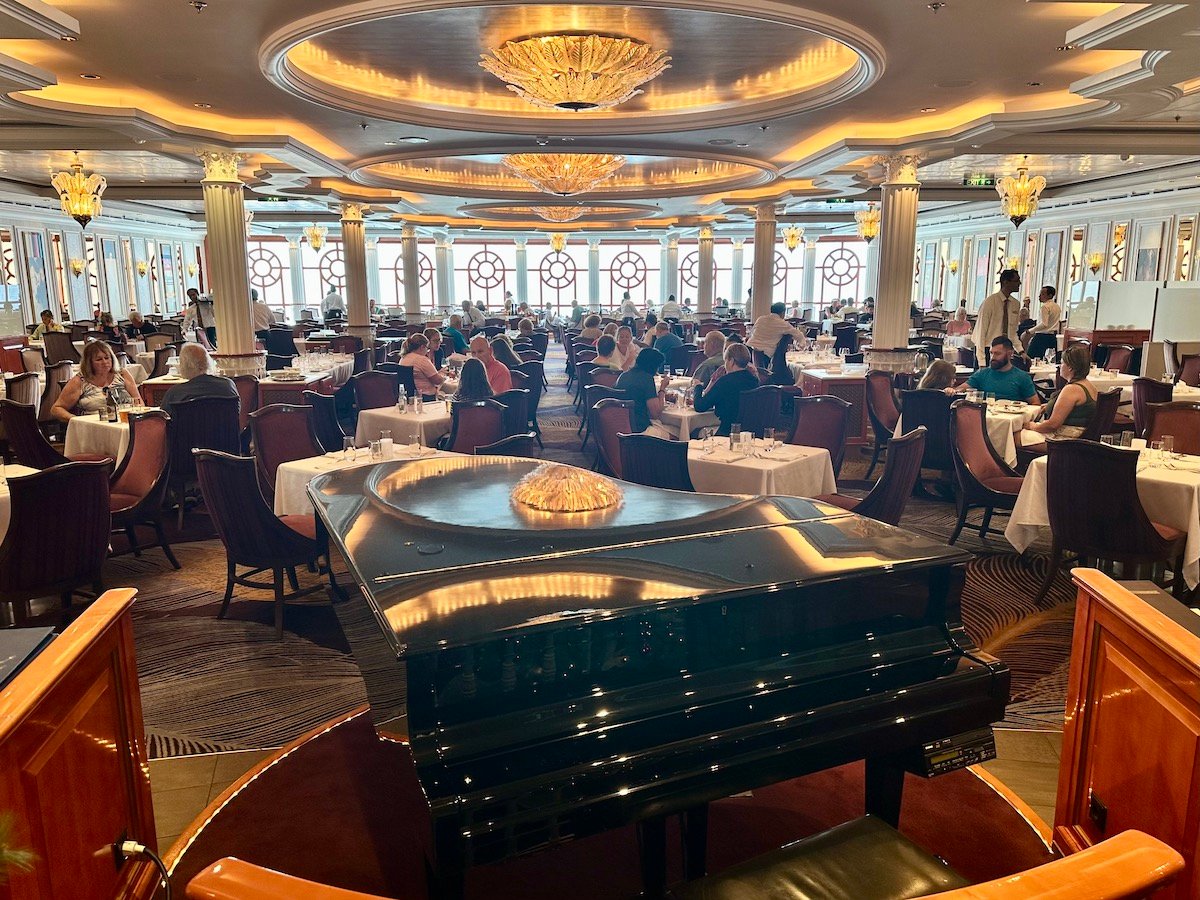 The Venetian dining room is a lovely, spacious venue that consistently serves excellent cuisine: breakfast, lunch, and dinner. The Aqua dining room serves the same menu in a smaller venue
My favorite Venetian breakfast was a tasty "huevos rancheros" with a side of bacon. The Venetian's asparagus and artichoke risotto was perhaps the best dish of the cruise. I told the waiter this side dish should be served as an entree.
O'Sheehan's is a complimentary pub that wraps around the atrium on Deck 8, and it is the only restaurant open 24/7. The menu features nachos, sandwiches, burgers, fish & chips, and other hearty fare. I have enjoyed their buffalo wings on previous cruises, but this time not so much. I requested crispy wings and learned that the wings are roasted, not fried. I love crispy chicken wings, but I can't handle jiggly skin, so I did not order them again.
As I have stated, Viking is in another category, but of the mainstream lines I have cruised in the past year, NCL dining is simply the best. On Princess and Royal Caribbean cruises, dining was hit or miss, but Norwegian's cuisine is consistently better than its class competitors.
Regrettably, there was one disappointing dining venue, and food quality was not the issue.
• The Garden Café is past due for a renovation.
---
On this cruise, I ate most of my meals in the dining rooms because navigating the Garden Café was so difficult.
Design was the issue. The walkways between the buffet hot bars and beverage stations were so narrow that two people could barely pass each other. Between the beverage stations and the tables the limited space was the same.
When you add servers and bussers and ship executives to the mix of hungry guests, it was nothing less than a hot mess at peak mealtimes!
The ambience was further impacted with cheap-looking Formica tables and chairs, arranged tightly together. Ceiling to floor windows offered great views, unless the sun happened to be shining on the starboard side and—pardon the pun—creating the greenhouse effect in the Garden Café.
It was not my idea of dining in comfort. Other guests said the food was good, but as I recall I only ate there twice for breakfast and once for lunch.
I did occasionally pop by the dessert bar. There was a nice crêpes station, and the soft-serve ice cream was good, but there were never any cookies on display. There were always alternating flavors of what appeared to be grocery store bakery pound cake slices. Overall, in the desserts section of the buffet, it was pretty slim pickings. This is surprising when you consider that dessert selections were excellent in other NCL Dawn dining venues.
• Room service is not free.
---
I am not one to have food delivered to my stateroom, but my impression has always been that room service was complimentary across the industry. Not so. Room service is still free on Viking and Princess, but if you order room service on Norwegian, it is going to cost you. There is a flat $4.95 charge for breakfast and a $9.95 service charge any other time of day.
For the record, a room service charge is imposed on Royal Caribbean, as well.
• Shorts are allowed in all dining rooms (well, almost).
---
Cruising is all about comfort for me, and when it comes to cruise wear, I am basically a shorts and t-shirts kind of guy. I don't like formal nights, but I do pack slacks and long-sleeved collared shirts just in case.
I remember on an early cruise with Norwegian arriving for breakfast at the main dining room and being asked to remove my cap. My morning hair was sticking out all over, but I complied. If they preferred to look at my bedhead, it was fine with me.
There does appear to be an industrywide trend toward more casual dress, but I did encounter some mixed messaging aboard the NCL Dawn.
The Freestyle Daily published that resort casual wear and shorts were allowed in all venues except Le Bistro, a French specialty restaurant, and the Venetian dining room.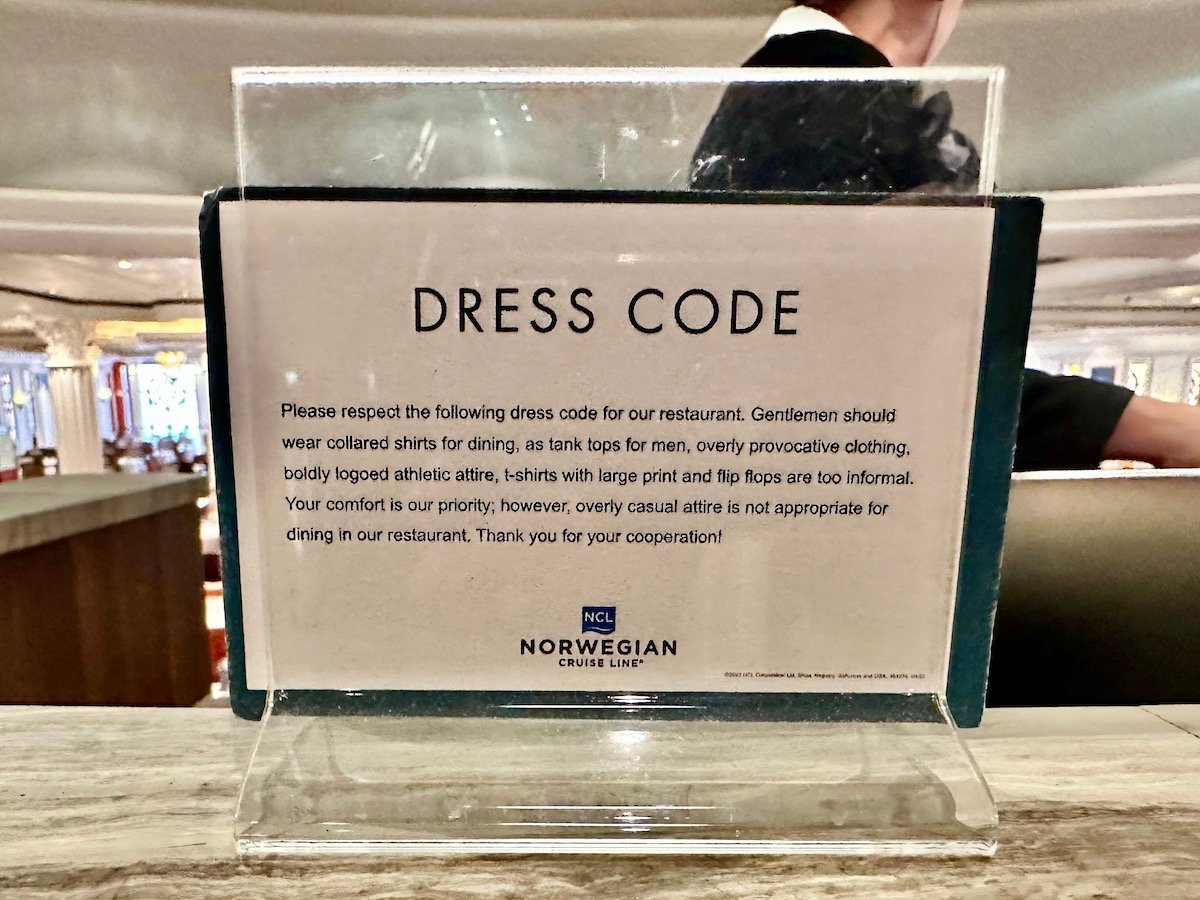 The hostess desk at the Venetian had a small sign that stated:
"Please respect the following dress code for our restaurant. Gentlemen should wear collared shirts for dining, as tank tops for men, overly provocative clothing, boldly logoed athletic attire, t-shirts with large print, and flip flops are too informal. Your comfort is our priority; however, overly casual attire is not appropriate for dining in our restaurant. Thank you for your cooperation!"
Because Aqua dining room has the same menu as the Venetian, and because shorts are allowed, I would eat dinner there most nights. Then I got a mixed message.
I attended a solo cruiser meetup, and the assistant cruise director was going around making dinner reservations for small groups. I mentioned that I was not dressed appropriately for the Venetian because I was wearing shorts. She replied without hesitation, "You can wear shorts in the Venetian!"
Later I put it to the test. I had been wearing shorts to the Venetian at breakfast and lunch, and decided to put it to attempt it for dinner. That night I noticed other men were wearing shorts to dinner, and the hostess assigned me a table with no questions asked.
So there you have it.
• There are no lectures during days at sea.
---
I don't typically participate in onboard activities, but I do occasionally take in a lecture or port talk or production show.
There were never any lectures during my sailing. I would skim the Freestyle Daily prior to days at sea and . . . nothing. I made multiple attempts to grab a photo of the Stardust Theatre during daytime hours, but it didn't happen. Every time I stopped by there was a sign on the doors stating that the theater was closed for rehearsals. I finally got a photo while waiting for a shore excursion to be called.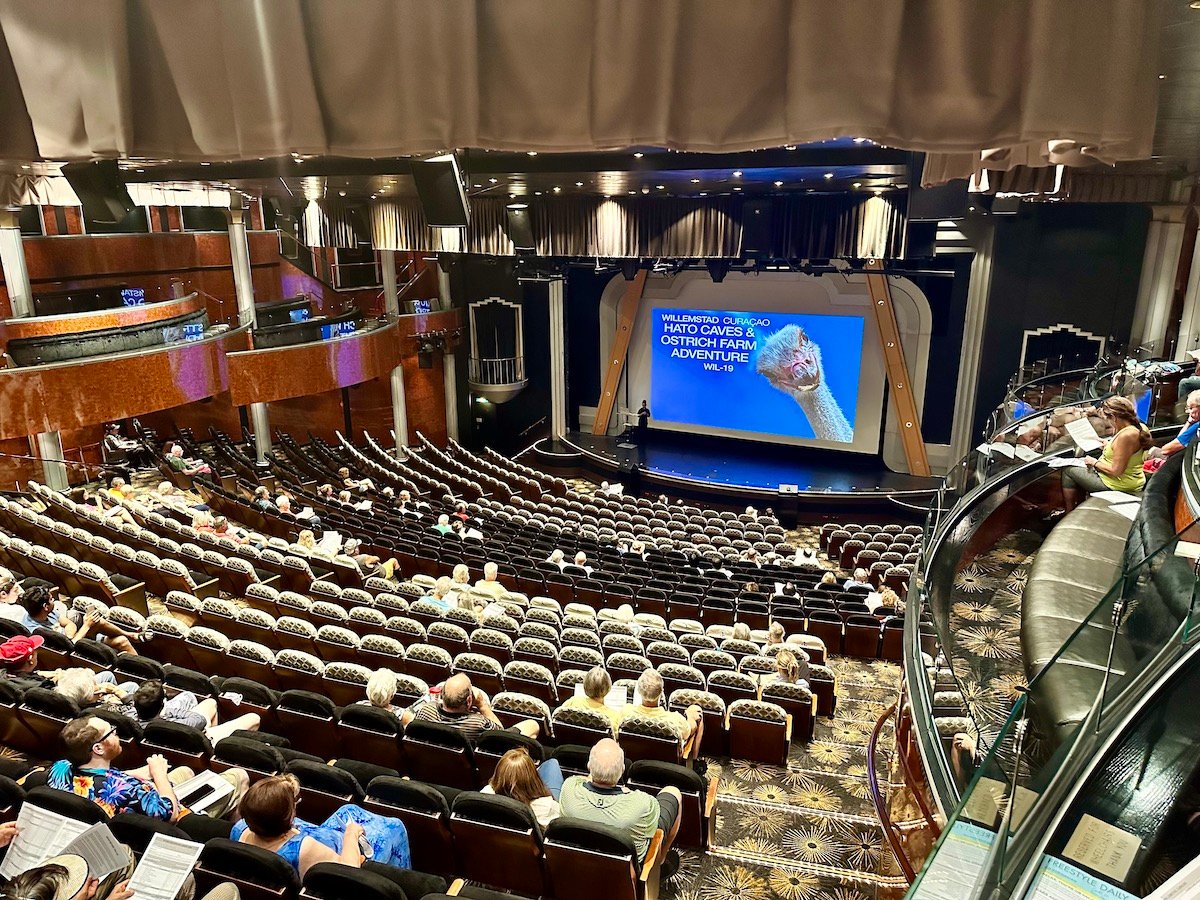 I guess the perpetual rehearsals were a worthy trade-off because there were three or four production shows and other forms of entertainment during my 11-day sailing.
I only attended one production show. It was a song and dance "jukebox show," as my friend Lucy calls them. In my opinion, the talent and production on Norwegian ships is consistently higher than Princess and Royal Caribbean, but one show was enough for me. Unfortunately, there was no Broadway show like The Donna Summer Musical I had experienced on the Norwegian Prima earlier this year, but Broadway shows are reserved for NCL's larger ships.
I might also mention that the Stardust Theatre was one of the hot spots on ship. The night I attended the production show the theater was uncomfortably warm.
• Bartenders pour spirits generously.
---
NCL beverage packages are not cheap, but I typically purchase Free at Sea promotions that include unlimited beverages, limited WiFi, several specialty dining meals, and $50 discounts on shore excursions.
On some previous cruises, including Norwegian, I have been served cocktails with little to no alcohol. That did not happen on this sailing. For the most part, NCL Dawn bartenders did not skimp on the spirits. Especially memorable were a Cape Cod ordered at the first production show, countless cosmos at Aqua, and multiple margaritas everywhere.
Cruisers with beverage packages on any carrier should never hesitate to speak up if you are served a weak drink. You can always order a double or send a drink back that is not made to your liking.
• Beverage packages have stupid rules.
---
Continuing the thread of mixed messages, one of the stupidest incidents ever happened during my NCL Dawn sailing.
One evening I stopped by the Garden Café bar to grab a can of Diet Coke and a cup of ice before heading to my stateroom. (I would have chosen packaged water instead had it been included in my beverage package.) On previous nights bartenders had given me a can and a cup of ice without blinking. In fact, one bartender had told me the UB on my keycard meant unlimited beverages.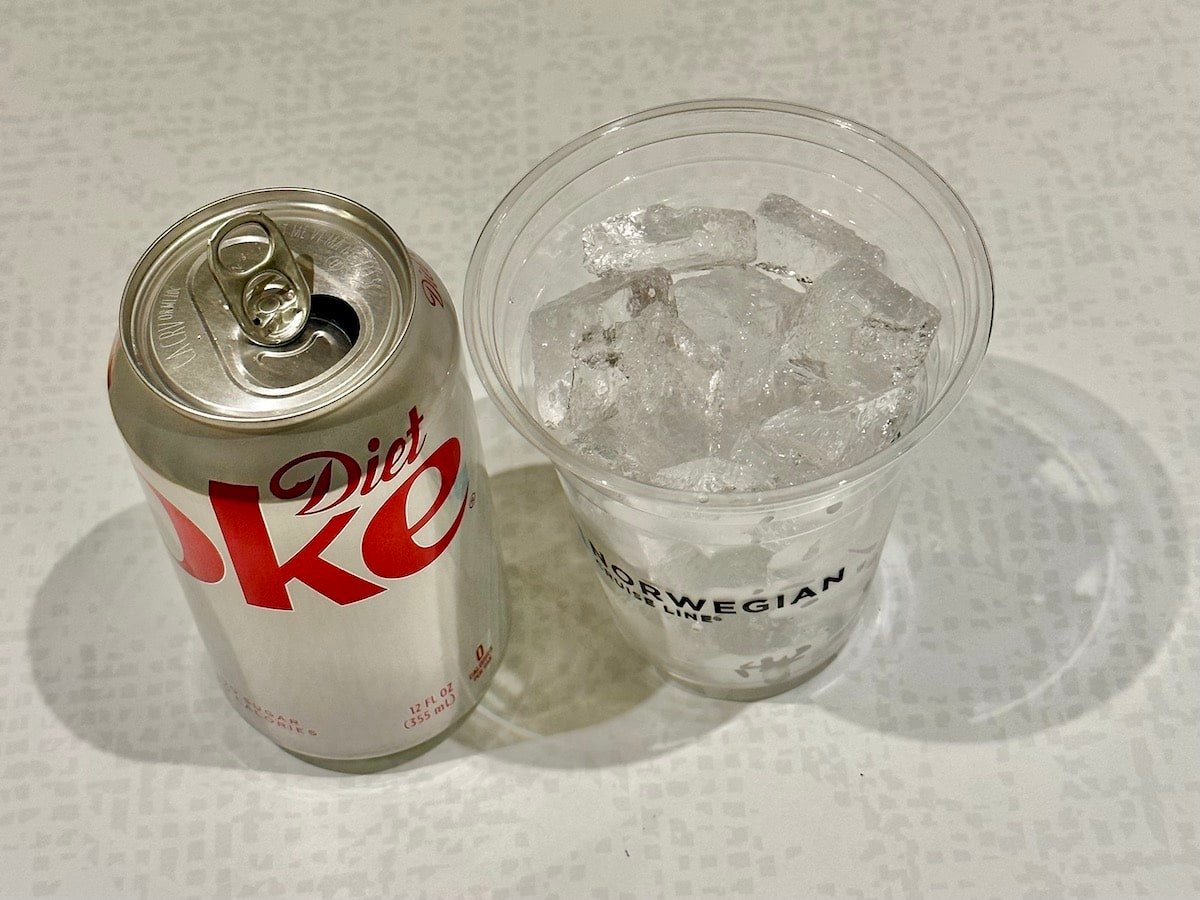 On this night, however, the bartender told me that my beverage package did not qualify for a closed can, and he had to open it before he gave it to me. He proceeded to pop the top. I immediately headed down to guest services to get clarification on this policy. A representative summoned the head wine steward who came to talk to me, gave me his card, and basically bent over backwards, saying that he would take care of it. I never got a straight answer about whether the open can was actually part of NCL's beverage policy, but I never had another problem.
• The pool deck does not have a jumbotron.
---
I do not hang out at the pool, so this observation is of little concern to me. But I did find it interesting that there is no jumbotron on the Sun Deck. I don't recall any ship in recent memory that did not have a big screen TV for guests who enjoy live sporting events and movies under the stars.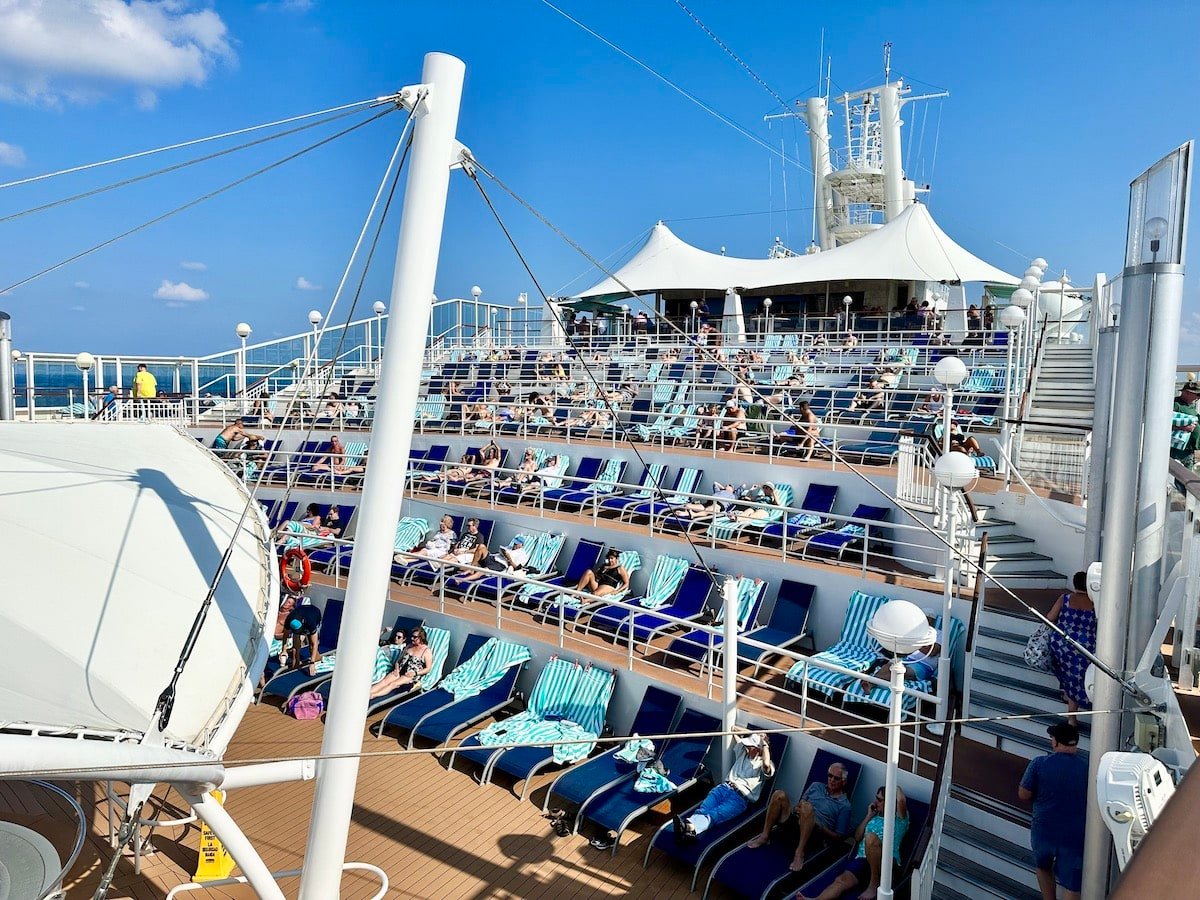 This omission seemed even more strange due to the Sun Deck's bi-level theater seating section.
Beats me!
• The spa has both coed and separate-gender facilities.
---
Even though I do not purchase spa passes, I always tour the facilities on day one so that I can share intel with readers.
Back in the day, ships were built with complimentary spa facilities, such as separate-gender sauna and steam rooms. Today, new builds across the industry are all designed with fee-based coed thermal suites.
I am learning that during this stage of transition from complimentary spa facilities to paid thermal suites, older ships are handling it differently. The Caribbean Princess still offers complimentary gender-specific sauna and steam facilities, as does the Brilliance of the Seas. The latter, however, requires that guests make an appointment to use the saunas and steam rooms.
Because the NCL Dawn is an older ship, it also offers a blend of coed and gender-specific facilities. The pool, hot tubs, and thermal loungers are all elements of the Mandara Spa's coed space.
Saunas, steam rooms, and plunge pools are separated by gender, but now belong to the fee-based thermal suite.
• Norwegian is the most commercial cruise line at sea.
---
Norwegian is the most commercial of all the cruise lines I have traveled, and the NCL Dawn is no exception. The Freestyle Daily is typically stuffed with no less than three additional inserts advertising onboard sales and even promotions for port businesses. I don't know whether these businesses get kickbacks, or if they are purchasing advertising space on these flyers. NCL may have sustainable cocktails, but they certainly do not conserve on paper.
I understand they are running a business, but the constant nickel-and-diming is off-putting and needs to be curtailed.
• WiFi is not great, but not bad.
---
WiFi bandwidth is not that great on most cruise lines, including Viking. This is one key area where cruise lines need to up their game, follow Royal Caribbean's lead, and retrofit their ships with Starlink.
On this 11-day sailing, my Free at Sea promotion included 150 minutes of WiFi. For someone like me who lives on his phone, this was a joke. On Day 1, I purchased an upgrade to the basic unlimited WiFi package that did not include streaming. Purchasing the upgrade on the first day came with a $100 discount.
So here's where my WiFi experience got interesting.
As a travel blogger, I take thousands of pictures, and I need my photos to sync to iCloud so I won't lose them should something—heaven forbid—happen to my iPhone. Sadly, due to low bandwidth, my photos have NEVER uploaded in bulk to iCloud on any cruise on any ship on any line in the past year (including Viking).
Until my NCL Dawn sailing, that is.
I typically leave my phone plugged into the charger at night, and early in the cruise I noticed that my photos were backing up. Even without the more expensive streaming package that I had purchased in the past. This effective syncing continued through most of the cruise, and by the time I arrived home all but a hundred or so photos had synched.
This was great! Except that it created another problem I had not anticipated.
I don't publish blog posts while traveling, but I do post stories and photo collections on my personal Facebook page. I do not use filters on my photos, but I do edit them for light. When iPhone photos sync to iCloud, the high-quality version is saved and a smaller photo file remains on the phone. If you want to edit a synched photo on your phone, it must first download the high-quality version.
Even though my photos were backing up at night, due to constipated WiFi they did not want to download during the day, making photo-editing impossible. It didn't take long to learn that I needed to edit my photos before plugging in my phone at night.
• There is no disembarkation plan for walk-off guests.
---
There was no plan for passengers like me who were walking offboard unassisted in Tampa.
There had been no communication published in the Freestyle Daily or disembarkation publication regarding where we were supposed to wait for the all-clear. So I went down to the atrium near guest services where other passengers were gathering and had created a line.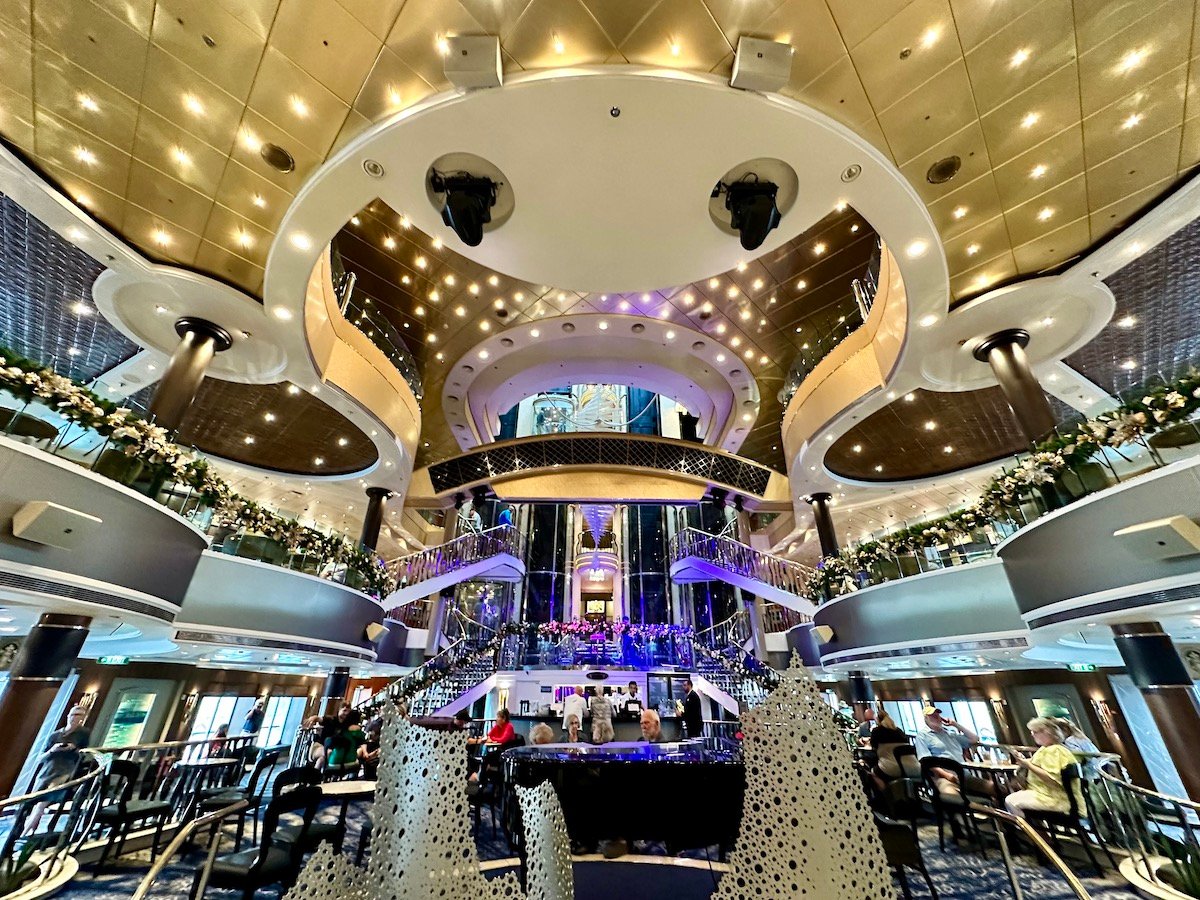 After waiting for a while, a white shirt executive arrived and told us that the line would be angled another direction, so everybody got up and moved. Almost immediately, another white shirt executive came out and told us no, that the line would have to go the direction where we were originally, so everybody moved again. Minutes later, the first executive returned and told us to move back.
Then the truth came out.
The executives did not want us gathering in the atrium, but they had not arranged a meeting place for people who were walking off board.
This should never have happened. As long as the NCL Dawn has been disembarking guests you would think an organized plan would be in place. And this was the first time I have ever witnessed ship executives openly contradict each other.
---
Other Norwegian Content on Backroad Planet
---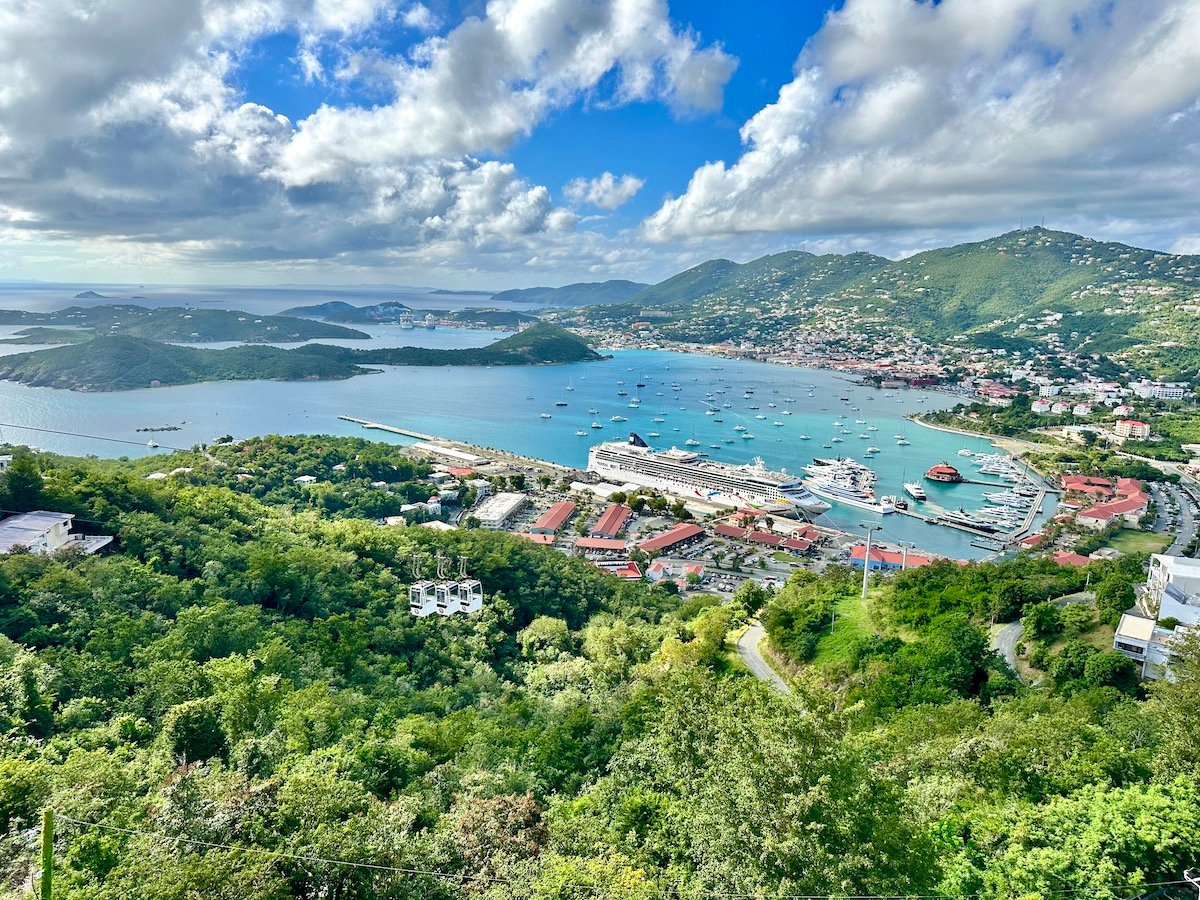 Be sure to check out the following NCL reviews and travelogues on Backroad Planet. Or click here to access all of our ocean cruise content.
Click here for hotel booking options on TripAdvisor!
---
I Would Love to Hear From You
---
I enjoy dialogue with Backroad Planet readers, especially when they share off-the-beaten-path destinations and useful travel tips. Have you ever sailed aboard the NCL Dawn? If so, I would love to hear about your experience. I invite you to leave your comments and questions below, and I always respond!
---
Pin this Post!
---