(a

24

minute read)
---
A collection of random observations and candid reflections from a 21-day sailing on Royal Caribbean's Brilliance of the Seas cruise ship.
---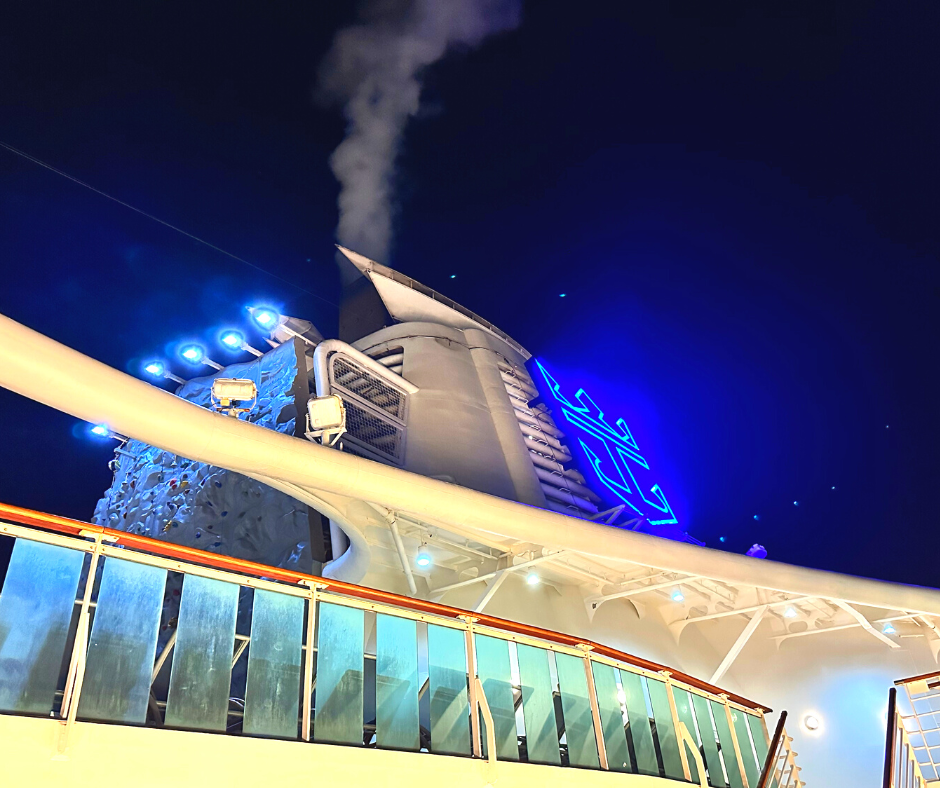 This post may contain affiliate links. Please refer to our our Disclosure/Disclaimer page for more information.
---
My Brilliance of the Seas Itinerary
---
Royal Caribbean's Brilliance of the Seas is a Radiance Class ship that carries a maximum of 2,543 passengers and 848 crew. It entered service in 2002 and was refurbished in 2018.
A 21-day back-to-back (B2B) itinerary on the Brilliance of the Seas was my first time cruising with Royal Caribbean International (RCI). However, I am not a complete cruise novice. I have sailed many times with Viking as member of the media and also with Princess and Norwegian as a paying guest.
My two main criteria when booking cruises are: 1) itineraries and 2) zero-to-low single supplements. I cruise primarily for destinations, and as a solo traveler, I refuse to pay two fares for double occupancy. Because they rarely offer decent fares for solo travelers, I had only booked one previous RCI cruise. Unfortunately, that January 2022 sailing on the Serenade of the Seas was cancelled.
The deciding factors in this booking were the Adriatic and Mediterranean ports (Ravenna, Split, Bari, Corfu, Messina, Naples, Civitaveccia, and Cartagena), plus three Canary Islands, and a transatlantic crossing that delivered me to my home port of Tampa. Avoiding a long-distance flight home at the end of a cruise is a wonderful thing.
---
What You Won't Find in this Post
---
This post is not an intensive review of the Brilliance of the Seas from stem to stern like some of the guides we have published in the past. In fact, there are topics not covered at all. I don't hang out at cruise ship pools, frequent casinos, or purchase thermal suite passes, so I can't comment much in that regard.
Before embarking on a cruise, I typically join a Facebook community dedicated to that individual sailing. Groups like these include people from various walks of life who cruise for different reasons. My fellow cruisers plan slot pulls, bar crawls, gift exchanges, and rubber duck hunts, activities that do not interest me in the least.
Group members also use these forums to air their grievances. While on our Brilliance of the Seas cruise, members posted their concerns with the cruise director (who joined and later left the group), shipwide disorganization, poor communication, inexperienced crew members, WiFi, food quality, and such. Some of those issues did not affect me, so you won't find them in this post.
And finally, this post is not as image-intensive as most Backroad Planet reviews. Some of the topics discussed below do not lend themselves to photos, but I am pretty sure you will find value in the content.
---
The Brilliance of the Seas Cruise Experience
---
After completing one 21-day B2B cruise, I do not consider myself a Royal Caribbean authority. But as a veteran cruiser, I do believe there are a few things I can share with future guests.
All of the following "things to know"—both positive and negative—are based on first-hand experience. Some of my observations are specific to the Brilliance of the Seas while others apply to Royal Caribbean ships across the fleet.
• Staterooms are dated, but comfortable.
---
In conversation with my travel agent while considering this cruise, I learned that an aft balcony stateroom was available for a great price on the 6-day Ravenna to Rome leg. So I booked it. No balcony staterooms, however, were available for the 15-day Rome to Tampa leg, so I agreed to an oceanview cabin. Later, when balcony staterooms suddenly became available, I paid a supplement to upgrade.
This would be my first time moving to a different cabin between itineraries, but my stateroom stewards assisted me with a seamless transition.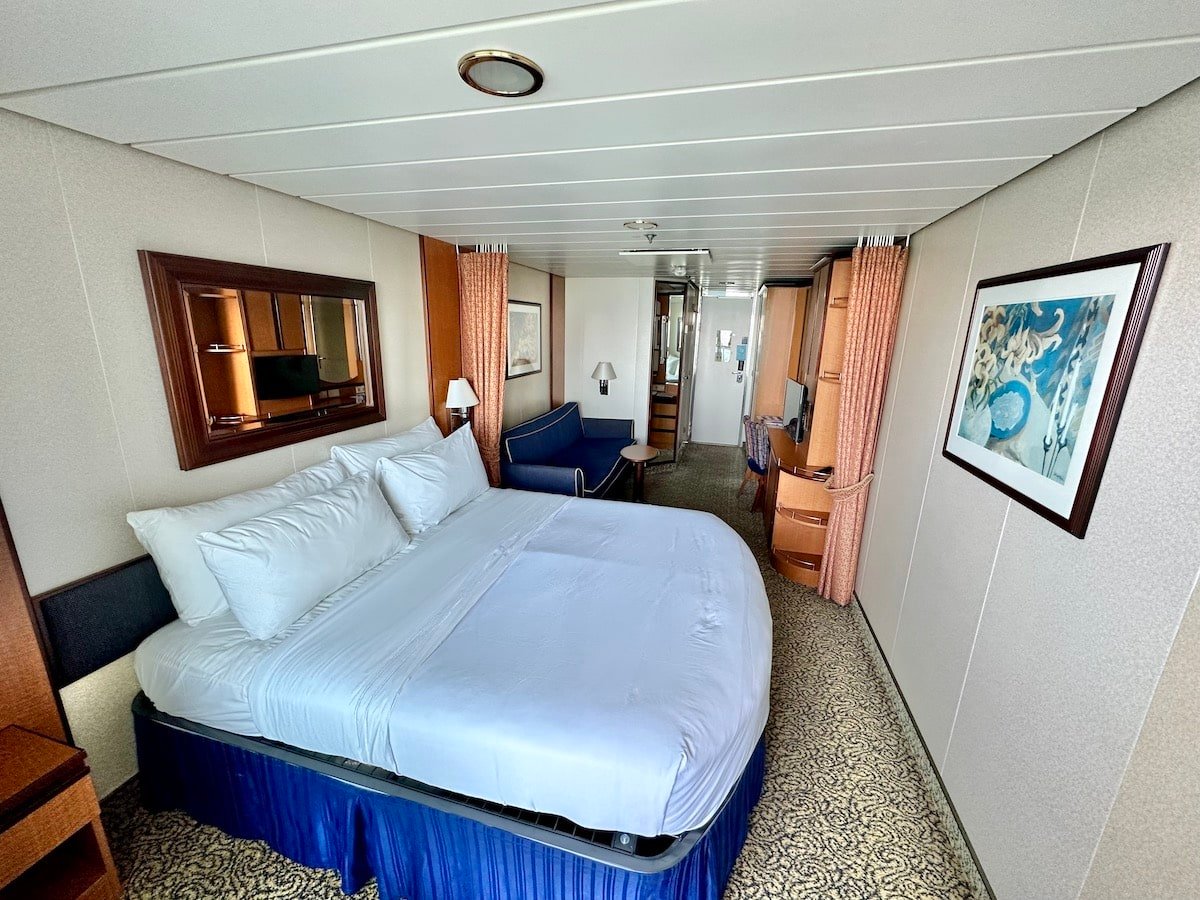 Both staterooms had dated decor, but the cabins were functional and comfortable.
The bed in the aft stateroom was too firm for my taste, so I requested a mattress topper. It helped a lot, and when it came time to move to my new cabin, my steward made a point to send along the topper.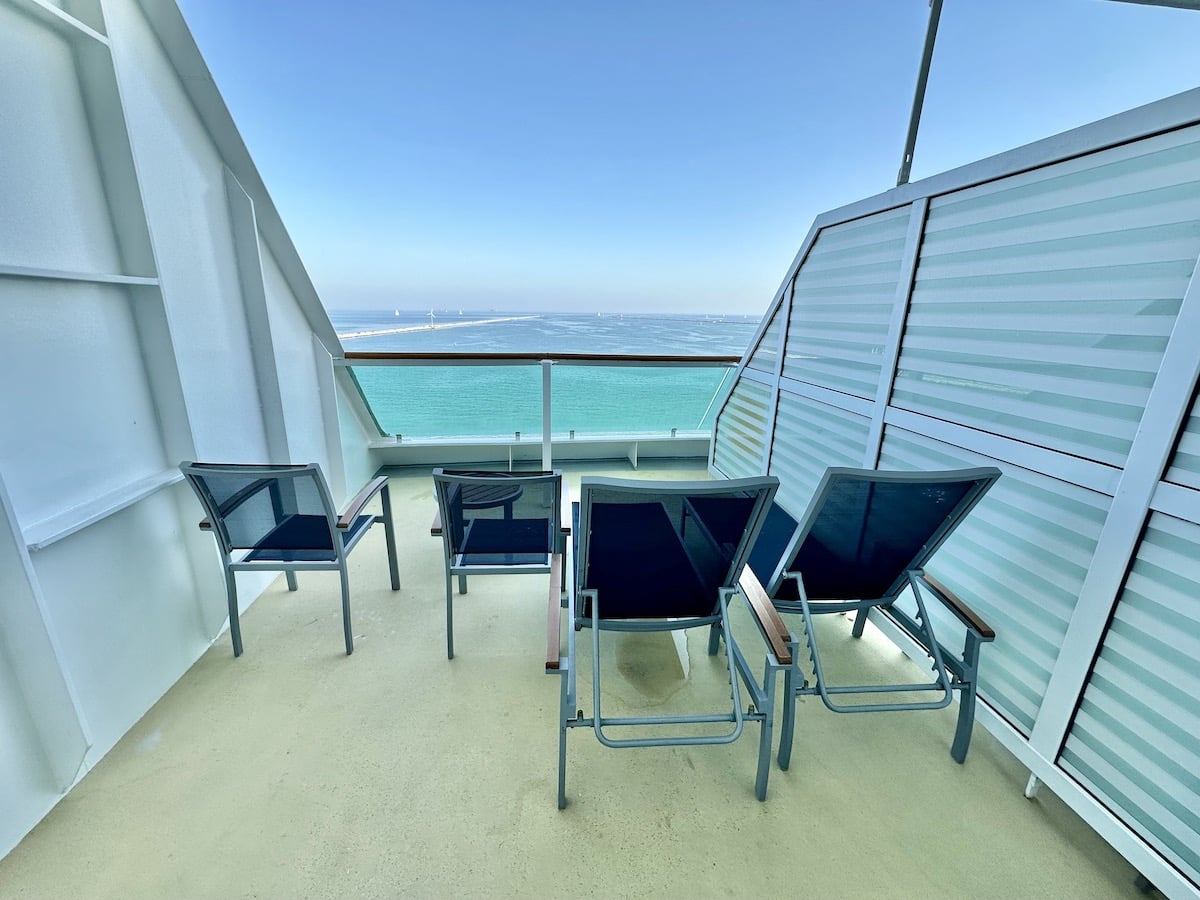 The balcony on the aft stateroom was so huge that I could have hosted a cocktail party out there. The only problem was that I had no time to spend on the balcony, being in a different port every day with no days at sea.
Moving from an aft balcony stateroom to a starboard balcony stateroom is actually a downgrade, and I noticed a discrepancy in a couple of features. Both staterooms had small showers with shower curtains, not plexiglass doors. In the aft balcony shower the water was hot and the pressure was strong. When I took my first shower in the starboard balcony stateroom, I noticed a major reduction in water pressure. I mentioned this to my new cabin steward, and by my next shower the water pressure was strong as before.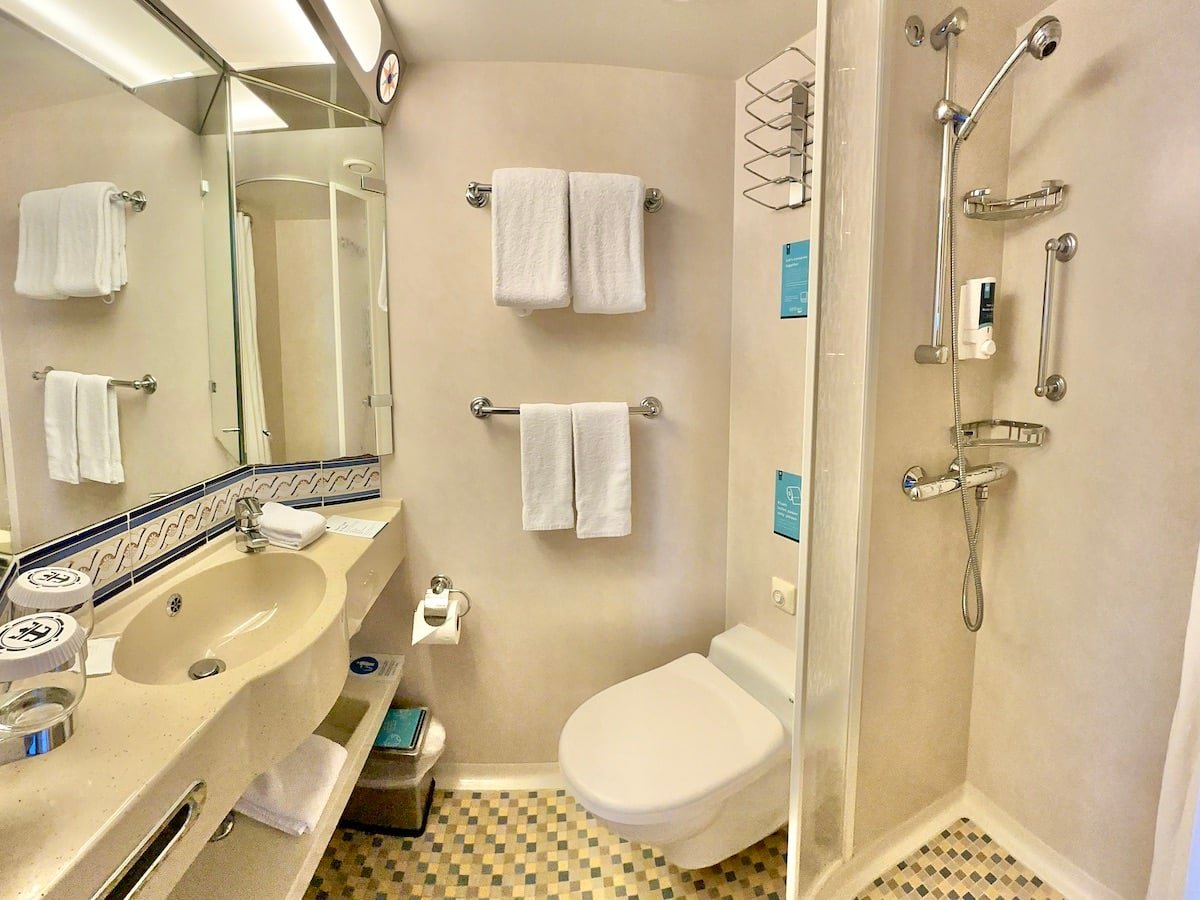 Following the move, I noticed a downgrade in toilet paper quality. The aft balcony bathroom had been furnished with a thick Charmin-style toilet paper, but the starboard balcony had a thin lower-grade toilet paper. I mentioned it to my cabin steward, and he acknowledged that there were two types of toilet paper. I told him that when given cheap toilet paper, guests will just use more of it, but he never upgraded my bathroom to the higher-grade paper.
Both of my stateroom stewards were friendly, attentive, and diligent workers.
• Stateroom TVs do not have on-demand television and movies.
---
I was surprised to discover that stateroom TVs on the Brilliance of the Seas do not have a graphic interactive interface (like Netflix) that is the industry-wide standard these days. Stateroom TVs on Viking, Princess, and Norwegian all function this way, and the the applications are many.
Because the first leg of my cruise was so busy with ports every day, I never even turned on my TV until the second leg when we had a day at sea. I thought I might scroll through the list of on-demand movies, but such a feature did not exist. There were several live TV channels, a ship GPS location channel, a bridge cam channel, a scrolling activities channel, and that was it.
I spoke with seasoned RCI guests, and they said this was standard across the fleet. The only movies on the Brilliance of the Seas are those projected in theaters, by the pool, or whatever may be showing on a live TV channel.
• Royal Caribbean ships do not have launderettes.
---
Self-service laundry facilities do not exist on any ship in the RCI fleet due to "safety concerns." They do, however, offer guests a fee-based washing, pressing, and dry cleaning service.
The most cost-effective option you will have is the $34.99 fill-a-bag wash & fold special for small items, typically offered once or twice per sailing. The articles of clothing that qualify for the laundry special are pajamas, socks, shorts, swimwear, T-shirts, and underwear.
• The Brilliance of the Seas has a promenade.
---
One of the reasons I prefer older ships is that they have promenades. There is nothing like a broad covered outdoor deck that circumnavigates a ship for getting exercise during days at sea, especially on transoceanic crossings.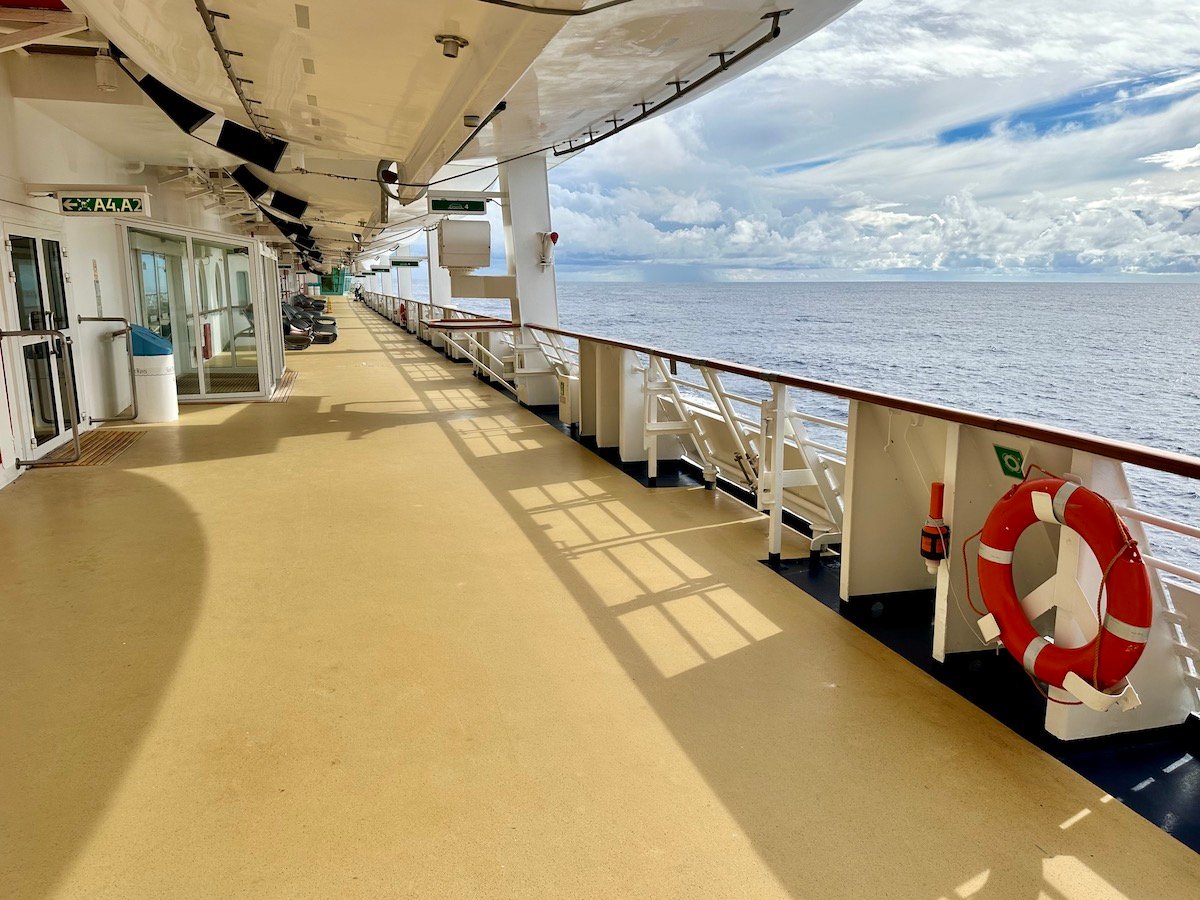 The Brilliance of the Seas has a U-shaped promenade on Deck 5 with stairs that lead to and from Deck 6 at the bow, making it possible to walk continuously around the ship without having to change directions.
During the 8-day transatlantic passage, I was out there every day, listening to music and walking to get in my 10K+ steps. In a perfect world, it would have been ideal for exercise, relaxation, fresh air, and scenic views sheltered from the sun.
But peaceful strolls around the promenade not necessarily that. There were external factors and sensory conditions that detracted from my daily onboard excursion.
Painting and maintenance projects were ongoing, resulting in unexpected cordoned-off areas along the deck. There were extended emergency drills for crew members two days in a row. They never closed off these sections of the promenade, but it made it difficult to navigate through all of the people amassed at locations around the ship.
Loudspeaker updates by the captain and hyped announcements from the cruise director punctuated the peace and quiet of the promenade. And a smorgasbord of smells from paint fumes, the smoking section, and sewer vents permeated select areas along the deck.
I respect the need for safety drills and ship maintenance, but I have often wondered why smoking sections and wastewater treatment vents cannot be relegated to the upper decks.
• Ship WiFi is inconsistent at best.
---
Because I post daily travel photo updates for followers on my personal Facebook page, I purchased RCI's top-tier VOOM Surf + Stream WiFi package. Not unlike Princess Cruises with its MedallionNet marketing, RCI claims to have the fastest WiFi at sea. Neither of them are that great, especially on transatlantic itineraries. I should know.
I understand that Internet service may have interruptions while crossing oceans. My problem is with the marketing. Don't engage in false advertising and promise something you can't deliver. And don't force your valued guests to stand in interminable lines at ship Internet cafés to seek resolution.
Because an occasional Internet signal was getting through, and I didn't want to be without that, I stood in line to request a refund for the difference between the VOOM Surf and the VOOM Surf + Streaming package. The Internet Café agent issued me a refund without hesitation, crediting nearly $150 to my onboard account. Because I had paid for part of the Internet package with a credit card, I received a credit to my Visa account at the end of the cruise.
In August 2022, RCI announced a fleetwide partnership with SpaceX for Starlink broadband satellite internet. Exact dates were not given, but the installation and rollout began almost immediately.
I learned that the Starlink hardware was already aboard the Brilliance of the Seas during my cruise, and it is expected to go live in December 2022.
Starlink is scheduled to be activated on all ships by the first quarter 2023. To date, there has been no price increase on ships where Starlink has been installed, but I expect that will change with completion of the fleetwide retrofit.
• Complimentary spa facilities require reservations.
---
Back in the day, cruise lines offered complimentary spa facilities for guests. Cruise ships featuring separate-gender steam and sauna facilities were the norm.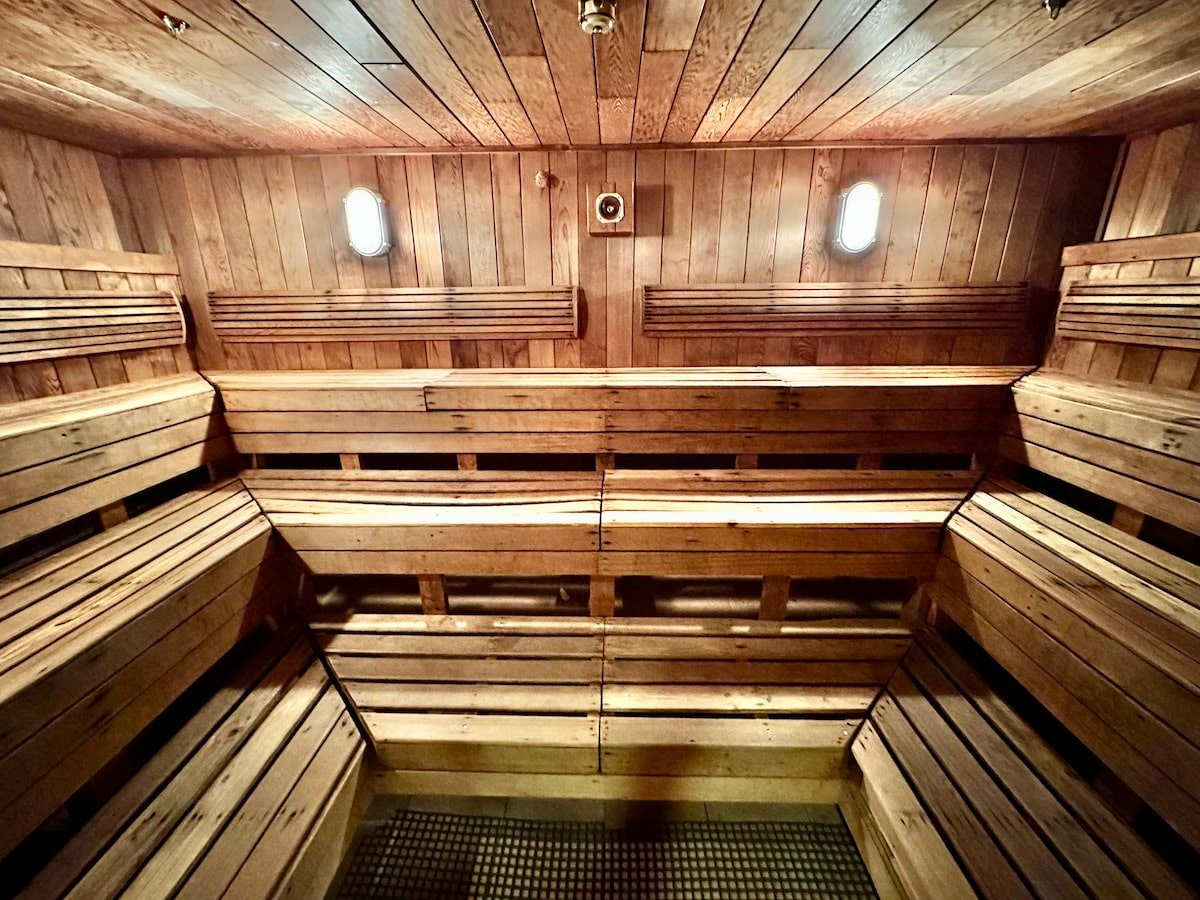 In recent years, ship designs industry-wide have replaced complimentary facilities with fee-based coed thermal suites as part of their marketing plans.
Although I do not purchase spa packages, I always do a walk-through of ship spa facilities to take pictures for my stories. During my tour of the Brilliance, I learned that as an older ship they still have complimentary facilities, but now you have to make reservations at the spa desk. I understand appointments for fee-based spa treatments, but isn't random relaxation the point of thermal facilities?
• Guest services do not provide advance port information or maps.
---
I do not love cruise ship excursions for all the reasons every cruiser already knows. I typically explore cruise port destinations on my own, only booking ship excursions for transportation to distant attractions or remote locations. For example, on this itinerary I booked transfer excursions from Messina to Taormina and Naples to Pompeii to do self-guided tours on foot.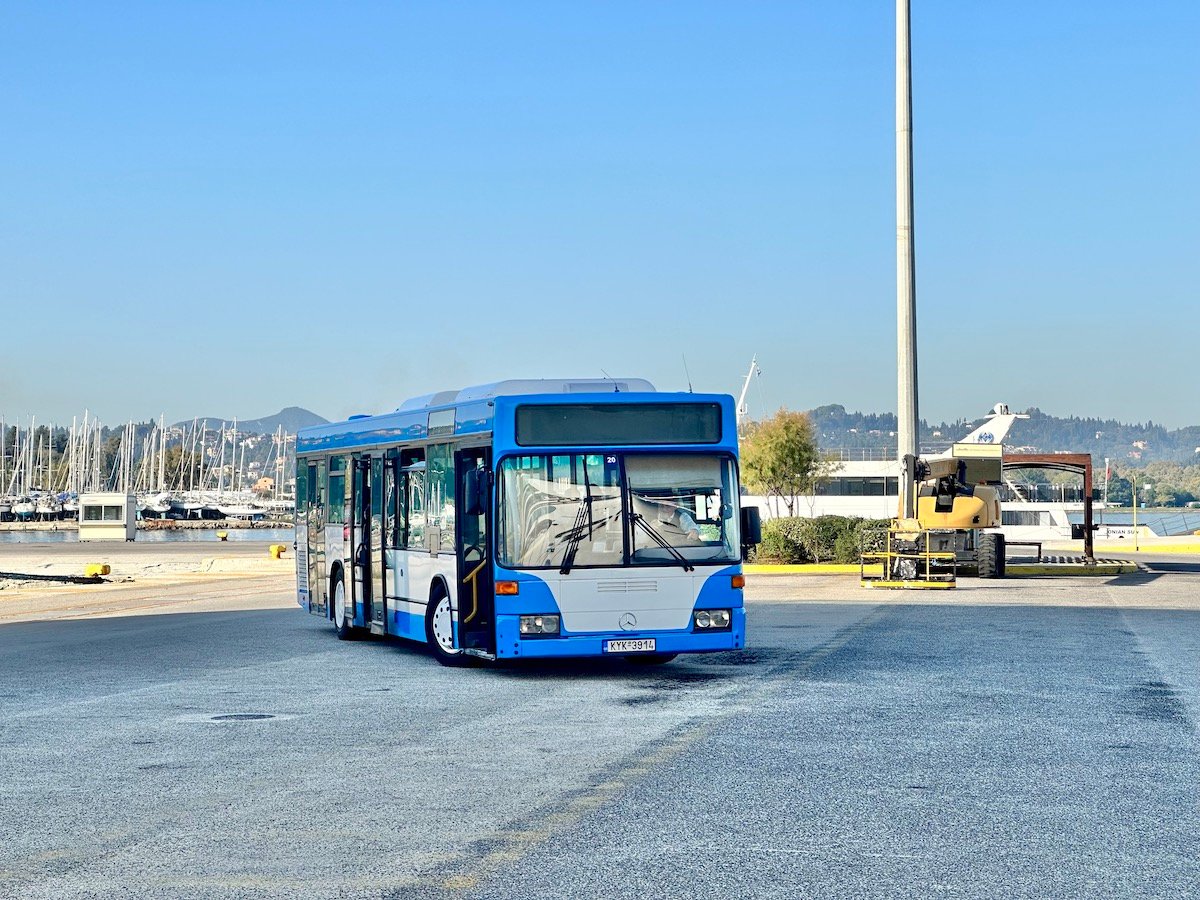 On days when the Brilliance was ported in close proximity to cities, I would disembark to explore on my own, never knowing quite what to expect. Occasionally, there were complimentary shuttles from the pier to the cruise terminal and sometimes shuttles from the terminal into town.
In Corfu, there was a paid shuttle (€11) into town which I and other guests did not discover until we were off ship. Someone had mentioned to me that there was a city bus stop at the end of the parking area, so I headed there and caught a bus to town for less than €2.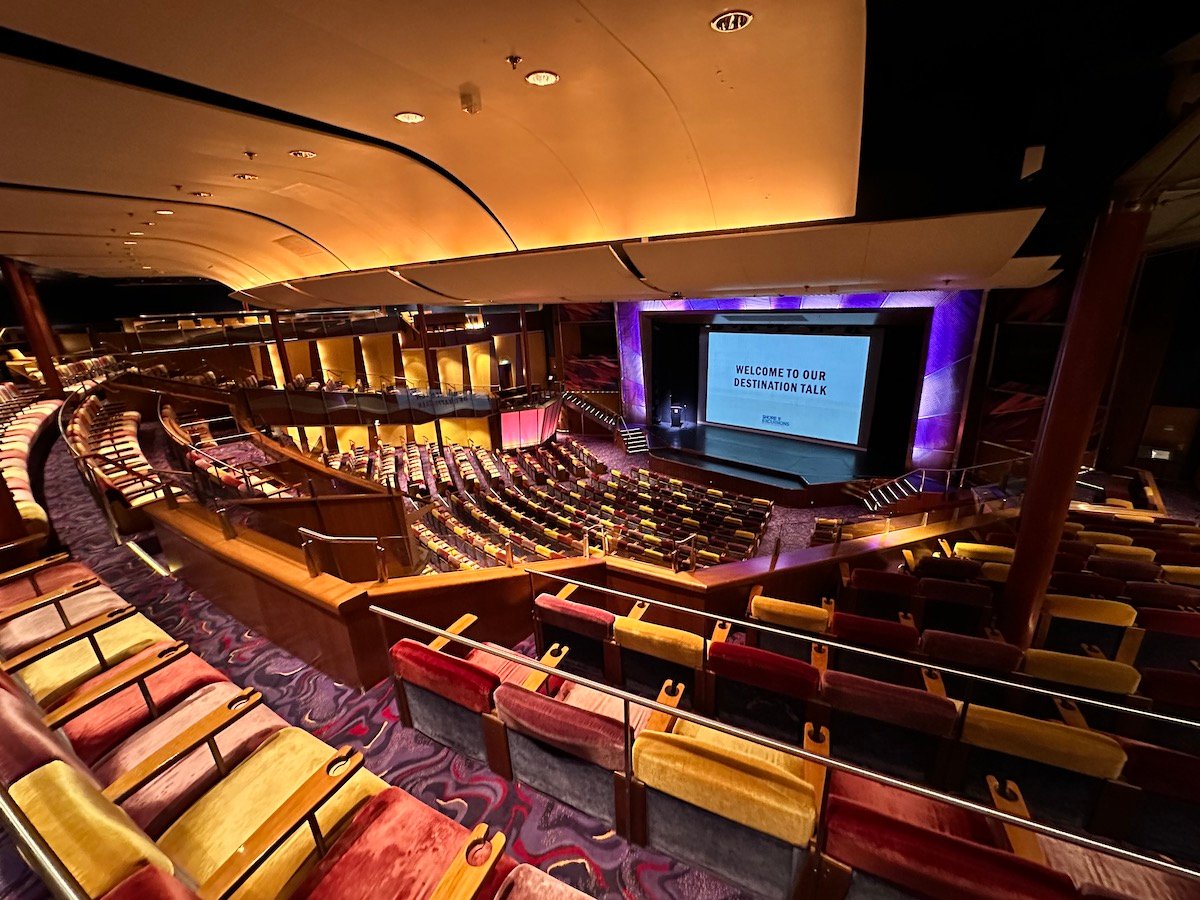 I attended one port talk in the Pacifica Theater, but it was nothing more than an excursion sales pitch. On other cruise lines, destination talks typically mention key sites to visit, and daily newsletters provide important port information, often including port guide inserts and maps marked with key sites to visit.
On the Brilliance, zero port information was provided other than the time to be back on board. If you plan to explore a port on your own, you will need to do your own research in advance or head to the local tourism office when you get off ship.
• Headliner and production shows are "cruise ship" quality.
---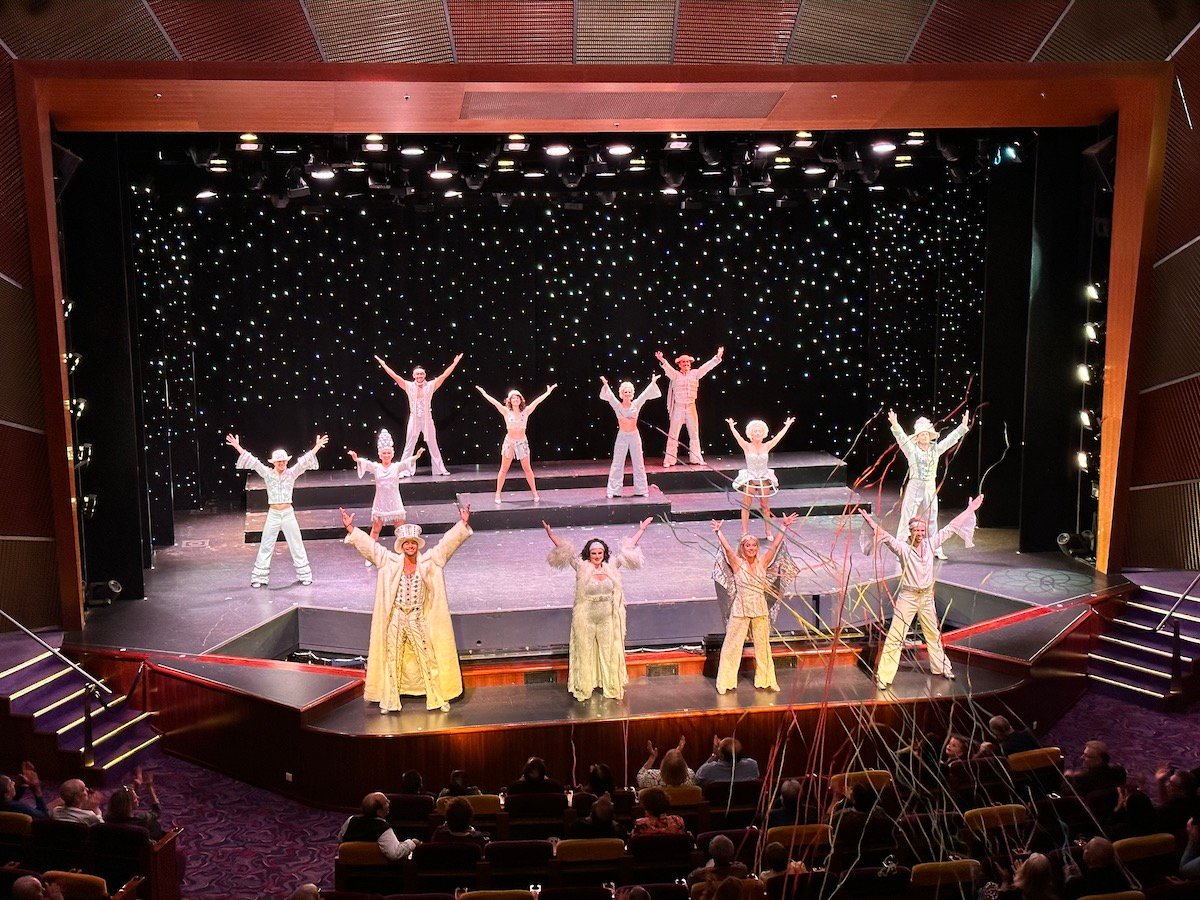 I am not one to indulge in nightly shows on any cruise, but I occasionally take in a headliner concert or production show.
I should probably preface my comments by saying I recently returned from a cruise on the Norwegian Prima where the featured show was the Tony-nominated Donna Summer Musical, a production that blew me away. I learned that RCI also has Broadway-quality shows on some of its larger ships, but that quality was not present on the Brilliance of the Seas.
One evening early in the cruise, I attended Now & Forever, a song and dance production show. Aside from one talented female vocalist, I found the singing and dancing just okay. Stage and production design elements were few, and the costumes were drab.
I also attended a headliner concert with the male trio Vocal Xtr3me. The set list featured covers of hits by male rock bands. The show was entertaining, but the vocals were frequently pitchy and the harmonies were not as tight as they could have been.
Two shows on a 21-day cruise was enough for me, although I am sure other guests were delighted with the quality of entertainment.
• Royal Caribbean gratuities are stacked.
---
I do not mind paying for great service, and I typically tip very well. But I don't like when situations and circumstances leave me feeling squeezed dry. I felt that way frequently during my first experience cruising with RCI.
After booking my B2B cruise, I received a notification from my travel agent that Royal Caribbean would be increasing the standard cabin daily gratuity rate from $14.50 to $16.00 per day. I could choose to pay the current rate in advance or pay the new rate at the end of the cruise. I chose to pay in advance, but it left me feeling like I had been trapped by a bait and switch scheme. How can rates be raised after a cruise has been booked and paid in full?
Specialty dining, beverage packages, and individual beverage orders all impose an 18% gratuity service charge. This practice is not limited to RCI alone; it is the standard industry-wide. I don't like it, but it is what it is.
But that is not all.
At the end of a specialty dining meal or when ordering a premium beverage without a package, the guest is presented with an itemized receipt that includes not only the imposed gratuity, but also a line for an additional tip. Every time I was presented with a receipt, I got the feeling that the server expected me to add an additional tip, and I resented the way it made me feel. Sometimes I felt guilted into adding an additional amount and other times I rebelled and refused. Norwegian has this practice, as well, but with the new(ish) Princess medallion, it is no longer part of onboard transactions.
My experiences and observations may give readers the impression that I am a Scrooge, but I am not. I prefer giving additional tips to crew members who provide exceptional service at my discretion, not when it is expected.
• Brilliance of the Seas dining options are a mixed blessing.
---
My first meal aboard the Brilliance of the Seas was lunch in one of the main dining rooms shortly after boarding in Ravenna. There are two Minstrel dining rooms, one directly above the other on Decks 4 and 5. I don't recall everything I ordered, but I remember that the Caesar salad and beef rib were pretty good.
I returned to the dining room once for dinner and once for breakfast and then never returned. At dinner, I ordered the shrimp cocktail and French onion soup, two of my standard dishes when cruising with Princess. The shrimp cocktail was okay, but the soup was watery and flavorless. I ordered a pesto pasta for my entree and sent it back for the same reason. I have yet to understand how dishes whose main ingredients are onions, garlic, and basil can be so bland. The breakfast burrito was just strange. The filling was hard and didn't taste that great.
I went to one specialty restaurant, Izumi Sushi. Having enjoyed sushi on Viking, Princess, and Norwegian, I wanted to try it out. I ordered a Rainbow roll, the RCI version of a California roll topped with sashimi. I don't eat raw sushi, and I know the ingredients for a California roll are cooked. When I inquired about the sashimi, the waiter told me the chef could cook the seafood. When the dish arrived, it appeared that the entire roll had been baked. It tasted okay, but the texture was off.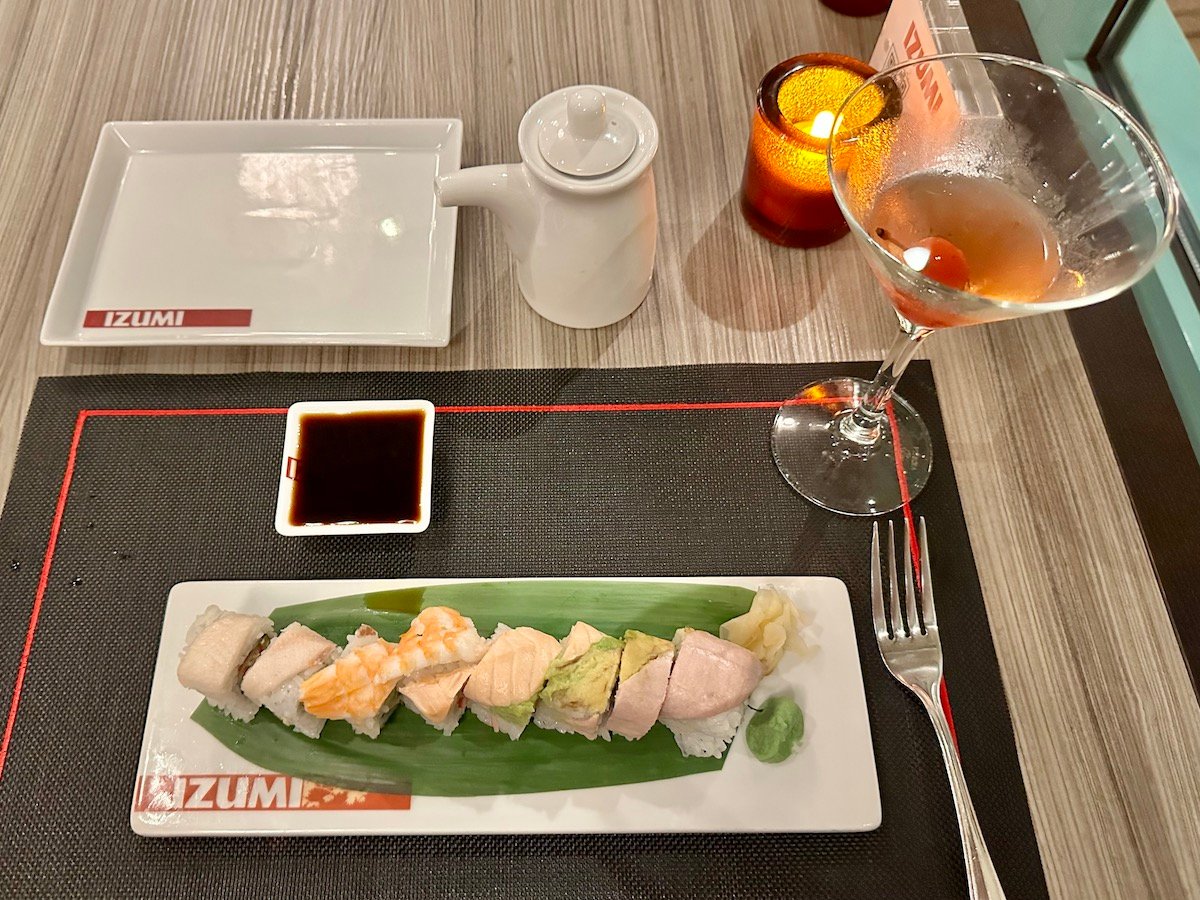 When the waiter delivered my check, it showed a $14 charge for the sushi, a $2.52 gratuity, and of course room for an additional tip. I had also ordered a Cosmo to drink, but it was missing from the check. When I mentioned this to the waiter, he returned to his station and then presented me with a check showing a $13 charge for the cocktail, a $2.34 gratuity, and again room for an additional tip. All things considered, the specialty dining experience just wasn't worth it to me, and I never went back.
The complimentary Windjammer buffet would be my dining option for the remainder of the cruise.
My first impression of the buffet was that it was bountiful, but bland. Several of the dishes I tried initially had little flavor, much like those in the main dining room. I decided I would have to sample buffet selections until I found a few items to suit my palate.
When I am home, I live on salad, so I love a good salad bar. The Windjammer salad bar was always well-stocked with standard salad items, plus a fine selection of exotic ingredients such as sun-dried tomatoes, marinated mushrooms, and garlic-grilled eggplant. Even during the 8-day transatlantic crossing the salad vegetables were always fresh and plentiful.
Occasionally, an item such as tomatoes would be missing from the salad bar. I soon learned that I could find tomatoes at other locations such as the fast food grill, pasta station, or panini station. The panini station also offered a selection of cheeses, creamy egg salad, and rotations of tuna, chicken, ham, and salmon salad.
The only negative of the salad bar was the salad dressing selection. I tried all of them, and they were all flavorless concoctions worse than dollar store knockoffs. My solution was to dress my salads with olive oil and balsamic vinegar.
The kitchen also prepared potatoes very well. I knew I could always count on excellent mashed potatoes, scalloped potatoes, Niçoise potatoes, roasted potatoes, and more.
There were many themed nights featuring ethnic foods, and in my opinion too much of the daily buffet real estate was dedicated to Indian cuisine.
There were carving stations featuring poultry, beef, pork, lamb, and fish on a rotating basis. I really enjoyed the beef rib dish. The meat was boneless and tender and reminded me more of a Sunday roast.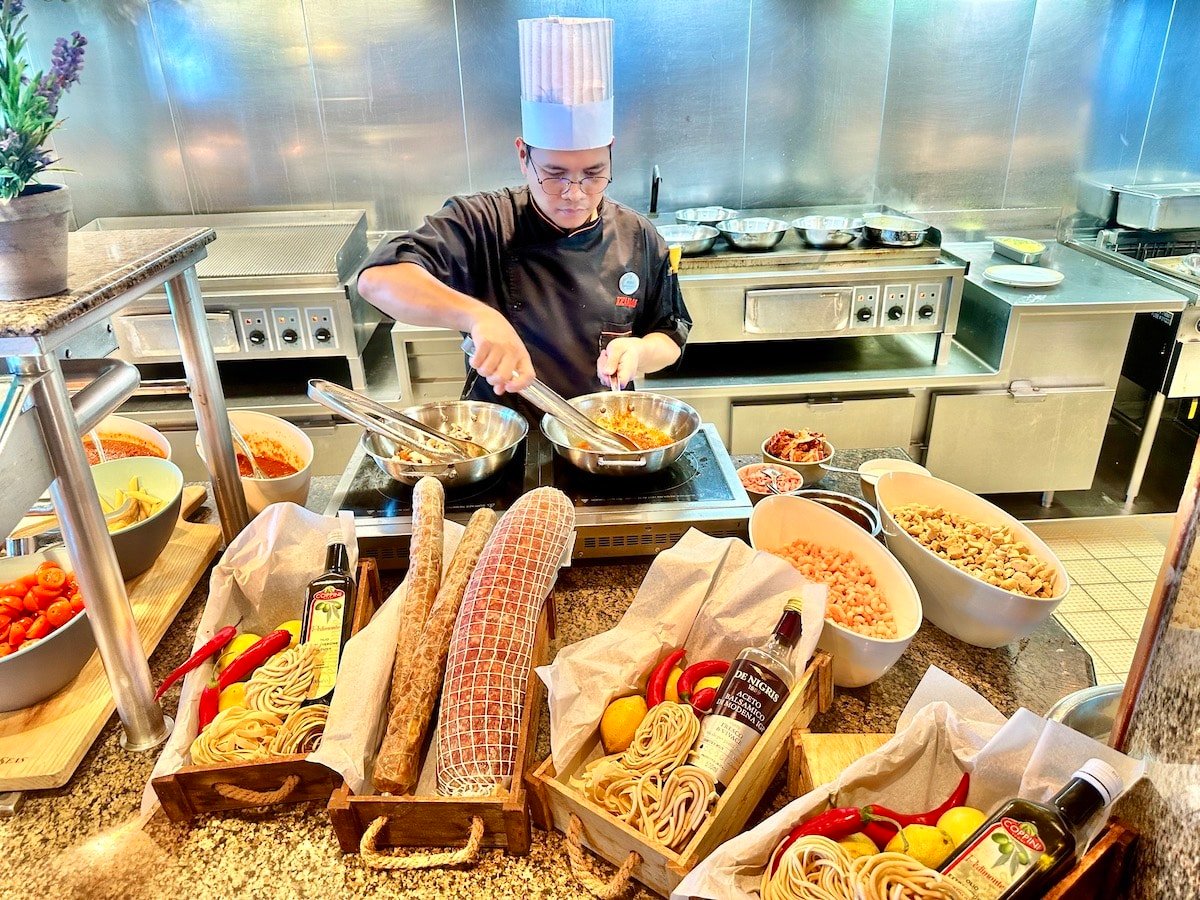 Ultimately, I was able to discover other great dishes. Although I did not like waiting in line, the spaghetti Bolognese from the pasta station was delicious. And I loved the hand-battered fish & chips on British nights. Hamburger patties were tender and flavorful, unlike the Princess hockey pucks. And I really enjoyed the black beans and rice served on Caribbean night.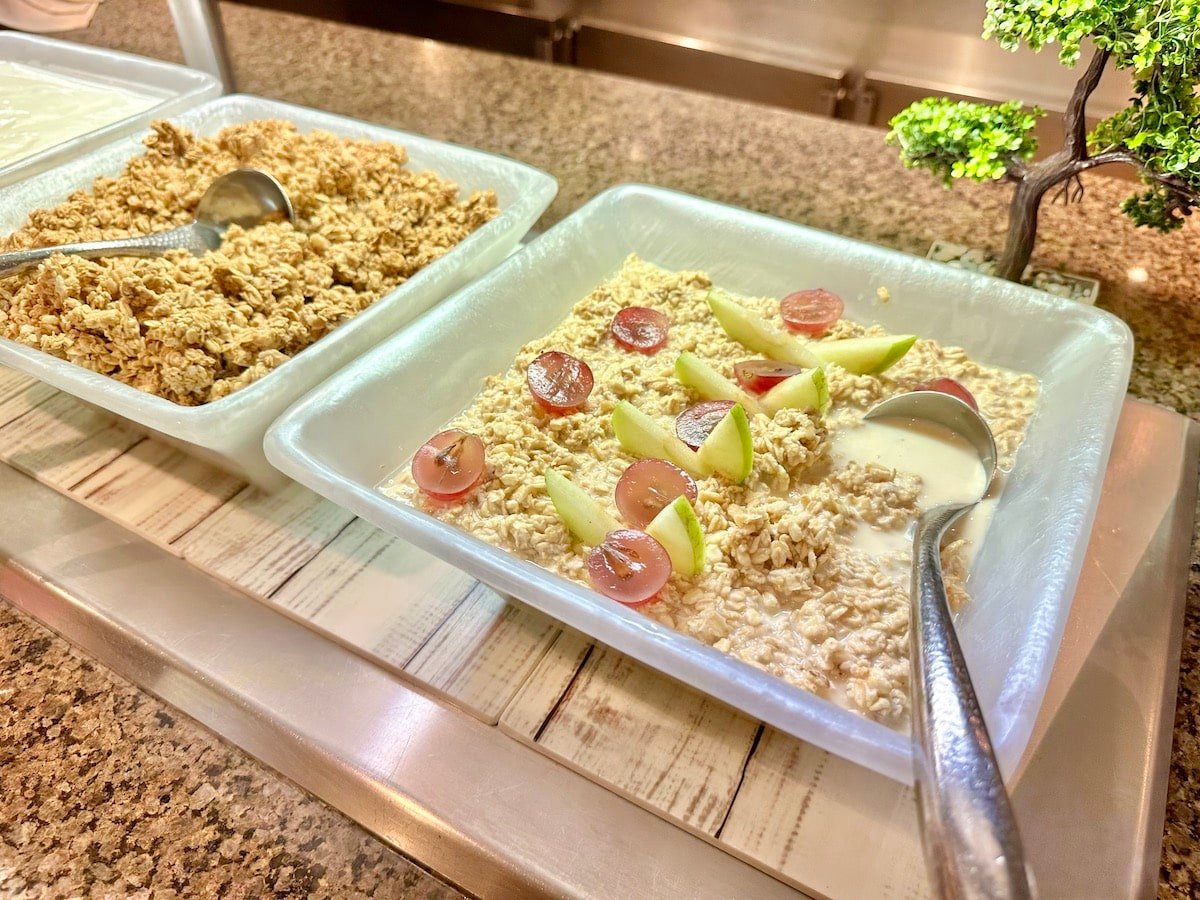 The breakfast buffet offered everything under the sun. My standard breakfast was two or three fried eggs, bacon, and bircher muesli. It wasn't Viking muesli, but it was very good. I typically enjoyed a glass of tomato juice with my breakfast.
There were lots of fancy desserts that I never sampled. I gravitated to the soft-serve ice cream, even though I would have to travel to the crepes station for syrups and toppings. I ate a lot of fresh-baked cookies, especially the macadamia nut, but unfortunately there were never any peanut butter cookies. Surprisingly, the key lime pie was pretty good, and as a native Floridian, I can be a key lime pie snob.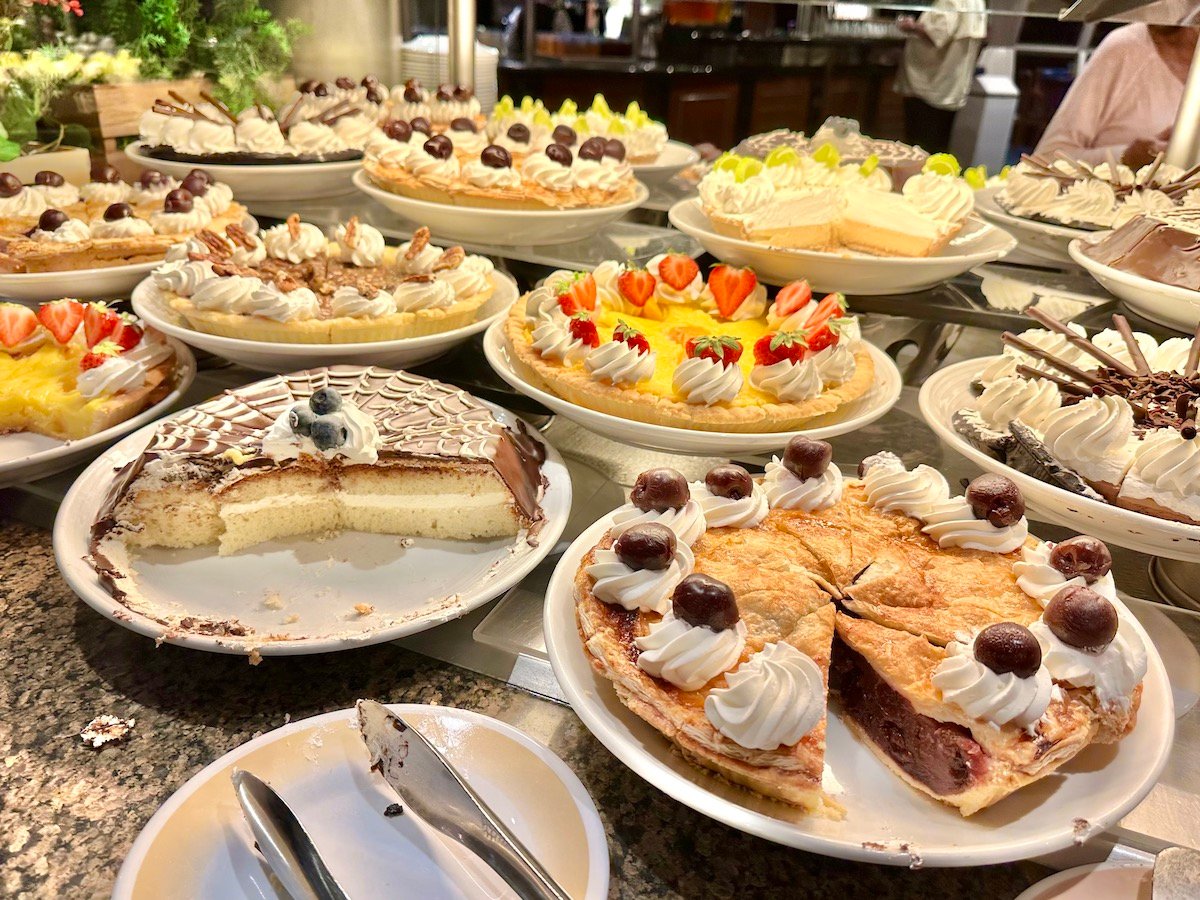 Windjammer beverages were not the best. Many times the prepared-in-advance juices were watered down from melting ice, but it was never a problem to request a fresh glass with lots of ice. I still don't understand why sodas have to be purchased separately or as part of a beverage package when they are so cheap at home, with unlimited refills at fast food restaurants and mega to-go cups from convenience stores.
One of the downsides of being a solo traveler with any cruise line is reserving your table when making a second trip to the buffet. I am not sure whether it is because they are pressured to look busy, but the buffet waitstaff are eager to clean tables and sweep plates out from under you. Maybe it's just me, but I got annoyed with waiters wiping down my table while I was still eating. Anyway, it was not a rare occurrence to have to play musical chairs when returning from the buffet to find someone else in my seat.
• Beverage package prices are exorbitant.
---
Ranging between $80 and $90 per day, depending on time of purchase, the RCI beverage package was cost-prohibitive for me. Although I enjoy the freedom of ordering an adult beverage at leisure, it just wasn't worth it. For a 21-day B2B itinerary, I could book another cruise with the amount I would have spent on beverages.
I decided I would just order a cocktail on occasion, but even that proved not to my liking. The cocktails I ordered were weak, skimpy, lacking in flavor, and disappeared after a few sips. The price of a handcrafted margarita was $13, plus a $2.34 gratuity, and an additional tip was expected when the bartender presented the tab. It just wasn't worth it to me, so most days I did without.
• Bottled water is not available for purchase on board.
---
I drink fiber (like Metamucil) daily to stay regular. That may be TMI, but I highly recommend it. I typically prepare my grainy cocktail with purchased bottled water on Princess, purchased cartoned water on Norwegian, and complimentary carafe water on Viking.
The only packaged water available for purchase aboard the Brilliance were small cans from the bar (perhaps 8 or 10 oz., but not enough for a standard fiber recipe). Priced at $2.50, plus an imposed 18% gratuity service charge, plus an expected additional tip, I thought it ridiculous.
One crew member told me I could buy bottled water in one of the shops. Not so. A shop crew member told me I could order bottled water through room service, but I did not attempt it because I thought the whole premise was stupid.
I ended up bringing occasional bottles of water onboard in my daypack, and ship security never stopped me. Sometimes my only option was bathroom tap water which tasted like chlorine.
• The Café Latté-tudes coffee bar is a great hangout.
---
Like most cruise lines, crappy coffee is served at the main dining rooms and buffet, but you can buy premium espresso-based coffees at the Café Latté-tudes coffee bar on Deck 5.
During the early days of my cruise I did not frequent the coffee bar, thinking I would just drink coffee from the buffet. But during days at sea, hanging out at Café Latté-tudes became part of my morning routine.
There were only two baristas working the café, so there was always a wait for coffee. One barista took orders while the other made the coffees. They were both good-natured and worked their asses off. Sometimes a white-shirt executive would help them out.
Although the 18% gratuity was assessed on coffee orders, there were no paper receipts with expected additional tips to sign. In hindsight, purchasing a coffee package probably would have been more economical.
The best part of hanging out at the coffee bar was meeting other guests on board. I learned so much from other cruisers, not just about Royal Caribbean, but travel in general and other topics, as well. On my first day at the café, I eavesdropped on a lively conversation. A lady with more than 300 cruises under her belt was openly airing her concerns with the behavior of Pinnacle people.
• Some guests are "Loyal to Royal" and want you to know it.
---
I understand the purpose of loyalty programs, and I am nearing Elite status on Princess as I write. But there is a phenomenon on RCI that I have never witnessed before.
Pinnacle is the top tier of the Crown & Anchor Society, Royal Caribbean's loyalty program, achieved after cruising 700 nights with RCI. You read me right, the equivalent of more than two years at sea. One of the benefits of reaching Pinnacle status is that members are issued personalized lapel pins.
According to the lady holding court at the coffee bar, some of these people were displaying elitist, entitled attitudes that angered other cruisers. From that point on I kept my eyes open, and sure enough I started spotting lapel pins.
I never learned what wearing the pins accomplished. Perhaps the pins gave wearers bragging rights or perhaps they notified crew members to provide preferential treatment. All in all, I thought it juvenile and silly. After all, I have met academic scholars with earned Ph.Ds who insist that they be called by their first names.
Perhaps readers can clarify what all the Pinnacle to-do is about in the comments at the bottom of this page, or maybe the topic isn't worth the bother.
• Crew members are friendly and helpful.
---
Crew members on most cruise lines are outgoing and attentive, but I found them even more accommodating aboard the Brilliance of the Seas.
The greeters at the Windjammer buffet were perhaps the most gregarious. The breakfast and dinner greeters were especially so, individuals with genuine big personalities who understood that welcoming and spreading joy to guests was their job.
Many of the white shirt ship executives were readily available to guests, mingling wherever guests gathered to entertain feedback, listen to concerns, and offer assistance. The food & beverage manager was perhaps the most visible officer, speaking to everyone, cracking jokes, and never appearing rushed.
---
Would I Cruise the Brilliance of the Seas Again?
---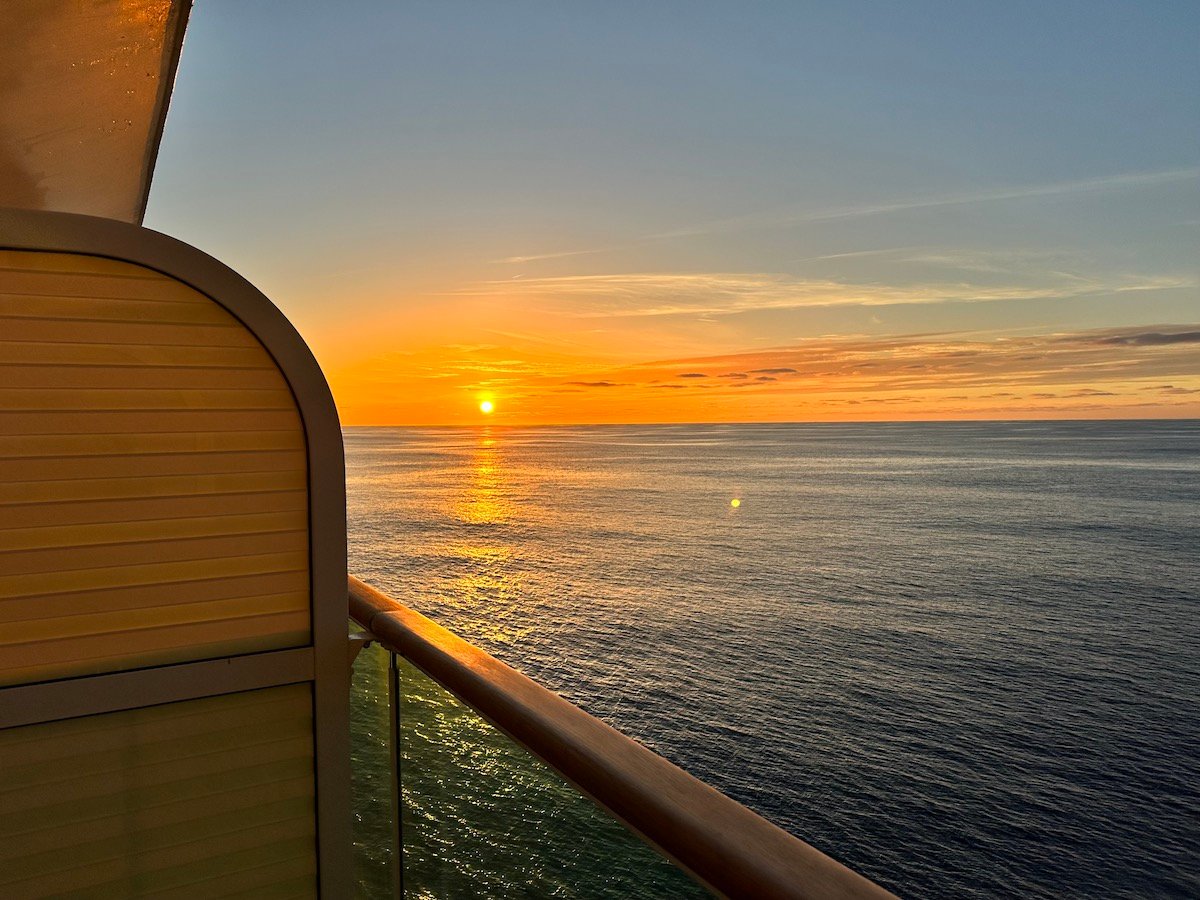 Like all cruise ships, the Brilliance of the Seas has some issues, but it has many wonderful qualities as well. I was quite comfortable in both of my staterooms. Dining was consistently satisfactory after I figured out the buffet offerings. And most crew members were lovely people who treated me exceptionally well.
So let there be no doubt. I would absolutely cruise the Brilliance of the Seas again.
If I locate a great itinerary, and if the price is right, that is.
---
I Would Love to Hear From You
---
I enjoy dialogue with Backroad Planet readers, especially when they share off-the-beaten-path destinations and useful travel tips. Have you ever sailed aboard Royal Caribbean's Brilliance of the Seas? If so, I would love to hear about your experience. I invite you to leave your comments and questions below, and I always respond!
---
Pin this Post!
---