(a

26

minute read)
---
Viking Expeditions has redefined expedition cruising with the launch of two polar class ships! Tour the Viking Octantis & Polaris, and then plan a voyage of your own.
---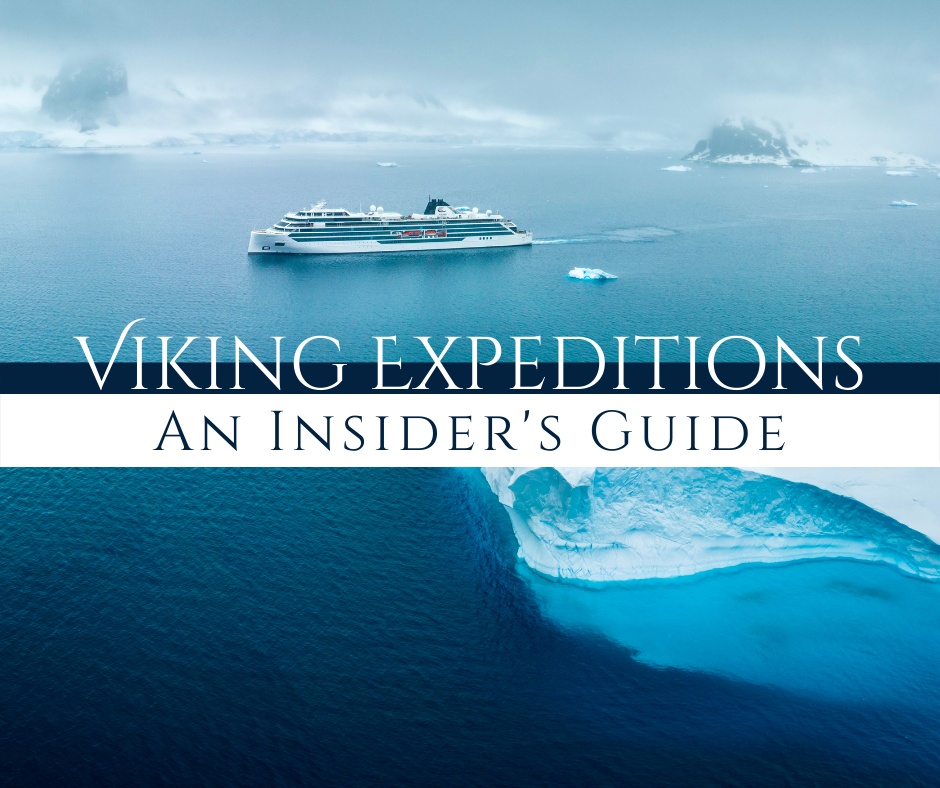 I was a guest of Viking Expeditions, but all thoughts and opinions are my own. This post may contain affiliate links. Please refer to our our Disclosure/Disclaimer page for more information.
---
Note: This post is a detailed, visually-intensive guide to Viking Expeditions. It begins with an overview of the brand, introduces the expeditions market, and reveals behind-the-scenes descriptions of the polar class ships.
Please use the Table of Contents to navigate to sections of interest. The arrow to the right of your screen will instantly take you back to the top of the post.
---
---
Viking & Me
---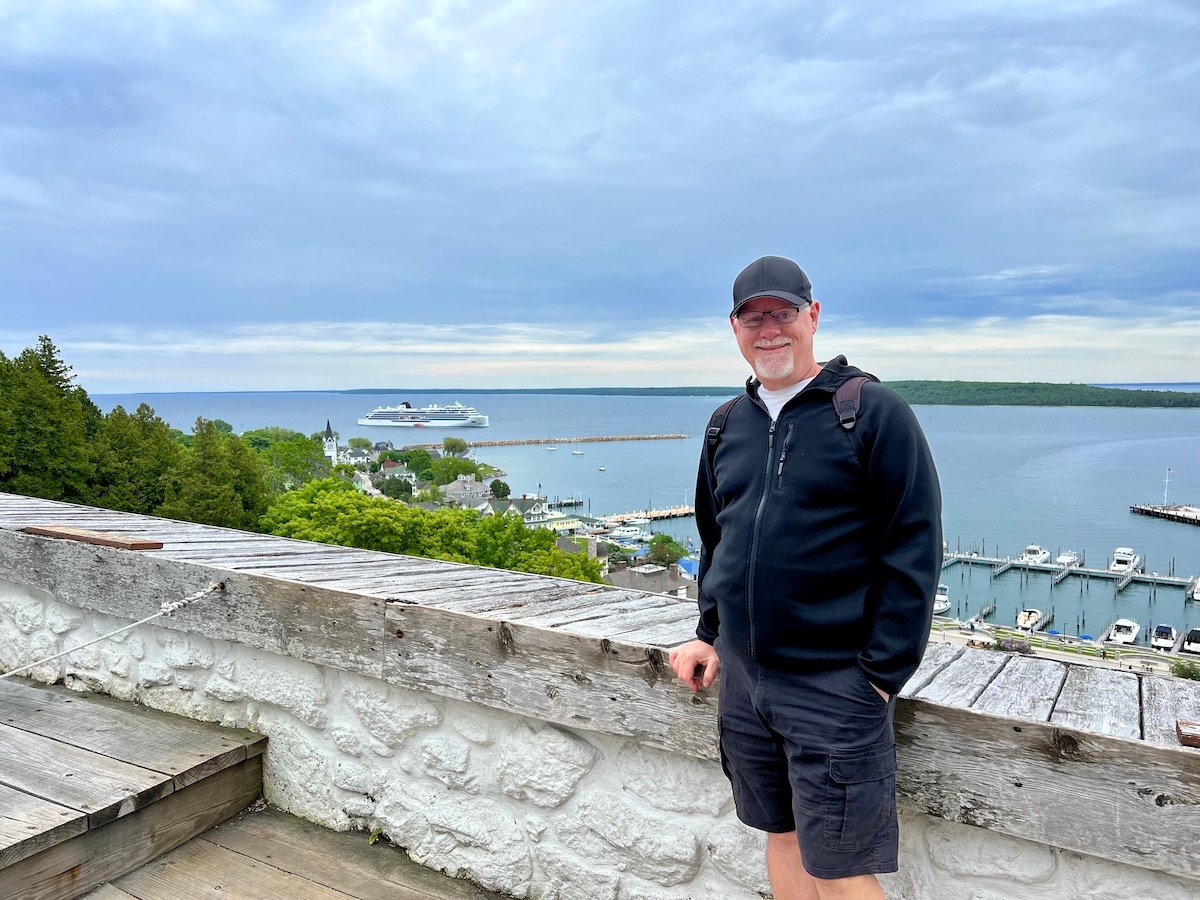 I first sailed with Viking in 2014, one year before becoming a full-time travel writer at Backroad Planet. In 2015, as a fresh-faced novice, I began an ongoing partnership with Viking covering many media events and sailings. You can find links to those stories at the end of this post.
When I embarked on my first sailing, Viking was a river cruise line. A year later Viking entered the ocean market, and I sailed on the Viking Star during its inaugural season.
Having dominated river cruising and reinvented ocean cruising, Viking Expeditions began its inaugural season in early 2022 by sailing its first polar class ship, the Viking Octantis, to Antarctica. Expedition itineraries will double in the fall of 2022 with the launch of sister ship, the Viking Polaris.
As an incurable Viking rivers and oceans fanboy, I had been following the expeditions newswire, and I was chomping at the bit to check out the expedition vessels. My introduction came sooner rather than later when I boarded the Viking Octantis for an 8-day Great Lakes Explorer itinerary from Milwaukee to Thunder Bay.
It didn't take long to realize I had discovered my newest favorite ship.
The day I boarded the Octantis, I attended a media briefing with Viking Chairman Torstein Hagen. Before introducing Viking Expeditions and the new polar class ships, the multi-media presentation gave an overview of Viking as a brand, illustrating how the company has grown and expanded in the past 25 years.
This content is key for any potential guest, and so I decided to include it in this guide as an introduction to my inside experience onboard.
---
The Viking Brand
---

One of Viking's registered trademarks is "The Thinking Person's Cruise®. This guiding principle is evident in every aspect of the cruise experience on rivers, oceans, and especially expeditions.
The Viking Guest Demographic
---
Research shows that the average Viking guest is:
55+ years old
English-speaking
Curious & active
Well-educated
Interested in history, science, culture & music
Affluent
I match all of the descriptors but the last one, so i should come as no surprise that Viking is my favorite cruise line.
A Thinking Person's Travel Experience
---
To meet the needs of their clientele, Viking has designed a travel experience with
Small ships
Understated elegance in decor
Quiet & calm ambience
Familial feeling among staff
Destination-focused itineraries
Extensive onboard enrichment
All-inclusive amenities
What You Will Not Find With Viking
---
Viking stands apart from other lines for the many things they do NOT do. If you seek a booze cruise or party boat experience, you will need to look elsewhere, because on Viking there are:
No umbrella drinks
No casinos
No smoking in interior spaces
No art auctions
No photography sales
No spa sales pressure
No charge for alternative restaurants
No nickel and diming
In keeping with Viking's promise of "Exploring the World in Comfort," there are also:
No children under 18
No inside staterooms
No fee for the Nordic Spa
No charge for Wi-Fi
No charge for use of launderette
No charge for beer & wine at lunch & dinner
No formal nights, butlers, or white gloves
No unvaccinated guests, crew, or visitors
No waiting in line
If you are looking for casinos, waterslides, or wet T-shirt contests, there are plenty of cruise lines that cater to that demographic. You won't find those "amenities" on Viking, and for this I am grateful.
Viking Statistics & Awards
---
Considering that Viking Cruises formed in 1997, it is amazing how the company has grown within the space of 25 years.
With a fleet of 97 ships (including vessels currently under construction), Viking now sails to:
7 Continents
88 Countries
5 Oceans
18 Rivers
5 Great Lakes
418 Ports
Viking crew members represent 84 nationalities with an 81% retention rate.
To date, Viking has won more than 250 river and ocean cruise awards, consistently ranking at the top of the Condé Nast Traveler Readers' Choice Awards and the Travel + Leisure's "World's Best" Awards.
2022 marks the launch of the Viking Mississippi ship and the inaugural season of the Mississippi River itineraries, as well as new ships for the Nile and Mekong Rivers.
---
Viking Expeditions Ships
---
Viking's first two expedition ships, the Octantis and the Polaris, take their names from the South Star and North Star respectively.
The ship godmothers are two of the world's greatest living explorers. Norwegian adventurer Liv Arnesen, godmother of the Octantis, was the first woman to ski solo and unsupported to the South Pole. Ann Bancroft, an American explorer and godmother of the Polaris, made history when she became the first woman to reach both the North and South Poles.
Architectural & Engineering Design
---
Designed to explore the world's most rugged and remote destinations in comfort, the Viking Octantis did not disappoint. As exploration vessels, scientific research facilities, and immersive classrooms, Viking's expedition ships are outfitted with all the equipment needed for meaningful excursions and enrichment activities.
At the same time, all of the creature comforts, including spacious public areas, complimentary spa facilities, abundant amenities, and world-class dining let you never forget you are sailing on a luxury liner.
The same interior designers, nautical architects, and engineers that designed the river and ocean fleet, spent countless hours designing expedition ships suited to their purpose: small enough for efficient landings on polar ice or seldom-visited ports in remote areas, slender enough to navigate narrow canals and locks, yet spacious enough to house exploration vessels, and large enough to provide speed and stability in rough seas.
The ship's lovely slender design was most evident in hallways and open corridors.
I realize the average guest might easily get bogged down in design specifications, but some of these features are too cool not to mention.
Fin stabilizers reduce rolling while sailing, and a U-Tank stabilizer reduces rolling by nearly 50% when the ships are stationary or sailing at low speed. Without question, the Viking Octantis delivered the smoothest sailing I have ever experienced. Many times I did not even realize the ship was moving.
Dynamic positioning allows the ships to hover in place. This means that no anchor is needed, preventing consequential damage to the sea floor. It also provides a more stable small craft embarkation for shore landings.
This feature is key because with the exception of the embarkation and debarkation ports, virtually every excursion on my itinerary required a shuttle to shore, or another craft, by either tender boat or Zodiac.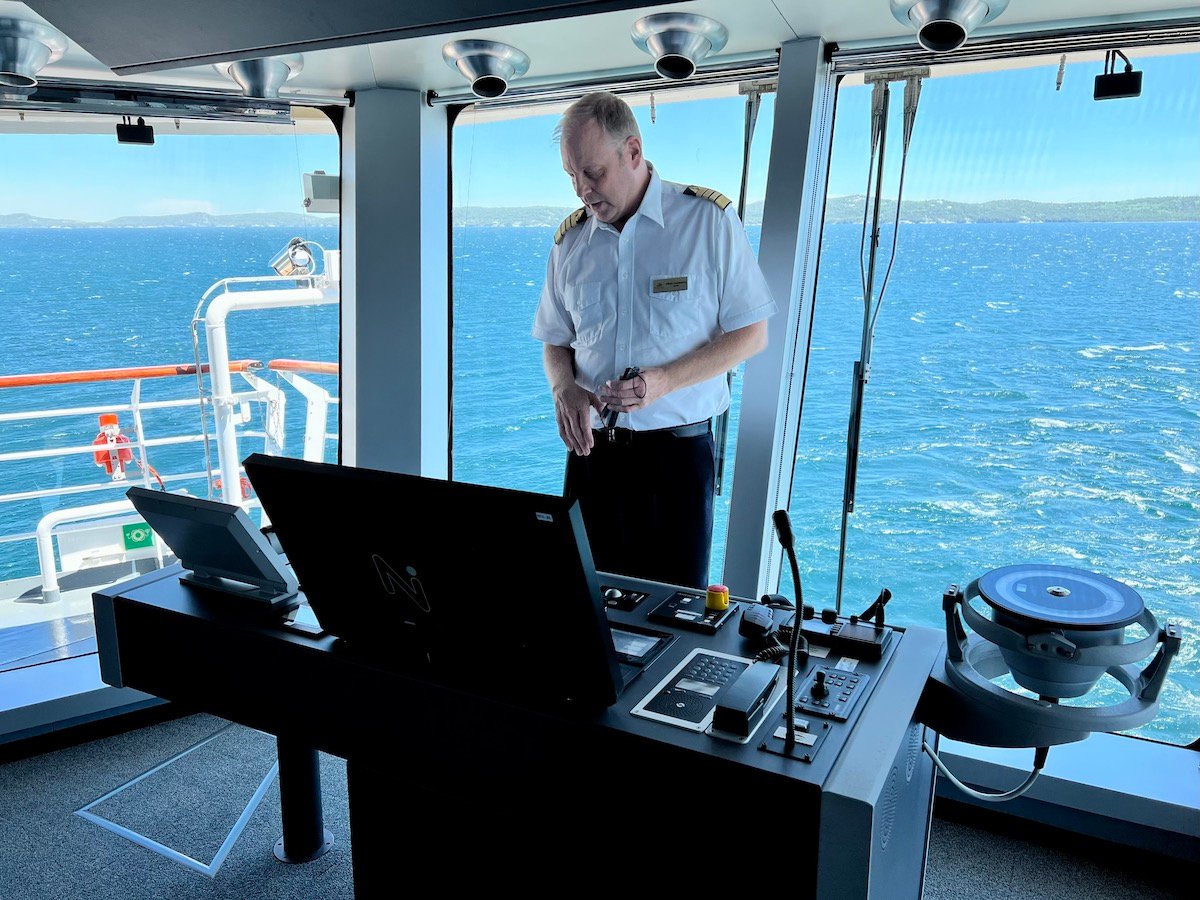 During a tour of the Viking Octantis bridge, Captain Håkan Gustavsson remarked that he didn't know how the computer anchor worked, but it worked.
Viking Expedition ships are engineered to be environmentally considerate. A fuel-efficient ship design features an integrated bow and heat recovery systems, exceeding international requirements by nearly 38%. Other environmentally conscious features include zero-emissions waste treatment, minimized underwater noise pollution, bird-safe lighting, whale-safe speeds, and boot-washing machines to prevent introductions of non-native flora or pathogens to sensitive areas.
A silent flyover reveals the Viking Octantis expedition ship from stern to stem. Drone footage by my friend and colleague Kabir Bageria at Cruise Director Kabir.
Interior Design
---
Interior spaces on the Viking Octantis and Polaris continue the tradition of minimalist Nordic design as on the river and ocean fleet. Light-filled common areas exude understated elegance and simplistic luxury with nary a hint of opulence.
Art Collection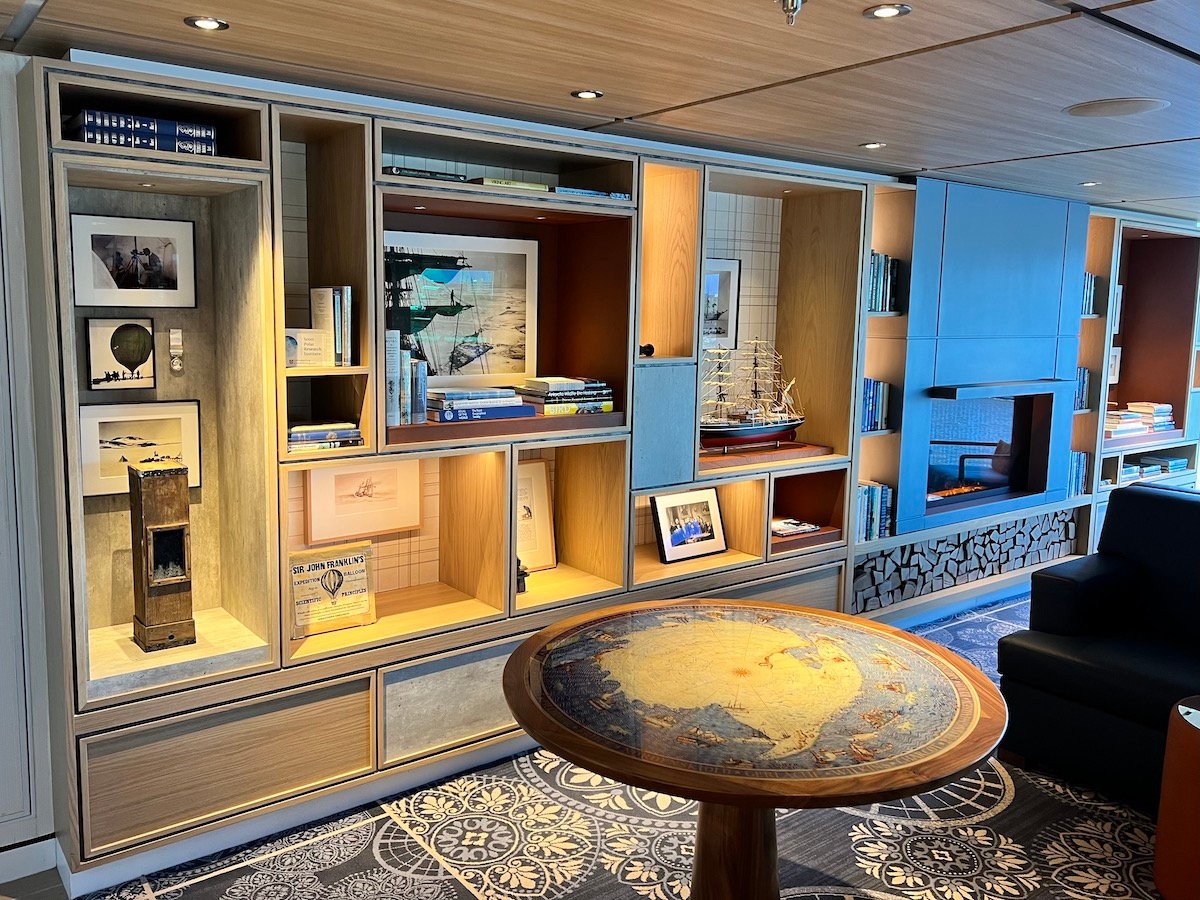 The Viking Octantis is a floating art gallery with more than 150 unique pieces displayed in the ship's public areas. The tradition first implemented on ocean ships continues with expedition vessels.
Curated in consultation with Octantis godmother Liv Arnesen, the collection features paintings, prints, and sculptures in diverse media by Norwegian artists.
Guests are invited to learn more about individual pieces on self-guided tours with stateroom copies of the collection catalog. The former Viking Art Guide app is now integrated with the Viking Voyager for audio tours.
Having enjoyed the lovely works on the Octantis in person, one can only imagine an opportunity to experience the fine pieces in the Polaris collection.
Felt Bird Collection
Viking commissioned 96 life-sized felt birds by Vermont artist Susan Beal. Select groupings of needle-felted birds are rotated for display and study in Expedition Central based on the region of each sailing. A felt wandering albatross in flight, with an 11.3 foot wingspan, is suspended from the ceiling of the Aula lobby.
Books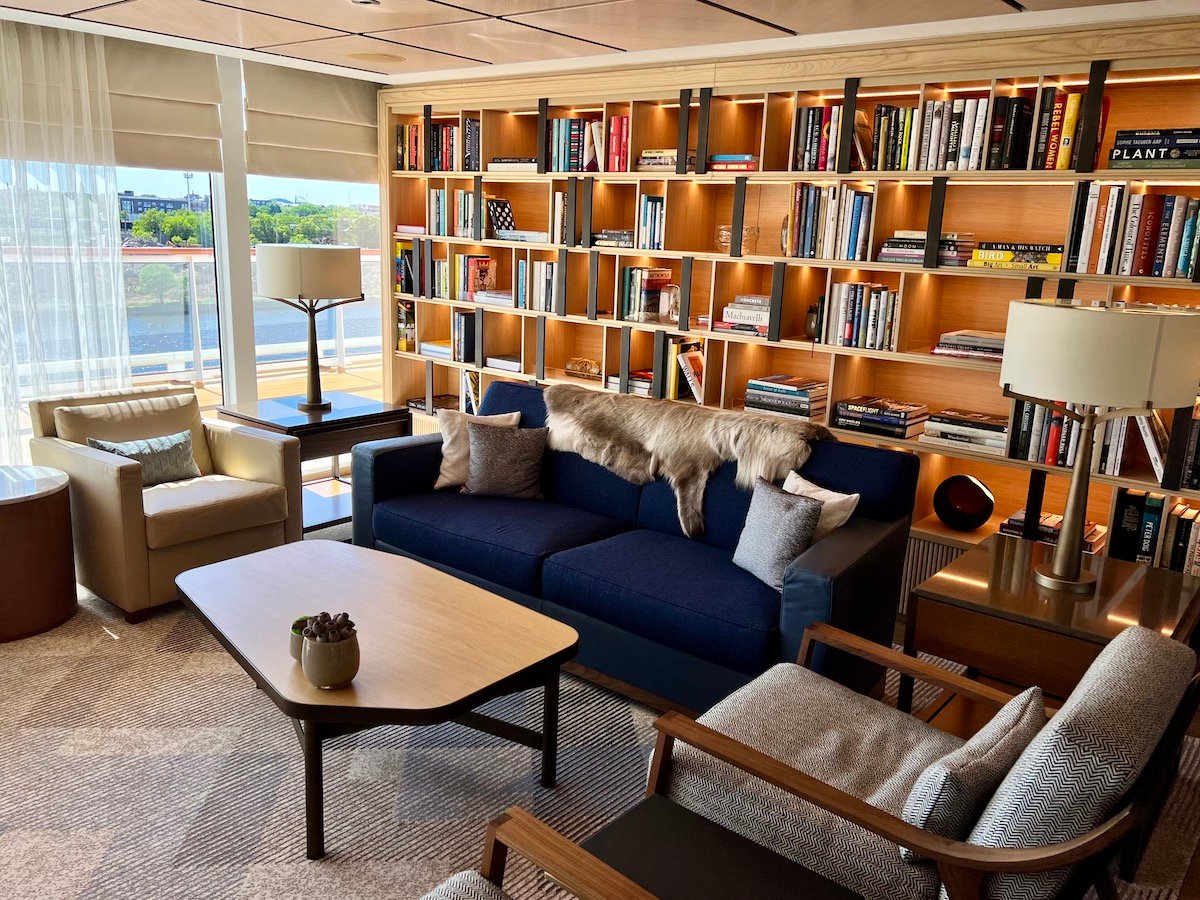 Viking's trademark as "the thinking person's cruise" is also evident in its most common piece of decor.
Books.
I recently learned that designs of new classes of ships on other cruise lines no longer have libraries. The Viking Octantis, not only has a library, it has collections of books in virtually every indoor space, and every nook and cranny, including staterooms. Guests will never run out of something to read.
Viking has partnered with Heywood Hill bookshop in London to curate collections of books for all of its river, ocean, and expedition ships. Collections are destination-driven by ship itineraries and include notable works in nonfiction genres of history, geography, science, nature, and biography, as well as setting-based works of fiction.
I was most intrigued by a series of interpretive panels in the Aula lobby that feature 14 classic works of fiction, nonfiction, and poetry, and curious as to how and why these specific titles were selected. A Viking executive reached out to the ship's lead designer of the Octantis, and I received the following reply:
"We saw the Aula lobby as an opportunity to expand our exploration of the connections between art and architecture. We have often looked to the visual arts and on occasion looked to music for inspiration. This was the opportunity to look at literature for inspiration. The books used all deal with travel and exploration of the world, fundamental parts of the Viking design brand. I believe that some 40 books were considered, and it was difficult to choose the final list. We wanted to include books describing the wide range of geographies that we explore, so there are books describing all the major continents and a wide range of locations. Fundamentally, we wanted to remind our guests of favorite books and to introduce them to those that they might have missed."
The 14 literary classics featured on the Aula lobby panels are:
The Rime of the Ancient Mariner by Samuel Taylor Coleridge
In Remembrance of Things Past (In Search of Lost Time) by Marcel Proust
A Short Walk in the Hindu Kush by Eric Newby
Life On the Mississippi by Mark Twain
Walden; Or Life in the Woods by Henry David Thoreau
The Little Prince by Antoine de Saint-Exupéry
The Travels of Ibn Battutah by Ibn Battutah
The Voyage of the Beagle by Charles Darwin
A River Runs Through It and Other Stories by Norman MacLean
Seven Pillars of Wisdom by T.E. Lawrence
The Call of the Wild by Jack London
On the Road by Jack Kerouac
In Patagonia by Bruce Chatwin
My Life as an Explorer by Roald Amundsen
When you navigate to the Resources section of the webpage for your itinerary, you will find a recommended reading list and filmography tailored to your journey, So many books, so little time.
---
Common Areas
---
Viking expedition vessels are small ships serving a maximum of 378 guests. Even so, there are multiple common areas and public spaces for meeting up with friends or finding quiet time with a good book.
During his press briefing, Chairman Hagen mentioned that there are 975 chairs on board. According to my calculations, at any given time there are 2.5 available seats for every guest. Having achieved nearly the highest space-to-guest ratio, the Viking Octantis and Polaris rank among the most spacious expedition ships afloat.
The Library
---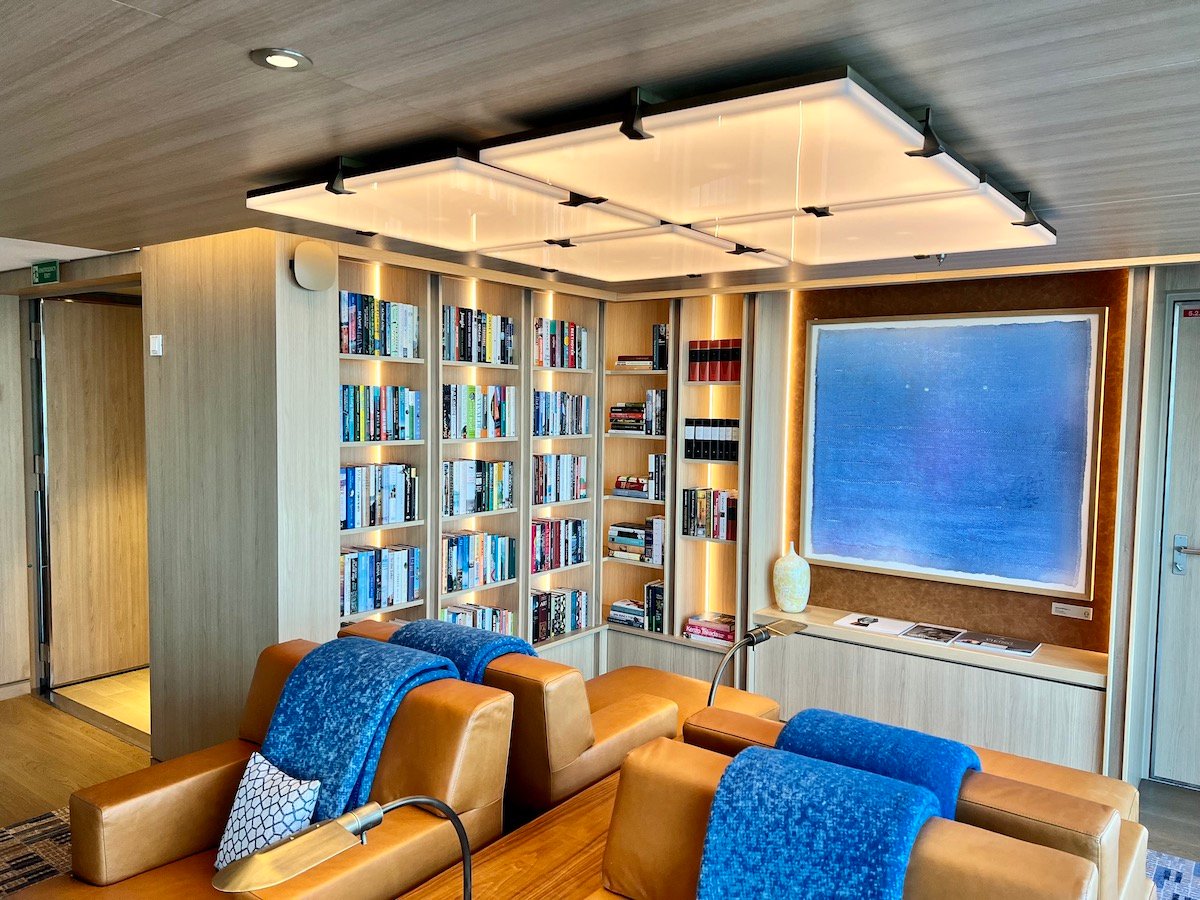 As I mentioned previously, books are the most prominent pieces of decor throughout the ships, so it may seem redundant that there is a designated library on Deck 5. Joining the Heywood Hill selections is a collection curated by Cambridge University's Scott Polar Research Institute.
The Living Room
---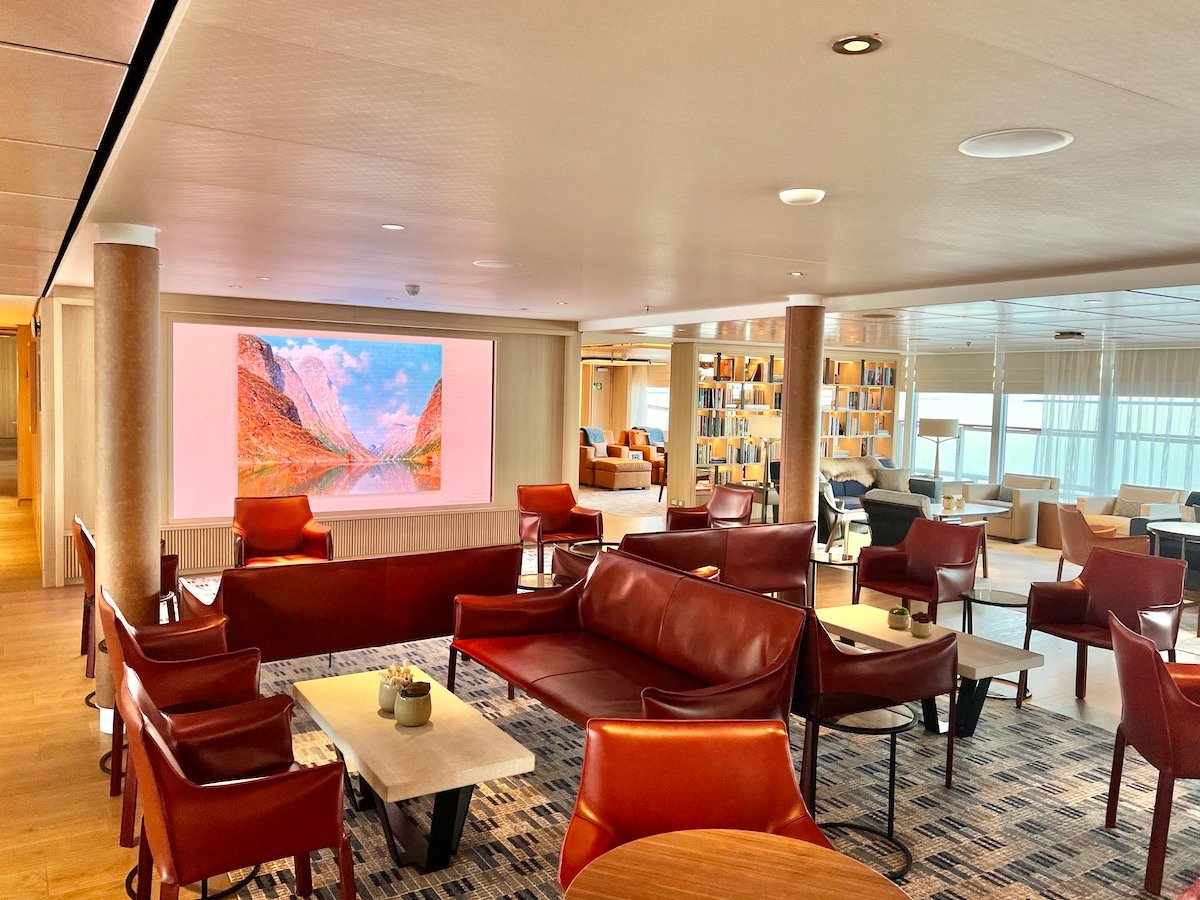 The Library occupies a corner of the much greater Living Room, which unsurprisingly is also a library. The Living Room is bordered by ceiling-to-floor windows, offers a variety of seating arrangements, and houses its own bar.
Explorer's Lounge
---
Just beyond The Living Room, situated at the fore of the ship, is the upper level of the double-decker Explorer's Lounge. The space opens to the lower level where the Explorer's Lounge bar is located. Both levels feature ceiling-to-floor windows, creating a well-lit space for reading and panoramic views.
The Aula
---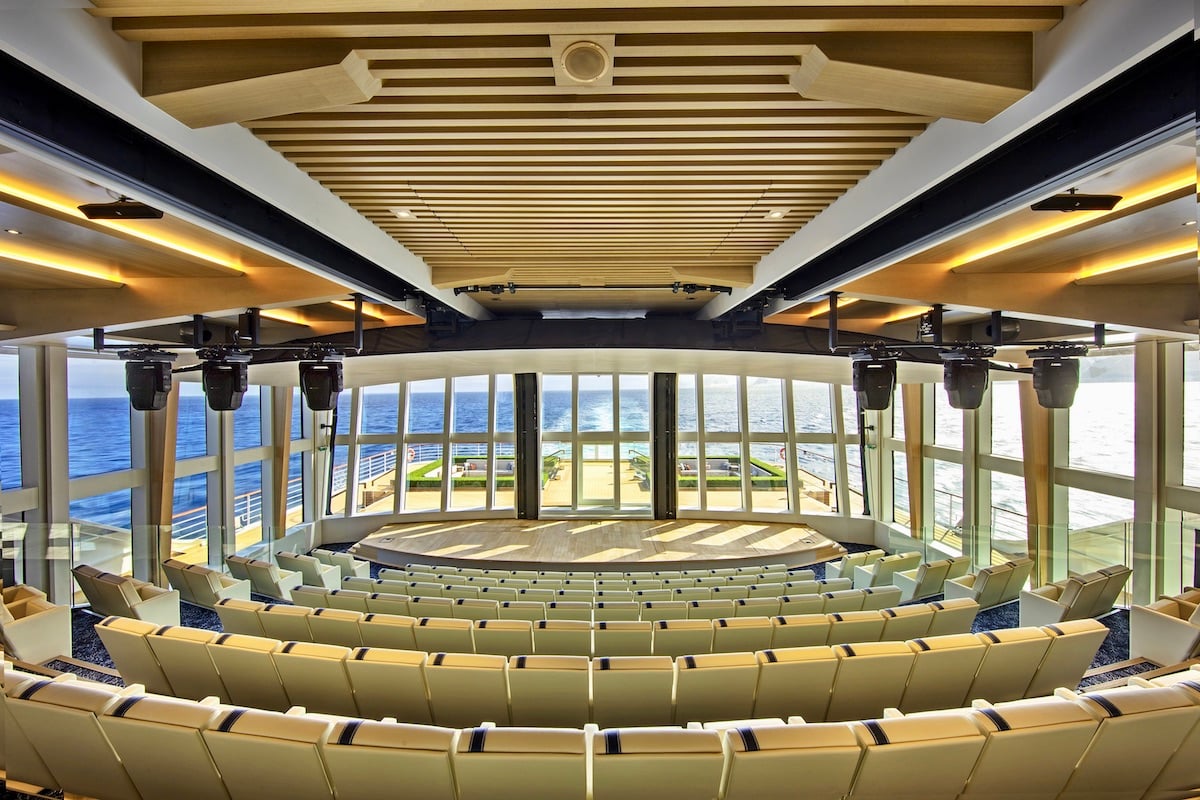 Photo Credit: Viking
Perhaps the most spectacular space onboard is the Aula, an aft-facing state-of-the-art panoramic auditorium on Decks 2 and 3. Inspired by the University of Oslo's grand ceremonial hall, the venue boasts ceiling-to-floor windows with 270° views and a jumbo retractable 4K laser-projected screen. The Aula is the gathering place for daily briefings, lectures, trainings, and documentary screenings.
Finse Terrace
---

Photo Credit: Viking
The Aula looks out over the Finse Terrace situated at the aft of Deck 1. Recessed, heated seating and lava rock firepits bring warmth to the outdoor space for guests taking in the scenery or enjoying drinks with friends.
The Bow & The Shelter
---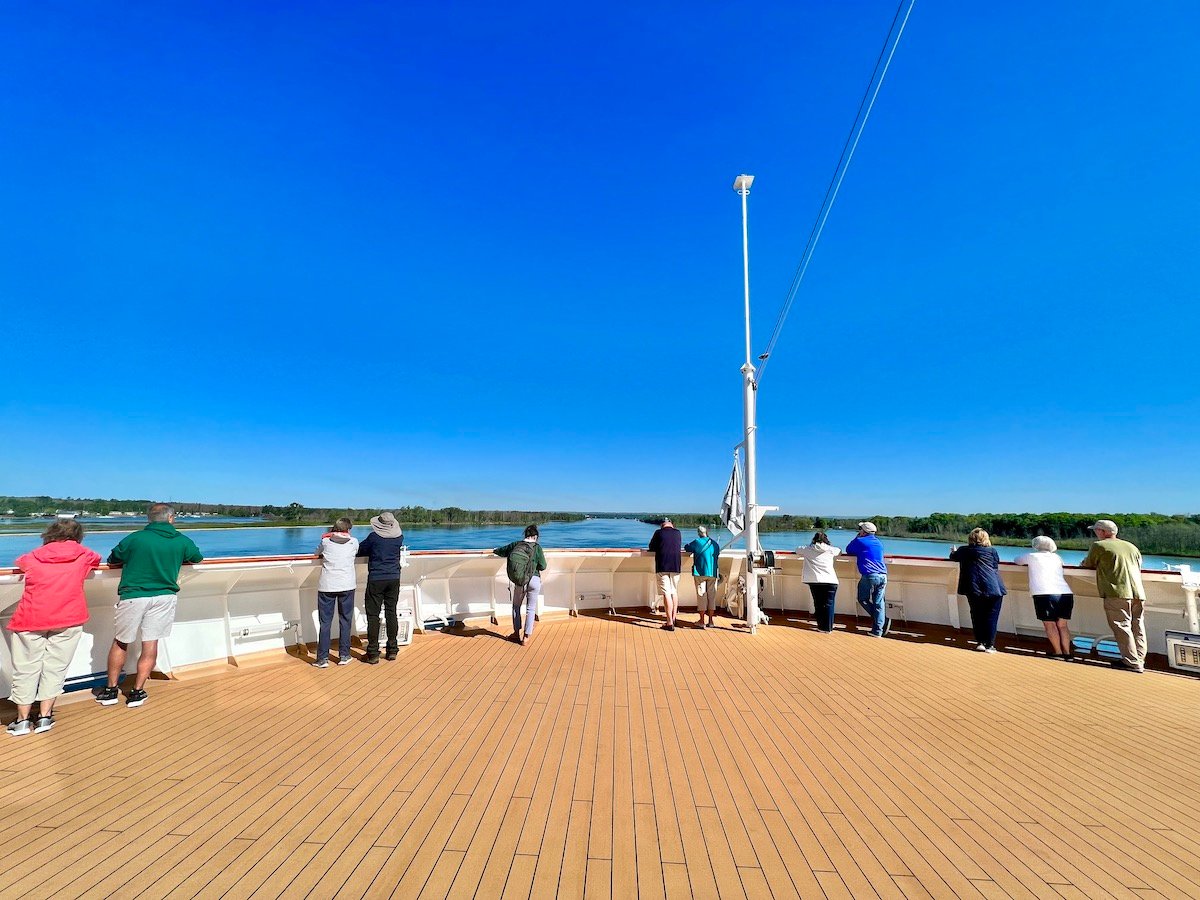 Located at the fore of Deck 3, The Bow is a popular outdoor viewing platform during scenic sailings and when navigating locks and canals. The Shelter is a semi-enclosed space directly behind The Bow, a perfect place to escape the elements during extended scenic outdoor observations.
Although I didn't experience it, but a Viking crew member informed me that expedition ships have heated handrails on outdoor viewing platforms.
The Nordic Spa
---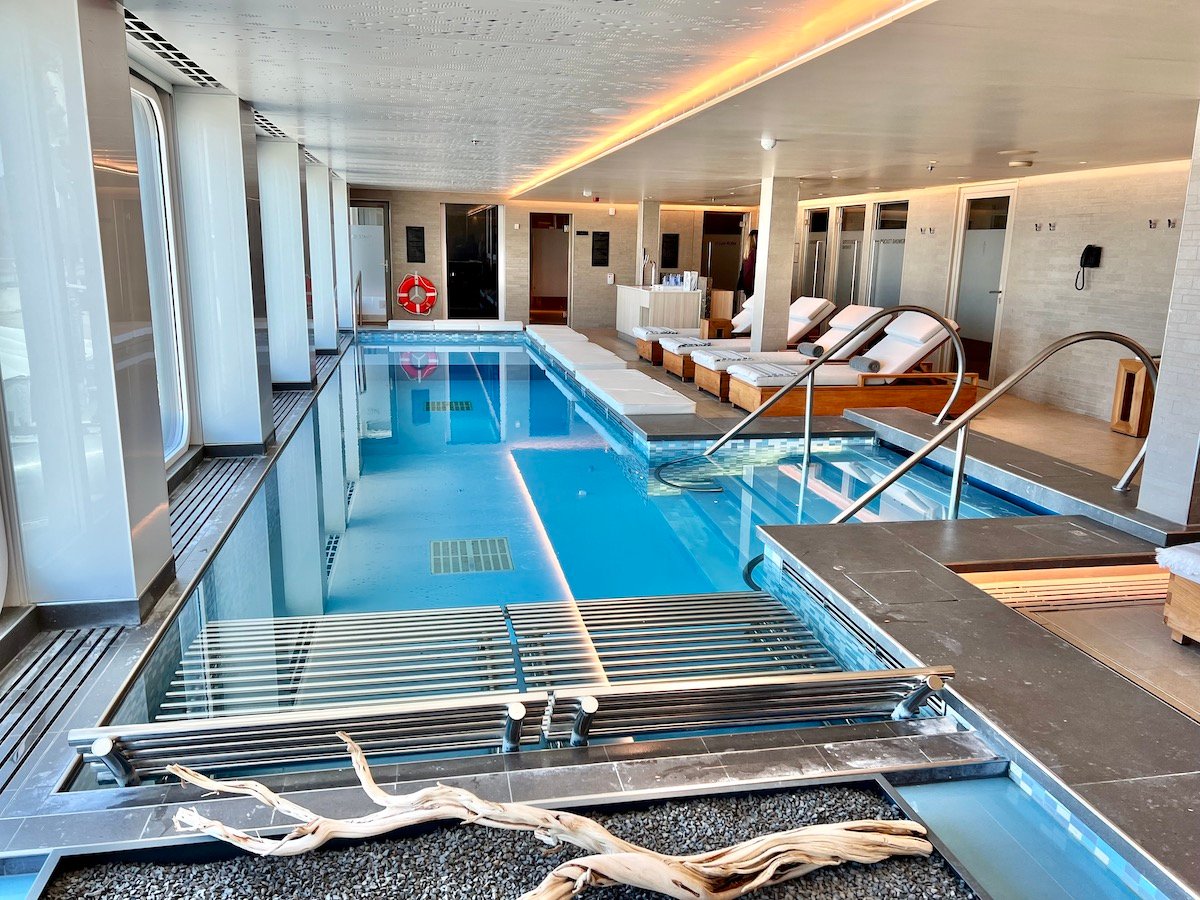 The Nordic Spa and fitness center on Viking expedition ships are available to all guests without additional charge.
The co-ed facilities provide a relaxing sanctuary complete with a heated pool, a badenstap wooden-sided hot tub, sauna, steam room, snow grotto, and additional thermal rooms inspired by Scandinavian traditions.
A slate of fee-based hair salon and spa services are available from a highly-qualified staff of LivNordic beauty therapists.
---
Nordic Staterooms
---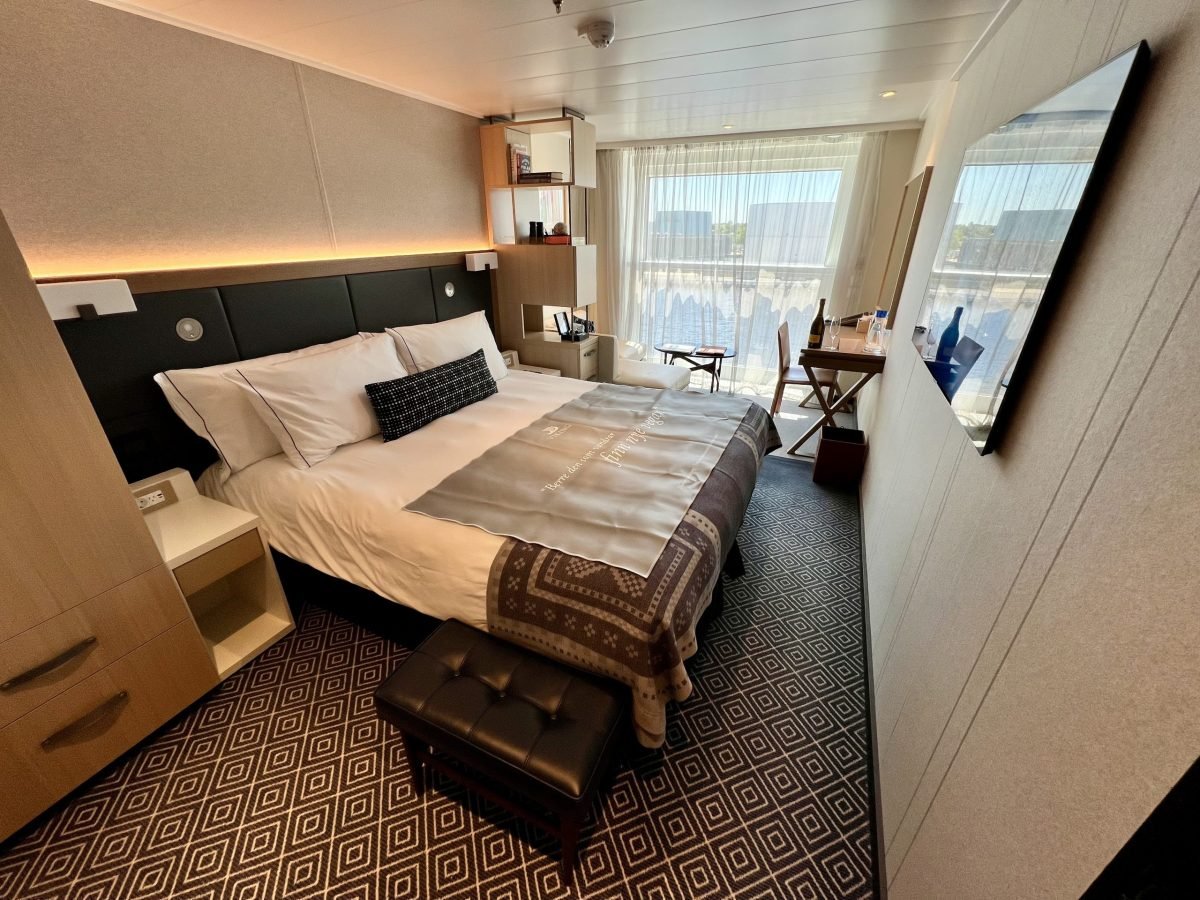 As with all Viking ships, there are no inside staterooms on the Octantis and Polaris. As a frequent cruiser who requires a balcony stateroom, this is a great consolation. I don't spend a lot of time sitting on ship balconies, but I love being able to step outside to check the views and weather. Also, I am a bit claustrophobic, and the thought of booking a windowless inside cabin stresses me out.
My accommodations for the Great Lakes Explorer itinerary was a Nordic Balcony stateroom, and it suited me perfectly.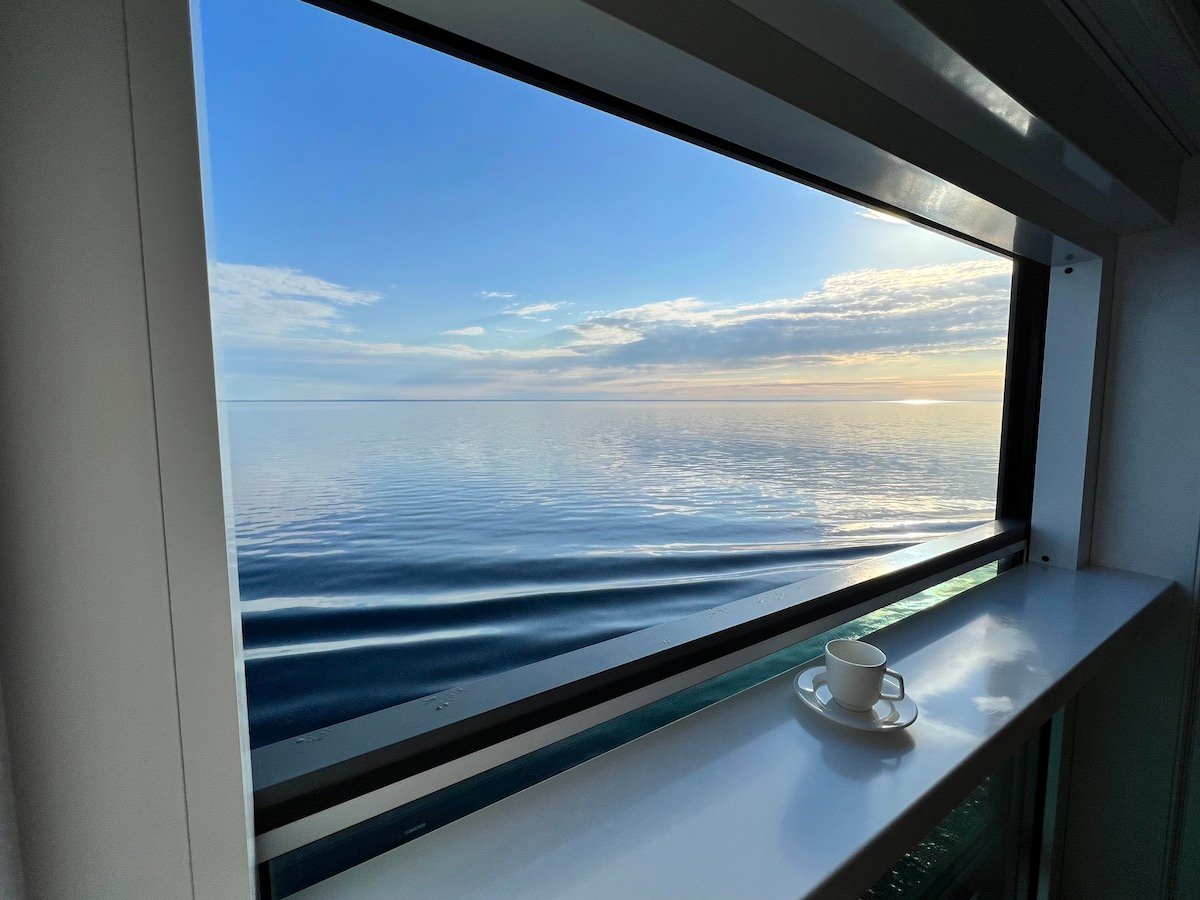 The best feature of the stateroom is the Nordic balcony itself, a first for polar expedition ships. Rather than fuss with sliding glass doors, the press of a button lowers the sash window, converting the sunroom into an unobstructed al fresco viewing platform. An observation shelf at elbow level is perfect for stabilizing cameras or holding coffee cups. What better way to explore the world in comfort!
Each stateroom is furnished with a pair of Meopta Optika MeoPro 8X42 binoculars, readily available for Nordic balcony observations or shore excursions, and also one less thing to pack.
Each stateroom is furnished with a ceiling-to-floor drying cabinet for storing life jackets and drying wet expedition gear.
Other amenities include an interactive 55″ flat-screen TV with a simple remote, a complimentary mini-bar replenished daily, a personal coffee machine with premium coffee & tea selections, bedside 110/220 outlets and USB ports, and a hair dryer. And of course, books.
Bathrooms are outfitted with a spacious glass-enclosed shower with simple volume and temperature controls, heated floors, anti-fog mirrors, and premium Freyja® toiletries.
The Nordic Balcony stateroom met all my needs, but discerning guests have the option of upgraded accommodations with the Nordic Penthouse, Nordic Junior Suite, Explorer Suite, or the expansive Owner's Suite.
---
Viking Expeditions
---

Expedition Team
---
More than any facility or piece of equipment, the heart of Viking Expeditions is its human element.
Onboard expedition teams are composed of thirty-six specialists for each journey: expedition leaders, expedition program coordinators, chief scientists, field research scientists, general naturalists, ornithologists, climatologists, oceanographers, geologists, submarine and SOB pilots, expedition guides, and other experts with specialized training in their respective fields.
In addition to leading shore excursions and activities, team members give daily briefings, lectures, and onboard workshops. Easily identified in their red shirts and jackets, expedition team members are visible and readily-accessible to guests.
Expedition Central
---

Photo Credit: Viking
Expedition Central on Deck 2 is a hub for interactions between guests and members of the expedition team. The space is equipped with 3D printed maps, digital screens, a chart table, whiteboards, a reference library, and field guides.
The Science Lab
---

Photo Credit: Viking
The onboard science lab was developed in partnership with the University of Cambridge and Akvaplan-Niva. Equipped with both wet and dry facilities, the laboratory is designed to support a broad range of research activities relating to climate change, pollution, and aquatic microplastics. Guests are able to participate in meaningful research with supervised access to the lab.
The Hangar
---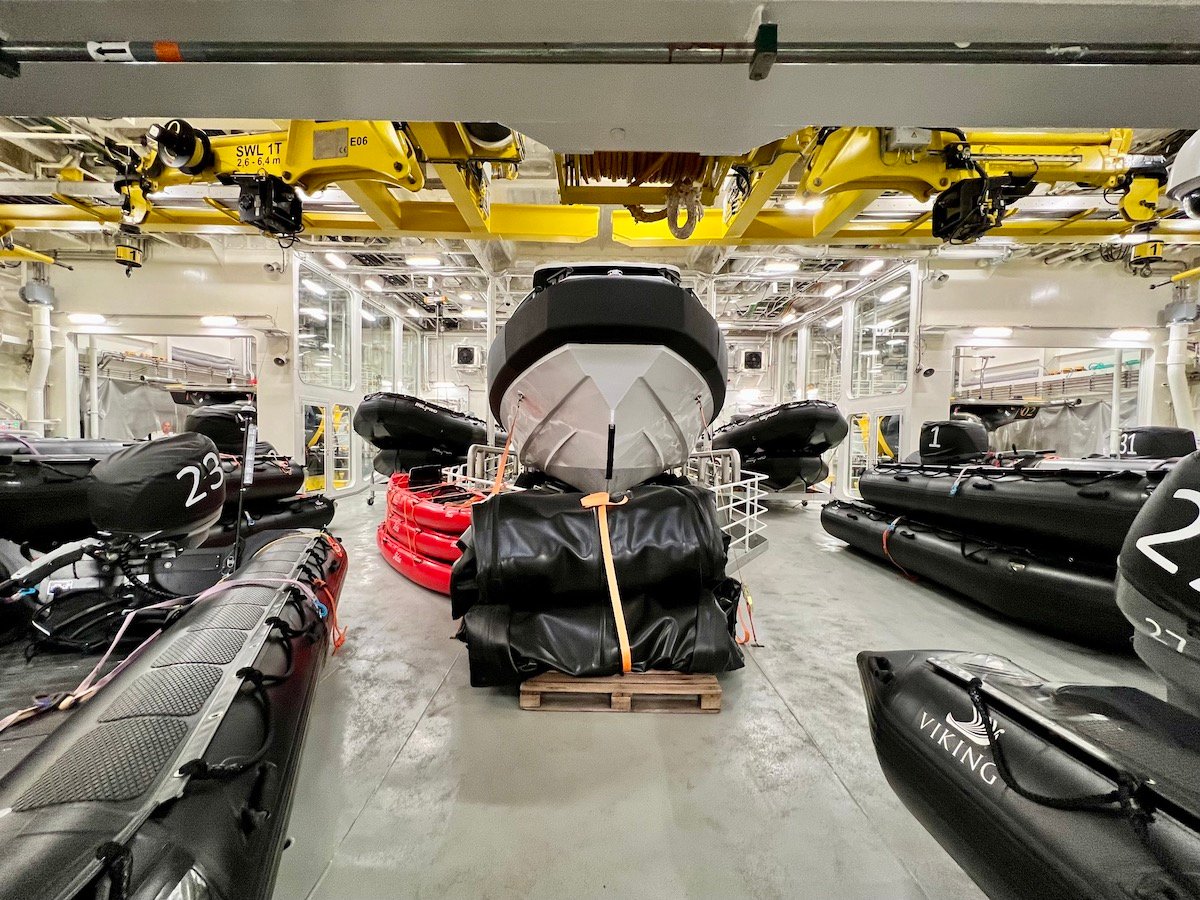 An industry first, the Hangar is a spacious in-ship marina located at the aft of Decks A and 1. The hangar provides a sheltered space from the elements and houses all of the expedition vessels:
2 military-grade Special Operation Boats (SOBs) for excursions and exploration
2 large-capacity submarines for scientific sampling and undersea experiences
17 Zodiacs for ship-to-expedition vessel shuttles and ship-to-shore landings
15 polar-tested tandem kayaks complete with reciprocating pedals and underwater fins
You can read about my experiences with the expedition vessels in my Great Lakes Explorer travelogue.
Scientific Partners
---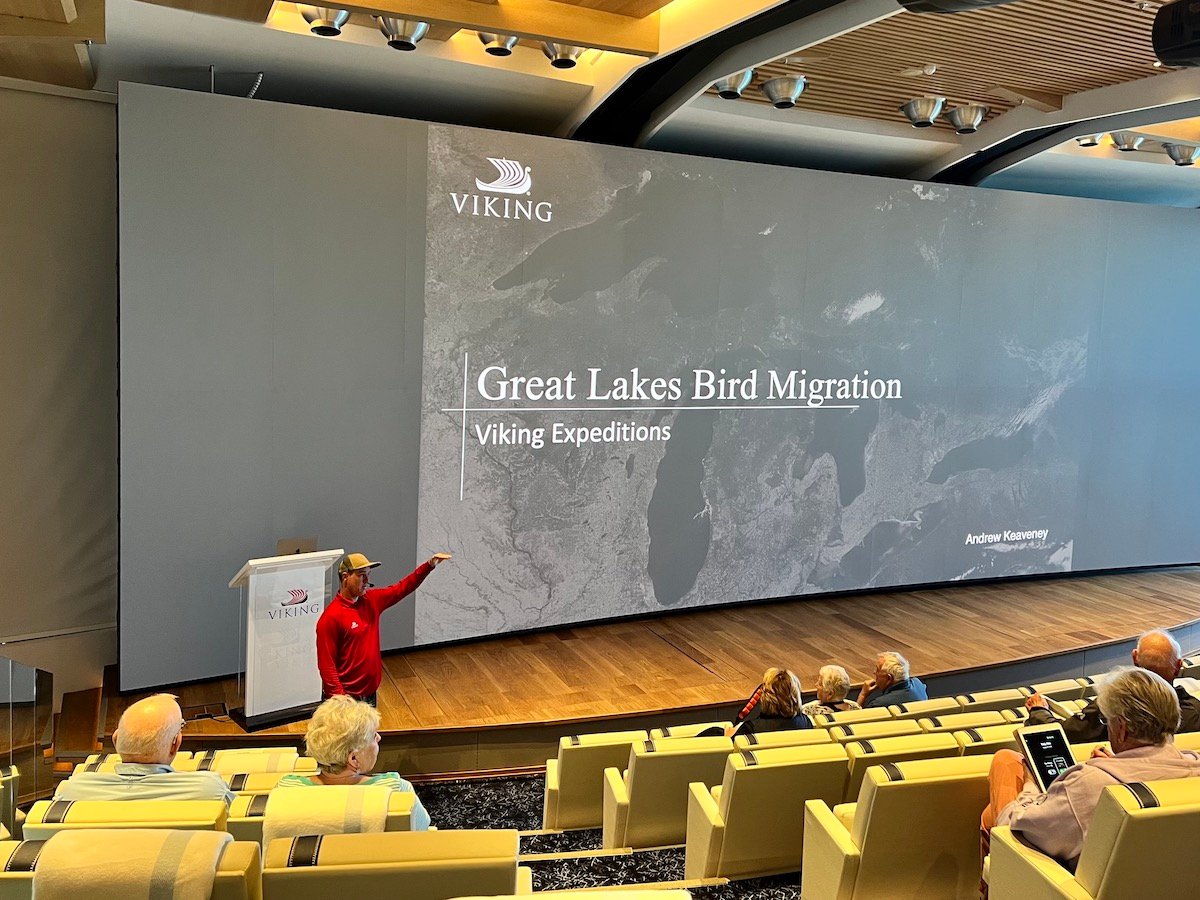 Viking has formed exclusive partnerships with multiple international scientific agencies. Scientists from Scott Polar Research Institute at University of Cambridge conducts fieldwork onboard expedition ships and share their expertise with guests. Ornithologists from the Cornell Lab of Ornithology join voyages to field test new observation methods and conduct workshops with guests.
Perhaps the most exciting partnership is with the National Oceanic and Atmospheric Administration (NOAA). NOAA has appointed the Viking Octantis as one of 103 worldwide weather balloon launch stations, the first civilian ship ever to receive this designation. I attended a balloon launch aboard the Octantis, and you can read about it in my Great Lakes Explorer travelogue.
According to Chairman Torstein Hagen, Viking's expedition ships are self-sustaining research vessels. "The fore of the ship funds the aft."
---
Dining
---
Viking has a reputation for quality dining experiences on rivers and oceans, and the tradition continues on the expedition ships, as well. Inspired by locally-sourced ingredients, experienced chefs create authentic regional cuisine and classic dishes for all dining outlets.
World Café
---
My go-to for breakfast, lunch, and dinner was the World Café. Featuring open kitchens and live cooking, the World Café is a self-serve diner's dream. Occupying more than half of Deck 5, the café features international flavors and themed stations.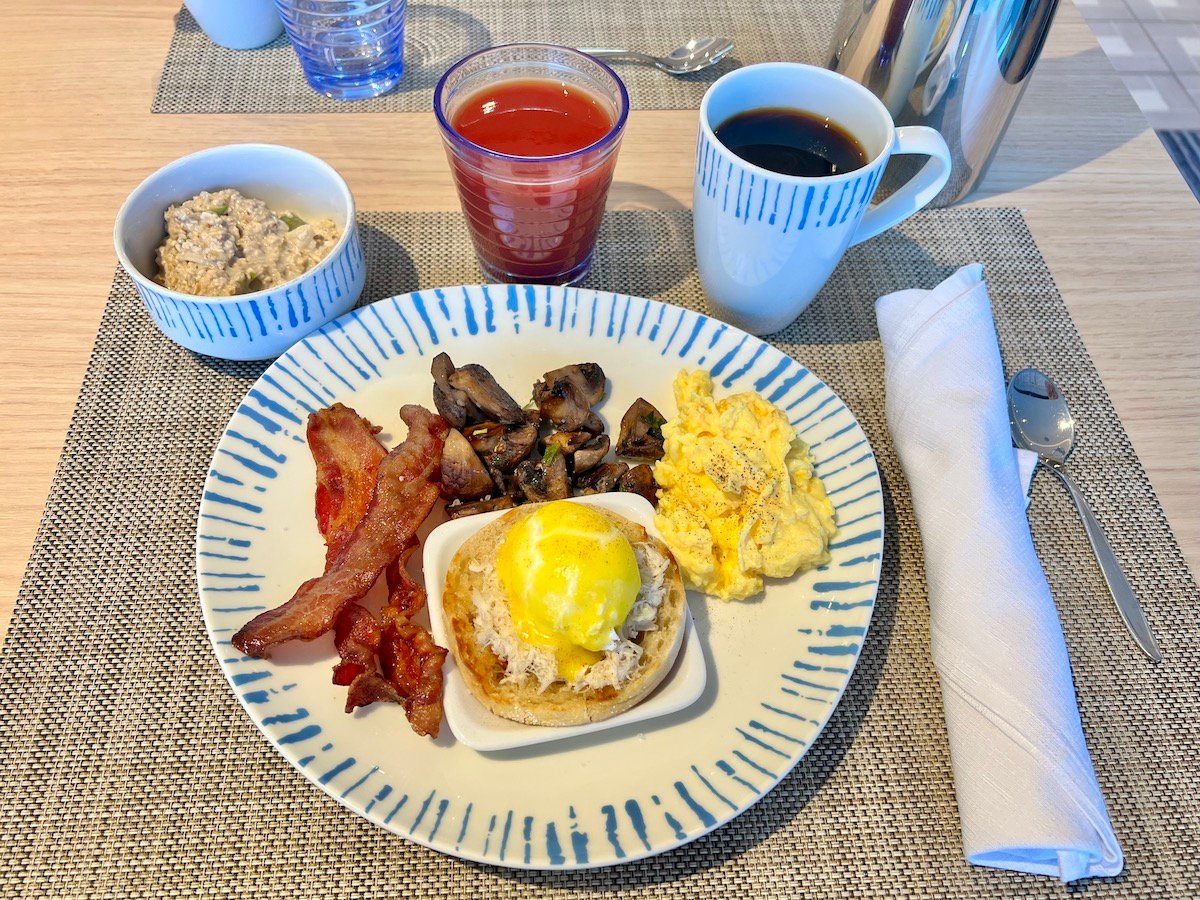 To compliment my bacon and eggs breakfast each morning, I treated myself to a side of Viking's heavenly muesli, now served in two variations.
At lunch, salads and made-to-order pasta dishes were the standards.
But dinner was most divine, starting with fresh-made rolls at the World Café's sushi bar, followed by chilled jumbo shrimp and king crab legs at the neighboring premium seafood station.
Up next on my moveable feast, The Grill at the World Café. There I would enjoy a center cut filet mignon and broiled lobster tail surf & turf entree. Grill menu options include a New York strip, young bull T-bone, beef tomahawk, bourbon BBQ brisket, a Black Angus burger, Black Label pork chop, and swordfish steak, with baked potato, grilled asparagus, grilled vegetables, and gourmet fries as sides. That's what I'm talking about!
Manfredi's
---
Viking's most-beloved specialty restaurant now makes its home on expedition ships, as well, and I could not have been more pleased.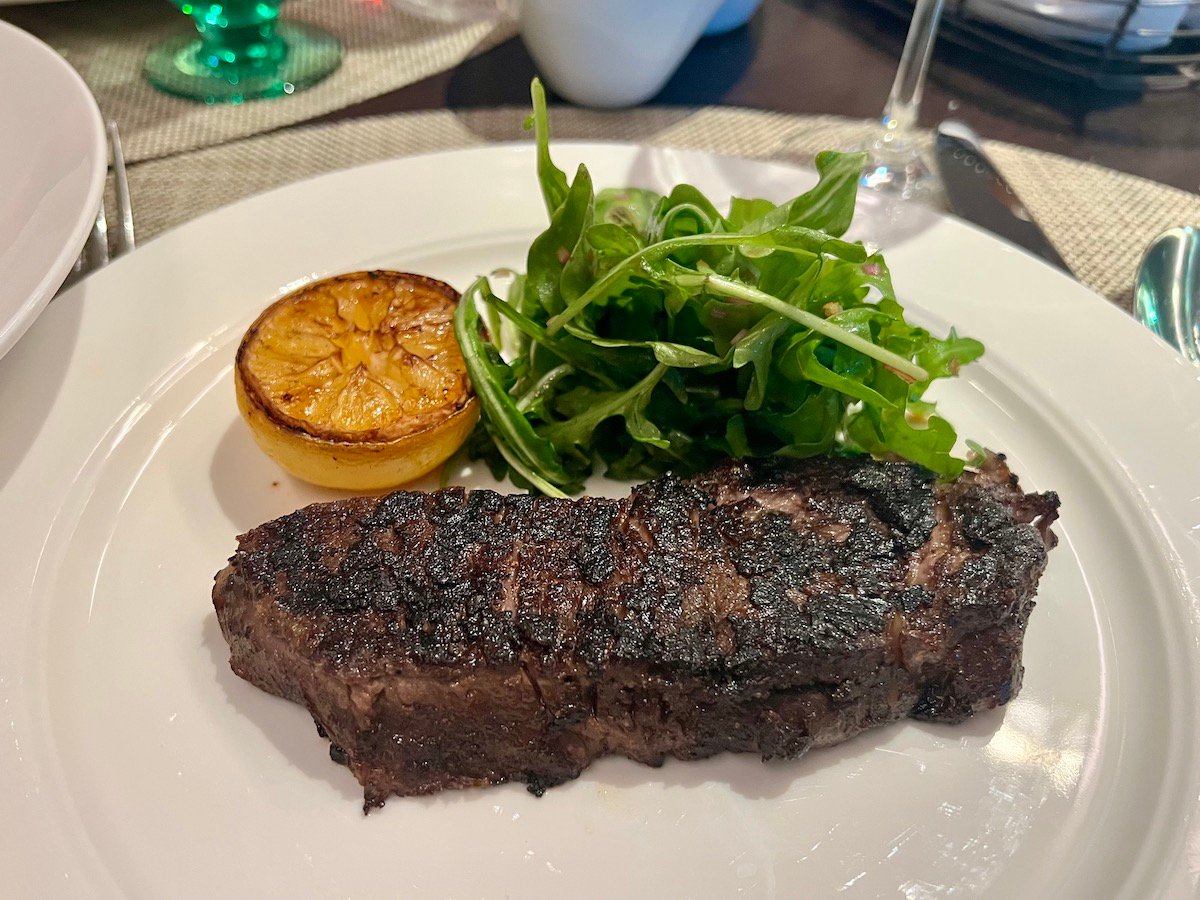 This meant I would get to enjoy once again Manfredi's melt-in-your-mouth house special, the Bistecca Fiorentina, The menu describes it best as a "thick cut ribeye coated in garlic oil and rubbed with porcini mushroom powder, kosher salt, brown sugar & red chili flakes." Specialty antipasti, soups, pastas, risottos, and traditional Italian desserts round out the bill of fare. Pictured, a half-portion Bistecca Fiorentina.
The Restaurant
---
For elegant dining, The Restaurant offers a menu of classic fare and fresh dishes, accompanied by white linen, silverware, and impeccable service. Don't miss lobster night!
Mamsen's
---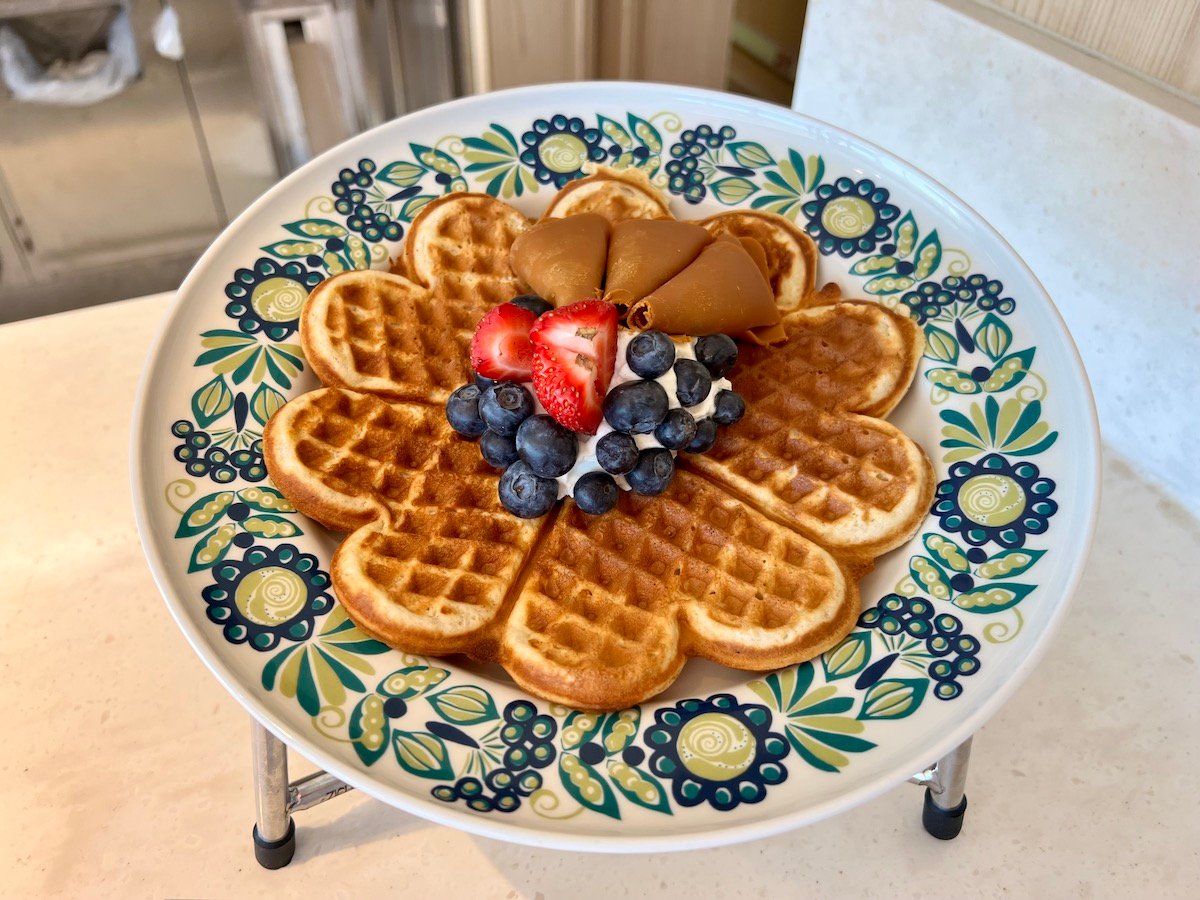 Named for the Hagen family matriarch, Mamsen's features family recipes for Norwegian waffles and split pea soup, plus open-faced sandwiches and brunost, a delicious sweet brown cheese.
Aquavit Terrace
---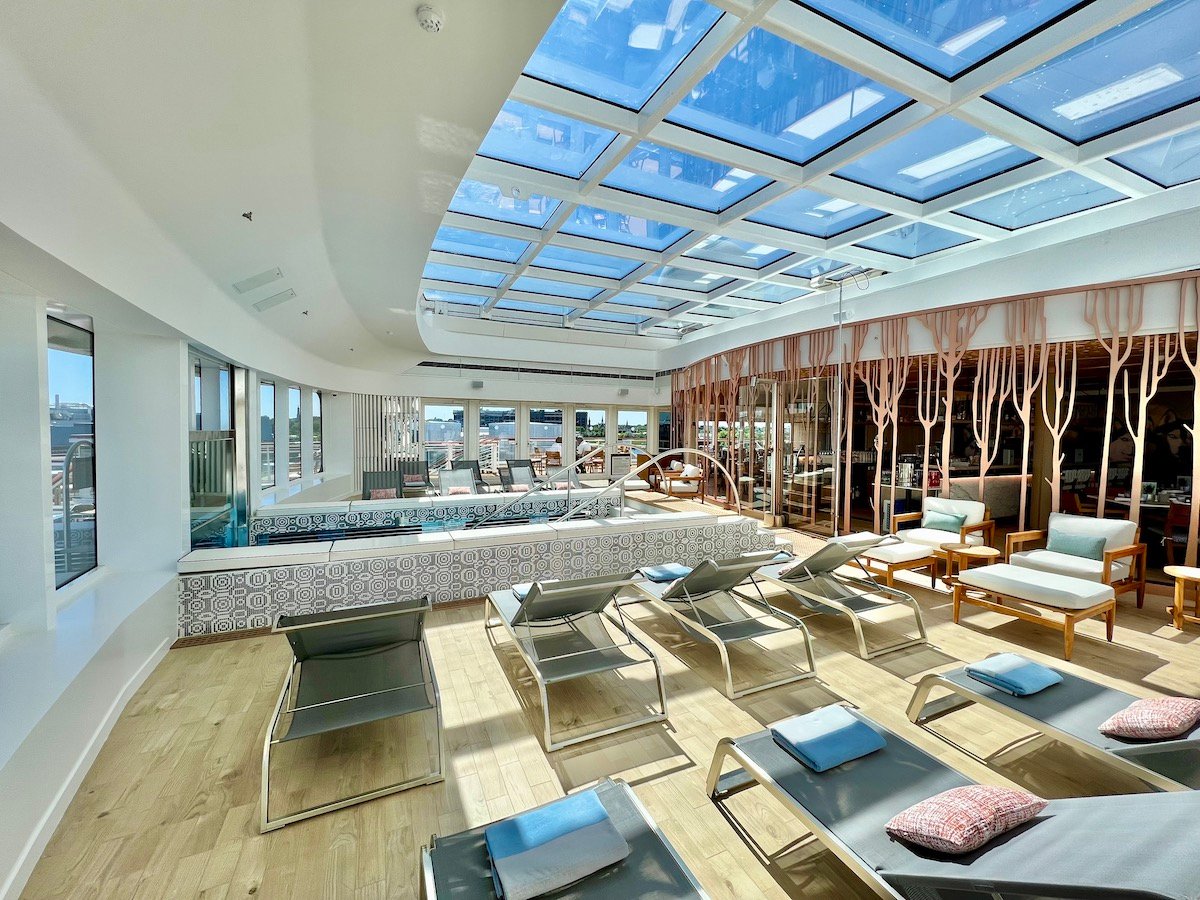 The Aquavit Terrace is hands-down my favorite hangout onboard any Viking ship. Located at the aft of Deck 5, immediately adjacent to The World Café, is a light-filled space offering both indoor and al fresco dining.
An interior pool in the Aquavit Terrace offers a pass-through experience connecting to a sanctuary of three different temperature pools (caldarium, tepidarium, frigidarium), inspired by Roman baths, on the terrace deck.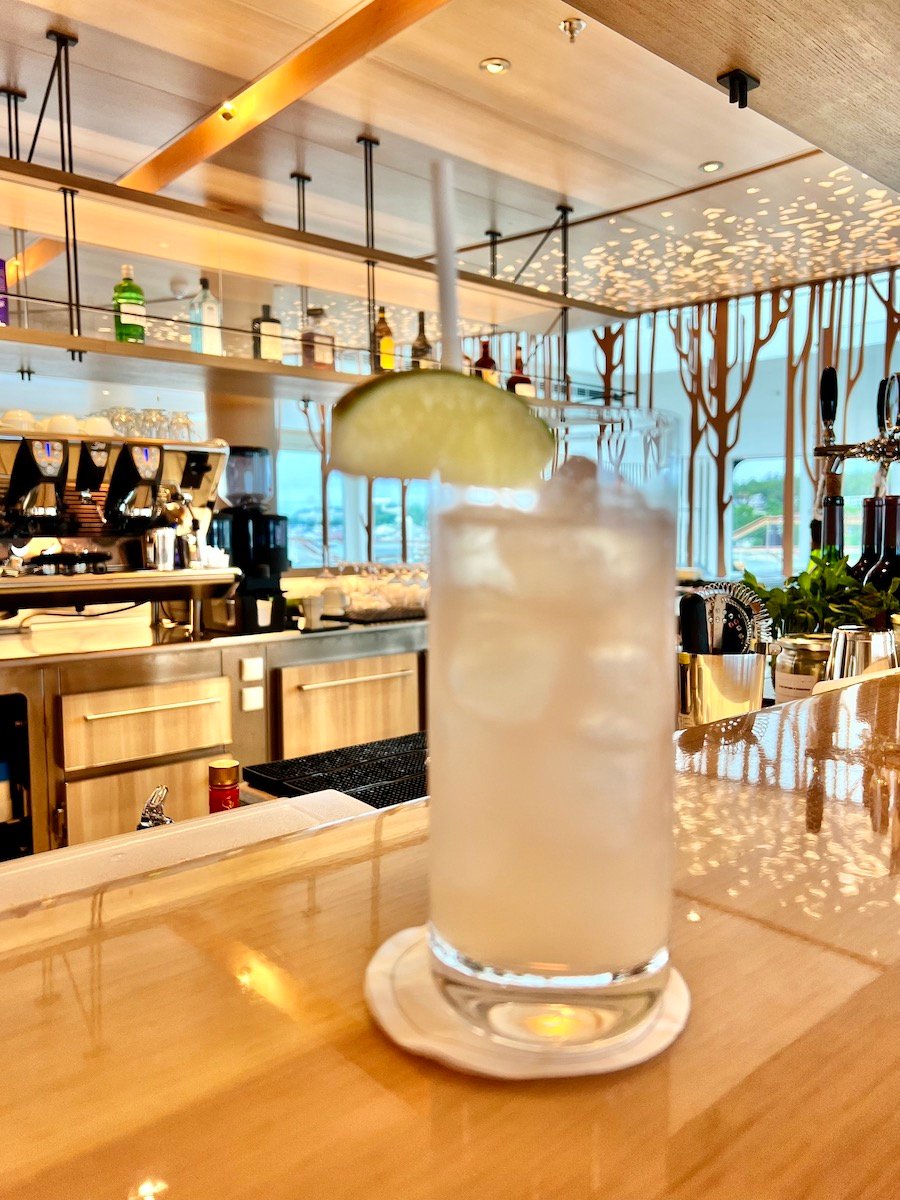 The Aquavit Bar is central to the design of the terrace and a great place to enjoy mulled wine, hot chocolate, or your favorite craft cocktail.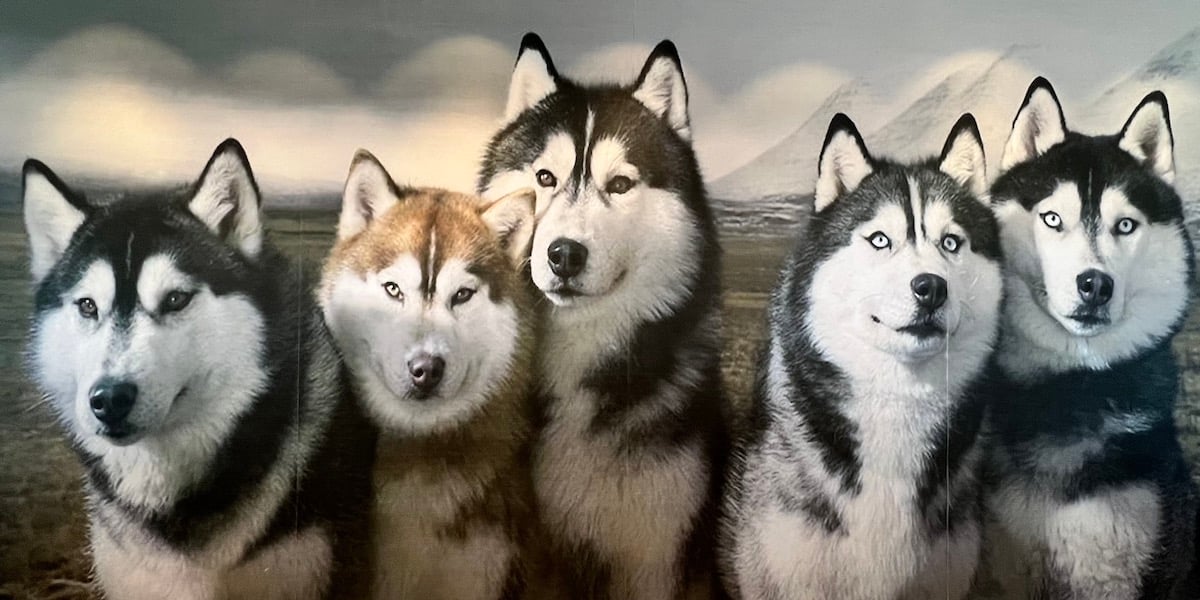 The Aquavit Bar also has my favorite piece of sled dog art on the ship. Love those sweet faces!
The Bakery
---
The Bakery is a 24-hour station within The World Café. Guests can enjoy breads, pastries, and my favorite oatmeal raisin cookies at any hour of the day. Fresh-baked pizzas are served at lunch and dinner.
Additional Food & Beverage Options
---
Complimentary 24-hour room service is included with the expedition. Consult your stateroom menu for room service special offerings.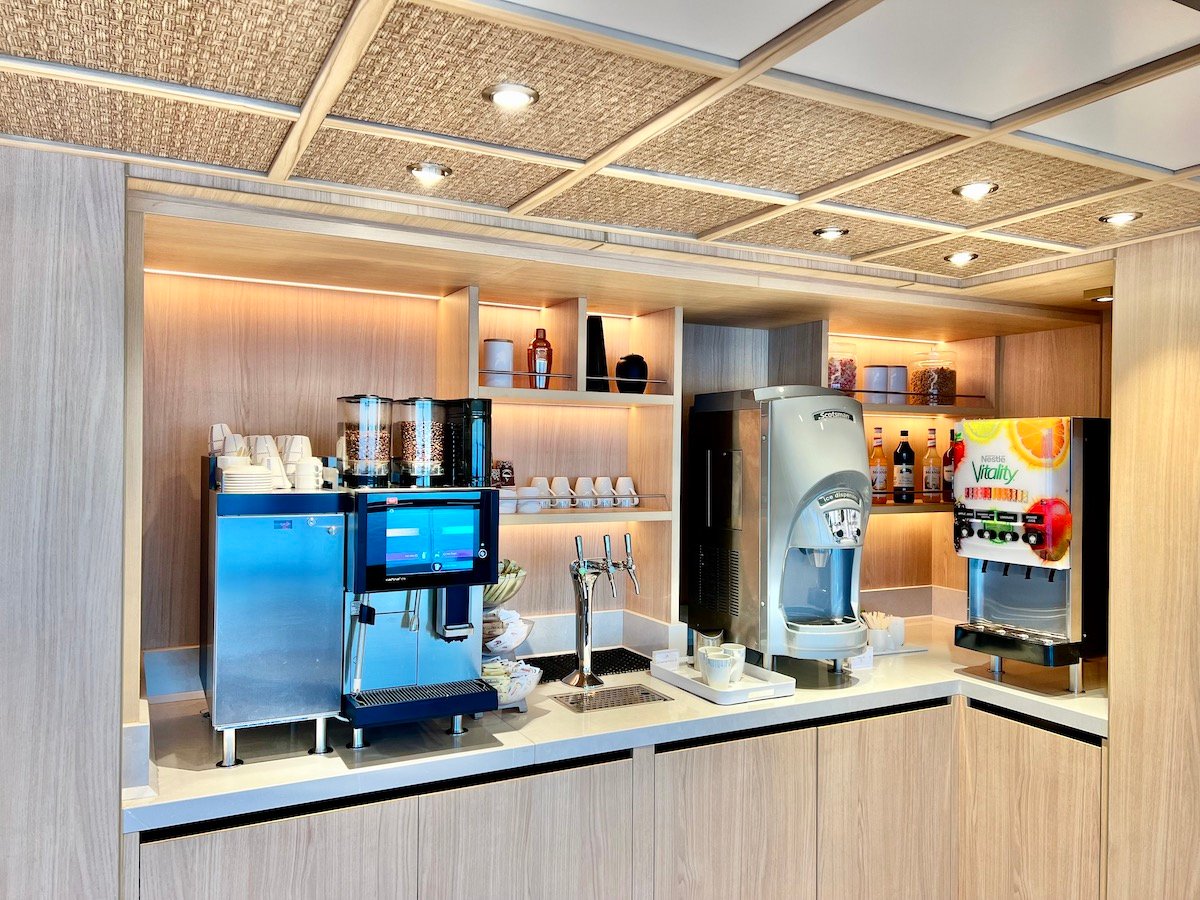 Self-serve beverage stations are at multiple locations throughout the ship. I frequented the station in the Aula lobby due to its location one deck below my stateroom.
It is common knowledge that wine flows freely on Viking ships. Wine and beer are complimentary during lunch and dinner, and soft drinks, teas, and coffees are always available. Cocktails and premium liquors may be purchased separately or included as part of the beverage package.
In my opinion, Viking's Silver Spirits package is the best premium beverage package afloat. Currently priced at $19.95 per night, the Silver Spirits package is a great value. The price is still the same as it was when I published the Backroad Planet guide to Viking Ocean Cruises in 2018. For guests who enjoy unlimited adult beverages, the Silver Spirits beverage package is a no-brainer.
---
Insider Tips & Intriguing Facts
---
• To customize your expedition to your interests it is important to log into My Viking Journey as soon as you receive your booking number. Included and optional excursions are available for each port, and although there are typically enough spaces to book your first choice, sometimes they sell out.
• Some excursions are morning and/or afternoon while others are full-day. Because I enjoy a full schedule, I typically schedule both mornings and afternoons. On My Viking Journey, you can schedule two optional paid excursions for the same day, or one optional and one included. You cannot, however, schedule two included excursions for the same day.
• You will not be able to access My Viking Journey during the seven days preceding departure. You will be able to access your schedule once again after boarding on the Viking Voyager mobile app.
• Once on ship you will be able to schedule additional included excursions for the same day. I recommend that you visit guest services soon after boarding to schedule morning and afternoon excursions.
• It is important to calculate the amount of free time you will have between morning and afternoon excursions to determine whether you have time to return to ship for lunch or to freshen up. If you plan to return to ship, keep in mind that there may be lengthy round-trip transit and tender times to consider.
• If you plan to remain on shore between excursions, it would be wise to consult guest services as to whether lunch outlets are available and plan accordingly. Many expedition excursions make landings in remote areas.
• The Viking Daily is your best friend. The printed publication is delivered to your stateroom each evening and is also available on the Voyager mobile app. I suggest that you read the 4-page spread from cover to cover to ensure that you do not miss onboard activities and enrichment opportunities.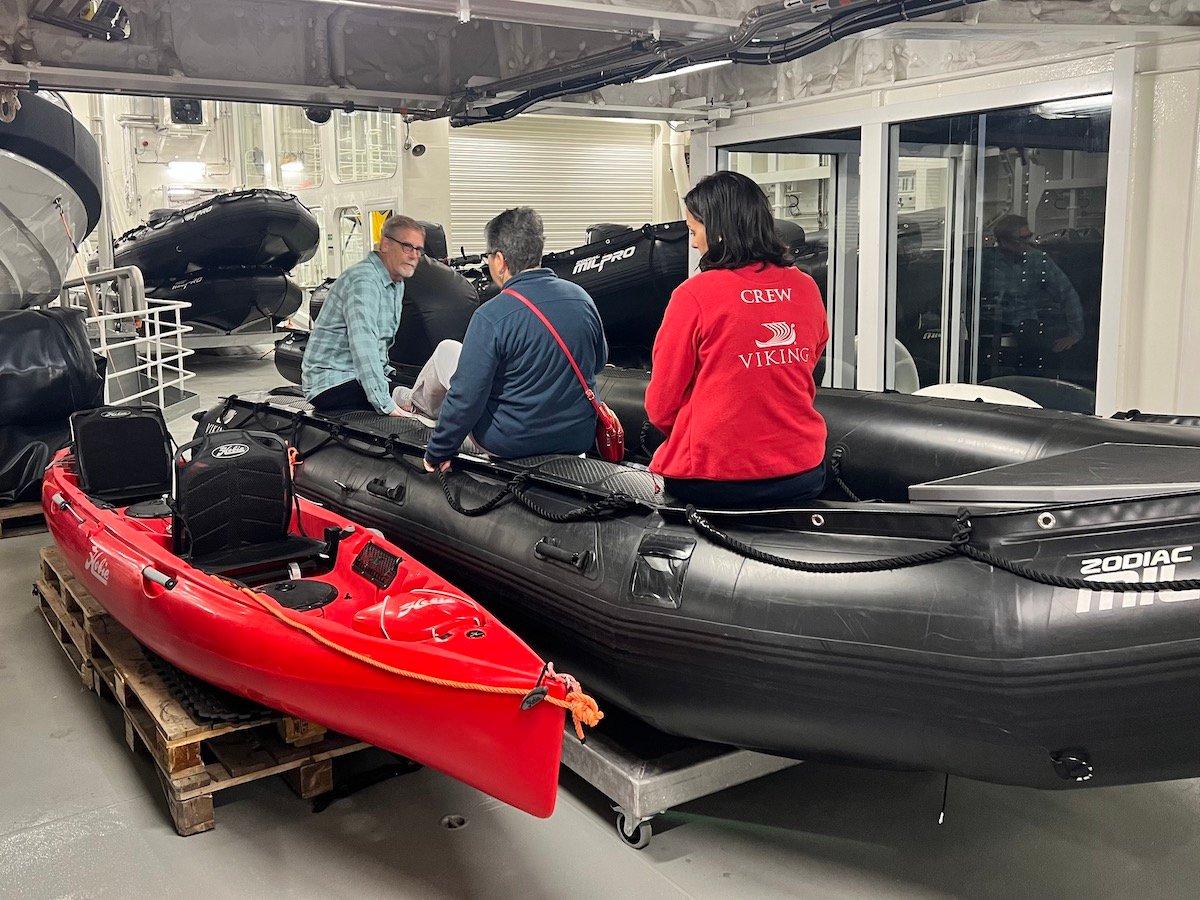 • For guests who intend to kayak or participate in a submersible excursion, there are mandatory briefings scheduled only once on the first or second day. If you miss the briefings, you will not be able to participate in these excursions. Guests scheduled to kayak must also attend a mandatory test in The Hangar to demonstrate proficiency at transitioning between a Zodiac and a kayak.

Photo Credit: Viking
• A submarine dive is an intriguing adventure to many. However, out of 360 guests on my expedition, only 150 guests attended the orientation. After learning about the experience, only 75 guests completed the required application and weigh-in for participation.
• When booking shore excursion hikes, be sure to read the descriptions carefully. Hikes can be long or short and rated easy, moderate, or strenuous. I participated in two incredible hikes during my expedition, and on both there were guests who struggled and required assistance.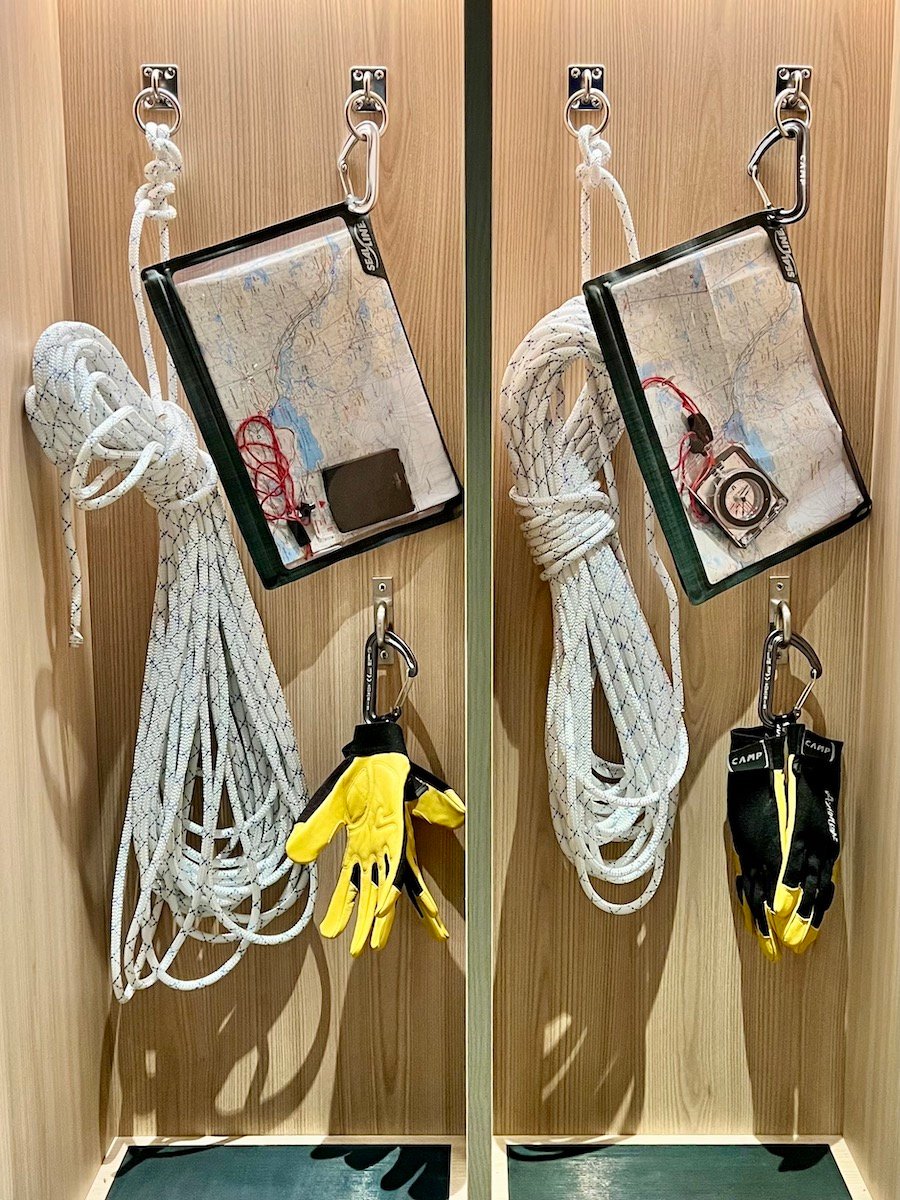 • All necessary expedition gear is provided for guests. Life jackets and binoculars are located in staterooms and waterproof trousers are distributed in advance. Thermal jumpsuits, gloves, and footwear are provided at meeting locations prior to the associated activities.
• The ambient temperature on the ship is cold, so a sweater or light jacket is recommended. However, I made a wonderful observation at the World Café. Positioning and time of day determine which side of the ship receives the direct rays of the sun. For optimum comfort when dining, you can choose either warm and bright or cool and shady seating on the port or starboard sides of the ship.
• There are no formal nights on Viking, but elegant casual is the expected evening attire at Manfredi's and The Restaurant. Jeans are not permitted, and a collared shirt is required for men. Jeans, shorts, and T-shirts are permitted at the World Café and other venues on board.
• Decks 3 and 4 have convenient complimentary launderettes for folks like me who only travel with carry-on luggage.
• WiFi is included and adequate for messaging, email, and social media, but not for streaming or syncing photos to iCloud. As a travel journalist who needs to back up photos regularly, I would love to see Viking increase bandwidth in the future.
• Regular readers know promenades are one of my favorite features on cruise ships. Viking Expedition ships have a fine U-shaped promenade with alternating covered and uncovered sections.
• Birds chirp in the ship's public washrooms. To verify authenticity, I opened my trusty Merlin Bird ID mobile app from TheCornellLab. The app identified the calls as belonging to the Northern mockingbird. On a side note, did you know you can use the Merlin app to call birds to you in the wild?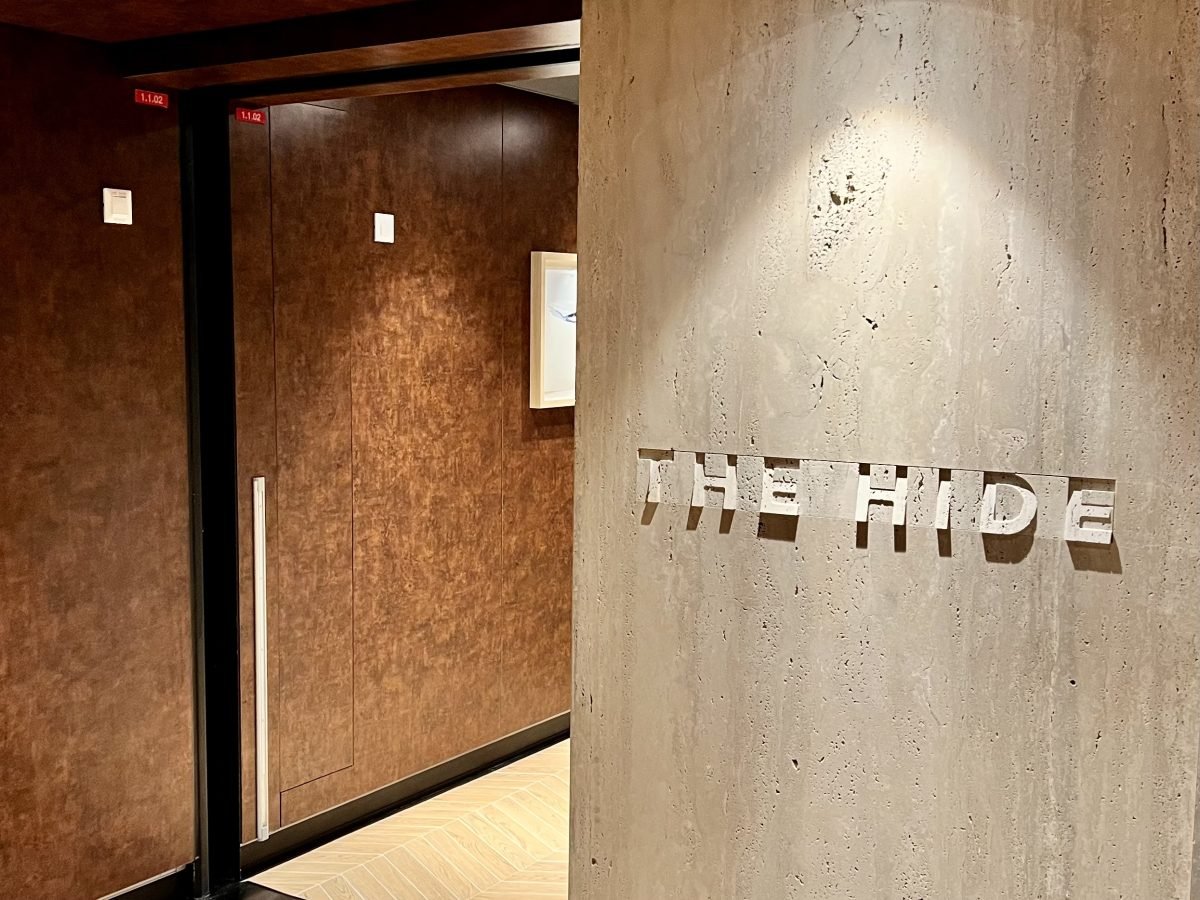 * There is a special venue on board Viking expedition ships called The Hide. It is a secretive space and rarely mentioned in Viking promotional materials. To reach it, one must navigate a labyrinth of stairs or elevators between decks, but once you find it, you will return again and again.
---
Expedition Ship Itineraries
---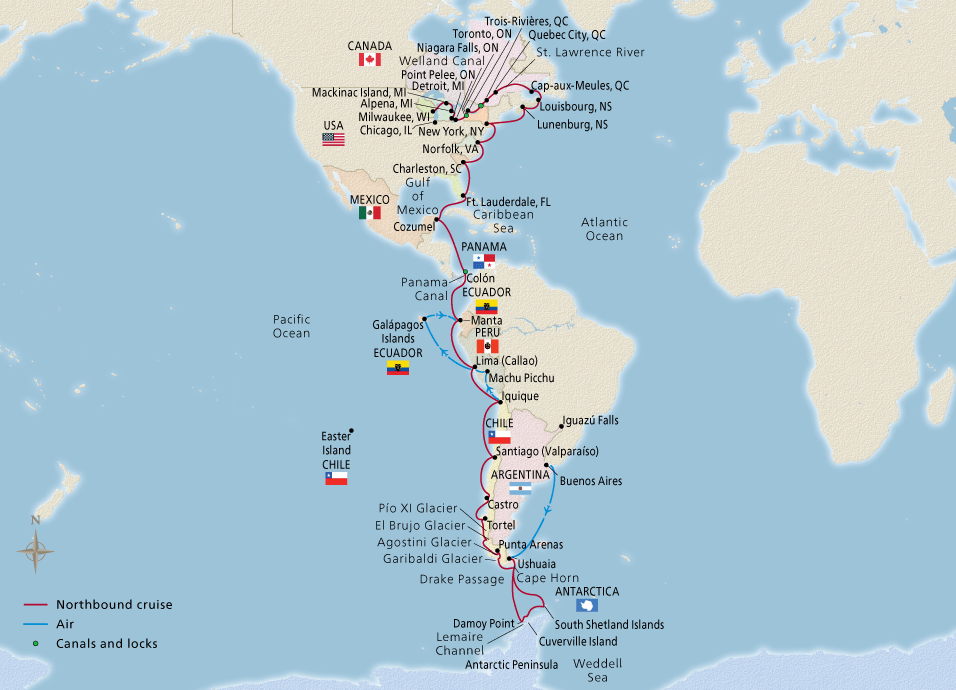 Image Credit: Viking
So where will Viking Expedition ships sail?
The best way to illustrate the regions of Viking's Expedition sailings is with a map of a Longitudinal World Cruise itinerary. Yes, you heard that right. There are currently two Western Hemisphere longitudinal world cruises scheduled for the Octantis and the Polaris in 2023.
For guests seeking shorter expeditions, there are nearly 30 regional itineraries that explore the Americas between Antarctica and the Great Lakes.
---
Viking Expedition Value
---
As expected, expedition sailings are not cheap with any of the industry's leading carriers. In comparison with the seven leading expedition lines, Viking offers the third most-affordable rates.
When you factor in that Viking has the newest fleet, 100% polar class ships, and all of the aforementioned amenities, it leaves no doubt that Viking Expeditions offer the best value for thinking persons to explore the world in comfort.
Click here for lodging options on TripAdvisor!
---
More Viking Content on Backroad Planet
---

Photo Credit: Viking
While researching this guide, I learned that the Viking Octantis—en route from the Romanian shipyard to Norway for completion—met up with sister ocean ships the Viking Sea and Viking Star in the Ionian Sea near Malta.
Having sailed the Viking Star on the "Romantic Mediterranean" itinerary and the Viking Sea on the "Into the Midnight Sun" itinerary, it made me smile to discover that I had sailed on all three ships.
Learn more from my first-hand experiences sailing with Viking Expeditions, Rivers, and Oceans at the links below.
Viking Expeditions
---
Viking Rivers
---
Viking Oceans
---
---
I Would Love to Hear From You
---
I enjoy dialogue with Backroad Planet readers, especially when they share off-the-beaten-path destinations and useful travel tips. Have you experienced Viking Expeditions? If so, I would love to hear about your experience. I invite you to leave your comments and questions below, and I always respond!
---
Pin this Post!
---