(a

7

minute read)
---
An annotated photographic collection of European locations captured with the Apple iPhone panorama feature.
---

We were guests of Viking River Cruises, but the eye candy of European panoramas was all ours.
---
European Panoramas
---
I am not a photographer, although I wish I were . . . .
I have good intentions, primarily because I want Backroad Planet to have the quality of photography I see on other top travel blogs.
So, in anticipation of our summer travel through Europe I bought a Nikon D3300, a camera some reviews call a great entry-level DSLR.
Alas, whether it was lack of time, commitment, or ignorance of the learning curve, I never learned to use the camera before we left, leaving no reason to lug the equipment around Europe.
The iPhone camera in my pocket would have to suffice.
Würzburg, Germany
On the fifth morning of our Viking Grand European river cruise, I pulled back the curtains and sliding glass door to our stateroom veranda.
This was my view . . . .
I wanted our readers to see what I saw, but there was no way to incapsulate this expansive scene into a single photograph.
Or so I thought . . . .
Then I remembered the Panorama function on my iPhone camera. I may have tried out this camera feature early on, but it was not part of my active repertoire. I scrolled over to PANO on the camera app and followed the onscreen prompt.
This photo of the Löwenbrücke Bridge, the Käppele on a distant hill, and the Marienberg Fortress as viewed from the Main River was the result.
I was hooked.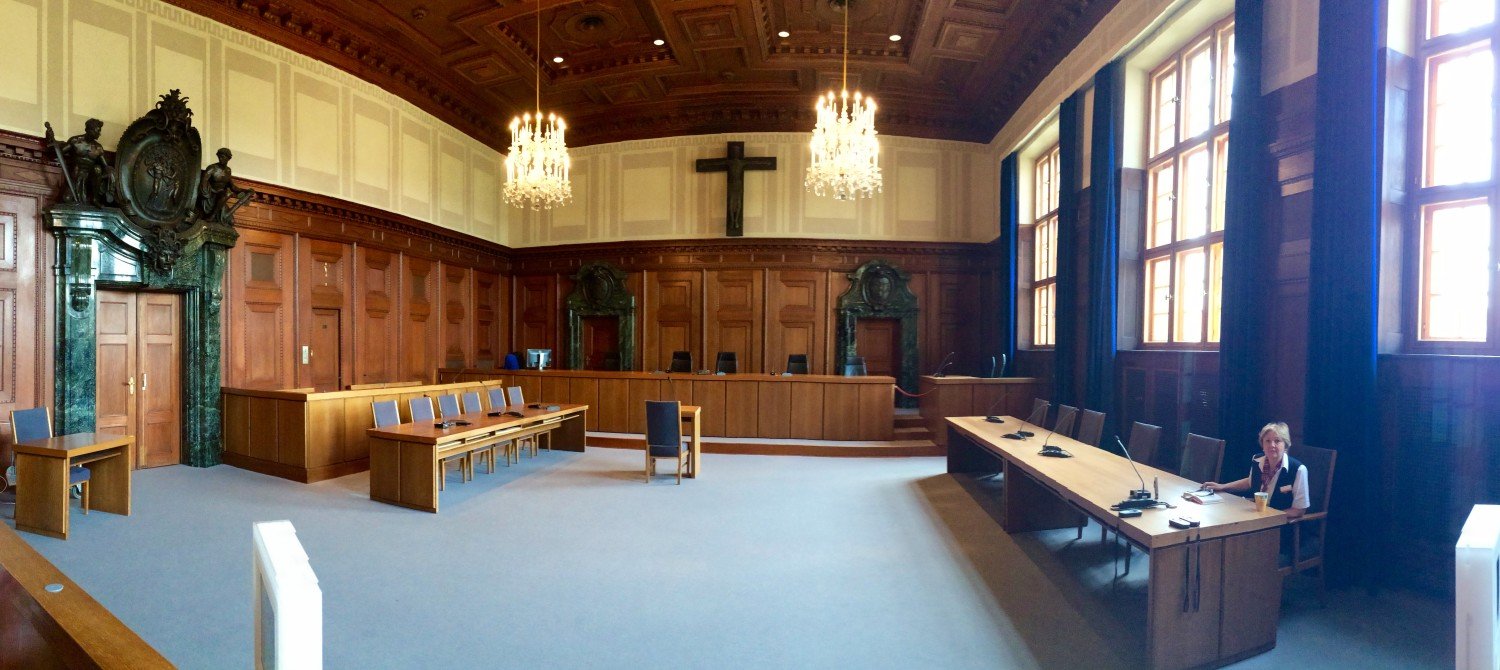 Nuremberg, Germany
I soon learned that panoramic photography can also effectively reproduce enclosed spaces, when one is too close to the subject matter for it to fit it into a standard photo frame.
Such was the case when we visited Courtroom 600, site of the World War II International Military Tribunals for war crimes, at the Palace of Justice in Nuremberg, Germany.
Nuremberg, Germany
Any segment of this cityscape would work alone, but the sweeping view from the Maxbrücke Bridge, to the half-timbered architecture, the Executioner's Tower, and Hangman's Bridge, combined with their reflection in the Pegnitz River presents a more holistic and authentic view of Old Town Nuremberg.

Passau, Germany
Before this summer I had never heard of Passau, Germany, but for many reasons it would become one of my favorite ports on our cruise. This panorama taken from Veste Oberhaus, a 13th century fortress that overlooks the city shows one of those reasons.
Passau is located at the confluence of three European rivers: the Inn, the Danube, and the Ilz. Right of center, the Inn River is a light green color, the Danube is a darker green, and the Ilz below is black.
Passau, Germany
One of the rooms in the Obermuseum houses a collection of locally-made porcelain. Although this shot did not produce the clarity I had hoped, it clearly illustrates the potential of a 360° interior panorama.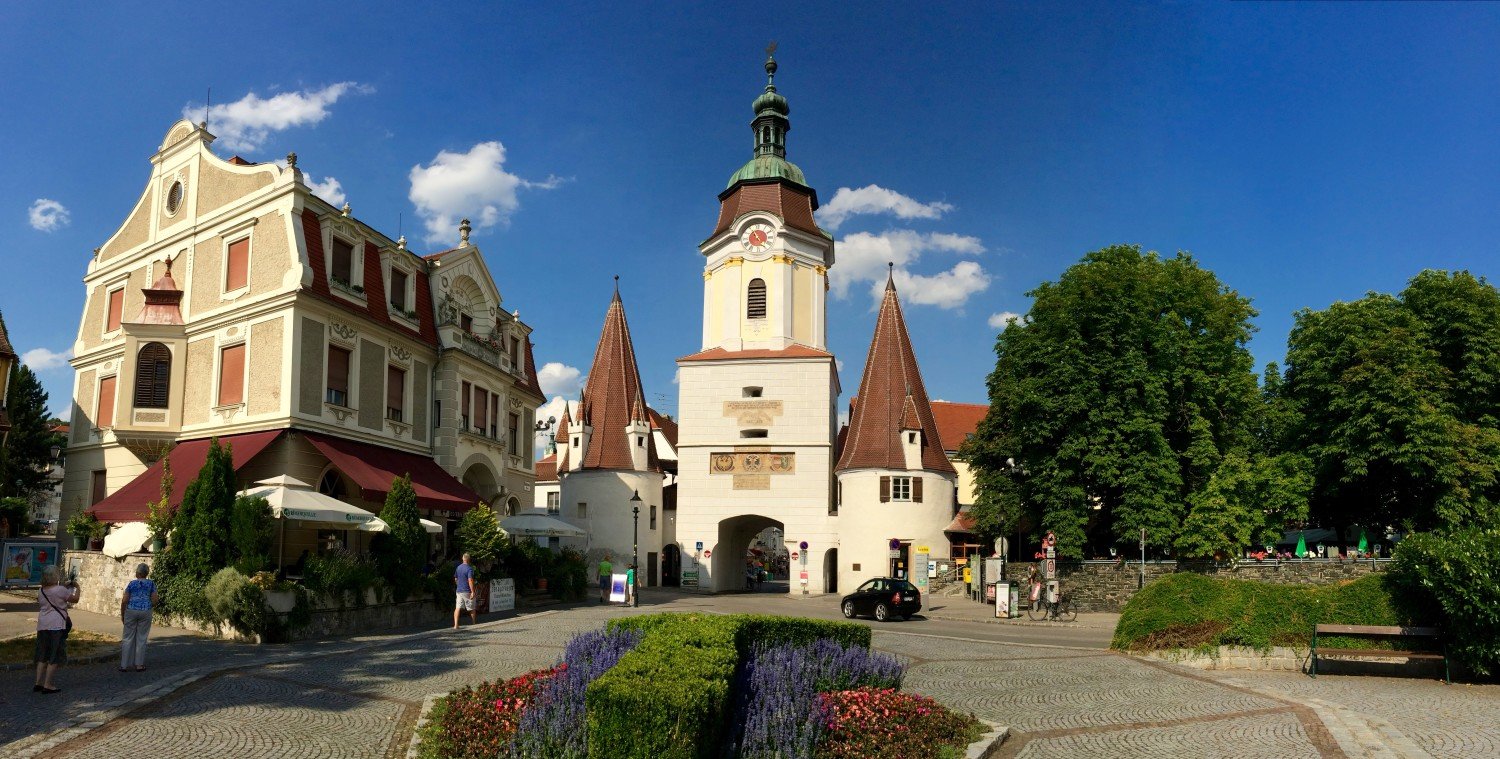 Krems, Austria
With the afternoon free to wander on Day 10 of our cruise down the Danube, Jerry and I set of to explore Old Town Krems.
To me, this panoramic cityscape centering on Steiner Tor, the 15th century gate to the city, makes time stand still and invites the viewer to experience one moment in the life of this picturesque Austrian village.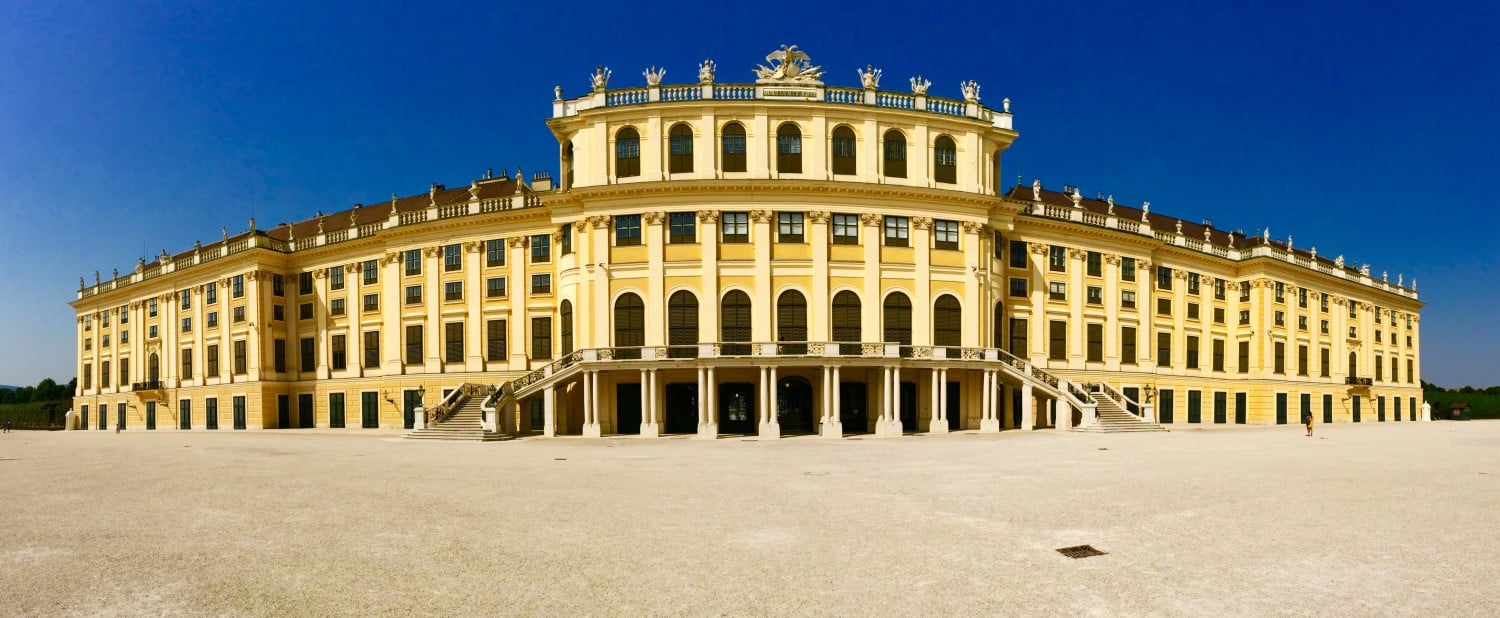 Vienna, Austria
Whether a panoramic image shows distortion is based on the angle from which the shot is taken, and distortion is not always a bad thing.
This photo shows a rear view of Schönbrunn Palace, the summer residence of the Hapsburg monarchy near Vienna. The rooftop curve is a mild fish-eye distortion.
I am pleased that only one of the thousands (not exaggerating) of tourists visiting that day photobombed this image.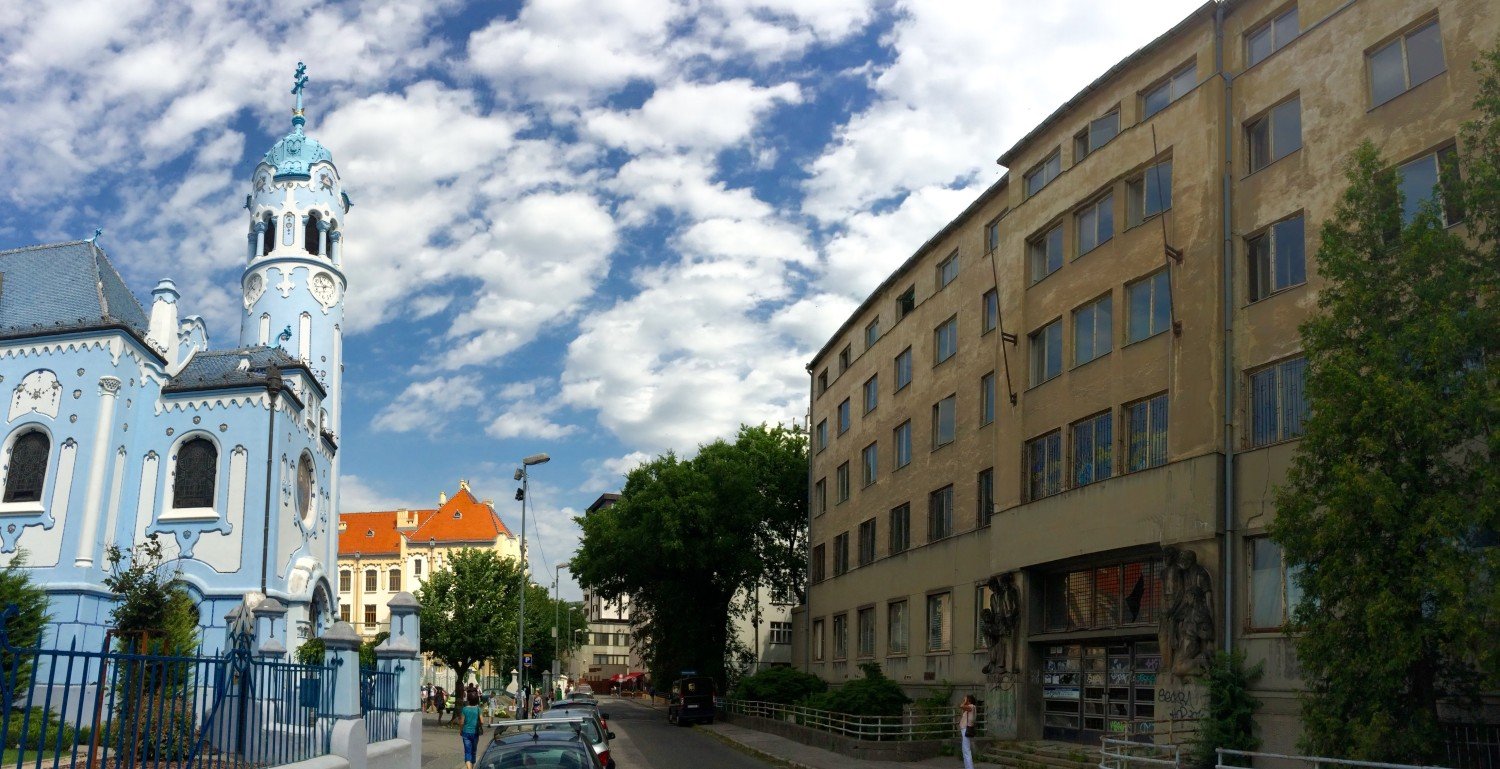 Bratislava, Slovakia
The art nouveau architecture of St. Elisabeth's (The Blue Church) confronts the stark austerity of an abandoned Soviet-era hospital.
I was hoping this panorama would illustrate the architectural contrast so evident in Bratislava today.
I think it did.

Budapest, Hungary
A view of Heroes' Square would not be complete without inclusion of the Museum of Fine Arts (left) and the Hall of Art (right) in this 270° panorama.

Budapest, Hungary
The Hungarian Parliament Building on the Pest side of the Danube as seen from Fisherman's Bastion on the Buda bank of the river.
Budapest, Hungary
The interior of Matthias Church from altar to organ. Distorted, yet possible in panoramic view only.

Budapest, Hungary
I cannot believe my iPhone took this amazing picture. That is why I made it the feature image for this post.
We arrived in Budapest near midnight. The lights of the city along the Danube created a breathtaking otherworldly experience for passengers gathered on the Sun Deck of the Viking Mimir.
I took this panoramic shot shortly after sunset the following night while we were docked opposite Buda Castle near the Chain Bridge.

London, United Kingdom
Typically, I try my hardest to eliminate strangers appearing in my pictures. I wait for them to get out of the way before I frame my shot, or I move to another location and attempt capturing the subject from another angle.
That is not an easy task when traveling Europe in the summertime. Tourists literally invade the continent and selfie-takers abound.
In this panorama, however, I wanted to record the sea of humanity present at Buckingham Palace so readers can see what it is really like to visit popular European destinations on any given summer day.
---
In Summary
---
The panorama feature on the iPhone camera app is a great way to capture everything you want in a single photo.
I should know.
I am not a photographer. I take pictures.
And sometimes I get lucky . . .
---
Map It!
---
---
Final Words
---
The European panoramas in this post were taken during a Viking Grand European Tour on the Rhine, Main, and Danube Rivers, and a return trip through London. If you would like to combine the luxuries of an all-inclusive resort with travel to authentic scenic and historical destinations with panoramic photo ops galore, then a Viking river cruise is your best bet!
As always, Jerry and I love hearing from our readers. If you use the panorama feature on your iPhone camera app, what has been your experience? We invite you to leave your comments and questions below, and we always respond!
---
More Viking Content on Backroad Planet
---
Learn more from my first-hand experiences sailing with Viking Expeditions, Rivers, and Oceans at the links below.
Viking Expeditions
---
Viking Rivers
---
Viking Oceans
---
---
Pin this Post!
---