(a

37

minute read)
---
Step inside the MSC Cruises passenger experience with a critical review of activities, entertainment, dining, and guest relations challenges passengers may face.
---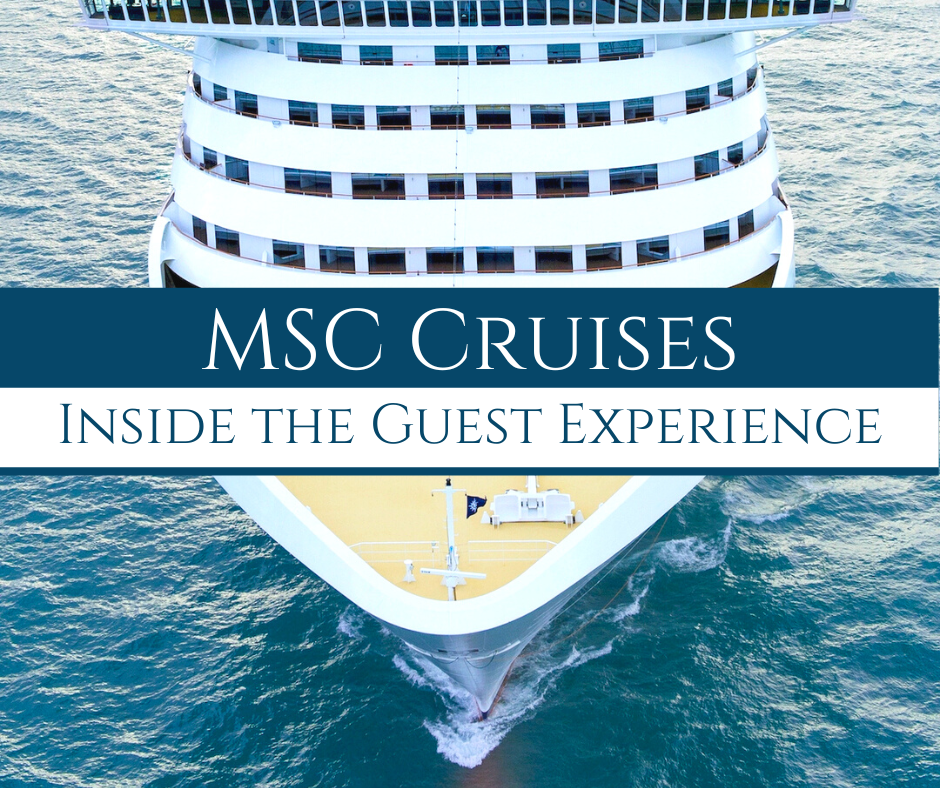 This post may contain affiliate links. Please refer to our our Disclosure/Disclaimer page for more information.
---
INTRODUCTION: This post is authored by my friend Lucy Turner, a seasoned cruiser and travel authority. I first met Lucy while on an NCL Jade Middle East cruise, and later on a Caribbean Princess cruise. In conversation, Lucy occasionally mentioned sailing with MSC Cruises. So I invited her to share her experiences with Backroad Planet readers, and she accepted. Be sure to catch Lucy's companion MSC Cruises review linked below. —Howard
---
---
Inside the MSC Cruises Guest Experience
---
In my companion post, An MSC Cruise Line Review: From the Outside In, I gave a brief history of the Italian line and an overview of the MSC fleet, world destinations, and onboard services.
Now, let's take a closer look at the passenger experience while sailing an MSC cruise: What are the daily activities? What types of entertainment are offered aboard? Is the food and dining comparable to that offered by other cruise lines? And how well does MSC Cruises handle guest relations challenges? In other words, how is MSC different from the usual cruise experience, and will most passengers enjoy it?
During the past year, I sailed with MSC Cruises twice on two sister ships: Divina and Preziosa. They are both in the cruise line's Fantasia class of ships and were built in 2013 and 2014, respectively. The ships are virtually identical, with 1751 cabins each. For comparison, Divina and Preziosa are about the same size as Royal Caribbean's Voyager class ships or Princess cruise line's Royal class ships. In 2018, I cruised on Lirica, one of the MSC Cruises' older, smaller ships.
I have cruised for more than 30 years, enjoying lovely times navigating the decks, restaurants, and lounges of the Voyager class, the Royal class, and many other ships on the mainstream North American lines. My three MSC vacations were mostly enjoyable, but clearly different from the experiences I had with lines such as Royal Caribbean, Princess, Celebrity and Norwegian.
---
Shore Excursions & Port Information
---
The purpose of this review is to introduce readers to the MSC onboard experience, so I will not go into much detail about shore excursions offered by MSC. Like all cruise lines, MSC offered shore excursions at every port on my Divina and Preziosa sailings, and also on my earlier Middle East cruise aboard the MSC Lirica. The excursions were similar to those offered by other cruise lines who made stops at the same ports.
I did not purchase any MSC shore excursions while sailing Divina or Preziosa. The Divina itinerary covered familiar ports where I did not feel the need to book anything.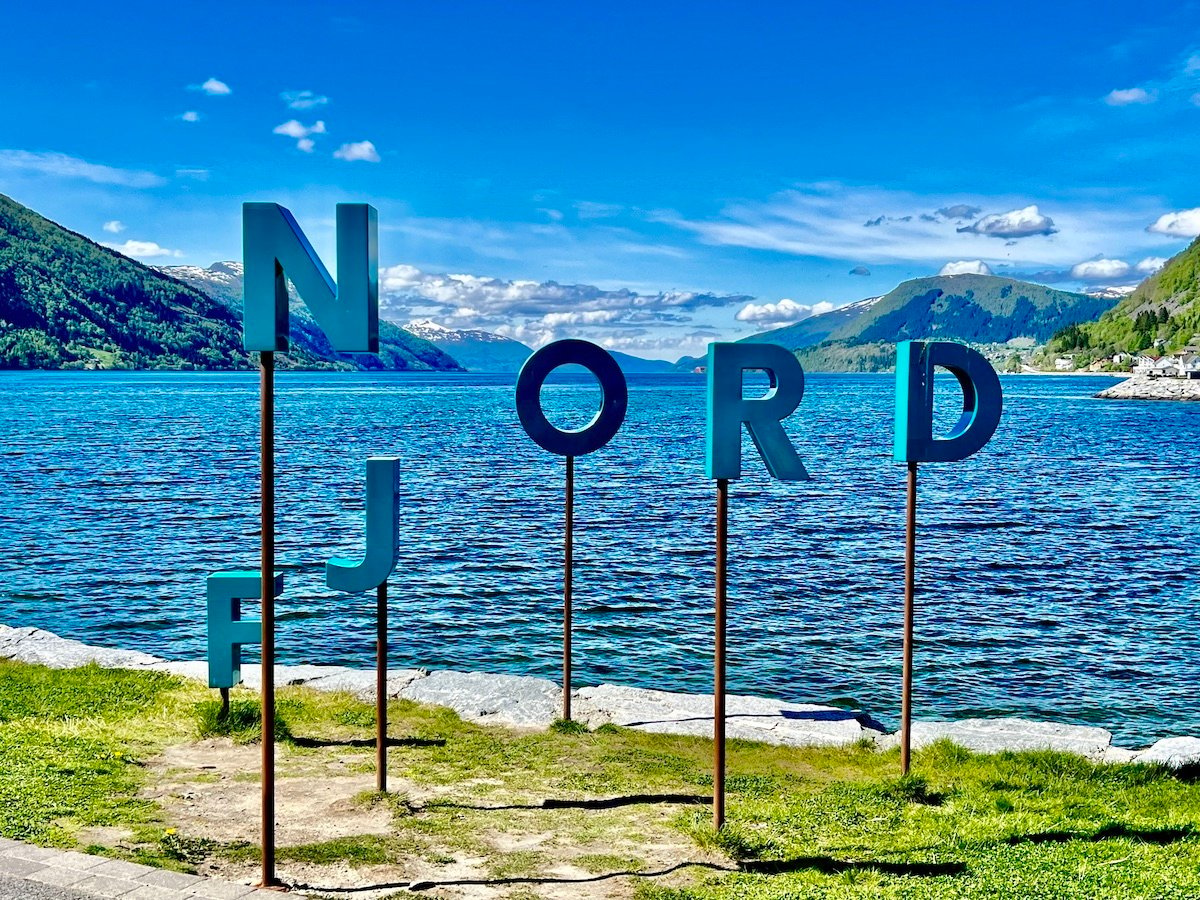 On the Preziosa Norway itinerary, I found the selection limited and expensive. Yes, I know Norway is expensive. I found it more pleasant to get off the ship, find a map from a tourist information office, and explore independently. In Honningsvag, I booked a private excursion at about half the cost of the comparable MSC excursion.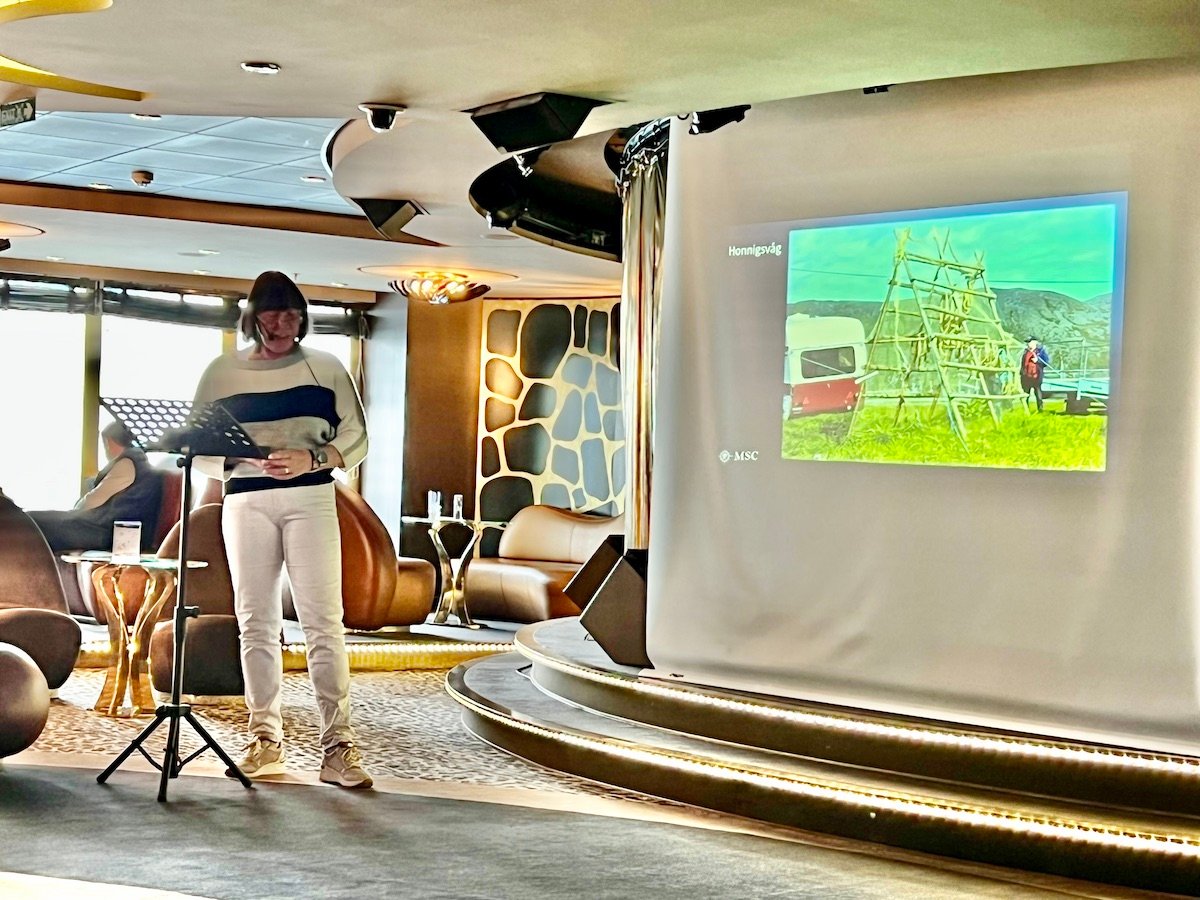 On MSC Preziosa, there was a destination expert who offered informative lectures about the ports we visited in Norway. The speaker, who lectured in English, was enthusiastic and informative. Don't expect in-depth discussions of history and culture. MSC is not Viking. But our port lecturer did a great job explaining what was interesting in each port. I would have preferred that she also give us a bit more practical information about getting to the sites mentioned. Instead, she tended toward recommending ship excursions, as expected.
Ocean Cay MSC Marine Reserve
---
A special note about MSC cruises sailing out of Florida, and eventually New York. These cruises almost always include a stop of one or two days at MSC's private island: Ocean Cay MSC Marine Reserve.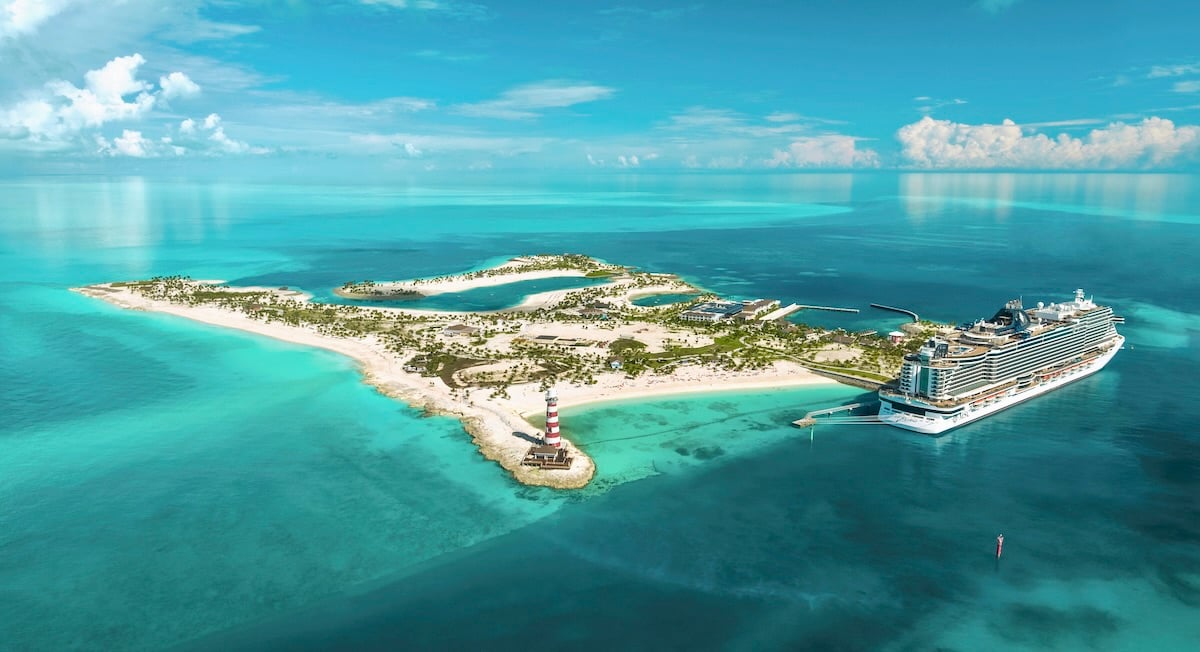 Photo Credit: MSC Cruises (Conrad Schutt)
Ocean Cay is an artificial island in the Bahamas that was built in the 1960s by dredging. It was used for more than 50 years as an industrial sand mining site. Beginning in 2016, MSC took on the task of transforming the industrial site into a tropical resort and marine preserve. It opened to cruise guests for the first time in 2019.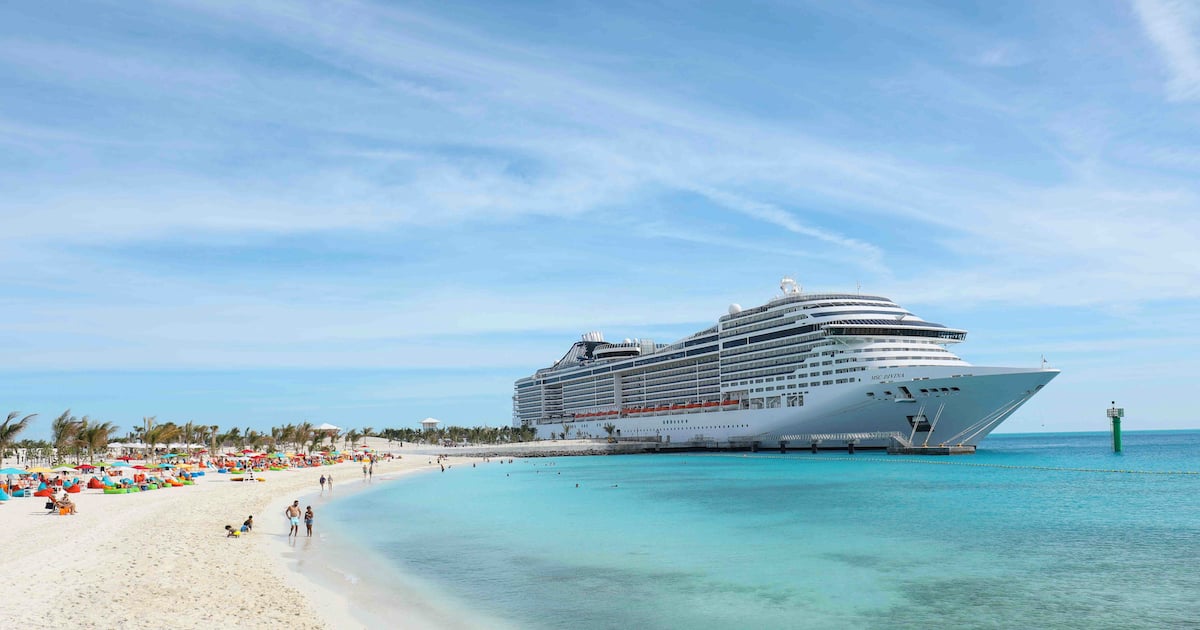 Photo Credit: ©AP Images for MSC Cruises
The beaches there are heavenly. The water is warm and calm and crystal clear, and the sand is soft. I would give a special shout-out to the caring and helpful staff there. I observed a number of folks who needed assistance getting in or out of the water due to the challenge of shifting sand (This may or may not have included me.). The lifeguards who watched the beach areas were observant and quick to come down to the water and offer any assistance needed.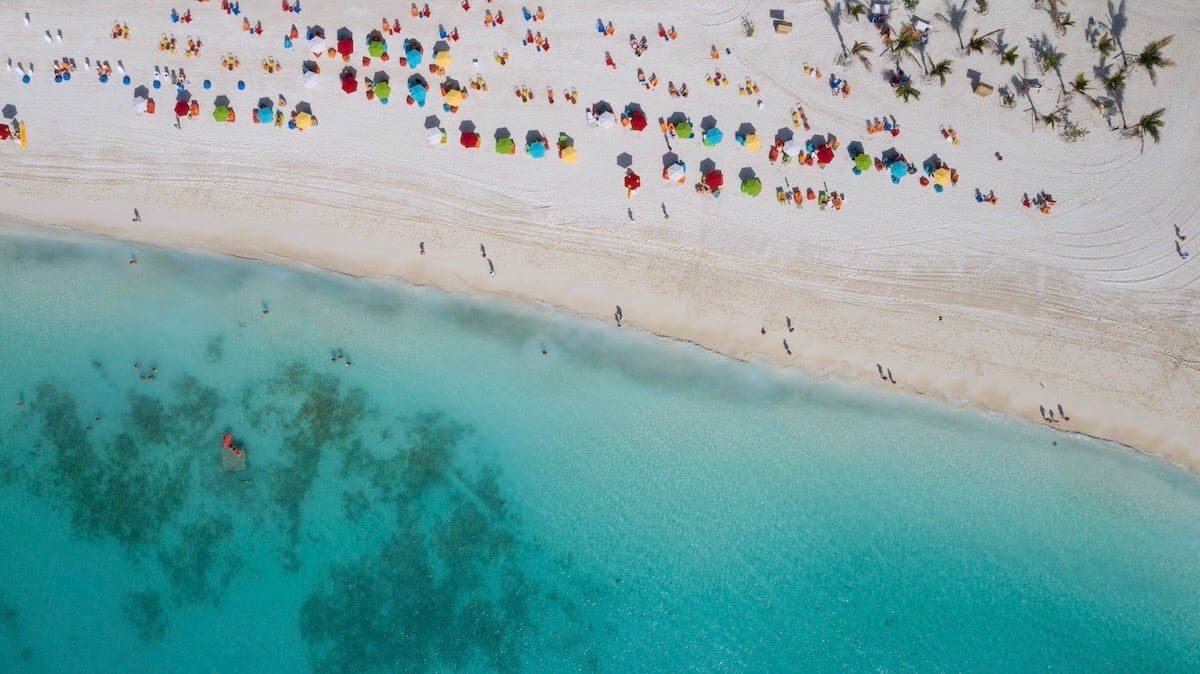 Photo Credit: ©AP Images for MSC Cruises
I was lucky to visit when it was not crowded, so I wonder how it is when two full ships are docked at the same time.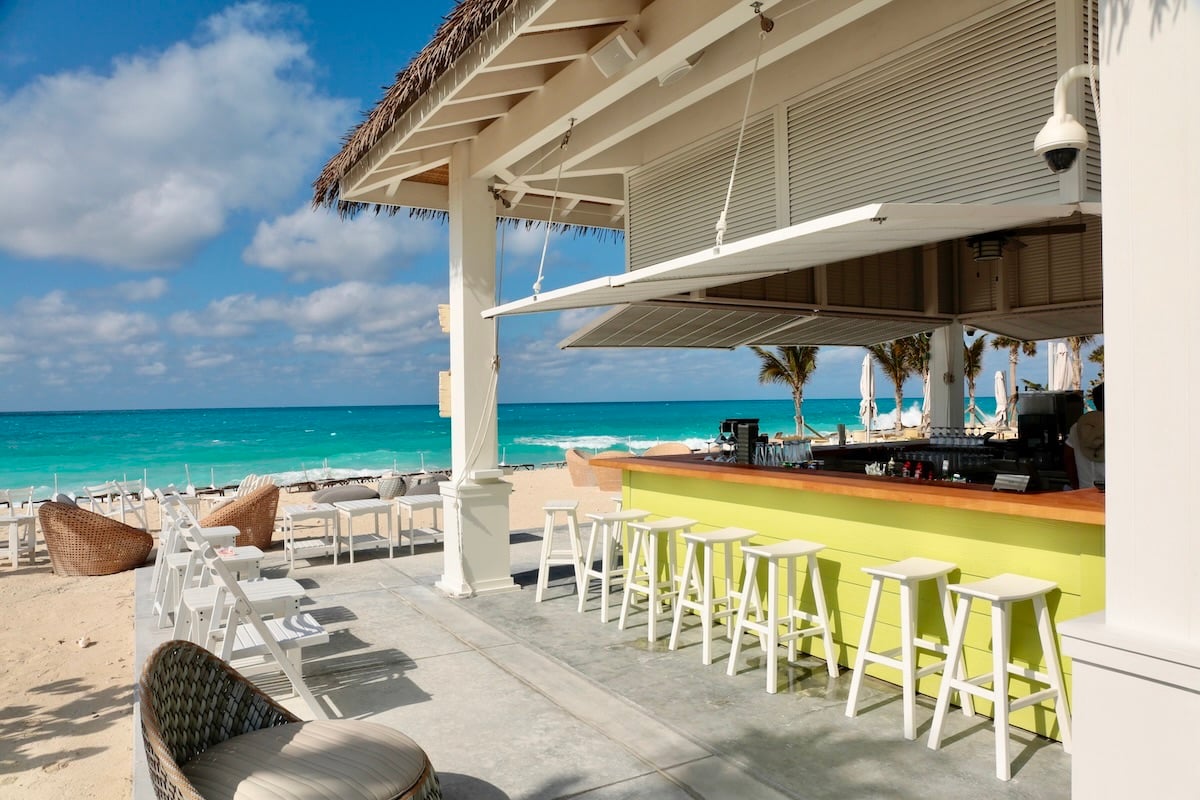 Photo Credit: MSC Cruises
If you purchase an MSC drink package, it will include beverages on the island (which is not always the case on other cruise lines). The included BBQ lunch is very good. Kudos to MSC for turning an old industrial site into a beach getaway that looks like it will get more beautiful every year.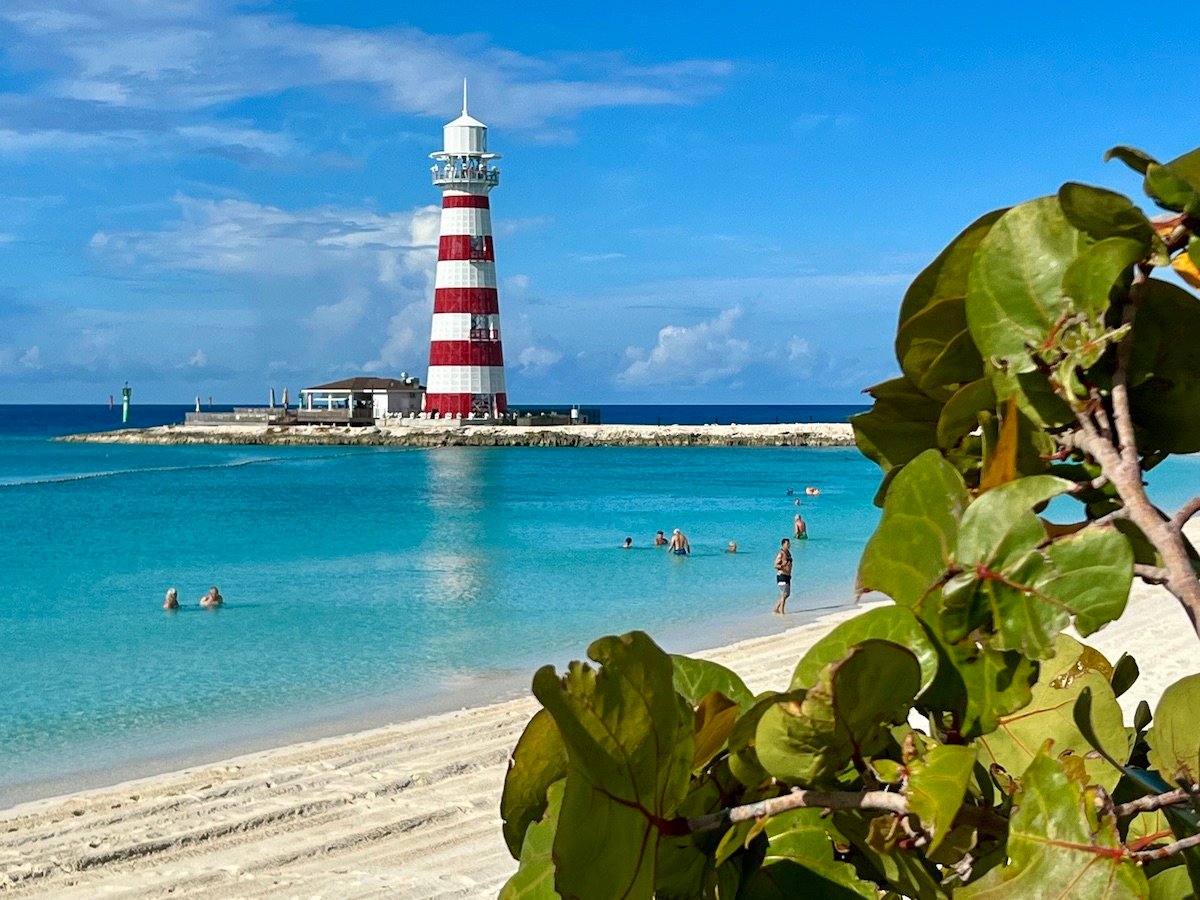 Unlike our friend Mr. Backroad Planet, I greatly enjoy a good beach, so I was happy to spend time on the island. But even for those who are not beach bums, MSC offers interesting options including lighthouse climbs and live entertainment.
---
Onboard Activities & Entertainment
---
MSC does it's best to maintain the cruise line tradition of keeping passengers entertained and engaged in activities. I sometimes think of cruise ships as summer camps for adults, with an endless schedule of exercise classes, dance lessons, movies, arts and crafts lessons, art auctions, enrichment lectures, cooking demonstrations, and of course Bingo.
For those of you who prefer the less energetic activity like reading the latest page-turner or practicing your crossword skills, there is good news on MSC Cruises, at least on the mid-size Fantasia Class ships. There are activities, but they are not so exhaustive as to require a fine print listing in your daily planner. On the other hand, in the evening there are enough musical entertainers in various lounges and showrooms to allow for a virtual pub crawl every night.
Daily Activities
---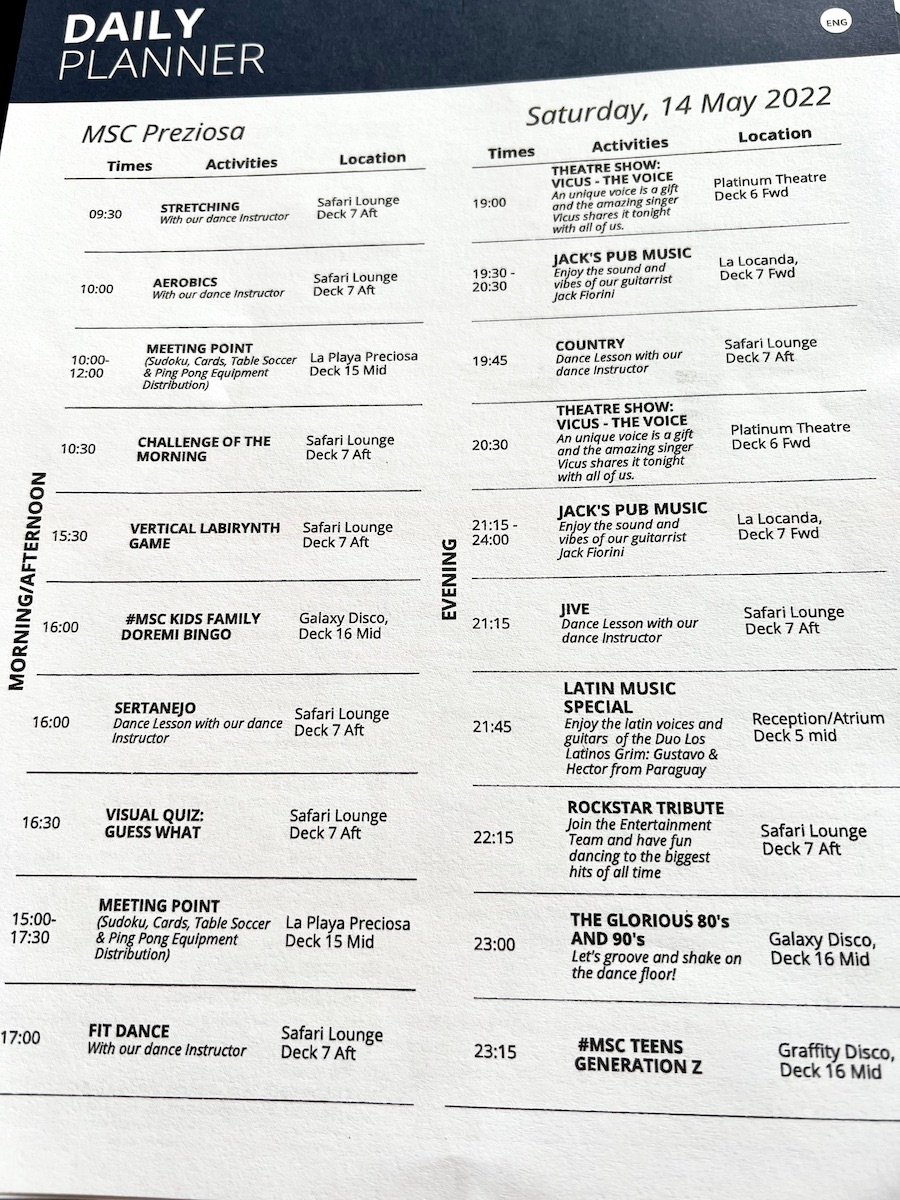 The daily schedule on MSC cruises is not as packed as some daily schedules on North American lines. As you can see from the sample above, there is a focus on sports events, music, and dancing. The good news is that the schedule is not puffed-up with the usual events that seem designed to separate you from your money like Bingo, spa sales pitches, and art auctions.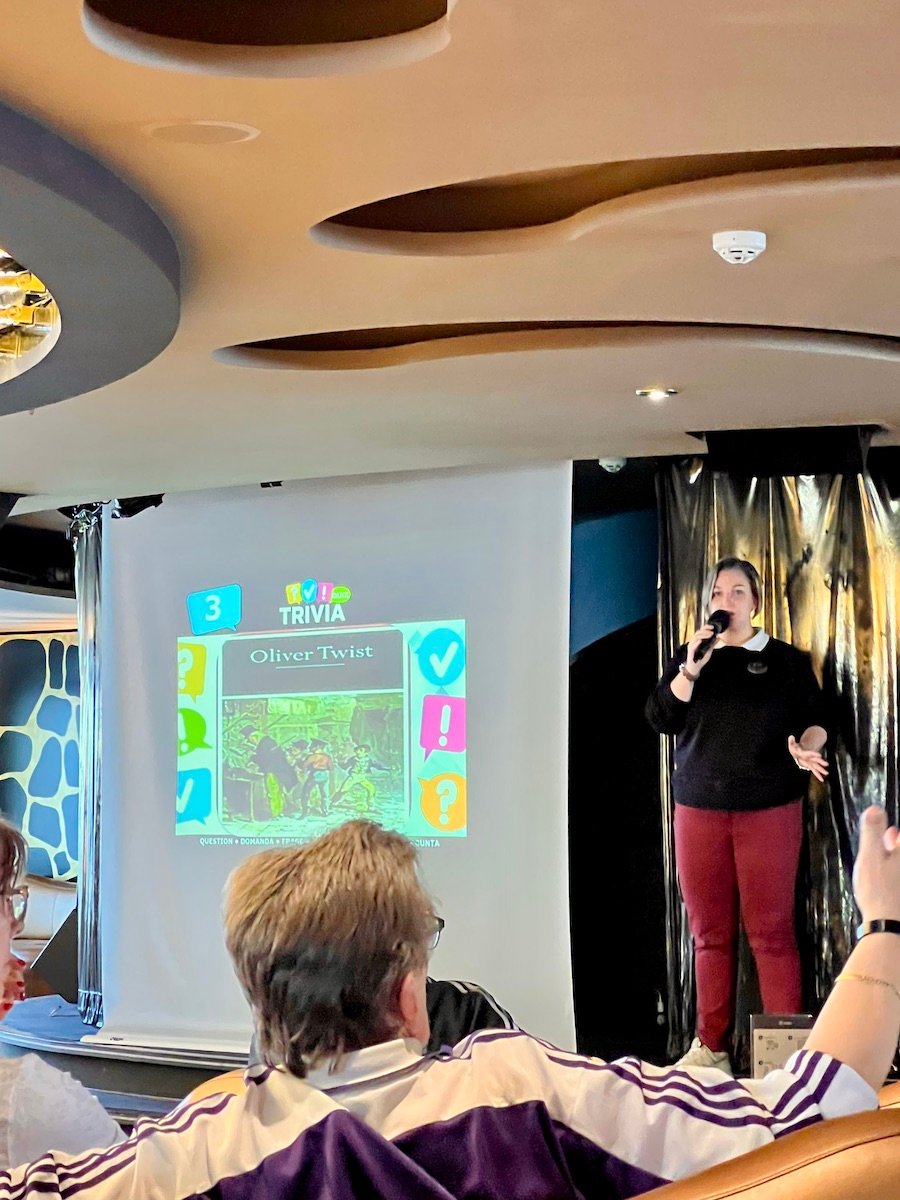 In what seems to be a new addition to the selections, MSC offered what is called "video trivia." Trivia contests, like comedy acts, are difficult to successfully pull off on a cruise where people are speaking five or more different languages and come from different countries.
I attended a few sessions of video trivia and found it entertaining, though maybe not in the way intended. First, the trivia is not very trivial. In order to engage such a diverse group, the questions have to be very basic. Examples: Show a picture of a woman who is obviously Lady Gaga, Ask  "Who is Stefani Germanotta?" Show a picture of a famous book such as David Copperfield. Ask, "Who wrote this book?"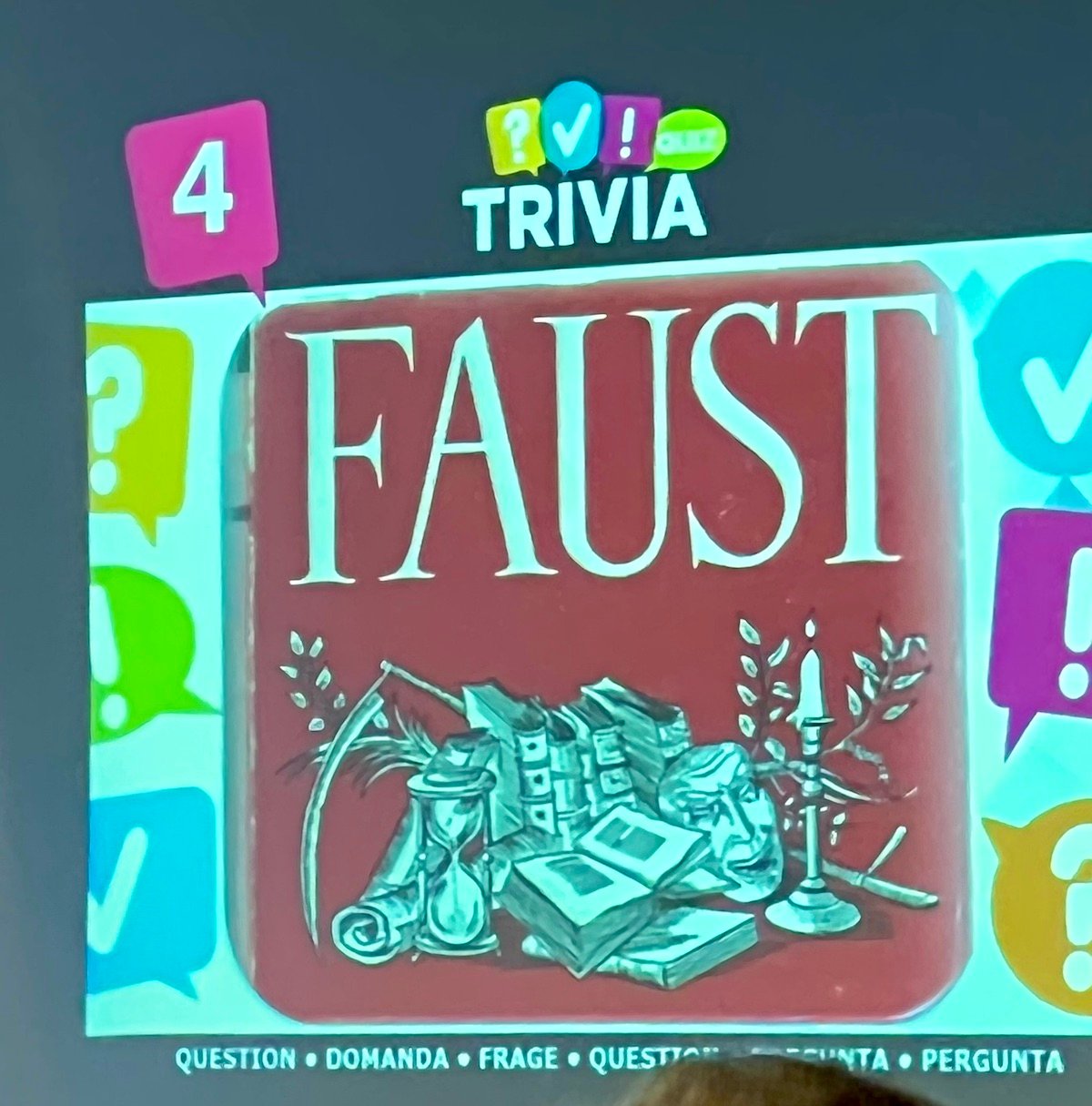 In order to even things out for the many German passengers, contestants were asked to name the author of Faust. (Thank you Sister Janet from 12th-grade world literature. I correctly stated it was Goethe.) Unfortunately, I am not properly educated on opera, and I missed the question about La Traviata. For future reference, La Traviata is the work of Verdi, not Puccini.
Another interesting aspect of the trivia is that MSC is serious about making sure people are answering properly and not cheating. While on Princess and other lines, we are trusted to either mark our own papers or exchange them with another group to be marked. MSC collects the answer sheets and takes them away to be graded by the staff.
Music & Dancing
---
MSC offers a number of clubs and lounges with live music of many varieties.
The MSC music offerings were good on both Divina and Preziosa. Divina featured Chris J. Clark, who was one of the most talented guitarist/vocalists I have ever heard on any cruise line. Preziosa also had a talented guitarist who played a nice selection of rock, folk, and country music. Both ships had good house bands for rock and pop music.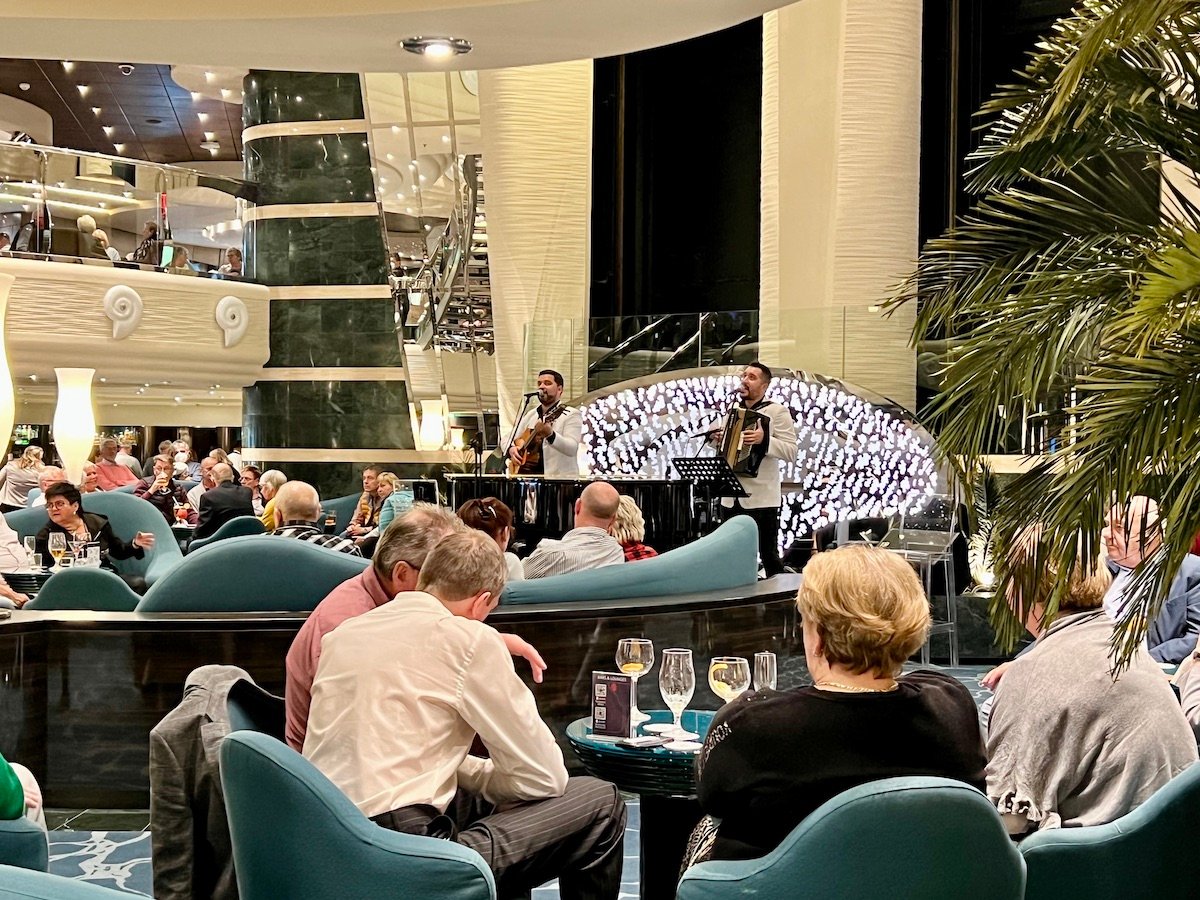 On Preziosa, other venues featured a more Latin flavor, with talented musicians from Peru, Colombia, and elsewhere. I was happy to spend my evenings enjoying a variety of music in nicely-decorated lounges with kind servers ready to bring my favorite beverage.
Several of the lounges featured dance music, and many of the passengers were taking part in the dancing. MSC staff are proactive in encouraging passengers to get up and move. One of the most frequently-listed daily activities on board is dance lessons.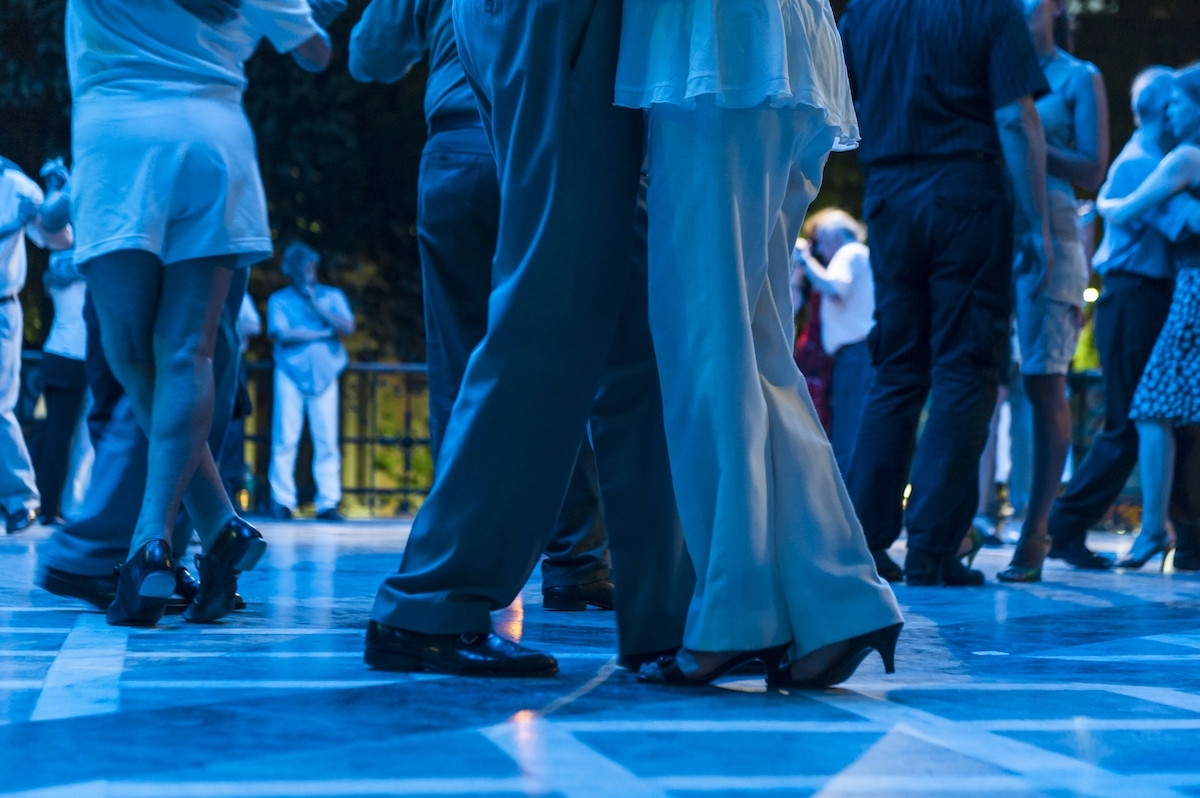 The staff at dance lessons were more engaged with passengers than on US lines. On US lines, I've found that there is generally one member of the cruise director's staff giving direction to the passengers. On MSC, dance lessons were more important. The times I attended, there were a half-dozen staff members actively encouraging passengers to dance, and taking time for personal instruction. Staff was interested in getting as many people as possible involved.
Production Shows
---
Photo Credit: MSC Cruises
The big production show experience on MSC was not up to the levels you find on North American lines like Norwegian, Princess, or Royal Caribbean. Both ships I sailed had large theaters and a talented company of singers and dancers. But the shows offered in the theaters are hampered by several factors. First, it is obvious that MSC has not prioritized big production shows in the budget. There are no extravagant sets, the costumes are average, and the number of performers is lower than that used in the big productions on other lines.
Probably the most important difference is the need for MSC to create shows that appeal to an international audience consisting of people from multiple cultures speaking many languages. As a result, it's not realistic for MSC to invest in real Broadway and West End productions like NCL does. Even the jukebox-type song and dance productions offered by Princess are not the right kinds of shows for the MSC audience.
MSC production shows tend more toward a variety show vibe that combines magicians, acrobats, dancers, and singers who can deliver performances that are not heavily-tied to the need to understand a single language. Within that framework, MSC does a nice, if somewhat predictable job. One night is focused on France, and you can bet there will be can-can dancers kicking away. On Italian night there will be familiar songs from the Al Martino and Dean Martin catalogs, as well as some impressive light opera. Latin theme nights will bring out the tango dancers.
Because of the language issue, I have never seen a comedian on MSC. There are sometimes comedy bits included in their variety shows, but they are typically physical comedy.
TV & Movies
---
MSC in Europe has a very European selection of TV channels. You will not find the variety of TV shows and movies that the North American lines generally provide. The TV had CNN International and Sky TV for English news. There were other channels in German, French, Italian, and Spanish. There were some TV shows and movies on the TV, but not the number of options that are generally available on the large lines catering to North American passengers.
---
Dining & Beverages
---
Guests who have complaints with MSC generally agree that the food is not up to the standards of other lines. I would be a bit more specific and say that the food on MSC—especially on European or other international cruises—is not what you are used to being served on lines that cater to North American passengers.
For example, it's unusual to see steak on the regular menu, although on Preziosa there was an option every evening to order a steak for an upcharge. There is no "lobster night" like we see on Princess and Celebrity, although that disappeared from NCL a long time ago, as well. Other cruise "standards" like shrimp cocktail, French onion soup, Caesar salad, and cheesecake are not regular items on MSC menus in Europe. But on Divina sailing out of Port Canaveral, I found the onion soup amazing.
Main Dining Room
---
The main dining on MSC is a bit retro in that most passengers are scheduled to either early or late dining, with an assigned table they go to every night. In Europe, the late seating may be very late by American standards. The only passengers who can take advantage of anytime flexible dining are those who have booked the upgraded "Aurea" experience, which is significantly more expensive than most cabins.
European Menu Samples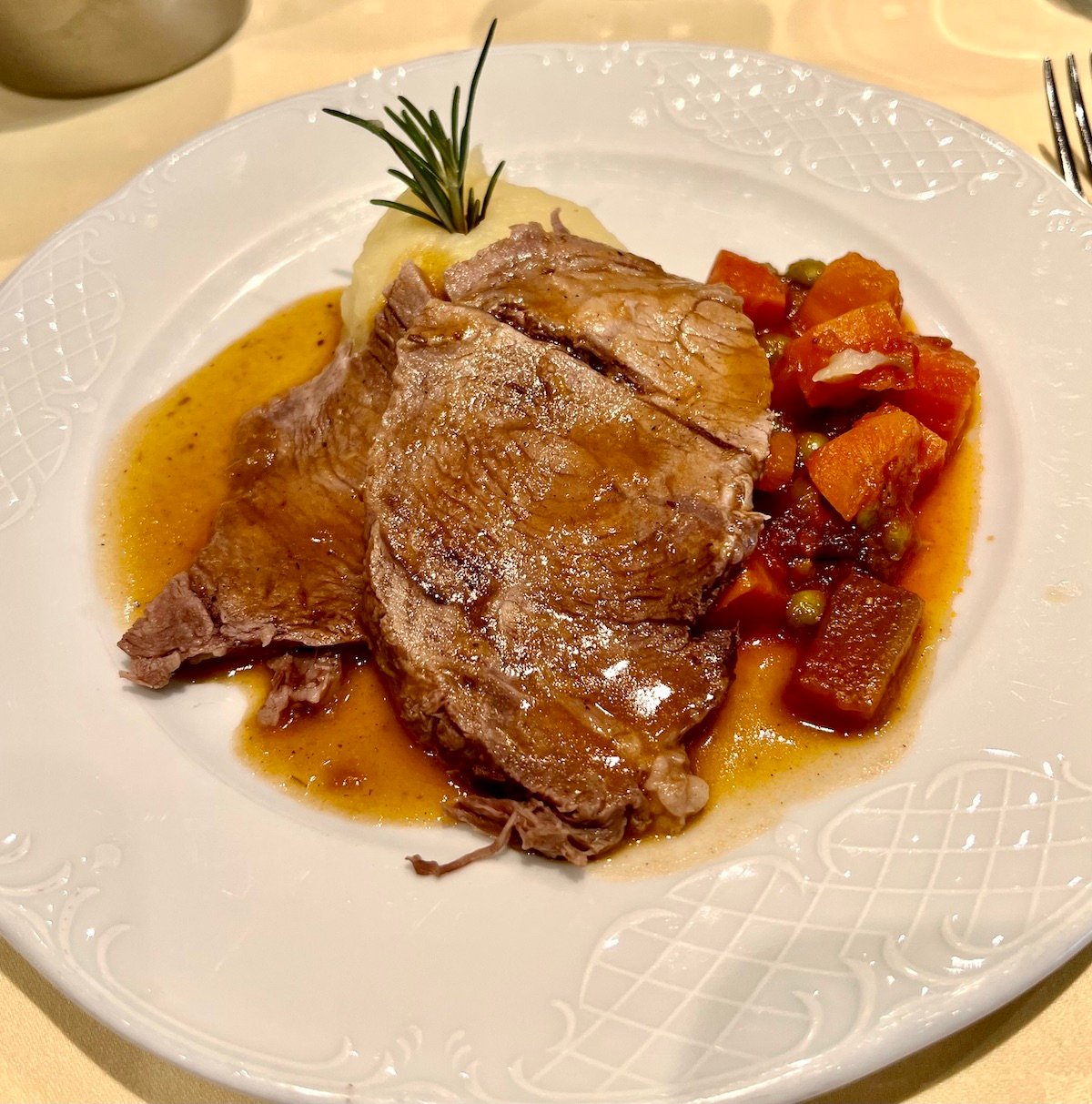 One night on Preziosa, I was surprised to see prime rib on the menu. When I ordered it, my friendly waiter advised me that it was really pot roast. It was good pot roast, but that's not the same as prime rib.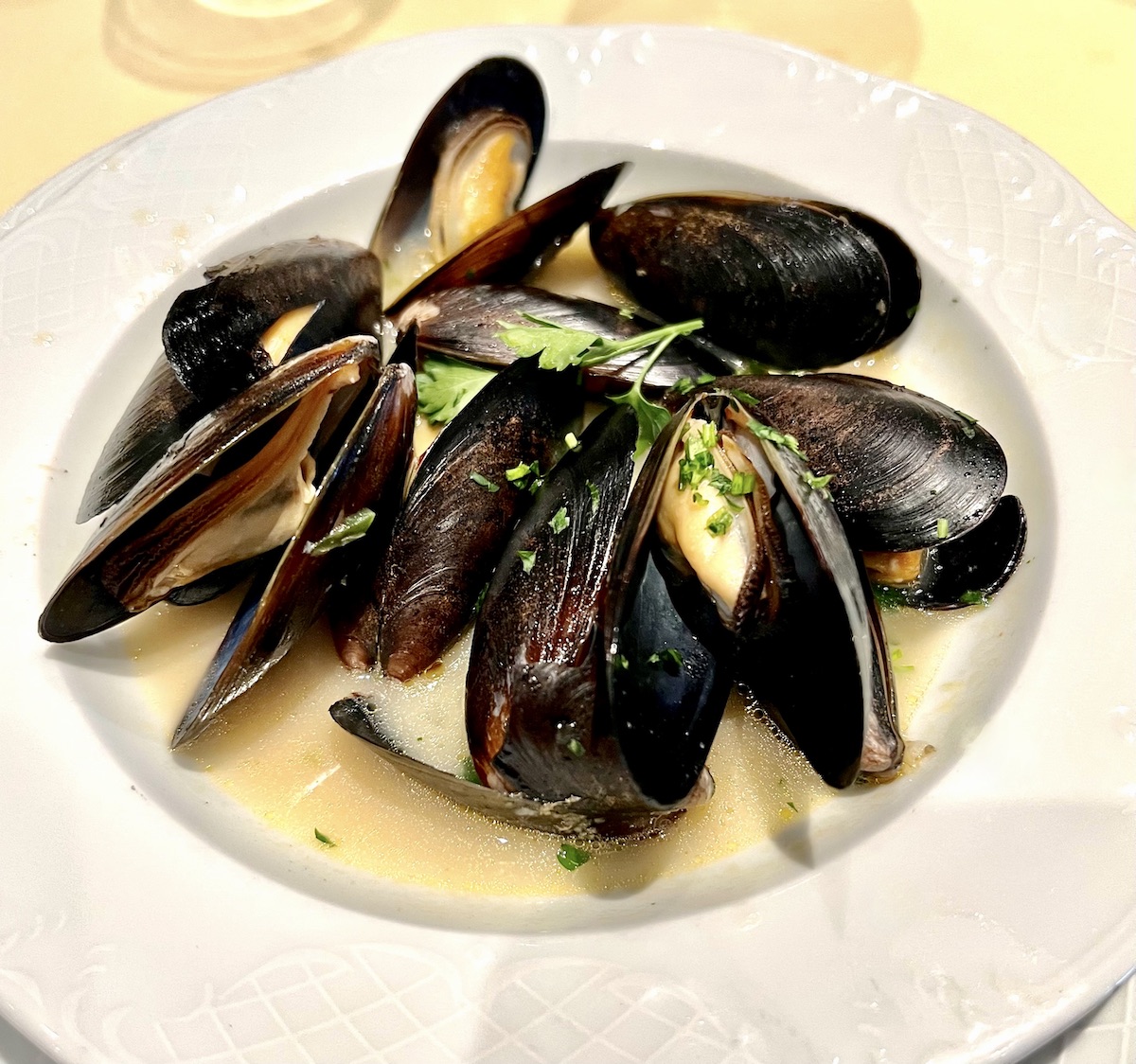 There was no shrimp cocktail, but there were lots of mussels.
Most of the meals in the main dining room on Preziosa reminded me of blue plate specials at a diner: a starch, a veggie mix, and a couple of slices of some sort of roast with a nice sauce, all arranged neatly on a plate. Well-prepared and tasty, but not the elevated experience we expect on a line like Celebrity or Princess.
North American Menus
On Divina, I thought the menus were more like the menus we Americans are accustomed to: French onion soup, Caesar salad, chicken breast, and catch-of-the-day were always available. Cruise ship standards like shrimp cocktail or steak were only available with an upcharge.
Buffet
---
The buffet areas on Divina and Preziosa are quite extensive. A person could easily rack up a significant step count each day by merely circling the buffet area, which occupies an expansive section of the Lido Deck.
The variety of foods offered on the buffet was impressive. There were sections devoted to appetizers, breads, hot entrees, pastas, salads, carvery items, burgers and hot dogs, and desserts. In addition, there were international sections with Asian and Indian offerings, and a significant selection of vegetarian and other "healthy" options.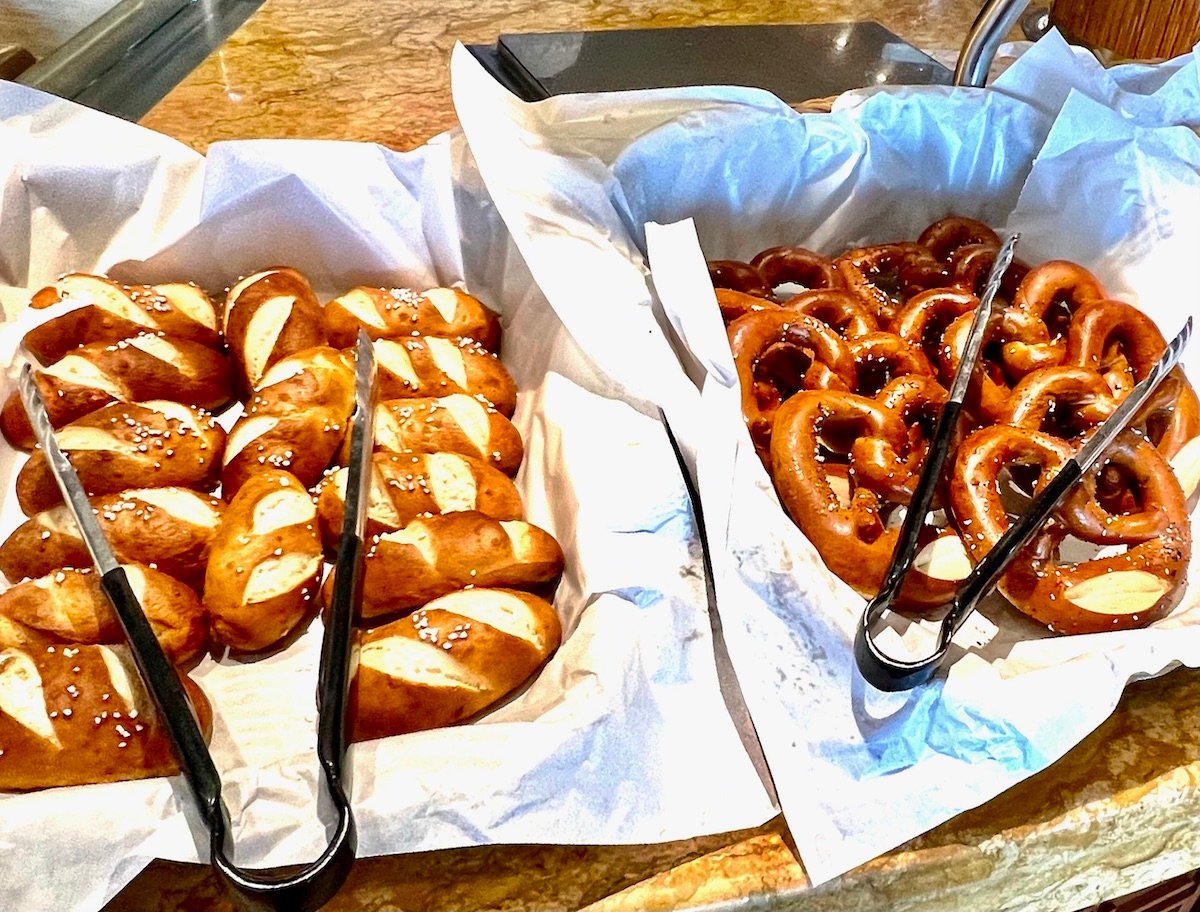 With so many German passengers on Preziosa, I suppose it was expected that we would have pretzels and pretzel bread. I'd love to see this on more cruises.
Pizza & Pasta
---
And then there was pizza. The pizza on MSC is excellent. Princess Cruises likes to brag that it has the best pizza at sea, and for a long time I would have agreed. But no more. A real highlight of an MSC cruise is the pizza. It was available from about 11 AM to midnight on Preziosa.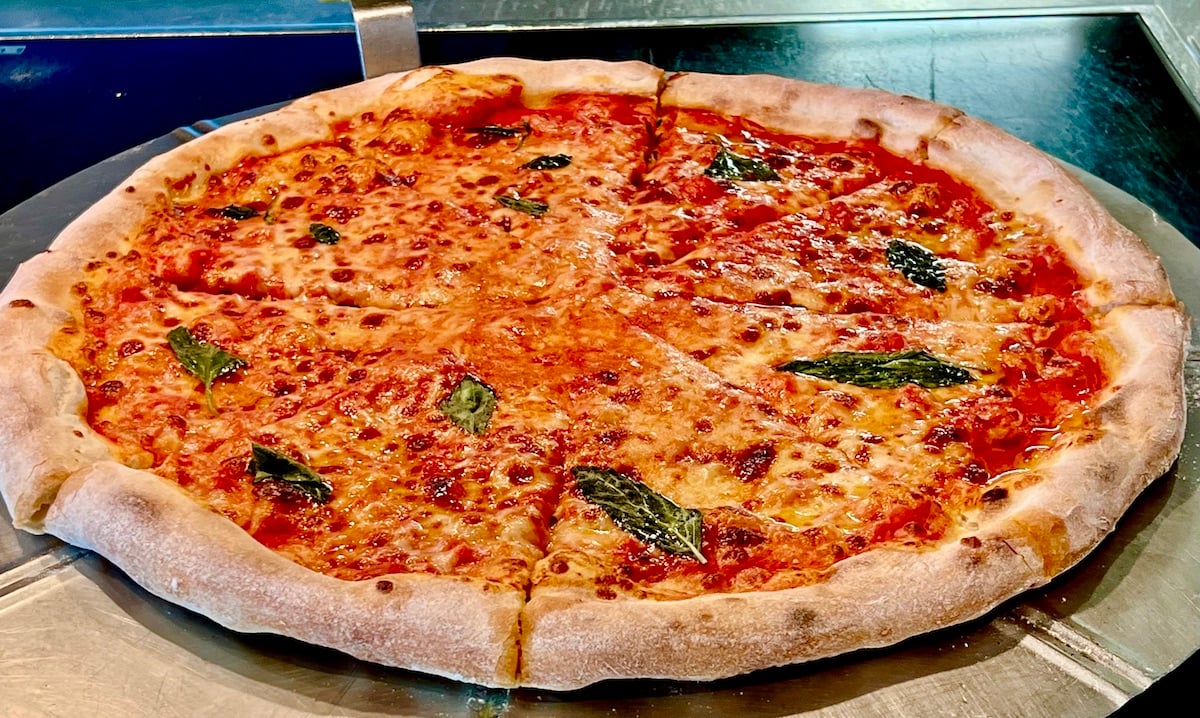 You can always get Margarita (tomato and cheese), and generally 4-5 other flavors, which rotate, such as veggie, sausage, and Hawaiian. Sometimes calzone was available, and several times I saw a variety I'd never heard of before: hot dog and French fry.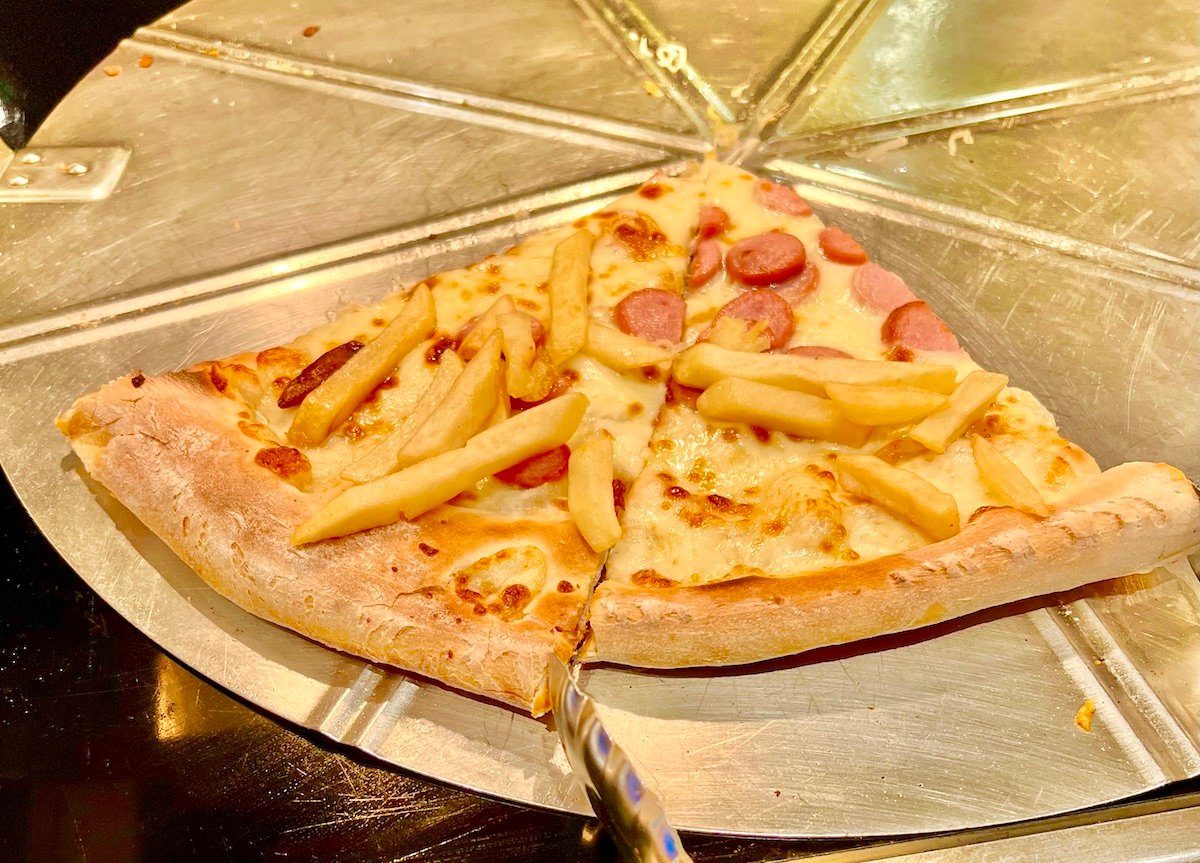 I was surprised to see this because I thought the pizza police in Italy would not allow such a thing. However, when I asked Mr. Google about it, I was surprised to read that it is actually a thing in Italy, where it seems to be popular with children and German tourists. I was aghast to read that it is referred to as "American Pizza." I suppose I lead a sheltered pizza life, but I have never heard of an American ordering pizza this way.
Although I turned my nose up at hot dog and French fry pizza, I was thrilled to find something unique on Divina sailing out of Port Canaveral. On that cruise, MSC offered breakfast pizza, which quickly became my new favorite breakfast item. It started as basic tomato and cheese pizza, with a topping of bacon and eggs, or ham and eggs. The eggs were done perfectly.
In addition, there was a pizza with a breakfast pastry vibe—think pizza crust covered with raspberry jam, cream cheese, and streusel topping (no tomato and cheese on that). I was sad—very sad—to find out that MSC did not offer breakfast pizza on Preziosa.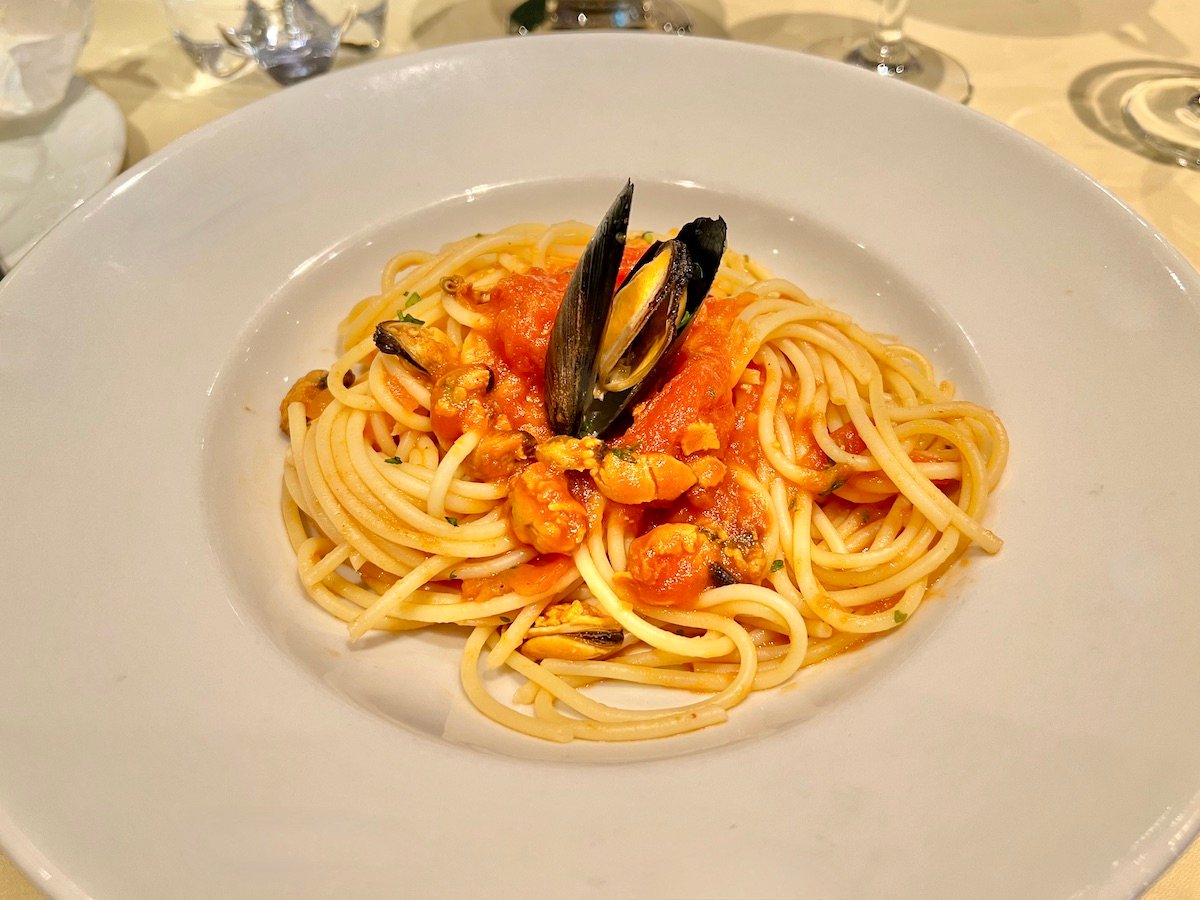 MSC also has a steady stream of pasta selections. This is not at all surprising for an Italian line. I found myself reminded that what I take for granted at home is clearly Italian-American cuisine, as opposed to authentic Italian. No spaghetti and meatballs on MSC. Many of the pastas featured eggplant or anchovies or mussels, or unique combinations of vegetables. They were mostly a welcome change from my admittedly Olive Garden sensibility.
Specialty Dining
---
Butcher's Cut Steakhouse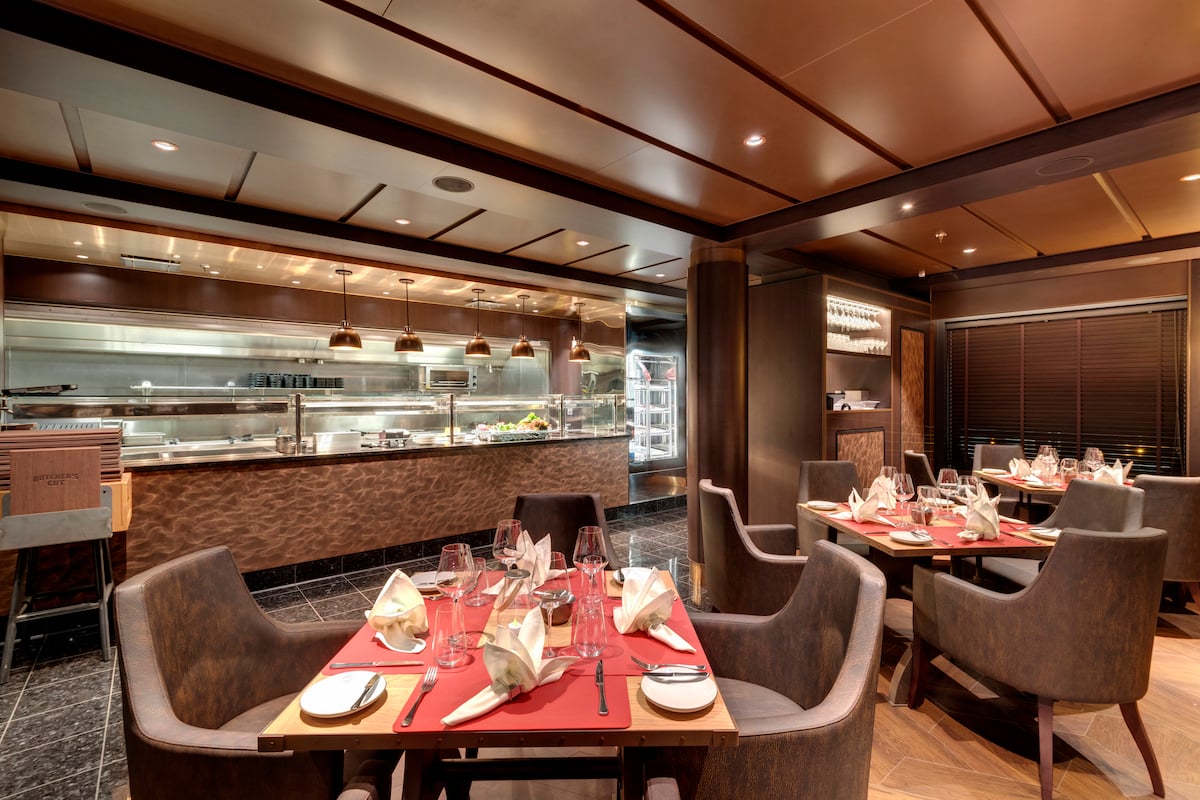 Photo Credit: MSC Cruises
Butcher's Cut Steakhouse was as good as any specialty steakhouse restaurant that I've experienced on other cruise lines. I enjoyed dinner at Butcher's Cut on both Divina and Preziosa. It was an excellent experience both times.
The filet was outstanding, and I was appreciative that MSC brings you all four of its specialty sauces to try. (Far superior to the "salt menu" offered on Princess, by the way).
Galaxy Sushi
The second specialty restaurant on Preziosa is the Galaxy restaurant. It is advertised as Asian fusion, but really seems to be primarily serving sushi and other Japanese seafood. My cruise fare on Preziosa included a dinner at Galaxy, so I gave it a try, and I was impressed. I skipped the uncooked selections, but very much enjoyed the cooked items.
The service at Galaxy was special, and it was not a busy place. There was only one other party in the restaurant the night I went. My server was particularly concerned that I have a nice dinner after I explained to him that I'm a big fan of sushi. The dinner offered as part of my package was a special set menu that was extensive and a bit of a mystery to my non-sushi eating self. My gracious server took the time to explain everything, and took it in stride when I tried, but then declined to finish the uncooked items.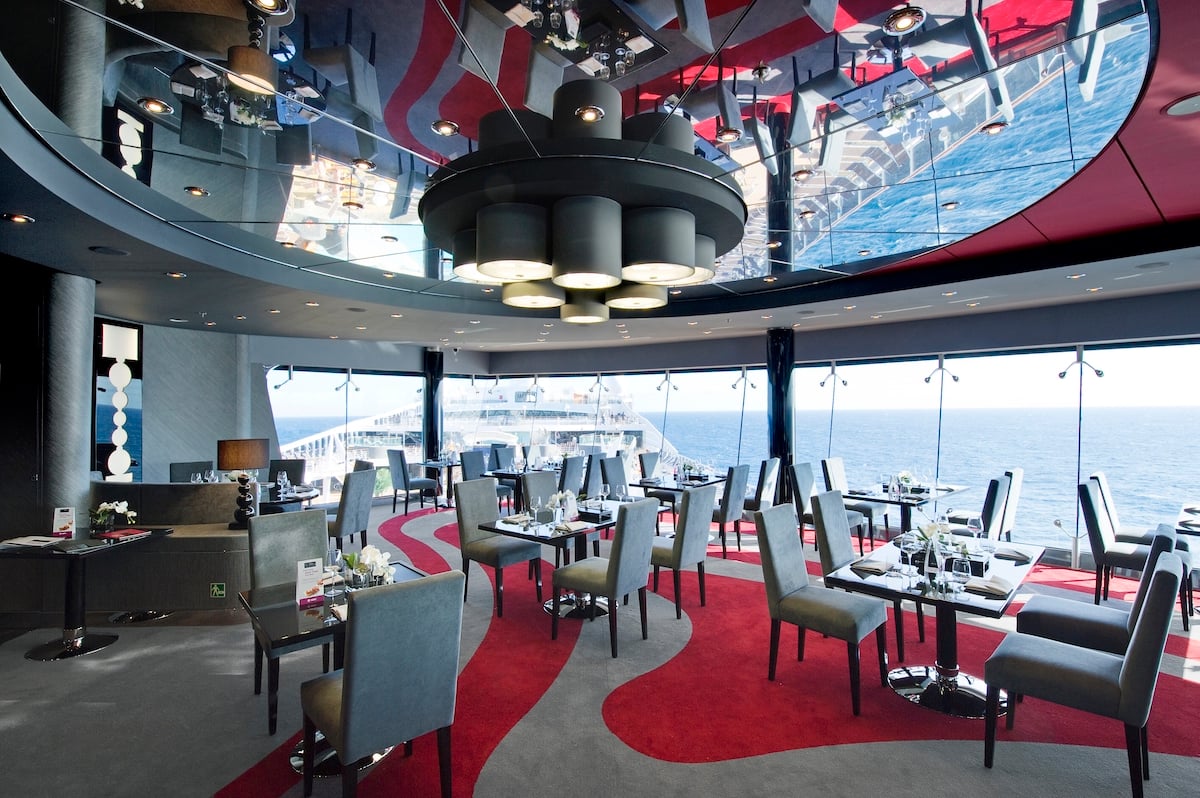 Photo Credit: MSC Cruises
Galaxy is in a large circular space at the top of the ship that offers floor-to-ceiling windows for great views. During the day, it was a popular quiet place for people to sit and read. Much later at night, it became the disco. For my dinner, I enjoyed views of Norway as we departed Nordfjordeid.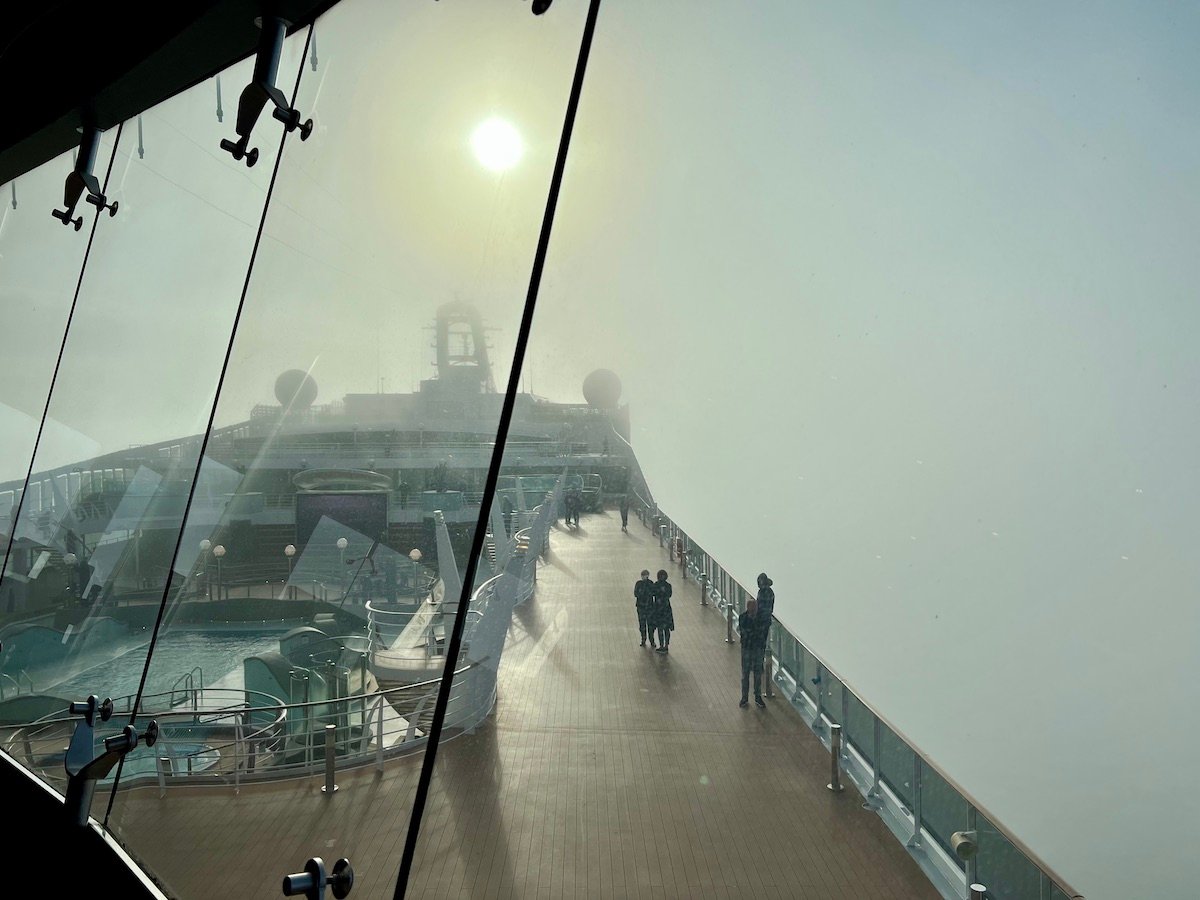 The atmosphere became a bit more intriguing as we spent about a half an hour navigating through a thick fog bank. I labeled it the "Andrea Doria Vibe."
Beverages
---
The buffet on Preziosa was operating mostly in pre-pandemic mode. It was self-serve on many items. You could get your own complimentary coffee, tea, and water at the beverage station. For bottled water or specialty coffees (or other paid drinks), there were servers available to take orders. The staffing was generally adequate. Things would slow down a bit during the peak times at breakfast and lunch.
MSC also includes orange juice in the morning. Unlike most US based lines, there is no iced tea, fruit punch, lemonade, or similar.
If you like bottled water, then MSC Europe is the place for you. In Europe, there seemed to be unlimited bottled water on Preziosa. I am aware that many Europeans, and especially Germans, do not drink tap water. I had trouble imagining the amount of space taken up in the hold with gazillions of bottles of sparkling or still water. There must have also been several crew members whose only job would be to crush the bottles after they were used.
Beverage Packages
Photo Credit: MSC Cruises
For those who like the convenience of prepaid and unlimited drinks, MSC offers several levels of drink packages. Prices are comparable to what I've seen on other lines. The drink packages include specialty coffees and bottled water, which some lines do not include. As of July 2022, the drink packages cost the following amounts per person per day:
$38 Easy Package, which covers drinks up to $8
$49 Easy Plus, covering a wider variety of drinks, up to $9
$69 Premium, covering drinks up to $15
$25 Alcohol Free
$17 Minors Alcohol Free
I generally don't purchase the drink package because I don't drink enough alcohol to make it cost effective. On my Preziosa cruise, I booked a special fare that included the Easy Plus drink package, as well as dinner at two specialty restaurants, and WiFi service for two devices. Therefore, I was very happy to enjoy unlimited specialty coffees, bottled water, and soft drinks. I could have had many wines and other alcoholic items, but I generally pass on those because I don't like to drink my calories. The total additional cost of this special fare was less than the cost of the Easy Package alone. Getting a package deal like I had, when available, would be a good value for most people who enjoy adult beverages.
Coffee, the Italian Way
---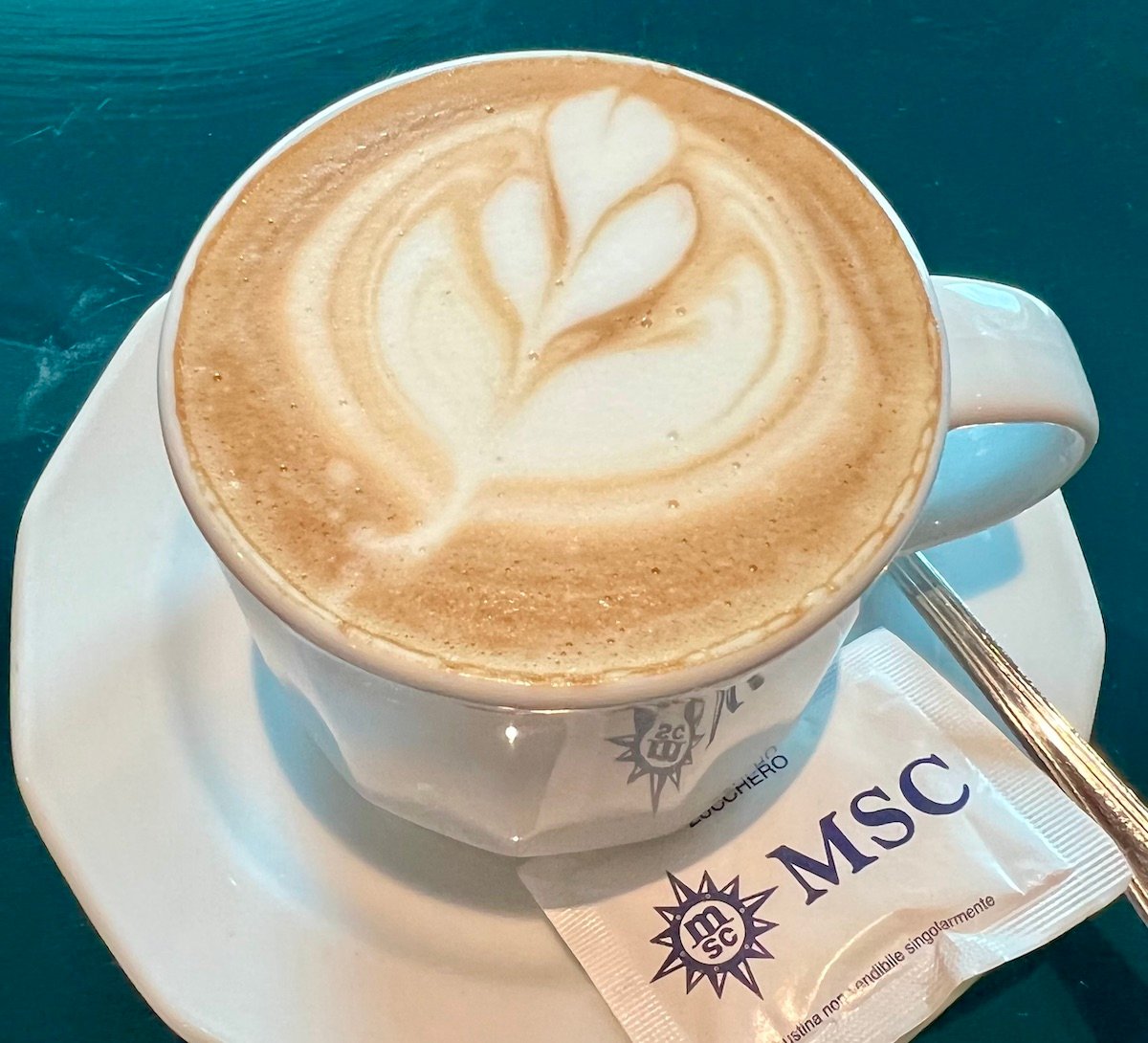 Being Italian, MSC does an excellent job on specialty coffees. I enjoyed many, many cappuccinos on my Preziosa trip, which were especially nice in the cold climate of Norway. The coffees are included in the drink packages, and you can get a great coffee in almost every bar or lounge.
The iced coffees were a little less spectacular to me because of the European aversion to using a generous amount of ice. I'm from Florida where it's hot most of the time, and I want a lot of ice to keep things cool. Whether ordering coffee or a Diet Coke, I always had to specify extra ice when I ordered. But to be fair, I know and expect that in Europe.
On MSC in Europe, don't expect to automatically get coffee in the dining room. In the main dining room, coffee was never automatically offered on MSC like it is on North American lines. After a few days I realized that I never saw anyone get coffee or tea in the dining room. I thought it unusual because I know most of my coffee-addicted friends can't leave dinner without it.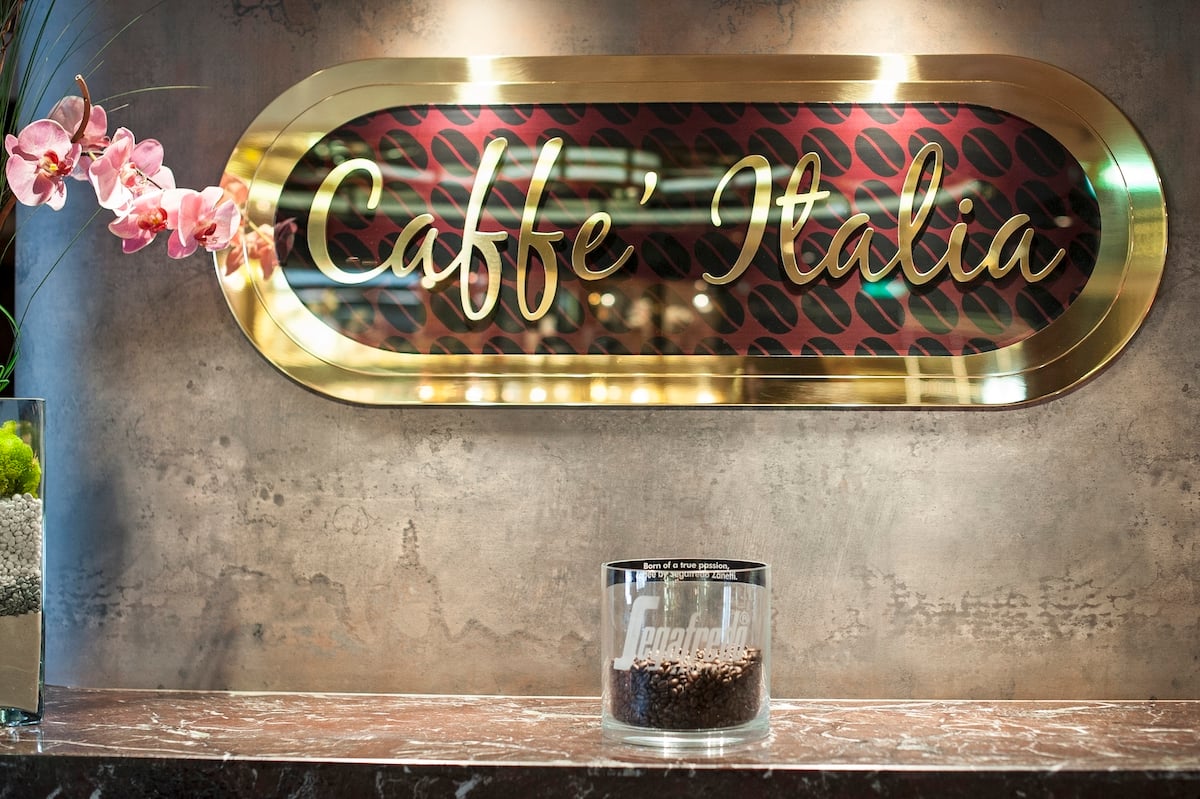 Photo Credit: MSC Cruises
I finally asked my friendly waiters, "Do you serve coffee in the dining room?" The answer was a bit evasive, though friendly. They explained that "the Italian way" is to have coffee after dinner in a bar or lounge, and that is what they do on MSC. My waiter kindly said that if I really needed coffee, it could be ordered, but they did not have any coffee making facilities in the dining room. If I ordered it the wait staff would have to go out to a bar to order it, and then by the time it got back to the dining room it would probably be cold. The message was friendly, but clear: "Please don't ask us to get you coffee."
This was not the case on Divina sailing from Port Canaveral. MSC knows its audience, and coffee at dinner seemed to be a standard offering on the North American trip.
The idea of having coffee later is not a horrible concept. Especially when you could go to one of the lounges that featured great music and/or lovely pastry along with the coffee. However, there was a logistical problem on Preziosa. The ship was full. I had dinner at the late seating. By the time I finished dinner and moved to a lounge, all the people who ate at the early seating had occupied all the seats in the various lounges and bars, and were greatly enjoying their relaxing and leisurely evening of music and coffee or other drinks. It was difficult to find a seat, and even more difficult to find the perfect combination of available seating at a music venue featuring entertainment I enjoyed. The solution for me was to head up to the buffet area. Specialty coffee was available in the buffet area until about midnight, and there was always seating there in the evening.
---
Customer Service & Guest Relations
---
Based on my three MSC voyages, it is my opinion that there is one key area where MSC needs improvement to bring it up to the level of other mainstream cruise lines: customer service and guest relations interactions.
MSC's newer ships are as exciting as any other cruise line. The food, the entertainment, and the onboard activities are very nice given the value offered by MSC. Unfortunately, there seems to be something lacking in management's commitment to 100% customer satisfaction. On two of the three cruises I have taken with MSC, I had a mostly-wonderful experience, but was frustrated by MSC's inability to appreciate a problem and take action to correct it.
The MSC Website
---
Be aware that when you look up information online, the MSC website does not play well with all browsers. This seems to be improving, but if you get stuck, you may need to try a different browser (Hint: Try MS Edge if you are having problems with Google Chrome). And, as mentioned in my companion post, when discussing the cost of WiFi packages, sometimes the information you think should be readily available online just isn't there.
For example, I was trying to arrange for transfers from the airport to the cruise ship in Germany. The website did not have any details about who to contact, or what the cost would be. On other cruise lines, it is easy to go online and arrange for transfers with the click of a few buttons.
Telephone Customer Service
---
Trying to call MSC sometimes requires patience, although I won't fault them due to the current short-staffing problems at call centers for most travel providers. I have sometimes had to wait on hold for over an hour, but this situation seems to be improving. My calls in April 2022 were generally answered within 10 minutes or less.
My contacts with representatives at MSC Cruises USA, headquartered in Ft Lauderdale, have generally been friendly and efficient when calling about cruises operating out of the US. I found the agents' information is not quite as good when calling about a non-US itinerary.
For example, it was a challenge dealing with phone reps when trying to arrange for transfers from the Hamburg airport to Preziosa in Germany. I was initially told that transfers weren't offered (the website said they were). Then I was told that I needed to wait until about a week before the cruise to reserve a transfer. That didn't make sense to me, so I called again and spoke with a different agent who was able to connect me with someone who could help.
Even after I had booked and paid for the transfer, I got a somewhat frantic call the day before the cruise departed asking for details about my flight arrival time. I explained that I was already in Hamburg, and was planning on being at the airport in the morning to board the bus for the transfer. The agent then said they needed to just put in fake flight information because they had no way to deal with people already in the city. It was one more example of what I consider general organizational challenges at MSC.
General Organizational & Logistical Challenges
---
I sometimes joke and tell myself, it's an Italian cruise line. Relax and enjoy the cappuccino. If you want uber-organization, you're probably not in true vacation mode anyway. I joke because it is helpful to have a sense of humor on MSC cruises. I always start with a laidback and patient attitude. But on two of the three cruises I have taken with MSC, I found it challenging to remain patient and forgiving on certain things.
For reasons unknown to me, MSC has difficulty organizing a pleasant and efficient boarding and departure process. Next time you are in port on the same day as an MSC ship, I dare you to take a look at the lines waiting to get back onboard. Based upon my non-scientific anecdotal experience, it is my opinion that MSC is more likely to have long lines of people waiting to board.
The worst example of this was a 4-hour wait to board Preziosa in Kiel, Germany. After being transported efficiently from Hamburg airport to the Port of Kiel, I faced the first MSC challenge of the cruise. Normally, I would expect to have porters available at the bus who immediately take the baggage away from passengers and transport it separately to the ship. Not so with MSC at Kiel.
Passengers were not relieved of the burden of hauling luggage until they were fully checked in, a process which took me three hours, from 1:00 PM to 4:00 PM. Three hours of mostly standing and waiting and slowly moving. After checking in and delivering bags to the porter, there was another half-hour process to go through security and be transported by shuttle to the ship. It was not a happy way to start off a cruise.
This was not the last time that the process of embarking or debarking Preziosa was frustrating.
Returning to the ship in Bergen, there was a line that was not very long. But there was only one X-ray machine in use at the one security checkpoint on the ship. Apparently MSC had adjusted the sensitivity so high that people were required to take off belts and even watches. Consequently, the line moved very slowly. This turned out to be the norm at all ports.
In Honningsvag, it was chaotic trying to get off the ship. Only one gangway was open. MSC was trying to use it exclusively for passengers who had booked the ship's shore excursions. The process of getting those passengers off the ship was very slow. I had booked a private excursion and needed to get off the ship to get to the tour on time. Large numbers of passengers who were not on the ship's shore excursions were held behind rope lines and not permitted to exit the ship.
I was feeling trapped, a bit like the steerage passengers on the Titanic not permitted out on deck. (Okay, that was not a good comparison, but you get my point). After waiting more than half an hour, I went up a deck and just merged into the line of shore excursion passengers and exited with them. I sort of felt like that Titanic character who grabs a baby to jump in a lifeboat. (No, I did not grab any children on the way out.).
There were no such problems in boarding Divina at Port Canaveral in October 2021, which you will recall was only about 30% full.
Complaint Resolution
---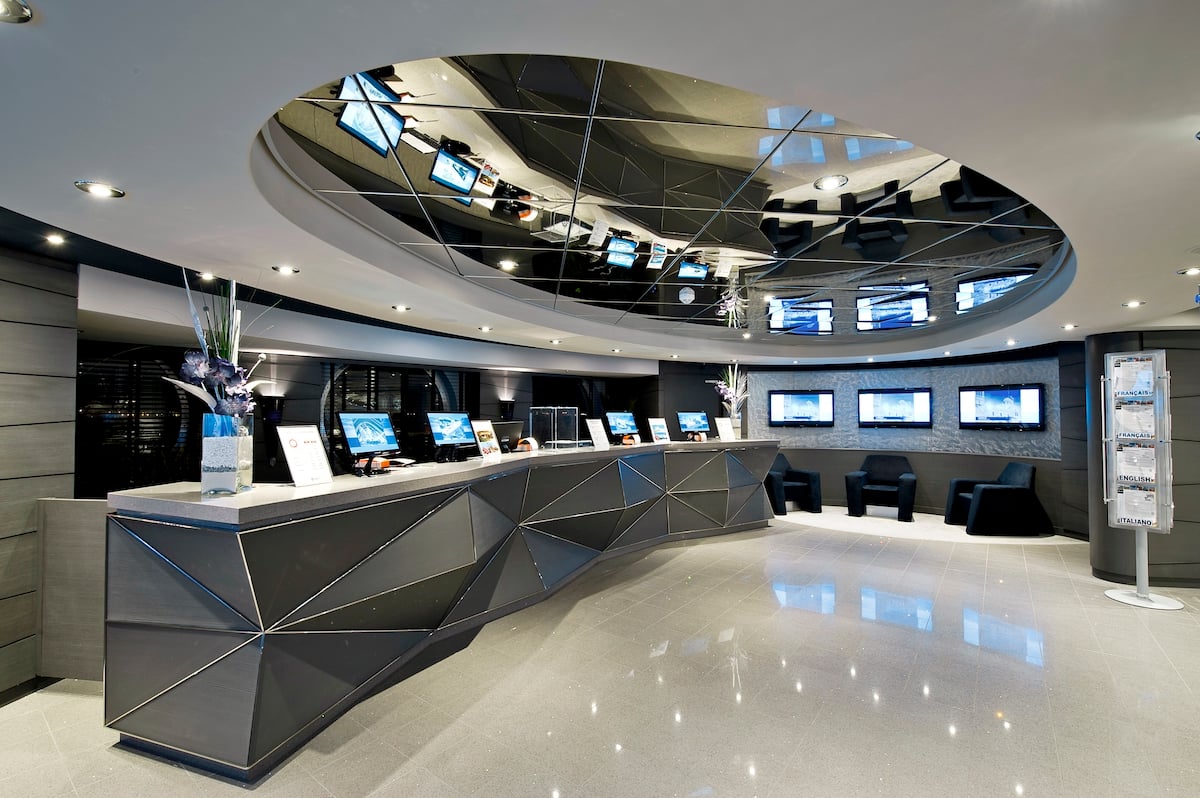 Photo Credit: MSC Cruises
On all cruises, on all lines, no matter how wonderful most things are, there is always a possibility that some glitch or hiccup will occur. The true test of guest relations is how well the line handles problems that arise. In my experience, this is where MSC sometimes falls short and needs to improve.
To be clear, I had no complaints about anything on my October 2021 cruise on Divina. However, during my cruise on Preziosa, and my earlier cruise on MSC Lirica, I was frustrated by management's inflexible and uncaring attitude toward customer service issues that were important to me.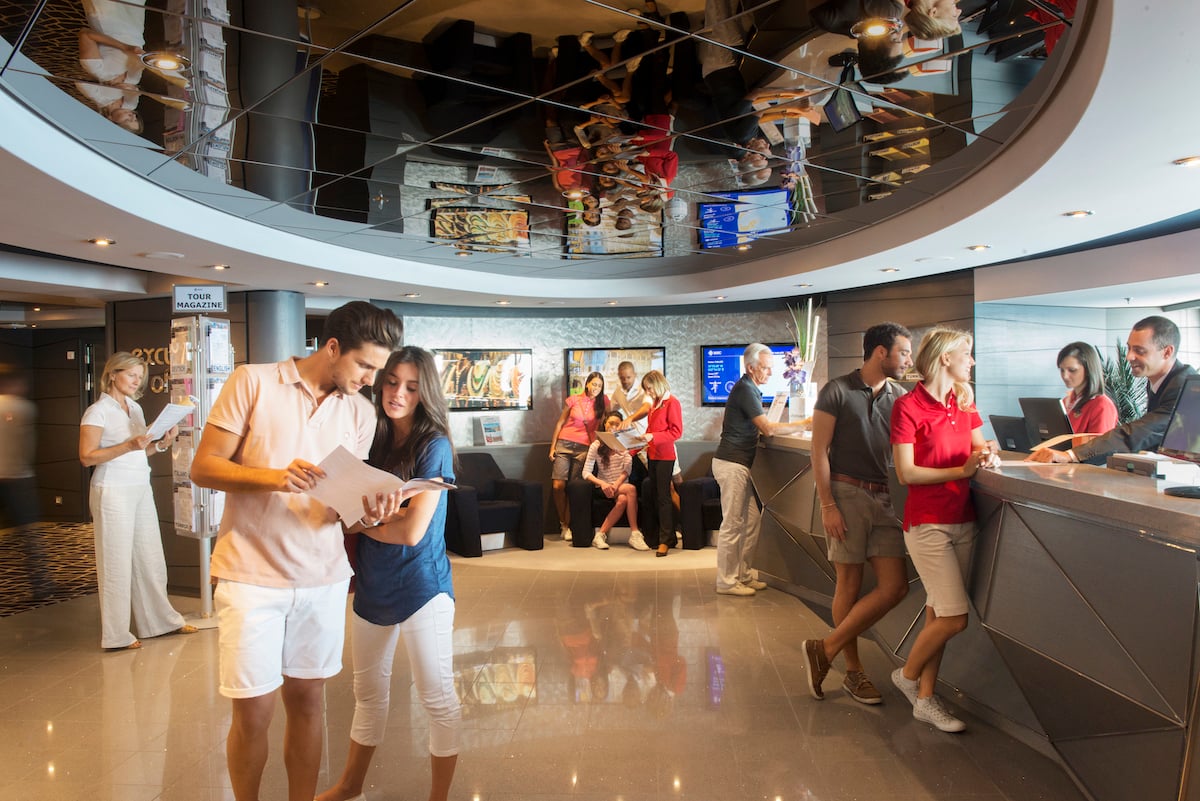 On Preziosa: Covid Testing
At the time I cruised on Preziosa, the US government was still requiring persons flying to the US to present a negative Covid test prior to boarding their flights. The MSC website at the time stated that the line would do Covid testing onboard for those who were required to have a negative test to return home. Several days before it was time to depart, I visited guest services to inquire about the testing. The guest service agent said they would be doing the testing at the medical center and directed me to contact the medical center to schedule a time to be tested on the last day.
I approached the medical center as directed and was told that effective immediately they were not doing testing for departing passengers. I returned to guest services and was told once again that I could schedule a test by contacting the medical center. The medical center again stated that they would not test, and that I should just plan on getting tested at the airport before I boarded the flight. I continued to go back and forth with the medical center and guest services about the issue. I sent a message to MSC via Twitter, complaining that the ship was not complying with their stated policy. The answer remained no. I was not able to get my test onboard. Fortunately, I was able to get a test in time at the Hamburg airport, but it would have been more efficient and less stressful to get tested while aboard.
It is frustrating when a cruise line website says that it will provide an important service, only to be told onboard that the line has now changed the policy and will not provide the service. In my humble opinion, a passenger should be able to rely on the information provided on the website. If the cruise line wants to change its policy or practice, it should at least give some advance notice of the change.
In this case, I wasn't even sure the policy had changed because guest services was giving me different information than the medical center. And when I tried to elevate the issue, it was clear that management had no intention of resolving the matter. This is my real concern with MSC. When problems occur, as best I can tell, MSC management doesn't care, and doesn't even pretend to care.
To compare, I had a similar situation arise on a Princess cruise earlier in 2022. At the time, Princess was routinely testing passengers who were booked on back-to-back cruises. I was booked on two cruises that were not technically back-to-back. I was leaving one ship in Ft Lauderdale, and boarding another Princess cruise the following day in Los Angeles. When I asked about testing, I was initially told that Princess would not do the test because there was a one-day difference. I understood that I was not technically on a back-to-back booking, and Princess was within its rights to tell me it would not do the test.
Anyway, I went to guest services and explained that it would be very difficult for me to arrange for a test in time if they didn't do it onboard. It took a few minutes, but they recognized my concern. and I was scheduled to be tested. Even though it was not technically required by their policy, it made sense as a way to help out a passenger. This is the kind of flexibility and interest in the welfare of passengers that I expect from a cruise line.
In my experience, MSC management for some reason just does not have that passenger-focused mentality. You can politely ask management to do something to resolve a valid concern and/or correct a mistake, but there is very little interest. You can complain to corporate management, and you will not even get a standard note or letter apologizing for the inconvenience. I say this is not an isolated problem because of issues I had on an earlier MSC cruise.
Problems on MSC Lirica
---
Two additional examples of MSC's guest relations issues happened when I cruised on MSC Lirica in the Middle East a few years ago:
Shore Excursion Complaint
On a shore excursion in Abu Dhabi, the tour leader told the women on the tour that they would be required to purchase an abaya at a cost of $20 to enter the Grand Mosque. This was not advised in advance and was inconsistent with all the information available on the mosque's own website.
It particularly felt like a scam when the guide said, "Your husband will have to buy the abaya, and if you don't have a husband then you will need to give me $20 so I can buy it for you." No better way to tick off a Western woman than to tell her she needs to have a man take care of something for her. Several women on the trip refused to pay and were required to wait on the bus instead of visiting the mosque.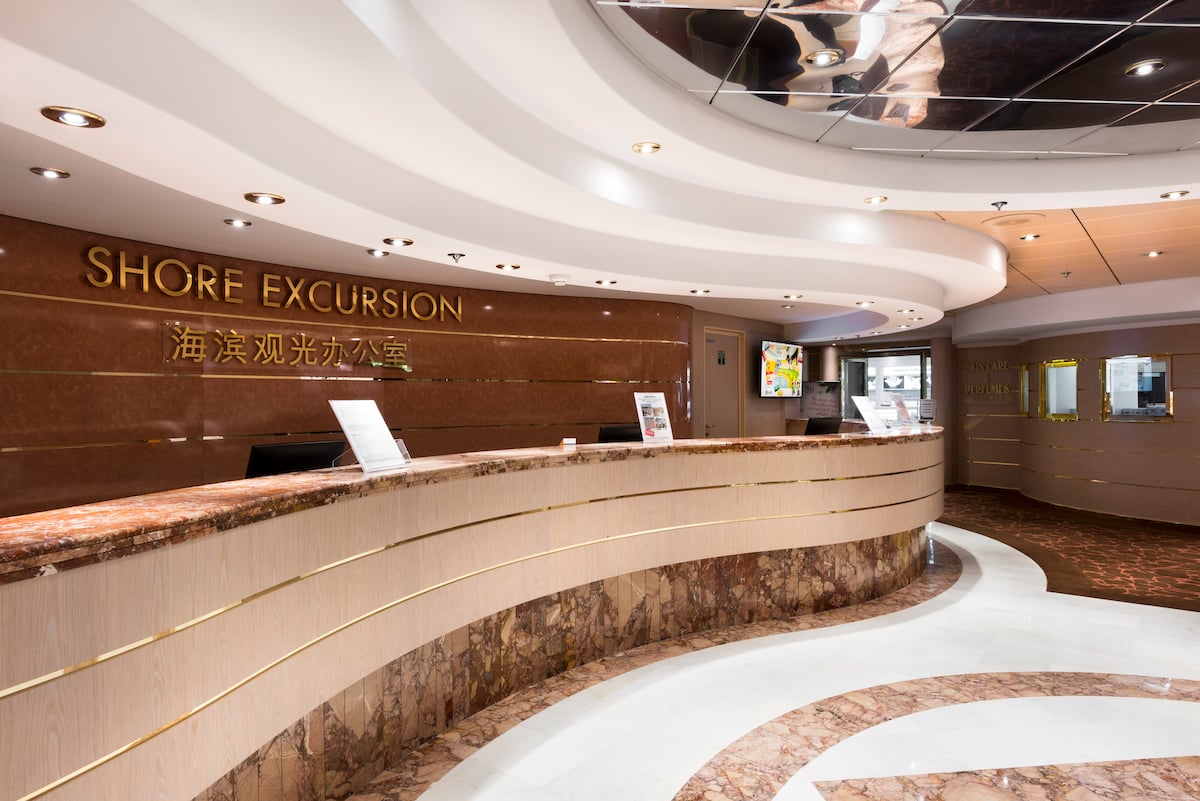 Photo Credit: MSC Cruises
Back at the ship, about eight of the women on the tour went to guest relations to register our complaint and request a refund. The result? Nothing. No refund. No apology. No recognition that it was even a problem. At home I wrote to MSC to express my concerns. I detailed the issue in the survey sent out after the trip. MSC never even acknowledged my complaint.
Beverage Package Issue
A lesser issue was one involving the drink package I had on Lirica. Once I ordered a glass of wine in a bar that I enjoyed. So I later ordered the same in the main dining room. When I ordered it at the bar, it was included in the drink package. When I ordered in the dining room, a charge for the drink appeared on my account. I went to guest relations to sort it out. Guest relations said the policy had just changed and the drink was not available in the dining room. I told them if that was true, they should have told me about the change in advance instead of charging me. I wrote a complaint afterward. I never received an acknowledgement from management about the issue.
In detailing these concerns, I am not trying to be overly negative. My cruise experiences with MSC have been mostly pleasant. It is unfortunate that MSC sometimes disappoints in ways that could be easily corrected. Perhaps most unfortunate is the bad taste that remains when MSC doesn't even acknowledge that it has created a problem.
---
Would I Cruise With MSC Again?
---
My attitude is that travel is an adventure, and on any real adventure sometimes things will not go as planned. I can deal with some disorganization and some imperfections. I lose patience when the company causing the problem is not willing to make a good faith effort to resolve the issues, or even worse when it doesn't seem to care. There have been times when I concluded that MSC management does not have the right outlook on hospitality.
So am I done with MSC?
Not yet. They are not my first choice. I always caution friends who are thinking about cruising with MSC to lower their expectations. If you stay at a Days Inn, you will not be getting a Ritz-Carlton experience. But if the Days Inn is at a place you want to be, and the price is great, then that is probably still a good choice for many people. Just have realistic expectations.
I absolutely would cruise again with MSC under the right conditions.
Price
---
For me to cruise with MSC in the future, the price would have to be very good when compared to similar itineraries with other cruise lines. For example, the prices on Divina and Meraviglia sailing to the Caribbean or Mexico in the fall of 2021 were excellent. It looks like they will continue to be good this year. This is especially true for solos where there is frequently no single supplement.
For a casual beach getaway cruise, it's hard to beat the value. Because I live in Florida where it's easy to get to the ports, I would consider doing another of these cruises. The ships are wonderful. The service provided by cabin stewards, waiters, bar staff, and the other people who do the day-to-day work on the ship is as good as on any other mass market line. MSC's private island is excellent, with helpful staff there. I would book again, and with my usual caution to "adjust expectations," I would recommend cruises like this to my friends.
Class of Ship
---
My first cruise with MSC was on the MSC Lirica. It is one of the oldest and smallest of MSC's current ships. I would avoid going on that size ship again. The facilities are small and dated. The cabins are cramped. The showers in the bathrooms are so small that I dreaded using them. Because of its age and size, it's highly unlikely you'll find it sailing on the US side of the Atlantic Ocean.
Divina and Preziosa are both "Fantasia Class" ships. They are more than twice the size of the Lirica class, and nearly ten years old at this writing. The ships are spacious and well-designed, and I'd be happy to sail on them again.
I'm also very interested in seeing some of the newer and larger ships that MSC is rolling out.
Itinerary
---
Another important factor in choosing to cruise with MSC is the ship itinerary. For me, if it's not a value-priced Caribbean trip, then the itinerary should be something special that is not easily available at a reasonable price on other lines. In fact, as I plan future cruises, the thing that keeps me looking at MSC are the unique itineraries. MSC has an amazing variety of more exotic or unique itineraries with value pricing.
For example, there is currently a 20-day trip on the new MSC Seashore from Miami to São Paulo in November 2022 that can be booked for as low as $929, or about $1400 for a balcony cabin. Another itinerary that looks intriguing is the 27-day trip from Cape Town to Rome on MSC Orchestra in April 2023 starting as low as $1379, or about $2200 for a balcony cabin. There are other similar values available. When I get back on an MSC ship, it is likely to be on one that takes me to great destinations like these.
---
Is MSC for You?
---
A cruise on MSC could very well be a good choice for you if you are looking for a good value and/or a unique itinerary. If you can find a few friends who share a sense of adventure and a sense of humor, it would make your trip more enjoyable. Like any trip, you have to have some ability to go with the flow, and not let the quest for perfection interfere with a good time. If you have spent all your cruise time on Princess or Norwegian, or other cruises that cater to English-speaking North American passengers, things will be different than what you are used to. Adjust your expectations, and you should have a good time.
If you expect to be perfectly pampered 24/7 and fed lobster and filet, you should probably go back and reread the reports about the amazing experiences on Viking.
Click here for lodging options on TripAdvisor!
---
We Would Love to Hear From You
---
We enjoy dialogue with Backroad Planet readers, especially when they share off-the-beaten-path destinations and useful travel tips. Have you ever sailed with MSC Cruises? If so, we would love to hear about your experience. We invite you to leave your comments and questions below, and we always respond!
---
Pin this Post!
---