(a

22

minute read)
---
A revealing look at the MSC cruise line, its history, classes of ships, destinations, and onboard services, compared and contrasted with other popular lines.
---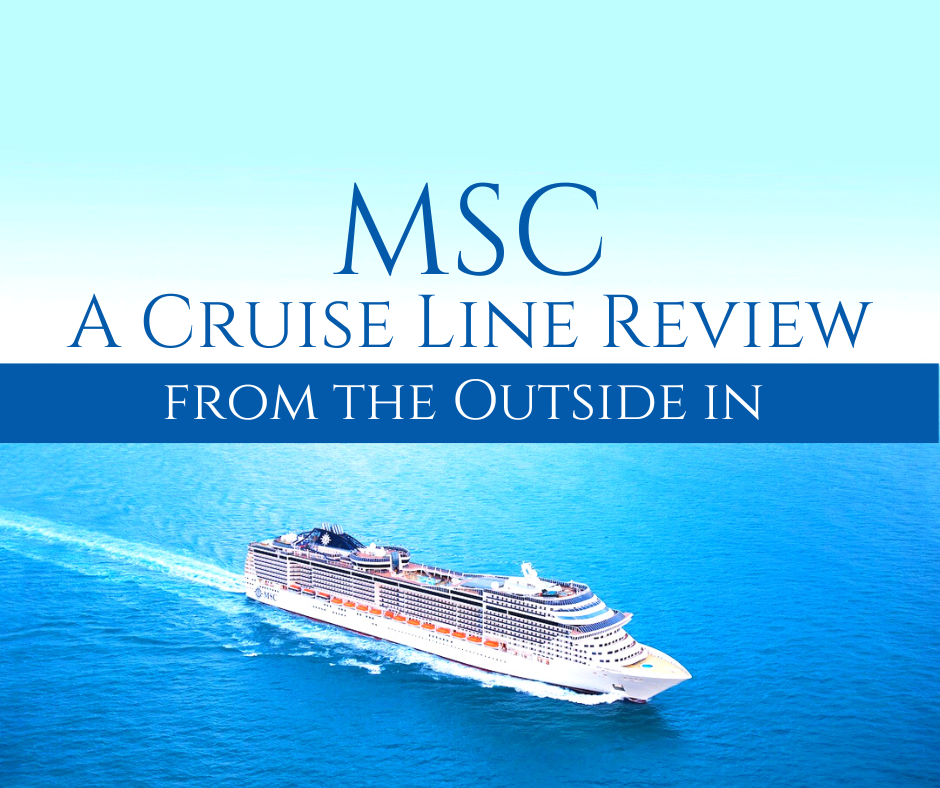 This post may contain affiliate links. Please refer to our our Disclosure/Disclaimer page for more information.
---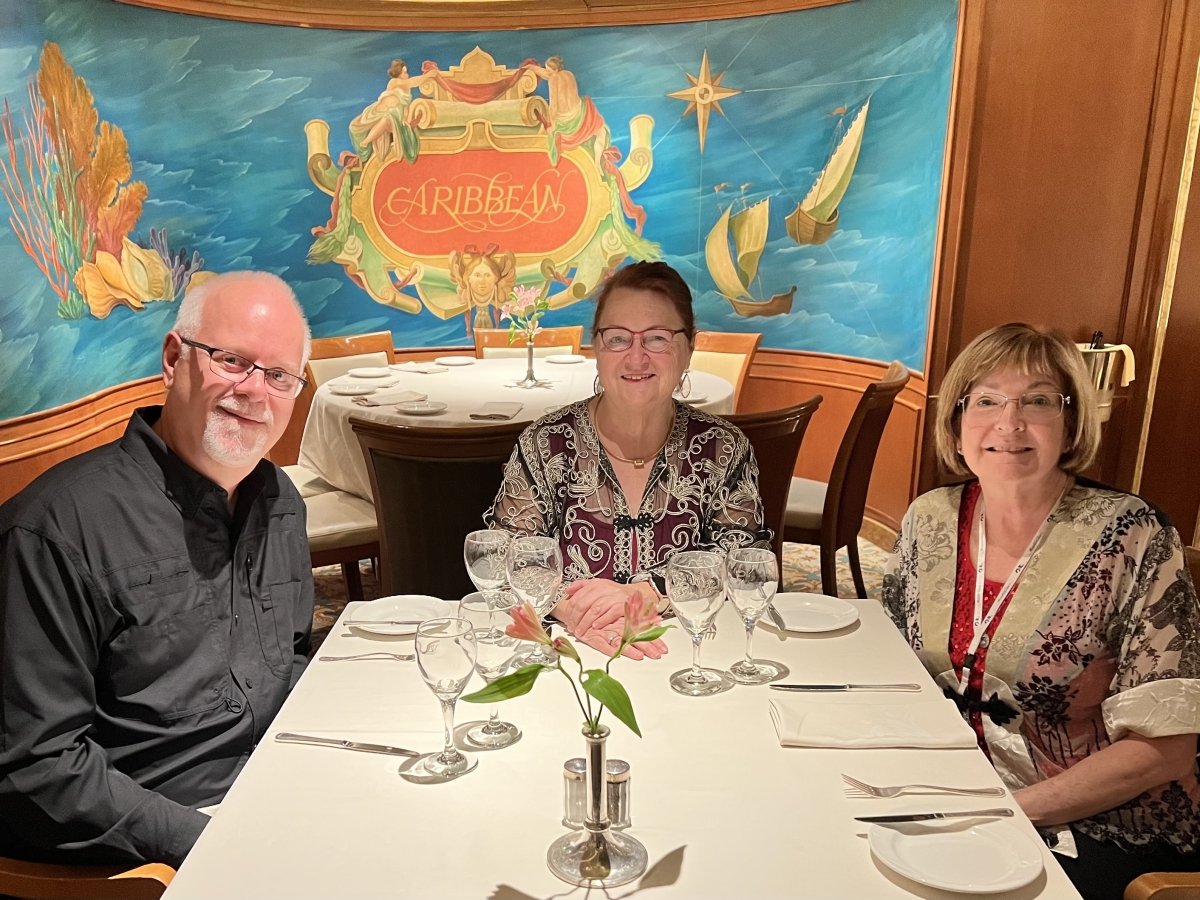 INTRODUCTION: This post is authored by my friend and fellow traveler, Lucy Turner, pictured above with our friend Margaret. I first met Lucy on an NCL Jade Middle East cruise, and a few months later we met up again on a Caribbean Princess cruise. It was during this sailing that Lucy began to tell me about her experiences with the MSC cruise line. I invited her to share her experiences with Backroad Planet readers, and she graciously accepted. Having completed more than 40 cruise and land tour itineraries since retirement in 2015, Lucy is an accomplished travel authority. Be sure to catch her MSC Cruise Line companion post also published here on Backroad Planet! —Howard
---
---
An MSC Cruise Line Review
---
You've seen the deals. Great prices on sparkly resort-style ships that literally have you walking on crystal staircases. Virtually unlimited itineraries in Europe, and unique itineraries to South America, the Middle East, and Africa. And more recently, several easy-to-access itineraries sailing from Florida (and soon New York) that feature a tropical stop on a private island marine reserve.
It's all available on MSC Cruises, the mass market European cruise line that is eager to woo North American passengers. So what's it like to sail with the MSC cruise line? How different is it from the cruise lines you know already? Is it for you?
In this review, I will summarize my experiences with MSC and compare them with cruises I've taken on lines such as Princess, Celebrity, NCL, and Royal Caribbean. A particular focus will be contrasting MSC ships and services with those belonging to mainstream cruise lines popular with North American passengers. This post will introduce you to the MSC line, its history, the classes of ships it operates, the places it sails, and standard onboard services.
In a related post, I focus on the passenger experience while taking an MSC cruise: What are the daily activities? What types of entertainment are offered onboard? Is the food and dining comparable to that offered by other cruise lines. In other words, how is MSC different from the usual cruise experience, and will most passengers enjoy it?
A Brief History of the MSC Brand
---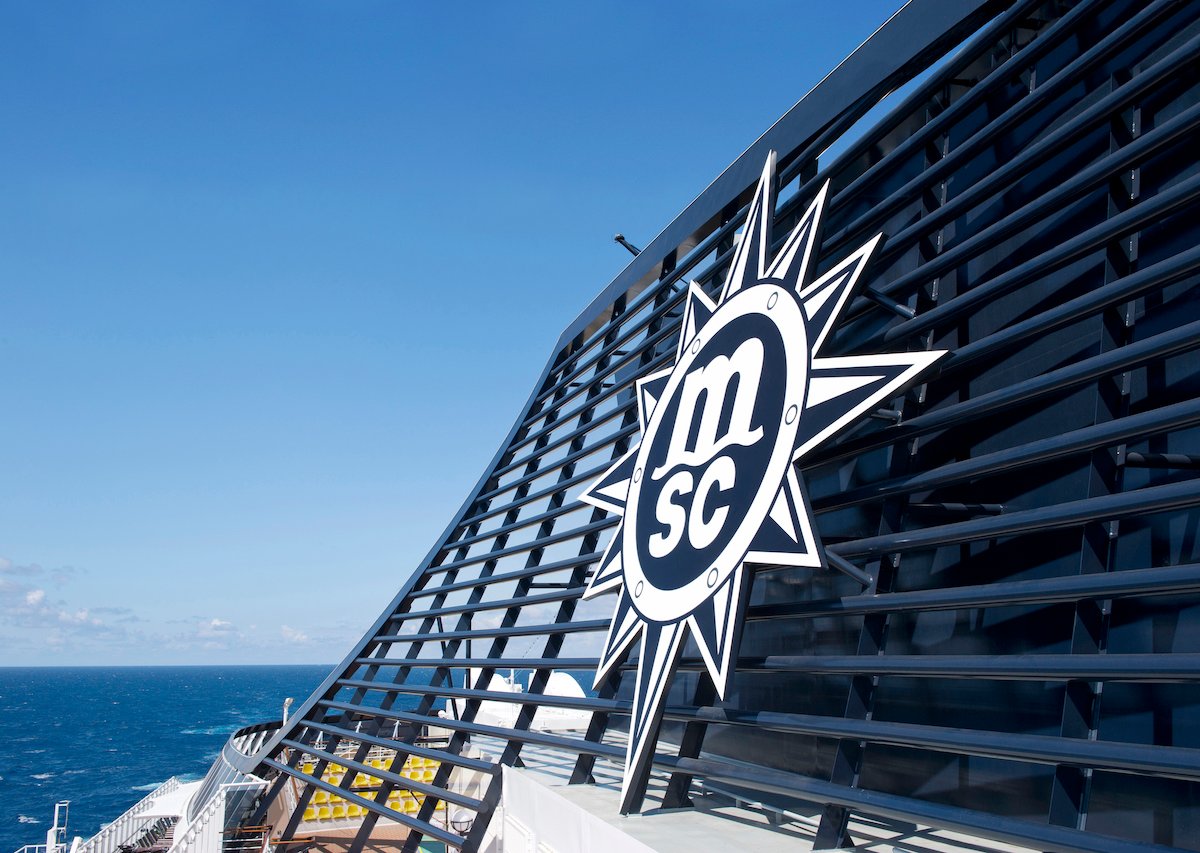 Photo Credit: MSC Cruise Line
The MSC cruise line is the holiday division of Mediterranean Shipping Company, which is the world's largest container shipping group. Mediterranean Shipping Company is a privately-held corporation, owned by an Italian family that founded the company in 1970. If you have cruised in the past, you undoubtedly have seen MSC cargo ships and containers around the world.
Mediterranean Shipping Company got into the holiday cruise business in 1988 when it bought the cruise ship Monterey. In 1989, MSC purchased Lauro Lines to expand its cruise business to 3 ships. It initially named the cruise division StarLauro. In 1995, the cruise division was renamed MSC Cruises. At this time, the cruise line began ordering its own new builds.
MSC Cruises is the largest privately-held cruise line in the world, and in number of passengers, MSC is currently the third-largest cruise line, behind the top-ranked Carnival Corporation and second-ranked Royal Caribbean Group. MSC is slightly larger than fourth-ranked Norwegian Cruise Holdings.
The MSC cruise line is growing fast, with a strong presence in Europe and South America. It has a growing presence in the Middle East and South Africa, and its subsidiary MSC Cruises USA is making inroads in North America. First sailing from Miami in 2014, the company expanded to Port Canaveral after the pandemic. Its next big move into the North American market will be to position a ship year round in New York City, beginning in April 2023.
MSC Cruise Ship Classes
---
MSC Cruises currently operates 19 ships ranging in size from 65,000 gross tons all the way up to 181,000 gross tons. It has 10 more ships on order.
Lirica Class
Armonia (2001), Sinfonia (2002), Lirica (2003), Opera (2004)
65,000 gross tons
975 to 1075 cabins
Musica Class
Musica (2006), Orchestra (2007), Poesia (2008), Magnifica (2010)
92,000 to 95,000 gross tons
1253 to 1275 cabins
Fantasia Class
Fantasia (2008), Splendida (2009), Divina (2012), Preziosa (2013
137,000 to 139,000 gross tons
1637 to 1751 cabins
Meraviglia & Meraviglia Plus Class
Meraviglia (2017), Bellissima (2019), Grandiosa (2019), Virtuosa (2021), Euribia (2023)
167,000 to 183,000 gross tons
2241 to 2419 cabins
Seaside Class
Seaside (2017), Seaview (2018), Seashore (2021), Seascape (2022)
154,000 to 169,000 gross tons
2067 to 2270 cabins
World Class (coming soon)
World Europa (due late 2022)
205,000 gross tons
2631 cabins
MSC's Big Push Into the North American Market
---
If you are not yet familiar with the MSC cruise line, be prepared for that to change. MSC has up until now been a small presence in the North American cruise market. But MSC and its ships are getting bigger. They need somewhere to go, so MSC is sending the biggest and best of the fleet to impress American cruisers.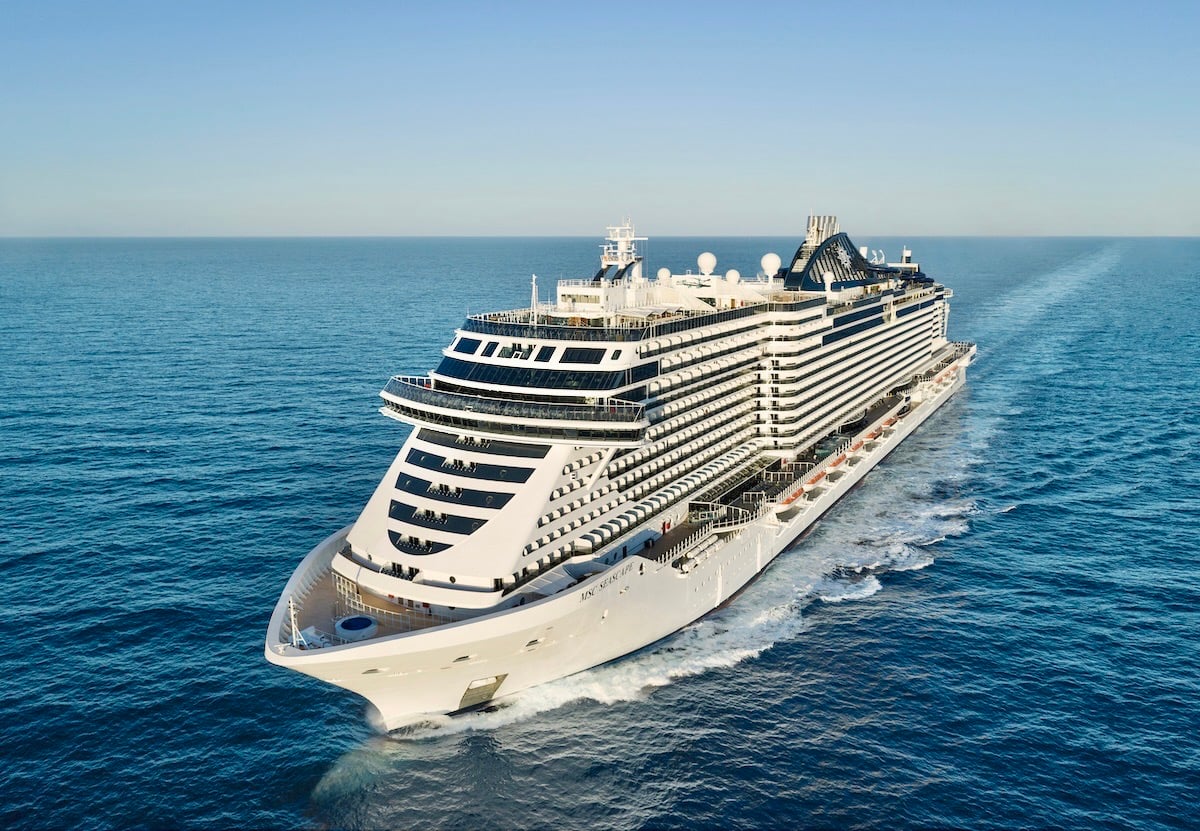 Photo Credit: MSC Cruise Line
The brand new ship Seascape will make its debut in Miami in December 2022. Seascape weighs in at 170,000 gross tons, and holds up to 5,800 passengers.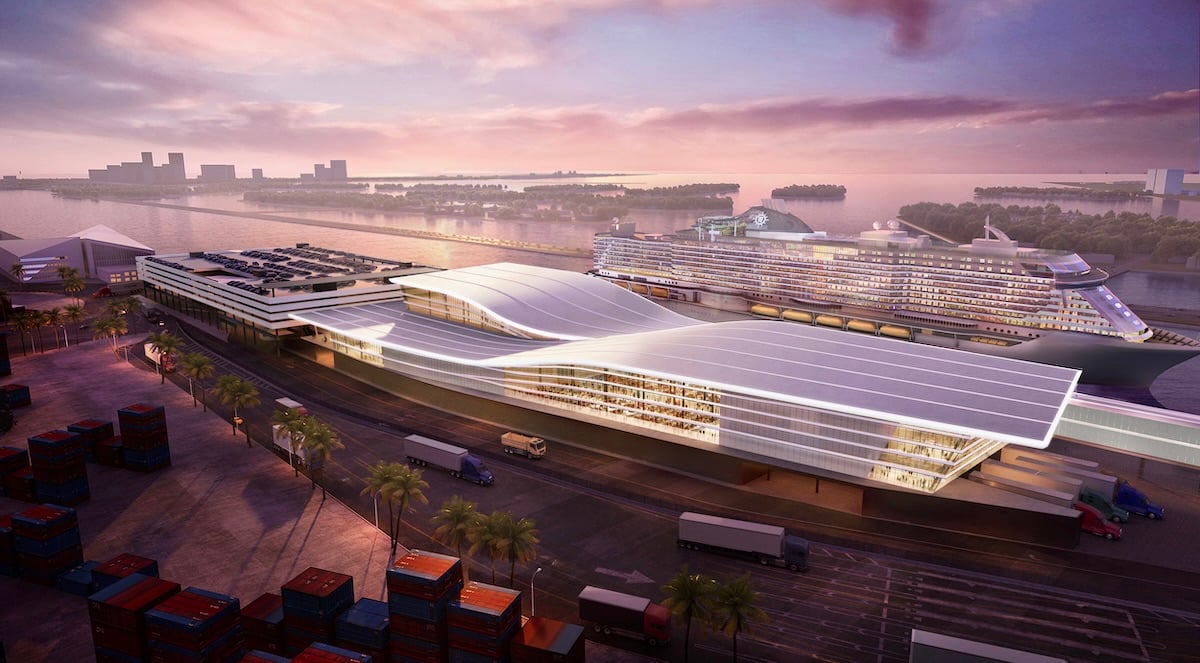 Image Credit: MSC Cruise Line
In March 2022, MSC laid down a clear marker that it is here to stay. MSC broke ground on a new $400 million cruise terminal at the port of Miami that is scheduled to be the largest in North America. Yes, MSC is planning to build bigger than all of the other cruise lines that operate out of Miami. Passengers who regularly cruise out of PortMiami on Carnival, Norwegian, Royal Caribbean, and other cruise lines will be seeing a terminal that can handle three MSC mega-ships at a time, and can process up to 36,000 passengers per day.
---
The MSC Value Proposition
---
One thing that has helped the MSC cruise line grow so quickly is the value the company offers cruisers. The low prices were the first feature that brought MSC to my attention, and the deal offered on my first MSC cruise to the Middle East in 2018 was the reason I gave the line a try.
Prices on MSC cruises are generally lower than comparable itineraries offered by the big North American lines like Princess, Norwegian, Carnival, and Royal Caribbean. A person planning a 7-day Caribbean cruise may discover that they can save hundreds of dollars by booking with MSC. The same can be true in Europe or on more exotic itineraries.
But what are you getting for that lower price? And setting aside price, are passengers getting an enjoyable vacation experience with MSC? In this review, my goal is to introduce you to the MSC experience, and especially to compare what to expect on MSC as opposed to other cruise lines.
For background, I'll let you know that I have been cruising for more than 30 years, with lots of experience on mainstream lines that have catered to North American passengers, such as Norwegian, Princess, Royal Caribbean, and Celebrity.
Unlike Mr. Backroad Planet himself, I have never cruised on Viking, and I am quite sure that MSC could not possibly compete with the Viking experience. So let's all put those Viking reviews out of our minds, and adjust our expectations. When you book an MSC cruise, it's because you want a nice holiday at a value price.
The Yacht Club
---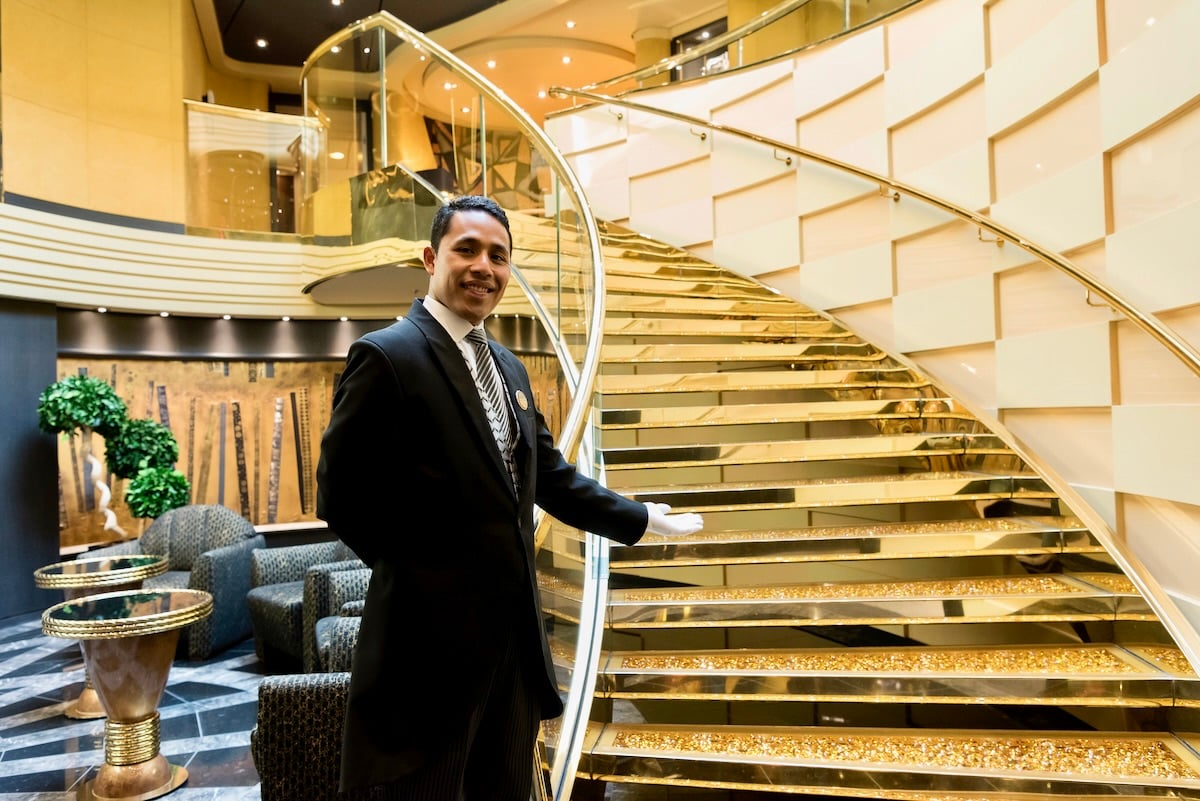 Photo Credit: MSC Cruise Line
I should mention that there is a completely different experience offered on MSC called the Yacht Club. This is MSC's high-end ship-within-a-ship experience, similar to the Haven on Norwegian. It is a secluded area at the top of the ship that is open only to the privileged who have paid for the privacy and extra service. I have no experience with and can offer little insight into this rarefied atmosphere.
I have observed, however, that Yacht Club guests seem to be met and personally escorted back to their enclave when they return to ship. I also know that sometimes the entertainers on board have private shows available only to Yacht Club guests.
---
Different Ships, Itineraries & Personalities
---
Each cruise line has its own personality, and in my experience, MSC has at least two distinct personalities. Sailing in North America will feel much like the experience you have on other mass market cruise lines that target American and Canadian passengers.
Sailing in Europe or on other international itineraries will be a very multi-cultural and Euro-focused experience.
Setting sail on smaller, older ships (like smaller older ships on all cruise lines) will be a different experience, as well.
MSC Divina & MSC Preziosa: Sister Ships Separated by an Ocean
---
In the past year, I cruised on two MSC sister ships: Divina and Preziosa. Both are Fantasia Class ships, and they were virtually identical. They both weigh in at 139,000 gross tons and both have 1751 cabins. Divina was launched in 2013, and Preziosa launched one year later.
Although they were so similar they could be considered twins, the experiences were very different. Divina and Preziosa are currently separated by the Atlantic Ocean, and on MSC that separation means that the onboard experience on each will be different. Traveling on them both gave me an ideal opportunity to compare the MSC experience on a European itinerary that focused on European passengers, and a North American itinerary focused on American and other English-speaking passengers.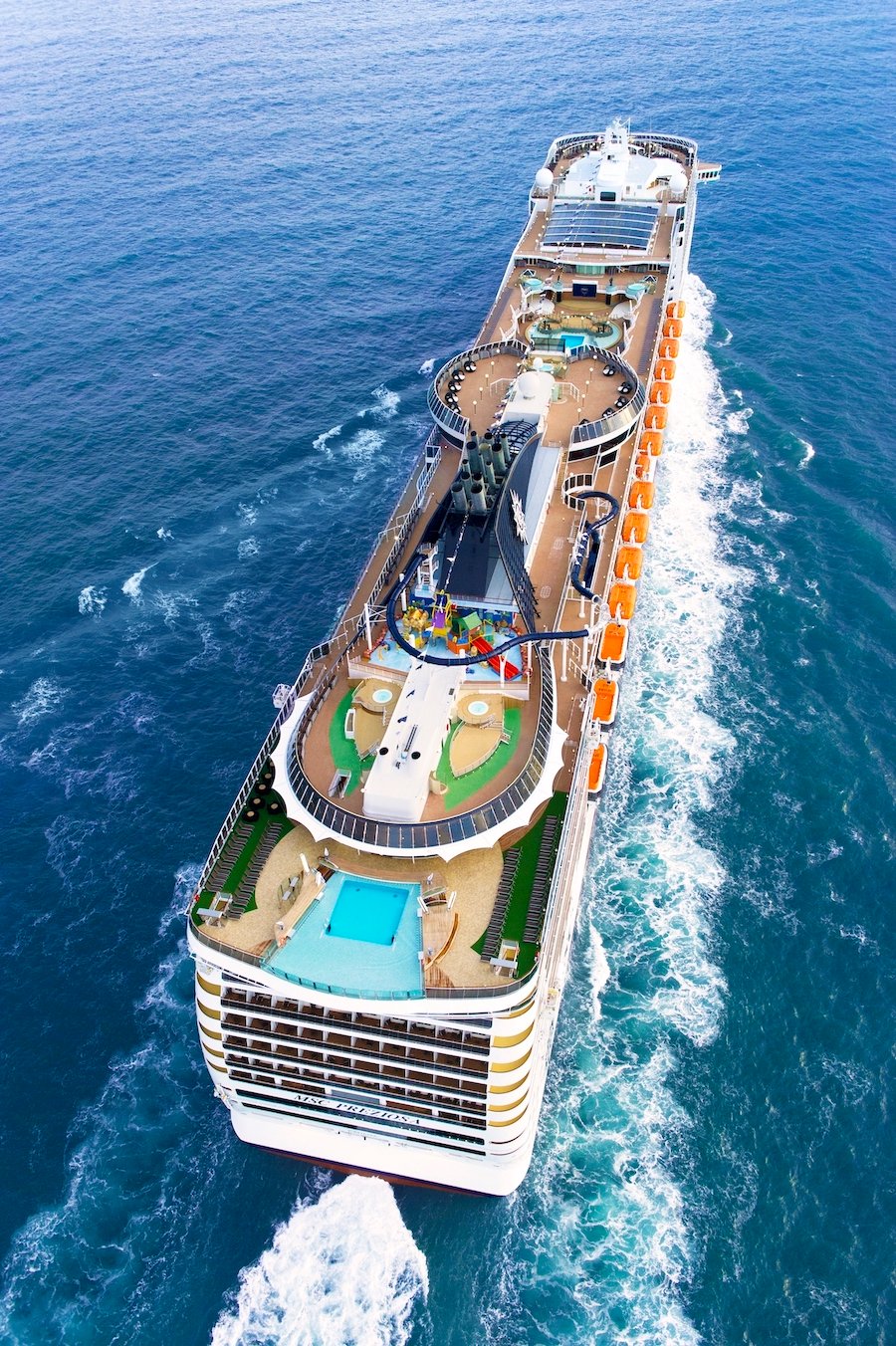 Photo Credit: MSC Cruise Line
I sailed Preziosa to Norway and the North Cape from Kiel, Germany. On that ship, I met less than 10 people from the US. It was a very European experience.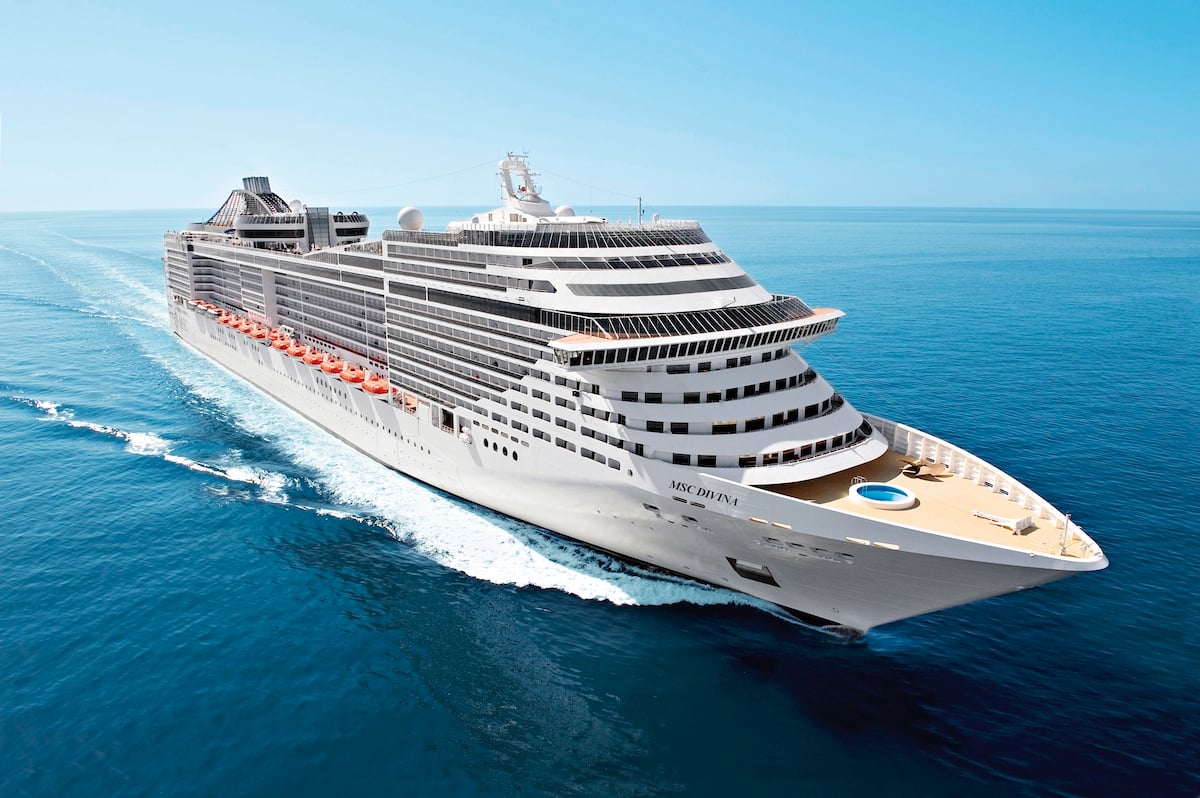 Photo Credit: MSC Cruise Line
Divina carried me to the Bahamas and Mexico from Port Canaveral. The passengers were predominantly English-speaking folks who most likely came from the US or Canada.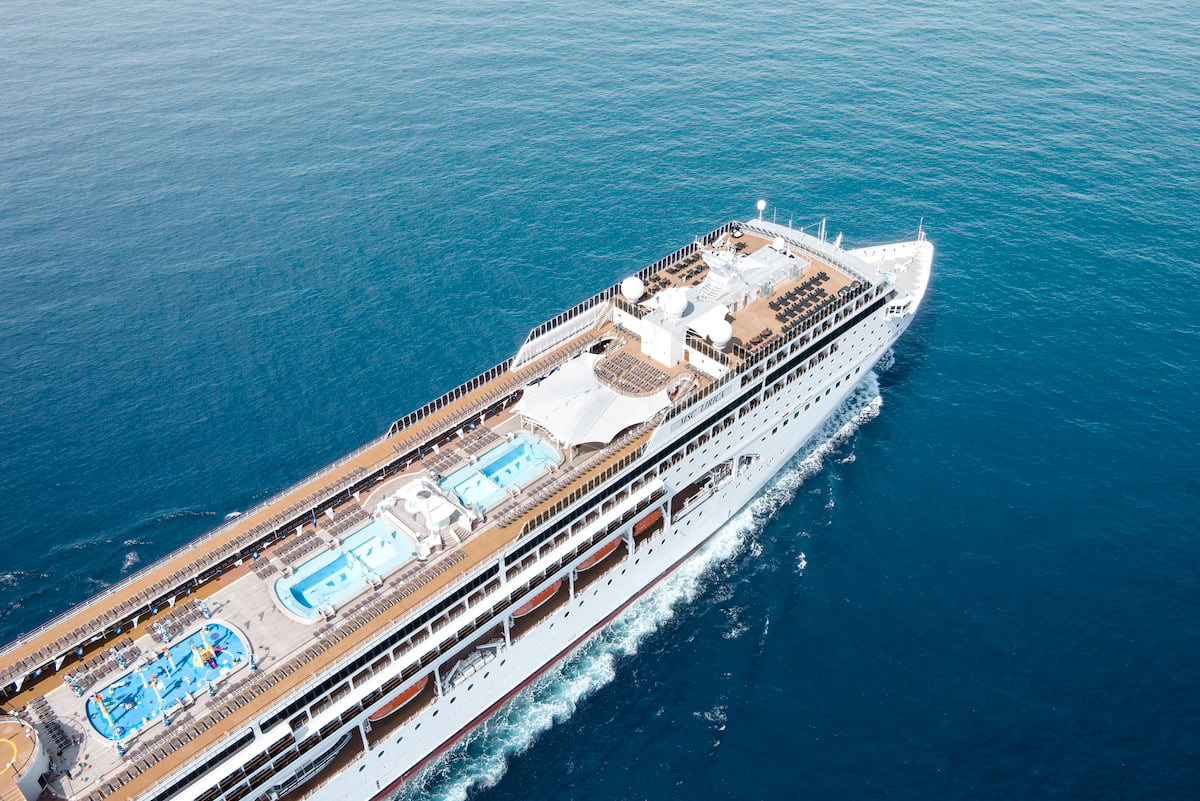 Photo Credit: MSC Cruise Line
For the record, I also sailed on MSC Lirica, which is a smaller and older ship, on a wonderful 10-day Middle East itinerary, departing from Dubai in November 2018. I will occasionally make reference to this cruise to compare it with the newer bigger MSC ships, but that is not the focus of this review.
The Fantasia Class experiences were very much influenced by the load factor on the two cruises. On Divina, I was sailing as people were getting back to cruising in October 2021 following the pandemic. The ship was sailing at about 30% of its full capacity. On Preziosa in April 2022, things had almost returned to normal, and the ship was sailing at almost full capacity.
In Europe (and on my 2018 cruise on Lirica) I found MSC offers quite the international experience. Stay long enough, and you may become multi-lingual. Each announcement is brought to you in English, German, French, Italian, Spanish, and Portuguese. Do you love the opening of the musical Cabaret? "Willkommen! And bienvenue! Welcome!" Then you will love MSC, because you will hear multi-lingual messages all day. If you are the kind of person who gets annoyed when automated phone systems ask you to choose English or Spanish, you might be less enchanted.
Sailing Divina from Port Canaveral, the focus was English. It was rare to hear any language other than English. On both ships, every crew member I interacted with spoke excellent English. Americans will not have difficulty communicating with staff on MSC.
Divina & Preziosa Onboard Facilities
---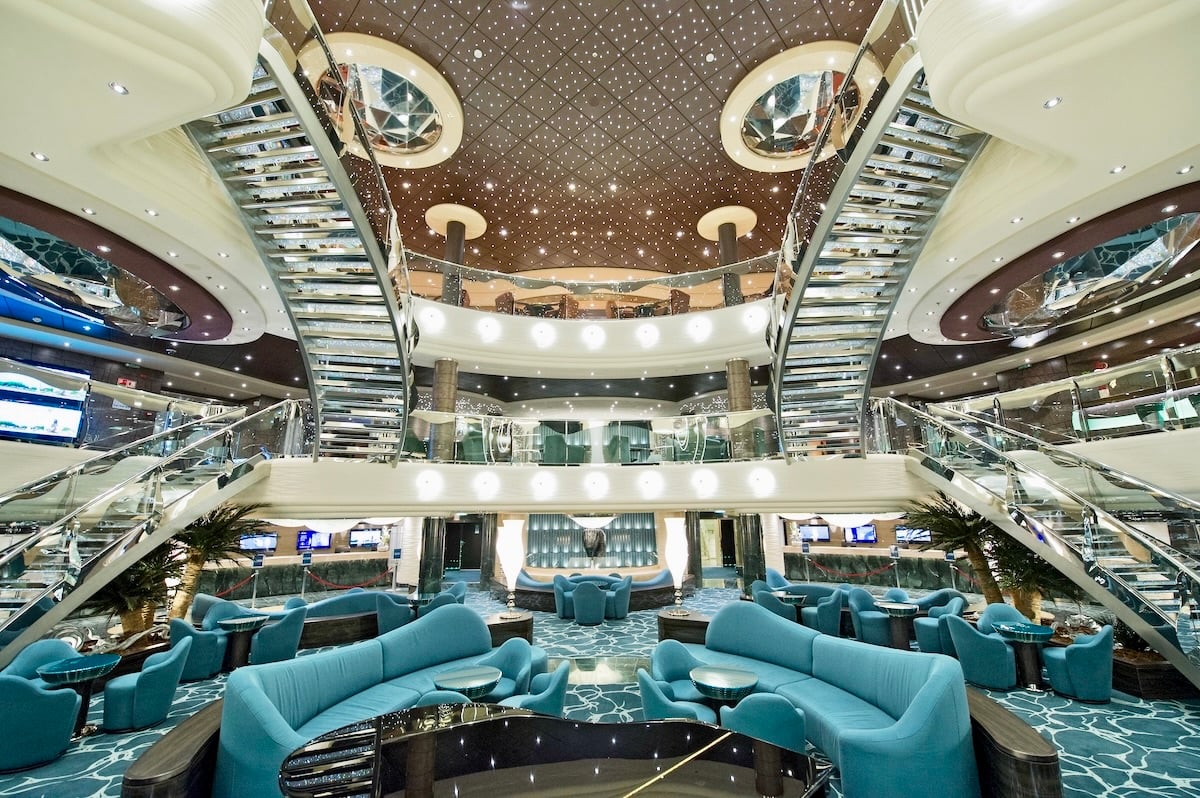 Photo Credit: MSC Cruise Line
MSC's newer ships are full of large, sometimes glitzy public areas. The line is clearly proud of its central atrium with Swarovski Crystal staircases.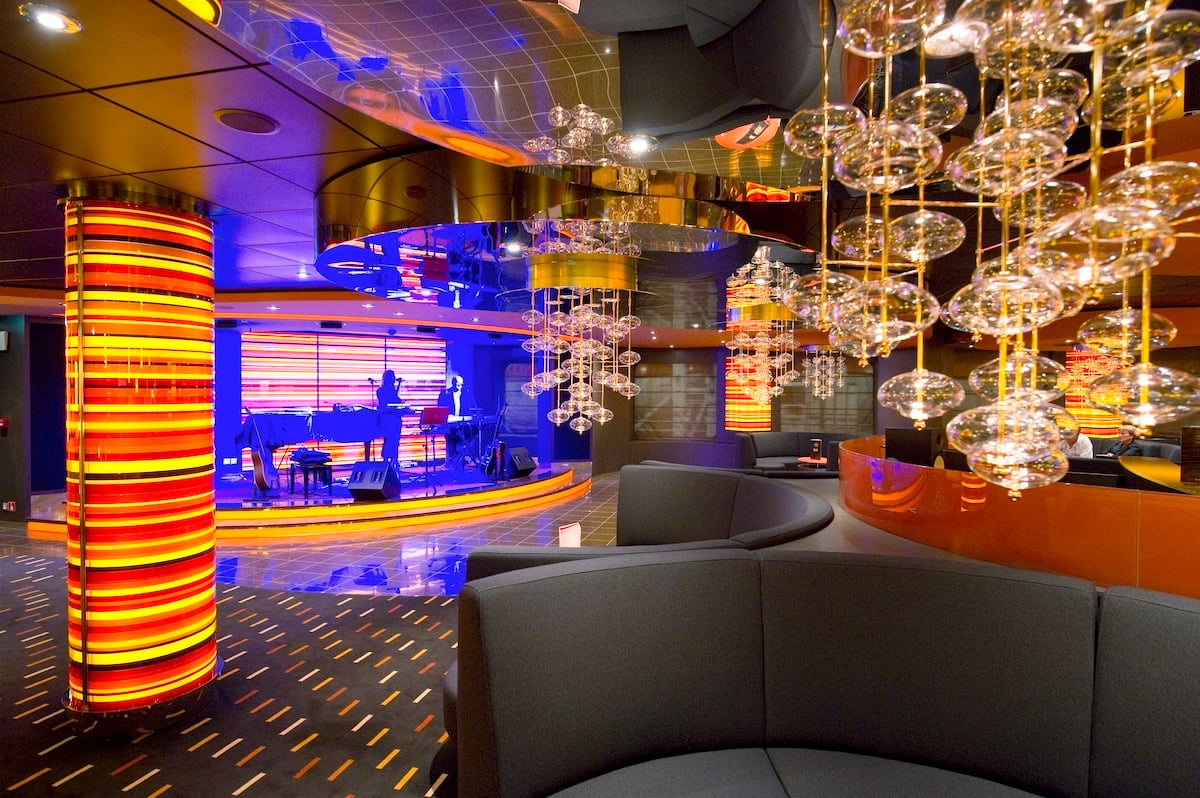 Photo Credit: MSC Cruise Line
There are also numerous lounges.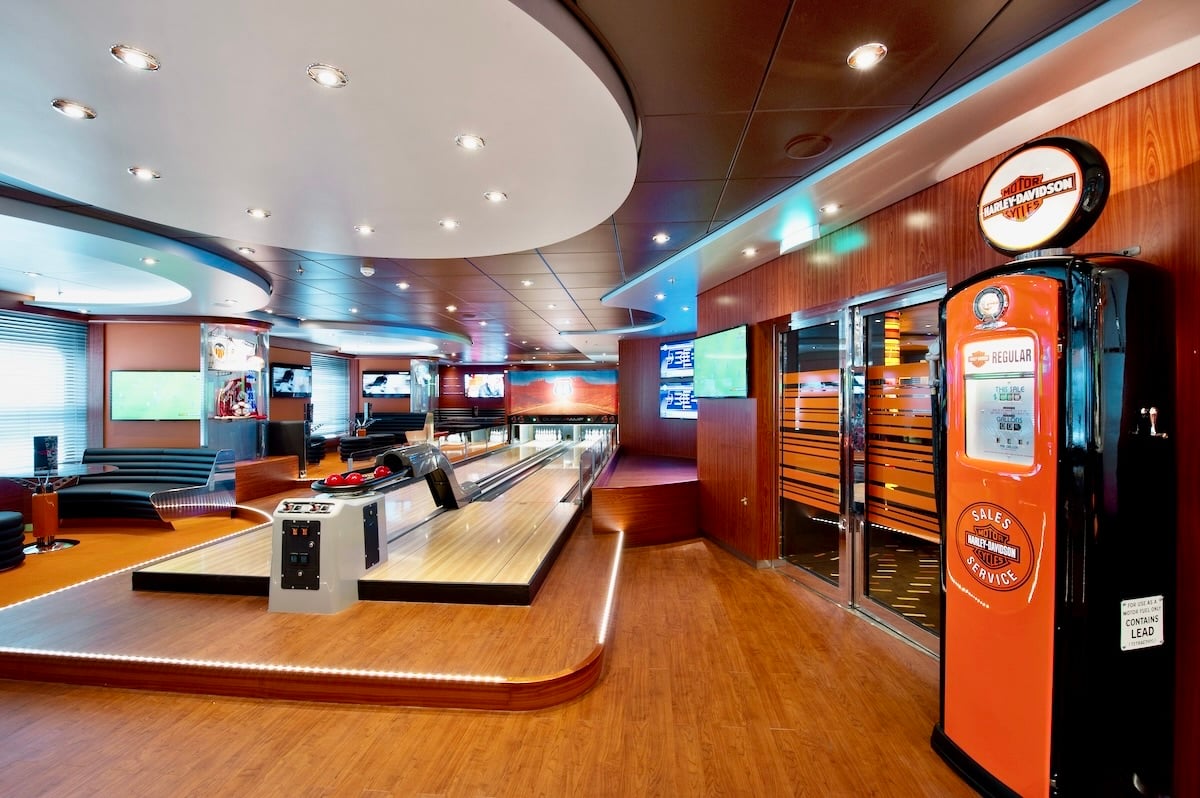 Photo Credit: MSC Cruise Line
And the sports bar features a bowling alley.
Resort Pool Areas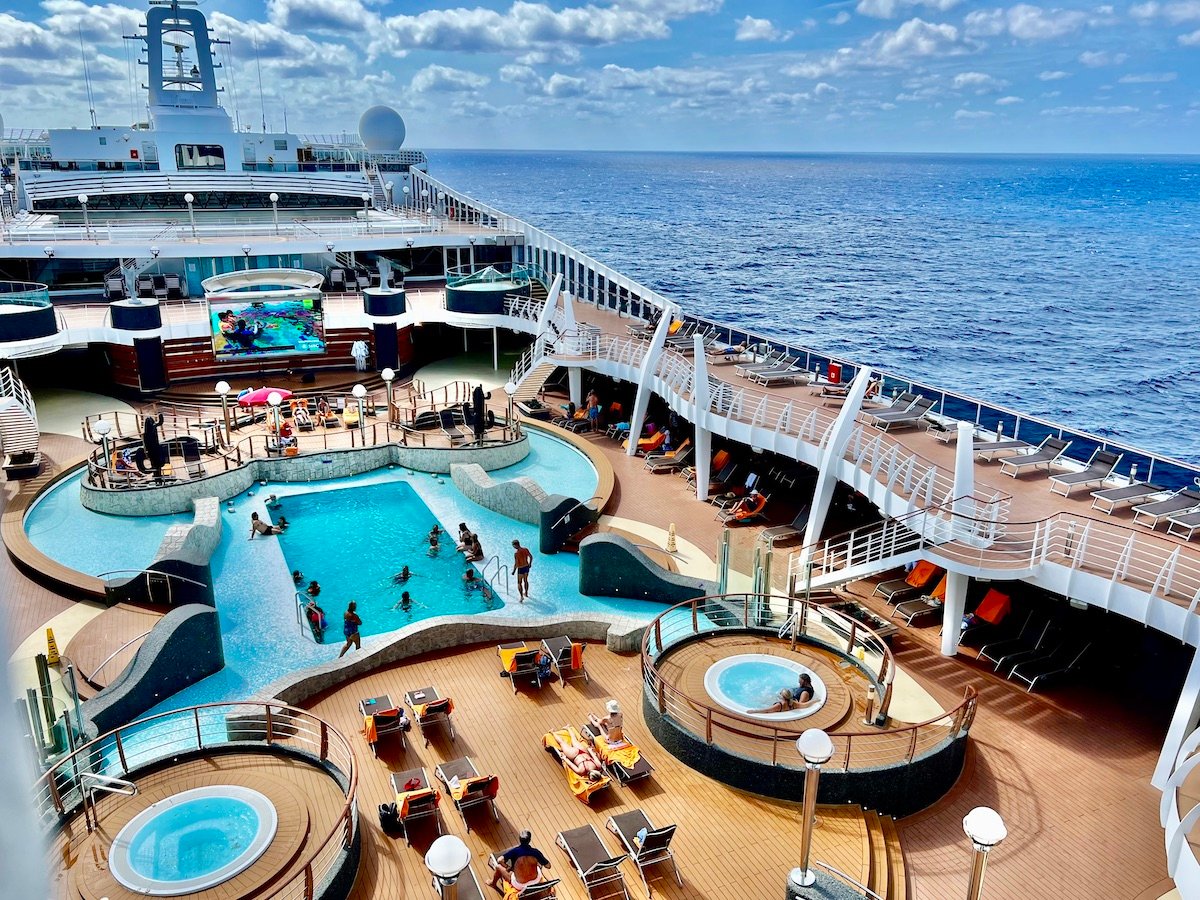 Photo Credit: MSC Cruise Line
When I cruise, especially in the Caribbean, I like to partake of the entire cruise experience. To me, this includes using the pools and hot tubs and other resort facilities. MSC provides ample and varied places to worship the sun, cool off in a pool, or relax in a bubbly hot tub. On the Fantasia Class ships there are dedicated spaces for kids and teens that include splash zones and water slides.
On Divina and Preziosa, there is a pool and hot tub area covered by a transparent dome, allowing passengers to use the facilities in any weather.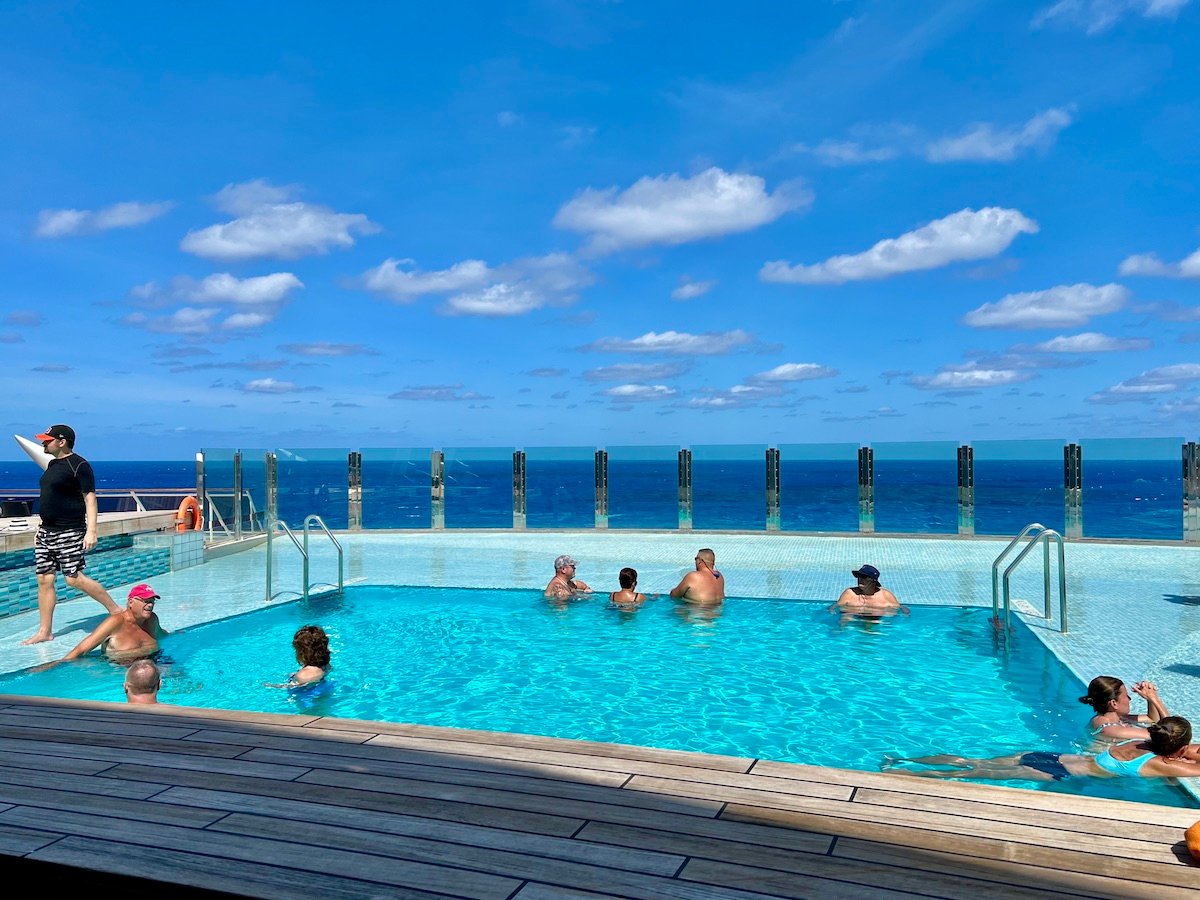 At the back of both ships there is a calm adults-only pool with a convenient nearby bar.
I'd rank MSC pool and resort areas on the newer ships as top-notch, equal to or better than other cruise lines.
Spa Facilities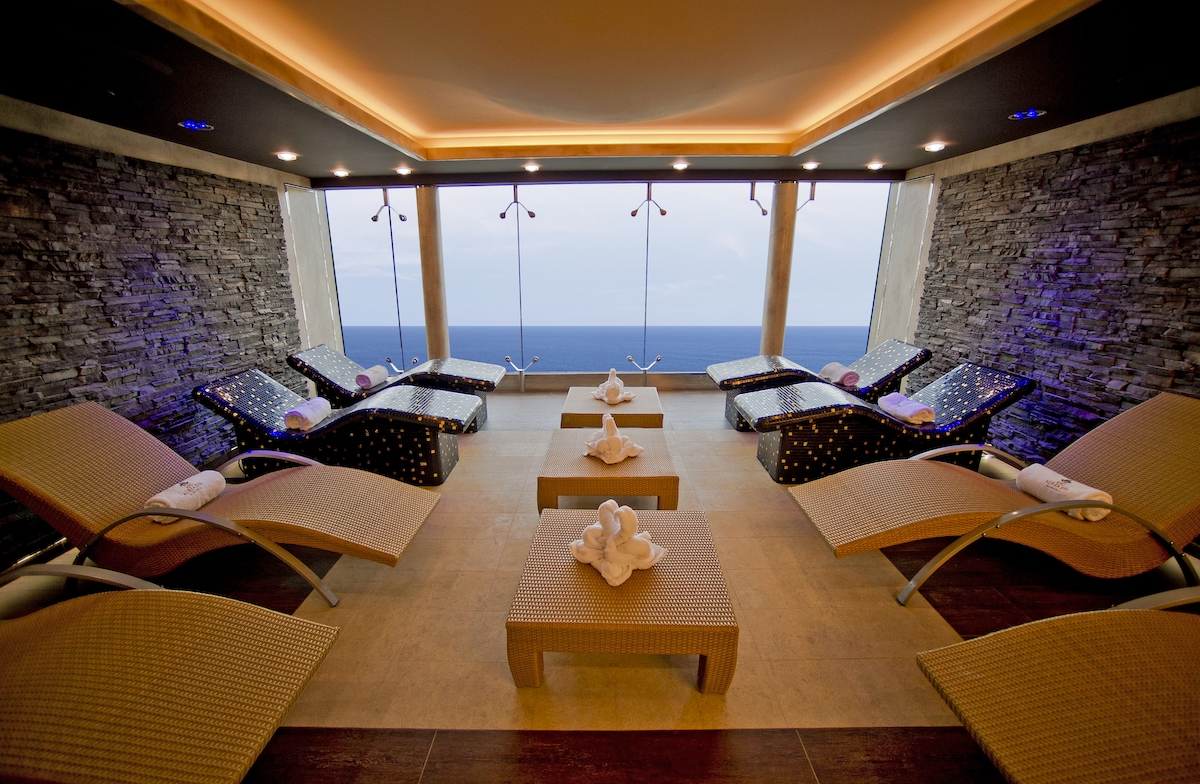 Photo Credit: MSC Cruise Line
MSC Preziosa and Divina also had large and luxurious spa facilities. I don't generally purchase spa services on any cruise, but I can tell you that the personnel on MSC offer complimentary 5-minute back, shoulder, and neck massages that were heavenly. They were so wonderful that I seriously considered signing up for the full treatment. But, as I mentioned, one of the lures of MSC is the value price of the cruise. There was no value-pricing in the spa. Prices were comparable to what I've seen on other cruise lines.
Cabins
---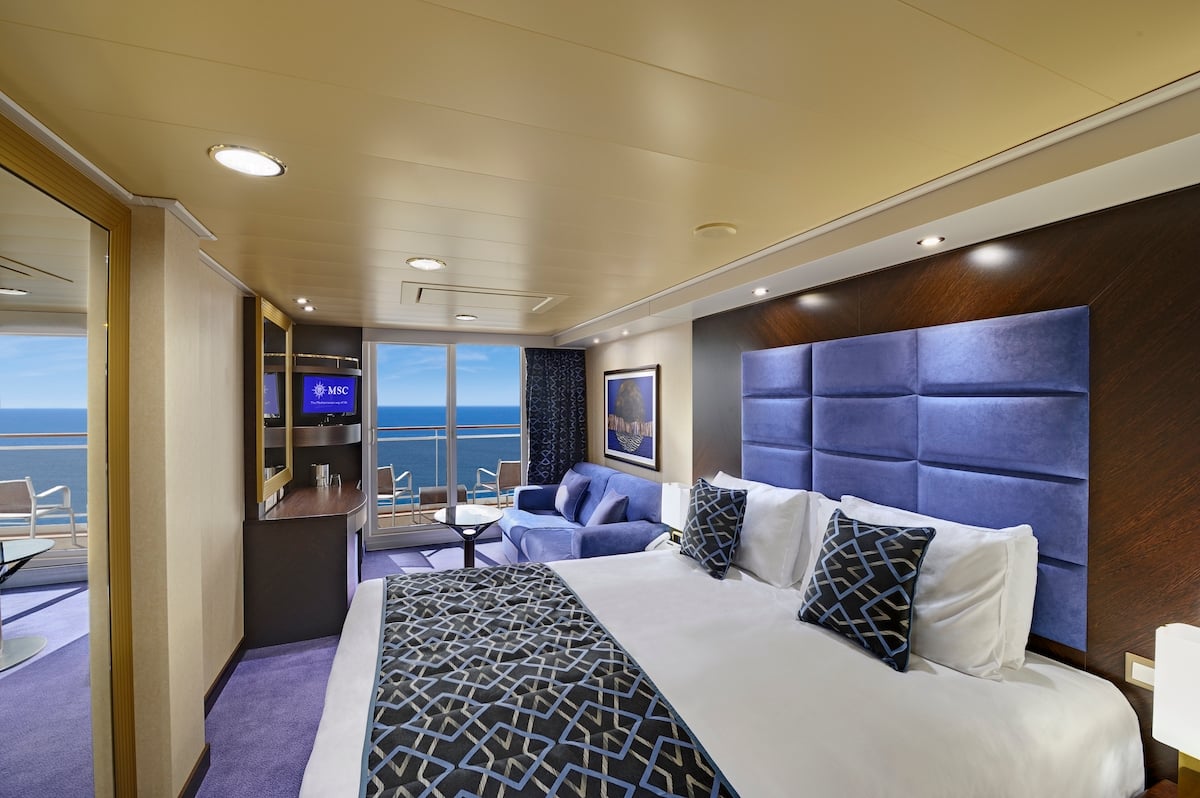 Photo Credit: MSC Cruise Line
The cabins on the newer MSC ships, including Divina and Preziosa, are spacious and very nicely appointed. I enjoyed a balcony cabin on both ships. The cabin has twin bedding that converts to a king-sized bed, and a generous seating area with a full-sized sofa. The balcony is large enough to comfortably move around.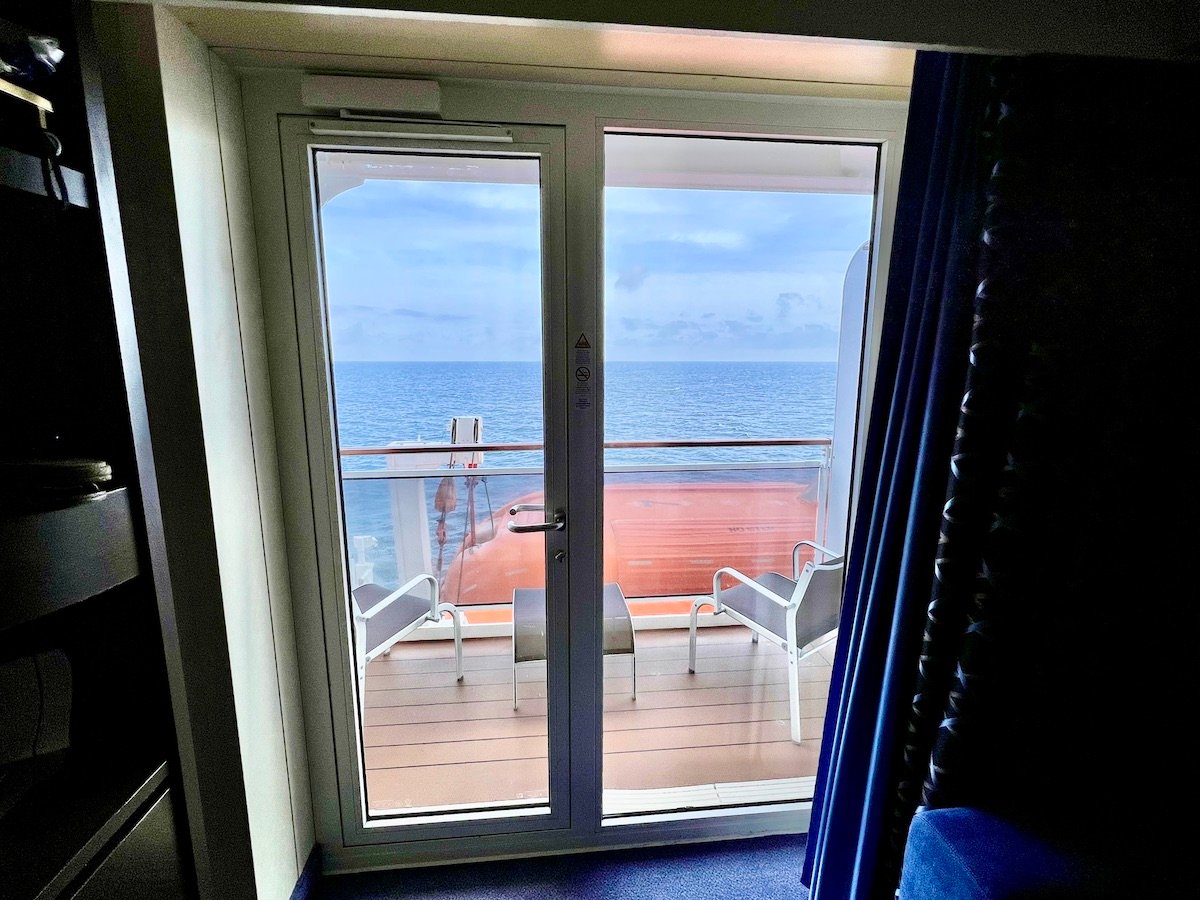 My cabin on Preziosa was classified as an obstructed-view balcony. What that meant in real terms was that the tops of the life boats were clearly visible from the cabin, and I could not see directly down to the water. It worked fine for me because my view of the fjords was not blocked at all.
Bedding
If you have been spoiled by the uber-comfort of the perfect bedding on Princess, you will find MSC falls short. The beds and linens are adequate. The mattresses are on the thin side, and you can definitely feel the steel support underneath. A friend requested and received a foam mattress topper on Divina that helped the situation a bit. I can make do with a firm sleeping surface and found the bedding acceptable.
Photo Credit: MSC Cruise Line
Pillows on Preziosa were different. On the first day, the pillows were neatly wrapped in a ribbon, with a card advising that MSC offered two pillows, soft and firm. The soft was what I would call limp. It had all the "firmness" of a duvet with a light quilt inside. The other was still soft and lightweight. I generally had to stack about 3 pillows up to get the loft I preferred.
I found it interesting that older reviews of Divina mentioned the same complaint about pillows, but when I sailed her in October 2021, the pillows appeared normal. MSC seems to have improved their pillow game for the US market, but Preziosa still has some less-than-spectacular head support on European itineraries.
The linens were unremarkable. No problems, but nothing to compare to what Princess offers.
Bathrooms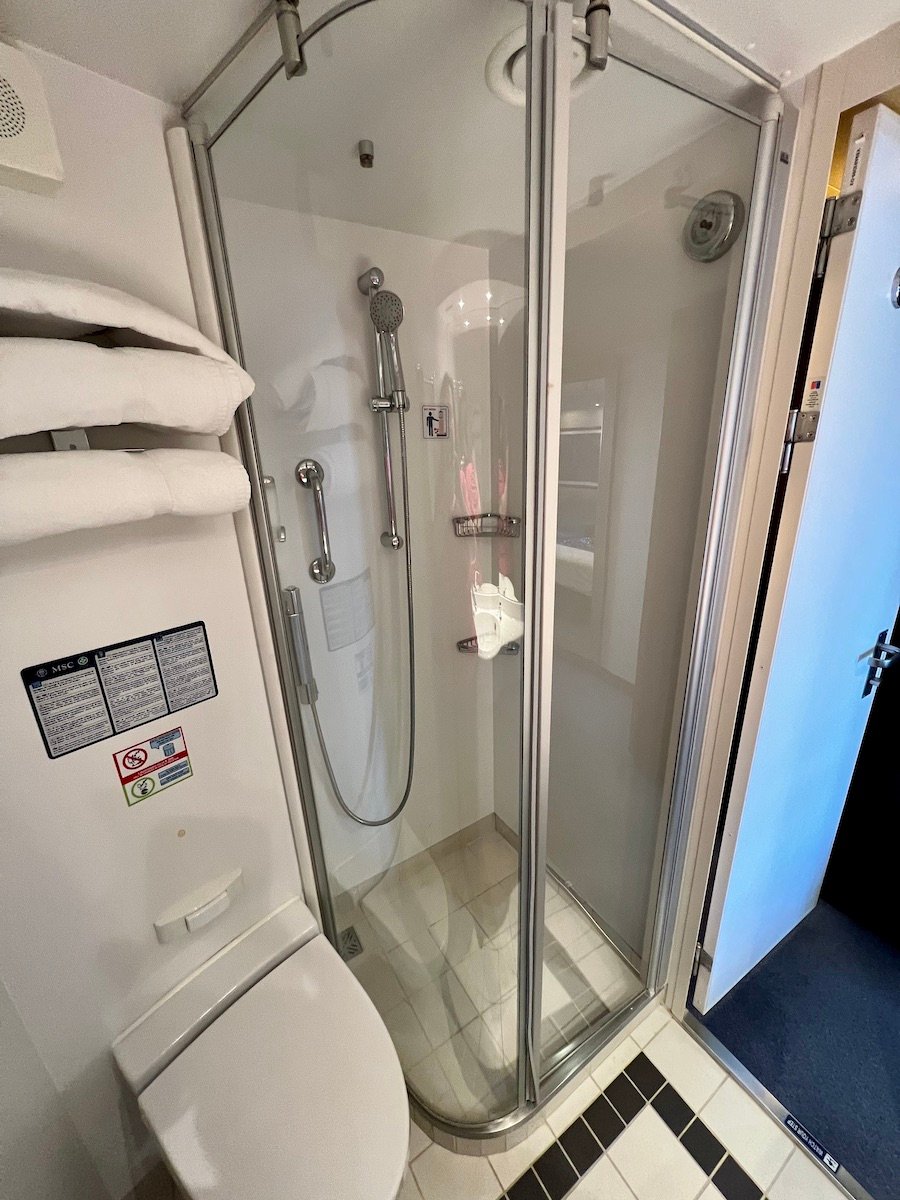 Preziosa and Divina had very nice bathrooms. The showers were a good size, and there was plenty of storage and room to move about in the facilities.
---
Crew
---
The service crew on all of my MSC cruises was as attentive and caring as on the mainstream lines I have sailed in the past.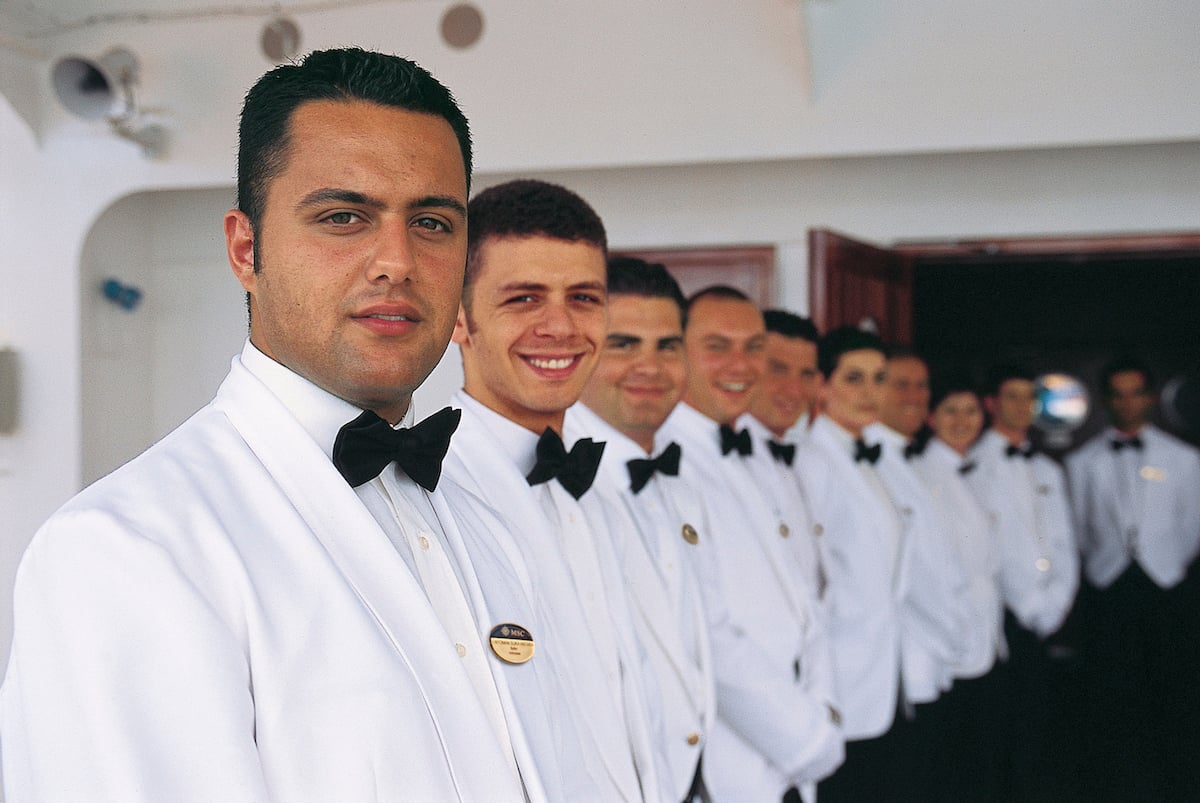 Photo Credit: MSC Cruise Line
On Preziosa I was lucky to have many conversations with staff. Because there were so many Europeans on the ship, the crew members became my English-speaking friends. Some said that they had years of experience on other lines such as Holland America. Some were on MSC because MSC had resumed service after the pandemic more quickly than other lines. Crew members were able to get back to work more quickly by signing a contract with MSC.
The crew went above and beyond in several small, but telling ways. My dining room wait staff quickly learned that I liked ice with my bottled water (typical American). Within the first two days, they automatically started bringing me my own mini ice bucket every evening. It was a small touch that meant a lot.
Another thing that Europeans don't generally use are washcloths. I know not to expect them in European hotels, unless the accommodation is targeting Americans. On MSC in Europe, there were initially no washcloths in the bathroom. But when I met my cabin steward, and he realized I was American, washcloths appeared without any request from me.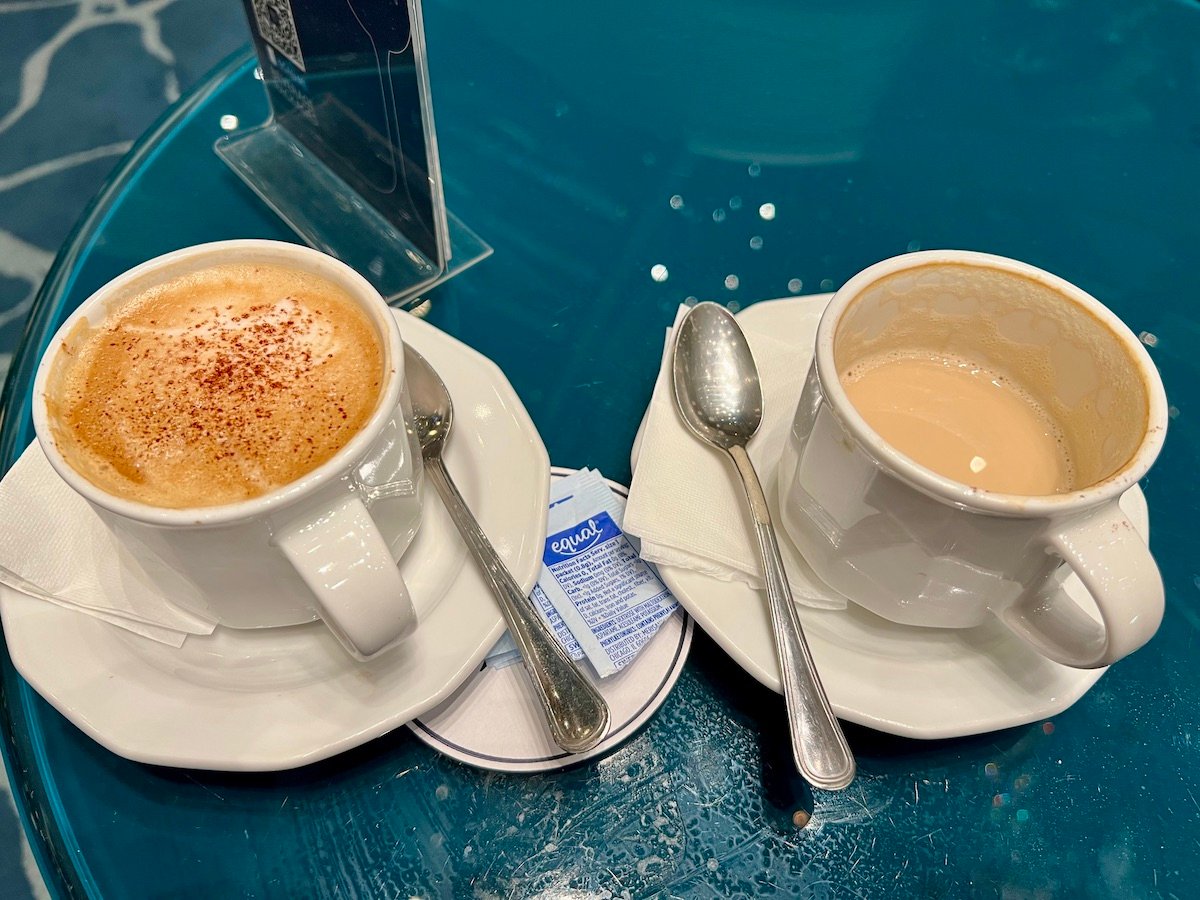 Another example of the attentiveness and kindness of the service staff happened when I ordered coffee one evening in the atrium lounge. It was a busy evening, with only a couple of wait staff struggling to keep up with the demand. I placed my order for a cappuccino, and it took about 20 minutes to arrive. Then, less than 10 minutes later, my server appeared again with another cappuccino. She apologized for the delay in delivering the first one, and said she wanted to get me another in case the first wasn't hot enough. Both were delicious!
Gratuities
---
MSC, like most lines, automatically charges passengers a set amount per day for crew service charges. In Europe, the charge was €10 per day. In the US it is approximately $14 per day. A gratuity is added when you order a drink. When you order a drink package, the per day cost of the package already includes the gratuity (unlike NCL).
---
Onboard Services
---
In order to avail yourself of any of the onboard services offered by MSC, one of the first things you will need to do once you board the ship is set up your onboard account. MSC has a unique and curious way of handling this.
Activating Your Onboard Account
---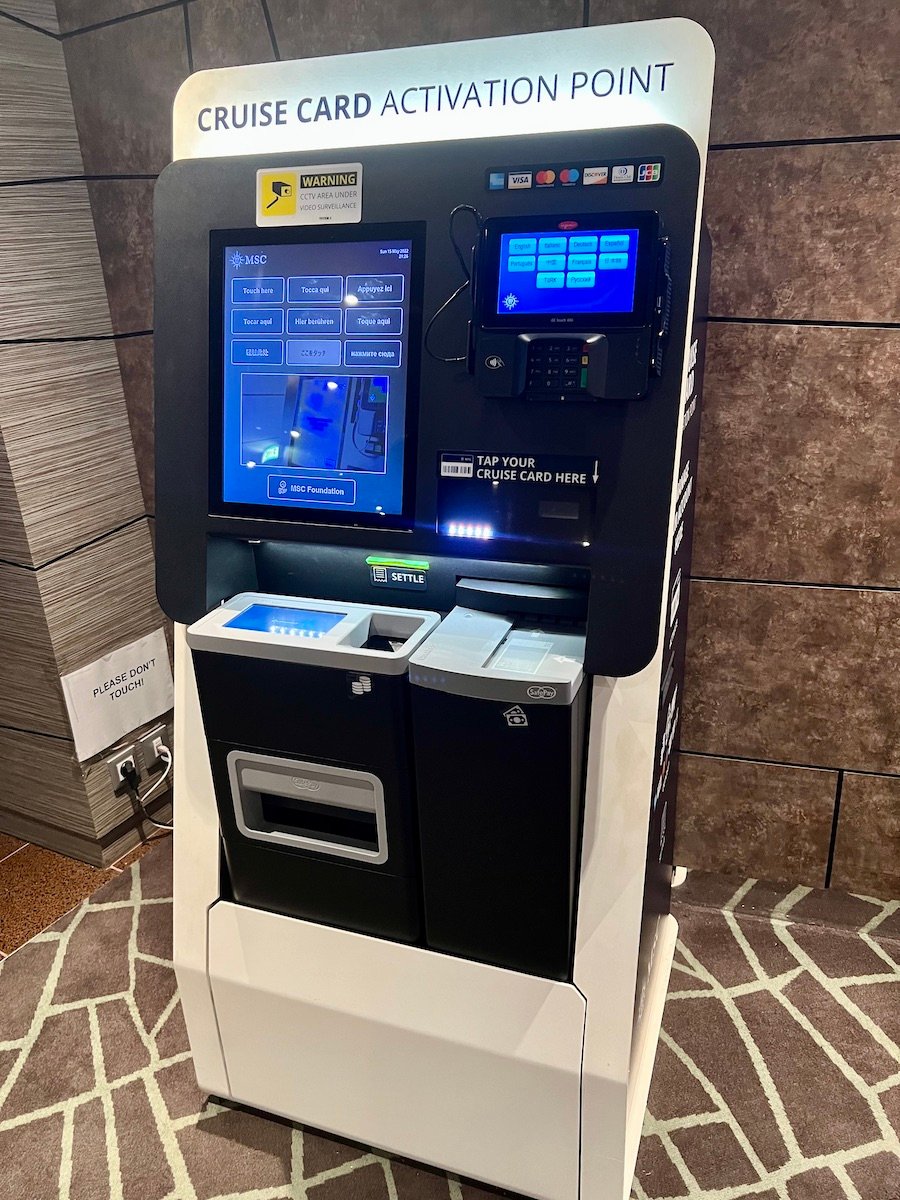 Any frequent or novice traveler knows that just about every other cruise line or hotel handles your expected spending by taking your credit or debit card information in advance. Once you are checked in, all expenses are charged to your onboard account, which is then billed to your selected card, unless you have made arrangements to pay in cash. It's all taken care of before you set foot on the ship or in your hotel room.
Not MSC. On this line, you have to take an extra step after you are on the ship to register and set up your onboard account. Passengers are advised that they need to locate the "Cruise Card Activation Point." This is an electronic kiosk that looks something like an ATM. On Preziosa I found the machines by the Guest Services desk. On Divina there were machines at Guest Services and outside the casino.
At the Activation Point, passengers are required to scan their cruise card and then scan the credit or debit card that they want to use for onboard purchases. But there's more to the process. The onboard account doesn't automatically take care of things. Instead, passengers need to enter the amount they want to authorize on the card. The default Preziosa amount was €250, although passengers could adjust that amount up or down depending on what they thought they would be spending. Then the designated amount was charged to the card up front.
If a passenger spends more than expected, then he or she needs to go back to the activation point and authorize further charges. If at the end of the cruise you have money left on your account that you haven't spent, you go back to the machine for a refund. On Preziosa, the refund came in the form of a credit to the card that was initially authorized. The Divina experience was more fun. If you had a credit balance on your account on the Divina, the machine disbursed cash. It felt a bit like going to the casino and finally winning. I left the Divina Activation Point with a crisp $100 bill and some change.
The system is more than curious. It's annoying for several reasons. First, there are only a few machines for thousands of people to use. Second, at least on Divina and Preziosa, there was no convenient way to check your account balance. Most cruise lines these days have a way to use your phone or your cabin TV to check your account. On Divina and Preziosa, the only way to check was to go to Guest Services and get a printout.
Finally, some passengers had difficulty using the Activation Point because when the chosen card is charged, it appears as a charge from MSC headquarters in Europe. If the passenger hasn't alerted their bank to expect a foreign charge, it may be declined. All of this means that there are long lines at Guest Services as passengers try to deal with the complications.
MSC's newest ships have upgraded technology and a new "MSC For Me" app which should allow passengers to set up their onboard accounts in advance and monitor them more easily. If you are considering booking an MSC cruise, be sure to verify whether your ship is one of MSC's "smart ships." To date, the Meraviglia class, Seaside class, and World class ships should be set up with the MSC For Me app.
While sailing Divina and Preziosa, I found standard onboard services such as WiFi and laundry comparable to those offered on other cruise lines.
WiFi
---
MSC has WiFi packages available on the ship. I did not use the ship-based Internet on Divina. I have international cell access on my phone which works except on sea days, so I don't generally pay extra for a WiFi package.
On Preziosa, I booked a fare that included unlimited "browsing" Internet access. That is, sufficient speed to check and send e-mail, and access social media sites, but not sufficient for serious streaming. I found that it worked adequately for sending text messages and checking e-mail. Sending photos was sometimes slow and sometimes not possible. The WiFi seemed to work better in the public areas of the ship than in my cabin (which was centrally located).
MSC is somewhat mysterious about the cost of WiFi. It is information not readily available on the MSC website. You have to book a cruise, and then you have the opportunity to purchase WiFi. The price is disclosed then. I suppose this is because the price varies by region and by currency. Even so, it is annoying not to have this information be transparent.
In my case, on Preziosa, I booked a fare that included WiFi for two devices, along with the Easy Plus drink package, and two specialty dinners. The price for all of that, including my accommodation in a solo balcony cabin came to $164 per day, which I thought was a value. The Easy Plus drink package itself would have normally been $49 per day. There is more information about beverage packages in my MSC Cruises guest experience post.
Laundry
---
There are no self-serve laundry facilities on MSC ships. MSC offers standard laundry services at standard high prices.
During my cruises, there was never any special discount pricing offered, as sometimes is offered on other cruise lines. You can buy a discounted laundry package before boarding. The price is better than what is offered on board, but still on the expensive side. And the lack of flexibility with the prepaid package is frustrating. If you prepay for 40 items, the price reduces to about $1.35 per item. But MSC policy dictates that you have to send all 40 items in to be laundered at one time.
---
MSC Voyagers Club
---
MSC's loyalty program is called Voyagers Club. A primary benefit of being a member of the Voyagers Club is a 5% discount on cruise fares. All members are eligible for the 5% discount.
The 5% discount is excellent, but the highest level with MSC also gets some nice benefits like a specialty restaurant dinner, which is a value of $45 to $50. MSC does not offer perks like free or reduced-price laundry.
Now this is huge! If you are already a member of a loyalty program on another cruise line, you can apply for a status match to the comparable level in the MSC program. I was able to match to the Diamond level on MSC (it's highest level), based on being an Elite on Princess.
You should be aware that MSC Voyagers Club membership ends if you haven't taken an MSC cruise in the previous 36 months. Like many things on MSC, you should keep an eye on this. I found that my membership was not shown as active, even though I had taken a cruise just seven months earlier. This may have been because of the disconnect between MSC and MSC USA. It is an example of the general disorganization that I find is an issue with MSC.
This concludes my review of the MSC cruise line from the outside in, but much more about the onboard experience is discussed in my post Inside the MSC Guest Experience right here on Backroad Planet.
Click here for lodging options on TripAdvisor!
---
We Would Love to Hear From You
---
We enjoy dialogue with Backroad Planet readers, especially when they share off-the-beaten-path destinations and useful travel tips. Have you sailed with the MSC cruise line? If so, we would love to hear about your experience. We invite you to leave your comments and questions below, and we always respond!
---
Pin this Post!
---