(a

19

minute read)
---
A list of random observations and candid reflections from a 15-day Panama Canal sailing aboard the Norwegian Bliss cruise ship.
---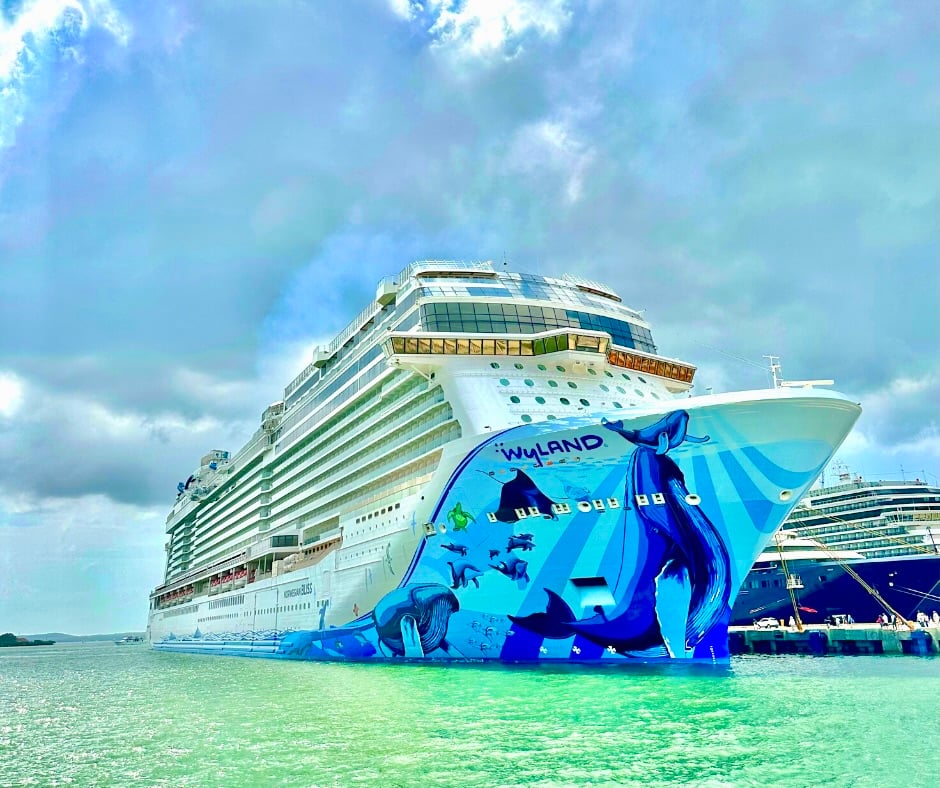 This post may contain affiliate links. Please refer to our our Disclosure/Disclaimer page for more information.
---
My NCL Bliss Itinerary
---
A Panama Canal itinerary was my reason for booking a cruise on the NCL Bliss. Full transits through the Panama and Suez Canals had been on my bucket list for years, and because I live in Florida, I always assumed that I would sail the Panama Canal first.
But it didn't happen that way. A year earlier I discovered a Suez Canal transit on an NCL Jade Athens to Dubai itinerary for a great price, just two weeks before it sailed.
For months I tracked solo balcony stateroom rates on several Panama Canal itineraries, and when the NCL Bliss price dipped into what I considered a reasonable range, I booked.
The NCL Bliss Panama Canal itinerary from Miami to Los Angeles ultimately included ports in Cartagena, Colombia; Panama City; Puerto Quetzal, Guatemala; and Acapulco, Puerto Vallarta, Mazatlán, and Cabo San Lucas in Mexico.
Prior to my booking, the itinerary had included ports in Costa Rica and Nicaragua, but those ports were eliminated for whatever reason. This was a typical Norwegian maneuver I will address in an upcoming post.
The NCL Bliss belongs to Norwegian's Breakaway Plus class of ships and launched in 2018. I did not realize until after boarding that the Bliss was virtually identical to its sister ships, the NCL Encore I had sailed to Alaska, and the NCL Escape I had sailed through the Caribbean. I have yet to sail Breakaway Plus sister ship the NCL Joy.
Although Breakaway Plus ships are similar in design, my onboard experiences were not. When I cruised to Alaska on the NCL Encore, there had been 2,106 guests aboard, and there had been 2,284 guests onboard my NCL Escape Caribbean cruise. On the NCL Bliss Panama Canal itinerary, there were 3,840 guests out of a 4,004 guest capacity. More about this later.
---
About This Post
---
This post is not an exhaustive manual, like our guide to Viking ocean cruises, or a critical assessment like our Island Princess or MSC Cruises reviews. In fact, many aspects of sailing the NCL Bliss are not addressed here at all.
This post is also not a Panama Canal itinerary guide or shore excursion review.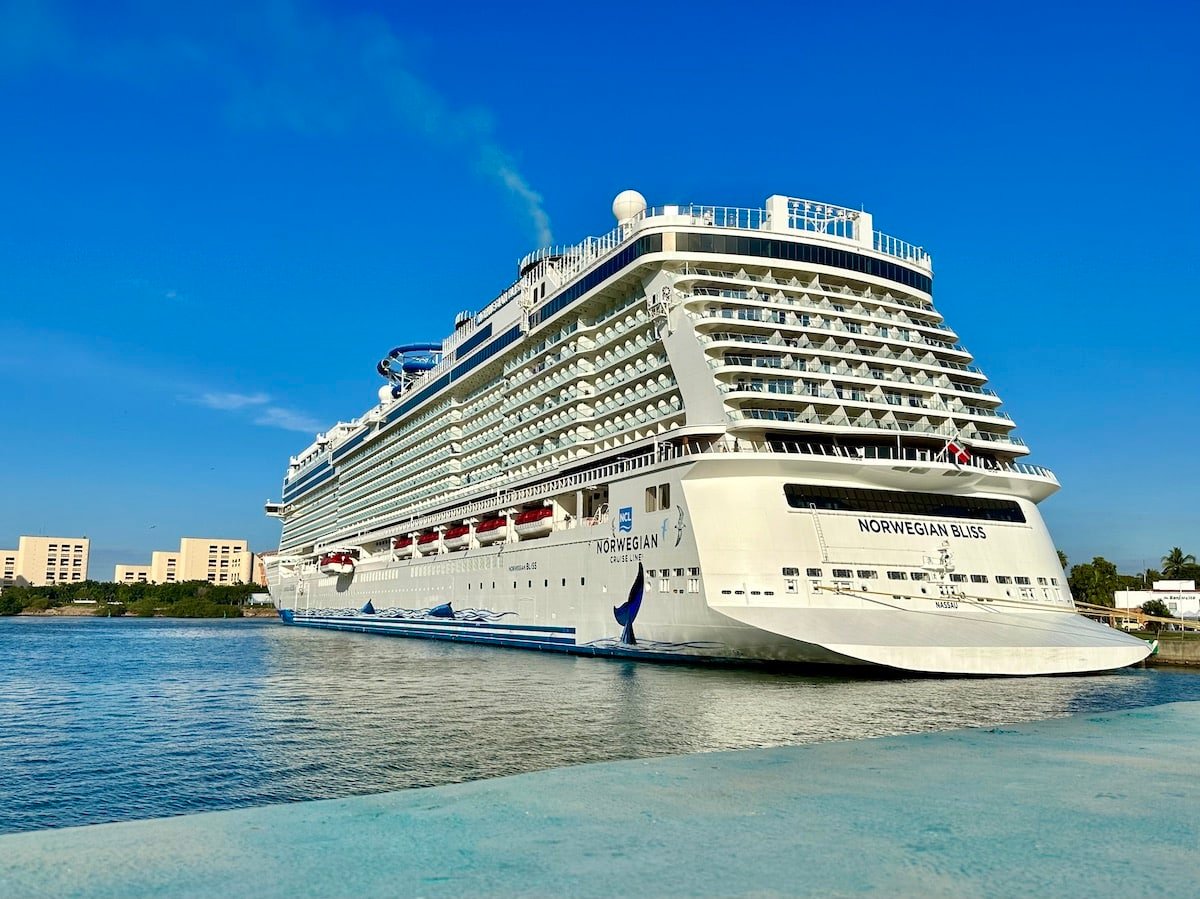 Instead, this post is a listicle of first-hand observations regarding the NCL Bliss cruise ship and the Norwegian brand.
While aboard the NCL Bliss, I recorded in-the-moment notes based on my experiences. Upon my return home, I further elaborated my reflections for publication in this post.
---
The NCL Bliss Cruise Experience
---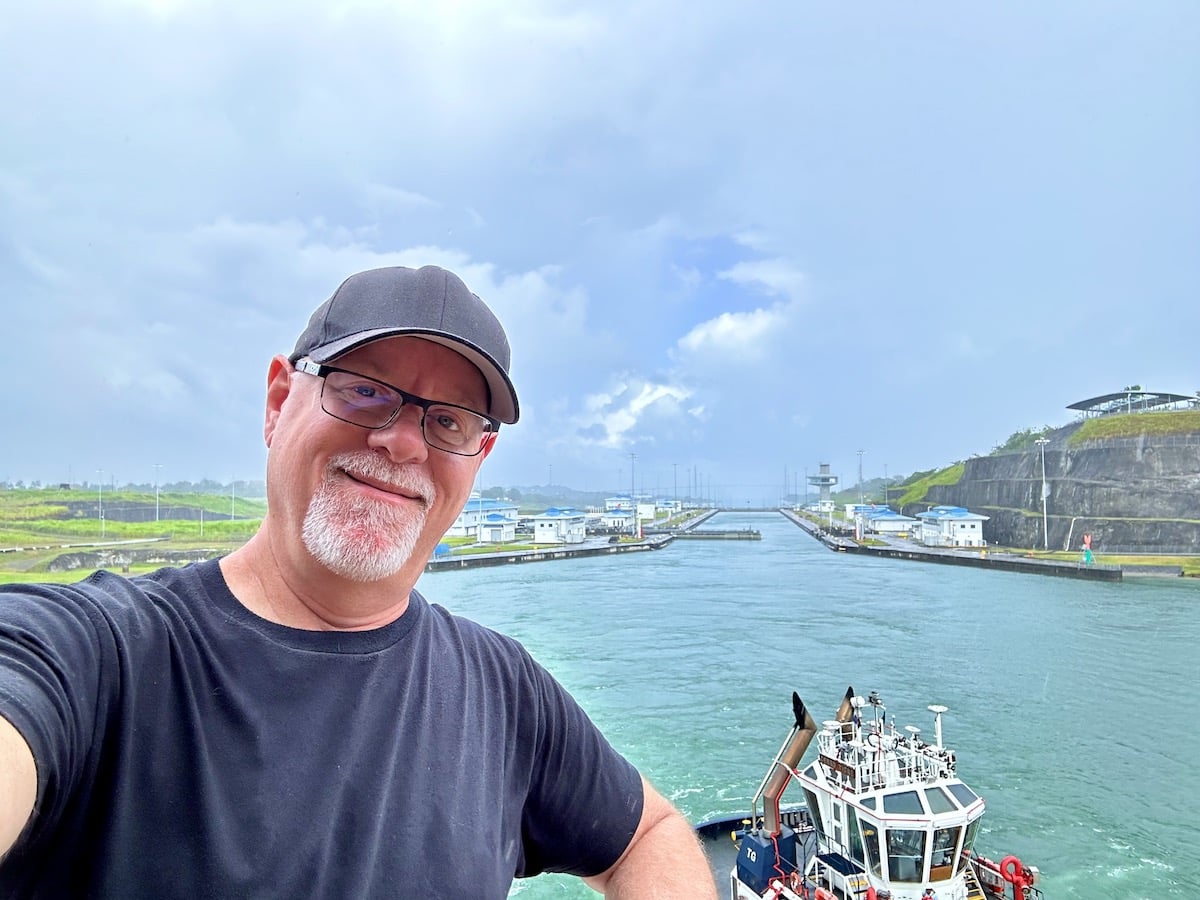 The NCL Bliss has its positives and negatives like all ships. But all things considered, I had a wonderful time completing a full transit on the Panama Canal and exploring ports on this itinerary.
• Full ship bookings create traffic jams.
---
There were 1,500+ more guests aboard the NCL Bliss than there had been on my NCL Encore and NCL Escape sailings. The increased population greatly impacted the availability of onboard facilities and activities.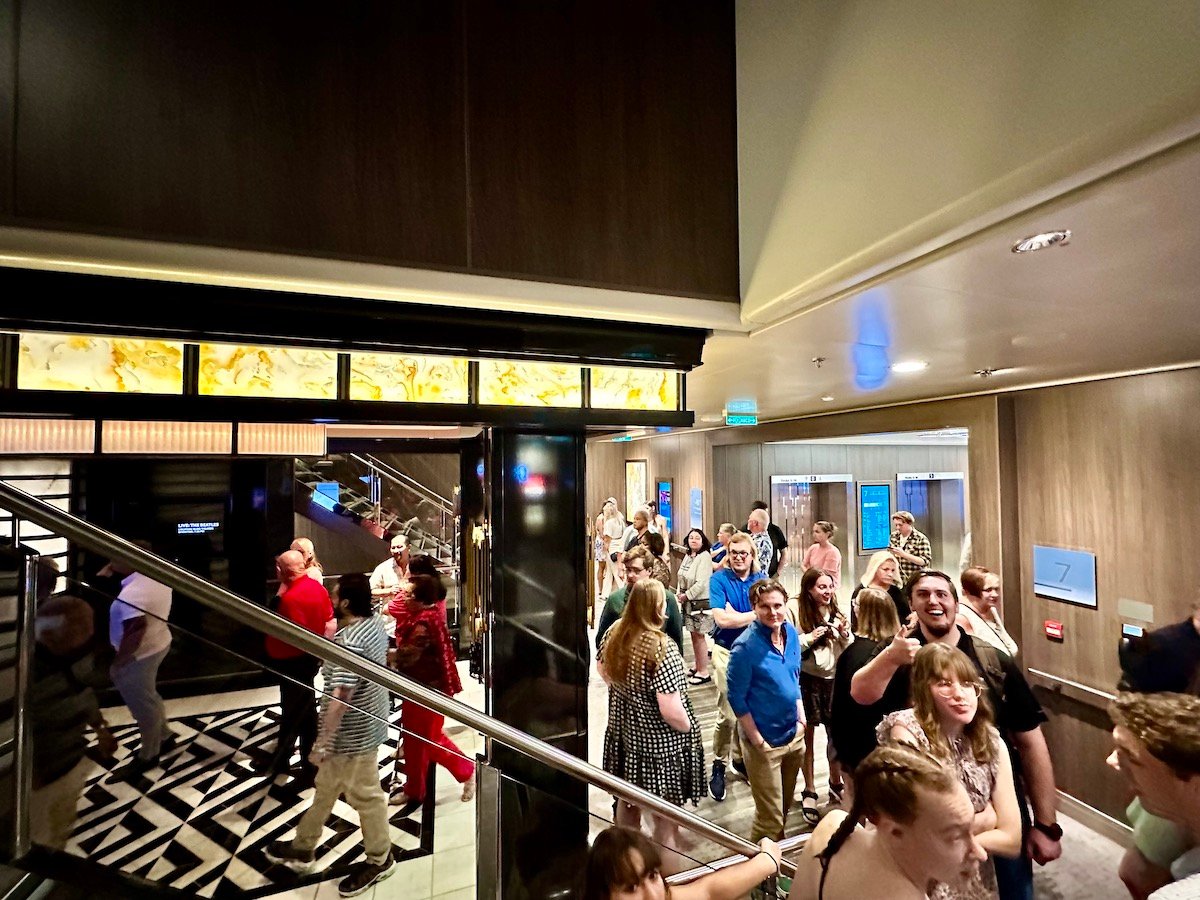 The first few nights of the cruise it was virtually impossible to get into the Manhattan Room without a reservation. Long lines of hopeful diners extended out the entrance and into the elevator corridor.
Fortunately, I did pretty well getting seated without reservations at the Taste and Savor dining rooms as a guest willing to either share a table or dine solo. Even so, meal service was often very slow.
During certain hours the Garden Café was a madhouse. At breakfast one morning, a guest noticed me looking at my phone and asked whether I was finished so he and his wife could have my table.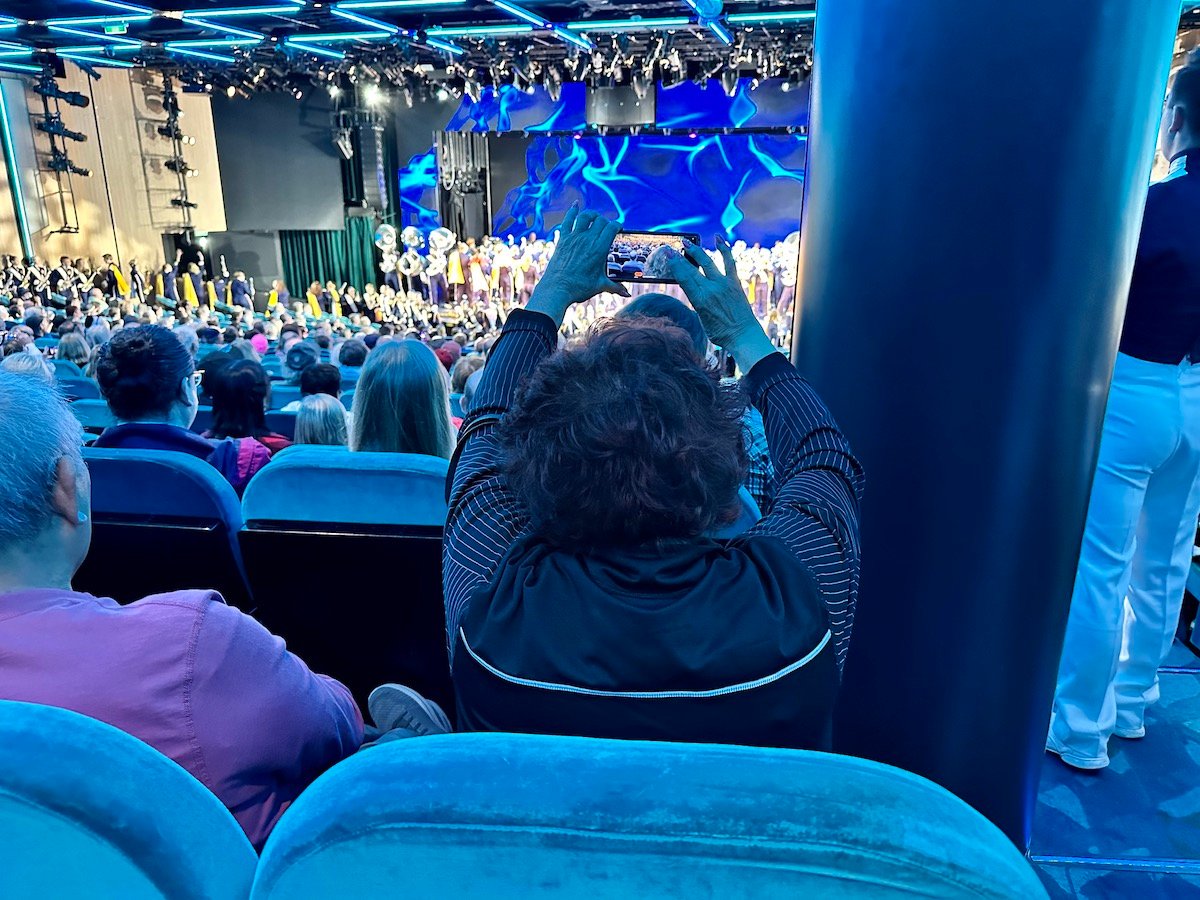 Bliss Theater shows were packed, as well. Guests with reservations who did not arrive at least thirty to forty minutes prior to the shows would have difficulty finding seats together and to their liking.
Approximately 300 guests were members of the University of Wisconsin-Eau Claire marching band. It was a different environment with so many young people onboard. However, they were all perfectly-behaved with zero evidence of spring break misconduct. They also performed four shows in the Bliss Theater to their newfound adoring fans.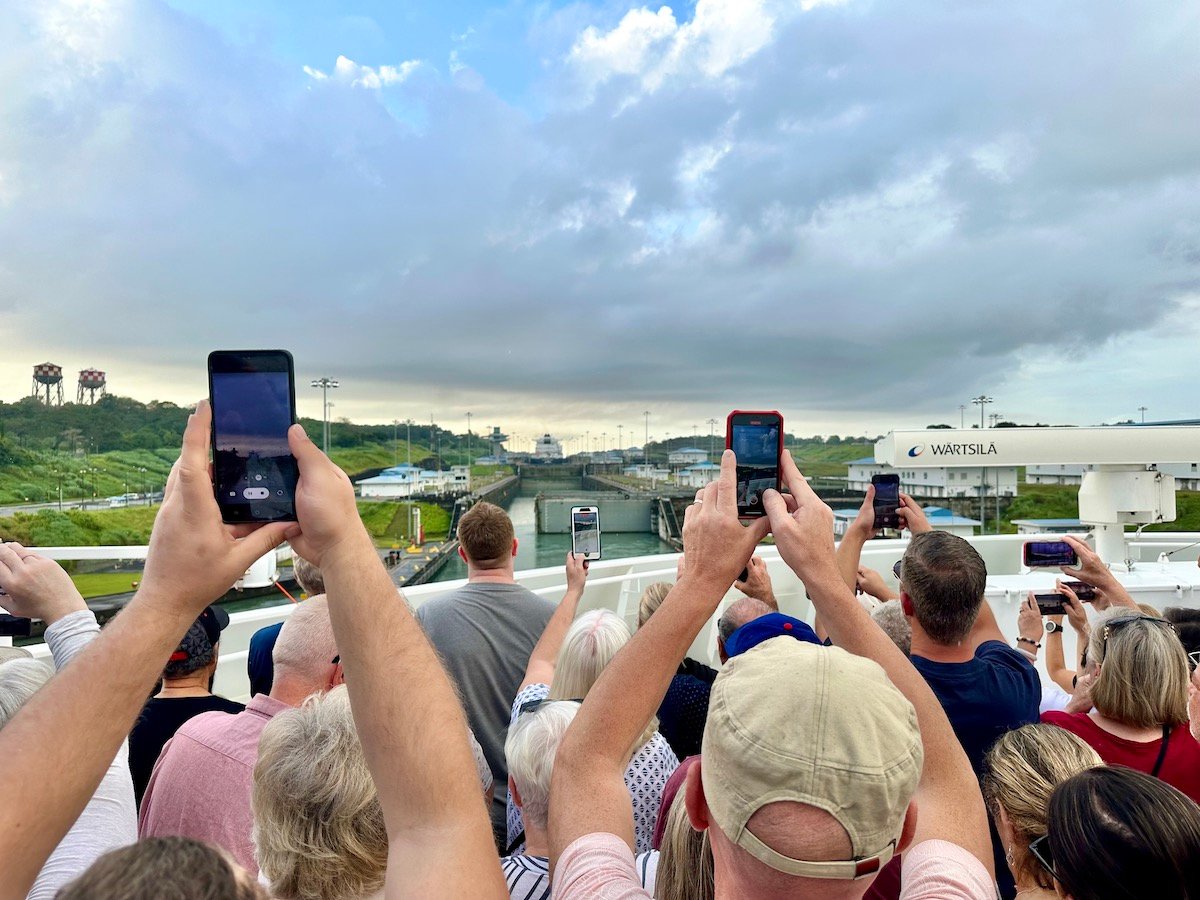 As much as I enjoyed the Panama Canal transit, I was extremely disappointed with the amount of forward deck space available to guests. The only forward deck space allocated to nearly 4,000 paying guests was on Deck 9 accessed through a long hallway on Deck 8. Unless you were able to worm your way to the front of the crowd, it was impossible to get a decent picture of the locks without dozens of mobile devices in your frame.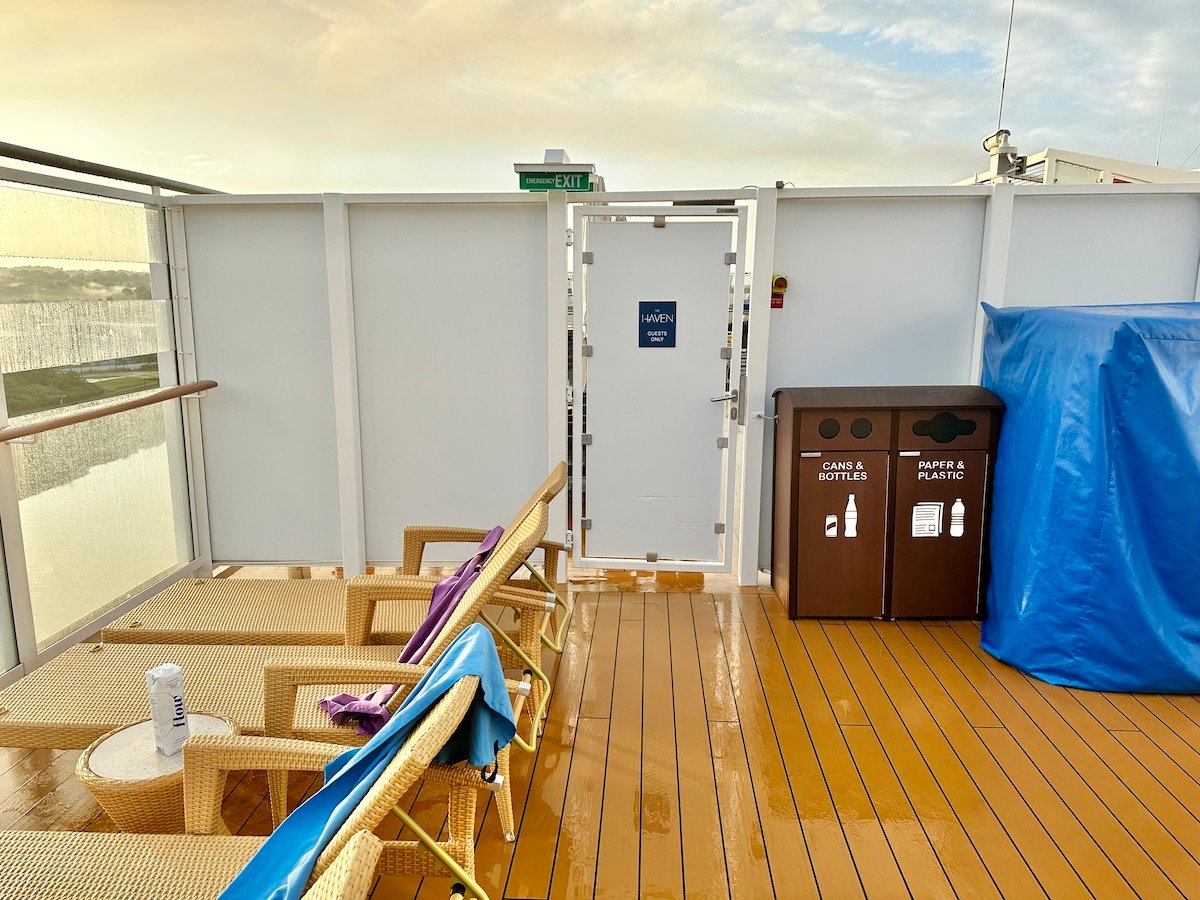 Early on the day of transit, I scouted around the ship to find other available forward deck space. On Deck 19, I found the entrance to The Haven private Sun Deck that wraps around the bow. I peeked through the crack and saw that it was virtually empty. I understand Haven guests pay the big bucks for privacy, but perhaps on the day of the Panama Canal transit, the space could be opened to other guests, as well.
Taking everything into account, the NCL Bliss does not have adequate facilities and crew to comfortably accommodate guests when booked at capacity.
• There may not be much time in ports.
---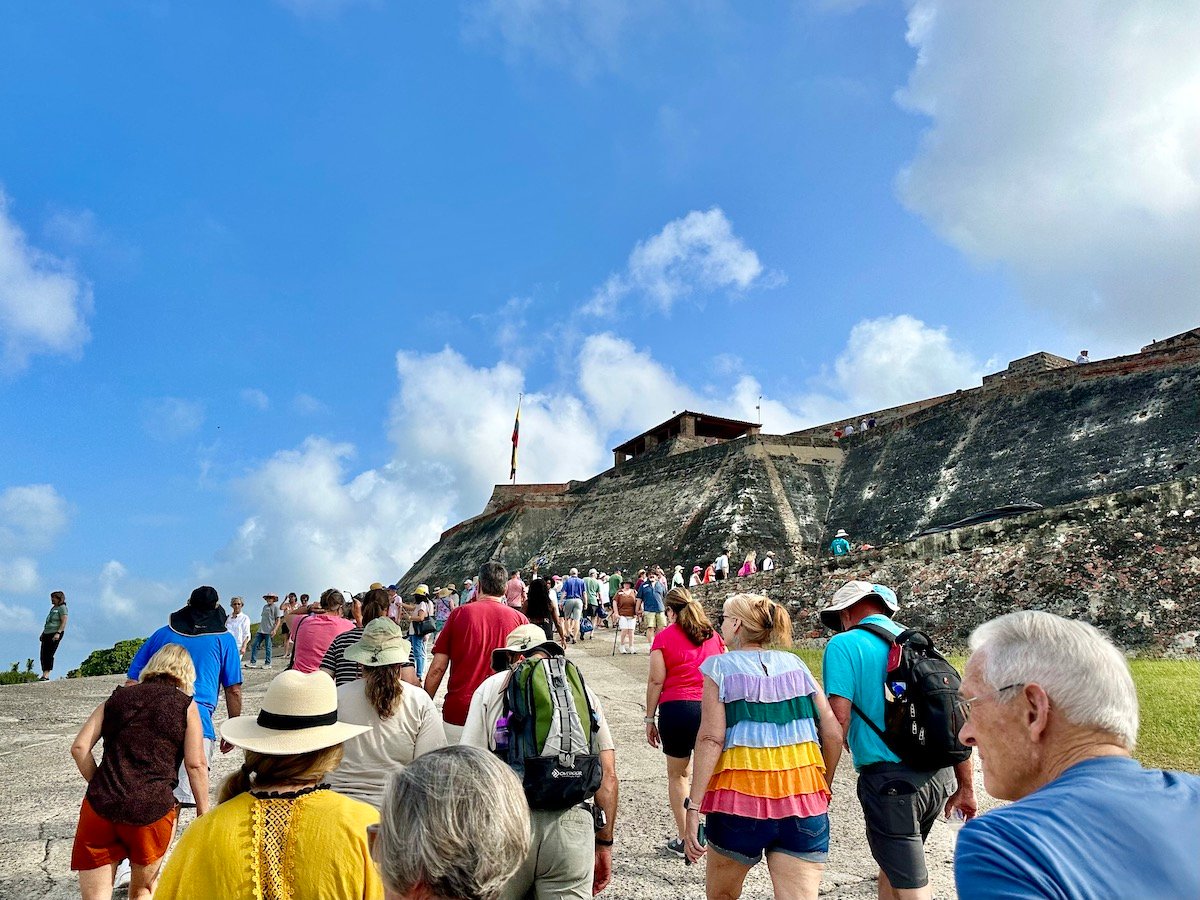 The Panama Canal transit was an amazing experience, but unfortunately there was limited time to explore most ports on the itinerary. It may not be this way on every NCL Bliss sailing, but on my cruise the time between port clearance and the all-aboard in most ports was only a few hours.
This is also a marketing issue I will address in a forthcoming guide to cruising with Norwegian.
• There is a shipboard culture of noise.
---
I understand that people cruise for many reasons and that you cannot please everyone. So please receive this observation in the spirit with which it is intended.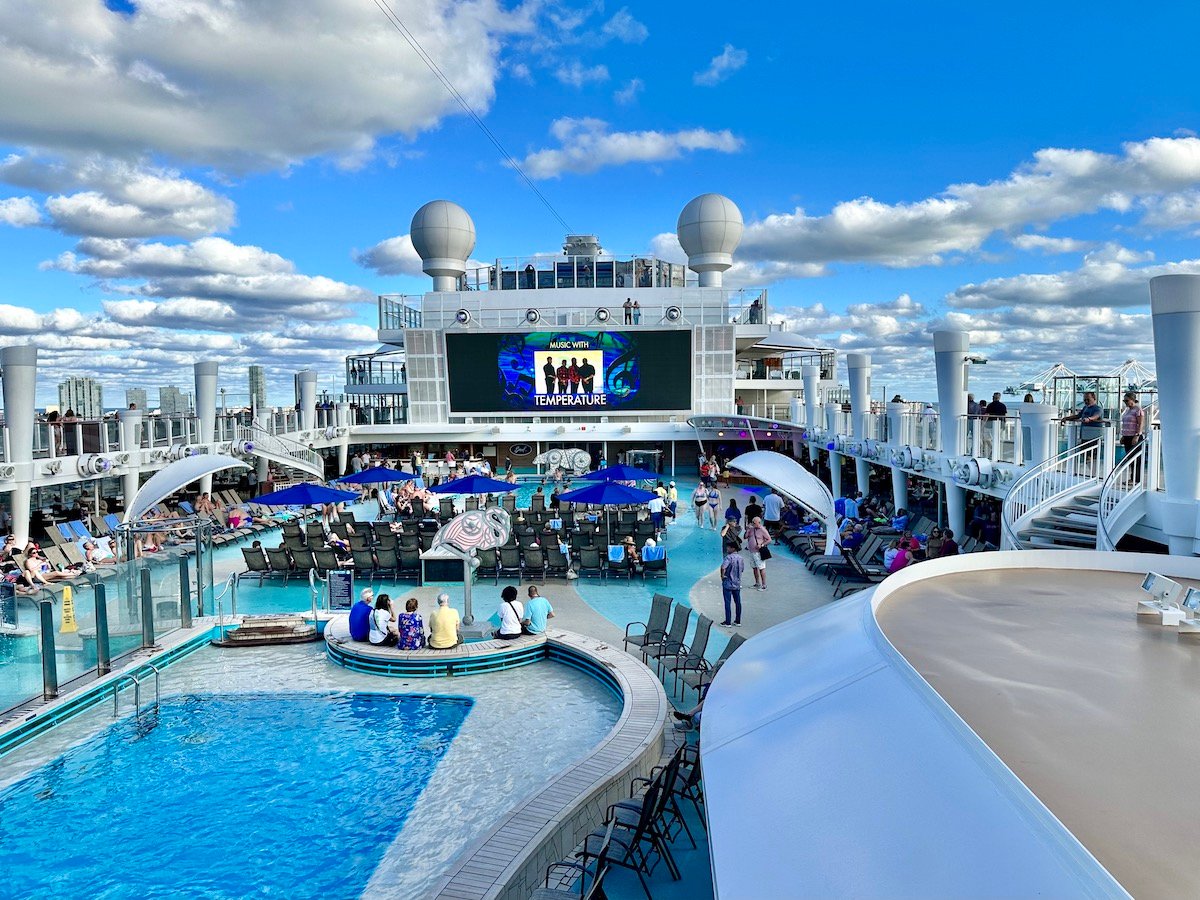 Although the NCL Bliss is not a party boat and the Panama Canal itinerary is not a booze cruise, there are many onboard spaces to accommodate that crowd. I am not a sun worshiper, so I do not hang out on the Sun Deck. But the few times I have passed through en route to another location, I couldn't get away quick enough. The blasting beats, pounding bass, and shouting DJ made me want to run.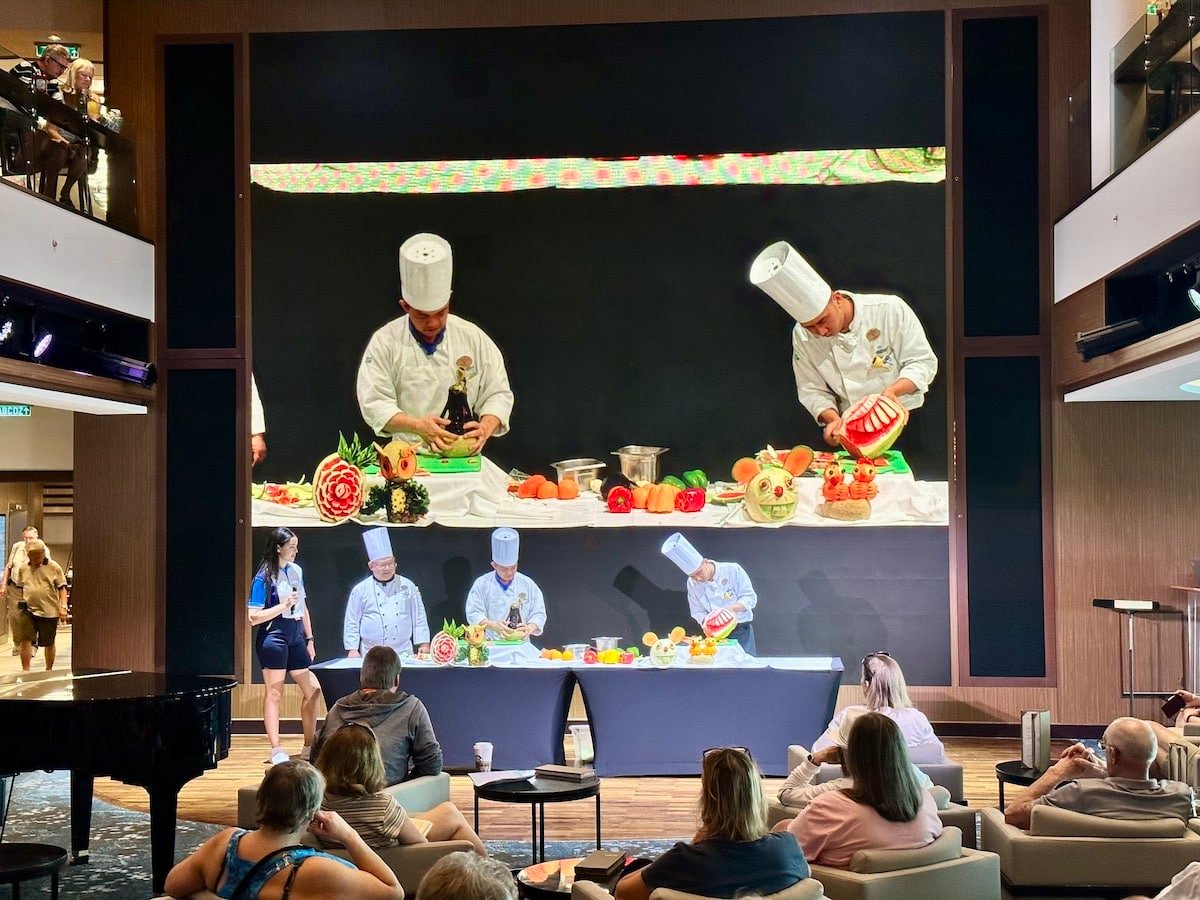 The atrium on Deck 6 is home to guest services, the ship excursion desk, the CruiseNext desk, the Internet Café, Starbuck's, and the Atrium Bar. With its large screen, it is also the venue for ongoing trivia games, dance classes, demonstrations, and countless other loud activities.
You would think with so many customer relations desks in the atrium that it would be important for involved parties to hear one another. I cannot tell you how difficult it was to communicate with ship staff over ambient sound effects and a cruise director staff member shrieking into a microphone. On my rare visits to the atrium, I would take care of my business quickly and then flee.
I would walk past bars blasting live or canned tunes compounded by the din of chattering guests overtalking the music in an attempt to be heard. I know it is the culture, but I just don't get it.
And you can forget a relaxing morning in the Garden Café. Breakfast is served with a side of blaring techno-pop.
Fortunately, there is at least one peaceful onboard public space.
• The observation lounge is a great hangout.
---
The observation lounge on Deck 15 is a peaceful refuge, especially in the early mornings. This public space with ceiling to floor picture windows wraps around the bow of the ship and occupies more than one-third of the entire deck's space.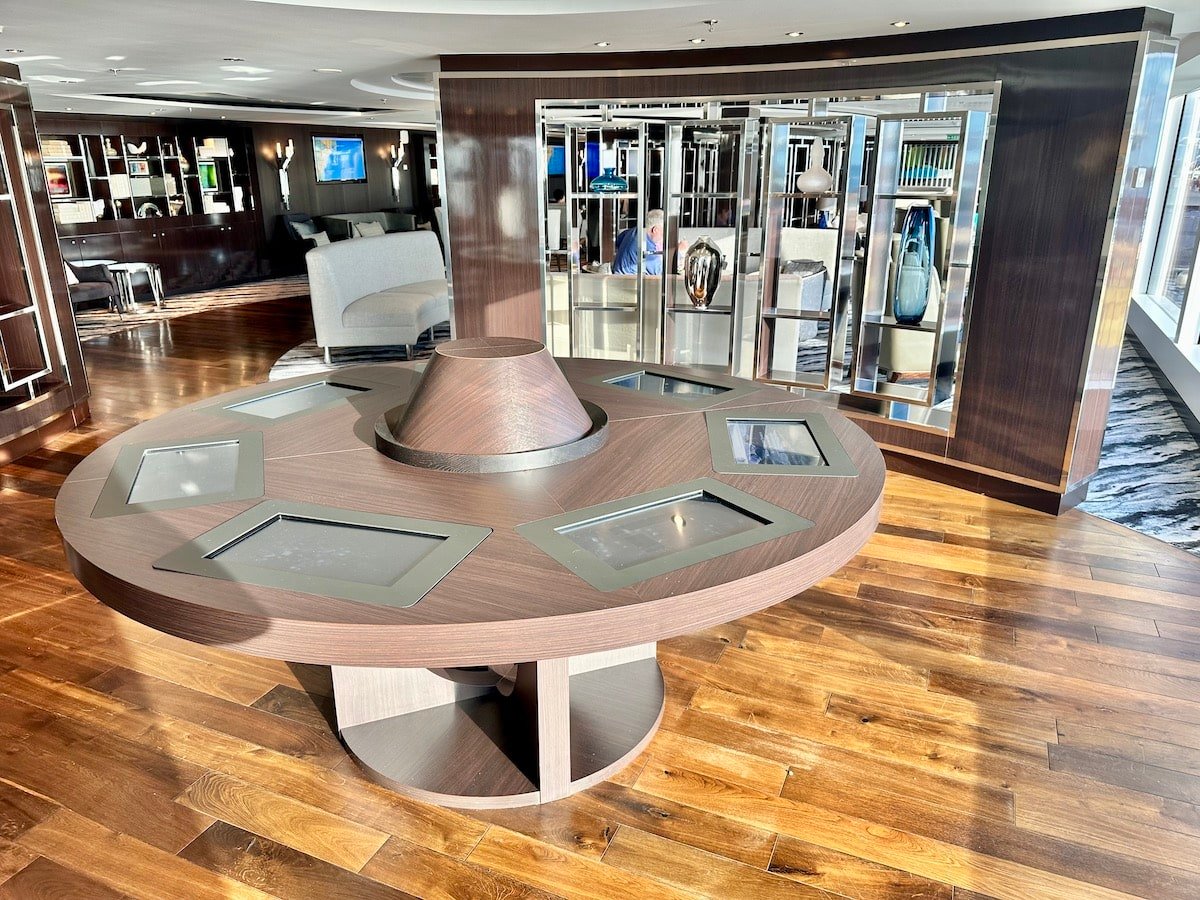 There is a great vibe there. It is mostly quiet even when a great many guests are present. The space is serene with lots of cozy nooks. Light classics may or may not be softly playing. It is a great place to watch the sunrise in comfort. Multiple food stations are stocked with all the makings of continental breakfasts, light lunches, and snacks.
The observation lounge is a great space, I tell you!
• There is a promenade and a library.
---
Regular Backroad Planet readers know that promenades and libraries are highly-important cruise ship facilities to me, and I report the inclusion or exclusion of them on all my cruise ship posts.
Technically, the NCL Bliss has a traditional covered promenade with guest access on Deck 7. This promenade has a linear passageway on both port and starboard sides of the ship, but they do not connect around the bow nor the stern. Lifeboats are also stored along both sides of the Deck 7 promenade, and they do block views of the ocean.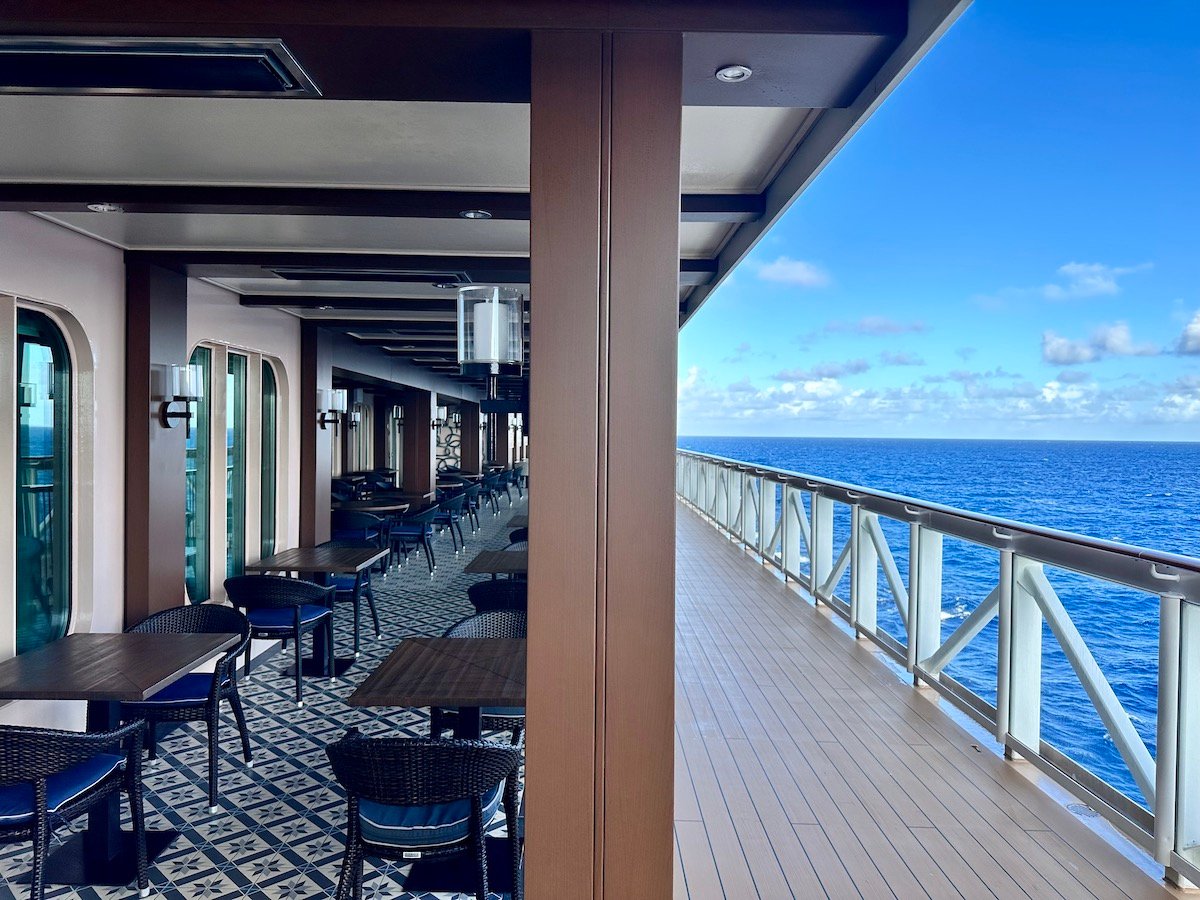 Breakaway Plus class ships also have a design feature called The Waterfront that allows bars and restaurants on Deck 8 to offer outdoor dining and socializing.
An open-air promenade circumnavigates Deck 8, and this is where most guests walk during days at sea. I prefer traditional promenades because I like protection from the elements, but I discovered the solution is to walk laps on the shady side of the ship.
The NCL Prima, the first of six ships in Norwegian's new Prima class, features an upscaled waterfront design called Ocean Boulevard.
Deck 17 of the NCL Bliss also has an open-air jogging track.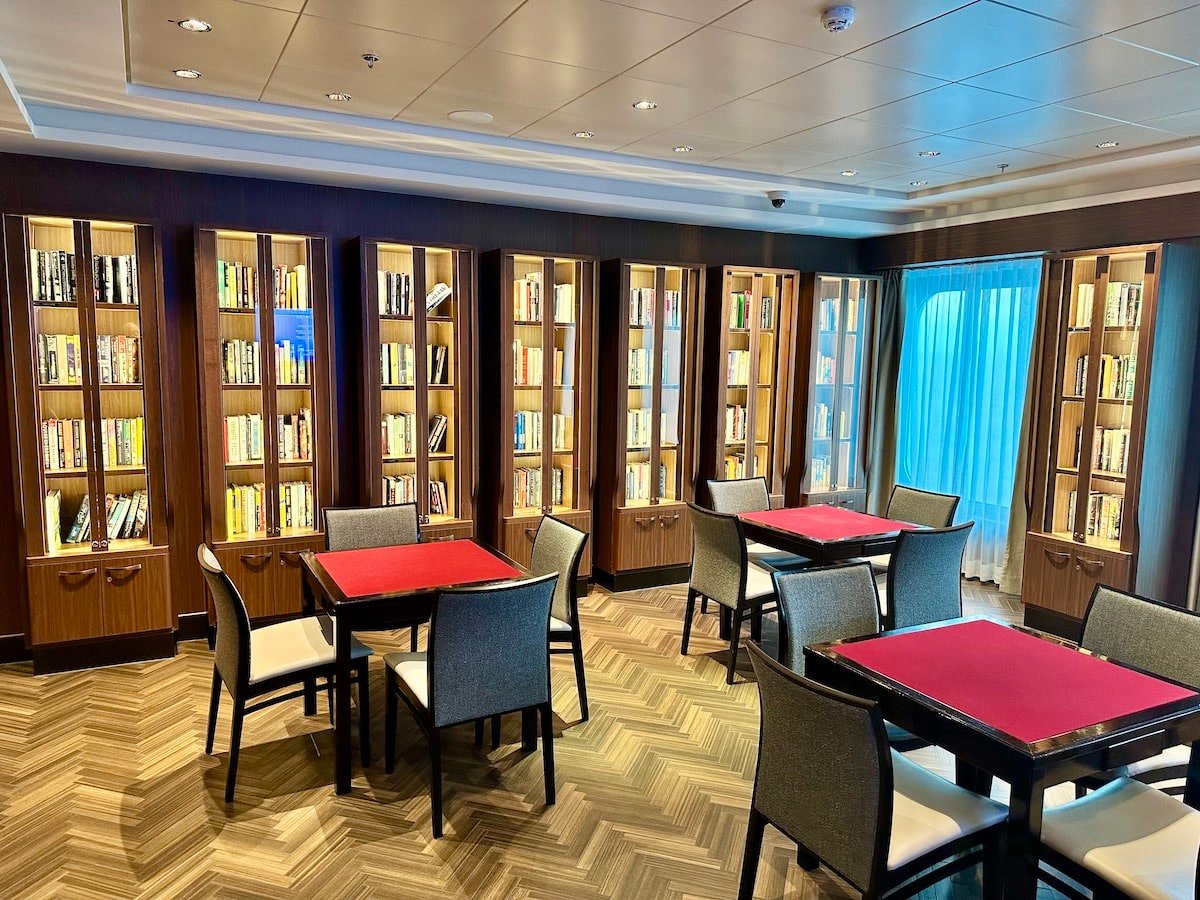 I was reading David McCullough's The Path Between the Seas, a 617-page epic account about the creation of the Panama Canal during this sailing, so I was not in need of books. I did, however, discover a fine library poorly situated on Deck 6 of the NCL Bliss directly behind the noisy atrium.
• Guest services will jerk you around.
---
Prior to sailing, I called NCL and booked an airport transfer from the Los Angeles cruise port to the airport. At that time I gave the agent my flight information, and she took my credit card payment over the phone.
After my NCL Bliss cruise was well underway, a letter was delivered to my stateroom and a voicemail was left for me to contact guest services. When I returned the call, the guest services agent asked to verify the time of my return flight out of Los Angeles. The ship was scheduled to arrive in port at 7:00 AM, and my flight departure time was 11:03 AM.
At that point, the agent canceled my transfer, informing me that they were not providing transfers for flights with departures before 12:00 PM and that they would issue a credit for the charge to my onboard account. Their only consolation to me was that there would be plenty of taxis at the port.
As it turned out, I was the first person off of the ship at 7:20 AM and was able to grab an independent rideshare with three other people to the airport, arriving before 8:00 AM.
All's well that ends well, but if my flight time did not qualify for a transfer, why did the NCL phone agent book it in the first place? This situation was not as serious as the time Princess Cruises canceled my flight home from Copenhagen without notification, but I can't seem to forget that NCL pulled the rug out from under me.
• Closely monitor your onboard account.
---
I realize this tip applies to all cruises, but two scenarios from my NCL Bliss sailing effectively prove this point.
When I checked my account the day after my airport transfer was canceled, the refund had still not been credited to my account. However, the daily service charge and CruiseNext certificates I purchased had been charged. I returned to guest services and met with an agent who attempted to explain everything to my dissatisfaction. He told me that I did not need to keep checking my account.
As if.
I responded, "Oh yes, I do!" He concluded my inquiry, stating that the credit would appear shortly. I kept checking my account until it eventually did.
There was a 48-hour (+/-) period before and after the canal transit when the ship's WiFi was either not working or extremely slow. I waited in line to consult with the Internet Manager, and he said the outage was affecting all systems due to an onboard hardware issue.
Because I had purchased an unlimited WiFi package, he said my account would be credited for at least two days. The credit did not show on my account for several days after WiFi service was restored, and I ended up visiting guest services two or three times to inquire. Eventually, a $50 credit appeared on my account.
• Dining quality is consistently good, if not great. 
---
Upon completion of my sixth NCL cruise within the past year and a half, I maintain my assertion that NCL dining is the the best of the mainstream lines I have cruised.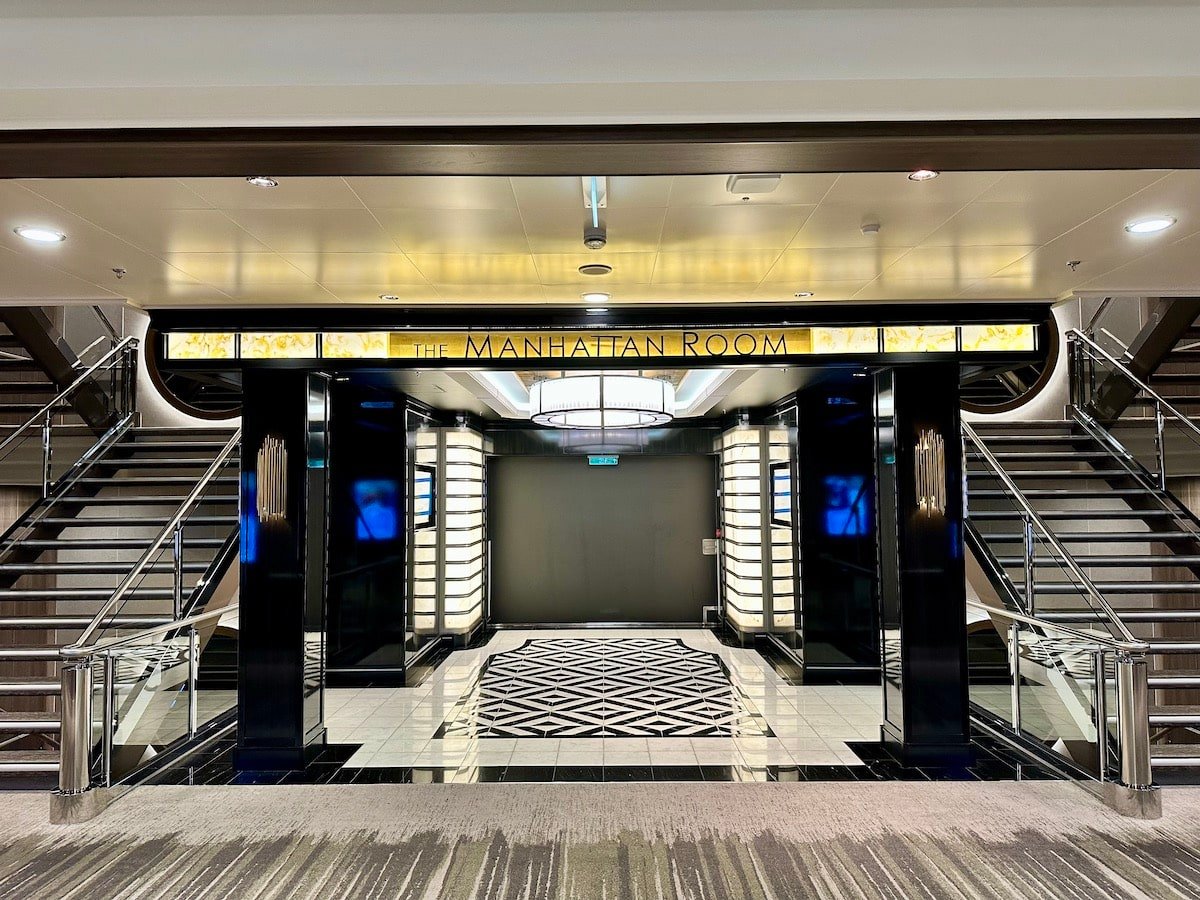 The NCL Bliss has three complimentary dining rooms that all serve the same menus: The Manhattan Room, Taste, and Savor.
Although there were occasional mishaps, such as the sausage biscuit and sawmill gravy, most dishes were quite good and often great. Appetizer soups were creamy and delicious and salads were fresh and flavorful. Menu entrees were varied and offered something for everyone. Desserts were satisfying, as well.
Huevos rancheros, chicken parmigiana, and risotto quickly became some of my favorite menu items.
The Garden Café buffet offers an excellent selection of breakfast, lunch, and dinner food choices, as well as themed cuisine nights. As I mentioned previously, the issue with the Garden Café was the overpopulation and not the quality of food.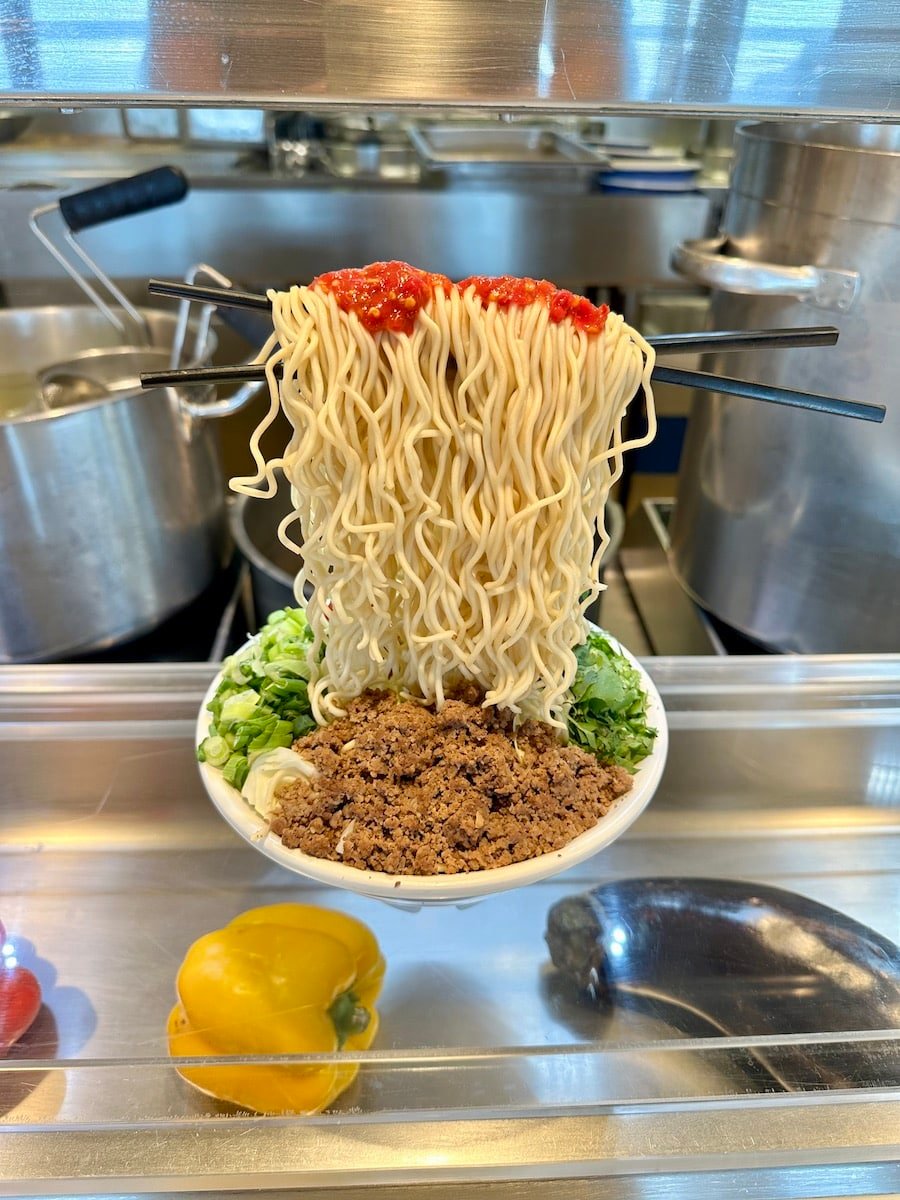 Of all the Garden Café made-to-order stations, I really liked the noodle bar.
I have dined at virtually all of the NCL specialty restaurants, and Cagney's steakhouse remains my favorite. The crab cake appetizer and 8 oz. filet never fail to satisfy my palate.
• Cookies are available, but you have to ask for them.
---
For some reason, when I cruise, I become a cookie monster. Viking and Princess and Royal Caribbean all make cookies readily available at their buffet dessert and pastry stations.
NCL does not.
It's not that they don't bake cookies. They do. But you have to ask for them. I don't know why, but they keep them hidden, either in the kitchen or on trays inside rolling carts. When I figured it out, I was able to enjoy delicious double chocolate, chocolate chip, macadamia, and oatmeal raisin cookies.
• There is no dining dress code.
---
Apparently there is now no dress code for Norwegian restaurants. Just two weeks previously, while sailing the NCL Dawn, I got the impression that the dining dress code may be in transition. That report is recorded here.
On Day 2 of my NCL Bliss sailing, the following passage was printed in the Freestyle Daily:
"What do you feel like wearing tonight? Feeling a little glamorous? Maybe just some comfy khakis and polo? With Freestyle Cruising, there is no formal policy, so you're free to wear whatever you wish."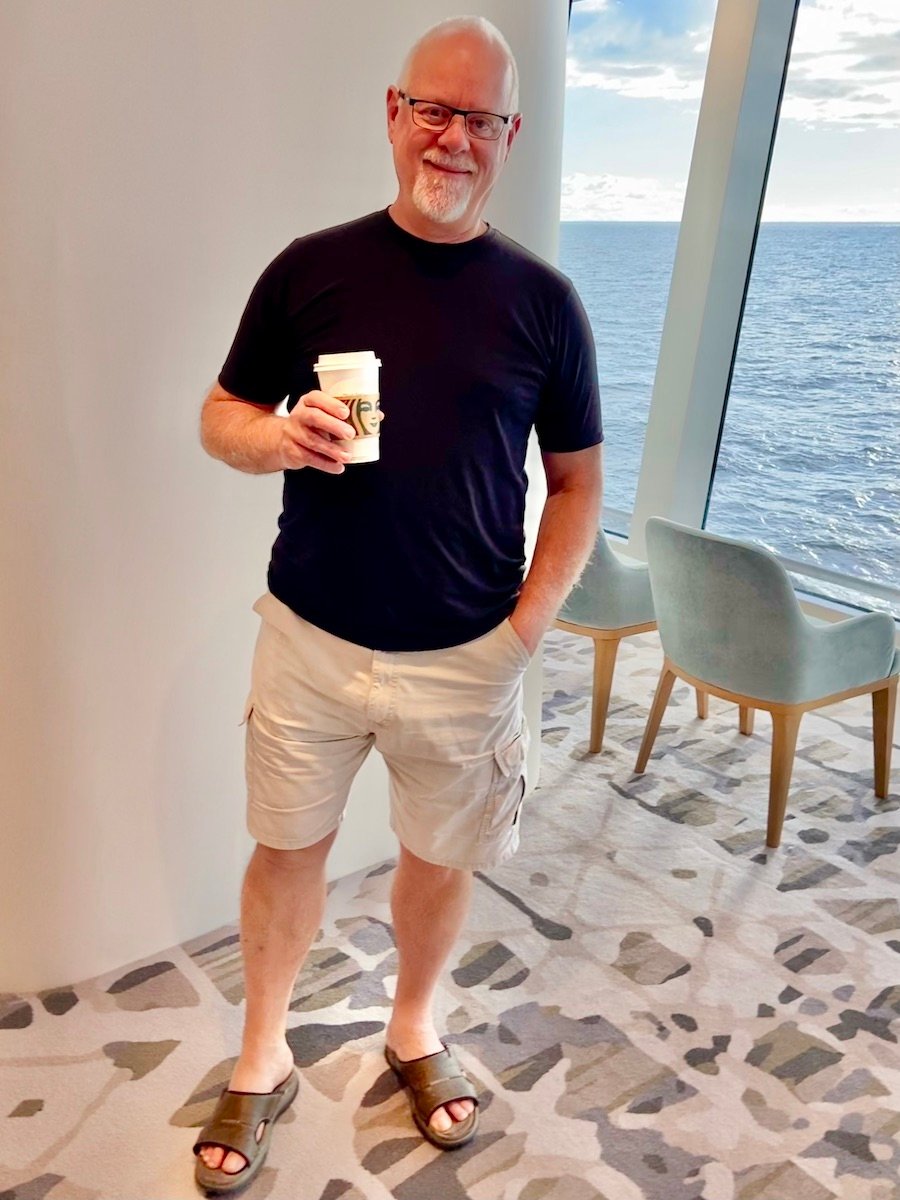 I am a shorts and t-shirt kind of guy. It is my standard wardrobe because it is comfortable to me. I don't wear tank tops, muscle shirts, or shirts with tacky images or slogans. I wear solid-color fitted t-shirts, nice cargo shorts, and leather slide sandals. I understand that this is not appropriate dress for formal nights on Princess cruises, but fortunately it is now acceptable attire for all NCL dining venues. That make me a happy NCL cruiser!
• Access to good drinking water can be a challenge.
---
Clean, safe drinking water sustains life and should be provided free of charge to all guests on every cruise. That's my story, and I'm sticking to it.
Drinking water flows freely in NCL bars and dining rooms, but fresh potable water is not delivered to staterooms in a carafe like it is on Viking.
Some guests have no problem drinking tap water from their stateroom bathrooms. Although I have on occasion resorted to ship tap water, I don't feel comfortable drinking it. I question ship plumbing sanitation, and many times the water is heavily chlorinated and tastes horrible.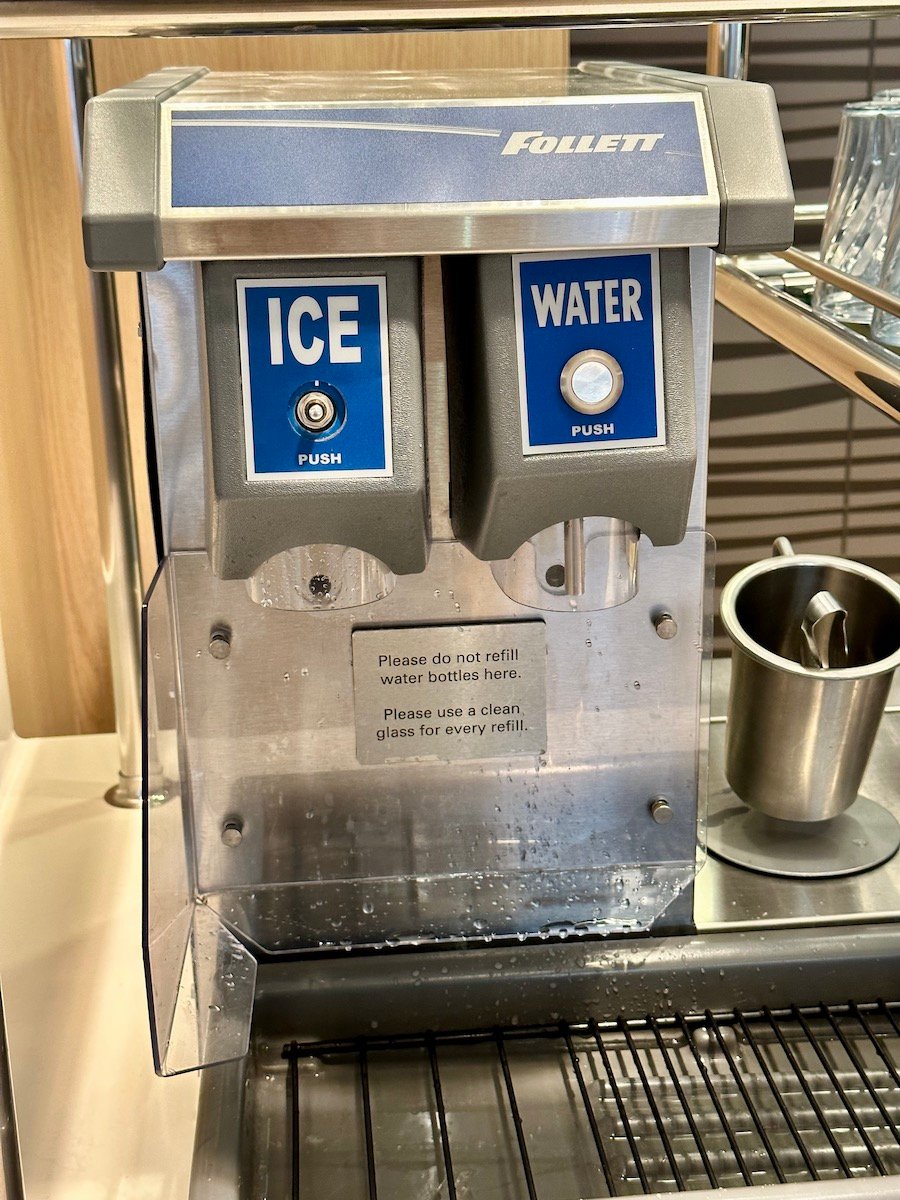 Water sales are a key part of Norwegian's onboard marketing plan, and they attempt to increase sales by inhibiting free access to drinking water. The self-serve water dispenser in the Garden Café has a sign that states: "Please do not refill water bottles here," and the Freestyle Daily repeatedly reminds guests that bringing water onboard is prohibited. There are always water sales tables set up near the ship exits when guests are disembarking for shore excursions.
Bottled water is often freely distributed to guests while on shore excursions. When returning to ship, I always put the bottled water in my daypack before it goes through the security scanner. Never once has my water been confiscated. I have also witnessed other guests taking insulated refillable water bottles through security.
Because bottled water was not part of the beverage package on my previous Caribbean sailing, I resorted to carrying a Diet Coke back to my stateroom every evening, although I was pretty sure wholesale prices on sodas would be more than packaged water. A situation arose between bartenders regarding canned Diet Cokes as part of my beverage package. I won't repeat that saga here, but you can read about it in my NCL Dawn post.
I encountered a similar situation aboard the NCL Bliss when ordering a can of Diet Coke and a glass of ice. At first, the bartender told me that cans were not included in my beverage package. Then he called his supervisor, and was instructed to give it to me. The bartender told me to come by his bar every night, and he would take care of it, which I did and so did he. I still felt like crew was accommodating me as an exception rather than revising a stupid policy.
Cruisers deserve free water for all!
• Stateroom doors open out.
---
This may be the most unexpected observation ever, but NCL Bliss stateroom doors open out.
While occupying my stateroom, I am in a perpetual state of undress. This is never an issue with inward-opening cabin doors. If a crew member knocks at my door, or if there is a shipwide announcement being made, I can crack open the door and hide behind the door without exposing myself to the world.
This method does not work with an outward opening door. Think about it.
• Stateroom outlets cover all the bases.
---
On the NCL Bliss, there are plenty of stateroom power outlets, although they may not be located where you would like. In my bathroom, there was an electric shaver-only dual outlet discreetly positioned on the underside of a fluorescent light fixture. The outlet accommodated my electric shaver charger, but not my electric beard trimmer.
A bank of 110 and 220 volt outlets is located along the top of the stateroom dressing table, and a hair dryer is stored beneath the desk.
Although there are no bedside electrical outlets, there are old-school USB outlets for nightstand mobile device charging. Hopefully future ship builds will also include the much faster USB-C charging outlets.
• Free stateroom movies are a thing of the past.
---
NCL has a reputation for being the most commercial of the mainstream cruise lines. They heavily market products and services before, during, and after a sailing.
Every evening when I returned to my stateroom after dinner, I would find a wealth of Freestyle Daily advertising inserts and special invitations to give Norwegian even more of my money. All of them ended up in my stateroom trashcan, a huge waste of paper.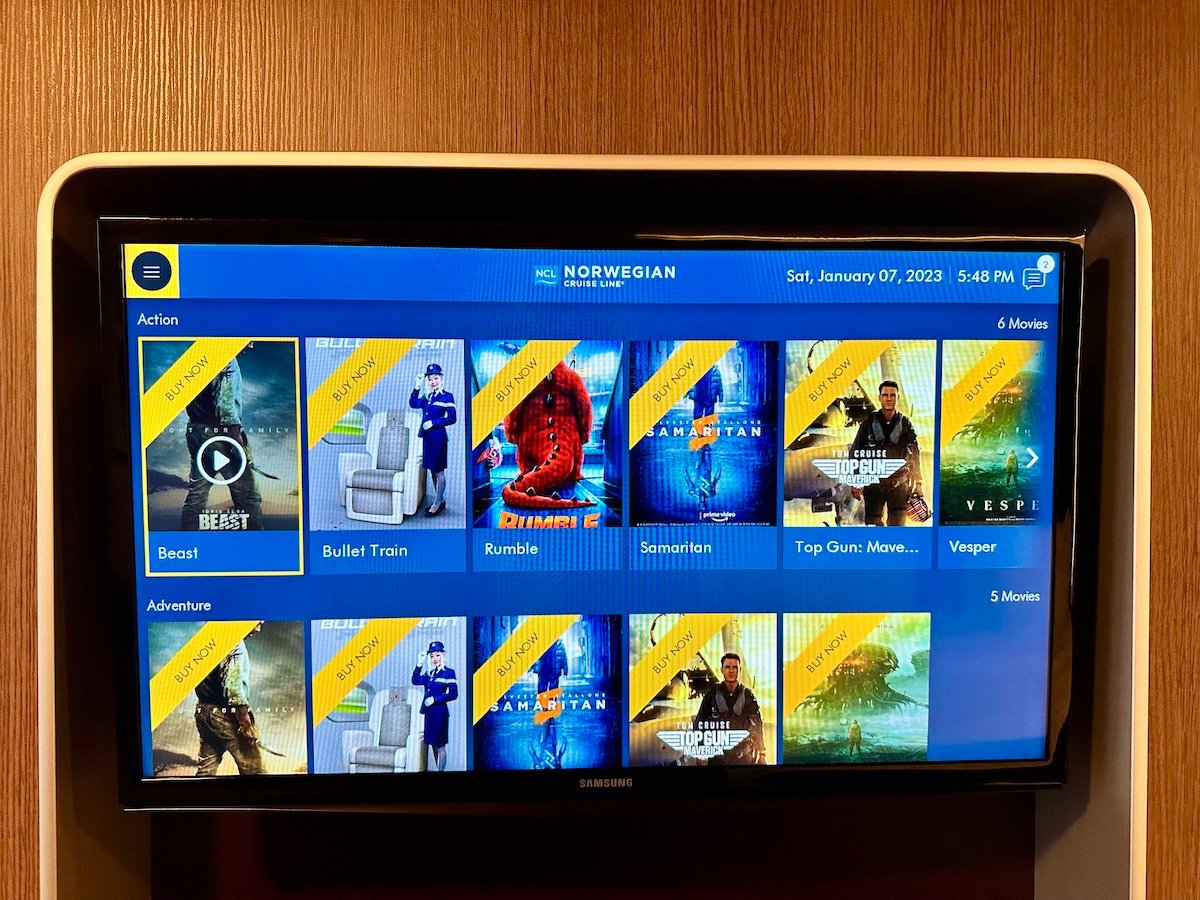 NCL's newest nickel-and-dime tactic involves the Netflix-style entertainment interface on stateroom TVs, and I unwittingly witnessed the implementation in real time.
Two weeks prior to my NCL Bliss sailing, I completed a Caribbean itinerary on the NCL Dawn. While sailing the Dawn and on all previous NCL cruises, stateroom movies had been complimentary. By the time I boarded the NCL Bliss, all movies had become pay-per-view with yellow "BUY NOW" banners across the thumbnails.
I am a reader, and books keep me entertained on cruises. I suggest guests forego purchasing movies and enjoy other forms of onboard entertainment. You will enjoy movies like Top Gun Maverick much more at home on your widescreen HDTV than on a tiny stateroom screen. I am not lying when I say the TV on my Cartagena excursion bus was larger than the TV in my cabin.
• Bliss Theater productions are superb.
---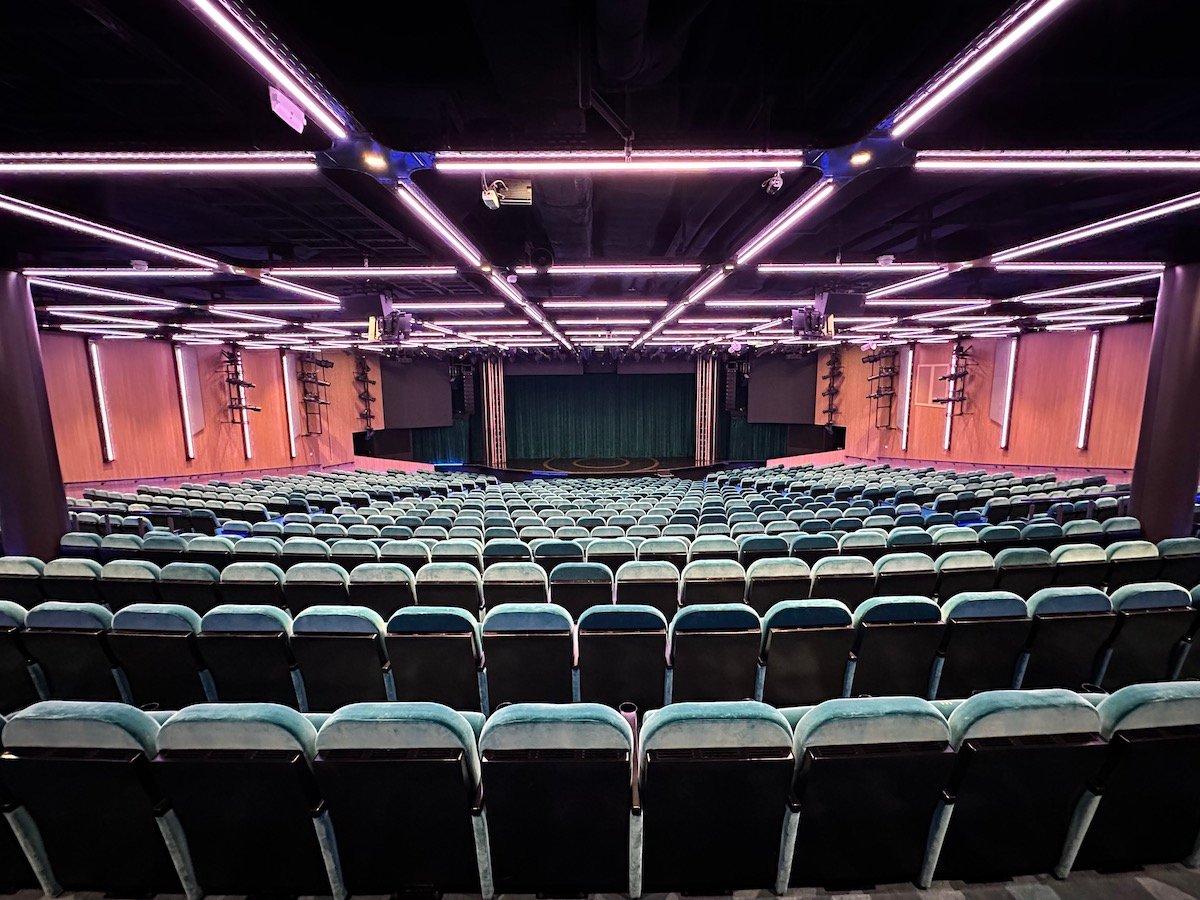 One of the features I love most about Norwegian's large ships is that they invest in Broadway-quality productions.
The best shipboard show I ever saw was Summer: The Donna Summer Musical featuring American Idol alum Kimberley Locke aboard the NCL Prima.
However, the second-best show ever was the NCL Bliss production of the Tony Award-winning musical Jersey Boys. Cast members left it all on the stage with an unforgettable moving performance.
There was also an excellent production of the Broadway musical Six.
For whatever reason, both of my reserved production show dates on the NCL Bliss were rescheduled. I cannot stress enough that you do need reservations, and you do need to arrive at least thirty minutes prior to showtime to find good seats.
There were many other entertainment options aboard the NCL Bliss, some better than others.
---
Other Norwegian Content on Backroad Planet
---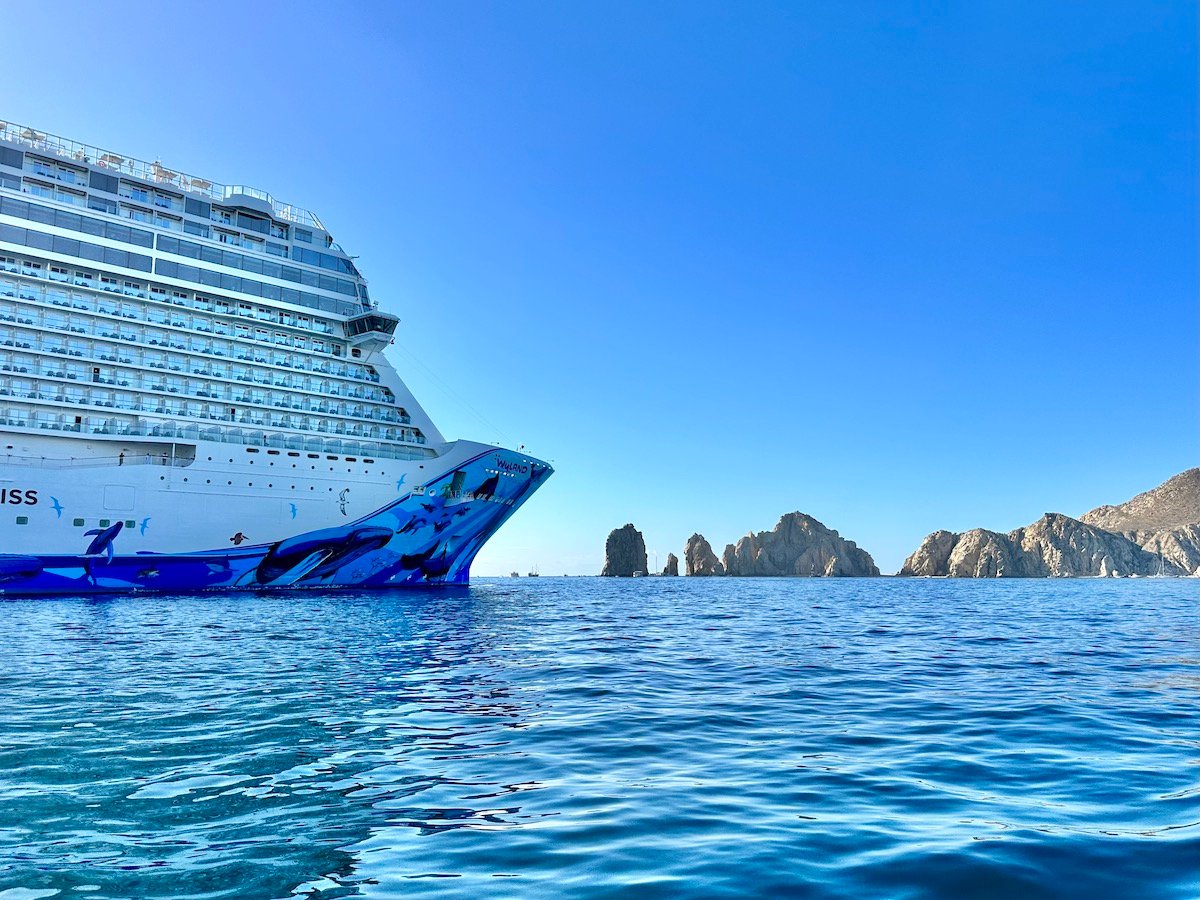 Be sure to check out the following NCL reviews and travelogues on Backroad Planet. Or click here to access all of our ocean cruise content.
Click here for hotel booking options on TripAdvisor!
---
I Would Love to Hear From You
---
I enjoy dialogue with Backroad Planet readers, especially when they share off-the-beaten-path destinations and useful travel tips. Have you ever sailed aboard the NCL Bliss? If so, I would love to hear about your experience. I invite you to leave your comments and questions below, and I always respond!
---
Pin this Post!
---