(a

29

minute read)
---
Travel vicariously aboard the Norwegian Encore on a 7-day NCL Alaska cruise. Explore ports, experience life on board, and then plan a voyage of your own.
---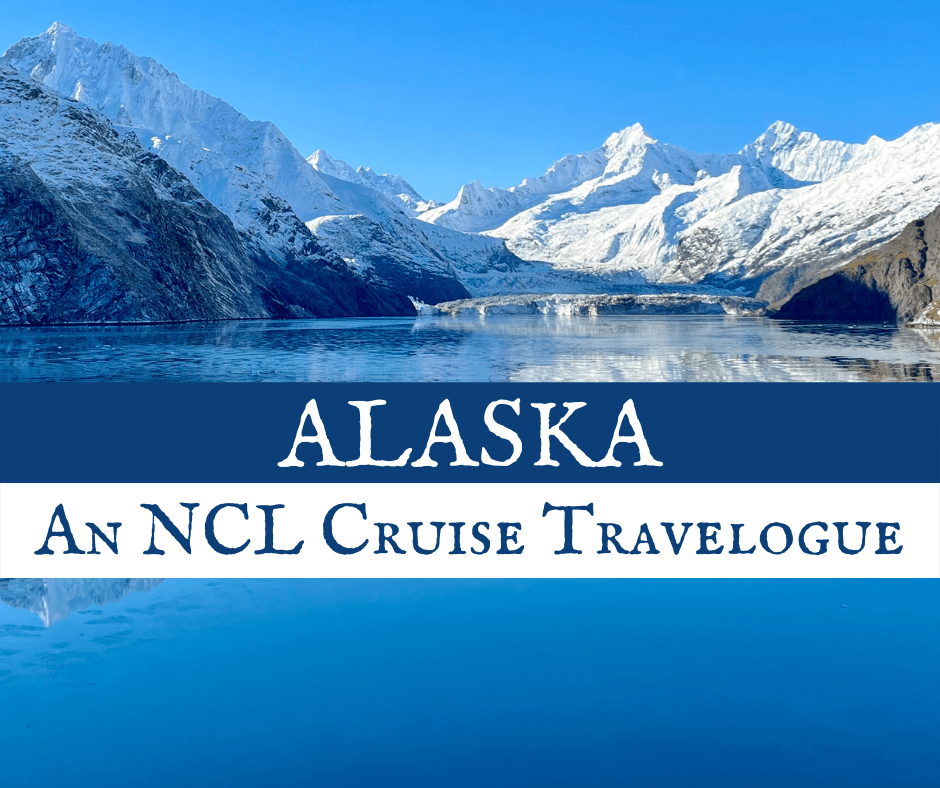 This post may contain affiliate links. Please refer to our our Disclosure/Disclaimer page for more information.
---
NOTE: This is a long-form, photo-intensive post intended for readers who want to cruise vicariously, as well as travelers seeking detailed information before booking a Norwegian Alaska cruise of their own. Please use the Table of Contents to navigate to sections of interest.
---
---
My NCL Alaska Cruise Travelogue
---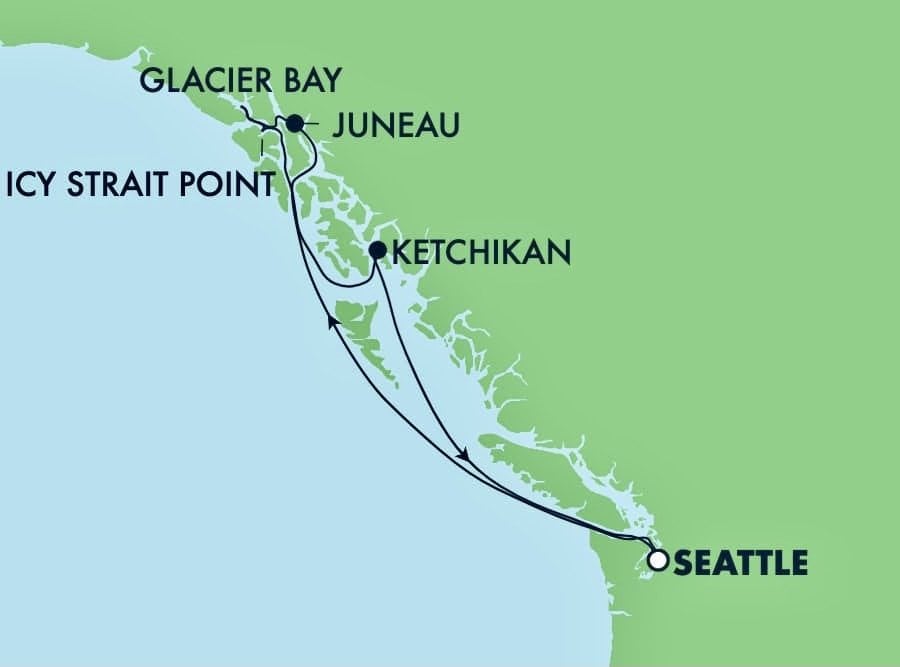 An Alaska cruise had been on my bucket list for years, but I had never actively pursued making it happen. Then, a few months ago my friends Cheryl and Lisa who run What Boundaries Travel shared their NCL Encore itinerary on Facebook, and suddenly Alaska was back in my face.
A few weeks later, I booked a cruise of my own.
NCL's Alaska itineraries differ slightly from cruise to cruise. Variations of my itinerary depicted above also include Victoria, Skagway, Dawes Glacier, Hubbard Glacier, Seward, and other ports. When planning your cruise, be sure to carefully compare available itineraries in order to book the one that suits you best.
This daily travelogue of my October sailing focuses primarily on itinerary destinations, shore activities, and life onboard. Although my experiences in Alaska paralleled those of my fellow passengers, no one's experience was exactly the same.
The Encore's departure time was 5:00 PM, but I flew into Seattle one day early to minimize stress in case of a flight delay and also to allow myself time to explore a bit of the Emerald City on foot. As it turned out, everything went smoothly as planned.
My internal clock was still on Florida time, so I awoke early on the day of departure and headed toward Pike Place Market to enjoy a coffee from the original Starbucks.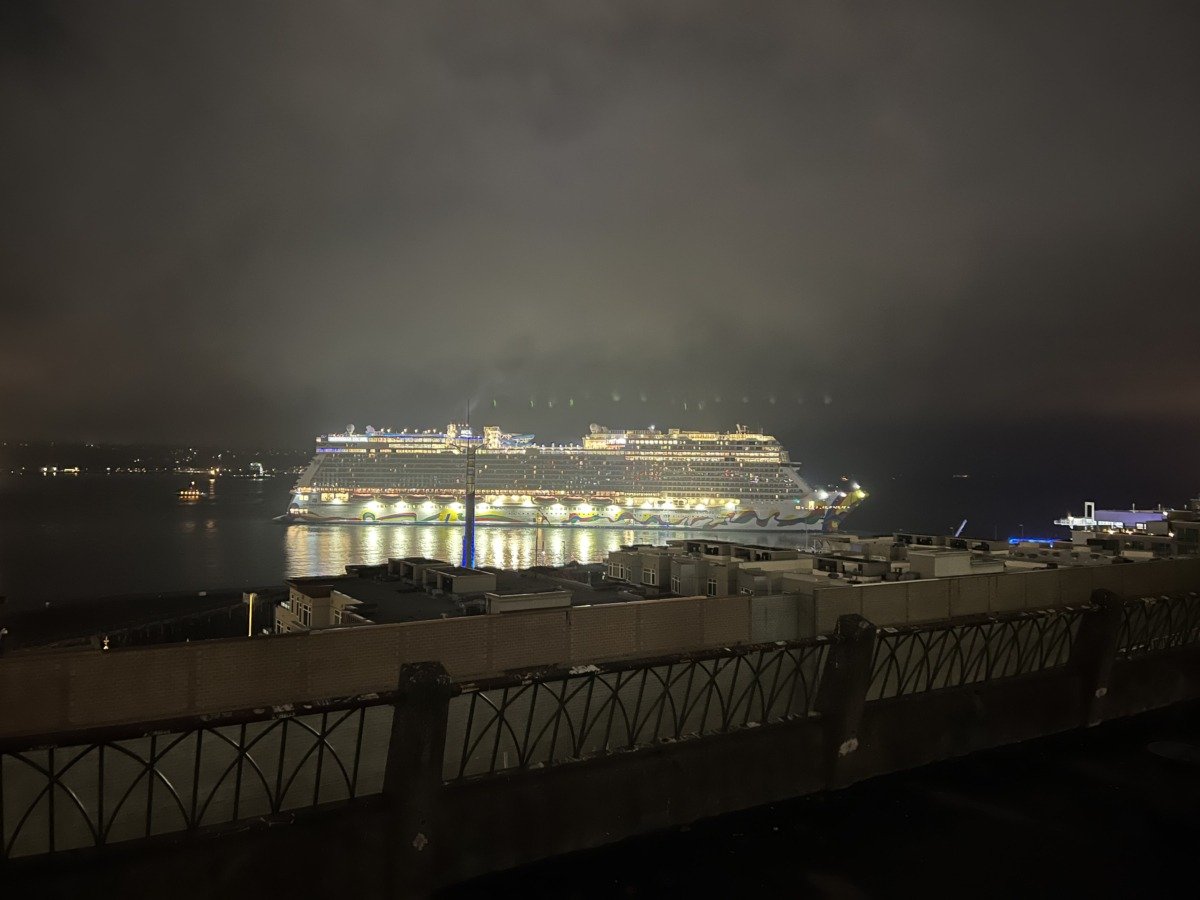 As fate would have it, I arrived at the waterfront just as the Encore was returning to the Port of Seattle from the previous week's itinerary. I watched transfixed as the illuminated ocean liner sailed silently into the foggy harbor.
My scheduled check-in at Pier 66 was between 9:30 and 10:00 AM, so after grabbing breakfast and a few last minute photos at the market, I returned to my hotel.
I retrieved my backpack and rolling carry-on and set off on the half-mile walk to the pier.
---
Day 1: Seattle, Washington (Embarkation & Sail Away)
---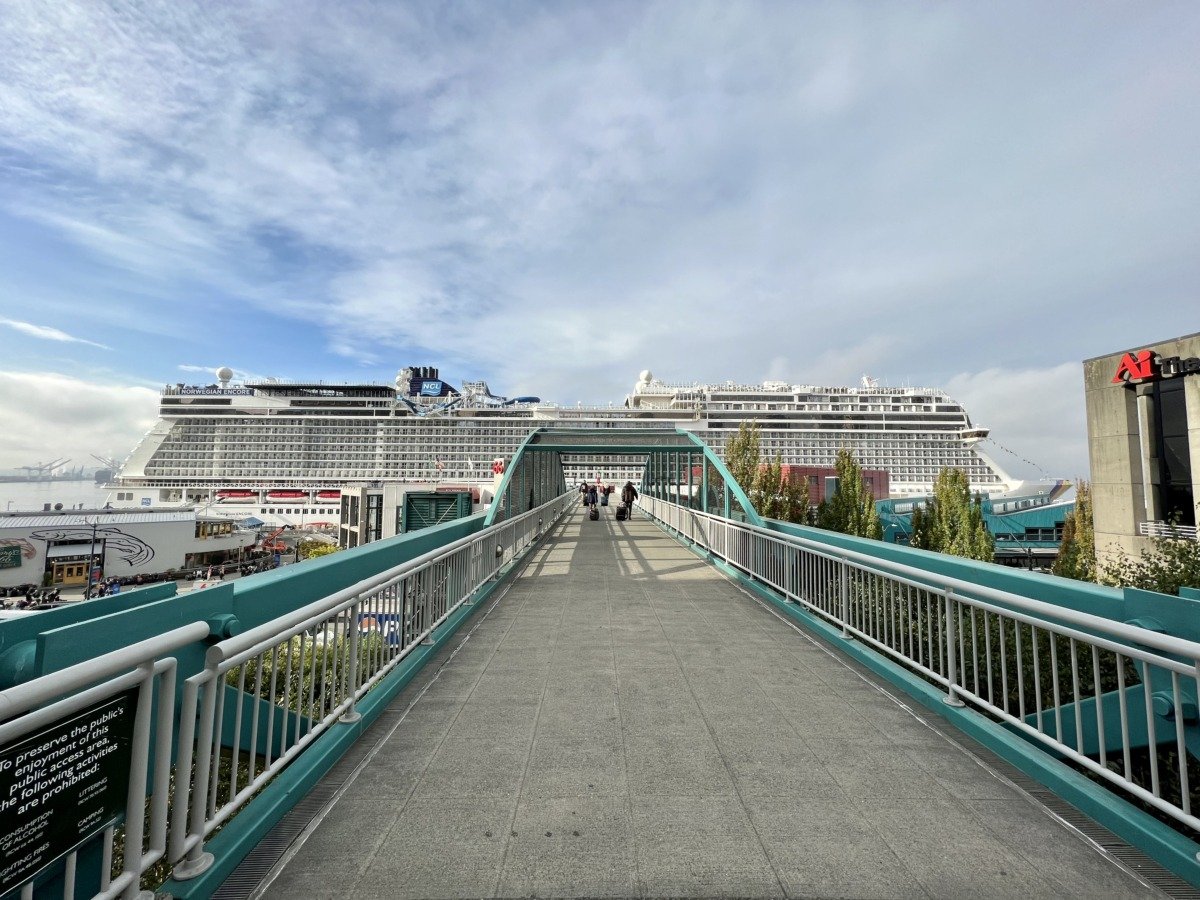 In broad daylight, the NCL Encore was even more majestic. The massive floating hotel would be home base for my weeklong Alaska adventure, and I was exhilarated beyond belief.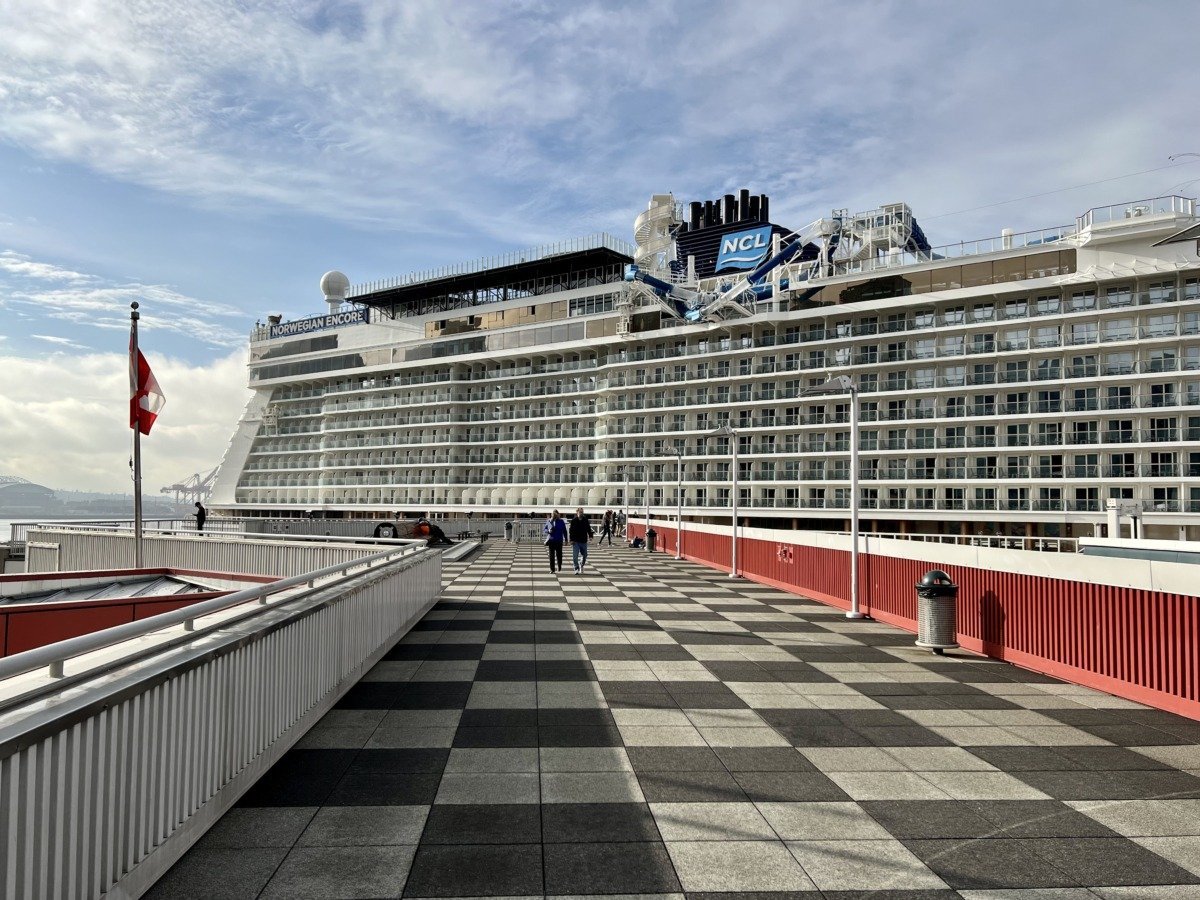 I dropped off my rolling suitcase for delivery to my stateroom, but there was one more hurdle I had to cross before I would be allowed on board.
This was a vax-required sailing, and guests had to pass a rapid antigen test prior to boarding.
There were several stages in the check-in process, and the first was providing proof of vaccination. An agent verified my pre-registration for the antigen test, assigned me a number, and pointed me in the direction of a private booth for the nose swab.
The first waiting room was outfitted with two huge displays that continuously updated. When my number flashed on the screen, I reported to a table outside where yet another agent placed a pink bracelet around my wrist to indicate my test was negative.
Next up was a reservation verification and temperature check.
The agent at the final check-in desk asked for my passport. For some reason, I did not recall reading that my passport would be required because this itinerary did not port in Canada.
Fortunately, I had my passport with me. I had learned my lesson on a previous trip to Niagara Falls, USA. Because I had left my passport at home, I was not able to cross the footbridge to view the falls from the Canadian side.
NCL does accept other forms of identification for domestic US cruises, but I strongly suggest that guests read every word of their cruise documents in preparation to ensure that all paperwork is in order.
After verifying my passport, the agent handed over my key card. It is important to carry your key card with you at all times. You will need it for virtually every activity on ship, off-boarding for port excursions, and activating lights and electrical outlets in your stateroom.
If you are wondering whether NCL is tracking your every move, they are.
There was one more waiting room prior to boarding. I took my seat and was almost immediately annoyed by a repetitive whistling sound. Three guests traveling together who were seated directly across from me found the noise irritating as well. We could not decide whether it was a crew member attempting to get the attention of passengers filing in the room or someone's texting tone.
No matter.
Our waiting room seating arrangement turned out to be a divine appointment. After exchanging a few words, it became apparent that Peg, Steve, Nancy, and I were destined to become friends. Before groups were called for boarding, I handed them a Backroad Planet business card, and they invited me to join them for dinner that evening at Cagney's Steakhouse.
With keycard in hand I walked the gangplank, tapped my card for boarding and walked through security. I was finally aboard the NCL Encore. The entire check-in process had been very well organized and moved like clockwork.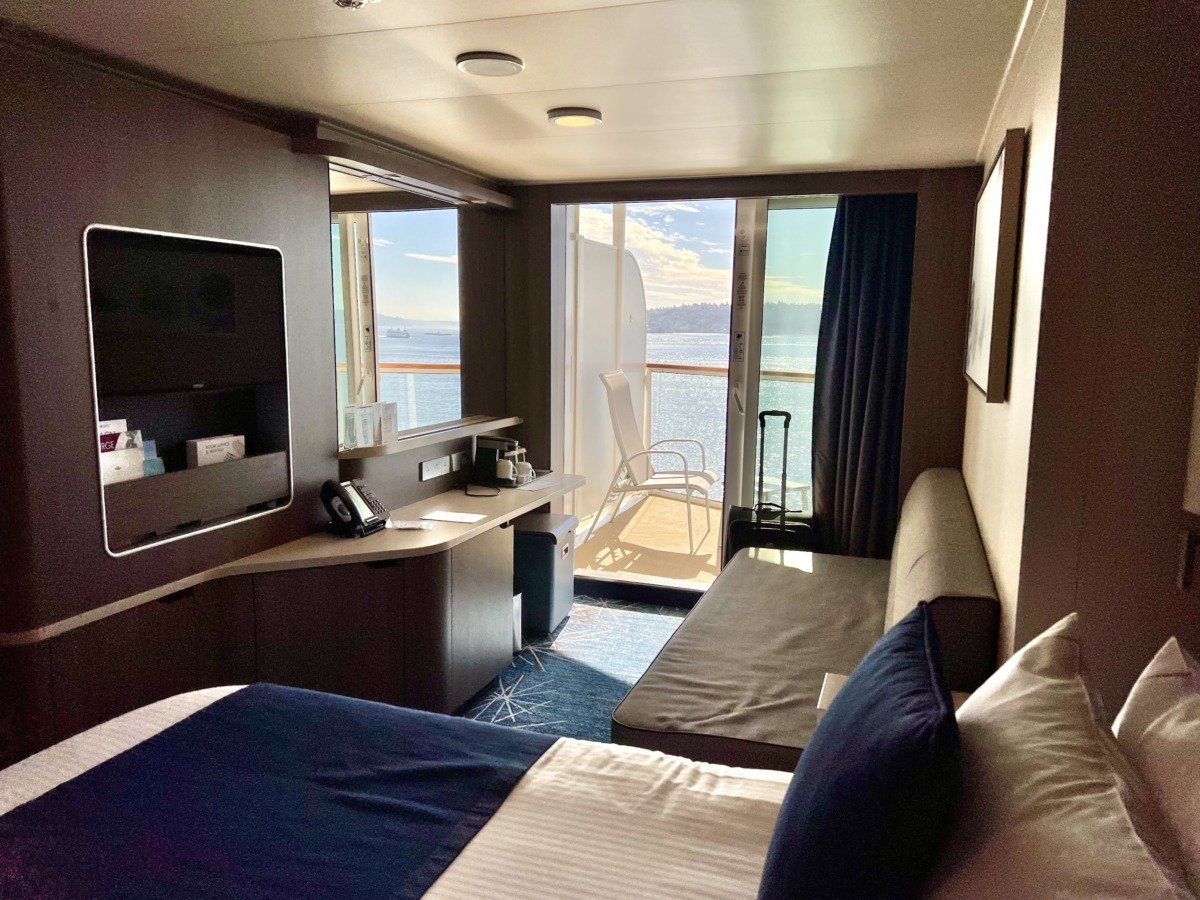 Although Deck 12 staterooms may or may not have been officially ready for occupancy, I stopped by my cabin to drop off my backpack before heading to the Garden Café for lunch.
This would be my first time cruising completely solo. Weeks earlier, while planning and booking this cruise, I had been reminded of the 100% single supplement demanded by most cruise lines of solo travelers.
NCL is one of the few cruise lines that shows any consideration for solo travelers. In addition to the less-costly inside cabins, the line's newer ships also feature smaller studio cabins with no single supplement and the benefit of a private lounge for studio guests.
Studio and inside cabins are very nice, and they are perfect for cruisers who spend the bulk of their time on board in public spaces. I am not one to hang out in my cabin, but I have a touch of claustrophobia, and I like the option of sliding a glass door for fresh air and seeing the world from a private balcony.
I was grateful to have discovered my balcony stateroom on sale with a discounted 47% single supplement.
After lunch, I decided to explore the Encore a bit. The views of Seattle from the upper decks were stunning.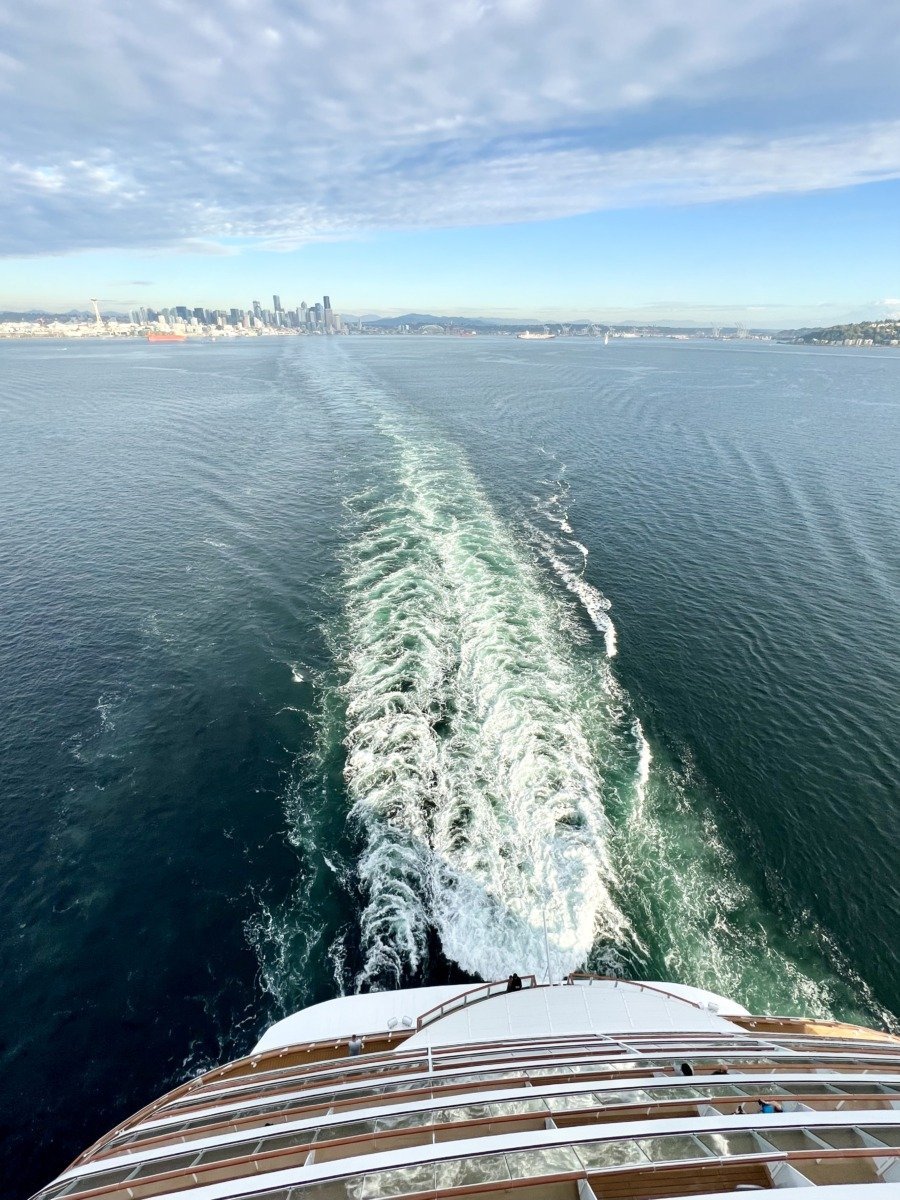 The Aquavit Terrace I remembered from previous ocean cruises on the Viking Star and the Viking Sea had spoiled me. Not only was it my favorite bar and hangout area, it offered the best views when sailing out of ports. Although the NCL Encore was four times the size of Viking ships, there was no such space in its design.
When I inquired about such a location, a crew member directed me to a small space on Deck 18 behind the Laser Tag area. Other like-minded guests had gathered there, and we stood during Sail Away rather than relaxing at tables. This was one of my first lessons in how ship design prioritizes the line's clientele. Viking serves adults only, while NCL markets to families.
Dinner at Cagney's Steakhouse was my first experience with the Encore's specialty restaurants. I am not a food critic, but the meal was excellent. There are worse things than getting acquainted with new friends over filet mignon and lobster tail.
---
Day 2: At Sea
---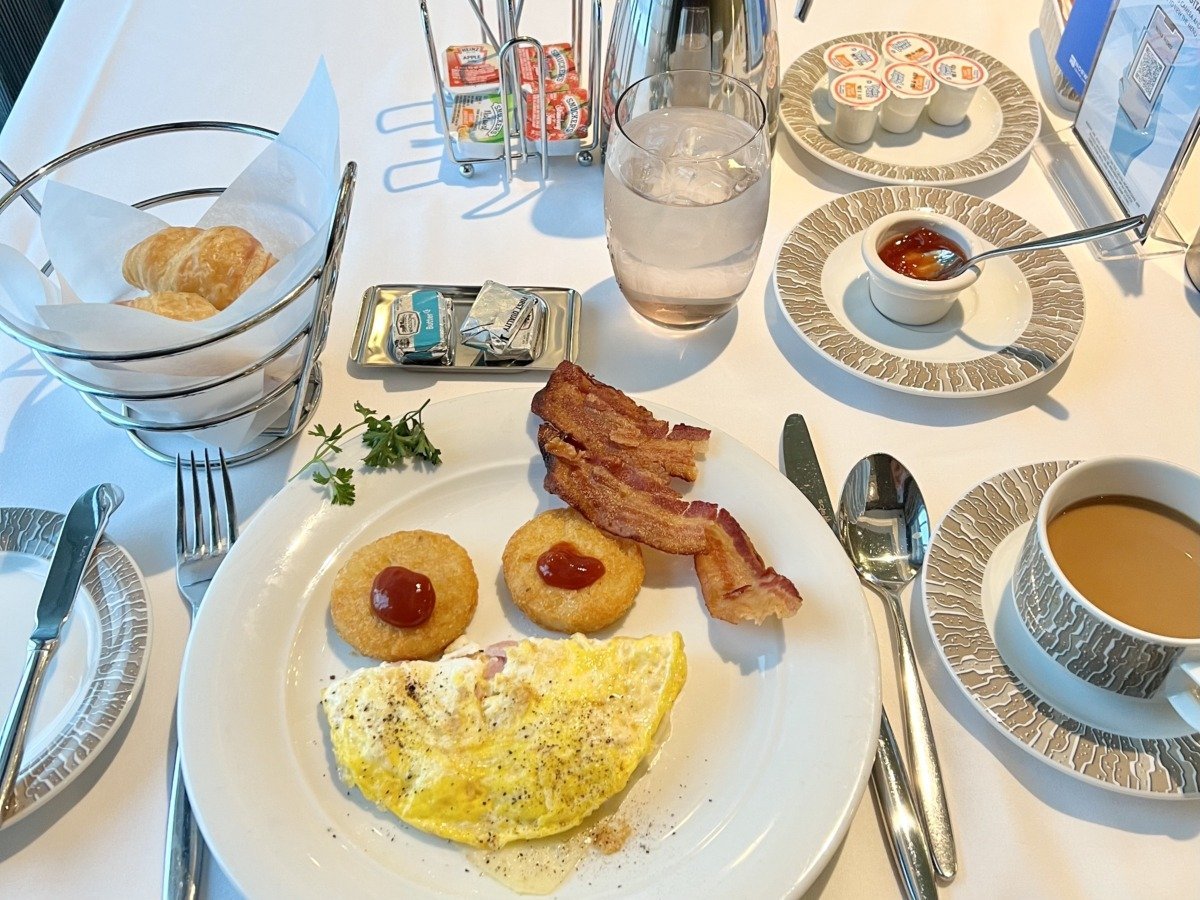 I slept well my first night on the Encore. When I awoke, I got dressed, threw on a cap, and headed to Deck 6 for breakfast at either Taste or Savor, two adjoining complimentary restaurants. As I approached the entrance, I noticed that Taste was closed for "remodeling," but also probably because the ship was only booked at 60% capacity.
While at home I follow a diet of intermittent fasting, but for the next seven days I planned to enjoy three meals per day.
I approached the Savor front desk and the hostess asked me to scan my key. She also politely asked me to remove my hat. If they wanted to look at my slept-on hair, it was fine with me, so I obliged.
Like Viking, the NCL dress code is casual, and there are no formal nights, but I guess hats are not appropriate in the linen tablecloth restaurants. Hats were fine in the Garden Café buffet and at The Local sports pub.
Meet the NCL Encore
---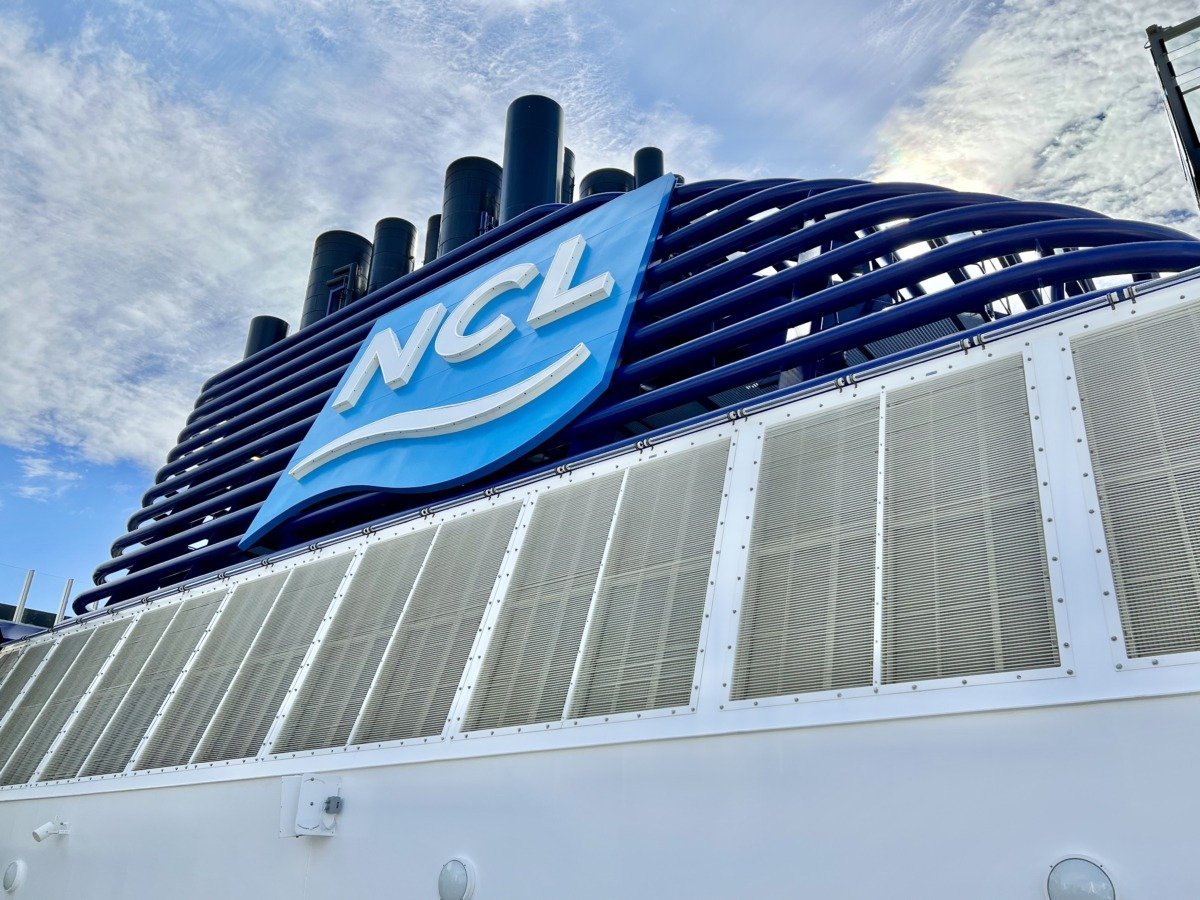 This was my first cruise with Norwegian, and naturally, because I have sailed primarily with Viking through the years, I was curious to learn how life on board would be different.
The most noticeable difference was the ship size.
Passenger capacity is 3,998, but our itinerary was just over half full with 2,106 guests on board and a full crew of more than 1,700 ship personnel.
The Encore launched in late 2019 and was NCL's newest ship at the time of my cruise. Because it had not sailed for more than a year during the global pandemic, the ship was essentially brand new.
Recording artist and talk show host Kelly Clarkson is the Encore's godmother. She performed and christened the ship in Miami on November 21, 2019.
There are two large touchscreen information panels mounted on the exterior walls by the elevators on each deck. My favorite function is the deck-mapping feature that generates instant directions to restaurants, bars, attractions, and other spots on board from the user's location. This feature made it so easy to navigate anywhere aboard the massive Encore.
On Deck 6, an illuminated stairway and suspended sculpture complement the contemporary decor of the Atrium public areas.
The Sugarcane Mojito Bar on Deck 8 is just one of eleven specialty bars and lounges on board.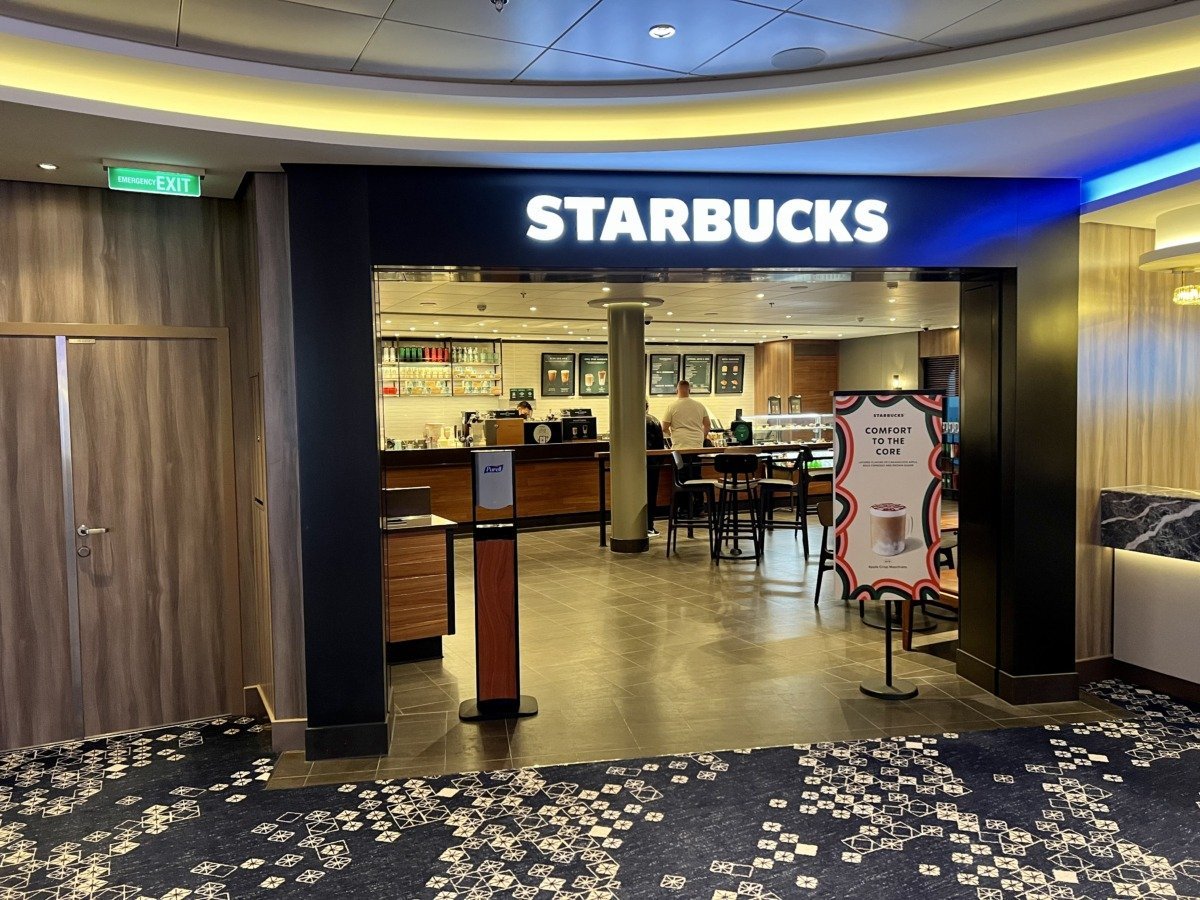 Starbucks fans will feel right at home. Beverage purchases are a la carte or included with the Premium Plus beverage package.
In my opinion, the Encore's Observation lounge is the best public space on board. It's U-shaped design wraps around the bow of Deck 15 and offers stellar views all the way around. Head to the fore central area for a lively bar scene, a beverage and snack buffet, and musical entertainment. For small group gatherings, or to curl up with a book, move into the sitting areas situated on the port and starboard sides of the ship.
During the Seattle Sail Away event the evening before, the weather was still warmish, and some guests were enjoying the pool and hot tubs. I could easily envision the Aqua Park on Decks 16 and 17 the way they would appear during the Encore's winter Caribbean itineraries. For the remainder of the cruise, Alaska's cold temps left these areas mostly vacant.
I know I am an old fogey, so the water slides, Encore Speedway, and Laser Tag venues did not interest me at all. Even the Casino on Deck 7 did not tempt me in the least. That said, I know there are readers who would love these onboard attractions.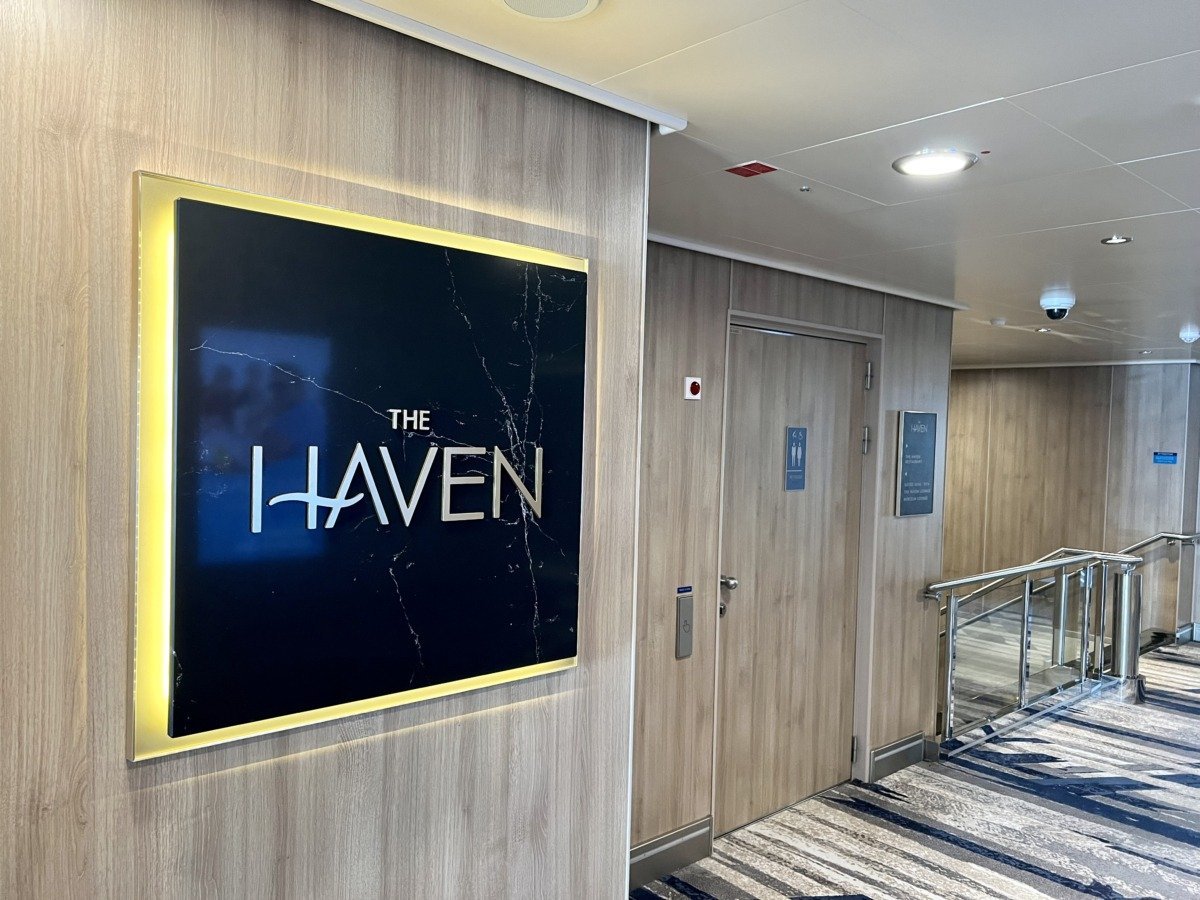 The Haven houses the Encore's most exclusive accommodations, featuring a private lounge, courtyard, pool, a concierge, 24-hour butler, and other luxurious amenities. My wallet was perfectly happy to settle for a balcony stateroom and everything else the ship had to offer.
My Birthday
---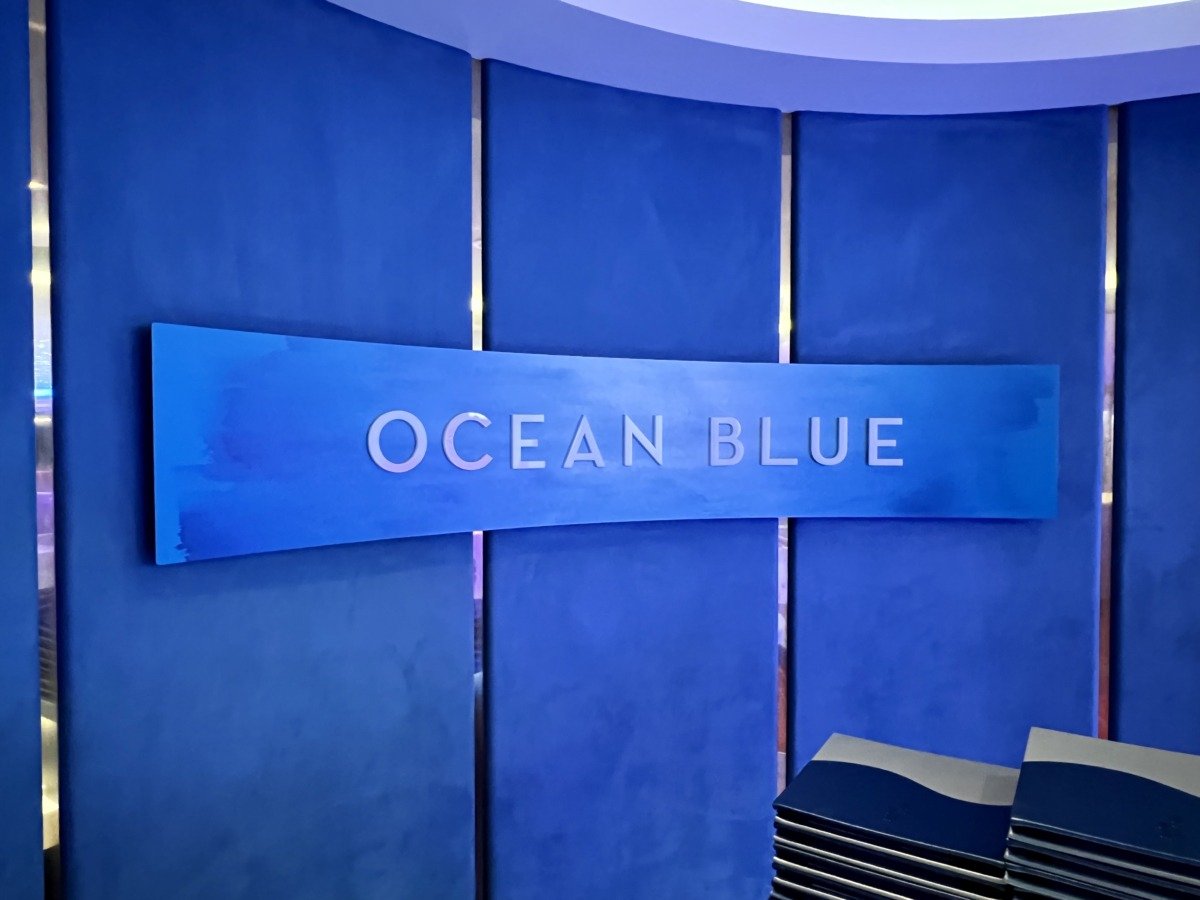 Midday, I happened to meet up with my new best friends while they were shopping at the Tradewinds tax and duty-free boutique on Deck 8. They invited me to join them for seafood at Ocean Blue that evening, and I accepted.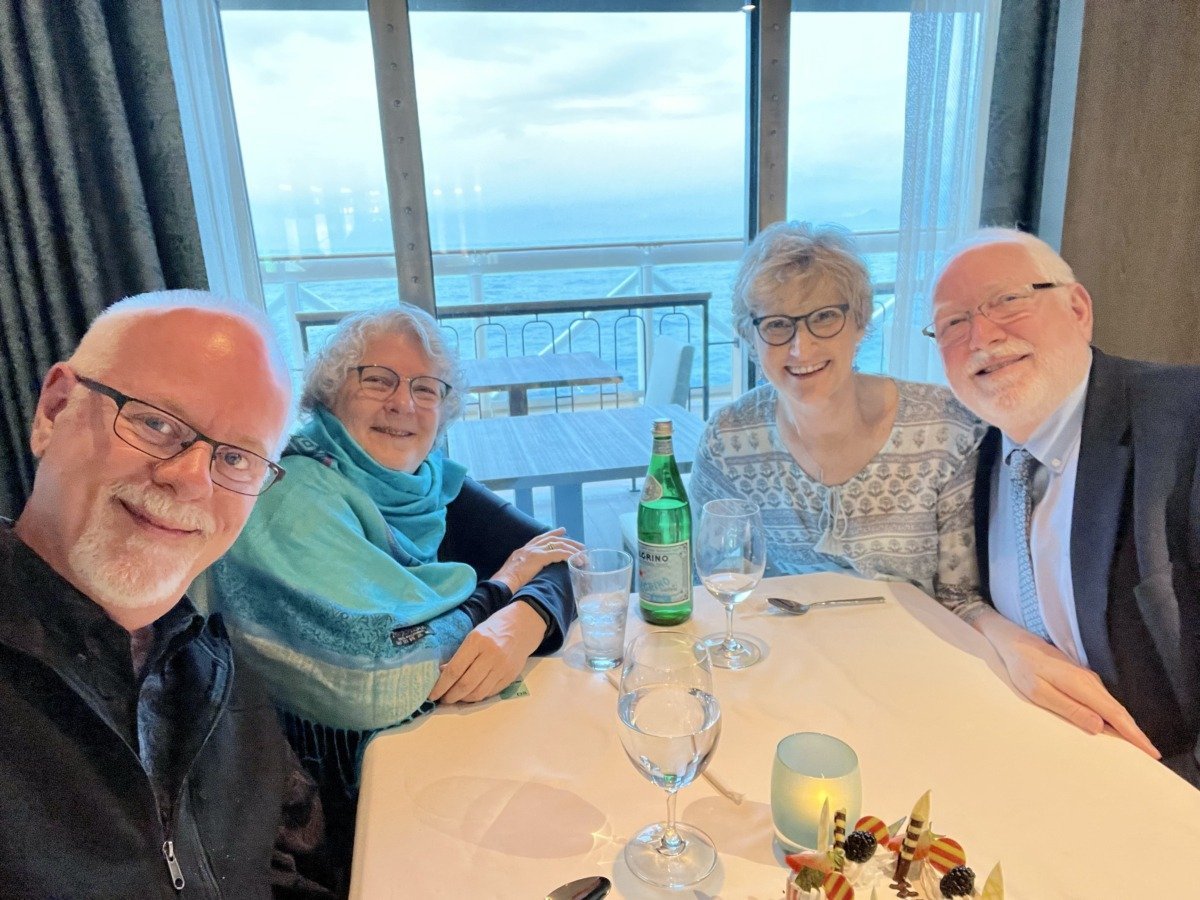 They were very sneaky, however, and I had no clue that they had tricks up their sleeves for celebrating my birthday, a fact that I had casually mentioned in conversation the day before.
As repeat cruisers, my friends had connections with the pastry chef, who designed a lovely and incredibly delicious cake for me. And of course, members of the wait staff brought out the cake and sang to me.
As we were leaving the restaurant that evening, Peg handed me a birthday card, gifting me a thermal spa day pass, a luxury I would indulge during our last day at sea.
---
Day 3: Icy Strait Point, Alaska
---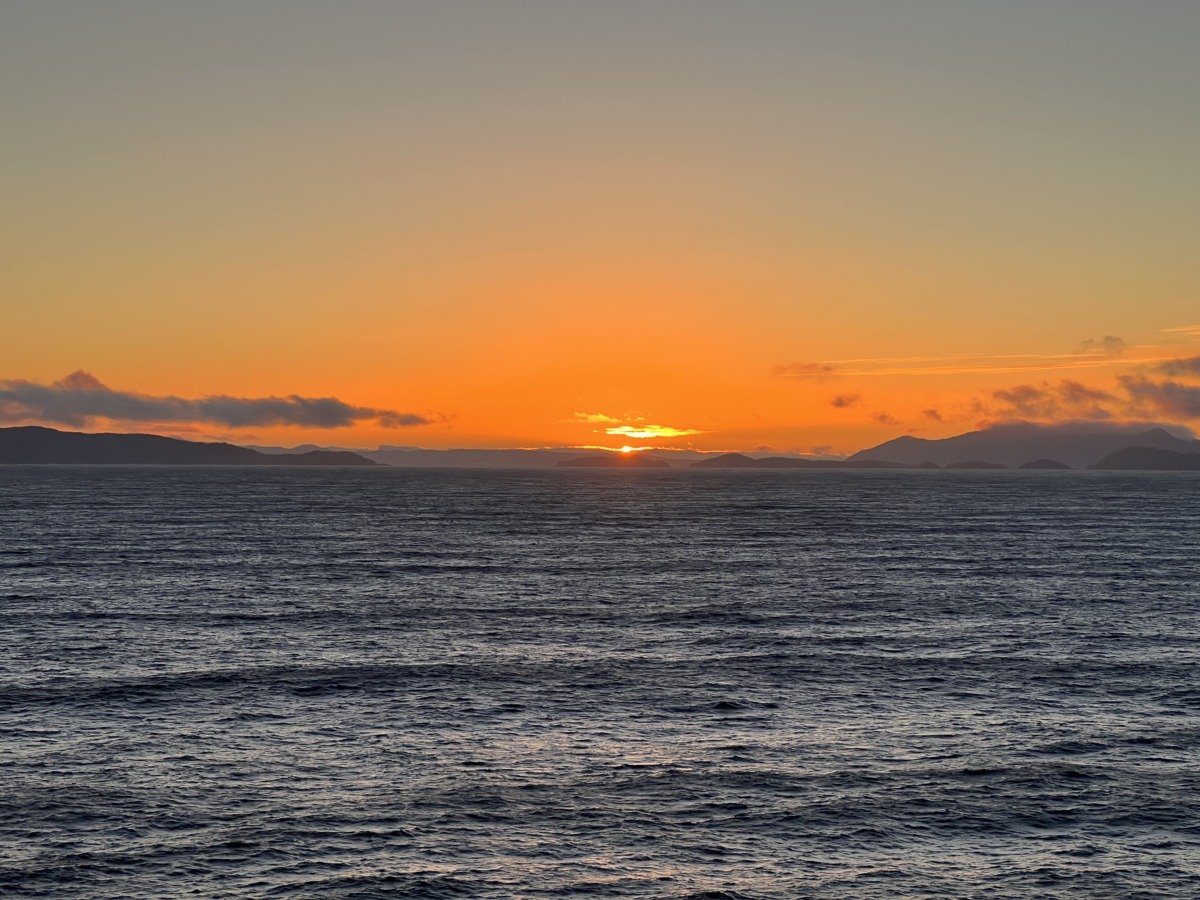 On the morning of Day 3, I awoke in time to witness an Alaska sunrise at sea. I realized my photo looks exactly like the countless Florida beach sunrises and sunsets in my iPhone photos. Oh well!
For breakfast, I headed to the Garden Café. What's not to love about a made-to-order omelette and bacon buffet?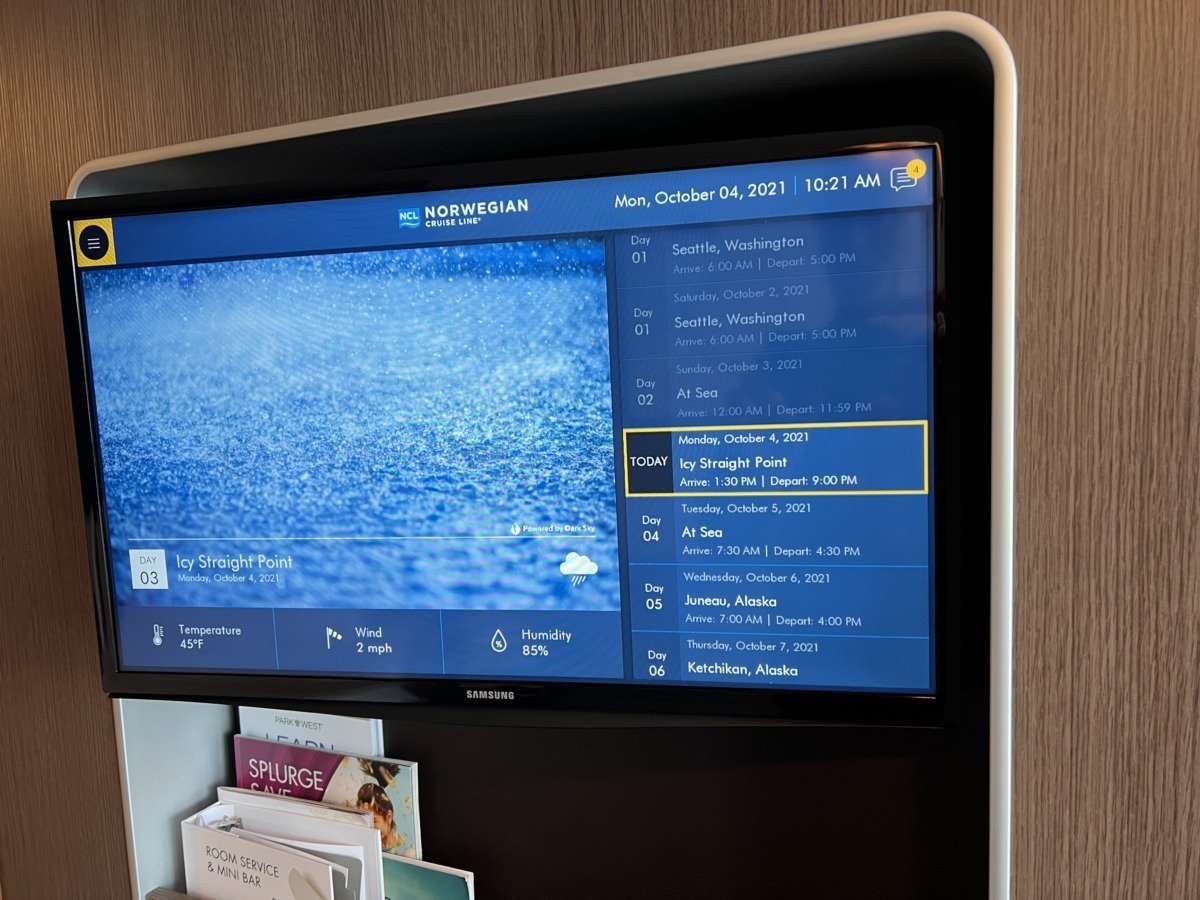 After breakfast, I returned to my cabin.
Staterooms are outfitted with flat-screen HDTVs that also serve as custom information centers. They cover virtually every aspect of guest itineraries, including running totals of onboard accounts. The NCL app on my iPhone was also a great source of information, always at my fingertips.
Because we would be arriving at our first port later in the day, I checked the weather at Icy Strait Point.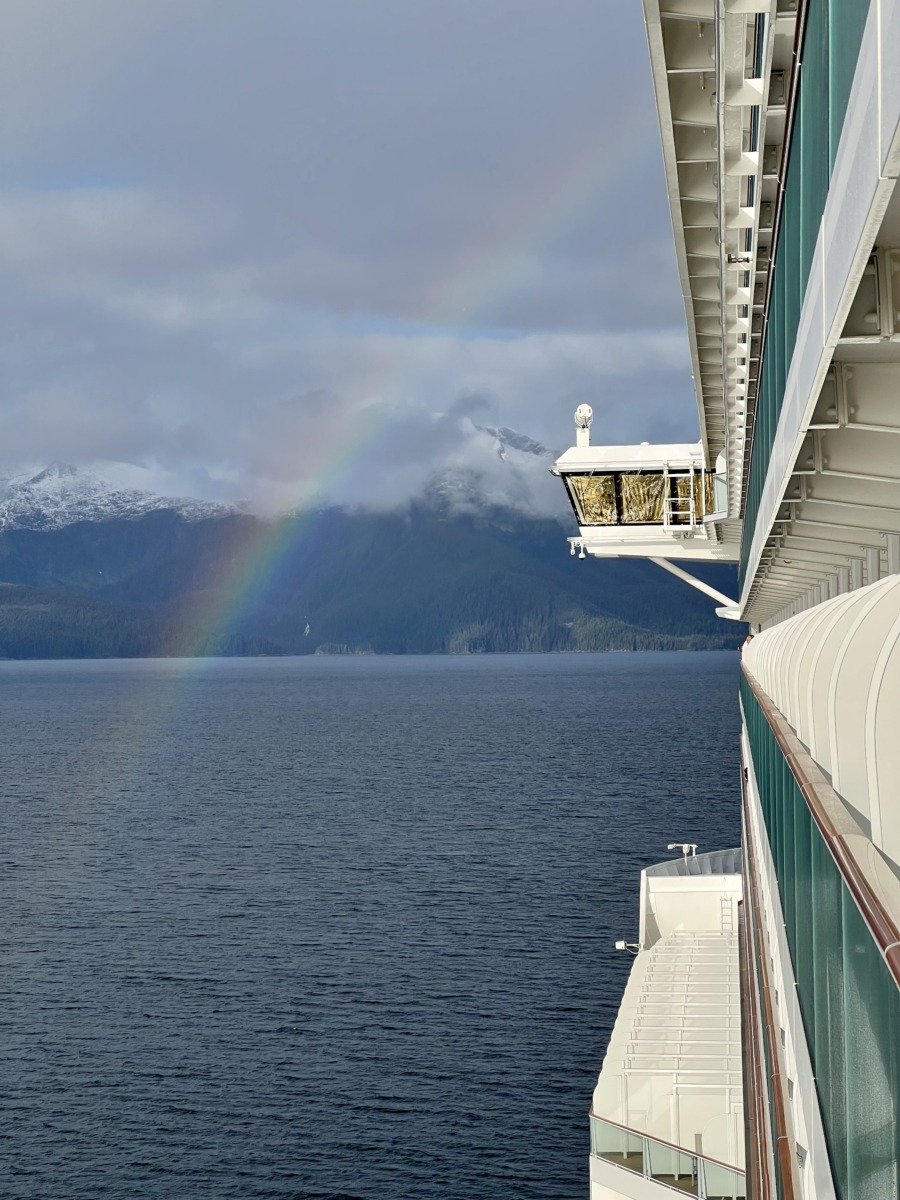 Stepping outside on my balcony, I caught a glimpse of a rainbow in the morning mist.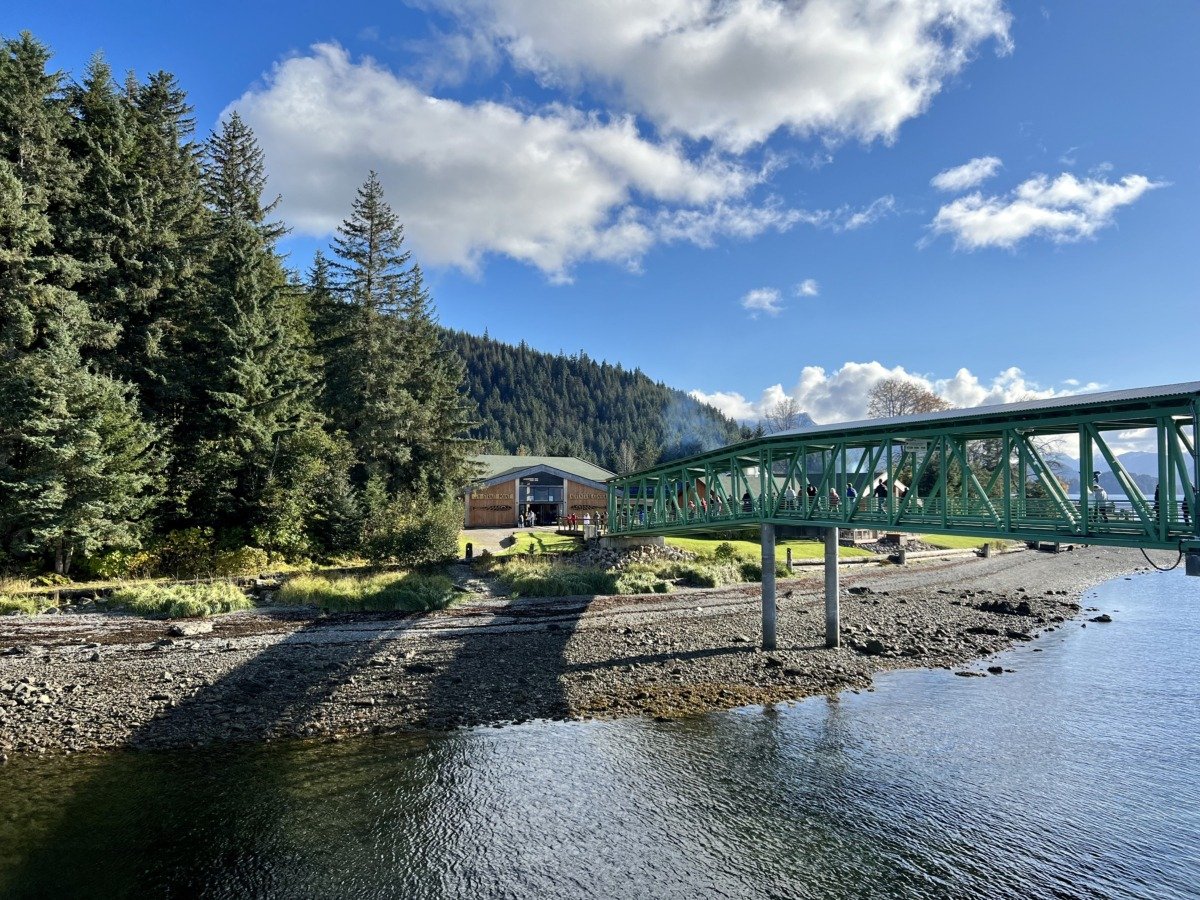 Icy Strait Point is a tourist destination situated one mile from the town of Hoonah. It is the only privately-owned cruise port in Alaska.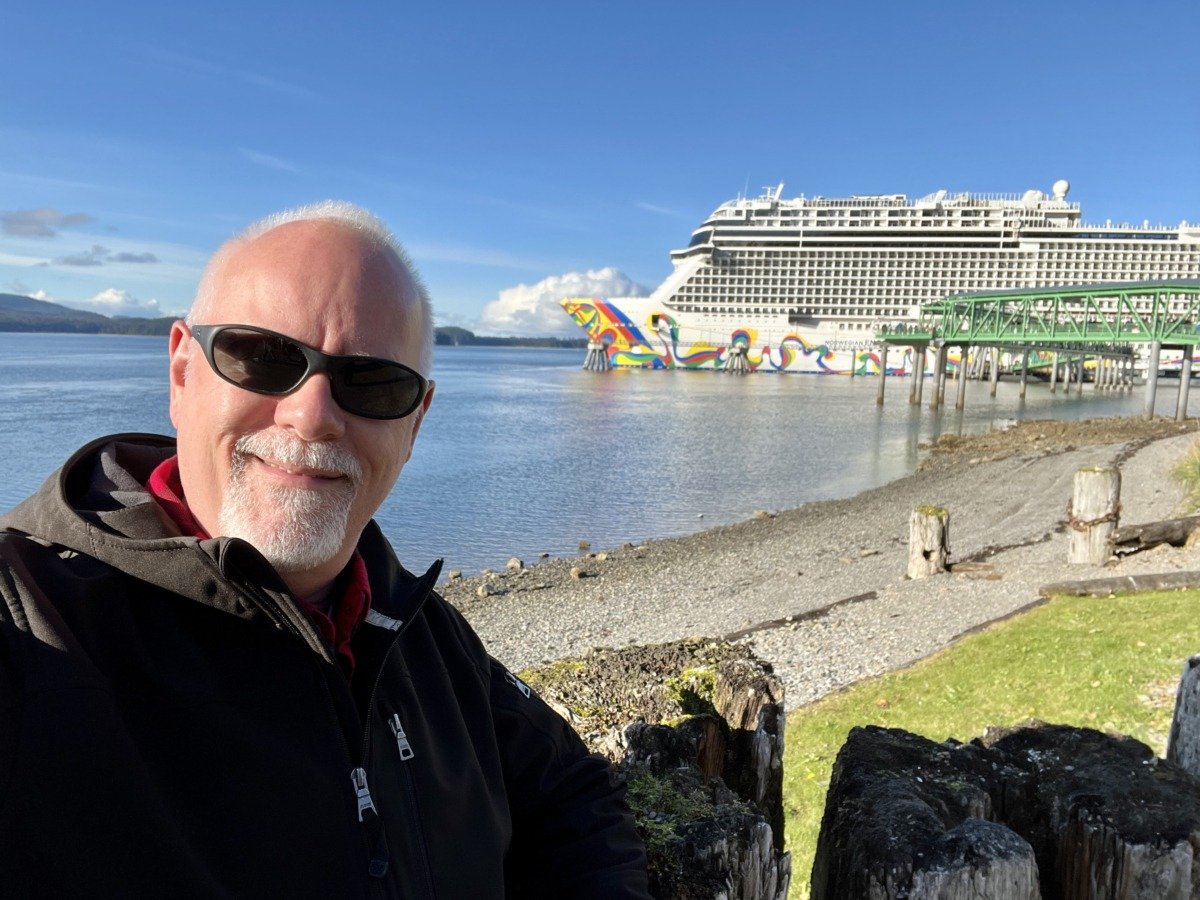 There are lots of excursion options at Icy Strait Point, including whale watching and the world's largest ZipRider. Some of the attractions were shut down due to the pandemic and the late-season arrival of our cruise itinerary.
I had not purchased an excursion, so I disembarked to officially step foot in Alaska for the first time and to explore on my own.
Many guests were immediately drawn to a broad rocky beach that parallels the boardwalk leading to the historic cannery.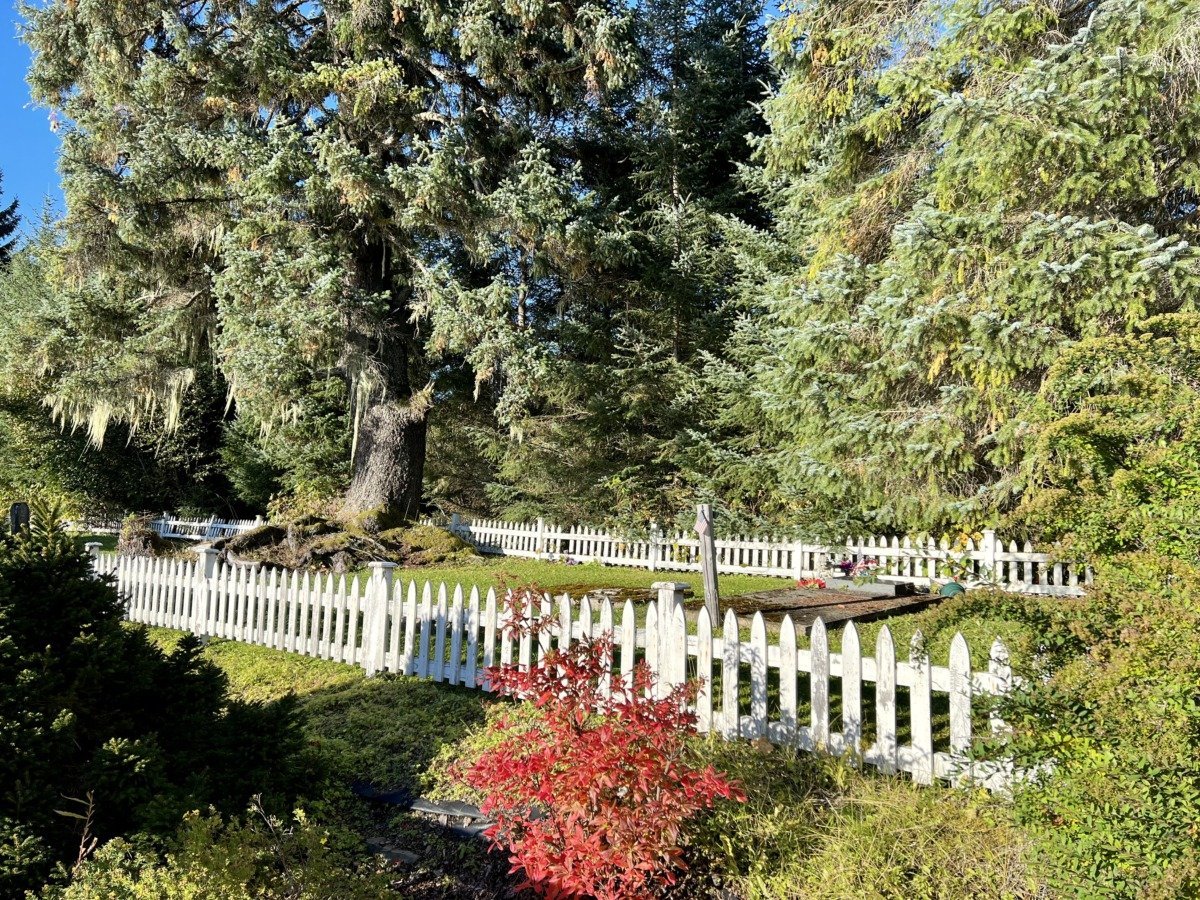 As I continued along the promenade, I passed three privately-owned cottages and a small cemetery that lent a sense of historical authenticity to the tourist attractions.
Lichens trailing from the trees reminded me of Spanish moss that grows on oak trees in the yard of my Central Florida home.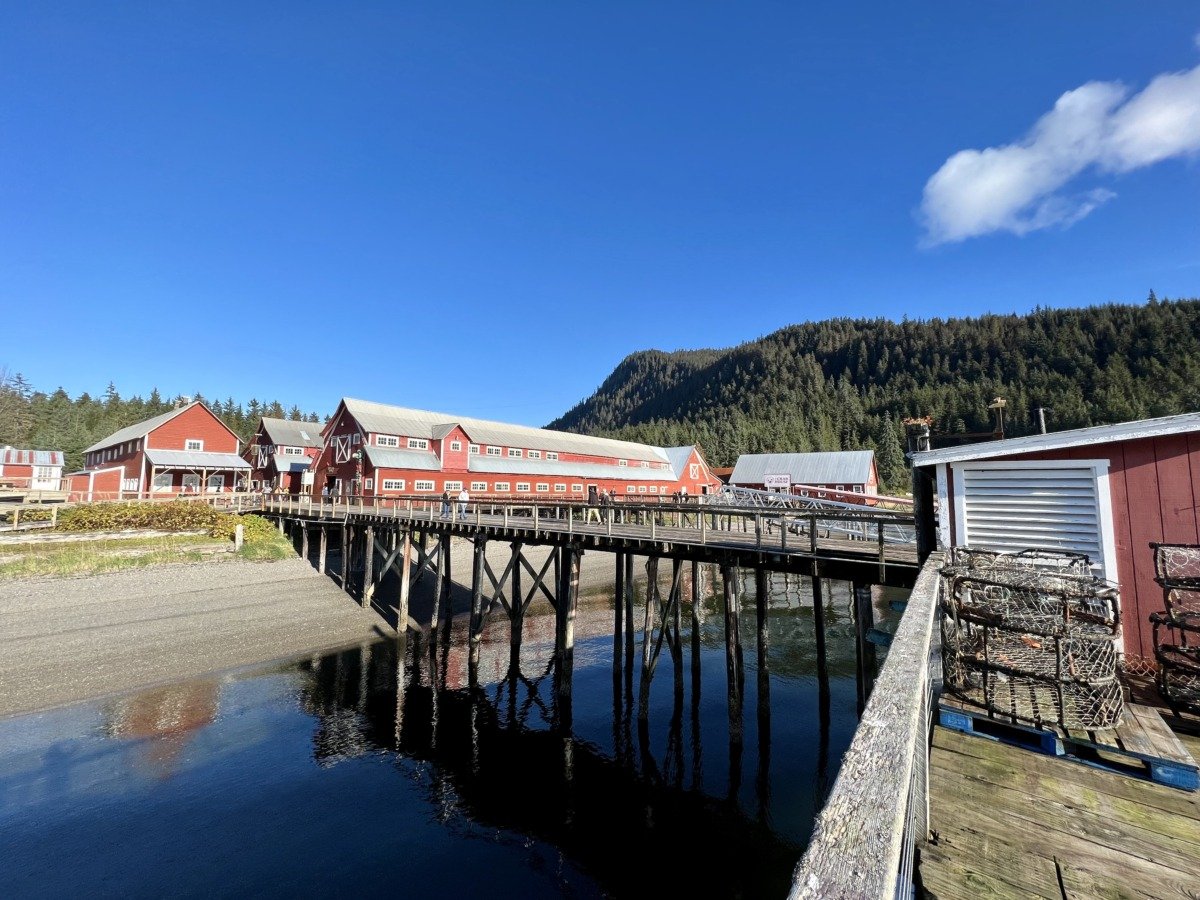 Icy Strait Point's historic salmon cannery was constructed in 1912.
Now fully restored, the structure houses a museum, retail shops, and restaurants.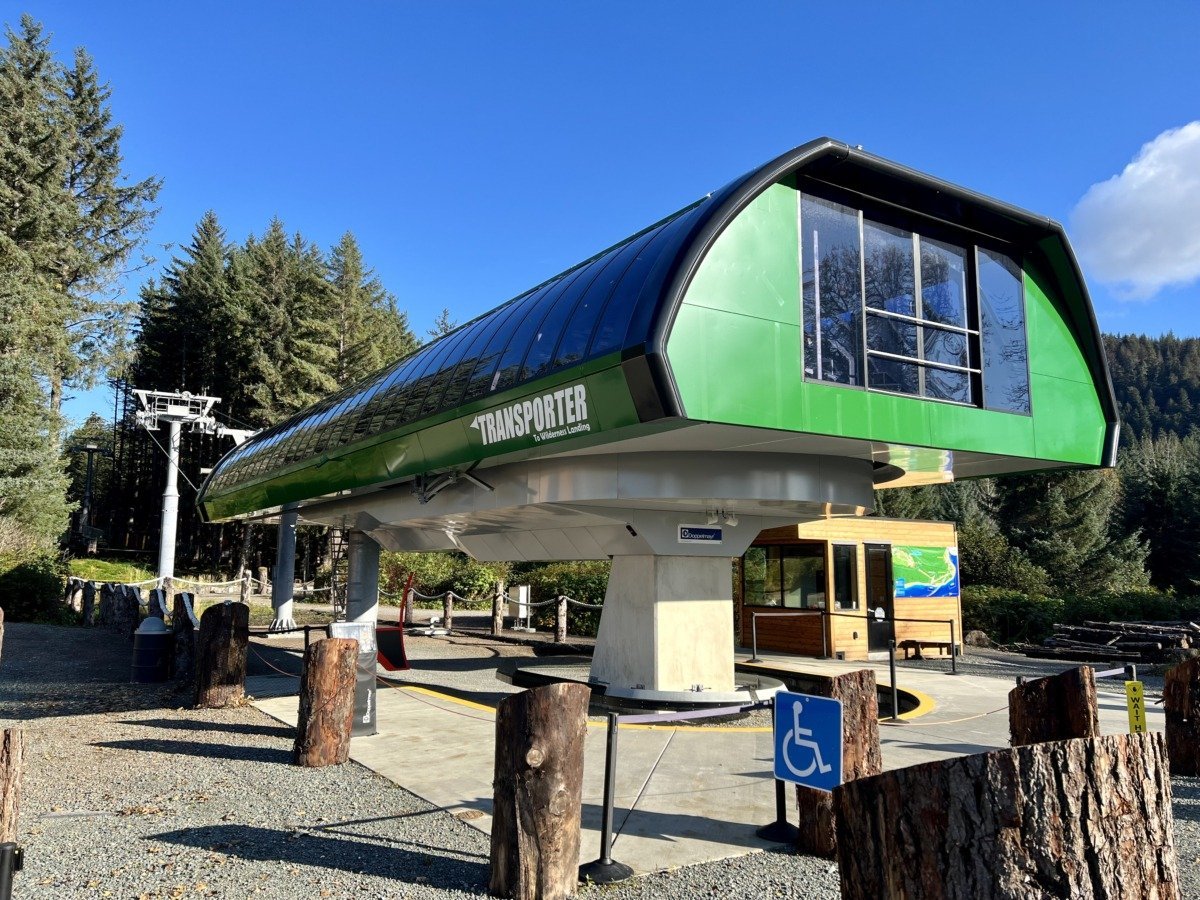 One of the newest features at Icy Strait Point, is the people-moving gondola that connects the Adventure Landing with the Wilderness Landing. Another gondola, set to open in 2022, will connect to the Hoonah Mountain Top.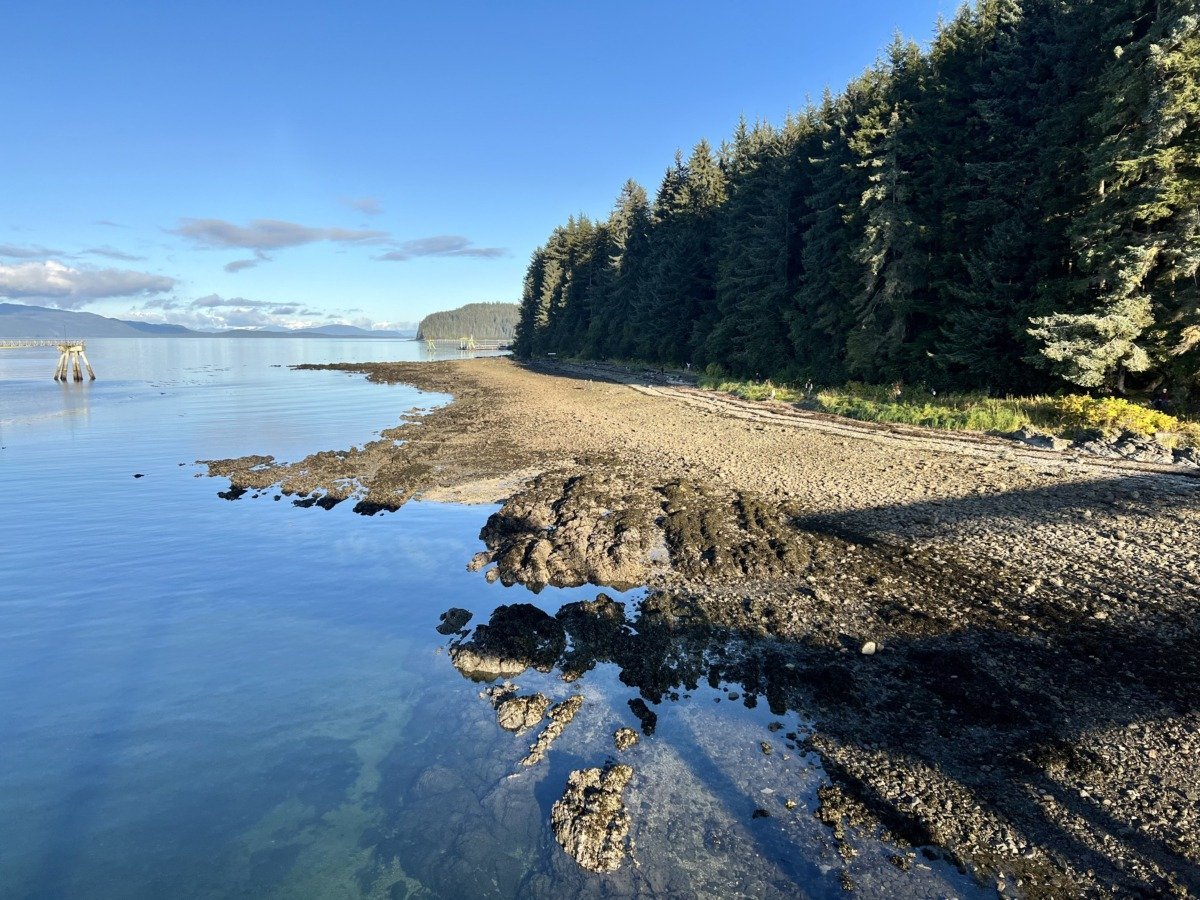 Perhaps the best part of the afternoon was exploring along the loop nature trail through the forest and along the rocky coastline. I couldn't see them from my position on the beach, but later when crossing the gangplank back to the ship, I spotted several starfish beneath the surface of the shallow water.
I would have taken the .5-mile walking trail to Wilderness Landing, but it was cordoned off with yellow caution tape.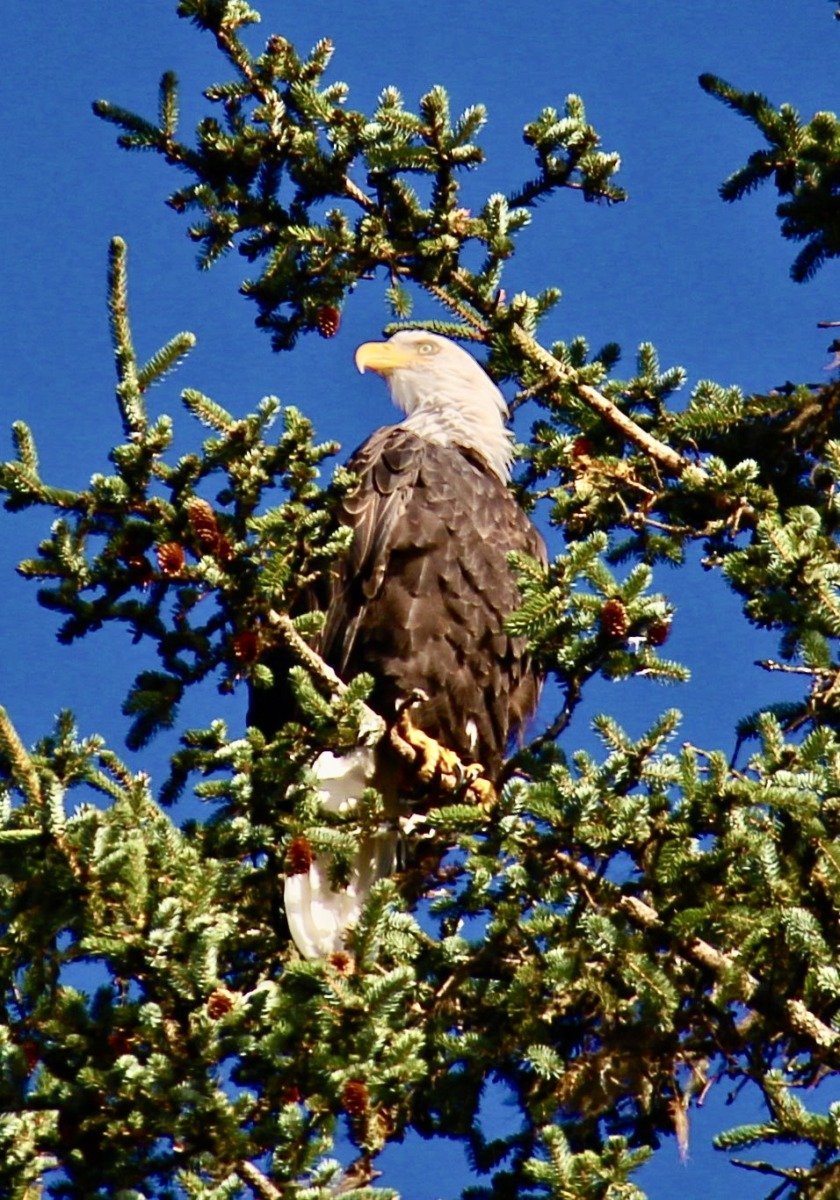 There are approximately 30,000 bald eagles in northern southeast Alaska.
Before returning to the ship, I noticed other guests gazing up into the trees. A bald eagle was perched atop a towering Sitka spruce. My friend Steve was able to capture this photo of our feathered friend with his zoom lens.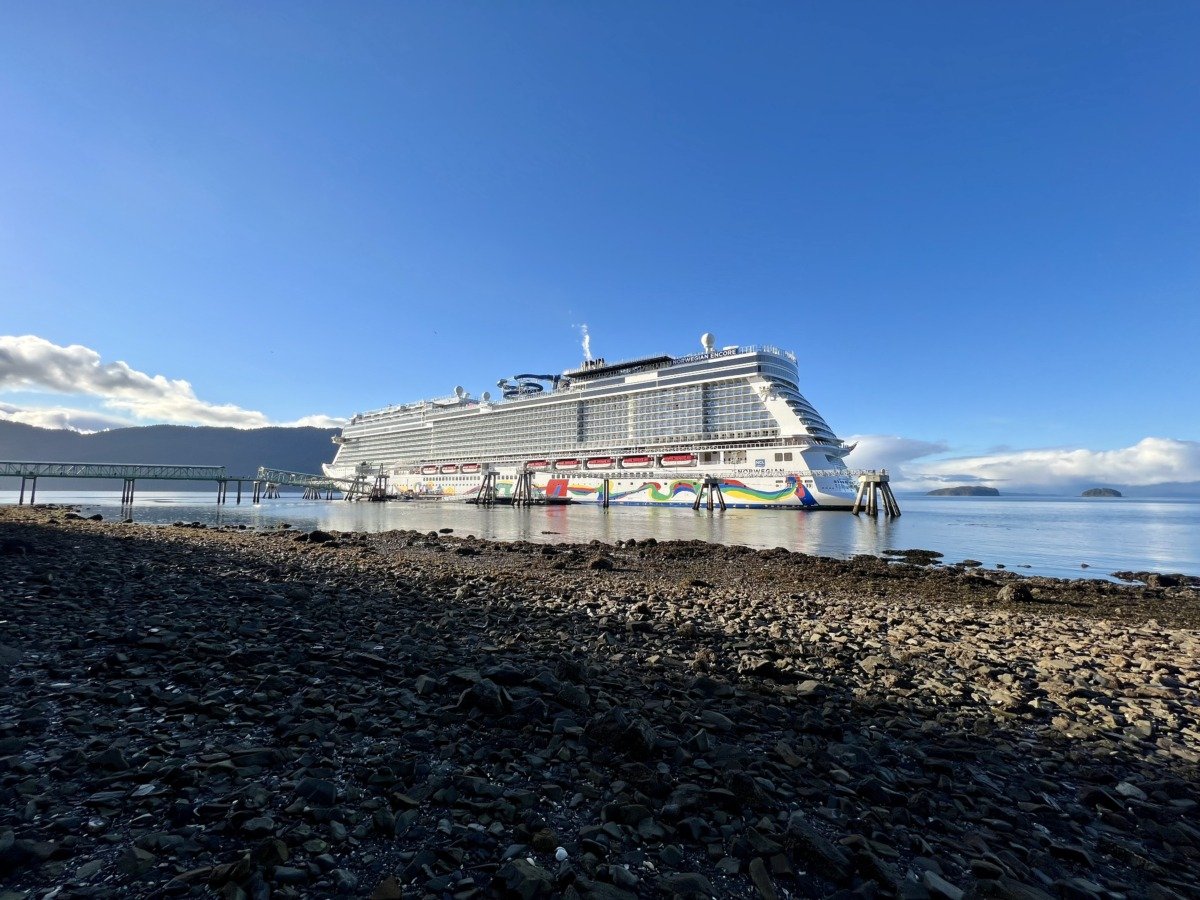 I am typically not a fan of touristy destinations, but I gained a new perspective and appreciation for this Alaska Native-owned corporation with 1,400+ shareholders. By one calculation, cruise tourism accounts for half of the local economy.
---
Day 4: Glacier Bay National Park & Preserve, Alaska
---
For me, cruising Glacier Bay was the most anticipated part of our Alaska itinerary, and by the time I awoke on Day 4, it was well underway.
I decided to try breakfast at The Local. I was a bit disappointed with the tough and gristly chunks of meat in the corned beef hash, but have you ever seen more perfect eggs fried sunny-side up?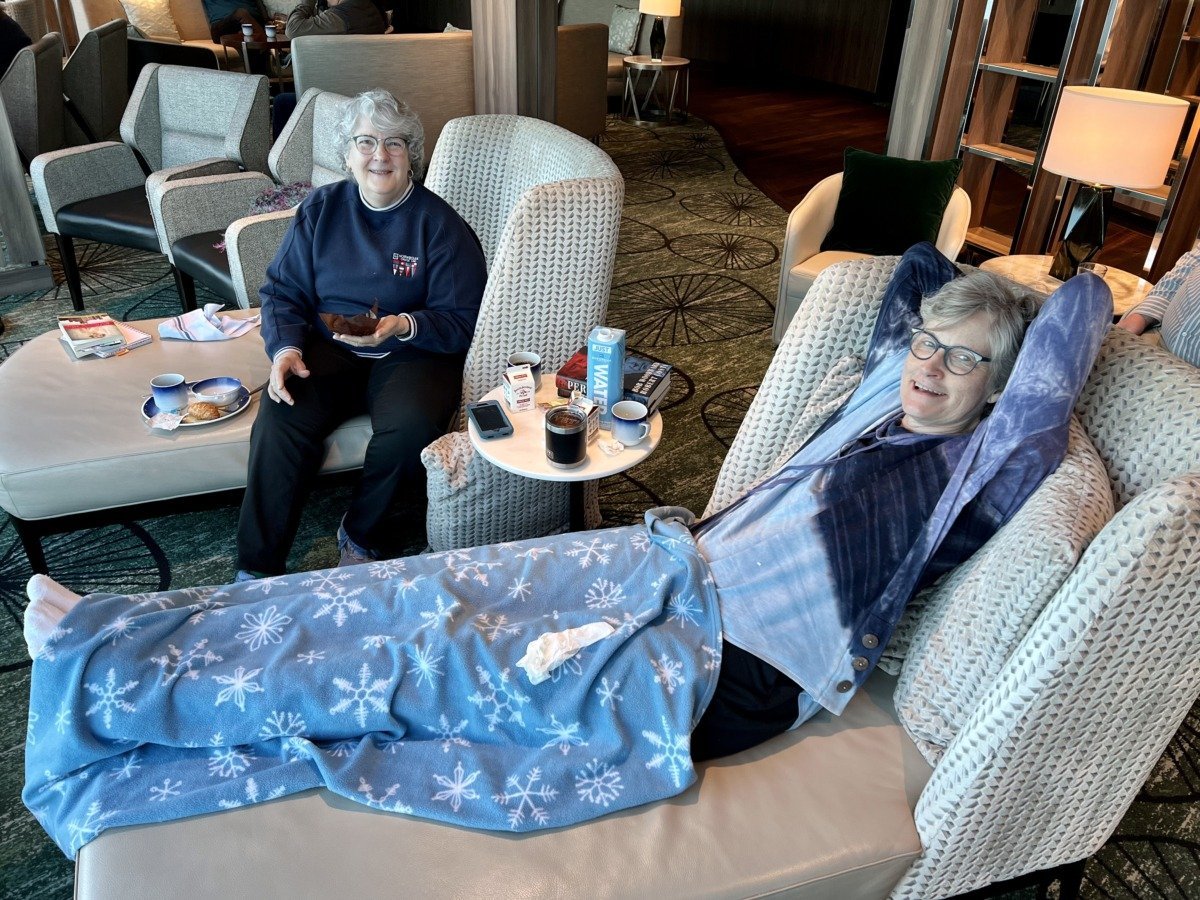 Peg and Nancy were up early and had staked out a section of the Observation Lounge in preparation for a day of scenic cruising.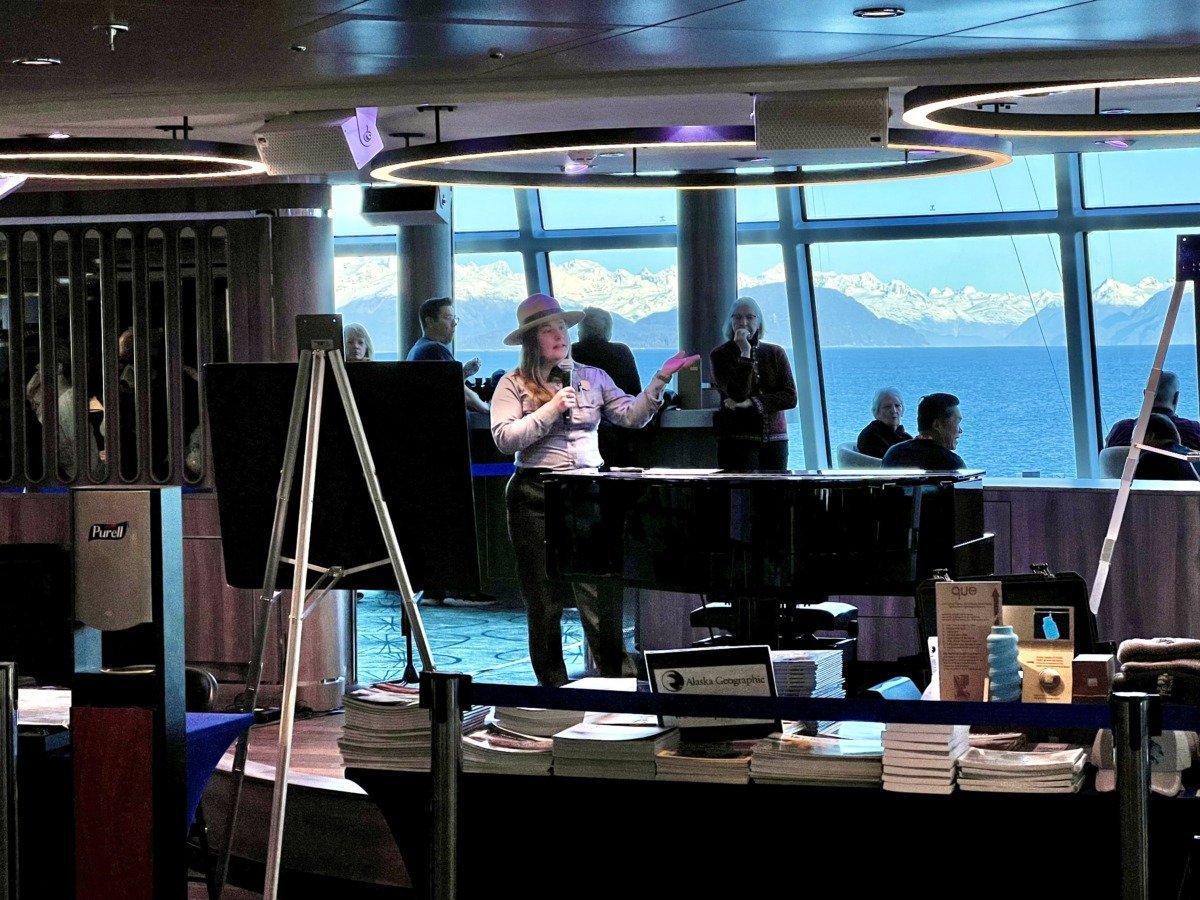 Earlier that morning, National Park rangers had tendered to the ship from their station at the Glacier Bay National Park Visitor Center. They brought a portable bookstore aboard and gave informative talks throughout the day. I was quite excited to collect a Glacier Bay stamp for my National Parks Passport.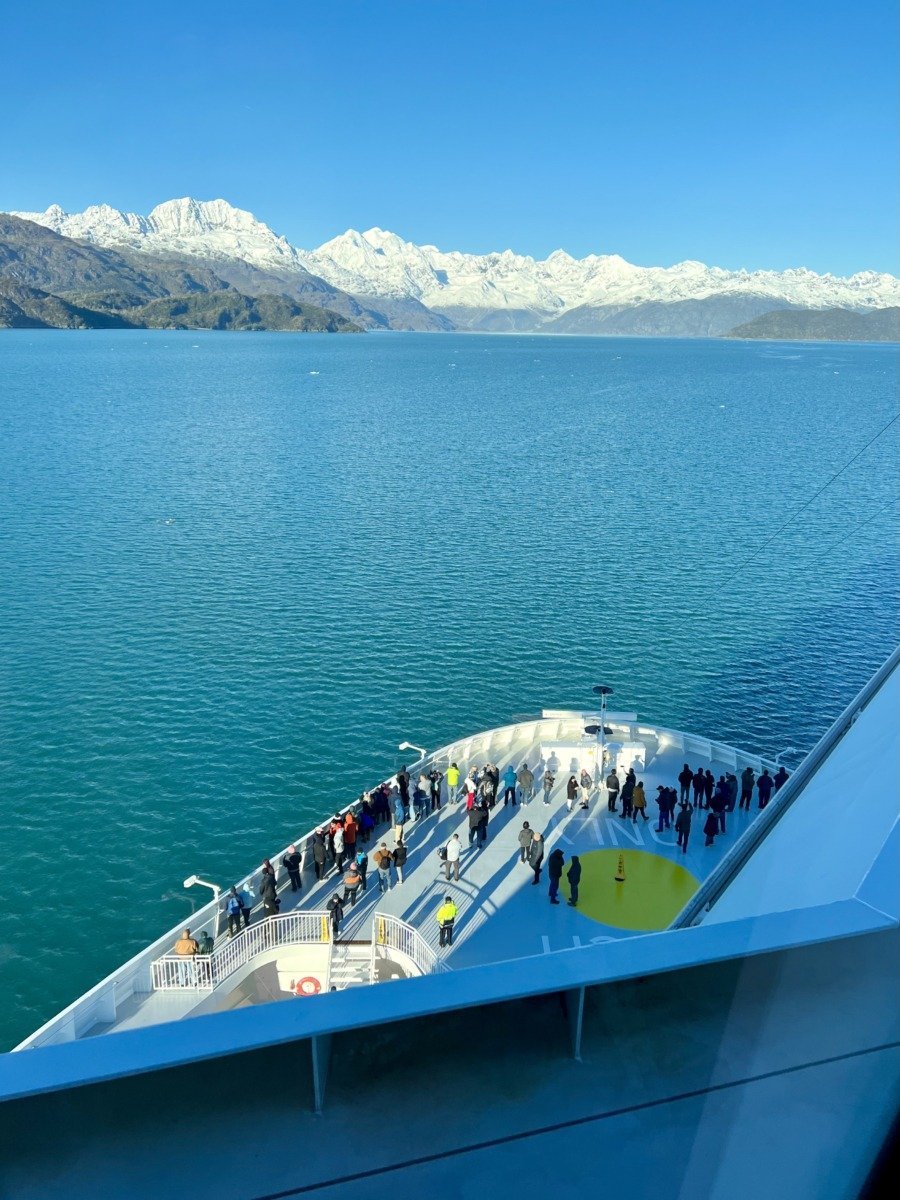 When cruising Glacier Bay, crew members open up the bow of Deck 8 to guests. Peg and Nancy chose to enjoy the views from the comfort of the Observation Lounge, but Steve and I headed down for a rare up-close-and-personal experience.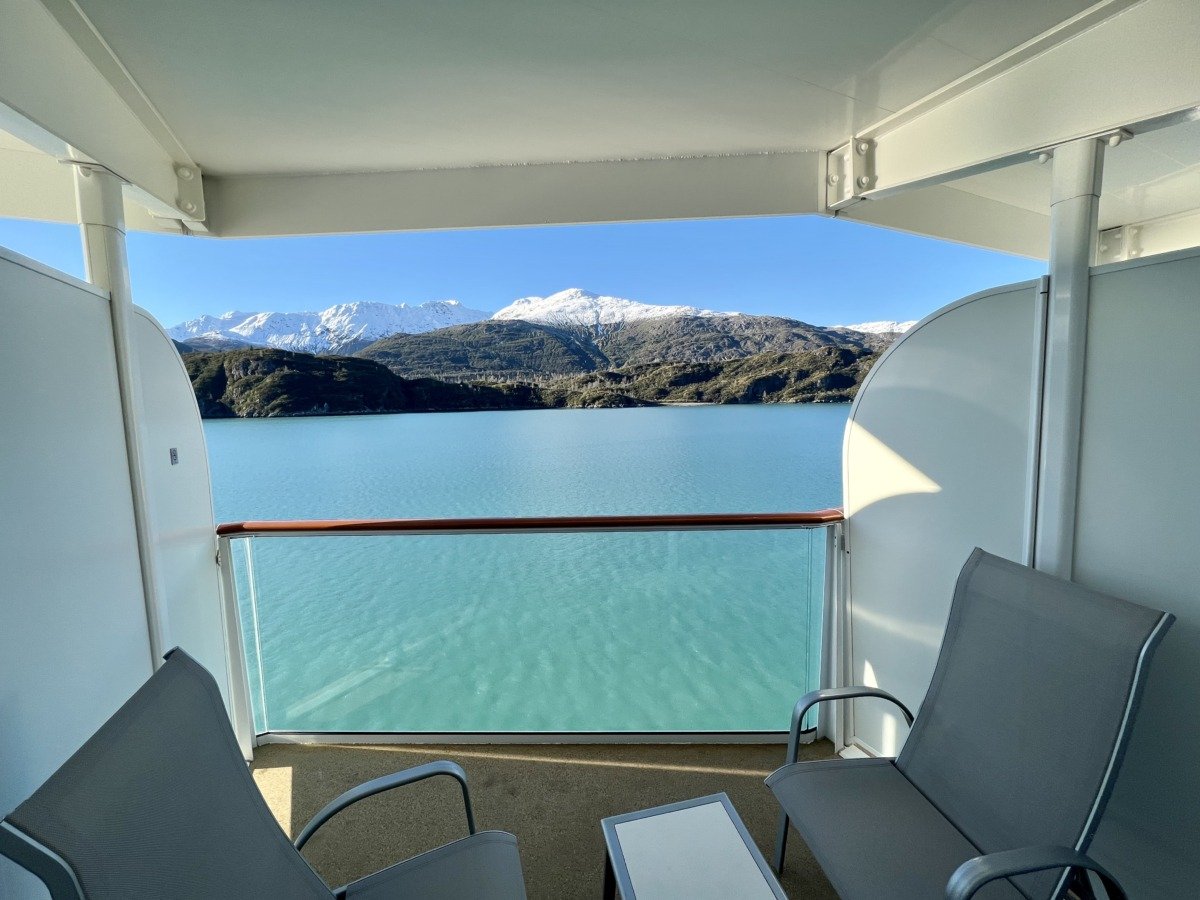 I detoured to my cabin to grab my heavy coat, beanie, and gloves. The view from my stateroom balcony was stellar.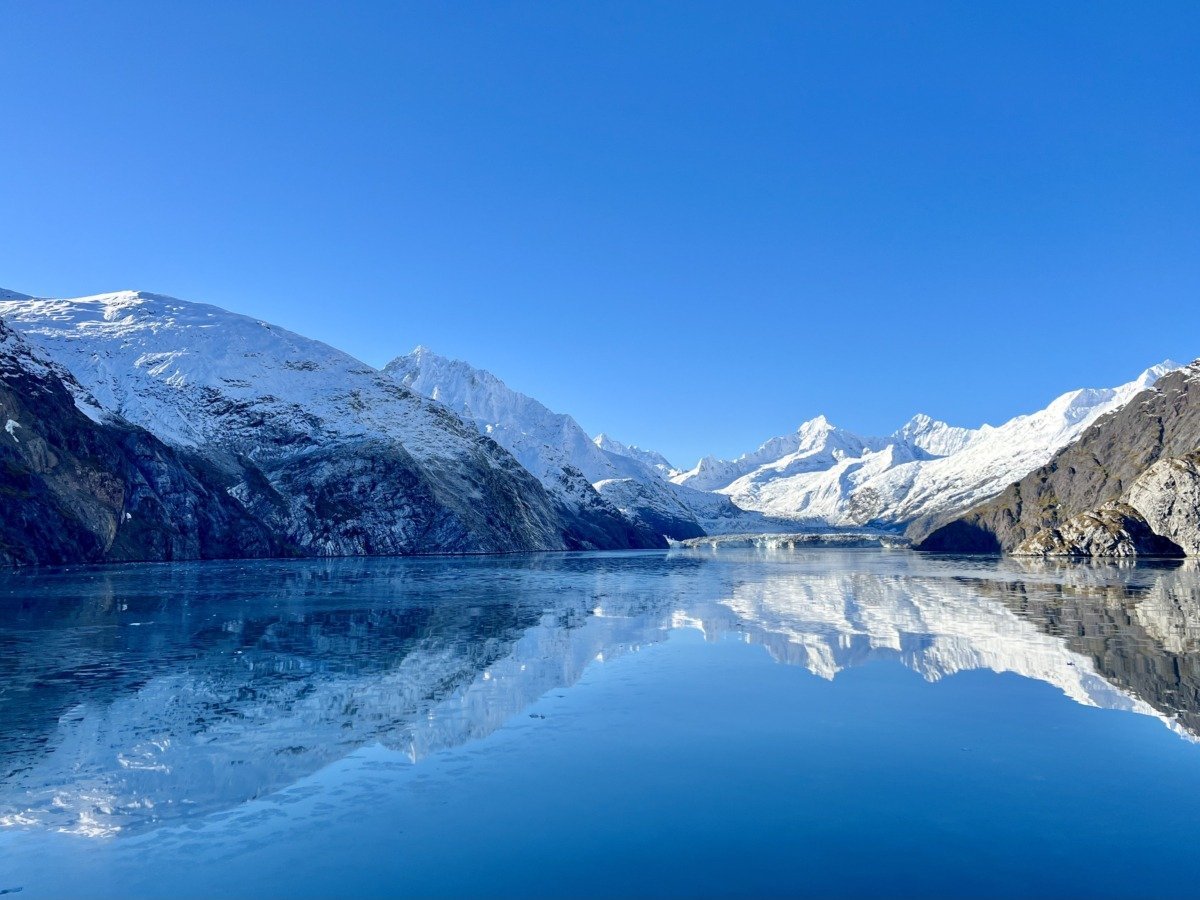 We arrived on Deck 8 as Captain Niklas Persson sailed the Encore into the inlet of the Johns Hopkins Glacier. The sky was clear, the water was still, and the reflections took my breath away.
Check it out for yourself!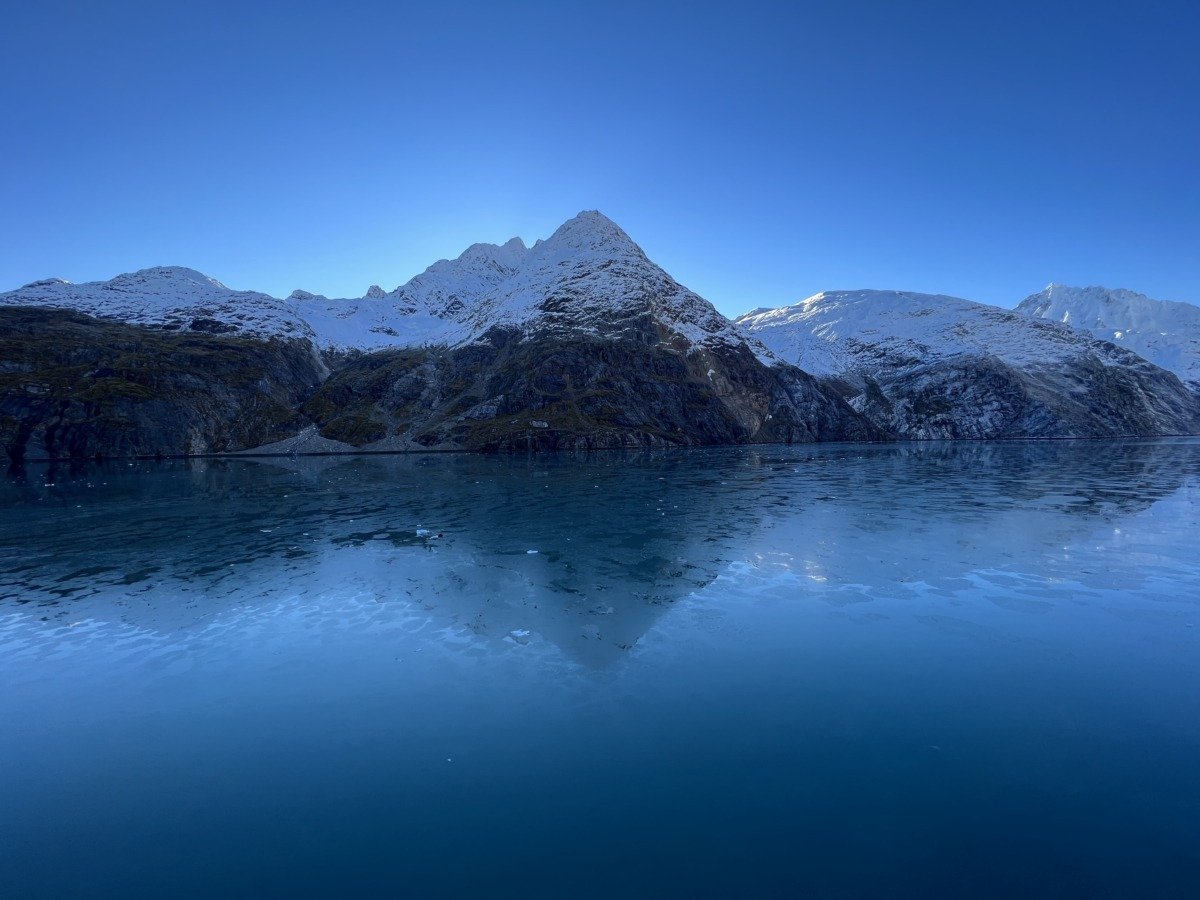 As the ship neared the shoreline, the sun dipped below the mountains, creating an otherworldly glow behind the ridges, and reflections of another kind in the shadow.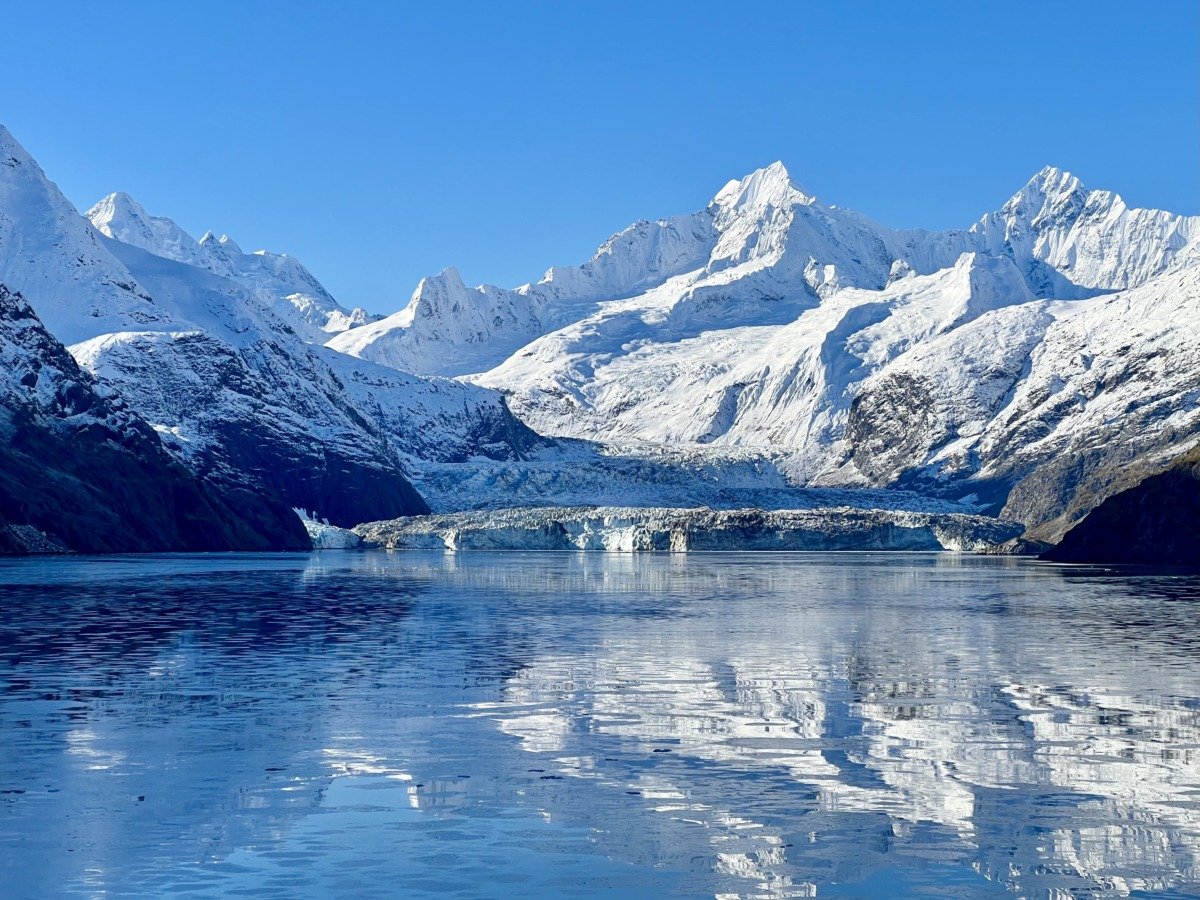 The ship inched ever closer to the glacier, and we wondered how far we would go.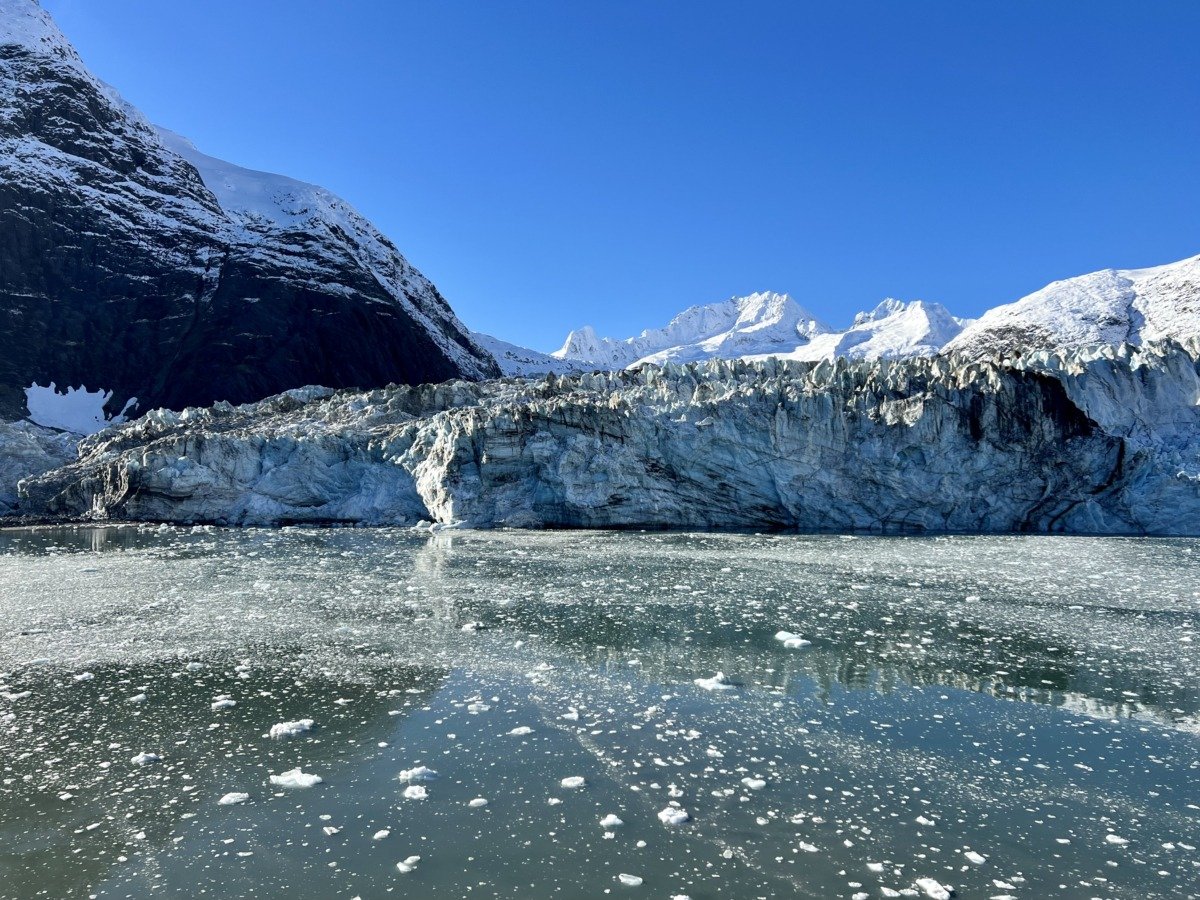 Sailing ever closer, the ship moved into the drift ice formed by the calving glacier.
The Johns Hopkins Glacier is approximately twelve miles long and one mile wide. As it reaches the inlet, the glacial ice extends 250 feet above the water and 200 feet below the surface.
Captain Niklas began maneuvering the Encore in a 360° clockwise rotation. Our proximity to the glacier was an optical illusion, giving the impression that we could reach out and touch it while fearing the ship would scrape the inlet walls.
With one rotation complete, the captain steered the ship in a reverse 360°.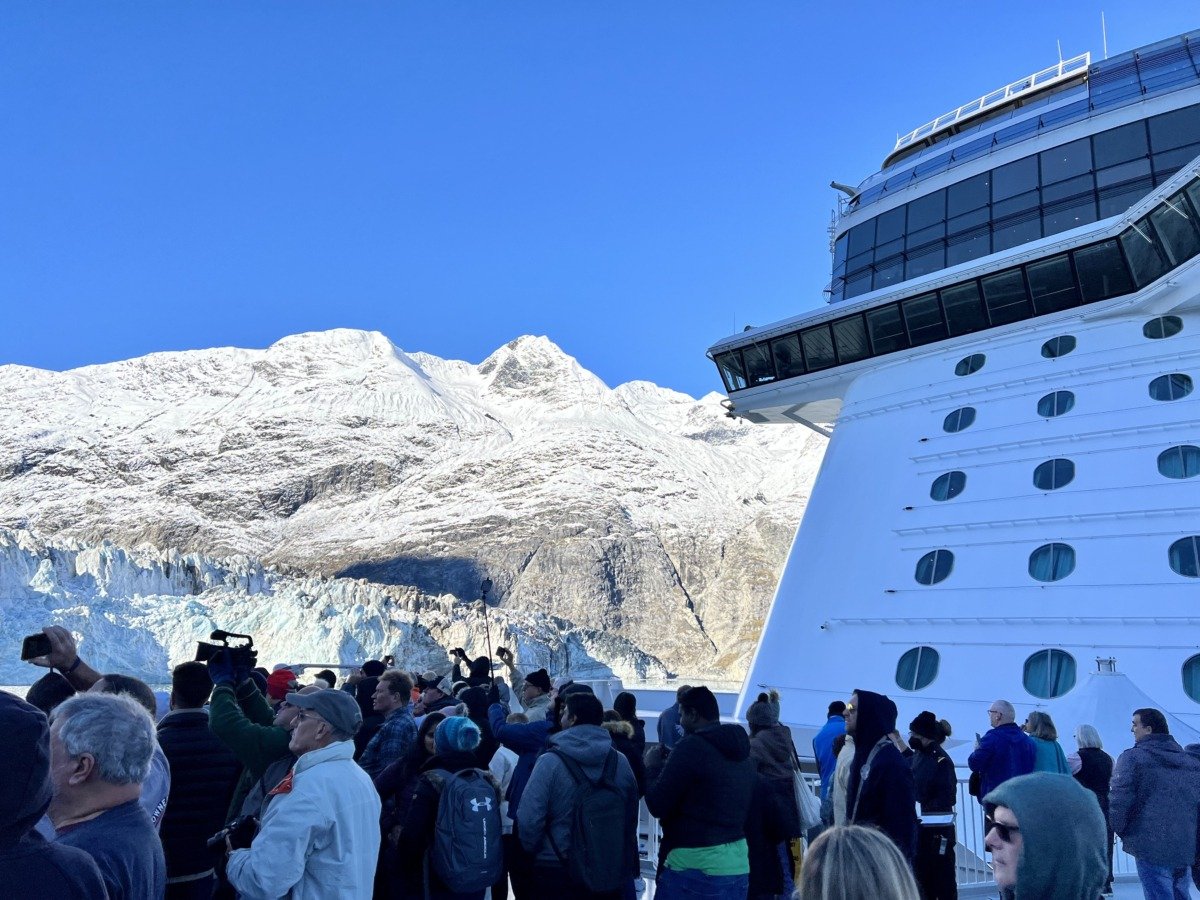 The juxtaposition of the mammoth ship against the majestic mountains was a sight to behold.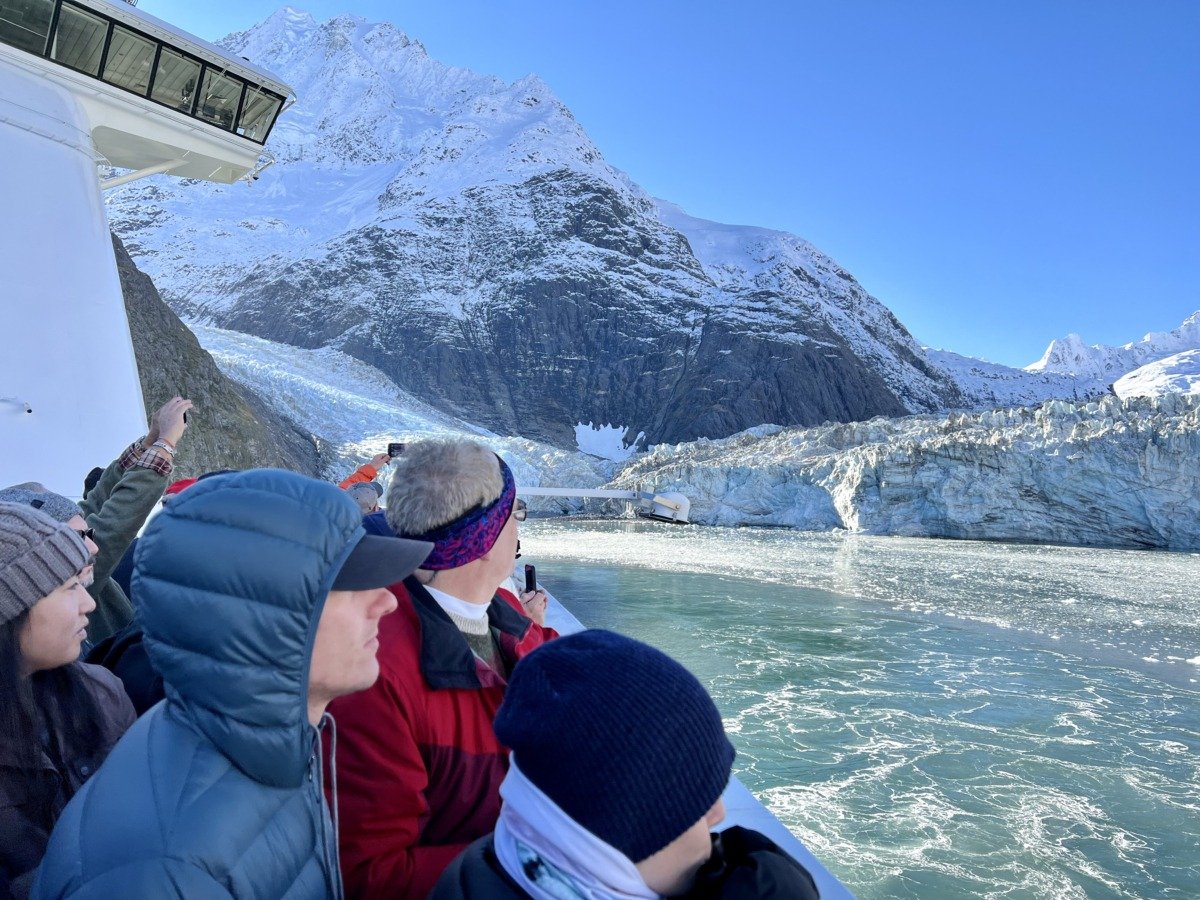 Guests jostled for optimal photo and viewing positions along the deck railing.
The most breathtaking aspect of viewing glaciers is when a calving occurs. You hear a crack like the report of a rifle and then watch as an iceberg plunges into the water, issuing circular waves into the inlet.
My friend Steve captured this impressive glacial calving at Johns Hopkins.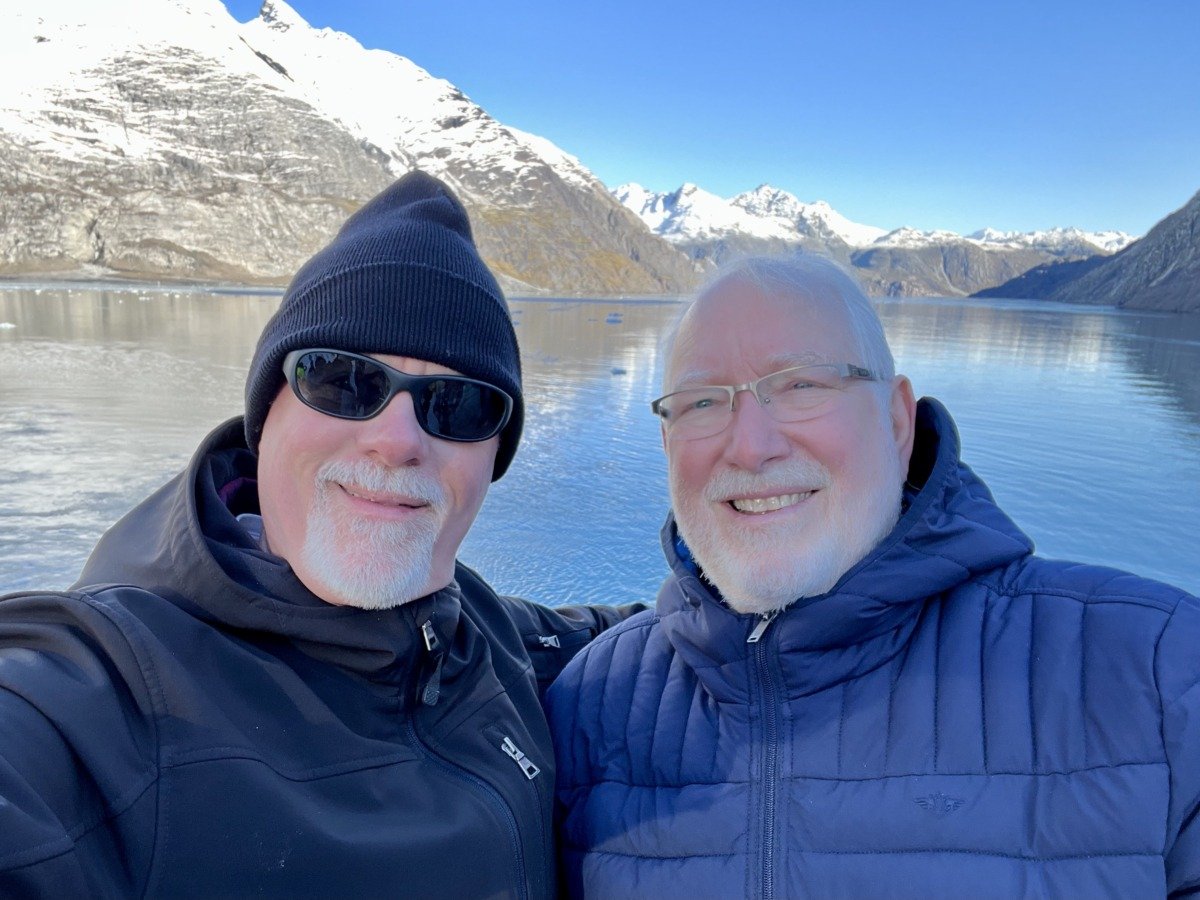 Needless to say, we were in our glory.
Crew members served hot chocolate and coffees spiked with Baileys Irish Cream, Kahlúa, Disaronno Amaretto, Jameson Irish Whiskey, and Frangelico.
I could not sip and snap photos during the scenic cruising, but I grabbed a coffee before returning to my cabin.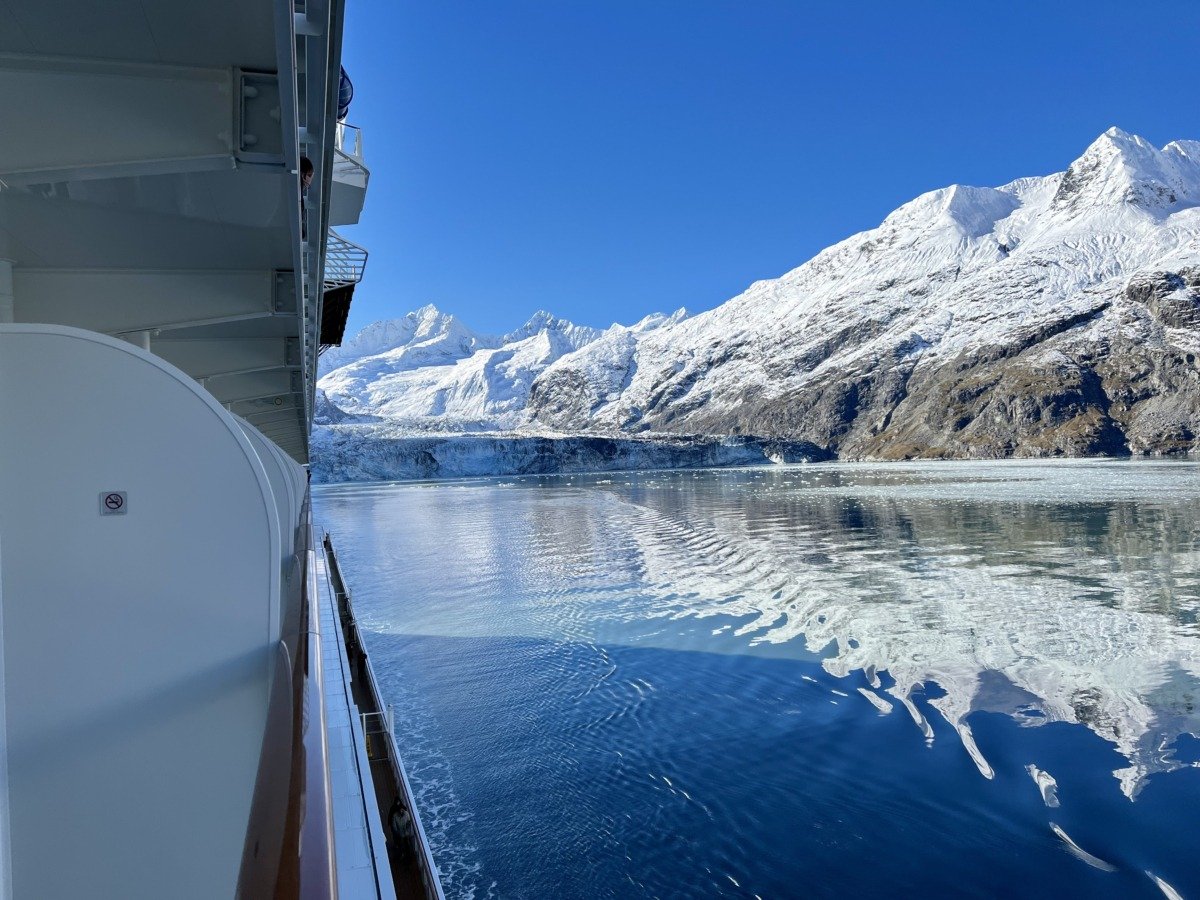 The view of the glacier from my stateroom balcony signaled a wistful farewell to one of my most memorable travel experiences.
National Park rangers had initially scheduled a foray into the inlet of the Margerie Glacier for a repeat performance, but it was not to be due to perilous floating ice conditions.
Although they are virtually undetectable in my photos, we spotted mountain goats on Gloomy Knob and sea lions on South Marble Island as we sailed out of Glacier Bay.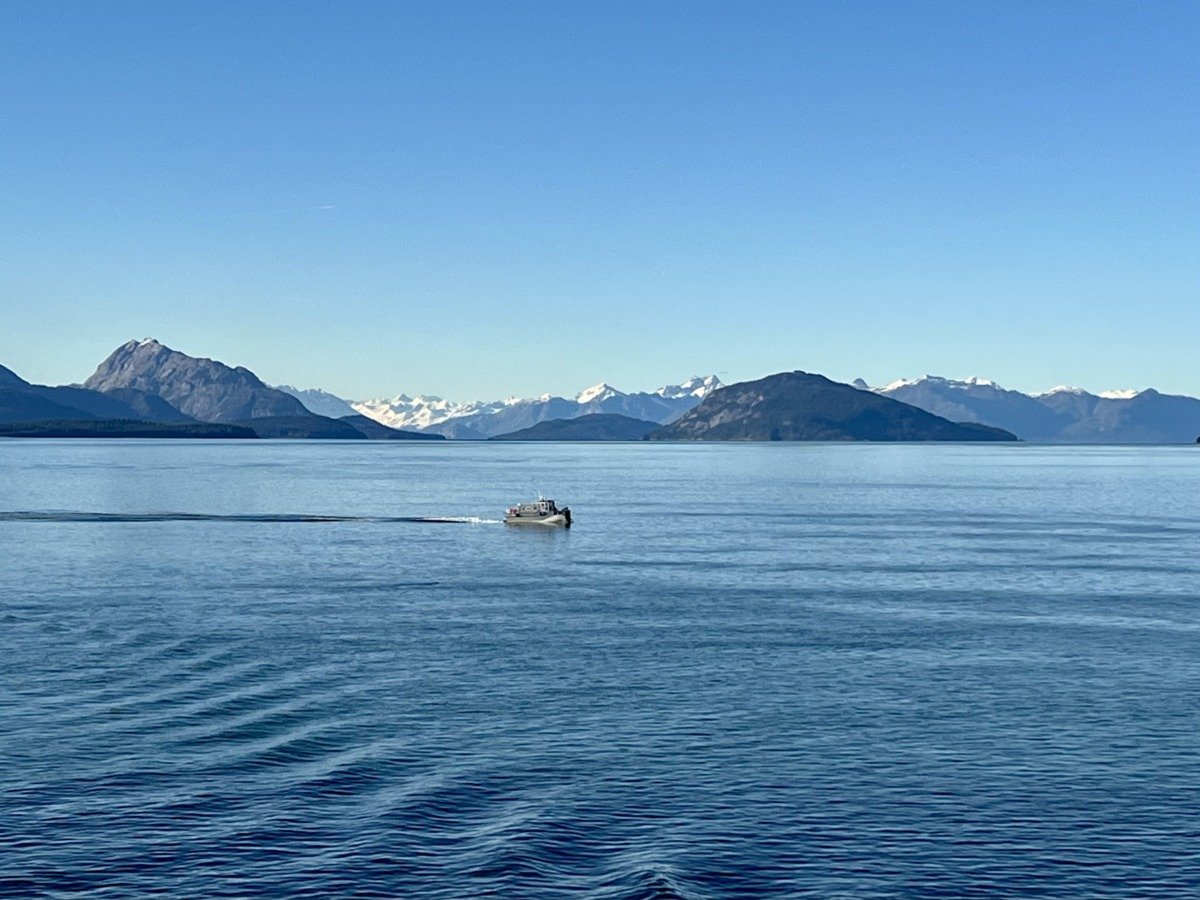 I was able to capture a photo of our National Park rangers as they tendered back to their station.
A handwritten message on the rangers' chart paper earlier in the day read: "We are honored to be sailing through the traditional homeland of the Huna Tlingit. As National Park Service employees, we are privileged to share stewardship of this special place with those who have lived here since time immemorial."
A fitting tribute, I thought.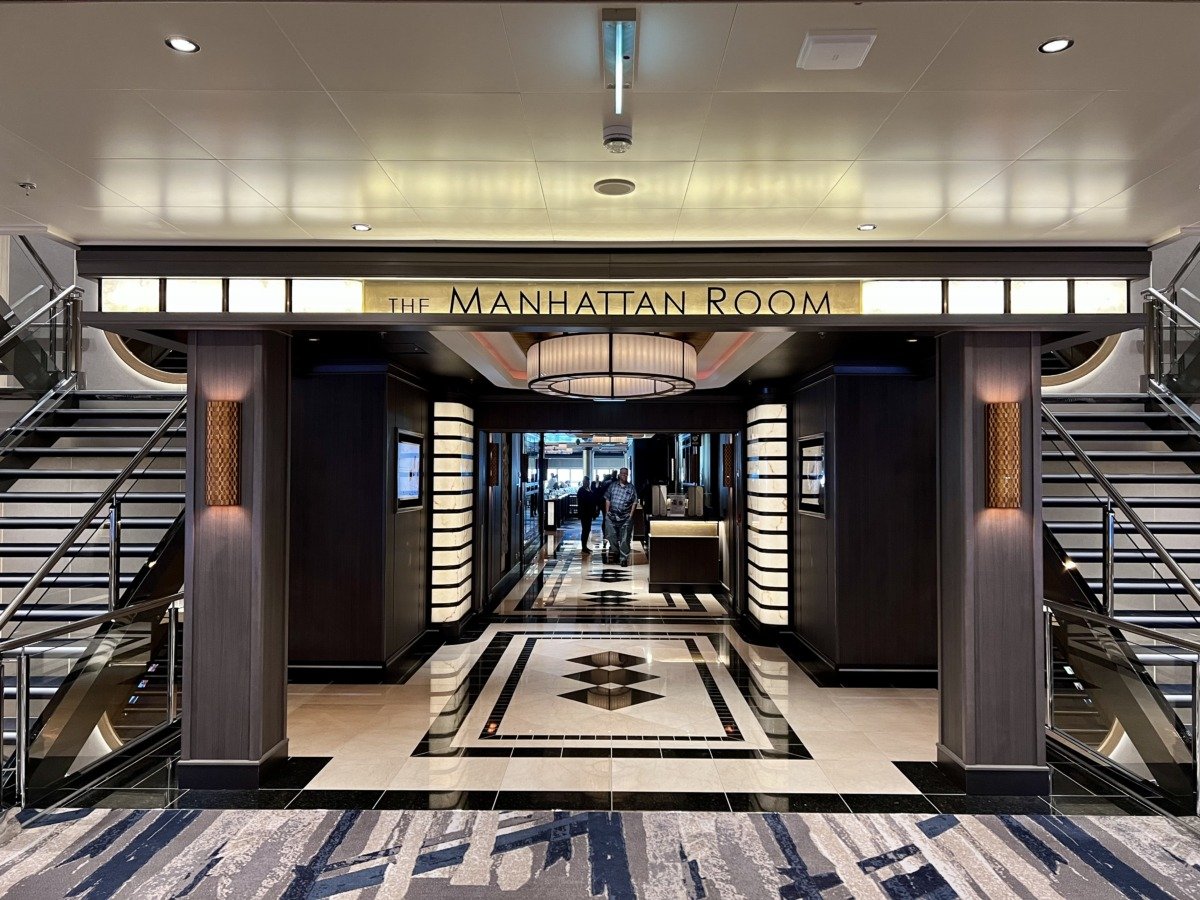 An incredible day culminated in dinner with my friends at the Manhattan Room, a complimentary restaurant.
Photo Credit: Michael Lam
Earlier in the cruise, I had inquired at Guest Services whether they could call my stateroom if and when Northern Lights were spotted. They said no, so I essentially forgot about it. Other savvy guests, however, were using apps and/or websites to track the conditions. In the early morning hours between Glacier Bay and Juneau, their vigilance paid off, and they were treated to a fine display of the natural phenomenon.
Northern Lights remain on my bucket list.
---
Day 5: Juneau, Alaska
---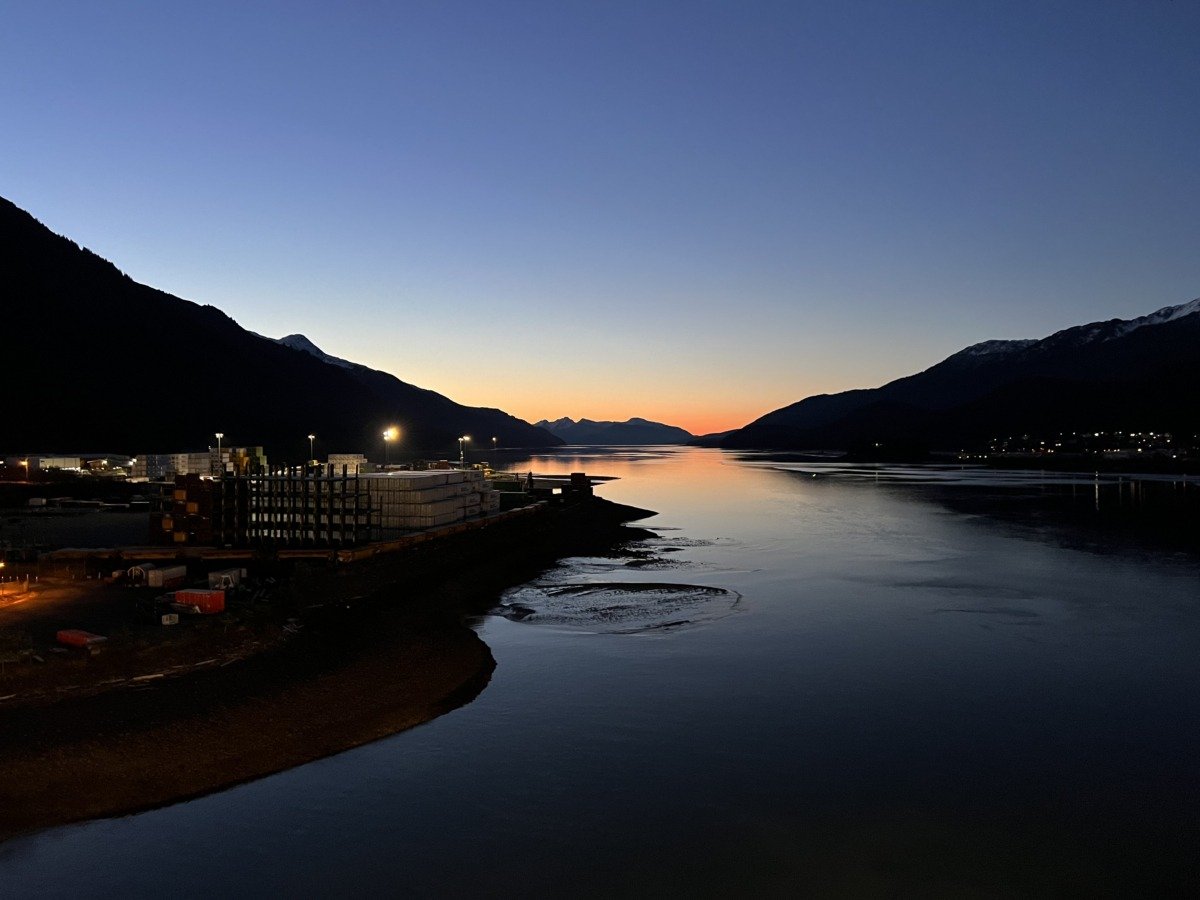 On Day 5, the glow of an impending sunrise from my stateroom balcony welcomed me to the port of Juneau, Alaska's capital city.
For breakfast, I returned to the Garden Café with its fresh fruit salad and omelette station.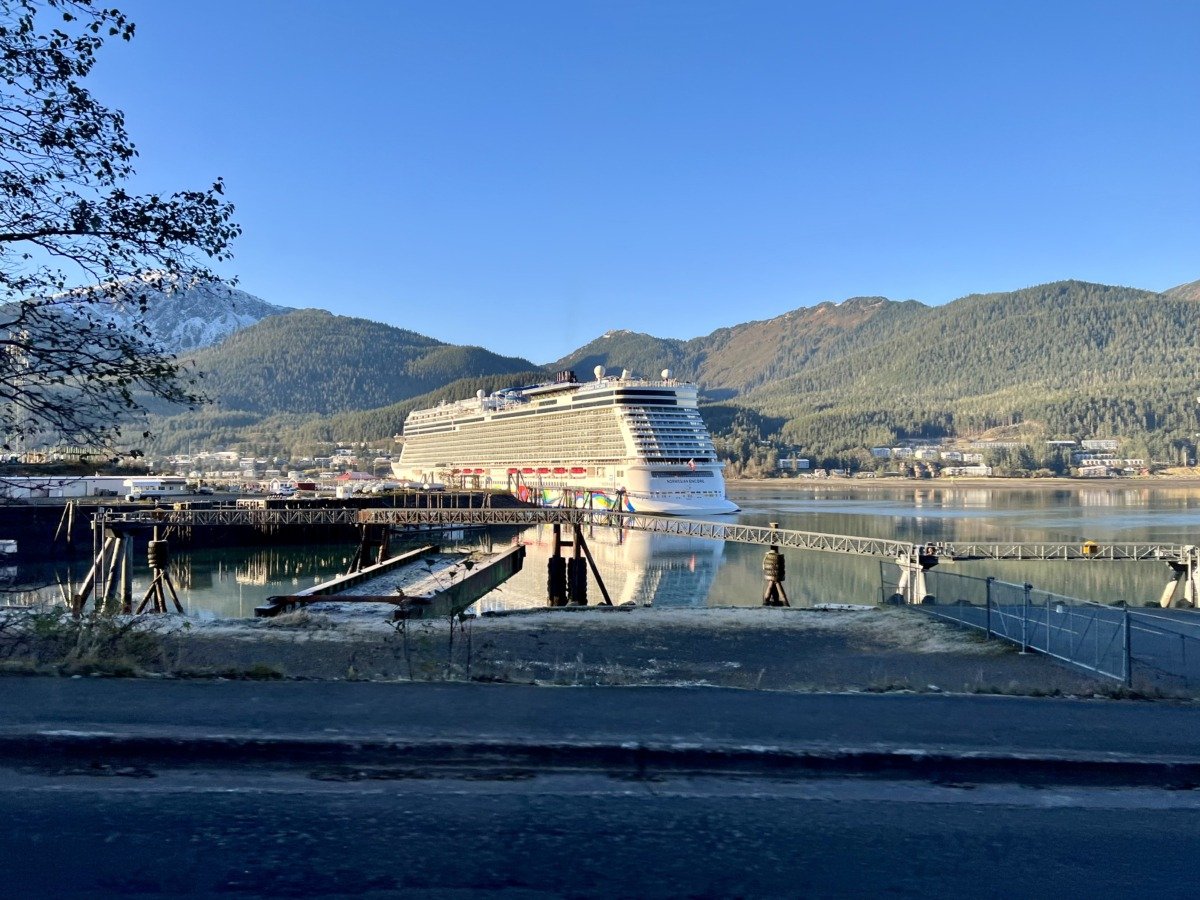 As my only paid excursion of the Alaska itinerary, I chose a Photo Safari that included visits to two Juneau scenic settings. The meeting time was 8:15 AM, so I disembarked and joined my tour group on the pier.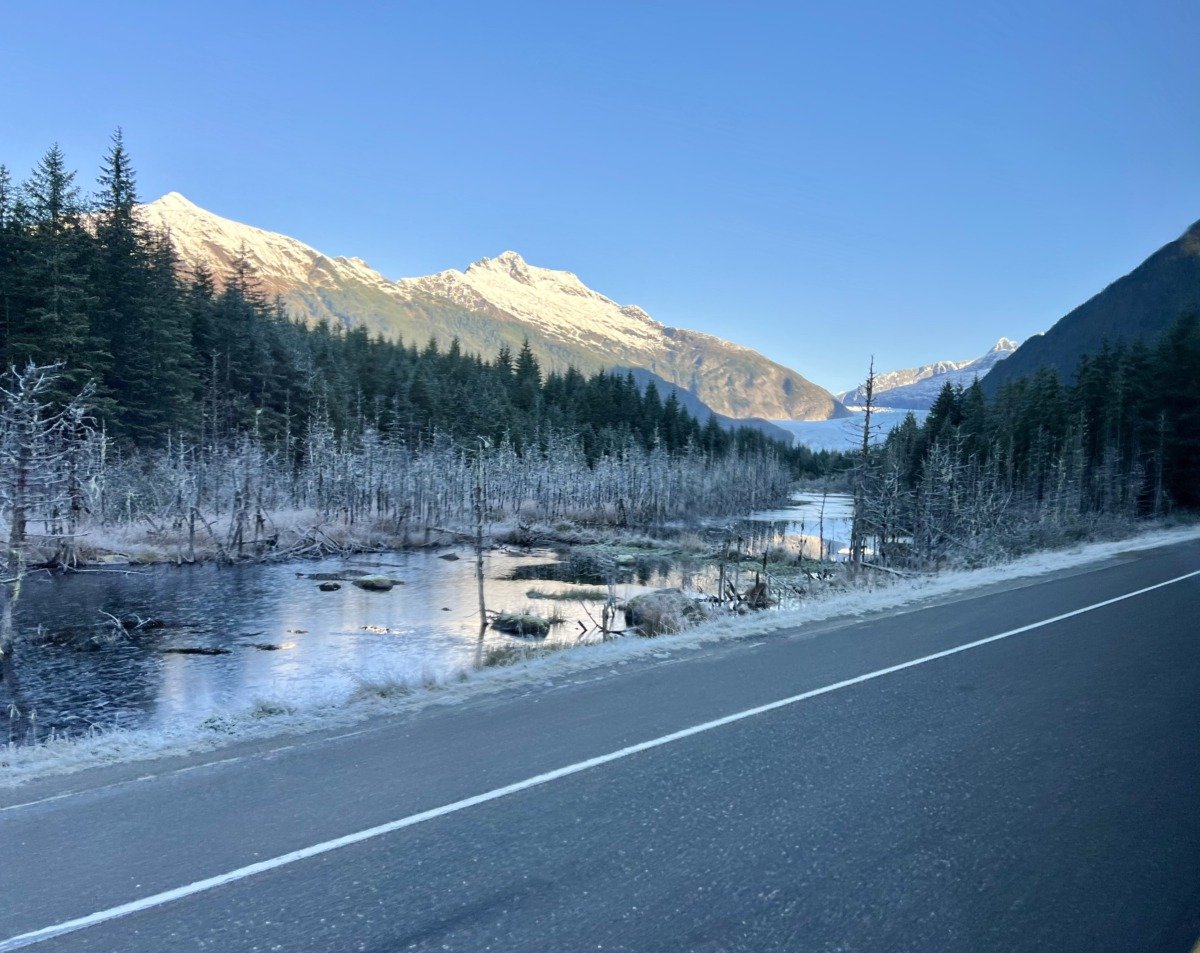 We headed first to Mendenhall Glacier. If the drive into the Tongass National Forest was any indication, this was going to be spectacular.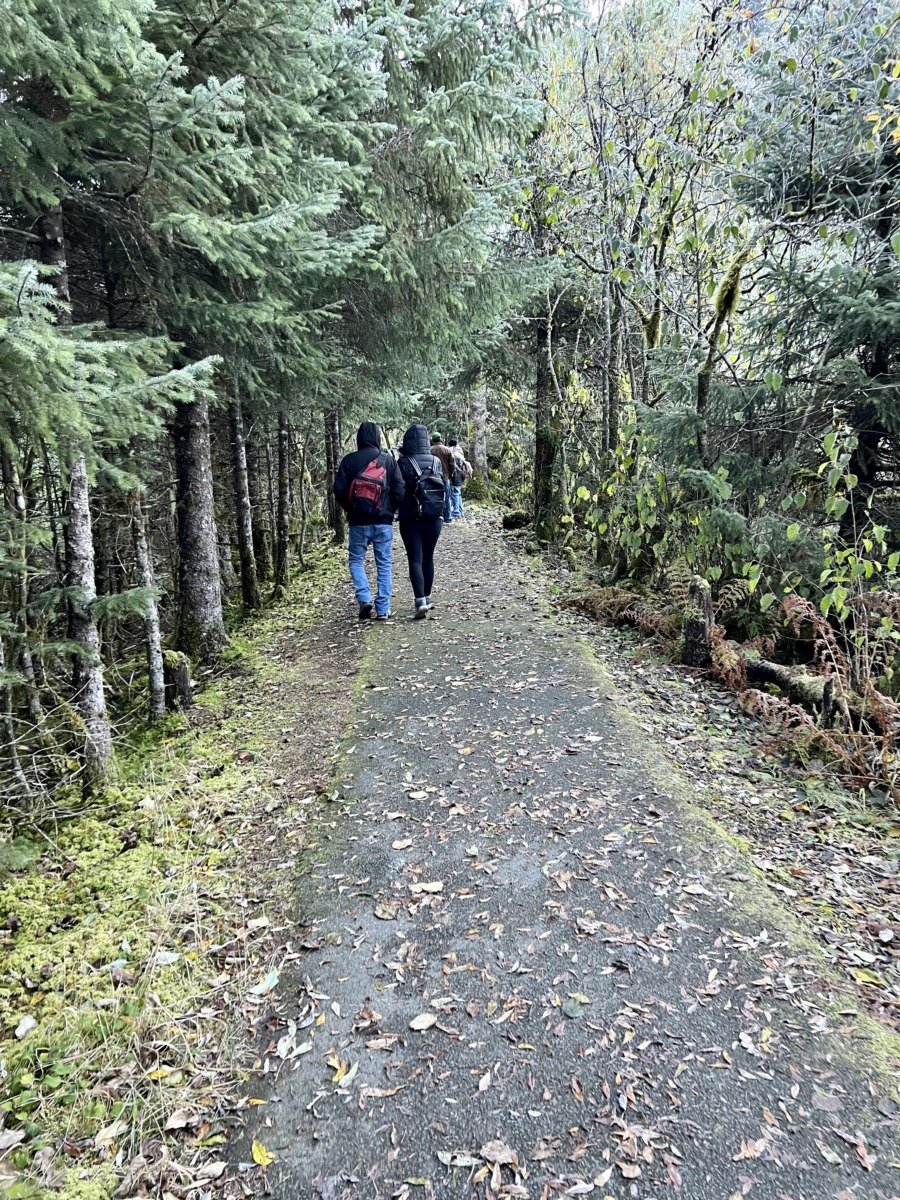 We parked in a remote gravel lot to begin a hike along the Trail of Time.
Etched stones along the trail indicate former locations of Mendenhall Glacier as it has retreated through the years.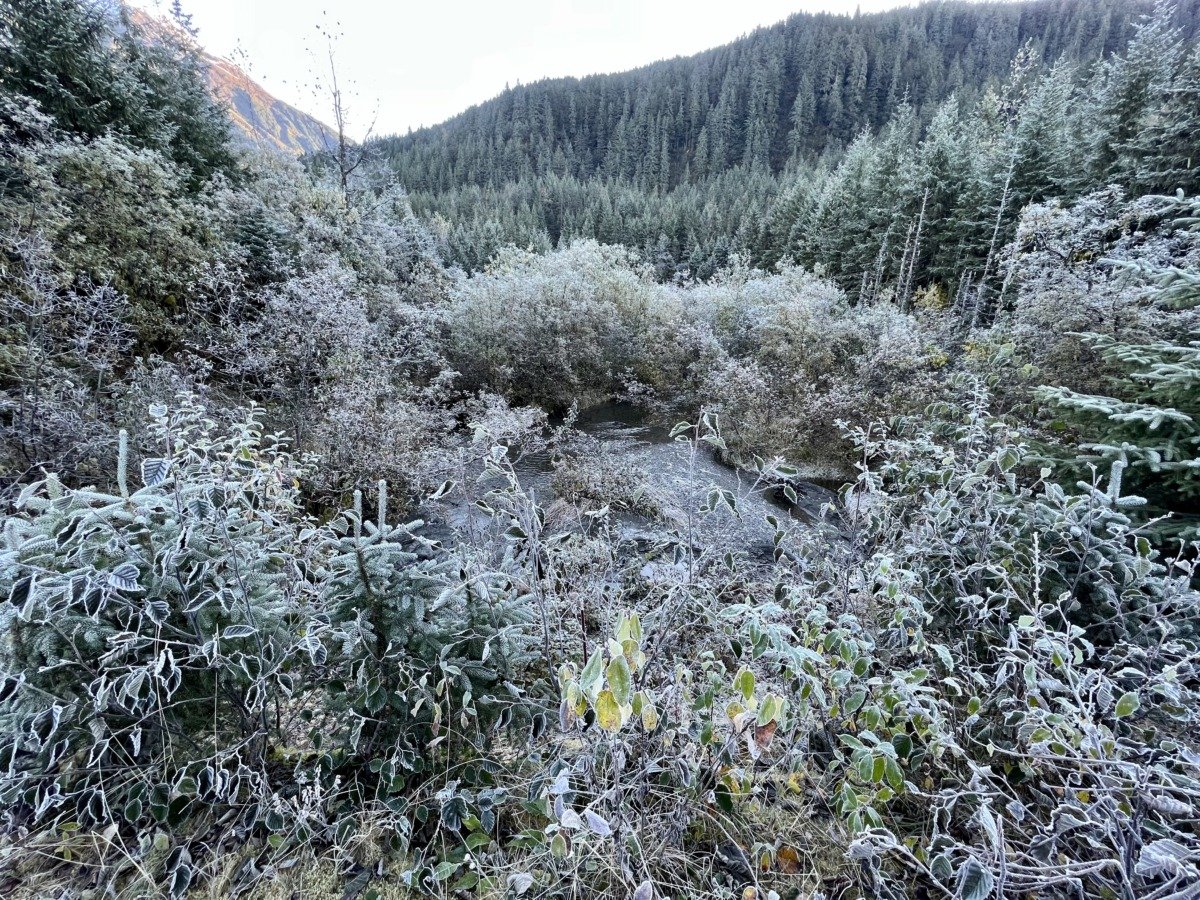 Forests of alder, Sitka Spruce, and Western Hemlock now inhabit spaces formerly buried beneath glacial ice.
A frosty rime blanketed fiddlehead fern and every leaf in sight.
We crossed a bridge that spans Steep Creek, a stream fed by rainfall and snowmelt. For spawning, salmon require clean, fresh, fast-moving water, not silty glacial water. Our guide informed us that this point was the end of the line for salmon on this creek due to the impassable steep waterfall.
We spotted two live salmon, a rare occurrence this late in the season.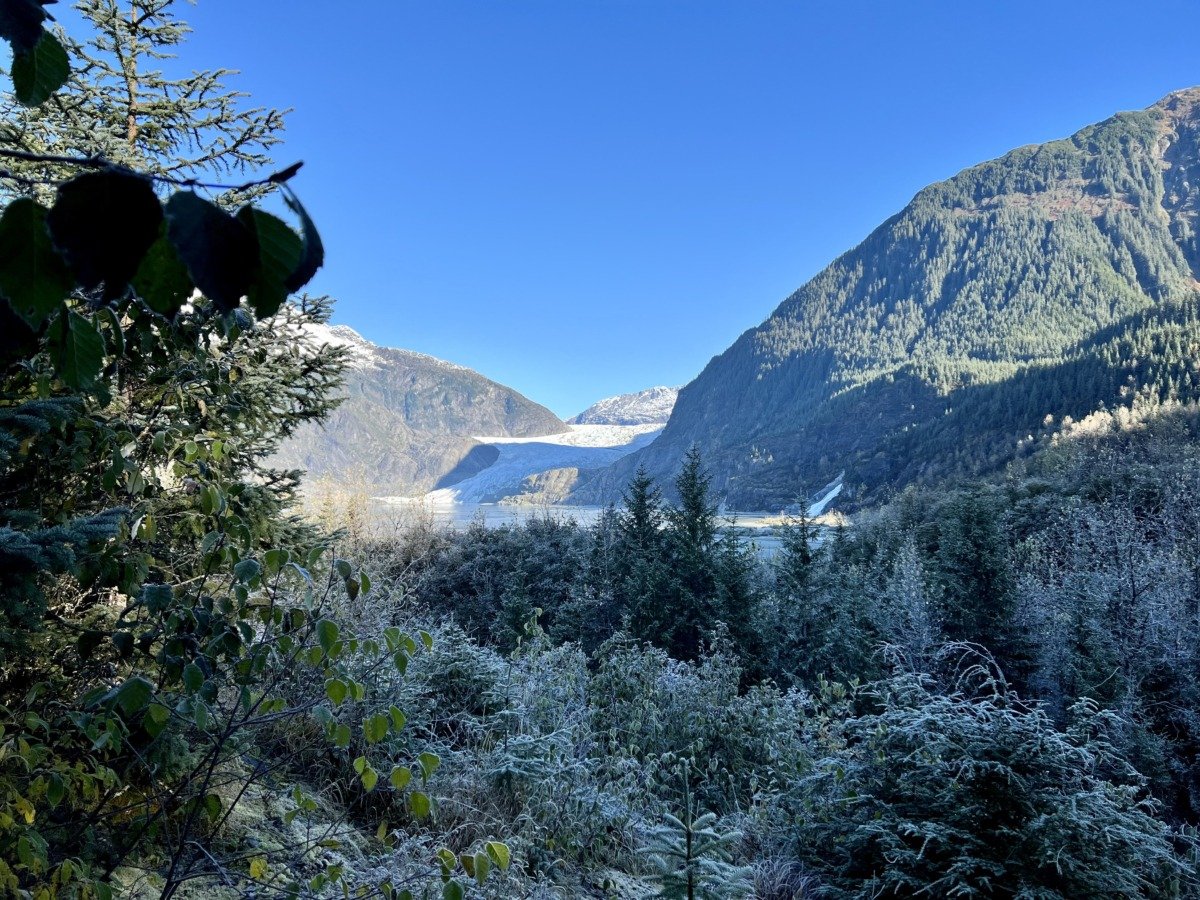 We rounded a bend in the trail and caught our first view of Mendenhall Glacier and Nugget Falls, fed by a melting tributary glacier.
I inhaled the beauty of this sweeping view.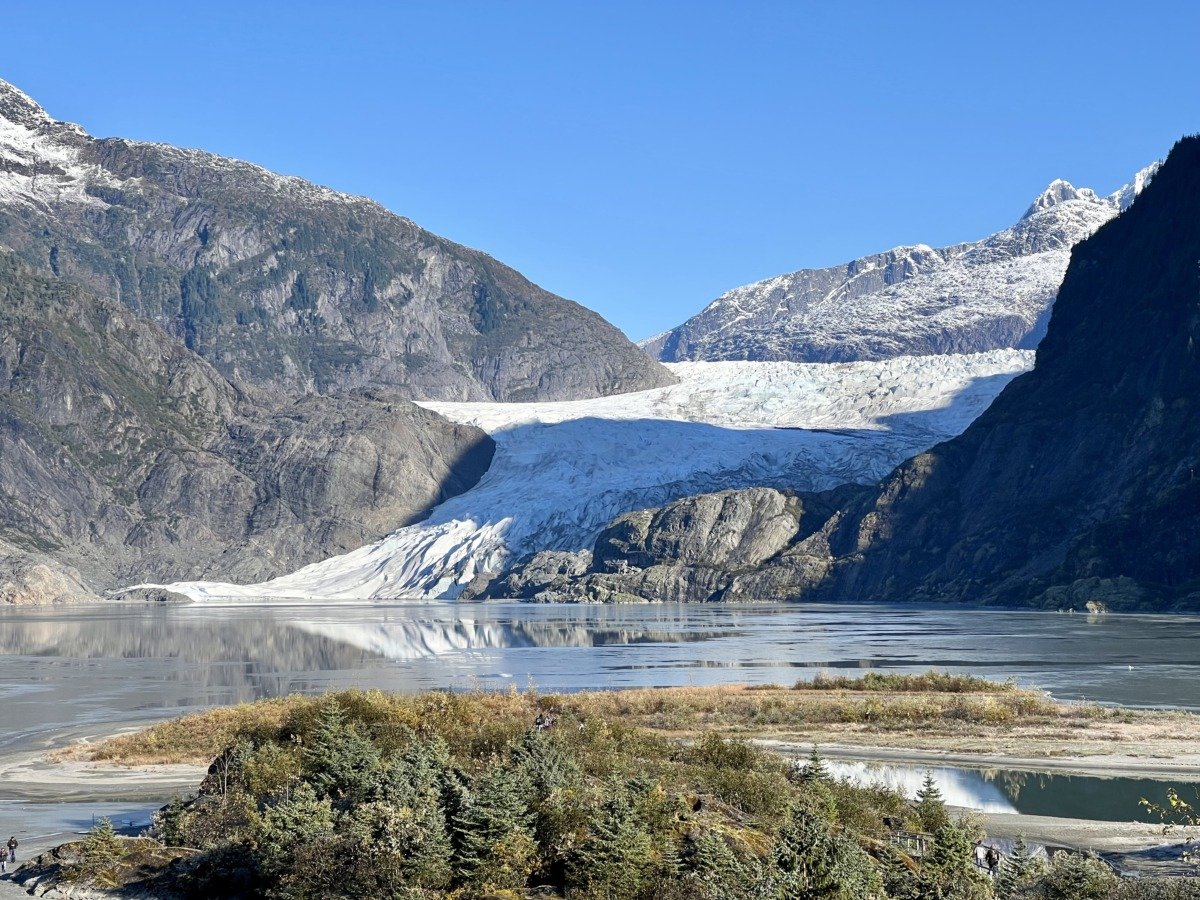 Currently 13.6-miles long, Mendenhall Glacier continues to retreat about 50 feet per year, an unfortunate result of global warming.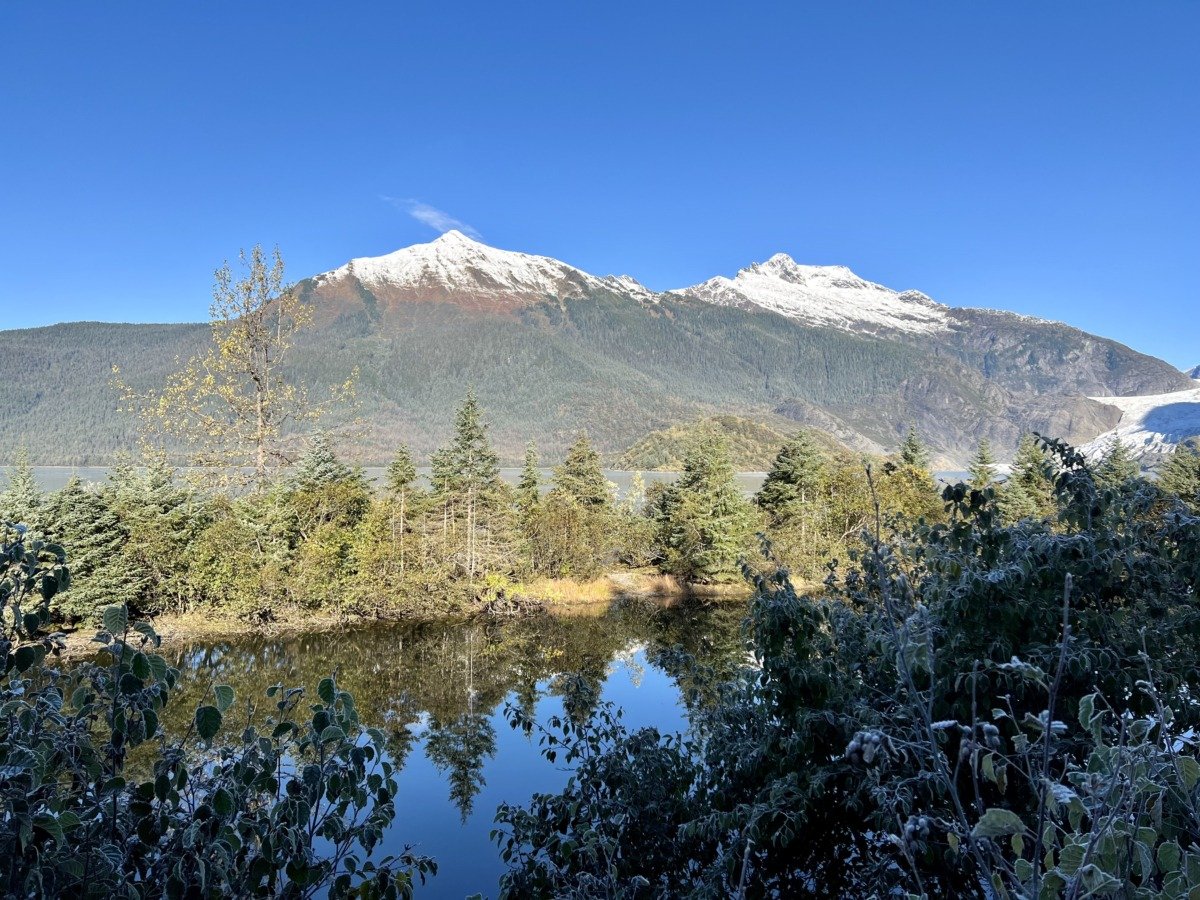 The melted waters of Mendenhall Glacier and Nugget Falls flow into Mendenhall Lake, then into the Mendenhall River, and ultimately into the Inside Passage.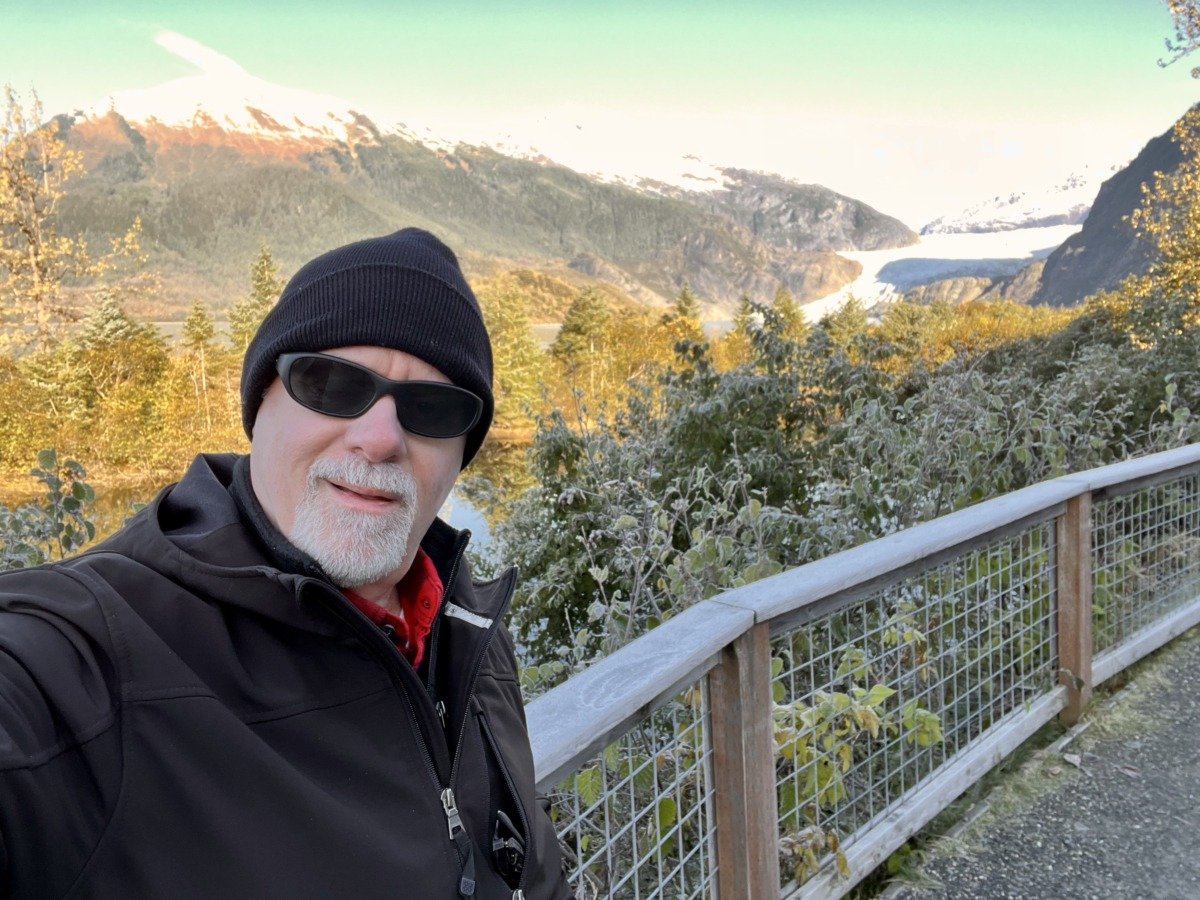 I regret not being able to hike the Nugget Falls and Photo Point trails for a closer look, but as a tour group member, that was not an option.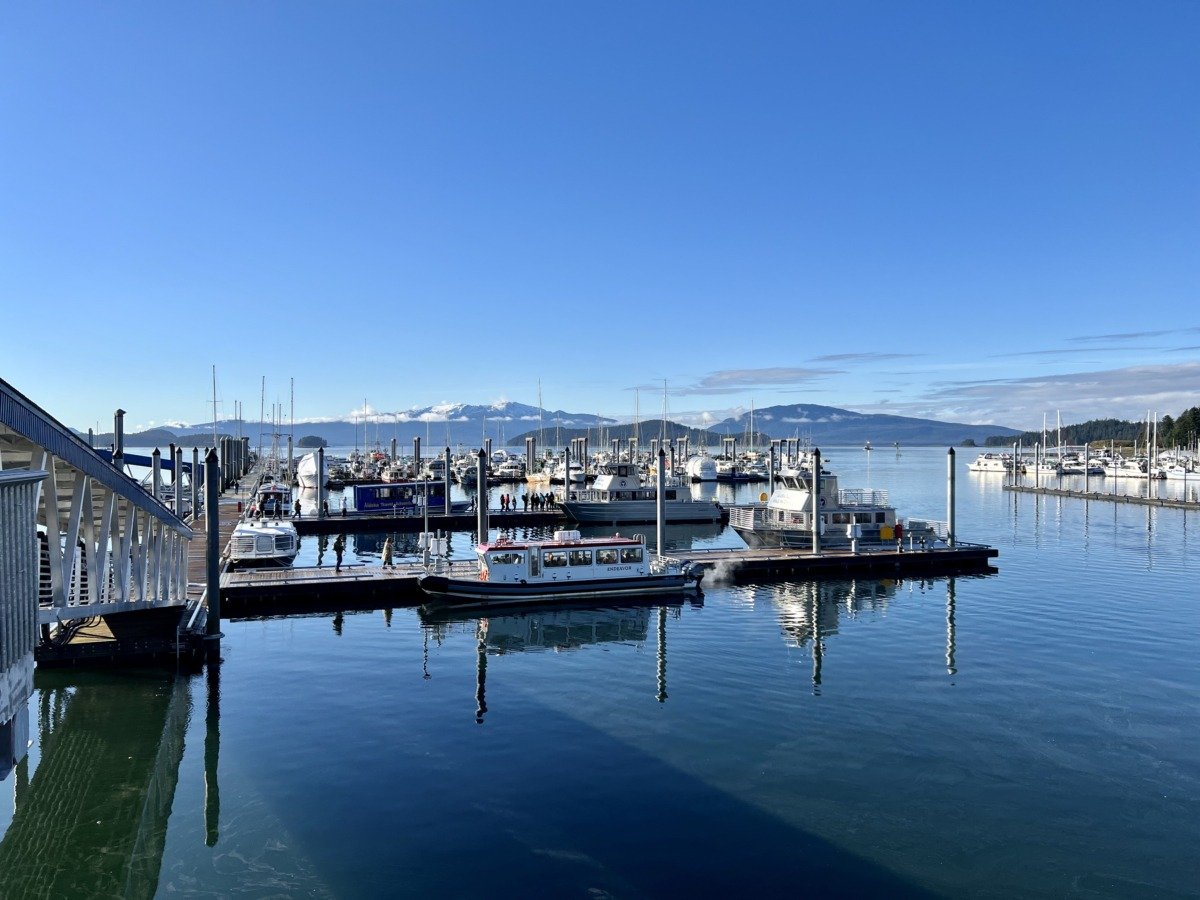 We loaded up and drove to Auke Bay Harbor to board the boat that would carry us on a whale-watching tour.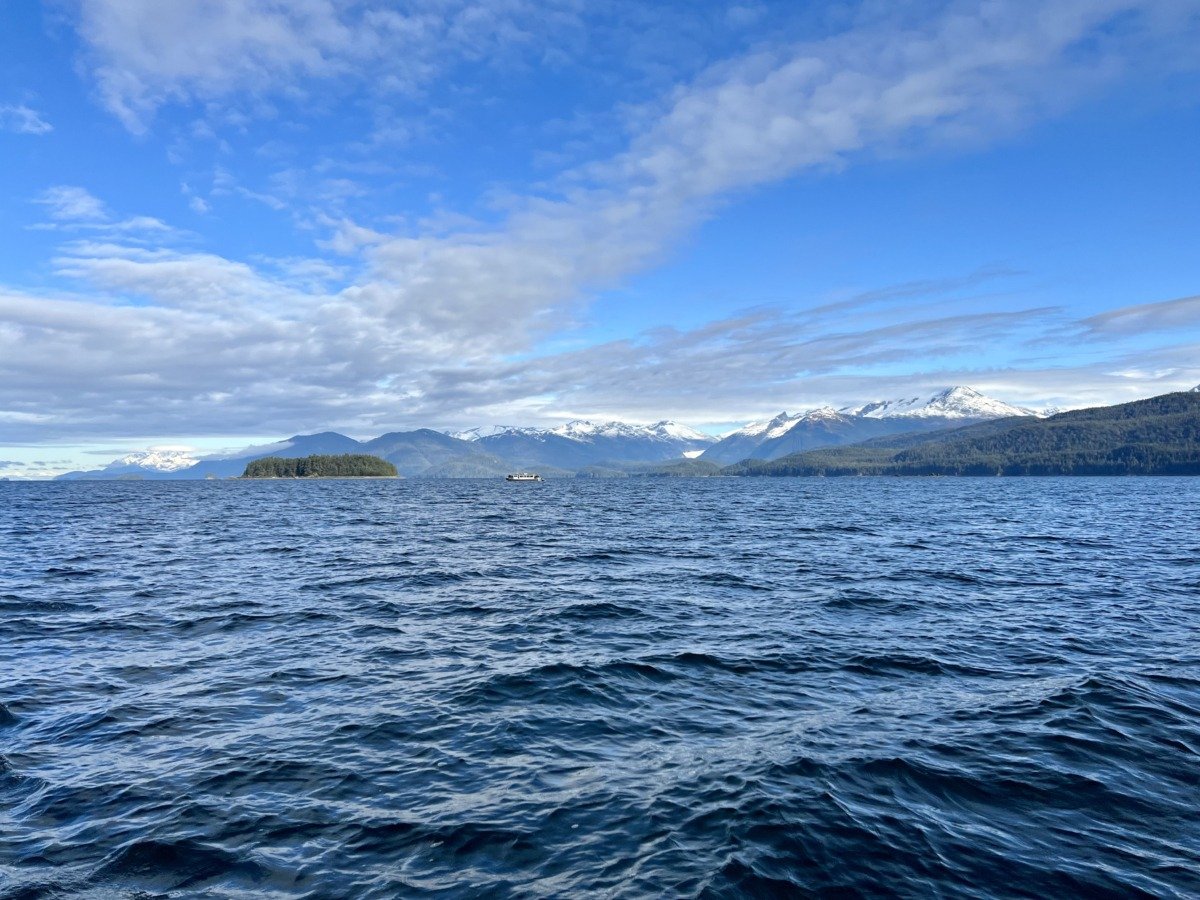 Mountains, glaciers, and forests were a stunning backdrop as we sped into the choppy waters of Favorite Channel.
A few years back, when I embarked on a whale-watching excursion in Iceland, there had been only a few distant sightings. Would we have better luck on this late-season Alaska tour?
We would, and we did.
It is difficult to capture quality photos of whales with an iPhone, because they disappear before you can frame your shot. I decided to point my camera in the general direction of whale-sightings and shoot consecutive 30-second video clips. I ended up deleting tons of useless footage later, but I got lucky with a few of my clips.
Our first sighting was a humpback whale blowing in the distance.
This video is pretty crappy, but I was happy to capture a female humpback whale believed to be Sasha display her tail flukes.
A shoal of Dall's porpoises skittered along the surface creating sprays of water called "rooster tails." You can't tell in this video, but their black and white markings resemble the coloration of killer whales.
From out of nowhere a bull orca appeared and started showing off. Early on, he surfaced a few feet from our boat. When I saw that huge dorsal fin extend out of the water, my heart started pounding, and the Jaws soundtrack began playing in my head, even though I knew he was not a a great white shark.
I was struck by how this male killer whale's dorsal fin did not flop over like the fins of Shamu and other whales I had seen at Sea World decades ago.
Later on, I captured this moment. Wait for it . . . .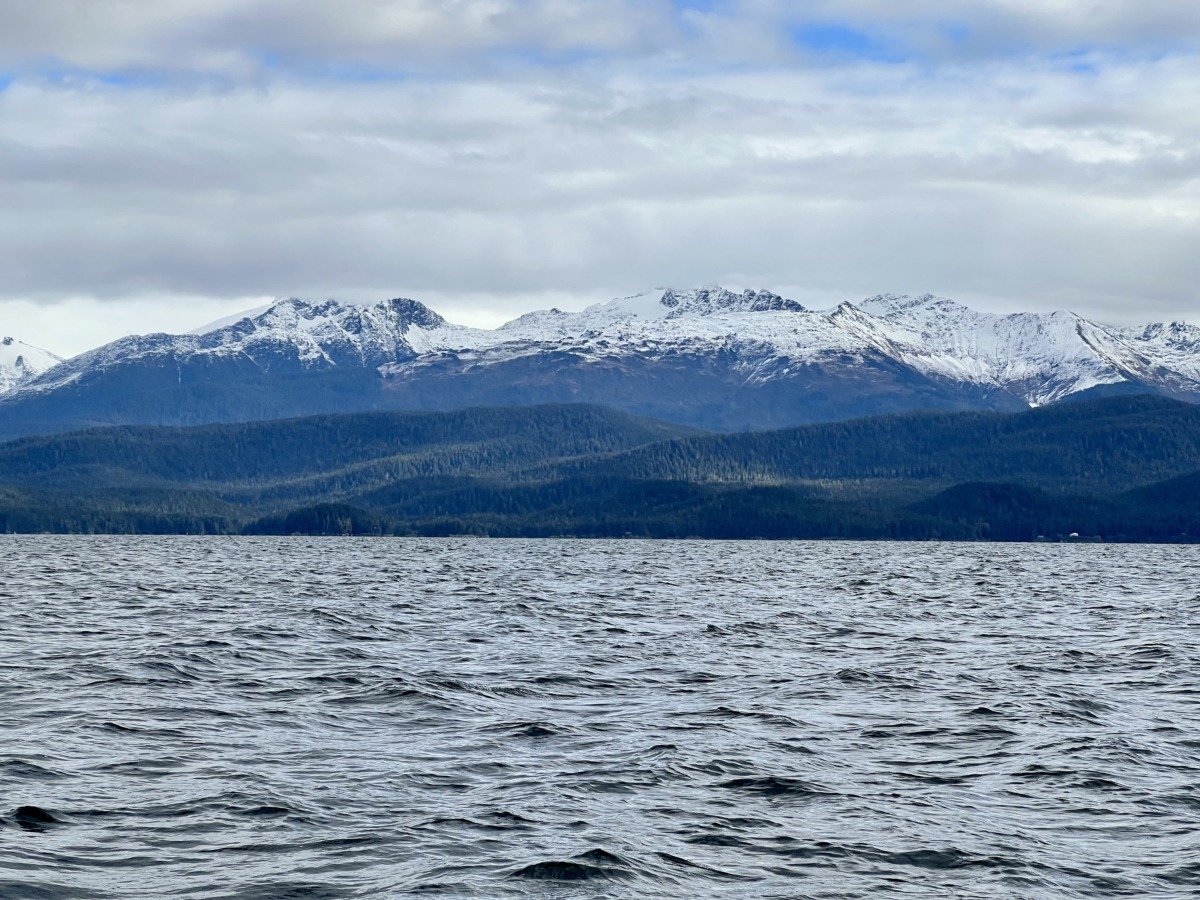 The whale-watching segment of my Photo Safari excursion was a memorable experience, although not nearly as impressive as a shipmate's video I viewed later of a humpback bubble-net feeding frenzy in the waters off Icy Strait Point.
You can bet I will opt for that excursion on my next Alaska cruise.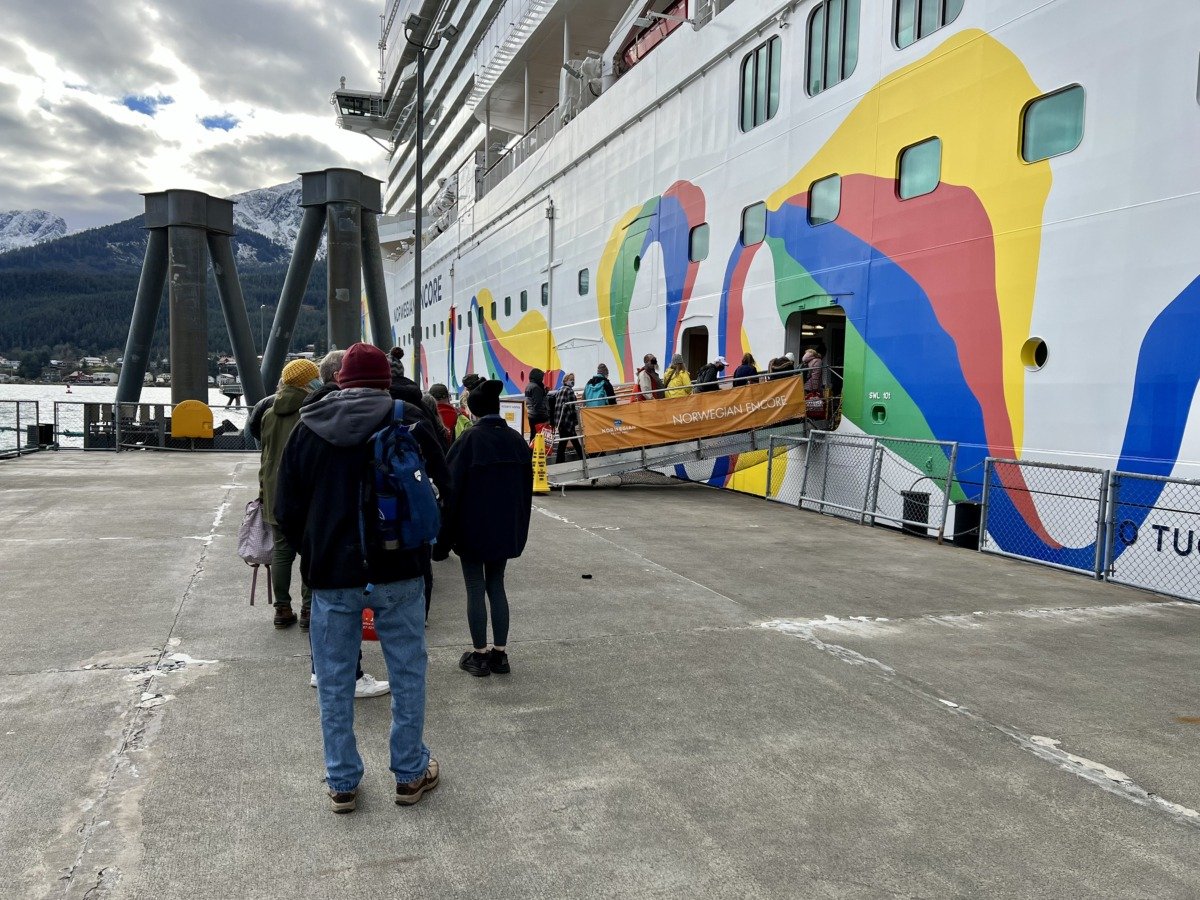 It was time to head back to shore, and soon we joined other guests to board our beloved Encore.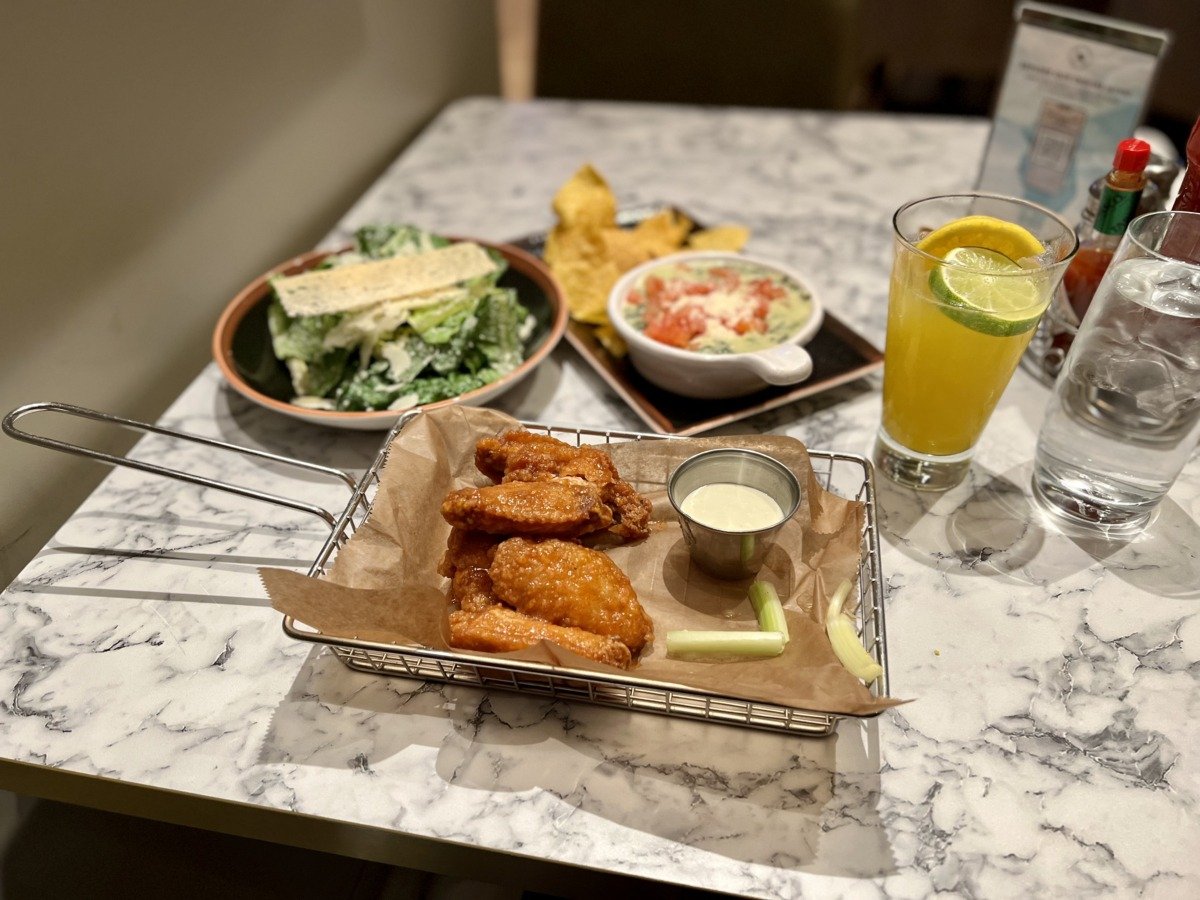 I returned to my favorite nook at The Local for a late lunch that included spinach-artichoke dip, a Caesar salad, buffalo wings, and a perfect margarita.
A few hours later, I joined my friends for dinner at Onda by Scarpetta, where I enjoyed a Pappardelle Bolognese entree.
---
Day 6: Ketchikan, Alaska
---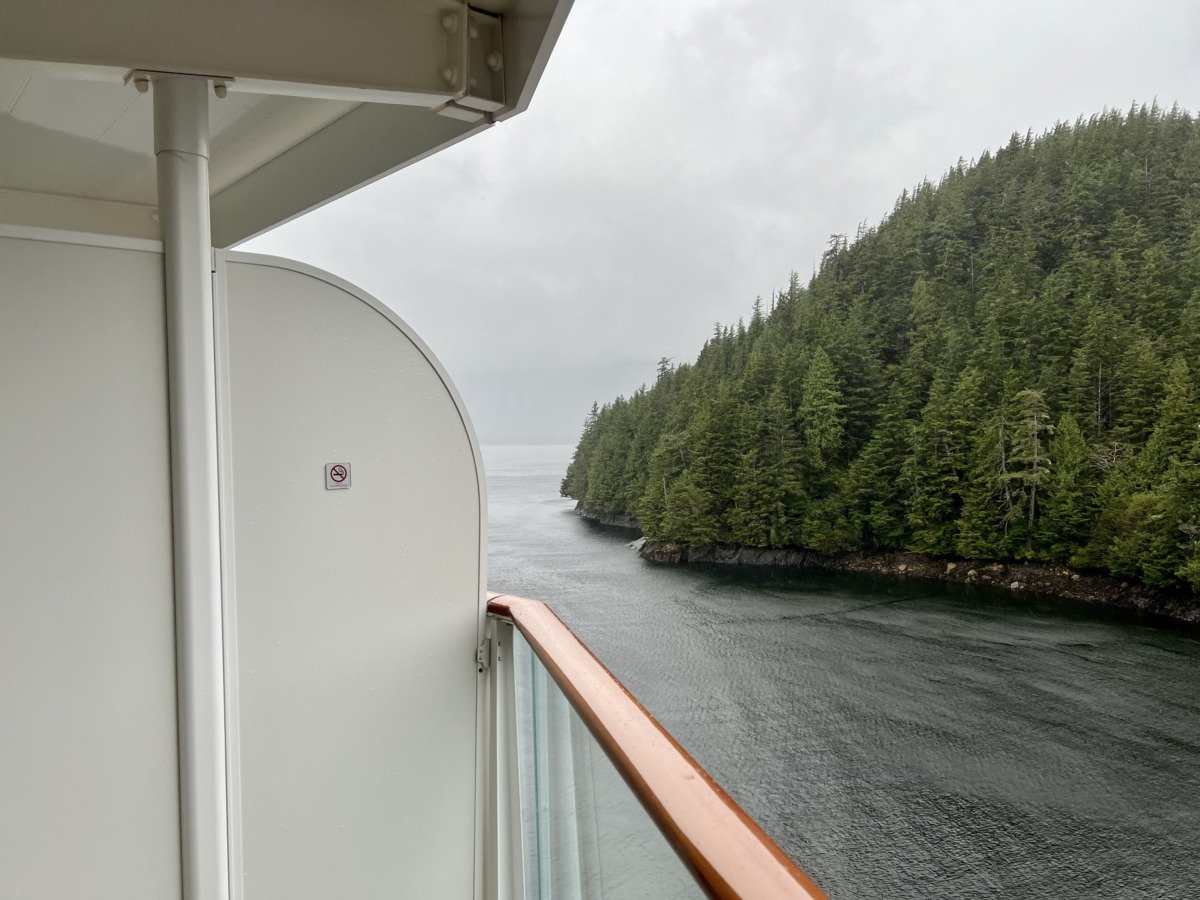 On Day 6, I awoke to clouds and rain in Ketchikan.
I am a pluviophile, so I love the rain. But when you are a travel photographer, gray skies can be disappointing.
Even so, I couldn't complain. October is the rainiest month in Southeast Alaska, but we had enjoyed unseasonal blue skies for three days straight at Icy Strait Point, Glacier Bay, and Juneau.
I remain eternally grateful for that gift.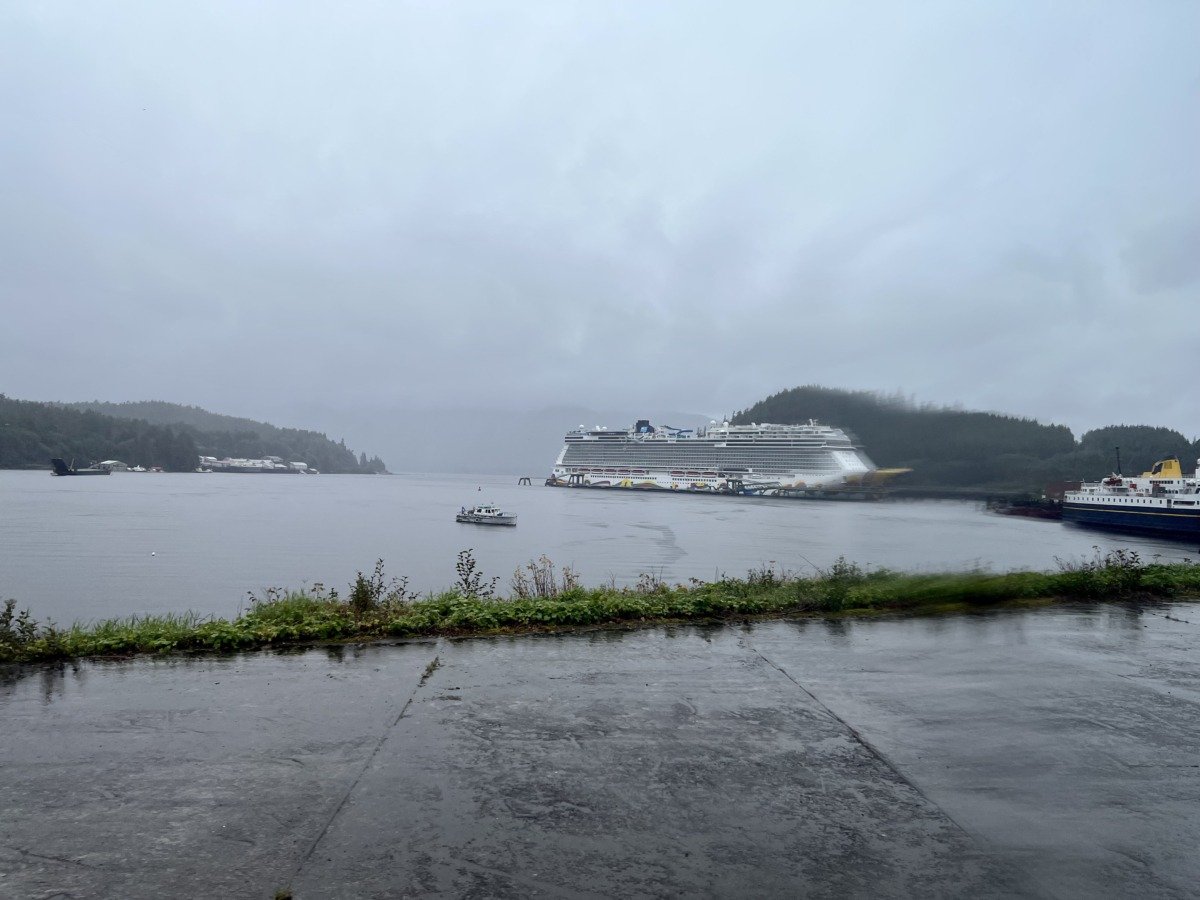 I had not booked an excursion for Ketchikan, planning to take a public transit out to Totem Bight State Historical Park. Because there were no storms, I decided to proceed with my day as planned.
I took the shuttle from Ward Cove into town to begin my adventure.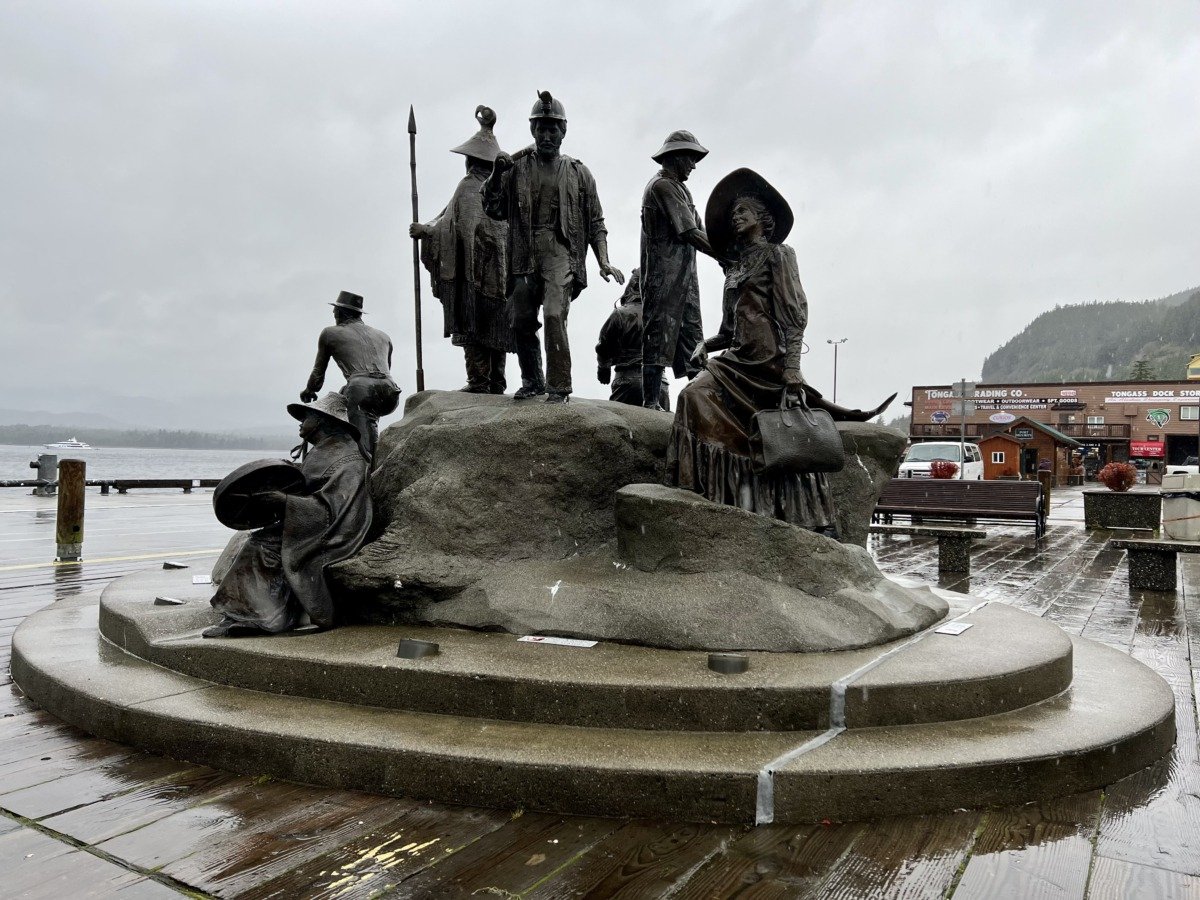 A monument called "The Rock" is situated just outside the visitor center.
Seven life-sized bronze sculptures depict characters who played roles in the development of Ketchikan: Chief Johnson, a logger, a fisherman, a miner, an aviator, a native elder woman, and an elegant lady.
Where I live in Central Florida, I do not use public transit. When I visit larger cities, rather than try to decipher timetables, I have been learning to use Google Maps for subways and buses. In Ketchikan, the app worked like a charm. The bus fare was only $2, each way, but I learned bus drivers do not make change.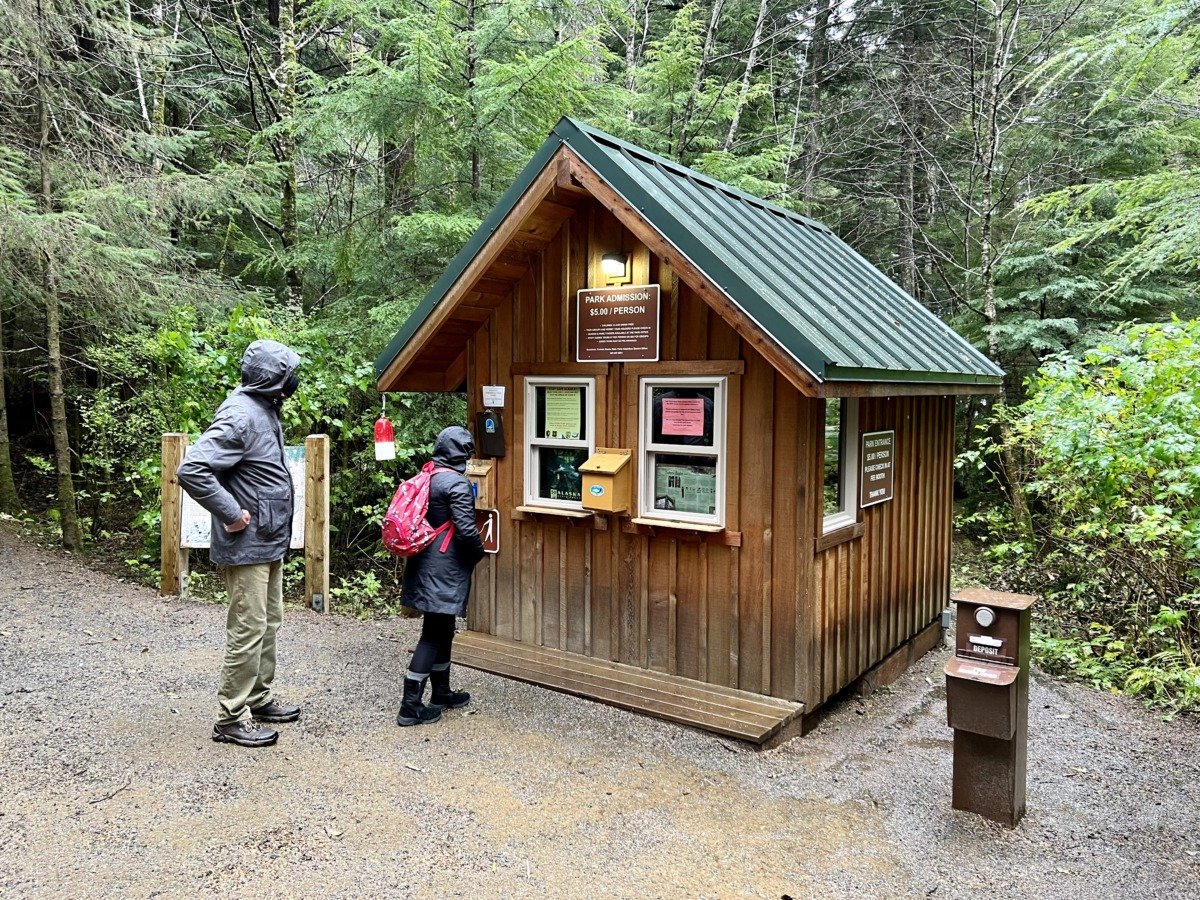 Near the state park fee booth ($5 adults), I met up with a couple who were also guests of the NCL Encore. We decided to tour the park together.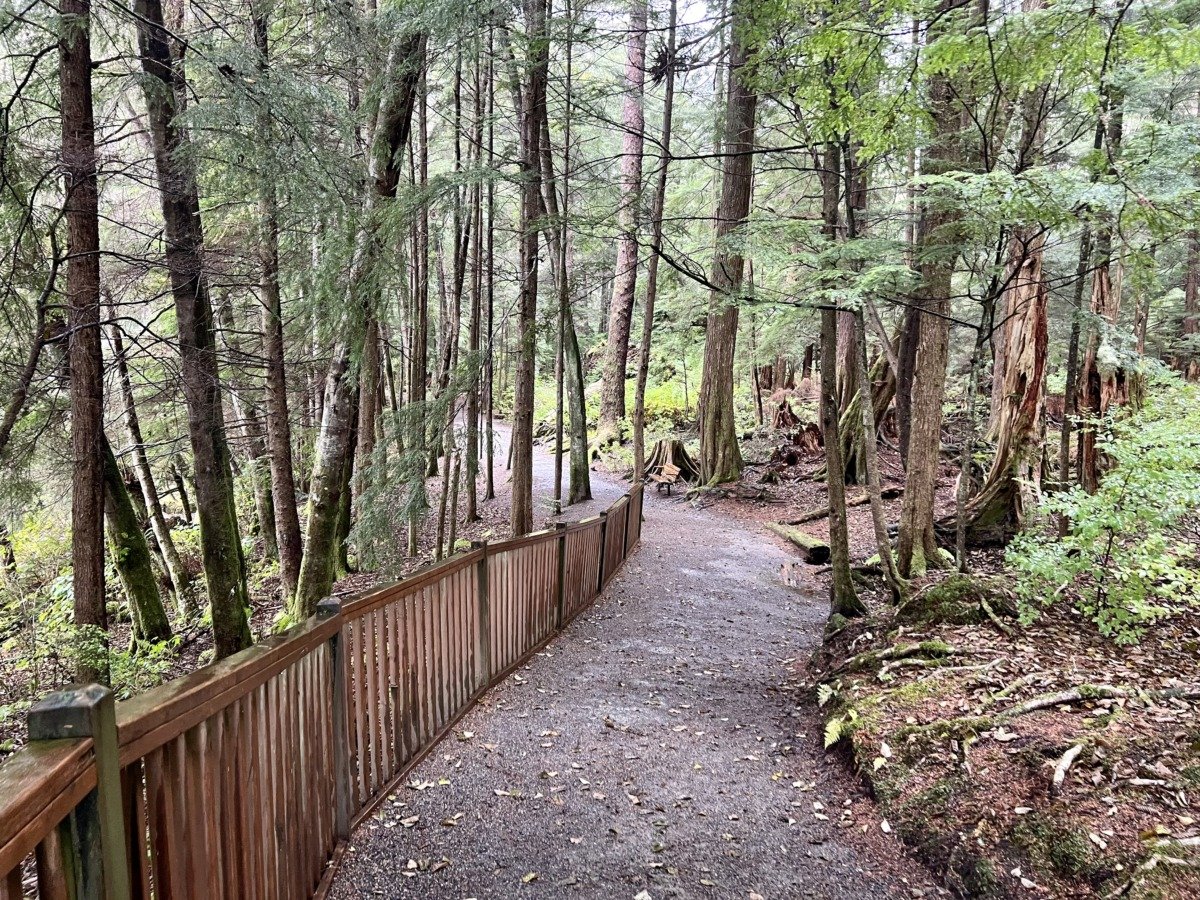 With its .5-mile loop trail and abundant interpretive panels, self-guided tours of the park are a breeze.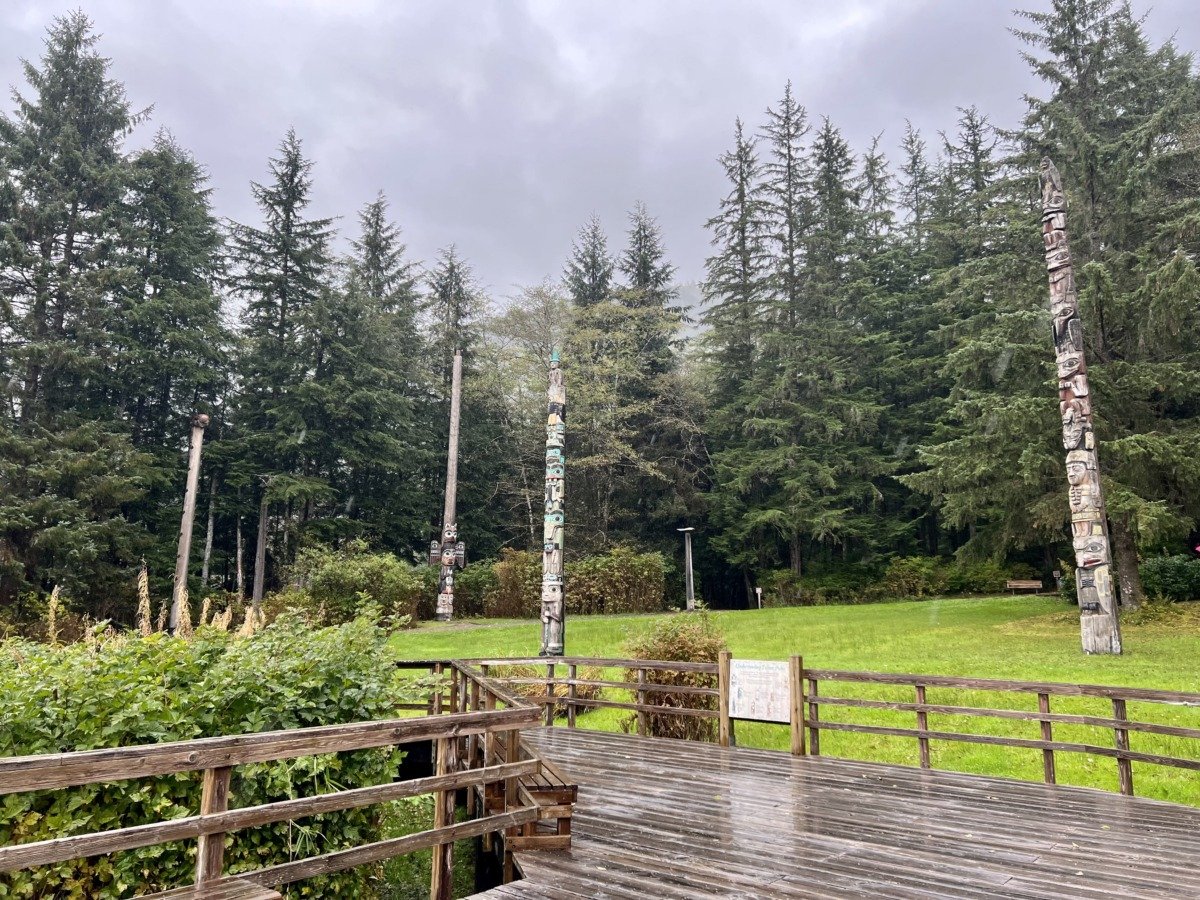 In my travels across the country, I never cease to be amazed by the incredible development of federal lands during the 1930s and 40s by the Civilian Conservation Corps. Totem Bight is one of those properties.
With villages on the decline, the CCC enlisted skilled Native carvers and artisans to create 15 replica poles from fresh cedar logs by copying decaying totem fragments.
Although highly decorative, Tlingit and Haida totems are even more valued for the stories they tell. Creators would typically present their poles and tell their stories at a ceremonial feast called a potlatch,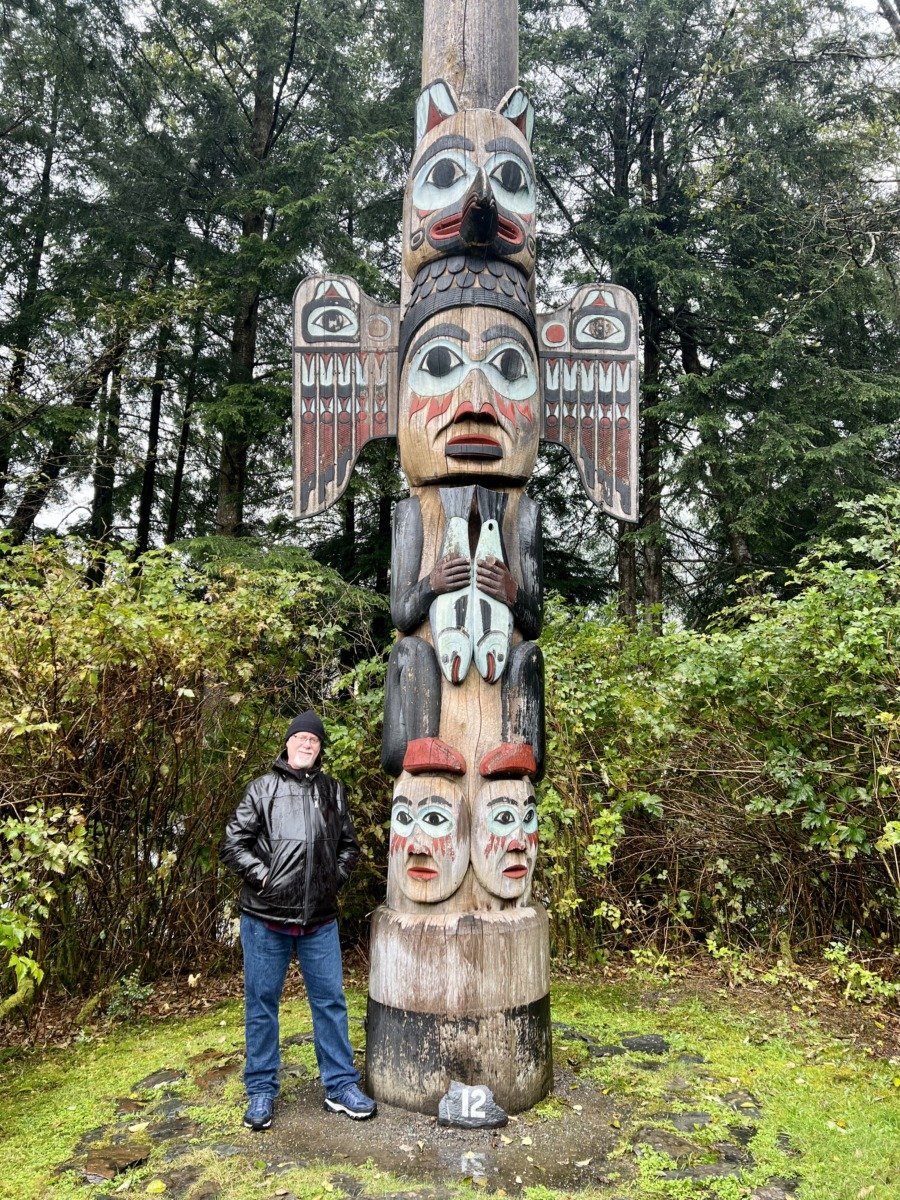 The Kadjuk Bird Pole is one of the tallest totems in the park.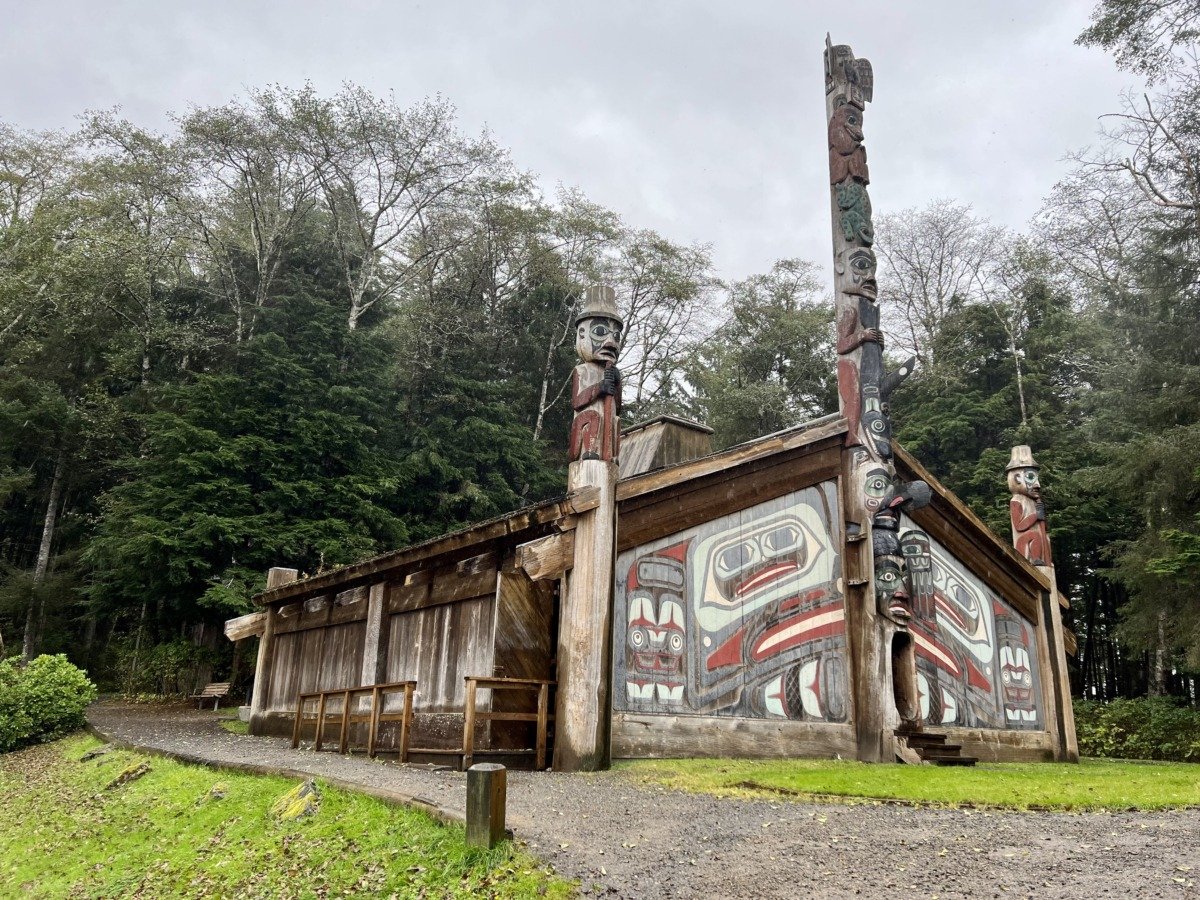 An early nineteenth-century clan house replica is the park centerpiece.
Dwellings such as these would typically house thirty to fifty people. Family groups with a shared lineage were allotted separate spaces around a communal fire pit.
On the return bus trip to Ketchikan, some cruise guests proceeded to the Totem Heritage Center where rare original poles are preserved and displayed.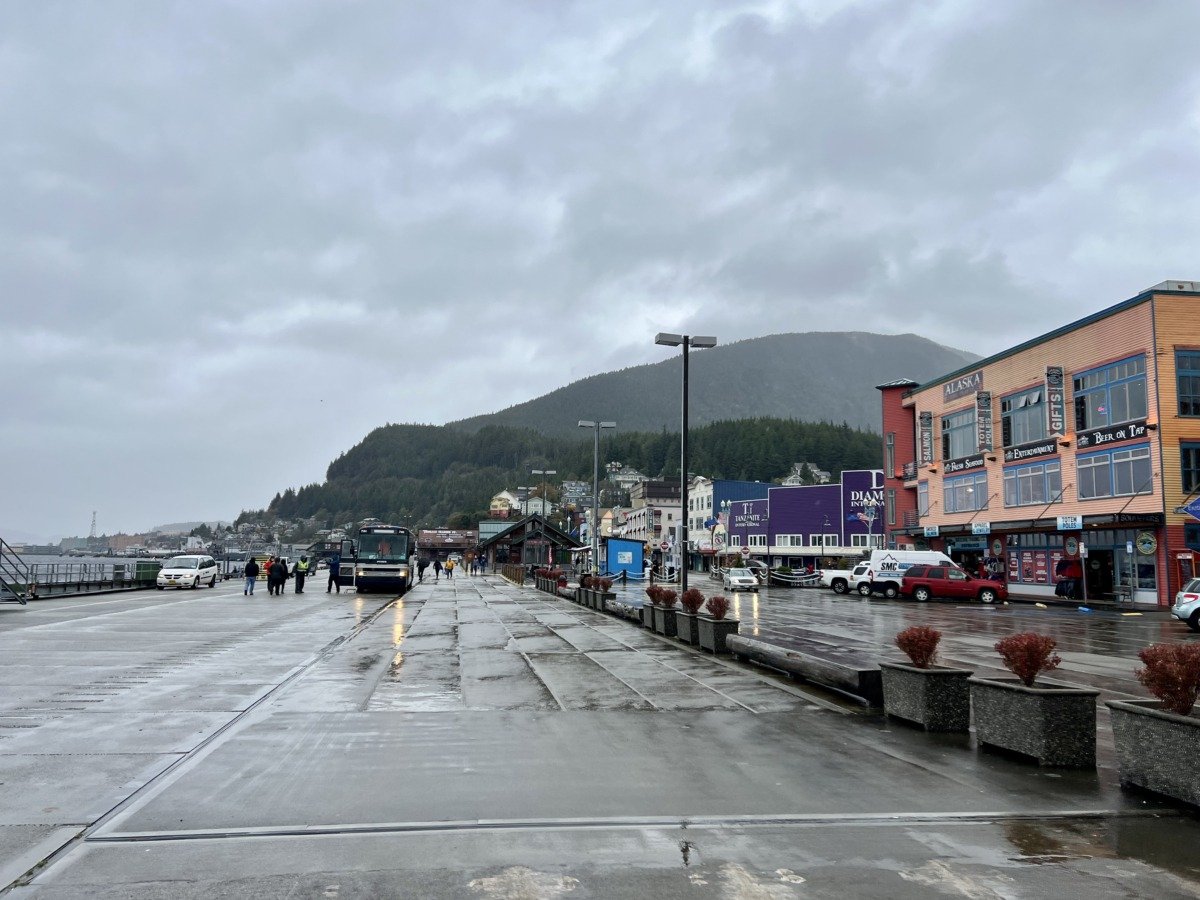 I continued to the waterfront where the wind was starting to pick up, and so were the lines of cruise guests. Fortunately, shuttles to the ship just kept on coming.
A late lunch of chili and fish & chips were a warm welcome in my favorite corner of The Local.
---
Day 7: At Sea
---
I was back at The Local for breakfast the morning of Day 7. It would be a day at sea, as the Encore sailed back to Seattle.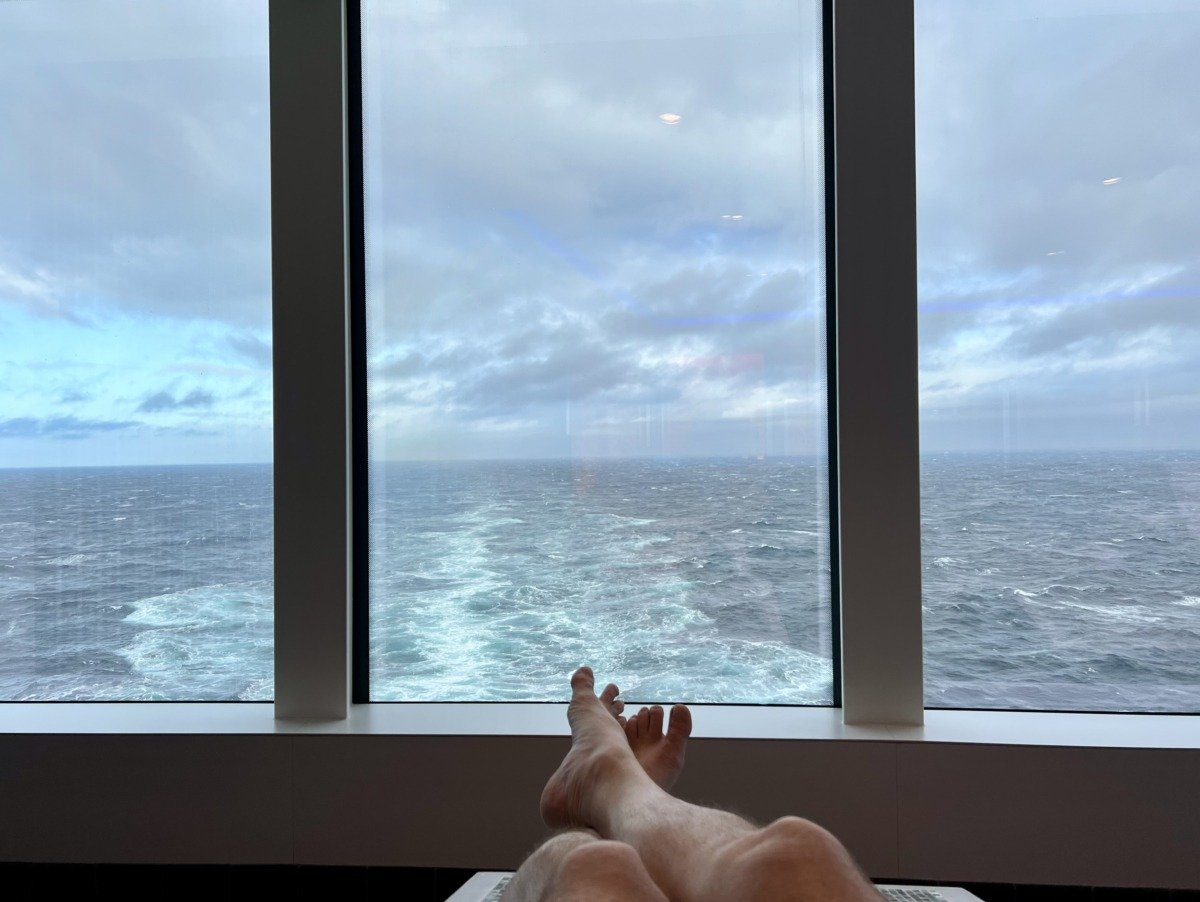 I met up with my friends Steve, Peg, and Nancy at the Mandara Thermal Spa. As you may recall, they had gifted me a day pass for my birthday, and I knew the final day at sea would not be interrupted by a port excursion
The Mandara Spa features a variety of co-ed saunas, steam rooms, heated stone loungers, a thermal vitality pool, and a hot tub. There are no single-sex spa facilities on the Encore.
The spa also offers an extensive menu of fee-based spa treatments and services.
The adjacent fitness center and locker rooms are complimentary amenities for all ship guests.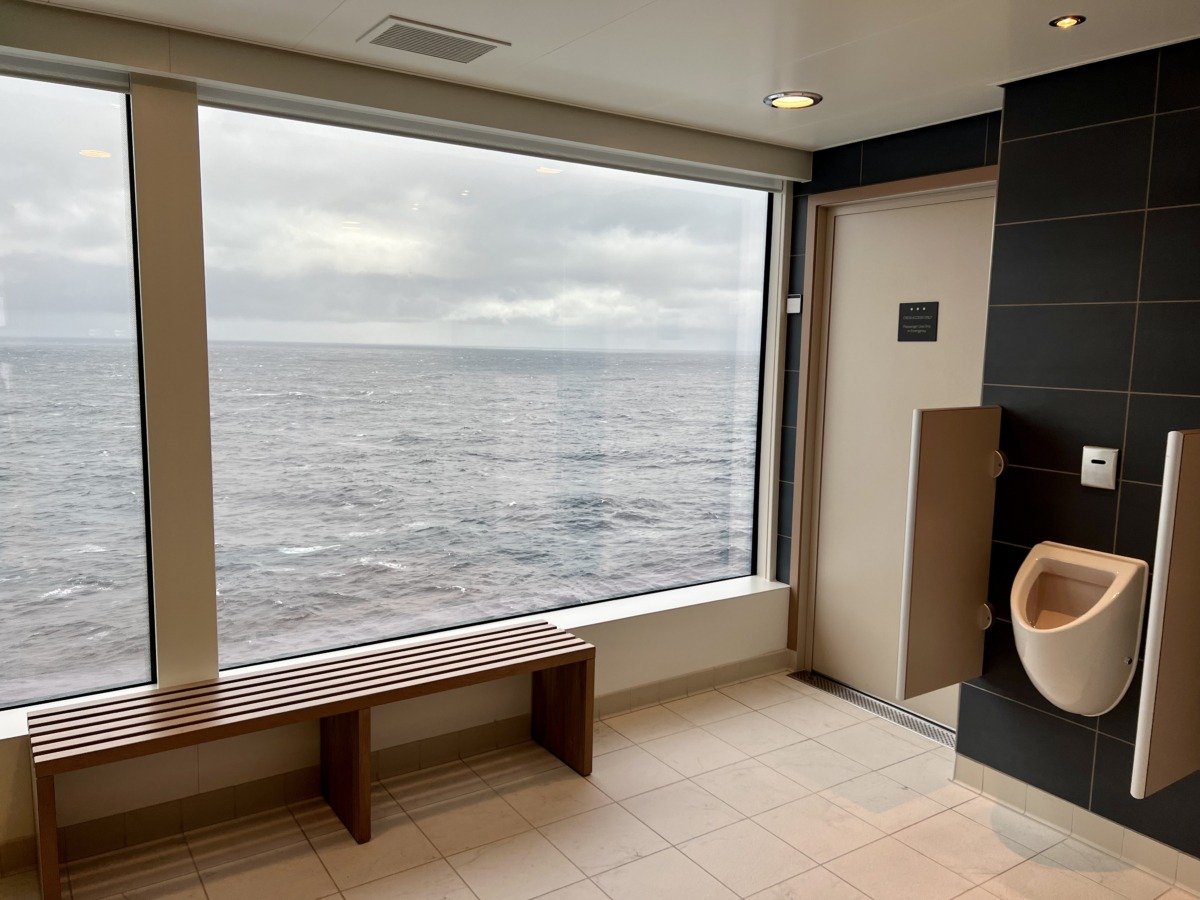 The 12-year old boy that lives inside me was intrigued to discover that in the men's locker room you can pee at sea with a picture window.
After a morning of relaxation, we enjoyed lunch at Food Republic, a specialty restaurant featuring Asian-fusion cuisine.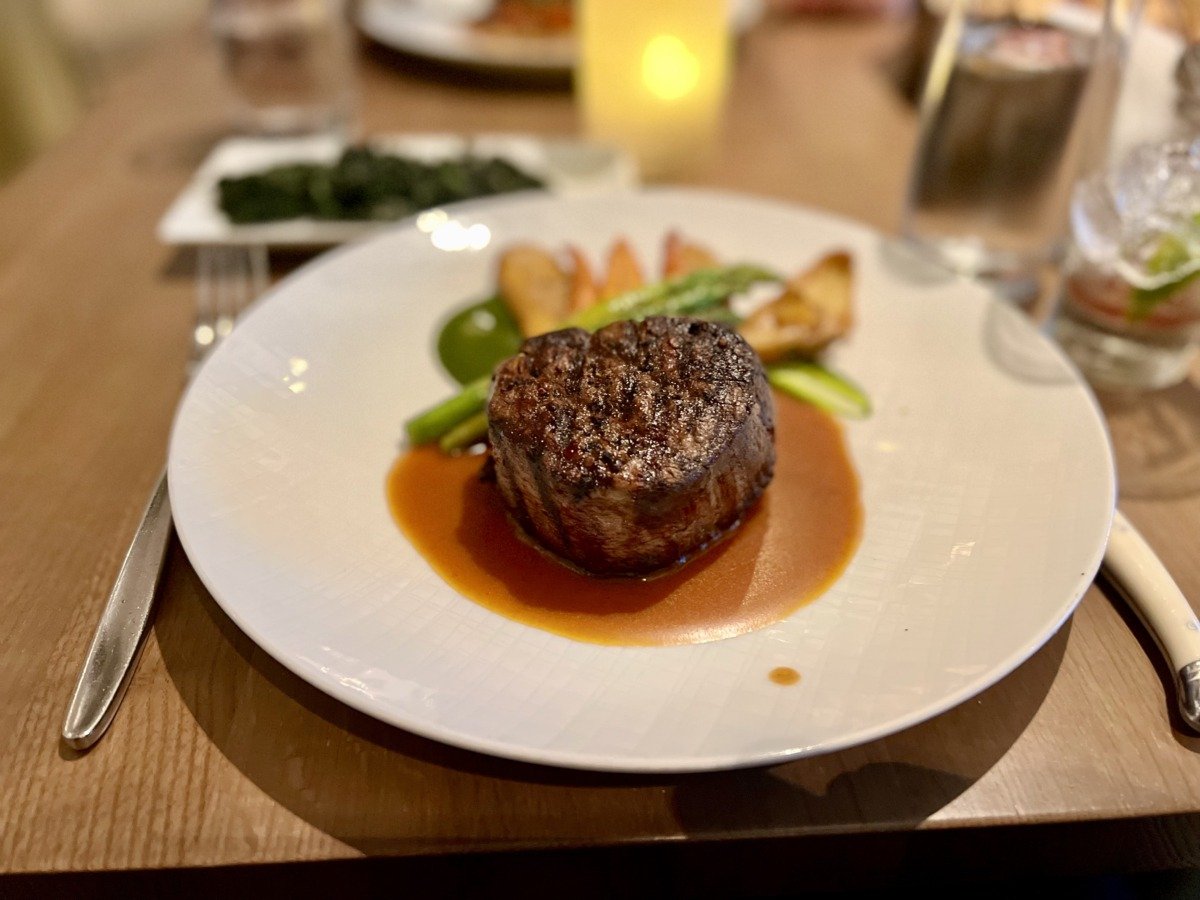 For dinner we met up again at Onda by Scarpetta, where I enjoyed another perfect filet mignon.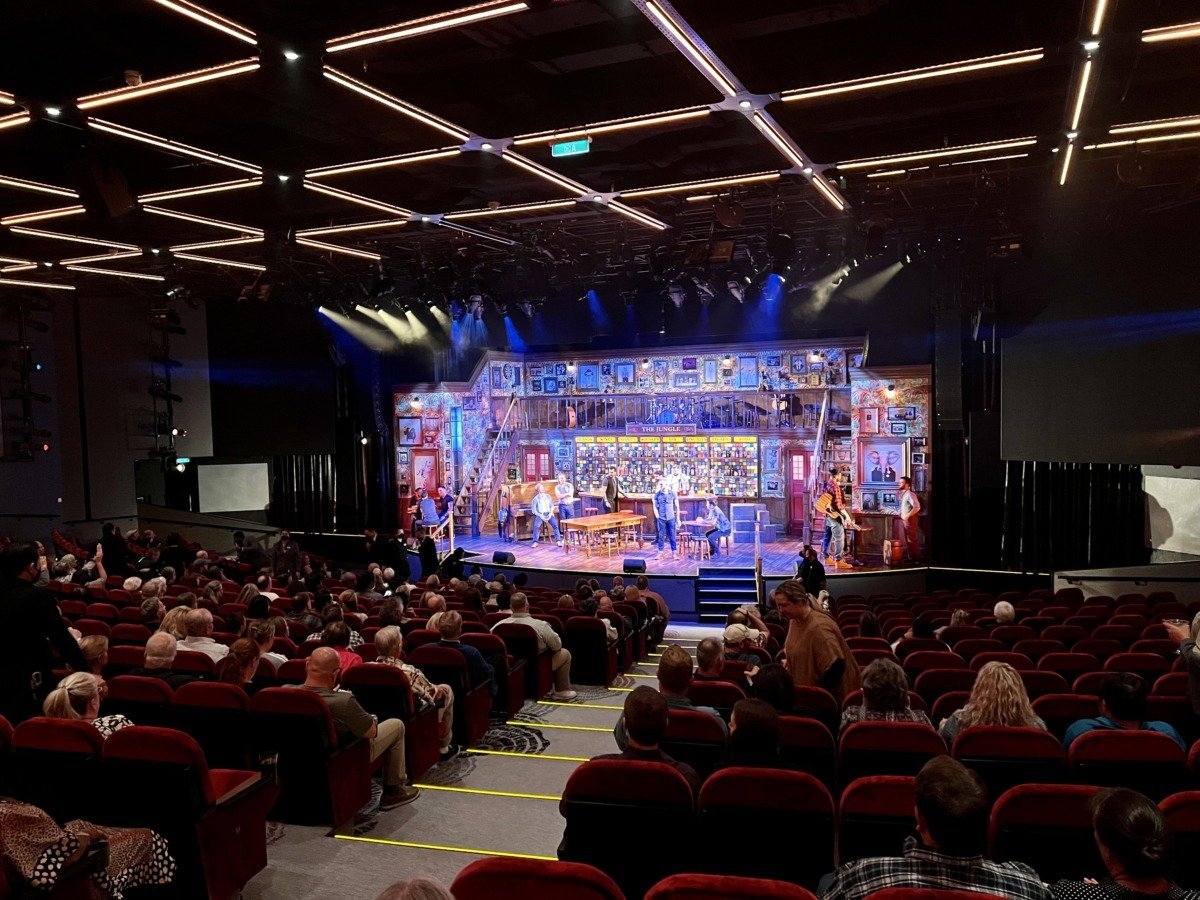 Many guests were disappointed to learn that the Broadway musical Kinky Boots had been cancelled for our itinerary. However, the Choir of Man performance in the Encore Theater on the last night of our cruise could not have been more fun. The show features an all-male cast dancing and singing classic rock covers, pub tunes, and sing-alongs.
I have a recurring fear that on ocean cruises I will get bored during days at sea. Yet I never have. There is so much to do aboard NCL cruise ships even without port excursions. There are venues to explore, restaurants to sample, and the Freestyle Daily bulletin lists a packed slate of onboard activities. If you need some alone time, you can take a nap or retreat with a good book to one of the ship's many private nooks and crannies.
---
Day 8: Seattle, Washington (Disembarkation)
---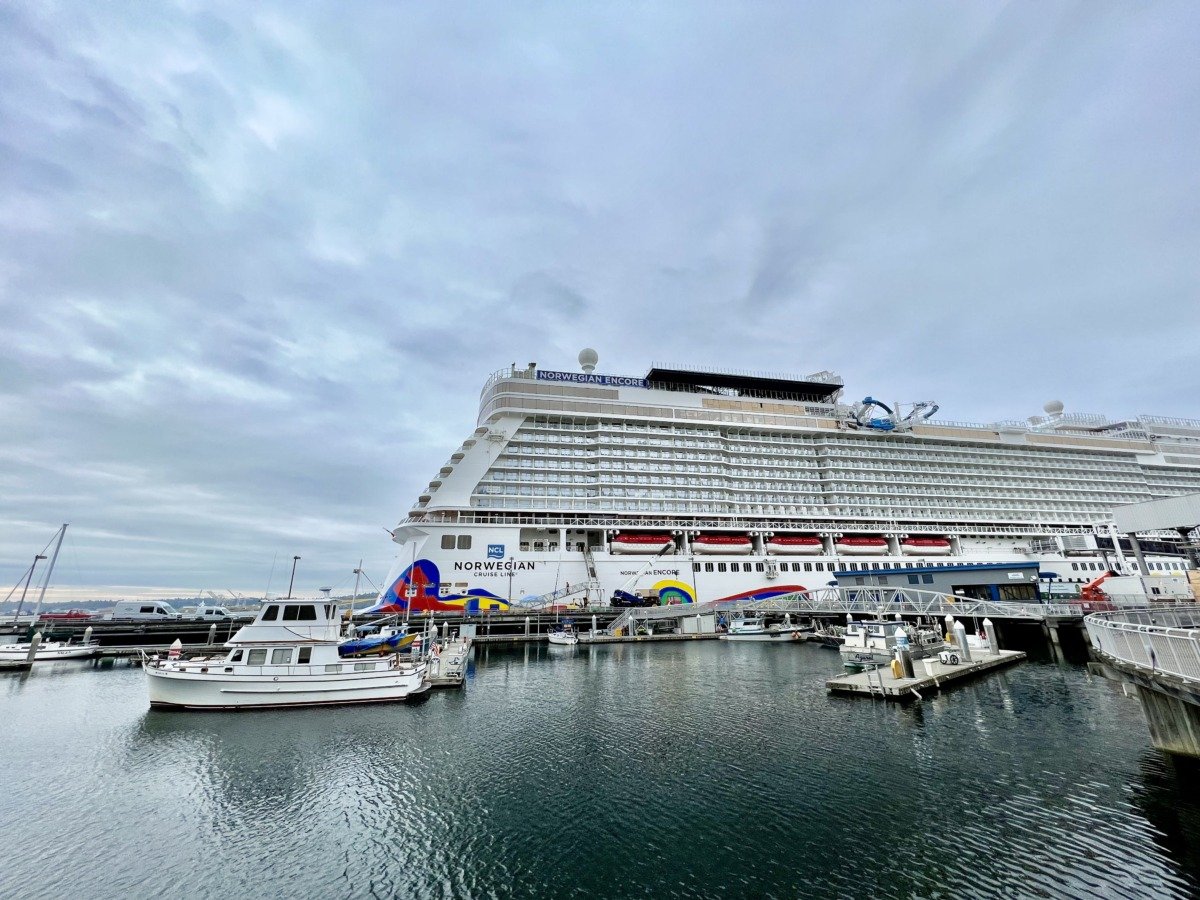 I awoke in the Port of Seattle on the morning of Day 8 and headed to my final breakfast aboard the Encore at the Garden Café. My flight home was booked for the following day, so I was in no rush to leave the ship.
My bags were packed, and the Freestyle Daily delivered to my stateroom the previous evening explained the disembarkation process in detail.
There is a daily onboard service charge based on stateroom category that is basically a gratuity for stateroom stewards, complimentary restaurant staff, and other support crew. Guests can pre-pay these charges or settle up at the end of the cruise. These fees are negotiable at guest services should there be a need. Recognizing crew members who provide outstanding service with cash gratuities is also encouraged and appreciated.
The mandatory time to disembark was 9:30 AM, but with breakfast out of the way and my onboard account settled, I gathered my things and headed for the gangplank around 8:00 AM.
I would walk to my hotel, drop my bags, and spend one more day exploring Seattle.
Click here for Seattle lodging options on TripAdvisor!
---
Final Thoughts
---
My experience cruising with Viking so many times had spoiled me with its inclusive value. I had to get accustomed to NCL's nickel-and-dime business plan, which is the norm with contemporary cruise lines.
When I inquired at the Encore excursion desk, I left with the impression that NCL is more focused on selling excursions than helping guests explore ports on their own. Participating port retailers pay fees and commissions for advertisements in the Freestyle Daily. They also agree to a limited 60-day guarantee on all purchases. NCL's Free at Sea promotion is a great value with limitations, and amenities vary from cruise to cruise. It pays to read the fine print when upgrading with "Free Open Bar, Free Specialty Dining, Free Shore Excursions, Free WiFi, and Free Kids."
I am a 35-year retired public school teacher, so I think it is pretty safe to say I love kids. But that doesn't mean I want to cruise with other people's children. Viking's adults-only policy contrasts sharply with NCL's marketing to families. During this time of vax-required cruises, there were few to no children on board. With the FDA's approval of vaccines for kids, I know things are about to change.
As a frequent solo traveler, the best feature of cruising with NCL is their frequent offers with reduced single supplements. For my Alaska cruise, I paid a 47% single supplement, but since then I have booked an 11-day Eastern Caribbean cruise and an 18-day Middle East cruise, both with zero single supplements. For the sake of solo cruisers everywhere, I can only pray this trend continues.
My first cruise experience with Norwegian was absolutely phenomenal! The crew, food, ship, activities, and ports were all amazing. Whether you are a seasoned cruiser or first-timer, I wholeheartedly recommend NCL for your Alaska cruise.
Be sure to check out the following NCL reviews and travelogues on Backroad Planet. Or click here to access all of our ocean cruise content.
Click here for hotel booking options on TripAdvisor!
---
I Would Love to Hear From You
---
I enjoy dialogue with Backroad Planet readers, especially when they share amazing destinations and useful travel tips. Have you ever cruised to Alaska? If so, I would love to hear about your experience. I invite you to leave your comments and questions below, and I always respond!
---
Pin this Post!
---