(a

53

minute read)
---
A collaborative review of the Island Princess cruise ship, including the pros and cons of sailing one of the oldest and smallest vessels in the Princess fleet.
---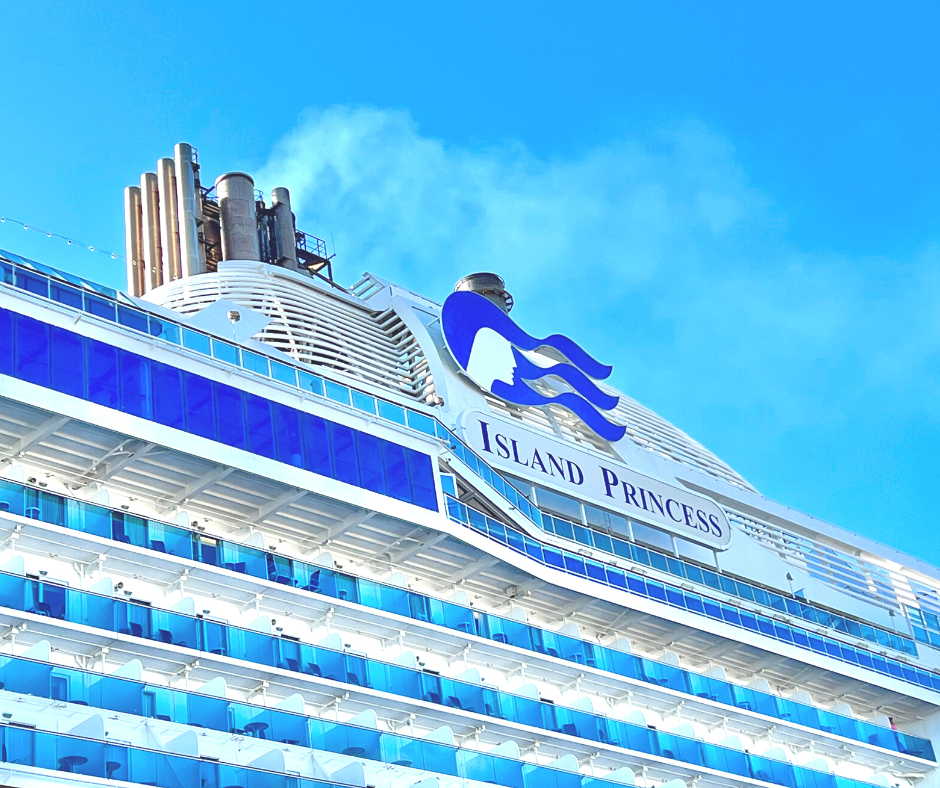 This post may contain affiliate links. Please refer to our our Disclosure/Disclaimer page for more information.
---
Note: Please be advised that this is a detailed collaborative review by two opinionated travel writers. If you are short on time, please use the table of contents to navigate to sections of interest. The arrow to the right of your screen will take you instantly to the top of the post.
---
---
An Island Princess Cruise Ship Review
---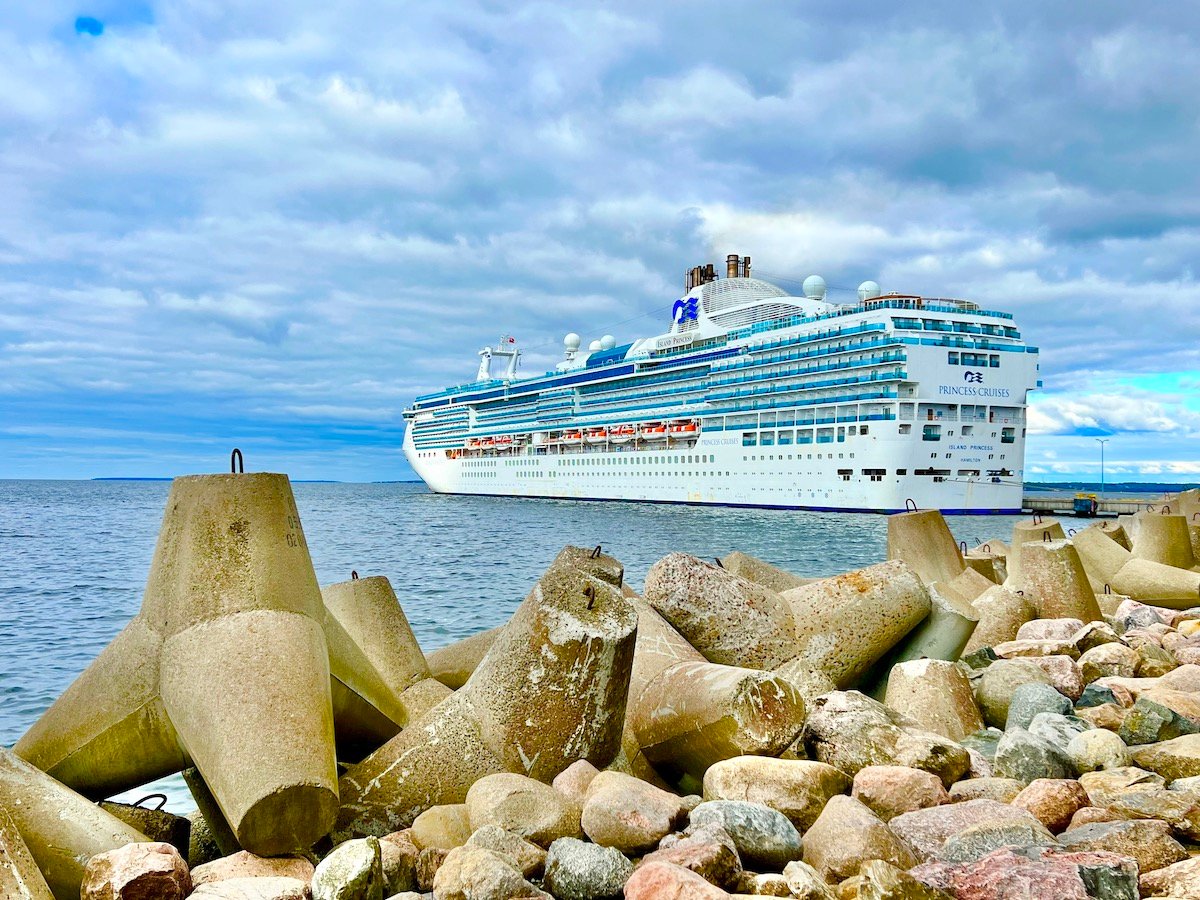 Howard: The Island Princess was my third ship to sail in the Princess fleet, having previously sailed a 14-day itinerary on the Caribbean Princess and a 25-day transatlantic and Northern Europe itinerary on the Enchanted Princess.
At the time I booked the back-to-back itinerary on the Enchanted Princess, the Northern Europe segment had been a Baltics itinerary that included two days in St. Petersburg. When Russia invaded Ukraine, cruise lines were forced to cancel and/or revise their Baltic itineraries.
Months later, I was able to book a 14-day Baltics cruise on the Island Princess from Southampton to Copenhagen, with ports in Skagen, Klaipeda, Riga, Helsinki, Tallinn, Stockholm, Visby, and Bornholm. Although missing St. Petersburg was a disappointment, the Baltics itinerary was freaking incredible, with ports in grand European capitals and lesser-known ports, as well.
A Collaboration
---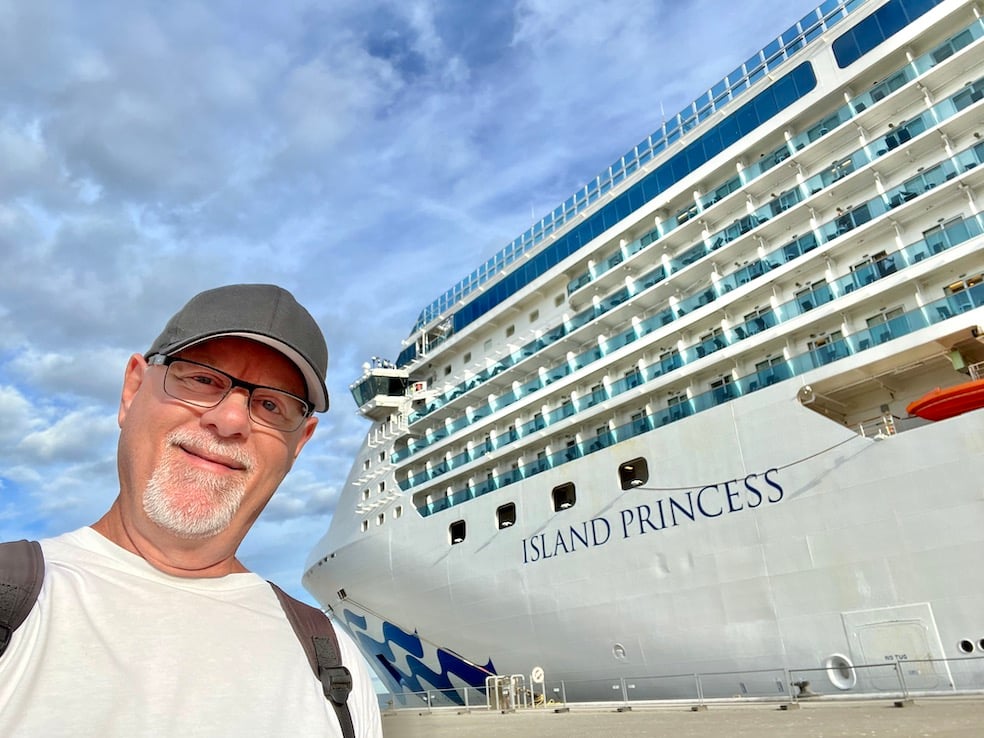 Howard: This post is a review of the Island Princess cruise ship itself, and Backroad Planet will publish separate posts about the Baltic Sea ports in upcoming weeks.
In order to bring readers balanced coverage of the Island Princess, I invited my friend and fellow traveler Lucy Turner to collaborate with me in this review. Lucy is a travel expert and experienced cruiser with dozens of sailings in her repertoire. She brings a unique perspective to cruise ship reviews, and as you will see, we don't always see eye to eye or have similar experiences, even when sailing the same ship.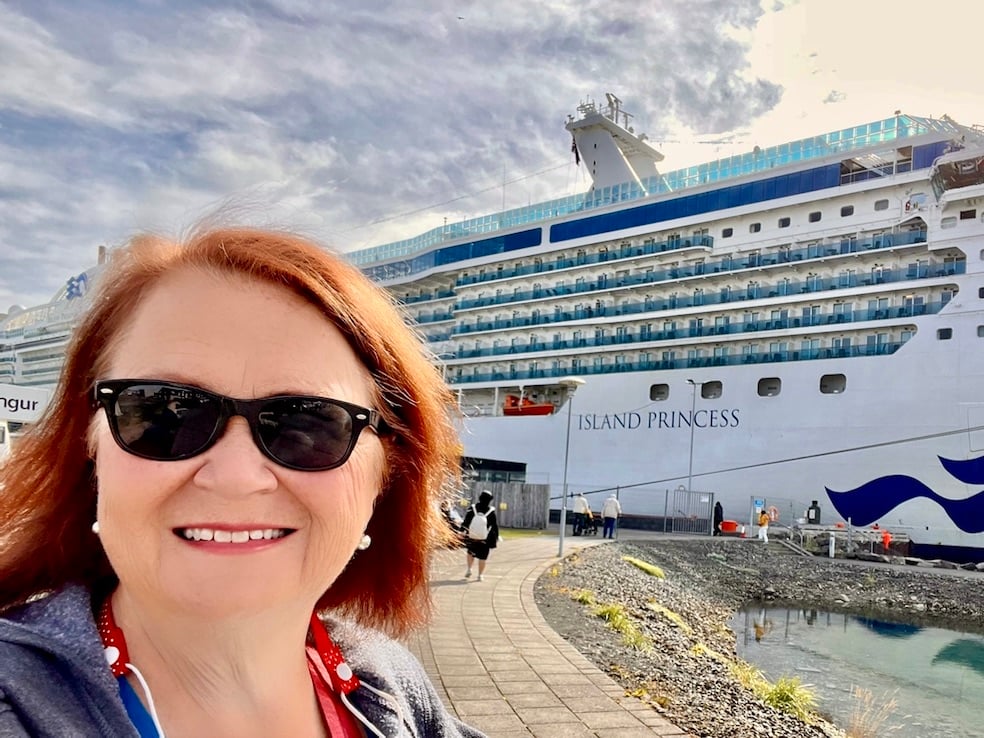 Lucy and I first met while on an 18-day Norwegian Jade cruise from Athens to Dubai, and as often happens, frequent cruisers find themselves meeting again on future itineraries. As it turned out, Lucy and I were both booked on the same Caribbean Princess and Island Princess sailings.
Readers will remember Lucy from her popular Backroad Planet guest contributions: An MSC Cruise Line Review and Inside the MSC Cruises Guest Experience.
Our Perspective and Experience
---
Howard: When reading travel reviews, it is a good idea to understand the background and perspective of the critics. I have detailed my cruise preferences many times in the past, so for the sake of this review I will keep it short.
Simply put, I am a destination cruiser, and itineraries are the most important factor to me when choosing and booking cruises. It is pretty safe to say that I will never book a booze cruise. I don't party, I don't gamble, and I avoid loud activities and venues. I require a balcony stateroom, and a comfy bed and hot shower are my favorite amenities. Everything else on board is secondary, including wining and dining. As much as I enjoy great food and beverages, itinerary destinations matter most.
But money also matters. I look for cruises with zero-to-low single supplements, and I tend to book itineraries in the $100 to $150 per day range.
Lucy: I have been cruising for about 35 years, and my cruising priorities have evolved through the years. When I was younger, I lived within an hour of Miami and Port Everglades, so I booked a lot of 7-day cruises to the Caribbean. There were many beaches to explore and piña coladas to taste. I still enjoy the islands and beach destinations, and some of my fondest vacation memories have been on cruises with family members or groups of friends. I retired in 2015, and have had more time to travel since then. Now the search for longer trips and unique itineraries has become a priority.
For the Island Princess trip, the excellent destinations were the deciding factor, along with the good value offered for solo travelers. I tend to seek out what I consider good deals when I select my cruises. I prefer a balcony cabin, but I will settle for an oceanview or even an inside cabin when the cost dictates. I enjoy almost all of the traditional cruise experiences: pools, hot tubs, varied entertainment, silent disco, dance lessons for dummies (me), trivia games, lobster night, the Baked Alaska Parade, and yes, even the the champagne waterfall (details below). I don't actually need all of the above to enjoy a trip, but they are some of the things that make cruising fun.
---
Transfer and Embarkation
---
Howard: In order to allow for travel interruptions, I flew into London one day prior to departure on the Island Princess. I booked a hotel near Heathrow to expedite my return to the airport where I would meet the Princess transfer to the port of Southampton.
The next morning after checkout, one of three "taxi" drivers waiting in the hotel lobby led me to his car for the brief ride back to the airport.
The return trip was fine, but after checking my credit card app, I learned that the "taxi" was actually a hired car from SumUp Red Chauffeurs. For a distance of less than a mile, the charge was £10 plus the airport's £5 drop-off charge. The exchange was $17.62, but the charge on my credit card was $23.80. So, yeah, there's that. When in London, my recommendation is to make sure you are hiring a real taxi as opposed to a limousine service.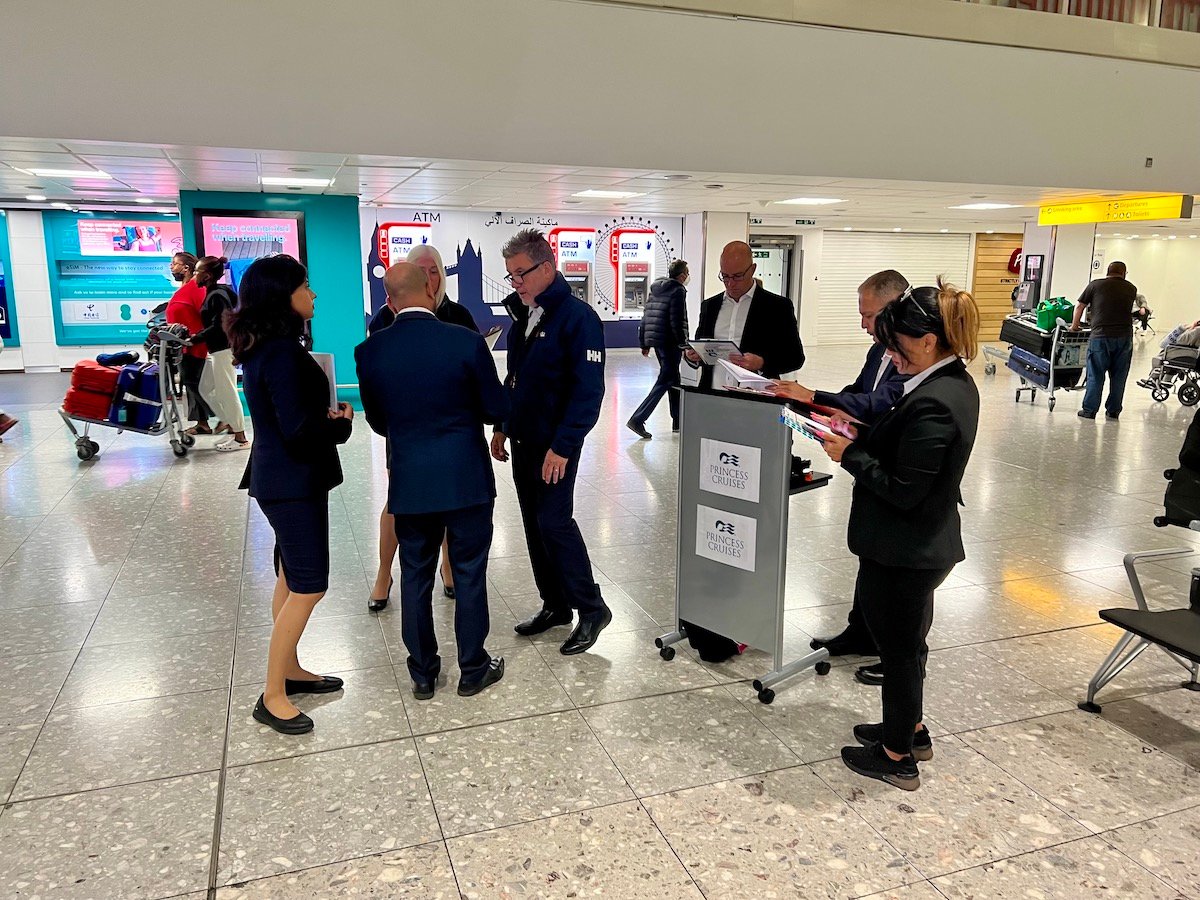 At Heathrow, the Princess transfer meeting point is just outside the international Arrivals exit by the information desk. Princess representatives showed up shortly before 7:00 AM, and I got on the first bus set to depart around 7:30. We boarded the bus at 8:00 for the 1.5-hour drive to Southampton.
Experience has taught me that purchasing port transfers through cruise lines is typically your best value, especially when the transfer is significantly distant, such as from London to Southampton or Venice to Ravenna.
After arrival at the Mayflower Terminal, there were a few slow-downs during check-in, but basically the process was a breeze. As a Platinum member of the Princess loyalty program I was in one of the first groups called for boarding.
Lucy: In order to fully relax, I boarded the Island Princess 16 days earlier, and it took me to Iceland and Greenland before returning to Southampton. Thus, while Howard was transferring to the ship, I was exploring Southampton. My transfer experience to the ship more than two weeks earlier was similar to his, including taking a limo service instead of a taxi from the hotel to the airport.
I presume Heathrow area hotels have an arrangement with limo services, because I did not stay at the same hotel as Howard. The price was identical: £15. I paid in cash, so there was no credit card exchange rate issue. I will also note that Uber is available in London, and I used it successfully and economically when I visited relatives before joining the cruise, so that is an option for making your way to the airport. There is also a "Hotel Hoppa" bus service that will transfer passengers from most Heathrow hotels to the airport for £6 each way, but it only operates once per hour.
---
The Island Princess
---
Howard: Launched in 2003 and refurbished in 2017, the Island Princess is one of the smaller and older ships in the fleet. Because she is the authority on fleets, I defer to Lucy for pertinent details.
Lucy: Island Princess, along with sister ship Coral Princess, are the two smallest and oldest ships in the current Princess fleet. Island Princess has 1100 cabins, and carries 2200 passengers. She is a Panamax ship: one designed to the maximum size that could fit through the old locks of the Panama Canal. Newer Princess ships have to use the new locks on Panama Canal transits.
Island Princess is unique in that some things are not where frequent cruisers expect them to be. Horizon Court, the buffet on the Lido Deck, is at the front of the ship instead of aft as on virtually every other ship. This is actually a nice feature, because you can grab a table with a lovely forward facing view while enjoying your lunch or snack. The main dining rooms are further forward than usual, which results in more motion on days when the seas are a bit rough. The gym and the spa are aft. The gym is disappointing because there is no outside view.
Howard: Some of the ship decor is dated, but then I don't cruise for decor. I actually prefer the older ships because they have promenades and libraries. Newer ships, such as the Enchanted Princess, have a Promenade Deck, but no promenade, and no library.
I prefer smaller ships like the Island Princess even though they are more prone to experience motion from rough seas. There was a bit of rocking and swaying at dinner after sail-away on the first night—motion that would not be felt on larger ships—but it was nothing major.
---
Accommodations
---
The Island Princess cruise ship offers a full range of accommodation classes from inside cabins to premium suites.
Balcony Staterooms
---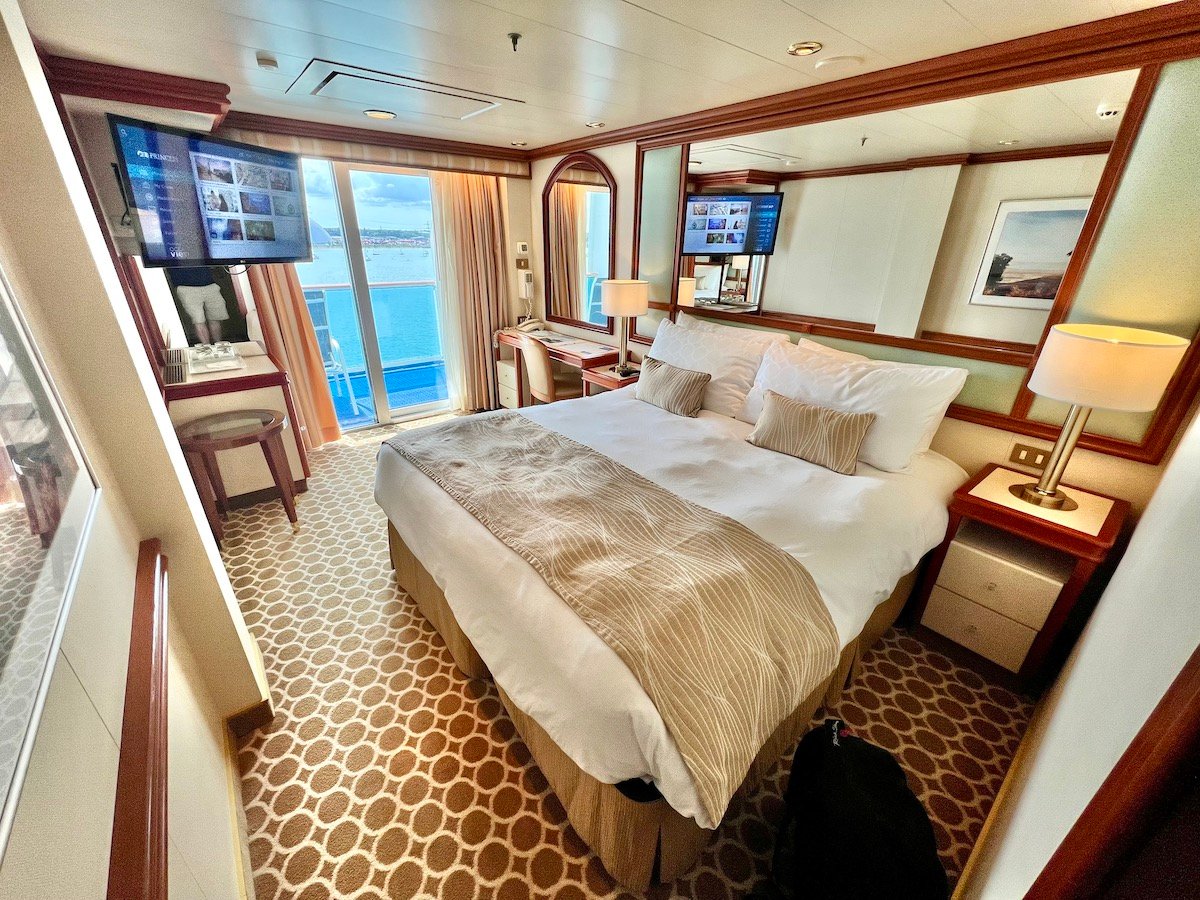 Howard: My balcony stateroom on the Island Princess was similar to those I have occupied on other Princess ships.
Princess beds and linens are the best at sea, simply heaven. I fell into the cold sheets around 11:00 PM and did not awaken until 10:15 the next morning. I never sleep in that late, so it must have been a combination of jet lag, exhaustion, and my celestial bed. I encourage you to book a Princess cruise for the bed experience alone. 
The stateroom bathroom was perfectly suited to all my needs with one exception. The shower was the smallest ever. The water was hot and the pressure was strong, but there was barely room to turn around. No matter how hard I tried to keep the shower curtain closed, water still flowed freely, soaking the bathroom floor. I apologized profusely to Teddy, the best room steward ever. He was gracious and totally understanding about the issue. When using one of these showers, even think about dropping the soap.
On the other hand, the balcony was the largest I have ever had on any cruise. The space was functional, but one wall had major rust stains and was in need of a touch-up paint job.
Lucy: I also had a balcony cabin on the Baltic cruise. My balcony was fine, but as Howard mentioned, the shower was tiny. I'd also note that the hair dryers provided in these cabins are antiquated. I think they were older than the ship. They worked, but you may want to bring something more up to date if a hair dryer is important to you.
Oceanview Cabins
---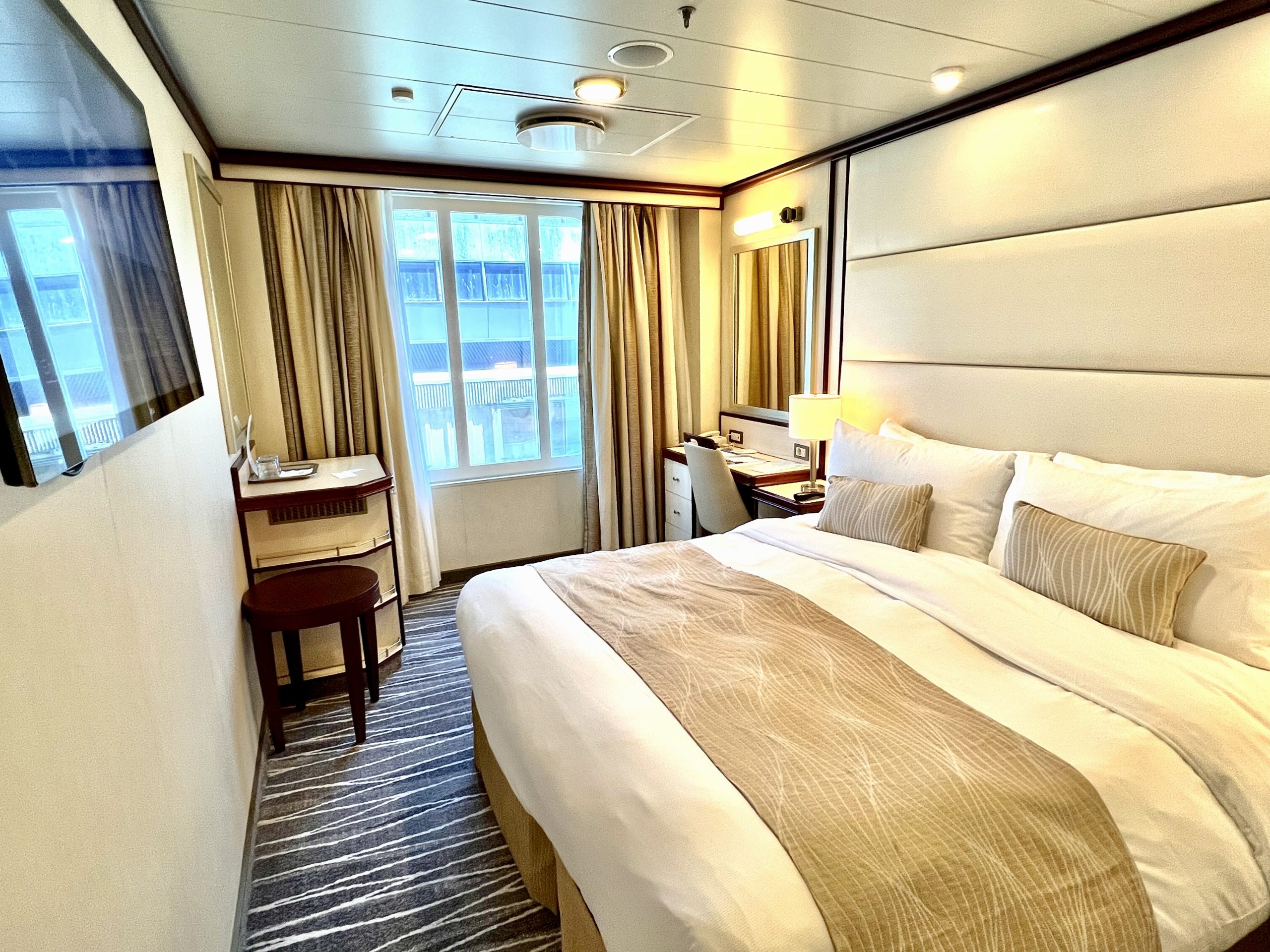 Lucy: When I was on the Iceland and Greenland itinerary immediately preceding our Baltic cruise, I stayed in an oceanview cabin that was a step above the norm. There is a bank of oceanview cabins on the Fiesta Deck that are worth seeking out. Cabins F502 through F526 have the largest windows I've ever seen on an oceanview cabin. Equally important, the bathrooms are a newer design that includes a larger shower than the ship's balcony cabins have. The TV is affixed to the wall in front of the bed, instead of in the corner as in the balcony cabins. And there are newer hair dryers.
I learned that the number of cabins on the ship was expanded during a refurbishment in about 2015. It appears that these cabins were placed on what had been the port side of the casino, because the large windows in the cabins are similar to those on the starboard side of the ship outside the casino. There are three large windows in each of these cabins, and the cabins were very quiet. I never heard any noise from the casino. They were well-positioned at the center of the ship.
Howard: I would also like to mention a couple of things about navigating the ship. My stateroom was located on Deck 8 aft. If I wanted to access the atrium located midship, I could walk the cabin-lined hallways or take the stairs to Deck 7 and reach the atrium by walking the passageway through public spaces. To reach the Horizon Court buffet, I could continue past the atrium through another cabin-lined hallway and then take the fore elevator up to Deck 14. If I took the aft elevator near my stateroom up to Deck 14, I would walk the hallway through the Lotus Spa and both pool areas before reaching the buffet.
Walking the hallways I discovered the carpet covered a multitude of sins. In many places the hallway floors were uneven with raised and depressed areas to the point that I thought a guest might trip and fall. I was curious to know what all the carpet was hiding.
---
Facilities, Amenities & Services
---
The Island Princess cruise ship offers the standard facilities, amenities, and services you would expect on any cruise ship along with a few exceptions.
Princess Plaza
---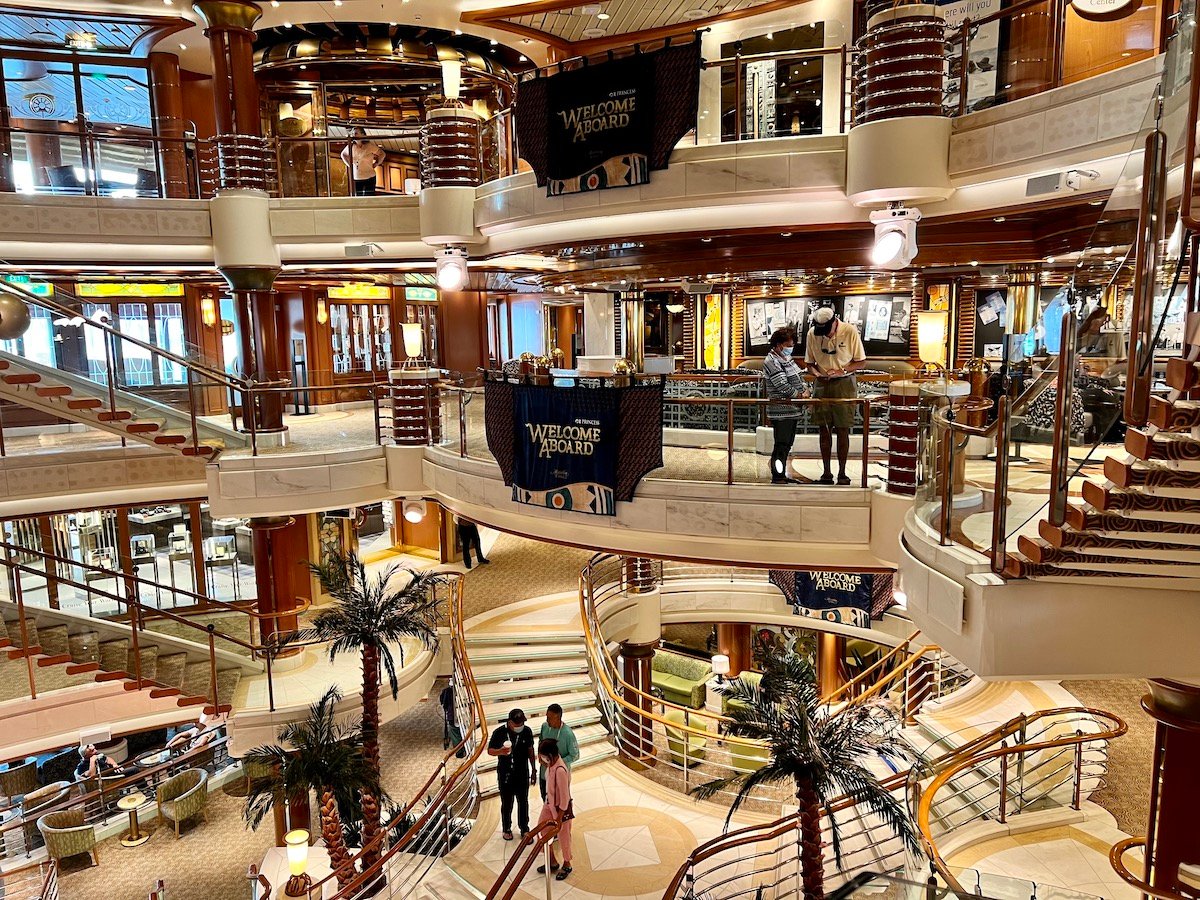 Howard: The Island Princess atrium is the smallest I have ever seen, yet it opens to four decks (Decks 5-8) as opposed to the standard three I have seen on other Princess ships.
The worst design element in the atrium is the immediate proximity of the Guest Services desk to the plaza bandstand and dance floor on Deck 5. I was dealing with an ongoing issue with guest services that I will detail later in this post, and during at least one of those visits to the desk it was literally impossible to hear the agents speak. All I could hear was, "Go! Go, Johnny, go, go, go . . . ."
There are bars on Decks 5 and 7, but there is no International Café for coffee and snacks as on other Princess ships.
Lucy: Thank goodness that Princess has refined the design of its newer ships to improve the atrium and plaza area. I believe that one of the issues on Island Princess is that because of the smaller size, there is one less entertainment/lounge area than on the larger ships. This leads the cruise director staff to schedule some louder music and party events in the atrium.
I'd also add that I thought the absence of the International Café was a significant downside to my experience on the ship. On the newer ships, the International Café is generally a quiet, relaxing area to enjoy a coffee, and the sandwiches and snacks that are available (especially late at night) are enjoyable.
The Promenade
---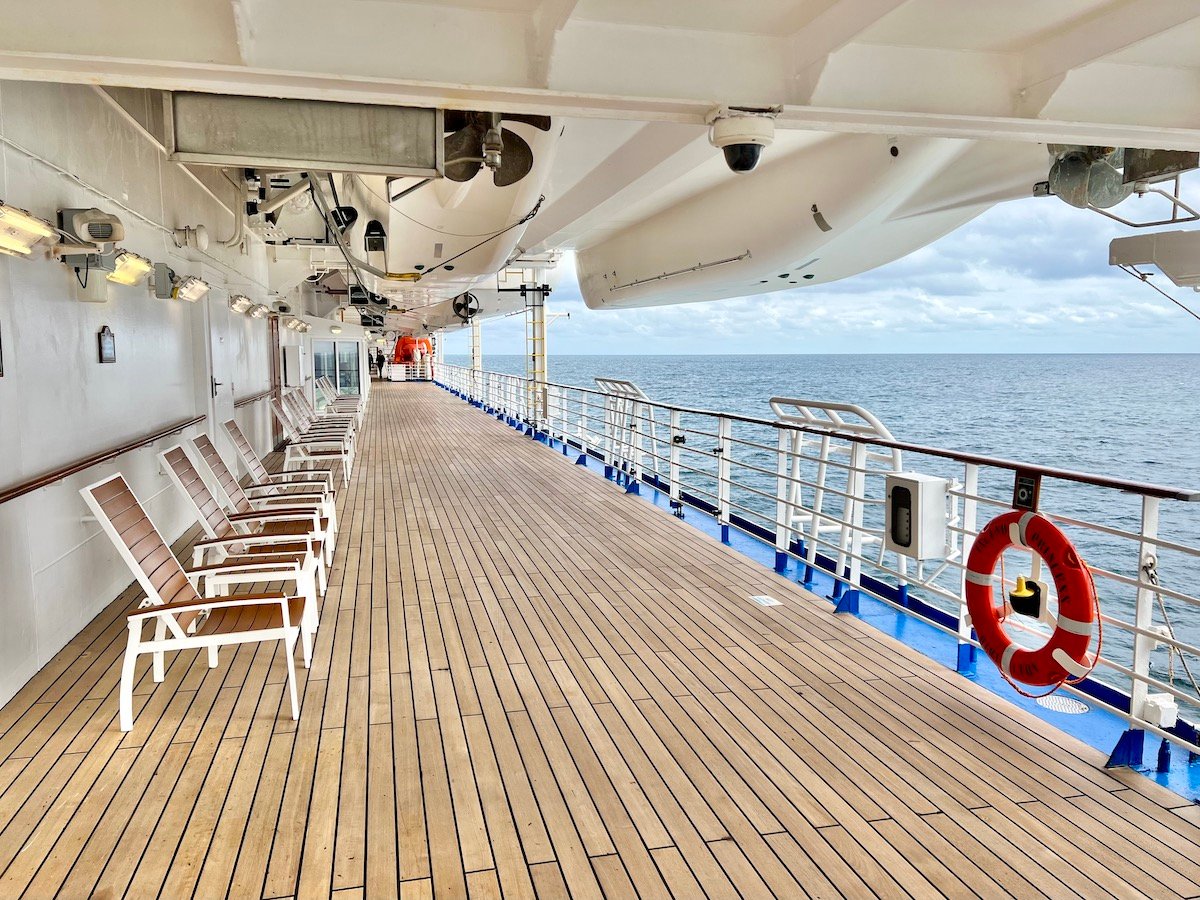 Howard: I love a good promenade, and the Island Princess did not disappoint. On days at sea, a promenade offers the perfect way to get in my 10,000 steps and listen to music or audiobooks.
Perfect promenades circumnavigate their ships, offering 360° views of the water and horizon. Walkers are able to move continuously around the ship without interruption.
The Island Princess has a broad U-shaped promenade (3.2 laps = 1 mile), which is totally fine with me. It is no huge issue to turn around at the ends of the deck and head the opposite direction. I observed that some walkers chose to pass through the elevator lobby and continue out the other side, which is an acceptable option.
The lack of a functional promenade on the Enchanted Princess was my biggest gripe, but designers of newer ships seem to think they are not needed.
Pools
---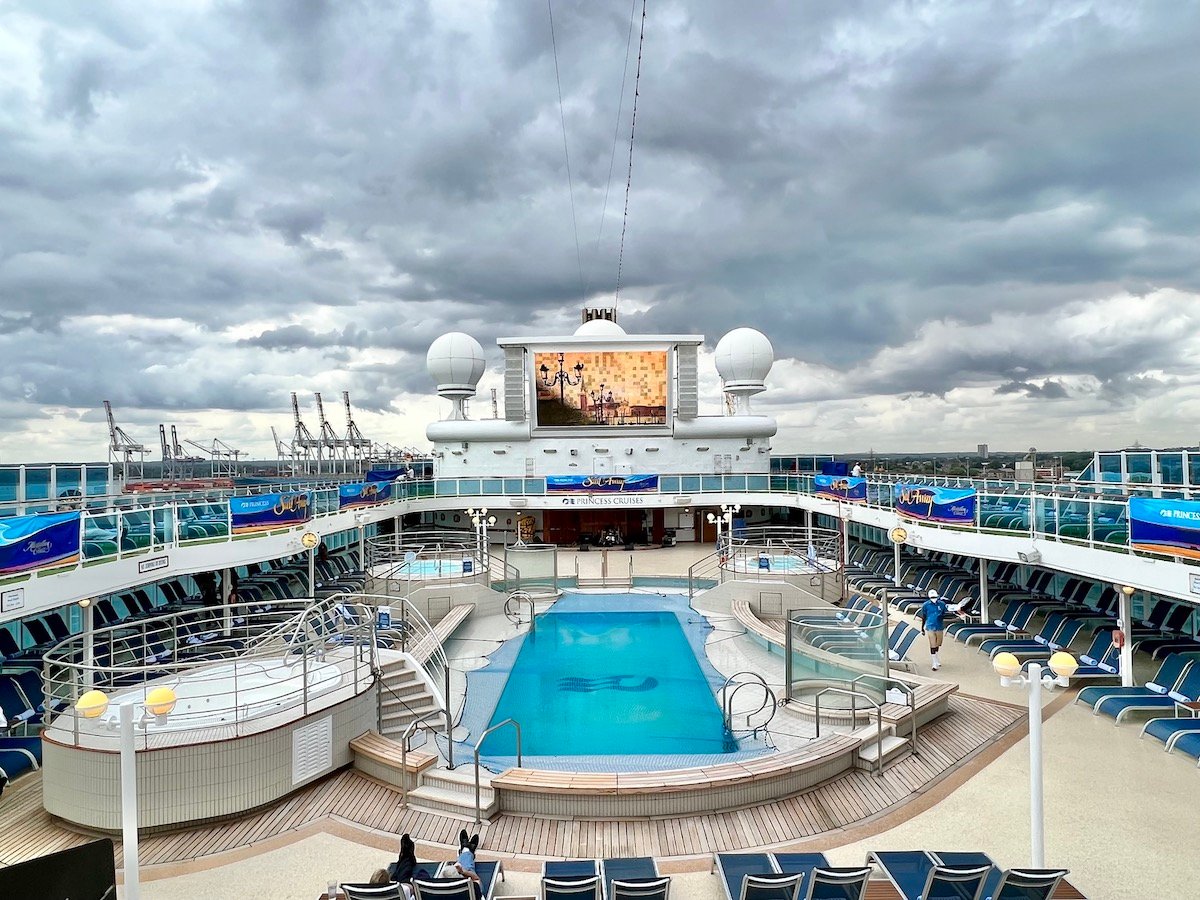 Lucy: In warm weather, the pool areas are some of my favorite places to be during the day. On this northern itinerary, I never went in the pool, and only used a hot tub once. The Lido Pool area is well-designed for cruisers. There is a large open pool with three large hot tubs. This outside pool was often closed due to the colder weather, but the hot tubs stayed bubbly and warm.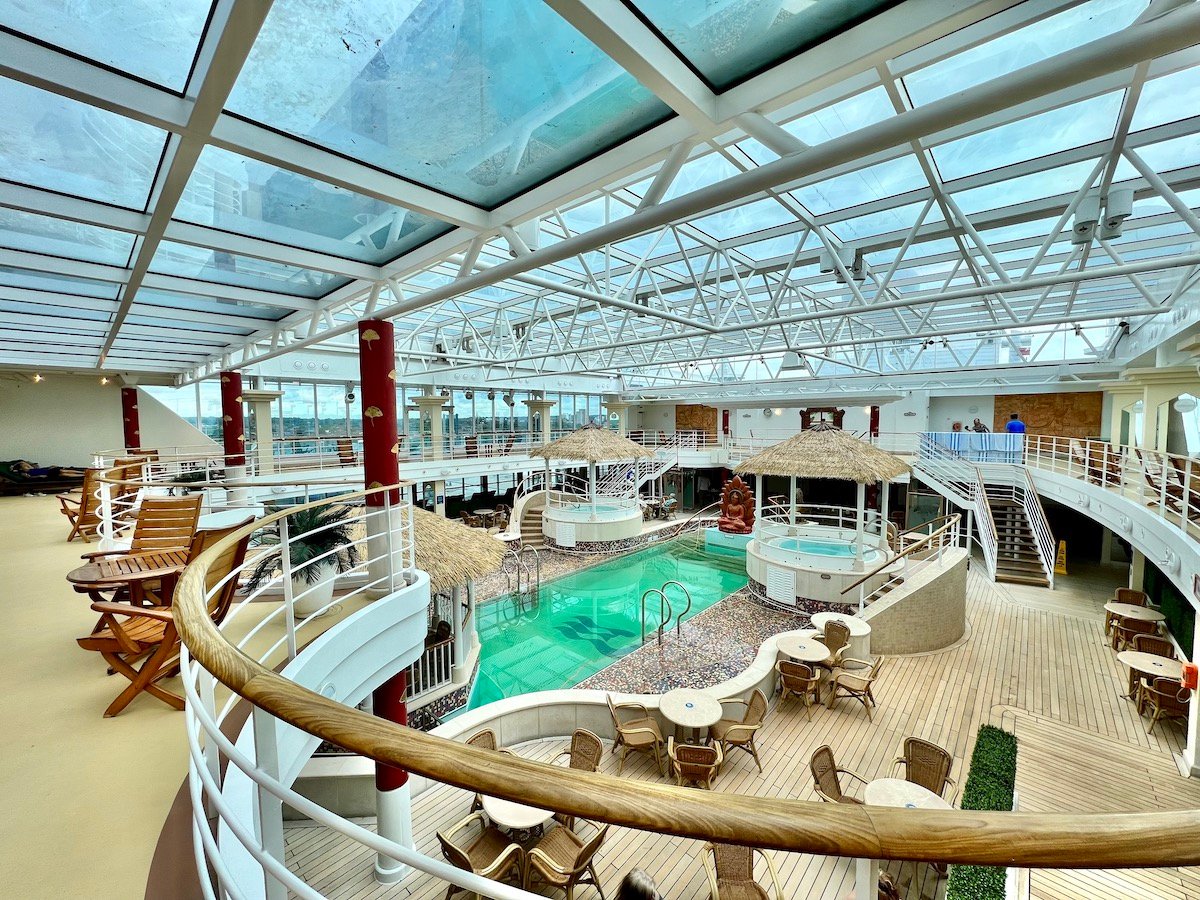 The covered Lotus Pool area provided a warm and somewhat humid atmosphere, with well-cushioned lounge chairs and tropical decor that made it popular even on cold days.
Lotus Spa
---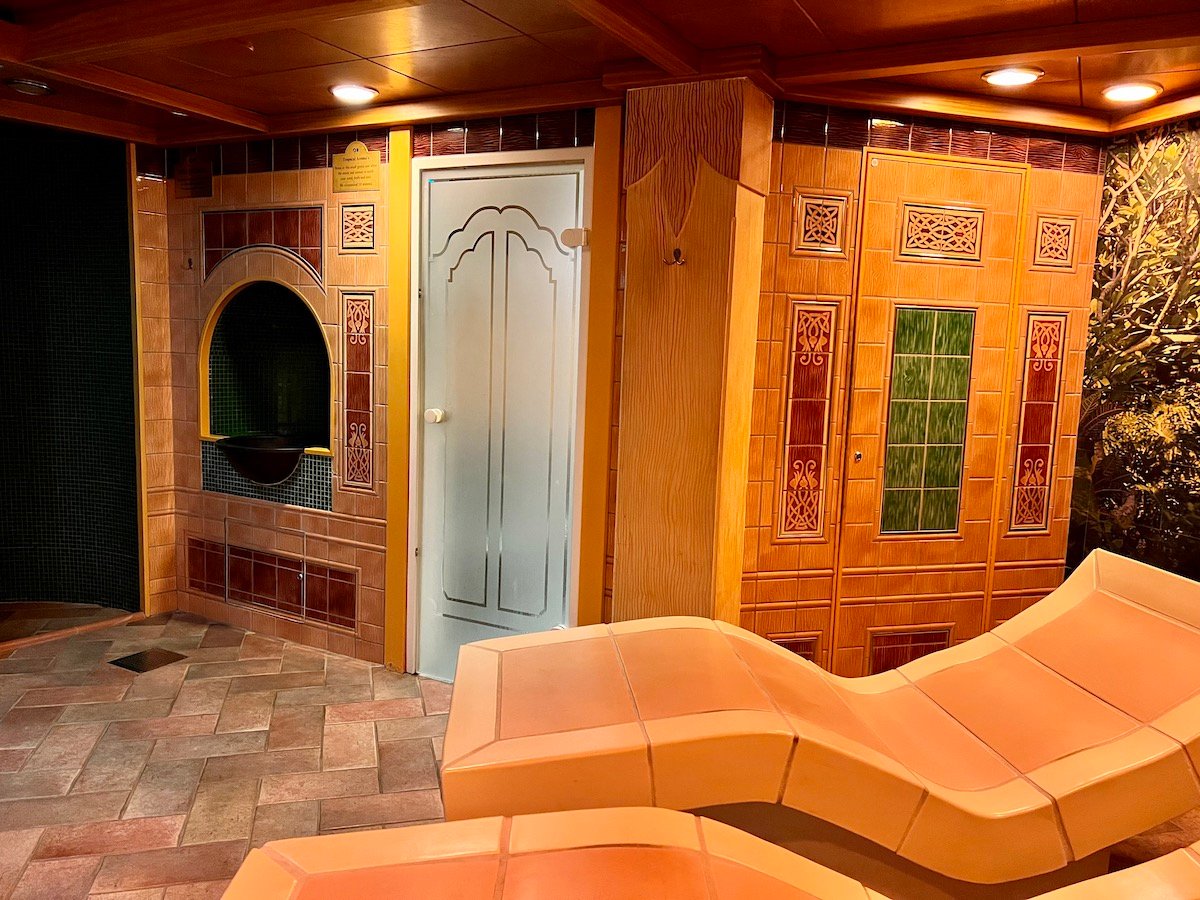 Howard: The Lotus Spa is nice, but much smaller than spas I have toured on other ships, and I found its midship location on the Lido Deck a bit strange. I have always seen spas as private enclaves for clients, but on the Island Princess, two hallways lead directly through the spa from staterooms to pools.
The Lotus Spa beauty salon borders the port hallway while treatment rooms line the starboard passageway.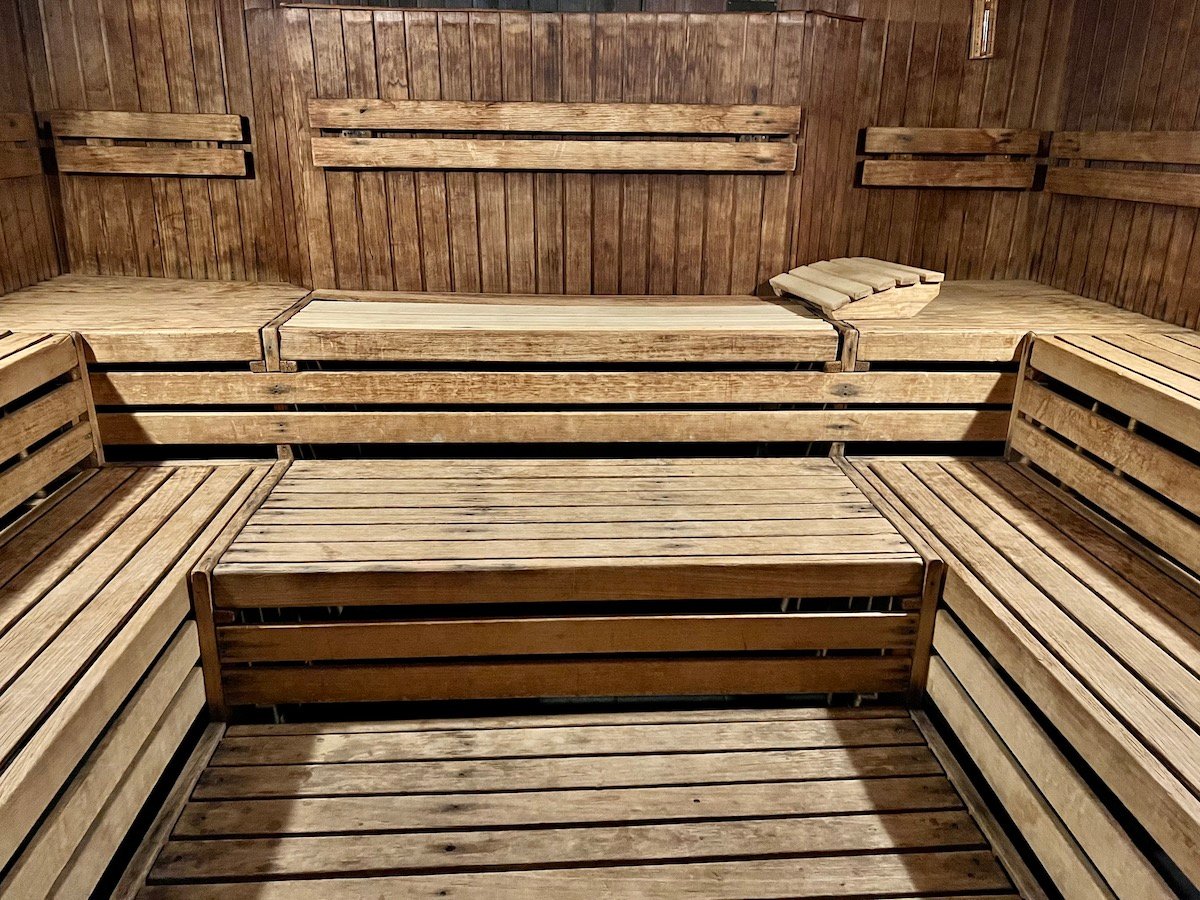 In addition to the paid co-ed spa facilities, the spa offers complimentary dry saunas for men and women. The private sauna rooms have two showers, but no lockers and no restrooms. I thought it strange.
I rarely do any spa treatments, but on the last day at sea, I booked a pedicure. The fee was reasonable, I enjoyed the massage chair, and the technician gave a wonderful treatment. The only issue I had was with the required completion of a health survey and hold-harmless agreement.
The pedicurist had already begun work on my feet when suddenly she stopped and started digging through a rolling cabinet. She produced a clipboard with a questionnaire about my stress levels, physical conditions, pain locations, and medications. I don't recall ever having to complete health surveys for past pedicures, and I told the tech I did not want to complete the form. She said if I did not complete the form the treatment could not continue. What was I supposed to do? And why hadn't they given me the form to complete at the front desk prior to beginning the pedicure? To comply, I completed the form with vague and evasive responses.
At the end of the treatment the technician presented me with a discounted ticket and I gave her a generous tip.
Fitness Center
---
Howard: On most ships I have sailed, the fitness center is adjacent to the spa. On the Island Princess cruise ship, the fitness center is located in the aft of Deck 6 and surrounded by staterooms on three sides. As Lucy mentioned earlier, the fitness center lacks an ocean view.
The Library
---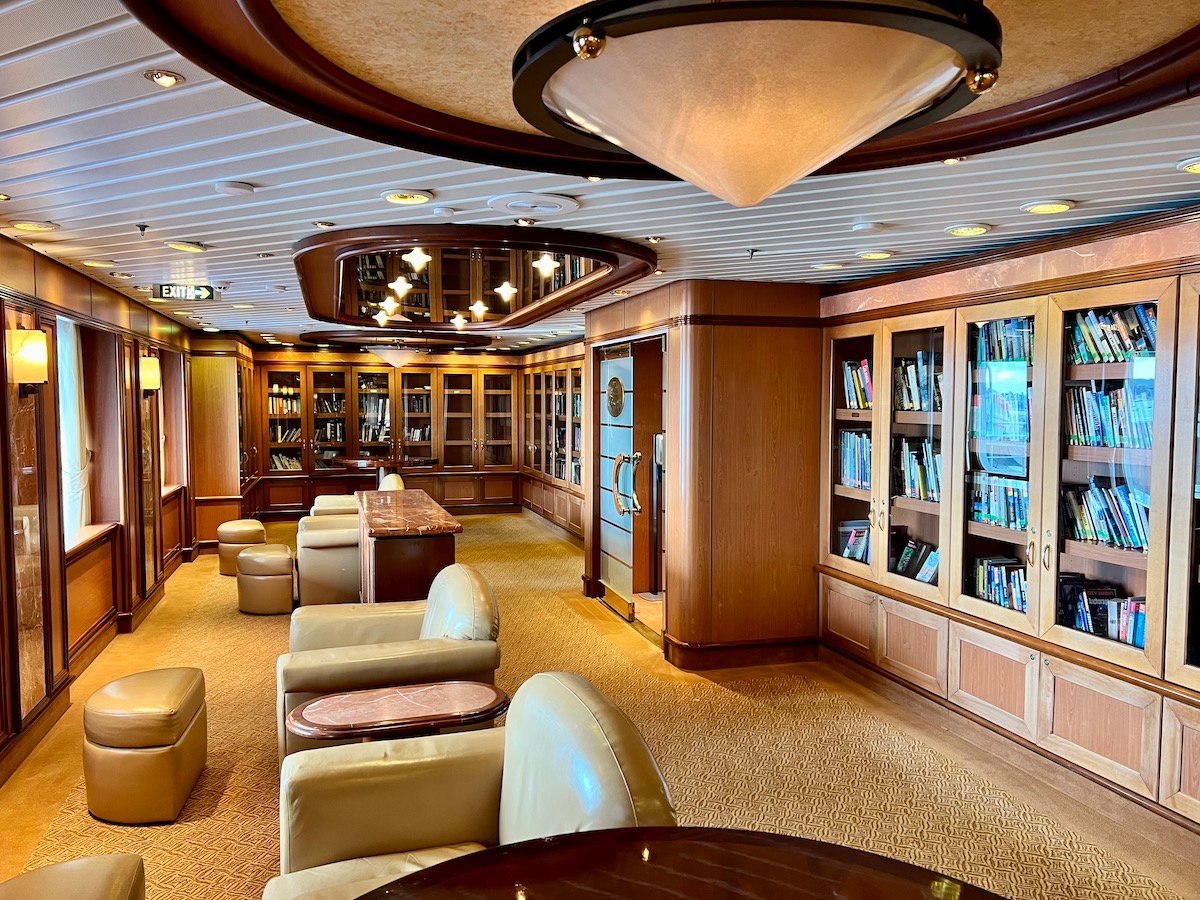 Howard: The Island Princess library is small, but pleasant with comfy reading chairs, great views, and an adequate selection of books and games. I found it odd that the walkway between Deck 8 cabins and the atrium required that guests walk through the library.
Internet Café & MedallionNet WiFi
---
Howard: Princess markets its MedallionNet WiFi as the fastest internet at sea. While cruising with Princess in the Caribbean I found this to be true, but when cruising in Europe, not so much.
During the first 36 hours of the cruise, after departing Southampton, there was zero internet. The first day was at sea, and guests were lined up at the Internet Café attempting to get help with logging in. Without WiFi it is impossible to use the MedallionNet app.
The morning of arrival in Skagen, our first port, I awoke to discover the Wi-Fi was working, and I was able to post photos for my followers on Facebook. Although it was slow, WiFi continued to work for most of the itinerary. I was ever so grateful to have T-Mobile's international unlimited data plan while in ports.
Lucy: Princess has significant work to do to address the very sad WiFi situation aboard ships sailing outside of North America. I can appreciate that I am at sea and subject to the vagaries of satellites and weather and who knows what else. I don't expect to be able to stream my favorite shows from Netflix or even upload short videos. I can deal with e-mail or texts that are slower than usual, but the problems Princess has with WiFi go far beyond that.
On the 16-day cruise to Greenland and Iceland, at least half of the days there was no Internet availability at all. Princess eventually agreed to refund payment for 10 days. I give Princess the benefit of the doubt, knowing that satellite coverage gets worse as you sail further north. That said, I sailed with MSC Cruises earlier this year in the Arctic Circle, and they were able to deliver adequate coverage, enough to send texts and e-mails.
As Howard mentioned, the most frustrating period on the Baltics itinerary was when the Island Princess was sailing the English Channel and there was still zero Internet. Princess did not win any fans with its lack of transparency and complete non-communication about the situation. A short announcement from the staff explaining what the problem was would have gone a long way toward appeasing upset passengers.
Howard: I might add that one of the benefits of the Princess loyalty program is that Platinum and Elite members receive a 50% discount on WiFi.
Laundry
---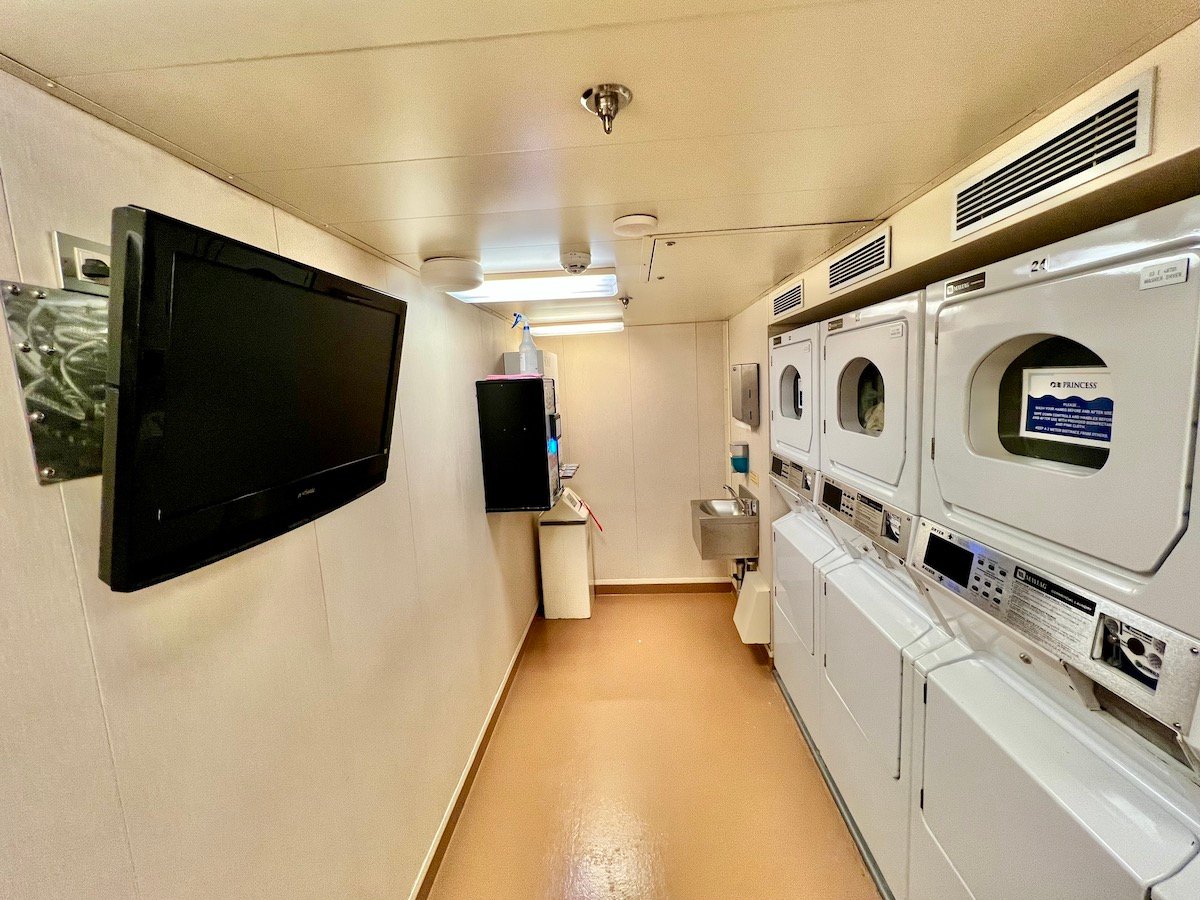 Howard: For most guests laundry is not free, but it is convenient. Decks 5, 8, 9, 10, 11, and 12 all have launderettes. On the Baltics itinerary it could not have been more accessible for me. The launderette was directly opposite my stateroom door.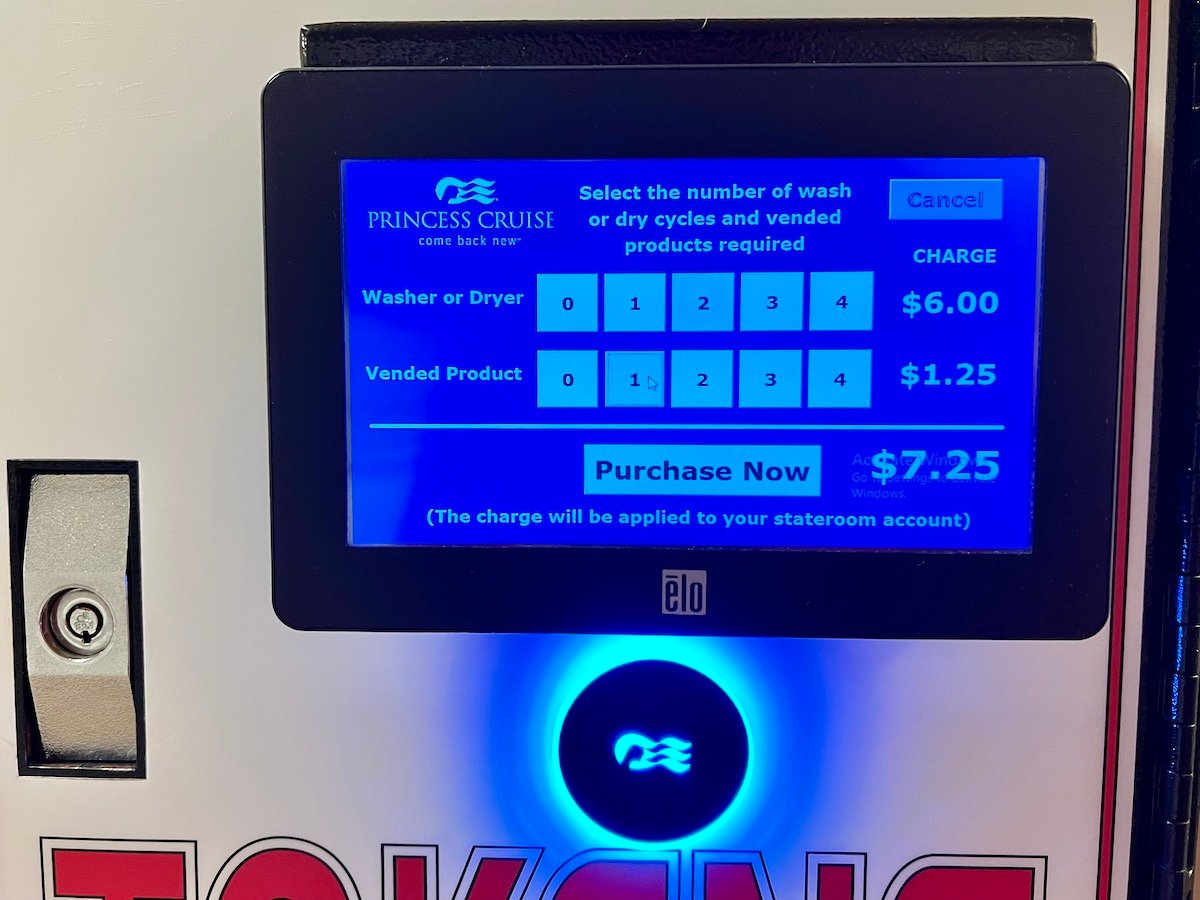 Currently, one load of laundry will cost you $7.25: $3 for a wash, $3 for a dry, and $1.25 for detergent. You make your purchases by touchscreen and after scanning your medallion, the charges are added to your shipboard account. If you bring along your own laundry powder or pods, you can save a bit.
Lucy:At the risk of sounding elitist, this might be a good place to note that once a passenger reaches Elite status in the Princess loyalty program, one of the best benefits offered is free laundry (more about the loyalty program below).
I reached Elite status on my Island Princess sailing, so this was my first time taking advantage of the free laundry service. It worked wonderfully. I received a notice on the day of arrival that because of the large number of Elite passengers on board, guests should expect that it might take up to three days for laundry to be returned. That was exactly my experience. There was no limit to the number of times you could send laundry and no limit to the amount of items you could send at any one time. I generally packed up my laundry every 4-5 days, and it always came back as expected.
At first, there would be a charge on my account for the laundry I sent in, but then within a day (usually less) there was a credit issued for the same amount. Toward the end of the cruise, I received a written notice of the last day that laundry could be sent in, which was two days before the end of the cruise. This is an amazing loyalty benefit. It is fabulous because of the savings, but also fabulous because it makes packing so much easier when you know you can easily get your clothes laundered as needed.
Guest Services & Onboard Accounts
---
Howard: Sadly, things have a way of disappearing with Princess, so I always take screenshots of pre-cruise transactions. On this Island Princess itinerary my onboard credit disappeared, and my return flight was canceled.
I check my onboard account regularly because mistakes happen. Fortunately, on this cruise no unauthorized charges appeared on my account. I did, however, notice on the first day that my account did not show my shareholder onboard credit nor a bonus credit assigned by my travel agency. Both had already appeared on my Princess online account prior to cruising. I reported the issue to guest services, and within a day or two the credits appeared. I also checked my account to verify that I had been given a 50% credit for a pre-cruise purchase of MedallionNet WiFi as a Platinum member. The credit had been given.
My second issue did not go so well. Although I had booked my cruise through a travel agency, I booked my flights online through Princess E-Z Air. When the transaction was complete, my account displayed a flight itinerary with booking and confirmation codes, and I printed a copy for my travel folder as proof. The flight also appeared in the Delta mobile app.
At some point during the week prior to our itinerary's final port in Copenhagen, I checked the Delta app. The itinerary popped up briefly and then disappeared. I made several attempts to add the flights with the confirmation and booking numbers from my printed itinerary, but each time the app said it could not be found.
I went to guest services for assistance believing they would help me because I had proof of my E-Z Air purchase. They did not help me . . . at all. They first asked whether I had proof of payment on my credit card statement. I skimmed through old statements online and could not find a charge. Finally, guest services received an email from E-Z Air stating that my travel agent had canceled my flight the day after I booked the cruise. I knew this was not true. I asked whether they could help me rebook the flights, and they said no. Ultimately, I was forced to rebook the identical flights online at more than double the original E-Z Air price.
When I returned home, I didn't have the energy to pursue a resolution for this fiasco with Princess, so I dropped it. I am not sure what happened, but I think perhaps Princess cancelled the flights because I had booked them and not my travel agent. But if this is true, then why wasn't I notified?
Thanks for nothing, Princess E-Z Air and Island Princess Guest Services!
Captain's Circle
---
Howard: The Princess loyalty program is called the Captain's Circle, and there are four levels: Gold, Ruby, Platinum, and Elite.
Lucy: Passengers reach Elite status after completing 15 cruises or sailing 150 days. It is important to note that persons sailing solo get double credit.
Howard: I was literally shocked at how quickly I moved up the ranks from Gold to Ruby to Platinum, and it was due to the double credit of sailing solo. I was halfway through my second Princess cruise, when I received a letter in my stateroom notifying me that I had reached Platinum status. As I write, I am nearing Elite status, so pretty soon I will be a Princess elitist like Lucy.
As I mentioned earlier, one of the benefits of Platinum and Elite status is a 50% discount on MedallionNet WiFi. I had prepaid WiFi for my Island Princess itinerary, and without even making a request a 50% credit appeared on my shipboard account.
Lucy: Platinum and Elite level passengers receive other discounts and benefits: Platinum level gets you a 10% discount on spa treatments and photos. Elite passengers get those discounts plus a 10% discount on shore excursions, a 10% discount on items purchased in the shops on board, a free-wine tasting event, the offer of deluxe canapés delivered to your cabin on formal nights, and a bar set-up of 20 items in your mini-bar.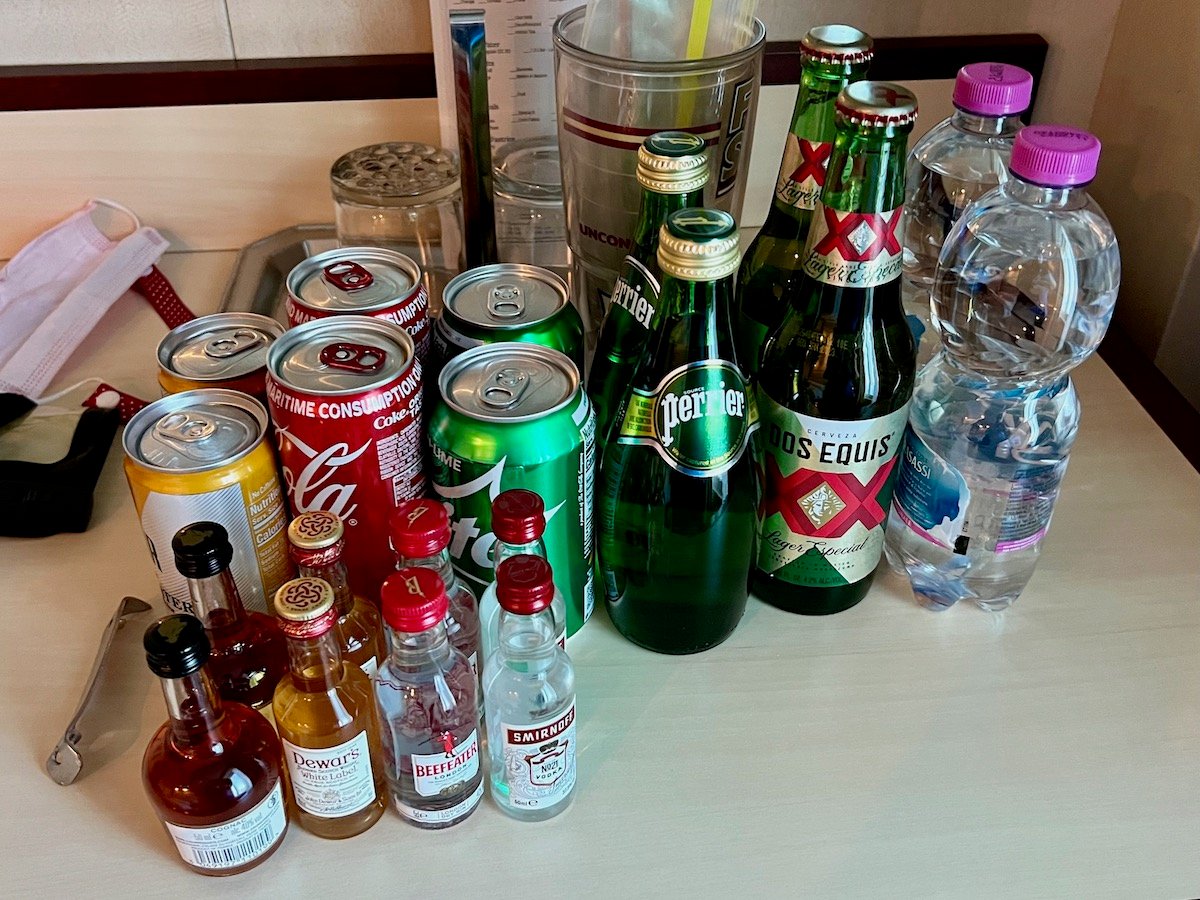 The line starts you out with a variety of mini-bottles of alcohol, mixers, and some water, beer, and soft drinks. Passengers can specify their preferences. For example, on one cruise I asked for 20 cans of Diet Coke.
Platinum and Elite members also have access to a special lounge every evening before dinner where snacks are offered, and a lounge on the morning of departure where passengers can relax with coffee or tea and pastries.
---
Howard: When I first started cruising frequently, I would hear other guests discussing shareholder benefits. It didn't take long for me to catch on, and ultimately becoming a cruise line shareholder was one of the best travel-related investments I have made.
Here's how it works, and the rules are the same for all of the major cruise lines. When you purchase a minimum of 100 shares, you become eligible to apply for onboard credit every time you cruise. For itineraries less than 14 days, you will receive $100 of onboard credit. Itineraries of 14 days or more earn $250 of onboard credit. Again, every time you cruise.
I now own 100 shares of Carnival Corporation (CCL) (the Princess parent company), Norwegian Cruise Line Holdings (NCLH), and Royal Caribbean Cruises Ltd. (RCL). My investment was in the stock market, but I reap onboard dividends every time I cruise. My initial investments will eventually pay for themselves regardless of stock market performance, and I have no plans to sell.
Gratuities
---
Lucy: Princess charges each passenger a daily "Crew Appreciation Fee," to cover normal gratuities for members of the crew. The current fee is $14.50 per day or $15.50 per day for passengers in mini-suites, and $16.50 per day in suites. In addition, a service charge of 18% is added for drinks and spa services. Princess policy allows passengers to adjust that amount if they are not satisfied with service. I have never had any reason to change the amount. On the contrary, I find the service staff is always so kind and helpful that extra "appreciation" is offered at the end of the trip. Guest services makes envelopes available to passengers who are so inclined.
---
Entertainment & Activities
---
There is no lack of scheduled entertainment and activities on the Island Princess cruise ship. If you never left ship to explore a port, you could stay busy onboard moving from one event to the next without breaks.
Princess Theater
---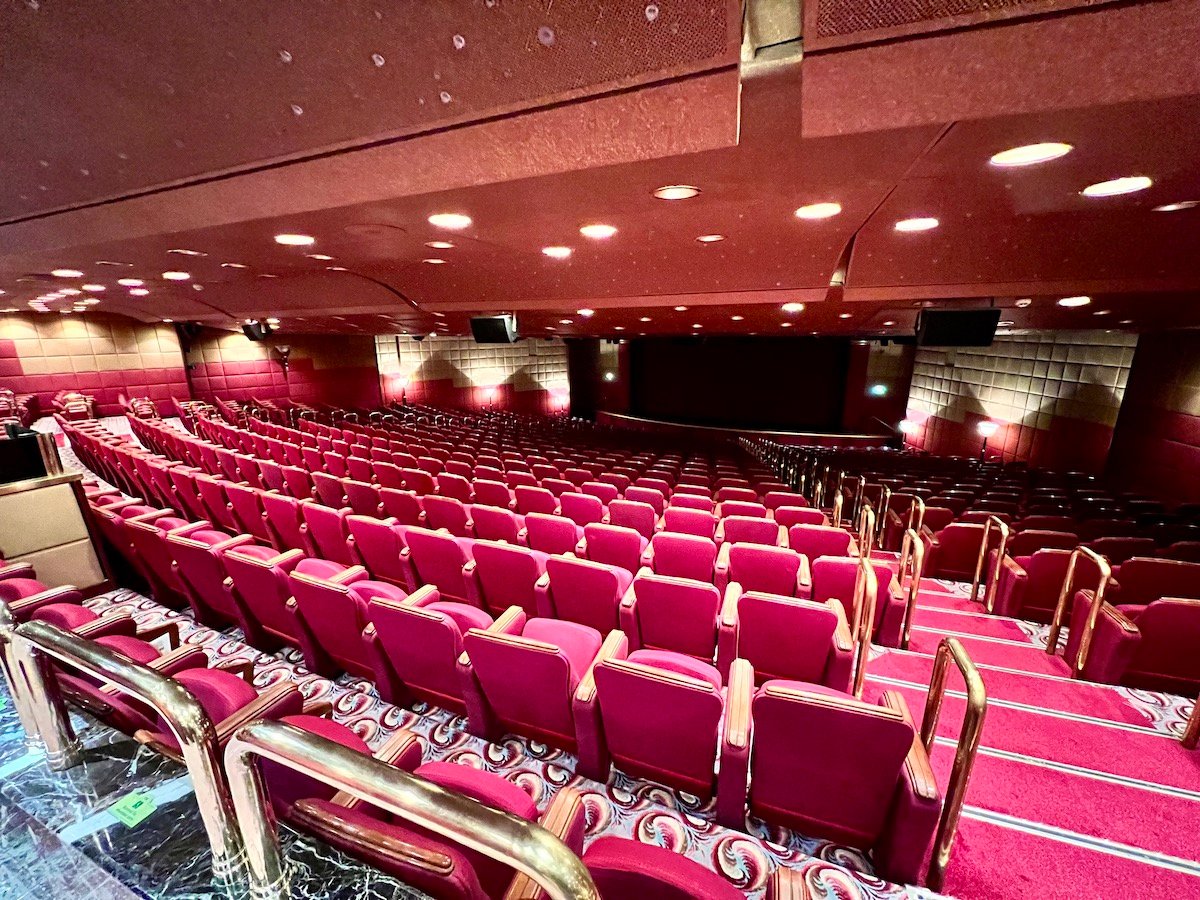 Lucy: I went to the Princess Theater often to see shows in the evening and sometimes to attend lectures during the day. I found it to be one of the most comfortable theaters I have experienced on a ship. The theater seats 663 people. This is the type of mostly-useless information you learn when you participate in onboard trivia games.
The theater seats were well-designed, and I particularly liked the handrail system for use on the steps. There have been many evenings on other ships when I held my breath and held on to the back of chairs as I tried to make it down the steps on a night when the seas were rocking and rolling. On Island Princess there were brass railings at the end of each row that allowed for a firm grip as you descended or ascended the steps.
Production Shows
---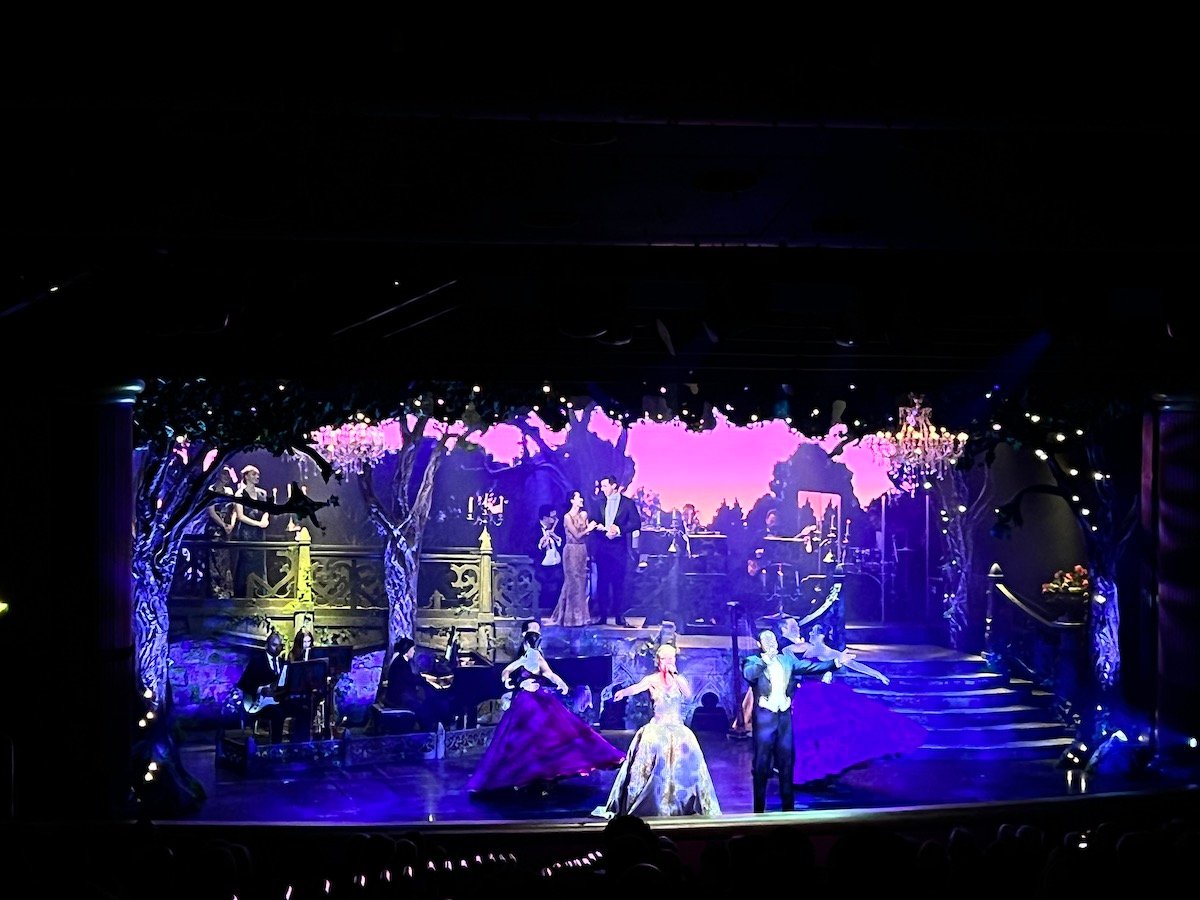 Howard: I attended all of the Island Princess Theater production shows. The first show of the cruise entitled "Encore" was a collection of song and dance numbers featuring classic pop, opera, and show tunes. The singers, dancers, and orchestra did a fine job, and the featured soprano was outstanding. The closing performance of "You'll Never Walk Alone" was moving, and I may or may not have been a little emo as I left the theater.
The next two production shows—"On the Bayou," and "Do You Wanna Dance?"—were in my opinion not quite up to par with "Encore." There was also an audio issue during both shows. The sound coming from the speakers above my head was repeatedly cutting in and out and also staticky.
Lucy: Princess always has an amazing group of talented singers and dancers who do a great job on the production shows. My favorite was the "Do You Wanna Dance?" show that featured a variety of dance numbers including ballroom, tango, and even Irish step dancing. It was particularly interesting to watch because the seas were a bit heavy that evening, and the theater stage is at the front of the ship where most of the motion occurs. Even with the extra rocking and rolling, there were very few missteps.
One area where I think Princess could improve is in the type of production shows they offer. Other large lines have invested in Broadway and West End musicals that are performed on board. I understand that is quite an investment to make, especially when the cruise lines are struggling to return to profitability.
Concerts
---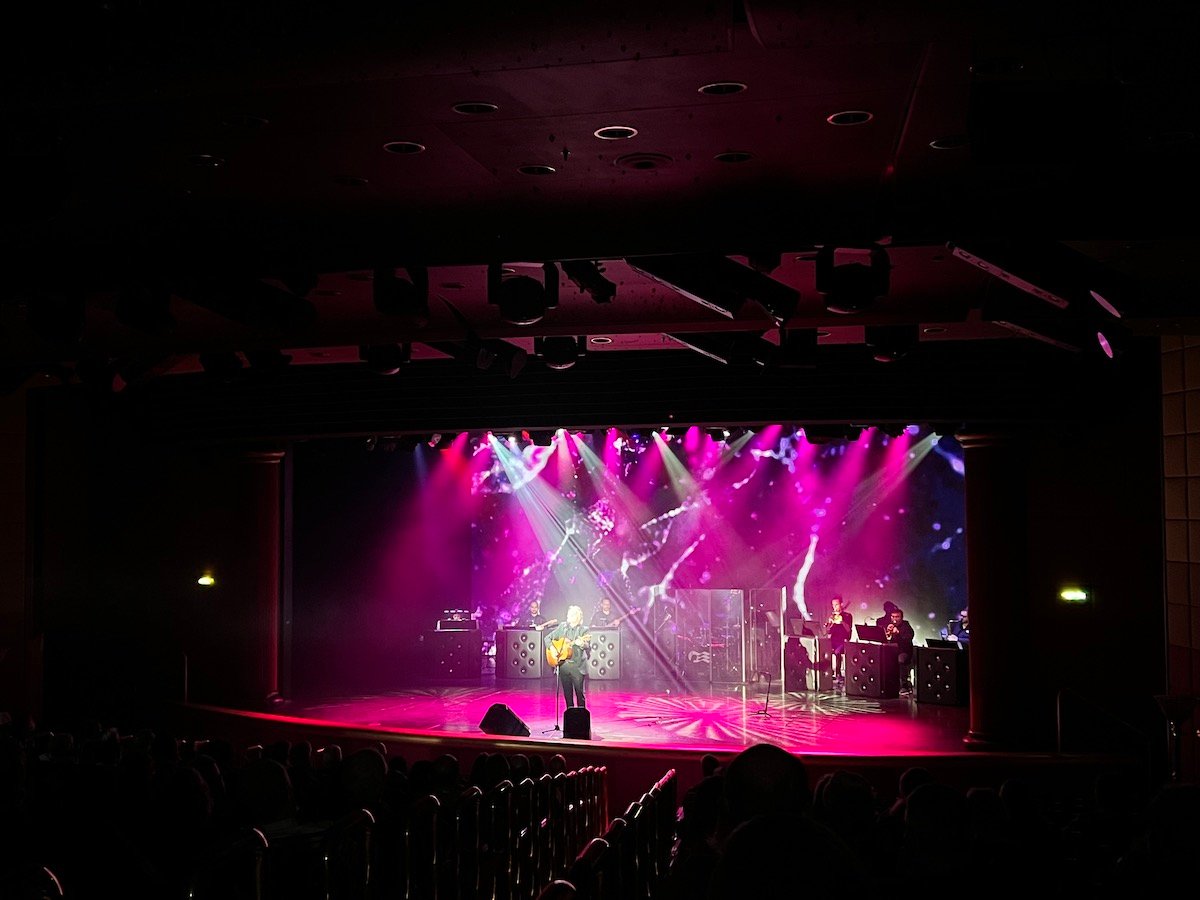 Howard: Vocalist and guitarist Peter Howarth was a featured artist on the Island Princess. For more than twenty years, Howarth has been the lead singer of the British pop group "The Hollies." In addition to performing with Cliff Richard and The Who, Howarth also played the role of Roy Orbison in the acclaimed West End show "Only the Lonely."
While on her first Island Princess itinerary, Lucy attended Peter's concert, and she suggested that I might enjoy his performance the second time around. Backed by a band with an impressive horn section, Howarth played a mix of covers and closed with The Hollies' hits "The Air That I Breathe," and "He Ain't Heavy, He's My Brother."
I didn't like it. I loved it! Thanks for the heads-up, Lucy!
Lucy: You are very wlecome, Howard. So glad you enjoyed this one. I was very happy to have the chance to see Peter Howarth again. He was probably my favorite performer, but there were other memorable theater events.
Another excellent concert performer was Chris Bannister, who did two shows on the Iceland and Greenland trip. Chris is also a guitarist and vocalist who specializes in 60s and 70s folk music. The first show was unforgettable for two reasons.
First, he did an outstanding John Denver tribute show, and John Denver is one of my favorites.
Second, toward the end of that show, for the first time in all my years of cruising, I experienced a shipwide power failure. In the middle of "Annie's Song" there was a sudden explosive sound followed by blackness. Emergency power lighting (dim but enough to make things safe) came on very soon, but the ship was still dark and had lost all power, including engine power.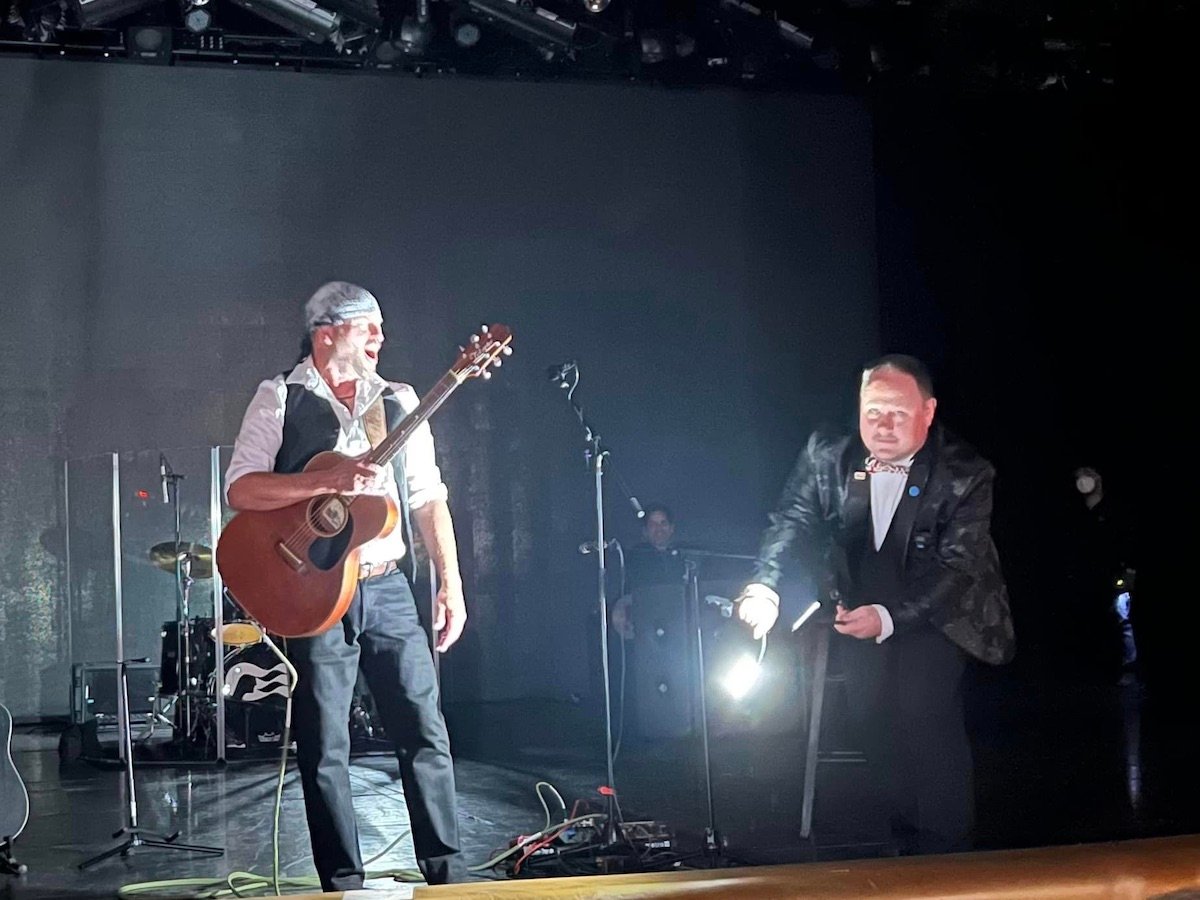 With no power it looked like the show was over, but within a few minutes, Chris and Cruise Director Andy appeared on stage with a strong handheld battery-powered light. Having no power, there was no amplified music and no working microphone. Chris launched into a moving acapella version of "The Eagle and the Hawk." It was an amazing example of the show must go on. You can view a clip from the performance on Chris Bannister's Facebook page.
After about twenty minutes, while things were still dark, the Captain came on the public address system to announce there had been a shipwide power failure, but that things were safe and crew was working to restore power. Within an hour or so the lights were back on, and the ship was moving.
Theater Shows
---
Lucy: Every night the cruise offers a main show in the theater with two performances at 7:30 and 9:30 PM. The shows are generally 45 minutes and are easily attended before or after scheduled dinner times. As already noted, sometimes these are big production shows. Sometimes they are concerts featuring top-notch musical artists. Other frequent acts were comedians, magicians, and once a "comedy hypnotist." Don't ask me what that was exactly. After many years of cruising, I know that I am better off skipping any magicians, hypnotists, or jugglers, and focusing my energy on the music and comedy acts.
Live Music
---
Lucy: To me, one of the bonuses of a cruise vacation, as opposed to a typical land-based trip, is the variety of entertainment offered on the ship in the evening, and the many options available during the day, especially on sea days.
There are generally several music venues from which to choose in the evening. On Island Princess there was a talented piano player most nights in Crooners Piano Bar, a guitarist who did a great job with Baby Boomer favorites, the house band that varied between jazz sessions and dance music, and an Irish duo who did lively sets around the ship. Every evening from about 6 PM through midnight (and sometimes later), I could wander and listen to live music. It was all included in the cost of the cruise with no pressure to buy drinks. In fact, wait staff were happy to just bring you a glass of ice water if that's what you wanted.
There was also karaoke available most evenings. Not my thing, but other guests were having fun.
Games & Parties
---
Lucy: Further down the list of entertainment priorities for me are the various games and parties put on by the cruise director staff, those young folks with boundless energy who are trying desperately to engage a mostly older crowd of passengers.
Howard: Let me interject that most cruise directors annoy the heck out of me. They are so loud and always trying to hype up the crowd. It is all so contrived. Is my age showing?
Lucy: Oh, I would never suggest such a thing, Howard. Especially since my attitude toward cheerleader cruise directors is the same as yours.
As I was saying, these activities include a "Marriage Game Show" that is reminiscent of the old Newlywed Game (except on the ship it mostly involves people who have been married a really long time) and the "Yes or No Game Show," where contestants are invited to engage in a conversation with cruise staff without using the words "yes" or "no." You'd be surprised how hard that can be, and how entertaining it can be to see the various ways passengers try to avoid saying those words.
There are also trivia contests, and I am proud to say that I was part of several winning trivia teams. In 30 days on the ship, my team won 4 times. (Q: What is the largest island in the world? A. Greenland)
In the party category, there are dance parties, including a 50s-style party in the atrium where the aforementioned "Go, Johnny, Go" interfered with communication at the Guest Services desk. I did not participate in the party scene or the late night disco, which was also available. When I was younger and going on 7-day Caribbean cruises, those parties were great. Now I am older and need my rest if I plan to explore ports in the morning.
Destination & Enrichment Lectures
---
Lucy: During the day, especially sea days, the cruise line offered lectures in the theater. Conveniently, the lectures were videotaped and passengers could replay them on the cabin TV at their leisure.
The destination lectures were generally a short, but helpful preview of what to expect at each port related to transportation and things to do. On Princess, the destination experts are not giving an in-depth dive into the history and culture of port cities like you would expect on Viking or Cunard. But the information is helpful.
Howard: Because I didn't read the Princess Patter, I always missed the live port talks. I did watch some of them on tape-delay, as Lucy suggested, and found them very helpful for planning my port explorations.
Lucy: I am silently rolling my eyes at Howard's failure to read the Princess Patter. But if your focus is only on the destination, I suppose the daily schedule of onboard events is not necessary, and I'm happy to do my part to curate the cruise experiences of my friends.
On my two Island Princess cruises, I had two different enrichment lecturers. On the Iceland and Greenland cruise, there was an interesting lecturer who did a series of talks covering the history of Greenland and life and culture there. He also did a few talks about the history of transatlantic crossings, including changes implemented after the Titanic disaster.
One day we had an excellent lecture by the "ice pilot" who was with the ship during its time in Greenland. Greenland is a territory of Denmark, and Denmark has recently required that all passenger ships sailing the waters near Greenland to take on a team of two ice pilots who work with the crew to monitor icebergs and plot a safe course.
On the Baltic cruise, there was less time for enrichment lectures because there were only a few sea days. On that trip we had a gentleman who gave us information about stargazing at sea, including hints on how to look for the northern lights. I never saw northern lights during the Baltic trip, and didn't expect to because we weren't far enough north. I was fortunate to see the northern lights once when off the coast of Greenland.
Champagne Waterfall
---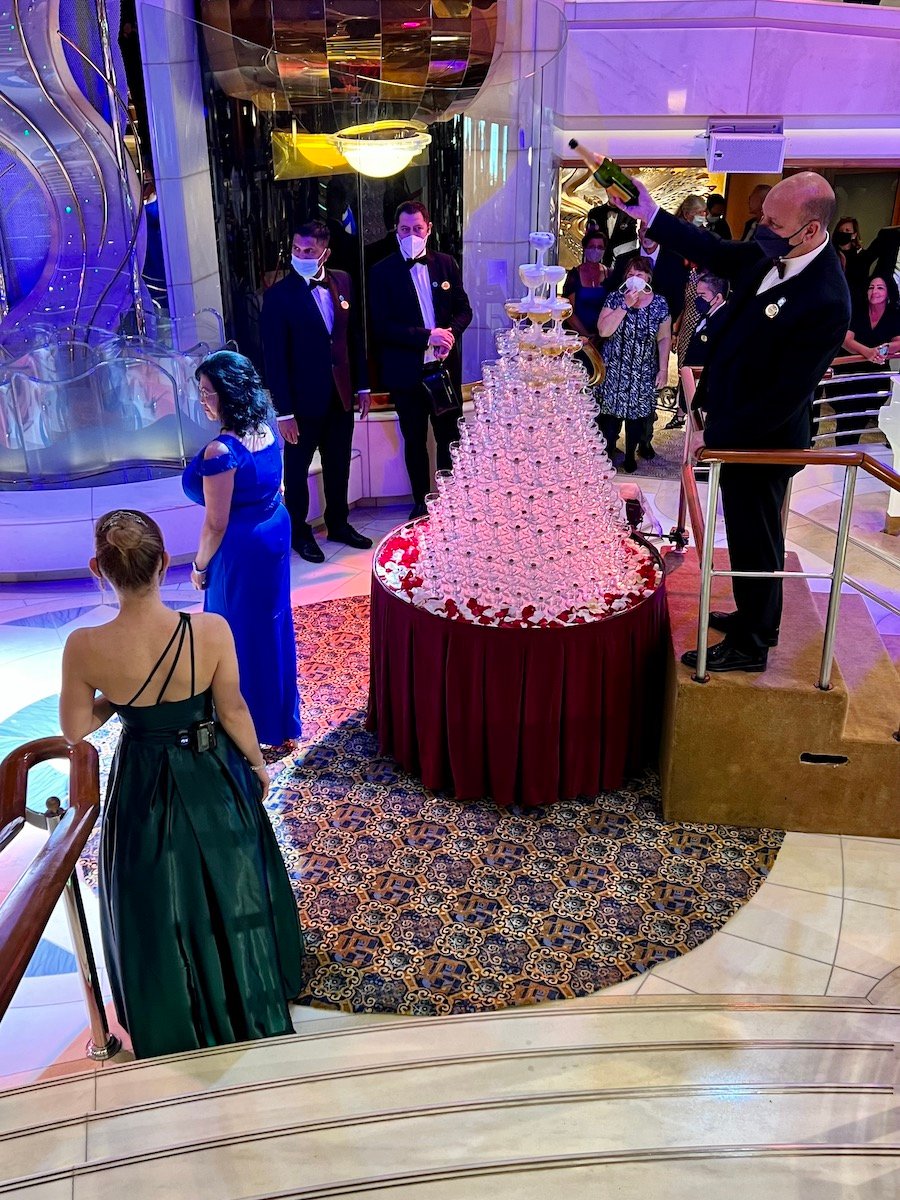 Lucy: It's the return of the champagne waterfall!
Under the category of silly, but fun cruise traditions, I was thrilled to see the return of the champagne waterfall on the Island Princess.
A champagne waterfall is an event that has been a Princess Cruises tradition for at least 35 years. To the best of my knowledge it was a tradition started on the old Sitmar Cruise Line, which was acquired by Princess Cruises in 1988. In fact, I first participated in the event while on the Sitmar Fairwind in 1987, my second-ever cruise.
The champagne waterfall traditionally happened on the final formal night of a cruise. This was a big deal back in the 1980s and 90s, when formal nights were much more . . . well, formal. Most people really did dress up. Men wore suits or dinner jackets, and sometimes even tuxedos. Women shopped in advance of cruises to find a suitable formal outfit or two.
On the afternoon of that very fancy occaision, the cruise staff would begin assembling hundreds of champagne glasses into a giant tower. At the appointed time in the evening, guests (ladies mostly) lined up to pour champagne into the top glass on the tower, which then cascaded down to the lower levels. Once everyone who wanted a photo op had their chance to pour, all the rest of the bottles were poured onto the waterfall. Then, staff carefully disassembled the tower glass-by-glass to distribute the champagne to guests.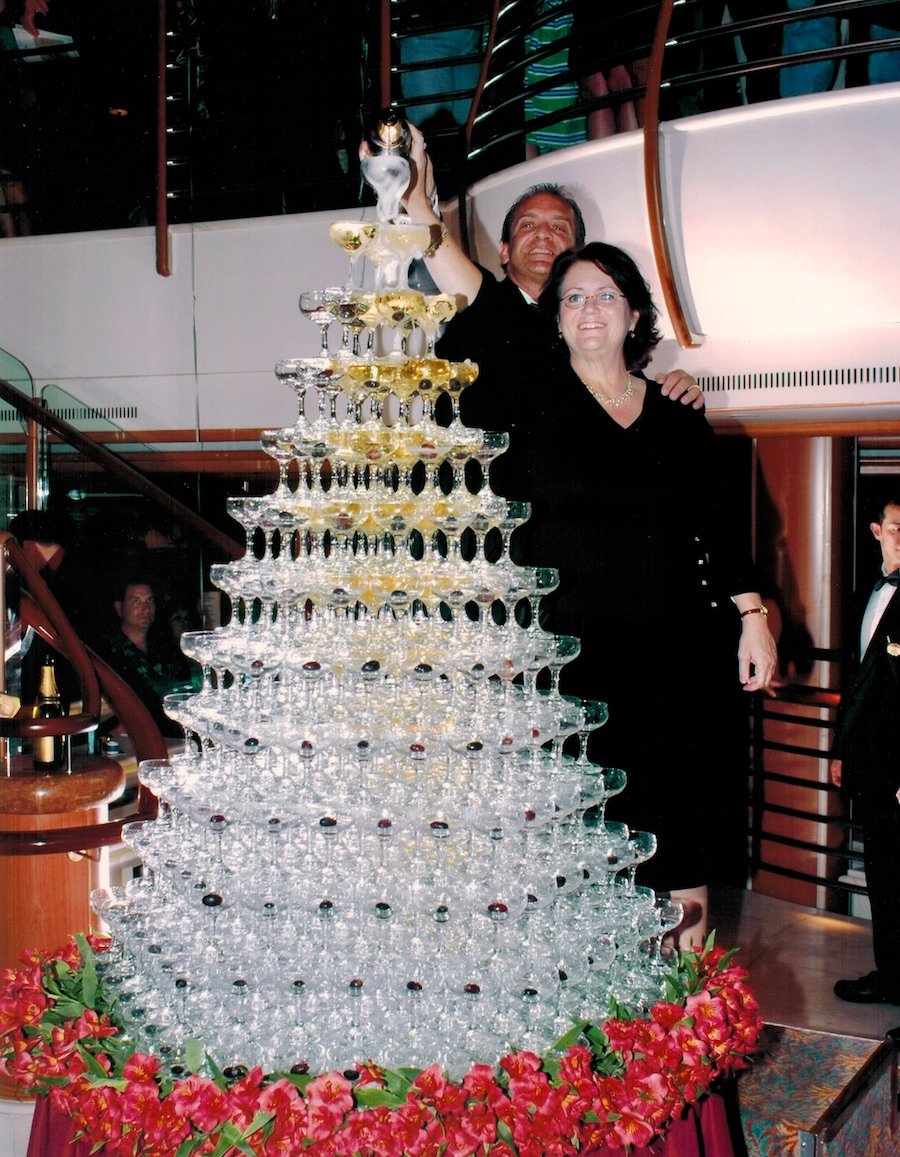 Howard: Oh look, it's Lucy pouring vintage champagne back in the day!
Lucy: Yes, Howard. I believe this was on the Caribbean Princess in about 2006. I was on board with family celebrating my mom's 75th birthday. As I was saying, through the years formal nights became less formal, but the champagne waterfall remained. Until the pandemic, that is, when the entire cruise industry came crashing down. When the cruise industry started back up again, there was no waterfall because social distancing rules did not allow for that much togetherness. I personally thought that we would never see the event again. I've been on several Princess cruises beginning in February 2022 and there was no champagne waterfall. Until now.
Princess seems to still be in a transitional period regarding the event. On the Iceland and Greenland itinerary, passengers had the opportunity to pour champagne, but on the Baltic cruise the tower was standing only as a prop to pose with. I don't know if any champagne actually cascaded down the tower.
Howard: I was curious to see what the big event was all about, so I left the comfort of my heavenly bed and headed down to the atrium to witness the champagne waterfall. My immediate reaction was that it was some silly, contrived stunt so that Princess could sell more photos on a formal night. I am pretty sure my assumption was correct, but Lucy's history has opened my eyes to the greater picture (no pun intended). This is why I am ever so grateful to have a cruise historian like Lucy to put things in perspective.
Lucy: Is the champagne waterfall necessary for a happy cruise? Of course not. It's probably an extravagance that doesn't make much sense anymore. As Howard notes, it was always about selling photos. But since we all have our iPhones now, there aren't as many people buying photos.
---
Dining Venues
---
Howard: As I have written in previous Princess ship reviews, food quality is one of the most obvious ways to see how the cruise line has cut corners as a result of the global pandemic. Even so, the Island Princess offers a slate of complimentary and specialty dining venues. I have come to accept the substandard food quality because I don't cruise for dining.
Horizon Court
---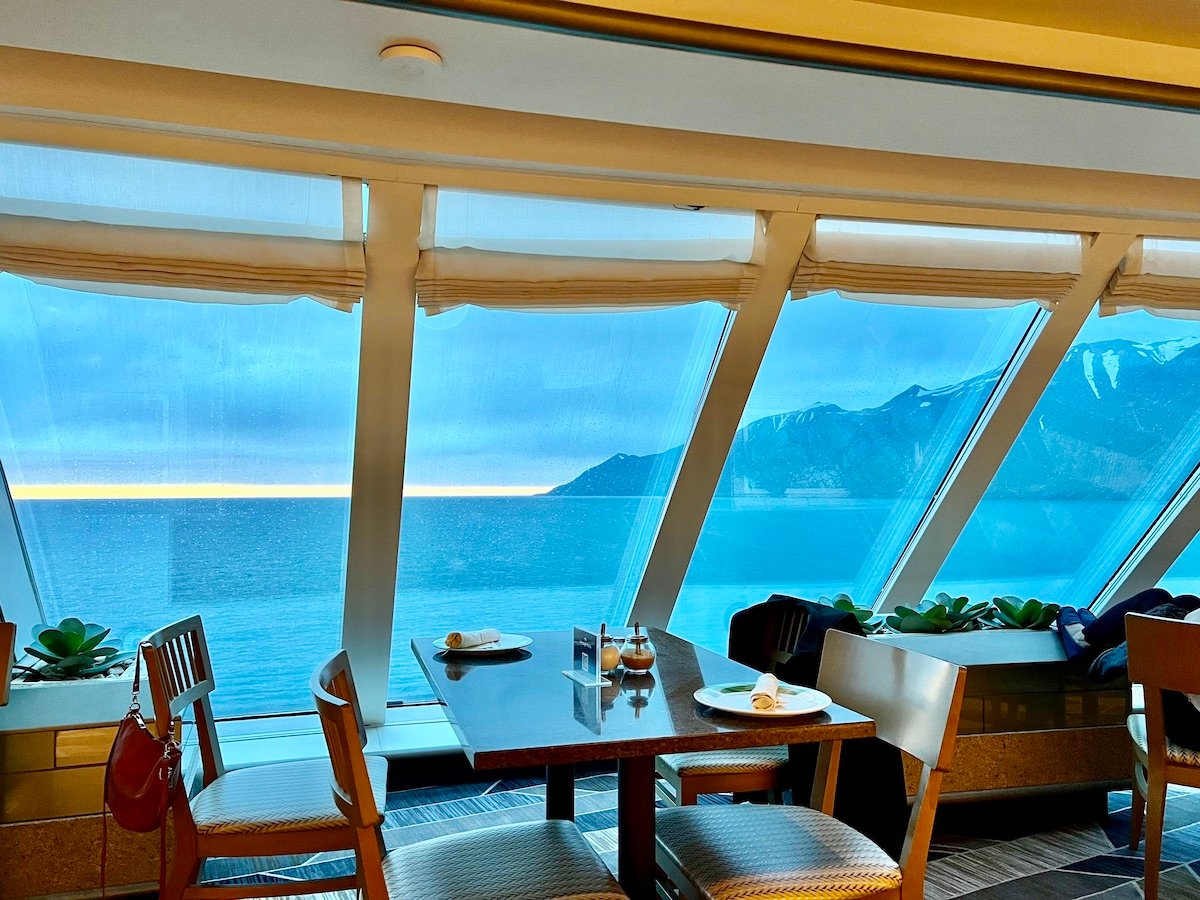 Howard: As Lucy mentioned at the top of the post, the Horizon Court buffet is situated at the fore of the Lido Deck and offers stellar views while dining.
The complimentary buffet offerings were average, and I went there most mornings for breakfast. Bacon was the primary draw. Not only was there AYCU bacon, but there were two preparations, regular and extra-crispy.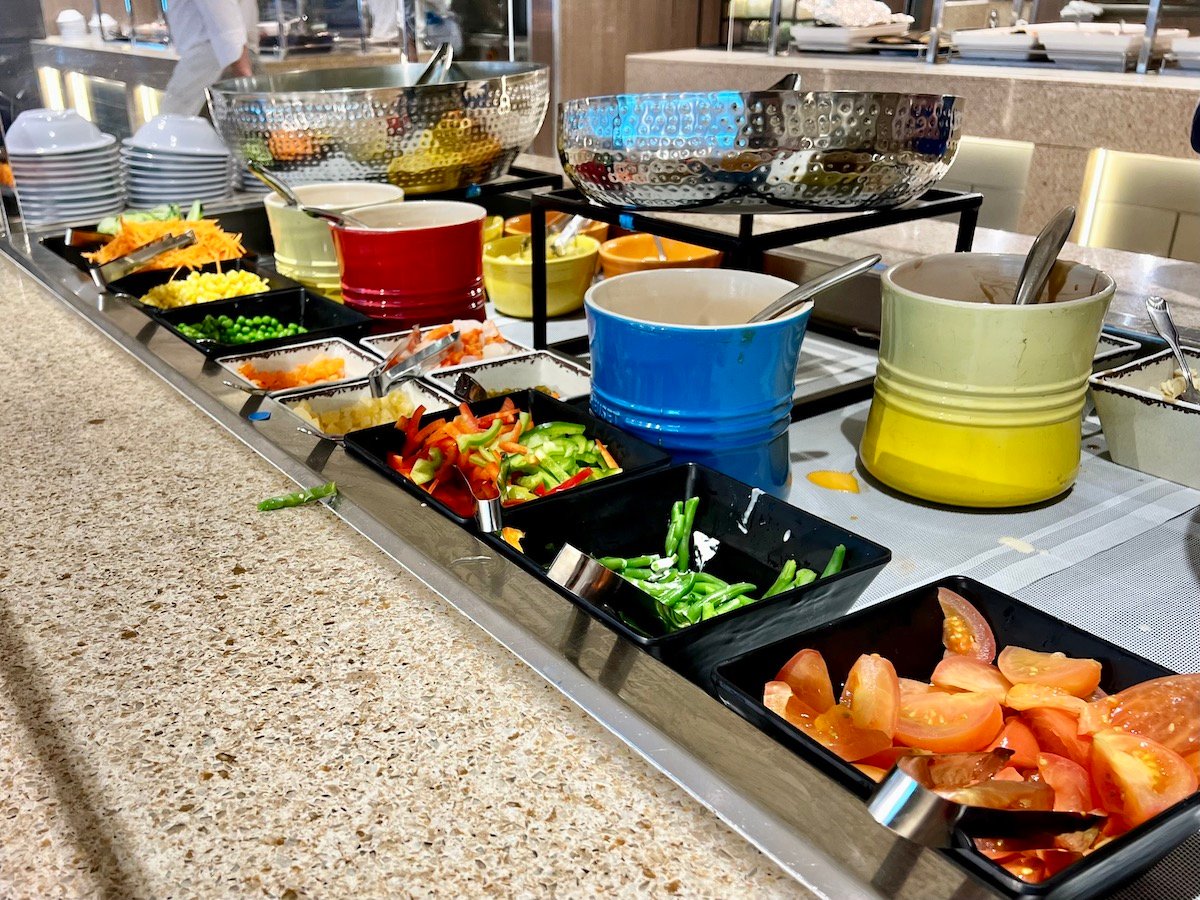 I also frequented the salad bar. On previous Princess cruises I had sampled various salad dressings and found them to be of the bland knock-off dollar store variety. The exception was the balsamic vinaigrette that was my go-to while on the Island Princess.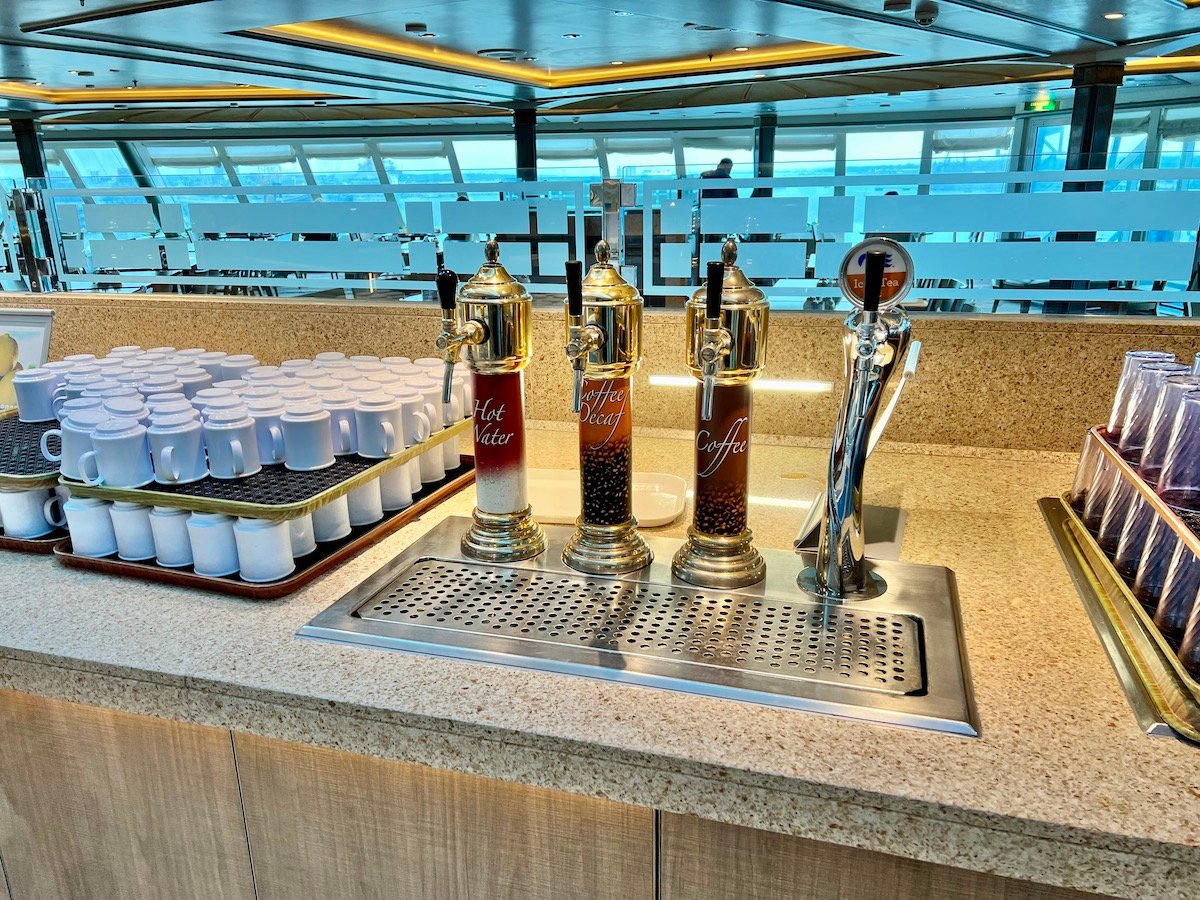 The self-serve hot beverage stations in Horizon Court were great, always accessible and well-stocked with coffees, teas, creamers, and such. It was a good thing that guests were able to get their own beverages because there seemed to be fewer servers on this cruise circulating between tables for refills, juices, and specialty beverage orders.
Amuleto Italian Café
---
Howard: As we mentioned previously, there is no International Café in the Princess Plaza, but there is an Amuleto Italian Café and Bakery inside Horizon Court. Pastries are complimentary and specialty beverages are available for purchase if not included with your beverage package.
I am a cookie monster, but cookies on Princess are always a toss-up. My favorite cookie is peanut butter, but they are rarely offered. Oatmeal raisin cookies have been my nightly treat on previous cruises, but for some reason on the Island Princess the oatmeal cookies had a lemon flavor that did not work for me. In the past, I did not like the chocolate chip cookies, but on the Island Princess I liked them.
Lucy: The offerings at Amuleto received mixed reviews among my friends. Several friends were very disappointed that bread pudding was rarely seen there. I tended to stop by in the afternoon to pick up a cupcake, which were always moist with creamy frosting.
Unlike Howard, I thought the chocolate chip cookies were not ideal. Princess did not use semi-sweet chocolate chips, which I view as important to the creation of an authenitc chocolate chip cookie. Princess was using some sort of low cocoa version. The chips were not even as dark as milk chocolate. However, this issue did not prevent me from regularly sampling the cookies. We cannot let perfection be the enemy of good.
Provence & Bordeaux Dining Rooms
---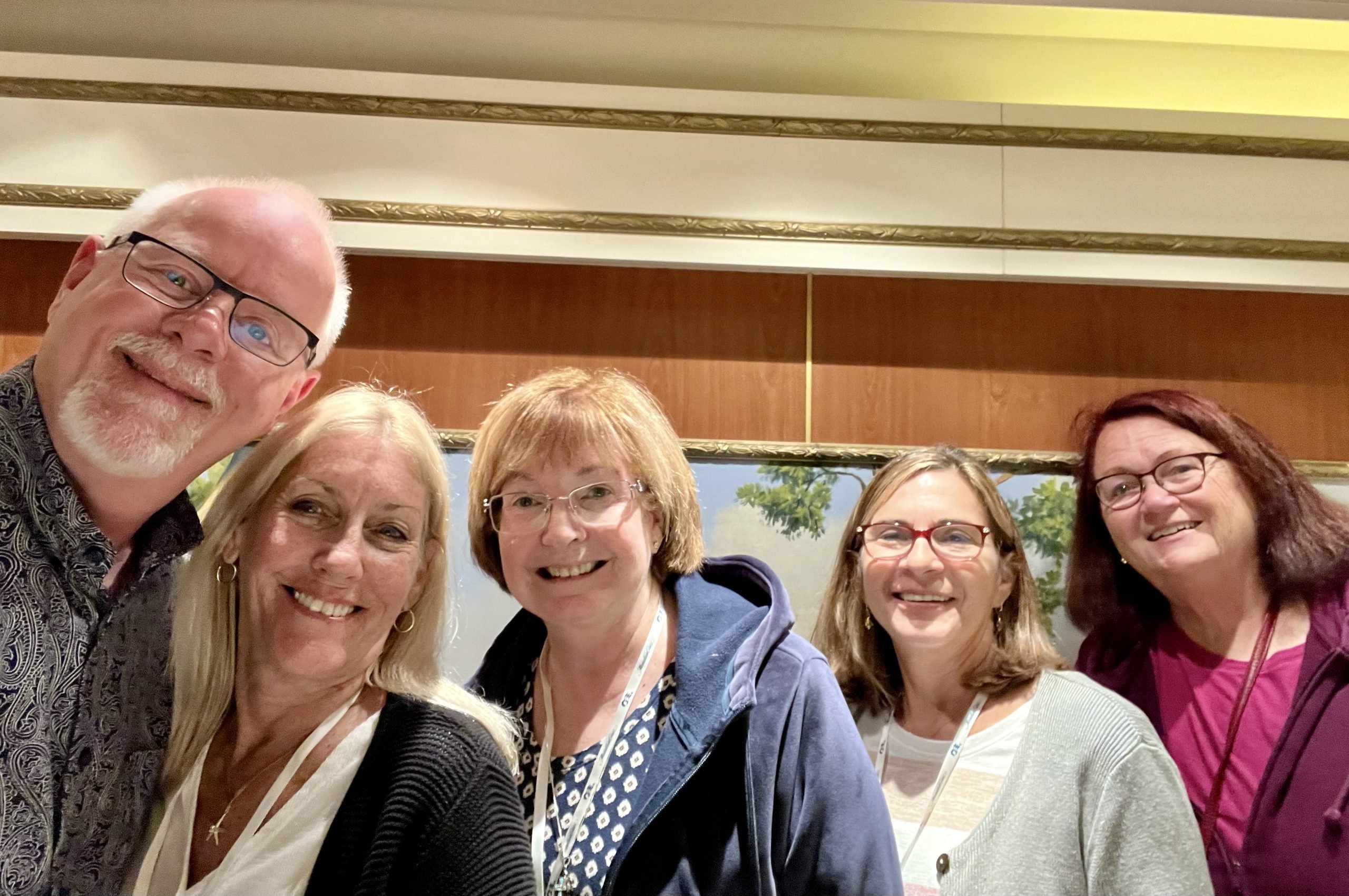 Howard: The Island Princess has two complimentary dining rooms—Provence and Bordeaux—that serve identical menus. Because we had so many friends (Gail, Margaret, and Jackie pictured with us above) on the Island Princess itinerary, Lucy made a standing reservation at Provence, a table for eight at 7:30 every night. Although we are all friends, we are also independent, so no one felt obligated to show up for dinner every night, and no one was offended when other plans were made.
Lucy: The menus and meals offered in the main dining rooms are varied and tasty, though certainly not spectacular on a regular basis. Princess has several regular items that it does well. Passengers can always get a shrimp cocktail, a hearty cheesy onion soup, creamy fettuccine, and entrees such as salmon and chicken. Every night there were variations on beef, pork, seafood, as well as a vegetarian option.
Howard: My Provence dinner standards were the shrimp cocktail, French onion soup, and Caesar salad. I liked the flexibility of being able to nix the croutons and add anchovies. Like the other salad dressings on board, the Caesar dressing was not the best, and sometimes the kitchen would drown my salad. The fettuccine Alfredo was Stouffer's quality, but passable. I ordered it frequently both as a side portion or as an entree with sliced chicken breast.
I had two main issues with the nightly beef, pork, and seafood variations. The first issue was that the protein often had a rubbery texture. The second issue is that some of the preparations were bizarre with strange sweet-savory combinations. I told Lucy that the nightly entrees were a game of 52 Pick-up where chefs threw ingredients into the air and cooked them however they landed.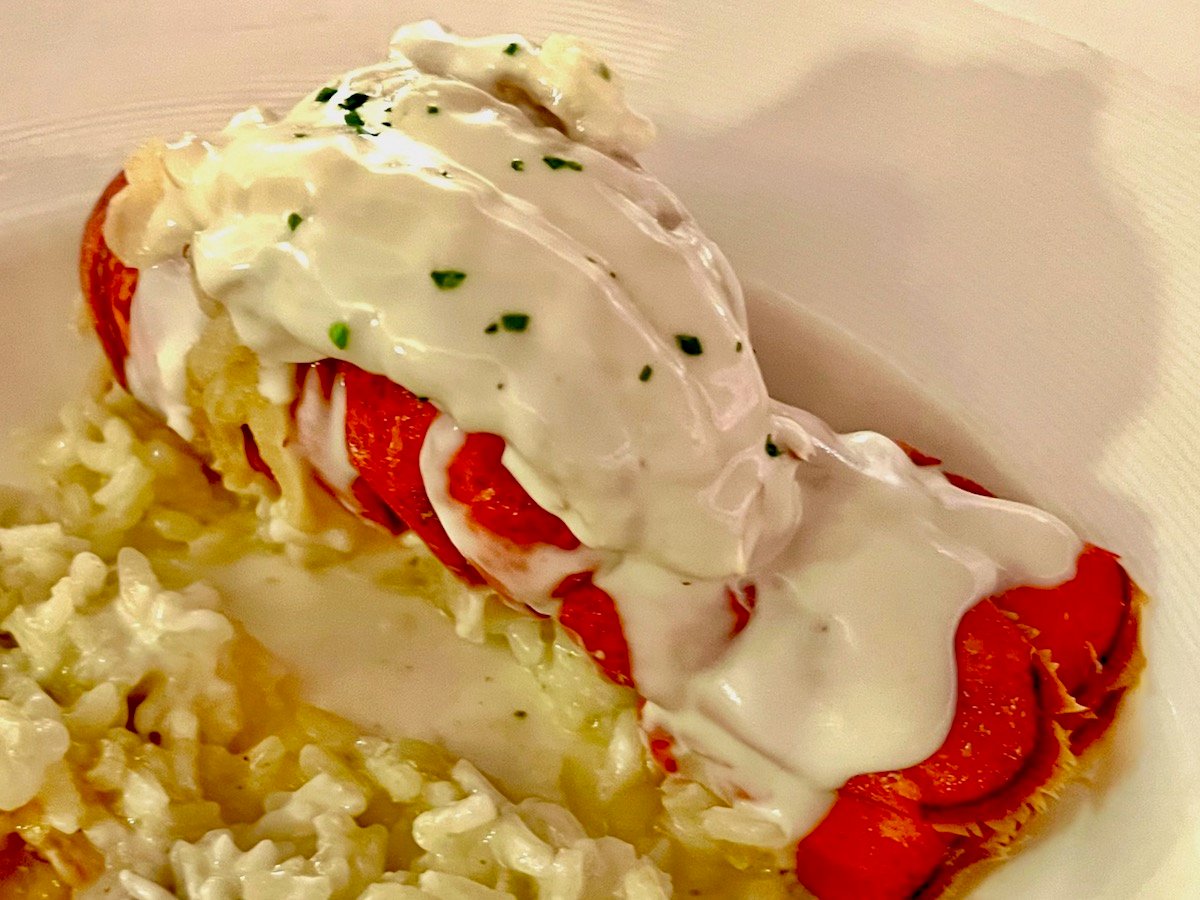 Lucy: A nice touch on longer Princess cruises—at least the two I was on—is that there were two "lobster nights." Lobster night is another traditional cruise event. Back in the day, the dining highlight of every one-week cruise was the final formal night when lobster was on the menu. Some cruise lines have discontinued this tradition. (I'm looking at you Norwegian.) But Princess is a traditional cruise line, and I expect its many dedicated cruisers would mutiny if they were not served lobster at least once at dinner. The fact that the delicious crustacean was offered twice on the cruise seemed positively decadent, especially if you have a good server who insists that beef Wellington accompany your lobster.
And yes, for those who have been cruising forever, Princess still does baked Alaska, including the "Baked Alaska Parade." I would be willing to bet money on the fact that the baked Alaskas that are paraded these days are plastic facsimiles that are pulled out of storage once per cruise. Passengers are served the real thing, but I have always thought it was an overrated dessert.
Howard: And of course the Baked Alaska Parade was so obnoxious to me with blaring music, an even louder cruise director talking over the music, and waiting for dessert to be served. I held my ears and prayed for it to be over.
Princess Pizzeria
---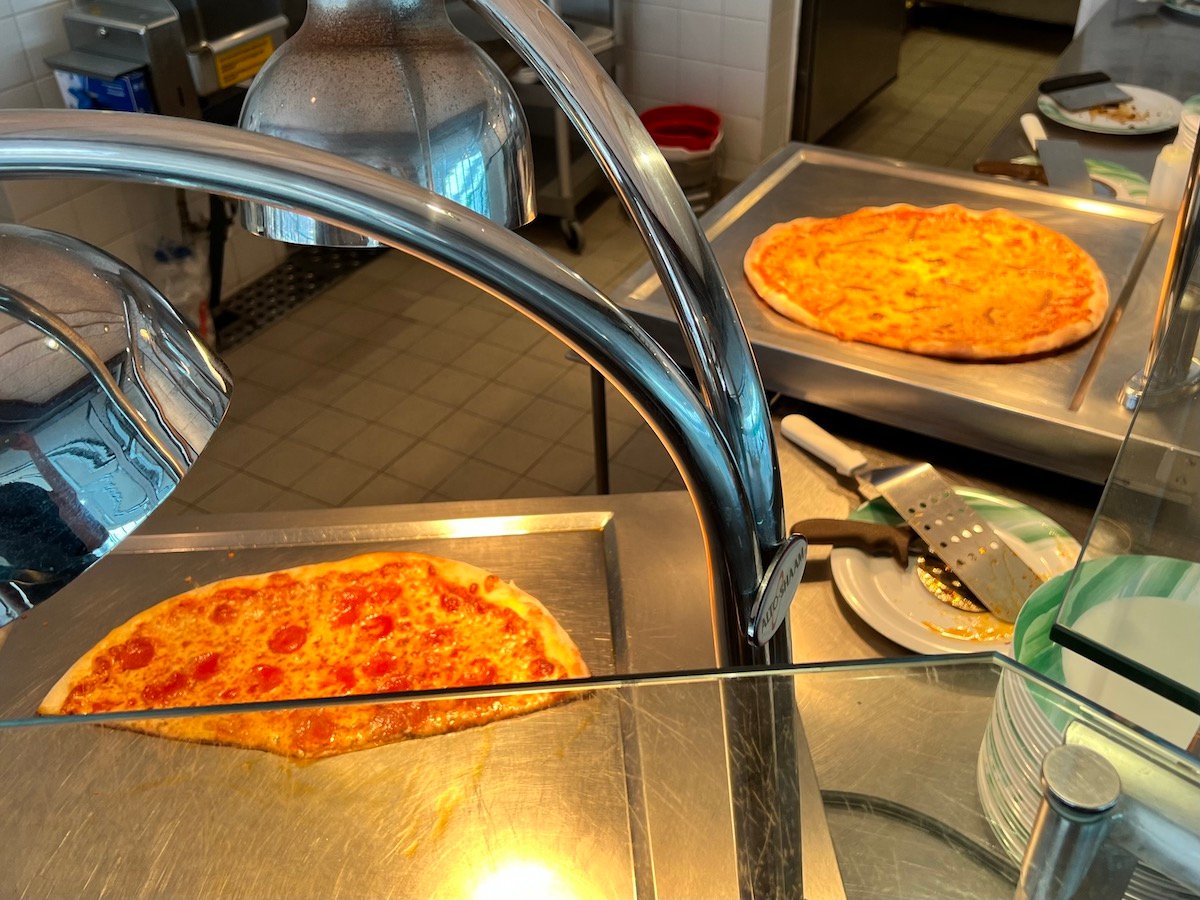 Howard: The Island Princess Pizzeria produces the same delicious pizza I grew to love at the Slice Pizzeria on the Caribbean Princess and Gigi's Pizzeria on the Enchanted Princess. It is almost always open and always there when the buffet and dining room menus have no appeal. I frequently headed to the pizzeria for a late lunch when returning to ship after exploring port cities.
Sabatini's Italian Trattoria
---
Howard: Sabatini's Italian Trattoria is a specialty restaurant with a $25 to $29 upcharge depending on which Princess ship you sail. Dinner companions excepted, Sabatini's on the Caribbean Princess was a less than satisfying experience, but I was ready to give it another try.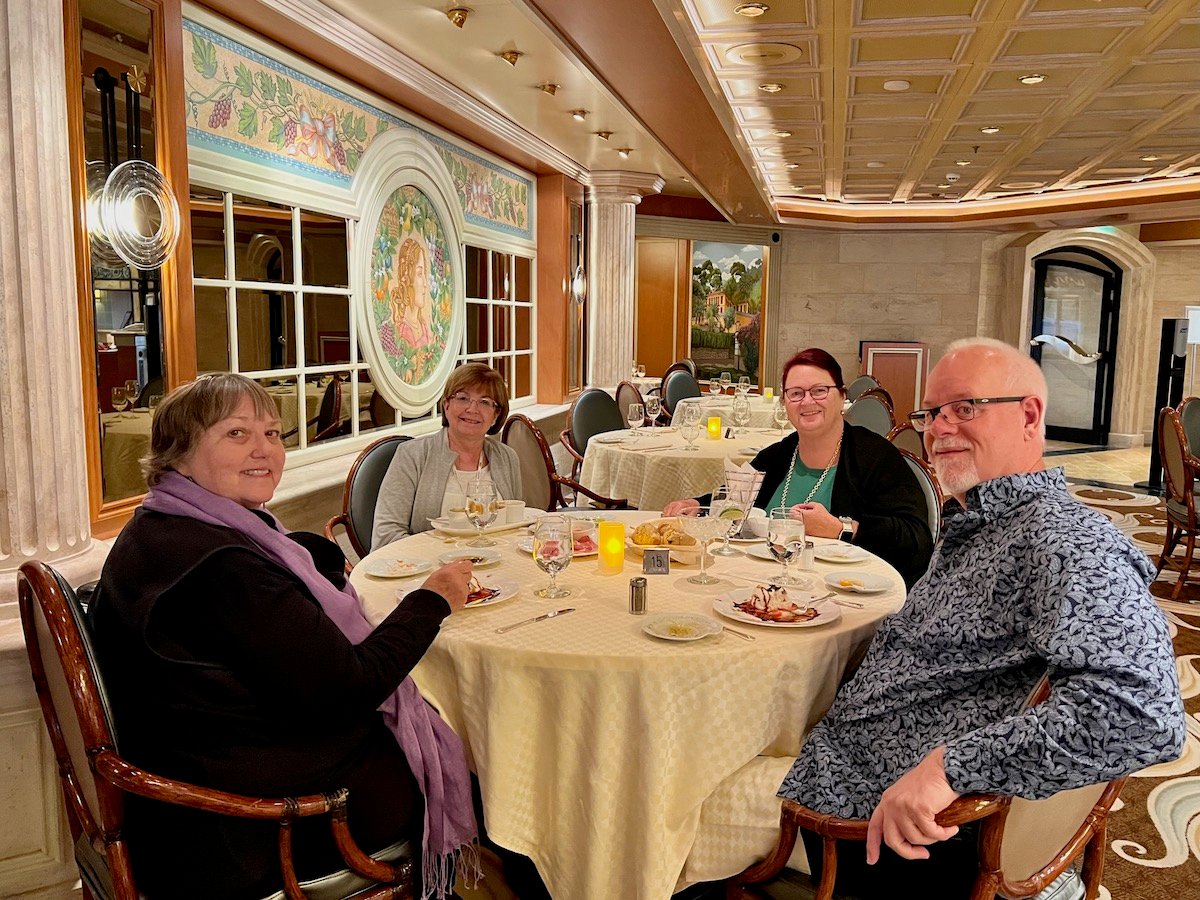 The Island Princess Sabatini's has tablecloths and much richer decor than the Caribbean Princess, but the cuisine was just as disappointing as it had been on my first outing.
The texture of the burrata on the salad was strange, the trio of Italian dishes served in ramekins was just average, and the chicken scaloppine was bland, although not as rubbery as it had been on my previous visit. All things considered, I don't think I will be dining at Sabatini's on future cruises.
Alfredo's Pizzeria at Sabatini's
---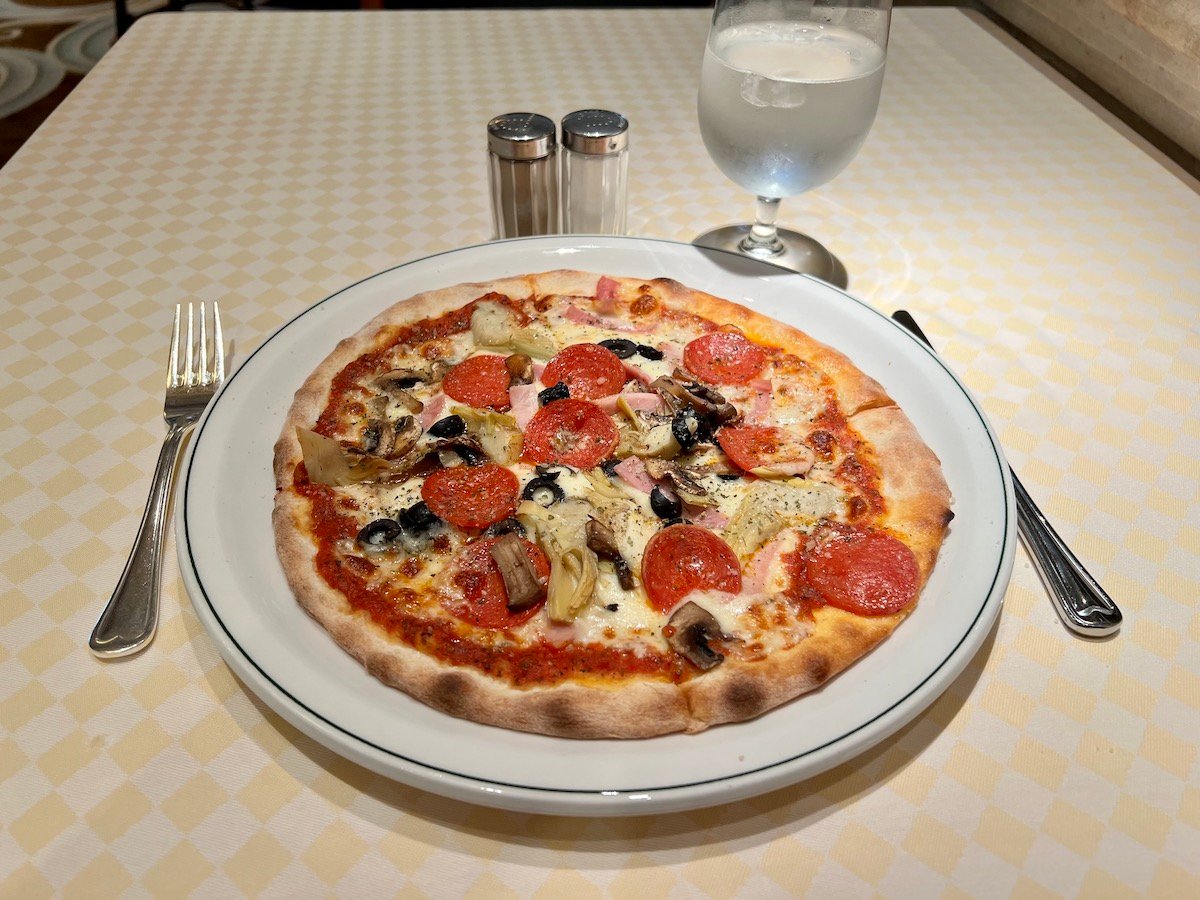 Howard: On sea days, Alfredo's Pizzeria at Sabatini's serves complimentary pizza for lunch. There are no soups and salads on the menu like at Gigi's Pizzeria on the Enchanted Princess. So if you prefer to eat your pizza in a comfortable dining venue with a waiter rather than poolside takeaway, it is clearly a viable option. If you like salad with your pizza, just visit the buffet first. You will have plenty of time for a moveable feast on days at sea.
Bayou Café & Steakhouse
---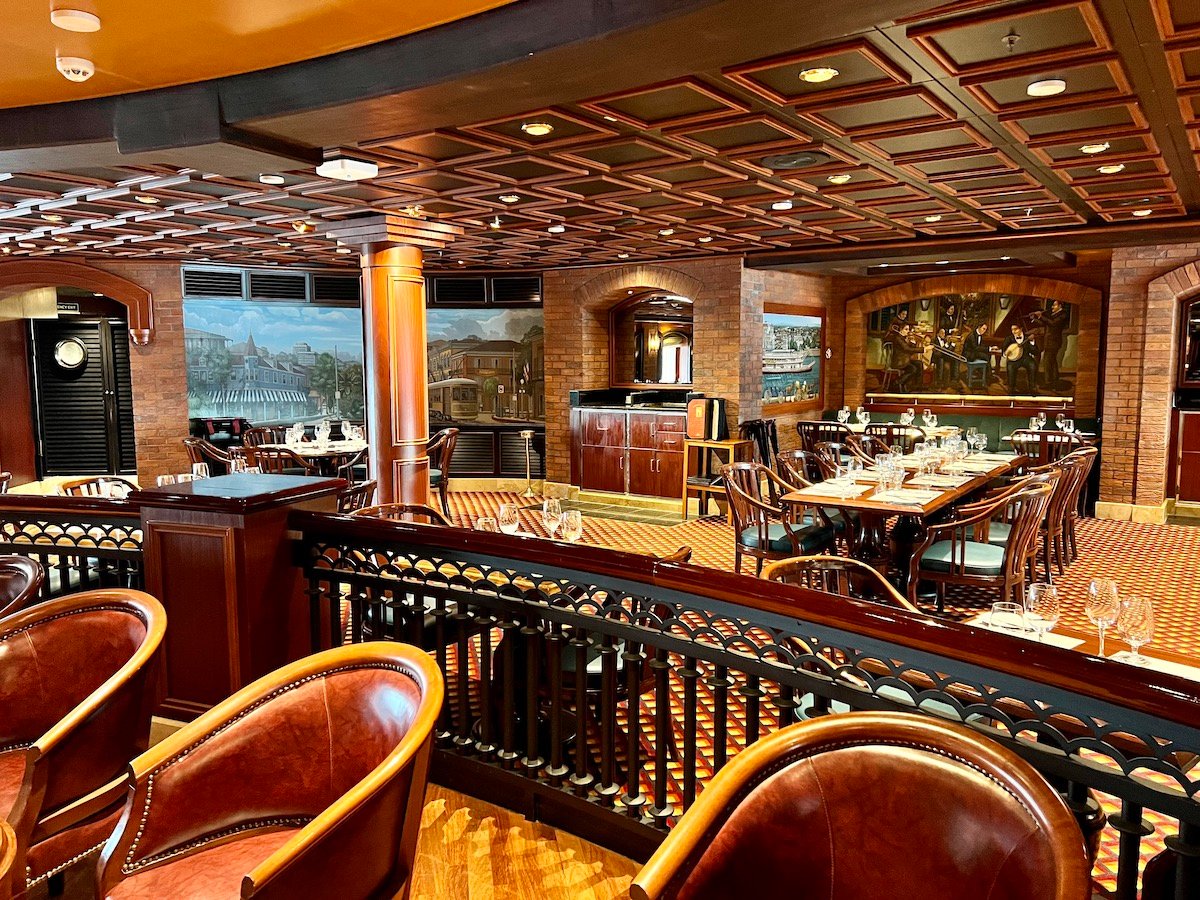 Lucy: I was pleasantly surprised by our dinner at the Bayou Café, a specialty restaurant with a $29 fee. My expectations were low because I was not convinced combining a Louisiana-style menu with a steakhouse concept was a good idea. I'm still not convinced it's a great idea, but in this case it worked. The steaks were well-prepared, and the appetizers and side dishes were unique and delicious.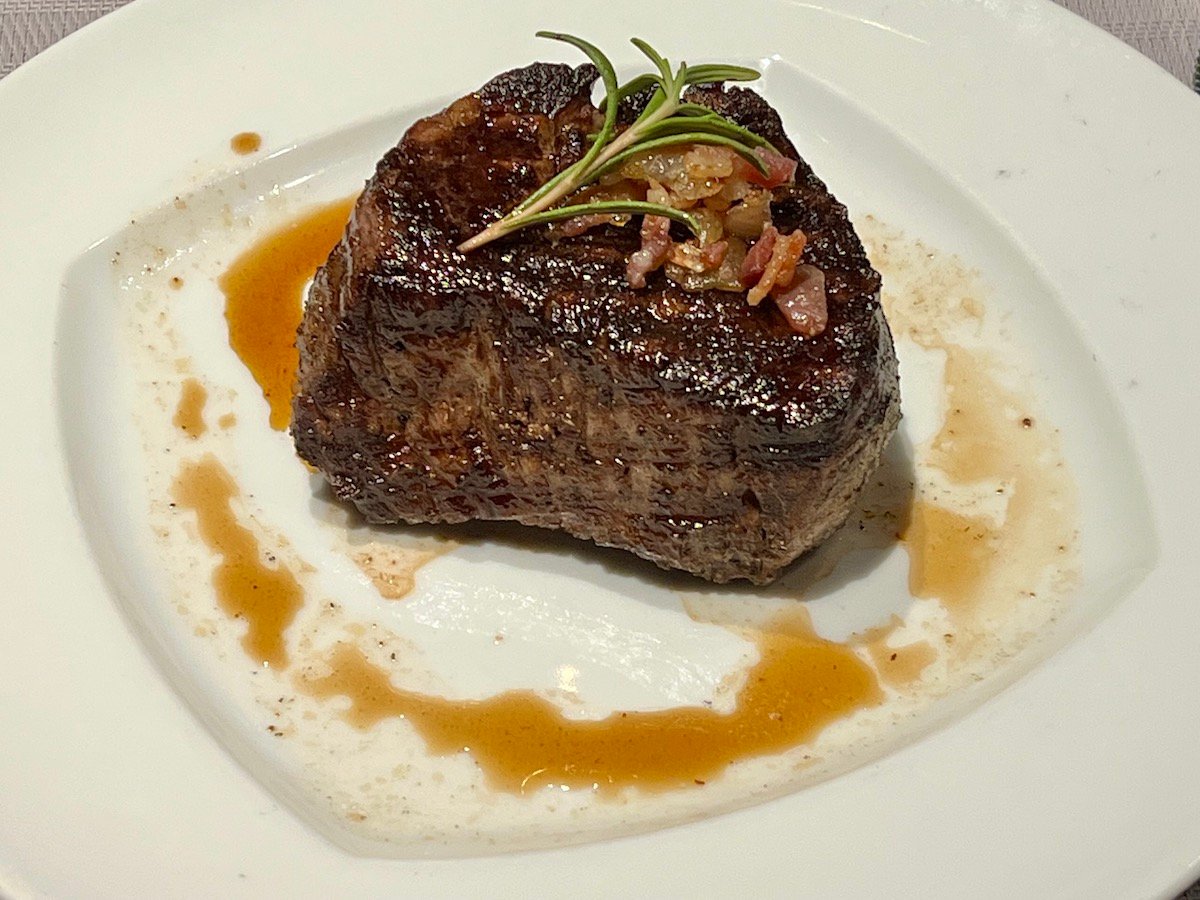 Howard: I have consumed many authentic Cajun and Creole dishes on my travels, and so I found the appetizer and side dish offerings at the Bayou Café to be imitations at best. But I agree with Lucy about the steaks. The "Carpetbagger's Trinity Smothered Fillet of Beef" was a huge 10 oz. filet, perfectly-cooked to medium temperature, and fairly well-seasoned. The steak was delicious, and I wasn't about to let a single bite go to waste.
Lucy: The one menu item that was something of a letdown was the bread pudding. Or as the menu reads, "Buttermilk Bread Pudding with Pistachio Caramel Sauce." It was unique, but the chef seemed to be trying too hard. IMHO, bread pudding is a wonderful dessert. When it's properly prepared, there is no need to try to make a more gourmet version. As noted elsewhere, the basic bread and butter pudding offered as part of the Pub Lunch was perfection. The creation offered at the Bayou Cafe was a bit odd. The caramel had some extra flavor in it which did not enhance the sauce. The bread pudding itself was not the dense rich texture expected. It wasn't bad, but I would never recommend ordering it.
No worries though. The servers at Bayou Café insisted that they bring a sample of all the desserts to the table. It is my belief that servers on cruise ships are all trained to be food pushers. One of the other options offered, the "Fried Yellow Peach Pie," was a huge success, even prompting a request for a second helping.
Howard: I did not order the bread pudding, but I sampled Lucy's. I thought it strange and did not like it at all. I ordered the fried peach pie. It wasn't the best I have had, but the crisp, sugary crust was delicious.
Pub Lunches
---
Lucy: On some sea days, Princess offers a pub lunch to passengers. On Island Princess, this was served in the Bayou Café. Pub lunches are very popular, with passengers standing in line waiting for a table. Fortunately, the service is efficient, and even long lines move quickly. When our group of seven arrived, we joined what looked like a line of at least 15-20 parties ahead, but we were seated in about fifteen minutes. It was worth the wait.
The pub lunch menu will make you feel like you have wandered into a traditional British pub. Offerings include a ploughman's lunch, fish & chips, steak and Guinness pie, and bangers & mash. All of this is complimentary, and here's the best news. For dessert, there is bread & butter pudding. All of the menu items are excellent.
Howard: Pub lunches were discontinued due to the global pandemic, so this was my first time to attend a pub lunch. I was curious because I had heard longtime Princess cruisers raving about them. I have to agree with everything Lucy said about the experience. I ordered fish & chips and bread & butter pudding, and all things considered, it was one of my best meals on board.
---
The Bar & Grill
Lucy: High above the crowds gathering at the Horizon Court buffet and Princess Pizzeria, you will find the Bar & Grill. Located one deck above the pool and Horizon Court, this is the place to come for burgers, hot dogs, chicken sandwiches, and tacos. I think this place works better on warm-weather cruises where it is a convenient place to grab lunch without changing out of your bathing suit. During this cruise, I would rate it as inconsistent. I had a hot dog that was okay. I had a burger that was fine. A second time I went and the burger was so undercooked I think it might have been illegal. My experience with the grill on other Princess cruises was much better.
If you want a burger or similar item, you can order one from room service and have it delivered anywhere on the ship.
Howard: I had a horrible experience at the grill on a previous Princess cruise with a flavorless burger and fries smothered with bland chili and a watery cheese sauce. One afternoon while the Island Princess was in port, I thought I would give it another try. This time I ordered just a cheeseburger, and once again it was awful. I have not tried any of the other grill creations, so I cannot judge. I know there is also a pulled pork sandwich on the menu. With delicious fresh-made pizza awaiting one deck below, I found no reason to waste my time at The Bar & Grill.
Swirls
---
Lucy: Oh dear! It is best not to get me started on the sadness of Swirls. Every cruise I take, Princess sends me a survey to ask my opinion of the trip. I have completed six surveys in the past year. On every survey I whine and complain about how embarassed Princess should be about the frozen substance they call ice cream at Swirls.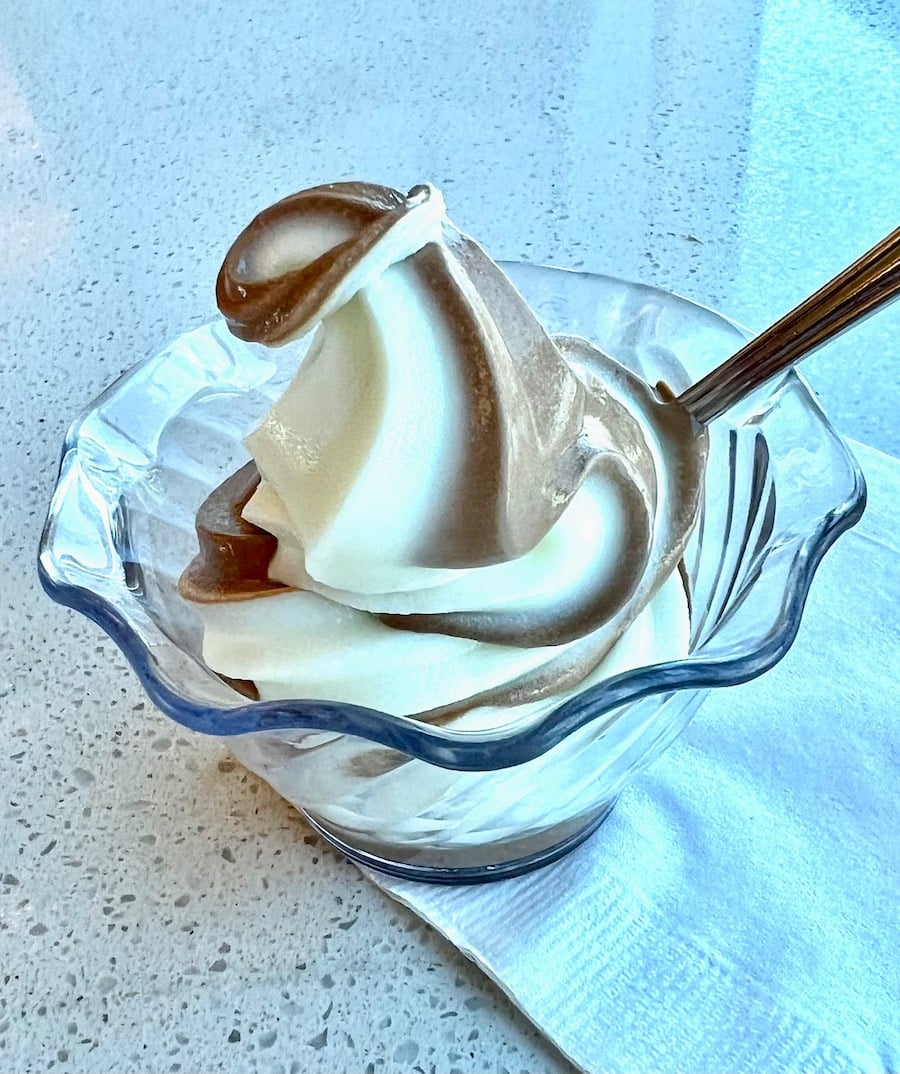 Some of my cruisemates have suggested that it is ice milk, to which I respond, "Do not insult ice milk like that!" I have cruised with Norwegian, Royal Caribbean, Celebrity, Carnival, Holland America, and even MSC. They all get soft-serve ice cream done decently. I am not expecting the creamy deliciousness of the ice cream I had in Scandinavian ports. I am simply looking for a McDonald's level quality. That is all.
Howard: I have to concur with Lucy's assessment of Princess soft-serve. It is bad. It is like frozen water with a touch of added flavor. I have not cruised with as many lines as Lucy, but I can vouch for Norwegian's most excellent soft-serve. I might also add that ice cream is one food group where Lucy and I meet on common ground. It is a given that our port explorations always include scouting for ice cream.
---
Bars & Beverages
---
The Island Princess cruise ship had several welcoming spaces that were well-designed for entertainment and for imbibing your favorite beverages.
The Wheelhouse Bar
---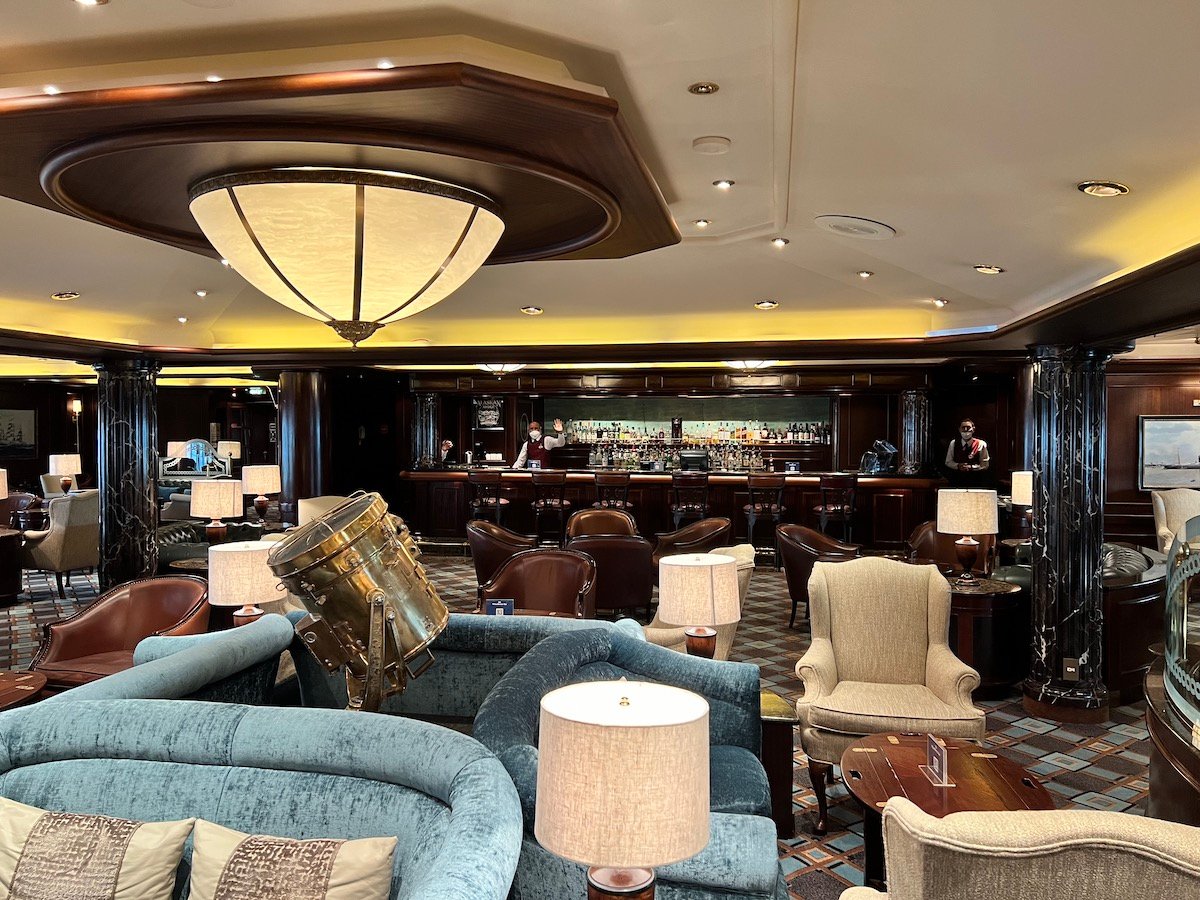 Lucy: The Wheelhouse Bar was a warm and clubby space just forward of the central atrium. Spending time there felt like you might be at a gentleman's club in London. During the day it was a generally quiet place ideal for reading or gathering friends for a card game. But watch out at 10 AM, 1 PM, and 4 PM when the Wheelhouse was frequently crowded with noisy and competitive trivia buffs.
In the evening, there was a variety of music offered and the dance floor was in use by ballroom dance experts.
Howard: The Wheelhouse Bar was also the gathering place for LGBTQ+ and Solo/Single Cruiser meetups. Although the gatherings were unhosted, the varied meeting times were posted in the daily Princess Patter along with other events.
Explorers Lounge
---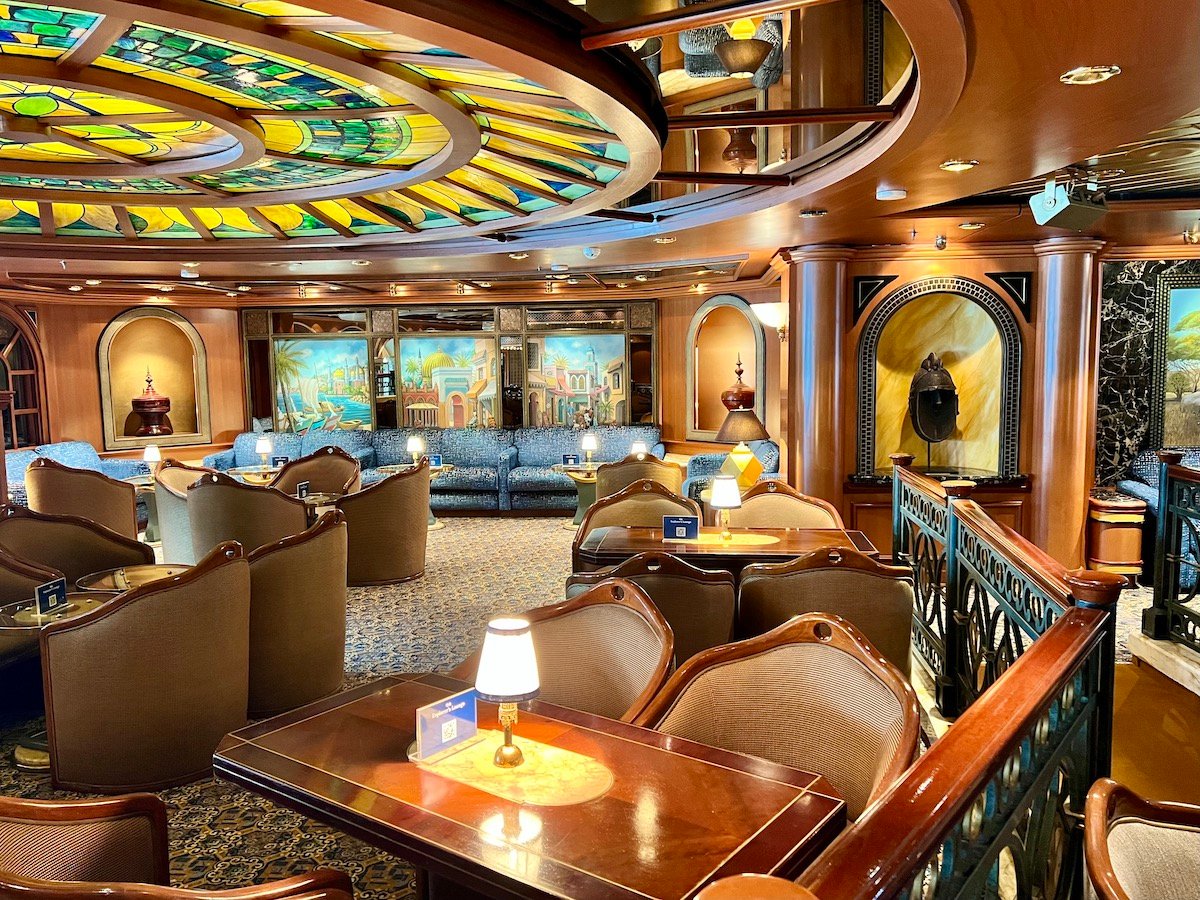 Lucy: The Explorers Lounge was one of the spaces on Island Princess that seemed a little out of its normal place. On other Princess ships, Explorers is the most central lounge. On this ship, it was further aft, and therefore was a place you needed to seek out. During the day, smaller activities like arts and craft sessions were scheduled there.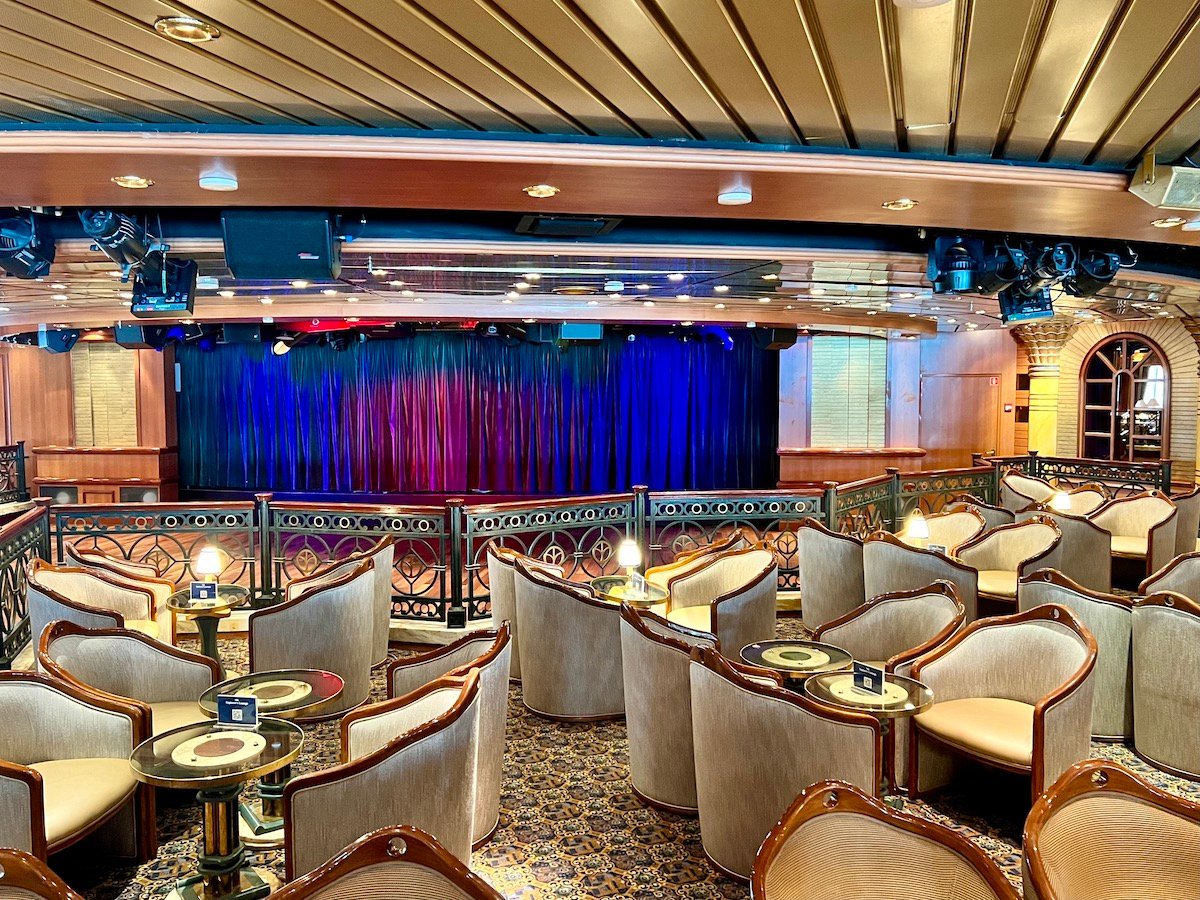 From 4:30 to 6:30 PM this lounge became the Elite and Platinum Lounge, a place where those passengers were invited to relax in a more private atmosphere to enjoy snacks, quiet live music, and discounted drinks. After dinner, this was the place where most of the game shows occurred, and sometimes smaller shows were offered here. Later still, this was sometimes the karaoke venue, and sometimes the disco.
Beverage Packages
---
Lucy: Princess is happy to offer passengers many, many ways to stay hydrated during your cruise. Complimentary ice water, iced tea, lemonade, coffee, and teas are readily available at the Horizon Court and other dining venues.
For passengers who enjoy beer, wine, and cocktails, Princess offers "Princess Plus" cruise fares that include unlimited beverages. Generally this means that passengers can order up to 15 beverages per day. Guests should calculate how many drinks they are likely to order to decide whether the inclusive fares make sense for them. In my case, I stick with water, iced coffee, or Diet Coke, so it's rarely worth it to pay the higher fare or buy a drink package.
The other option is for passengers to opt for one of the available drink packages. Princess offers a good deal on bottled water ordered in advance. There are also specialty coffee packages (passengers buy a preset number of coffees in advance at a reduced price) and soda packages ($9.99 per day plus 18% gratuity).
The various packages and fare offerings change frequently, so it is best to carefully review the options at the time of booking to decide what is the best choice for each passenger's needs.
Howard: In my opinion, Princess beverage packages are way overpriced, so I never buy them. It is much more cost-effective to pay for drinks individually, and often my onboard credit covers the cost. I know there are those who would debate me, but if Viking can offer $19.99 per day beverage packages, so can other cruise lines.
---
Afterword
---
Howard: All things considered, the Island Princess is a great little ship, and I would cruise it again in a heartbeat. Because I cruise for destinations and don't cruise for dining, the Island Princess suits me just fine with its promenade, library, and heavenly Princess beds.
Lucy: I also enjoyed the classic and cozy atmosphere of the Island Princess. I will be keeping an eye on her itineraries, which are among the more unique offered by Princess. For example, next year passengers can book a 111-day round-the-world cruise. That's not actually something on my wishlist, but if they drop the single supplement . . . who knows?
---
Other Princess Cruises Content on Backroad Planet
---
---
We Would Love to Hear From You
---
We enjoy dialogue with Backroad Planet readers, especially when they share off-the-beaten-path destinations and useful travel tips. Have you ever cruised on the Island Princess? If so, we would love to hear about your experience. We invite you to leave your comments and questions below, and we always respond!
---
Pin this Post!
---