(a

9

minute read)
---
Two national monuments, an experimental town, a legendary pie café, and more attractions to make your drive from Phoenix to Flagstaff, Arizona, an adventure.
---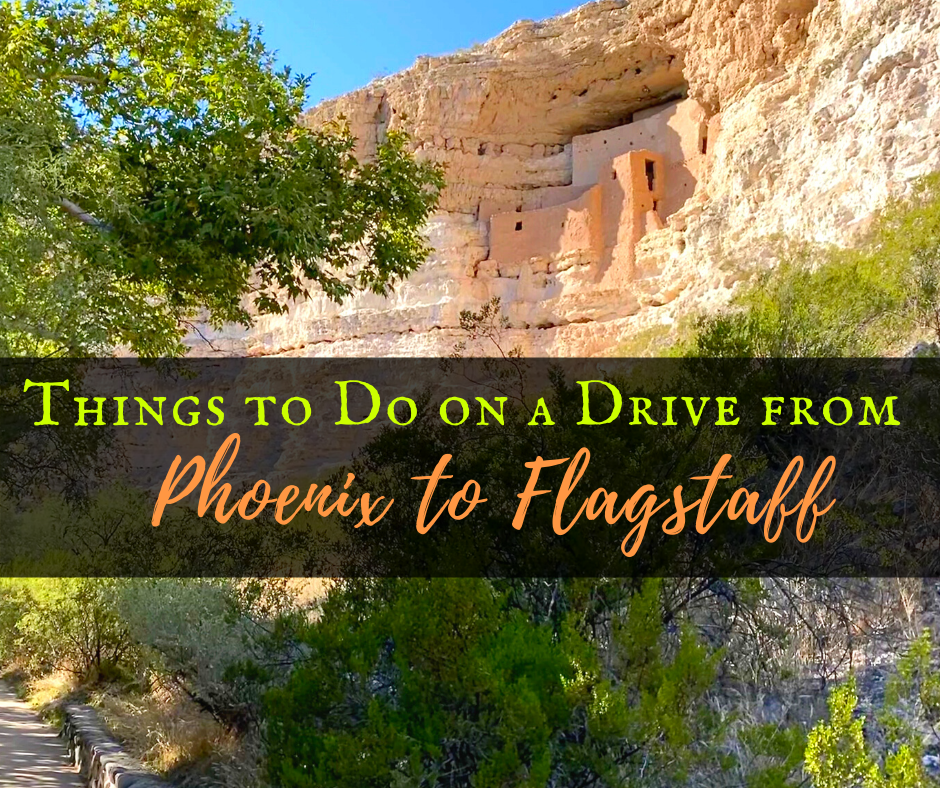 I was a guest of Visit Arizona, but all thoughts and opinions are my own. This post may contain affiliate links. Please refer to our our Disclosure/Disclaimer page for more information.
---
Things to Do on a Drive from Phoenix to Flagstaff
---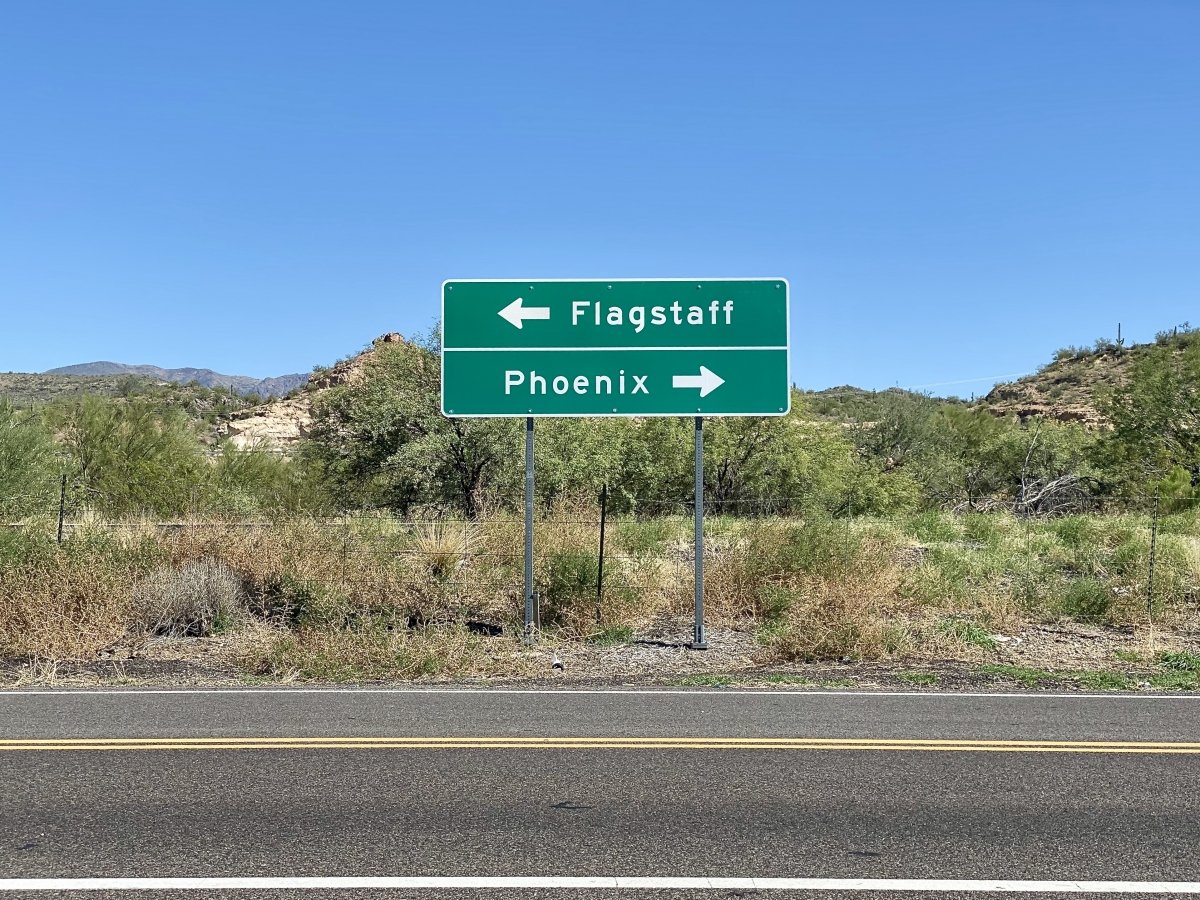 Attracting more than 5.5 million visitors per year, Grand Canyon National Park is Arizona's most popular attraction. To reach the South Rim of the canyon, where 90% of those visitors go, you must travel through Flagstaff.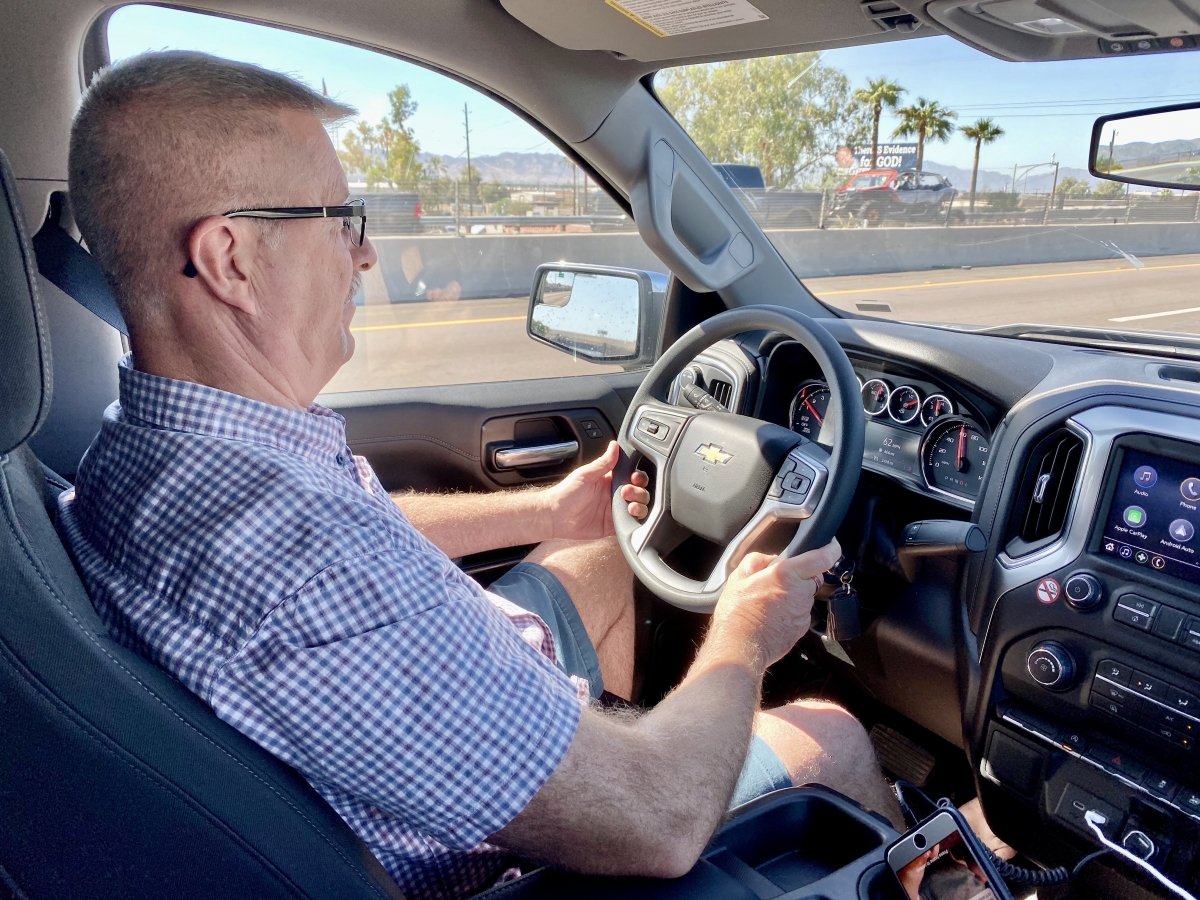 Travelers who fly into Phoenix and rent a car to drive to the Grand Canyon, will want to overnight in Flagstaff (or Williams), and head to the canyon the following day.
The 2.5-hour route from Phoenix to Flagstaff along I-17 allows plenty of time to stop at attractions along the way.
A legendary pie place, an experimental town, and a national monument with two distinct locations, will be some of your options for turning an interstate drive into an adventure.
And if you want to detour through scenic Sedona, that is an option, as well.
You will gain more than a mile in altitude on your drive between Phoenix (1,117 feet) and Flagstaff (7,000 feet), cruising through ever-changing desert ecosystems dominated by saguaro, juniper, and Ponderosa pine.
Find lodging options for Phoenix, Sedona, and Flagstaff on TripAdvisor!
---
Rock Springs Café
---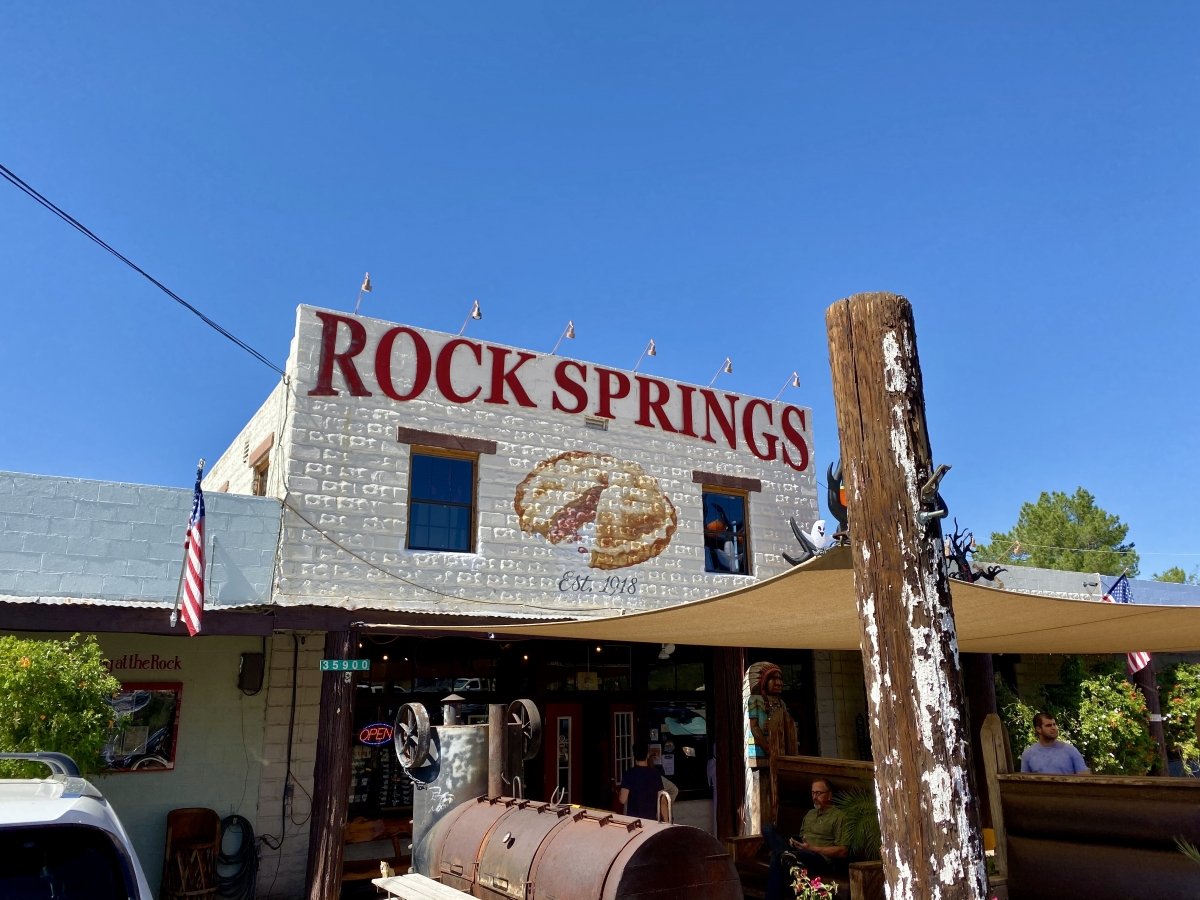 The pop-up gas station that would become Rock Springs Café was established in 1918 by 19-year old entrepreneur Ben Warner, at the site of a former watering hole for cattle drives and sheepherders.
By 1924, Warner's venture had added a general store and hotel.
Today, this travelers stop for more than a century is best known for its delicious pies.
Rock Springs Café has become quite the tourist attraction in recent years. But between its rich history and more than thirty varieties of fruit, cream, specialty, and seasonal pies, that should come as no surprise.
There was a wait for a table when we stopped for lunch, so we opted for a seat at the bar, which we prefer anyway.
I enjoyed the Nacho-Nachos and a slice of bourbon pecan pie, and I left longing to sample all of the remaining pies on the menu.
The café serves breakfast, lunch, and dinner, so no matter what time of day you travel past exit 242, you can stop in for a hearty meal and slice of pie.
---
Arcosanti
---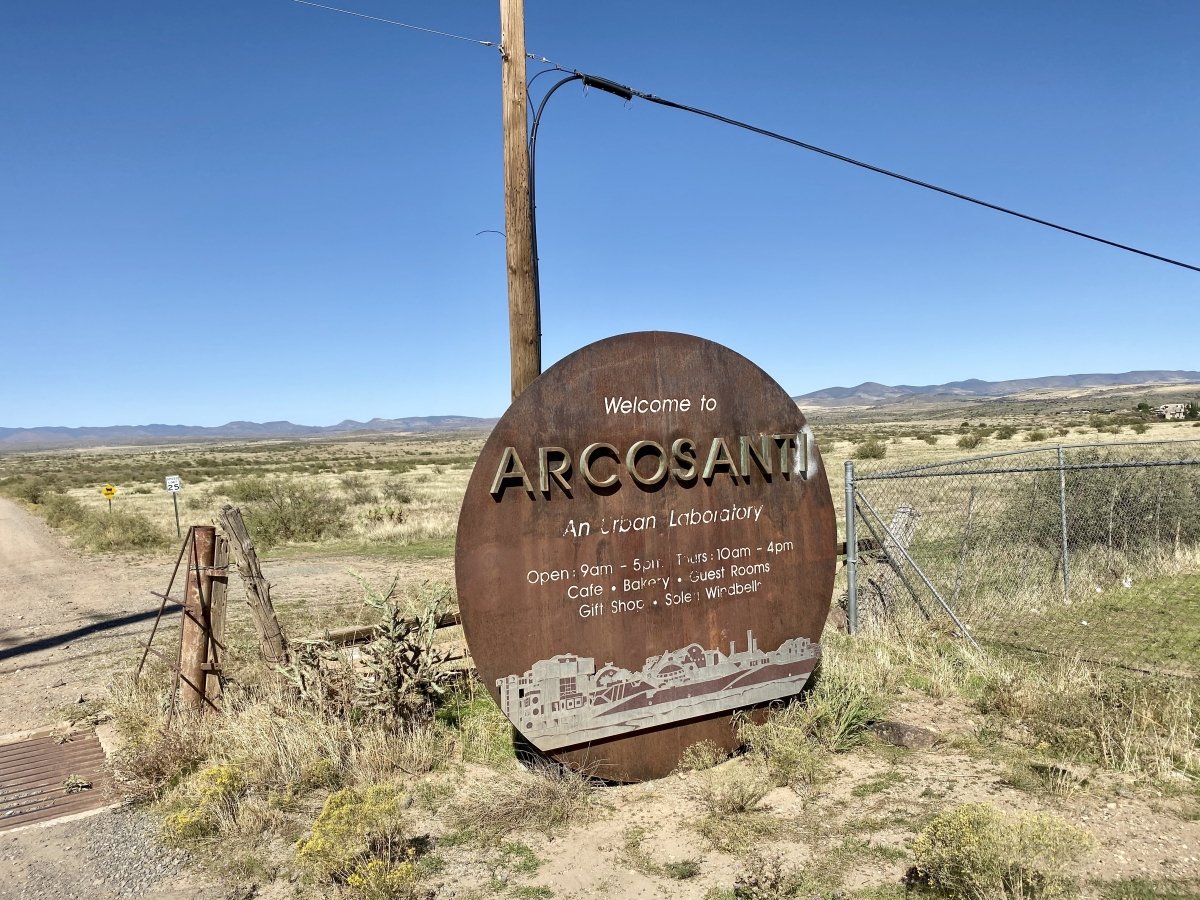 The next thing to do on a drive from Phoenix to Flagstaff is to take exit 263 to visit the site of an experimental town called Arcosanti.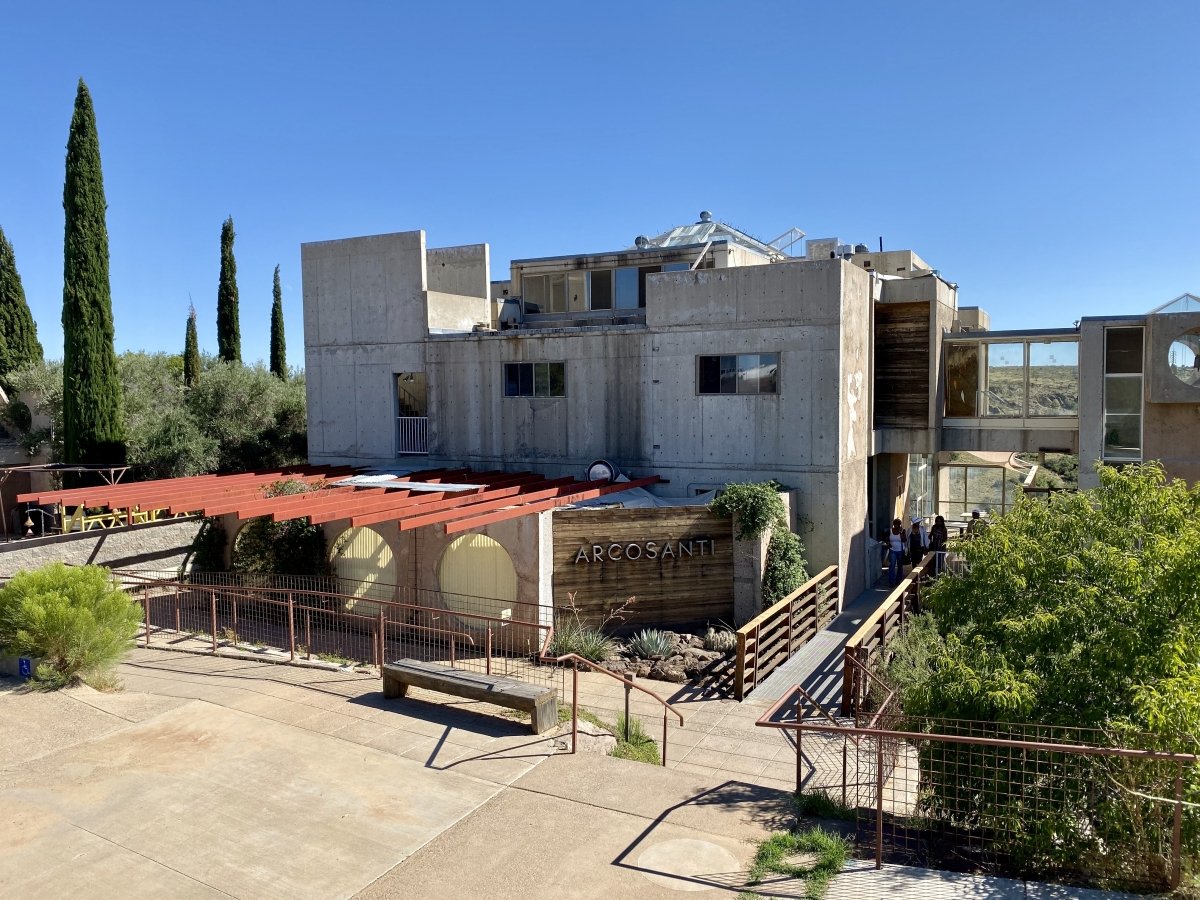 This urban laboratory was constructed in 1970 by Italian-American architect Paolo Soleri on the principles of arcology—a blending of "architecture" and "ecology"—to design sustainable cities.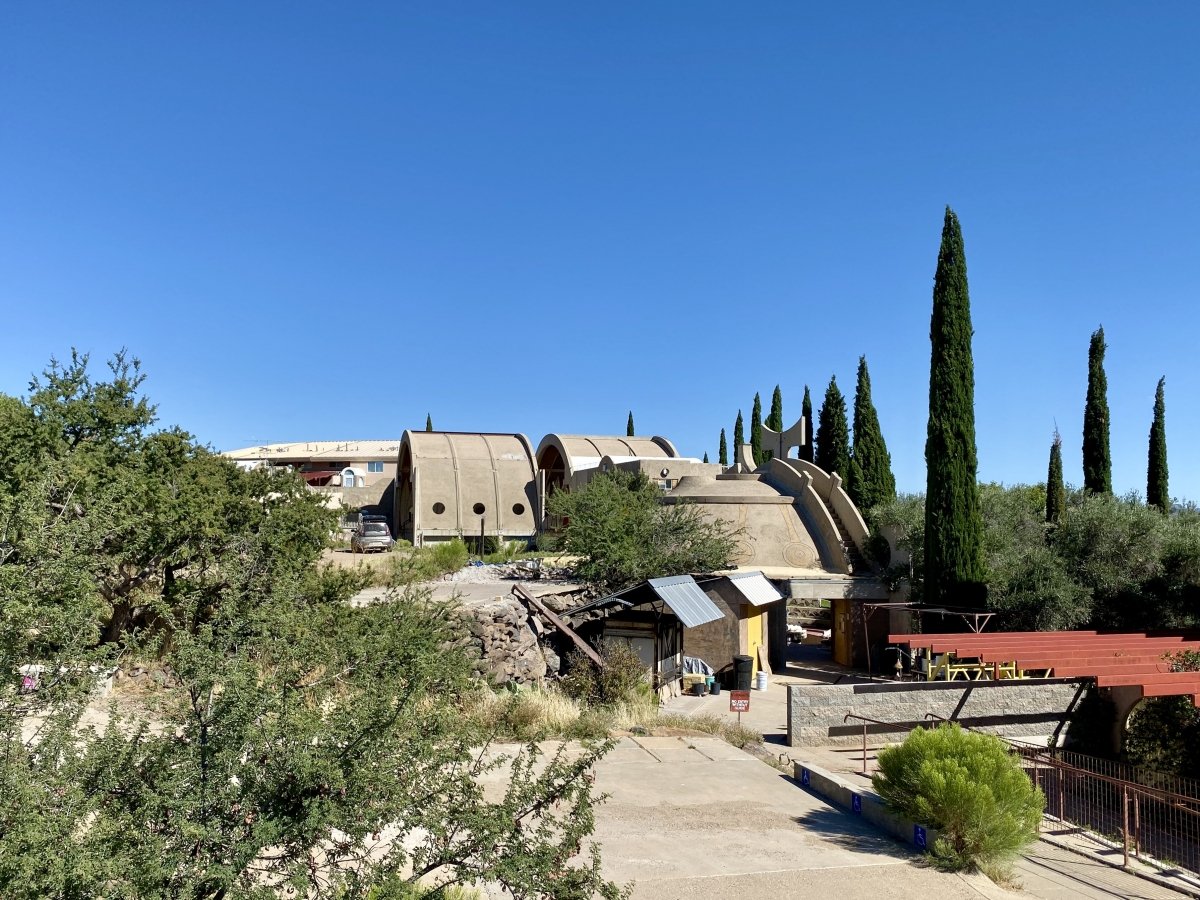 Arcosanti continues today as a 24/7 living experiment, offering workshops, hosting events, and leading guided tours of the grounds. The site is open daily from 9:00 AM to 5:00 PM, except for major holidays and special events
The associated Cosanti windbell-making studios, located north of Scottsdale, is a major source of funding for the urban laboratory at Arcosanti.
---
Montezuma Castle National Monument
---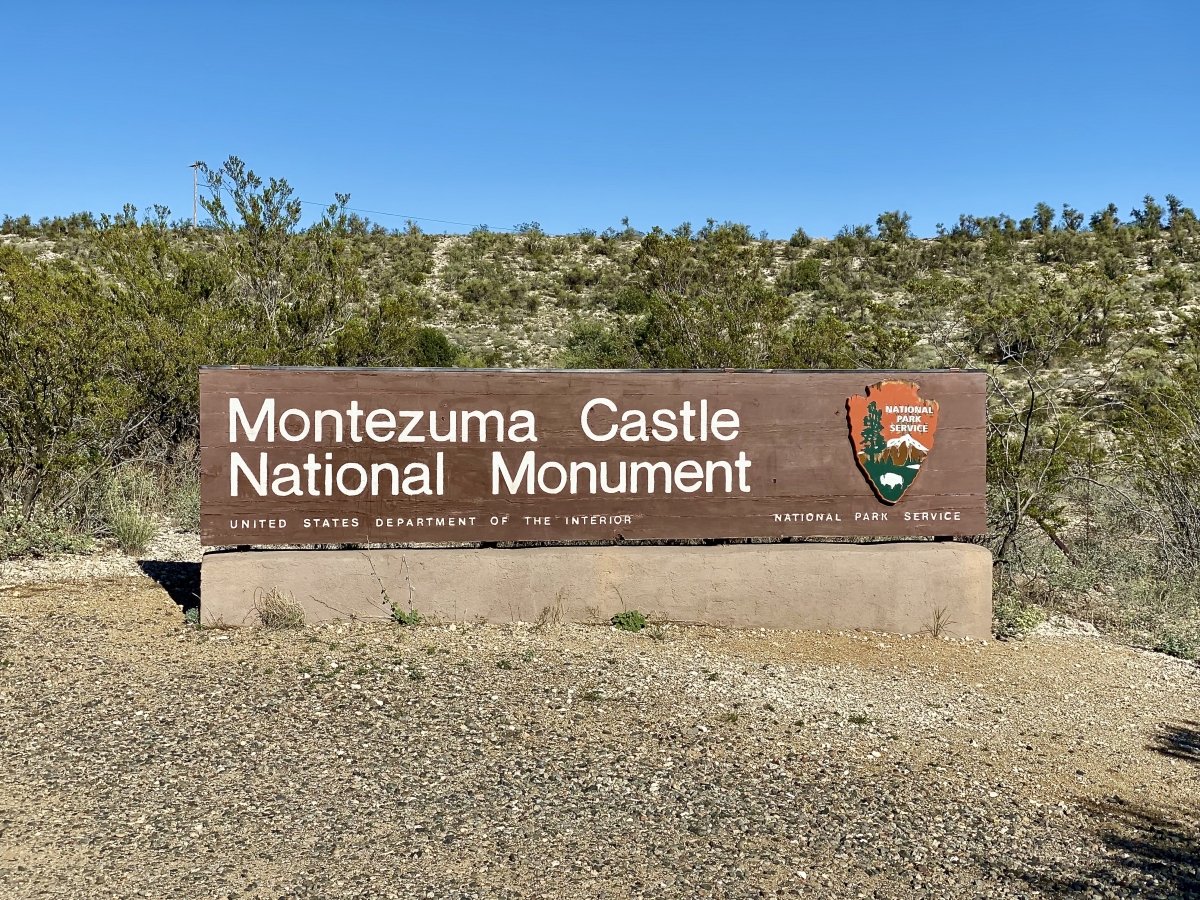 National Park Service sites are always on my radar, especially when they are two-for-one sites like Montezuma Castle National Monument.
Take exit 289 to journey into Arizona's past beginning at the Montezuma Castle Visitor Center.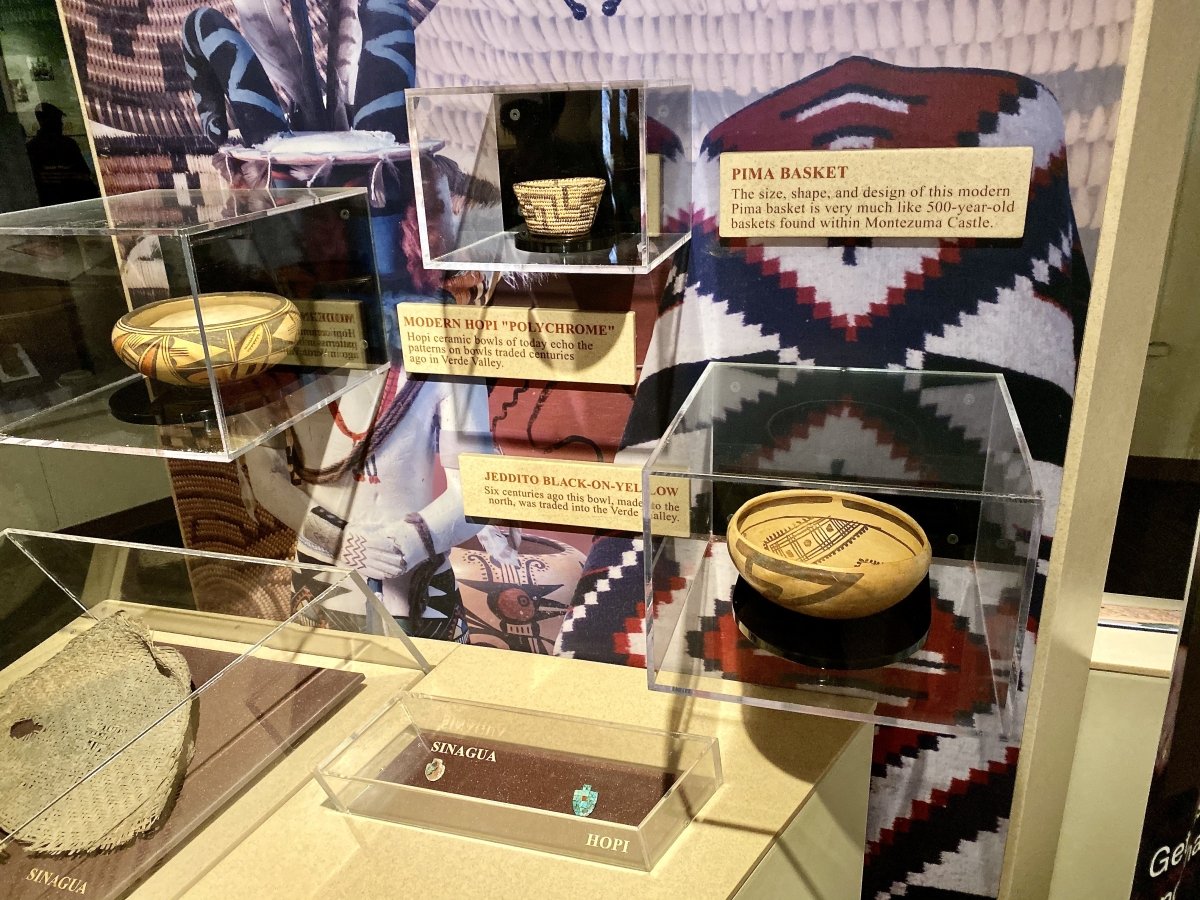 Because Montezuma Castle was the first of many NPS sites we would be visiting on our Arizona road trip, we decided to purchase an annual pass for $80. The pass covers everyone in your vehicle and is valid for access to all federal lands in the United States.
As a National Parks Passports fanatic, I made a point to collect our stamps and spent a few minutes touring the visitor center museum.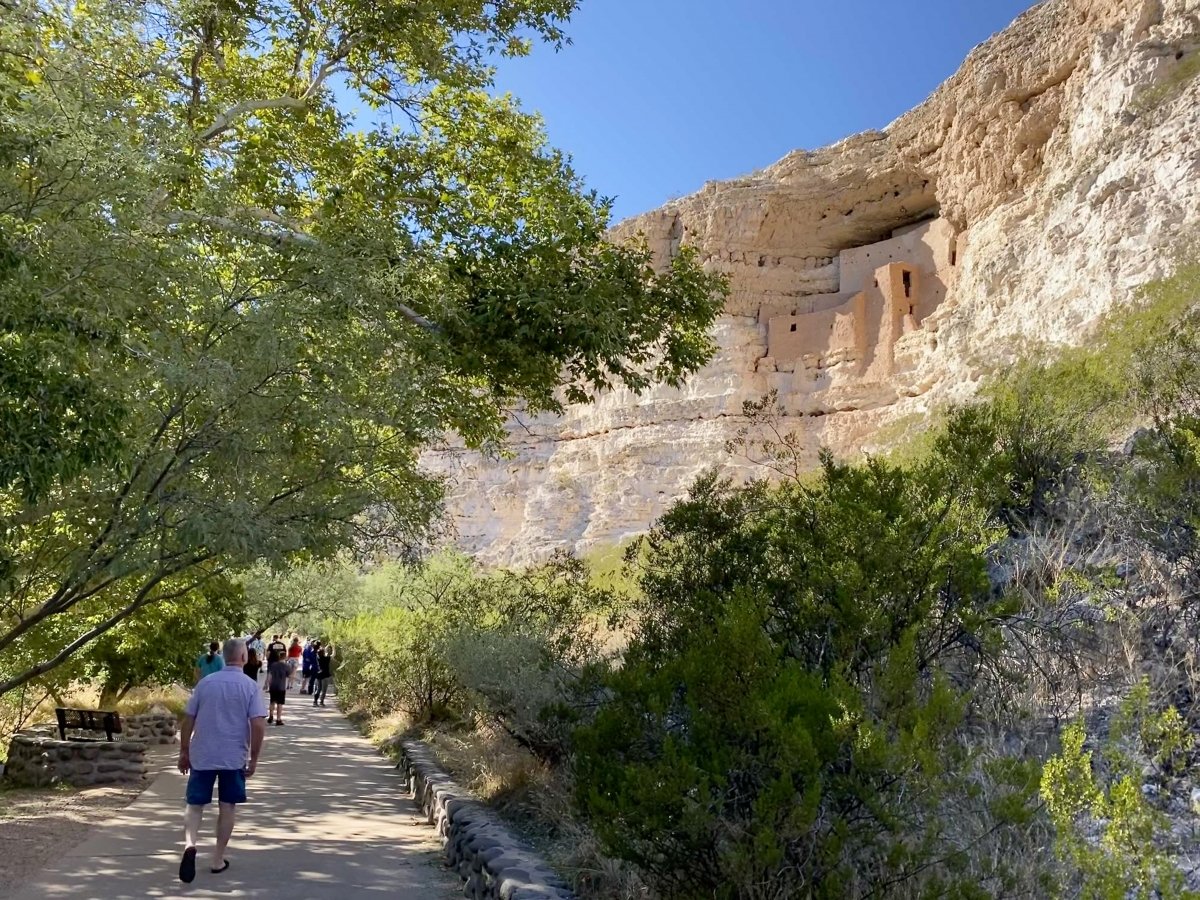 Exiting the rear door of the visitor center we were immediately confronted with a stunning view of the cliff dwellings at Montezuma Castle.
I was utterly awestruck by the ingenuity and craftsmanship of ancient Native Americans.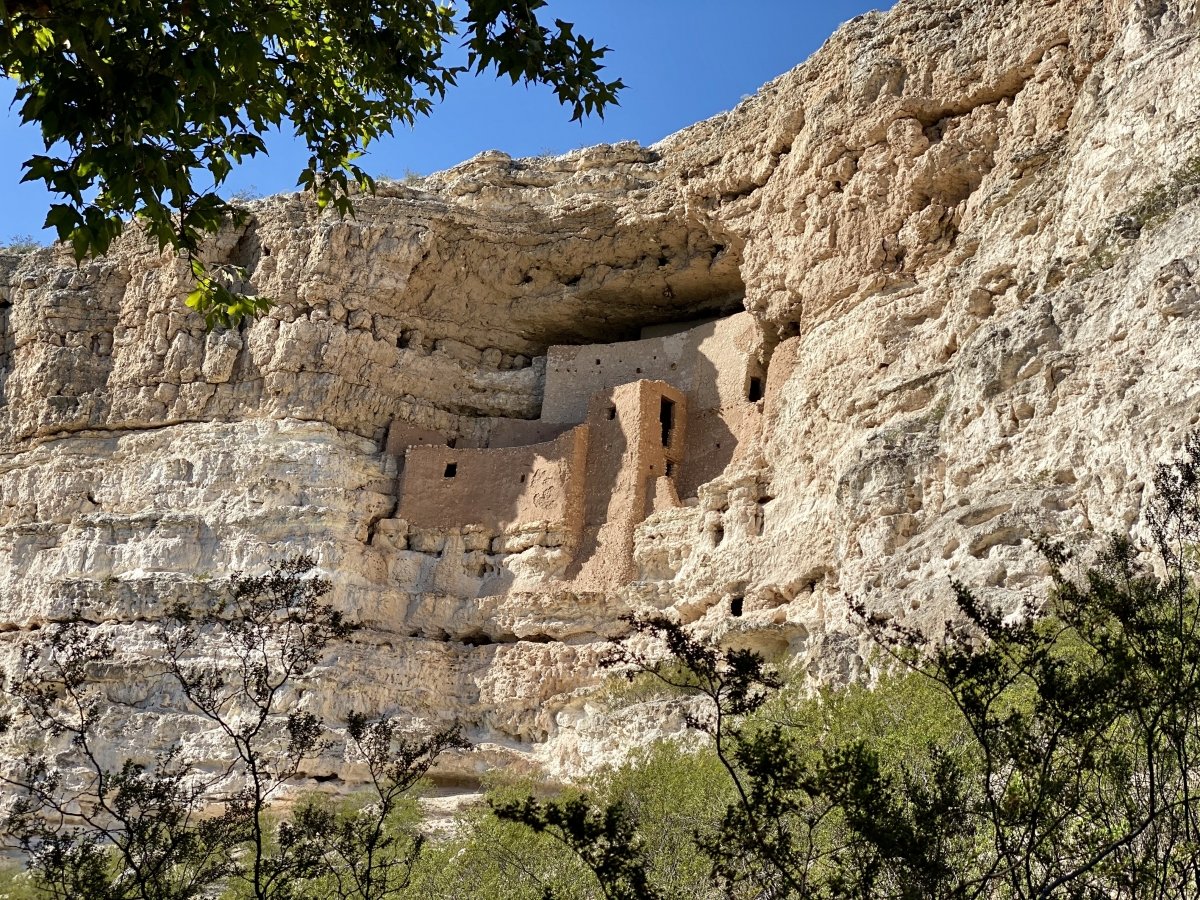 The archaeological site was constructed by the Sinagua people between 1100 and 1425 AD.
The name "Montezuma Castle" is misleading on two accounts. It is not associated with the Aztec emperor Montezuma, and it is not a castle. The misnomer is attributed to the misinformed assumptions of European Americans who first observed the site in the 1860s.
I was surprised to learn that prior to 1951, visitors to the monument were allowed access to the prehistoric "high-rise apartment complex" by scaling the limestone cliffs using a series of ladders.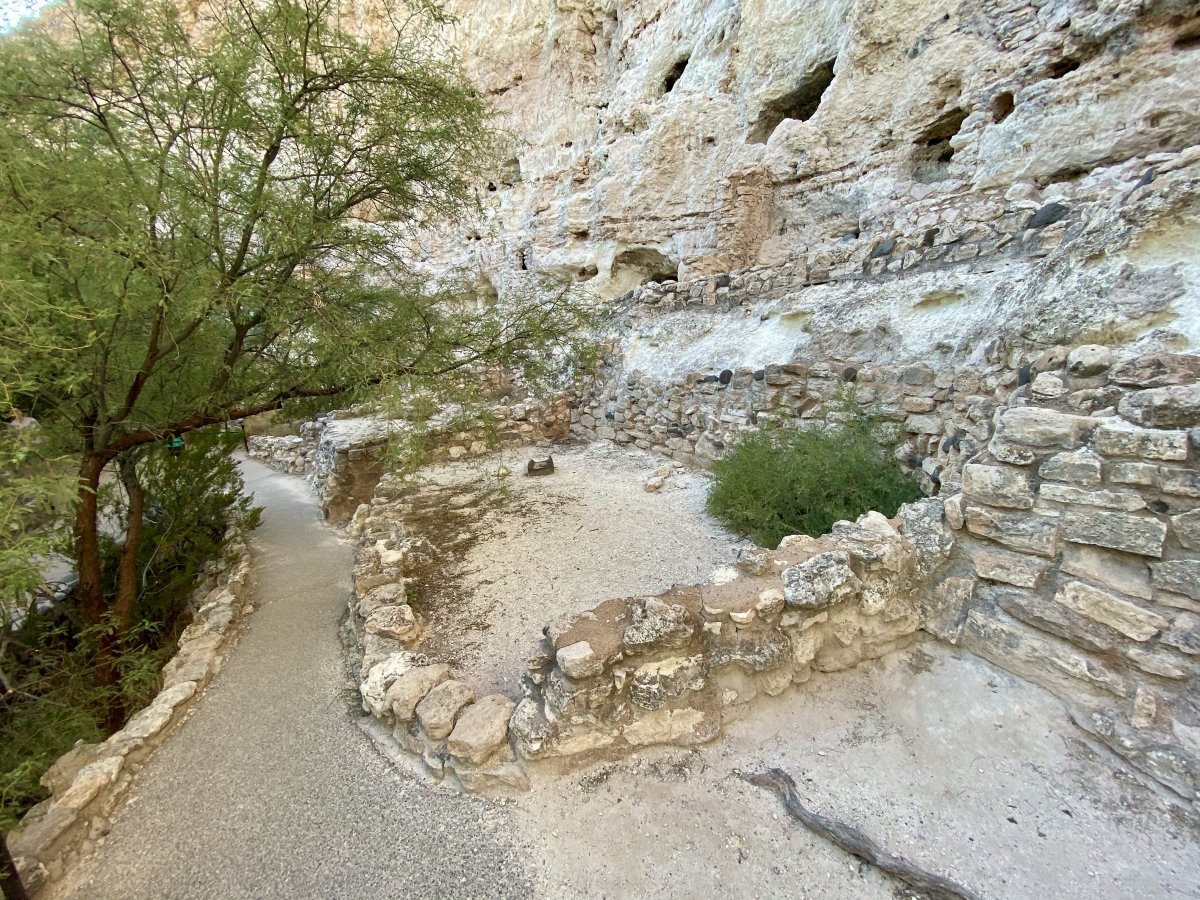 It was determined that an adjacent 5-level pueblo, dubbed "Castle A" by archaeologists, collapsed as a result of fire.
The 45-room structure was larger than Montezuma Castle, and subsequent excavations yielded artifacts that gave insight into the daily life of the Sinagua people.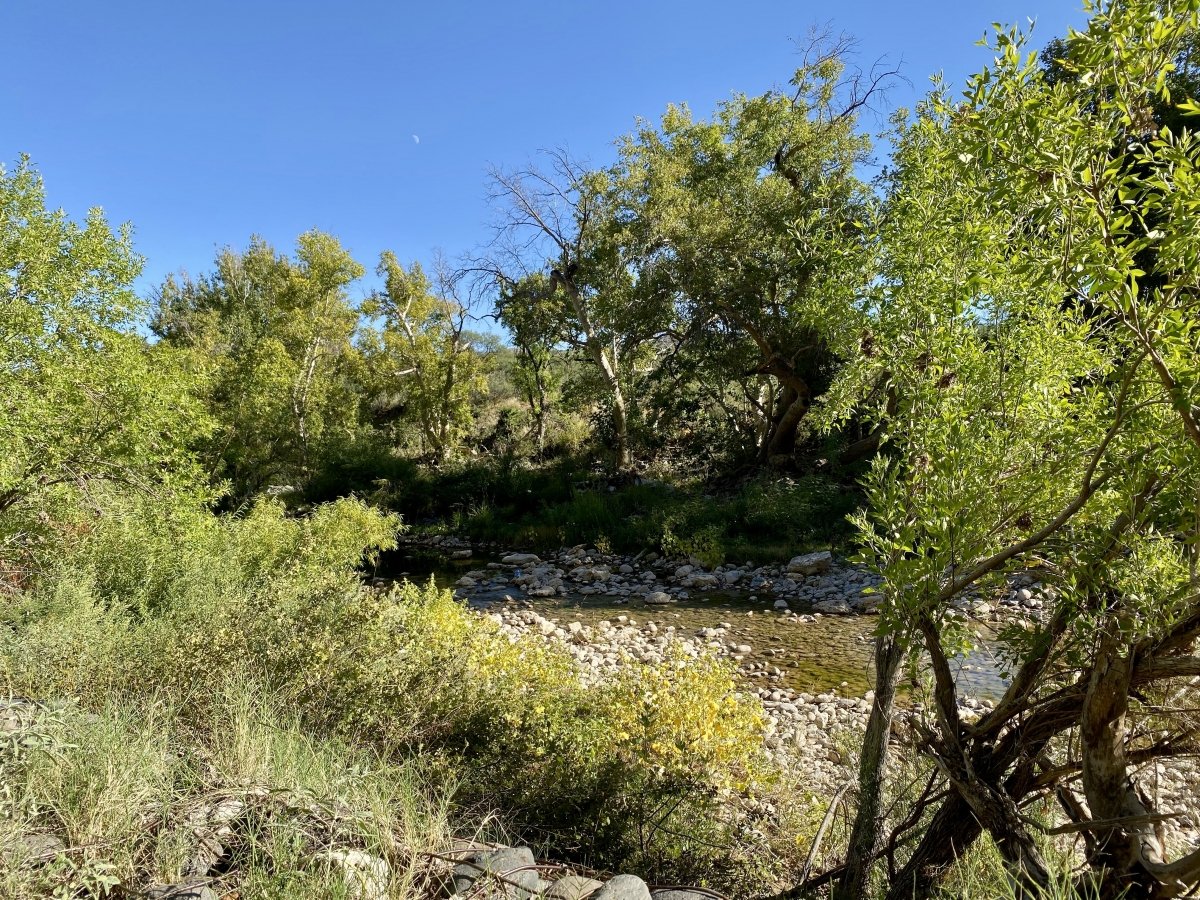 The settlement was selected, not just for its sheltered cliffside nook, but also due to its proximity to Beaver Creek. Sinagua farmers dug ditches to irrigate their crops, hunted animals drawn to the water source, and gathered creekside plants.
---
Montezuma Well
---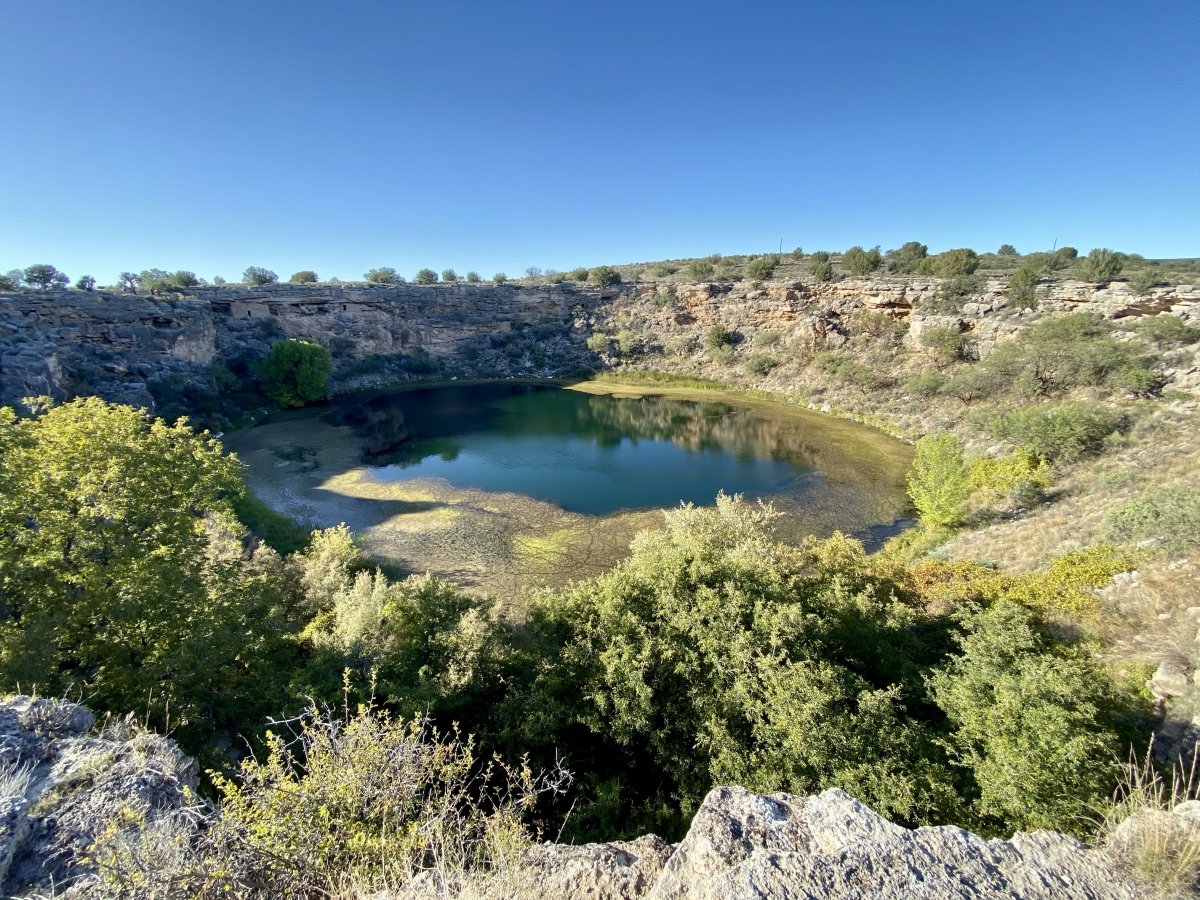 Situated about 5 miles northeast as the crow flies, Montezuma Well is a detached unit of the national monument.
The limestone sinkhole is a desert oasis, and its spring waters are highly carbonated and naturally tainted with arsenic. Fish cannot survive under these conditions, however five endemic species found nowhere else in the world have evolved here.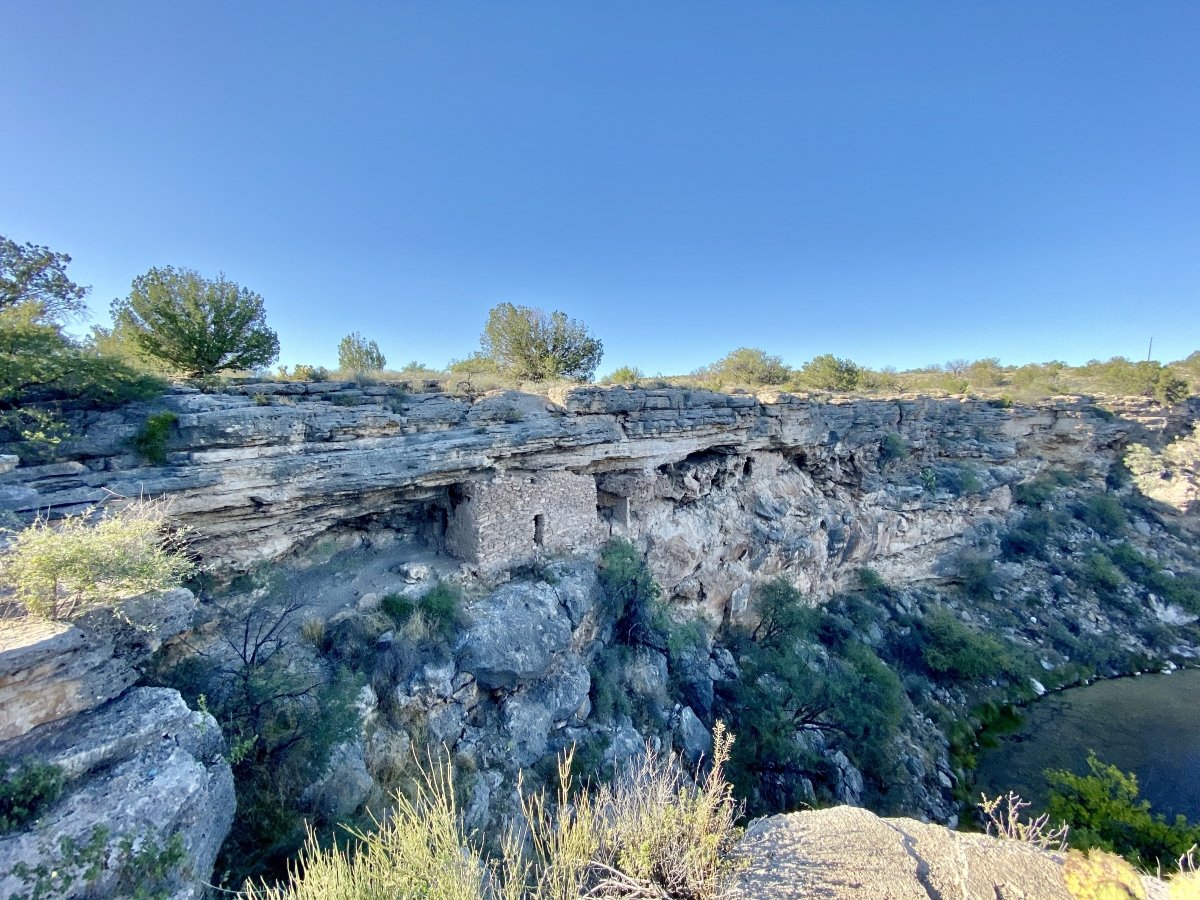 The Sinagua people constructed more than 30 rooms along the interior cliffs of the natural well. Curious guests may hike a trai down into the well for a closer look.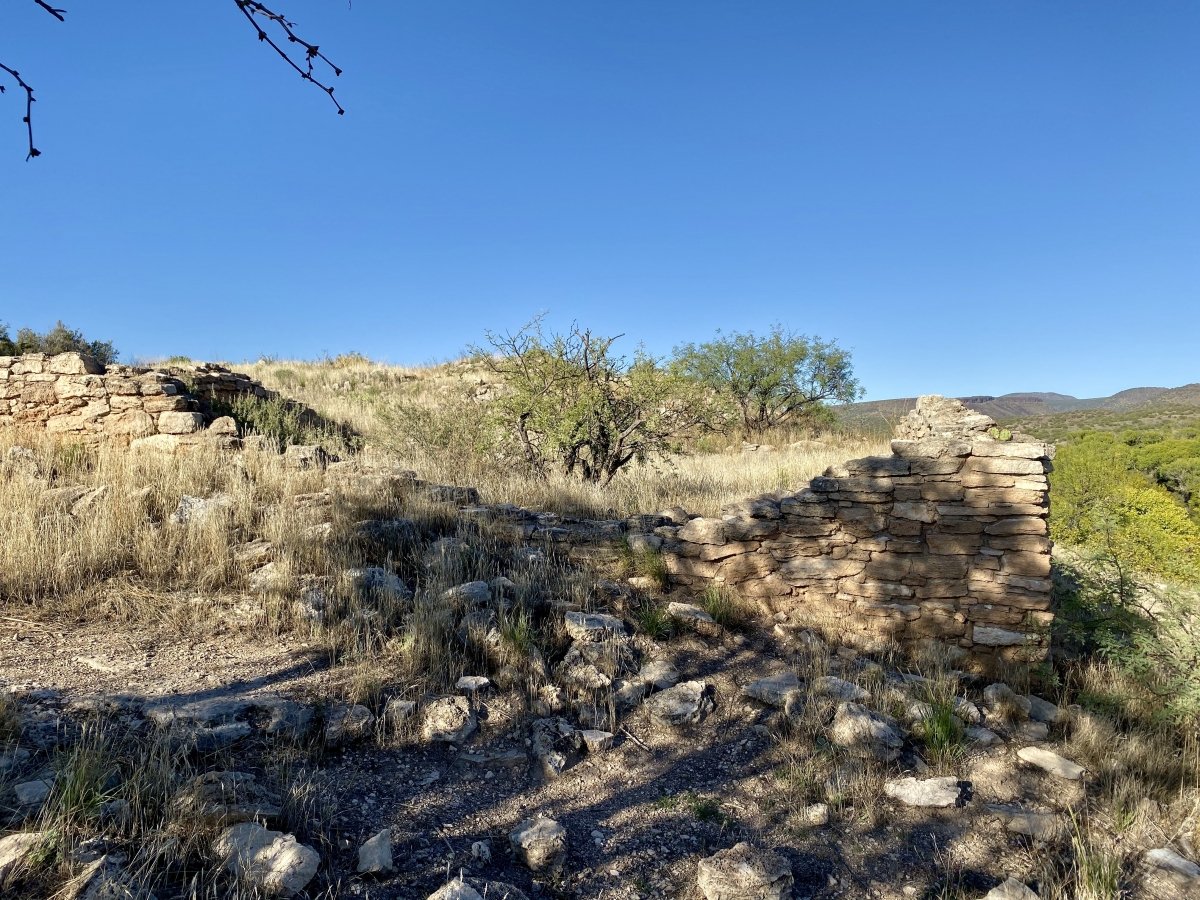 Additional prehistoric structures that may have been used for food storage or religious ceremonies also populate the grounds.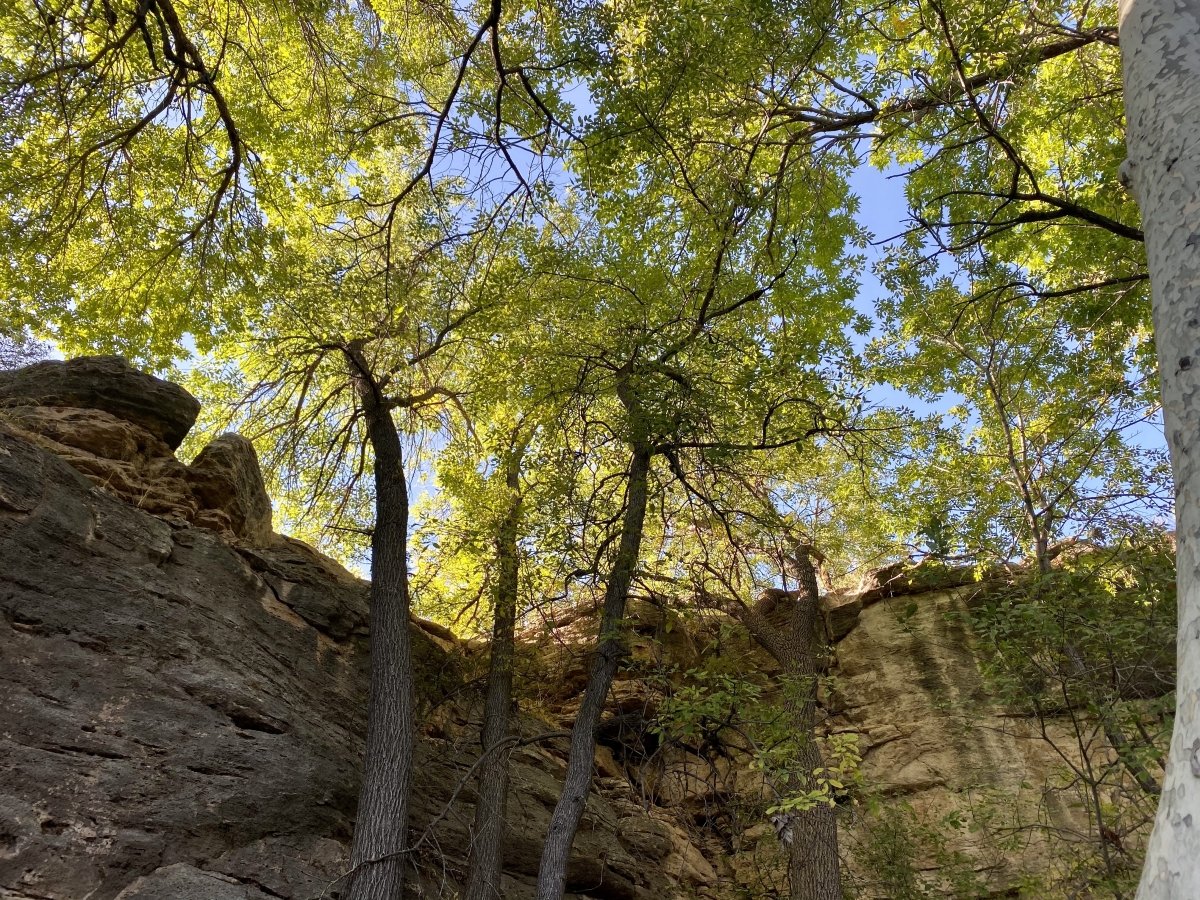 I followed the trail leading to the outlet of the well, where it empties through a narrow cave along Wet Beaver Creek. Tall sycamore, cottonwood, and ash trees provide a shady canopy as a result of their perpetual water supply.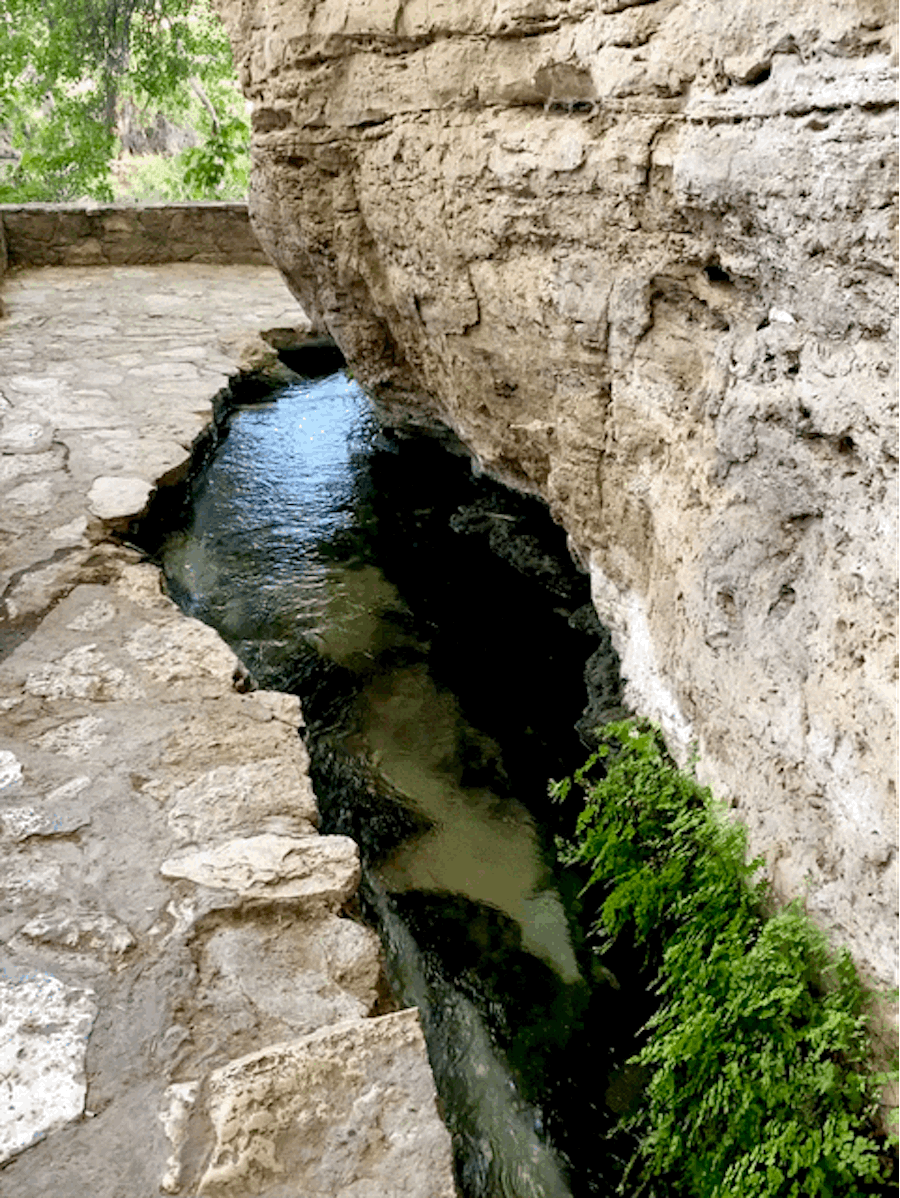 The clear waters that emerge from Montezuma Well flow first through a modern canal. Part of the outflow empties into Wet Beaver Creek, and some is diverted into ancient irrigation ditches.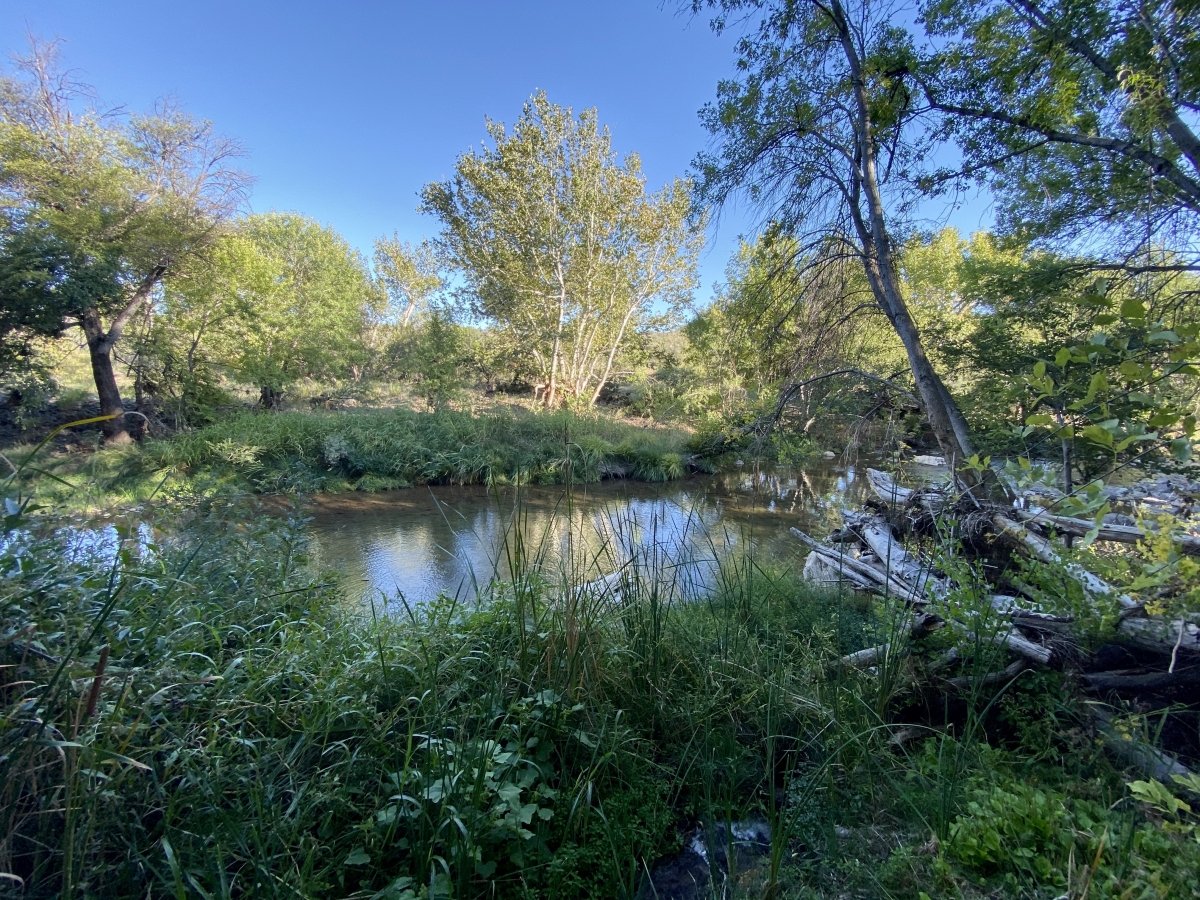 From its desert location, Wet Beaver Creek vividly illustrates the timeless truth that "water is life."
Both units of the Montezuma Castle National Monument are open daily from 8:00 AM to 5:00 PM. Admission fees or park passes apply.
Tuzigoot National Monument—just 25 miles west—is a sister site to Montezuma Castle. Both monuments are located in Arizona's Verde Valley.
---
More Things to Do on a Drive from Phoenix to Flagstaff
---
Adding the following options to your itinerary will increase your drive time, but they are definitely doable. Just remember you can't see and do everything on a drive from Phoenix to Flagstaff, so budget your time and prioritize attractions that interest you the most.
Agua Fria National Monument
---
Unlike most national monuments that are managed by the National Park Service, the Agua Fria National Monument, located between Rock Springs Café and Arcosanti, is administered by the Bureau of Land Management.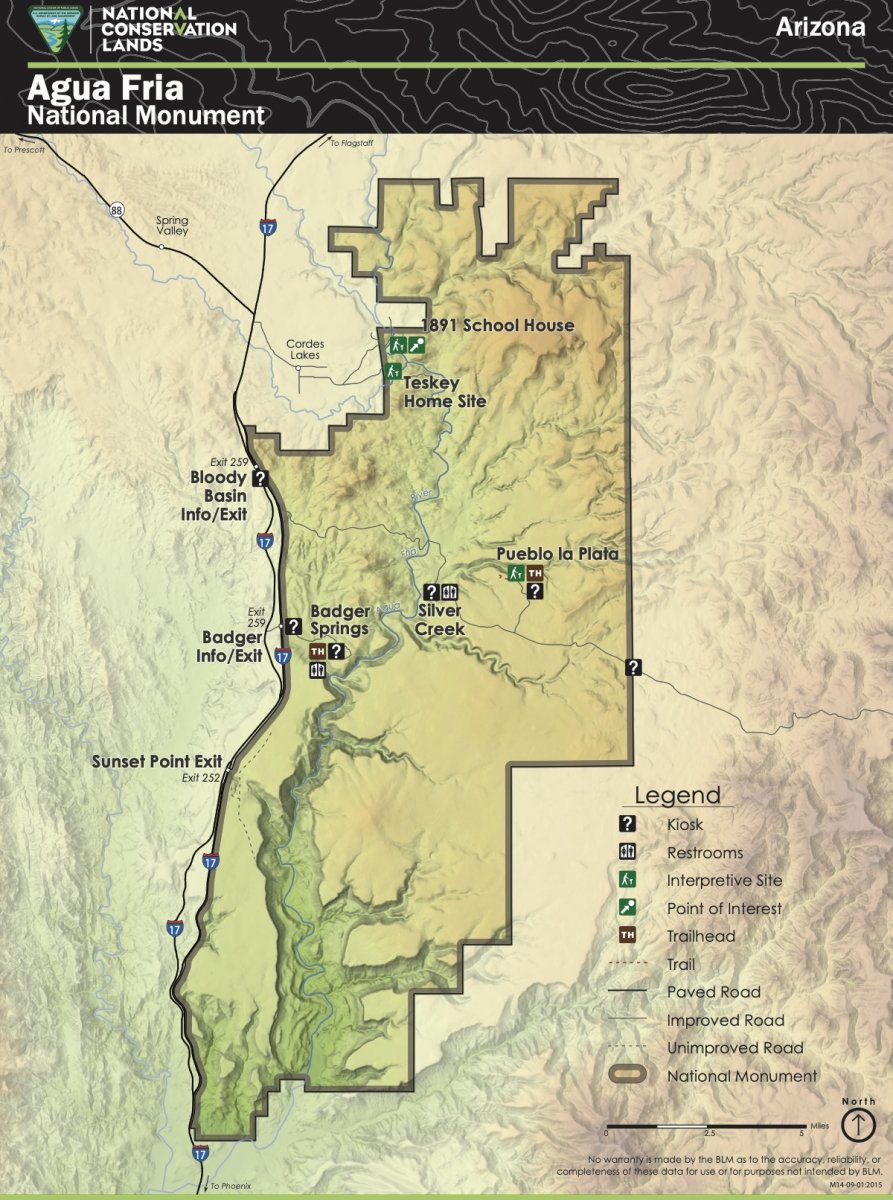 Because Agua Fria National Monument is more than 72,000 acres of wilderness, with few improvements other than dirt roads, adding it to your itinerary may exclude visits to other locations. That said, the monument offers hiking, wildlife-viewing, petroglyphs, pueblos, and other historical structures for adventurous folk.
Take the Scenic Route through Sedona
---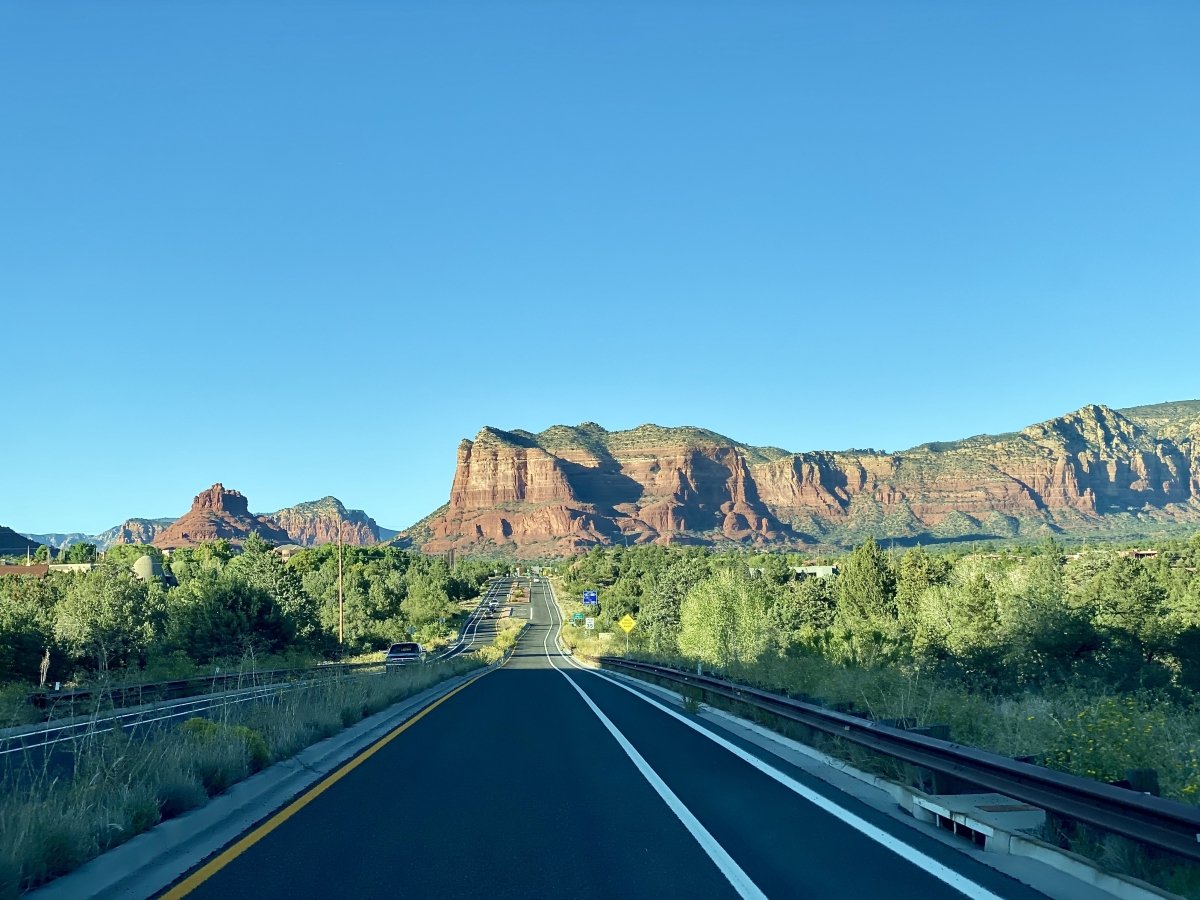 If scenic drives are your thing, you may want to detour through Sedona. You will take the Red Rock Scenic Byway (SR 179) to Sedona, and the Sedona-Oak Creek Canyon Scenic Road (US 89A) north to Flagstaff.
This route will add two to three hours to your drive time, based on Sedona traffic and how frequently you stop for photo ops. Navigate to our post 3 Stunning Sedona Scenic Drives for more information.
---
Lodging
---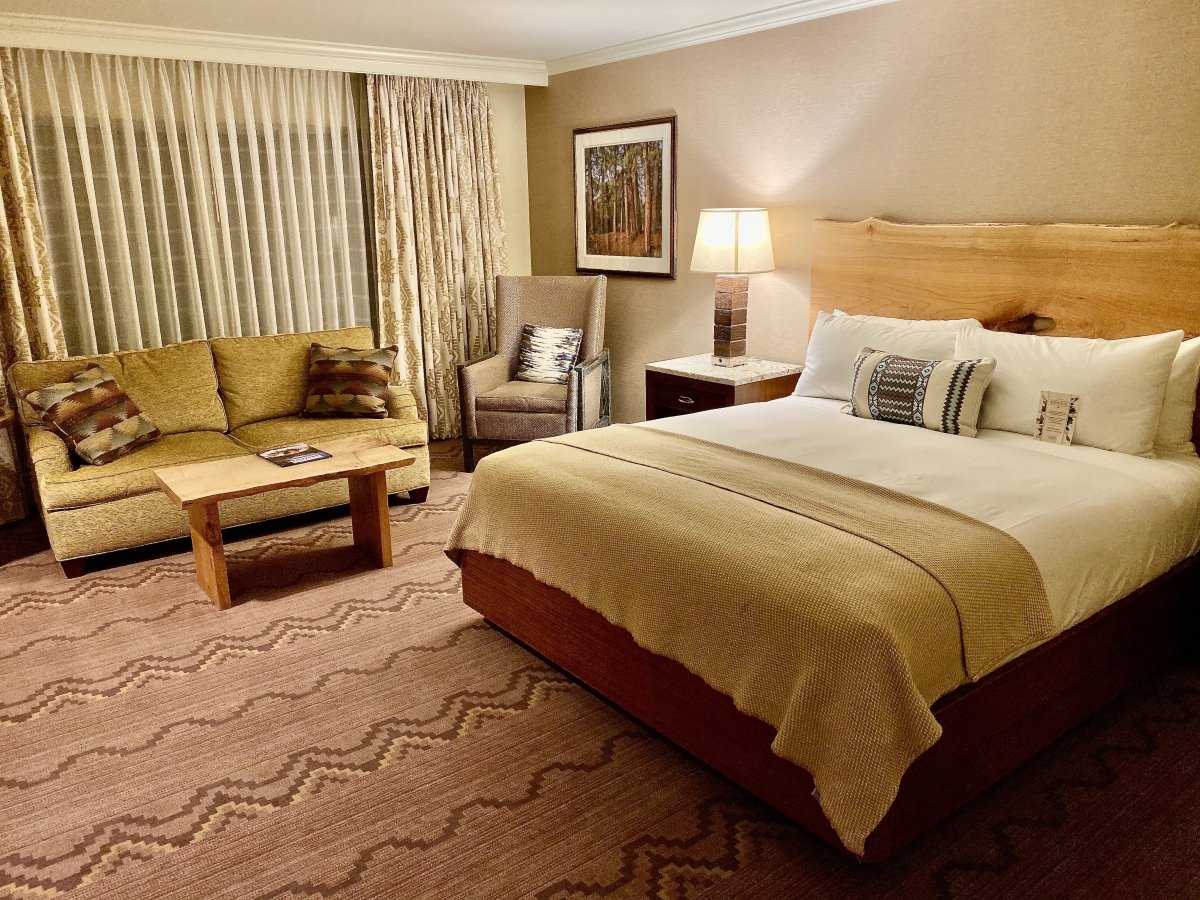 Newly renovated with a contemporary rustic motif, the spacious rooms and suites at Little America Flagstaff offer a welcomed respite from a day of adventure on your drive from Phoenix.
Click here for more Flagstaff lodging options on TripAdvisor!
TripAdvisor also offers a wide range of lodging options for Phoenix and Sedona.
---
Map It!
---
---
Design Your Own Arizona Road Trip
---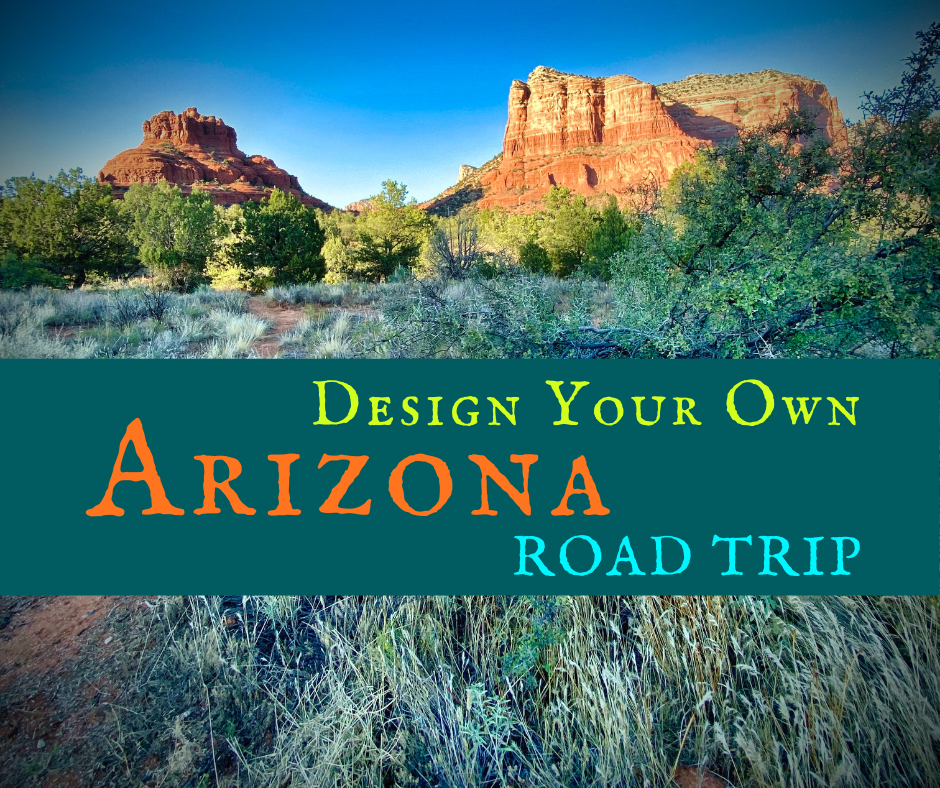 For more Arizona destination information and road trip planning resources, navigate to our Design Your Own Arizona Road Trip round-up post, or use the links below for direct access to additional stories and guides:
Take the Train to Grand Canyon National Park: An Insider's Guide
3 Magnificent Flagstaff National Monuments
Tour Flagstaff Attractions On Your Own
Drive the Painted Desert & Petrified Forest National Park
Tons of Fun Things to Do in Winslow, Arizona
3 Stunning Sedona Scenic Drives
Ride Arizona's Verde Canyon Railroad
7+ Amazing Attractions in Verde Valley AZ
Explore the Geological and Cultural Diversity of Southeast Arizona
---
Happy Trails! An Arizona Road Trip 
---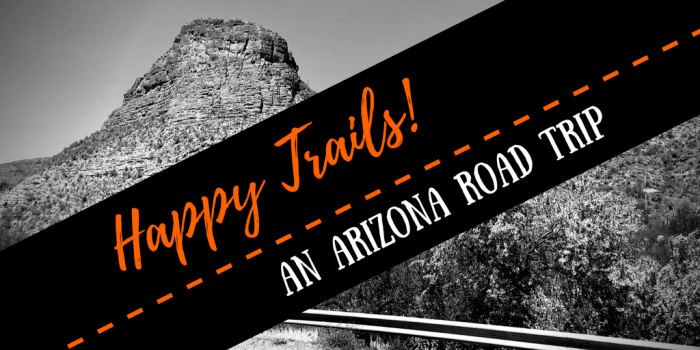 Be sure to check out Happy Trails! An Arizona Road Trip for a loop itinerary through central and eastern regions of the state. To access specific segments of the route, navigate directly using the links below:
---
We Would Love to Hear From You
---
We enjoy dialogue with our readers, especially when they share off-the-beaten-path destinations and useful travel tips. Have you ever driven from Phoenix to Flagstaff, Arizona? If so, we would love to hear about your experience. We invite you to leave your comments and questions below, and we always respond!
---
Pin this Post!
---