(a

10

minute read)
---
Driving from Phoenix to Tucson to Safford on the first leg of an Arizona road trip includes a bike tour, a winery visit, and full bellies to boot!
---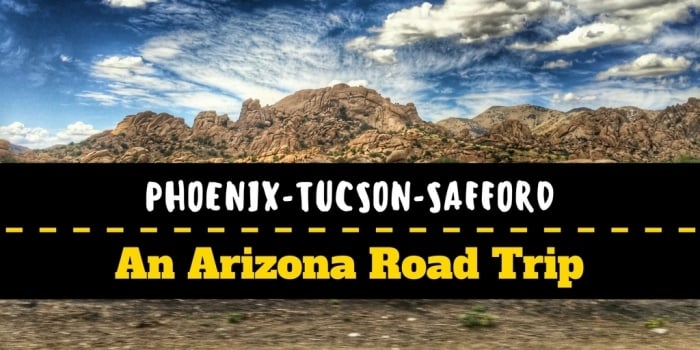 I was invited by the Arizona Office of Tourism to join an eclectic group of international journalists on a 5-day road trip across the lesser-known, yet equally impressive region of eastern Arizona, filled with scenic, historical, cultural, and foodie trails. As their guest, my eyes were opened to countless wonders over the backroads of The Grand Canyon State, on an itinerary that, alas, did NOT include a visit to the Grand Canyon.
But hey, the Grand Canyon is on the other side of the State, and I have been there a couple of times before . . . .
The first segment of our Happy Trails road trip would carry us from Phoenix to Tucson to Safford and, although I am not a food and wine blogger, my reporting on our first day of travel definitely had a food focus that left us with full bellies by the end of the day!
---
Phoenix
---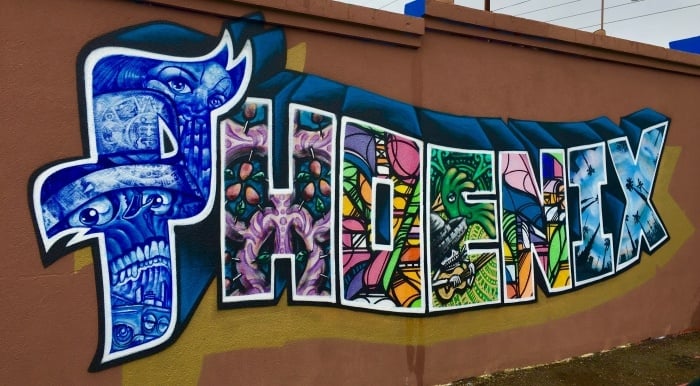 An added bonus of joining the Arizona road trip was meeting up with my longtime friend Robin Lund. We attended the same church as teenagers and, although we did not see each other often enough, we remained close friends over the years.
Barrio Café
---
Shortly after I landed, Robin collected me from the airport, and we headed straight to the Barrio Café for some authentic Mexican cuisine and fresh-squeezed lime margaritas. The neighborhood street art, palms against the Arizona skies, and blooming purple prickly pear enhanced the welcoming Southwest ambience even more.
The time Robin and I shared together was far too brief, but we enjoyed each other's company and caught up with some much-needed heart-to-heart conversation.
But all good things must end.
It was time to to get some shut-eye before meeting my fellow travel writers and soon-to-be traveling companions in the morning.
After getting acquainted in the lobby of the Crowne Plaza Phoenix Airport, we climbed into the van and headed out on I-10 East. Not a backroad, I know, but there would be many backroads before the week was over.
Click here to book your stay at Crowne Plaza Phoenix Airport on TripAdvisor!
The 1.5-hour drive from Phoenix to Tucson took us through the picturesque Sonoran desert, populated with countless specimens of the iconic saguaro cactus standing like so many multi-armed sentries.
---
Tucson
---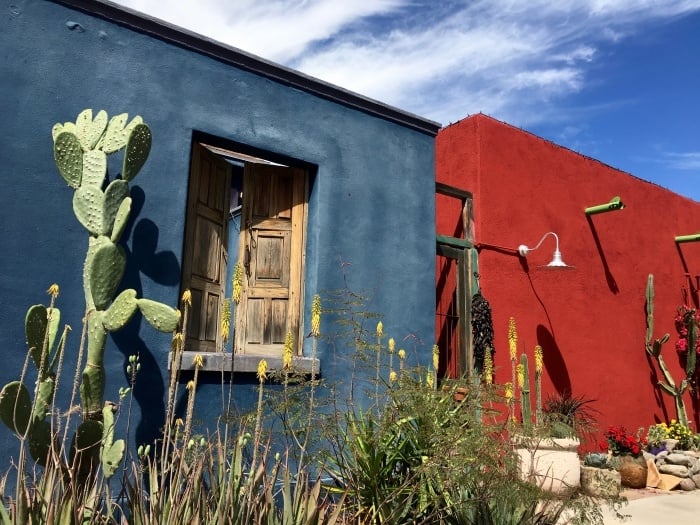 Our hosts Visit Tucson had arranged a most-excellent itinerary for the first segment of our trip.
Pulling into town, our first stop was Tucson Bike Tours. What better way to get acquainted with a town than to bike its neighborhoods on a guided tour?
Tucson Bike Tours
---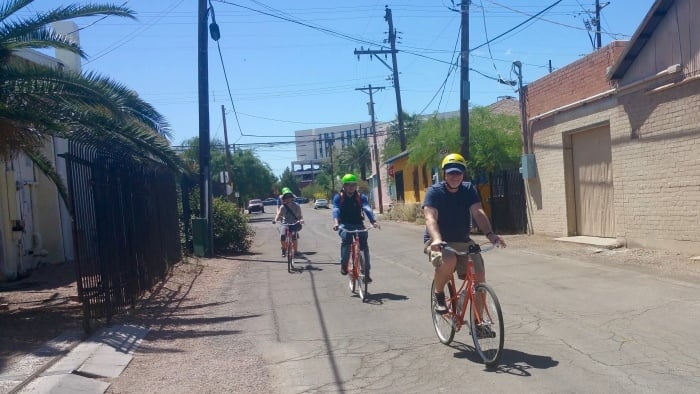 Owner and route guide Jimmy Bultman helped us select bikes and choose the right helmets, and we set off on our ride.
Our custom tour took us through highlights of the normal 3-hour day tour, including:
the Rattlesnake Bridge over Broadway Boulevard

a panoramic view of the distant Santa Catalina Mountains

Locomotive No. 1673 that was featured in the movie "Oklahoma"

as well as the statue of Wyatt Earp and Doc Holliday at the Southern Arizona Transportation Museum

the historical and colorful El Presidio neighborhood

the Old Pima County Courthouse

La Casa Cordova, believed to be the oldest structure in Tucson

the Cathedral of Saint Augustine

the unorthodox El Tiradito shrine

the historical Teatro Carmen

and everywhere Arizona's state tree, the Palo Verde (green stick) in full bloom.
Our modified daytime tour was a great introduction to Tucson, but it left me knowing I needed to return to further explore the many scenic and historical sites we did not see. When I return to Tucson, I plan to do The Turquoise Trail, a historical walking tour of Tucson's downtown area, which includes many of the locations we visited on the bike tour and quite a few we missed.
And let me put your mind at rest. The entire tour is over flat terrain, and even if you are a not a regular bike-rider like me, there are plenty of stops to rest your unaccustomed bums between locations on the tour. I enjoyed the tour and the added benefit of exercise so much, that Jerry and I acquired bikes of our own when I returned home. We have enjoyed exploring our neighborhoods and biking local scenic trails, and we plan to get back on them at the end of the long hot summer!
Pizzeria Bianco
---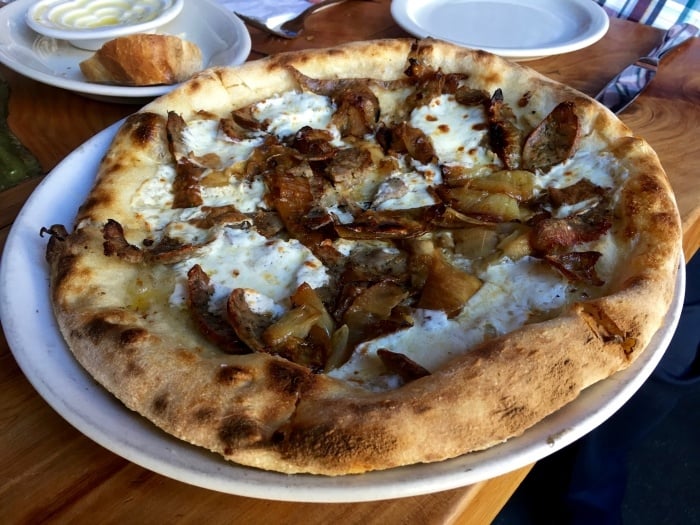 UPDATE: Pizzeria Bianco has closed its doors at this location, but is looking for an alternate location to reopen in town.
After biking all over Tucson, I was more than ready for lunch. We walked just a few blocks over to Pizzeria Bianco, which I can honestly say may have been my best pizza experience ever! But that should come as no surprise. Publications and epicureans such as Bon Appétit, Rachael Ray, Food & Wine, Zagat, Martha Stewart, and Gourmet all tout Bianco's pies as presumably "the best pizza in America."
Chris Bianco opened his Phoenix store in 1994, after honing his artisanal craft for many years, and later expanded to the Tucson location where we dined. In 2003, as further testament to his craft, Bianco won the esteemed James Beard regional award, and he remains the only pizza chef ever to have achieved this honor.
During our lunch we sampled a variety of wood-grilled pizzas, but I highly recommend the Wiseguy, topped with wood-roasted onion, house-smoked mozzarella, and fennel sausage (pictured above).
We pulled out of Tucson with stuffed tummies and continued east on I-10 en route to Safford.
About an hour into our drive, we exited for a stop at a local winery.
Coronado Vineyards
---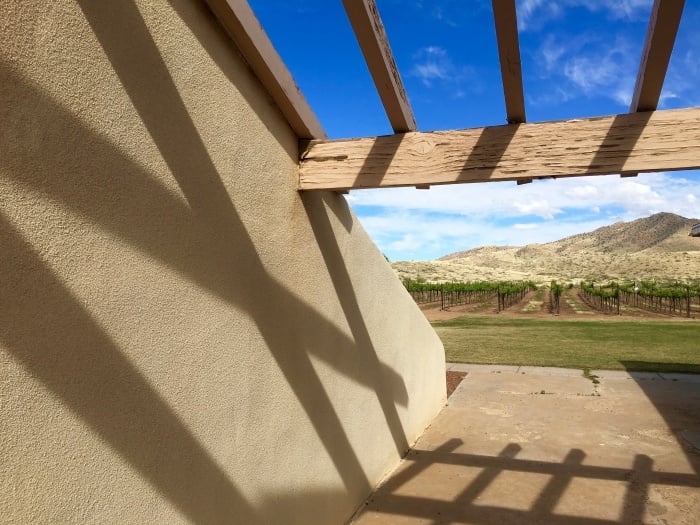 A wine-tasting at Coronado Vineyards, one of twelve wineries on the "Willcox Wine Trail", was the perfect afternoon respite on the drive from Tucson to Safford. Mark and Jacque Cook opened Coronado Vineyards a mere ten years ago, yet it has already made its mark in the industry, having won multiple awards in various competitions and classes.
I am not a wine connoisseur like many of my travel colleagues, but I do have a favorite wine. And although I have never had a sommelier sneer at my request for a German Riesling, I have often felt as if my palate was not as distinguished as some of my peers who prefer drier wines.
Perhaps that is why I strongly endorse the preference philosophy at Coronado Vineyards:
"We believe that whether your palate prefers sweeter and fruitier wines, or dry complex sophisticated wines, you only should consume wine which you enjoy.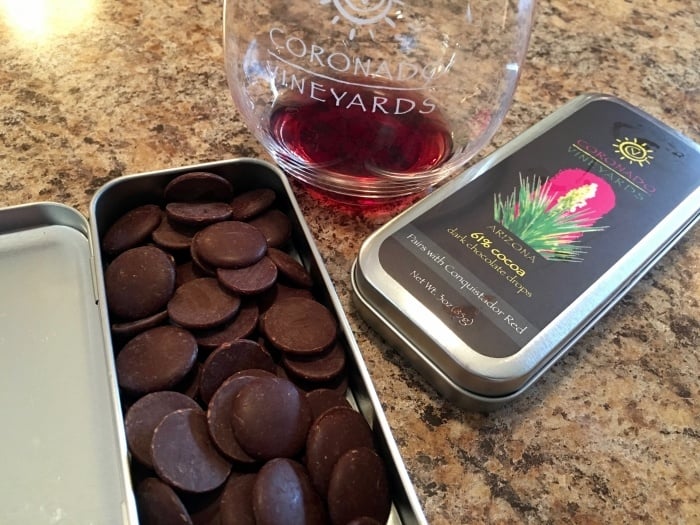 In the tasting room at Coronado, I was pleased to find not only an award-winning Arizona Riesling on the list, but also a semi-sweet pairing of dark chocolate drops with another award-winner, Coronado's Conquistador Red.
Before hitting the road once again, we took time to walk the property and witness the new growth bursting forth on not-so-ancient vines perfectly positioned between Mt. Graham and the Dos Cabezas Mountains in Southeast Arizona's high desert.
Inside the baby grapes grew the potential for even more award-winning and enjoyable wines from Coronado Vineyards.
---
Safford
---
Back on the road, we headed north on US-191 through the desert toward Safford, finally traveling on a two-lane backroad for the first time on our Arizona road trip.
The Graham County Chamber of Commerce hosted our stay in Safford, a small city situated in the Gila Valley and to the northeast of Mount Graham and the Pinaleno Mountains. Shortly after checking in at the Quality Inn & Suites Safford, we went for dinner at a Mexican restaurant that has been serving the community since the mid-1950s.
Click here to book your stay at the Quality Inn & Suites Safford on TripAdvisor!
El Charro
---
El Charro is one of the stops on Graham County's Salsa Trail, a collaborative of twelve select Mexican restaurants and "a lady who grows chilies."
Rather than ordering individual meals at El Charro, we requested that our host Thomas Biggs serve us featured items from the menu in family style, the way we had been served during our pizza lunch. This method would become our norm during the Arizona road trip because it allowed us to sample various dishes without filling up on a single entree.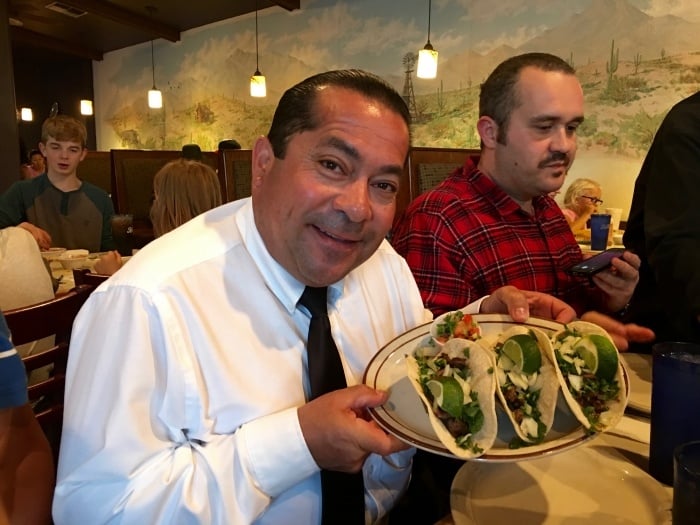 Although El Charro is a Safford tradition, Mr. Biggs, a native of the Gila Valley, is responsible for bringing a fresh authenticity to the menu items. While working on a graduate degree in Guadalajara, Mexico, he learned recipes and culinary techniques of the Tapatio people and added them to the menu when his family assumed ownership of the restaurant in 2013.
I can attest to the authenticity of the cuisine, because I, too, lived in Guadalajara during my eighth-grade year while my parents attended Spanish language school. El Charro's street tacos (presented by our driver Ernie above) were heaven on a plate. The mingled flavors of carne asada, chopped onions and cilantro, pico de gallo salsa, all wrapped in a grilled soft tortilla and topped with a squeeze of lime, instantly took me back to the Mexico of my youth.
---
Map It!
---
---
An Arizona Road Trip Series
---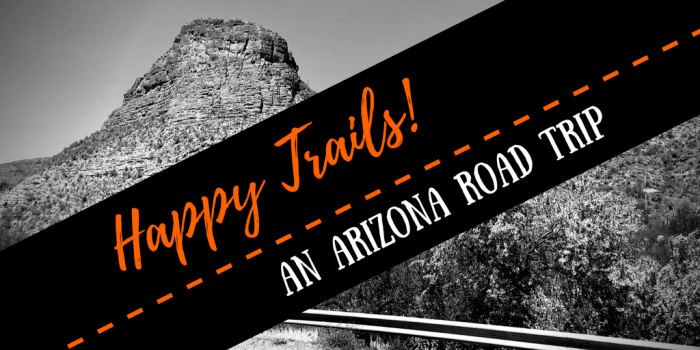 And the Happy Trails road trip continues . . . .
Part 2: Safford to Pinetop-Lakeside: An Arizona Road Trip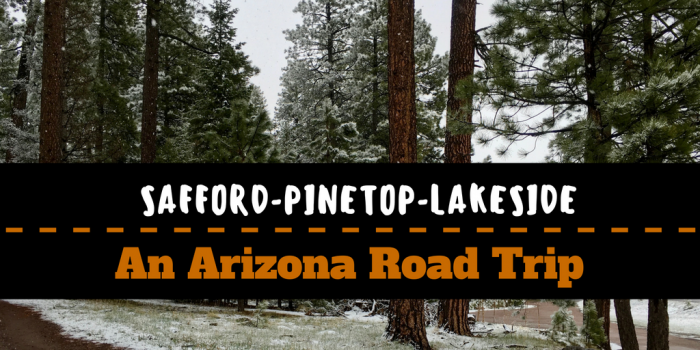 Discovery Park at Eastern Arizona College, the Coronado Trail, Morenci Copper Mine, Hannagan Meadow, and Casa Malpaís
Part 3: Pinetop to Whiteriver to Greer: An Arizona Road Trip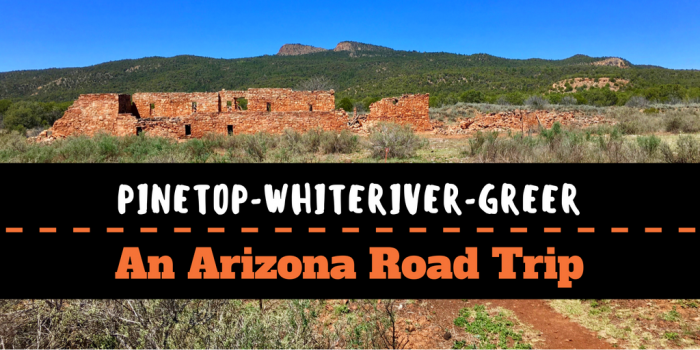 Fort Apache Indian Reservation, Fort Apache National Historic Landmark, the Kinishba Ruins, Sunrise Ski Park, and the White Mountain Nature Center
Part 4: Pinetop to Salt River Canyon to Mesa: An Arizona Road Trip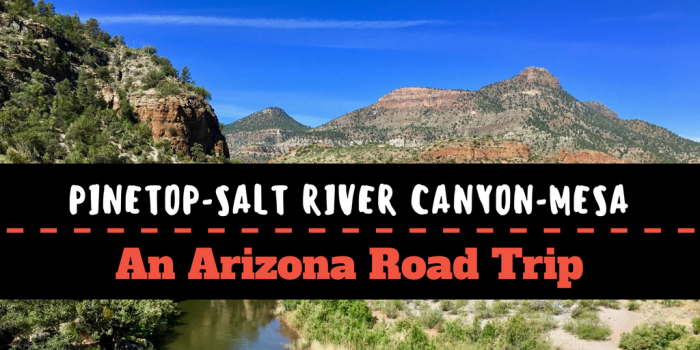 Salt River Canyon, the Fresh Foodie Trail®, Queen Creek Olive Mill, Schnepf Farms, and Agritopia®
Part 5: A Day Trip on the Apache Trail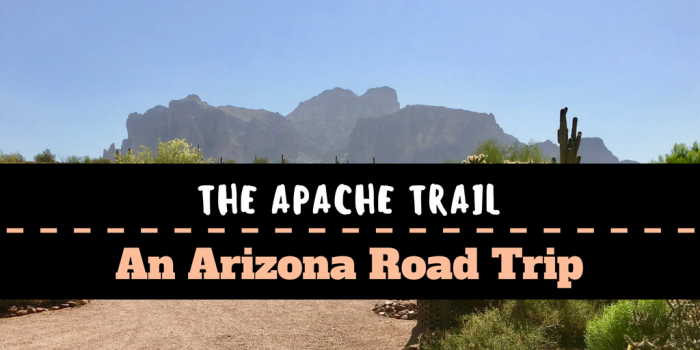 Superstition Mountains, Goldfield Ghost Town, Tortilla Flat, and the Dolly Steamboat.
---
Design Your Own Arizona Road Trip
---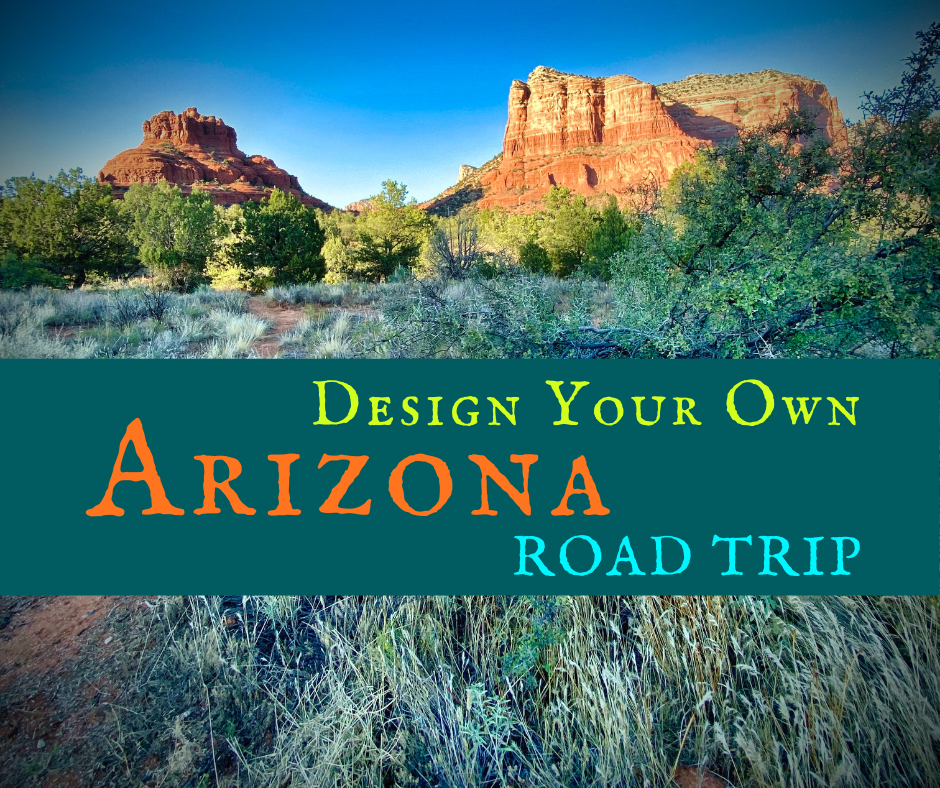 For more Arizona destination information and road trip planning resources, navigate to our Design Your Own Arizona Road Trip round-up post, or use the links below for direct access to additional stories and guides:
Things to Do on a Drive from Phoenix to Flagstaff, Arizona
Take the Train to Grand Canyon National Park: An Insider's Guide
3 Magnificent Flagstaff National Monuments
Tour Flagstaff Attractions On Your Own
Drive the Painted Desert & Petrified Forest National Park
Tons of Fun Things to Do in Winslow, Arizona
3 Stunning Sedona Scenic Drives
Ride Arizona's Verde Canyon Railroad
7+ Amazing Attractions in Verde Valley AZ
Explore the Geological and Cultural Diversity of Southeast Arizona
---
We Would Love to Hear From You
---
We enjoy dialogue with our readers, especially when they share off-the-beaten-path destinations and useful travel tips. Have you ever done an Arizona road trip? If so, we would love to hear about your experience. We invite you to leave your comments and questions below, and we always respond!
---
Pin this Post!
---