(a

9

minute read)
---
A day trip from Pinetop to Whiteriver to Greer, Arizona, takes us to Fort Apache, the Kinishba Ruins, Sunrise Ski Park, & the White Mountain Nature Center.
---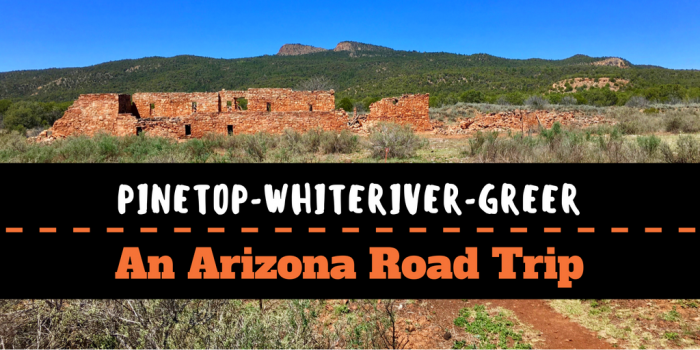 The Arizona Office of Tourism invited me to join a group of international journalists on a road trip through some of the lesser-known regions of the state.
We traveled from Phoenix to Tucson to Safford on the first day and took in a bike tour, a winery, and some incredible ethnic cuisine.
The second day took us along the Coronado Trail from Safford to Pinetop-Lakeside with stops at a copper mine, an alpine lodge, and a Native American archaeological site.
On the third day of our Happy Trails road trip, we would drive into the heart of the White Mountain Apache Reservation from Pinetop to Whiteriver to Greer to visit two National Historic Landmarks, tour a ski park, and hike through an environmental reserve.
---
Pinetop to Whiteriver to Greer
---
Day 3 of our Arizona Road trip would not require packing up because we would be returning to Lake of the Woods Resort for a second night. An excursion from Pinetop to Whiteriver to Greer and three key locations within the Fort Apache Indian Reservation would be the order of the day.
Historical Note: The White Mountain Apache Tribe retained ownership of this 2,627 square mile tract of their homeland after Chiricahua Apache leader Geronimo surrendered to U.S. troops in 1886. This was due primarily to the faithful service of 50 White Mountain Apache scouts who served under General George Crook during the final years of the Apache Wars.
Fort Apache National Historic Landmark
---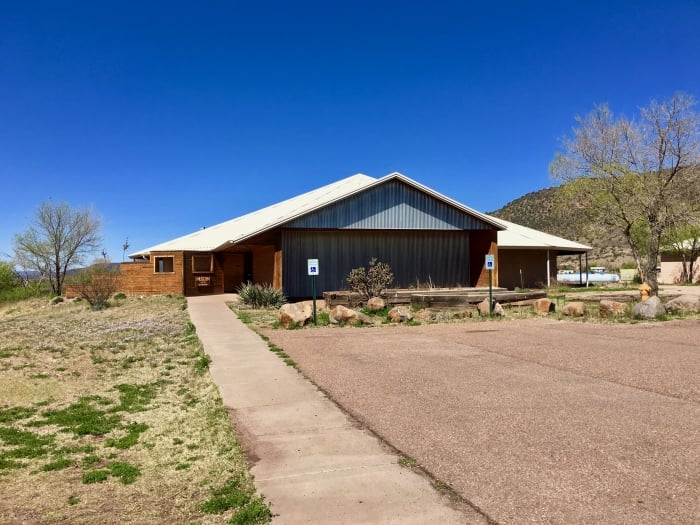 We arrived first at Nohwike' Bágowa (meaning House of our Footprints), the museum and cultural center for Fort Apache Historic Park, situated just south of the community of Whiteriver.
The circular architecture of the museum reflects a gowa, a traditional Apache holy home, and serves as a repository of Apache artifacts, historical photographs, and an archival collection. Visitors can purchase handmade Apache beadwork, basketry, as well as tribal books and music.
The original site of Fort Apache lies adjacent to the cultural center. The property features 27 buildings from various historical periods, including a log officer's cabin built in 1871 after the site became a military camp, an 1876 adjutant's office (today's post office), a commissary storehouse, two guardhouses, and several additional officer quarters.
The property was turned over to the Bureau of Indian Affairs in 1923, and in 1932 the Theodore Roosevelt School was built as a boarding school to train Navajo youth to adopt non-native customs. Today the school continues to function as a boarding school that fully embraces the value of native cultures.
Kinishba Ruins National Historic Landmark
---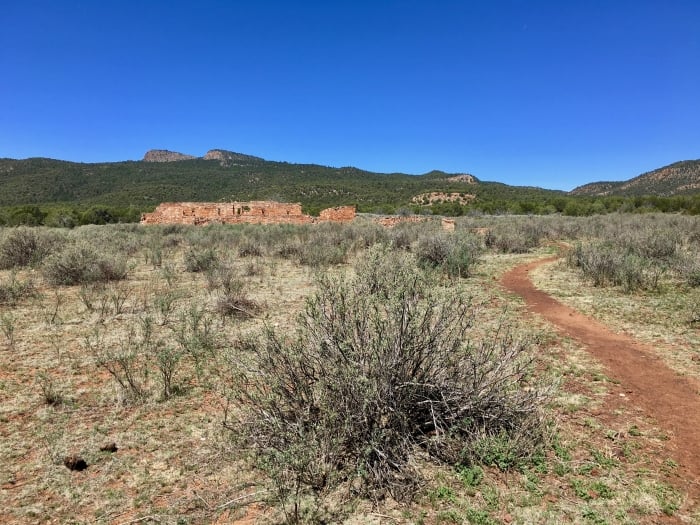 Our next stop in Fort Apache Historic Park, was located just four miles west of the cultural center. Also designated as a National Historic Landmark, the 600-room Kinishba Ruins are the archaeological remains of a native civilization dating from 1250 -1400 AD. Although the site is managed today by the White Mountain Apache Tribe, the people who occupied this site are the ancestors of today's Zuni and Hopi tribes.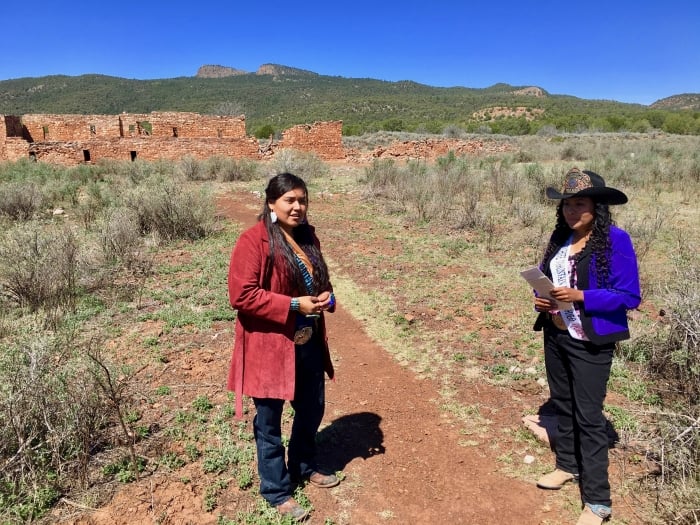 Our interpretive guide for both Fort Apache and the Kinishba Ruins was Lillian Lupe, the reigning Miss White Mountain Apache Queen, assisted by her sister Zipporah Lupe, the reigning Miss White Mountain Apache Rodeo Queen. I was impressed with Lillian's poise, confidence, and expertise regarding both current and historical aspects of the White Mountain Apache Tribe. It was evident that her wealth of knowledge was not merely the assimilation of her raising as a native Apache, but also the result of intensive study.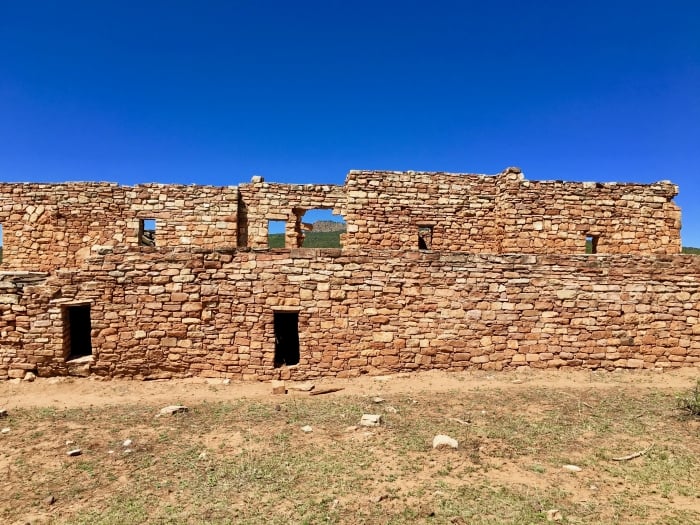 Kinishba, like many archaeological sites, has experienced periods of preservation and destruction. In the 1930s, Dr. Byron Cummings from the University of Arizona initiated a plan to bring restoration to the site. Assisted by students and the Indian Division of the Civil Conservation Corps (CCC), he excavated and rebuilt portions of the site and opened a museum for the display of historical artifacts and Apache crafts. The onset of World War II, vandalism, and fire contributed to many of the structures falling into disrepair.
The time needed to explore Fort Apache Historic Park depends primarily on one's level of interest. Visitors can spend a couple of hours walking the primary sites presented in this post or spend a full day hiking the Scout Camp Trail, Cemetery Trail, and visiting additional associated sites.
Admission: adults $5.00, students and seniors (64+) $3.00, children under age 7 free
Hours: Fort Apache Historic Park, including Kinishba Ruins, open daily from 7:00 am to sunset.
Nohwike' Bágowa Hours: 8:00 am to 5:00 pm (Mon. – Sat. summer; Mon. – Fri. winter)
After-Hours and Holiday Admission: $5.00 per vehicle per day
Visitors may do self-guided walking tours with maps of both Fort Apache and Kinishba. Apache tour guides are available with advance reservation.
Sunrise Ski Park and Resort
---
Visiting a ski resort in the spring might seem like a strange thing to do, but we hopped in the van for an hour's drive east to our next destination near Greer, Arizona.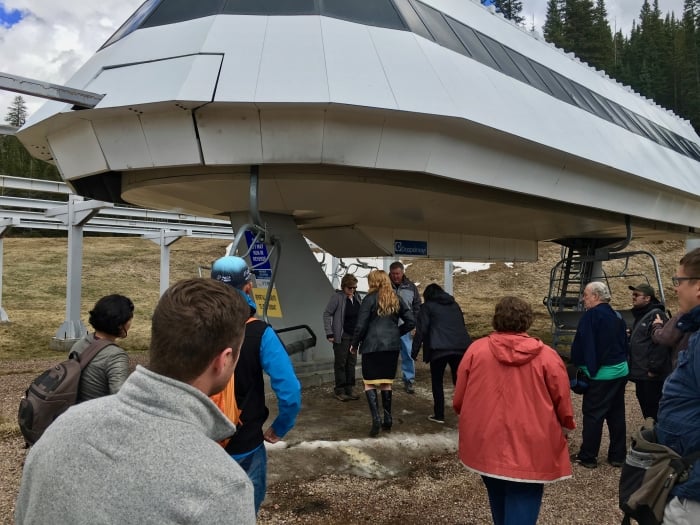 First up was a gourmet lunch at the Sunrise Park Hotel's Summit Restaurant. Then we headed over to the Sunrise Ski Park for a property tour and chair lift ride up Sunrise Mountain.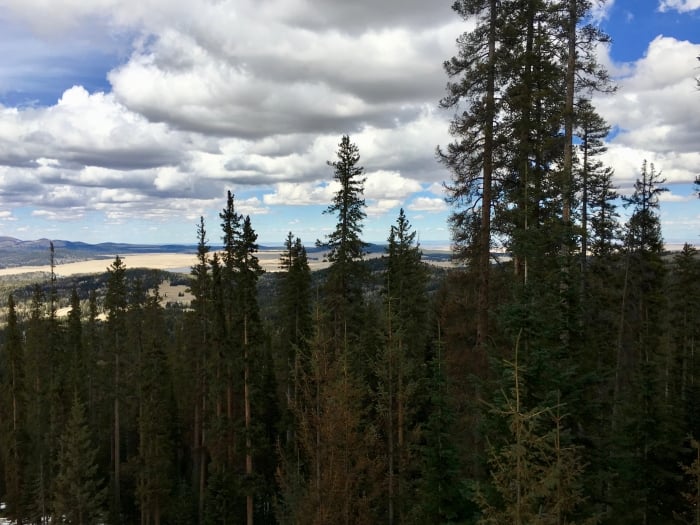 The scenic ride carried us 10,700 feet up Sunrise Peak through forests of ponderosa pine, blue spruce, and aspen, with views that went on for days.
As a young man, I actually hit the bunny slopes on a couple of Colorado ski trips, but I never really took to downhill skiing that well. No matter. Today, taking an elevated ride through multiple temperature inversions with breathtaking views all around was more than enough to quicken the pulse of this soft-adventure aficionado.
Map Credit: Sunrise Ski Park
Sunrise Ski Park features 65 runs of varying levels of difficulty spread across Sunrise Mountain, Apache Peak, and Cyclone Mountain.
In addition to downhill skiing and snowboarding, winter visitors may also enjoy sleigh rides, ice fishing, sledding, tubing, and cross-country skiing.
Surprisingly, summer at Sunrise offers the opportunity for additional activities such as boating, kayaking, mountain biking, horseback riding, culinary workshops, and much more.
The park's new zipline course is open for both summer and winter adventure.
Sunrise Ski Park and Resort, as well as the neighboring Hon-Dah Resort Casino, are owned and operated by the White Mountain Apache Tribe.
White Mountain Nature Center
---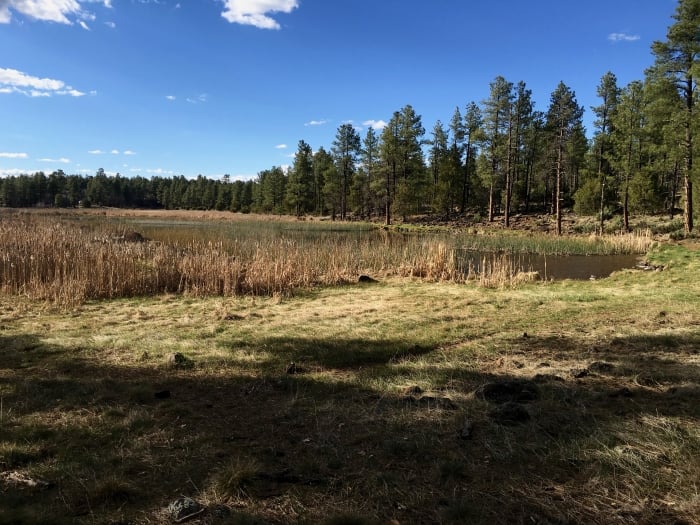 Our day trip from Pinetop to Whiteriver to Greer was nearing its end.
We returned to Pinetop-Lakeside for our final activity of the day at the White Mountain Nature Center, a non-profit environmental education and recreational complex formed in 2003.
The highlight of our visit was a guided walk through the 40-acre Big Springs Environmental Study Area.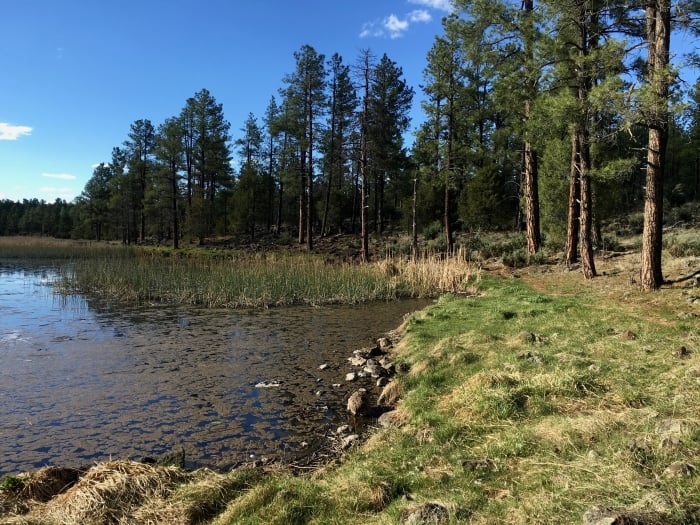 The loop trail carried us through a ponderosa pine and gambel oak forest and along various natural wetland habitats. Our trail guides engaged us with educational, yet entertaining facts about the native flora and fauna, most memorably the interdependent symbiosis between ponderosa pines, the truffles that grow on their roots, and tree squirrels.
You probably shouldn't expect it when you visit, but I could not forget to mention that after the hike our hosts treated us to an incredible steak and chicken cookout for dinner.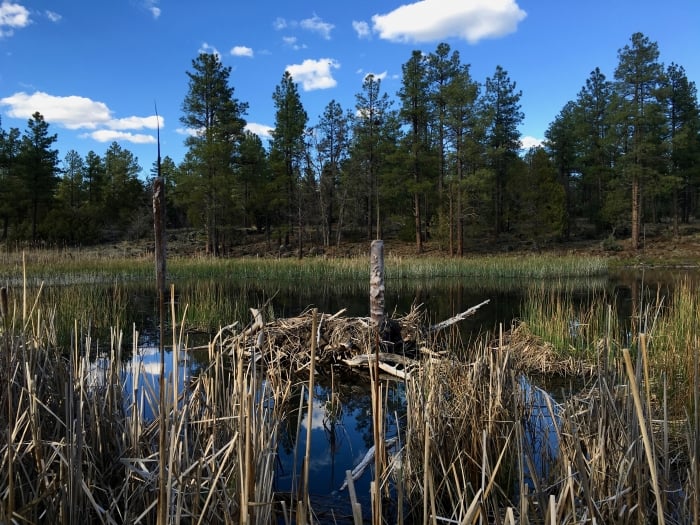 I am not a professional photographer, but this view of the sky and trees reflected on the glass surface of the spring-fed beaver pond at Big Springs Environmental Area, truly captures the stunning beauty of Arizona's White Mountains.
Without a single mountain in sight . . . .
---
Map It!
---
---
An Arizona Road Trip Series
---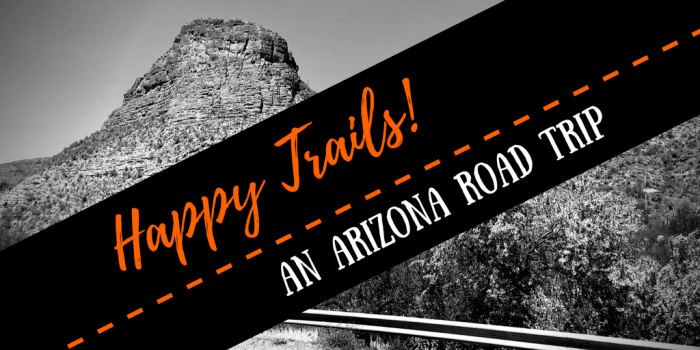 Read more posts from our Happy Trails road trip series . . . .
Part 1: Phoenix to Tucson to Safford: An Arizona Road Trip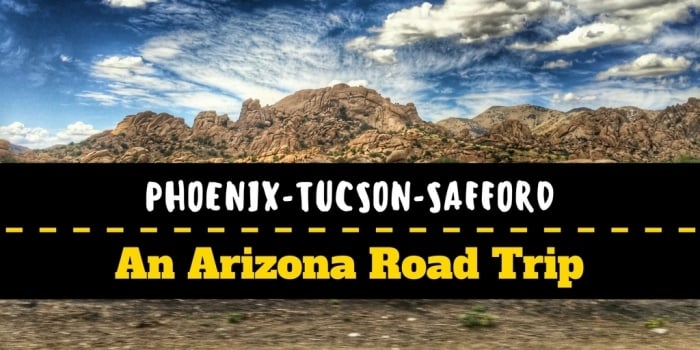 Tucson Bike Tours, Pizzeria Bianco, Coronado Vineyards, and the Salsa Trail
Part 2: Safford to Pinetop-Lakeside: An Arizona Road Trip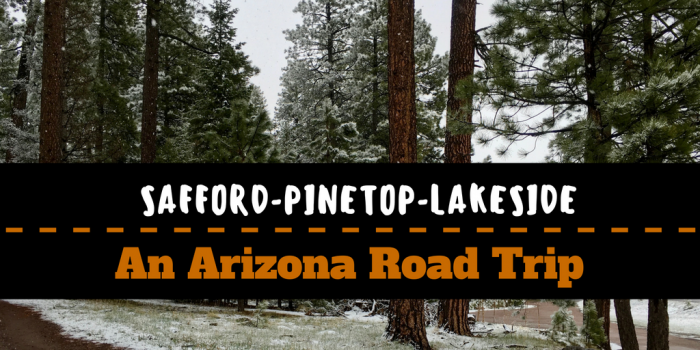 Discovery Park at Eastern Arizona College, the Coronado Trail, Morenci Copper Mine, Hannagan Meadow, and Casa Malpaís
Part 4: Pinetop to Salt River Canyon to Mesa: An Arizona Road Trip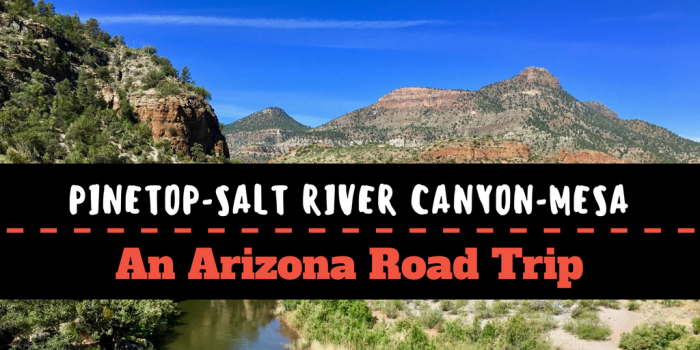 Salt River Canyon, the Fresh Foodie Trail®, Queen Creek Olive Mill, Schnepf Farms, and Agritopia®
Part 5: A Day Trip on the Apache Trail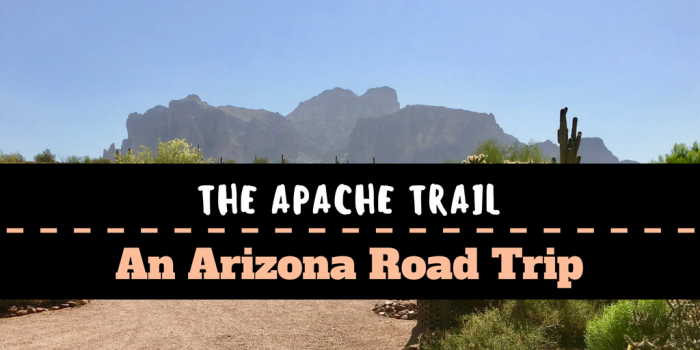 Superstition Mountains, Goldfield Ghost Town, Tortilla Flat, and the Dolly Steamboat.
---
Design Your Own Arizona Road Trip
---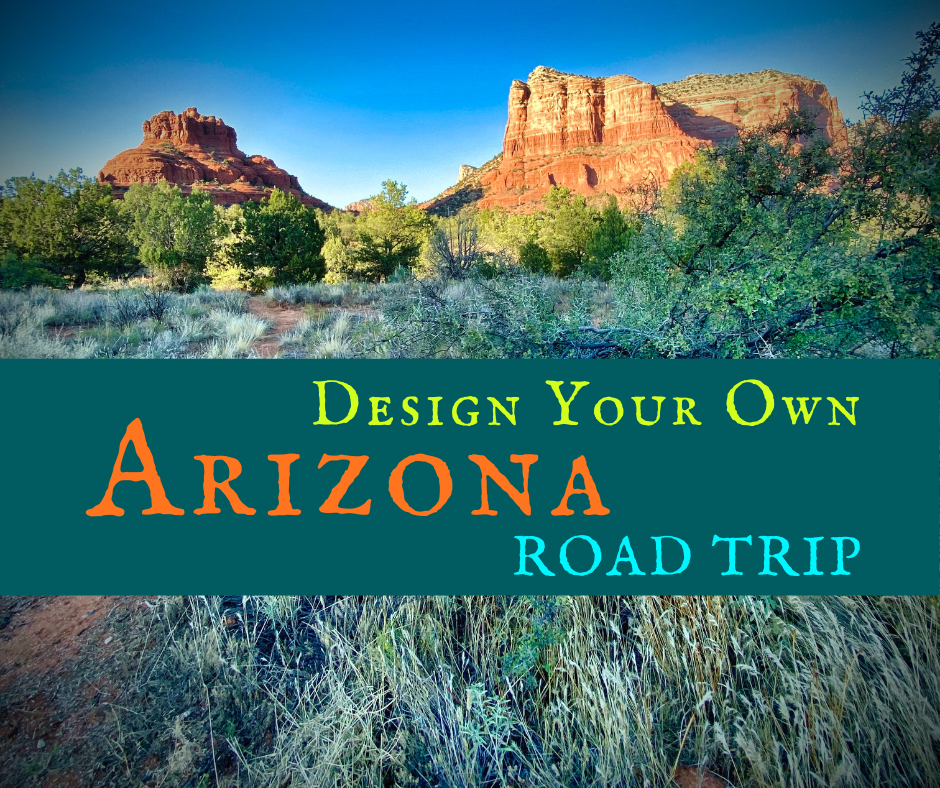 For more Arizona destination information and road trip planning resources, navigate to our Design Your Own Arizona Road Trip round-up post, or use the links below for direct access to additional stories and guides:
Things to Do on a Drive from Phoenix to Flagstaff, Arizona
Take the Train to Grand Canyon National Park: An Insider's Guide
3 Magnificent Flagstaff National Monuments
Tour Flagstaff Attractions On Your Own
Drive the Painted Desert & Petrified Forest National Park
Tons of Fun Things to Do in Winslow, Arizona
3 Stunning Sedona Scenic Drives
Ride Arizona's Verde Canyon Railroad
7+ Amazing Attractions in Verde Valley AZ
Explore the Geological and Cultural Diversity of Southeast Arizona
---
We Would Love to Hear From You
---
We enjoy dialogue with our readers, especially when they share off-the-beaten-path destinations and useful travel tips. Have you ever explored sites along the Arizona backroads from Pinetop to Whiteriver to Greer? If so, we would love to hear about your experience. We invite you to leave your comments and questions below, and we always respond!
---
Pin this Post!
---