(a

20

minute read)
---
Backroad Planet's guide to North Georgia swimming holes & waterfalls you can swim in, shows you where to find them, and helps you plan your next wet adventure!
---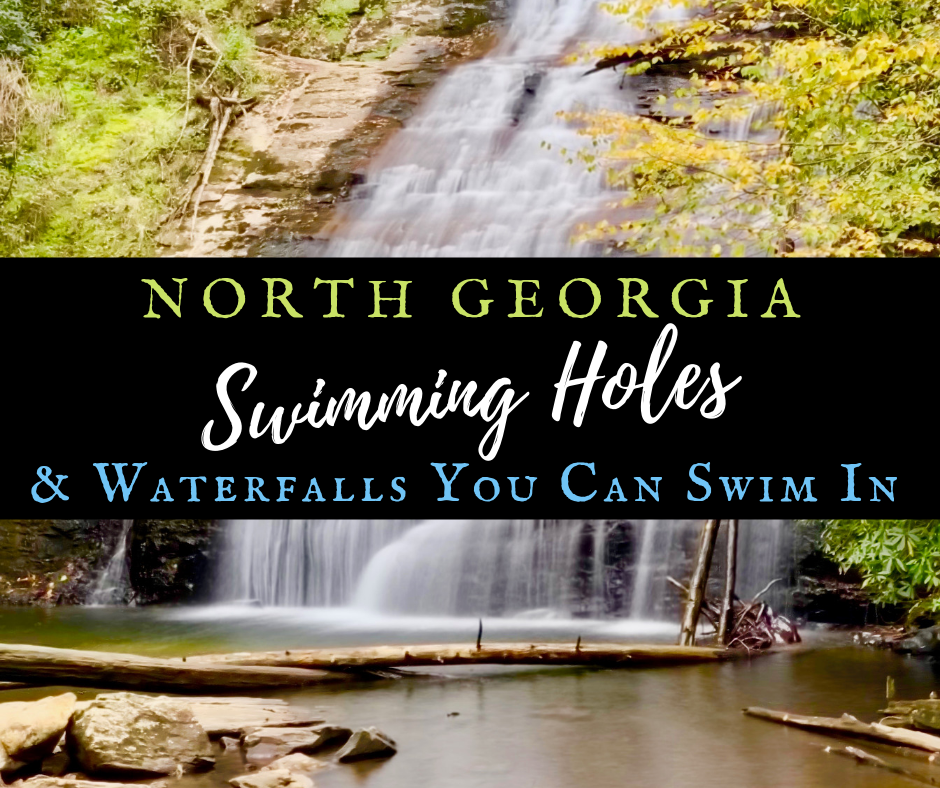 ---
North Georgia Swimming Holes & Waterfalls
---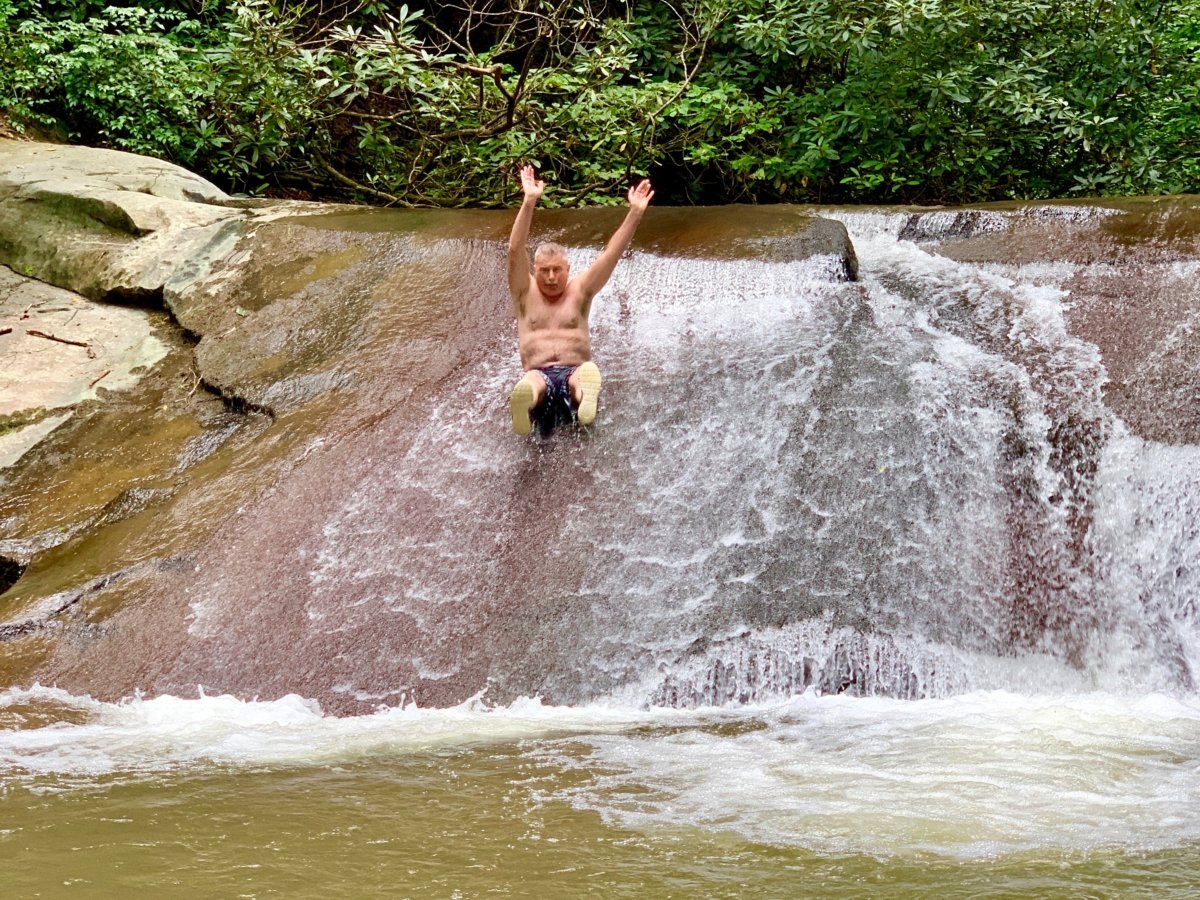 This guide is a labor of love that has been mentally and physically in the works for many years.
The "love" part springs from my devotion to the mountains of North Georgia, a place that became my second home on December 31, 2003. On that New Year's Eve I closed on my Pinebox, a log cabin nestled on a wooded hillside between the towns of Blue Ridge and Blairsville.
The "mental" and "physical" part reflects many years of researching, gathering information, driving gravel backroads, hiking countless miles of trail, and all the while chasing North Georgia waterfalls.
Some of the earliest posts published on Backroad Planet documented those days:
On occasion, I noticed readers had discovered these posts while doing online searches such as "North Georgia waterfalls you can swim in" and "waterfalls in Georgia you can swim in." It was then I knew I would eventually have to compile my research, curate photos and video, and publish a post inspired by reader demand.
And why not? What could be more exotic than swimming in a mountain waterfall?
A Word about North Georgia Swimming Holes & Waterfalls
---
If you envision North Georgia waterfalls as otherworldly wonderlands like Jamaica's Dunns River Falls, you may be disappointed. But if it is ruggedly beautiful, unpredictable, and frigid natural waters you seek, you will be more than pleased.
We're talking rope swinging, cliff jumping, rock sliding, whitewater tubing, and course, swimming.
How to Use this Guide
---
For organizational purposes, the swimming holes and waterfalls in this post are grouped by county. However, when planning day trips, be sure to check adjacent counties for additional locations on our North Georgia waterfalls map.
You will find bulleted lists of nearby attractions at the end of most sections to consider when planning your day trip itinerary. To avoid confusion with swimming holes, these attractions are not included on our map. But you can learn more about them with a click on the associated links.
Captured at diverse times and seasons through the years, you will notice varying quality in post images. This statement is not an apology, but rather a way of letting you know I know. As a confirmed iPhoneographer, I am grateful for the ever-improving photo quality of each generation.
I publish this post knowing that it is a work in progress. As I visit more North Georgia swimming holes and waterfalls you can swim in, I will add them to the mix.
---
Georgia Swimming Holes & Waterfalls Map
---
Click the icon in the upper left corner of the map for a full listing of access points to the swimming holes and waterfalls included in this post. Blue pins identify the exact locations of destinations, if they are roadside or nearby, and trailheads for those that require hikes.
For GPS driving directions, select the blue pin of your choice, followed by a click on the arrow icon in the upper right corner of the slide-out menu. You will be taken to that location on Google Maps on your computer or mobile device.
To plan the best experience possible, be sure to check out our tips for enjoying waterfalls and swimming holes in Georgia at the end of this post,
---
Union County Georgia Swimming Holes
---
Union County borders North Carolina and is also home to my Pinebox, so we begin with the region I know best.
Helton Creek Falls
---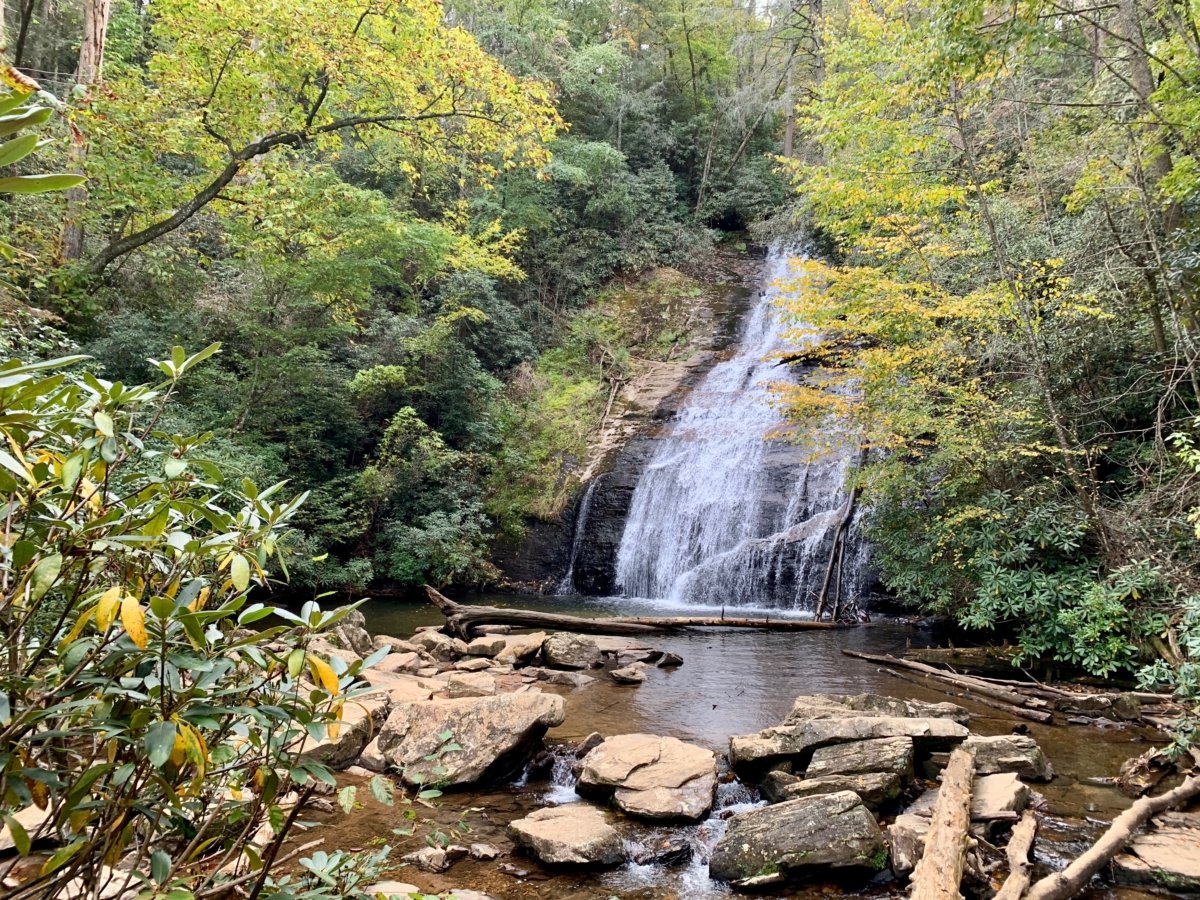 Helton Creek Falls is located on a easy drive along a mostly gravel road. There is a roadside parking area, and the falls are just a short hike away. The upper falls is framed in a lovely setting with a welcoming pool at the base. I have visited these falls many times and have taken a dip in the refreshing waters.
Some online reports call the lower falls a sliding rock, but I wouldn't risk it. Looks like it would be a painful, bumpy ride to me.
Sea Creek Falls
---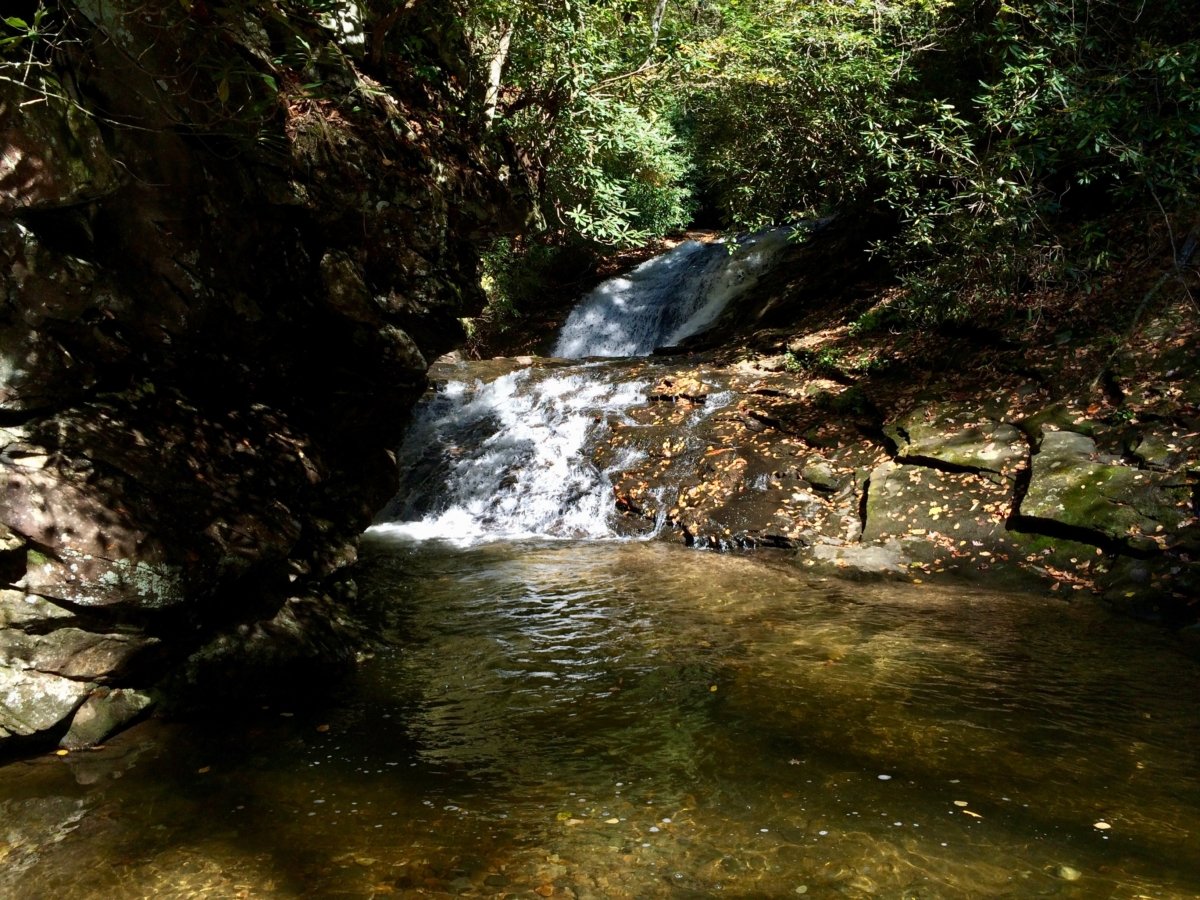 Sea Creek Falls is more of a child-sized waterfall, but it is in a beautiful setting with a broad creek to play in and lots of places to spread a picnic blanket. Even though it figures on Google maps, I had difficulty finding the falls the first couple of times I chased it. You can find more information for locating the falls by navigating to a previous post.
Lake Trahlyta at Vogel State Park
---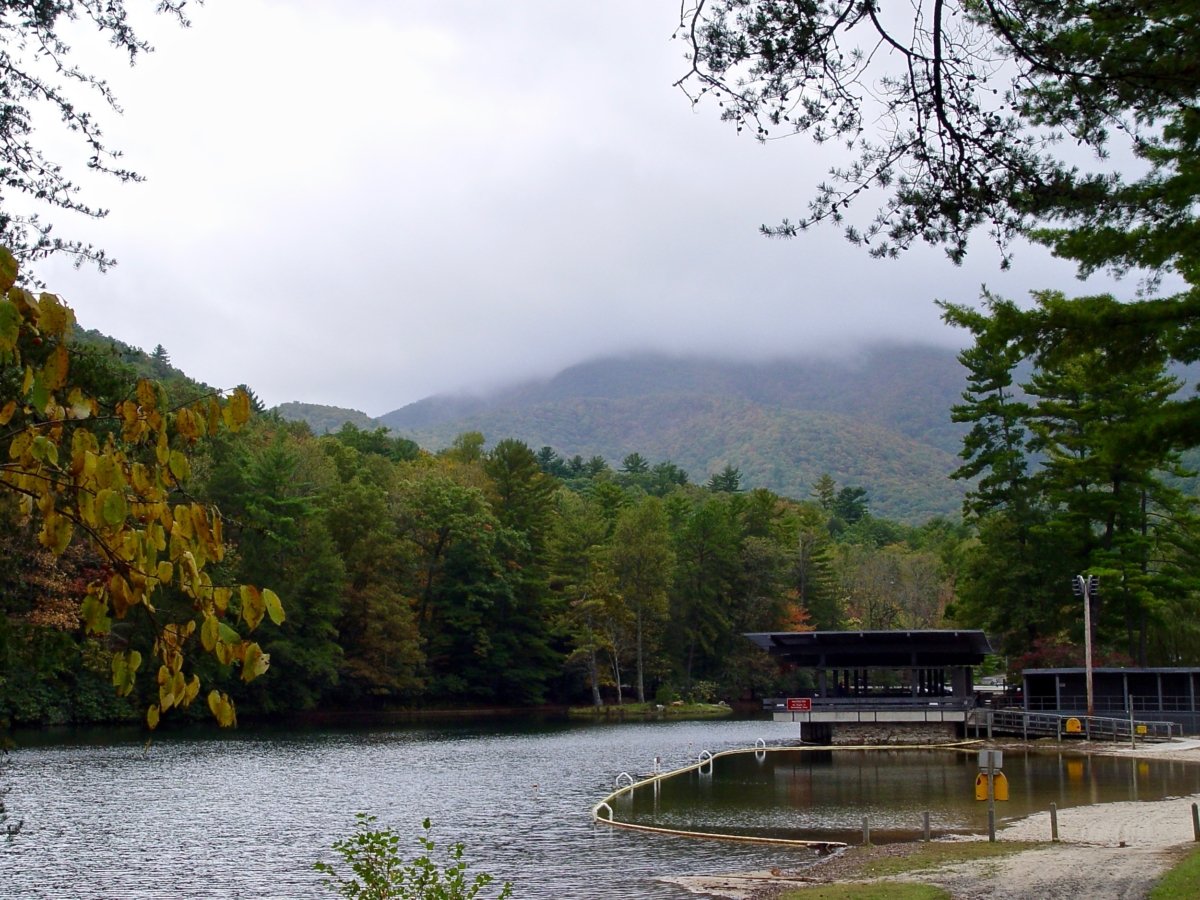 Georgia's second oldest state park is located in Union County. In addition to a sand beach and swimming area on Lake Trahlyta, Vogel State Park features cottages, campsites, picnic pavilions, and a fine waterfall.
A $5 parking fee is required for day use, but you can view the lake and waterfall for free at a roadside pullover along US 19/129.
Lake Winfield Scott Recreation Area
---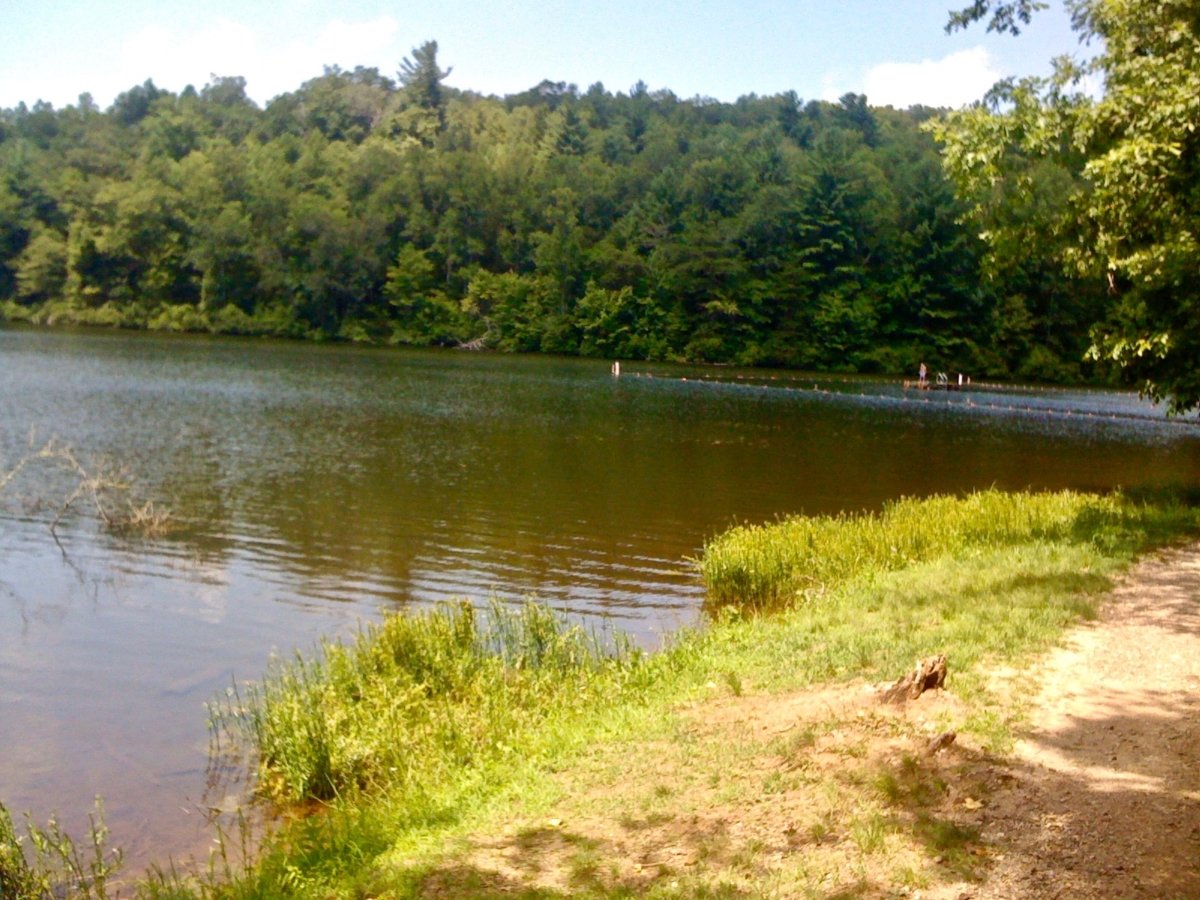 The designated swimming area on Lake Winfield Scott is cordoned off and features a floating platform for jumping and diving. There is a $5 day use fee for the recreation area.
Nearby Attractions
---
---
Murray County Georgia Swimming Holes
---
The Murray County swimming holes and waterfalls are located within the Conasauga District of the Cohutta Wilderness, so expect gravel roads and hiking trails.
Mill Creek Falls
---
The Falls on Mill Creek are accessed from the Hickey Gap Campground. There is a separate day use parking area, but the campground at the end of the gravel road was fairly empty, so we parked there to enjoy a picnic lunch. Campsites are free to use, and reserved on a first-come, first-served basis.
To begin the hike, follow Mill Creek downstream from the campground, and you will pick up the trail.
Although there are a dozen or more cascades along Mill Creek on a 1.4 mile round-trip hike, there are four main waterfalls. The third falls (pictured above) has a rope swing and swimming hole. You may want to bring along a rope for the scramble down the steep bank on this one.
I had difficulty counting and distinguishing between the many falls on Mill Creek. Although I have hiked a portion of this trail twice, we never made it below the fourth falls where there is reportedly a sliding rock.
You can read a detailed account of the full Mill Creek Trail hike at the Hiking the Appalachians and Beyond website.
Holly Creek Picnic Area
---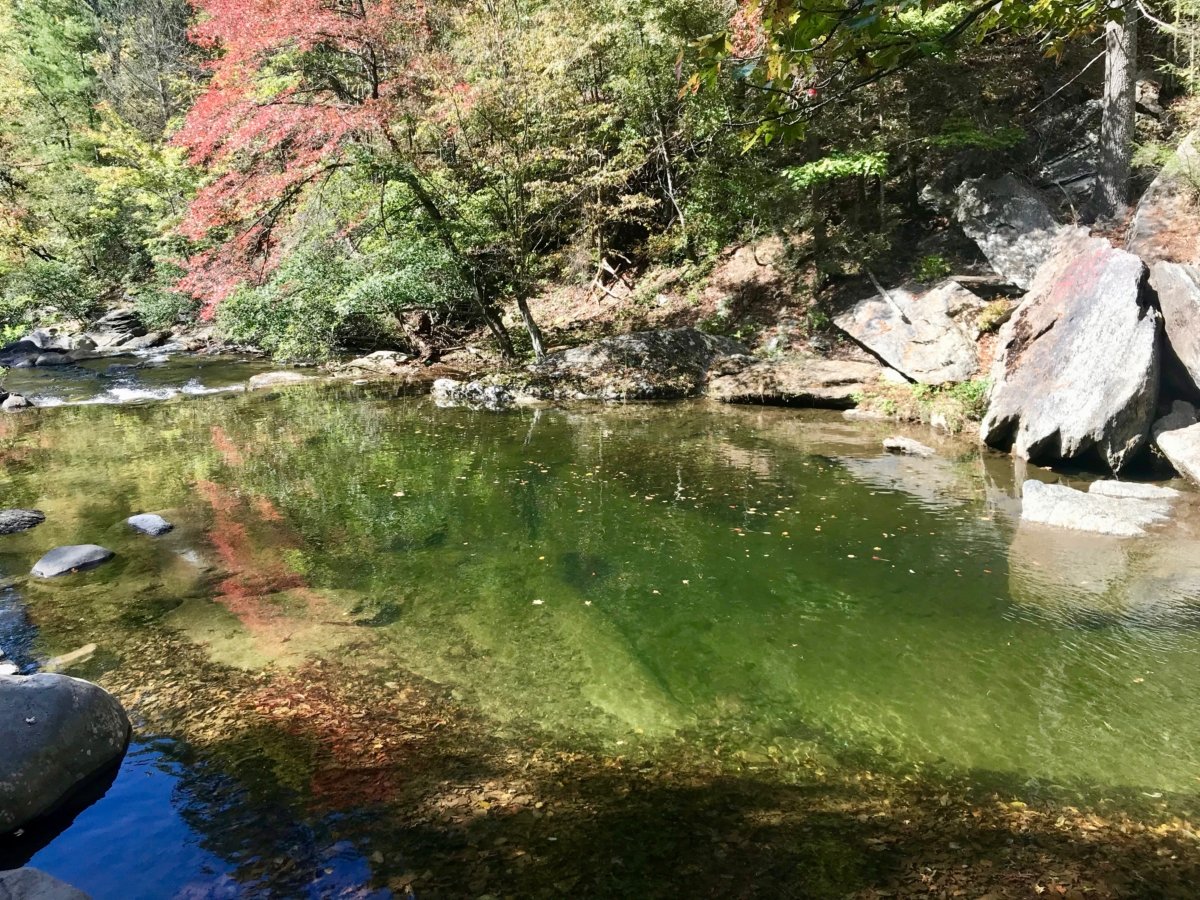 At a roadside pullover along the Old CCC Camp Road (FS 18), you will find a swimming hole with crystal clear water—until you stir the silt on the bottom, that is.
Picnic tables and additional points of entry to Holly Creek are situated further upstream.
Emery Creek Falls
---
The Emery Creek Falls Trailhead is located .4 miles east of the Holly Creek Picnic area on Old CCC Camp Road.
We have not yet embarked on the 5.4 mile round-trip hike to Emery Creek Falls—the site of a popular swimming hole—but we did stop at the trailhead to take some pictures along Holly Creek. We will update this entry when it happens.
Until then, a full account of the Emery Creek Trail hike can be found at the Hiking the Appalachians and Beyond website.
Holly Creek Falls
---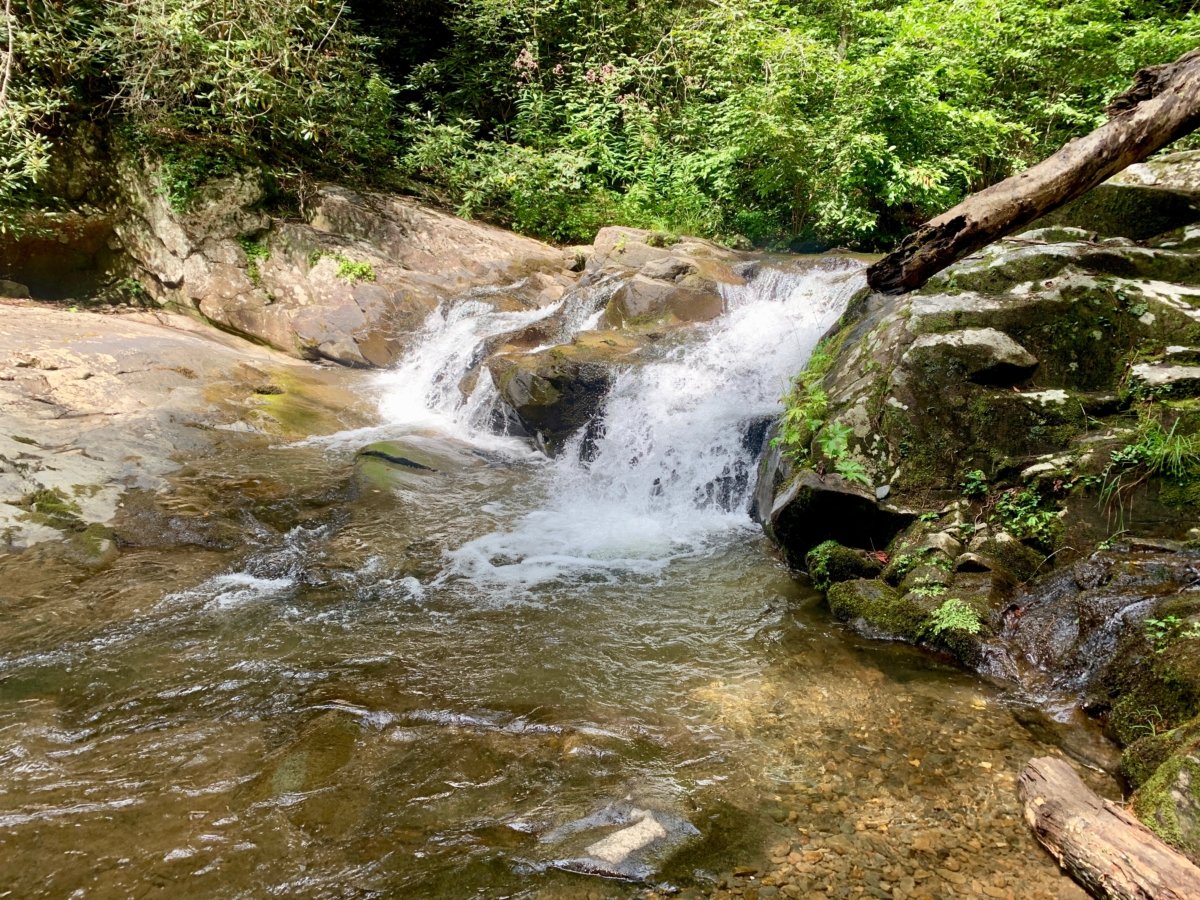 Holly Creek Falls is a picturesque spot hidden in plain sight along Old CCC Camp Road (FS18). With no sign and no marker on Google maps, the best way to find these falls is to route directions using the blue pin on our map above or use the coordinates (34.80512, -84.63168).
As you near the location, you will notice a slight pullover area and a steep trail that leads down the mountainside to the falls below.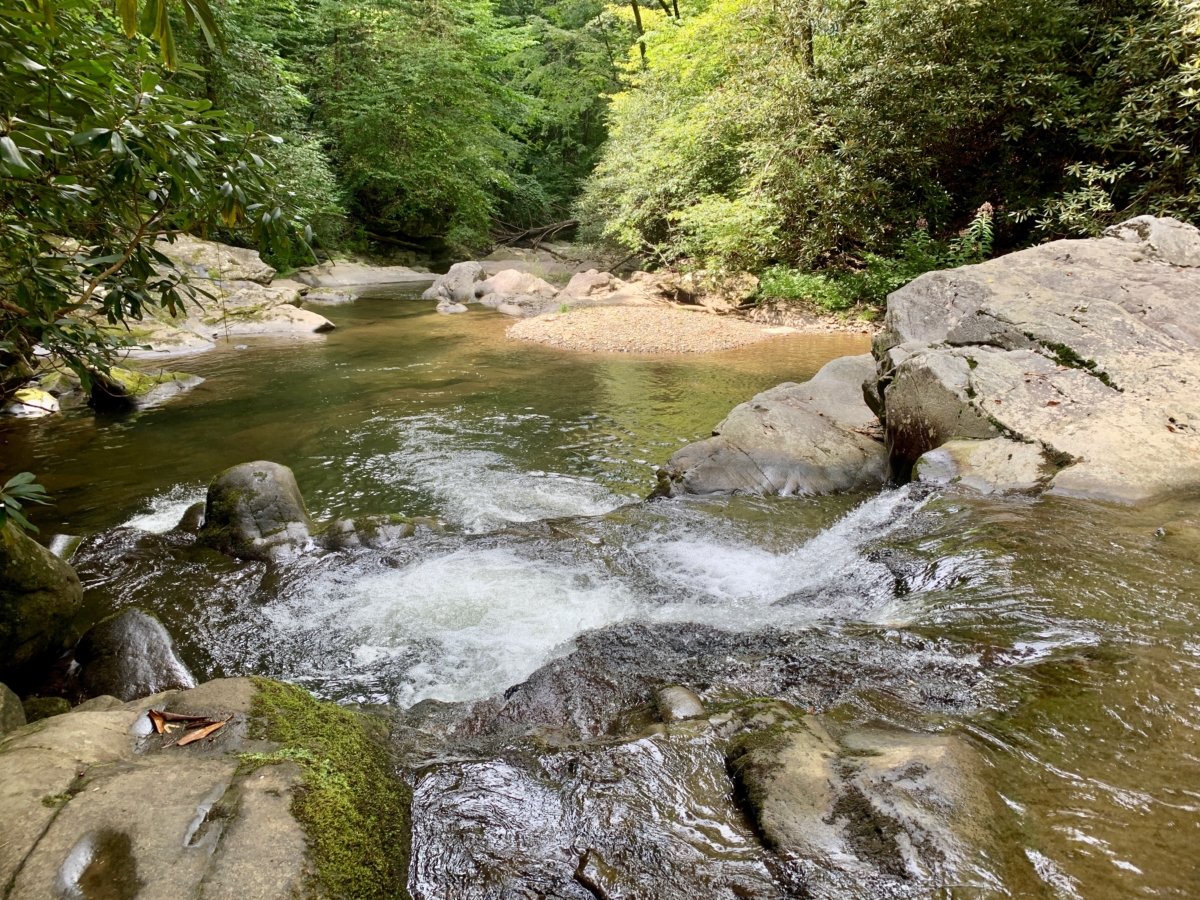 The rocks here are slippery, so be sure to wear water shoes and use caution while enjoying the falls and small swimming hole.
Nearby Attractions
---
---
Fannin County Georgia Swimming Holes
---
Both of the Fannin County waterfalls listed here require drives to remote areas in opposite directions, so we recommend adding nearby attractions to day trip itineraries that include these swimming holes.
Shadow Falls
---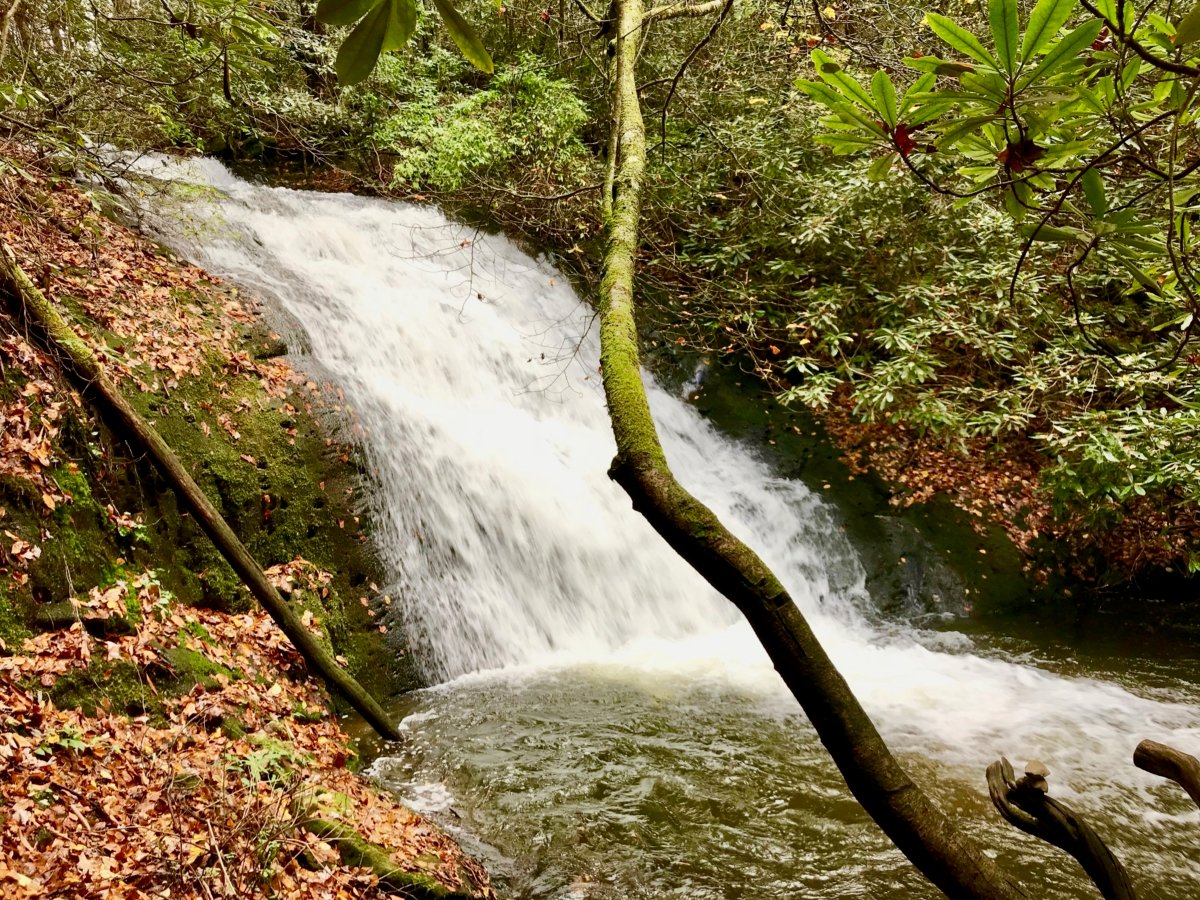 A .5 mile hike along the South Fork Trail will take you to Shadow Falls. A deep pool suitable for swimming awaits at the bottom of a steep goat path.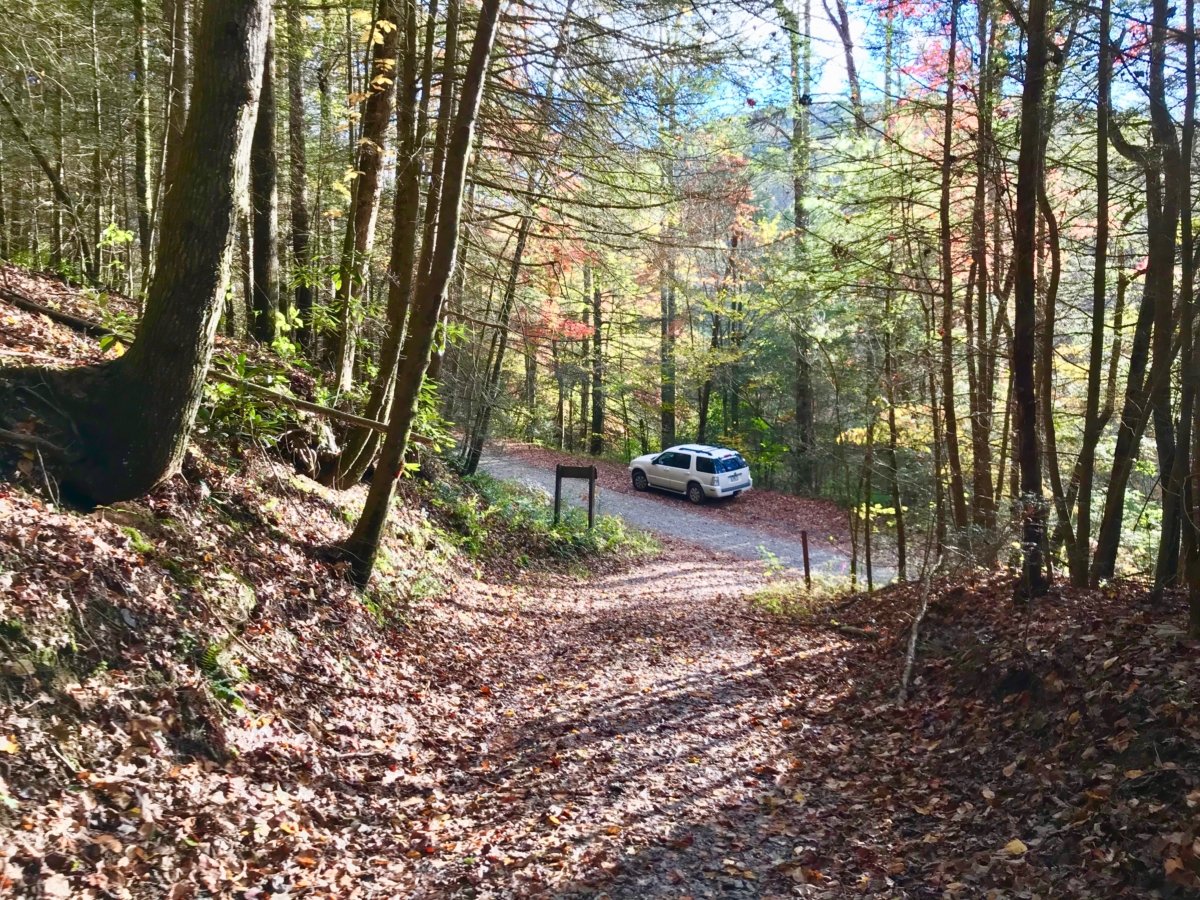 The drive along FS 64 is especially scenic during the fall, when you probably won't be taking a plunge.
Nearby Attractions
---
Long Creek Falls
---
The first time we attempted a hike to Long Creek Falls, we didn't quite make it. We located one of two smaller falls along the trail, but later learned we had not hiked far enough to see the upper larger falls. The 1.3-mile trail to the upper falls is a segment of the Appalachian Trail and is easily accessed from Three Forks camping area on FS 58.
Nearby Attractions
---
---
Rabun County Georgia Swimming Holes
---
The easiest way to find two amazing Rabun County swimming holes is to head to Moccasin Creek State Park. This tent, trailer, and RV campground is conveniently located and a great home base for exploring the region around Lake Burton. There are also two primitive camping sites along Wildcat Creek.
Wildcat Creek Sliding Rock
---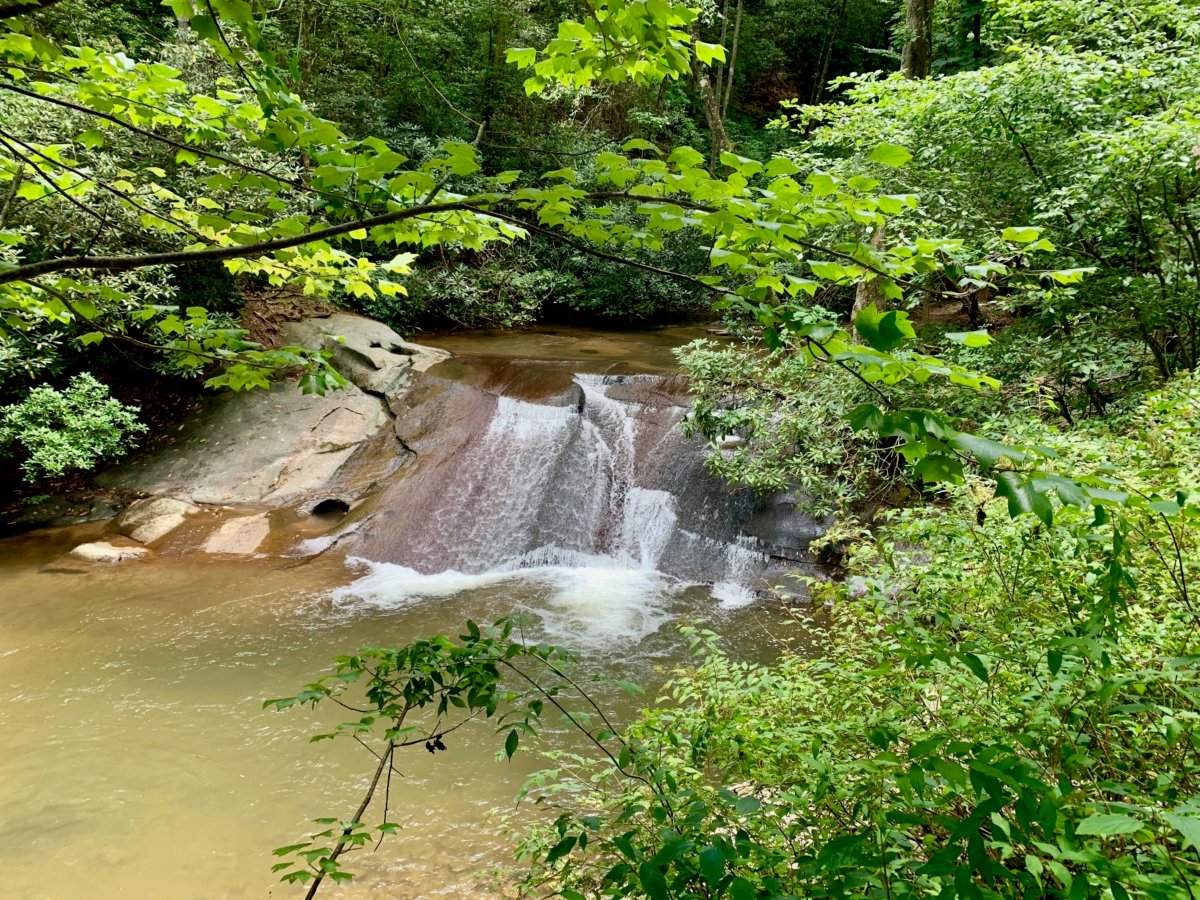 The sliding rock is the second of five prominent waterfalls on Wildcat Creek.
This popular swimming hole is great fun for adults and children alike.
Take West Wildcat Creek Road (FS 26.1) 1.4 miles from SR 197, and you will find several parking areas on the left side. Well-traveled paths lead to the top and bottom of the sliding rock.
Be sure to walk downstream to view the first falls, and walk upstream to the bridge. Wildcat Creek is stocked with rainbow trout and popular with local fishermen. If you are lucky, you may get to witness a Georgia State Fish Hatchery release.
Hemlock Falls
---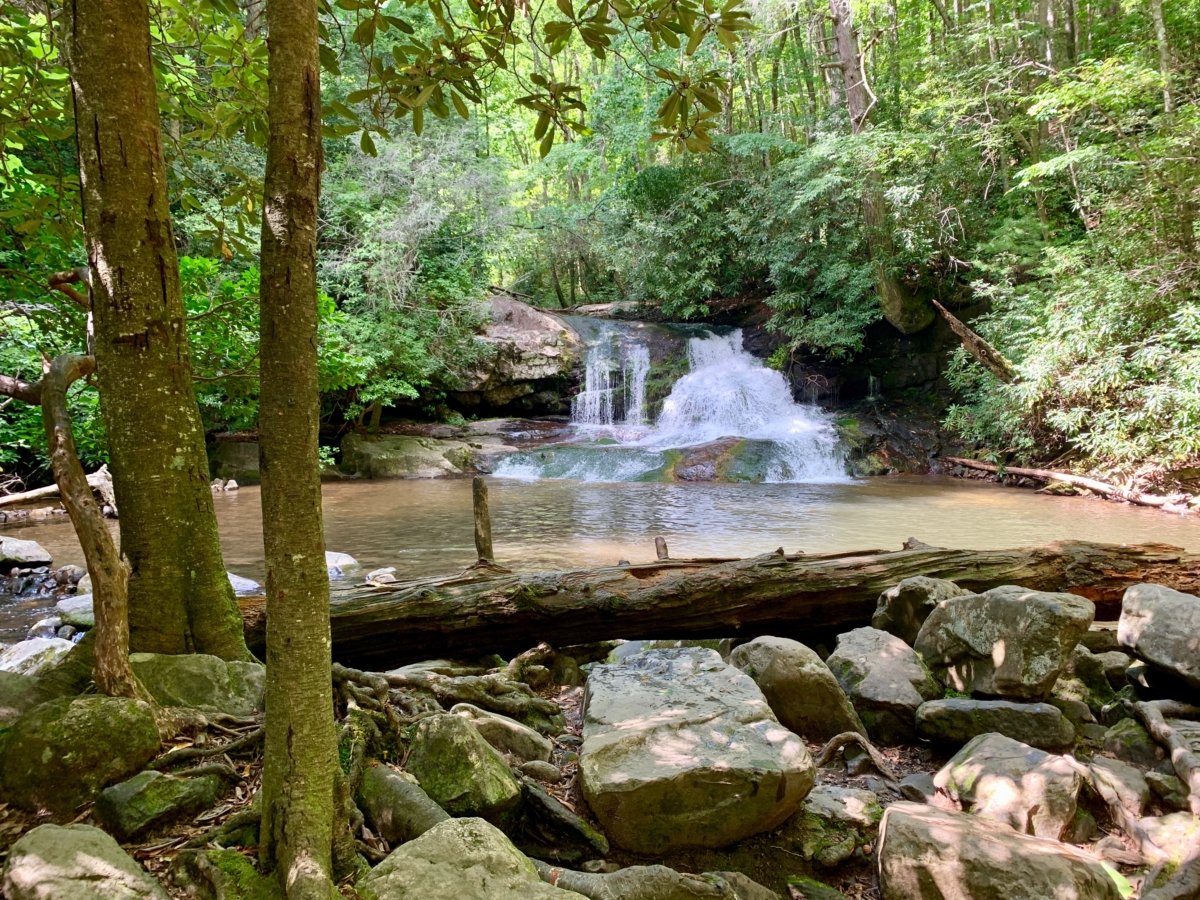 Hemlock Falls is probably the closest to what most people envision when they dream of swimming in a waterfall. The falls and broad pool are mesmerizing.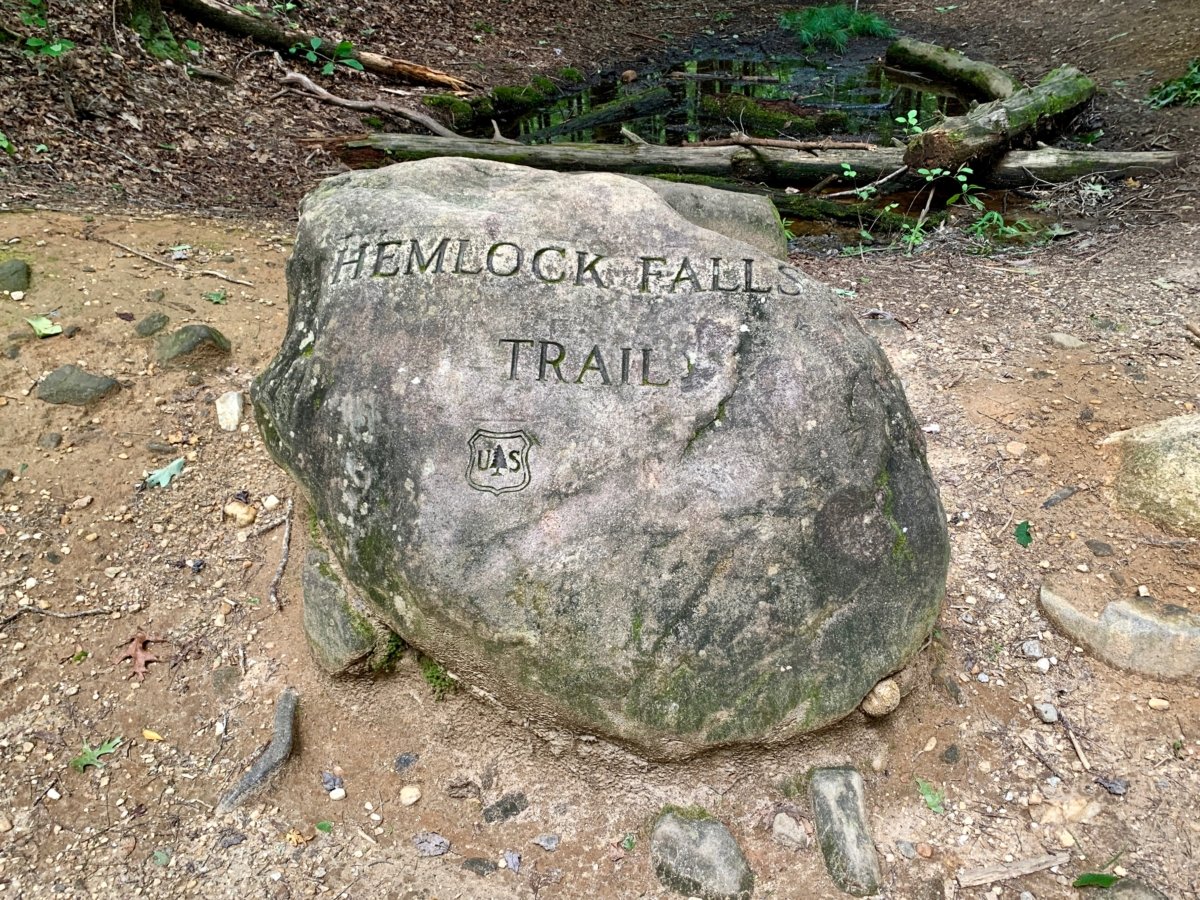 The road that leads to the Hemlock Falls Trailhead and parking area is directly across SR 197 from the state park entrance. A short drive ends at a large primitive parking area.
If every Forestry Service trailhead was marked as well as this one . . . .
The trail to Hemlock Falls parallels Moccasin Creek upstream past several lovely cascades and across a footbridge. Many hikers rank this trail among the loveliest in Northeast Georgia.
Hemlock Falls is located at 1.1 miles up the trail.
After taking a swim, adventurous waterfall-chasers may want to continue .6 miles further up the trail to Upper Moccasin Creek Falls, another picturesque waterfall and swimming hole.
A full description of the Hemlock Falls Trail hike can be found at the Hiking the Appalachians and Beyond website.
Nearby Attractions
---
---
Dawson County Georgia Swimming Holes
---
Dawson County has two unique swimming holes located on the same river, less than four miles apart.
Edge of the World
---
The Edge of the World rapids are located on a stretch of the Amicalola River, easily accessed by a sizable parking area and boardwalk trail.
There are countless cascades, pools, and natural Jacuzzis among the rocky ledges at this popular swimming area. As with most North Georgia rivers and streams, it would be wise to assess the water level and current before taking a plunge.
Devil's Elbow
---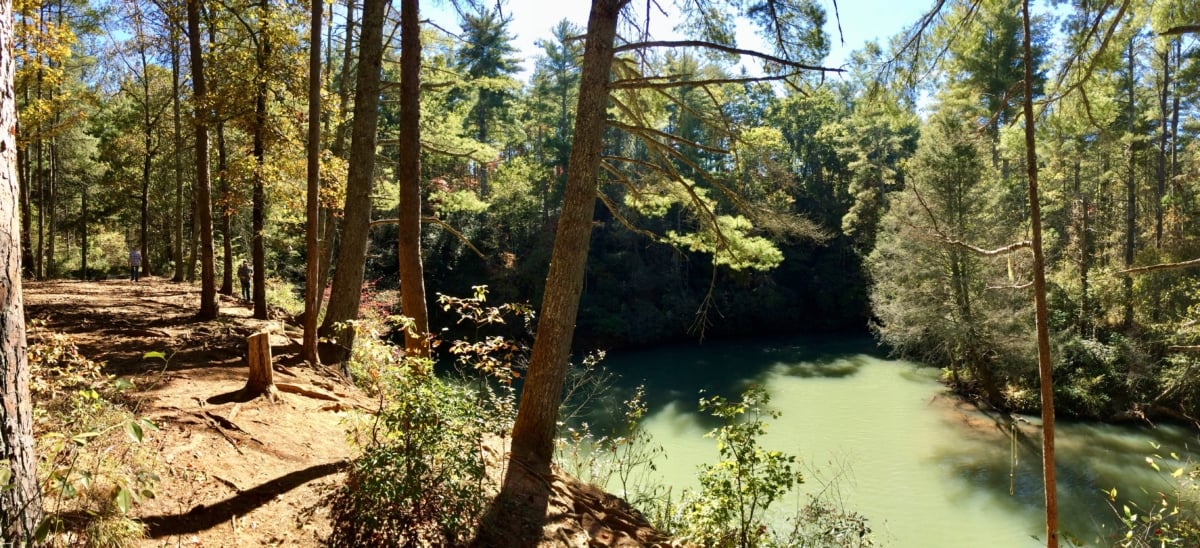 Complete with a cliff and rope swing, the iconic swimming hole at Devil's Elbow is popular with locals.
Less-adventurous folks will enjoy watching the jumps and swings and walking the scenic riverbank up to the steel bridge.
Nearby Attractions
---
---
Lumpkin County Georgia Swimming Holes
---
We only have one Lumpkin County swimming hole to report, but it's a great one!
Dicks Creek Falls
---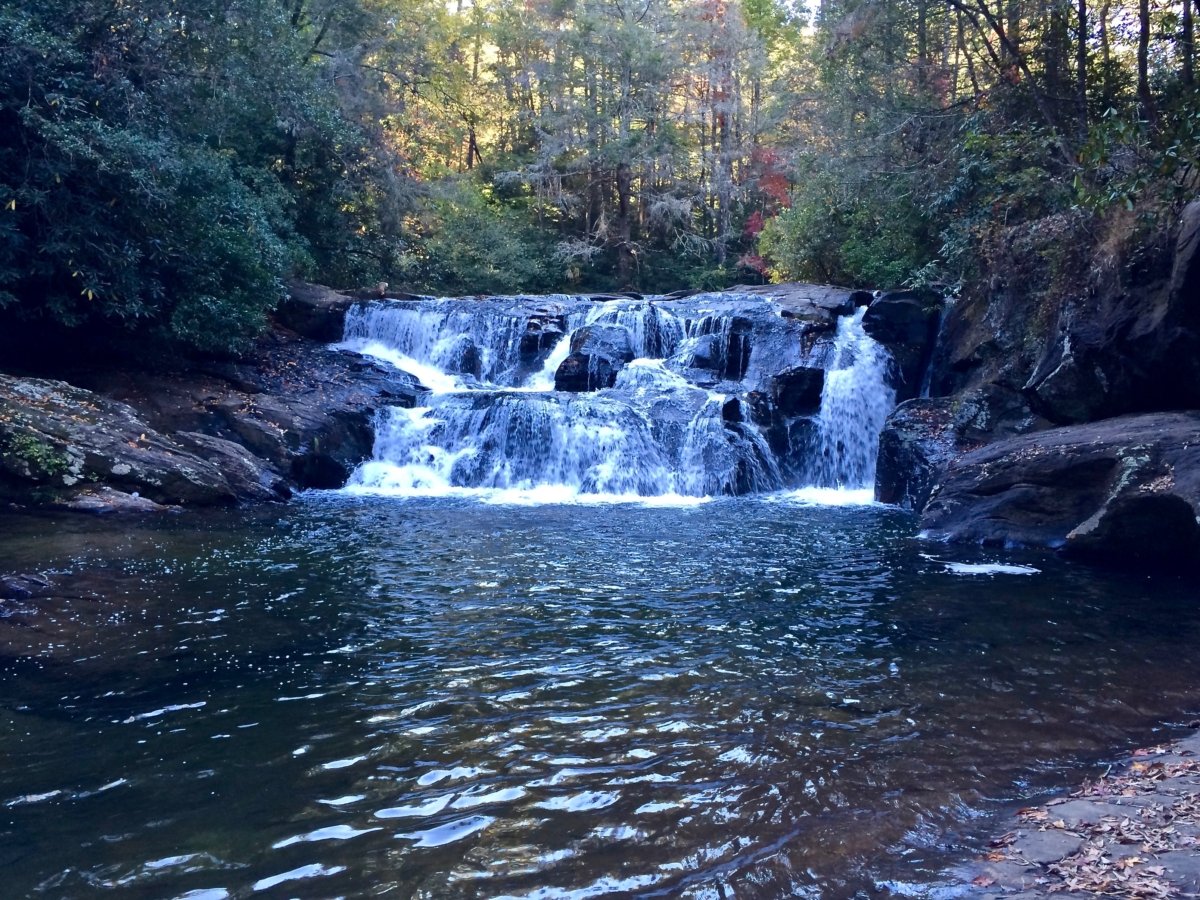 The swimming hole at Dicks Creek Falls—also called Waters Creek Falls— is a beauty to behold when taking the curve on arrival along (FS 34).
Above the falls are smaller ledges, cascades, pools, and even a small sliding rock. Use caution on the slippery surfaces.
With no nearby attractions to report, I suggest packing a cooler and making a day of it. Primitive campsites are also available.
---
Towns County Georgia Swimming Holes
---
Towns County boasts two popular waterfalls with swimming holes located along the High Shoals Trail. You can read the story of our first drive to the falls—including videos fording a stream—and view more photos from our hike by navigating here.
Blue Hole Falls
---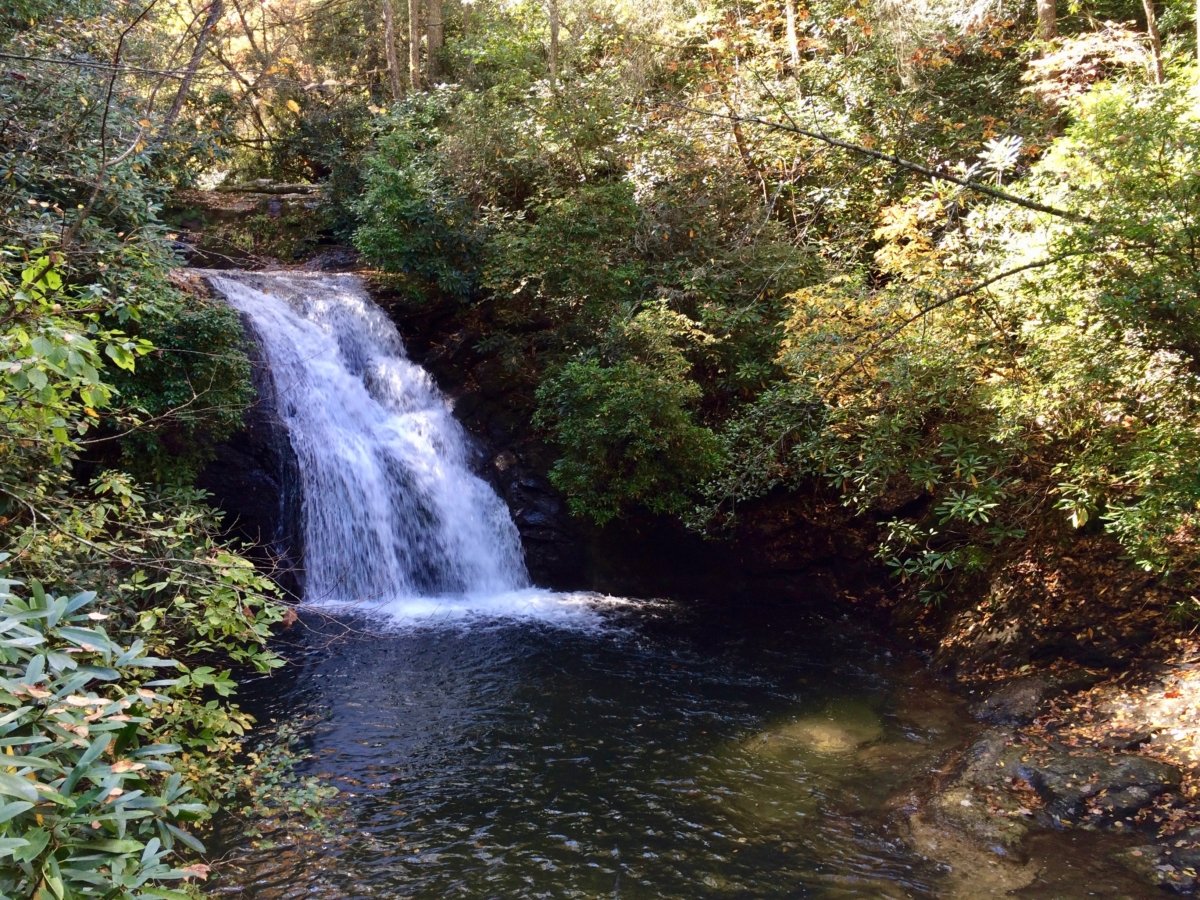 A one-mile hike will take you to Blue Hole Falls, with a classic deep swimming hole, 25-foot cliff, and a rope swing.
High Shoals Falls
---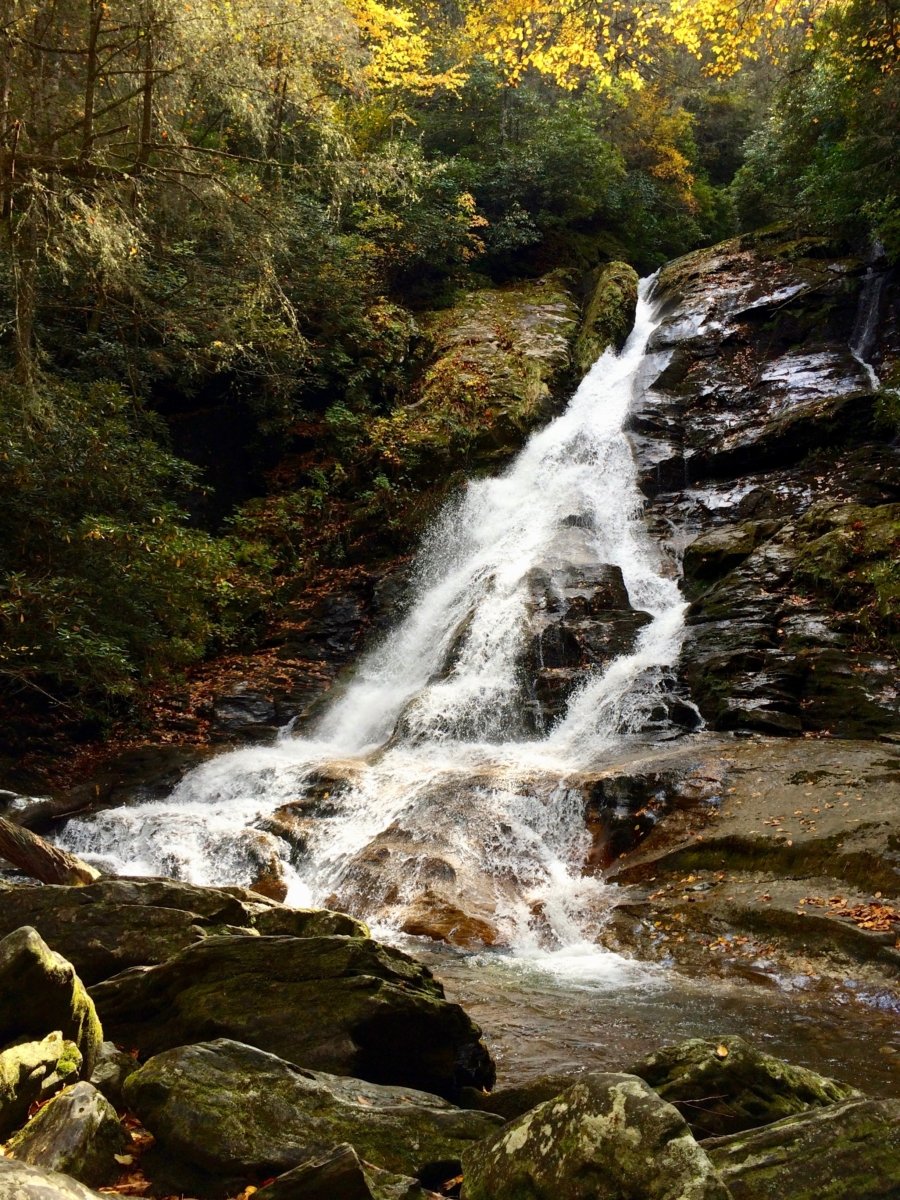 Continue .4 miles up the trail to High Shoals Falls for another swim. Both falls have viewing platforms for hikers who prefer to stay dry.
Nearby Attractions
---
---
Forsyth County Georgia Swimming Holes
---
You can find swimming holes in Forsyth County at the site of a historical mill and at a riverside beach.
Poole's Mill Park
---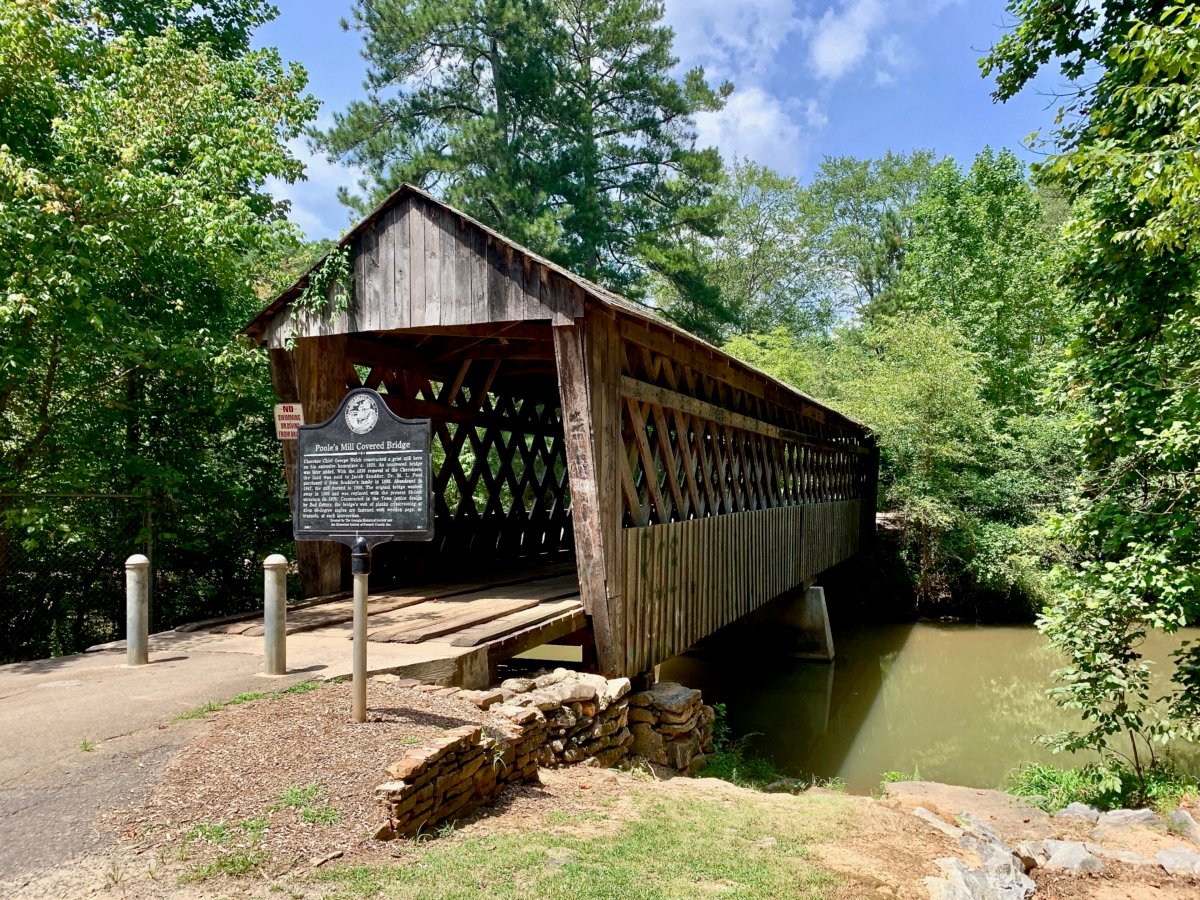 Poole's Mill Park is located at the site of a gristmill founded by Cherokee chief George Welch circa 1820. The existing covered bridge was constructed in 1901 to replace the original open bridge destroyed by a flood in 1899.
History buffs may want to do a bit of research to learn more about Mr. Welch and his connection to the Cherokee displacement on the Trail of Tears.
A walk through the historic bridge leads to a series of shoals, rapids, and a small water slide on Settlingdown Creek.
The park has picnic pavilions, restroom facilities, and free day use of the swimming hole.
Gober Beach
---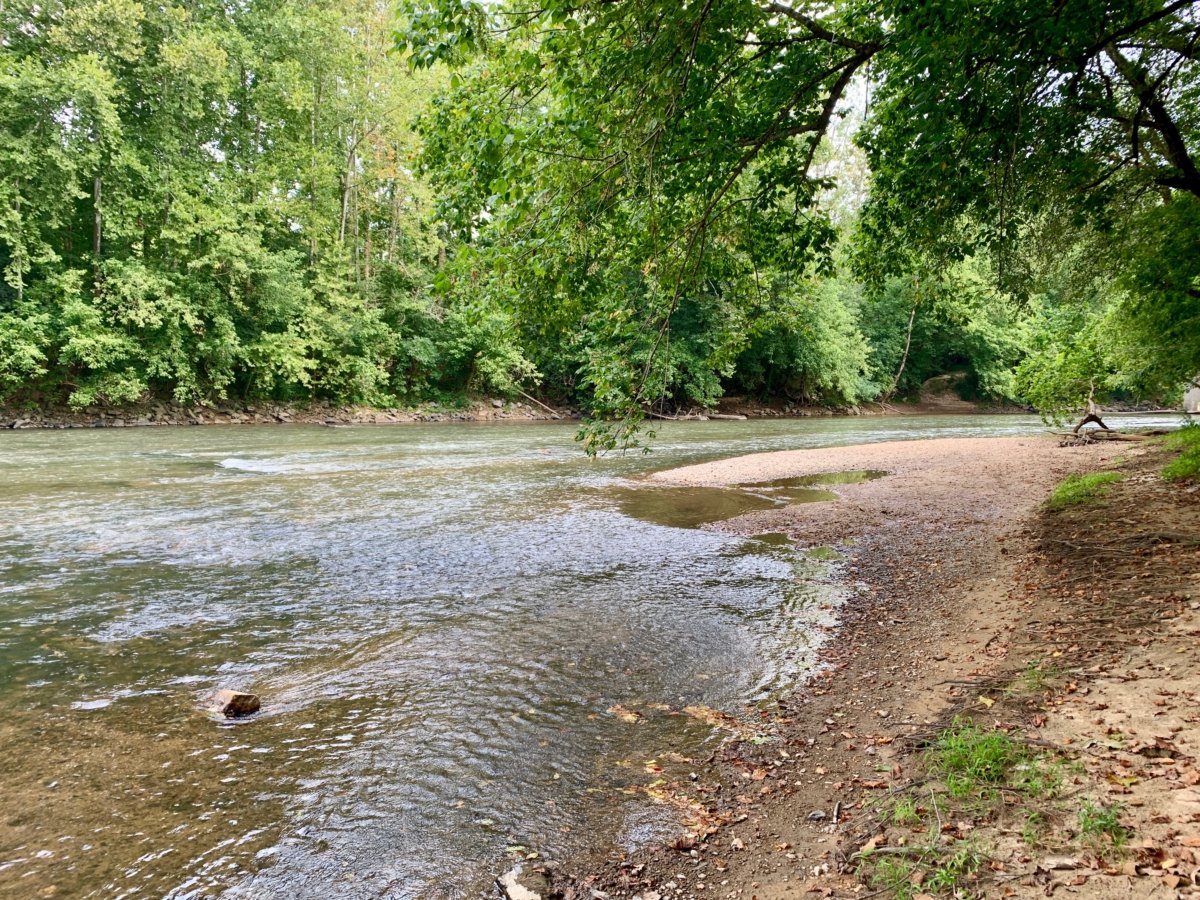 Known by locals as Gober Beach, this broad bank on the Etowah River is a popular access point for kayakers. The shallow waters are a great place to cool off on a summer afternoon.
We had a bit of difficulty finding the exact location, but if you follow the coordinates (34.31103, -84.40299) on Google Maps, it will take you directly to the turnoff.
The beach is near Exit 24 on I-575.
Nearby Attractions
---
---
Paulding County Georgia Swimming Holes
---
There is only one swimming hole to report in Paulding County at this time, but it is a pleasant spot worth visiting.
High Shoals Falls
---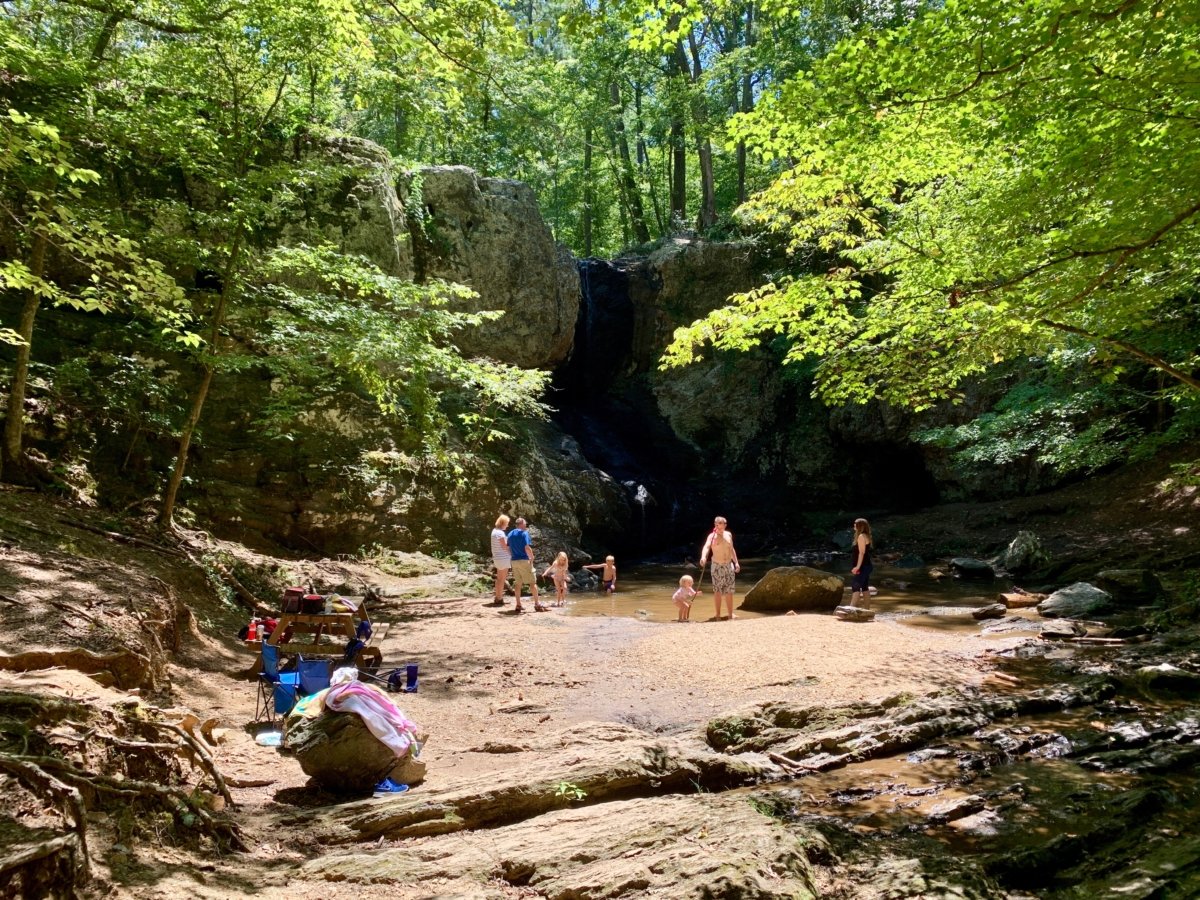 Not to be confused with High Shoals Falls in Towns County, this waterfall is located near Dallas, Georgia. A roadside parking area adjacent to a small cemetery marks the trailhead to the falls.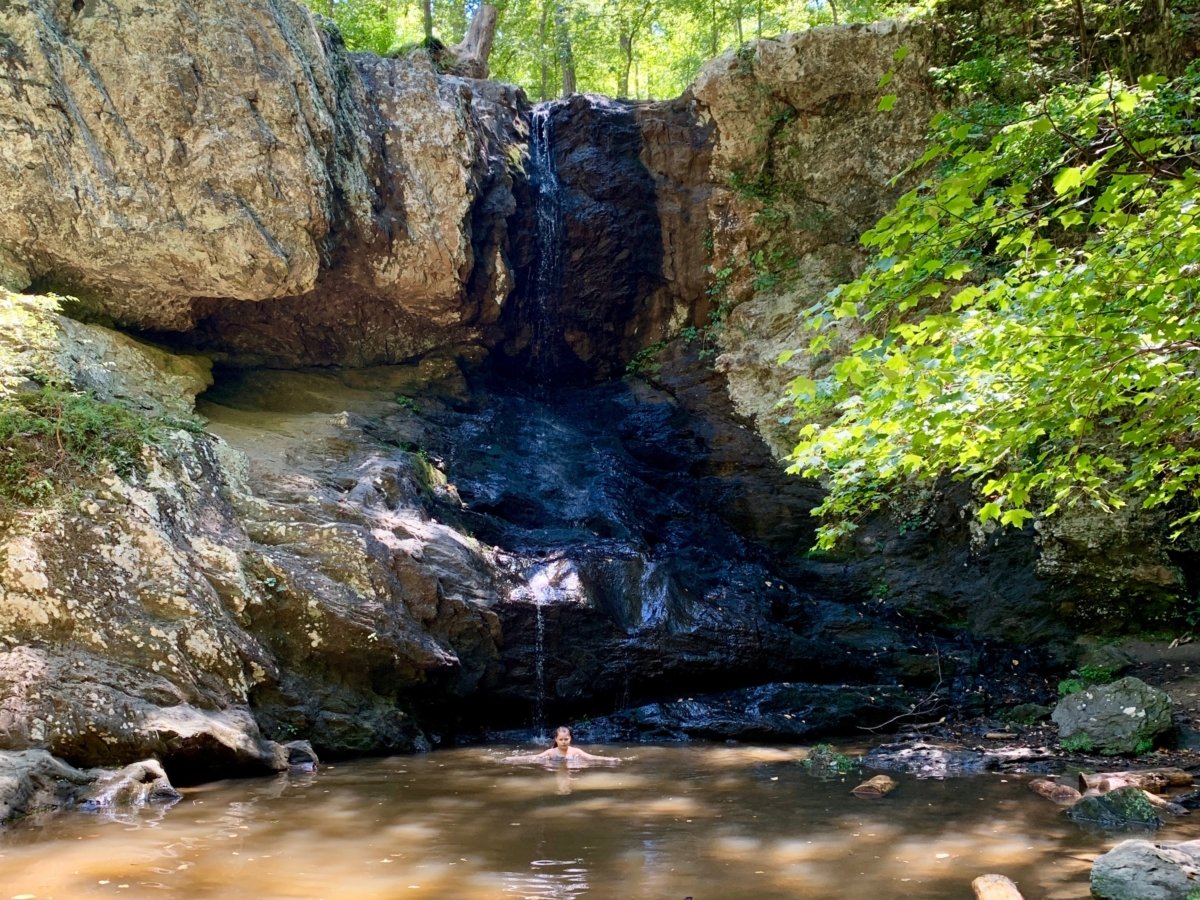 When I visited, the water flow was barely a dribble, but the few families gathered at the pool didn't seem to mind.
---
Madison County Georgia Swimming Holes
---
Located 20 miles east of Athens, Georgia, the one swimming hole reported in Madison County is a site to behold!
Watson Mill Bridge State Park
---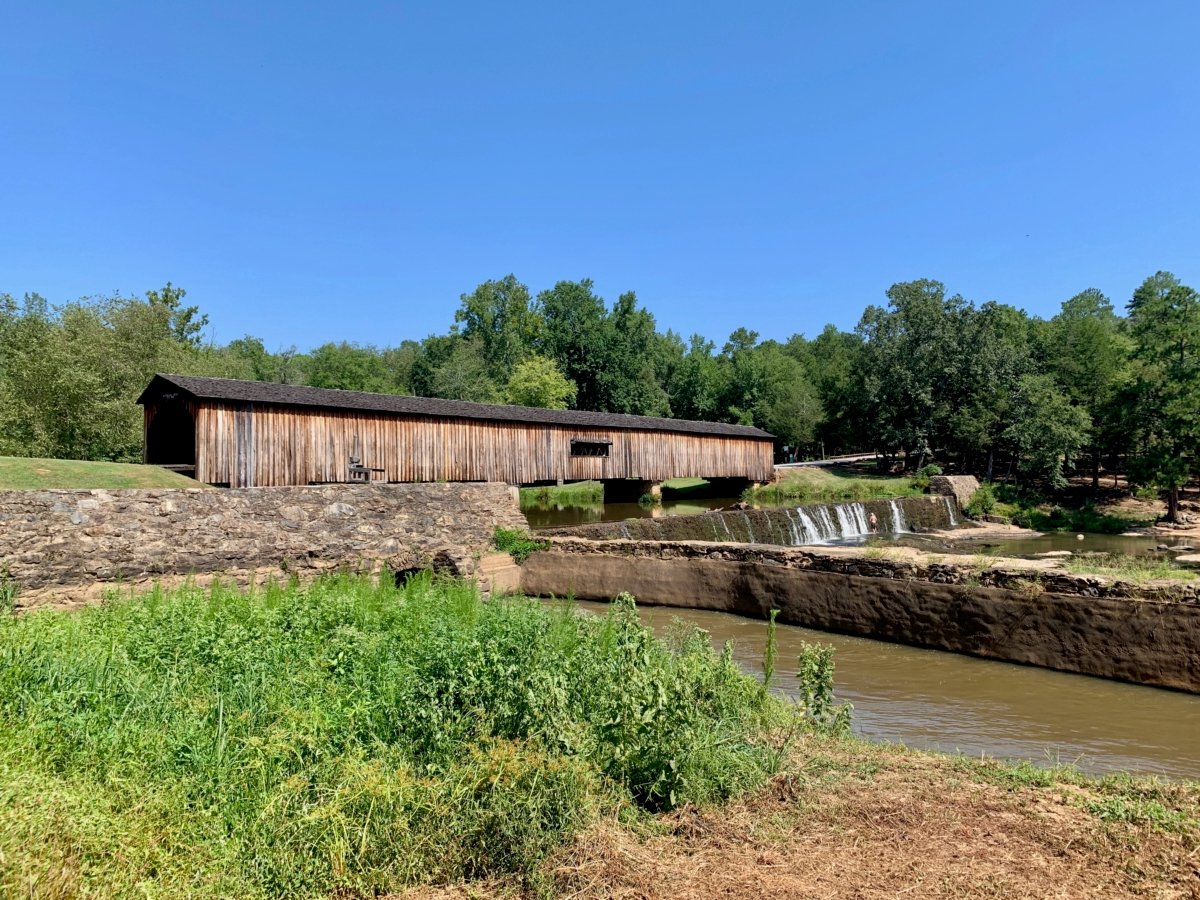 The most eye-catching feature on the landscape at Watson Mill Bridge State Park is the longest covered bridge in the state of Georgia. At 229 feet, the bridge was constructed in 1885 by Washington King, the son of a freed slave.
The millpond dam below the bridge creates a manmade waterfall.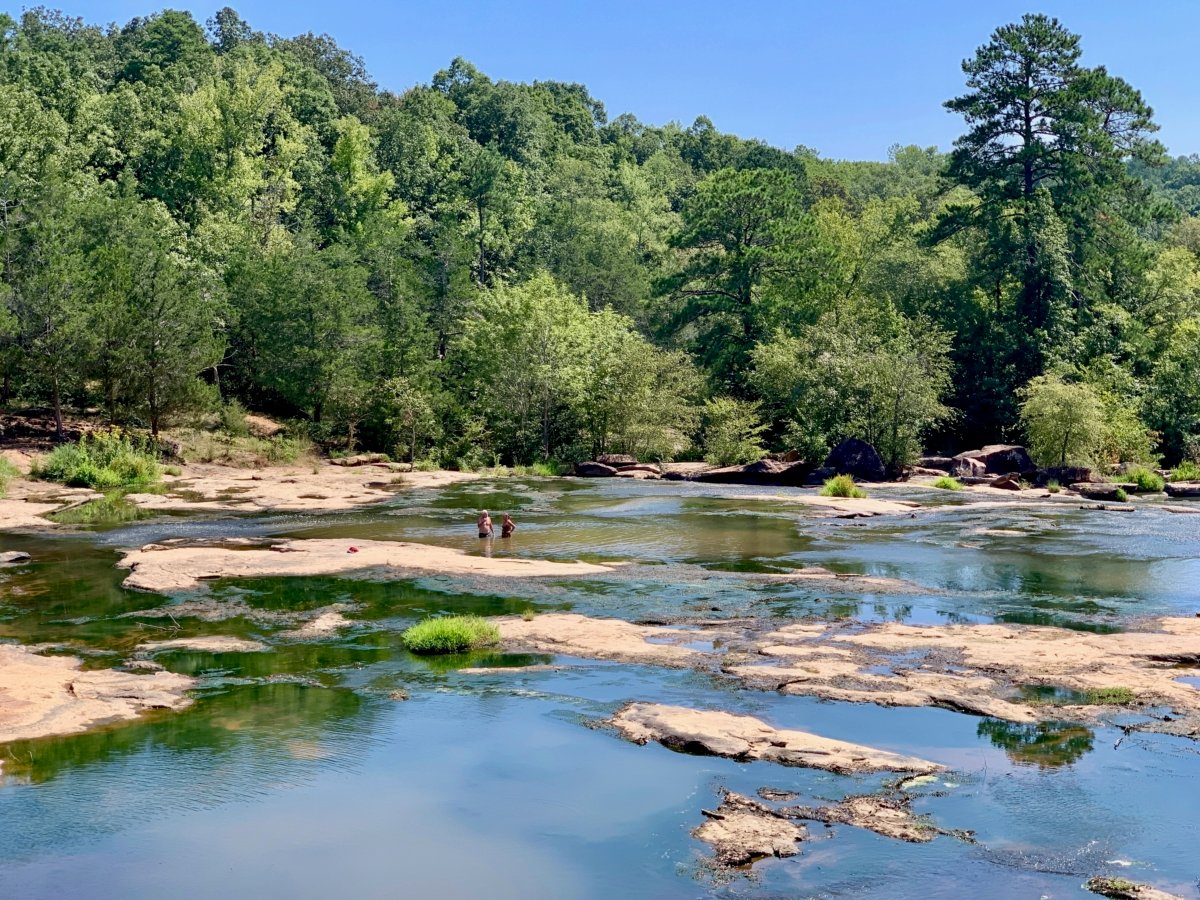 Visitors to the full-service park can play and swim in the pools among the shoals on the South Fork River.
And the sliding rocks are a bonus!
I visited the park with my cousin Rhoda who runs the successful Southern Hospitality lifestyle blog. She narrates our drive through the covered bridge.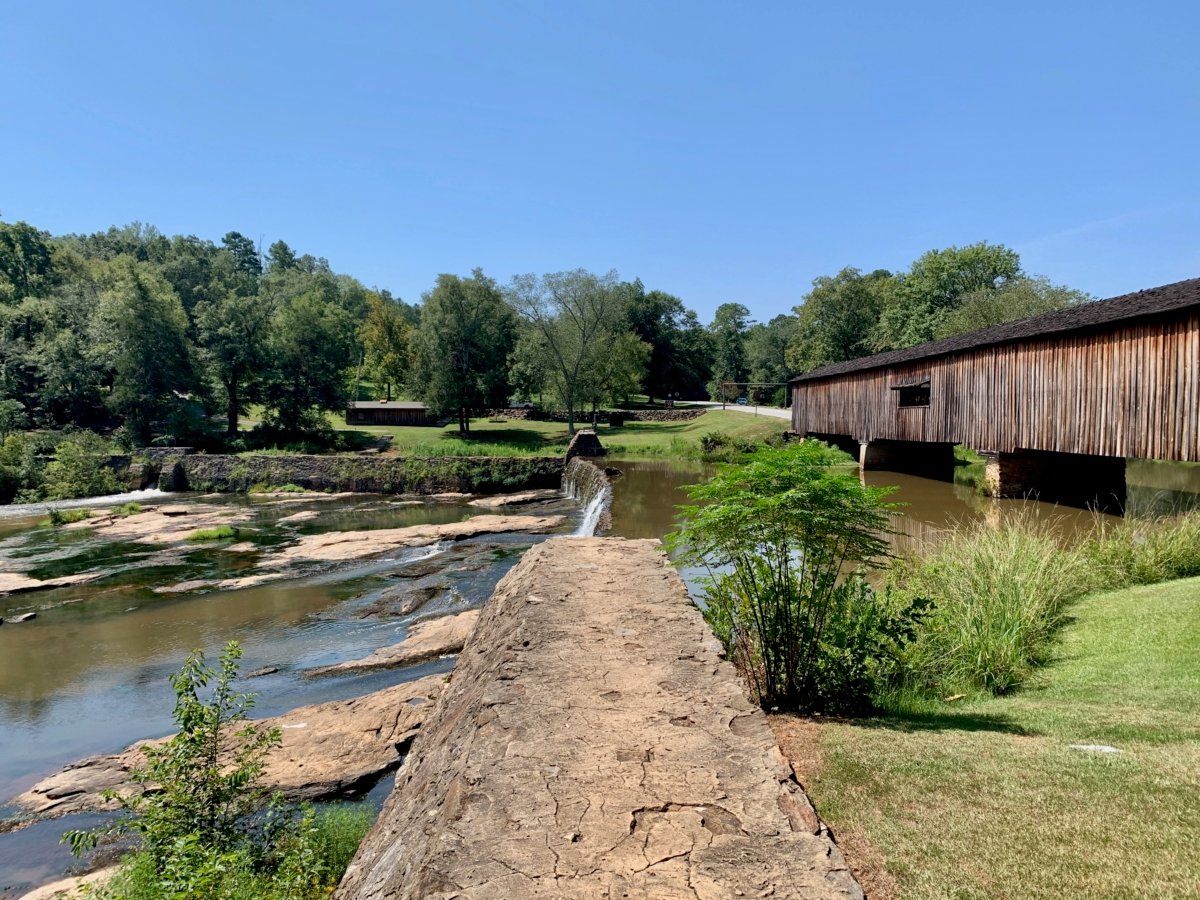 The park features many miles of walking, biking, and horse trails within its 1,018 scenic acres. With no nearby attractions to report, Watson Mill Bridge State Park is an ideal day trip destination for a picnic or cookout. If you have more time to spare, book a cabin or campsite for a weekend in the great outdoors.
---
Tips for Enjoying Georgia Swimming Holes & Waterfalls
---
The following tips curated from our own experiences will help ensure you have the best time possible while chasing North Georgia swimming holes and waterfalls you can swim in.
• Buy a waterproof phone case and lanyard. Many of the best water activities go undocumented because people do not want to risk losing their phones. Buying a waterproof phone case and lanyard was one of the best investments I have made as a travel writer. The first time I used this setup, I tumbled head over heels while whitewater tubing Deep Creek near Bryson City, North Carolina. My phone survived unscathed, and the photos and videos I captured during the trip came out great. Floating lanyards are an option, as well.
• Download offline Google maps to your mobile phone. Cell phone service is spotty in the North Georgia mountains, so I highly recommend that you download offline maps of the entire region within the Google Maps app before heading out. I also suggest that you design your route before heading into the wilderness areas.
• Use the Cairn app. The Cairn app is an excellent way to allow loved ones to track your backwoods journey in real time. It is also perfect for showing your location in case you get lost, have car trouble, or experience other delays in returning home.
• Wear water shoes. The swim bag in the back of my Mountaineer contains several pairs of water shoes so I am always prepared. I don't recommend hiking in all water shoes, but you should definitely wear them for protection from sharp rocks and for traction on slippery surfaces during water activities.
• Wear a swim shirt. In the past, I have worn a muscle shirt when swimming—not because I have muscles, but because no one wants to look at this white beached whale. Recently, I discovered quick-dry UPF 50+ performance shirts with long sleeves and hoodies, perfect for protection from the elements during land and water outdoor activities. I love them! And this brand does not chafe your nipples . . . .
• Carry a rope. I recommend taking a 50 ft. nylon rope in case you want to tie-off for steep mountainside scrambles when accessing some waterfalls.
• Take insect repellent. I hate wearing insect repellent, but gnats, flies, and mosquitoes can get bad in the North Georgia mountains, especially during the summer. You might want to wear it for protection from deer ticks, as well.
• Pack a cooler. Jerry and I are famous for our roadside picnics. We almost always pack a cooler for road trips, day trips, and other outings. In fact, we have two-sizes depending on the length of our trip. You never know where you will be when lunch time rolls around, and picnic spots abound in the North Georgia mountains.
• Schedule excursions to avoid crowds. You know weekends are the most popular times for hitting North Georgia swimming holes and waterfalls you can swim in. We have found the least populated times are summer weekdays in August, after school has started.
• Gas up. Anytime you plan to drive the backroads for an extended time, it is comforting to know you have a full tank.
• Double your expected drive time. You will average 10-15 mph while driving Forest Service gravel roads. It is not uncommon to encounter washouts, deep ruts, washboards, downed trees, and other such roadblocks in wilderness areas. We have had to abandon planned routes and turn around on more than one occasion due to bad roads.
• Don't expect great signage. Directional signs are few and far between in the wilderness regions of North Georgia. I can't even begin to tell you the times we have passed turn-offs, taken detours, and set off on wild goose chases. When it happens, just remember it's part of the adventure. You're not at a theme park, for Pete's sake. And besides, the lack of signs reduces overpopulation.
• Don't be stupid. Accidents can happen any time you are involved in outdoor activities, and I have witnessed some of them in real time. At the base of the Third Falls on Big Creek (Thunder Dome Falls), Jerry's feet suddenly flew out from under him, and when he slipped, his head went under the water and lodged between two rocks. Somehow he emerged with no visible signs of injury. Another time, a fellow hiker and I stupidly climbed several levels of DeSoto Falls. While checking out one level, I noticed my friend gradually sliding on his belly toward the drop-off. Miraculously, he was able to stop and crawl to safety. There are no etched in stone rules when exploring waterfalls and swimming holes, because they are all different. However, I would strongly discourage climbing waterfalls, and always check the water for depth and submerged logs before swinging or jumping in.
• Embrace the mud. North Georgia mountain water is typically crystal clear, but when you stir up swimming hole silt, the water turns into chocolate milk.
---
Stay at Pinebox!
---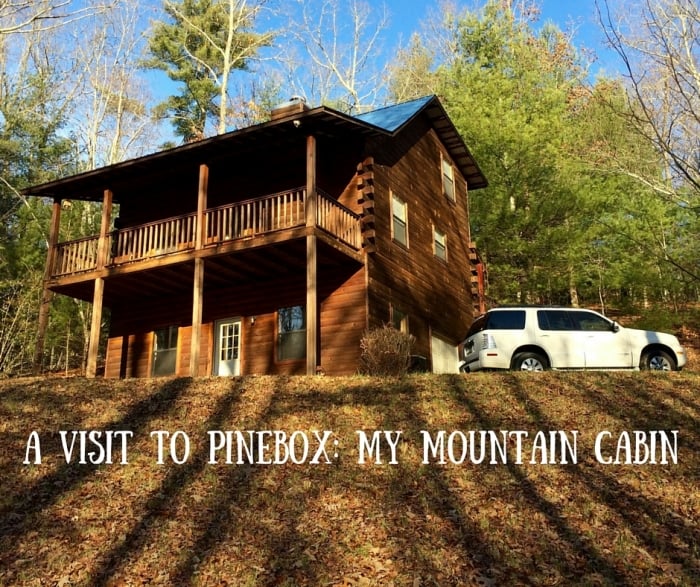 Pinebox, my North Georgia mountain cabin, is home base for chasing swimming holes and waterfalls. Listed as a vacation rental on AirBnB, it can be your home base, as well. Economical rates are available for getaways and extended stays.
---
Resources for Georgia Swimming Holes & Waterfalls
---
10 Favorite North Georgia Waterfalls
5 Elusive North Georgia Waterfalls
Chattahoochee-Oconee National Forests Maps & Publications
For exhaustive North Georgia waterfall and trail reports, I highly recommend the following websites run by Mark Oleg Ozboyd:
Waterfalls of Georgia: The Complete Collection
Hiking the Appalachians and Beyond
---
We Would Love to Hear From You
---
We enjoy dialogue with our readers, especially when they share off-the-beaten-path destinations and useful travel tips. Do you know of some great North Georgia swimming holes and waterfalls you can swim in, that are not included in this post? If so, we would love to hear about them. We invite you to leave your comments and questions below, and we always respond!
---
Pin this Post!
---