(a

10

minute read)
---
Tour the interactive museum, research the archives, and walk 35-acres of gardens on a visit to the Jimmy Carter Presidential Library in Atlanta, Georgia. 
---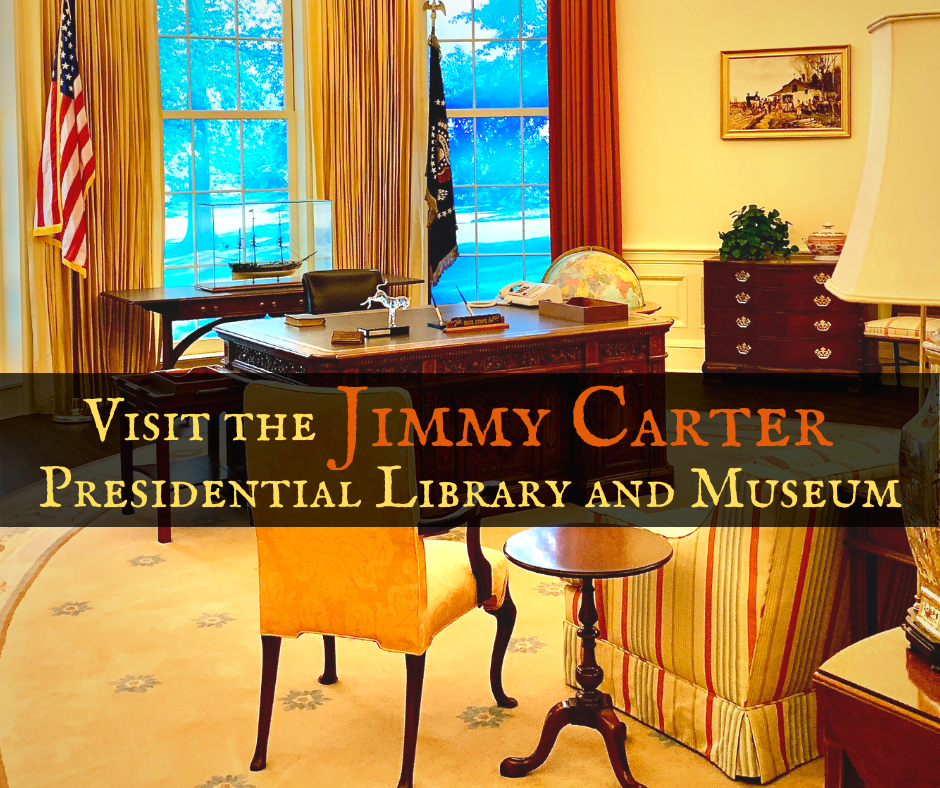 This post may contain affiliate links. Please refer to our our Disclosure/Disclaimer page for more information.
---
Jimmy Carter Presidential Library and Museum
---
Jimmy Carter is the best human being I have ever met.
He is a man of integrity who puts his faith into action and supports equality for ALL people.
And yes, I have met him.
Twice.
Jerry and I were honored to attend Jimmy Carter's Sunday School Class the first time in 2011, and the second time in 2013 on the occasion of the Carters' 67th anniversary. We will treasure these memories forever.
As much as I love and honor this man, you would think I would have made time to visit his presidential library.
The drive to and from my home in Central Florida and my cabin in North Georgia has taken me through Atlanta and past the Jimmy Carter Presidential Library and Museum countless times.
For whatever reason—typically because I travel with a dog—it never worked out.
Until that summer afternoon I found myself in Atlanta, dog-free and with a few hours on my hands, that is . . . .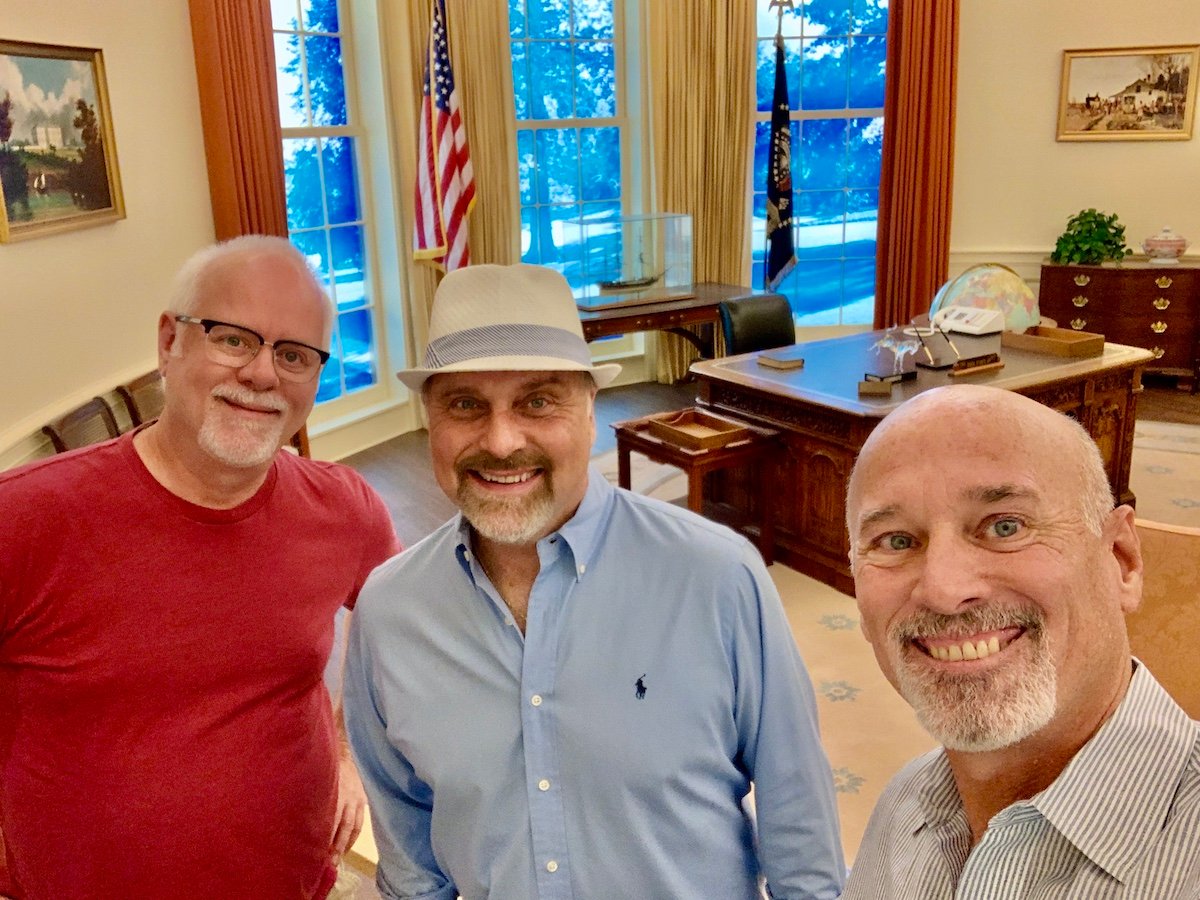 I headed to the Carter Presidential Center where I met up with Jim Swilley and Ken Marshall—my chosen brothers and Georgia natives—to visit the museum dedicated to the man we so admire.
Be sure to check out Jim's travel stories on Backroad Planet.
The Jimmy Carter Presidential Library opened to the public in 1986 on a 35-acre plot of land shared with the Carter Center, a non-profit human rights agency founded by the Carters to "wage peace, fight disease, and build hope."
The Carter library and museum are part of the federal government's Presidential Library system, and they are managed by the National Archives and Records Administration.
The self-guided museum tour is like taking a walk along the timeline of Jimmy Carter's life, from childhood through the post-presidency years. Interpretive panels, displayed artifacts, and interactive exhibits recount the story of this singular man.
A brief documentary about the life of President Carter is the perfect introduction to the museum experience. I usually skip museum films, but I am glad I took the time to view this one in its entirety. It is a moving tribute to the man Jimmy Carter, and I may have brushed a tear or two away.
---
The Man from Plains
---
The first gallery about "The Man from Plains" tells how the son of a peanut farmer became the 39th President of the United States.
During the turbulent 1960s and 70s, Carter accomplished what seemed impossible for a Georgia politician. He joined the Georgia Senate as a civil rights activist, and he was elected governor of Georgia on an anti-segregation platform.
Carter's faith as an evangelical Christian was a motivational factor for some voters during his presidential campaign, even though he was opposed by leaders of the newly-formed religious right.
---
The Oval Office
---

Perhaps the most impressive element of the museum is the full-scale replica of the Oval Office, furnished as it appeared during President Carter's administration.
The off-white palette is a striking contrast to the mint green of the Oval Office replica I had toured previously at the Harry S. Truman Library and Museum.
The real Oval Office in Washington, DC, is not included on a White House tour.
---
A Day in the Life of a President
---
The "A Day in the Life of a President" gallery is a large pillared rotunda boasting 13-foot screens and other interpretive displays.
Additional interactive exhibits and memorabilia from the Carter presidency encircle the rotunda, including a surreal portrait by Octavio Ocampo and a tribute to the work of First Lady Rosalynn Carter.
---
The Library
---
Three levels of the presidential library are visible from the rotunda. The archives contain 40 million pages of documents from the Carter administration and more than one million photos, videos, and audio recordings,
This library does not have books in circulation. It is a research library open to the public on weekdays.
---
Camp David
---
The Camp David gallery highlights President Carter's peace negotiations between Egyptian President Anwar Sadat and Israeli Prime Minister Menachem Begin.
Reproductions of the Camp David Accords and a silkscreen of "The Signing " by American painter LeRoy Neiman are two featured artifacts from that diplomatic event.
---
The Carter Post-Presidency
---
For me, the most impressive section of the museum is "The Carter Post-Presidency" gallery, because it documents their many peacekeeping and humanitarian initiatives. I have witnessed the work of the Carters on other occasions, as well.
During my first visit to Jimmy Carter's Sunday School class in 2011, Mrs. Carter was away. At age 84, she was overseas observing the first free elections in Tunisia. You can read her report from that trip online.
While visiting the CDC Museum in Atlanta, I encountered an exhibit that recognized the Carter Center's efforts toward eradicating dracunculiasis, a painful disease caused by the Guinea Worm. The center has documented a drastic 99.99% reduction in reported cases of the disease, from 3.5 million cases in 1986 to only 28 cases in 2018.
Jimmy and Rosalynn Carter have partnered on work projects with Habitat for Humanity since 1984.
In October of 2019, the Carters completed their 36th annual project in Nashville, joined by Garth Brooks, Trisha Yearwood, and a host of volunteers. A bad fall at home resulting in fourteen stitches and a black eye did not stop President Carter from keeping his commitment to the project.
After departing Nashville, Carter suffered a minor pelvic fracture from another fall at home. Despite the injury, he is scheduled to teach Sunday School on November 3rd, the day this post publishes.
---
The Nobel Peace Prize
---
President Carter has received many well-deserved awards, honors, and accolades, including the Presidential Medal of Freedom from President Clinton and three Grammy Awards for Best Spoken Word Albums.
His most prestigious award, however, is the Nobel Peace Prize, awarded in 2002.
---
Temporary Exhibits
---
The Carter Library and Museum keeps a packed calendar of special events that include author programs, film screenings, performances, and temporary exhibits.
During our visit, a special exhibition demonstrated how Governor Jimmy Carter's creation of the first state film office in 1973 has resulted in Georgia's multi-billion dollar motion picture industry today.
Costumes, props, and other artifacts from more than 60 productions such as Remember the Titans, My Cousin Vinny, and Tyler Perry's Madea franchise were on display,
The exhibition also recognized the long-running Walking Dead television series and Georgia's Marvel Studios productions.
---
Gardens of the Carter Presidential Center
---
Gardens of the Carter Presidential Center surround the library, museum, and Carter Center buildings.
Guests are invited to experience a native oak forest, two lakes and waterfalls, a 40-variety rose garden, a Japanese garden, and other outdoor features.
The "Sightless Among Miracles" sculpture depicts a child leading a man suffering from river blindness, one of the Carter Center causes.
The Carter Presidential Center is open daily at varying times, and admission fees apply.
---
Passport to Presidential Libraries
---
It is no secret that I have an obsession with collecting stamps in my National Parks Passport. But it was not until I visited the Harry S. Truman Library and Museum in Independence, Missouri, that I learned there was also a Passport to Presidential Libraries.
These Passports retail for $5.00 and are available for purchase at any of the presidential museum stores. When visiting each location, guests can approach the admissions desk to get their passports stamped. After collecting stamps from all of the presidential libraries, passport holders may visit a museum store for a special gift.
A word of caution . . . .
I no longer carry my National Parks Passport with me when I travel. Instead, I collect stamps on slips of paper and glue them in when I get home. This way I don't have to keep up with my passport while traveling, and it decreases the chance of it getting lost.
I assumed the same method would work for my Presidential Passport.
Not so.
When I visited the Carter Library and Museum, I did not have my passport with me, and they refused to stamp a piece of paper for me. They explained this was the policy because completed Presidential Passports earn a gift.
The Presidential Passport FAQ webpage states "We unfortunately cannot retroactively stamp Passports or accept Passports via mail for stamping purposes."
Not entirely accurate.
While I was arguing with Carter library personnel—oh yes, I did—they told me I could mail my passport and ticket or receipt along with an SASE, and they would stamp it and return it to me.
As it turned out, on a subsequent drive through Atlanta, I stopped by the Carter Library with my Presidential Passport and ticket from my previous visit in hand, and they stamped it for me.
Lesson learned.
When planning to visit a presidential library, be sure to carry along your passport.
---
Jimmy Carter's Published Works
---
Jimmy Carter has published more than thirty books in the past forty years. My three favorites are all autobiographical: An Hour Before Daylight: Memories of a Rural Boyhood, Christmas in Plains: Memories, and A Remarkable Mother.
---
Lodging
---
Conveniently located near I-85, and just eight miles from the Carter Presidential Library, the Atlanta Marriott Northeast Emory Area is a great home base for a Metro Atlanta visit.
Click here for more Atlanta lodging options on TripAdvisor!
---
Map It!
---
---
Design Your Own Georgia Road Trip
---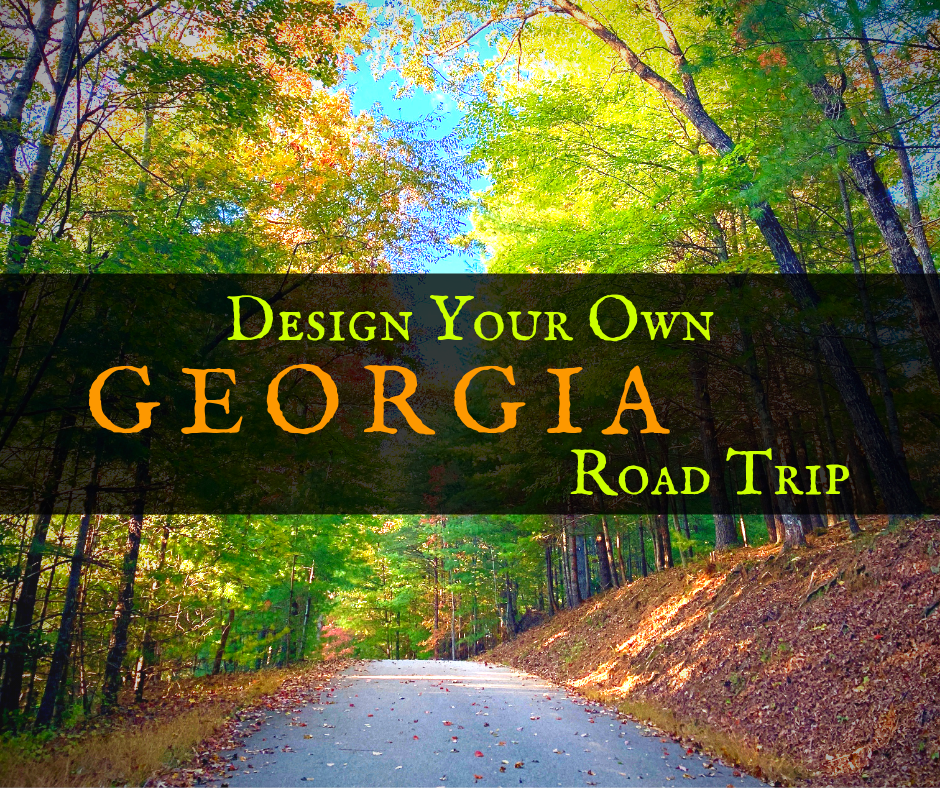 The Carter Presidential Library is one of many diverse destinations in the state of Georgia. While in Atlanta, we suggest that you add three history museums to your itinerary.
For even more options, Backroad Planet's Design Your Own Georgia Road Trip guide shares a wealth of travel planning resources and links to all of our Georgia travel archives.
---
We Would Love to Hear From You
---
We enjoy dialogue with our readers, especially when they share off-the-beaten-path destinations and useful travel tips. Have you ever visited the Jimmy Carter Presidential Library? If so, we would love to hear about your experience. We invite you to leave your comments and questions below, and we always respond!
---
Pin this Post!
---