(a

13

minute read)
---
Explore a country estate, tour a Neoclassical mansion, and plan special events at two historic quail hunt plantations in Thomasville GA.
---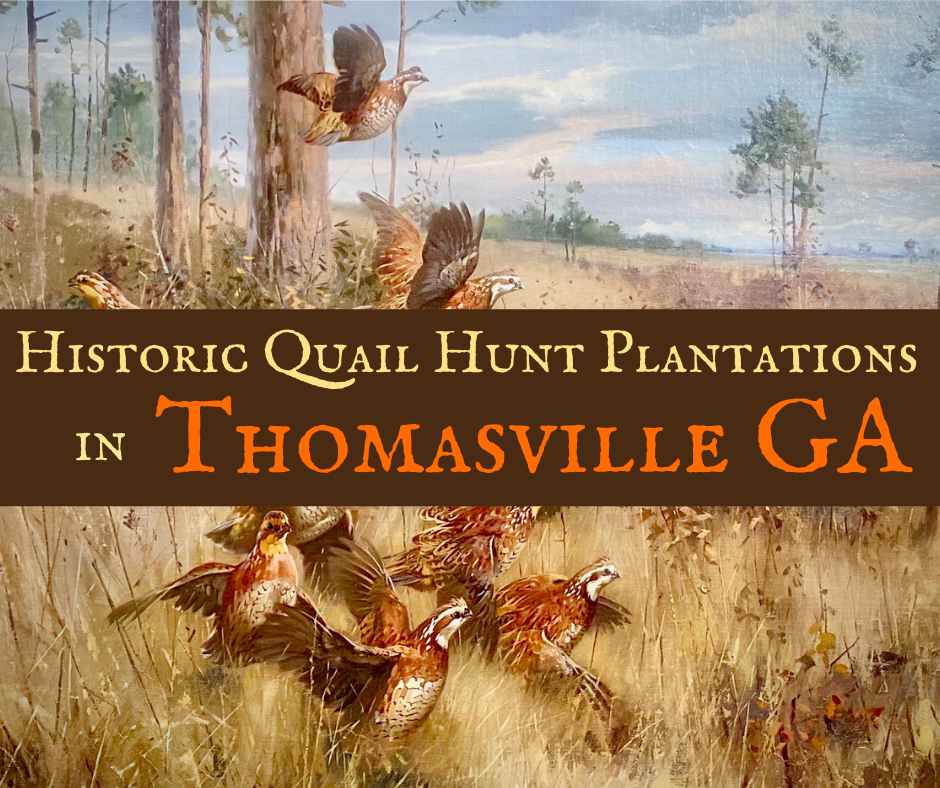 I was a guest of Thomasville Visitors Center, but all thoughts and opinions are my own. This post may contain affiliate links. Please refer to our our Disclosure/Disclaimer page for more information.
I have traveled the state of Georgia since childhood on family vacations and road trips from my home in Florida to destinations farther north.
In 2003, I found a log cabin on an acre of land in the North Georgia mountains to call my very own. When I signed the dotted line, Pinebox became my "small place of enchantment" and my second home.
Since then, I have driven scenic Georgia backroads, toured roadside historic sites, explored music origins in Macon and Athens, chased waterfalls to my heart's content, and attended Jimmy Carter's Sunday School Class . . . twice!
Recently, the road led me across the state line to Thomasville. There, I encountered a South Georgia history and culture with a new dimension to enrich my Georgia repertoire.
---
Quail Hunt Plantations in Thomasville GA
---
The Red Hills region of South Georgia and North Florida is a 436,000-acre area, widely-recognized for its fertile soil, pine forests, and biological diversity.
Possessing the largest natural stand of long-leaf pine trees in the nation, the region is a habitat perfectly suited for the greatest percentage of bobwhite quail in the world, in turn making the Red Hills a top sporting destination.
In the late 1800s, wealthy Northern business executives began purchasing large tracts of land in the Red Hills region, concentrated primarily between Thomasville and Tallahassee. Former cotton plantations soon became private quail hunting lands.
---
Red Hills Map of Quail Hunt Plantations
---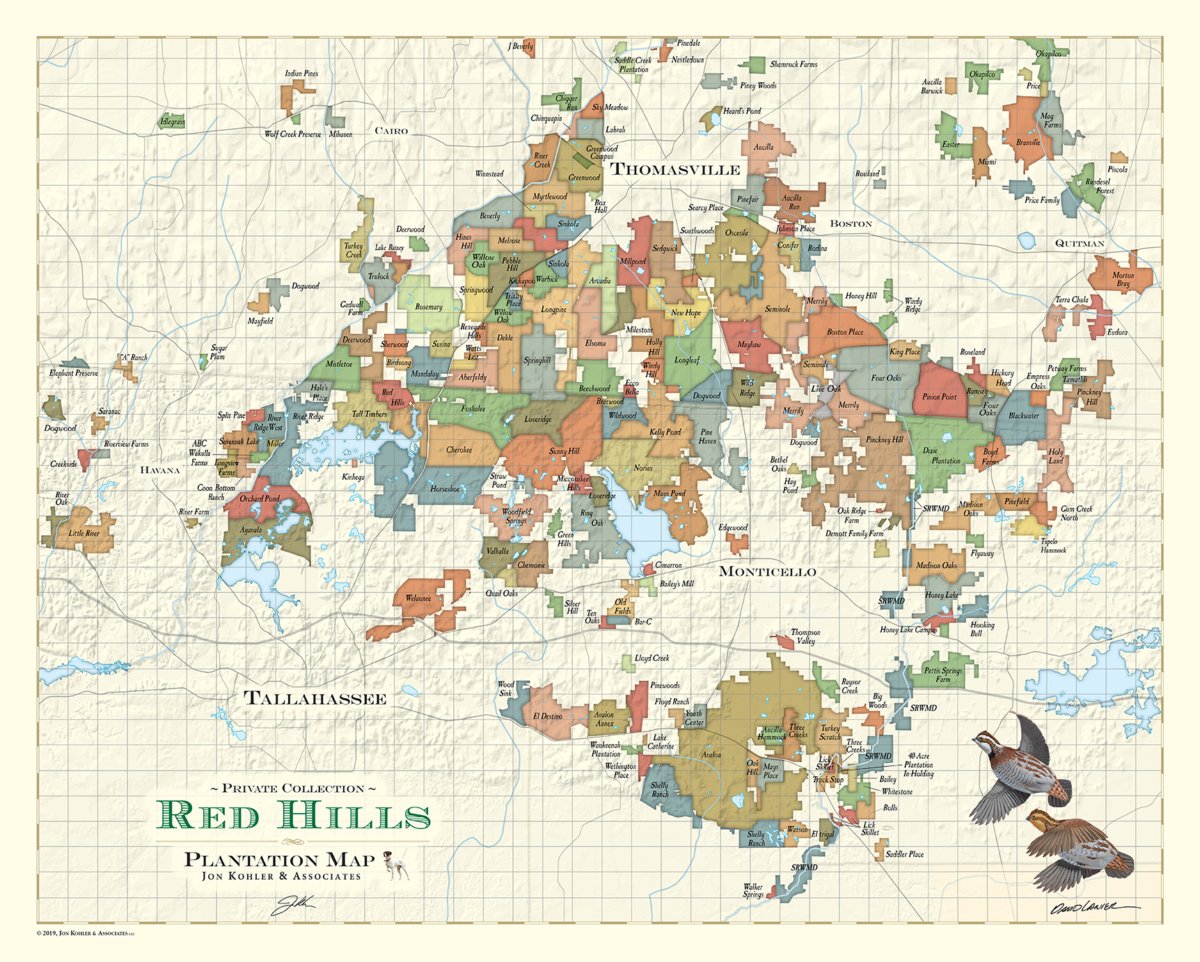 Map Credit: Jon Kohler & Associates
Some landowners built lodges or winter residences in the "Piney Woods," and many of these hunting plantations are still owned by the families that purchased them in the late 19th century.
Unlike so many Louisiana plantations, virtually all of the Red Hills plantations are closed to the public, restricted for family use only or serving an exclusive clientele.
Two historical Thomasville plantations, however, have been opened to the public. No longer used for hunting, they have been repurposed, one as a museum, one as a boutique hotel, and both as special event venues.
---
Pebble Hill Plantation
---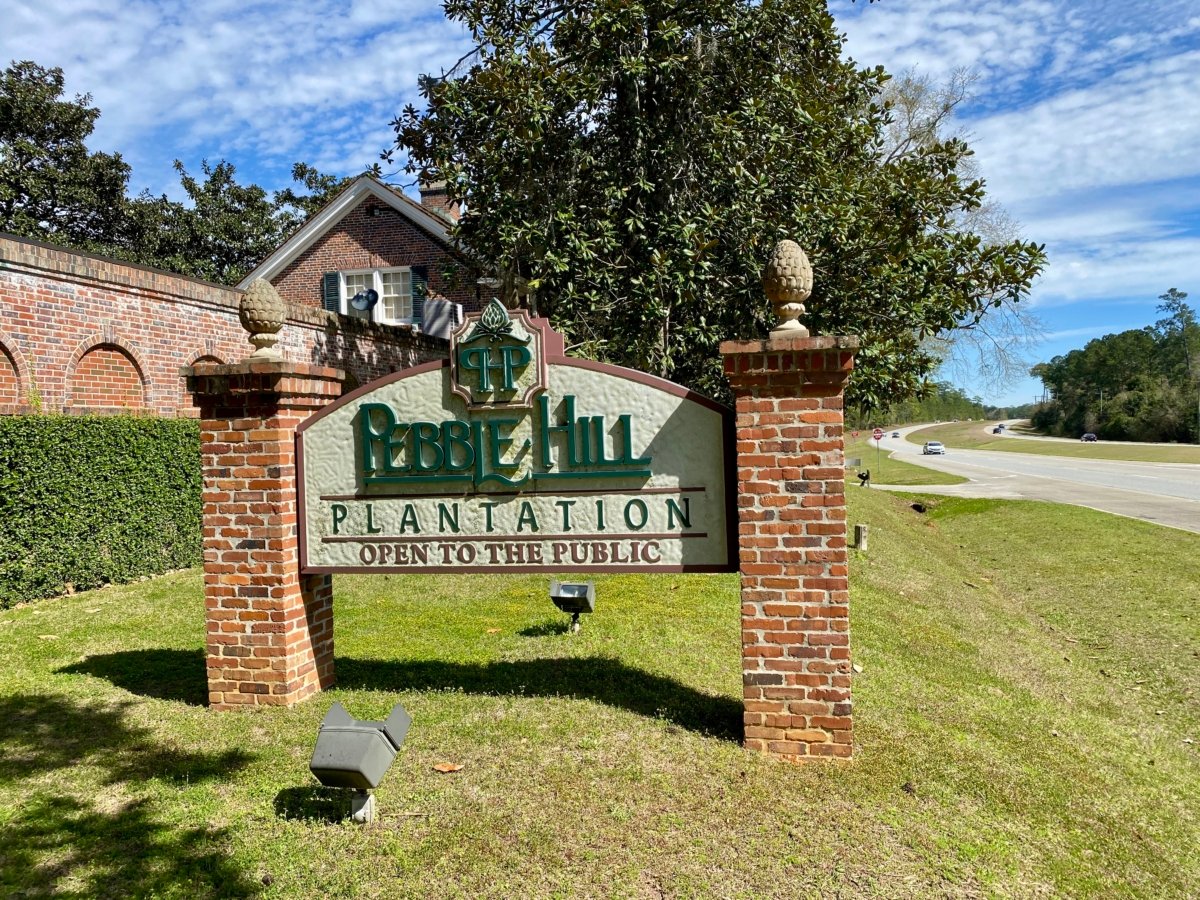 Pebble Hill Plantation is a 3,000-acre estate located five miles outside Thomasville city limits along Highway 319 South. It is the only historical hunting plantation in the Red Hills region open to the public for tours.
Founded by Thomas Jefferson Johnson in the 1820s, the estate was a working plantation growing cotton, tobacco, and rice, and surviving both the Civil War and Reconstruction.
In 1896, shipping and oil magnate Howard Melville Hanna from Cleveland, Ohio, purchased Pebble Hill Plantation. He also purchased neighboring Winnstead and Melrose Plantations, creating a tract of 14,000 contiguous acres.
Hanna's daughter Kate Hanna Ireland Harvey inherited Pebble Hill in 1901, and developed the estate as a winter residence and shooting plantation. The property passed to her daughter Elisabeth (Pansy) Ireland Poe in 1936.
An avid sportswoman and competitor, Miss Pansy continued what her mother had begun. She established and endowed a private foundation, and five years after her death in 1978, Pebble Hill Plantation opened to the public as a museum.
Today the country estate is perfectly preserved, allowing guests to experience the lifestyle of a 20th-century hunting plantation.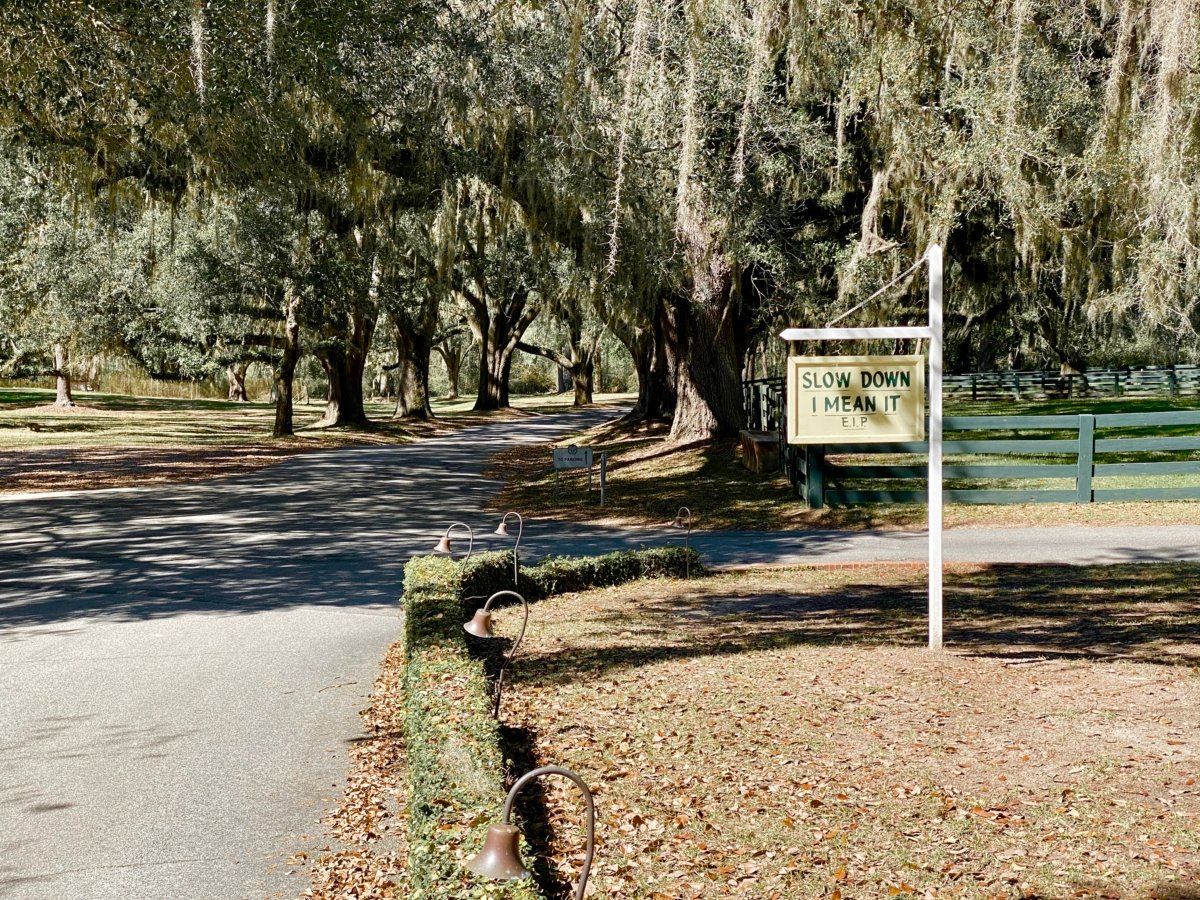 Visitors get a taste of Miss Pansy's personality on the drive to the Visitors' Center parking area. She put up the sign as a reminder that dogs and horses frequently crossed the road.
The main house at Pebble Hill is not the antebellum mansion it appears to be. It is actually the third building to occupy the spot.
The current Neoclassical structure designed by architect Abram Garfield, youngest son of President James Garfield, was completed in 1936. The mansion has 16 bedrooms, 19 bathrooms, and 24 fireplaces.
The guided house tour begins at a side entrance, opening to a vestibule furnished with portraits of Miss Kate and Miss Pansy.
The tour continues with a view of the Blue Suite and its adjoining bedrooms, appointed separately for male and female guests, with a shared bathroom.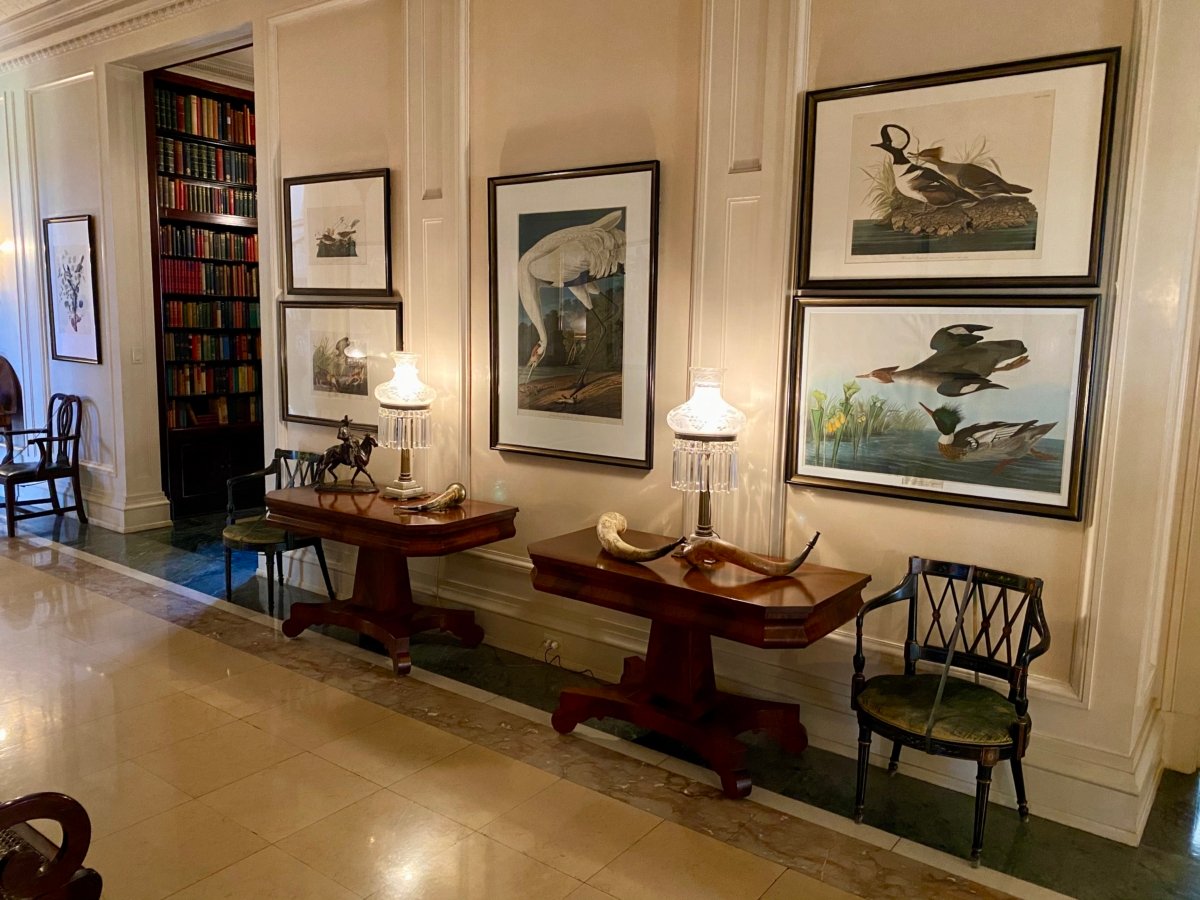 Thirty-two hand-colored Audubon engravings line the walls of the first floor main hallway.
The library passage—I could have spent hours there—leads to two living areas.
The Morning Room features cream-colored furnishings and 18th-century hand-painted wallpaper.
Family members and guests used the Red Room for reading, listening to the radio, and watching television.
Meals were taken in the breakfast and formal dining rooms.
The spacious kitchen is outfitted with mid-century appliances, and wide windows flood the room with ambient light,
Vintage china patterns are displayed, including Miss Pansy's breakfast tray service.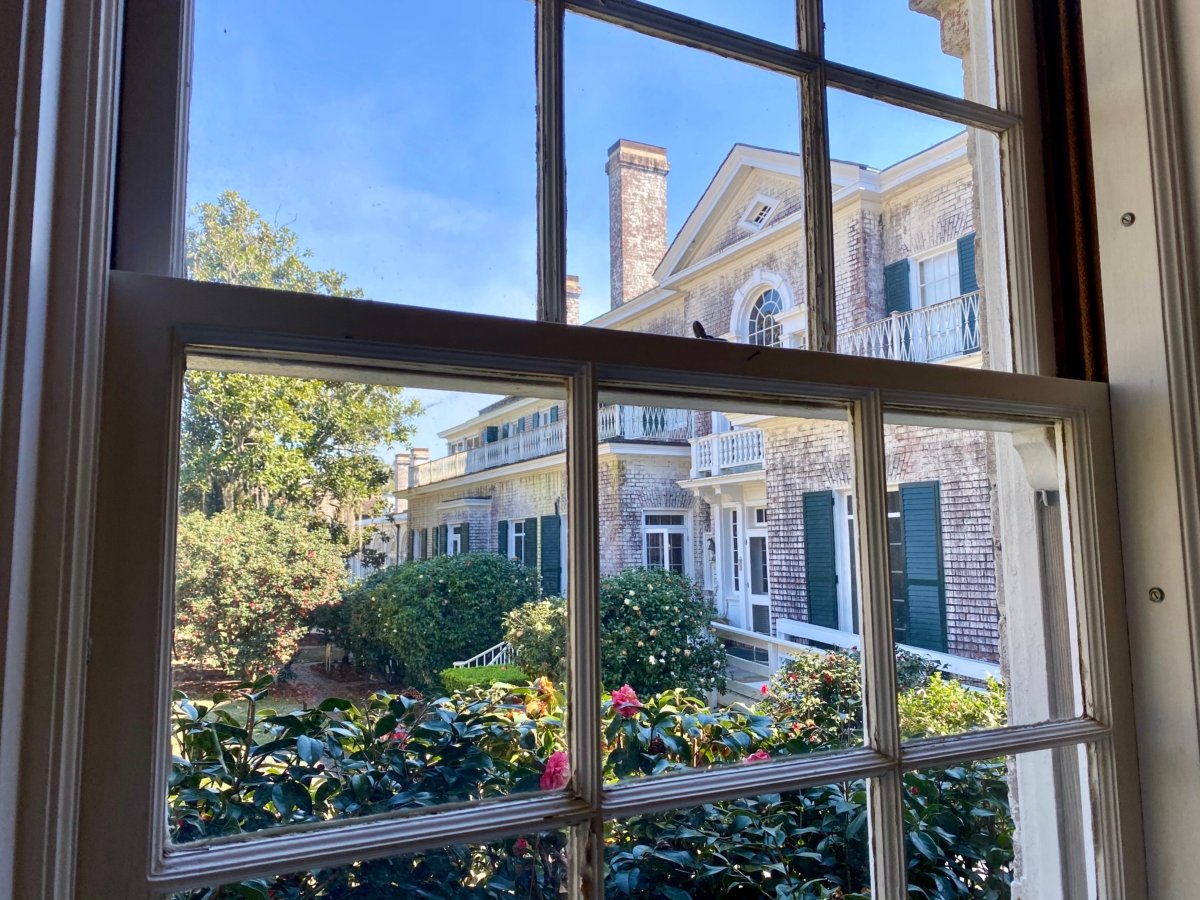 A window in the food service area offers a great view of the camellia gardens and loggia wing designed by Abram Garfield and built under Miss Kate's supervision in 1914.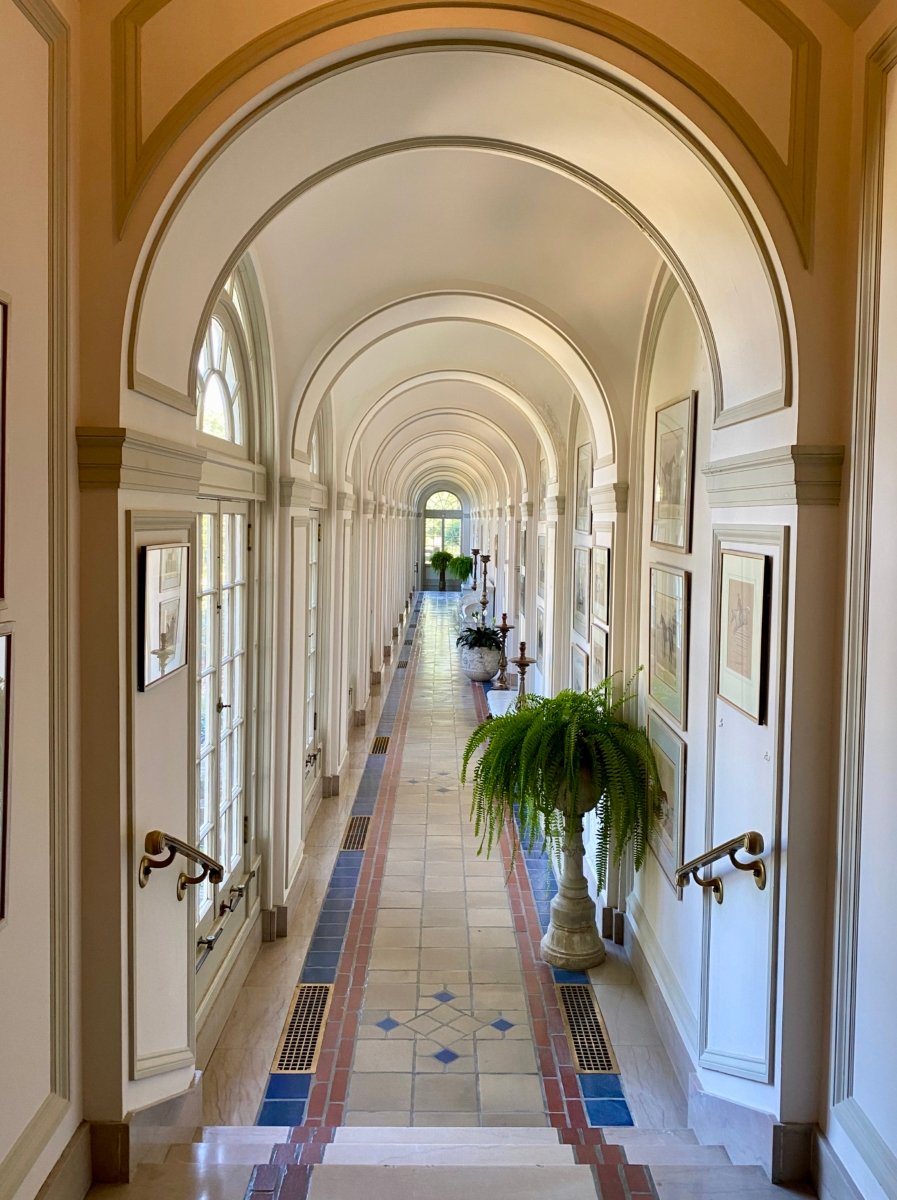 During construction, the loggia was attached to the 1850 house. Although that house was destroyed by fire in 1934, the loggia wing survived. When Garfield drew plans for the 1936 house, he was able to join his new design with the 1914 structure.
A highlight of the Pink Suite is the vintage Louis Vuitton luggage at the foot of the four-poster canopied bed.
Miss Pansy's former bedroom is a testament to her life as a horsewoman and competitor, and also her personality.
Equestrian figurines are on full display in a George III mahogany cabinet, but a custom closet discreetly stores countless ribbons from her winnings.
The room opens to a screened porch that gave Miss Pansy easy access to the outdoors.
Native American artifact collections are housed in the Indian Room. The room takes its name from the J. Clinton Shepherd mural commissioned by Miss Pansy when this space served as the men's smoking room.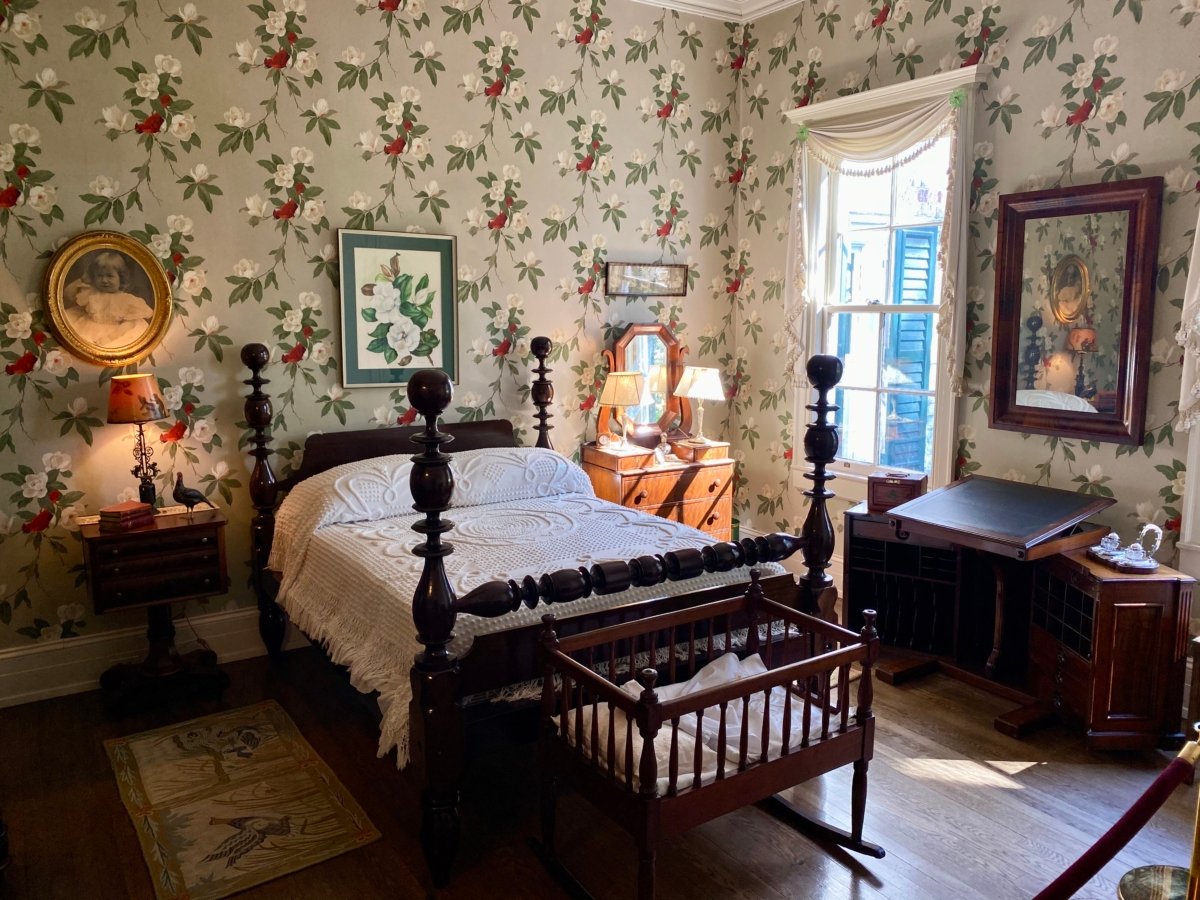 The Redbird Room gives evidence that children were also welcomed at Pebble Hill.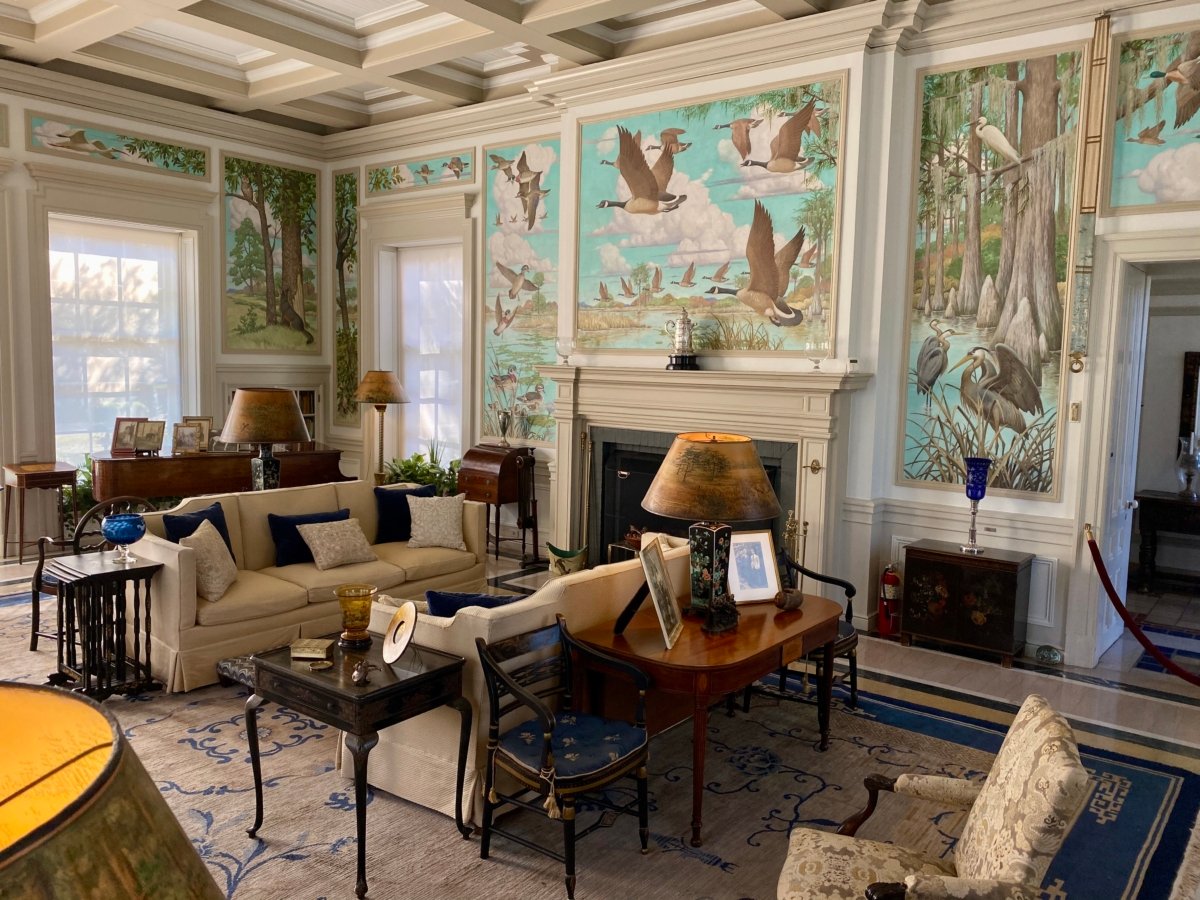 Situated at the easternmost end of the loggia, the Big Room was the largest and most formal of the house's sitting rooms.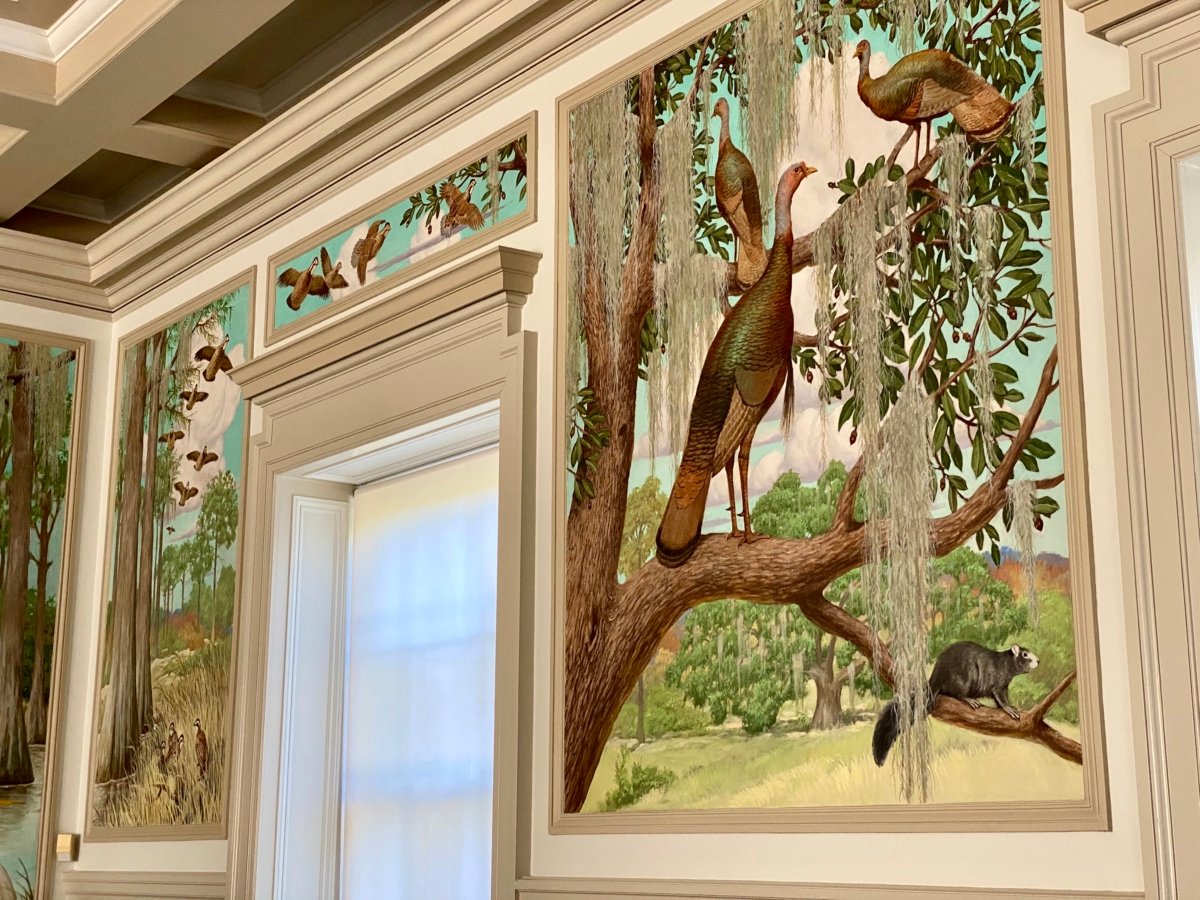 The most visually stunning feature of the Big Room is J. Clinton Shepherd's 360° mural masterpiece, "The Flora and Fauna of South Georgia."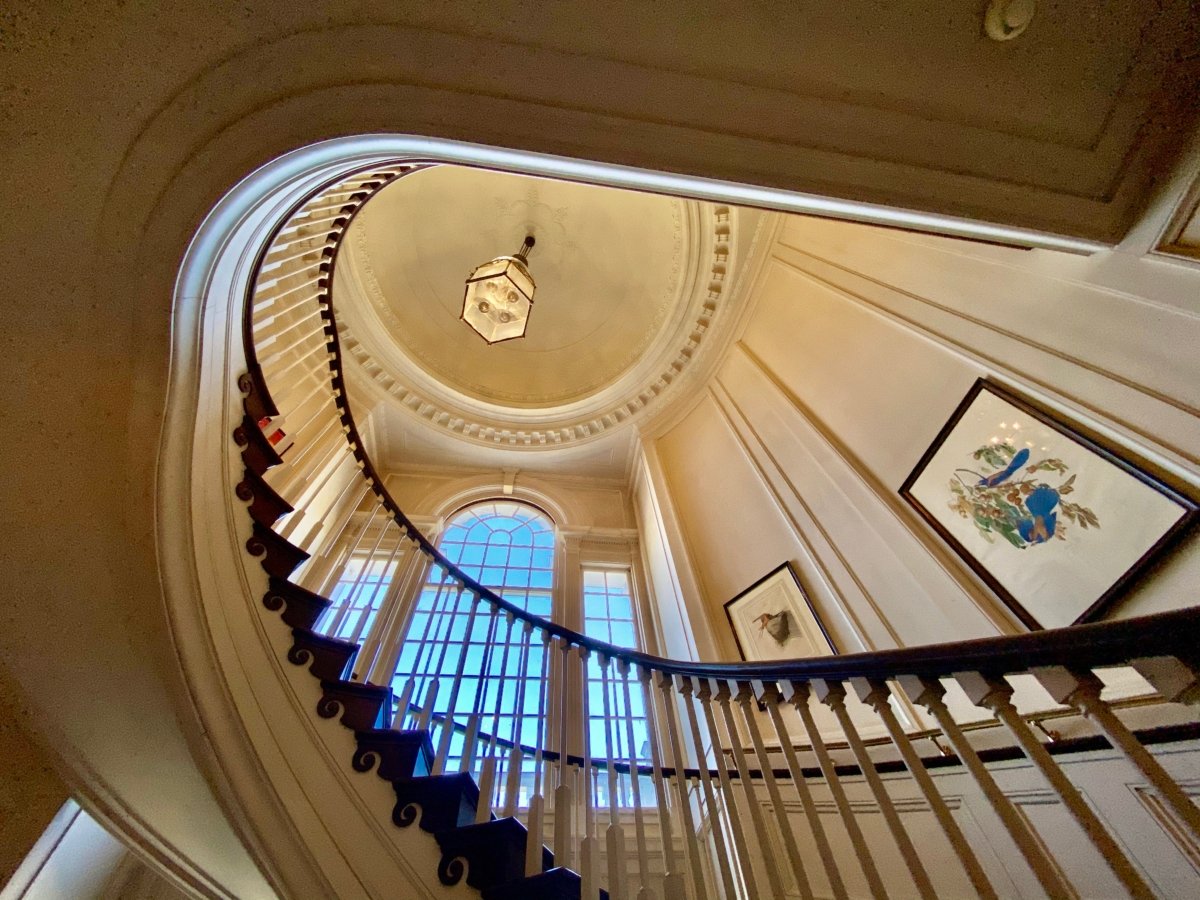 A sweeping staircase leads to the Elisabeth Ireland Poe Gallery on the second floor of the main house.
The gallery's permanent exhibit contains many fine pieces from Mrs. Poe's sporting art collection.
Highlights include a landscape of flushed quail in flight by American artist George Browne, and Mrs. Poe's premier piece "The Artist's Wife and Isaac" by British painter Sir Alfred Munnings.
The gallery also hosts special exhibits. During my visit, select pieces—including works by Picasso and Toulouse-Lautrec—from the collections of Miss Pansy's husband, Parker B. Poe, were on loan from the Thomasville Center for the Arts.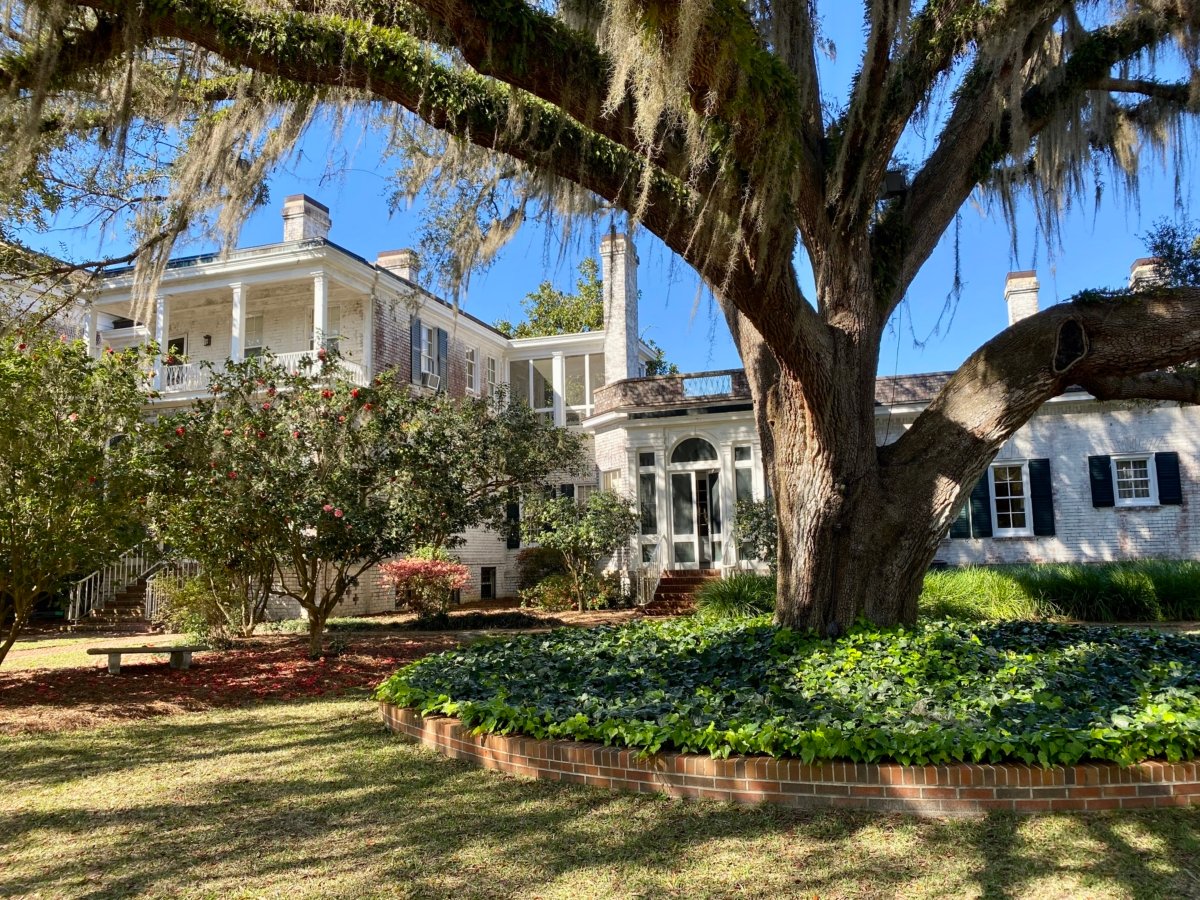 The main house may be the star attraction at Pebble Hill, but you don't want to miss doing a self-guided tour of the gardens and grounds. Guests are given a full color map and touring guide at the time of admission.
Miss Kate commissioned landscape architect Ethelwyn Harrison to design the gardens with primary plantings of azaleas, camellias, dogwoods, magnolias, and Cherokee roses. The heirloom camellias were in full bloom during my February visit.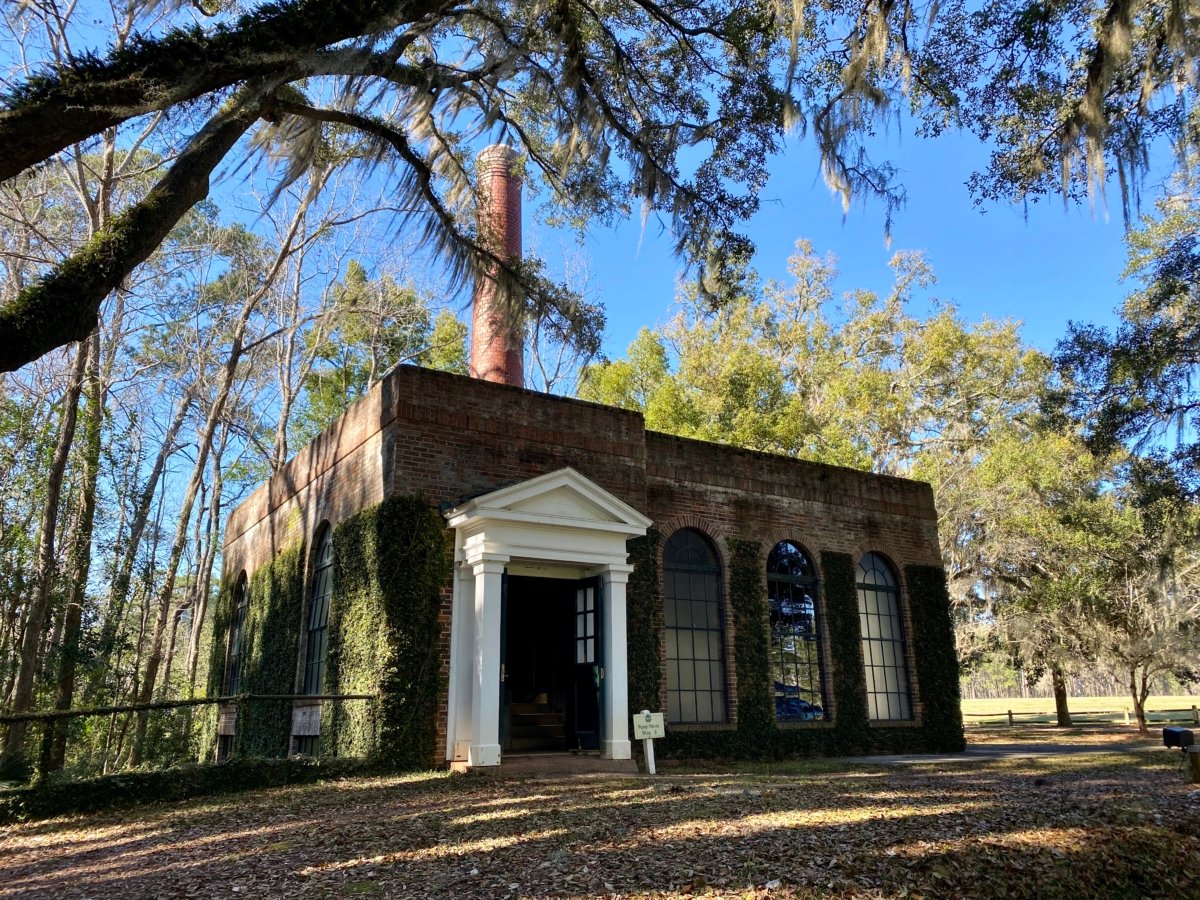 More than twenty outbuildings and points of interest populate the estate grounds, including a log schoolhouse, dog hospital, blacksmith shop, stable complex, family cemetery, and the pump house pictured above.
The fire engine house and nurse's station provide windows into the past and illustrate the grand scale of daily life at Pebble Hill Plantation.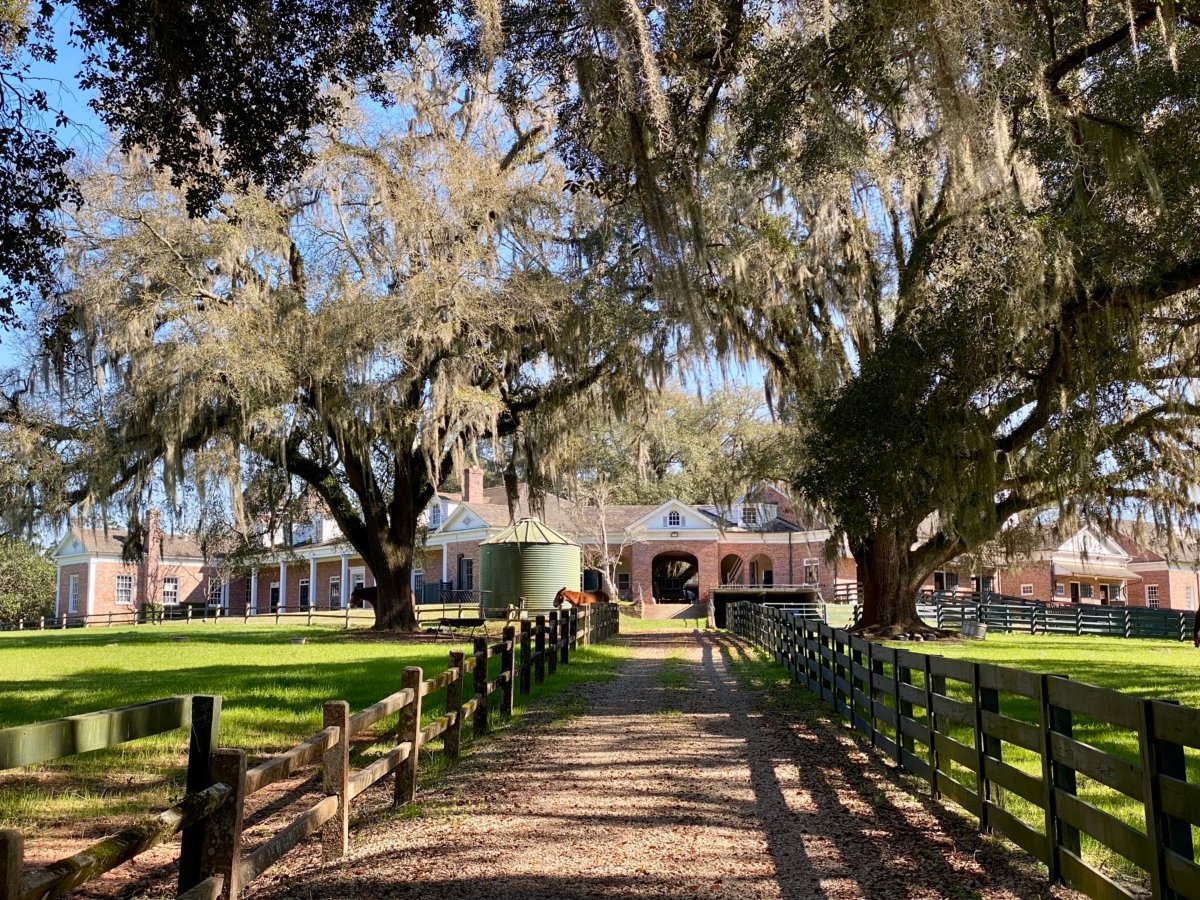 Pebble Hill Plantation offers multiple venues and lodging for weddings, conferences, and corporate events.
There are no food and beverage outlets for visitors, but guests are encouraged to pack a lunch and enjoy it in the picnic area. This would be my recommendation. My itinerary only allowed a couple of hours for my visit, and I could have easily spent the day exploring grounds.
Before planning your visit, please consult the Pebble Hill website for updated hours, tour information, and admission fees.
---
South Eden Plantation
---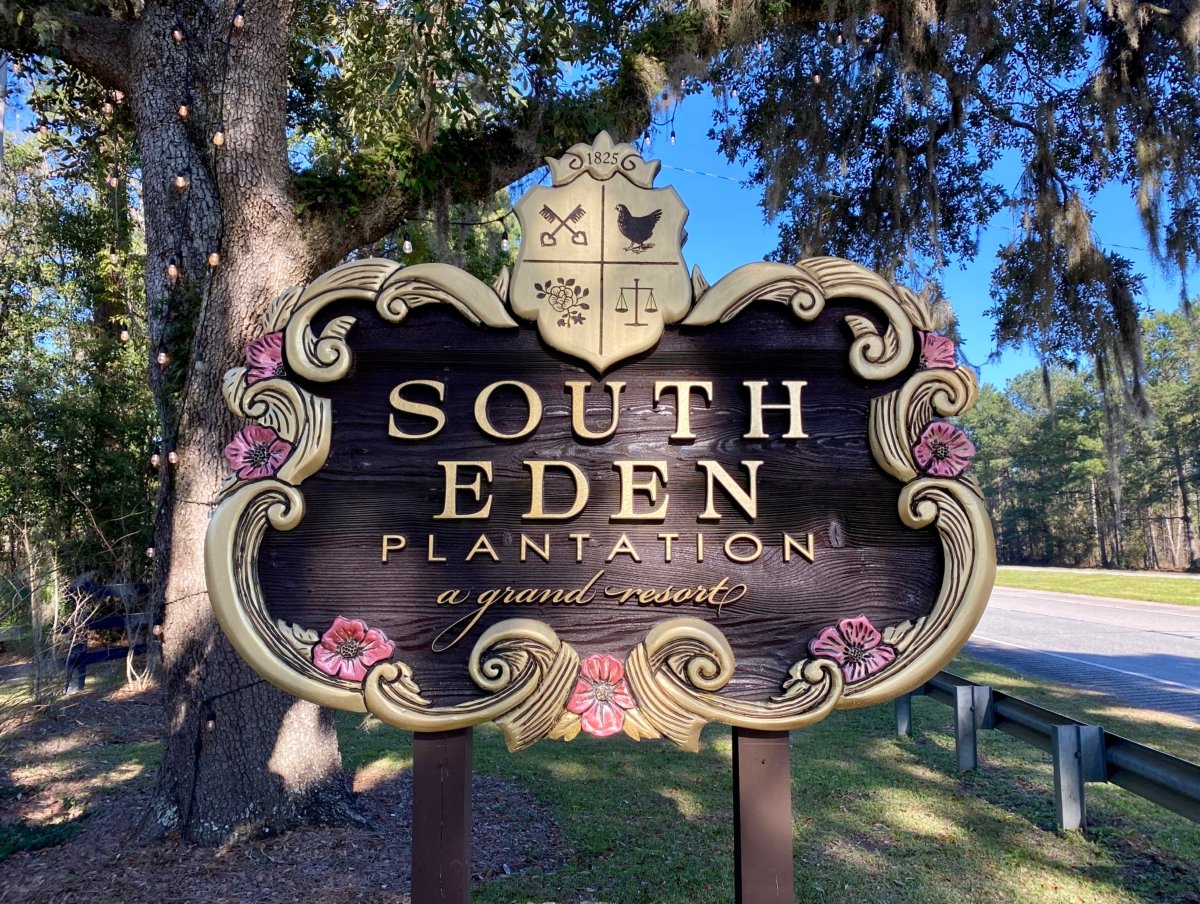 South Eden Plantation is a resort property with a 22-suite boutique hotel, three cottages, and multiple indoor and outdoor event venues.
The tract of land it occupies adjoins Pebble Hill, and was originally established as Coalson Plantation in 1825. When purchased by the Hanna family in 1896, the hunting plantation was renamed Melrose, and eventually Melhana.
As a result of family quarrels, the original 1,500 acre tract was subdivided, creating Sinkola Plantation in 1953.
In 2009, Kimberly Sponaugle purchased the remaining 38 acres of Melhana, with a vision to preserve the property and restore the historical structures.
South Eden Plantation was born.
The landscape at South Eden is truly stunning, beginning with the drive through its classic oak alley.
The historical Main House encompasses adjoining event spaces and the boutique hotel.
Ms. Kim's eye for detail and taste in decor are evident in the rooms and spaces she has lovingly restored.
Scarlett's Lounge was my favorite room, an elegant, yet masculine tavern, with a long bar, tables, and a cozy nook by the fire.
I was at South Eden attending the Southern Travelers Explore conference hosted by my "travel wife" Melody Pittman and her daughter Taylor Hardy. Together they operate the websites Travel the South and Wherever I May Roam.
My first cousin Rhoda Vickers who runs the Southern Hospitality blog was one of our featured speakers.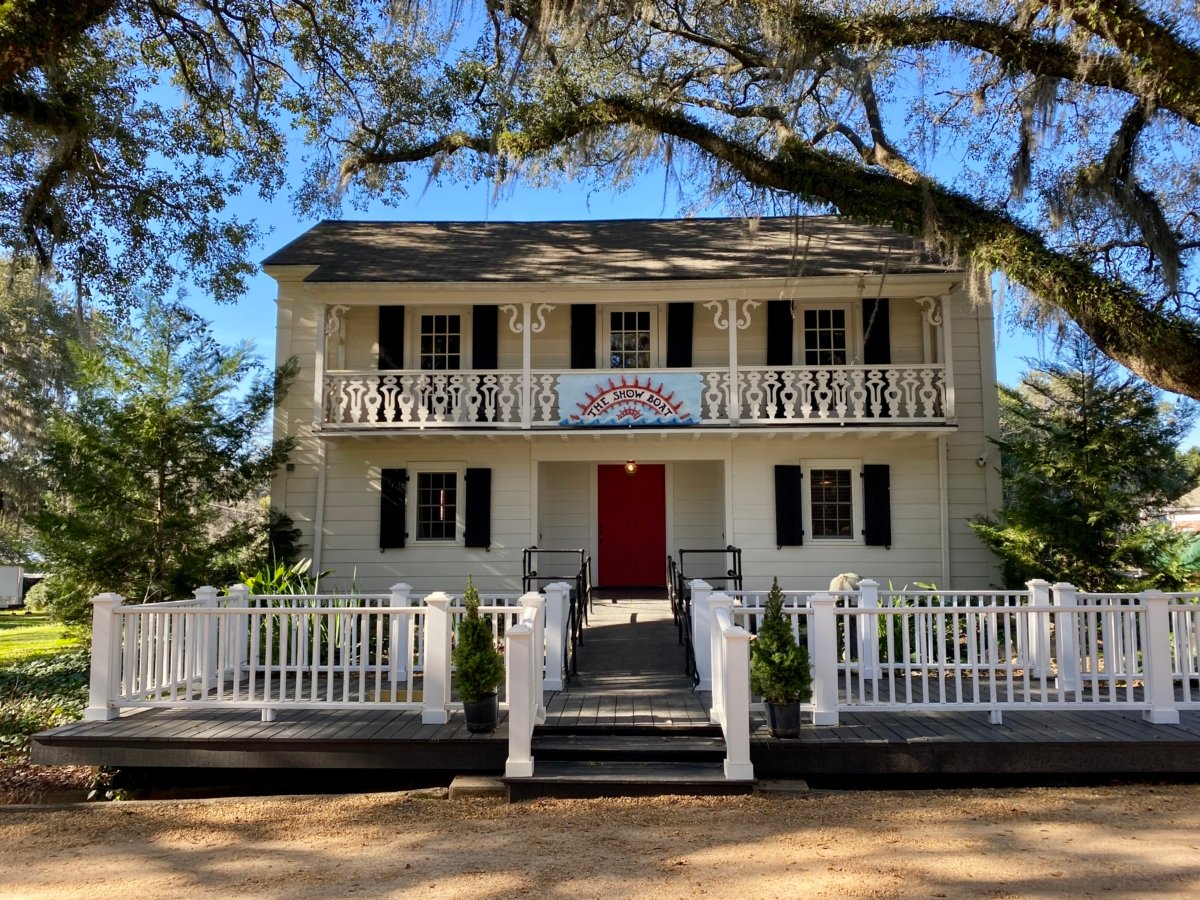 Our opening night reception and dinner was held in the 1934 Showboat Theater.
Rich cypress wood paneling of the interior lends a rustic element to the elegant decor of the venue.
The theater stage and balcony allows the room to be easily outfitted for lectures, ceremonies, and banquets.
As a point of interest, the Showboat Theater hosted the first private showing of "Gone With the Wind" in 1939.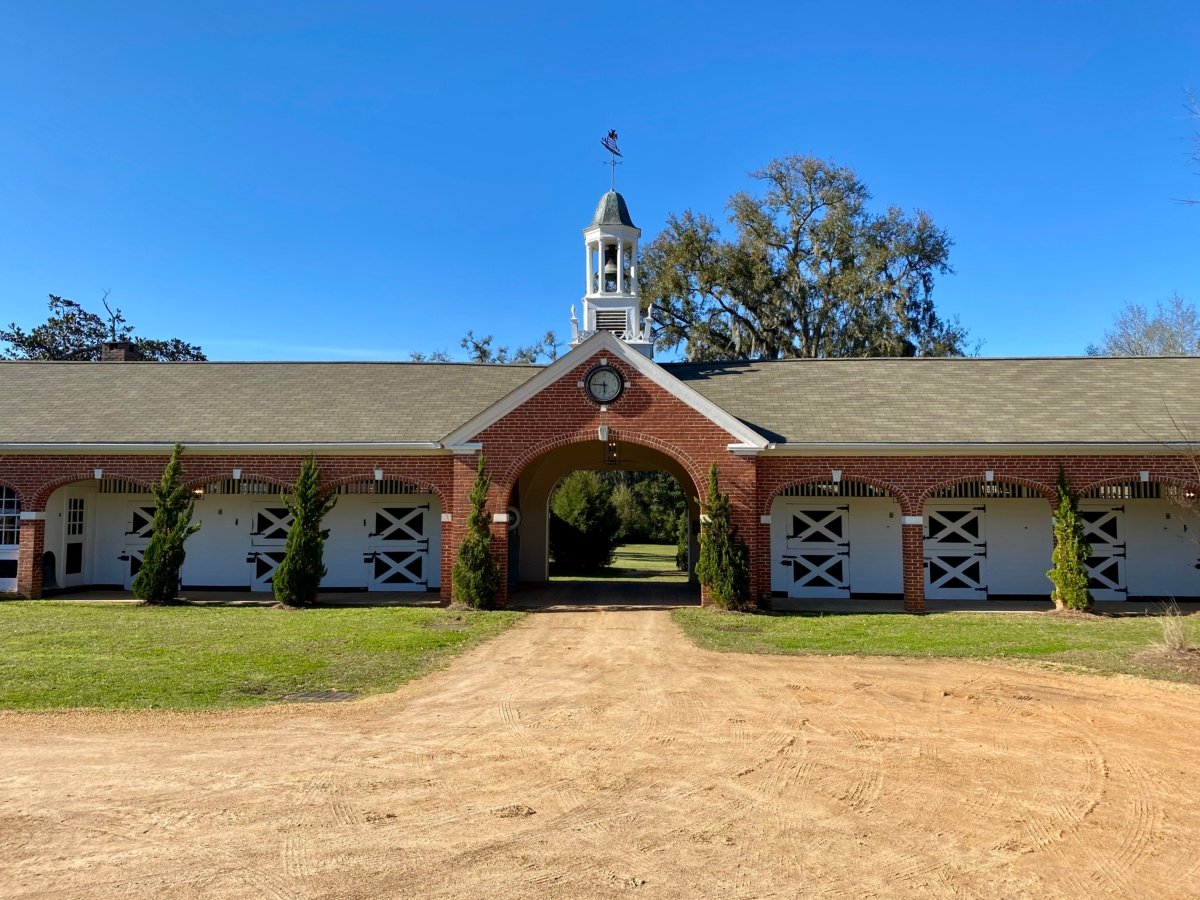 The Stables at South Eden serve as an outdoor venue and make a stunning backdrop for wedding party photos.
An indoor poolhouse and private garden was also constructed in 1934.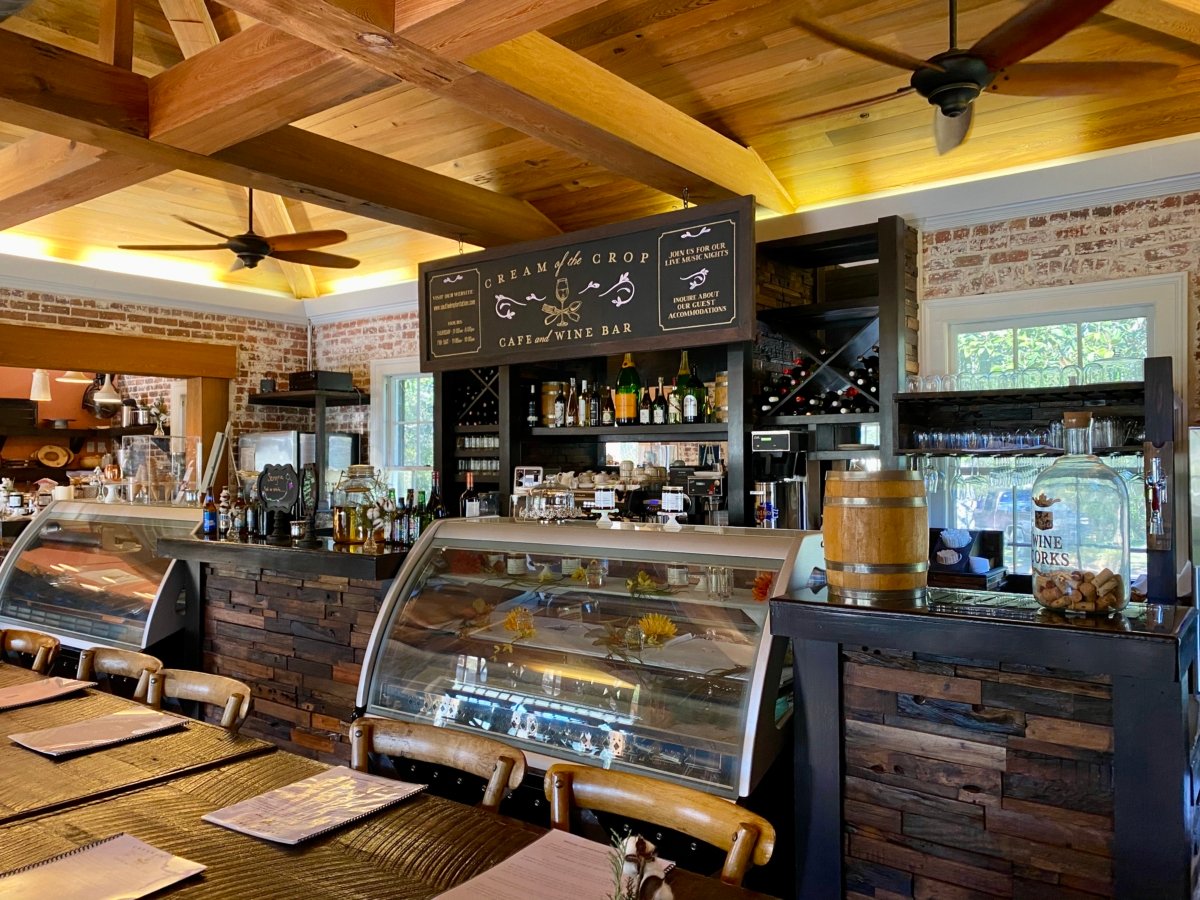 For lunch and dinner, hotel guests and event attendees can satisfy their food and beverage needs at the onsite Cream of the Crop Cafe and Wine Bar.
The family-friendly venue features indoor and outdoor seating and is a perfect setting for rehearsal dinners, receptions, and cocktail parties.
Friday and Saturday evenings feature live music and are open to the public.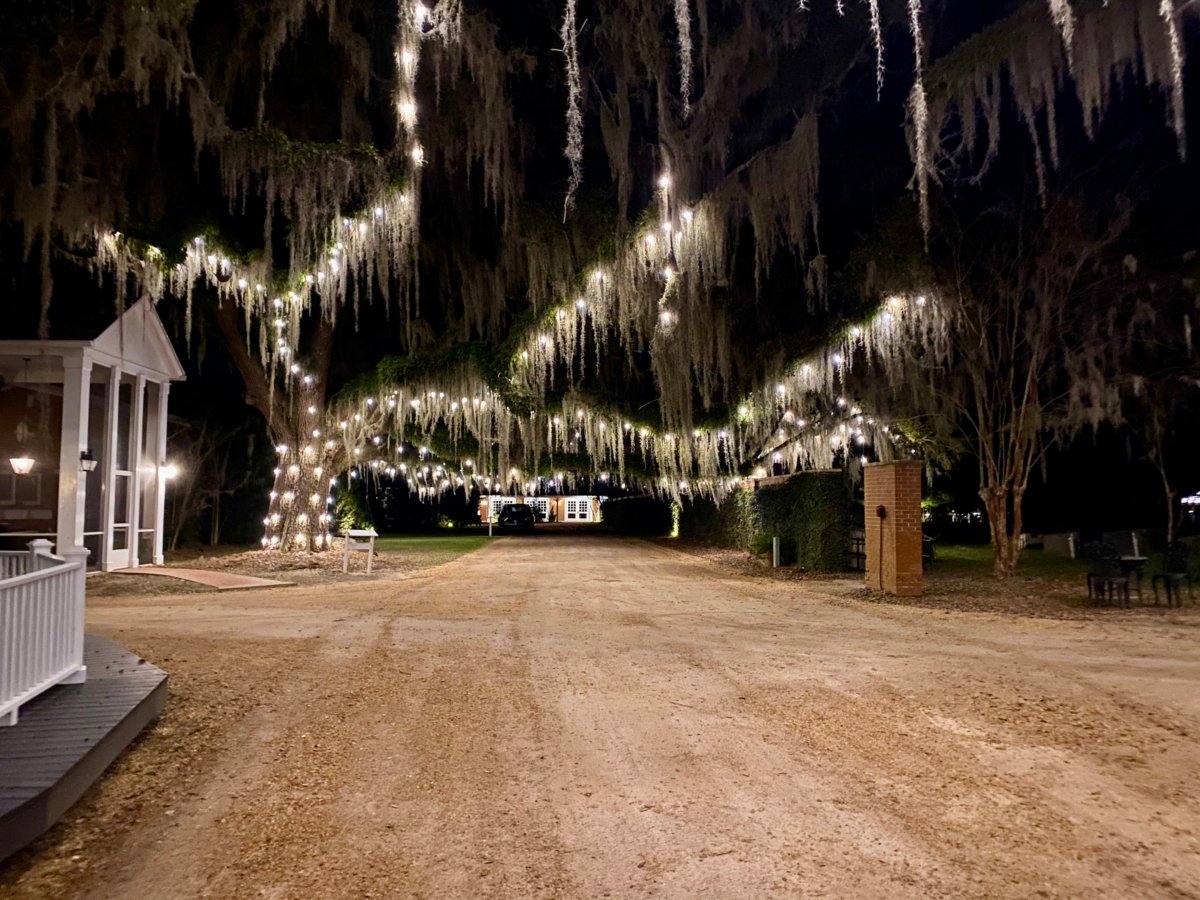 Illuminated at night, Showboat Oak Lane becomes a venue of its own or a romantic setting for guests to mingle.
There are no guided tours of South Eden except by appointment for clients looking to book an event.
Navigate to the South Eden Plantation website for hotel bookings, event planning, and updated hours.
---
Quail Hunt Resources and More
---
Most of the Red Hills hunting plantations are privately owned. They are not advertised to the public and cater to an exclusive clientele.
The following resources will assist readers interested in planning a hunt or road trip to Thomasville and the Red Hills region:
• Quail Hunting in Georgia, a Southern Tradition
A great introduction from Explore Georgia, covering history, conservation efforts, hunting essentials, and places to hunt.
A historic Thomasville hunting and fishing preserve open to the public with four lodges and a clubhouse on 3,300 acres of Red Hills pine forest.
• River Creek: the Rolf and Alexandra Kauka WMA
A 2,437-acre state wildlife management area in Thomasville open to the public for hunting and other activities.
• Kevin's
A local sporting outfitter with stores in Thomasville and Tallahassee, specializing in fine outdoor gear and apparel.
• Georgia Department of Natural Resources: Wildlife Resources Division
Information on hunting and fishing licenses, game seasons, quotas, and regulations.
For readers in the market for land, the South's leading authority on quail hunt plantations, ranches, high-quality properties, and Social Storm® Ranked Properties. Born from a passion for conservation 30 years ago, the firm is immersed in their role as the servant leaders in this niche from sales, marketing, management, and valuation of these unique properties.
A fun scavenger hunt for 18 bronze quail statues in downtown Thomasville.
Conduct online research, view museum exhibits, and tour seven historic buildings.
• Sights to See in the Greater Red Hills Region
A downloadable PDF map and brochure with information on scenic drives, museums, nature centers, gardens, historic sites, public recreational sites, and boat landings between Thomasville and Tallahassee. Published by the Tall Timbers Research Station and Land Conservancy.
---
South Georgia Scenic Drives
---
The Plantation Parkway is a designated segment of Highway 319 between Thomasville and Tallahassee.
Plantation Parkway Parts 1 and 2 are lovely photo-intensive travelogues of the route from the Sweet Southern Days blog. (Note: The Sweet Southern Days website is not secure, and due to Google's new regulations, we cannot link directly to the pages. With an online search for "Plantation Parkway," however, you can easily find links to these posts at the top of the results page.)
A 62-mile segment of the Historic Dixie Highway between Thomasville and Albany has been named a Georgia Scenic Byway.
---
Jonah's Fish & Grits
---
When my Aunt Sharon, who lived in Tallahassee most of her adult life, learned that I would be visiting Thomasville, she let me know that Jonah's Fish & Grits was a great place to eat. Her recommendation was later confirmed when I saw Jonah's on my conference itinerary.
Apparently someone had let the cat out of the bag because the place was packed when we arrived. After we put in our names, we waited more than an hour and a half to be seated.
Jonah's made-from-scratch menu did not disappoint. For starters, we shared cyclone shrimp and fried green tomato appetizers. For entrees, my cousin Rhoda ordered the parmesan crusted grouper, and I went for the classic shrimp & grits. Delicious!
Click here for more downtown Thomasville dining options!
Click here for Thomasville lodging options on TripAdvisor!
---
Map It!
---
---
Design Your Own Georgia Road Trip
---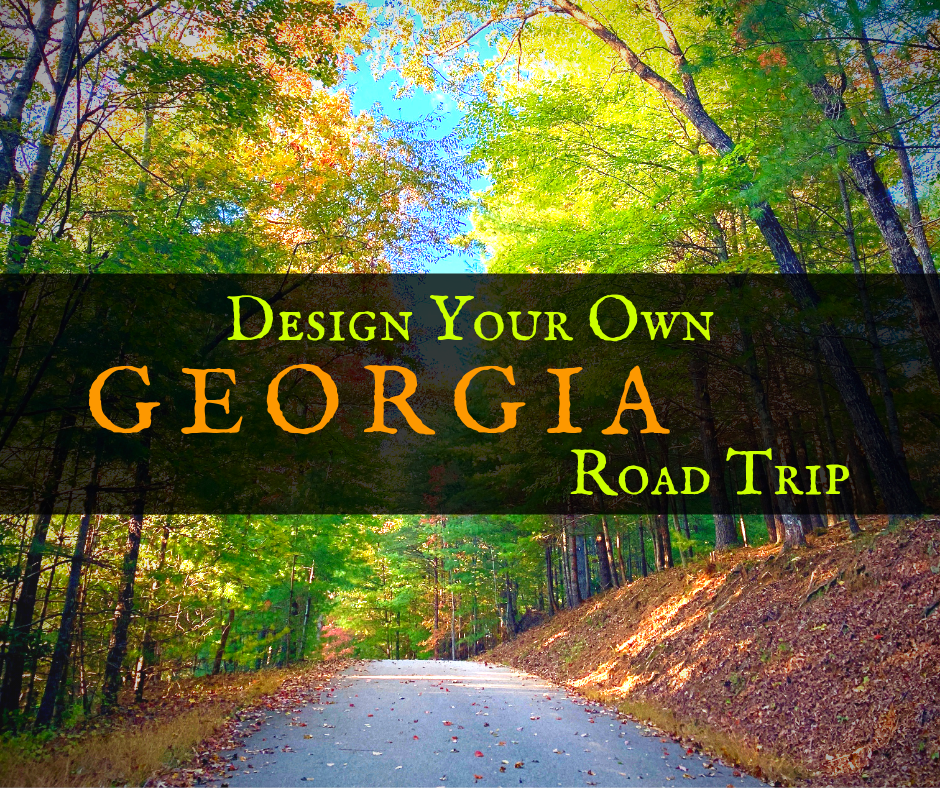 Backroad Planet's Design Your Own Georgia Road Trip roundup offers a wealth of scenic and historical destinations, suggested activities, plus our exclusive planning resources. Start designing your Georgia road trip itinerary today!
---
We Would Love to Hear From You
---
We enjoy dialogue with our readers, especially when they share off-the-beaten-path destinations and useful travel tips. Have you visited any quail hunt plantations in South Georgia? If so, we would love to hear about your experience. We invite you to leave your comments and questions below, and we always respond!
---
Pin this Post!
---