(a

10

minute read)
---
Board the train in Blue Ridge for a scenic excursion through the mountains. Then explore the historic sister cities of McCaysville, Georgia, and Copperhill, Tennessee.
---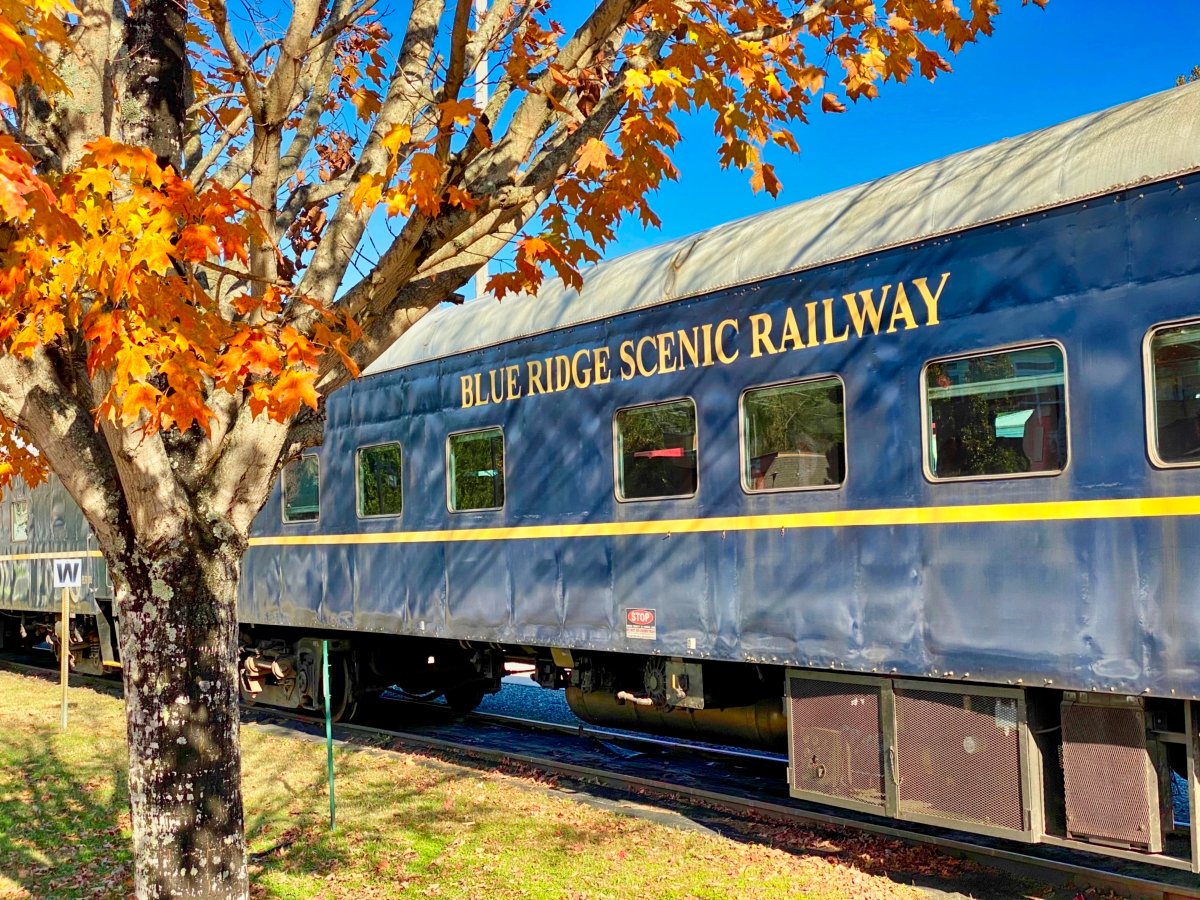 I was a guest of Georgia's Blue Ridge, but all thoughts and opinions are my own. This post may contain affiliate links. Please refer to our our Disclosure/Disclaimer page for more information.
Note: At the time of publication, the Blue Ridge Scenic Railway is closed indefinitely, due to the COVID-19 pandemic. The content of this post is evergreen, and will be relevant when rail excursions resume.
---
My North Georgia
---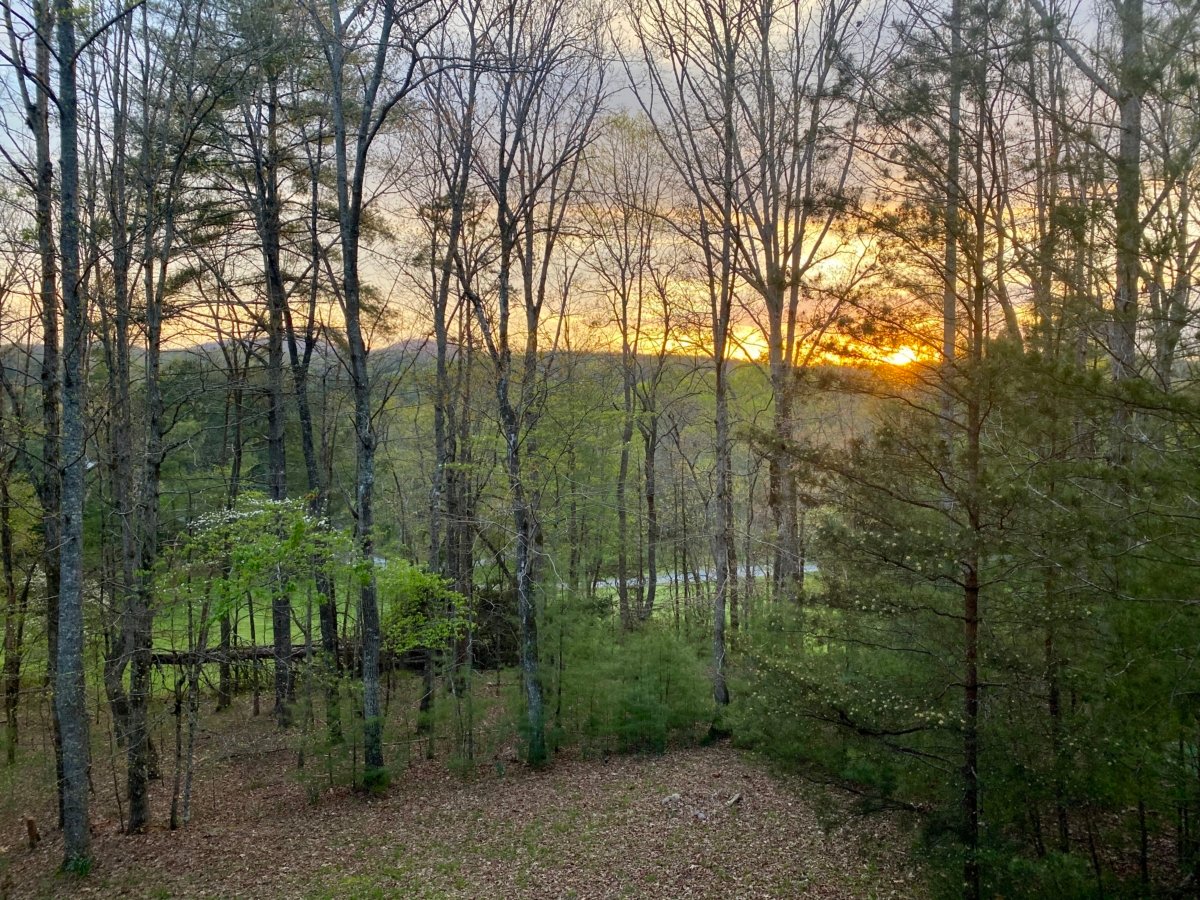 I fell in love with the North Georgia mountains more than two decades ago.
The region so captured my heart that in 2003 I decided to buy a log cabin on an acre of land that overlooks a mixed hardwood forest in summer and fall, and a mountain landscape in winter and spring.
I named my beloved cabin Pinebox, and through the years it has become what writer Marjorie Kinnan Rawlings calls my "small place of enchantment."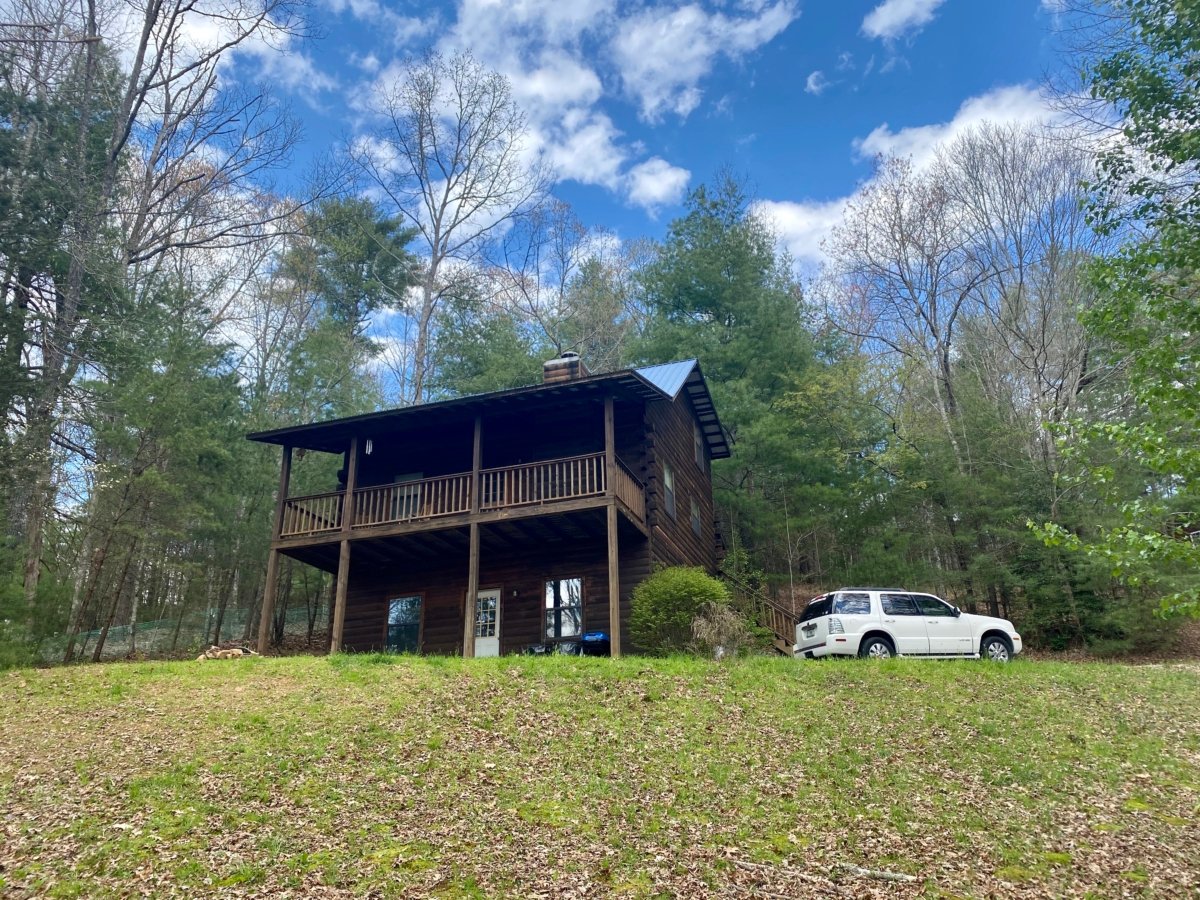 Perched on a mountainside between Blue Ridge and Blairsville, Pinebox has been the perfect home base for day hikes, scenic drives, and chasing more waterfalls and swimming holes than I can count.
Exploring North Georgia's historic small towns is also great fun!
The town of Blue Ridge, with its charming brick buildings, restaurants, shops, and galleries, and proximity to outdoor recreation, has evolved as a popular tourist destination for every season.
And Blue Ridge's most well-known attraction was birthed through an evolution of its own.
---
The Blue Ridge Scenic Railway
---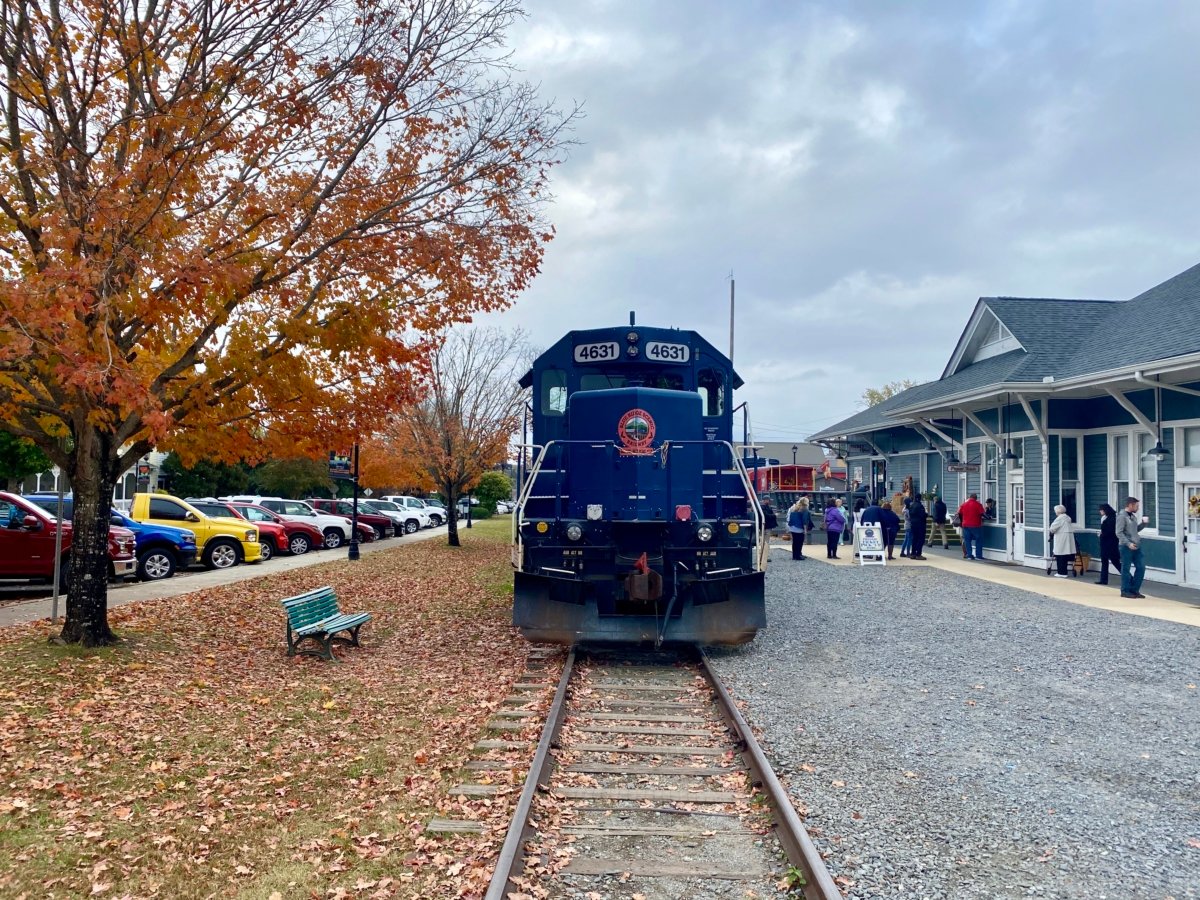 The central feature in downtown Blue Ridge is the railroad that bisects the town, and the adjacent century-old depot is the point of origin for the Blue Ridge Scenic Railway.
In 1886, the Marietta & North Georgia Railroad laid tracks from Marietta to the mountain community that would be incorporated as Blue Ridge the following year. The line extended further to Copperhill, Tennessee, initiating passenger service and transporting freight for the mining and timber industries.
The railroad ceased operation in 1987, and soon a group of Blue Ridge citizens began exploring ways to reinvent the vintage rail.
The Blue Ridge Scenic Railway made its inaugural run in 1998, and today the heritage line has become one of the region's most popular attractions.
Although my cabin is a short drive from Blue Ridge, for many years an excursion on the heritage railway eluded me.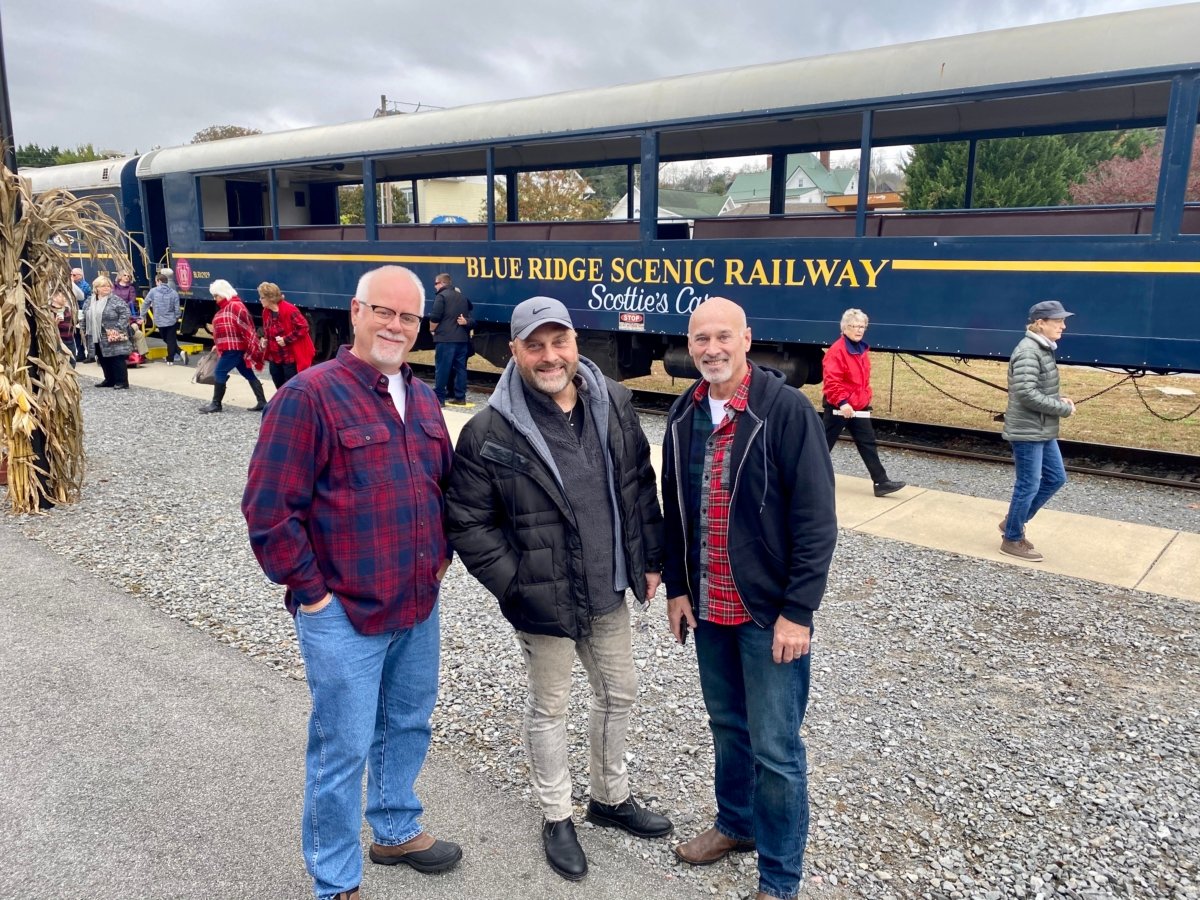 Then, when the time rolled around for my chosen brothers Jim Swilley and Ken Marshall to drive up from Atlanta, like they do every autumn, they agreed it would be the perfect opportunity to enjoy a scenic mountain train ride together.
---
Board the Train in Blue Ridge
---
A ride on the Blue Ridge Scenic Railway will take you on a 26-mile rail journey north from Blue Ridge to the town of McCaysville, Georgia. The excursion is four hours total, including an hour-long ride to McCaysville, a two-hour layover in town, and a one-hour return ride to Blue Ridge.
The train operates from March through December with various seasonal schedules and special events.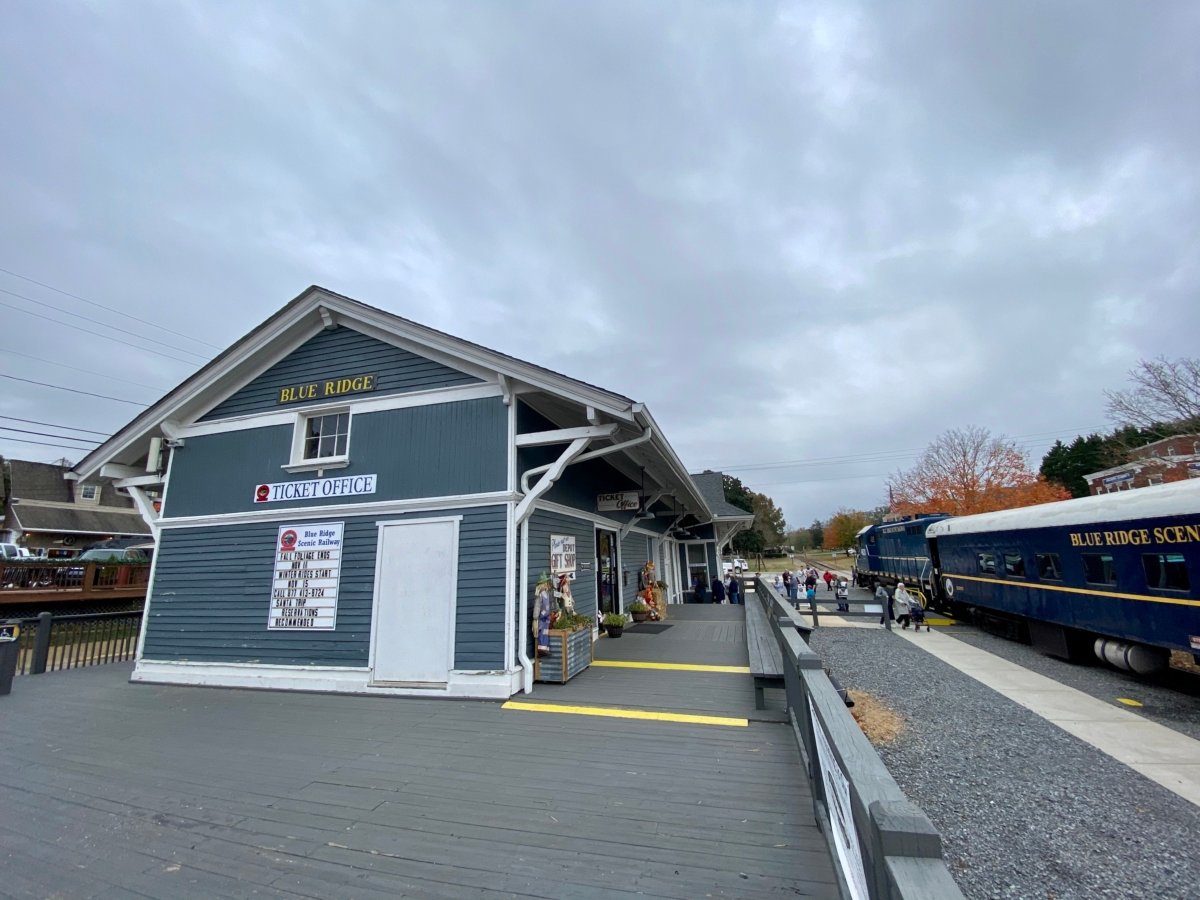 To allow time for parking, collecting our pre-paid tickets at the depot, and exploring Blue Ridge before the 11:00 AM departure, we arrived at the train depot around 9:45 AM.
It was a cool and overcast morning.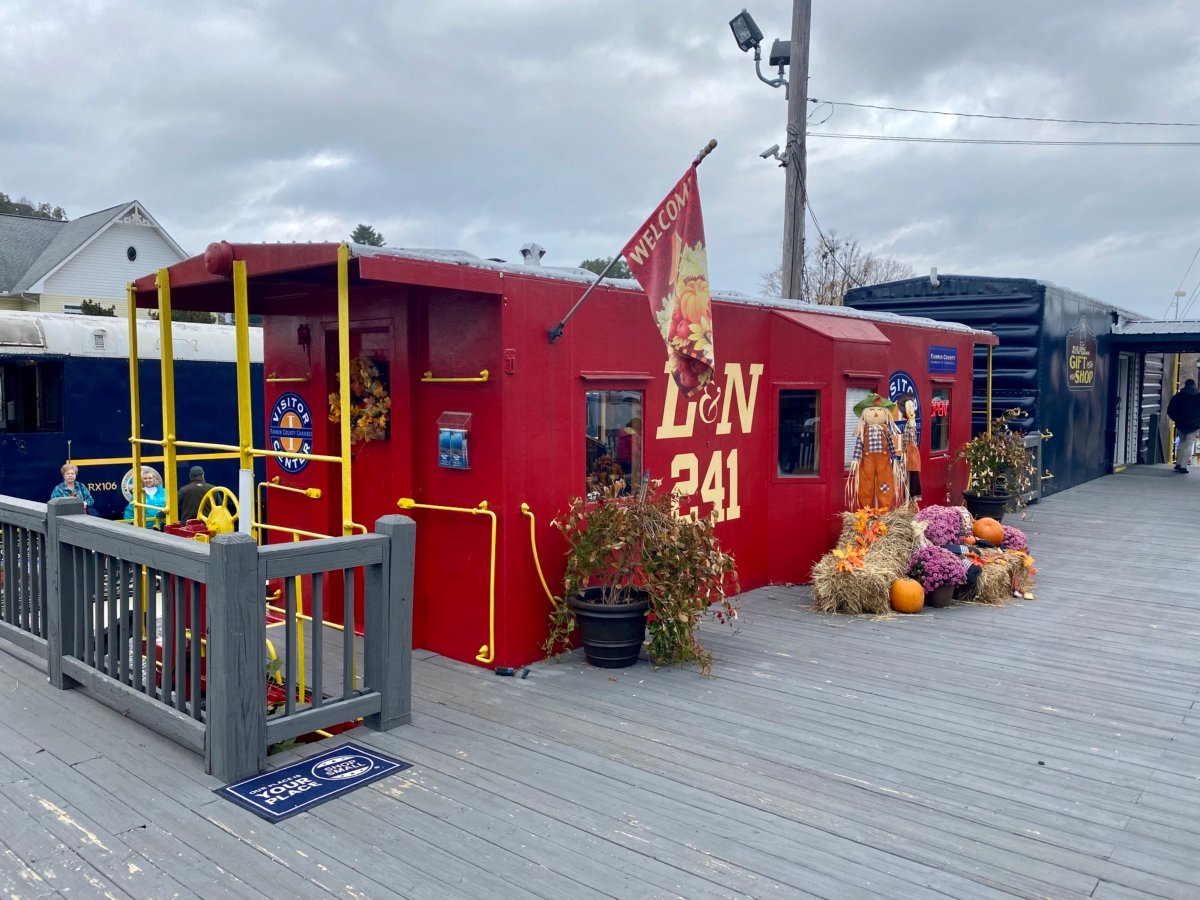 A caboose is home to the Blue Ridge visitor center, and a boxcar houses the gift shop, both situated along an elevated platform attached to the depot.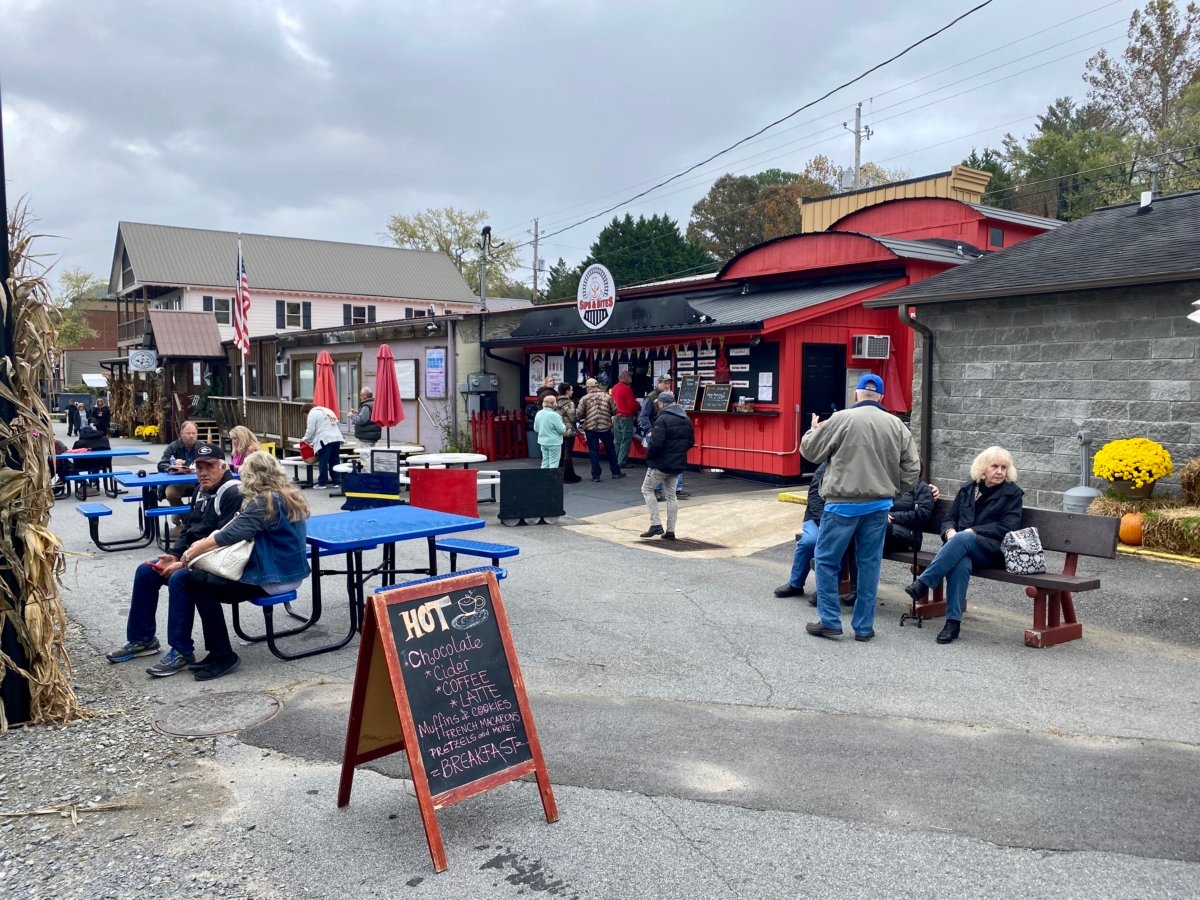 Coffee and tea shops, breakfast spots, and public restrooms are located within walking distance of the depot and train.
Boarding begins 45 minutes prior to departure, but we waited near our railcar and boarded with a few minutes to spare.
Seats are not assigned, so if you want to sit with your group you should plan to board early.
Be advised that the train departs Blue Ridge and McCaysville on time and will not wait for stragglers.
---
Railcar Classes and Ticket Options
---
Our hosts gave us an end-to-end tour of the train during our excursion. We were able to view the various railcar classes to better assist readers with choosing the option that best suits their needs.
Open Car
---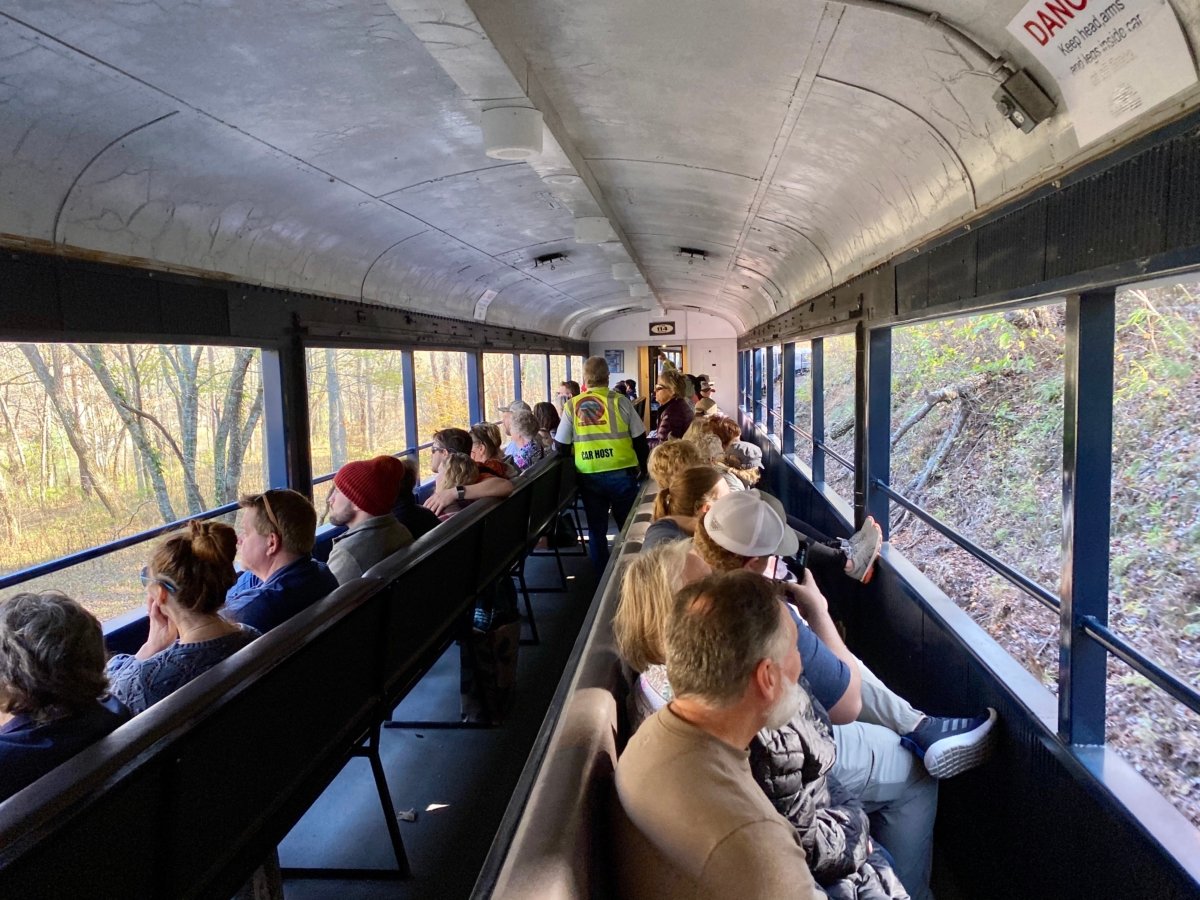 To me, the purpose of embarking on a scenic rail excursion is to experience the "scenery."
Fresh air, unobstructed views, and immersion in the outdoors are the best reasons to choose an open car.
Closed Car
---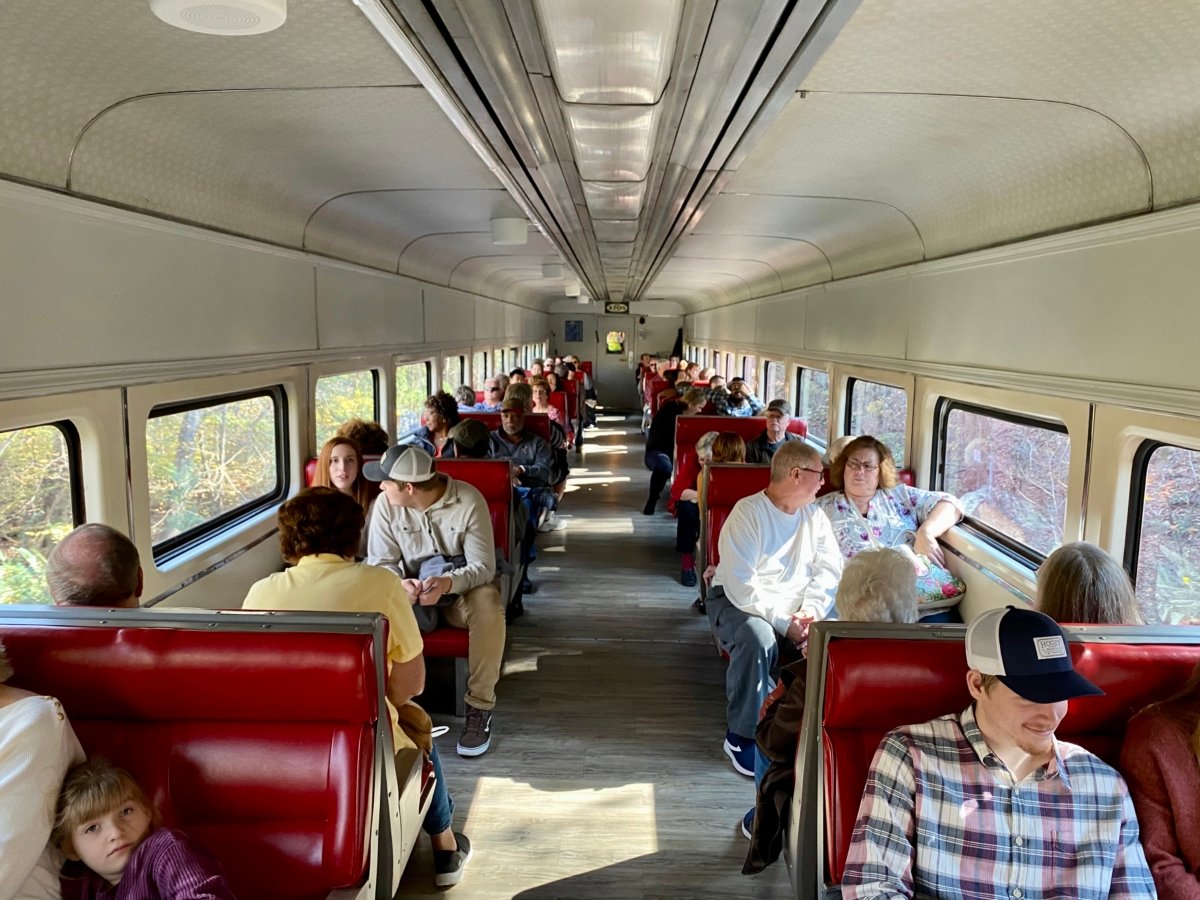 Barring inclement weather, I cannot think of a good reason to take a scenic rail journey in a closed car.
I am not opposed to cushy seats and climate-controlled environments, but for a two-hour scenic train ride, I would opt for outside.
Premier Class
---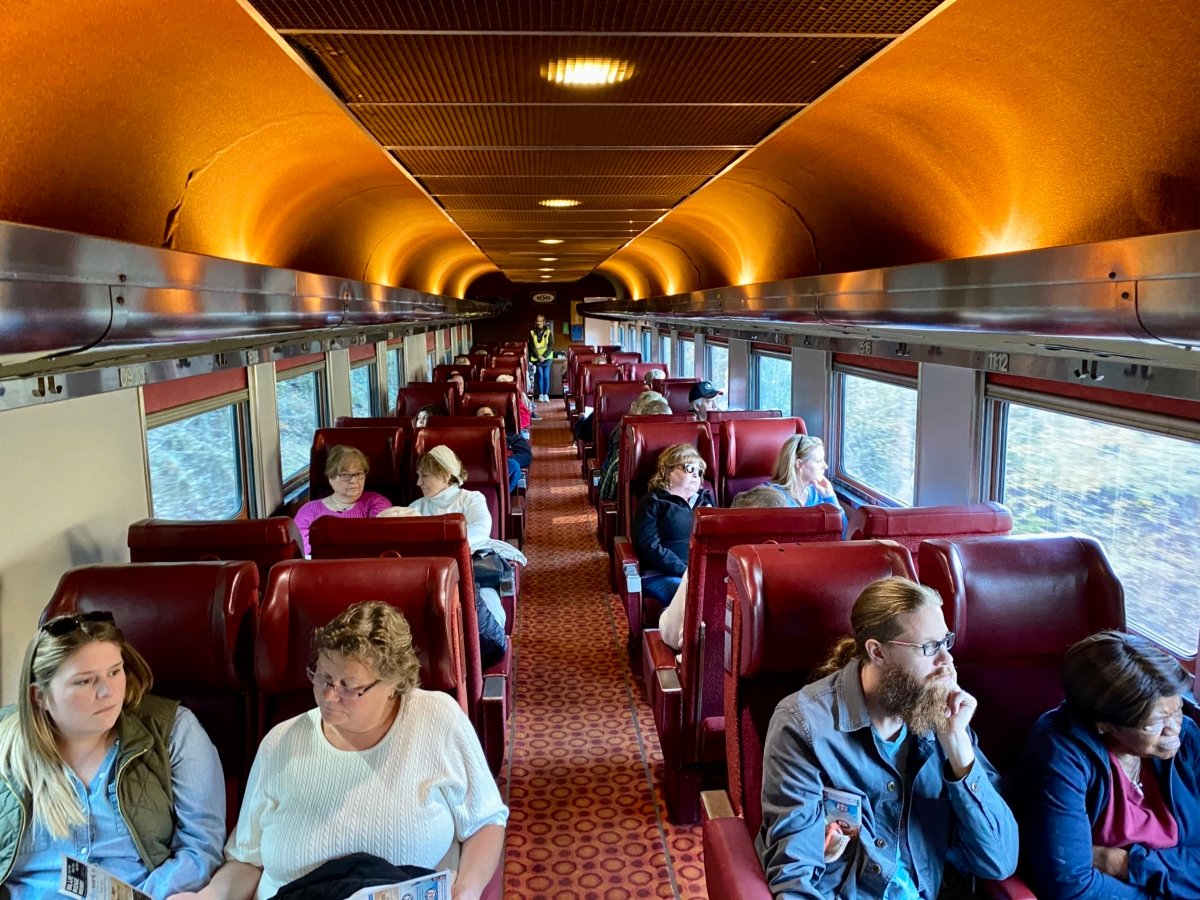 A step-up from the closed car in both amenities and price, premier class includes:
reclining seats
unlimited non-alcoholic beverages
a small catered meal outbound and dessert on return
a complimentary group photo
a canvas tote bag
adults only
Even so, I am not tempted.
If I were traveling cross-country, premier class would be the way to go, but for a two-hour scenic ride, give me the open air.
In case you are wondering, there are twelve restrooms and two baby-changing stations on the train.
Concession Car
---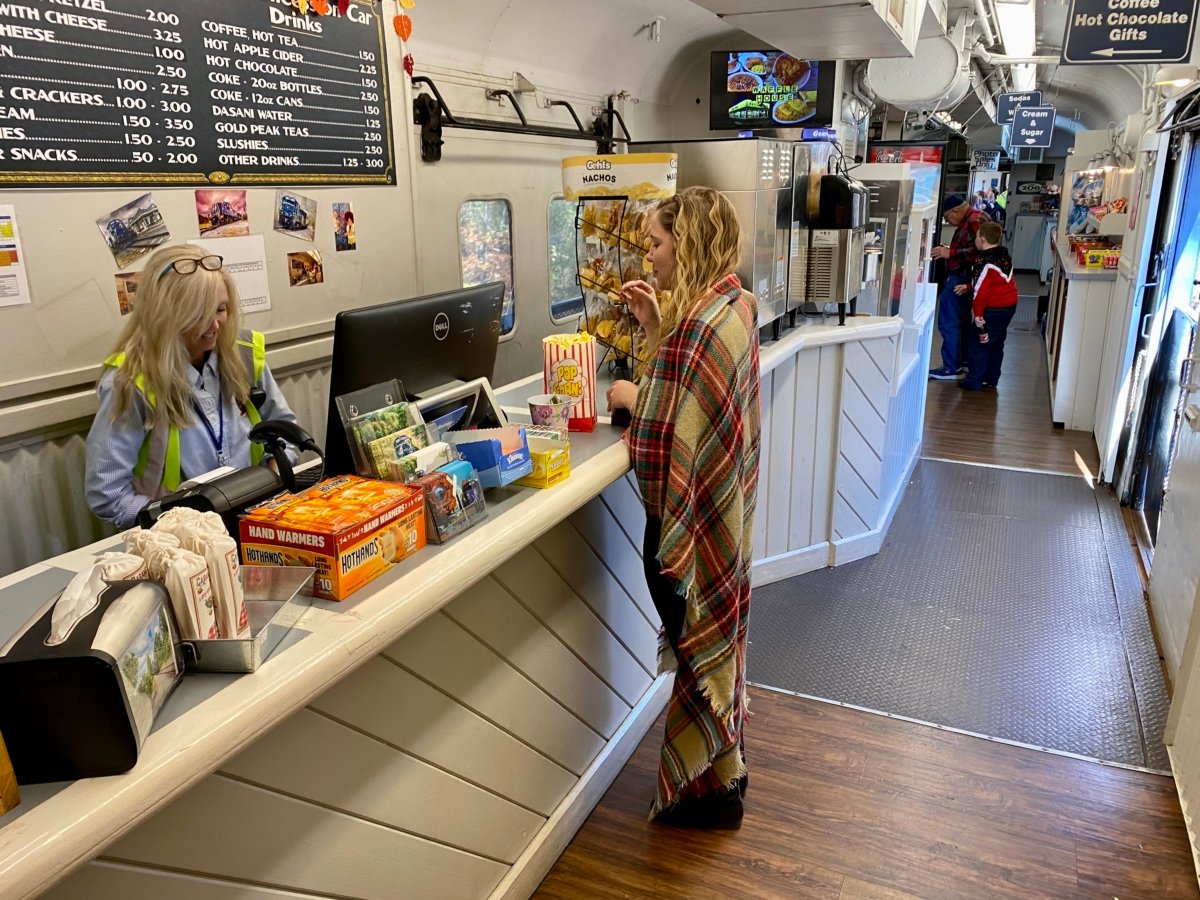 Guests are allowed to bring snacks and even a small cooler aboard the train. But for your convenience, there is a concession car in the center of the train that offers a selection of snacks and beverages.
Alcohol and smoking are not allowed on board the train.
---
Blue Ridge to McCaysville
---
Soon after the train left the station, the sun broke through the clouds, bringing light to the landscape and warming the breeze generated by the moving railcars.
We chugged past rural landscapes populated with homesteads, gardens, and pastures.
Before long the rails aligned with the Toccoa River, a route they paralleled for the remainder of the ride to McCaysville.
Car hosts narrated the ride, drawing attention to points of interest along the way.
As with any railroad, the conductor made his rounds, punching tickets and greeting passengers.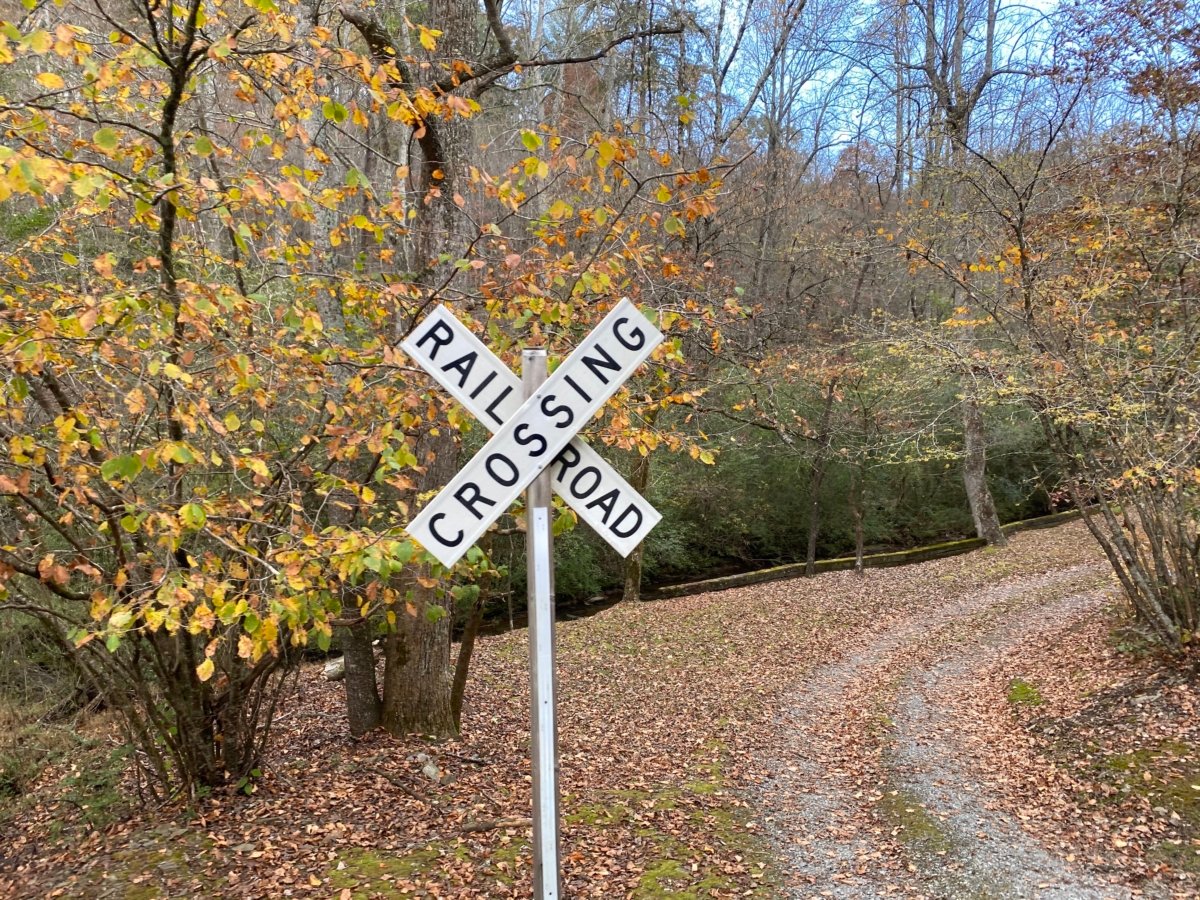 The autumn leaves were slightly past peak, but the beauty of the season was undeniable around every bend.
Bigfoot sightings abound in the North Georgia mountains, and railway passengers catch a glimpse of this furry phantom on every excursion.
As the train approaches McCaysville, it aligns not only with the Toccoa River, but also the River Road (CR 96).
---
McCaysville and Copperhill
---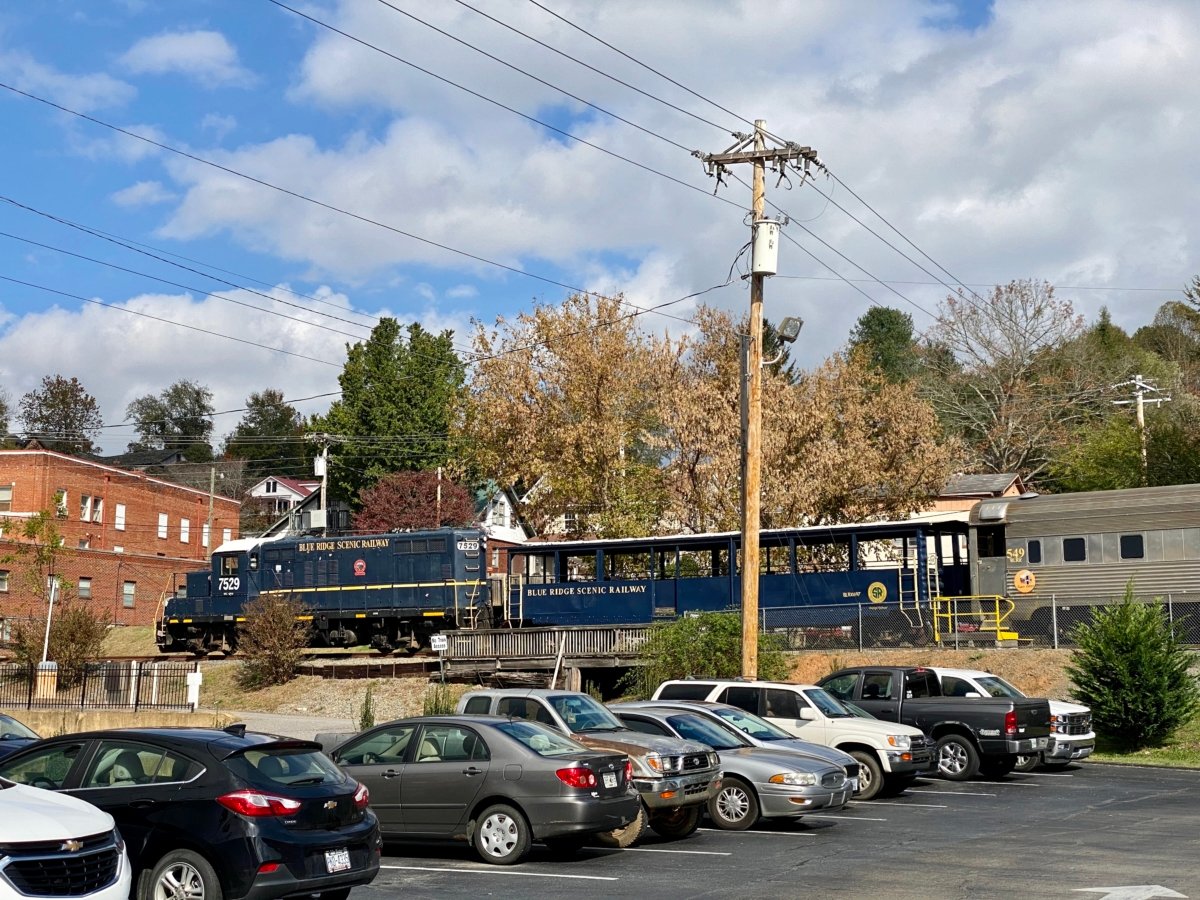 Passengers have a two-hour layover in McCaysville, Georgia, and its sister city of Copperhill, Tennessee.
There is no rhyme nor reason to the layout of the conjoined municipalities. The Georgia-Tennessee state line cuts through streets, sidewalks, parking lots, buildings, businesses, and even a church.
Imagine having dinner or attending Sunday services with someone who is under the same roof, yet sitting in another state . . . .
It is a novelty, and perhaps not as impressive as straddling the Prime Meridian, but even so, standing in two states at once makes for a fun photo op!
The state line crosses the river just north of the 1911 Bridge Street Bridge, and Georgia's Toccoa River becomes the Ocoee River in Tennessee.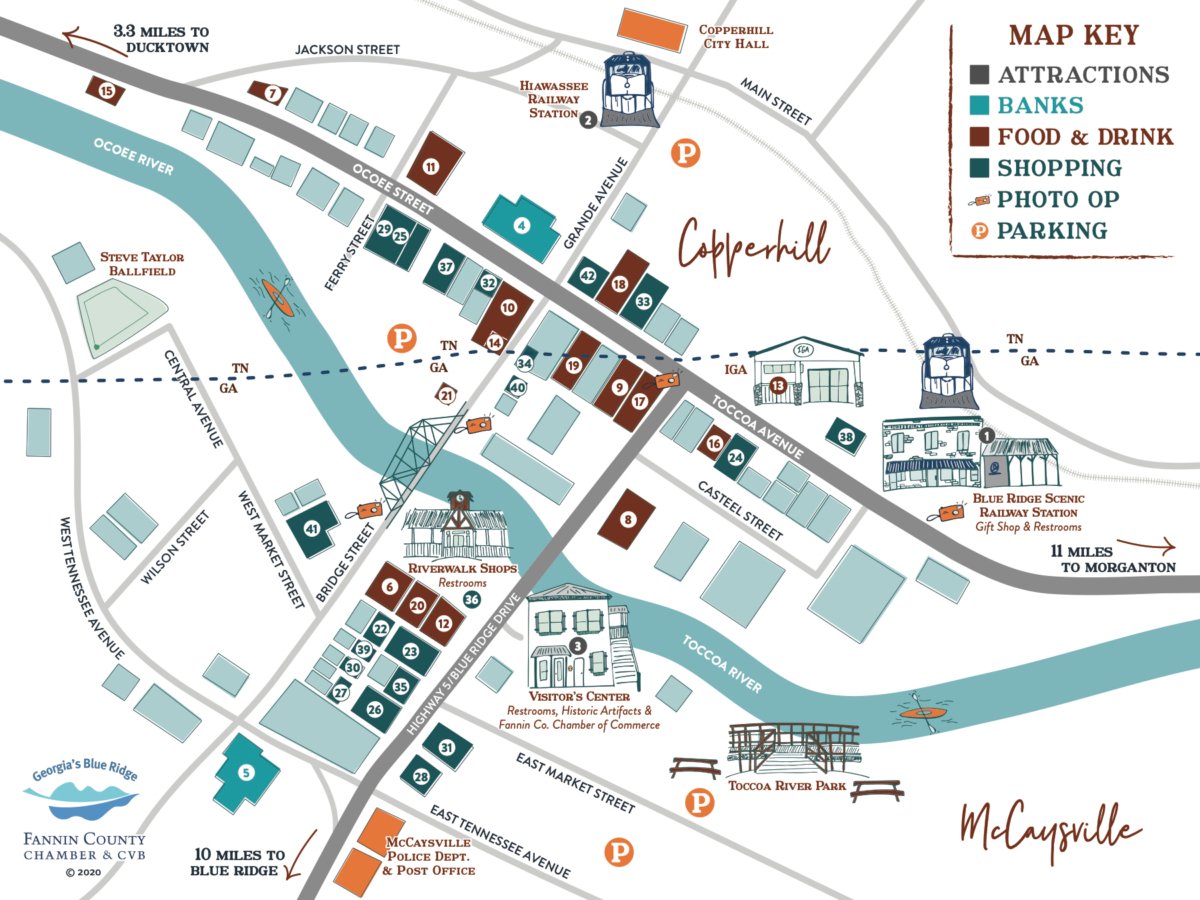 Railcar hosts distribute print copies of the above map to guests prior to off-boarding in McCaysville, but do yourself a favor and download a PDF copy in advance as a resource for planning your two-hour layover. The brochure includes a key to restaurants, shops, and services in town.
If your excursion arrives at noon like ours, I suggest you decide in advance where you would like to eat lunch and make a beeline for it. Some of the more popular restaurants had lines out the door, and we spent a good bit of time deciding where to eat.
Note: Copperhill has a station for the Tennessee Valley Railroad, another scenic heritage railway that originates in Chattanooga and Etowah, Tennessee.
---
McCaysville to Blue Ridge
---
With only two hours to spend in town, it is wise to keep an eye on the clock and begin making your way back to the McCaysville station for the return trip.
Because there is no turntable or siderail for repositioning the engine for the return to Blue Ridge, the train is equipped with two engines, one at each end.
A highlight of the rail excursion is crossing the 1926 Toccoa River Bridge. The views are lovely, and the historic steel structure is a step back in time.
Although the rail route between McCaysville and Blue Ridge is the same going and coming, the change in direction and angle of the sun allow guests to view the mountain landscape in a different light.
You may want to mix it up and sit on the opposite side of your railcar for the return trip.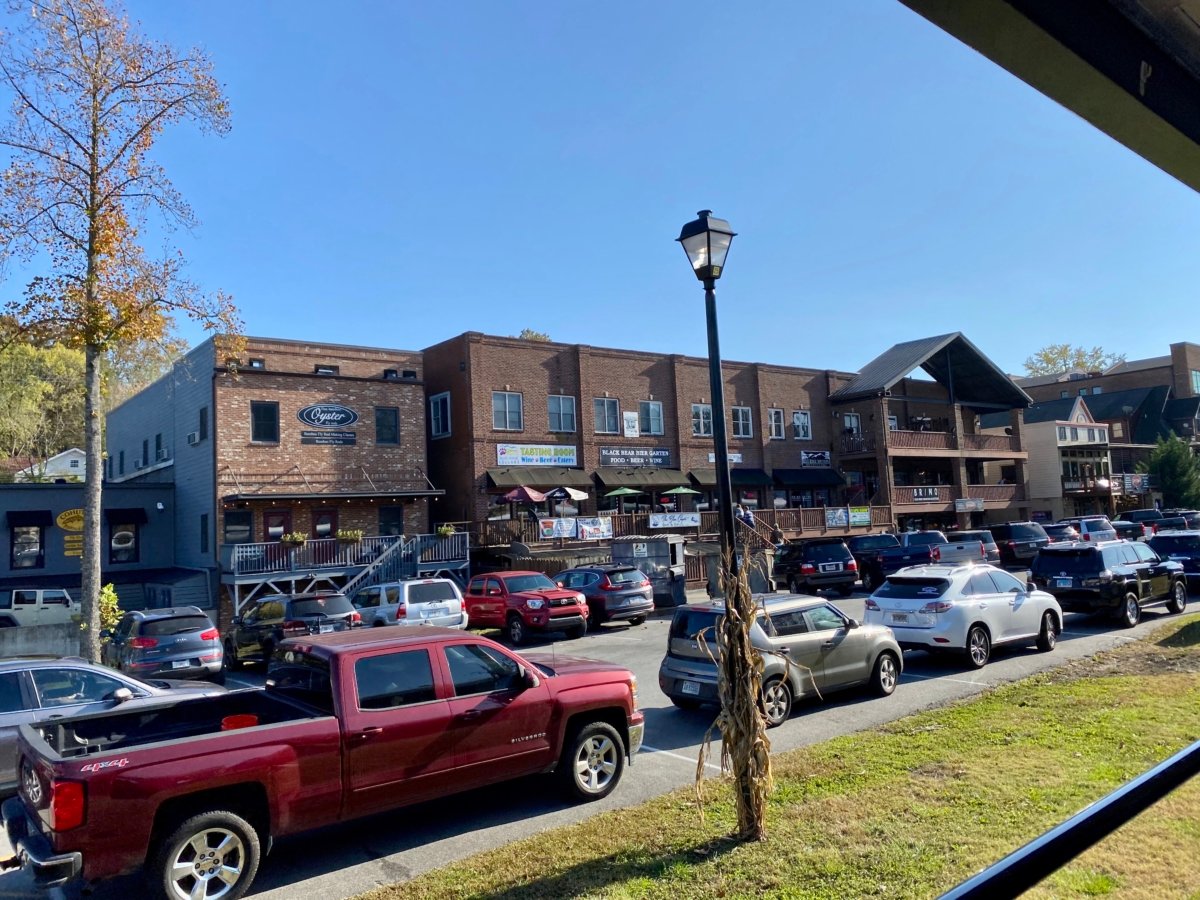 If you plan to explore, shop, or eat dinner in Blue Ridge or elsewhere in Fannin County, you will find a wealth of downloadable PDF resources on the Georgia's Blue Ridge Self-Guided Tours and Maps webpage.
---
Planning Your Trip
---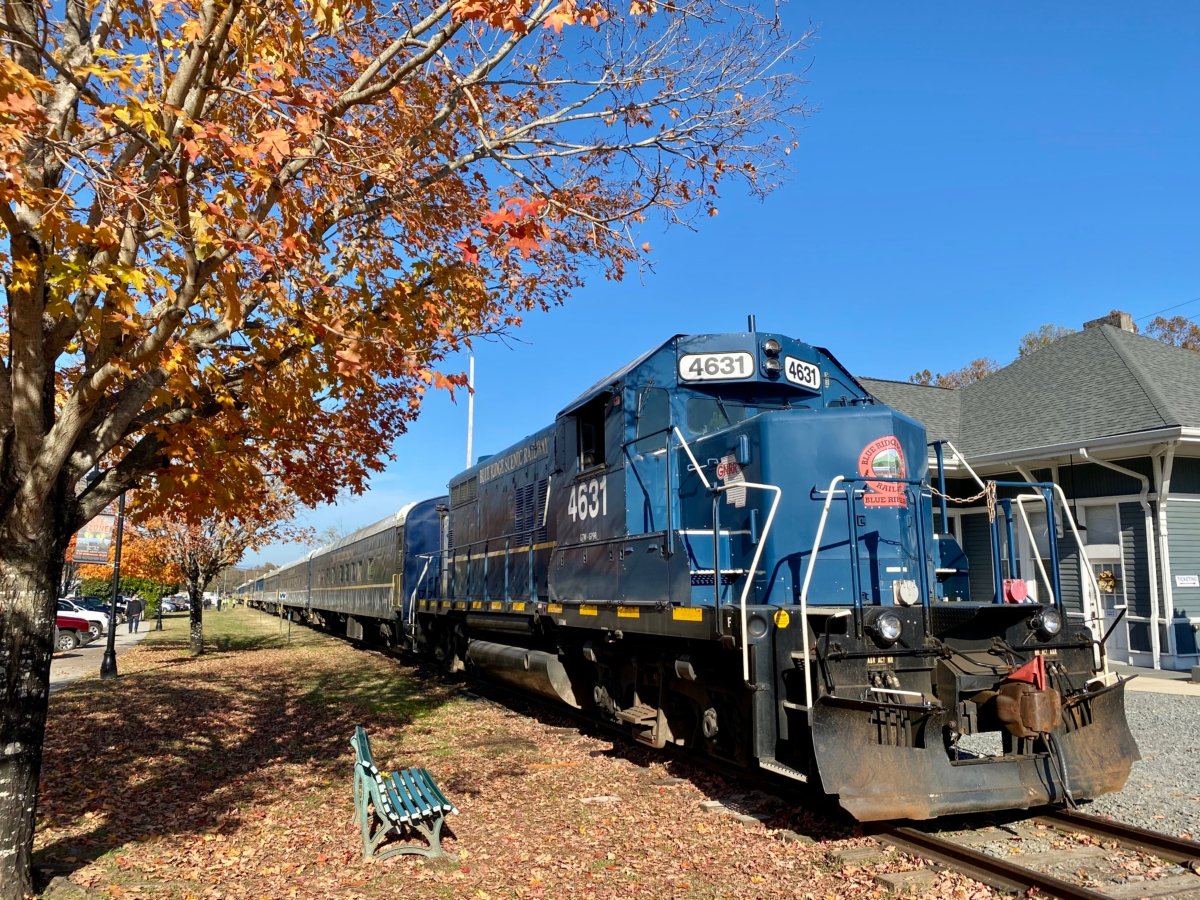 The best way to book your excursion on the Blue Ridge Scenic Railway is to purchase advance tickets online.
Digital calendars display special events and varying schedules to assist guests with selecting the best dates and times for their trips.
Guests may purchase same-day tickets at the depot, if available, but it is best to buy tickets early, especially if you want to book your excursion during the peak fall season or on weekends.
A handicap-accessible coach is available, fully equipped with stair and lift access, and an accessible restroom. Reservations for this car can be made by calling 877-413-8724.
---
Lodging
---
PInebox, my North Georgia mountain cabin is situated 16 miles from Blue Ridge, and is available for booking on Airbnb. We would love to host you for your annual vacation or weekend getaway!
Click here for more Blue Ridge lodging options on TripAdvisor!
---
North Georgia Destinations & Scenic Railways
---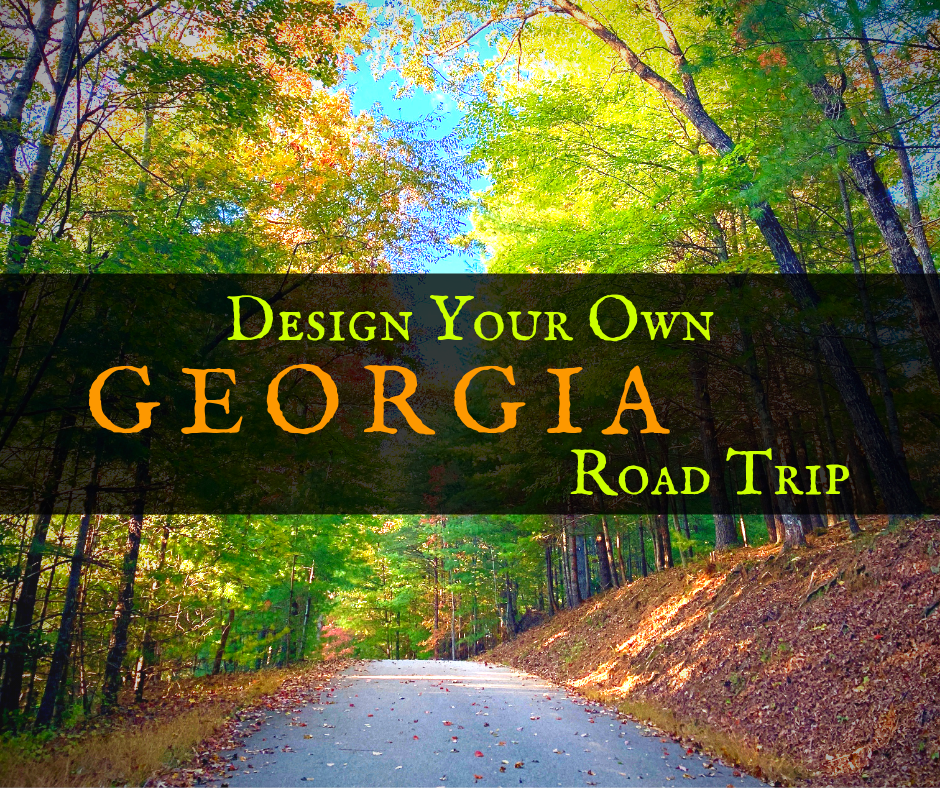 Our Design Your Own Georgia Road Trip resource links to all of Backroad Planet's Georgia content statewide.
You can also navigate directly to some of our North Georgia regional posts:
More journeys by rail on Backroad Planet:
---
We Would Love to Hear From You
---
We enjoy dialogue with our readers, especially when they share off-the-beaten-path destinations and useful travel tips. Have you experienced a Blue Ridge Scenic Railway excursion? If so, we would love to hear about your experience. We invite you to leave your comments and questions below, and we always respond!
---
Pin this Post!
---