(a

24

minute read)
---
Backroad Planet's exclusive guide to the Rocky Mountaineer train features a wealth of insider tips for planning, booking, and embarking on the rail journey of your dreams through the Canadian Rockies.
---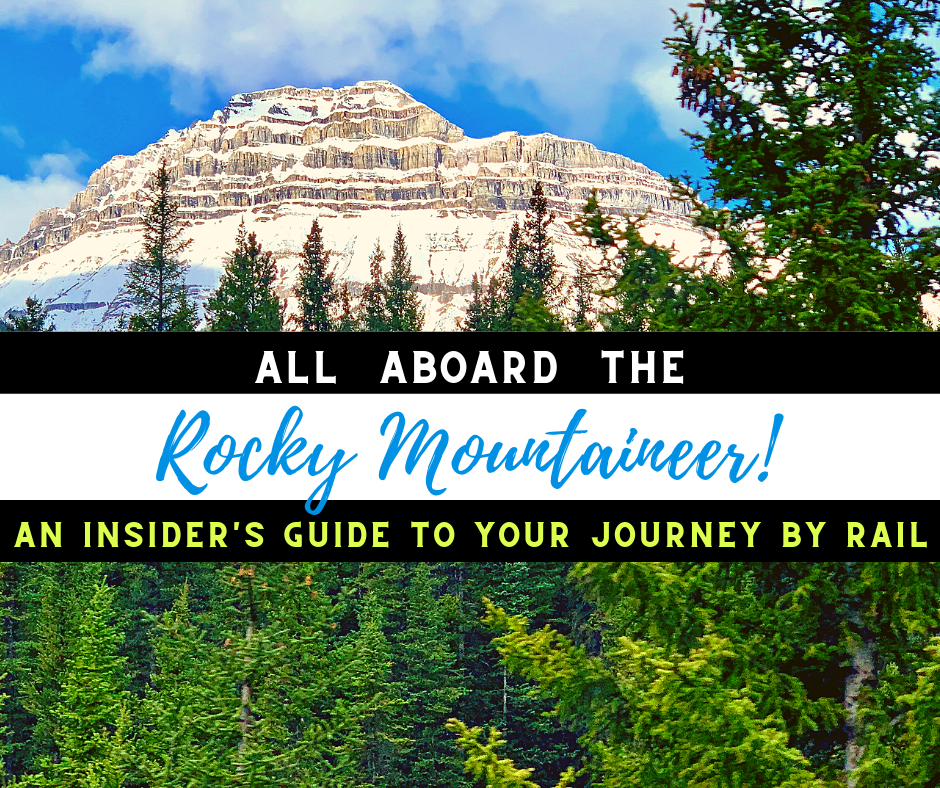 I was a guest of Rocky Mountaineer, but all thoughts and opinions are my own.
---
All Aboard the Rocky Mountaineer Train!
---
In 1990, the very first Rocky Mountaineer train left the station on it inaugural journey through the Canadian Rockies.
Since then, the brand has expanded to become "the largest privately-owned luxury tourism train company in the world," setting records and winning countless awards and accolades for exceptional service and experiences.
It is pretty safe to say there is no better way to experience otherwise-inaccessible regions of Alberta, British Columbia, and Washington State than from the comfort of a domed railcar.
The engineering wonder that is the Canadian Pacific Railway immerses Rocky Mountaineer train passengers in a 360° panorama of breathtaking beauty with winding rails along steep mountainsides, through spiraling tunnels, and across stately bridges.
Picture yourself surrounded by soaring mountain peaks, verdant forests, plunging waterfalls, raging rivers, deep canyons, diverse wildlife, pleasant valleys, and endless sky.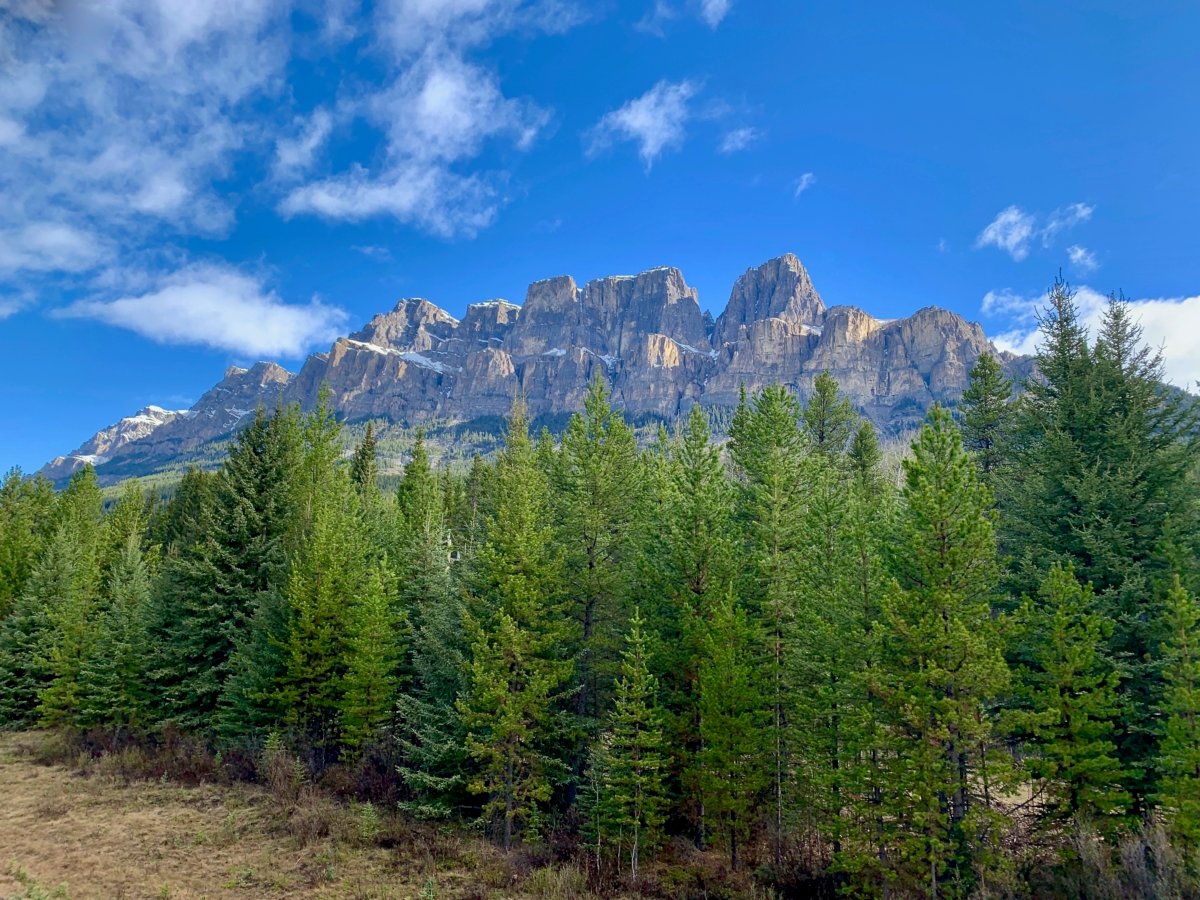 What's not to love?
My first Rocky Mountaineer rail journey was a 4-day/3-night Gold Leaf First Passage to the West route from Banff to Vancouver in the month of May. This guide is based on my experiences while traveling that route.
Between gawking at gorgeous scenery and enjoying stellar food and beverage service, I jotted down notes destined to become insider tips for this guide. Some of them are informational tidbits, some are my suggestions, and others defy description.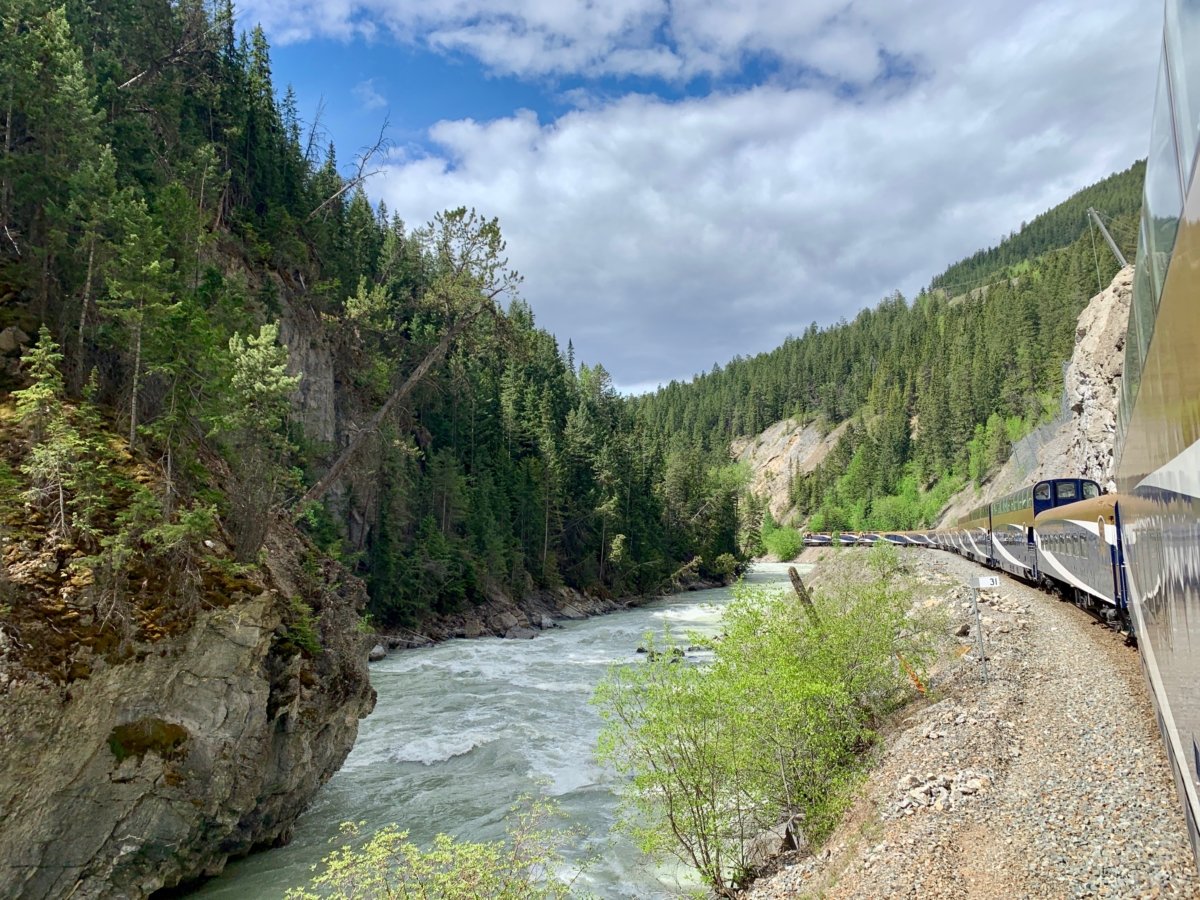 Note: This guide to planning, booking, and embarking on a Rocky Mountaineer journey by rail may or may not be a post you will want to read from beginning to end. Please consult the table of contents below and navigate to the topics that interest you.
If you are actively planning a rail journey, you may want to bookmark the link to this post and return to it as needed.
Please feel free to reach out to us with any questions you may have in the comments section below. We are eager to assist you, and we always respond!
---
The Rocky Mountaineer Demographic
---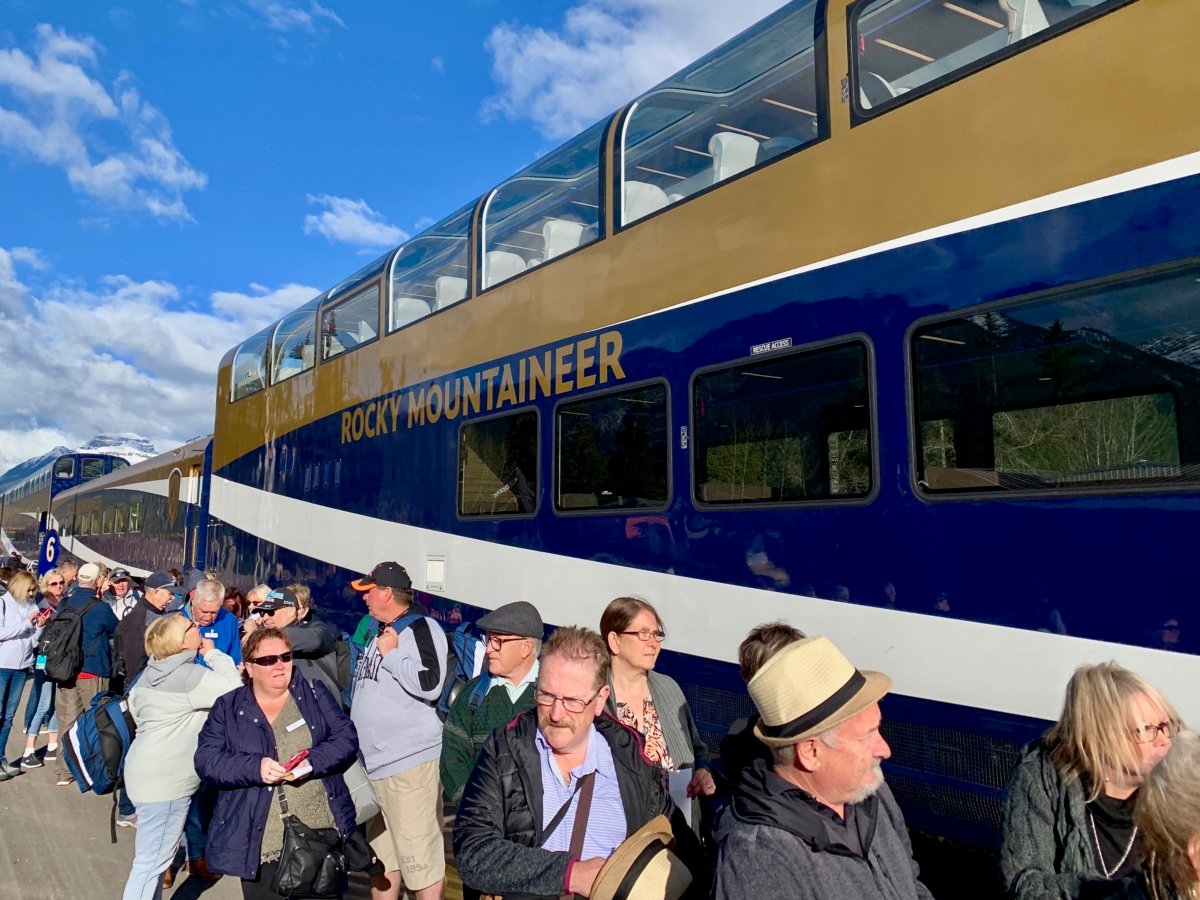 • Demographics
The Rocky Mountaineer guest demographic is virtually identical to that of luxury ocean and river cruisers—age 50+, married, and retired.
• Demographics do not apply to you.
But don't let yourself be defined by a demographic. There were 20-, 30-, and 40-somethings in my railcoach, and several solo guests, as well. Guests of every persuasion are welcome on the Rocky Mountaineer.
• No Single-Supplement Fee
The good news is that Rocky Mountaineer does not charge a single-supplement for solo travelers, unlike most cruise lines. Because guests occupy individual seats during travel, there is no need for a stateroom double-occupancy requirement.
• Children
Also unlike some luxury cruise lines, children are allowed on the Rocky Mountaineer train. But it is not encouraged. Most children would get restless, bored, or mischievous within the confines of a railcar. Some young people, however, may enjoy the soft adventure of rail travel. Ultimately, you know your children and can determine whether a Rocky Mountaineer journey is right for your entire family.
---
Rocky Mountaineer Planning and Booking
---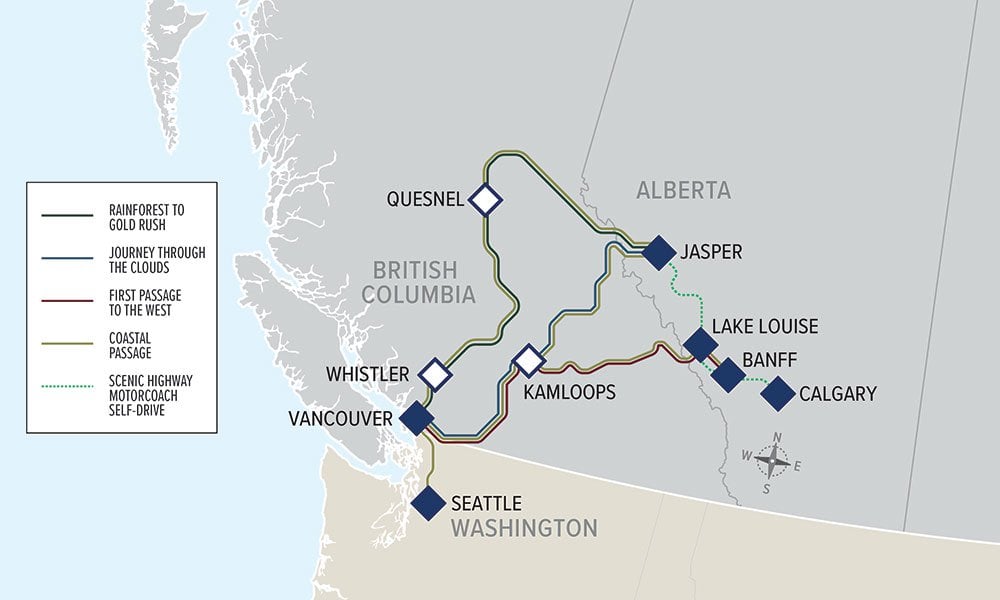 I am a traveler who enjoys dreaming, researching, and planning trips almost as much as taking them, and I assure you that a journey aboard a Rocky Mountaineer train will be a memorable travel event in your life
Now, let's get started designing the rail journey of your dreams . . . .
When planning Rocky Mountaineer train travel there are several considerations that will help you design an experience tailored to your schedule, interests, and budget.
Research
---
Here are some tips for gathering information, booking your trip, and preparing for departure.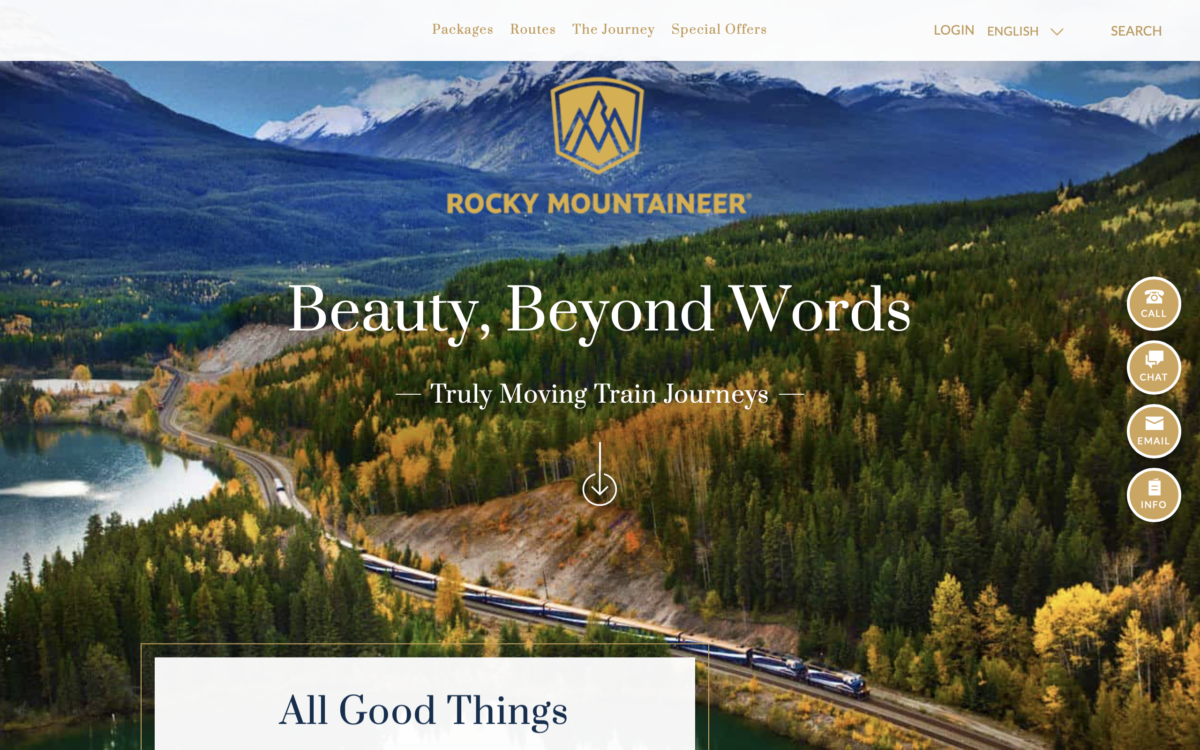 • Visit the Rocky Mountaineer website.
Browsing the Rocky Mountaineer website is a great way to see what is possible and fuel your wildest dreams. While in the research stage, I recommend that you navigate to the FAQ webpage, that not only provides answers to common questions, but also suggests questions you never thought to ask.
• Read the Rocky Mountaineer blog.
The Rocky Mountaineer blog features stories, photos, and videos by travel professionals that elaborate on all aspects of the rail experience.
• Find Rocky Mountaineer on social media.
Follow Rocky Mountaineer on Facebook, Twitter, Instagram, YouTube, and TripAdvisor, and use the #RockyMountaineer hashtag to interact with past and current guests, and brand representatives.
• Subscribe to the Rocky Mountaineer newsletter.
When you sign up for Rocky Mountaineer emails, you will be the first to receive the latest news, promotions, and special offers.
• Contact a Rocky Mountaineer Vacation Consultant
You can contact a Rocky Mountaineer Vacation Consultant via phone, email, snail mail, or my favorite—an online chat.
• Order a Rocky Mountaineer brochure.
The best way to put the most information at your fingertips is to order a print brochure. This full-color publication is 100+ pages chock full of stunning photography, route descriptions, daily itineraries, schedules, and much more. While you are waiting for your print copy to arrive, be sure to download an e-brochure for immediate access on your mobile devices.
---
When it comes to planning Rocky Mountaineer train travel, there are 4 things you should know right off the bat:
Rocky Mountaineer trains run from mid-April through mid-October.
Rocky Mountaineer guests do not sleep on the train.
Rocky Mountaineer does not book flights.
Rocky Mountaineer does book car rentals.
Rocky Mountaineer suggests a logical planning sequence to help you design your itinerary in four easy steps.
Understand that rates vary depending on the journey you choose, the time of year you travel, and the level of service you select.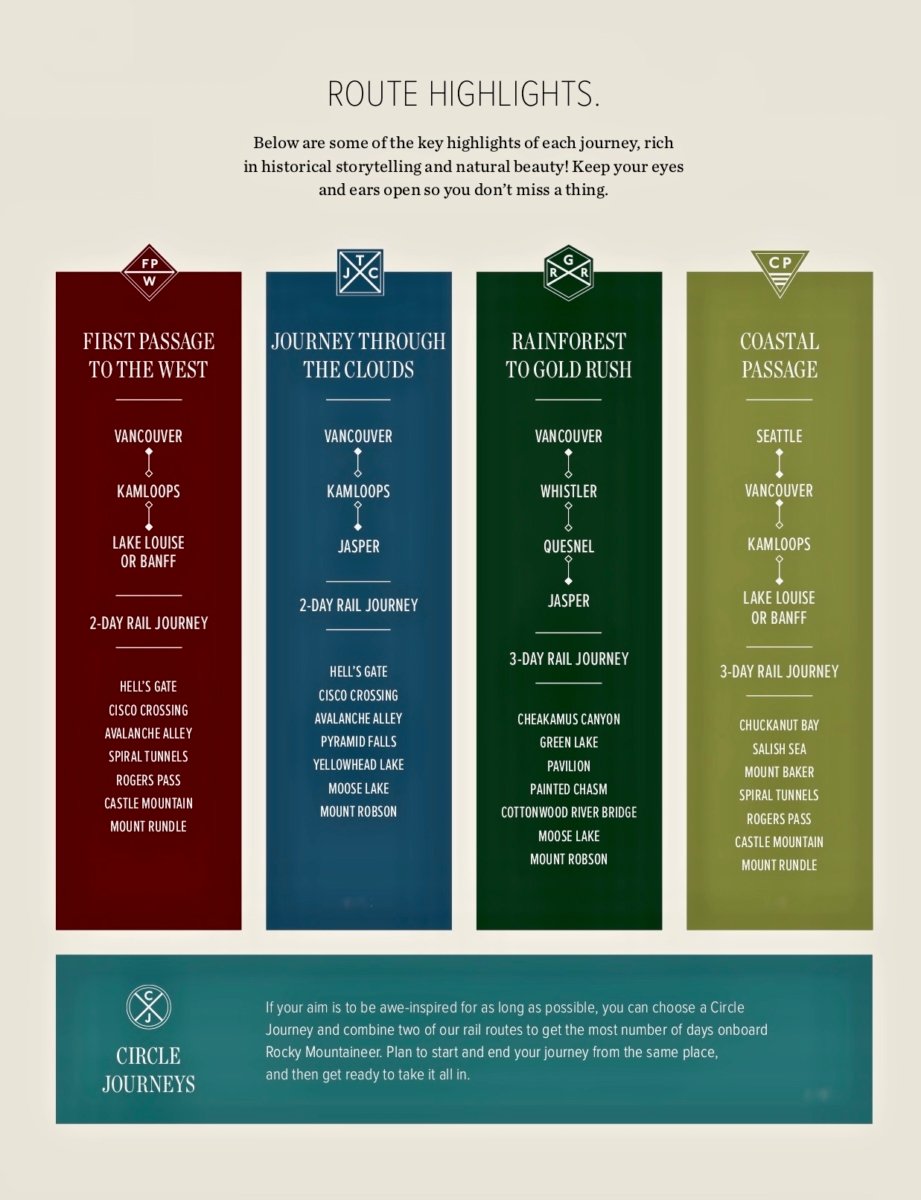 1) Choose Your Journey
There are four basic routes to consider when choosing your journey:
3-Day Rail Journeys

Coastal Passage: Seattle > Vancouver > Canadian Rockies
Rainforest to Gold Rush: Vancouver > Whistler > Quesnel > Jasper

2-Day Rail Journeys

Journey through the Clouds: Vancouver > Kamloops > Jasper
First Passage to the West: Vancouver > Kamloops > Lake Louise > Banff
Routes indicate the actual number of days you spend on the train, but your complete itinerary will be determined when you choose your package in step 4 below.
Keep in mind that most routes travel between destination cities in two directions, so you will need to choose which direction (eastbound/westbound) you prefer.
2) Choose Your Service Level
Next you need to choose whether you will opt for SilverLeaf or GoldLeaf Service.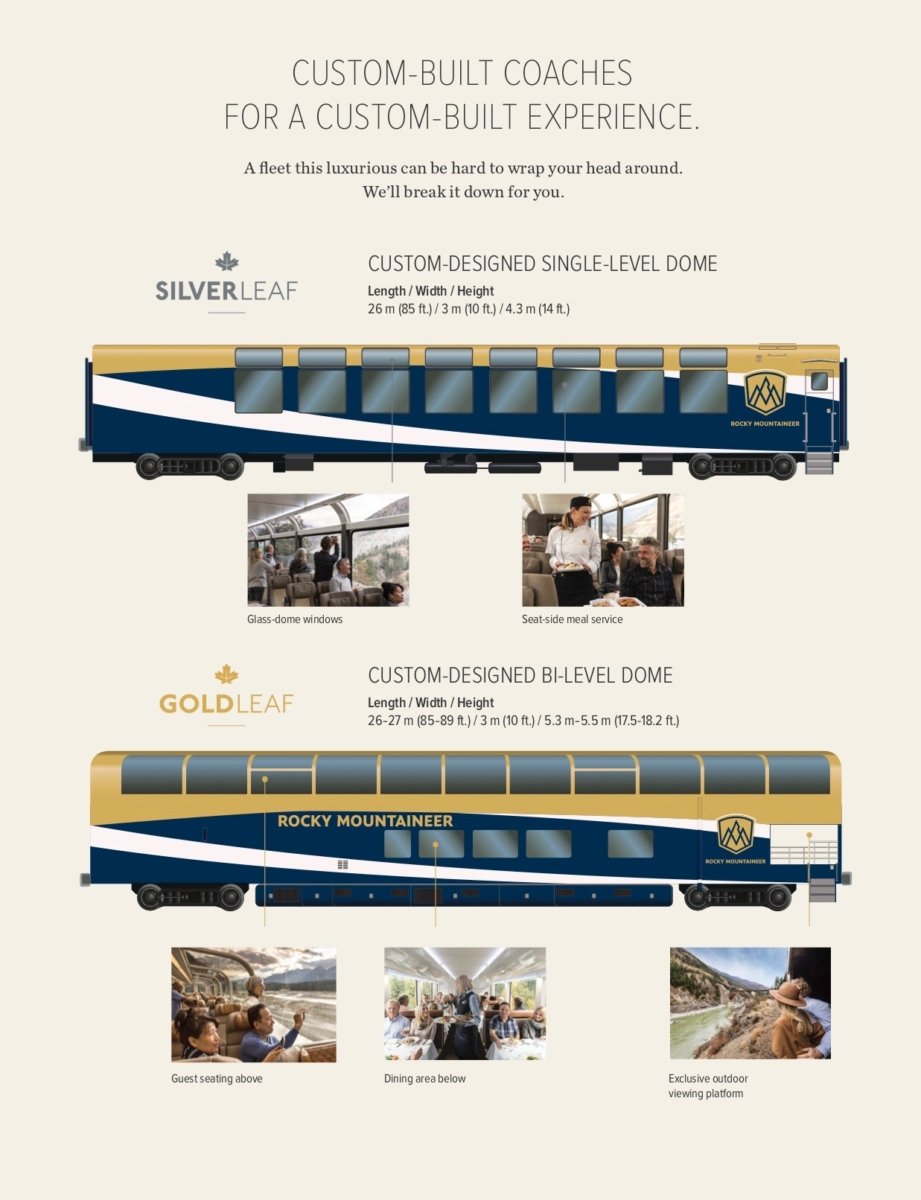 Both services provide luxury experiences. If you are on a budget, you may opt for SilverLeaf Service, but if you can afford to splurge, go with GoldLeaf Service. Consult the Rocky Mountaineer website or brochure to view comparisons between the two services.
3) Choose Your Season
There are a several considerations when choosing your season of travel:
Your schedule: When are you available to travel?
Pricing: Spring and fall shoulder seasons are more economical.
Tourists: Destination cities are less crowded in spring and fall.
Temperatures: Do you prefer traveling during warmer or cooler weather?
When contemplating the best season for scenery and wildlife, you can bet the Canadian Rockies will never disappoint. However, there are a few seasonal differences of importance to some travelers.
Spring: Due to snowmelt, spring is the optimal season for rivers and waterfalls, although some lakes may still be frozen. Bears emerge from hibernation and birds are nesting. Hardwood trees are beginning to leaf out.
Summer: Vegetation is lush, and baby animals may be more active.
Fall: There is autumn color on hardwood trees, but do not expect a New England display. Evergreen conifers are the dominant trees in the Rockies. Animals are foraging for winter.
4) Choose Your Package
The real fun begins when choosing your package, because you get to explore your options, and you can envision your Rocky Mountaineer rail journey becoming a reality.
As with previous planning steps there are some considerations:
Total Price: How much do you plan to spend on your travel package?
Trip Length: How many total days do you plan to travel? How long would you like to spend at destinations?
Activities: Will you join group excursions, explore on your own, or opt for an adrenaline-junkie adventure?
Add-Ons: Do you want to schedule a transfer, add a dining experience, book a rental car, an Alaska cruise, a resort stay, or various other upgrades?
Booking Your Rail Journey
---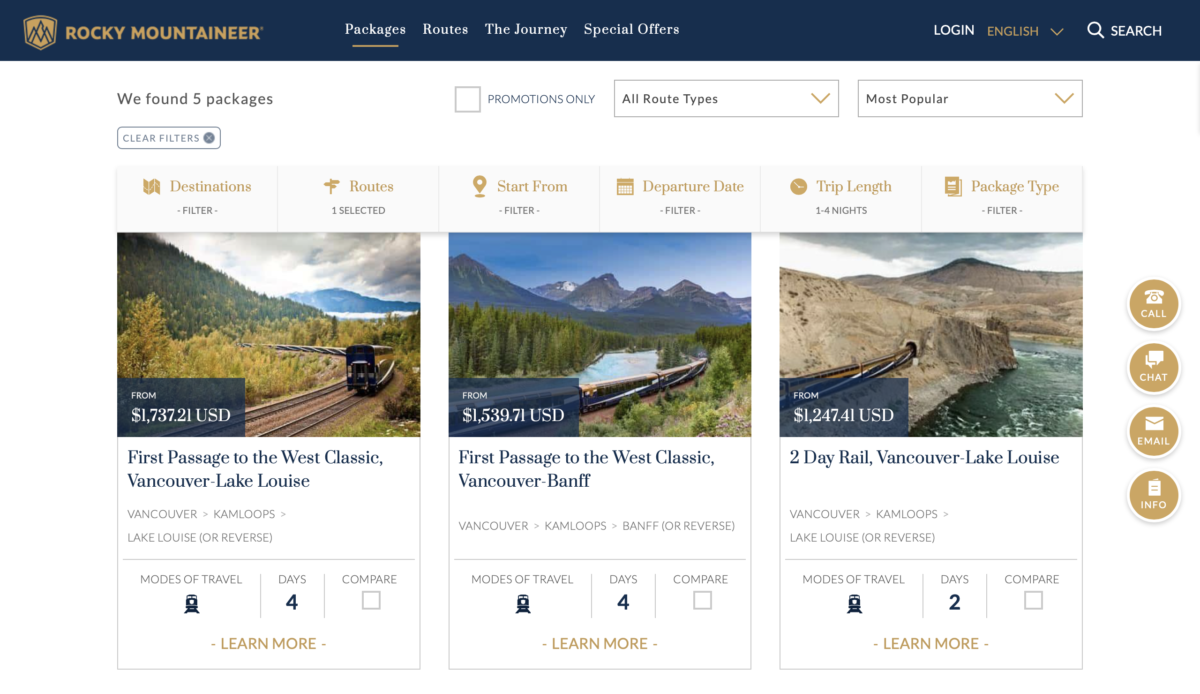 There are three main ways to book your journey on the Rocky Mountaineer train.
Book Online: I recommend booking online because there are so many interactive filtering and comparing options. Case in point, there are 52 different packages that include the First Passage to the West route.
Book by Phone: If you would rather speak with someone who can answer your questions and walk you through the booking process, experienced Rocky Mountaineer vacation consultants are available daily at varying hours.
Book through a Travel Agent: If you prefer working through a travel agent in person or by phone, that option is also available to you.
While booking your trip, be sure to make arrangements for airport, hotel, and train station transfers.
Depending on the vacation package you select, your travel documents will either be delivered to you prior to leaving home, at your first hotel, or at the train station.
---
Booking Flights
---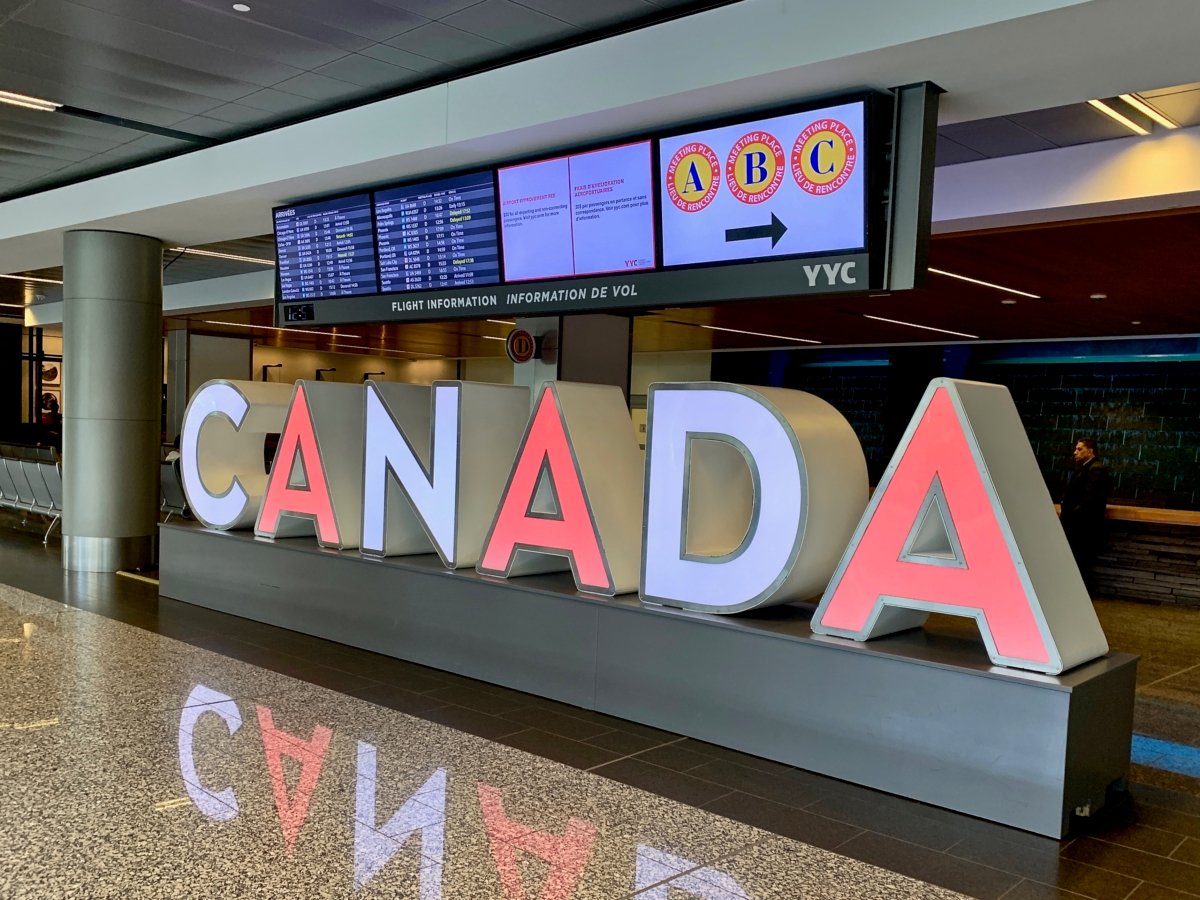 As mentioned previously, Rocky Mountaineer does not book flights. Although they can make arrangements for transfers, you will need to book your flights separately.
Unless you are doing the Grand Rail Circle journey, you will not be booking round-trip flights. You will need to book multi-city flights to and from your departure and destination cities.
The nearest international airports to Rocky Mountaineer stations are:
Calgary International Airport (YYC): Closest to Banff and Lake Louise.
Vancouver International Airport (YVR): Closest to Whistler.
Edmonton International Airport (YEG): Closest to Jasper.
It is important to schedule flights to arrive at least one day before departure on the Rocky Mountaineer and one day after arrival to allow a cushion between connections. Rocky Mountaineer trains share rails and intersect with other lines, so unforeseen delays may occur.
---
Rocky Mountaineer Destination City Resources
---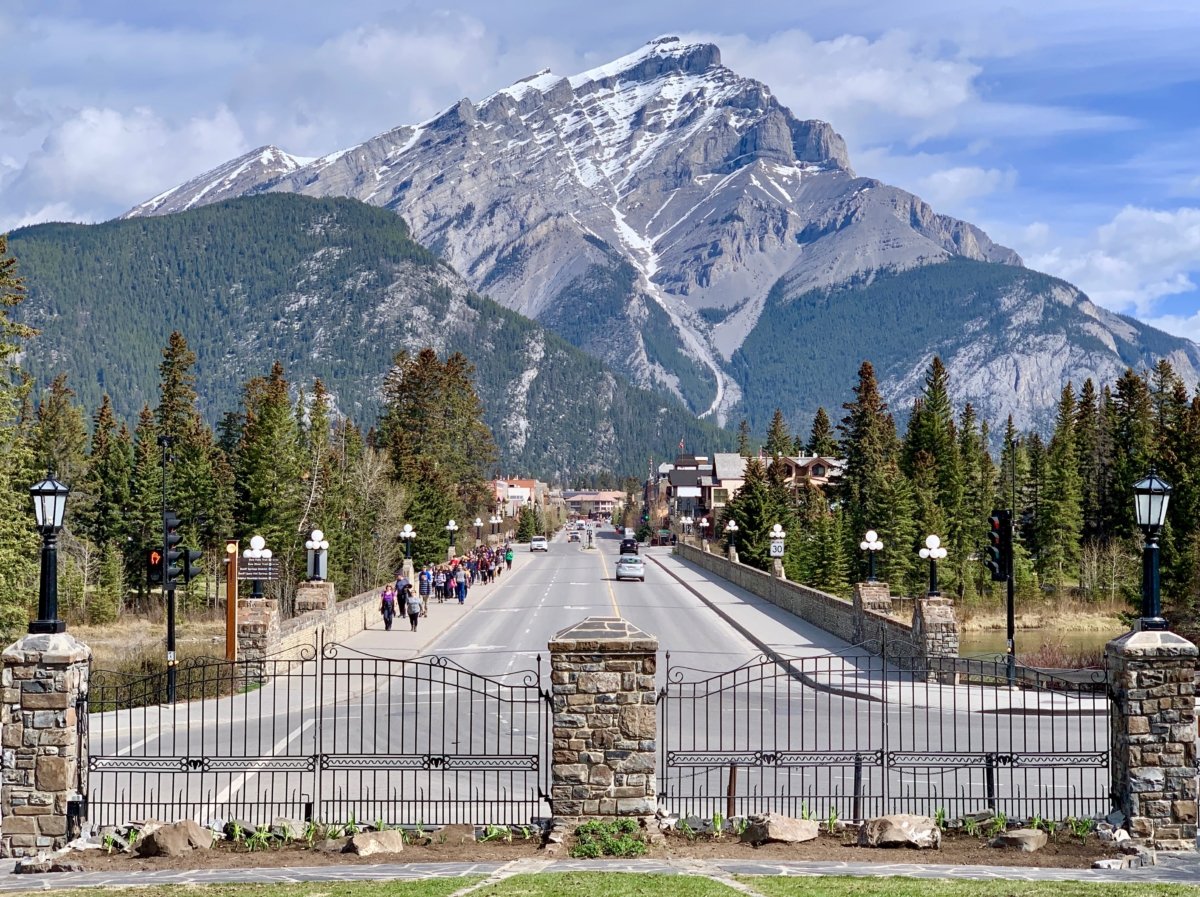 If you plan to explore destination cities on your own, you will want to research your options for attractions, meals, and other activities.
The Rocky Mountaineer Destination City Resources webpage provides contact information for local tourism boards to help you locate online information and order print publications.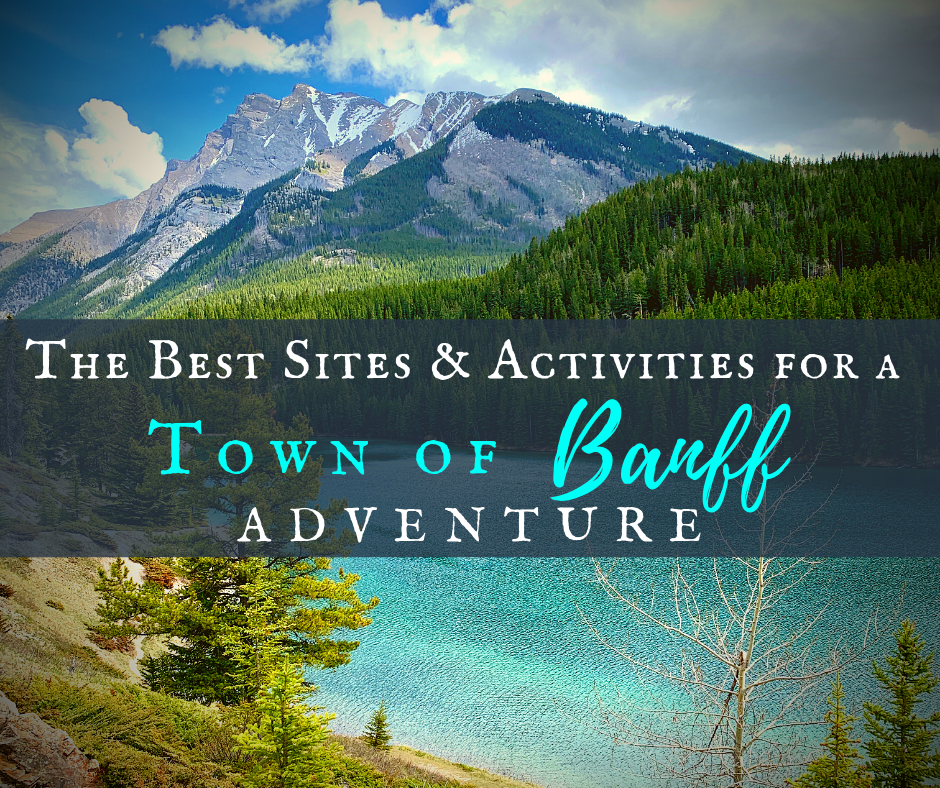 Be sure to check out Backroad Planet's guide to the Town of Banff for photos and information on many of the foremost scenic locations, historical sites, outdoor activities, and dining outlets in the Canadian Rockies.
We've also got you covered with a guide to touring the best of Vancouver, including the breathtaking Capilano Suspension Bridge Park, Grouse Mountain, Stanley Park, and Granville Island.
---
Packing for the Rocky Mountaineer Train
---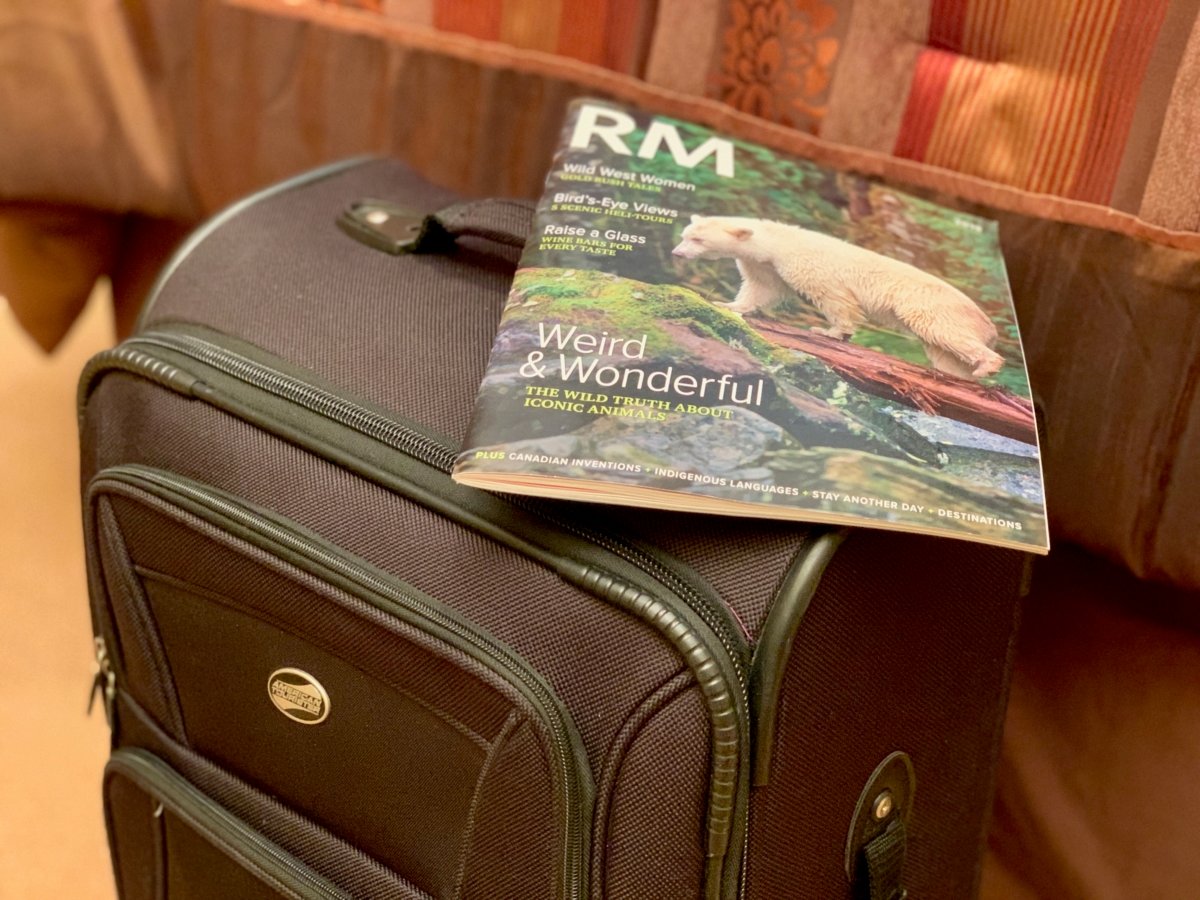 I may not the best packing consultant—especially for the ladies—because I always travel as light as possible, even during winter and fall. That said, I do have some packing suggestions for your Rocky Mountaineer adventure.
• Passport and Travel Documents
If you are traveling from outside Canada you will need a passport, and you will need printed copies of your travel documents. Be sure to review the passport and visa requirements and the entire Preparing to Go webpage. You can also download a printer-friendly PDF of this guide.
• Pack for the train and destinations.
Remember that you are packing for a climate-controlled railcoach, but you are also packing for activities at your destinations.
• The train is luxurious, but the dress is casual.
Unless you are making fine dining reservations, you will not need to pack any formal or semi-formal attire. In fact, you may not even need business casual attire. Even though you will be riding a luxury train, you should dress for comfort.
• Consider the seasonal temperatures.
Various online weather outlets can provide you average seasonal highs and lows for your destinations, or you can consult the handy Average Daily Temperatures chart on the Rocky Mountaineer website.
• Wear layers.
You will be visiting destinations with a wide range of high and low temperatures on any given day. When you dress in layers, it's easy to remove or add back an article of clothing to suit your comfort level.
• Bring a daypack.
You will not have access to your luggage while on the train, so you need to pack any personal items you may need in a small bag or daypack. There is no overhead or under seat storage on the train, so your bag should be small enough to fit at your feet.
Your daypack should contain your travel documents, valuables, medications, a hat and sunglasses for sunny days in the dome, a light jacket for hotel-train transfers and the train vestibule, and any other personal items you may need during the day.
• Prepare for motion sickness.
If you are prone to motion sickness you may want to bring along Dramamine or Bonine. Some people have difficulty walking after alighting from a train, similar to getting off a merry-go-round. During my trip I learned that frequent rail travelers develop "train legs" much like sailors develop sea legs.
• Bring a camera strap or lanyard.
I will elaborate in the Photography section below.
• Should I bring books, card games, or puzzles?
You will be riding a train surrounded by majestic scenery. I can't imagine why anyone would shell out money for a scenic rail vacation and then spend time entertaining themselves in a way they could while at home. That said, it's up to you!
---
Transfers, Check-In, Stations, and Boarding
---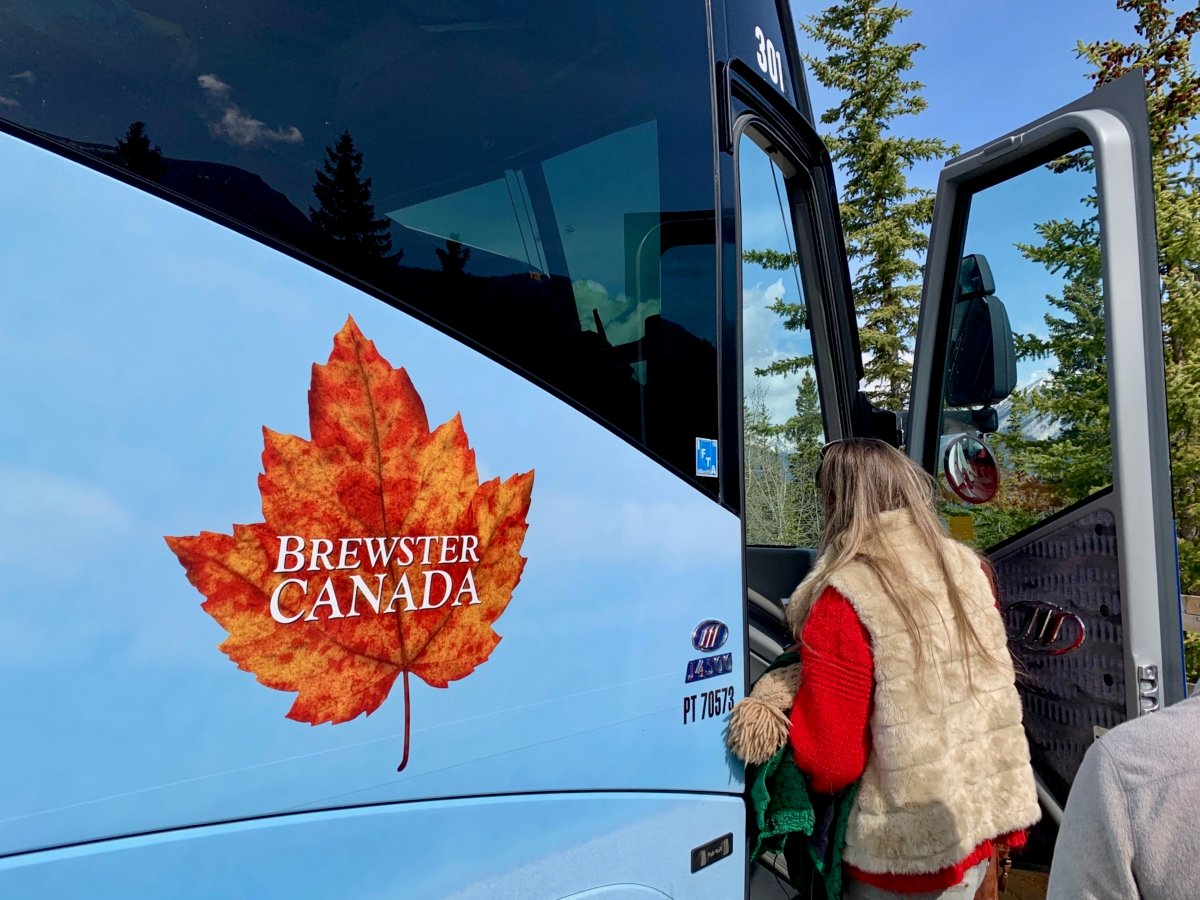 Transfers
---
While booking your trip, you should have made arrangements for all of your transfers from airports to hotels, hotels to train stations, stations to hotels, and hotels to airports. Be sure to thoroughly review your documents to ensure your transfer vouchers are printed and verify pick-up times.
Check-In
---
Advance check-in is available at most partner hotels if you booked your trip through Rocky Mountaineer. You may also check-in at partner hotels the morning of departure. If you will be checking-in at the train station, plan to arrive 45 minutes prior to departure.
• Boarding Pass
At check-in you will receive a boarding pass with your pre-assigned seat, as well as overnight accommodation information.
• Luggage
You will also receive luggage tags and information about luggage transportation and delivery during check-in.
Remember to have your onboard daypack packed and ready to go in the morning.
• Breakfast
A full breakfast will be served on the train shortly after departure, however you may want to grab a coffee and snack before leaving your hotel.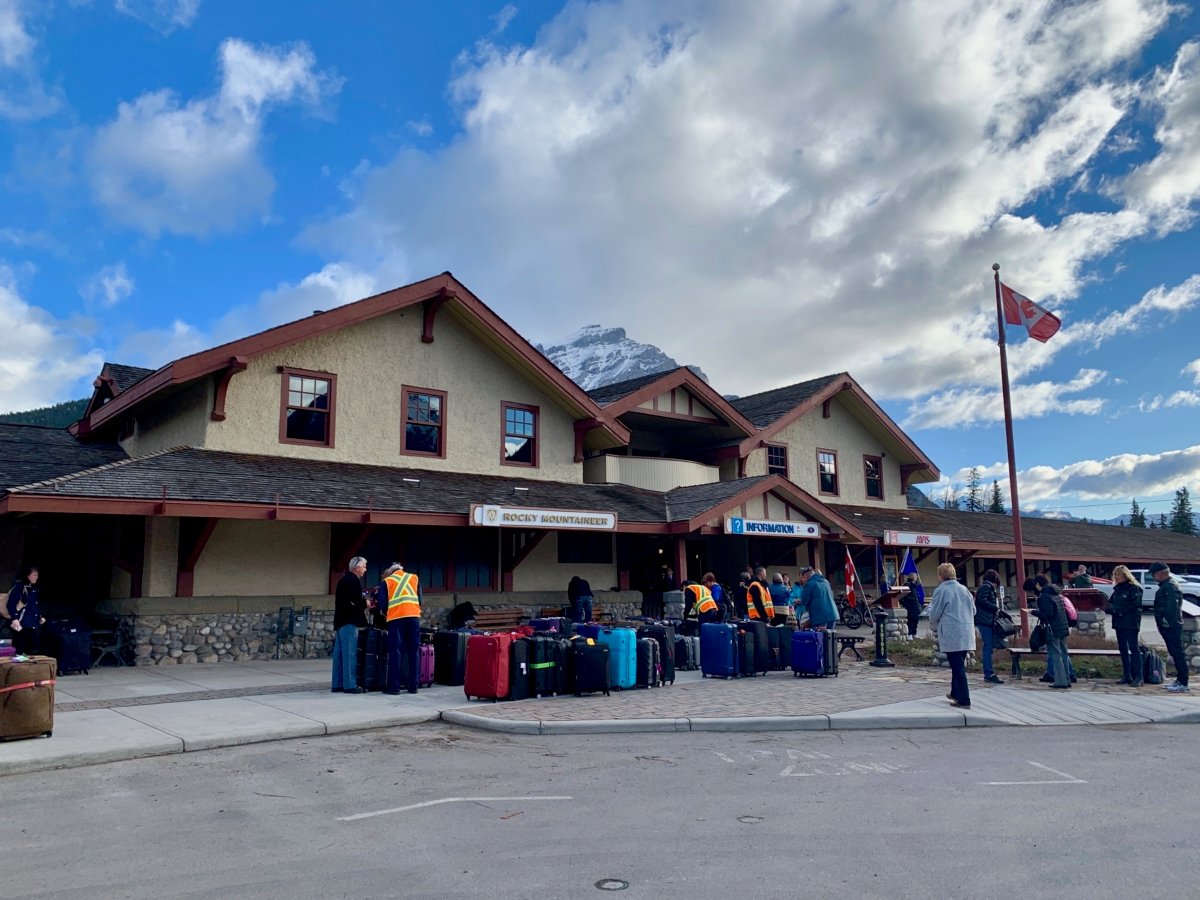 Stations
---
If you have made your own arrangements for arriving at the station, you will need to consult the Rocky Mountaineer Preparing to Go webpage or guide for station addresses, as well as check-in and boarding times.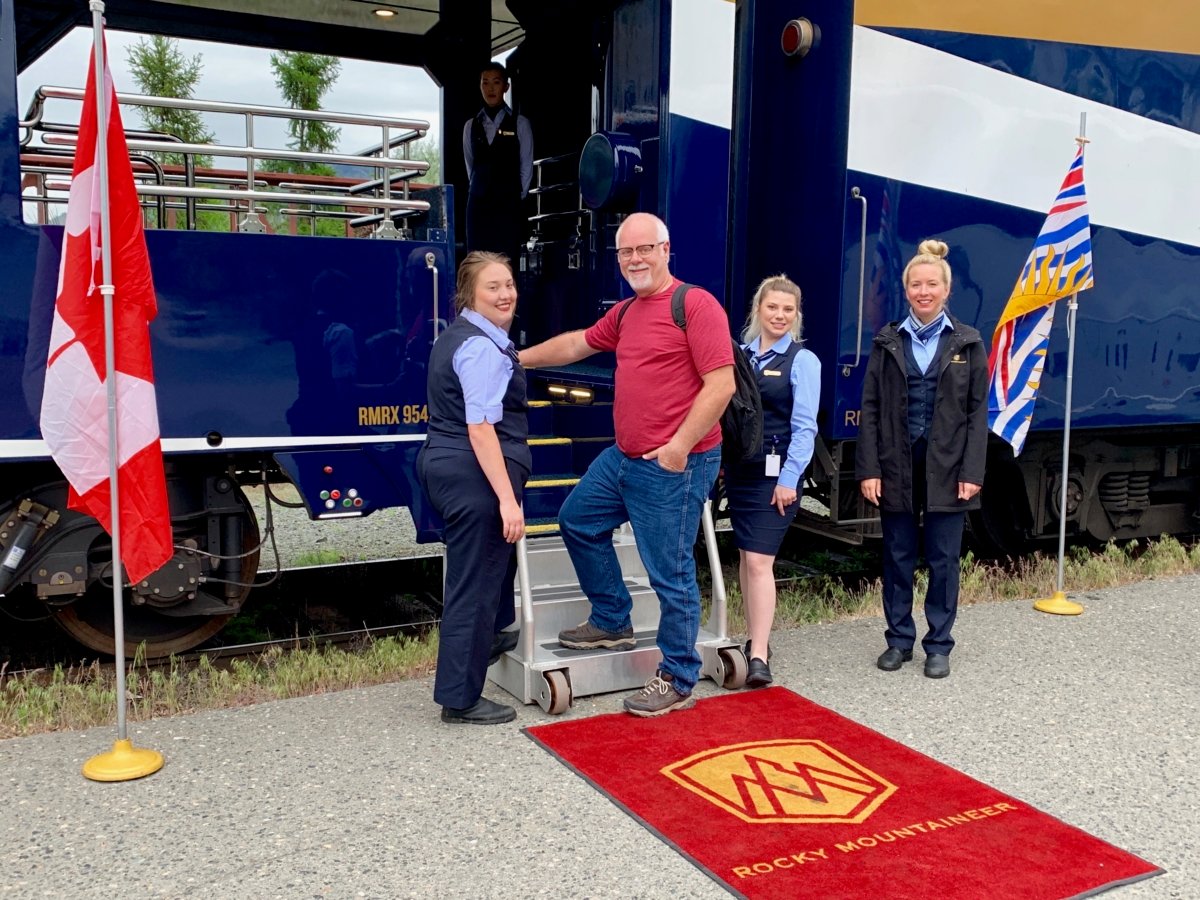 Boarding
---
Boarding is perhaps the easiest step. Rocky Mountaineer personnel at the station will direct you to your railcoach. Your boarding pass records your seat number.
• Find your seat.
Your seat is your home base, but there are no seat belts, and you are free to move around the car.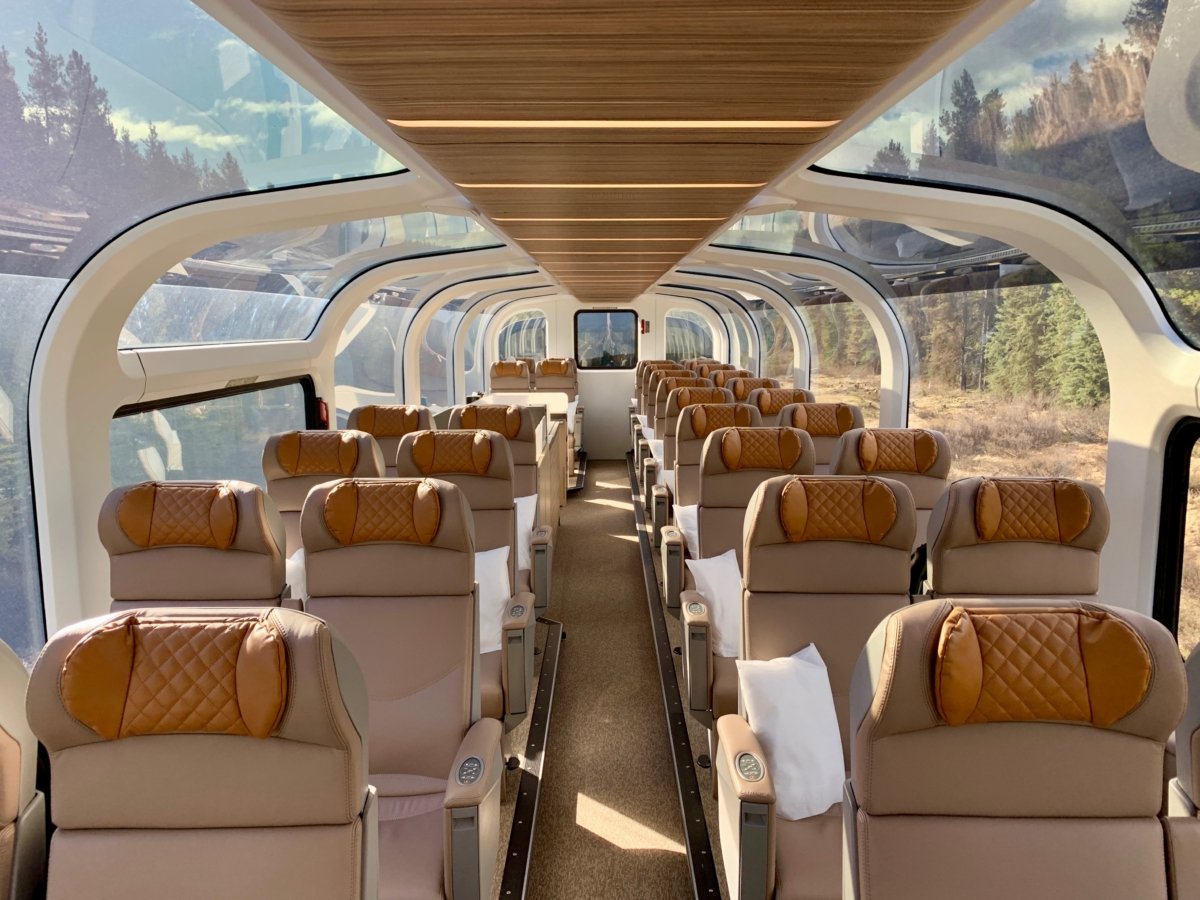 • Check for open seats.
When boarding is complete, you will want to identify open seats. I used open seats for photo ops on the opposite side of the train, and later in the journey, I settled in one of those seats to allow myself and my assigned seatmate even more space.
• Review your collateral.
"Collateral" was a new term for me, but I like it and plan to add it to my vocabulary. For readers who are unfamiliar with this definition like I was, collateral is informational print materials, such as brochures and fact sheets.
You will find three key pieces of collateral in your seat pocket: the Mile Post publication, the RM magazine, and the Rocky Mountaineer catalog for onboard purchases of branded clothing, travel gear, and mementos.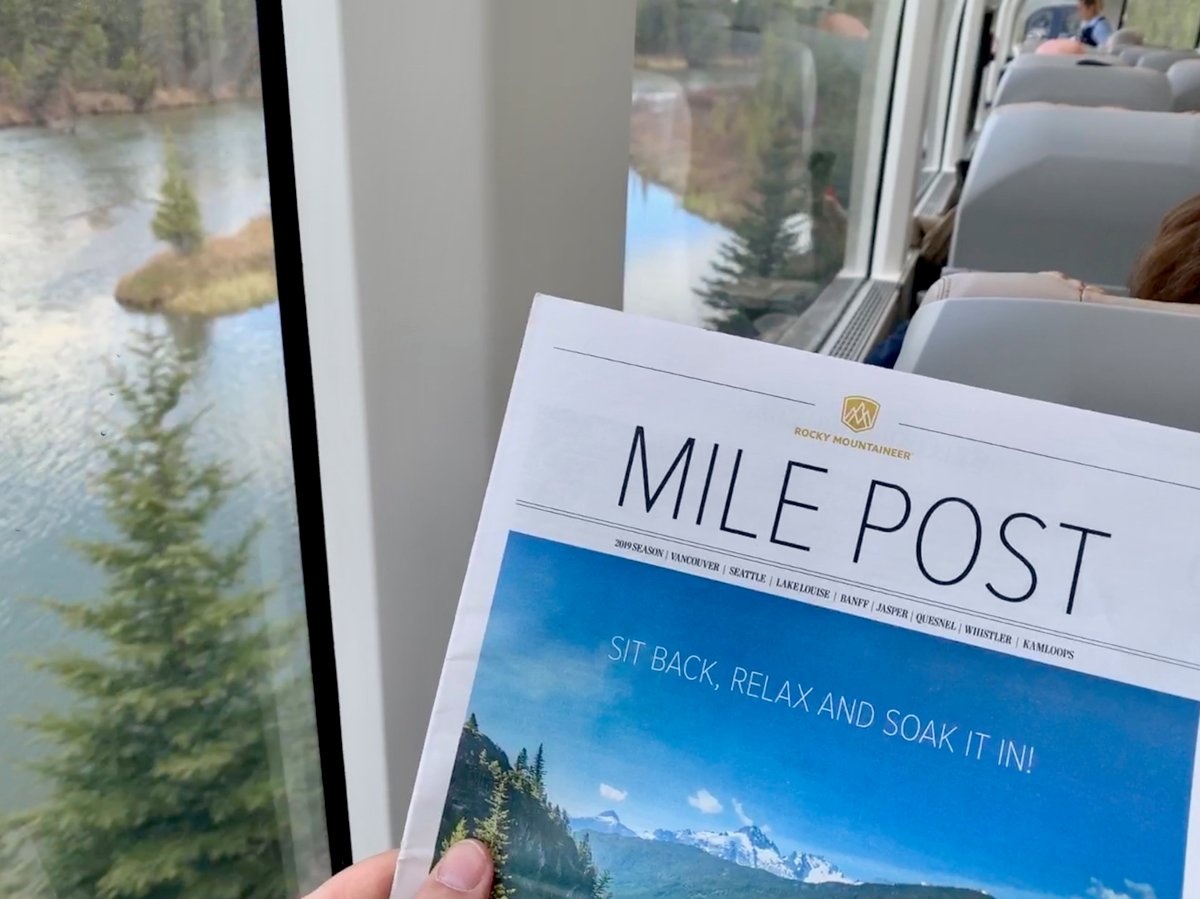 The Mile Post publication reminds me of the seasonal newspapers you get at US national parks. It is chock full of stories, history, plant and animal field guides, maps, and other juicy nuggets.
I suggest that you review the annotated mile markers in the Mile Post publication for upcoming physical, historical, and photo-worthy features you will see along your route. The sooner, the better.
I would love to have had a copy of Mile Post mailed to me prior to my trip so I could have read-up in preparation for my journey. As it was, I was torn between reading about upcoming mile markers, keeping an eye open for actual mile markers, getting my camera ready, and soaking in the scenery.
All-in-all not a bad situation.
---
Rocky Mountaineer Beverage and Dining Service
---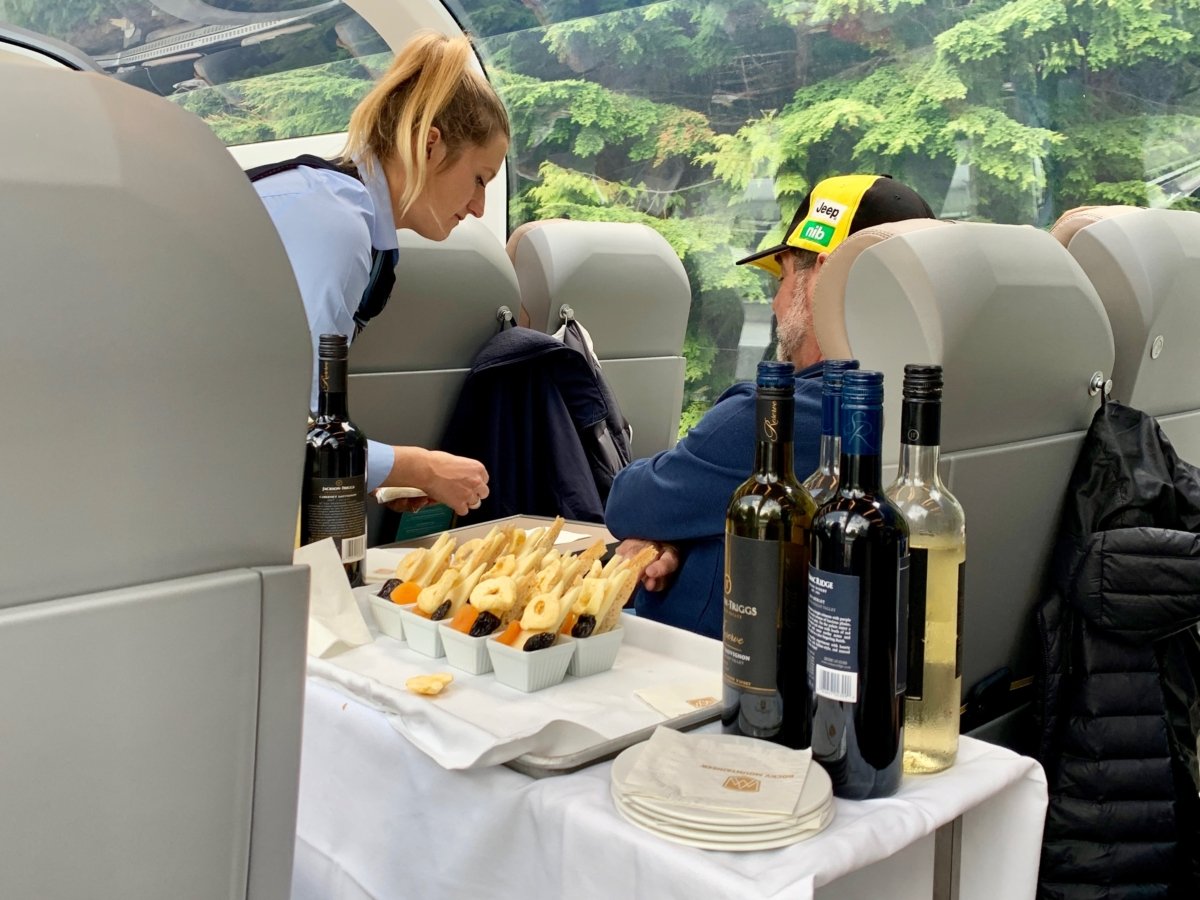 In a way, the Rocky Mountaineer beverage and dining service reminds me of business class on international flights. The goodies never stop coming.
All rail journeys include breakfast, lunch, snacks, as well as alcoholic and non-alcoholic beverages. Breakfast and lunch are both multi-course meals. You will not go hungry.
As I mentioned previously, breakfast service begins soon after leaving the station.
SilverLeaf guests enjoy meals served at their seats. GoldLeaf guests, however, are served meals in two seatings in the dining area on the lower level. While first-seating guests are being served their meals, second-seating guests are served beverages and snacks at their seats. Meal seatings are reversed on day two of the journey.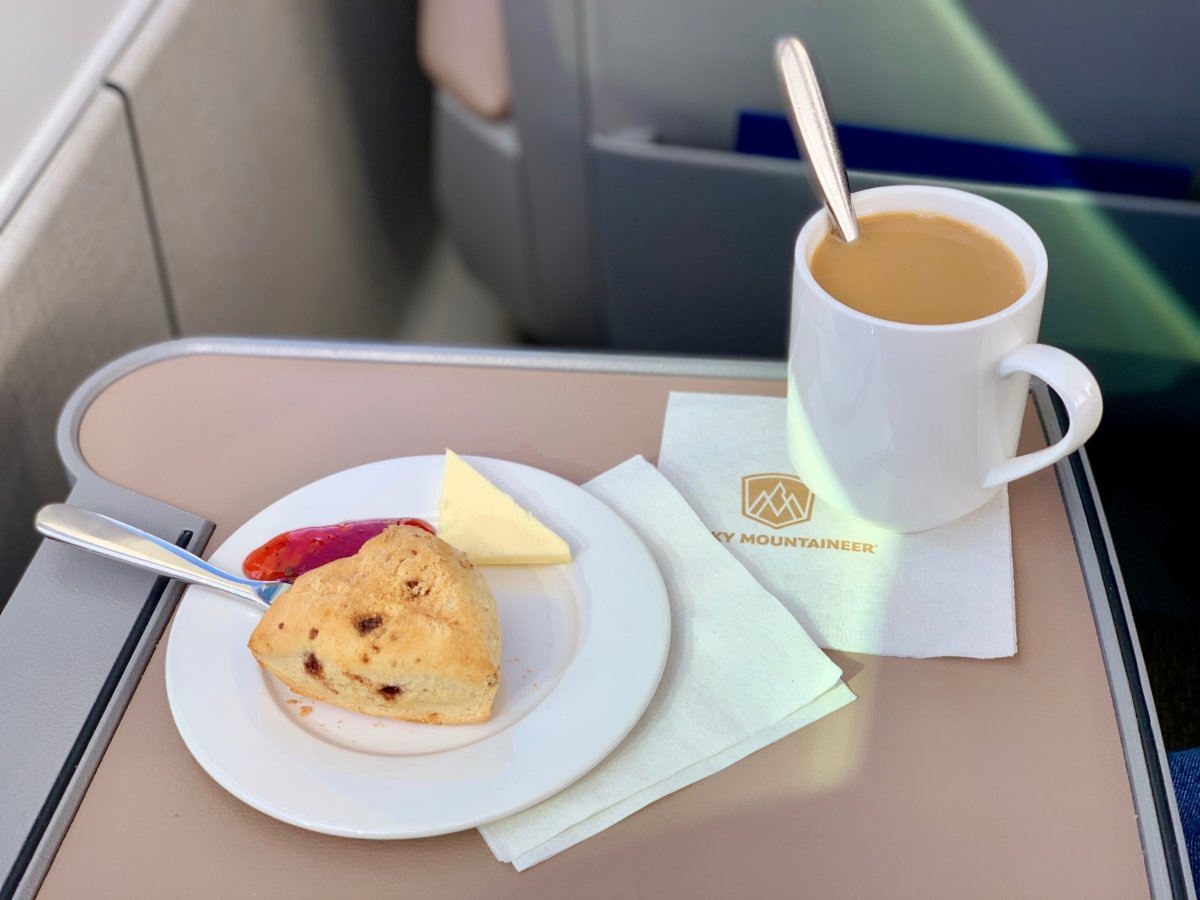 If you are not in the first seating, no worries. You will soon be enjoying tea and scone service prior to breakfast.
The scones are heaven!
---
The Rocky Mountaineer Train Onboard Experience
---
You will be spending at least two full days on the Rocky Mountaineer train. The following suggestions and insider tips are intended to help you optimize your experience and enjoy it to the fullest.
• Switch off.
The best advice I can give future Rocky Mountaineer guests is to take a moment after finding your seat to shift gears, switch off the worries, relax, and be in the moment. You have paid for this amazing experience, now let it be everything it can be. Don't be concerned with meal times and arrival times. They will all happen before the end of the day.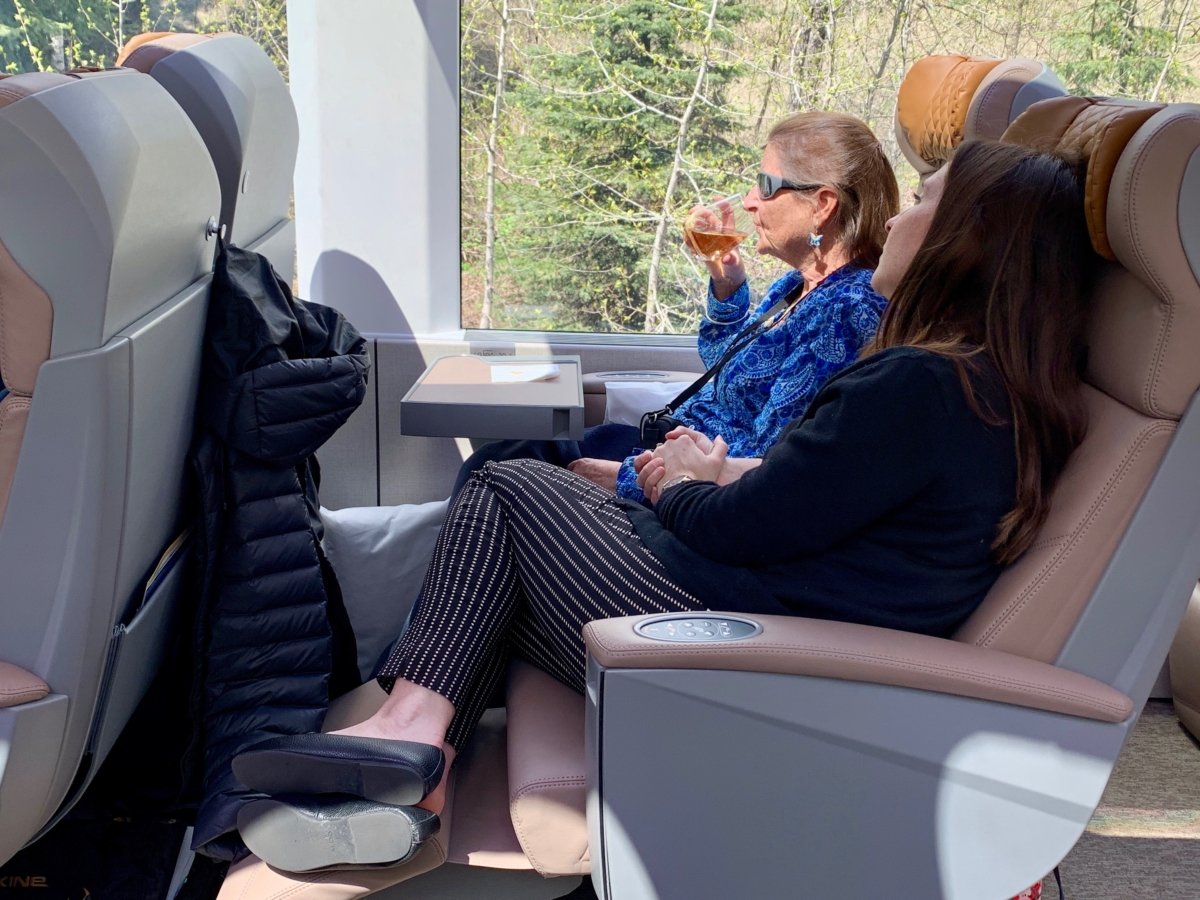 • WiFi
There is no WiFi aboard the Rocky Mountaineer, giving you full permission to get off the grid for a few days. Mobile reception is spotty due to travel through remote regions of western Canada.
If you do not have an unlimited mobile data plan, it is recommended that you disable data roaming or switch your device into airplane mode.
• No Smoking.
For the comfort of all guests and respect for the environment, there is a "no smoking or vaping policy including cigarettes, cannabis, cigars, and e-cigarettes onboard Rocky Mountaineer, including vestibules, restrooms, inside the station, on the platforms or near the tracks."
Guests who smoke should prepare accordingly. Nicorette gum is available upon request.
• Get acquainted with your seat.
If you are a frequent flyer, you will be amazed at how much legroom you have at your seat. I am a tall man, and I had no problem fully extending my legs. Passenger seats have neck, back, feet, and heat adjustments for your optimal comfort.
Electrical and USB outlets for charging and powering mobile devices are located between passenger seats. 
• Walk around.
As I mentioned earlier, there are no seatbelts. Feel free to explore your railcoach, meet 70 of your new best friends, use the washroom, and spend time on the open-air vestibule. You do not have access to other railcars.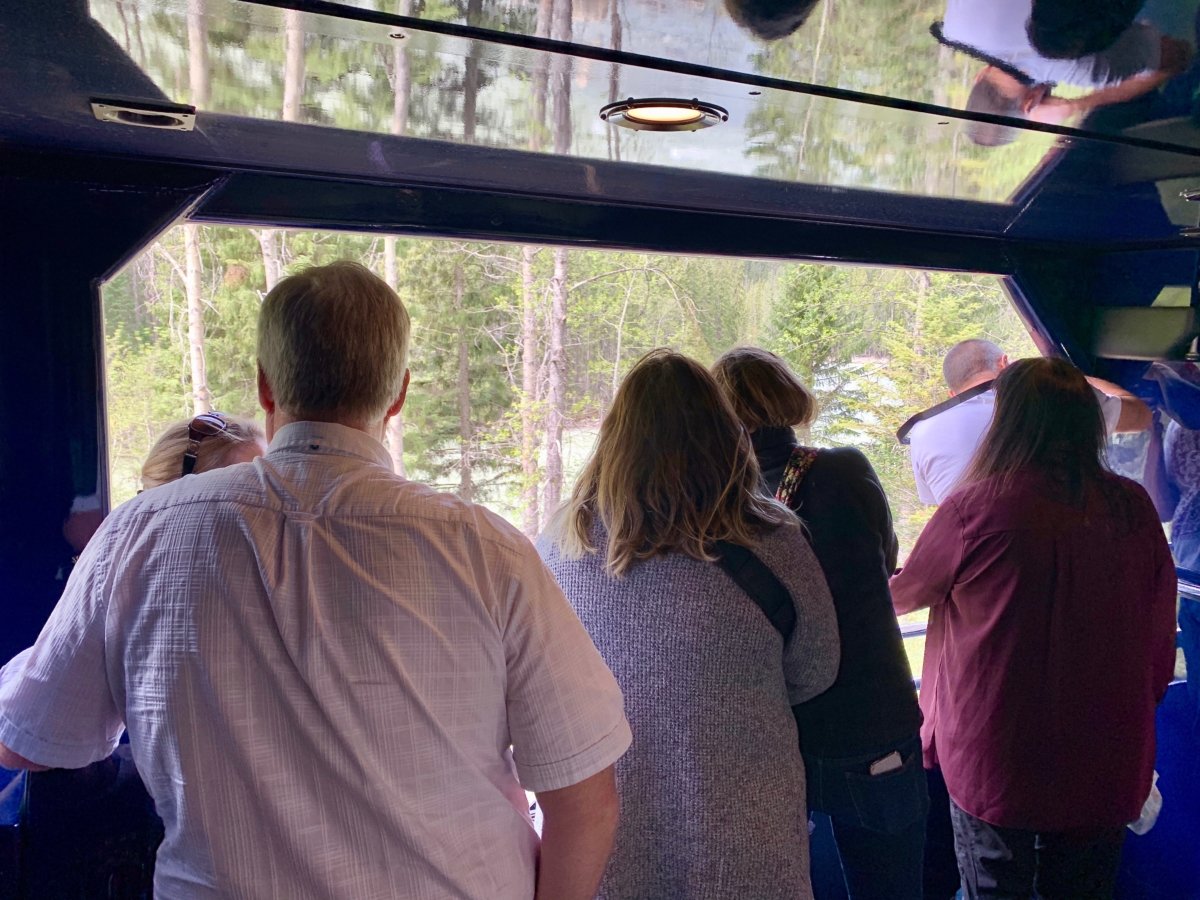 • Keep an eye out for wildlife.
Some wildlife spottings on my journey were fleeting, and others extended. But while touring destinations and aboard the train, I saw the following animals: magpie, bald eagle, mule deer, elk, black bear, mountain goat, yellow-bellied marmot, seal or sea lion, and of course Canadian geese.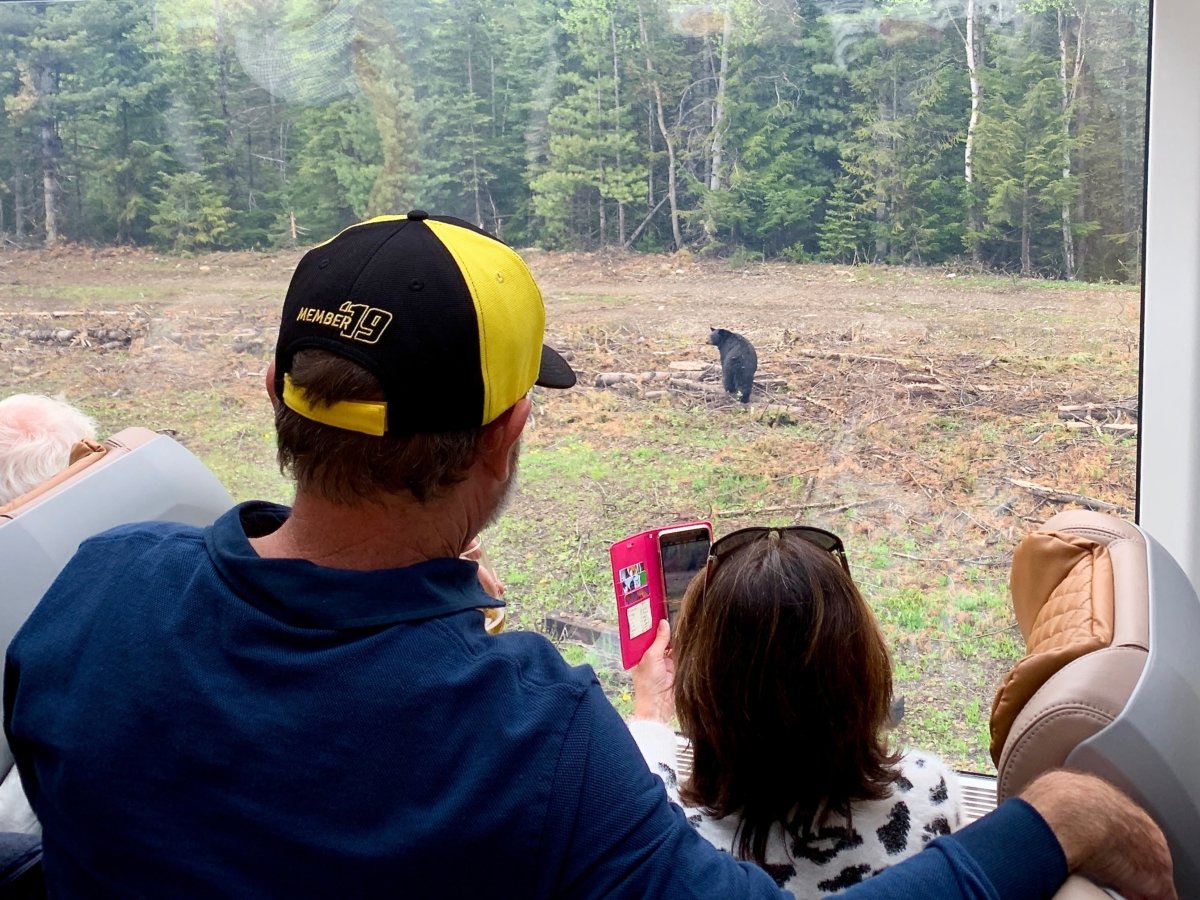 • Remember to look behind.
A lesson I learned while roadtripping Iceland also applies to a rail journey on the Rocky Mountaineer. While enjoying the scenery, be sure to also look behind, especially when going around bends.
• Give hosts your full attention.
In addition to providing world-class service, your Rocky Mountaineer hosts share intriguing stories and histories, spot wildlife, and indicate points of interest. Please be considerate of your hosts and fellow passengers, and refrain from talking during narration.
• Participate in onboard games and activities.
Your Rocky Mountaineer hosts may play games or other interactive activities as time permits. The "Sweet Caroline" sing-along was my favorite.
• Be aware of time zone changes.
You will gain or lose an hour at some point during your journey. Alberta destinations are in the Mountain Daylight Time (MDT) zone, and British Columbia destinations are in the Pacific Daylight Time (PDT) zone. Be aware of this transition so you can adapt to the change when arriving at your next destination.
• Washrooms
You will appreciate the washrooms (Canadian speak) aboard your Rocky Mountaineer train. They are modern, spacious, clean, and fresh.
• Some areas are not scenic.
Although the majestic splendor of the Canadian Rockies will overwhelm your journey, be aware that you will also view some areas with quarried rock, graffiti-tagged railcars, power lines, industrial equipment, and construction crews. Just consider it a behind-the-scenes tour. It is what it is.
---
Photography on the Rocky Mountaineer Train
---
Taking pictures while moving on a Rocky Mountaineer train is nothing like standing on firm ground. And even though I do not consider myself a photographer like some of my colleagues, I am a proficient iPhoneographer. Here are a few insider tips to help you capture some amazing photos from your journey.
• Picture-Perfect Speed
The average speed of a Rocky Mountaineer train is 30 mph (60 kph), although the train does slow down to what they call "picture-perfect speed" when approaching the most scenic areas.
• Turn off your camera's automatic flash.
Your camera flash will produce a major glare on the window glass inside the railcoach, and it is not needed when you are in the vestibule.
• Prepare for upcoming photo-ops.
Unlike a road trip, you will not be able to do pullovers or turnarounds if you miss a shot. I should know. I missed Murray Falls, the Continental Divide Marker, and many other natural features and landmarks. The best way to prepare is to read the mile marker descriptions in the Mile Post publication and listen carefully to host announcements.
• Have your camera on and be alert.
Even though one of our hosts announced that we were approaching the Continental Divide, I got momentarily distracted, and even though I saw the monument as we passed, it was gone before I could grab a photo.
• Place your mobile phone camera lens directly against the window glass.
For best mobile phone picture quality from inside your railcoach, place the camera lens directly against the window glass. Move your camera higher or lower on the window to frame the subject, or wait until the movement of the train brings it into view. You can tilt your phone slightly to frame a subject, but if you pull too far away from the window glass, you will almost certainly capture a glare or reflection.
• Use a camera strap or mobile phone lanyard while on the vestibule.
I have a fear of dropping my iPhone when taking pictures from bridges, tall buildings, or other elevated locations. So I bought a case with a slot for attaching a neck or wrist lanyard. Of course, I forgot to pack it for my Rocky Mountaineer journey. Fortunately, I did not drop my phone, but all it would have taken was one bump to send it flying into the underbrush.
• Exercise caution when leaning over the vestibule railing.
It is okay to lean out slightly to grab a picture or shoot video (if wearing a strap), but be aware of upcoming tunnels and steel bridges that pass within inches of the train.
• Limit your time in the vestibule.
I loved hanging out on the vestibule, with fresh air and photo-ops, but so did other guests. It can get crowded at times and folks jockey for the four corners and their unobstructed angles. If the vestibule is busy, grab your shots, and then let others take their turns.
---
Rocky Mountaineer Overnight Stops
---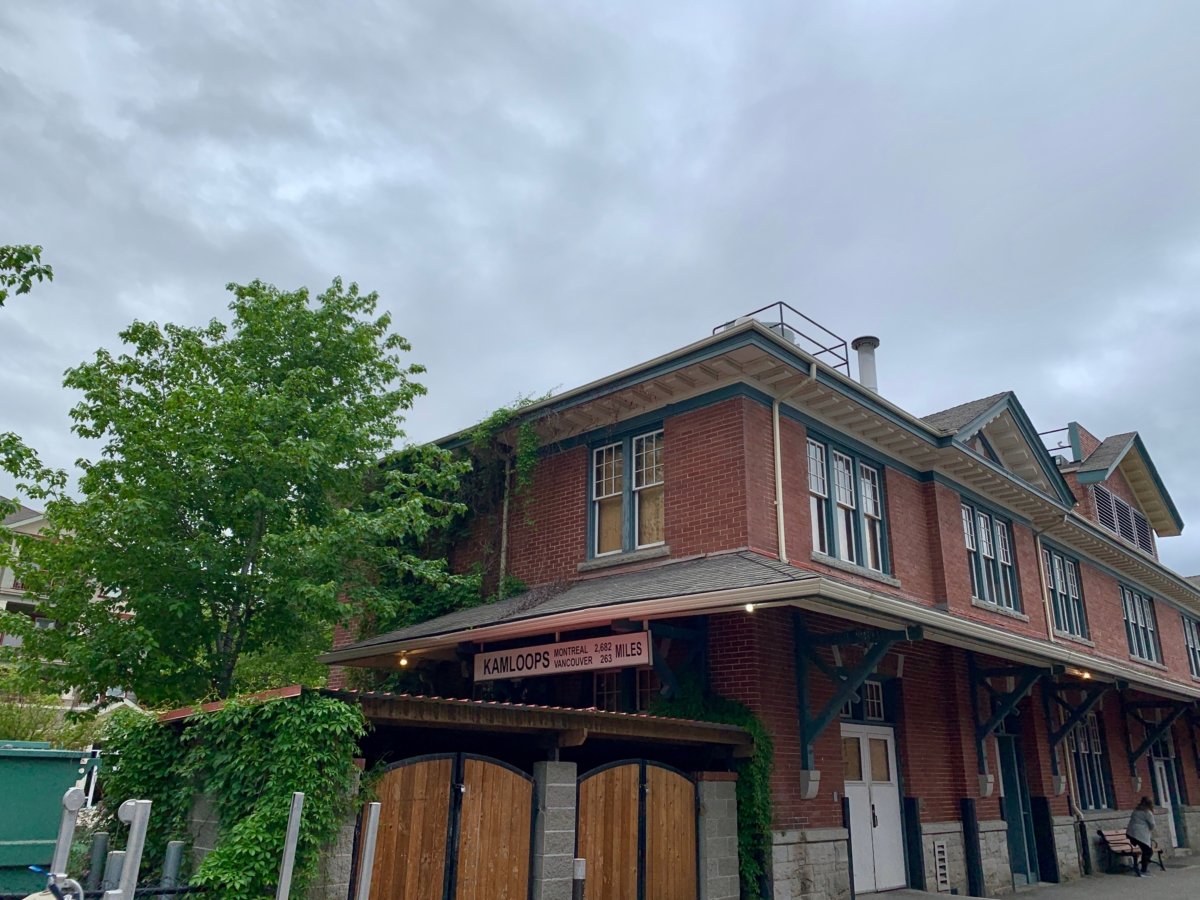 So that guests can enjoy travel during daylight hours, you will overnight at a hotel in Kamloops and/or Whistler and Quesnel. Remember, you do not sleep on the train.
Complimentary motor coach transfers between the train and hotels are provided for all guests, and your luggage will be delivered to your room. While en route to your hotel, a Rocky Mountaineer representative will provide pick-up times and procedures for resuming your journey the following morning.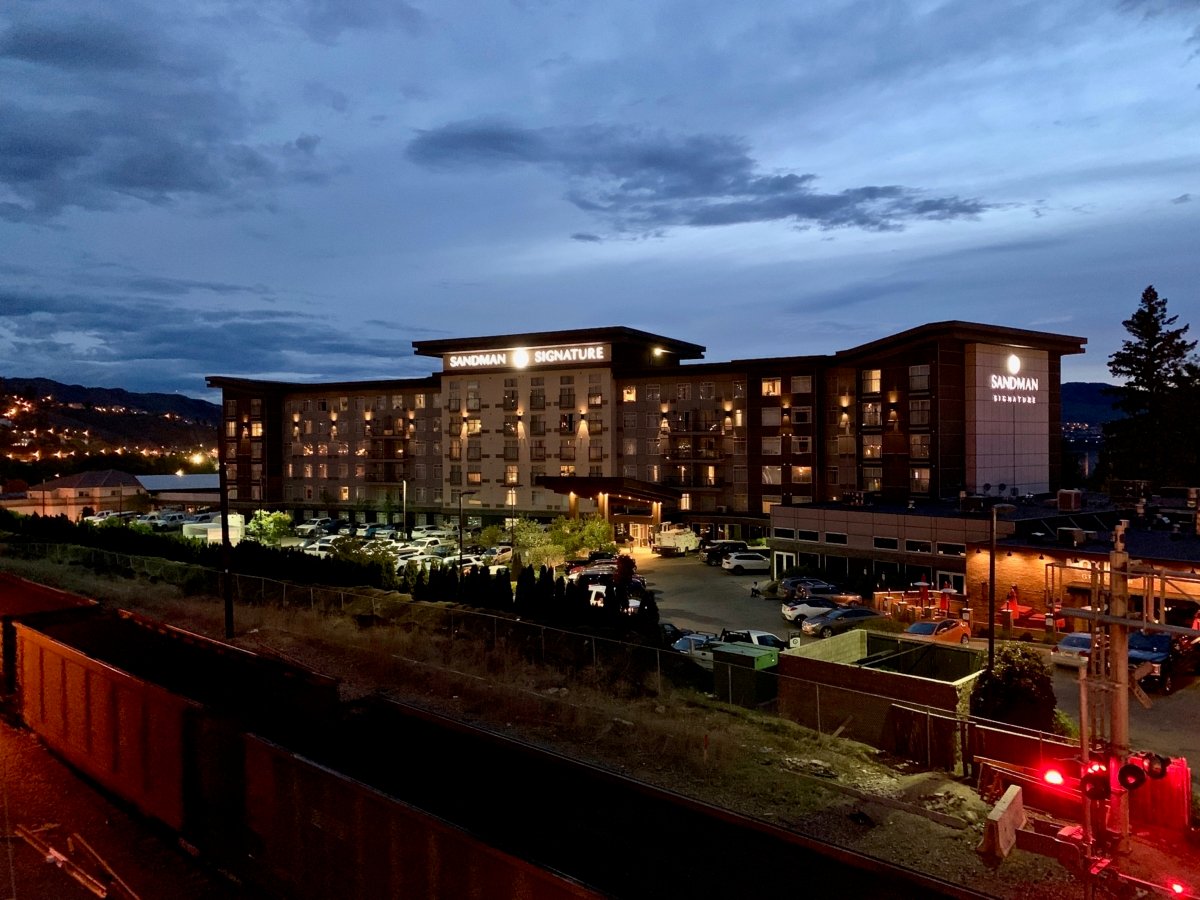 Some guests may have pre-arranged dinner reservations, but you are otherwise free to dine and explore the overnight destination on your own.
---
Arrival and Offboarding the Rocky Mountaineer Train
---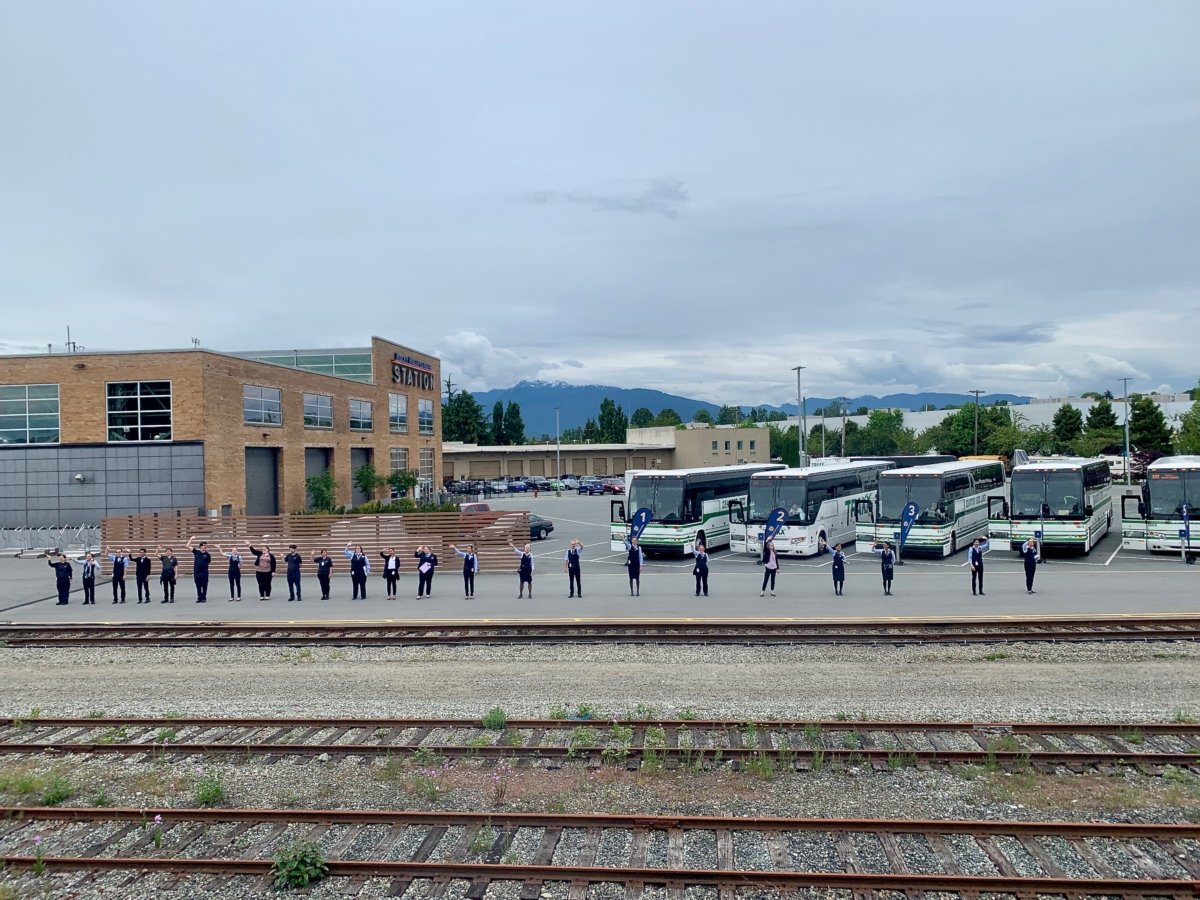 All good things must end, and eventually you will reach your Rocky Mountaineer journey's end.
• Be patient while arriving at your final destination.
Because Rocky Mountaineer trains share the rails with freight trains, there may be delays and slow speeds arriving at your destinations, especially in large cities like Vancouver and Seattle.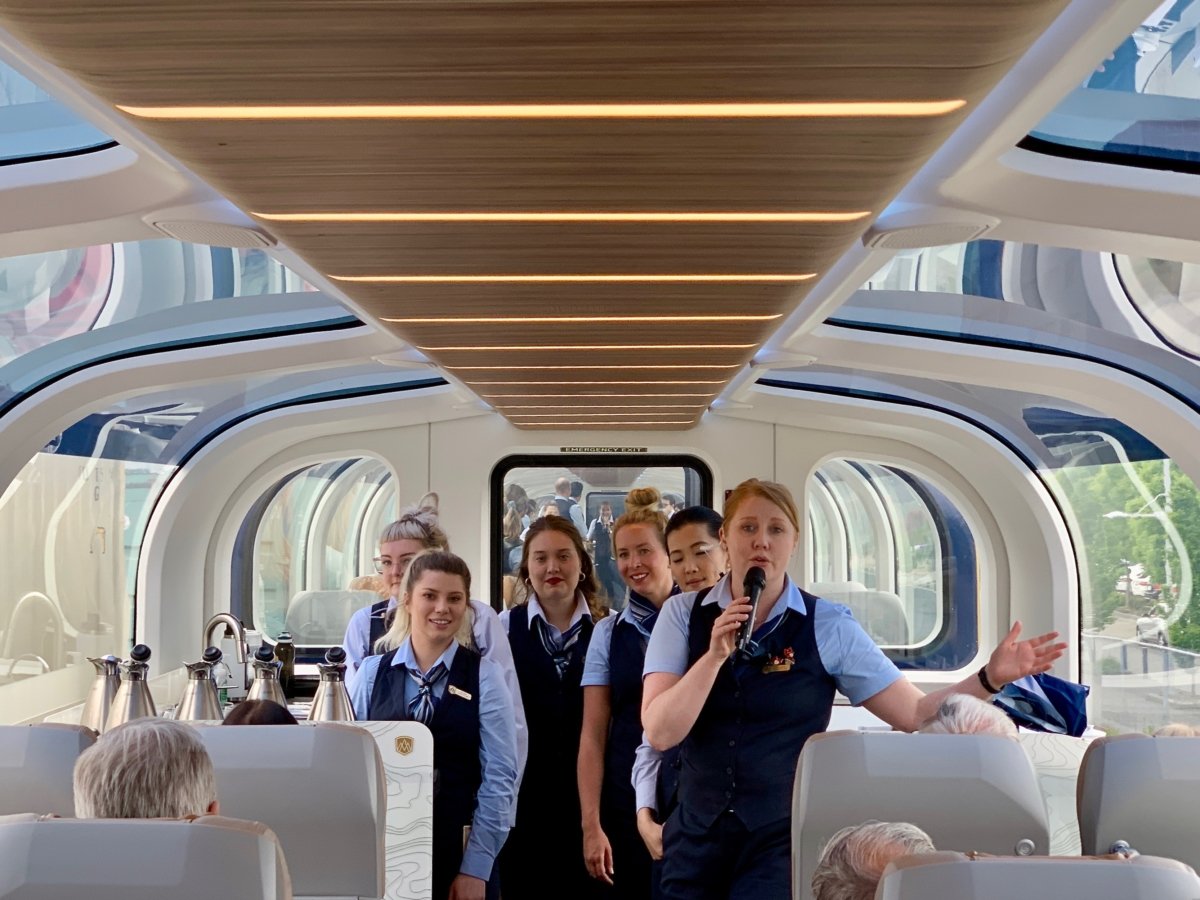 • Gratuities
Although encouraged, gratuities for Rocky Mountaineer hosts are not required and amounts given are at your discretion. For your convenience, a service recognition envelope will be delivered to your seat before arrival at your destination. Gratuities may be paid in cash or by credit card. Gratuity protocol and suggested amounts are published on the Rocky Mountaineer website.
• Transfers and Luggage
Some guests will be flying home the following day, some will stay on to explore the destination, and others may be connecting to a cruise. If you have not made prior hotel transfer arrangements, you will need to retrieve your luggage at your final destination, and there may be long waits for taxis. As I write, Vancouver does not have ride-sharing services like Uber and Lyft.
• Survey
A survey will be emailed to you shortly after completion of your trip. Your honest feedback is valued, and it will help Rocky Mountaineer improve the experience for future guests.
• Share your photos and experience.
Your family and friends will be eager to see your pictures and hear your stories, both in person and online. Be sure to tag photos and videos with the #RockyMountaineer hashtag so they can be shared on Rocky Mountaineer social channels, and so other users can easily find your content.
---
Reflection on the Rocky Mountaineer Train
---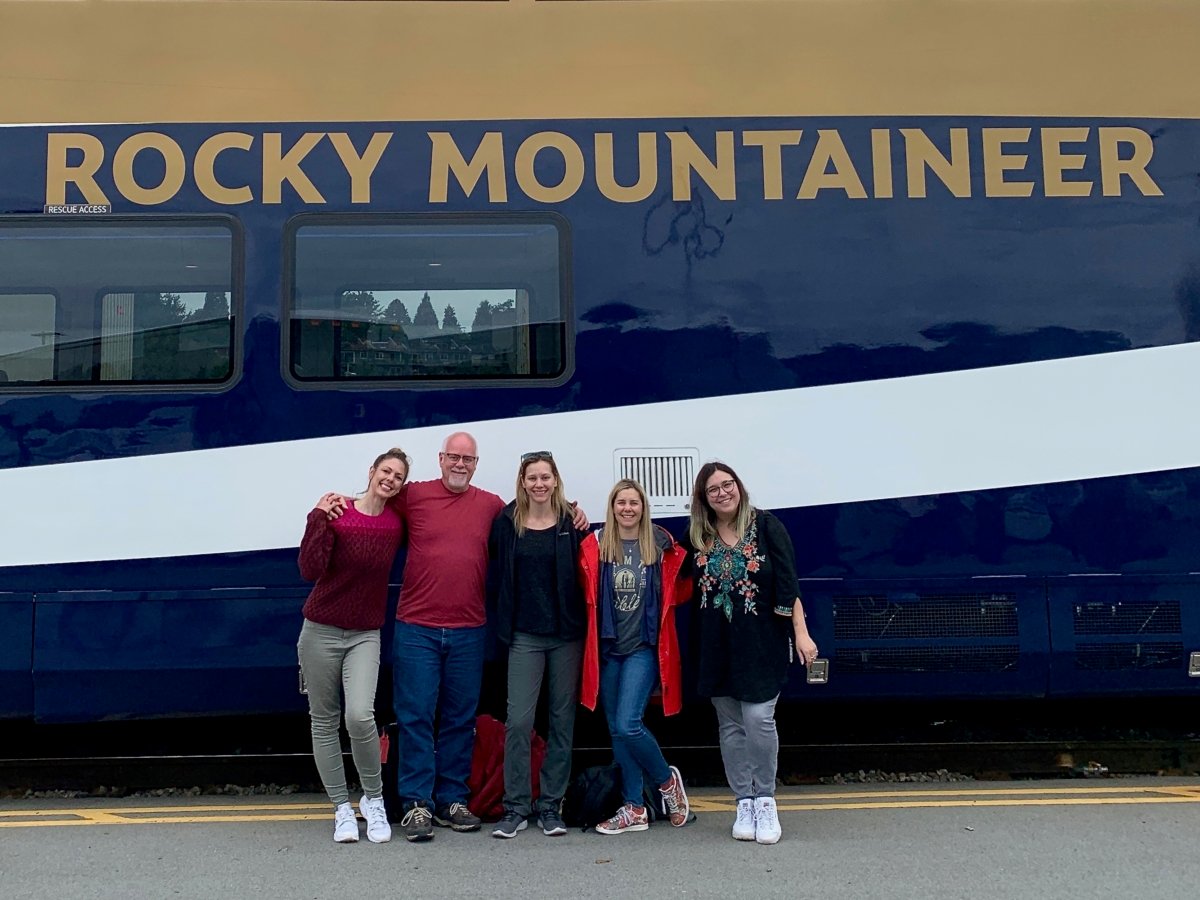 My Rocky Mountaineer journey was above and beyond what I expected, and I hope to return someday soon to explore another route.
As often happens during my travels, I met total strangers destined to become lifetime friends. My travel companions on my first Rocky Mountaineer rail journey were Heather Olson from hautetravelgirl, Kimberly Tate from Stuffed Suitcase, Claudia LaRoye from The Travelling Mom, and Haley Plotkin from Ready Set Jet Set.
Experiencing one of the most beautiful places on the face of the earth from the comfort of a luxury railcar cannot be beat. The Rocky Mountaineer does not disappoint and receives my highest recommendation!
---
We Would Love to Hear From You
---
We enjoy dialogue with our readers, especially when they share scenic rail destinations and train travel tips. Have you taken a journey on the Rocky Mountain train? If so, we would love to hear about your experience. We invite you to leave your comments and questions below, and we always respond!
---
Pin this Post!
---