(a

14

minute read)
---
Plan a Town of Banff adventure to include some of the best scenic locations, historical sites, outdoor activities, and dining outlets in the Canadian Rockies.
---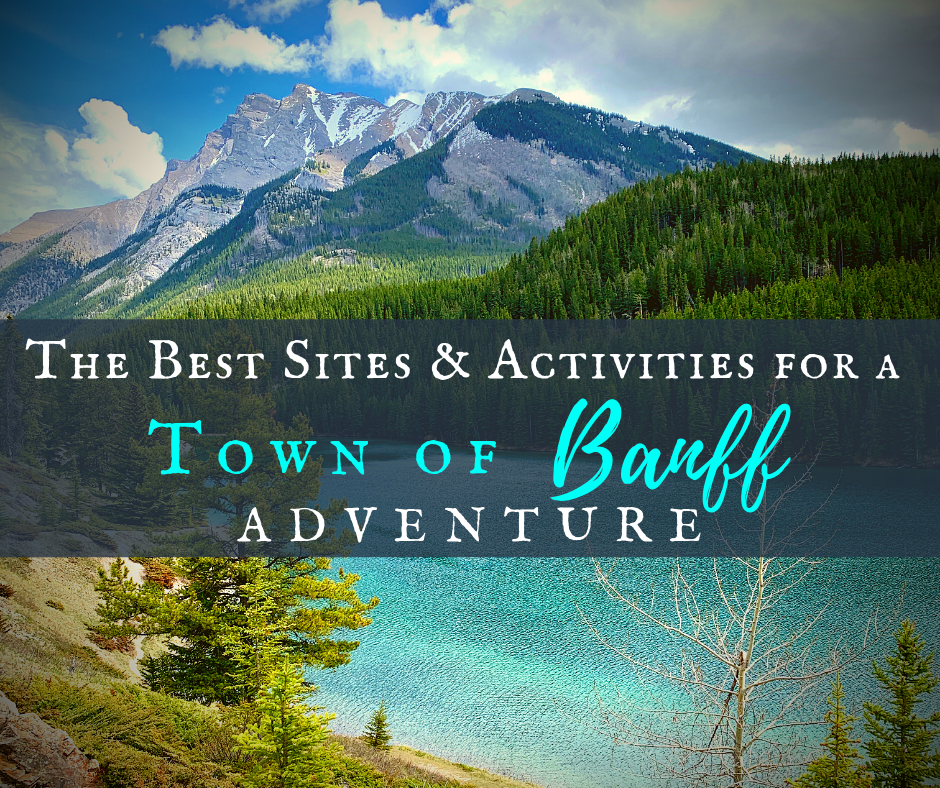 I was a guest of Rocky Mountaineer and Banff & Lake Louise Tourism, but all thoughts and opinions are my own.
---
A Town of Banff Adventure
---
I booked a 4-day/3-night First Passage to the West journey on the Rocky Mountaineer train from Banff, Alberta, to Vancouver, British Columbia, Canada. The itinerary included two days on the train, an overnight in Kamloops, and a full day to explore the origin and destination cities.
I knew my time in the town of Banff would be brief, so as I often do, I committed to seeing and doing as much as my itinerary would allow.
My Banff adventure was limited to a guided coach sightseeing tour included with my Rocky Mountaineer package and a couple of self-guided walks around town.
Although I would depart Banff lamenting over what I had missed, I was amazed by how much I was able to see and do in 36 hours. And I know this photo-intensive post will illustrate what is possible when planning a Town of Banff adventure of your own.
My afternoon flight arrived in Calgary, and I boarded a coach that carried me on a two-hour transfer to my hotel in Banff. That left me with a couple of hours to explore on my own before dinner.
After checking in at my hotel, I set off to see what I could find, and instinctively headed south.
I was thoroughly intrigued with the diagonal crosswalks along Banff Avenue. I may be late to the game, but I do believe it was my first encounter with a pedestrian scramble.
My first stop was at the Banff Visitor Centre, located in the former 1939 Banff School Auditorium.
I gathered an assortment of brochures and consulted with a staff member who advised me of the top must-see spots in town. When I learned that a waterfall was in walking distance, I decided to chase it first.
---
The Bow River Trail
---
I followed Banff Avenue south to access the Bow River Trail and soon crossed the pedestrian bridge with its expansive view of Mount Rundle.
The broad gravel trail tracing the Bow River beckoned me into the calm of an urban forest.
I ambled along the wooded path where Douglas firs dropped a carpet of cones at their feet.
Stairs to to a lovely spot overlooking a series of river rapids that I assumed was Bow Falls. I was wrong. I would later learn that Bow Falls was located farther down the trail, and I would have a second chance to chase it down.
It was nearing time to meet up with my group for dinner, so I retraced my steps back to the hotel.
The Banff Trails map provides a great overview of routes for both easy walks and longer scenic hikes in and around town.
---
A Banff Sightseeing Tour
---
The next morning I joined a 4.5-hour Explore Banff guided excursion.
I know what you're thinking. Not another group coach tour . . . .
But bear with me. I believe by the time you finish reading this section you will agree this is no ordinary tour and definitely a valid option for visiting as many Banff highlights as possible when on a tight itinerary.
Image Credit: Brewster Sightseeing
Our sightseeing tour included stops at six key locations (plus one bonus stop) within a 15-mile radius of the Town of Banff.
And the first location was—in a word—breathtaking!
Banff Gondola
---
The Banff Gondola carries guests 2,292 feet to the summit of Sulphur Mountain.
But this attraction is far more than an 8-minute thrill ride.
And the journey to the top of Sulphur Mountain was just the beginning.
The upper level of the Gondola Summit features a mirrored bear sculpture, picnic tables, a fire pit, and a heated igloo. But the best feature is an observation deck that offers a 360° panoramic view of six mountain ranges.
The sweeping view of the town of Banff, nestled in the Bow River Valley, encircling Tunnel Mountain, with soaring peaks as far as the eye can see, is truly jaw-dropping. In fact, virtually every stop on the sightseeing tour can be seen from this viewpoint.
The Gondola Summit building also houses interactive exhibits, a multi-sensory theatre, a restaurant, café, and gift shop.
The most immersive experience at the summit of Sulphur Mountain, however, is the boardwalk hike to Sanson's Peak.
Outfitted with multiple overlooks and interpretive panels, the boardwalk winds up, down, and around the mountain ridge to its highest peak.
The boardwalk hike out and back is just over a mile, but the countless pauses for photo ops make for a relaxing walk, despite the changes in elevation.
Unlike many of my colleagues, I'm not much for selfies and location shoots, but these views make even me look good.
Views of the neighboring Sundance Range and Spray Valley are unobstructed from the boardwalk.
Before the final ascent to Sanson Peak, a circular interpretive deck offers stellar views of the Bow River Valley toward Lake Louise.
A stone weather observatory atop Sulphur Mountain's highest peak operated between 1903 and the mid-1930s. The peak was named for Norman Sanson, park meteorologist and curator of the Banff Park Museum, who climbed the mountain more than 1,000 times to collect weather data.
Visitors can peer through a window into the rustic interior of the stone structure.
Having toured many mountaintops with zero visibility, I was grateful for a clear morning atop Sulphur Mountain. But it was time to move on. I grabbed this shot of the gondola through a window in the men's restroom before heading down.
If you only have time for one activity on your Town of Banff adventure, make it the Banff Gondola.
Banff National Park Administration Building
---
We made a brief stop at the Banff National Park Administration Building located at the southern end of Banff Avenue. This was the "plus one" mentioned previously.
Completed in 1936, the Tudor-Gothic Revival building called Canada Place invites guests to experience interactive exhibits that feature touchscreen technology.
Cascade Gardens surround the historic building and, according to our coach driver, creates one of the most Instagrammable locations in Banff.
Bow Falls
---
Bow Falls was the next stop on our tour, and this was the moment I realized the rapids I had seen upstream on my evening hike were not the actual falls.
I also learned that a scene from the 1954 movie River of No Return, starring Marilyn Monroe and Robert Mitchum was shot on location here.
The downriver view was apparently used in promotional materials for Ang Lee's Brokeback Mountain. The cliff-jumping scene in the movie was shot further downstream on the Bow River near the former hamlet of Seebe.
It so happened that one of our tour guides was taking my picture at the Bow Falls pullover, when suddenly an attractive lady sitting on a bench says, "Howard? Howard Blount?"
I looked at her, and she said, "Lynn Goodwin."
You could have blown me over with a feather.
Lynn and I were teachers at the same school back in the 1980s, and even though we eventually became Facebook friends, we had not seen each other in person since then.
The synchronicity of our intersecting paths—I was about to embark on a Rocky Mountaineer journey by rail, and Lynn was on a road trip from Iowa to Alaska—was staggering!
My friend Lynn is ageless "class" defined and as beautiful as ever, and I am eternally grateful that our "photographer" captured our impromptu reunion in Banff, Alberta, Canada, for posterity.
And it just so happened that our unexpected rendezvous occurred directly across the river from our next stop—Surprise Corner.
The Historic Banff Springs Hotel
---
A sharp bend in the road where Buffalo Street turns into Tunnel Mountain Drive is a spot the locals calls Surprise Corner.
The surprise is a postcard view of the historic Banff Springs Hotel. The 764-room structure called Canada's "Castle of the Rockies" opened in 1888 as one of Canadian Pacific's luxury railway hotels.
A viewing platform with interpretive panels is located across the street from the roadside parking area.
Hoodoos
---
The next stop on our tour was to see hoodoos at a viewpoint located off Tunnel Mountain Drive. Hoodoos are sedimentary rock formations like those common to the American West. Although these hoodoos truly are remarkable, I had to search for them.
In my opinion, the spectacular backdrop of Mount Rundle above, and the Bow River Valley below, upstage and overshadow the main attraction.
Let's zoom in a little closer.
Ever on the lookout for spring wildflowers, I spotted a dandelion patch and intermittent prairie crocus along the hoodoos viewpoint trail
Two Jack Lake
---
Our itinerary carried us next north of town to a roadside pullover above the Two Jack Lake day use area, with yet another arresting view of Mount Rundle.
Mount Inglismaldie makes an impressive focal point to the northeast.
But there is no denying the star attraction at this spot are the emerald, aquamarine, and turquoise waters of the glacial lake.
Well, at least until a herd of bighorn sheep passes through.
Lake Minnewanka
---
Our final stop was a 4-minute drive north to a connected glacial lake. During my mid-May visit, part of Lake Minnewanka was still frozen, as was Lake Louise.
"Lake of the Spirits," as the First Nations Stoney Nakoda people called it, is a popular recreational site for both land and water activities. Our group paused to enjoy some light refreshments as our tour neared completion.
A cruise on Lake Minnewanka is an optional add-on for the Explore Banff sightseeing tour.
And if a coach tour is not your thing, you do have options. You could rent a car and design a Town of Banff adventure of your own. Road Rides in the Banff Area and The Bow Valley Parkway: Banff's Heritage Drive are two great Parks Canada resources you can download.
But I think you will agree, if on a tight schedule, an Explore Banff sightseeing tour is an excellent way to maximize your time in town and experience the best scenic locations.
---
A Town of Banff Walking Tour
---
That afternoon I resumed my self-guided tour of Banff with a print copy of the Walking through Banff's History booklet in tow. Where the previous day's walk had been mostly scenic, the second day would be historic and architectural.
Incorporated in 1885, the Town of Banff is situated completely within Banff National Park. With more than 4 million annual visitors to the park, the resort town's economy is based solely on tourism. But unlike many tourist towns, Banff has a rich history that parallels its stunning location in the Canadian Rockies.
There are 60 historical sites on the self-guided tour, most marked with oval interpretive plaques. Included here are a few highlights from my walk through town.
Houses of Worship
---
For a tourist town, Banff has several houses of worship. St. Paul's Presbyterian (1930) and Rundle Memorial United Church of Canada (1927) are a couple of churches that front Banff Avenue.
Banff Park Museum
---
The Banff Park Museum had not yet opened for the season during my visit, but I appreciated the "railway pagoda" architecture of the rustic log building constructed in 1903.
The natural history museum's collection contains more than 5,000 botanical, zoological, and mineral specimens, most of which were added by Norman Sanson who served as curator from 1896 to 1932.
A corner park adjacent to the museum displays a collection of historic interpretive panels.
Historical Homes
---
Tanglewood, the Luxton Rexidence, and Beaver Lodge are among the oldest residences in town. Some of the historical homes on Beaver Street, one of the first streets to be settled, date to the late 1800s. Norman Sanson's residence is located at 110 Muskrat Street.
Old Banff Cemetery
---
The Old Banff Cemetery, situated at a bend on Buffalo Street, was established in 1890. Most tombstones are made from local stone, some engraved by hand.
Norman Sanson is buried here in section 6, plot 108.
Wildlife
---
When hiking Banff trails and walking around town, keep an eye out for wildlife. Small flocks of black-billed magpies entertained me while hiking the Bow River Trail, and mule deer munching on the lawn of a Buffalo Street residence appeared not the least bit concerned as I passed by.
Public Art
---
The town of Banff has a small collection of public art. The contemporary inuksuk pictured above is patterned after the traditional Inuit art of stacking stones in the shape of a man, creating a cairn landmark.
Other historical sites around town include Banff Upper Hot Springs, Cave and Basin National Historic Site, and the Buffalo Nations Luxton Museum.
---
Banff Adventure Resources
---
Banff National Park, along with neighboring Jasper, Kootenay, and Yoho national parks, plus the Mount Robson, Mount Assiniboine and Hamber provincial parks compose the Canadian Rocky Mountain Parks UNESCO World Heritage Site.
You will find a wealth of online and downloadable resources for planning your Banff adventure at the Banff National Park website and the History and Heritage page on the Town of Banff website.
---
All Aboard the Rocky Mountaineer!
---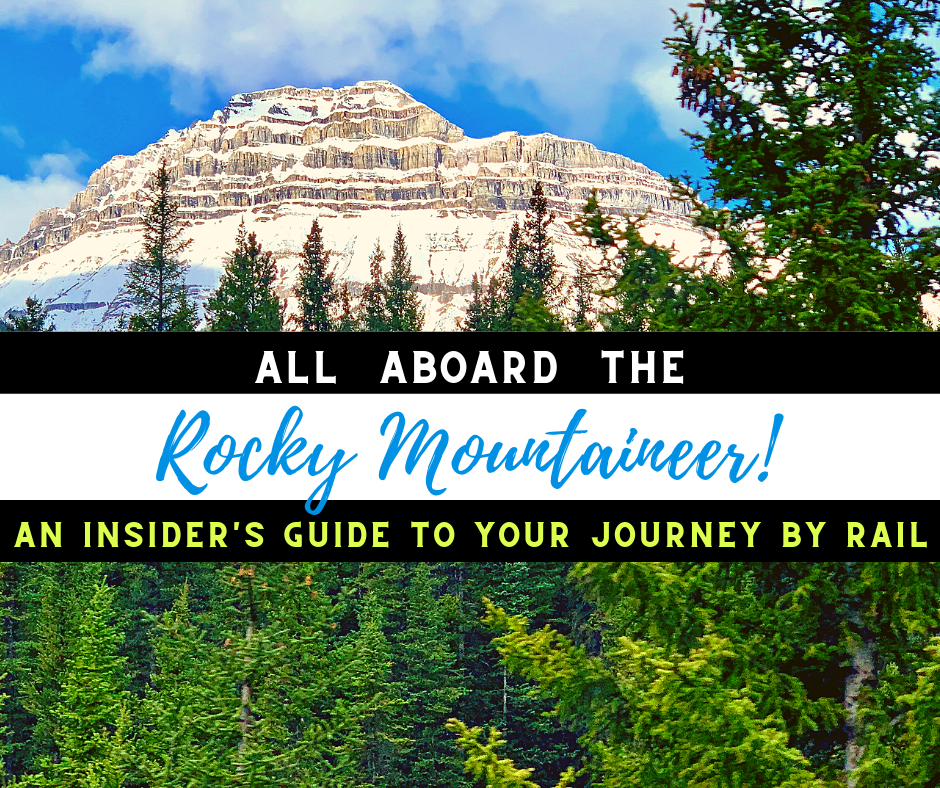 If you are interested in connecting your Banff adventure to a trip on the Rocky Mountaineer, be sure to check out our insider's guide to planning, booking, and embarking on the rail journey of your dreams through the Canadian Rockies.
And if your Rocky Mountaineer city of origin or destination is Vancouver, we've got you covered there, too. Be sure to check out our guide to Capilano Suspension Bridge Park, Grouse Mountain, Stanley Park, Granville Island, and other fine locations around town.
---
Lodging and Dining
---
Like any resort town, Banff offers a variety of fine lodging and dining options. I experienced the following locations during my Town of Banff adventure.
Elk + Avenue Hotel
---
The Elk + Avenue Hotel is conveniently located on Banff Avenue and provides easy access to many of the sites mentioned in this post.
Deluxe rooms and suites feature a minimalist design with touches of Rocky Mountain-inspired decor.
Click here to book your stay at the Elk + Avenue Hotel on TripAdvisor!
Click here for other Banff lodging options on TripAdvisor!
Saltlik Steakhouse
---
Saltlik: A Rare Steakhouse serves "Certified Angus Beef ® PRIME Steak . . . graded the top 2% of all steaks in North America."
Menus also feature a fine selection of craft cocktails and hand-crafted pasta, poultry, and seafood comfort dishes.
Park Distillery
---
The Park Distillery + Restaurant + Bar specializes in wood-fired, spit-roasted campfire cuisine and small batch spirits distilled from glacial water and locally-sourced grain.
The Bison Restaurant
---
Seasonal farm to table small plates, bison steaks, and other Canadian fare are all the rage at The Bison restaurant + terrace.
Dine on the patio with a mountain view, and enjoy live music on Thursday evenings and during Sunday brunch.
---
Map It!
---
---
We Would Love to Hear From You
---
We enjoy dialogue with our readers, especially when they share off-the-beaten-path destinations and useful travel tips. Have you completed a Town of Banff adventure of your own? If so, we would love to hear about your experience. We invite you to leave your comments and questions below, and we always respond!
---
Pin this Post!
---