(a

11

minute read)
---
Ten incredibly beautiful North Georgia waterfalls you can easily schedule into your road trip or vacation.
---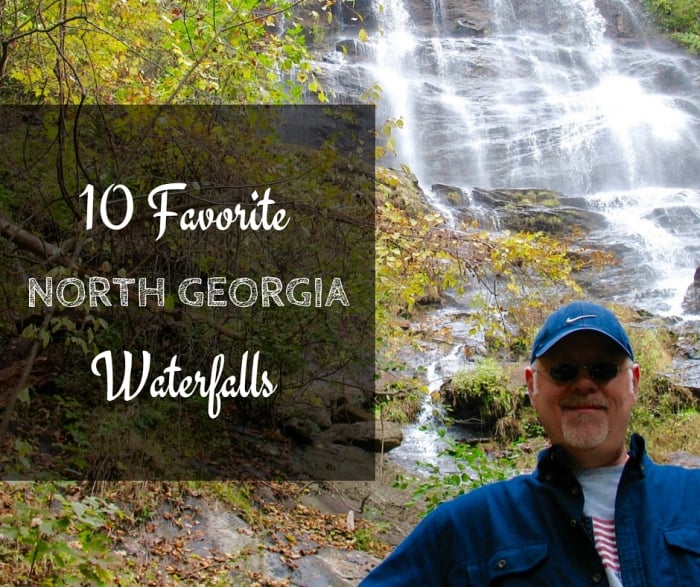 ---
10 Favorite North Georgia Waterfalls
---
The scenic beauty of North Georgia, no matter the season, is breathtaking! All of it . . . the mountains, the valleys, the forests, the sky, and the waterfalls that abound. I fell so in love with this incredible place that I bought myself a log cabin on an acre of mountain land over a decade ago and named it Pinebox. Even today, when I get out on those North Georgia backroads, I still feel like I'm driving through a Hidden Valley ranch dressing commercial.
Back in the day, I spent a lot of time scouting out local waterfalls, and now whenever I have guests at the cabin we typically choose a couple of these water features as day trip destinations. It has been said that the Cherokee called this region "The Land of a Thousand Waterfalls," so I offer you ten of my favorite North Georgia waterfalls that you can easily schedule into your backroad trips or vacation.
If you are an avid waterfall-chaser interested in heading even farther off the beaten path, also check out our 5 Elusive Georgia Mountain Waterfalls post.
(All photographs were enhanced with the Kelvin filter at Instagram.)
---
Helton Creek Falls
Union County
---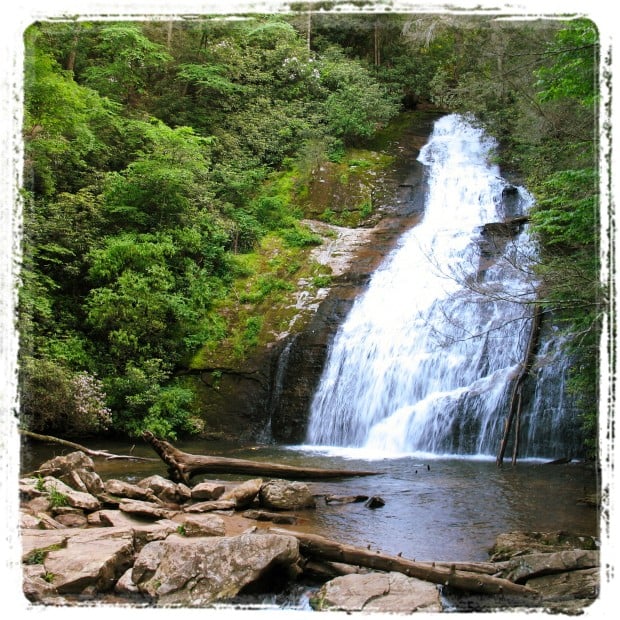 Helton Falls is the standard go-to if I have guests at the cabin and want to show off my mountains. It's a close drive, a short hike, and its magnificence does not disappoint. There are two distinct waterfalls to visit along the trail, and the pool at the upper falls makes a refreshing swimming hole, even if you didn't bring your swimsuit. (Don't ask.)
Although many hemlock trees in the area have suffered a fate similar to the one at Joyce Kilmer Memorial Forest, nature is resilient and the vegetation will eventually recover. Helton Falls may not be the highest or most majestic of the North Georgia waterfalls, but it is my favorite of them all.
---
Lake Trahlyta Falls
Union County
---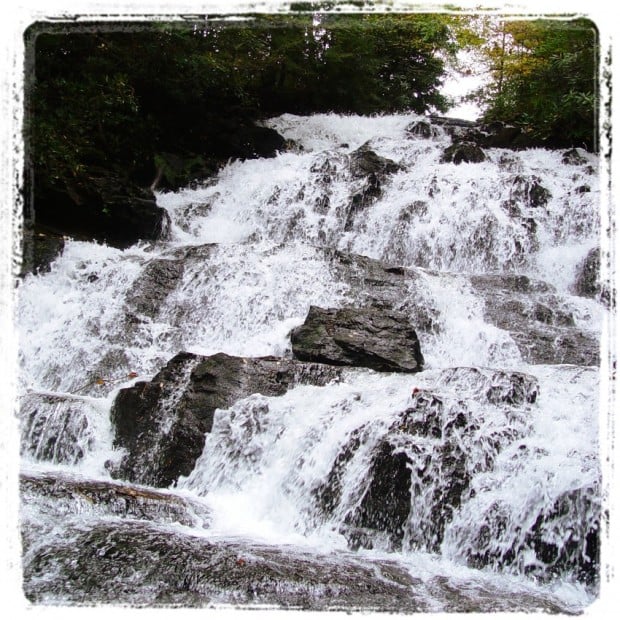 If you head south on Hwy. 19/129 from Blairsville to Helton Falls, you will pass a lovely waterfall and perhaps not even notice it. Lake Trahlyta Falls (as I call it) is located within Vogel State Park, and there is a great hiking trail and overlook for viewing the waterfall, if you want to pay the $5.00 parking fee, that is. However, if you are a cheapskate like me, there is also a (not official) roadside pullover area that gives a great view of both Lake Trahlyta and the falls from the highway.
---
Dukes Creek Falls
White County
---

I guess you could say the hike to Dukes Creek Falls is my favorite. Although the 4-mile roundtrip walk is longer than hikes to most of the other North Georgia waterfalls, the trail here is wide and follows a series of low-incline switchbacks that make it a relaxing experience hiking there and back. Observation decks are optimally positioned along the trail, and simply put, these are great falls to make you enjoy being in the moment.
The first time I hiked Dukes Creek was during one of my annual autumn jaunts to the mountains. The air was cool, my Mercier's apple was crisp, and I was pretty much in heaven. Memorable days like these make one want to return again and again.
---
DeSoto Falls
Lumpkin County
---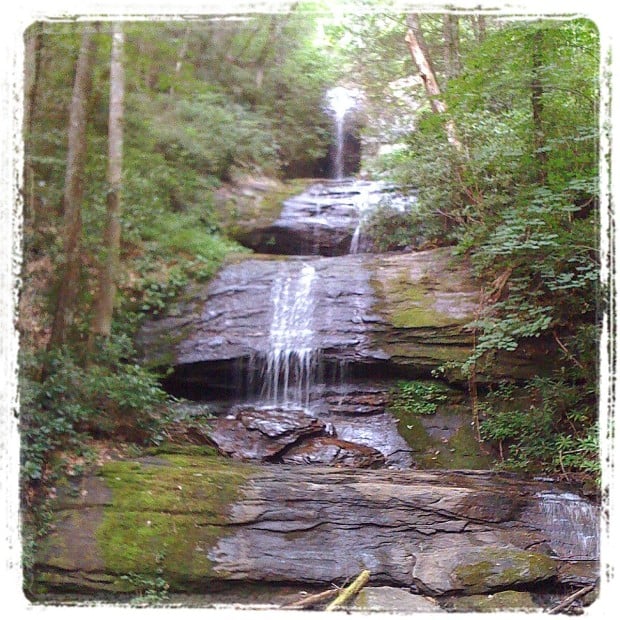 DeSoto Falls has a large paved parking lot, with a $3.00 fee, attached to an improved camping and picnicking area. Soon after you begin the hike to the falls, you will come to a fork in the trail. I recommend taking the trail to the left first on a short hike to view the lower falls. Then, retrace your steps and return to the fork to follow the 1.5 mile trail to the upper falls.
As pictured above, the upper falls has multiple levels. On one visit to the falls, a friend (who will remain nameless) and I decided to climb unauthorized side trails and check out the upper levels. While we were playing under the water at one level, I suddenly noticed my friend sliding on his belly toward the drop-off. The moment seemed to go into slow-motion, and there was nothing I could do to reach him before he went over the edge. Then abruptly, without apparent cause, his slide slowed and stopped, and he was able to crawl to safety on the side. There is a reason they tell you not to foolishly put yourself in harm's way. I thought I had learned my lesson, yet I later found myself taking a chance once again at another of those irresistible North Georgia waterfalls.
---
Dicks Creek Falls
Lumpkin County
---

I have visited Dicks Creek Falls on more than one occasion, and it is a true beauty. Not only is this a scenic location to scout at various points above and below the falls, but it also has a great swimming hole. We get a substantial amount of search engine traffic on this post from readers seeking "waterfalls in Georgia you can swim in." One of these days I will finish my research and publish a post addressing that popular topic, but don't hold your breath (pun intended).
Note: These falls should not be confused with Dick's Creek Falls in Rabun County.
---
Fall Branch Falls
Fannin County
---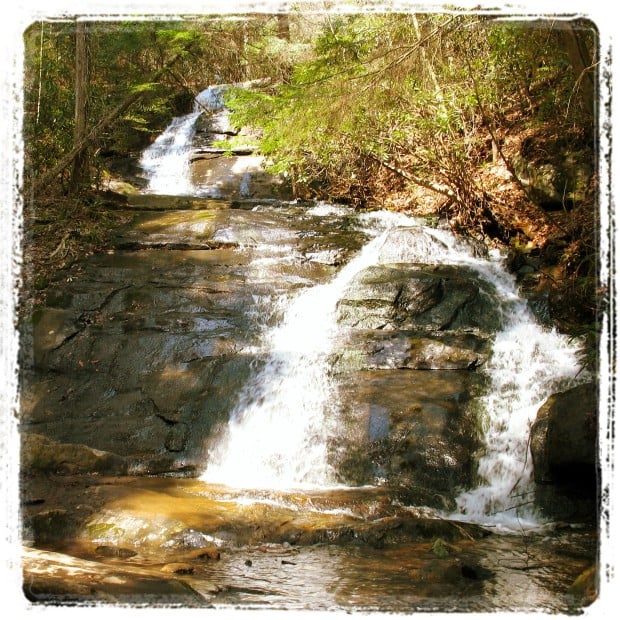 I have hiked Fall Branch Falls in seasons when the forest was naked and when it was leafed-out and lush. Each of my visits have been rewarding experiences. These falls are not far from my home at Pinebox, and the route there is an incredibly lovely backroad mountain drive. A common occurrence on these mountain roads is when one is driving along and suddenly the smooth pavement becomes a bumpy gravel road. The drive to Fall Branch Falls is one such drive, but not for long. When the pavement ends, you immediately drive through an abandoned farm complete with a ramshackle house and outbuildings. Just beyond is a small pullover parking area for the trailhead to the falls.
The .5 mile hike is straight up the mountain, but soon you will see the first in a series of cascades that make up the falls, and side trails take you to the various levels. I have often said that I am not into extreme adventures of any flavor, yet I was one of the hikers on a previous trip who took a less orthodox and less safe ascent to the falls. The trail back to the parking area, of course, is straight down the mountain.
If you have time to spare on your day trip, the Toccoa River Swinging Bridge is only fifteen miles down the road.
---
Woody Lake Falls
Union County
---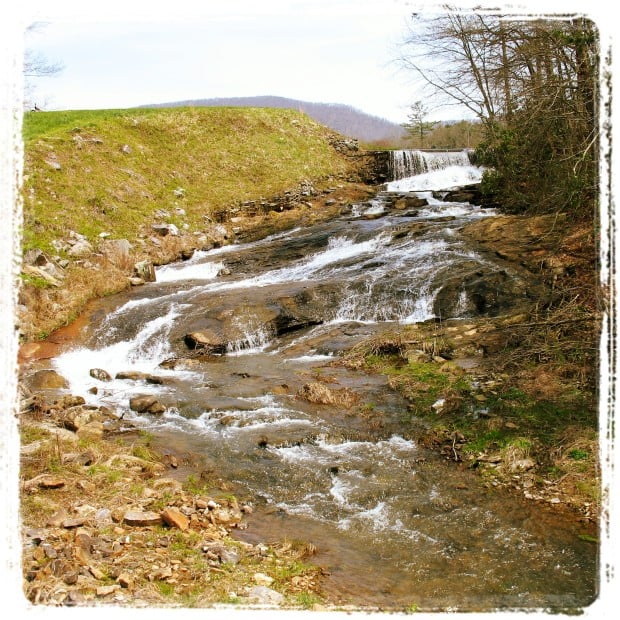 There are countless unmarked roadside water features in North Georgia. While driving the mountain backroads, you typically don't realize what you have seen until you pass it and end up searching for a pullover to U-turn and get a better look. I found Woody Lake Falls (again, the name I gave it) this way while exploring in the southern part of Union County several years ago.
I was headed south on Hwy. 60 through the town of Suches, and just past the junction with Hwy. 180 I caught a glimpse of the falls to my left. No sign. No name. Nothing. These types of discoveries make you want to shout, "Hey people, did you know there is a gorgeous waterfall right here in your town by the side of the road?" I drove past the falls once again on a later outing and noticed they were still unmarked. A case of spoiled North Georgians, I'd say . . . .
---
Amicalola Falls
Dawson County
---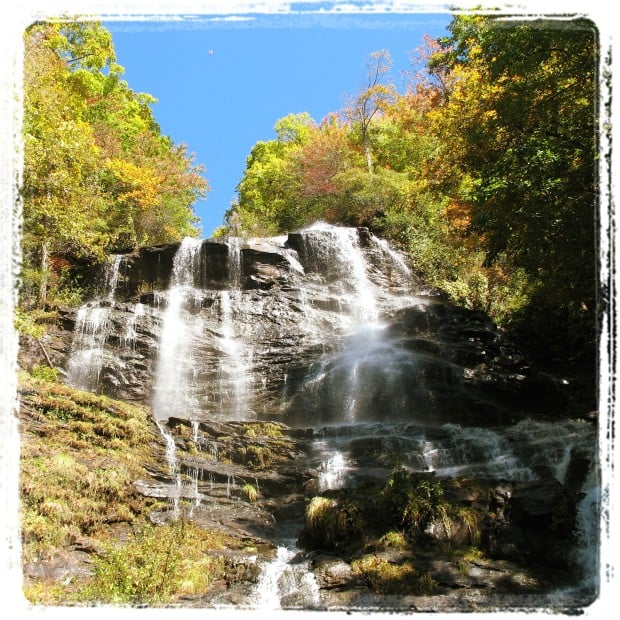 The highest waterfall in Georgia is located in Amicalola Falls State Park. In the early years, I frequented the park not only for the falls, but also for the meatloaf on the Maple Restaurant buffet at the lodge. That was also during the time I would hike the paved trail and climb the multiple staircases from bottom to top and back again. Later, I discovered the cushy recycled rubber tire side trail to the observation deck, and I just love it!
A fascinating feature along both accesses to the falls are the antique trucks and cars that toppled off the mountain ages ago and have never been removed. In fact, they have become such a part of the landscape that staircases were built directly on top of them! Rather than make the park look like a junkyard, however, they add a fascinating element of history to the hike. I would love to hear the stories behind those rusty landmarks!
On a side note, the 8.5-mile trail to Springer Mountain, the southern terminus of the Appalachian Trail, also begins in the park.
---
Toccoa Falls
Stephens County
---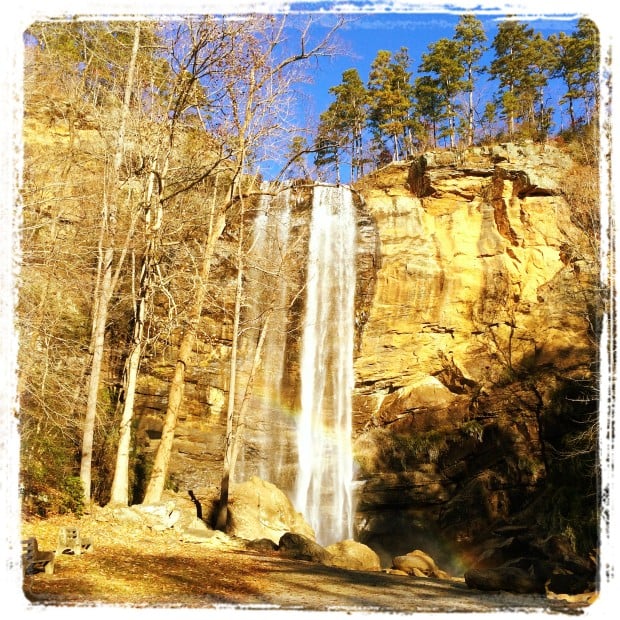 The waters of Toccoa Falls plunge 186 feet onto the campus of Toccoa Falls College, a private Christian school. But don't worry! When you stop at the guard shack, just tell the attendant you want to see the falls, and they will let you in.
You may recall that this is the site of the dam break in November of 1977 that killed 39 people and injured 60 others and destroyed a substantial part of the campus. A marble memorial near the falls bears the names of those who lost their lives that fateful day.
Always on the lookout for an additional site I can squeeze in on a road trip, I first visited the falls on a Thanksgiving morning while driving to Greenville, South Carolina, to have dinner with my maternal cousins. Toccoa Falls is unlike any of the other North Georgia waterfalls I have seen. As the photo above attests, these falls more closely resemble the Roadside Waterfalls of Oregon's Columbia River Gorge.
---
The Falls at Tallulah Gorge
Rabun County
---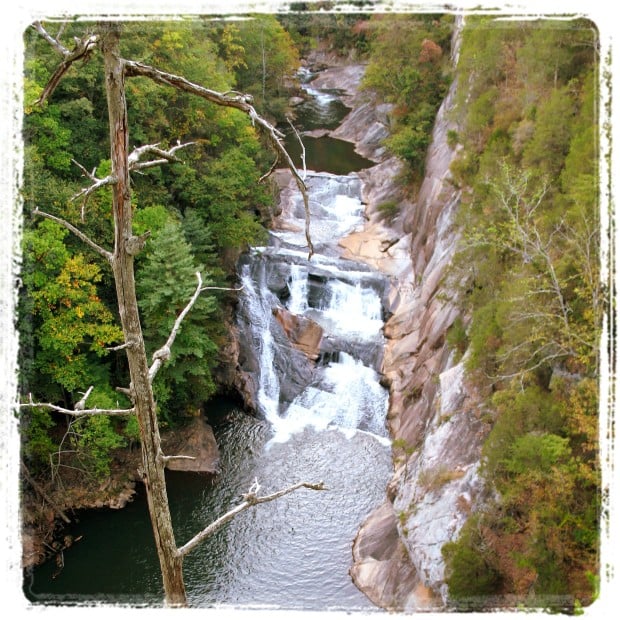 Tallulah Falls is a series of six separate waterfalls: L'Eau d'Or, Tempesta, Hurricane, Oceana, Bridal Veil, and Lovers Leap. All are located within Tallulah Gorge State Park.
I remember stopping to see the gorge on occasion with my family as a child when traveling from Florida to my grandfather's cabin in Franklin, North Carolina. I also remember hearing about the great Karl Wallenda crossing the gorge on a tightrope in 1970. The concrete towers from that feat remain to this day.
The park has many trails and overlooks for viewing the waterfalls, along with a suspension bridge, multiple steep staircases, and even one of those cushy recycled rubber paths. Only 100 visitors are permitted to hike the gorge per day, so plan on arriving early.
If you happen to be waterfall-chasing in the area, you are not far from the Mountain Waters Scenic Byway between Highlands and Franklin, North Carolina, a drive that features more than five amazing roadside waterfalls.
Note: Traditionally, parking at Georgia State Parks has been free on Wednesdays. I have not verified that lately, but I did find this thrifty feature on the Georgia State Parks website. "If you have a library card from a Georgia public library, you can check out a ParkPass and Historic Site Pass, just like you would check out a book. You'll enjoy free parking at Georgia's State Parks and free admission to State Historic Sites."
---
Map It!
---
---
5 Elusive North Georgia Waterfalls
---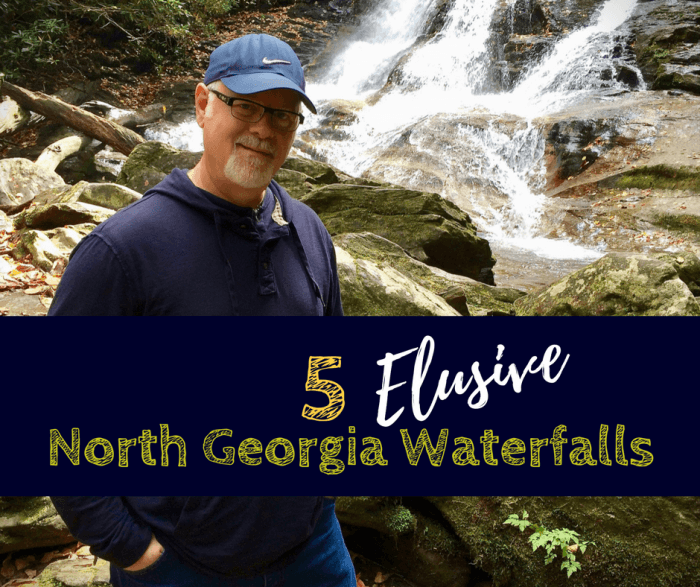 Read 5 Elusive Georgia Mountain Waterfalls for more off-the-beaten-path adventures scouting waterfalls in North Georgia!
---
We Would Love to Hear From You
---
We enjoy dialogue with our readers, especially when they share off-the-beaten-path destinations and useful travel tips. Have you ever scouted North Georgia waterfalls? If so, we would love to hear your story. We invite you to leave your comments and questions below, and we always respond!
---
Pin this Post!
---