(a

10

minute read)
---
A day trip adventure reveals five incredibly beautiful, yet elusive North Georgia waterfalls worthy of your mountain getaway or weekend road trip itinerary.
---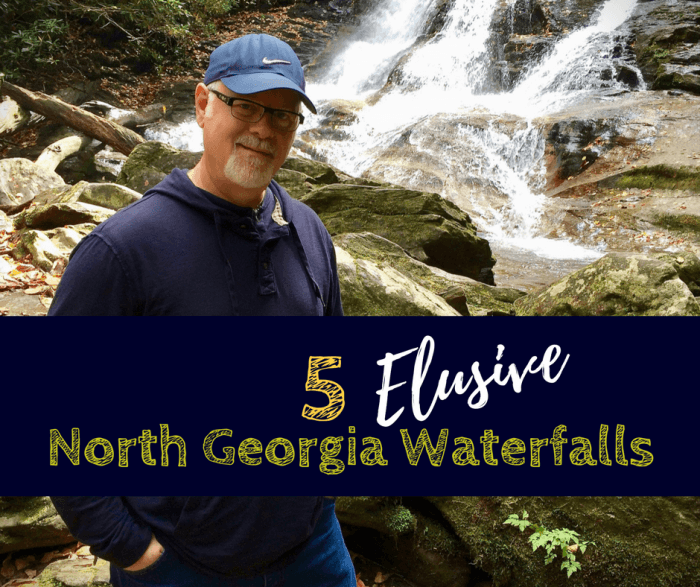 So my fall break week at Pinebox got off to a BANG!
Literally . . . .
Jim and Ken, my brothers by other mothers, drove up from Atlanta Sunday evening to spend a couple of days like they always do, and we headed out Monday morning for a day of waterfall hikes, again like we always do.
But we didn't get far . . . .
I started slowly backing out the mountain driveway looking behind with my arm on the passenger seat like I have done for eleven years, when suddenly we were jolted out of our bliss with a crash, sudden stop, and the shattering of glass.
I had backed into a tree, doing considerable damage to the rear driver's side of my beloved Mountaineer.
Don't ask me why. It was a fluke. All I can figure is that I had angled the SUV slightly when parking the night before to allow room in the driveway for Jim and Ken to park, and it happened. Actually, it was a blessing the tree was there to halt our momentum, or we would have gone down the mountain.
But it was going to take more than a fender-bender to steal our fun. I called my auto insurance to initiate the claim and pulled my wounded Mountaineer into the cabin garage. We hopped in Jim's Lincoln and resumed our fall outing.
---
5 Elusive North Georgia Waterfalls
---
Our plan for the day was to scout out some of the more elusive North Georgia waterfalls. When I use the term "elusive," I mean that for some reason, in the many years that the North Georgia mountains have been my second home, these were waterfalls I had never visited and didn't make it into our 10 Favorite North Georgia Waterfalls post.
One of our Twitter followers, @jhawk455, had recommended Blue Hole Falls located in the Chattahoochee National Forest between Hiawassee and Helen, so we decided to head that direction first.
---
Blue Hole Falls & High Shoals Falls
Towns County
---
We turned east on Forestry Service Road 283 approximately 11.5 miles north of Helen. Shortly, thereafter we came upon a bridgeless creek we would have to ford in order to continue. We parked to check the water depth, and then watched while a compact car successfully crossed the gravel-bottomed branch.
We, too, forded the creek with no problem and continued a mile or so more and parked in the High Shoals Scenic Area.
The trail was marked with a small sign pointing the way to the two waterfalls approximately 1.2 miles away.
A recently fallen tree blocked the trail. While Jim and I struggled to negotiate the trunk and branches, Ken made a simple detour down the mountain and made it around in seconds.
Show-off!
Both waterfalls have convenient observation decks for hikers who aren't as fond of up-close-and-personal views like we are.
The downhill hike to the falls was easy, making the return uphill hike more of a challenge, but stopping to view the beauty of nature along the way made it a pleasant walk all the way around.
---
Horse Trough Falls
Union County
---
Leaving the High Shoals Scenic Area, we followed F.S. Rd. 283 back to GA 75 and headed south toward Helen. The two brochures we were using for directions to Horse Trough Falls (one commercial and one from the Forestry Service) said we should turn west on F.S. 44 (AKA Wilkes Creek Rd.) just two miles south.
We found a narrow westbound gravel road in the area, but neither the sign by the highway (pictured above) nor the signs on the gravel road (pictured below) mentioned the name of the road nor High Shoal Falls. After a couple of confusing turnarounds to scout the immediate area, we decided to take our chances on the gravel road.
Can you say "elusive?"
Approximately five miles up the gravel road we came upon a well-developed, yet completely vacant, camping and parking area. A sign marked the way to the impressive Horse Trough Falls. Elusive though it may be, we had found it!
On Tuesday, we got a late start scouting additional elusive North Georgia waterfalls because Ken offered to make us delicious ham and cheese omelets for breakfast. Around noon we headed south toward the Cooper's Creek Recreation Area.
---
Sea Creek Falls
Fannin County
---
Speaking of elusive, I had attempted to find Sea Creek Falls on two or three occasions and never quite made it there. But today would be different. We followed GA 60 and turned onto Cooper's Creek Road. This time we came upon a sign pointing toward the falls.
A short distance ahead we came to another bridgeless creek. As before, we scoped out the depth of the water before attempting to cross over, but we were concerned the creek bottom might be too soft for a low car. We spotted a truck parked near a trail leading into the woods, so we decided to follow the path to see where it might lead. After a short hike we found a group of picnickers, and just beyond . . . Sea Creek Falls.
Before heading off to scout our next waterfall, we stopped to grab a bite to eat at the Cooper's Creek Store, located on GA 50 across from the turnoff to Cooper's Creek Road. Jim treated us to a tasty lunch of BBQ sandwiches and chips, and then we were off to find the last waterfall of the season.
---
Long Creek Falls
Fannin County
---
The fall foliage on the drive to Long Creek Falls was incredibly beautiful, and we could not resist stopping for some photo ops. Eventually, our trusty brochure helped us find our way to the point where F.S. Road 58 turned off Doublehead Gap Road.
Our brochure said the trailhead was located at the popular Three Forks Recreation Area. When we arrived at a fairly large parking area we found no sign indicating that it was Three Forks, so we continued driving for several miles.
Eventually we realized we had driven too far, so we turned around and headed back to the parking area. Three hikers who were setting up camp pointed us in the right direction, and we also found a trail sign with a hand-drawn arrow pointing to the falls.
We hiked what we believed to be the approximate distance to Long Creek Falls, and we could see a waterfall just below the main trail. We eventually found a side trail to the falls, but none of our movements seemed to match the description in the Forestry Service brochure.
It wasn't until I started doing research for this post that I realized how elusive Long Creek Falls were. So elusive, that I discovered we never made it to the main falls. What we had found was actually a lower, smaller waterfall on the creek.
All in all, we had a fulfilling two days of waterfall hikes, elusive though they were. This experience taught me that when searching for some of the lesser-known North Georgia waterfalls, you might want to compare directions on several web sites, maps, and brochures to weed out the misinformation. On these two days alone I read warnings of a difficult road that was actually smoothly paved and two creek-crossings we did not have to make.
Later in the week, I stopped by the Forestry Service office in Blairsville and talked to the ranger on duty. Before I could complain about the poor directions in the brochures, she happened to mention the lesser-known and hard-to-find waterfalls in the area.
It was then I realized that the misinformation was part of the adventure, and this blessing-in-disguise was one of the reasons why there were still some elusive North Georgia waterfalls not overrun with tourists, and we could find them with just a tiny bit more effort.
---
10 Favorite North Georgia Waterfalls
---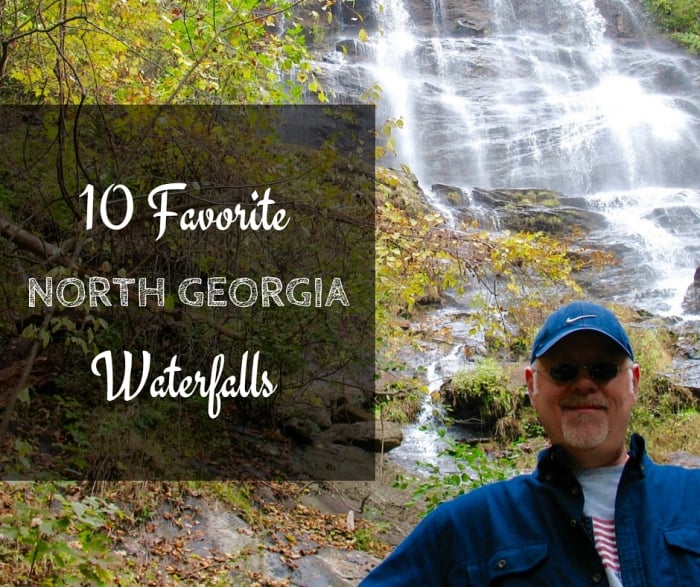 If you enjoyed this post, be sure to check out our second-most popular post of all time: 10 Favorite North Georgia Waterfalls.
---
We Would Love to Hear From You
---
We welcome your questions and comments, and we would love to hear about elusive waterfalls you have visited in North Georgia, or anywhere for that matter, in the comments section below.
And we ALWAYS respond . . . .
---
Map It!
---
---
Pin this Post!
---
---
Helpful Links
---
Comprehensive Listing of North Georgia Waterfalls on Wikipedia
High-Definition North Georgia Waterfall Videos by Mark Williams
Georgia Waterfalls @ GeorgiaTrails.com