(a

10

minute read)
---
Design your own Georgia road trip with Backroad Planet's suggested destinations, activities, scenic byways & historic trails, plus our exclusive planning resources.
---
---
Design Your Own Georgia Road Trip
---
Backroad Planet's "Design Your Own Road Trip" series began as way to showcase our previously published state and regional posts, and also provide readers additional resources for creating road trip itineraries of their own.
Excluding my home state of Florida, the state I have roadtripped the most is our neighbor to the north. In fact, some of the very first posts published on Backroad Planet were about my travels through Georgia.
My Love Affair with the State of Georgia
---
Some of my earliest memories are family road trips from our home in Central Florida to visit relatives in Georgia and the Carolinas. On those interminable drives, with no confining seatbelts, I would lay in the floorboard or back window of our Plymouth Fury III to while the hours away.
Gas station roadmaps and road signs guided our route along US 441, and later I-75.
Derelict barns and pioneer farmhouses populated the roadways in those days. Today, only the billboards remain.
I loved stopping for pecan log rolls and gas at Stuckey's, Horne's, and Magnolia Plantation, and exiting for lunch at Shoney's drive-in.
But calling the state of Georgia a "neighbor" sounds strange to me because I consider it my second home.
Literally!
On December 31, 2003, I closed on a log cabin in the mountains of North Georgia, a getaway and home away from home I would eventually name Pinebox. More about that later . . . .
How to Use this Guide
---
As you read, click on the featured images or blue-links to access a collection of resources about destinations in the state of Georgia that match your interests.
For organizational purposes, the destinations are ordered from North to Central to South Georgia.
Whether you are planning a day trip, weekend getaway, or extended journey, the resources in this post will help you design a Georgia road trip tailored to your distinct interests and thirst for adventure.
---
10 Favorite North Georgia Waterfalls
---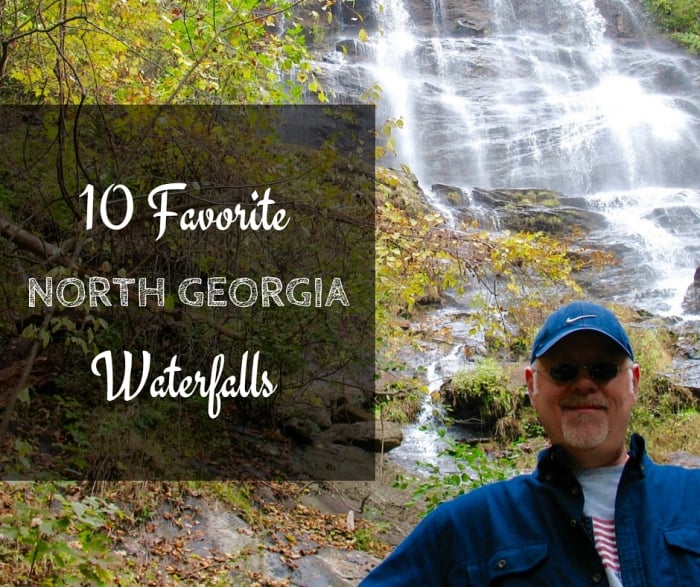 My favorite pastimes while at the cabin have been driving the backroads, hiking, and chasing waterfalls. As one would expect, these activities figure prominently in the Backroad Planet archive. 10 Favorite North Georgia Waterfalls is the first post on the subject I published. If you are waterfall-chaser like me, the falls detailed in this guide are a great place to begin.
---
5 Elusive North Georgia Waterfalls
---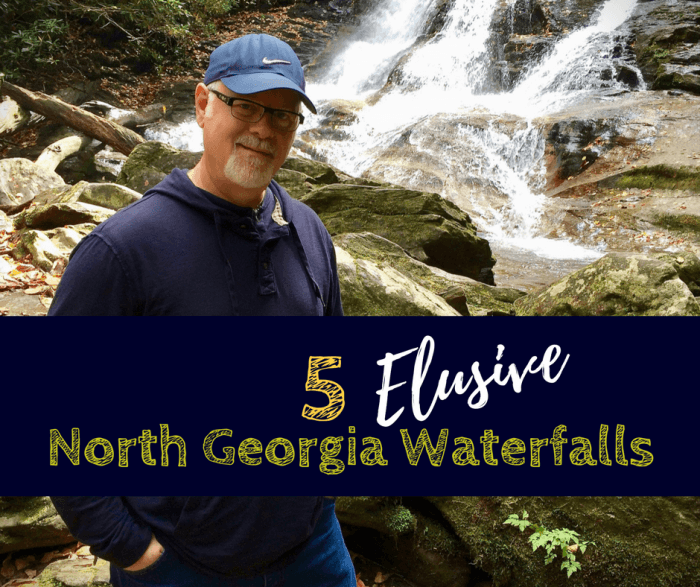 Even with great directions and the best of intentions, some waterfalls are more difficult to find than others. The post 5 Elusive North Georgia Waterfalls tells the story of an autumn waterfall chase to some of the more remote locations. If you plan to chase the waterfalls in this post, be sure to allow for additional drive time and potential detours.
---
Toccoa River Swinging Bridge
---
A three mile drive down a gravel road into the Chattahoochee National Forest will take you to the longest swinging bridge east of the Mississippi. If you are in the vicinity of Blue Ridge or Blairsville, Toccoa River Swinging Bridge is a great day trip destination or addition to a scenic drive.
---
North Georgia Swimming Holes & Waterfalls
---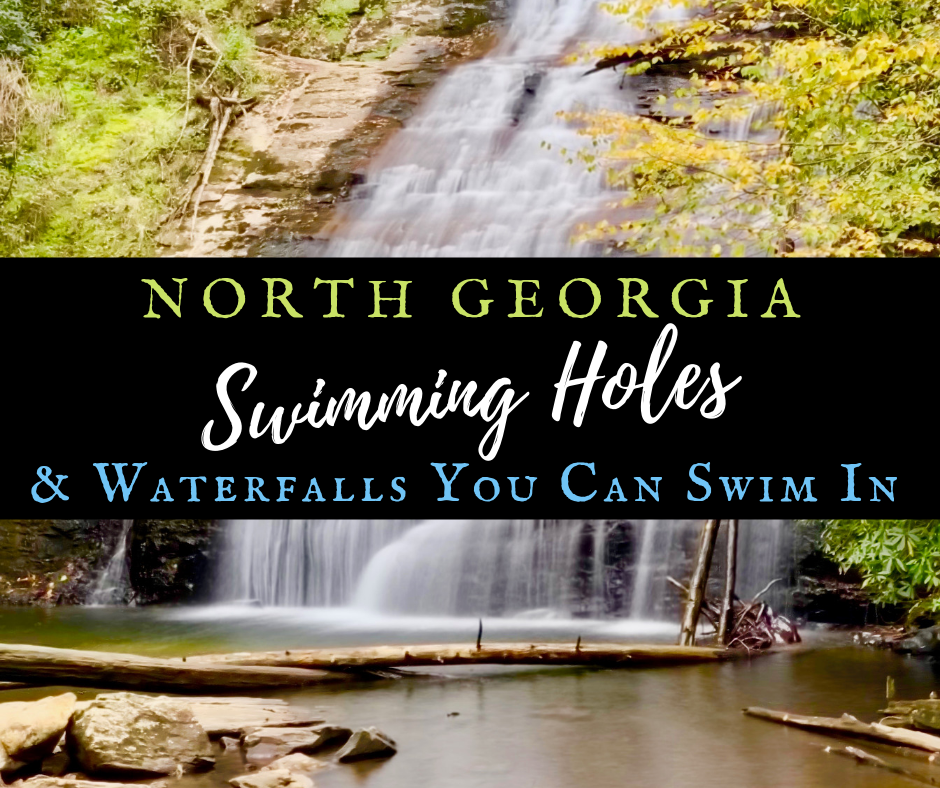 When we started noticing repeated online searches by our readers, we knew we would eventually have to write a guide for North Georgia Swimming Holes & Waterfalls You Can Swim In.
We're talking rope swinging, cliff jumping, rock sliding, whitewater tubing, and of course, swimming!
This guide shows you the way to more than twenty North Georgia swimming holes and waterfalls, so you can plan your next wet adventure.
---
A Visit to Pinebox: My North Georgia Mountain Cabin
---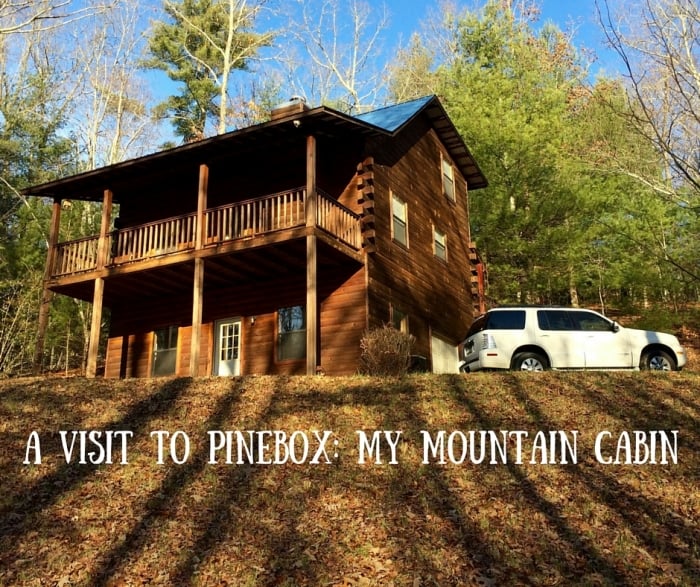 I wrote the photo-essay A Visit to Pinebox for friends who frequently asked to see pictures of my North Georgia mountain cabin. At the time, it was my private retreat where I occasionally hosted family and friends.
When I began traveling and working full-time for Backroad Planet, I was not able to spend as much time at the cabin as before. So now, Pinebox is listed as a vacation rental on Airbnb, making it the perfect home base for a weekend getaway or extended stay on your North Georgia road trip!
---
18+ Outstanding Athens Georgia Attractions
---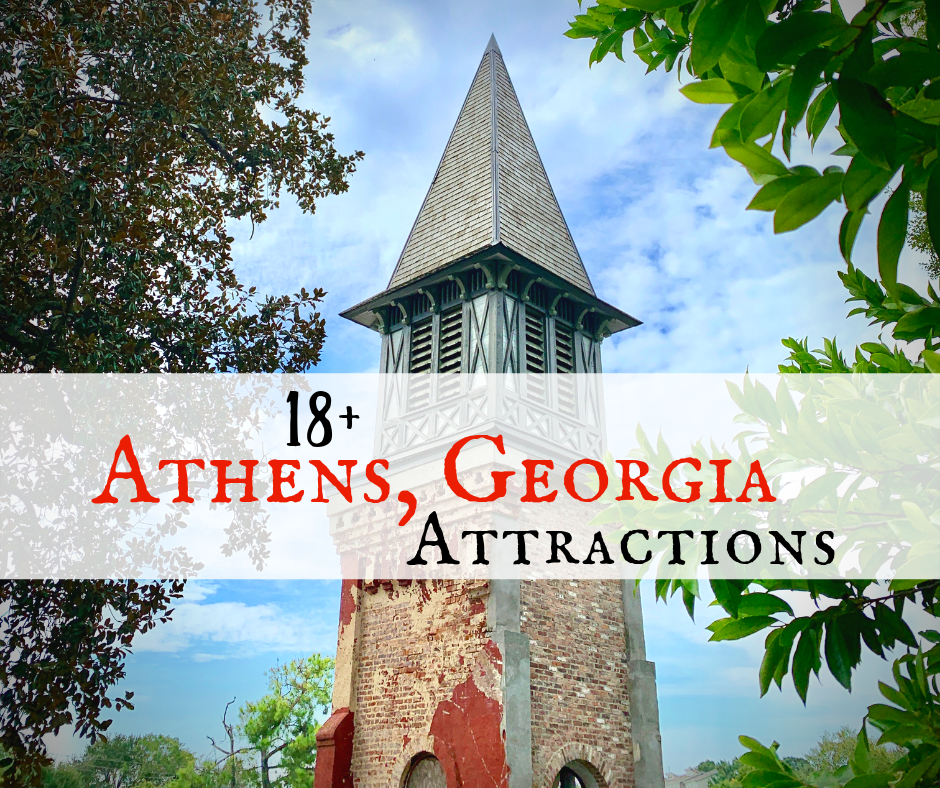 If you drive 80 miles east of Atlanta, the road will lead you to Athens, home to the University of Georgia and the birthplace of alternative rock bands R.E.M., Widespread Panic, and the B-52s.
But the Classic City has many more claims to fame. From art to architecture, music, history, dining, botanical gardens, and outdoor adventure, Athens offers something for everyone.
The following list links to just a few of these outstanding Athens, Georgia, attractions:
---
Visit the Jimmy Carter Presidential Library & Museum
---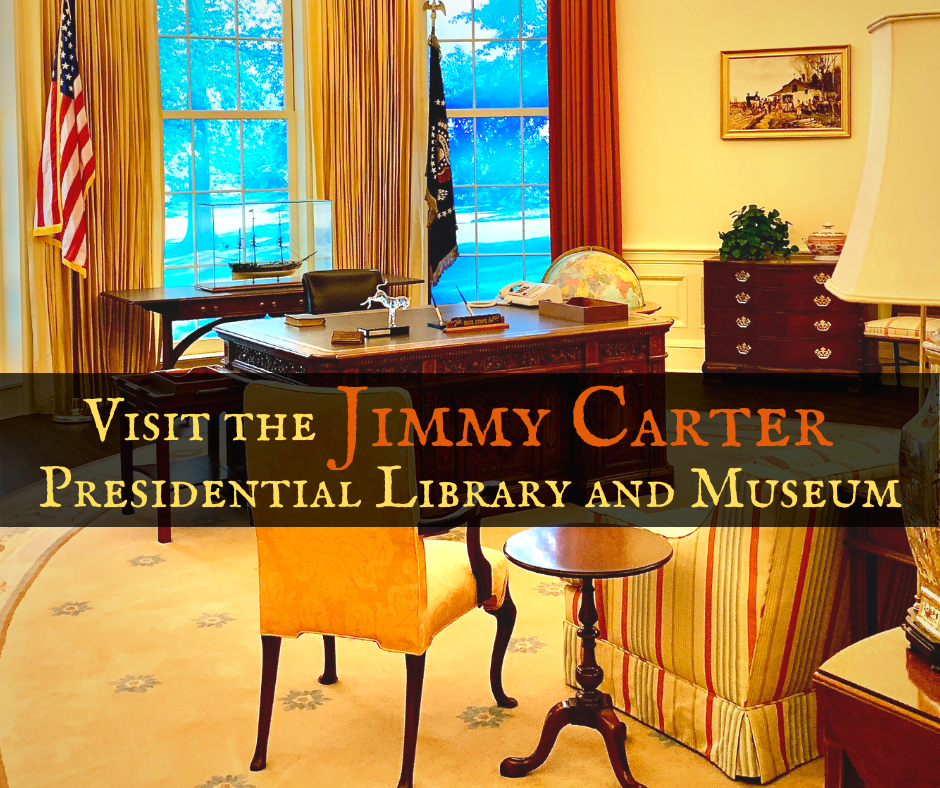 Jimmy Carter is a man of integrity who puts his faith into action and supports equality for all people. He served as Governor of Georgia, President of the United States, and has dedicated this life since then to peacekeeping and humanitarian efforts around the world.
When in Atlanta, you can tour the Jimmy Carter Presidential Library. The self-guided museum tour is like taking a walk along the timeline of Jimmy Carter's life, from childhood through the post-presidency years. Guests are also able to research the archives and walk 35-acres of gardens during their visit.
---
3 World-Class Atlanta Museums of History
---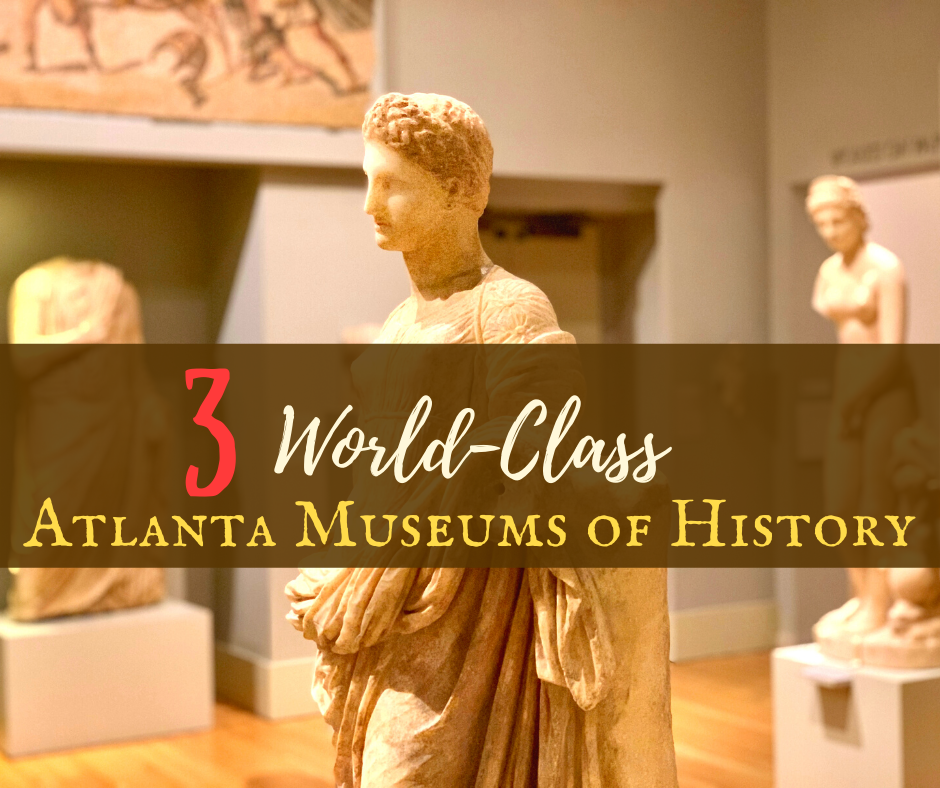 If you are a history buff, there are three world-class museums of history in Atlanta you don't want to miss!
Explore natural history at Fernbank Museum, art history at Emory University's Michael C. Carlos Museum, and the history of disease control at the David J. Sencer CDC Museum.
---
Explore History & Music in Macon, Georgia
---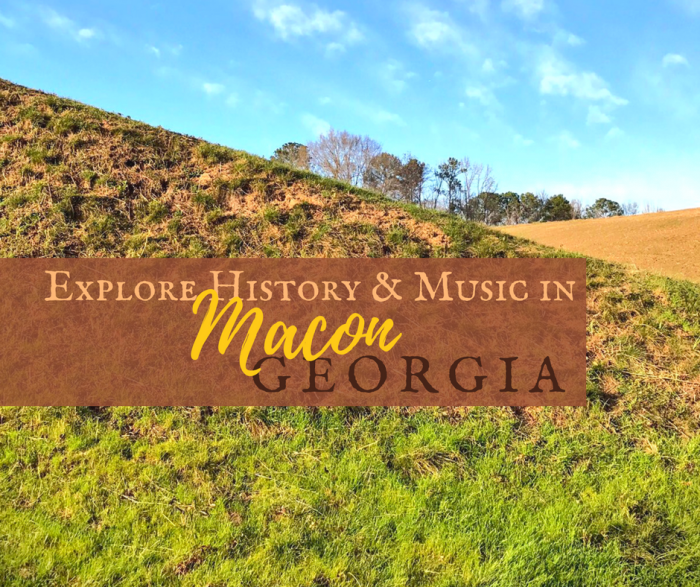 For many years, while making the 9.5 hour drive between my home in Central Florida and my cabin in North Georgia, the I-475 bypass would route me away from Macon. I did not realize what I was missing until I decided to take a detour for a couple of days.
You will want to add Macon to your Georgia road trip itinerary, especially is you are a lover of history and music like me. Macon was once the home of music legends the Allman Brothers, Otis Redding, and Little Richard, but its history dates back 17,000 years as home to some of the first indigenous people of southeast North America.
Navigate to the following links to learn why Macon deserves a spot on your itinerary:
---
5 Boredom-Busting I-75 Exits in South Georgia
---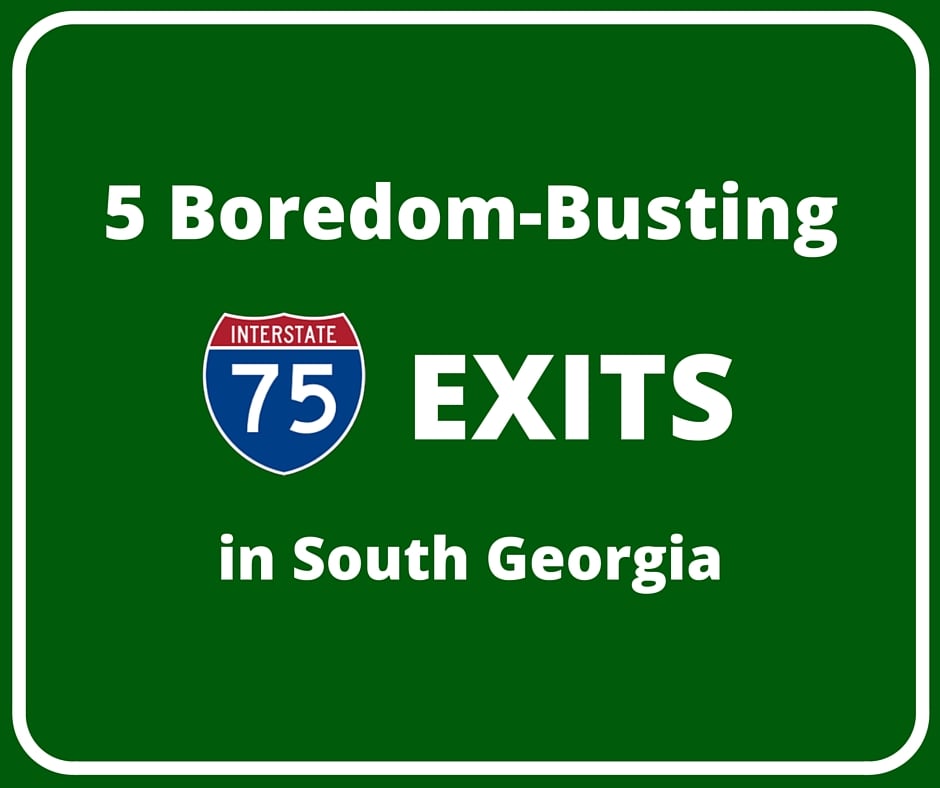 There is no denying that I-75 through South Georgia can be a long, boring stretch of highway. I typically get through it with recorded books, podcasts, and music. To add some adventure to your interstate journey through South Georgia, try these exits for a bit of history, scenery, literature, and great food!
---
Andersonville: The Civil War in Georgia
---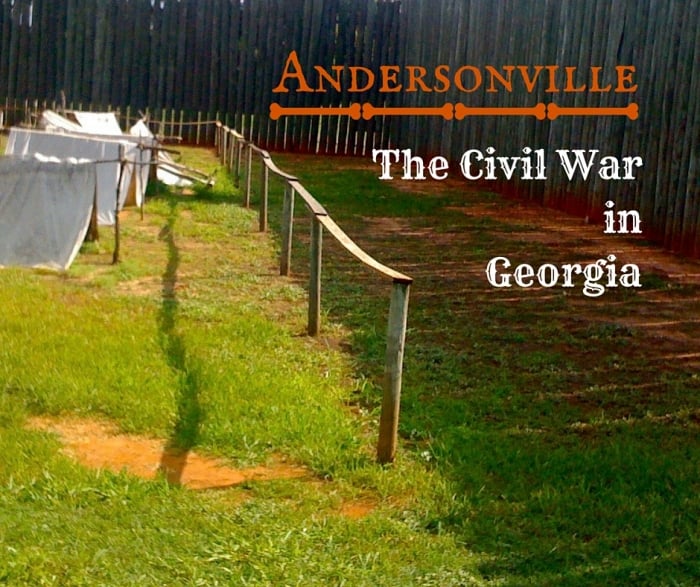 If you are a Civil War history buff like me, you will want to add the Andersonville National Historic Site to your Georgia road trip itinerary. These hallowed grounds are home, not only to the infamous Confederate Prison Camp Sumter, but also the National POW Museum, and the Andersonville National Cemetery.
---
Jimmy Carter's Sunday School Class
---
Situated about 30 miles west of I-75, the Andersonville-Americus-Plains region is our favorite South Georgia destination.
I highly recommend that you visit the area on a weekend so you can experience an audience with a president.
Not only can you visit the Jimmy Carter National Historic Site, including his childhood home and high school, but you can also meet President Carter and have your picture taken with him when you attend his Sunday School class.
---
Georgia's Scenic Byways & Historic Trails
---
I first learned about Georgia's scenic byways and historic trails when I encountered the signs along the roadways. If you enjoy driving tours like I do, you can easily make them a part of your Georgia road trip itinerary with the resources linked below.
Trail of Tears National Historic Trail Map: Georgia (PDF)
Georgia's Old Federal Road Driving Tour (PDF)
---
Explore Georgia's Regional Resources
---
Map Credit: Explore Georgia
Explore Georgia, the state's official tourism board, has divided the state into nine distinct regions based on their commonalities.
For detailed information on each area, navigate to the Georgia Regions & Cities web page.
To download or order print publications by mail, head over to the Free Georgia Brochures page. You can search by region, city, or keyword. As I write, there are 565 brochures, maps, and guides available to help you design the Georgia road trip of your dreams.
---
Backroad Planet Road Trip Planning Resources
---
If this is your first time planning a road trip, or if you are curious to learn my personal road trip planning workflow, you may be interested in our 3-part series. Each post includes handy downloadable PDF forms to facilitate the planning process.
The Ultimate Road Trip Planner: Part 1 Pre-planning helps road trip designers answer six key questions that will guide them through the task.
The Ultimate Road Trip Planner: Part 2 Research suggests six general resources for finding destinations and routes.
The Ultimate Road Trip Planner: Part 3 Itinerary details my method for designing an itinerary with activities, dining, and lodging, and also includes a hack for organizing travel documents.
A newer post tells How to Find Unique Sites for Your USA Road Trip Itinerary, such as hidden scenic views, secret swimming holes, abandoned historical sites, and the best off-the-beaten-path locations.
---
Other Backroad Planet State and Regional Roundups
---
When you navigate to any of the following links you will find a wealth of content to help you choose destinations you want to visit and design an itinerary tailor-made to your interests.
---
We Would Love to Hear From You
---
We enjoy dialogue with our readers, especially when they share off-the-beaten-path destinations and useful travel tips. Have you ever taken a Georgia road trip? If so, we would love to hear about your experience. We invite you to leave your comments and questions below, and we always respond!
---
Pin this Post!
---