(a

6

minute read)
---
Road trip preplanning is the essential first step to successfully research and design the perfect itinerary. Use our handy free worksheet to ask yourself six important questions before you begin!
---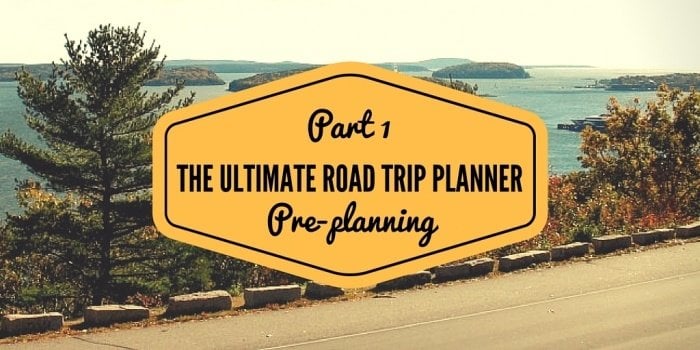 Whether you are preparing for a day trip or an extended road trip, in the long run it always pays to make a plan. You can usually organize a day trip in your head, but when planning a longer road trip, it is wise to answer a few questions, do some research, and create an itinerary. I will be the first to admit that I am a chronic overplanner, but I love travel research, and designing a perfect itinerary makes me all giddy inside. It is like taking the trip vicariously before you ever pull out of the driveway. That's not to say that Jerry and I don't do unplanned day trips, as well. We do. In fact, we have had some incredible serendipitous experiences on days we have decided to jump in the car and see where the road takes us.
But more about that later . . . .
I might as well go ahead and say it up front: Planning the perfect road trip will require a bit of concentrated time and effort. It is the nature of the beast. But if you decide to make planning part of the journey, you will discover it can be great fun. The planning stages of travel are where your hopes and dreams and longings collide to create your potential reality. I'm not making this stuff up! You can become the ultimate road trip planner if you take the time to do it right.
---
The Ultimate Road Trip Planner: Part 1 PrePlanning
---
Consider this . . . .
Before you get down to the nuts and bolts of researching locations and planning an itinerary, you must do a bit of preplanning that will serve you well down the road. Ask yourself the following questions:
Where do you want to go?
If you're like me, you don't even have to think about it. I keep a running list of destinations in my head. As I write, I'm thinking . . . Crater Lake, coast-to-coast on the Lincoln Highway, Plitvice National Park in Croatia, southern Chile, the Florida panhandle . . . . But this article is not about me. It's about you and the places you want the road to take you. Will you be leaving and returning to your own driveway, or do you long to visit a distant location that will require a plane ticket and rental car? Fly-drives are road trips, too! You may even want to do what Jerry and I did last summer, and take your car with you on the Amtrak Autotrain.
When do you want to go?
It is crucial to plan your road trips by season, especially if you plan to travel to the Southern Hemisphere where the seasons are reversed. I have a teacher's schedule, so my travels typically happen during fall, winter, spring, and summer breaks. Jerry works year-round, but he can put in for vacation days at any time. Because of our independent schedules, we typically plan one extended road trip during spring break and another in the summer. We are more capricious when planning weekend road trips or backroad day trips, partially because they are shorter trips and partially because our experience precludes the need for detailed planning. We also take solo road trips. Jerry is a part-time biker and likes to ride his Harley to biker events and day trips to nowhere. My favorite time of year is the fall, and Lord willing and the creek don't rise, I will always be driving somewhere in the mountains during the third week of October, whether Jerry can make it or not.
Why do you want to go?
Do you need a break from the monotony of your 9-to-5 cubicle? How about a change of scenery? Is there a place to which you must make a pilgrimage, sacred or otherwise? Not necessarily a difficult question to answer, but definitely another lodestar to guide you through the planning process.
What do you want to do?
We typically don't have to consider this question, because we already know the answer. Any road trip we take needs scenic beauty, historical sites, good food, and comfortable lodging. The answer to this question will narrow your research.
What will be the length of your trip?
A day trip will not require an overnight stay, but extended road trips of any length will require locking down your accommodations in advance. In fact, lodging is the first thing I confirm when creating an itinerary.
How much do you want to spend?
Answering this question will help you decide the length of your road trip, the distance you will travel, the sites you will visit, and the types of meals and lodging you will need. Can you afford to splurge a bit, or do you need to budget? Will you take the scenic route there and the interstate back? Will you be scheduling fee-based activities or will you visit free locations? Will you pack lunches and picnic or experience local cuisine? Will you be camping, hosteling, or staying at B&Bs?
And finally . . . .
To make it easy for you, we designed a road trip preplanning worksheet, and you can download it here.
Road Trip Planning Worksheet #1 PrePlanning
Whether you jot down your responses to these questions or mull them over in your mind, we encourage you to take some time to consider the answers, discuss them with your travel mate(s), and prepare yourself for the next stage of the planning process . . . . Research!
The Ultimate Road Trip Planner: Part 2 Research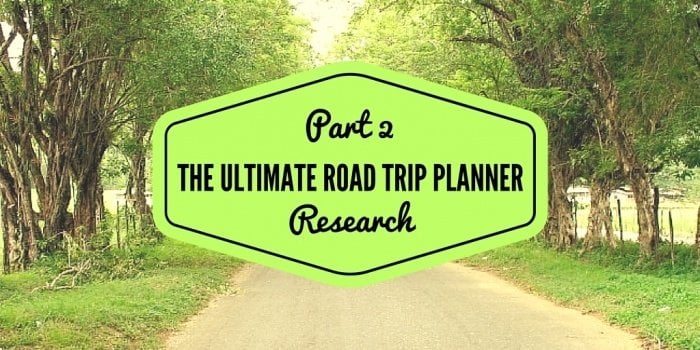 The Ultimate Road Trip Planner: Part 3 Itinerary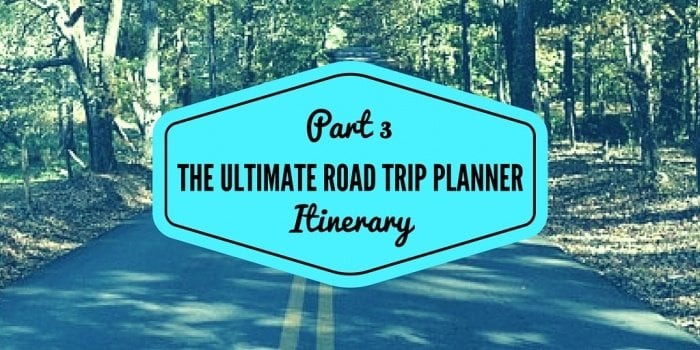 ---
We Would Love to Hear From You
---
We enjoy dialogue with our readers, especially when they share off-the-beaten-path destinations and road trip travel tips. Have you ever planned an amazing road trip? If so, we would love to hear about your experience and any planning recommendations you may have. We invite you to leave your comments and questions below, and we always respond!
---
Pin this Post!
---