(a

12

minute read)
---
Load your USA road trip itinerary with hidden scenic views, secret swimming holes, abandoned historical sites, and the best off-the-beaten-path locations!
---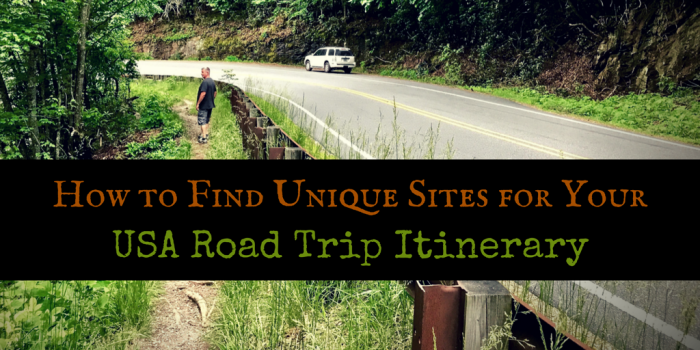 ---
Find Unique Sites for Your USA Road Trip Itinerary
---
It is no secret, when it comes to travel itineraries, that my nature is to overplan. I even shared my method in a 3-part series entitled The Ultimate Road Trip Planner: Part 1 Preplanning, Part 2 Research, and Part 3 Itinerary.
Jerry, on the other hand, prefers spontaneity. He believes roadtrippers should not be bound by a schedule and that the best adventures are discovered by following where the road leads.
Over the years our methods have evolved and merged to the point that we now typically do a bit of research, nail down important trip details, and plan a general itinerary that includes potential activities and sites of interest.
As avid backroad riders and roadtrippers, we are always on the lookout for unique, off-the-beaten-path locations, while in trip planning stages and also while en route.
It's not that we don't enjoy visiting popular tourist destinations. We do! It's just that experience has taught us many of the most intriguing places in the world, for whatever reason, often fly under the radar.
This post was inspired by the success of our third most popular post, How to See the Real Florida: 11 Essential Web Sites. I wrote that article as a resource for visitors, to help them discover that our home state was so much more than theme parks and beaches. The popularity of the post showed me that readers long to visit authentic destinations, but they may not always know how to find them.
In the article How to Find Anything Anywhere: 16 Top GPS Travel Apps, I shared some amazing mobile tools to help travelers find unique locations while they are on the road.
Recently, I realized I needed to share some of my favorite websites for researching unique places, in order to assist readers who are in the planning stages of a USA road trip itinerary.
The following 14 websites will help you find little-known destinations such as ghost towns, hidden waterfalls, secret swimming holes, movie locations, historical sites, street art, roadside attractions, cemeteries, offbeat sites, scenic byways, state and national parks, and even UNESCO World Heritage sites located here in the USA.
With these helpful resources, you can design a perfectly unique USA road trip itinerary!
---
---
When it comes to finding and identifying unique physical locations on the planet, Waymarking reigns supreme. You can find historical sites, ghost towns, movie locations, and even flower fields through site searches and in categories. I actually discovered this site while researching an abandoned roadside schoolhouse I happened upon last year while driving a Kansas backroad. GPS metadata from photos I took of the schoolhouse helped me confirm that it was the same location.
In addition to GPS coordinates, Waymarking location pages contain descriptions, photos, and visitor commentary. The site is dependent upon user contributions, but in order to add locations and other content to the site, users must sign up for a free membership. Check out the FAQ page for detailed information on Waymarking's many useful features.
Note: If you are interested in finding movie locations for your USA road trip itinerary, check out The Worldwide Guide to Movie Locations. The website appears not to have been updated since 2016, but it still contains a a massive amount of information.
---
---
The Historical Marker Project is building the largest online collection of U. S. historical markers that identify locations connected to significant people and events. The HMP is also dependent on member contributions and allows users to add content, leave comments, and save favorites. In addition to the typical markers placed by historical societies, I found the marker series for historical roads & trails and walking & driving tours especially helpful as a resource for travelers.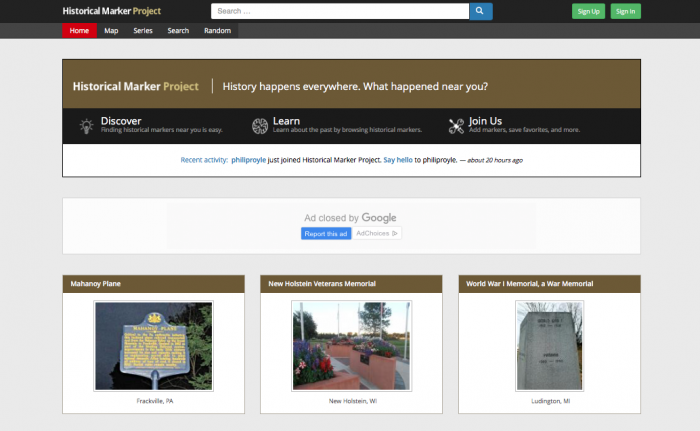 Individual historical marker pages contain inscriptions, GPS coordinates, maps, check-ins, and links to other nearby markers. The element commonly missing from most of the marker pages I reviewed was photographs of the markers. For users who wish to contribute photos or other content, a helpful list of maintenance issues is located at the bottom of each marker page.
---
Atlas Obscura
---
The Atlas Obscura website defines itself as "the definitive guide to the world's wondrous and curious places." To me, it is the ultimate repository for all of the hidden, intriguing, offbeat, and downright bizarre locations around the world. The Atlas menu features popular locations, maps, stories, events, vintage photos, objects of intrigue, and much more.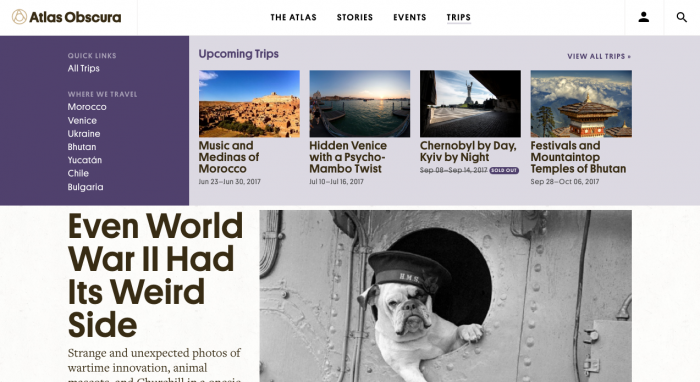 This website fascinates me so much that I have a subscription to the daily email newsletter, and I recently purchased the 480-page companion book Atlas Obscura: An Explorer's Guide to the World's Hidden Wonders, a full-color reference text that contains entries for more than 600 locations that inspire "equal parts wonder and wanderlust."
---
Find A Grave
---
I am one of those strange people who love to visit cemeteries. I have visited them at night while on ghost tours and during daytime hours on history walks. If you think about it, graveyards and memorial gardens are by nature historical sites, art galleries, walking paths, and genealogical research libraries.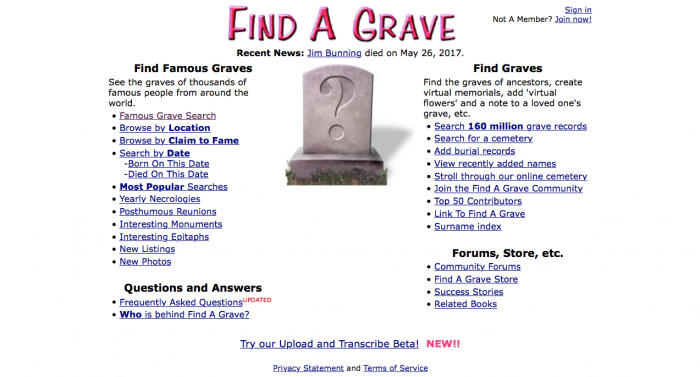 Find A Grave is a user-built database that holds over 160 million grave records, including the burial places of celebrities, politicians, sinners, saints, and regular people like you and me. When planning a USA road trip itinerary, you might want to browse cemeteries by location. On the other hand, you might want to find the final resting place of a personal hero, and make a pilgrimage there like I did recently on a California road trip. You can read about my experience in my updated 2015 article Corrie Ten Boom: Searching the World.
Even if you have no current travel plans, don't overlook the Claim to Fame, Yearly Necrologies, Posthumous Reunions, Interesting Monuments and Epitaphs, and Most Popular Searches links. They will keep you busy for hours!
---
Roadside America
---
We first featured Roadside America in our post How to Find Anything Anywhere: 16 Top GPS Travel Apps. The Roadside America mobile app is handy for finding roadside attractions and oddities while on the road, but when planning a USA road trip itinerary, the desktop site might be more suited to the task. This mega-site offers a wealth of tools, tips, and information on thousands of peculiar U. S. road destinations. Be sure to check out the Top 10 Trending locations for updates on sites such as Cadillac Ranch, the Texas Chainsaw Massacre House, and Bonnie and Clyde's Death Car.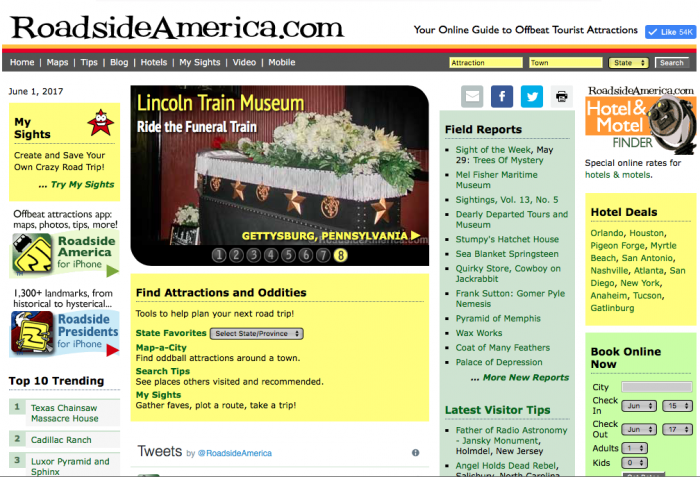 Note: I cannot visit Roadside America without thinking of my friend and fellow-roadtripper Tonya Prater of The Traveling Praters, who shares my obsession with roadside attractions. Our travel interests are so similar, we suspect we may have been separated at birth! Tonya's Roadside Attractions menu has a fine listing of articles that detail visits to some of her favorite sites.
---
Only in Your State
---
As I recall, I first discovered Only in Your State after falling for a click-bait link posted on Facebook. With sensational titles such as "These 10 Hole In The Wall BBQ Restaurants in Florida Will Make Your Tastebuds Go Crazy," these posts and listicles contributed by users may not qualify as serious journalism.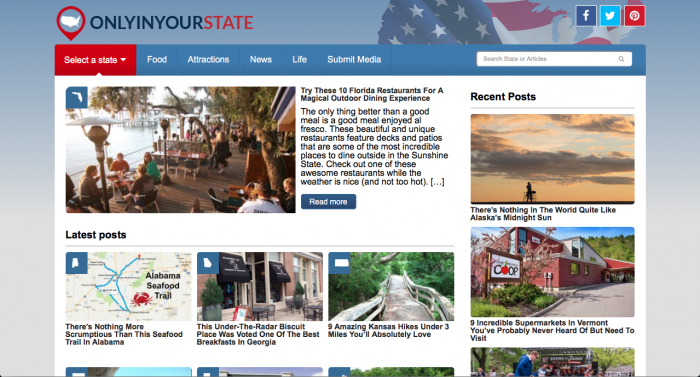 But even though these posts are high on interest and low on substance, and feature images and content gleaned from the internet, and even though they may be written by people who have never visited the locations they describe, these posts do have at least one redeeming quality.
They introduce readers to food, attractions, news, and life as categorized in all 50 states.
I should know . . . .
---
Web Urbanist
---
I discovered Web Urbanist by accident while working on this post, and I am so glad I did. My passion for discovering off-the-beaten-path destinations typically leads me to rural areas. My travels, on the other hand, often take me to cities and urban centers that, though well-traveled, are home to countless cool places that hide in plain sight.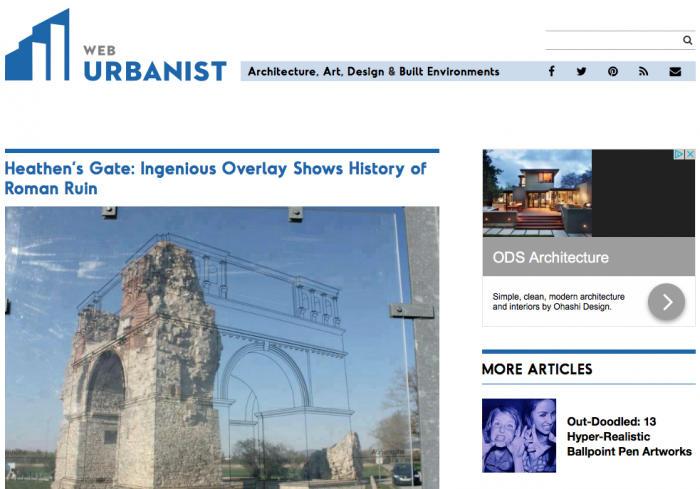 The WebUrbanist website "features creative, innovative, unusual and unique projects" within five broad categories, including architecture, art, design, technology, and travel, making it the ideal resource for planning itineraries within urban areas. The five main categories are further divided into 25 additional subcategories, including abandoned places, street art & graffiti, vintage & retro, and urban exploration, proof that you can go off the beaten path in cities, as well.
---
World Waterfall Database
---
I am an unapologetic waterfall-chaser. I love finding them, photographing them, and writing about them. Apparently I am not alone, because Backroad Planet's fourth and fifth most popular posts of all time are about waterfalls in Georgia and Florida.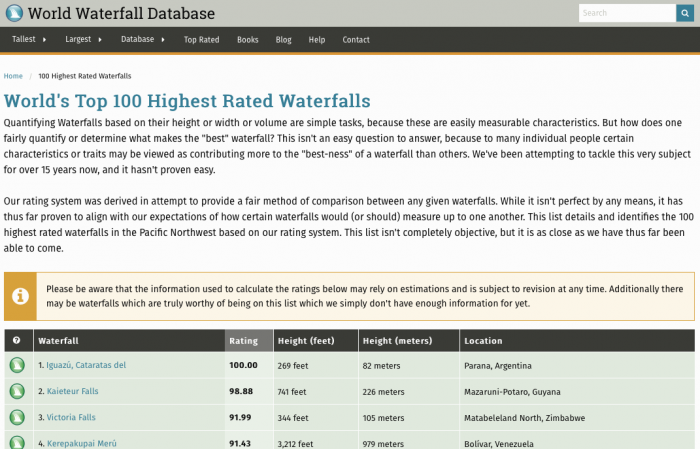 According to the home page: "The World Waterfall Database was created as a long-term project seeking to create the most comprehensive, complete record of waterfalls found throughout the world." For waterfall freaks like me, there could be no better resource for planning outdoor itineraries. Users can find waterfalls ranked by height, width, and volume, and browse by state, country, and map.
Although this website is a helpful resource, clearly it is still a work in progress. It lists only two natural waterfalls in Florida, but we know from experience that is not the case. It lists no waterfalls in Paraguay, but having lived there during my teen years, I know of several. Still, I learned from the database about previously unknown waterfalls located near Pinebox, my cabin in the North Georgia mountains.
---
Swimming Holes
---
I have used the Swimming Holes website for years, and even though its appearance is dated, don't be fooled into believing the content is outdated. This database contains a treasury of information about 1600+ natural water features including lakes, rivers, springs, and waterfalls in the U. S. and Canada that are suitable for swimming.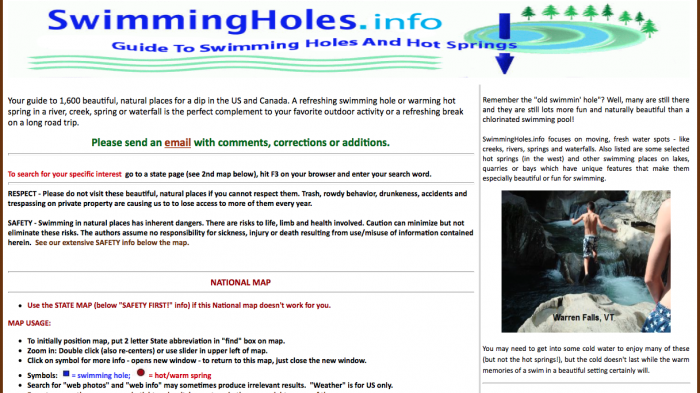 Swimming hole entries include descriptions, GPS coordinates, directions, facilities (if any), and even information on clothing optional sites. Some sites tagged in green are identified as "road trip dips," meaning they are conveniently located within twenty miles of major highways for refreshing breaks from hot summer road trips. I highly recommend adding some swimming holes to your travel itineraries.
Should your USA road trip itinerary take you through the Southeast, be sure to check out Backroad Planet's guide to North Georgia Swimming Holes & Waterfalls You Can Swim In.
---
National Register of Historic Places
---
As a history buff, I regularly visit buildings listed on the National Register of Historic Places.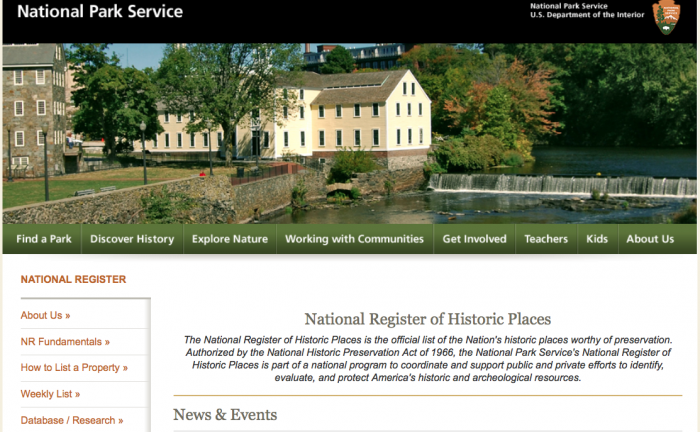 Although the NRHP website databases are in a current state of reorganization, there many useful tools, maps, and resources available for researching these historical sites, deemed worthy of preservation and also potential inclusion on your USA road trip itinerary.
---
Find Your Park
---
Find Your Park is a collaboration between the National Park Service and the National Park Foundation. The website, through searches by activity or state, helps users plan their visits to national parks, landmarks, monuments, battlefields, parkways, and many other sites governed by the NPS.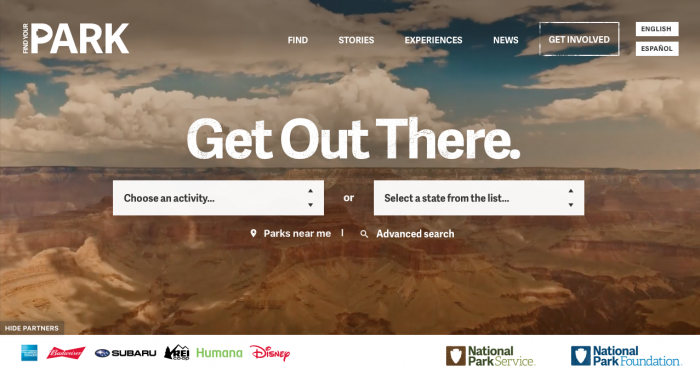 I always try to include NPS sites on my travel itineraries, not just because they are incredible destinations, but also because they feed my obsession with collecting stamps for my National Parks Passport.
---
America's State Parks
---
It seems I recall wondering at some point whether there was a website that linked all fifty of America's State Parks in one location, and as it turned out, there is. "With 10,234 units and more than 759 million visits, " America's state park systems are highly-valued destinations both as scenic sites and locations for outdoor recreation.
Be sure to consider state parks when planning your USA road trip itinerary, and use the handy ASP tool for links to campsite and cabin reservation alternatives.
---
America's Scenic Byways
---
It is no secret we prefer the backroads to the highways, so when planning U. S. road trip itineraries, don't overlook the option of traveling along America's National Scenic Byways.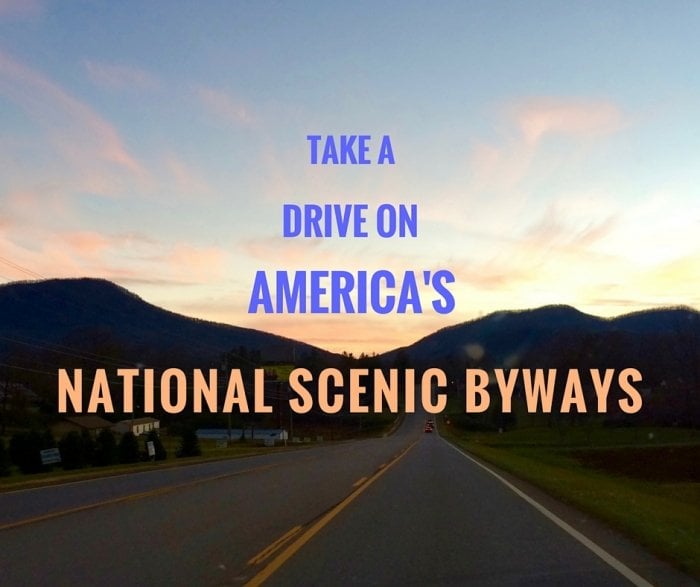 The massive network of All-American Roads, Back Country Byways, National Forest Scenic Byways, National Parkways, and countless state scenic byways and historical trails can make your drive as awesome as your destinations.
---
UNESCO World Heritage Sites
---
Touring UNESCO World Heritage Sites is another one of my passions, and I have visited many of these significant cultural, historical, and natural sites during my travels.
I typically associate World Heritage Sites with international destinations, forgetting that there are currently 23 UNESCO sites in 19 states and 2 territories. The San Antonio, Texas, Missions are the most recent addition, inscribed on the list in 2015.
---
Find Lodging on TripAdvisor
---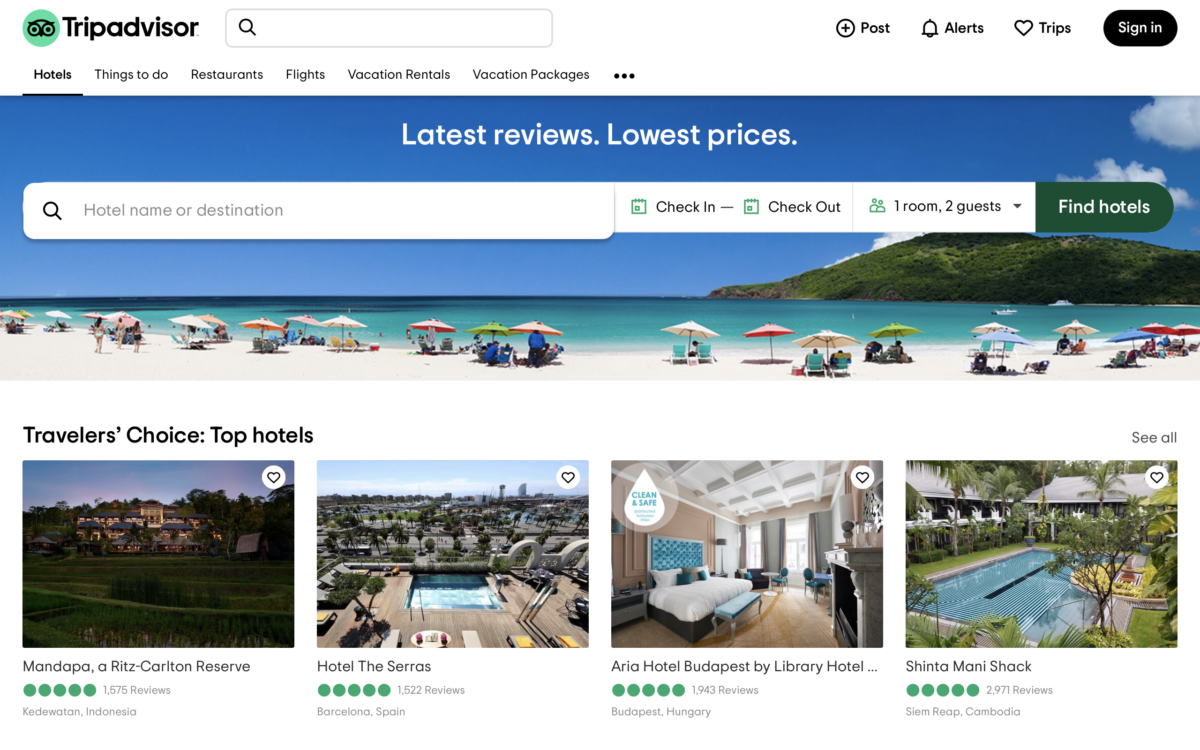 No matter where you travel, you can find accommodations on TripAdvisor, with the lowest prices and latest reviews.
Click here to discover unique lodging options for your USA road trip on TripAdvisor!
---
We Would Love to Hear From You
---
We enjoy dialogue with our readers, especially when they share off-the-beaten-path destinations and useful travel tips. Have you ever designed a USA road trip itinerary that included secret, hidden, or offbeat sites? If so, we would love to hear about your experience. We invite you to leave your comments and questions below, and we always respond!
---
Pin this Post!
---