(a

21

minute read)
---
Bored? Lost? Need to get away? Satisfy your spirit of wanderlust at home or abroad now. You can find anything anywhere with these handy, helpful GPS travel apps!
---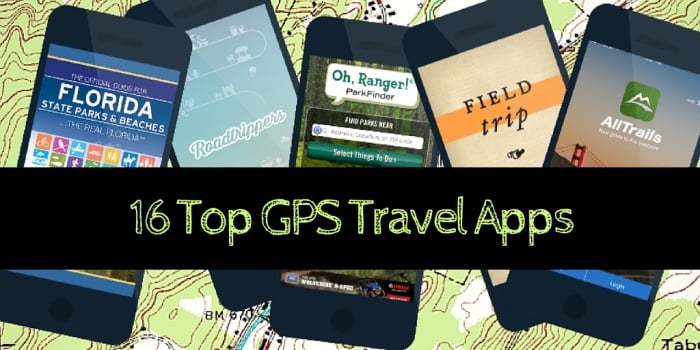 Technology never ceases to amaze me!
Even though GPS travel apps are nothing new, it seems every time I turn around someone has designed an app for something I didn't even know I needed . . . until I see it, that is.
The old adage that necessity is the mother of invention, must be true.
The following apps are either tried and true favorites I have used over time or apps recently discovered. All of them are iPhone apps, some are compatible with iPads, and some are available for Android, as well. Most apps are free, some are paid, and some have in-app purchases. Some apps work in tandem with online websites that may require a login to access some of the features.
This is not a critical review, but rather a handpicked collection of recommended GPS travel apps that will help you find anything anywhere.
An official app of the History Channel, History Here is great for finding historical sites in your immediate area by GPS. Of course you can find historical locations across the country, as well. The new Tours feature connects related sites within a theme or topic, such as the Lincoln Assassination Tour in Maryland and Virginia.
I have long been intrigued with the Field Trip app. It puts a comprehensive wealth of information at your fingertips because it draws its content from so many sources. I have discovered dozens of "hyperlocal history" locations in my hometown from the Arcadia Publishing archives, and I recently learned that Atlas Obscura, one of my favorite websites for finding little-known unique locations, is also a source. This app could keep me entertained for months . . . .
Food Network On the Road
If you have ever watched an episode of Diners, Drive-Ins & Dives, you know they leave you salivating for just a taste of those gut-busting creations. Now you can easily locate restaurants featured on DDD and many more Food Network shows in your area or while on the road. You can even create your own foodie road trip itinerary!
Update December 2018: Based on our research, this app is no longer available.
Roadtrippers was one of the first websites I discovered around the time we launched Backroad Planet, and I was immediately drawn to the unique locations I found there. We even contributed three of our own backroad discoveries to the mix. With this app, you can discover cool destinations across the USA while on the road, as well as retrieve saved places and itineraries planned previously online.
When you first open the Findery app, you are presented with the option to explore Near or Far. Selecting either one will show you the feature that sets Findery apart from other GPS travel apps, the ability to read and share notes for locations around the world. According to the Findery website, notes can be "stories, advice, jokes, diatribes, information, memories, facts, advertisements, love letters, grocery lists and manifestos." Nothing like first-hand destination experience at the tips of your fingers!
If you like offbeat attractions, then the Roadside America app is for you! Clicking on Near Me immediately revealed Airstream Ranch, a bizarre creation just up the road from my house. Users can add tips to listed attractions, and the Themes search brings up a listing of bizarre categories! This is a paid app at $2.99 for one region of the United States, and additional in-app purchases unlock all 11K+ attractions.
The Wunderwalk app allows you to experience city walks designed by others or you can create your own. When you visit a new city, simply enter what you are hungry, thirsty, looking, or shopping for, and the app will create a custom walk to destinations that will fill your wants and needs.
I am over the moon after finding the All Trails app! I love hiking and try to walk most days when I am at home. The trail around the lake where I typically walk is lovely, but I occasionally get bored with the same scenery. Opening this app for the first time immediately brought up a slew of hiking trails in my vicinity. Partnered with National Geographic, each All Trails listing provides ratings, check-ins, directions, photos, and the option to record your hike! Can't wait to try out All Trails next time I head up to my Pinebox in the North Georgia mountains.
I remember being in Rome for the first time, and our small-group guide showed us where to find the best pizza, coffee, and gelato in town. Created by residents of 80+ major cities around the world, having Like a Local in your pocket is the next best thing to a personal guide. You can easily avoid the tourist traps and find the bars, restaurants, shops, and sights the locals frequent. We will be using this app in a major US city this weekend!
Budget Travel's Ultimate Road Trips
This free app contains an archive of US road trip itineraries grouped by region. Although Ultimate Road Trips does not allow the user to create any content, it is an excellent resource for times when you may not feel like planning, researching, or creating itineraries of your own. Each listed road trip contains a day-by-day account of the author's journey along the route and supplies recommended lodging, dining, and activities, so all you have to do is hop in the car and go!
Update December 2018: Based on our research, this app is no longer available.
Around Me is one of the oldest apps on my phone. It has been a lifesaver many times when Jerry and I needed to find a business or service while out of town. The menu in the adjacent image shows some of the categorical searches. A screen touch brings up venue listings complete with distance, directions, hours, reviews, photos, and more. This global app is available in seven languages.
I have previously confessed that I am obsessed with National Parks Passports. That said, let it be known that the Passport to Your National Parks app enables my addiction. Although this comprehensive app contains exhaustive information for each listed US national park, monument, memorial, battlefield, trail, or other designation, the feature I value the most is the link to cancellation locations so I know where to get my next fix . . . or stamp, rather.
While writing this post, I learned that my favorite Florida State Parks app had not been updated since 2012 and was no longer available for new downloads. I already had the official Florida State Parks Pocket Ranger app, but had not used it much. My research revealed that Pocket Ranger has a plethora of state outdoor apps with many innovative features, my favorites being a calendar of events updated in real time and an emergency alert button. Time for this old dog to learn new tricks!
Oh, Ranger! ParkFinder
I am ashamed to admit that I just found this incredible app while brainstorming for this post. Although the Oh, Ranger! ParkFinder website claims the app includes every federal and state park in the nation, my search revealed 2,161 parks within a 100-mile radius of my location, including county and city parks, as well. I did discover that there were a few unlisted county parks in my vicinity, but who's counting? Park listings can be filtered by activities such as off-road vehicles, camping, and swimming.
An integral part of our travel philosophy at Backroad Planet is to encourage our readers to take scenic routes over major highways. But even backroad evangelists frequently find themselves taking to the interstates for the sake of time. The iExit app is a new alternative to the RoadNinja app, which has not been updated since 2014 and is not available for new downloads. Subtitled "Your Roadtrip Pitstop Finder," iExit provides information for facilities at upcoming exits, including food, fuel, lodging, rest areas, and more.
Where to Go?
And finally, an app that truly does try to help you find anything anywhere. Where to Go? is a global app available in 23 languages. containing 500 location types grouped into 12 common categories. All searches can be completed with simple taps, meaning no typing needed. Even if you are completely bored and have no clue what you want to do, you can try the Shake-to-Suggest feature, and let the app tell you where to go. My preliminary searches with this app have proven that its precision is not 100%, but accuracy is bound to improve with future updates.
---
We Would Love to Hear from You!
---
Hopefully, this review has introduced you to a few GPS travel apps you can use to find anything anywhere. Is there a travel app you think we should have included in our selection? We would love to hear about your favorite travel apps, GPS or otherwise. Feedback and information from readers is appreciated, as well. We invite you to leave your comments and questions below, and we always respond!
---
Pin This Post!
---