(a

6

minute read)
---
Eleven authoritative web sites run by locals are great resources to help you plan a road trip or travel itinerary to see the REAL Florida.
---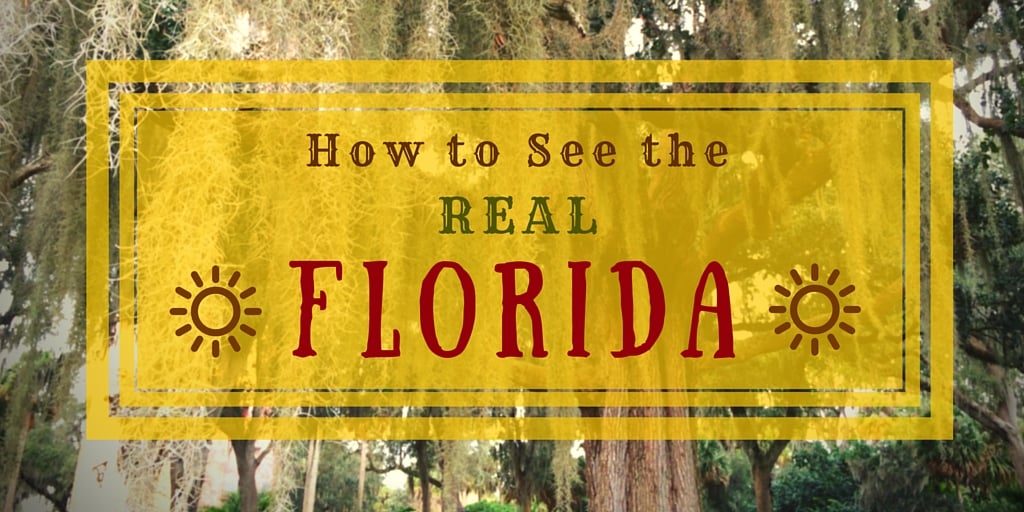 I am a 5th-generation Native Floridian, and although I have traveled the world since childhood and plan to continue for years to come, I still love exploring my home state. Jerry and I spend many weekends each year driving the backroads of "the REAL Florida." Still, it is not uncommon that we discover intriguing Sunshine State destinations we have never heard of before.
These days Florida tourism is most often focused around theme parks and beaches. Although commercial travel is fine for people who enjoy that type of thing, when I want to see the real Florida, I am not thinking about Mouseville or Spring Break.
---
How to See the Real Florida: 11 Essential Web Sites
---
The eleven diverse web sites shared here offer a wealth of information to help you research and plan your journey through authentic Florida. So whether you are a Florida resident like me, a roadtripper from out of state, or an international traveler doing a fly-drive, check out these authoritative resources first.
I know you're thinking I selected this site because it has "backroads" in the name. Well, you would be partially right. But in my opinion, if I had to pick just one source of information to help me see the real Florida, this site operated by Mike Miller is it. I highly recommend signing up for Mike's free Florida Heritage Travel e-zine that highlights a different Florida town each month. If you would like to carry the site with you, Mike has also published the content of Florida Backroads Travel as eight regional travel guides or one volume that covers the entire state for Kindle on Amazon.
If you are into outdoors activities or enjoy scenic locations, Florida Hikes is the resource you need. Sandra Friend & John Keatley have designed a clean comprehensive site offering a gold mine of information, not just for hiking trails, but camping, paddling, and biking destinations across the Sunshine State, as well. They have also authored a book and app for hiking the Florida Trail.
 
Like several of the recommended web sites in this article, FloridaRambler.com is a bit ad-intensive, but there is no denying the in-depth content and coverage of unique restaurants, lodging, and beaches produced by Bob Rountree and Bonnie Gross.
Bruce Hunt runs the blog Visiting Small-Town Florida. Skim the recent posts in the image above, and you won't be able to resist checking it out. Bruce is also the author of several books about Florida's small towns and historical lodging, all available on Amazon.
Rick Kilby's bio on his Old Florida web site states that he is, "Committed to spreading the gospel about preserving the natural and historic resources of Florida, [and] his mission is to motivate other Floridians to appreciate the wonders of their state." With a blog archive dating back to 2008, Rick will keep you entertained for a while. He was especially busy in 2009 writing 187 posts!
It was my pleasure to meet Robin Draper in person at a blogger conference, especially since I had discovered her Authentic Florida website ages ago. Robin writes about travel, lifestyle, and food in the "real" Florida.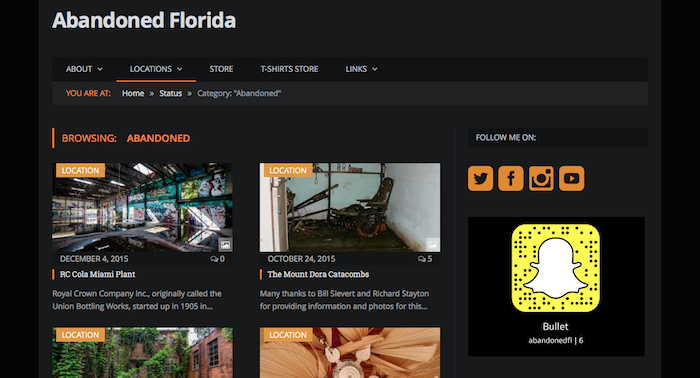 I am a huge fan of abandoned buildings and historical sites because every location tells a story. The young man who runs Abandoned Florida goes by the name "Bullet" in order to maintain anonymity. Apparently, he and other contributors trespass property on occasion in order to photograph and document the interior of these vacant sites. Bullet states in his site disclaimer that he does not promote trespassing, and he does not reveal the location of these sites unless they are commonly known. You might want to tour this type of real Florida vicariously through the pages of this site, rather than visiting these abandoned sites in person. Or not . . . .

I am completely captivated by the Florida Heritage Trail Guidebooks. This is one resource to make the list that is not actually a web site, although you may access them through one. With a simple email order, print copies of these guidebooks will be mailed to you free of charge, and you can download them to your mobile devices as PDF files, as well. Florida history is brought to life within the pages of these books, and you could stay busy a long, long time visiting these themed historical locations across the state.
ExploreSouthernHistory.com is not a "Florida" site per se, but it has an excellent Florida section along with its archives of twelve other southern states. Dale Cox, the historian and writer who runs the site, resides in the community of Two Egg, Florida, near Marianna. He is also the author of more than a dozen books on Florida history available on Amazon.
10.

Viva Florida
Viva Florida was a campaign initiated by the Florida Department of State "to promote cultural and historical experiences" statewide. Curating content from a wide range of partners throughout the state, the site promotes Florida's museums, gardens, parks, archeological sites and more. At last check, it appears the campaign has ended.
I could say we saved the best for last, but that would be a lie. Although we love our home state and write about it on occasion, our site is dedicated to finding authentic destinations all over the planet. Hence the name. Still, we are building an archive of quality posts about the real Florida, so take some time to explore Backroad Planet's Florida posts, too!
---
So What is the Best Way to See the Real Florida?
---
Without question, the best way to see the real Florida is on a road trip. If you want to see authentic Florida, you have to leave the interstates and commercial developments behind. Driving the backroads through the countryside and small towns is where you will find history, scenery, and culture. In other words, the REAL Florida!
---
We Would Love to Hear from You!
---
Jerry and I enjoy dialogue with our readers, especially when they share little-known sites or off-the-beaten-path destinations in our home state. If you can recommend a unique Florida destination or other resources for visiting the real Florida, we would love to hear from you. We invite you to leave your comments and questions below, and we always respond!
---
Pin This Post!
---