(a

13

minute read)
---
Drive the Kansas Flint Hills Scenic Byway, visit Spring Hill Ranch on Tallgrass Prairie National Preserve, and tour Santa Fe Trail history in Council Grove.
---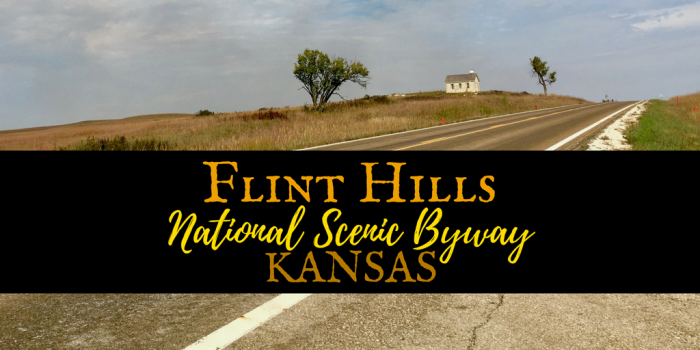 I was a guest of the Kansas Office of Tourism & Travel and the Council Grove Chamber of Commerce & Tourism, but all thoughts and opinions are my own.
I do not exaggerate when I say the day I drove the Kansas Flint Hills National Scenic Byway was one of my best and most memorable days ever. But that should come as no surprise because that day held a synchronicity of so many things I love. I was driving the backroads of a state I had longed to visit, I was listening to a great classic country playlist, and the landscape was a vision. The elements had conspired with a perfect combination of autumn chill and sunshine, and I had a full itinerary of historical and scenic destinations tossed on the passenger seat of my rental.
I may have had Glen Campbell's "Wichita Lineman" on repeat.
And it was my birthday.
---
The Kansas Flint Hills Scenic Byway
---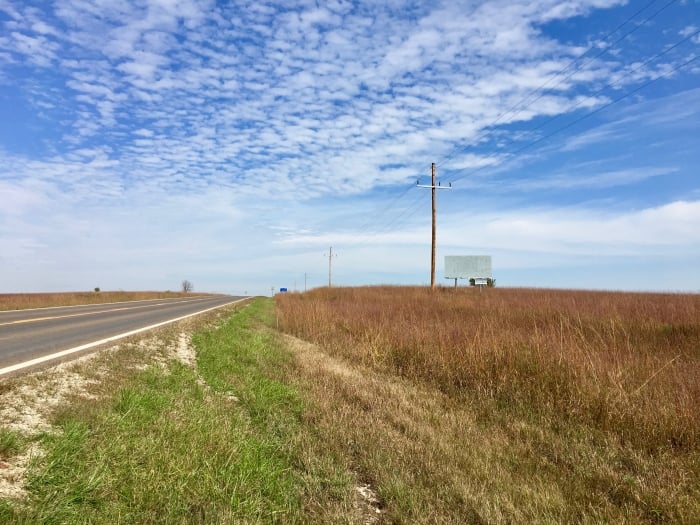 The Kansas Flint Hills National Scenic Byway is everything you would envision a Kansas backroad to be, with its endless grasslands, limestone bluffs, and cerulean skies.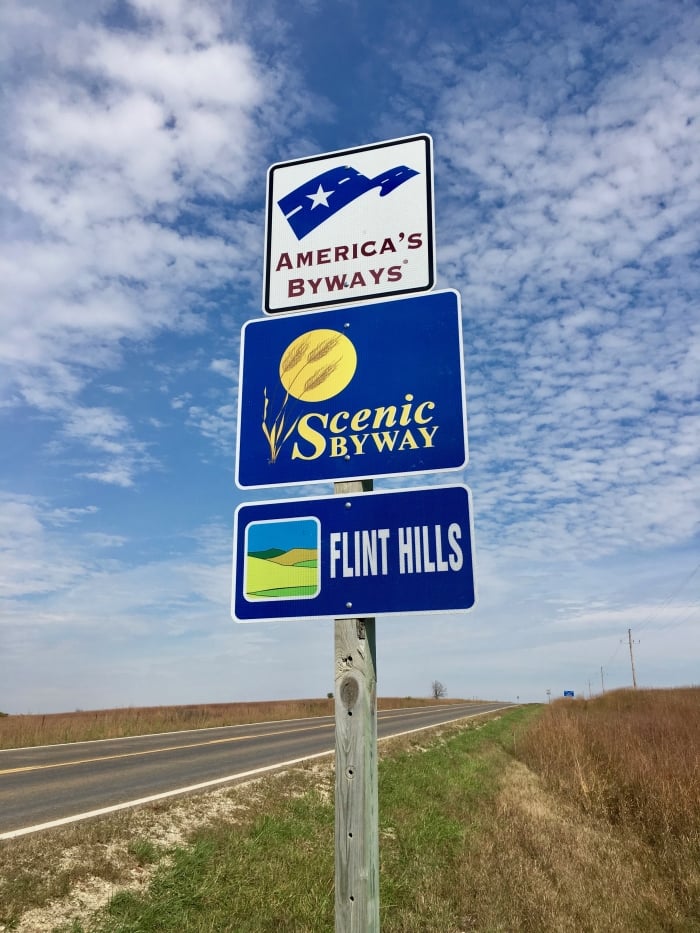 Occupying a 47-mile stretch of Kansas state highway K-177 between Cassoday and Council Grove, this two-lane paved road is bordered by rolling prairies of wildflowers and native grasses as far as the eye can see. And it has that intangible something that makes you feel like you belong, even though you may have never traveled there before.
---
1896 Bichet School, District 34
---
I have a confession.
Until I started doing research for this article, I believed that I had driven the entire length of the Kansas Flint Hills Scenic Byway. Now that I have verified GPS tags from photos, I have learned that I actually connected with K-177 at Strong City, which is approximately the midpoint of the route.
Thirty miles north of Wichita, I headed east on U.S. Route 50, which would carry me to K-177. But my miscalculation would become a blessing in disguise. It was on US-50 that I came upon an abandoned roadside building. As I recall, I passed the structure and turned back to explore.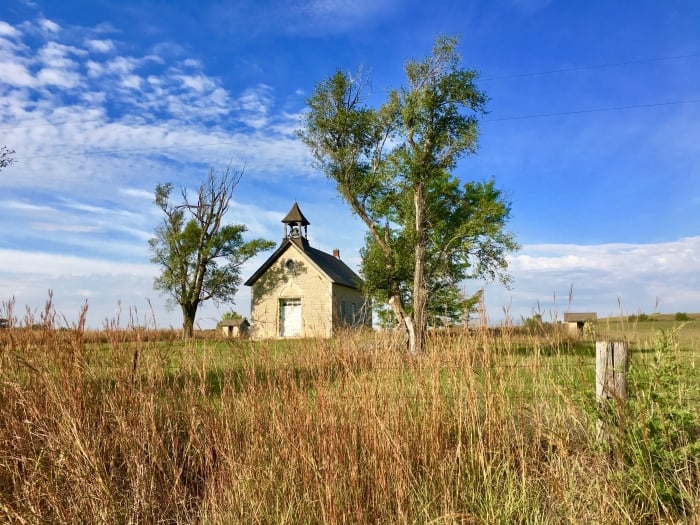 At the time, I didn't know whether the building was a school, a church, a firehouse, or a lift station. All I knew is that it was the focal point of an extremely photogenic setting. As it turns out, I had happened upon the Bichet School, District 34, a structure listed on the National Register of Historic Places. This one-room schoolhouse was built of native limestone in 1896 for children from a nearby French settlement. With only two remaining students, the school closed permanently in 1946.
Due to my tight itinerary, I did not have time to investigate the property that also holds two stone outhouses and a cellar. But the 1896 Bichet School had been an unforeseen waypoint and a perfect roadside encounter.
---
Tallgrass Prairie National Preserve
---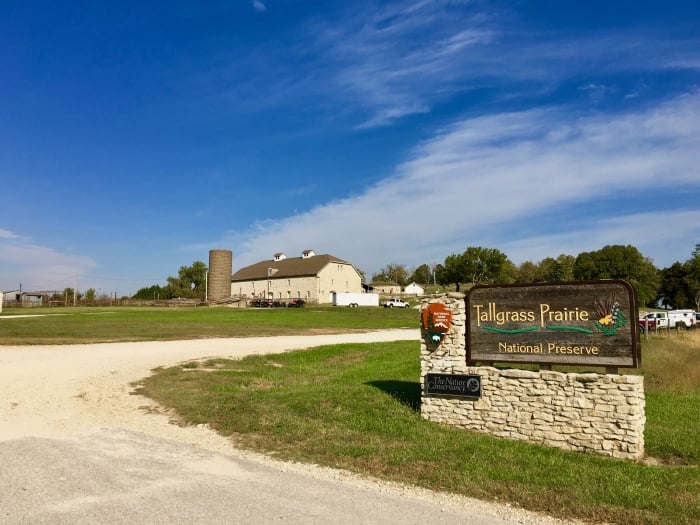 The Tallgrass Prairie National Preserve is a rare treasure situated directly on the Kansas Flint Hills Scenic Byway just north of Strong City. Established in 1996, the preserve protects the remaining 4% of tallgrass prairie that once covered 170 million acres of the Great Plains. The preserve operates under a private/public partnership with the Nature Conservancy and the National Parks System.
The Tallgrass Prairie Visitor Center is located at the site of the former Spring Hill Farm and Stock Ranch. The day I visited, controlled burns were being conducted in the area, so it was not the best day for hiking the preserve.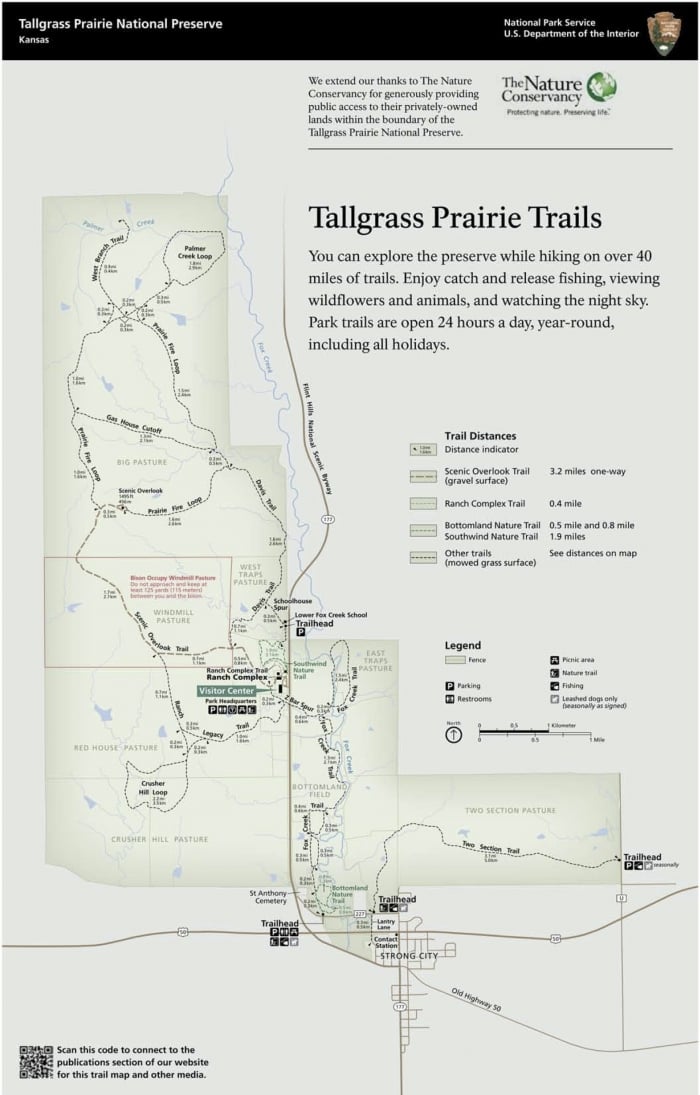 Map Credit: Tallgrass Prairie National Preserve/NPS
The preserve contains over forty miles of hiking trails on nearly 11,000 acres, and the trails are open to the public 24/7 year-round.
Download the Tallgrass Prairie Trails Map and Hiking Trails Guide.
---
Spring Hill Ranch
---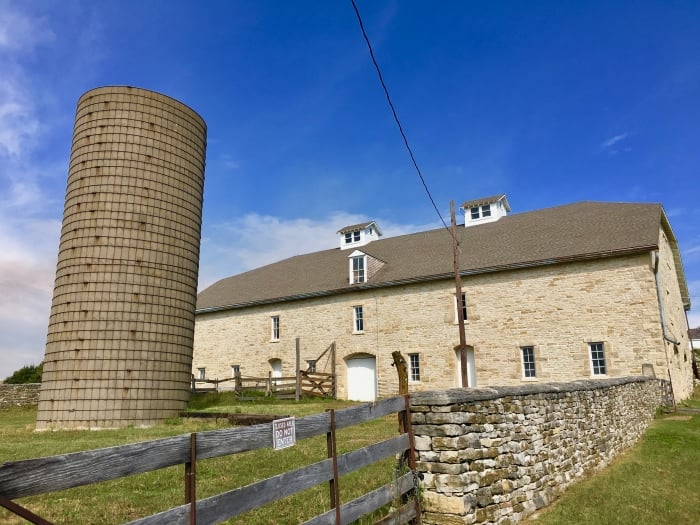 In 1878, Stephen F. Jones and his wife Louisa left Colorado for the Flint Hills of Kansas, drawn by the limitless availability of "fine prairie grasses" for cattle grazing. Eventually, the ranch would encompass 7,000 acres and support hundreds of beef cattle and other livestock.
Over the years, Jones built a three-story barn, corrals, carriage house, various additional outbuildings, and thirty miles of fence from the abundant supply of native limestone.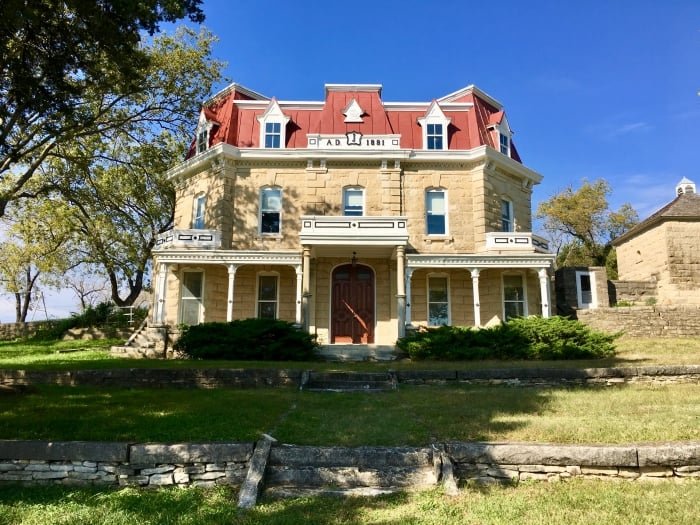 No ranch would be complete without a ranch house, and in 1881 Jones completed an imposing limestone mansion in the Second Empire architectural style.
The ranch house also had its share of adjacent outbuildings including a curing room, icehouce, and outhouse. A cistern collected water from a natural spring on the hillside, the same spring that gave the ranch its name.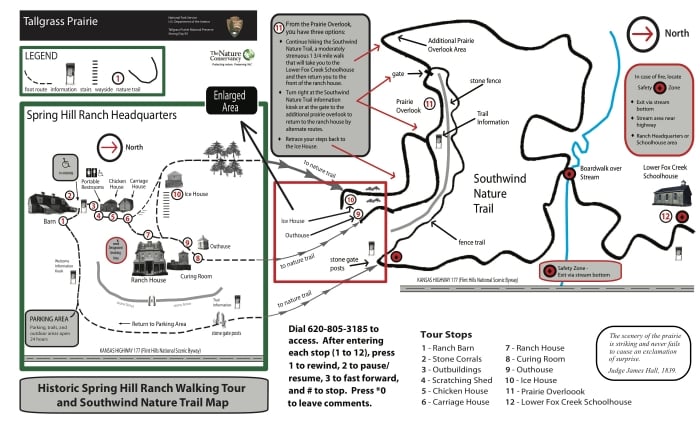 Map Credit: Tallgrass Prairie National Preserve/NPS
The Tallgrass Prairie publications and Nature Conservancy webpages offer visitors a variety of map and audio self-guided tour options for the property and buildings.
The Historic Spring Hill Ranch Walking Tour and Southwind Nature Trail Map (PDF) can be found online at a non-secure webpage.
---
Lower Fox Creek Schoolhouse
---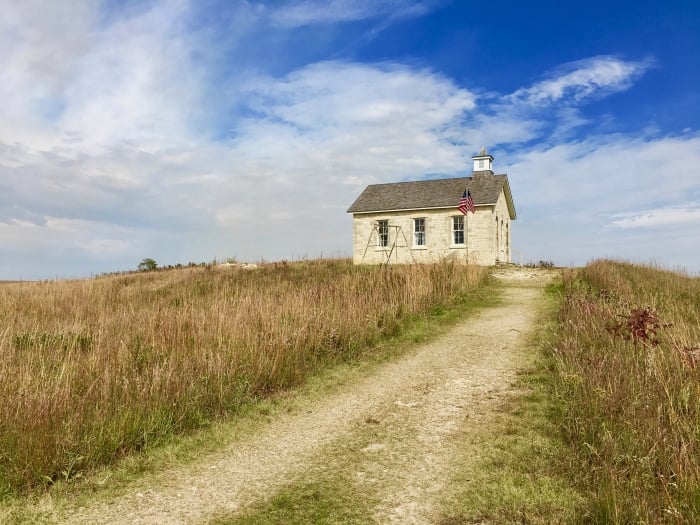 It was not double vision, but close. Located just a short walk up the hillside from Spring Hill Ranch is the 1882 Lower Fox Creek School, another one-room schoolhouse that served local children until 1930. The building has been flawlessly restored to its 1882 appearance and is open to the public.
Due to my packed itinerary, I decided to drive to the schoolhouse and then get back on the road.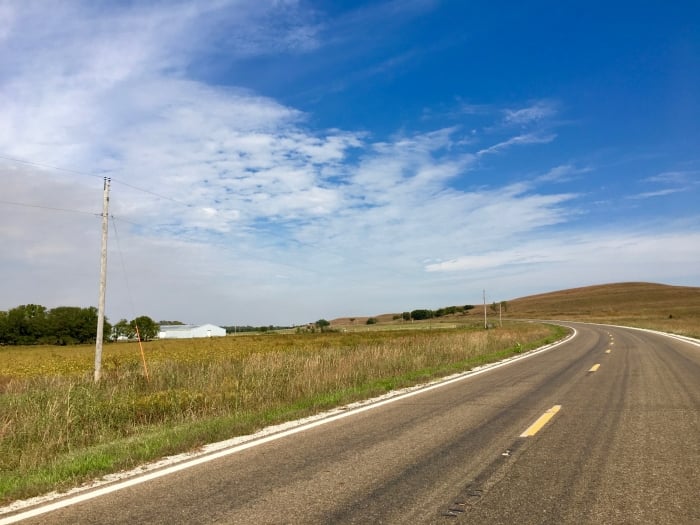 It was only a 17-mile drive to Council Grove, the northern terminus of the Kansas Flint Hills Scenic Byway, but a bit of anxiety set in during the last few miles due to poor planning on my part. In my excitement I had forgotten to check the fuel gauge, and I basically prayed my way to the first gas station I spotted when I hit town.
---
The Santa Fe National Historic Trail
---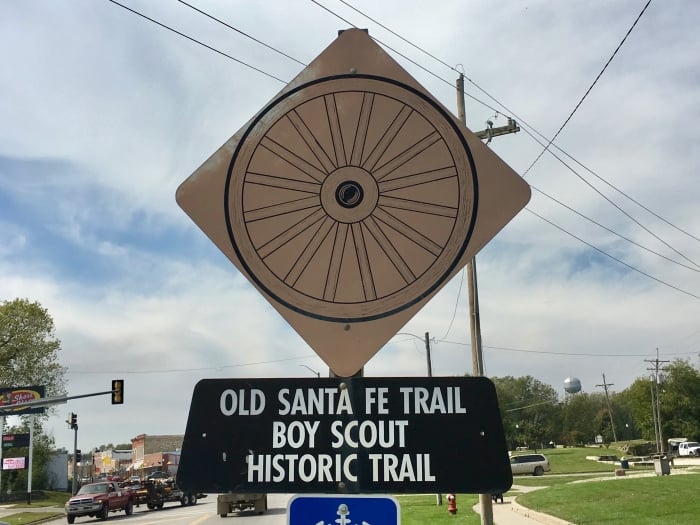 The Santa Fe National Historic Trail is a driving route that roughly follows the original route established by William Becknell in 1821 over earlier trails blazed by Native Americans and Spanish and French explorers.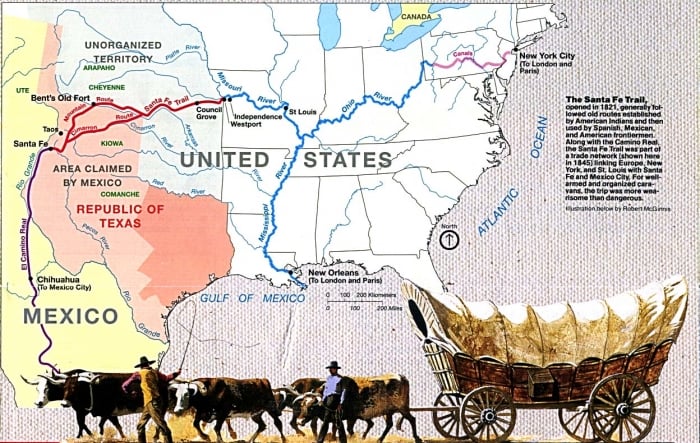 Map Credit: NPS
The trail originated in Independence, Missouri, crossed the length of the region that is now Kansas, parts of Oklahoma and Colorado, to its terminus in Santa Fe, New Mexico. Unlike other westbound trails traveled by pioneers settling the West, the Santa Fe was primarily a commercial trade route, and it took loaded wagon trains six to ten weeks to travel the 900-mile route.
A section of the Santa Fe Historic Trail has also been designated as a National Scenic Byway.
---
Council Grove
---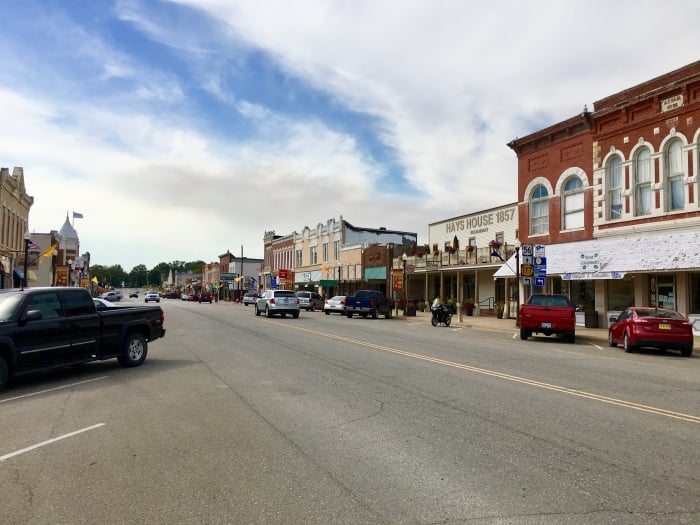 Council Grove, Kansas, is situated along the Santa Fe Trail, just 130 miles west of Independence, Missouri. With a population of 2,218, Council Grove is your average small American town. But don't think it insignificant for a moment. Council Grove takes its name from the location where U.S. Commissioners signed a treaty with the Osage Nation to establish a right of way for the Santa Fe Trail across native lands.
My host from the local chamber gave me an impressive driving tour of historical sites around town that would rival those found in high-profile historical destinations across the country. Because I was due in Topeka by mid-afternoon, I could not take in everything Council Grove had to offer, but the highlights were enough to satisfy an amateur history buff like me.
City Calaboose (1849)
A calaboose is a holding cell or small town jail. I had seen my first calaboose, a concrete structure, on a visit to Grapevine, Texas, a few months earlier. The Council Grove calaboose replica is a fascinating reconstruction. Stacked boards create thick walls to make prisoner escape more difficult. The fact that this was the only jail along the Santa Fe Trail in the early days is a sobering thought.
Kaw Mission State Historic Site (1851)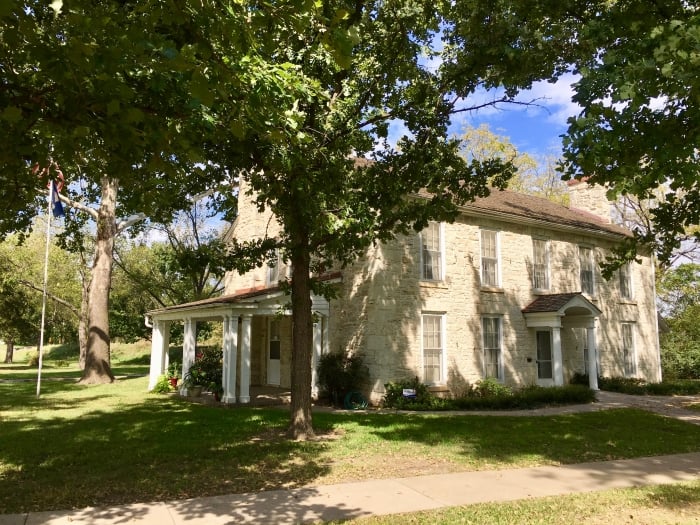 The Kaw Mission State Historic Site was built in 1851 as a school for 30 orphan Kaw Indian boys. The school was run by the Methodist Episcopal Church South and provided training in farming and Christianity, in addition to academic instruction. The school closed in 1854 as a result of the institution's high maintenance costs.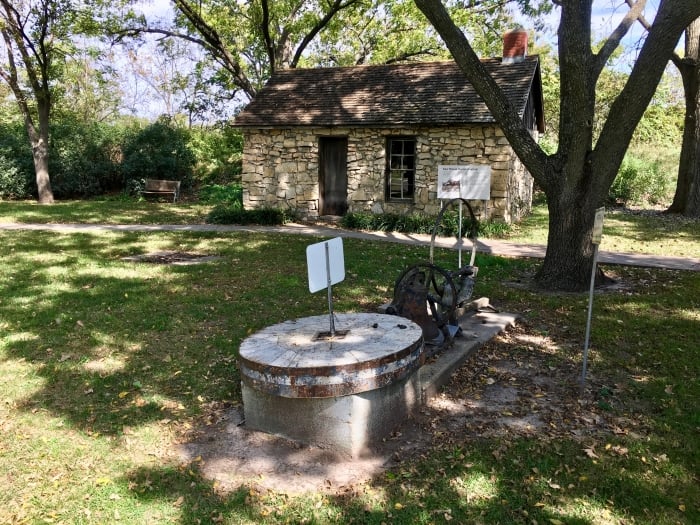 In 1861, the U.S. government built 138 stone houses on the Kaw Reservation south of town. The Kaws rejected these structures out of preference for their traditional tipis. The Council Grove Rotary Club disassembled one of these reservation houses and reconstructed it on the Kaw Mission property one hundred years later in 1961.
Seth Hays Home (1867)
In 1847, Seth Millington Hays became the first white settler at the Santa Fe Trail rendezvous point that would become Council Grove. This great-grandson of Daniel Boone had been issued a license to trade with the Kaw Indians and to build a trading post store on site. Seth was a single man who owned a slave named Sarah "Aunt Sally" Taylor. When Kansas entered the union as a free state in 1861, Aunt Sally chose to remain with Seth as his servant. The first house Hays built was a log cabin near the bank of the Neosho River, but twenty years later at age 50 he built this brick home. The day he filed the deed, he also adopted a 5-year old orphan girl named Kittie that he and Aunt Sally had been raising since birth.
Hays House Restaurant (1857)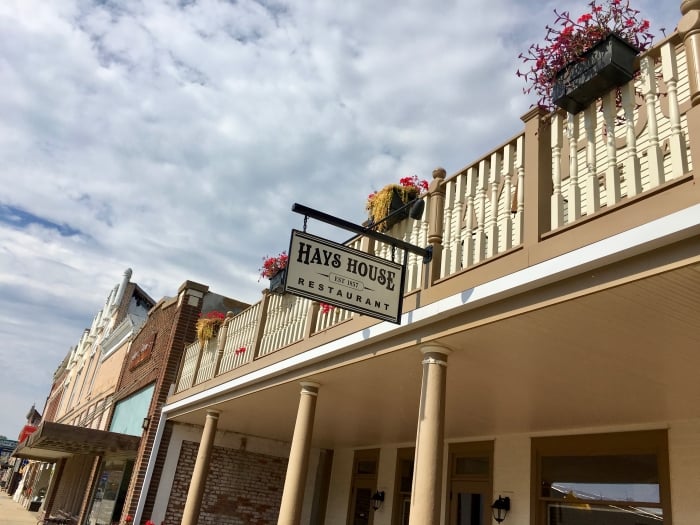 The Hays House Restaurant is believed to be the oldest continuously-operated restaurant west of the Mississippi River. In 1857, Seth Hays built this structure and moved the trading post from the log cabin to this location. He took on a business partner and expanded his business to include a hotel, restaurant, and tavern. At various times the building also served as post office, courthouse, printing office, and church.
Last Chance Store (1857)
The Last Chance Store is the oldest commercial building left standing in Council Grove. Early on, it offered travelers on the Santa Fe Trail their final opportunity to buy supplies before heading out. The day I visited, the structure was undergoing renovation.
Hermit's Cave (1863)
Hermit's Cave, located just 2.5 blocks north of the Santa Fe Trail, was home to Italian mystic priest Giovanni de Agostini for five months in 1863. Then, he joined a wagon train leaving Council Grove and walked 550 miles to Las Vegas, New Mexico. Reports say he performed miracles there, and the local citizens eventually built him a small cabin. In 1867, he moved to southern New Mexico, where he was mysteriously murdered two years later.
Madonna of the Trail (1928)
The Madonna of the Trail statue in Council Grove is one in a series of twelve identical monuments situated at key points in each state along the National Old Trails Road from Maryland to California.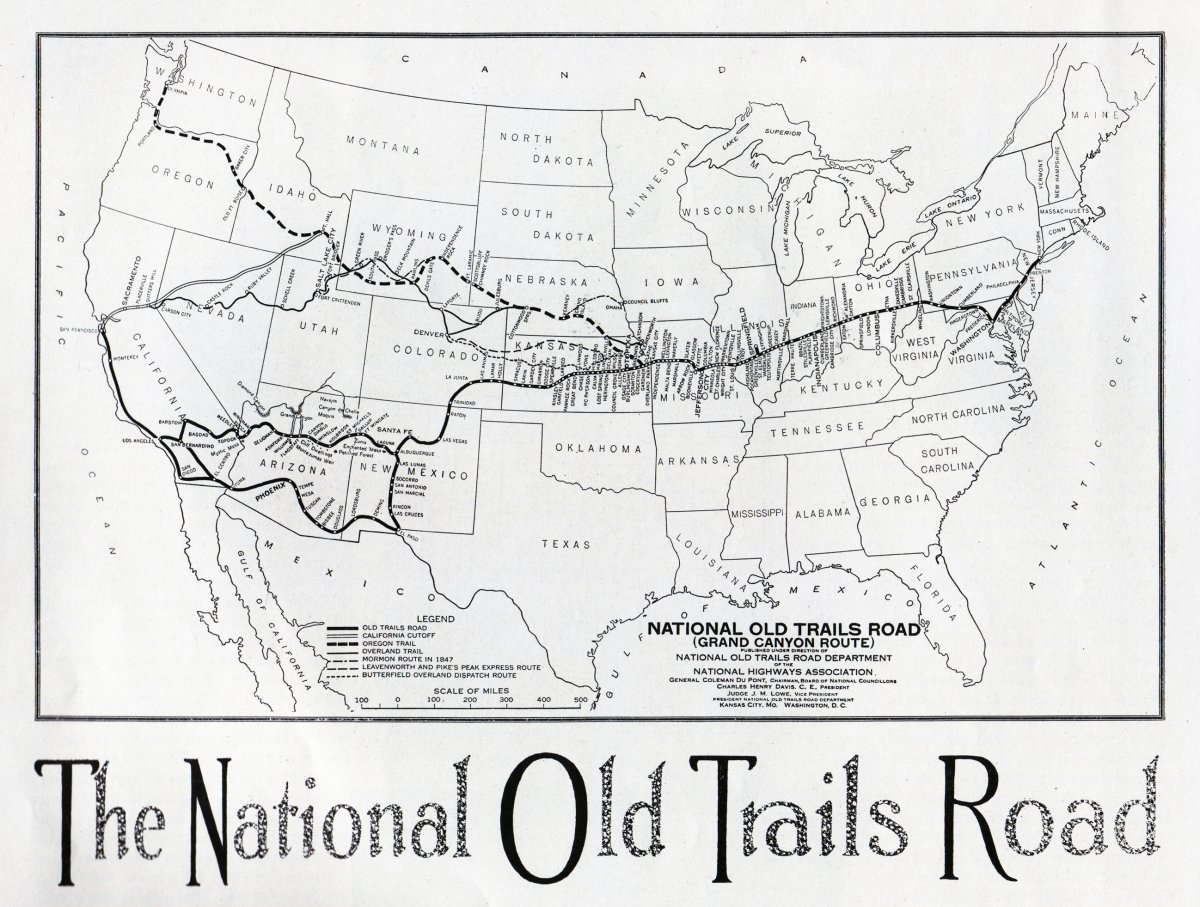 These largely westward-facing monuments were commissioned in the late 1920s by the Daughters of the American Revolution, with assistance of then National Old Trails Association president Harry S. Truman, to honor the spirit of pioneer women.
Neosho Riverwalk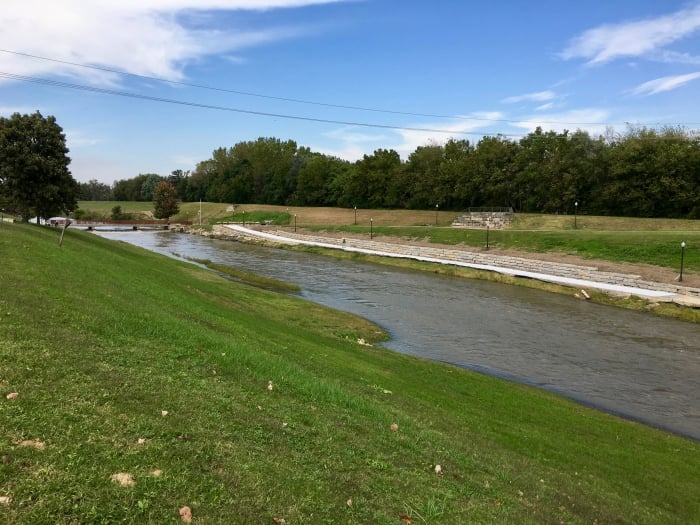 The Neosho Riverwalk is a lighted and landscaped ADA accessible walkway extending from Kaw Mission to the Neosho River Crossing on the Santa Fe Trail. This new construction memorializes the point where wagons and freighters crossed the rocky bottom of the river passing through Council Grove on their journeys between Independence and Santa Fe.
---
A Tale of Three Trees
---
Three historical sites in Council Grove are trees, or rather the stumps of trees associated with historical events. I know there are other historical trees and remains of trees at other locations around the country, but I found it fascinating that there were three in one town.
The Council Oak (1825)
The Council Oak marks the spot in the grove where the treaty to open the Santa Fe trail was signed on August 10, 1825. A windstorm destroyed the tree in 1958, but its stump has been preserved in place beneath an open shelter on Main Street. Younger trees grow nearby, stately offspring undoubtedly sprouted from Council Oak acorns and sharing its DNA.
The Post Office Oak (1825)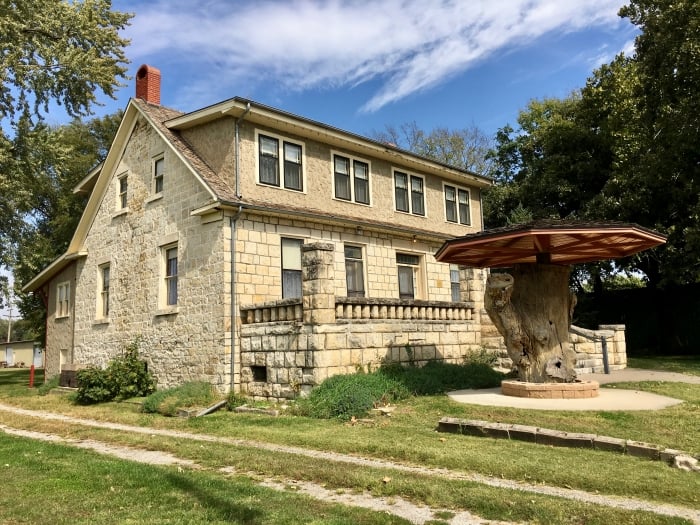 The remains of the Post Office Oak, which died in 1990, have also been preserved in place on Main Street at a spot directly on the original Santa Fe Trail. Between 1825 and 1847, travelers would leave mail and messages about trail conditions, water sources, and native unrest for other travelers in a cavity near the base of the tree. The stone house behind the Post Office Oak was built as a private residence in 1864, and today houses the Morris County Historical Society museum.
The Custer Elm (1867)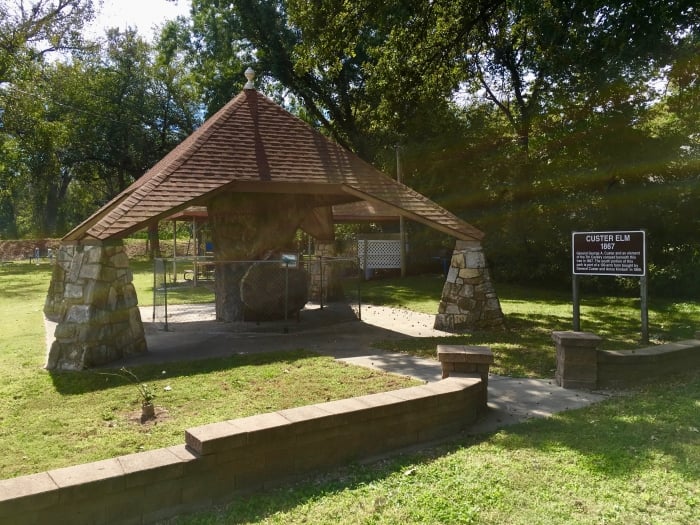 The Custer Elm is protected beneath a shelter in a small park near the spot where Elm Creek crosses K-177. General George A. Custer and companies of the 7th Cavalry camped beneath this elm tree in 1867 while patrolling the Santa Fe Trail. Two years later, Custer co-purchased a 120-acre farm to the south of this location that would have become his retirement homestead had he not died at the Battle of Little Big Horn in 1876. The Custer Elm died of Dutch Elm disease in the 1970s.
---
A Guide to Over 25 Sites
---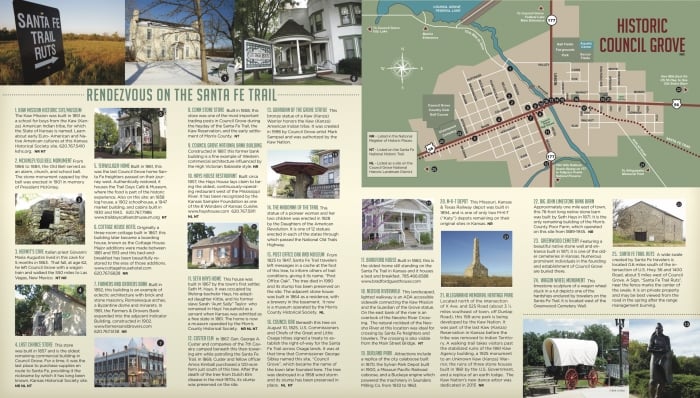 Image Credit: Council Grove/Morris County Chamber of Commerce & Tourism
When planning your visit to Council Grove, be sure to download the brochure Council Grove & Morris County: A Guide to Over 25 Historic Sites (PDF), a handy resource for doing a self-guided walking or driving tour.
---
Heading Out . . . .
---
While researching and writing this article I learned about so many locations in the Kansas Flint Hills region I missed during my one-day itinerary. This convoluted method is typical of my workflow. Let there be no doubt that I would repeat this road trip in a heartbeat, but definitely allow myself at least a full day or two to fully explore the Flint Hills of Kansas.
---
Map It!
---
---
We Would Love to Hear From You
---
We enjoy dialogue with our readers, especially when they share off-the-beaten-path destinations and useful travel tips. Have you ever driven the Flint Hills National Scenic Byway or other Kansas backroads? If so, we would love to hear about your experience. We invite you to leave your comments and questions below, and we always respond!
---
Pin this Post!
---