(a

14

minute read)
---
There is plenty to do in Wichita at Botanica gardens, the Old Cowtown Museum, Kansas Aviation Museum, the Museum of World Treasures, and even the Grand Opera!
---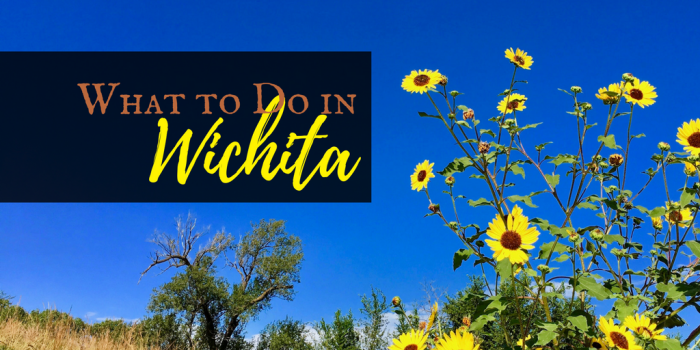 I was a guest of Visit Wichita, but all thoughts and opinions are genuinely my own.
As a first-time visitor, I knew virtually nothing about Wichita, other than Glen Campbell's 1968 timeless classic Wichita Lineman, one of my all-time favorite songs from childhood.
But I was about to learn it was so much more, and there was so much to do in Wichita.
---
What to Do in Wichita
---
Wichita began in the late 1860s as a trading post on the Chisholm Trail, a cattle drive route from Texas to the railheads in northern Kansas, and soon incorporated as a city in 1870. From its origins as a cowtown, Wichita gained notoriety in the 20th century as the "Air Capital of the World" when major aircraft manufacturers such as Cessna, Learjet, and Boeing established production facilities in the area.
From these beginnings, Wichita has grown into the largest city in the state of Kansas. Today it has become not only an industrial hub, but also a cultural center for history, the arts, and annual events.
This is the Wichita I came to explore!
Home base for my first two nights would be in Wichita's Old Town district, a highly-successful urban renewal project boasting a seamless blend of modern shops, restaurants, galleries, and condos with a red-brick historical flair.
As a traveler, I was fascinated with two public street art installations located near the parking garage adjacent to my hotel. The undeniable motif in these sculptures by artist Marc Durfee portray his intrigue with vintage travel. These and other pieces are part of the self-guided Wichita Arts Council Sculpture WalkAbout (PDF).
---
Botanica
---
I love exploring scenic locations during my travels, but most of these sites are in national and state parks, and the settings are for the most part dictated by nature. Visits to formally-designed gardens are rare, so I was excited to begin my day with a self-guided walking tour of Botanica, a massive community garden situated in the heart of Wichita.
The lush foliage of the 4,000 species of annuals, perennials, shrubs, and trees of the garden are a far cry from the barren plains and wheat fields one would envision when thinking of Kansas. It was not difficult to forget my troubles and lose myself in the beauty as I walked the trails in the cool morning air.
From its inception in 1987, Botanica has grown to include 30 themed gardens and exhibits, including the Jayne Milburn Aquatic Collection, the Frank Smith Woodland Glade, and the Cissy Wise Wildflower Meadow.
Fifty pieces of sculpture inhabit the gardens, featuring the work of several independent artists.
The Downing Children's Garden is an immersive environment featuring both a typical Kansas farmstead and a magical woodland. This enchanting garden is not for children only. I may or may not have enjoyed the experience of this section myself.
I think I explored virtually every inch of the 18-acre Botanica property, and I would encourage visitors to not just enjoy the sweeping views of the landscape, but also to literally stop and smell the roses. You may be surprised at the small wonders you will discover.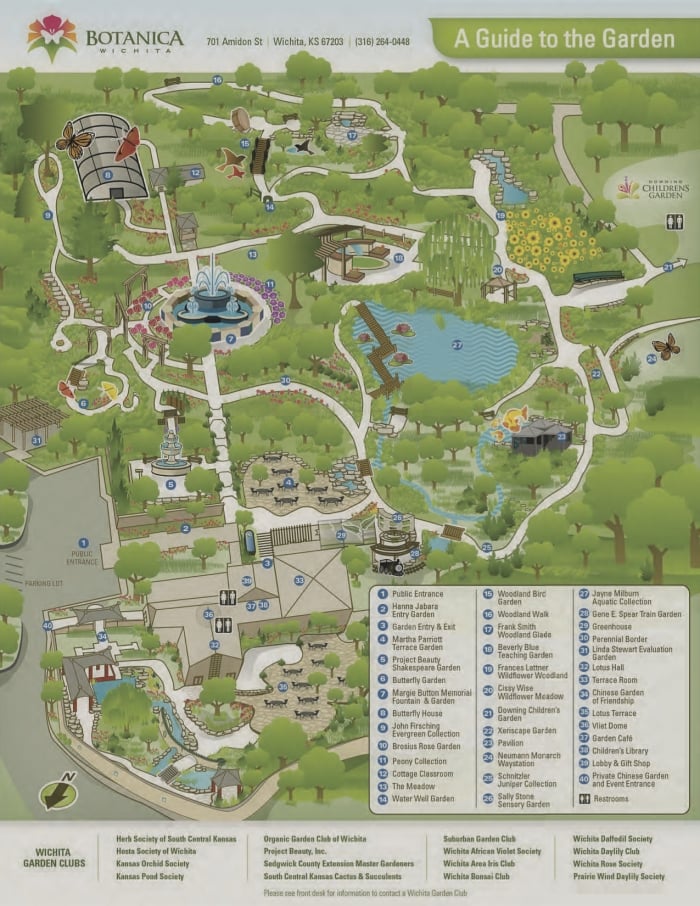 Map Credit: Botanica
The gardens at Botanica are open to visitors Monday through Saturday year round for a nominal admission fee.
---
Old Cowtown Museum
---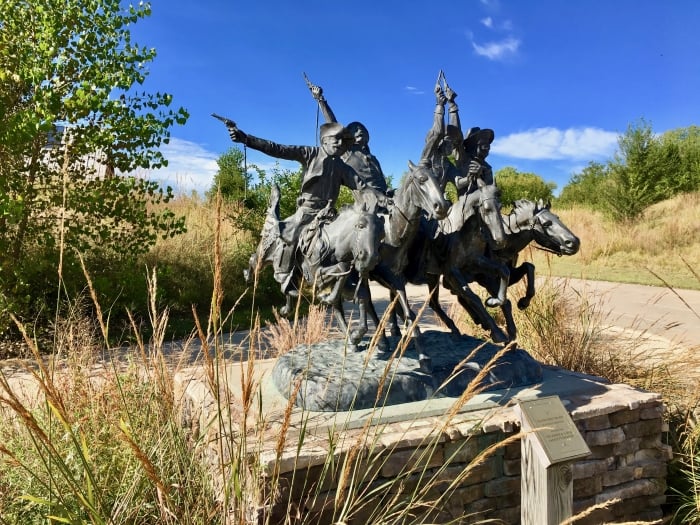 I believe that the children we once were still live inside us as adults. When I visit living history sites such as the Old Cowtown Museum, I revert to my childhood, my imagination kicks in, and I find it easy to get lost in the historical setting.
In other words, I want to stay all day and play.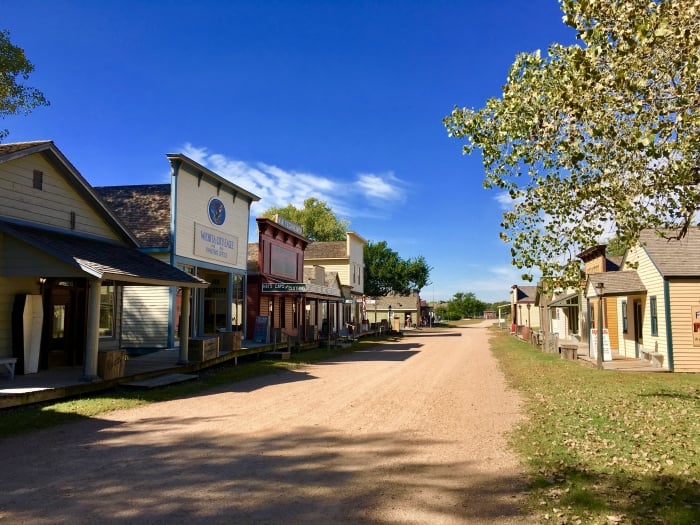 I have visited many open-air living history locations during my travels, and it is pretty safe to say that some are better than others. Top-notch locations such as Nash Farm, Proctor Historical Park, and the Alafia River Rendezvous come to mind.
The Old Cowtown Museum easily ranks as one of these first-rate living history locations.
So what sets these leading facilities apart? In my opinion the best living history sites have a genuine authentic feel. You can tell the designers paid attention to detail and the properties are well-maintained.
The historical homes and businesses throughout the residential and industrial areas of Old Cowtown are staged with over 10,000 pieces of period furnishings, machinery, tools, and other artifacts, many still in working order. Case in point, I printed my own press card on a working printing press at the Wichita City Eagle print shop.
The Old Cowtown Museum has been in operation since 1955, and its purpose is to portray Wichita's progression in the late 1800s "from a frontier settlement to a cattle town to an agricultural and manufacturing area."
Another factor that lends authenticity to the museum property is the sheer number of historic homes, outbuildings, and places of business.
Of the 54 structures at the museum, half of them are historic buildings that have been moved to the property and positioned as if they have always been there.
The 1880 DeVore Farm is situated at the back of the 23-acre museum property. The day I visited, local Girl Scouts were on site as living history interpreters. Their presence, along with the kitchen garden and farm animals, lent an additional level of realism to the historical farm.
The Cowtown Vintage Base Ball Club was also playing on site the day of my visit. I met a couple of players from the Wichita Red Stockings who explained some of the differences between the 1876 rules of the game and the rules of today's baseball. I was so involved in learning about vintage baseball that I missed the noon gunfight.
Map Credit: Old Cowtown Museum
The Old Cowtown Museum is open weekly Tuesday through Saturday, and all admission fees are less than $8.00.
---
Kansas Aviation Museum
---
As a vintage air travel fan, I knew I wanted to take in the Kansas Aviation Museum, and explore Wichita's 1927 claim as the "Air Capital of the World." The museum is located at the 1935 Wichita Municipal Airport, a lovely specimen of grand art-deco architecture. For many years the airport served as a refueling stopover for cross-country flights, and celebrities such as Gregory Peck and Fred Astaire have spent layovers inside the building.
The sky and light on the day of my visit could not have been more perfect, and I found it difficult to stop taking pictures.
The museum interior houses a great collection of beautifully restored aircraft and models, most with Kansas connections, such as the 1927 Swallow and the 1931 Stearman Model 4D.
The museum features a small collection of vintage TWA memorabilia. I was intrigued by the TWA cigarette collection (and yes, I know you can see my squatting reflection in the glass of the display case). I remember flying internationally in smoke-filled jetliners during the 1970s, but I never realized airlines actually promoted smoking and sold tobacco.
One of the grandest aspects of the Kansas Aviation Museum is the panoramic view from the control tower. Not only can you take in the museum's large aircraft collection arranged on the terminal apron, but you can also see the Wichita skyline, McConnell Air Force Base, and the former Boeing manufacturing facility in the distance.
The outdoor collection of large aircraft includes a 1967 Boeing 727-100 flown by five separate airlines before its final incarnation as a FedEx cargo plane. Visitors can climb the rear stairway and walk inside the cargo hold of this vessel.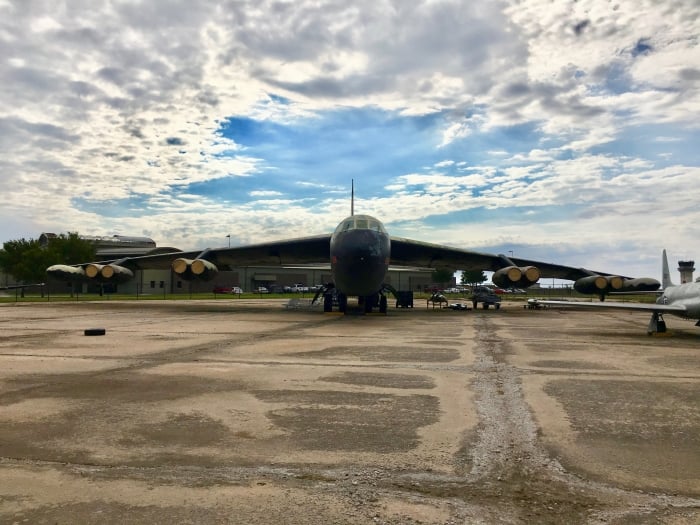 But the most impressive aircraft on the tarmac is an imposing 1957 Boeing B52-D Stratofortress that flew missions during the Vietnam conflict. Even though this B52 has been decommissioned, every weekend a Russian satellite passes over Wichita to verify that the bomber has not been moved more than 50 feet.
The Kansas Aviation Museum is open daily at varying hours, and and all admission fees are less than $10.00.
---
Museum of World Treasures
---
The Museum of World Treasures, located prominently in Old Town, is exactly what it says it is. Rather than focus on a particular subject or historical period, this eclectic collection of artifacts provides visitors a little bit of everything, and it holds some truly rare and unique pieces.
The museum was founded in 2001 by Dr. Jon Kardatzke and his wife Lorna as an educational facility and showcase for their personal collection of historical pieces started by Dr. Kardatzke when he was only 16 years old. The museum now holds treasures from more than 200 collectors.
The first floor features several dinosaur fossils, the most prominently displayed being Ivan the T. Rex. I was more impressed, however, with the Tylosaurus fossil, a mosasaur similar to the one featured in the 2015 motion picture Jurassic World. It is hard to believe these 60-foot long marine lizards inhabited North American seas over 60 million years ago.
A section of the Berlin Wall is also prominently displayed on the main floor.
The museum displays artifacts from various ancient civilizations, as well as two Egyptian mummies and a shrunken head from the Jívaro tribe in Ecuador.
The lack of ear piercings and evidence of a full beard suggest the head may have belonged to a European invader or missionary.
This Kansas museum would not be complete without at least one Wizard of Oz relic. Fans will be delighted to see the Scarecrow's pitchfork from the 1939 motion picture.
Map Credit: Museum of World Treasures
The Museum of World Treasures is open daily and all admission fees are less than $9.00.
---
Wichita Grand Opera
---
I am a huge Broadway fan, and Jerry and I always try to take in a show or two when we visit New York City. Most recently, we scored front row tickets to Hamilton with our friend Melody from Wherever I May Roam.
While in Wichita, I had the opportunity to attend a Wichita Grand Opera performance of La Bohème. This was my first time at the opera, and I wondered how I would like it. The staging and performances were stellar, and it was undoubtedly a professional production in every way.
I consider myself fairly literate regarding art and culture, and I found a great appreciation for the talent of the opera cast, orchestra, direction, and crew. The only detractor was my difficulty following the story. The printed program provided a synopsis of each act, and an English translation of the Italian lyrics was projected on a screen above the stage. Even with these accommodations, I had a hard time following the story. Because the performance embodied perfection, I learned my cultural literacy capacity still has room for growth.
An alternative for fans of less high-brow entertainment is the Warren Old Town Theatre Grille. I attended an afternoon showing of Sully, and enjoyed the comfortable informal seating, as well as the offerings available from the bar and grill.
---
Keeper of the Plains
---
Since 1974, the Keeper of the Plains has become an iconic symbol of Wichita. This 44-foot statue of a Native American chief rests on a 30-foot pedestal at the confluence of the Arkansas and Little Arkansas Rivers. Bridges inspired by a bow and arrow motif flank the Keeper on either side and jointly span the two rivers.
The monument is most impressive in the evening when a semi-circle of drums called the "Ring of Fire" are set ablaze for 15 minutes nightly beginning at 9:00 pm during spring and summer and at 7:00 pm during fall and winter.
My 2-day/3-night visit to Wichita was a great introduction to the city's fascinating history and culture. I hope to return someday soon and explore other locations I missed on my first trip, because there is so much more to do in Wichita!
---
Where to Eat
---
As regular readers know, I am not a food critic, but there are a few Wichita dining establishments I cannot hesitate to recommend.
District Taquería
The District Taquería offers a savory selection of $3 tacos served with fresh daily-made tortillas. I sampled the pork carnitas, steak carne asada, and Pacific fish tacos.
R Coffeehouse
The R Coffeehouse was a most excellent breakfast experience. I chose to dine al fresco at one of the street tables and enjoyed a Dad's biscuit & gravy and a Mama's tamal paired with a handmade latte.
Bite Me BBQ
Bite Me BBQ is a carnivore's delight serving generous portions of their menu items. At lunch, I shared an appetizer of pulled pork cheese fries and a half slab of ribs with my host, and there was plenty left over to fill a to-go box.
Stearman Field Bar & Grill
I love eating at joints located in the middle-of-nowhere that have no difficulty attracting clientele because they serve delicious food. The Stearman Field Bar & Grill is one such place, located at the Lloyd Stearman Field Airport in Benton, Kansas. Stearman's was a 20-mile drive from Wichita and totally worth it. I got my fill of Buffalo Mac and even justified a Brownie a la Mode because it happened to be the day before my birthday. I gave the dessert my best effort, but I was stuffed before I could finish it all.
---
Where to Stay
---
I no longer do hotel reviews, but I believe readers would be interested in learning about two historical Wichita properties.
Hotel at Old Town
The Hotel at Old Town occupies the former 1906 Keen Kutter warehouse. It was totally renovated and began its second chapter as a hotel in 1999. I stayed in a huge king suite with a living area, kitchen, and Jacuzzi tub. Although I thought the furnishings a bit dated, the accommodations are spotless and the room rates extremely reasonable.
Drury Plaza Hotel Broadview
The 1922 Broadview Hotel underwent a multi-million dollar renovation and reopened in 2011 as the Drury Plaza Hotel Broadview. I stayed in a two-story suite with a loft bedroom and bath upstairs and a living area, kitchen, and additional full bath facilities downstairs. Definitely one of the most uber-modern spaces I have occupied during my travels!
---
Map It!
---
---
We Would Love to Hear From You
---
We enjoy dialogue with our readers, especially when they share off-the-beaten-path destinations and useful travel tips. Have you ever visited Wichita, Kansas? If so, we would love to hear about your experience. We invite you to leave your comments and questions below, and we always respond!
---
Pin this Post!
---