(a

8

minute read)
---
Most people have no clue, but there are three natural waterfalls in Florida you can visit not too far off the beaten path: Falling Creek Falls, Falling Waters State Park, and Devil's Millhopper Geological State Park.
---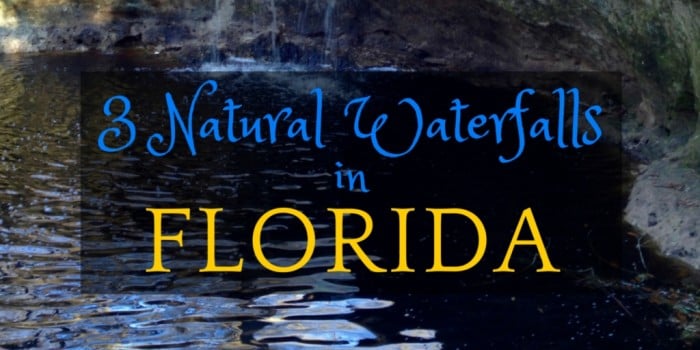 UPDATE: Since publishing this article, we have discovered even more off-the-beaten-path natural water features in our home state. You can discover them, too, in our post Chasing Waterfalls in Florida.
---
Natural Waterfalls in Florida
---
I love waterfalls!
They intrigue me, they soothe me, they fill my vision with beauty and my spirit with wonder.
When in travel-planning mode, especially for road trips, I always get giddy when I discover waterfalls near projected waypoints and destinations.
At every opportunity, I chase waterfalls!
So when VISIT FLORIDA approached me about writing a sponsored post, I knew exactly what my topic would be. I don't think I am alone in my fascination. Backroad Planet readers have made 10 Favorite North Georgia Waterfalls our 2nd-most popular article to date.
As a 5th-generation Native Floridian, I have criss-crossed the Sunshine State from Key West to Pensacola and Jacksonville to Tampa more times than I can remember. Yet I never saw a natural waterfall in my home state of Florida until a couple of years ago.
I had encountered plenty of fabricated water features in my home state, some of them quite impressive, like the ones at Rainbow Springs State Park, but never a real honest-to-goodness natural waterfall.
---
Science Mini-Lesson
---
It is really not surprising that Florida has so few waterfalls. The state is basically flat, without many geological features that allow waterfalls to occur. Much of the state is situated on a limestone bedrock formed by the calcified remains of sea creatures from millions of years ago when the peninsula was still under water. Over the years, acidic rainwater has percolated through the sedimentary rock creating a massive network of cavities, sinkholes, tunnels, caverns, and below it all, the Floridan Aquifer. In rare instances, where the right conditions exist, these formations have allowed water to fall.
National Geographic has an excellent encyclopedic entry on waterfalls, if you would like to educate yourself further on the subject.
---
My Take on Florida Waterfalls
---
When preparing to visit Florida's natural waterfalls you need to keep in mind the scope and scale of what you will see. If you go expecting Niagara or Victoria or Yguazú, you will be disappointed. But if you go expecting a rare natural treasure, you will be pleasantly surprised, especially if you visit during the summer rainy season.
While researching this article, I discovered several natural water features across the state that I believe have been mistakenly called waterfalls by other writers. Although National Geographic clearly states, "There is not a standard way to classify waterfalls," I believe some of these water features would be better classified as river rapids, rocky streams, or minor changes in elevation. To me, the height of a waterfall is more important than volume or width, and even though I can't put an exact number on it, I think a true waterfall would be at least three or four feet high. My explanation may sound like a disclaimer, but it is by no means an apology. How does one apologize for Mother Nature?
---
Falling Creek Falls
(Columbia County)
---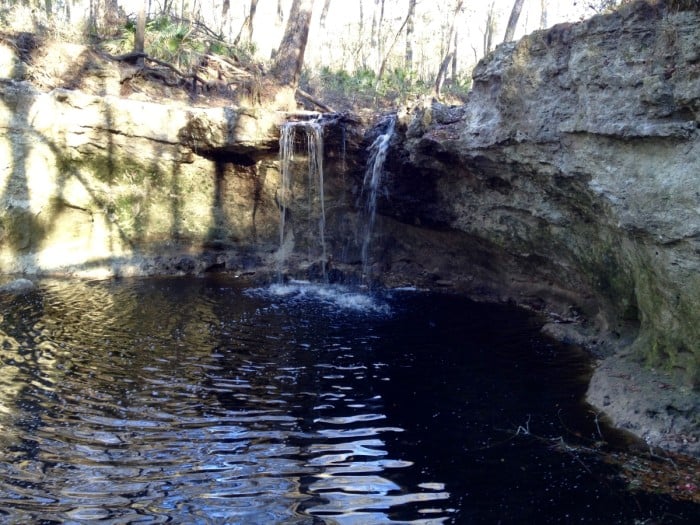 I don't recall where we first learned about Falling Creek Falls, but on a road trip to the annual reenactment at the Olustee Battlefield Historic State Park in North Florida, we decided to scout it out because we had read it was in the vicinity. I also don't recall where we got the map coordinates for the falls, but I do remember our GPS leading us on a wild goose chase that cold February day. But no worries for you. This joint project between the Suwannee River Water Management District and Columbia County can be easily located by following maps and directions on either of the linked sites or by using our map near the bottom of this post. The park at Falling Creek Falls has restrooms, a playground, three picnic pavilions, a historical building, and an elevated .6 mile loop boardwalk that leads to the falls near the halfway point. Even though we visited the falls during Florida's dry season, they were lovely in their own right and did not disappoint, a categorical first of its kind in our list of Florida's natural destinations.
---
Falling Creek Falls Gallery
---
---
Falling Waters State Park
(Washington County)
---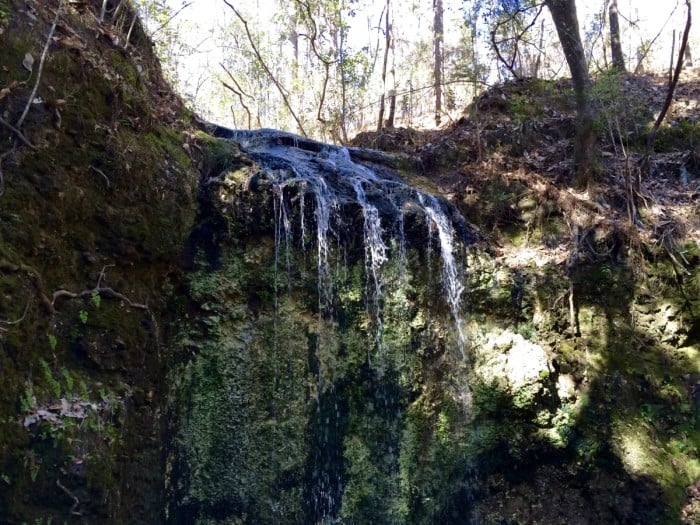 We did not discover Florida's first waterfall to attain state park status until months later on the return leg of a spring break road trip across Northwest Florida. Our detour off I-10 to Falling Waters State Park was, as before, not during the rainy season, so once again the water flow was on the light side. Still, it was difficult not to be impressed by the state's highest waterfall plunging 73 feet into a 20-foot cylindrical sinkhole and disappearing underground.
In addition to its main attraction, Falling Waters State Park has a rich history. During a 2007 archaeological dig conducted by the University of West Florida, the team uncovered Native American artifacts dating back 1,500 years, remains of a former gristmill, a whiskey distillery, and an unsuccessful capped-off oil well from the early 1900s. This state park has full facilities for camping and hiking, and a lake for fishing and swimming. Sorry, no swimming in the falls!
---
Falling Waters Gallery
---
---
Devil's Millhopper State Park
(Alachua County)
---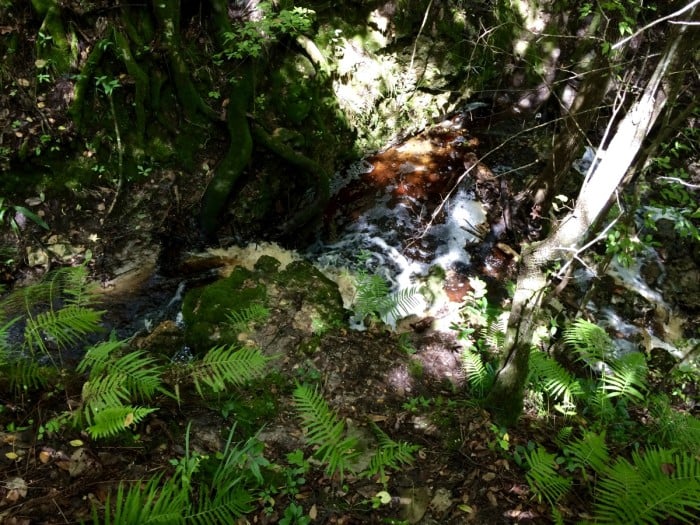 We visited our third natural waterfall in Florida a few weeks ago on a weekend road trip targeting several state parks in the North Central region of the state. Also recognized as a U.S National Natural Landmark, Devil's Millhopper Geological State Park features a 120-foot deep sinkhole that measures 500 feet across with numerous small waterfalls cascading continuously down the walls of the giant bowl. The pool formed at the bottom of the sink is fed conversely by twelve springs and contains fossils of extinct land and marine animals.
This time, our visit was during the rainy season, and the multiple waterfalls were flowing well, so well that we were not able to descend all of the 232 steps to the bottom of the sink. Just beyond the observation deck, the next level of stairs had been cordoned off due to heavy flooding. Our disappointment was minimal, though, because we had become witnesses to a rare dramatic otherworld created by the elements. Minimally developed, Devil's Millhopper has a visitor center with restroom facilities and allows hiking and picnicking on site.
---
Devil's Millhopper Gallery
---
---
Tips for Visiting Florida's Natural Waterfalls
---
Don't expect Niagara. Plan rather to see rare geological water features.
Visit during the rainy season for greater water flow.
In Florida, summer is the rainy season. In fact, you can count on a rain shower every afternoon around 4:00.
Check state park web sites or call in advance to inquire about water flow volume.
---
Video
---
---
Chasing Waterfalls in Florida
---
To discover more Sunshine State natural water features, navigate to our newer post Chasing Waterfalls in Florida.
---
Until Next Time . . . .
---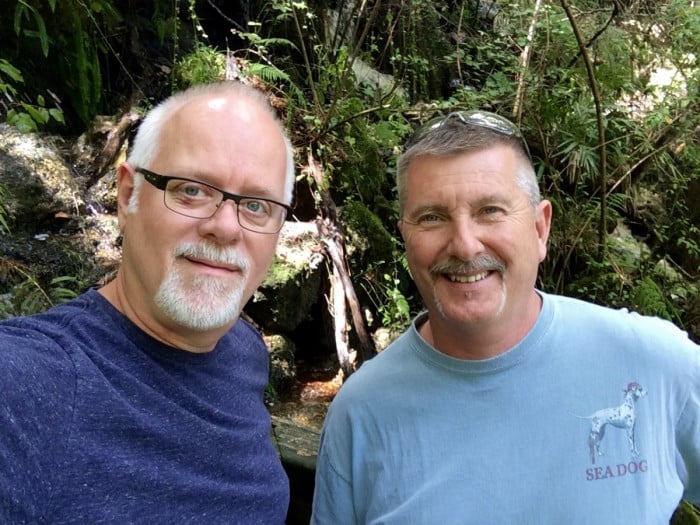 Jerry and I enjoy dialogue with our readers, especially when they share little-known locations or off-the-beaten-path destinations. While writing this article, we discovered yet another natural waterfall in Florida, but we cannot share it with you until we visit it ourselves. If you are a chaser-of-waterfalls, we would love to hear your stories, especially if they involve our home state of Florida. We invite you to leave your comments and questions below, and we always respond!
---
Pin This Post!
---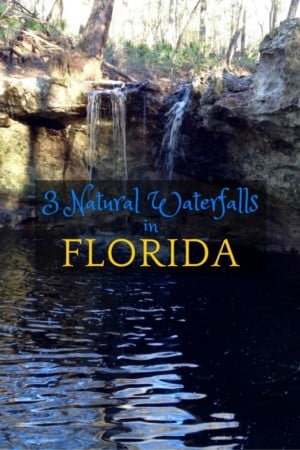 ---
Map It!
---
---
Helpful Links
---
National Geographic Encyclopedic Entry: Waterfalls
Falling Creek Falls: SRWMD Site
Falling Creek Falls: Columbia County Site
Devil's Millhopper Geological State Park
Olustee Battlefield Historic State Park