(a

8

minute read)
---
Explore natural history, art history, and the history of disease control all in one day at three world-class Atlanta museums of history.
---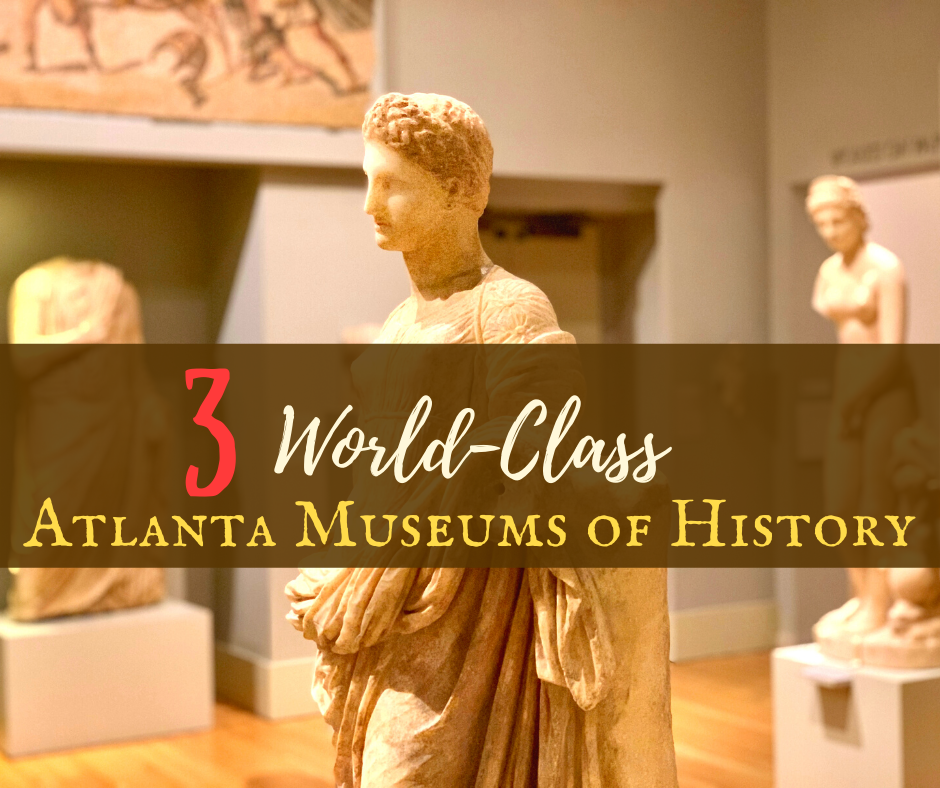 I was a guest of Discover Dekalb, but all thoughts and opinions are my own. This post may contain affiliate links. Please refer to our our Disclosure/Disclaimer page for more information.
---
Three Atlanta Museums of History
---
When it comes to museums, I don't recommend rushing through. Museums are meant to be savored, allowing time to read interpretive panels, interact with exhibits, and fully experience the intersection of entertainment and education.
Sometimes, however, I don't follow my own advice.
As it happened, I was on a tight itinerary one afternoon in late summer, and ended up exploring history at three Atlanta museums:
natural history at Fernbank Museum
art history at Emory University's Michael C. Carlos Museum
and the history of disease control at the David J. Sencer CDC Museum.
If you are a history buff like me, these are three world-class museums you do not want to miss.
Conveniently located within a two-mile radius of each other, you can easily tour all three Dekalb County locations in one day.
But only if you have to.
---
Fernbank Museum of Natural History
---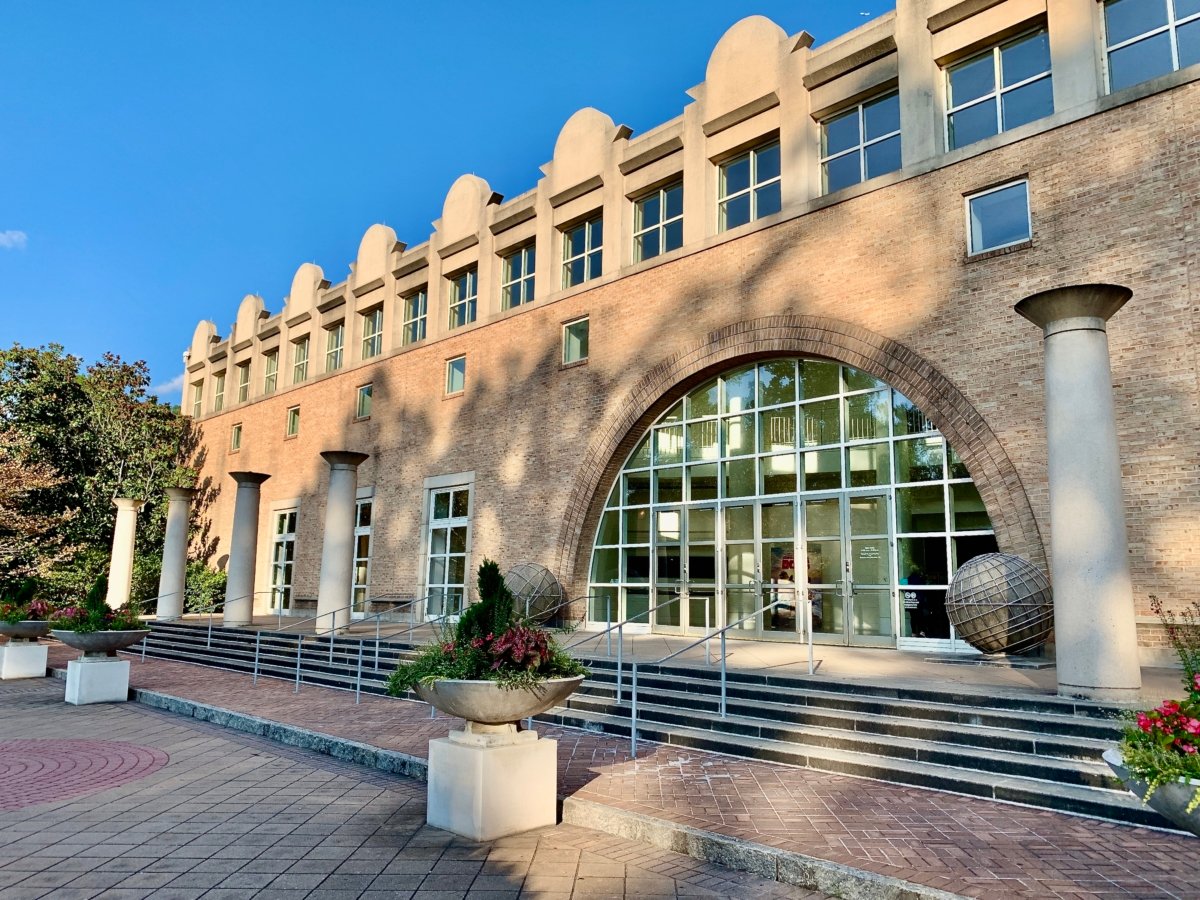 Fernbank Museum of Natural History opened to the public in 1992 with a mission "to ignite a passion for science, nature, and human culture through exploration and discovery."
The museum took its name from its proximity to an urban forest that would eventually become an integral part of the institution.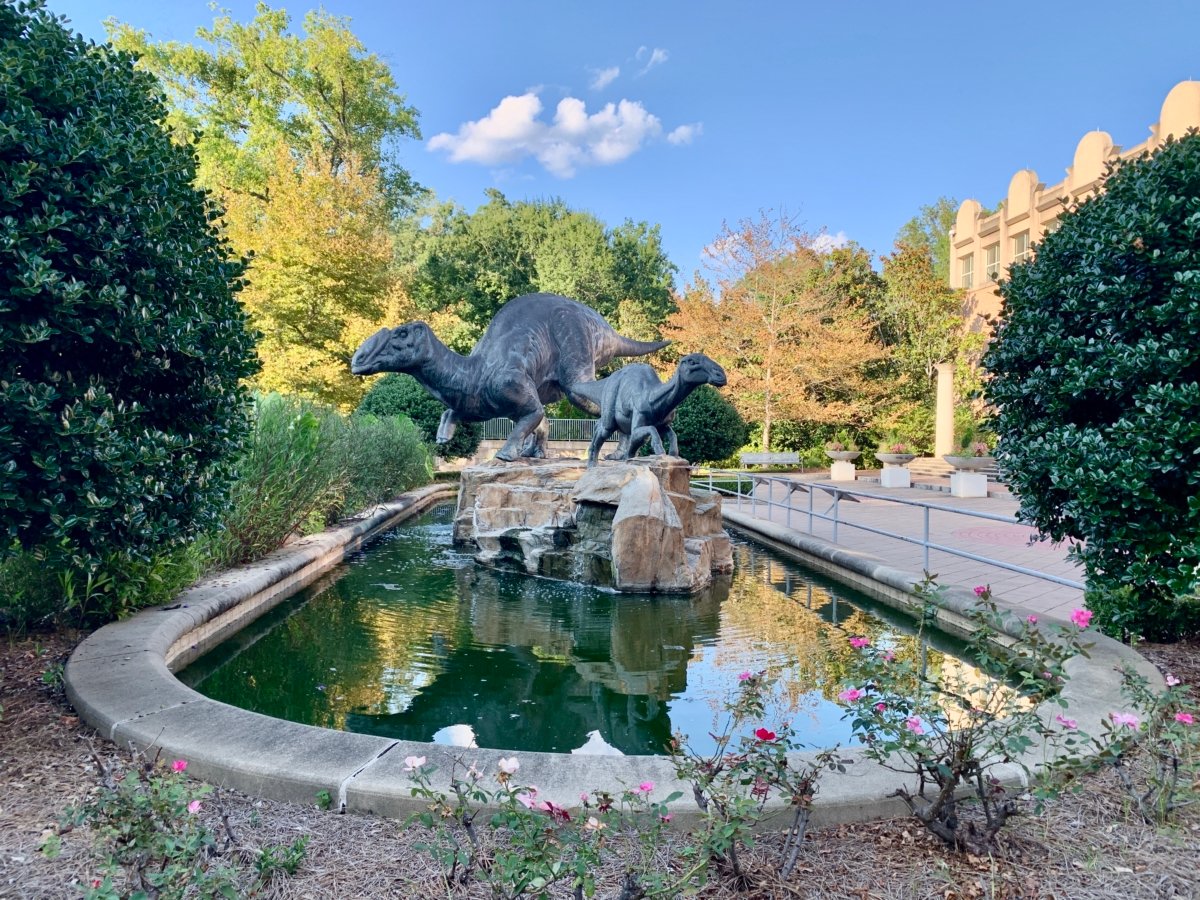 Visitors to Fernbank are welcomed by a family of bronze Hadrosaurs, a dinosaur species that lived in prehistoric Georgia.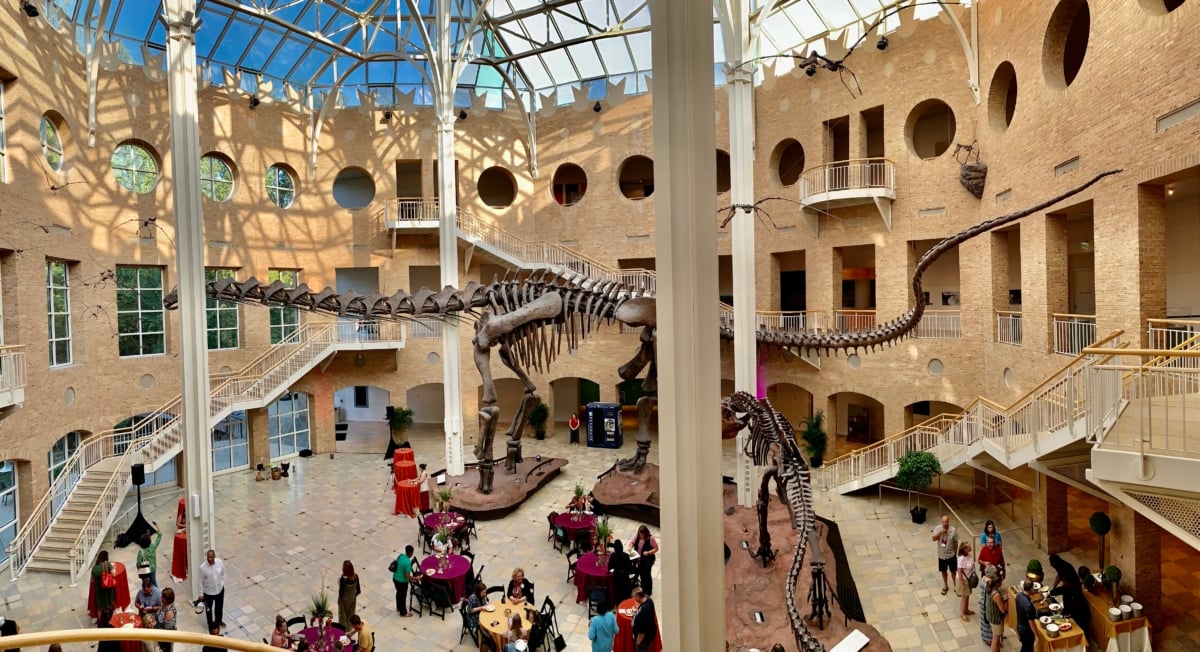 Dinosaurs inhabit the museum interior, as well.
A plant-eating Argentinosaurus, meat-eating Giganotosaurus, and flying Pterosaurs populate the Giants of the Mesozoic display inside the Great Hall.
But wait, there's more . . . .
The museum's three levels are filled with immersive galleries, interactive exhibits, and a giant screen theater.
I was especially drawn to the "A Walk through Time in Georgia" exhibit because it reminded me of my second home in the mountains of North Georgia.
Near the end of my walk I encountered even more dinosaurs.
A permanent exhibit entitled "Fantastic Forces" debuted in July of 2019 to coincide with the 50th anniversary of the moon landing.
Hands-on experiences explore the science behind lightning, tornadoes, gravity, and many more forces of nature.
The Rankin M. Smith, Sr. Giant Screen Theater features award-winning films from around the world with a state-of-the-art 4K laser projection system and 3D capability.
The rear exit of the museum building invites guests to explore the natural world by way of two additional outdoor features.
WildWoods, an elevated boardwalk, winds through the woodlands, at times more than 50 feet above the terrain.
The path leads even deeper into Fernbank Forest, at 65-acres the largest old-growth urban Piedmont forest in the country. Three walking trails through the forest offer a welcomed respite from the demands of city life.
Fernbank is open daily and tickets are required.
---
Michael C. Carlos Museum at Emory University
---
Featuring more than 16,000 works, the Michael C. Carlos Museum on the campus of Atlanta's Emory University houses the largest ancient art collection in the Southeast.
The Greek and Roman gallery has more than 400 ancient pieces on display.
A Roman marble panel (opus sextile) from the first century AD and Greek kraters from c. 350 BC are among the Greco-Roman treasures on display.
Art from the Americas includes black-on-black Pueblo pottery and shaman effigies from regions within modern day Costa Rica and Nicaragua.
In the Asian gallery, I was intrigued with the contrast in depictions of the Buddha.
The first sculpture from the first century AD portrays him as Prince Siddhartha Gautama, while the second sculpture from the tenth century AD reveals his appearance having attained enlightenment.
Perhaps the most fascinating display is the Ancient Egypt gallery with its collection of mummified animals, including a fish, dog, kitten, and falcon, all more than two thousand years old.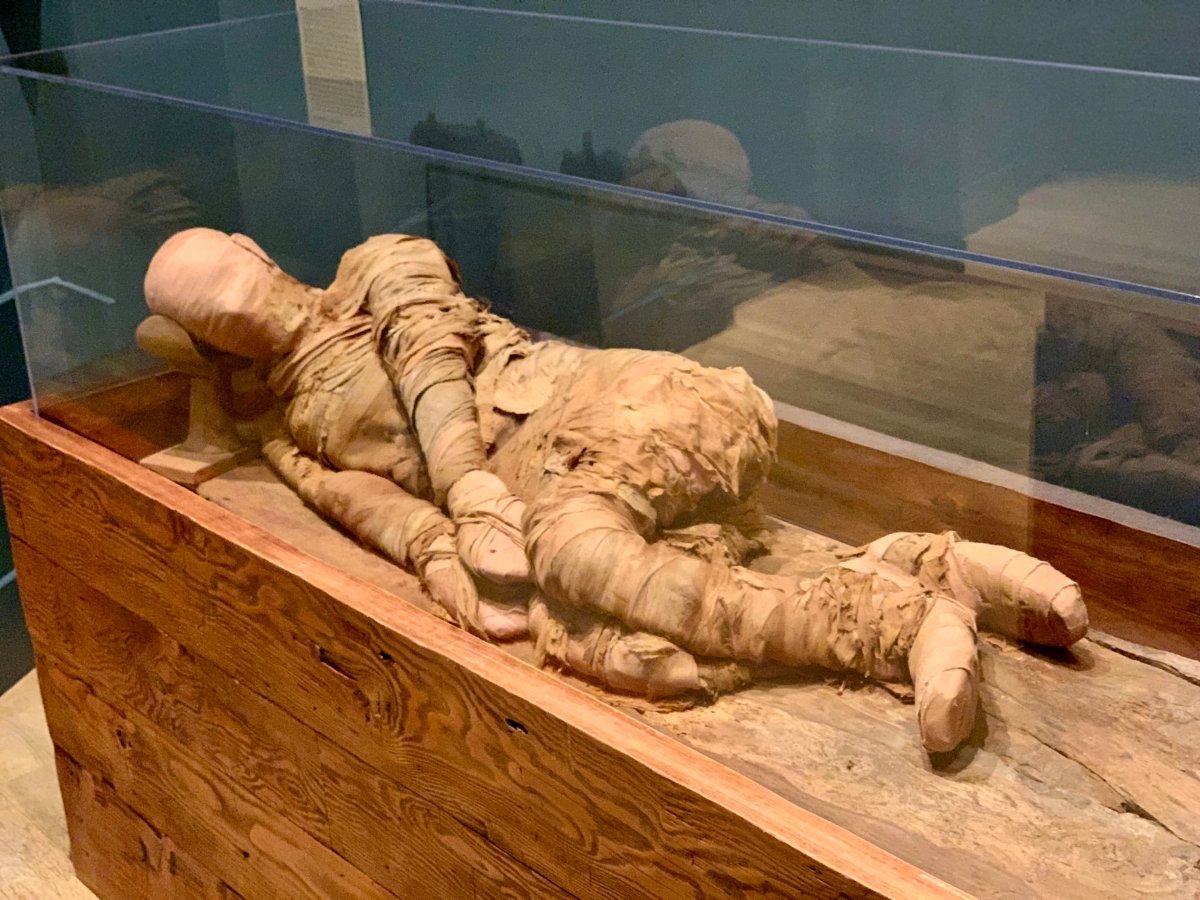 Mummies from the Old Kingdom, Dynasty 6, 2345 – 2181 BC were preserved in natural poses, as opposed to the prone positions of mummies from the New Kingdom.
Museum guests are able to view art conservators in action. During my visit I observed preservation of a Jain painting entitled The Cosmic Man.
The Michael C. Carlos Museum is open daily at varying hours. Admission and parking fees apply.
---
David J. Sencer CDC Museum
---
The Centers for Disease Control and Prevention in Atlanta is a federal agency tasked with investigating and monitoring communicable diseases, toxins, and other health threats.
You will probably recognize the iconic silver and blue CDC sign that shows up in news reports every time there is a breakout of a mysterious illness.
The best way to learn about the history, legacy, and innovation of the agency is to visit the David J. Sencer CDC Museum.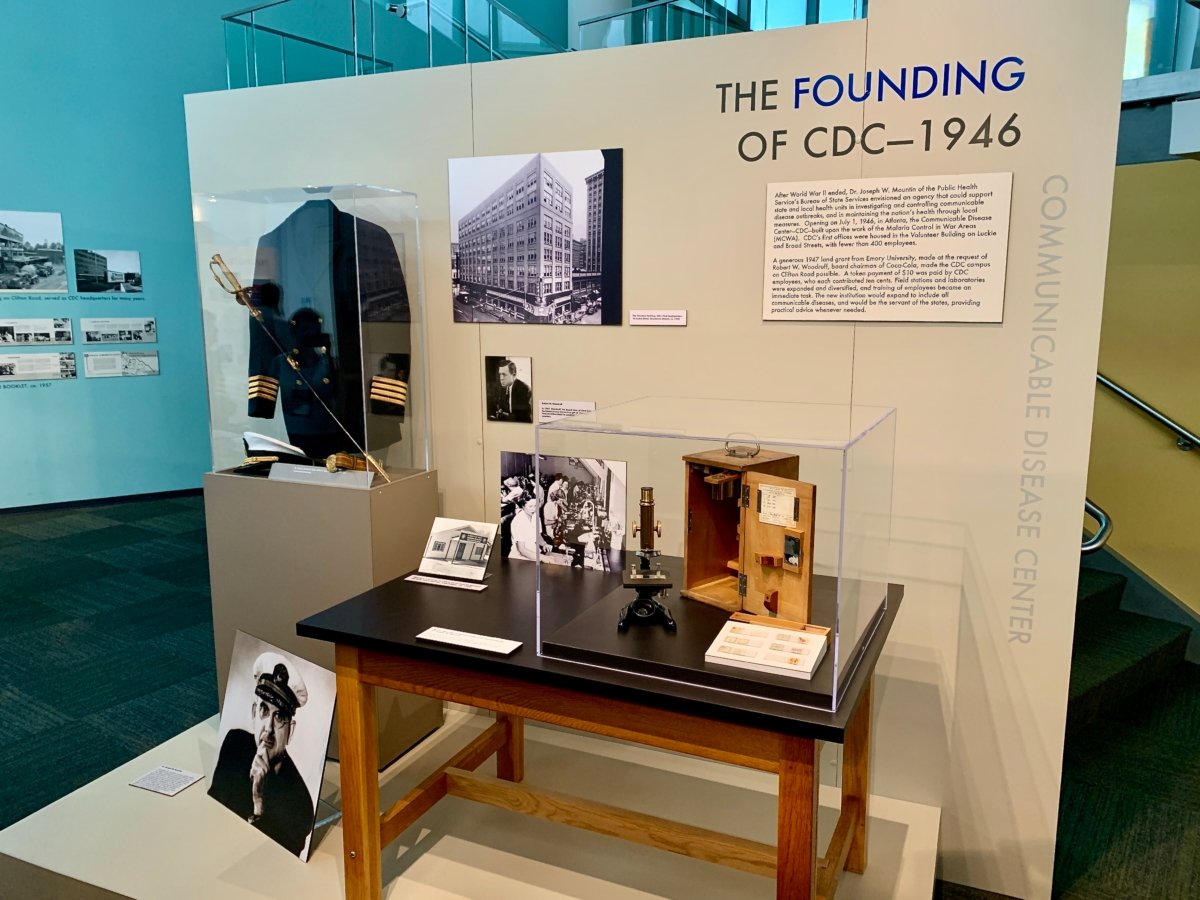 The museum opened to the public in 1996 in conjunction with the centers' 50th anniversary, with a mission to educate visitors about the CDC's rich heritage, vast accomplishments, and the value of prevention-based public health.
Guests learn about ongoing efforts to control and eradicate infectious diseases such as malaria and polio, and how smallpox was certified eradicated by the World Health Organization in 1980.
The "Story of the CDC" exhibit displays artifacts and authentic specimens such as an adult Guinea worm extracted during the campaign to eradicate dracunculiasis in Africa.
There were 3.5 million cases reported in 1986 when the Carter Center launched its campaign against the painful disease. In 2018, only 28 cases were reported. The parasitic disease is poised to be the first eradicated without the use of drugs or vaccines.
A permanent exhibit chronicles the CDC's investigation into and prevention efforts for the AIDS epidemic in the United States.
The "Global Symphony" exhibit is a multimedia installation that features the words of CDC scientists discussing their work in discovering Legionnaires' disease, the rise of obesity, and the spread of Ebola.
The museum features four temporary exhibitions per year. During my visit a fascinating art exhibition entitled "The World Unseen" depicted the beauty of microorganisms.
CDC Museum admission is free, but a government-issued photo ID is required for entry, and vehicle inspection is required. Open weekdays 9:00 AM to 5:00 PM.
Metro Atlanta has many fine museums, but when it comes to natural history, art history, and the history of disease control, these three Dekalb County museums are not to be missed.
If you have an additional day in Atlanta, consider visiting the Jimmy Carter Presidential Library and Museum. Experience a walk along the timeline of President Carter's life, from childhood through the post-presidency years.
---
Lodging
---
Lodging during my stay in Atlanta's Dekalb County was at the Atlanta Marriott Northeast Emory Area. Conveniently located near I-85 and all three museums of history, it is a great home base for a Metro Atlanta visit.
Click here for more Atlanta lodging options on TripAdvisor!
---
Map It!
---
---
Design Your Own Georgia Road Trip
---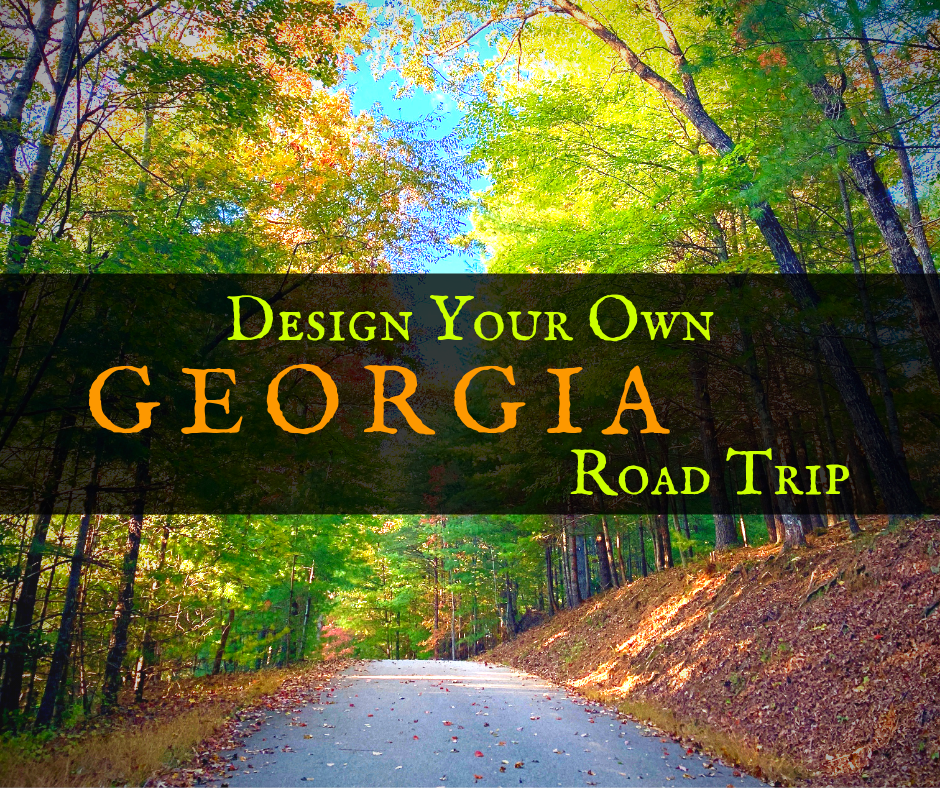 Atlanta's museums of history are among countless destinations in the state of Georgia. Backroad Planet's Design Your Own Georgia Road Trip guide shares a wealth of travel planning resources and links to all of our Georgia travel archives.
---
We Would Love to Hear From You
---
We enjoy dialogue with our readers, especially when they share off-the-beaten-path destinations and useful travel tips. Have you ever visited any Atlanta museums of history? If so, we would love to hear about your experience. We invite you to leave your comments and questions below, and we always respond!
---
Pin this Post!
---